Are you looking for a new hairstyle that will make you look sharp and stylish? If so, then you may want to consider the slicked-back look. It's no secret that most guys love a slicked back hairstyle. This timeless style can be worn both casually and formally, and it's easy to achieve with the right products and tools. This blog post will give you some ideas on how to style your hair into a slicked-back 'do. So if you're ready to get started, read on!
Classic Slicked Back
The classic slicked back is one of the most common hairstyles for men. It was once the preferred style of gangsters, but it's more modern these days than ever. This style emphasizes natural texture and flow, so it's great for people with fine hair and a busy lifestyle. Use a matte or low shine finish product to keep your hair looking fresh and healthy.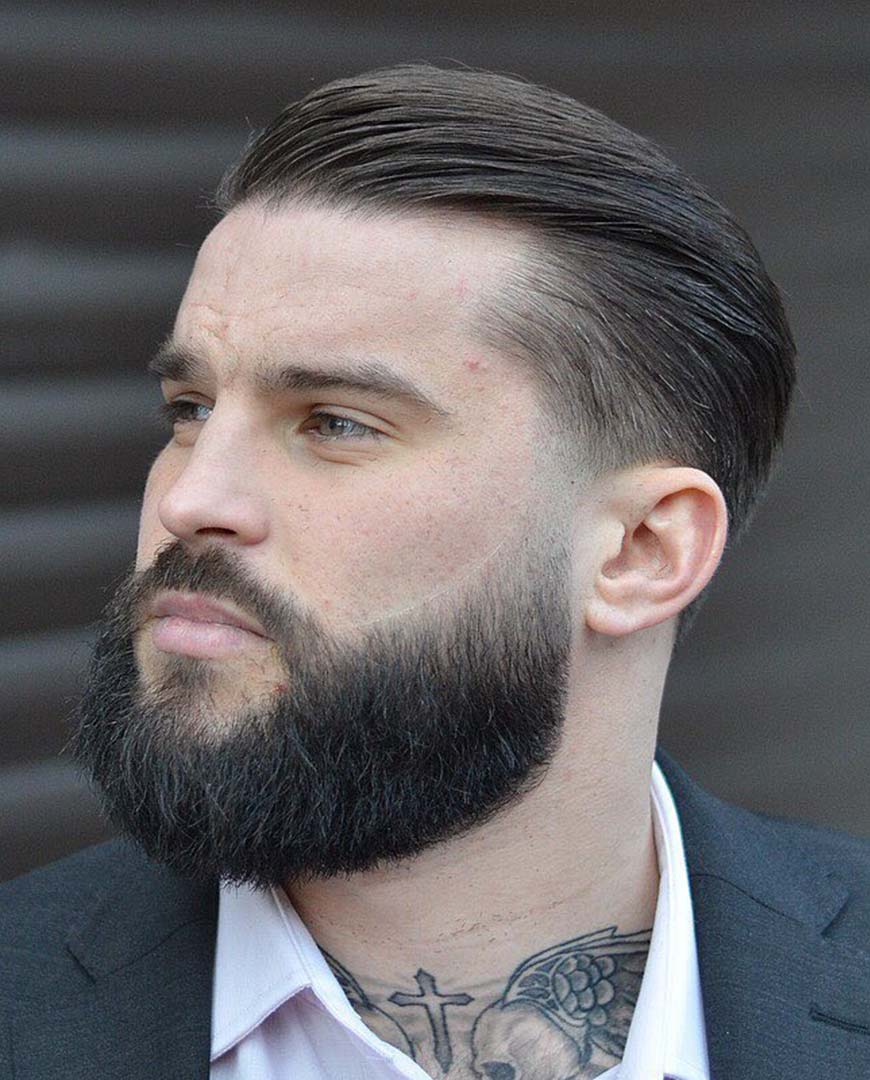 Brushed Up and Slicked Back
Comb your hair backward and apply styling products. Use a brush or comb to create maximum volume, and leave your hair free of any product for a few minutes. Then, spray your hair with hairspray to keep your style from falling out or getting greasy. Avoid touching your hair all day to achieve the perfect look, as it will lose its shape and volume.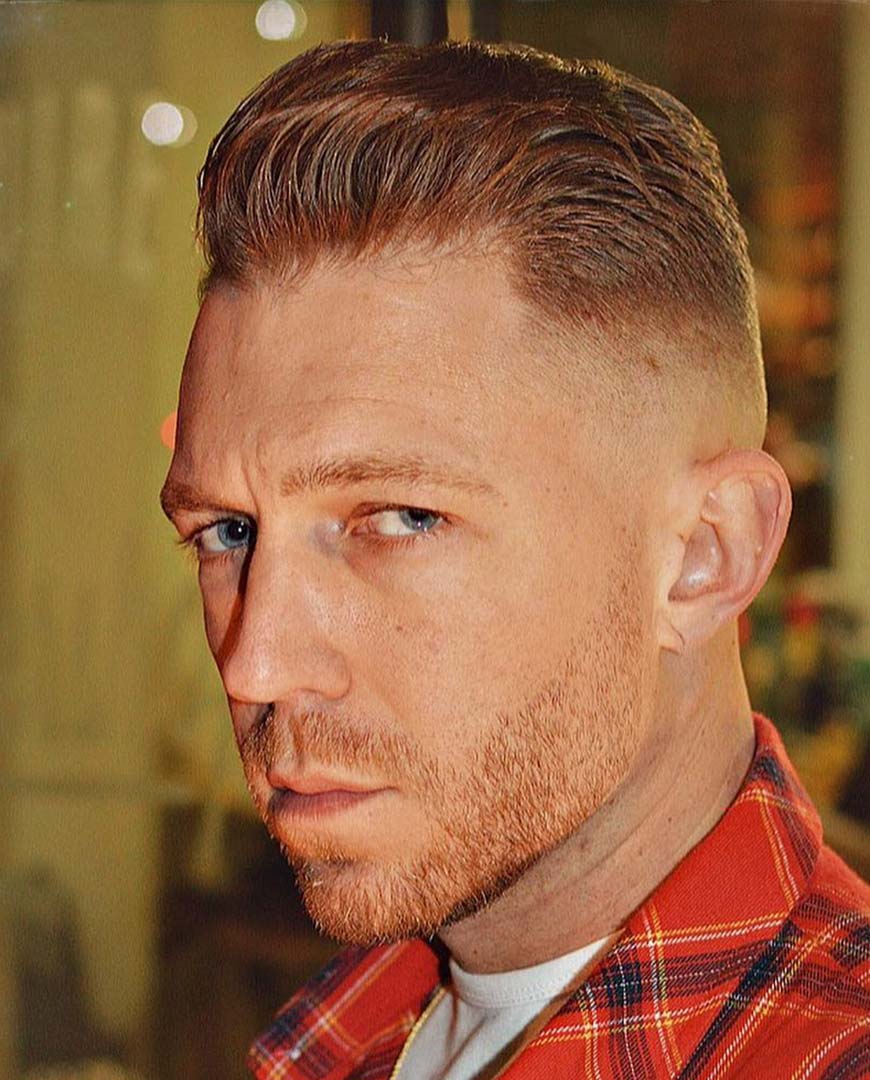 Slicked Back with Middle Part
Once you've gotten your hair into a middle part, use a strong styling product to hold it. Be sure to spread the product deeply to give it extra hold. Try not to brush it too much, and be sure to keep a close eye on it throughout the day. Remember, water-based products are great for restyles, so you can get the perfect slicked back.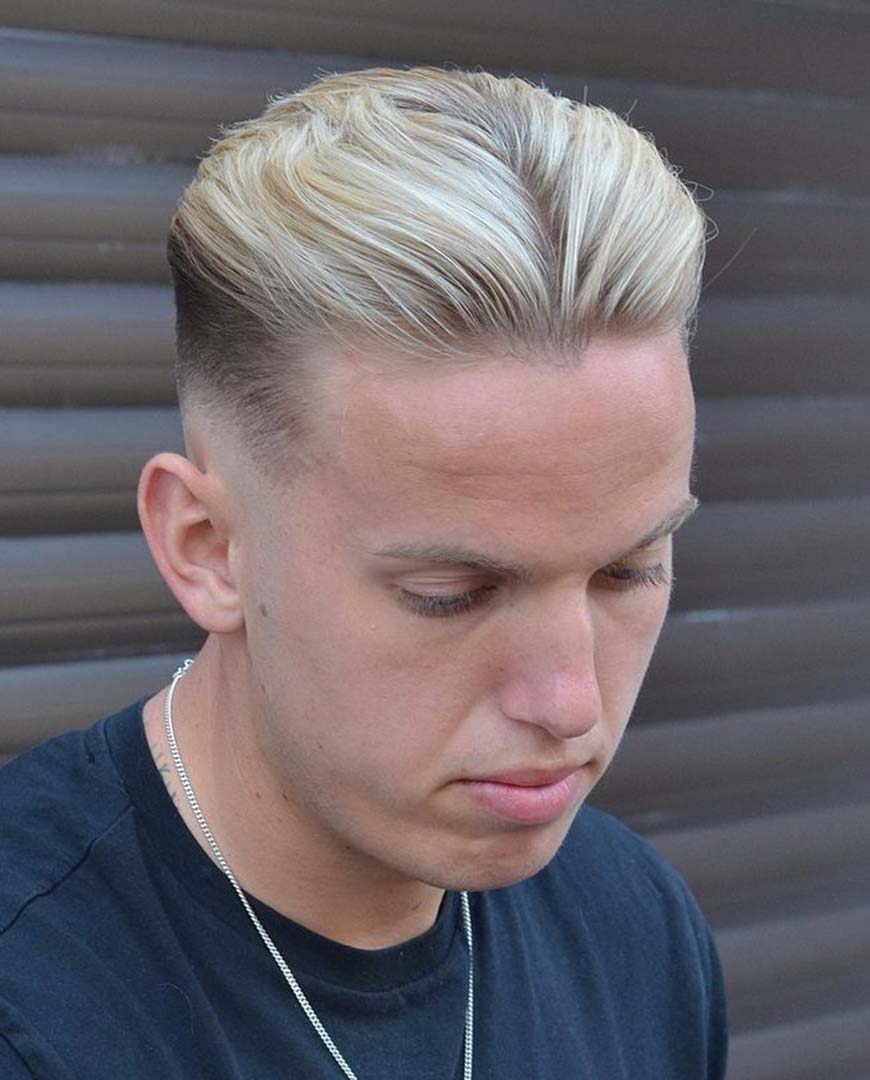 Overgrown Slicked Back Hair
An overgrown slicked back style is a great way to add edginess to your appearance. It will add texture to your locks and help you look more stylish. Getting your hair slicked back is easy as long as you use a blow dryer, while hairspray can help your hair stay in place throughout the day.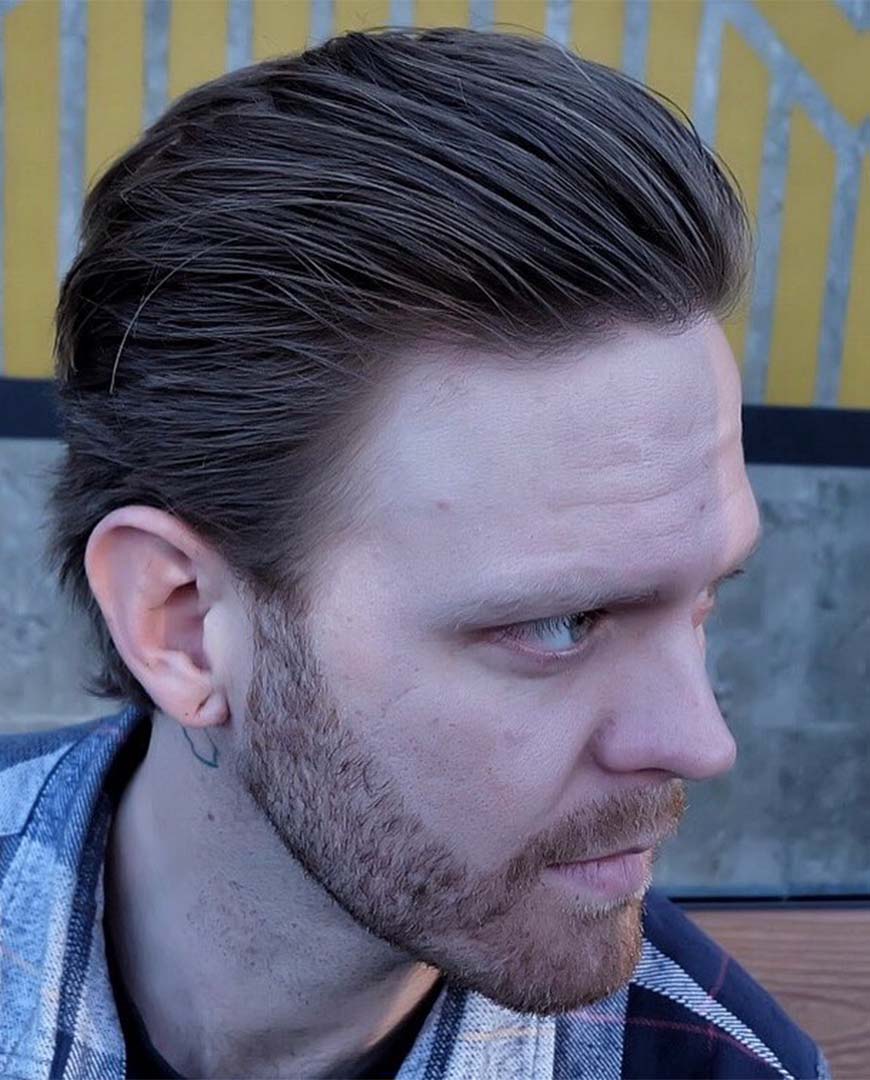 Comb Over with Skin Fade
The barber shaves the sides super short, leaving long hair on the top. The style creates a vintage vibe and is particularly well suited for men with round faces. A skin fade is a stylish, professional haircut that includes a lower fade and a long comb over. All you need is a medium hold gel or pomade to make this hairstyle look professional.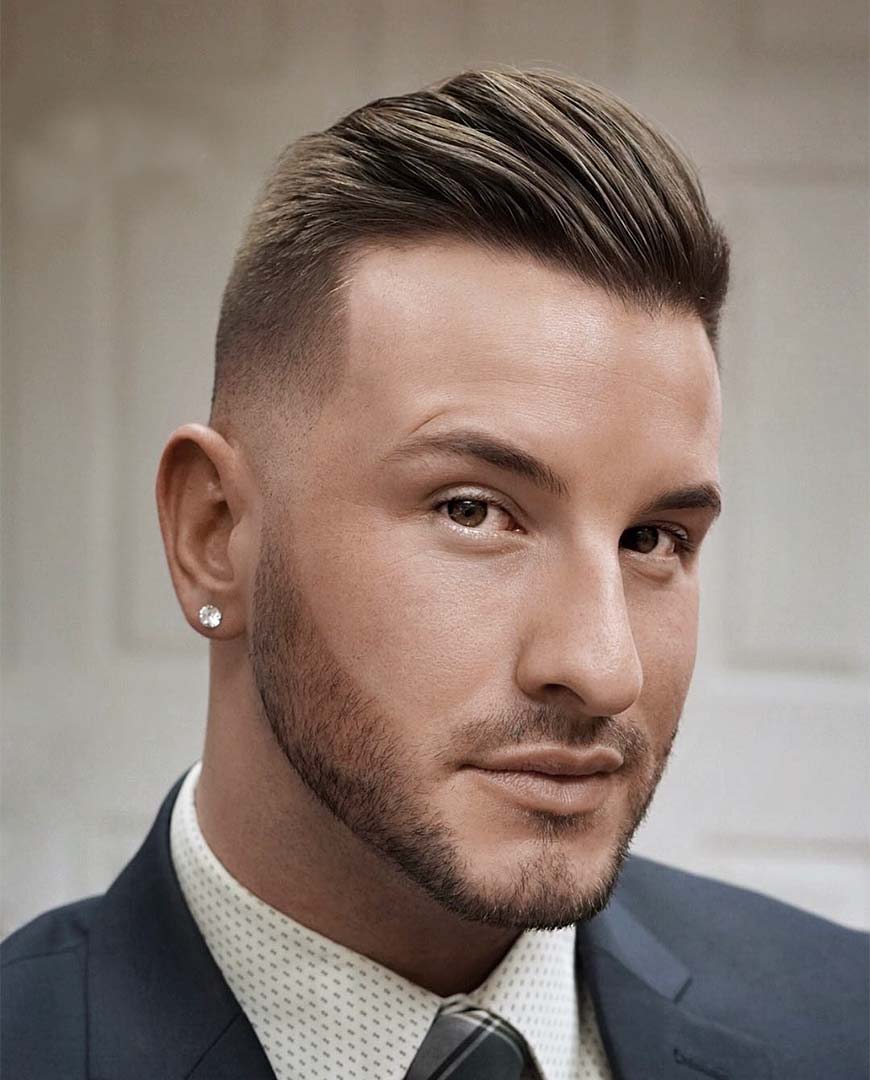 Teen Boy Slicked Back
The slicked back style is an ideal transitional hairstyle. This look is easy to maintain and is suitable for a variety of settings. It works well with long or medium hair, so it is a versatile option. Once you've mastered the basic slicked back style, you can experiment with the cut. A tapered hairline makes this a perfect choice for any age. You can also use hair gel or wax to help you keep the look for the longest time.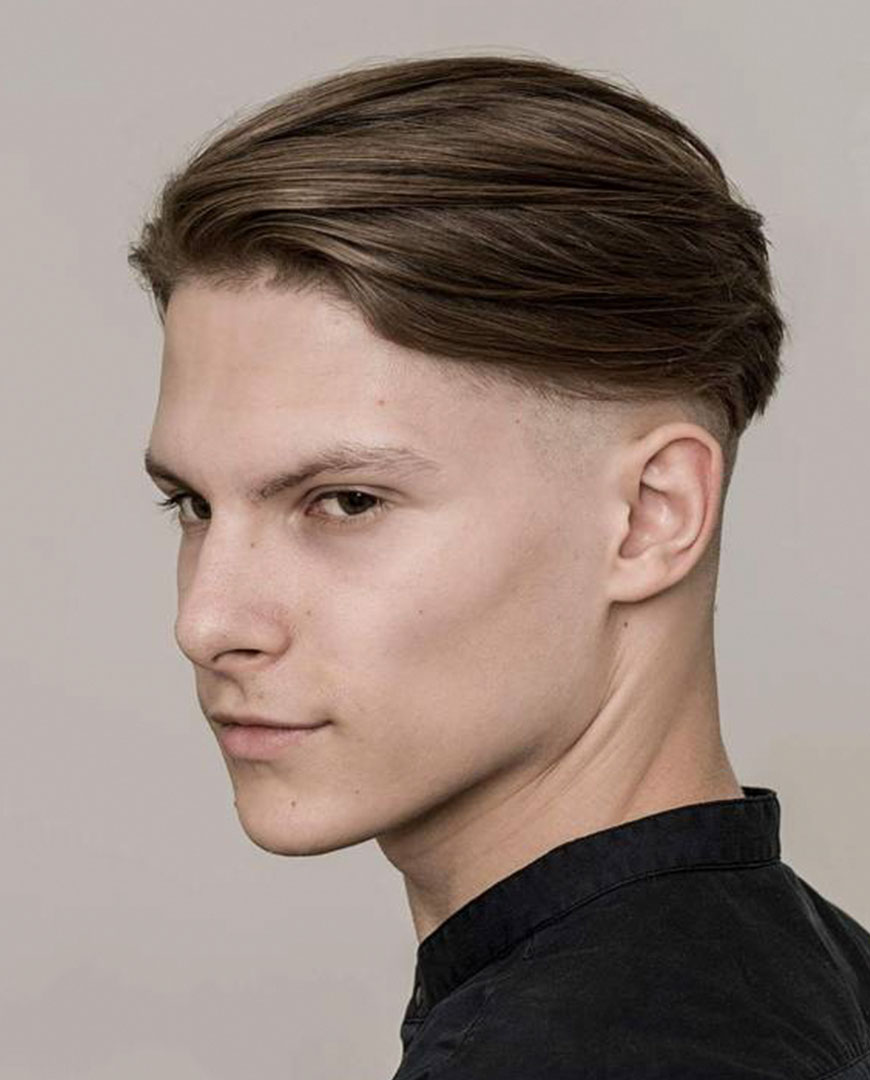 Combed Back Hair with Highlights
The highlight color is a subtle yet effective way to give your style a unique flare. Highlights aren't the same as hair dye. Instead, they complement your natural tone, creating contrast against the rest of your hair. Moreover, they will add a WOW factor to your look, no matter what length your hair is. You can also highlight your front spots for an even more dramatic look. It can add a fresh look to any style and make it stand out from the crowd.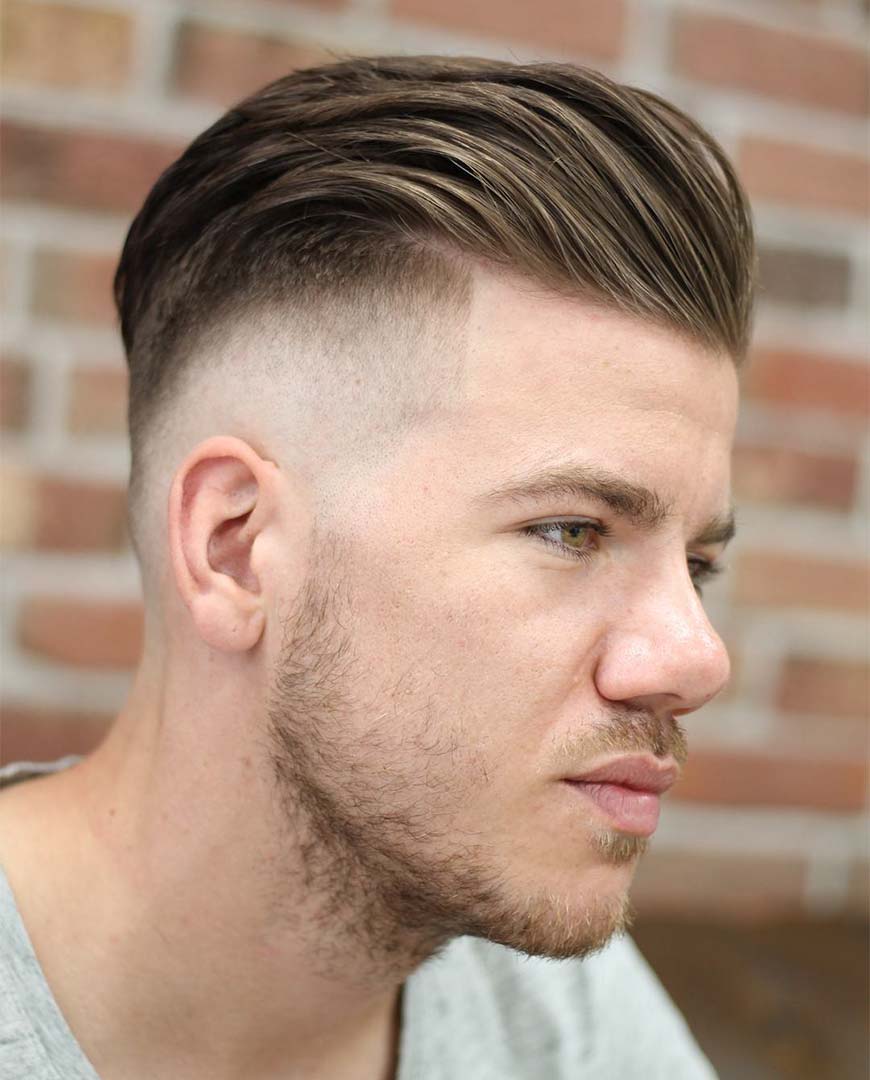 Gelled Slicked Back with Drop Fades
The high fade helps to eliminate weight from the sides and balance out the sleek look on the top. Make sure you give your hair some extra combing throughout the day for a slick look.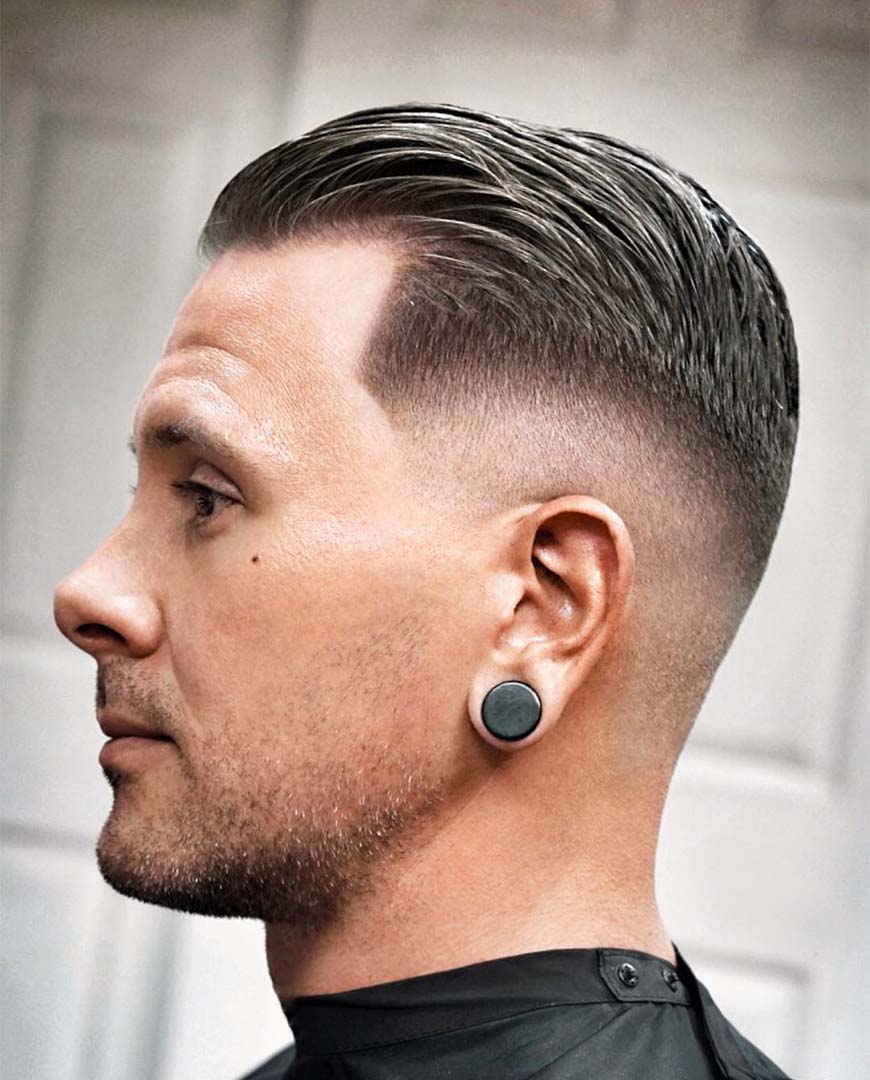 Messy Slicked Back Hairstyle
This messy slicked back hairstyle is an excellent choice for those with textured, thick hair. This style allows you to embrace the texture of your hair while achieving the same sleekness and form. You need to start with slightly damp hair and fade the sides and nape to achieve this look. This will emphasize your textured hair and add more dimension.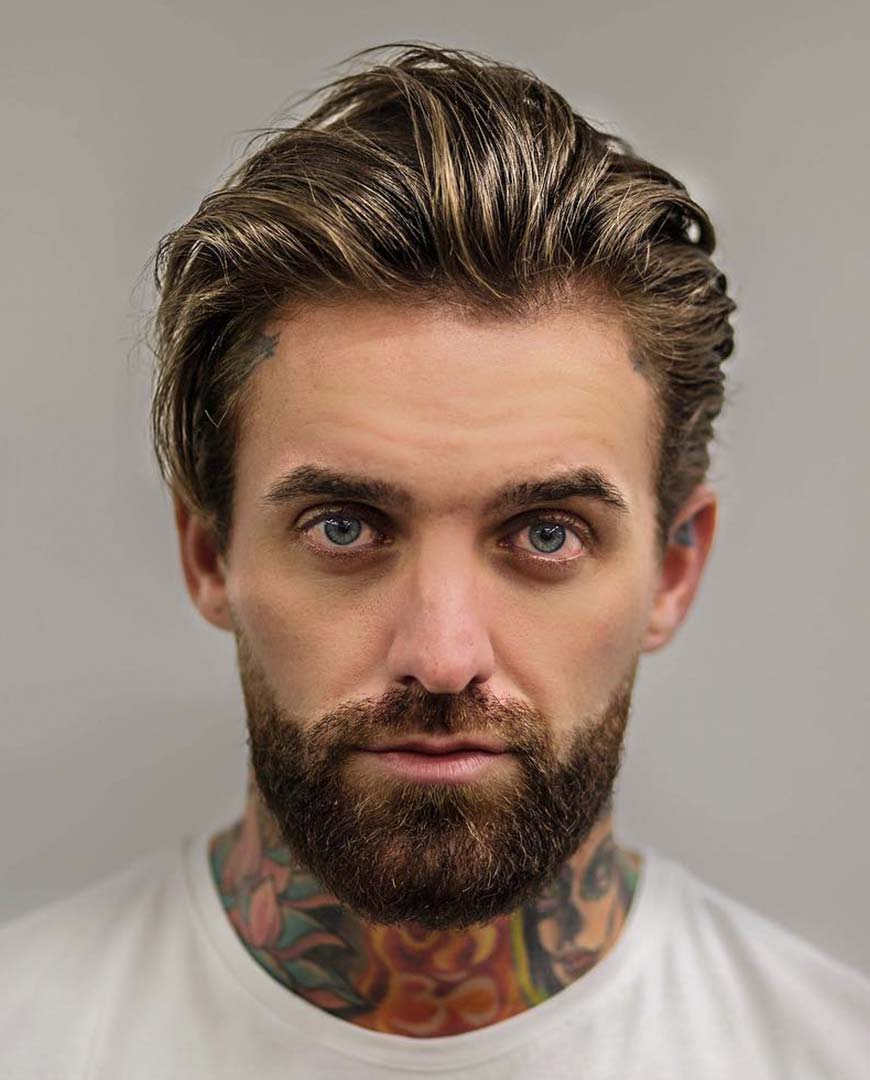 Modern Slicked Back with Undercut
It looks best on men with smooth, fine hair and a medium-length top. It complements any style, from a suit to a beard. Using a fine-tooth comb, gently smooth the layers out with the comb.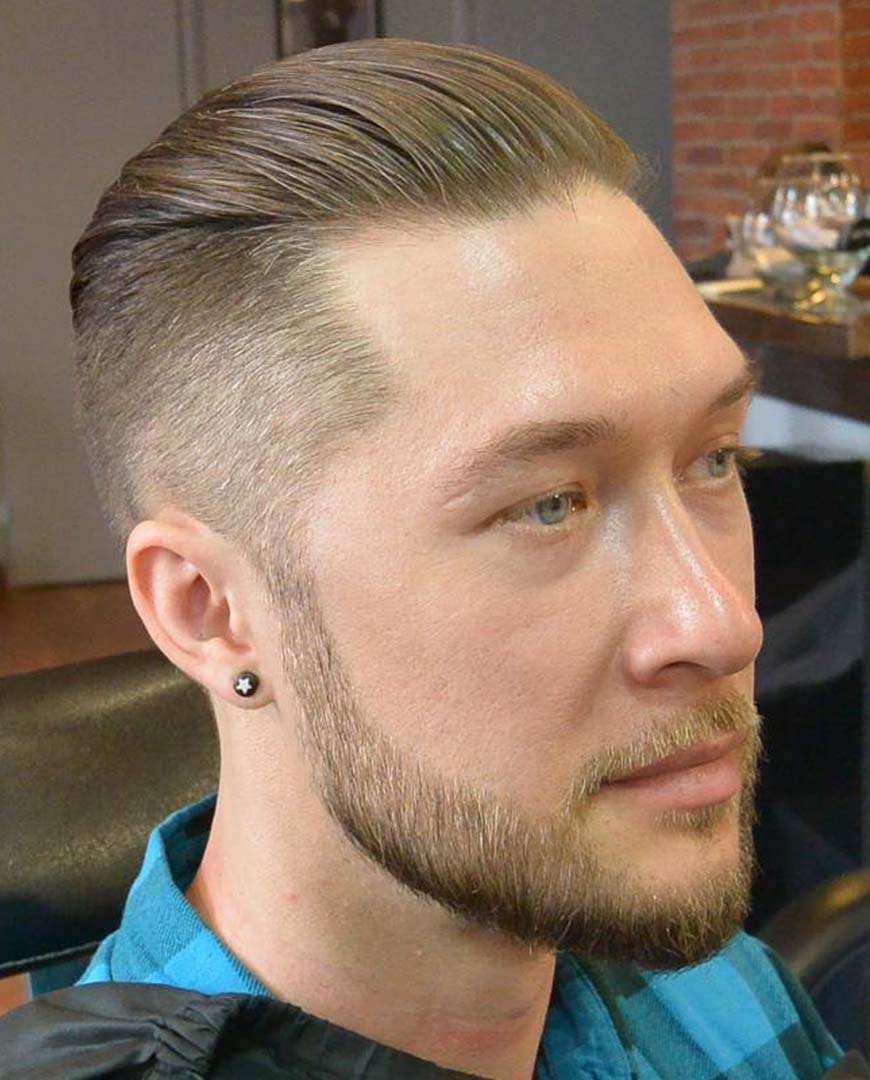 Line Up with Temple Fade
You can pair line up with different hairstyles, crew cuts, or even pompadour styles. It creates a contrast between the fullness at the top and a clean, distinct line along the hairline.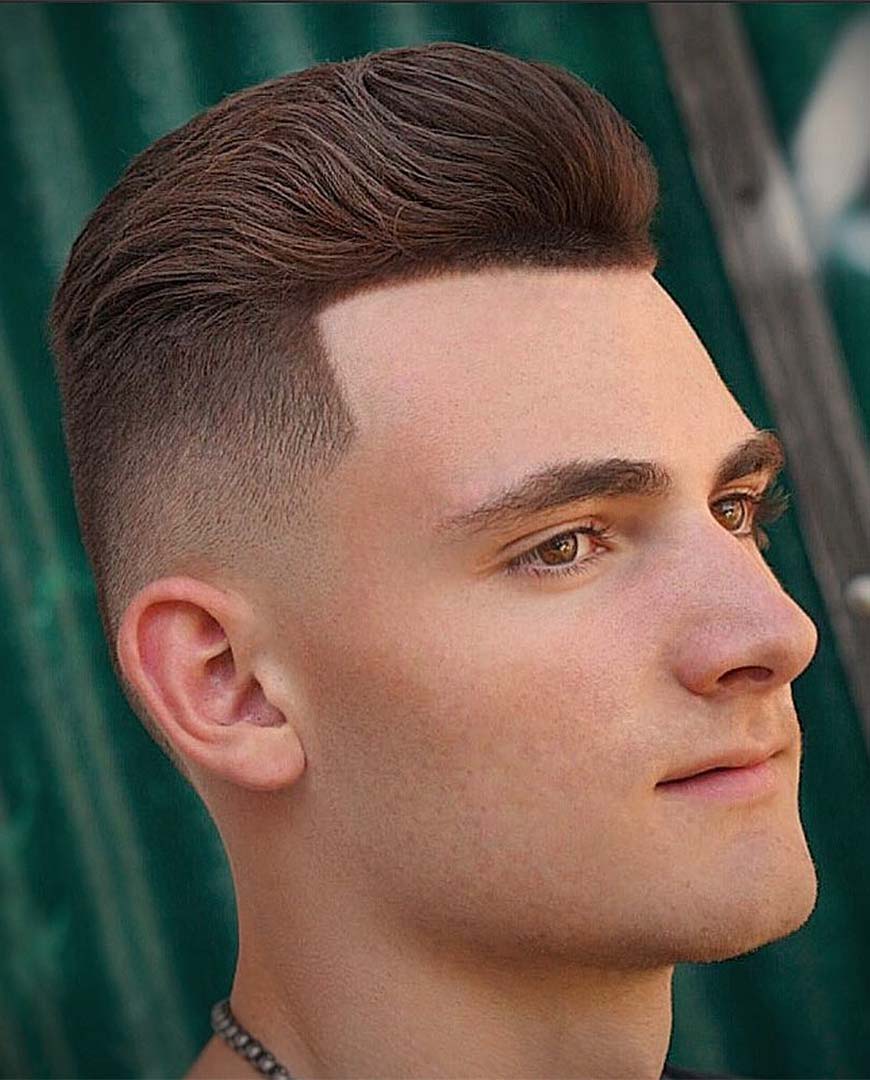 Pompadour with Deep Part
This style is one of the easiest to pull off and will give you a stylish appearance. A hard part separates the sides and crown, and the thickness of the hard part depends on your hair's volume. This style looks great with a beard.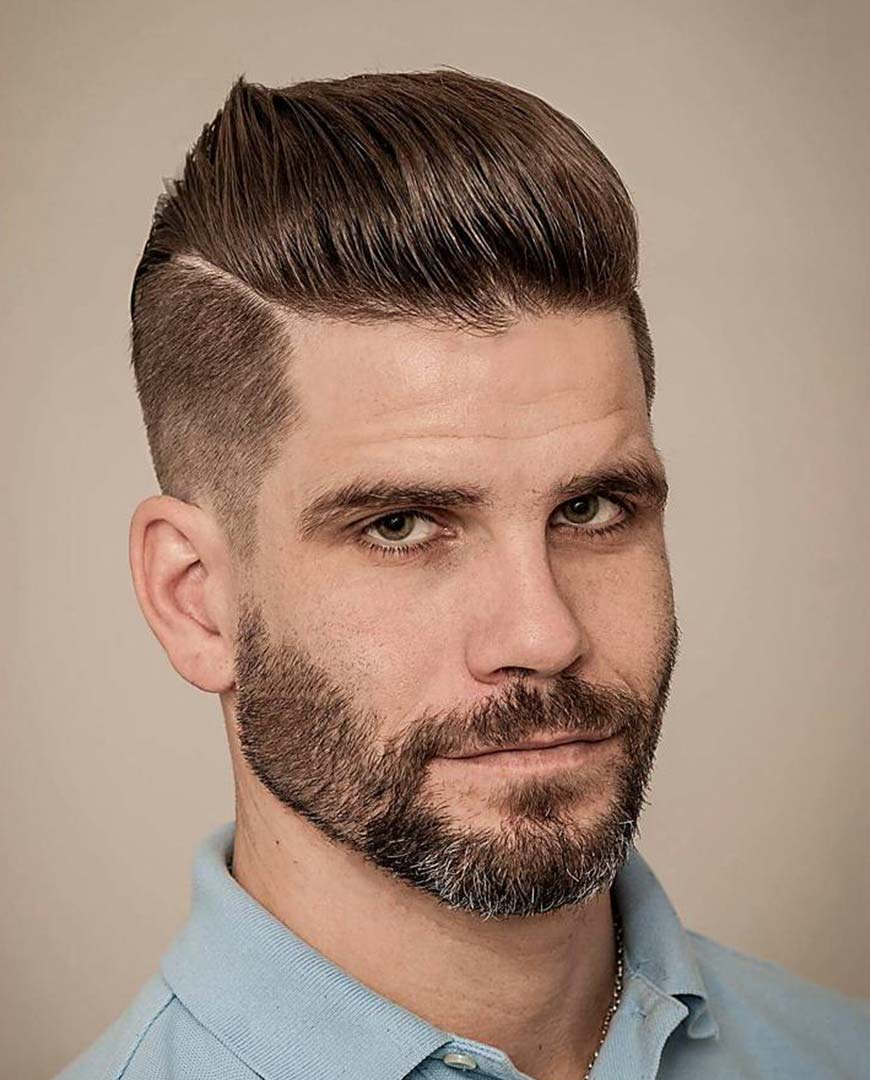 Short Slicked Back with Undercut
If you're looking for an undercut hairstyle that makes a statement, consider a short slicked back. It's sleek and light on the top, while maintaining a classic look. Use hair cream, wax, or clay for a textured slicked back undercut.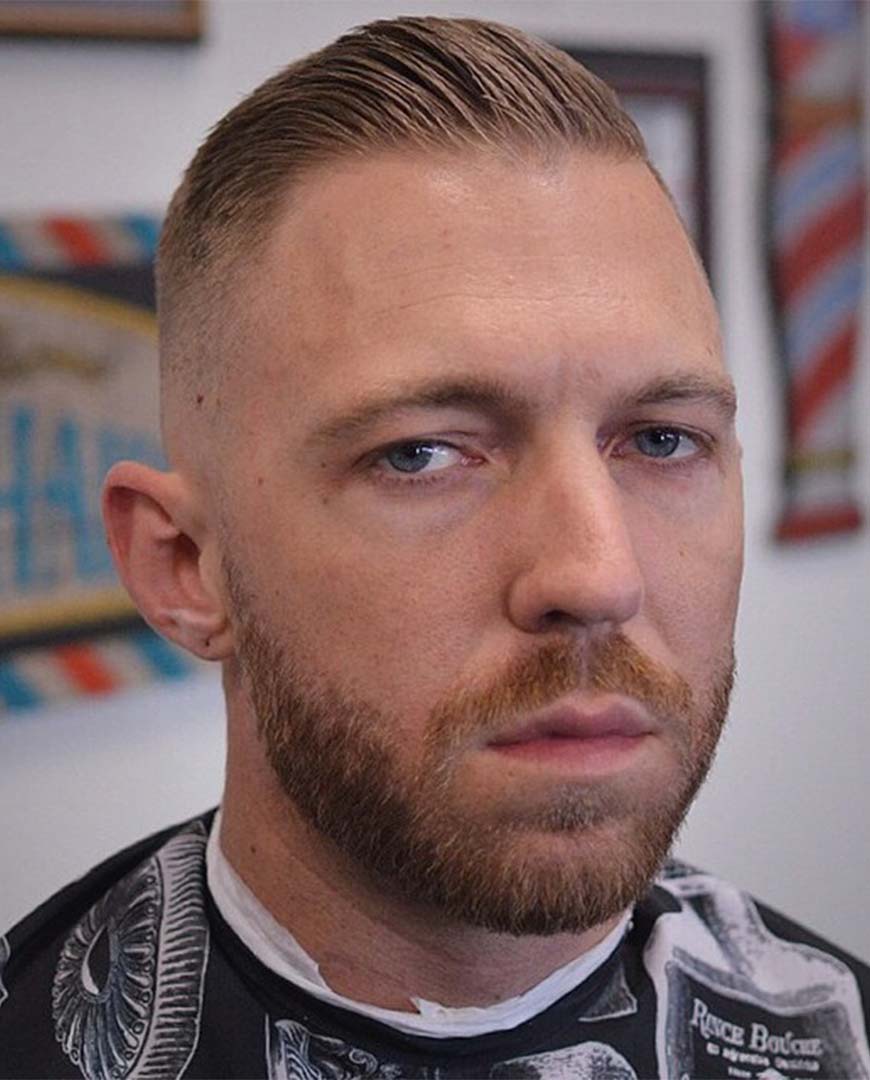 Slicked Back with Low Skin Fade
A low skin fade eliminates weight on the sides and balances the sleek style on top. You can also try this style with facial hair. The facial hair will give the cut a dimensional effect and complement your face shape.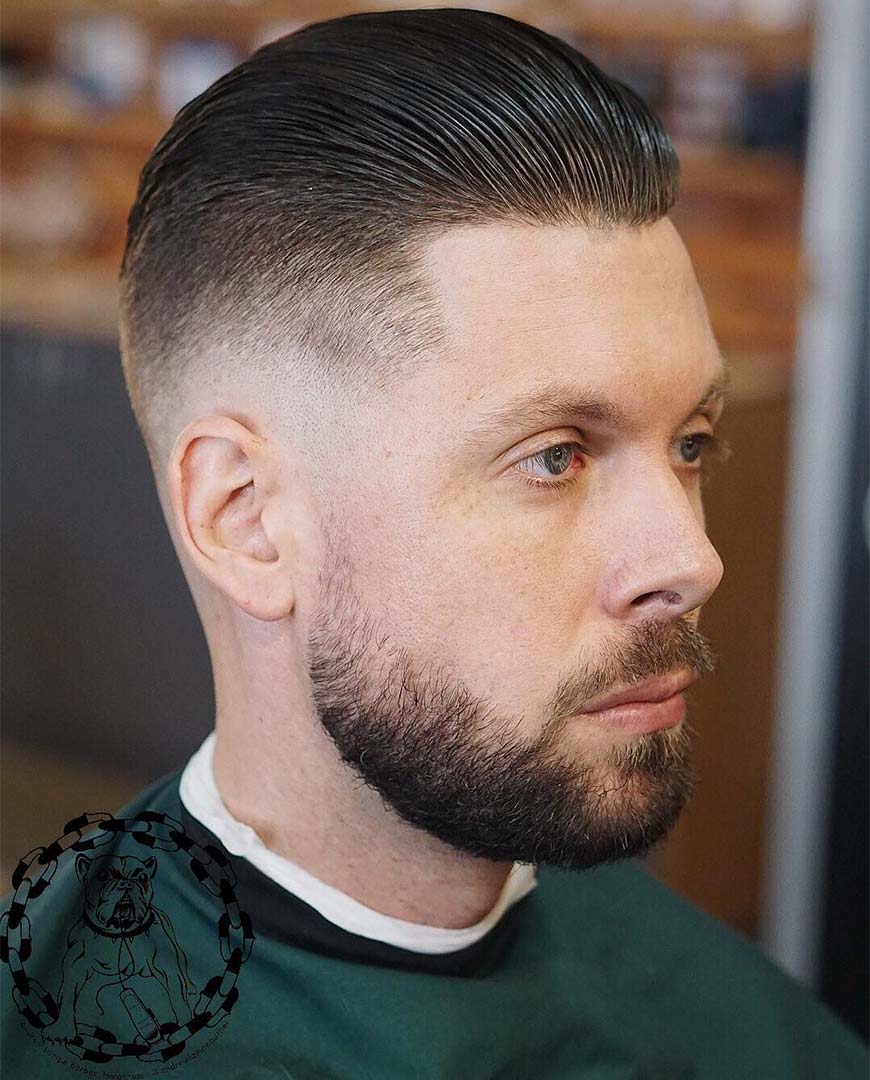 Comb Over and Deep Part
If you have medium or long hair, try a deep side part. A comb over and deep part are two styles that go well together. A traditional comb over cuts the hair straight across, while a deeper part creates a more modern look.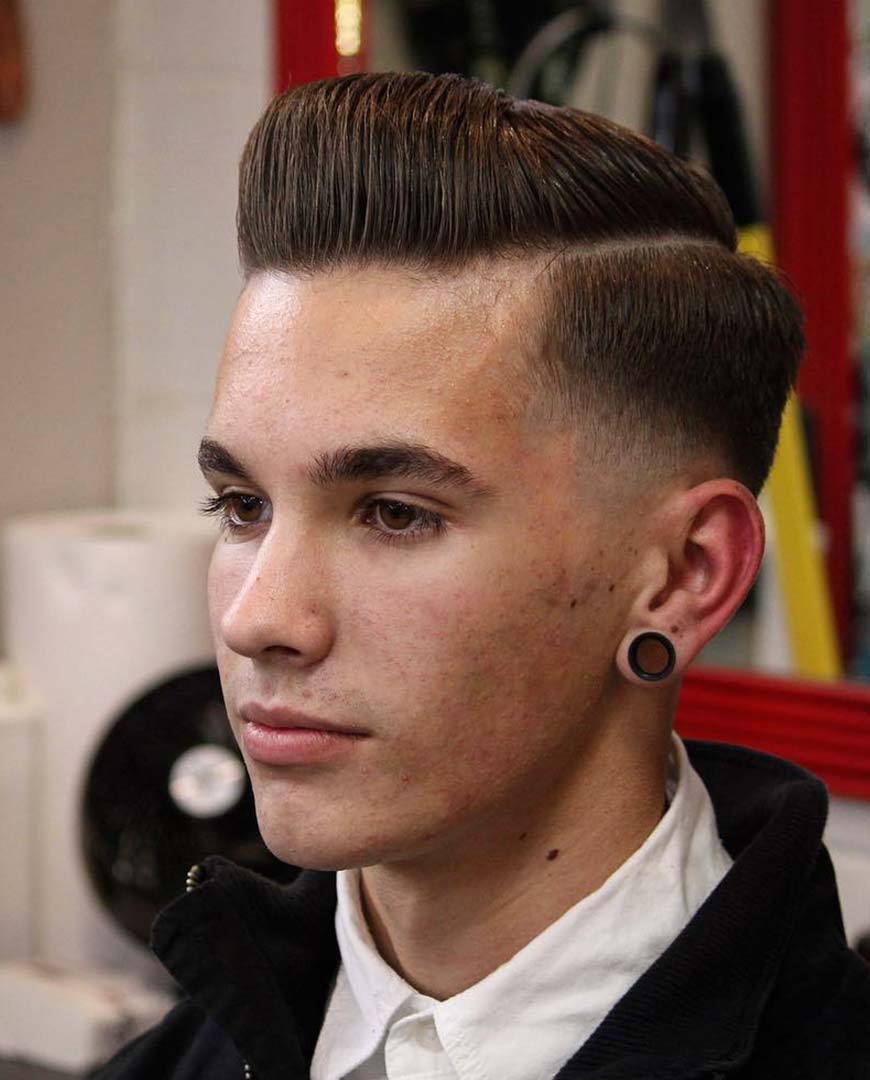 Slicked Back with Mid Fade
The fade is perfect for lightening dark hair and adding a modern twist to the look. To create this stylish look, you need to wash and dry your hair and use a wet-look gel to give your hair a glossy finish. Then, use a medium-to-light hold styling product for the best results and blow-dry your hair. If your hair is long, try pulling it back with a fine tooth comb.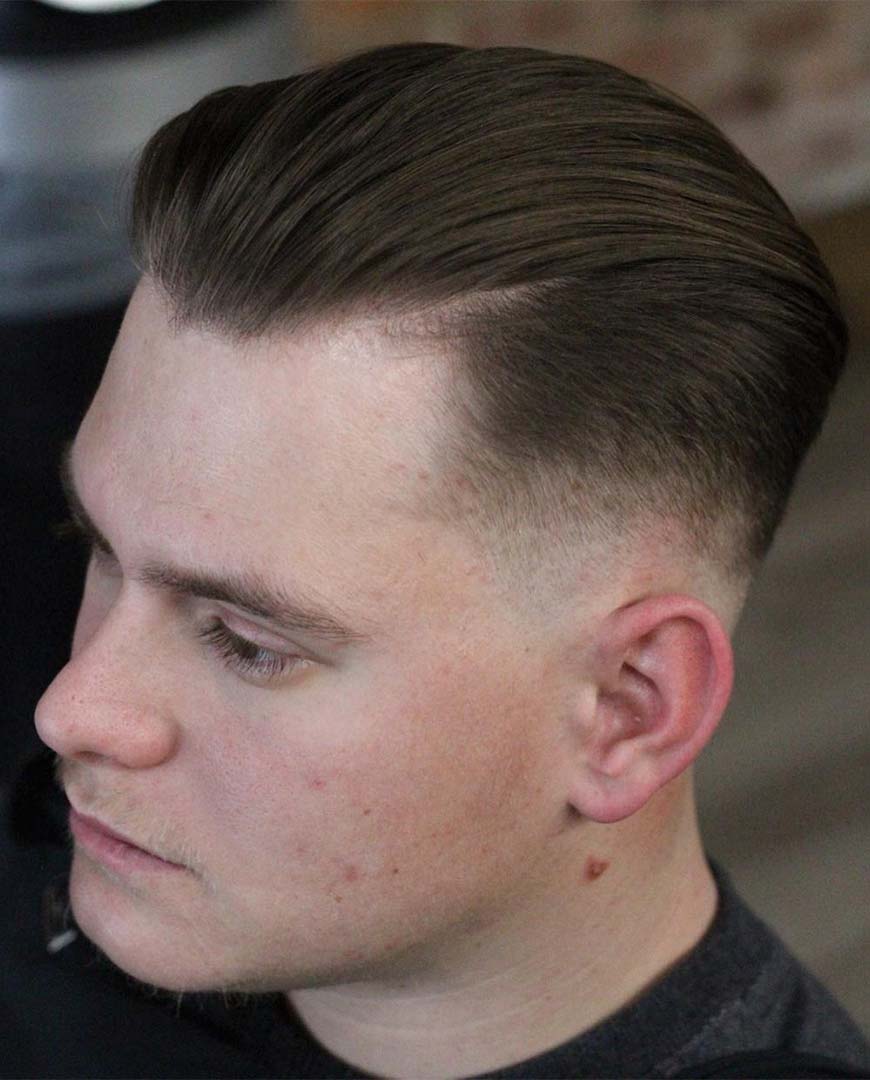 Slicked Back with Sections
Whether you're going for a business look or a more laid back look, you'll find a slicked back style to suit your needs. Creating volume in the front section and a close fade on the sides will help create the most dramatic effect.
Slicked back hairstyles are also great for blending in a receding hairline and reducing the contrast between skin and hair. In addition, slicking your hair backward will make it appear thicker and more natural. 
If you want your hair to stay back, try using a comb to smooth strands. The comb will help you get a more defined look and prevent your scalp from becoming dry. However, if you don't want to use a comb, use your fingers. They will give your hair more texture and a more modern look. If you don't have a slicker hairstyle, you can use a straightener to look more natural and sleek.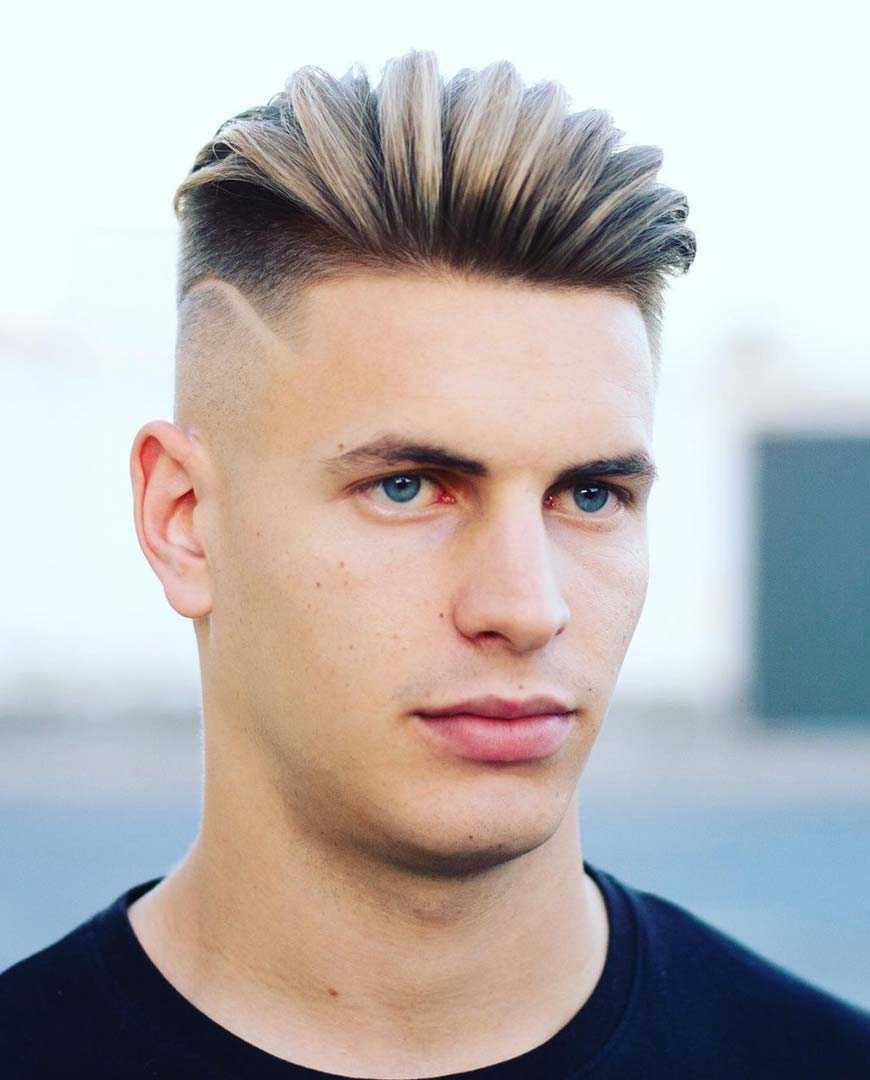 Wavy Hair with Slicked Back
Slicked back hairstyles are great for a professional look, but wavy hair can be hard to comb back. Here's how to achieve the look with the most natural-looking waves possible. Start with a damp towel-dried head. Next, blow-dry the hair away from your face. Comb it up to the top of your head and apply pomade to the strands. Finally, brush the hair back neatly.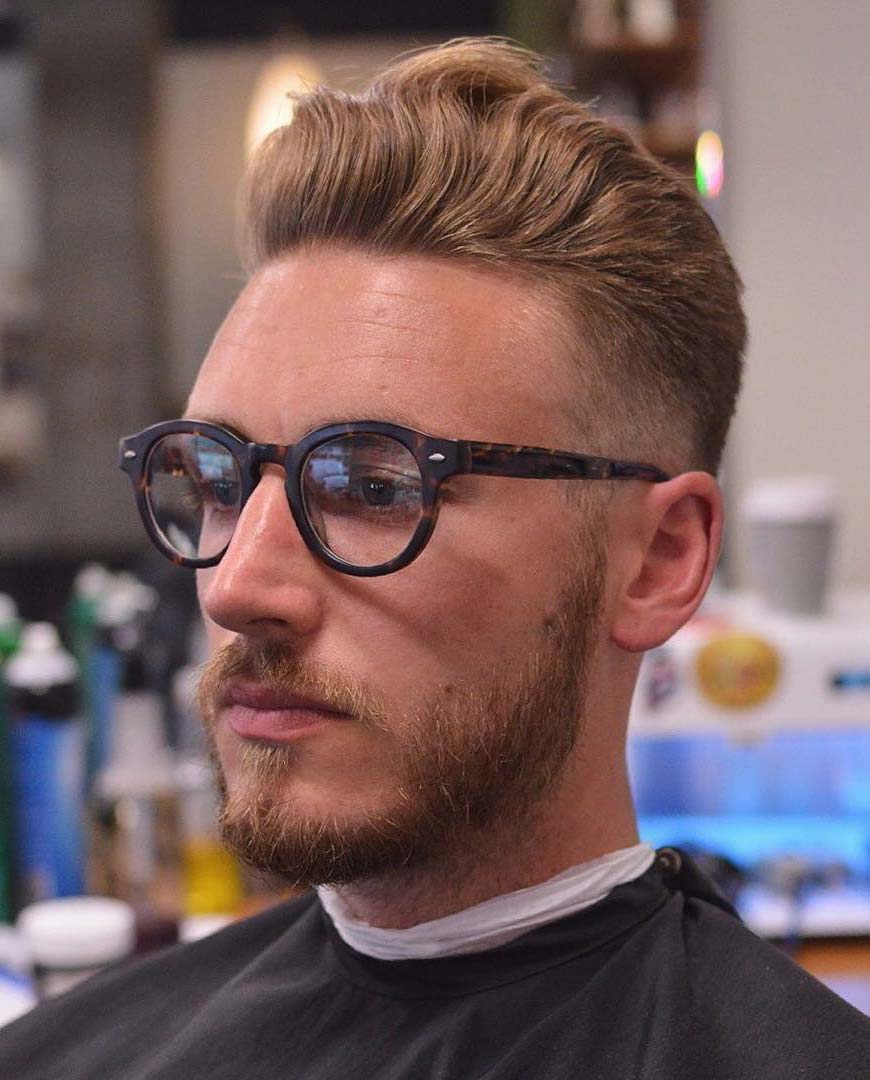 Comb Over
Taking a slick back comb over is a stylish, modern way to style your hair. The low fade is a unique variation of a comb over. It features a fade just above the ear, a flattering cut for gents who want to stand out. It also helps balance the sleek look at the top with a little weight on the sides. For an ultra-slick look, try using a matte finish hairspray or gel.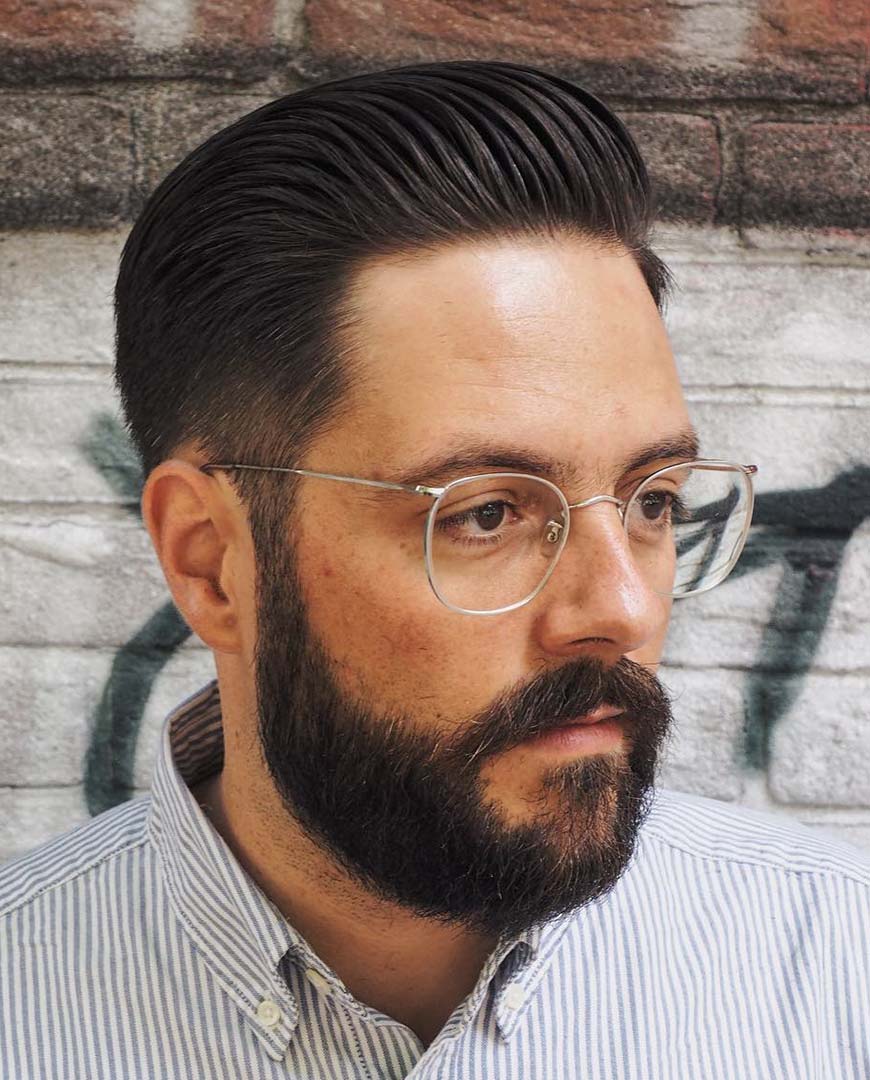 Crew Cut
The style has a youthful and severe vibe, and it is incredibly easy to keep looking good. Unlike other slicked-back hairstyles, which require maintenance and time, the cut only requires a comb and a couple of blow dryers to keep them looking fresh.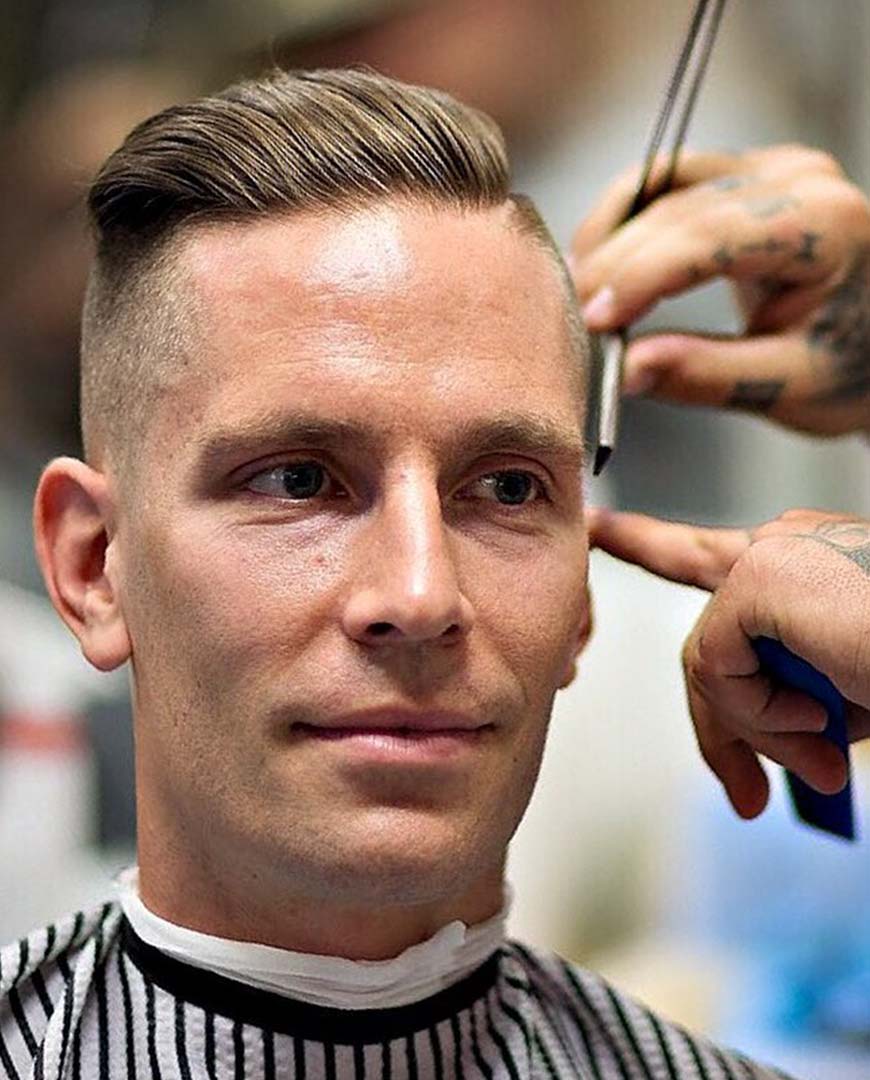 Pompadour with Undercut
A Slicked Back Pompadour is a classic hairstyle that harkens back to the 1920s. This style doesn't require a lengthy grooming routine and is a popular choice for those with thick hair. You can also try it on shorter hair and heighten it if you wish.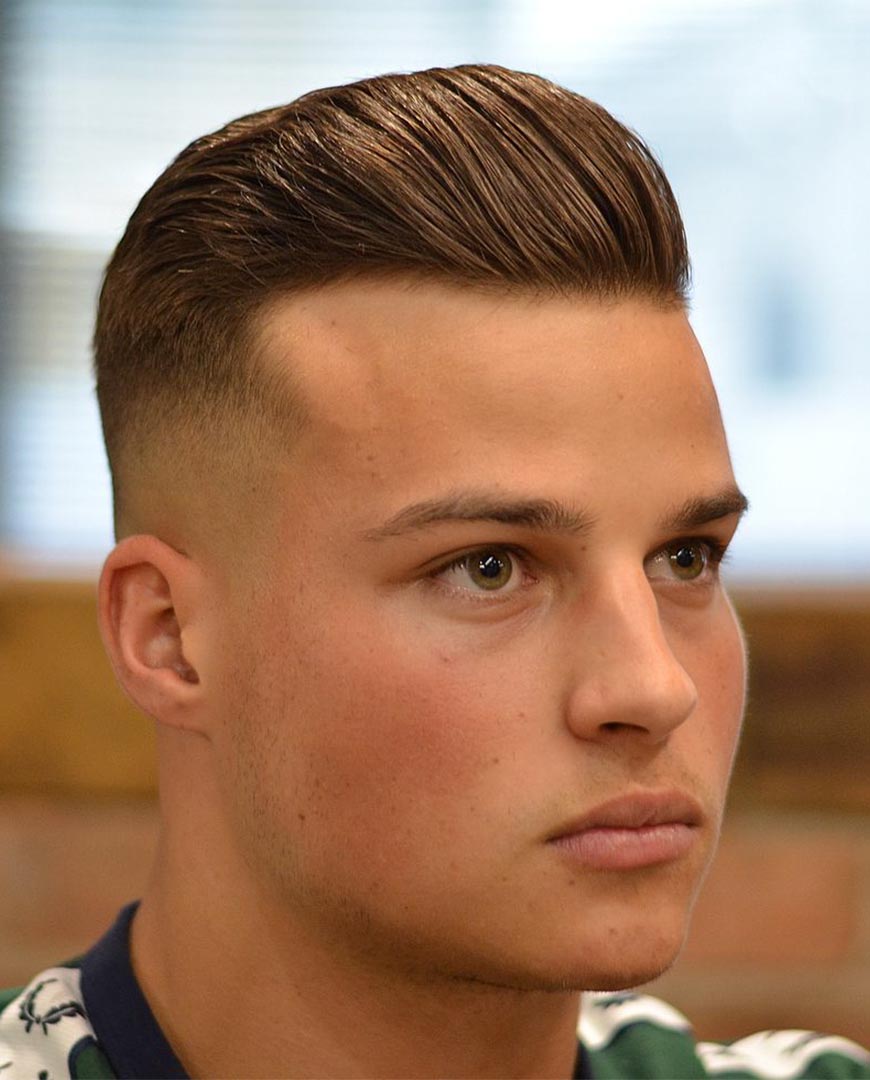 Slicked Back with Long Beard
The style is best suited for men with facial hair. It's easy to create the slicked-back look, but make sure you match your facial shape to the style. The beard can distract from the slick-back hairstyle, so be careful when trimming it.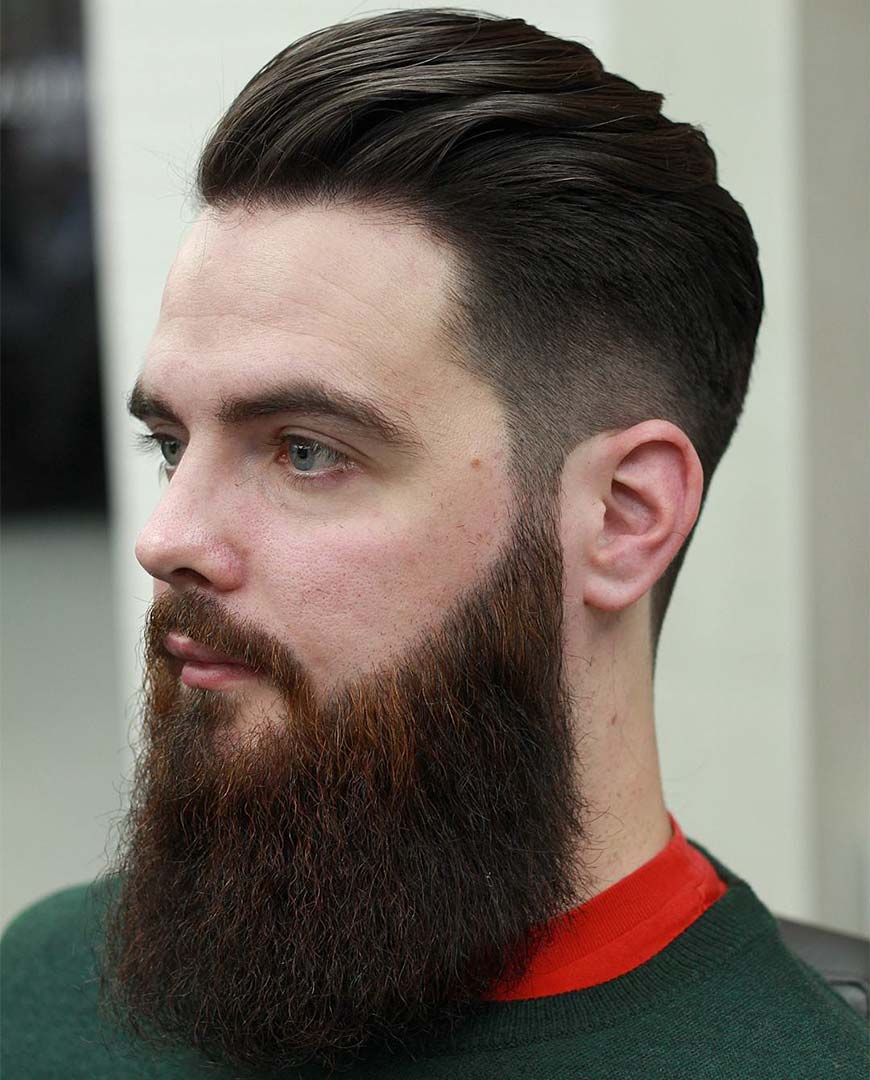 Pompadour with Disconnected Sides
A disconnected pompadour can be created by sectioning the top of the head in half and tapering the sides. This creates a more balanced look and gives the front portion more volume. By parting your hair to the side, you can emphasize the pomp at the front. It's easy to style and can be used to make any kind of asymmetrical look.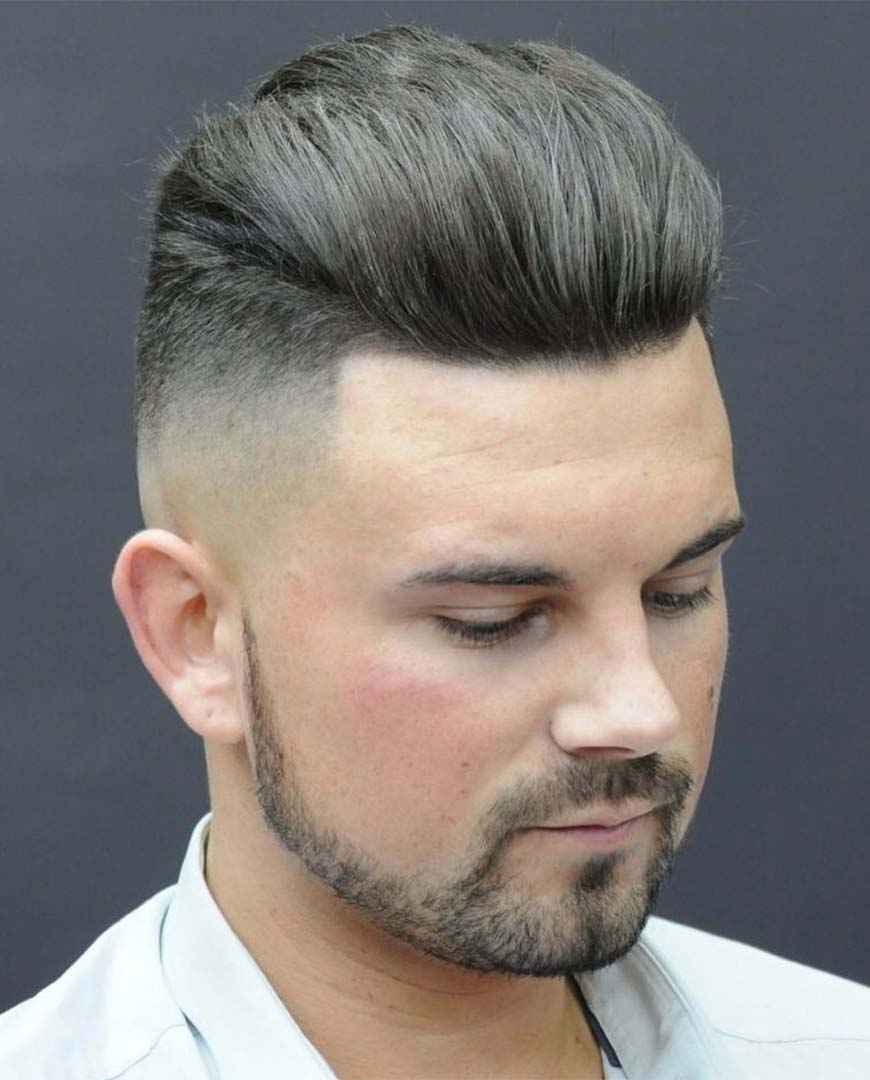 Pompadour with Part
The basic styling techniques of a Pompadour with Part include applying pomade to damp hair, making a part, and tying the hair up. The pompadour itself is tricky to master and may require several tries before you get it right.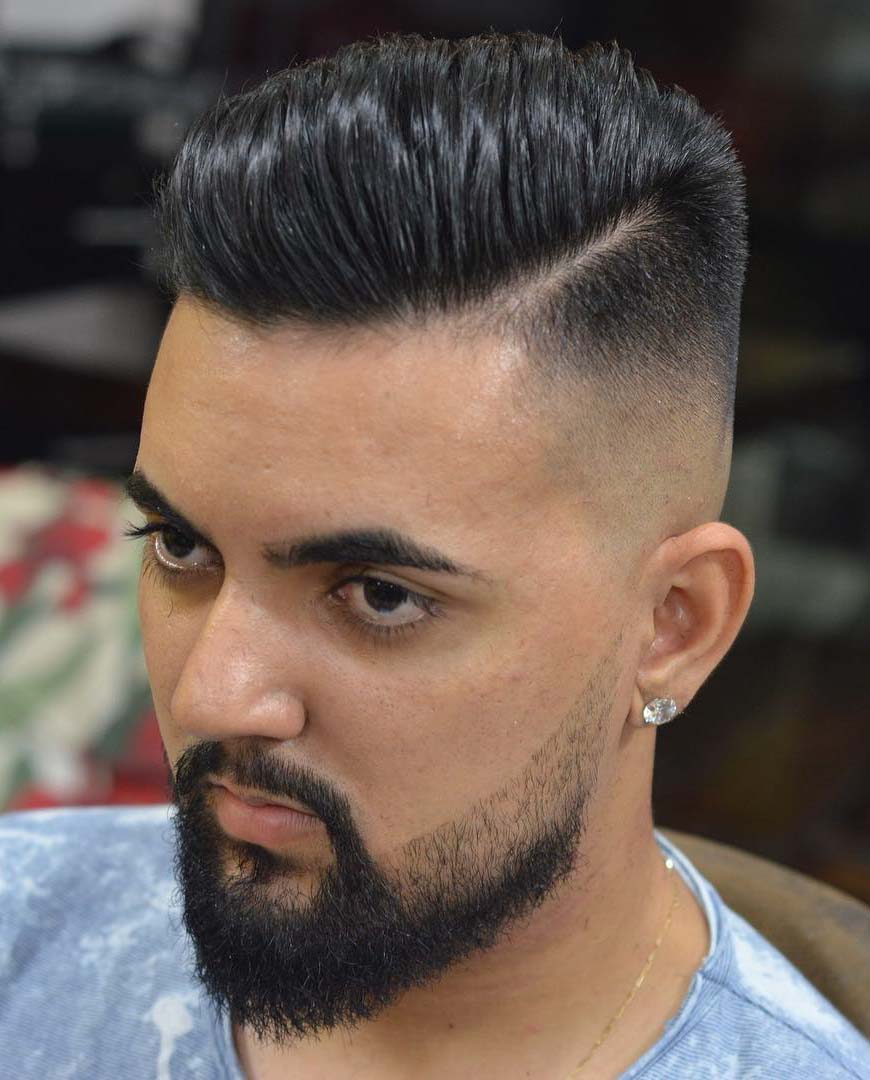 Slicked Back with Undercut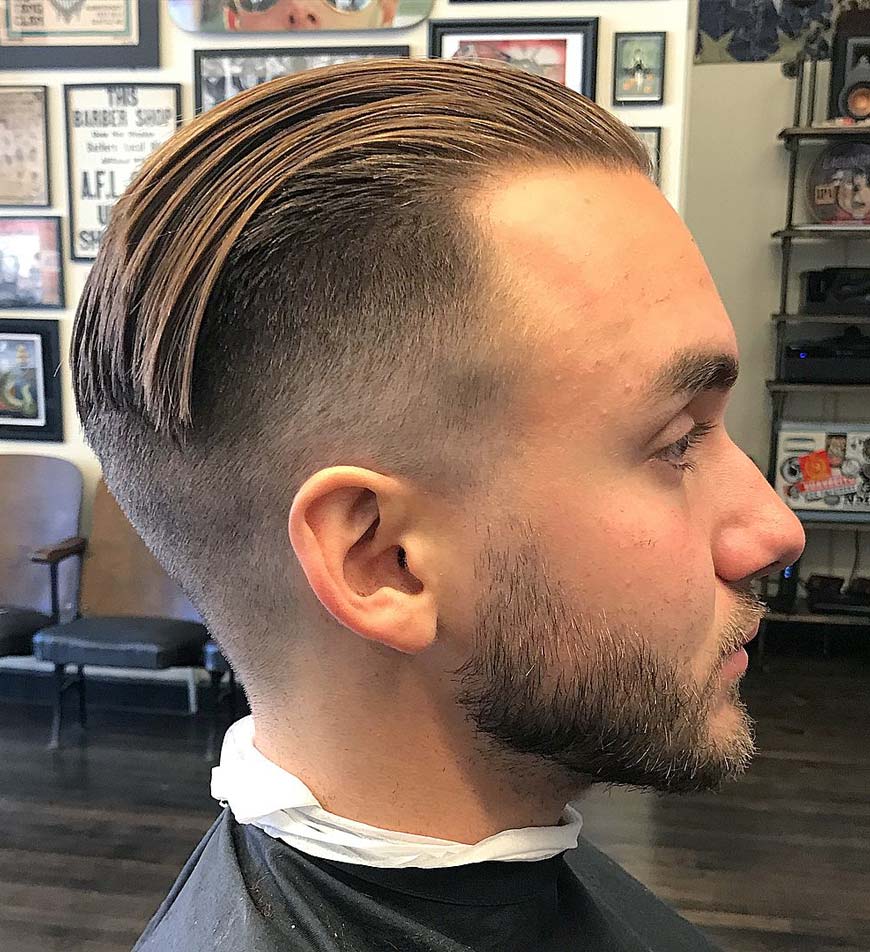 Slicked Back with Wig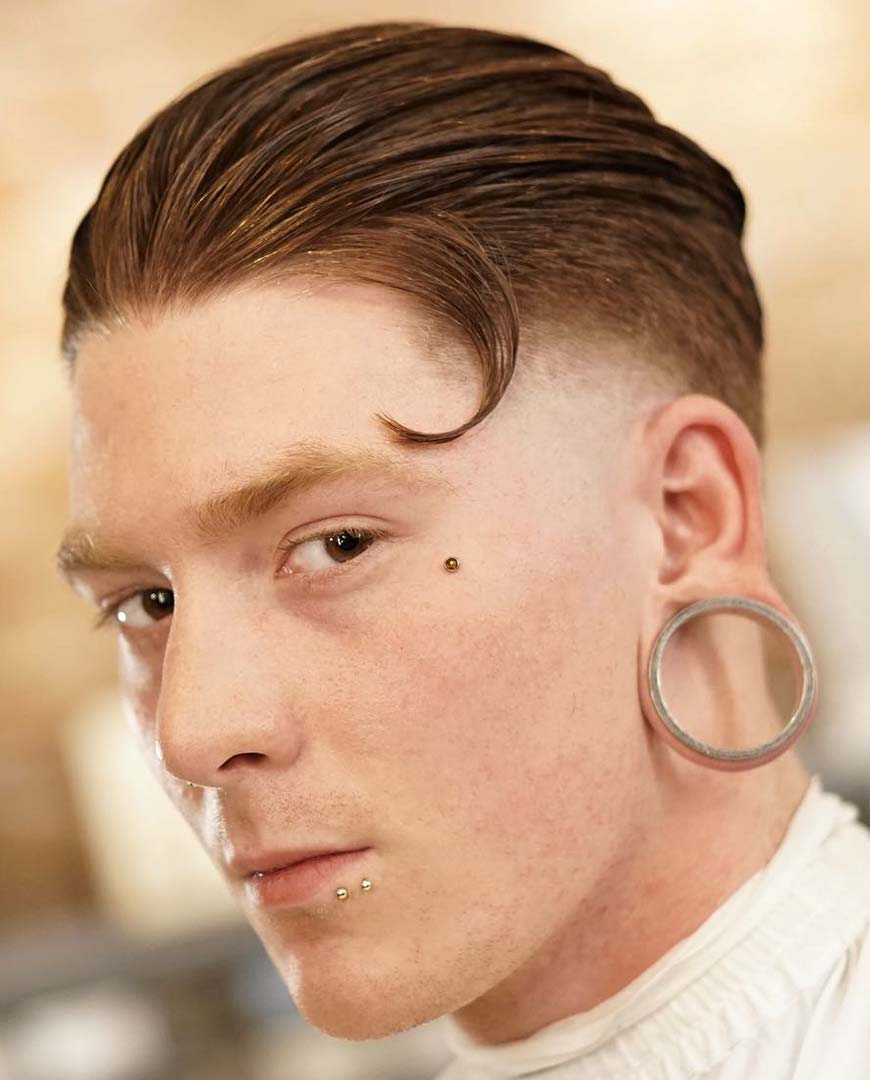 Elegant Slicked Back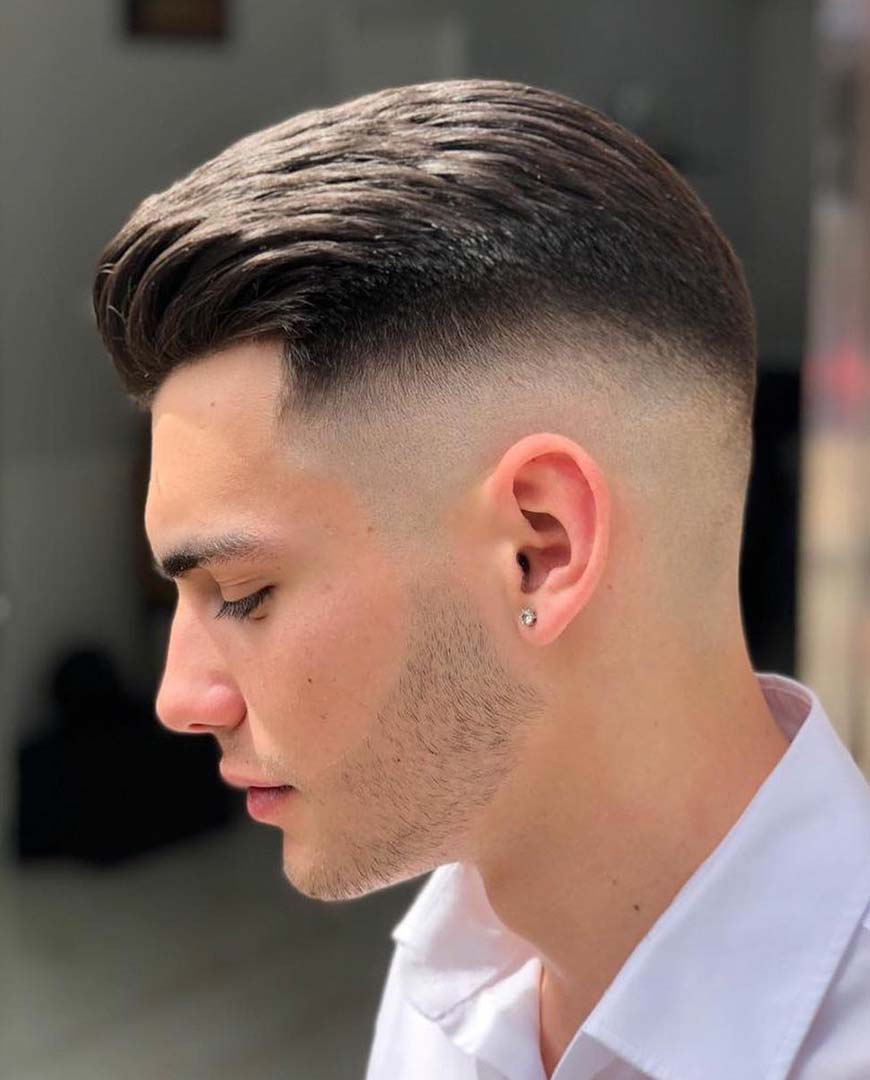 High and Tight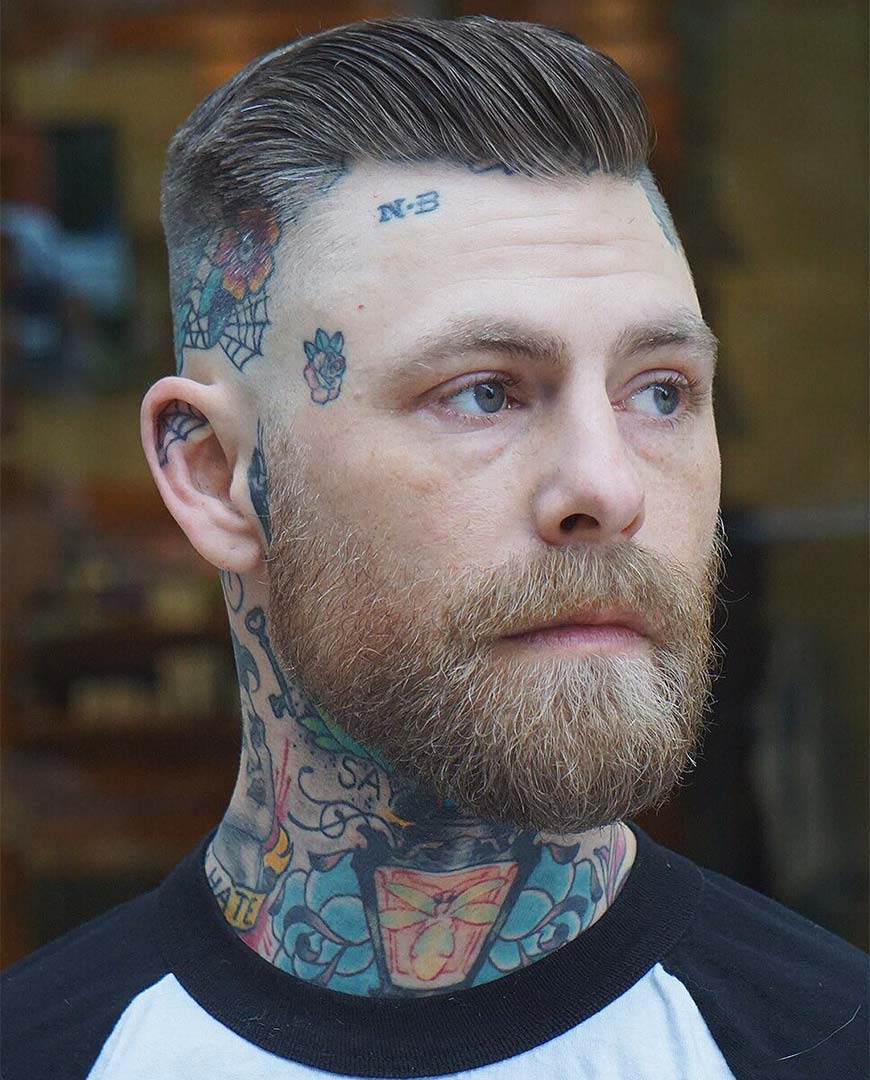 Sectioned Top with Undercut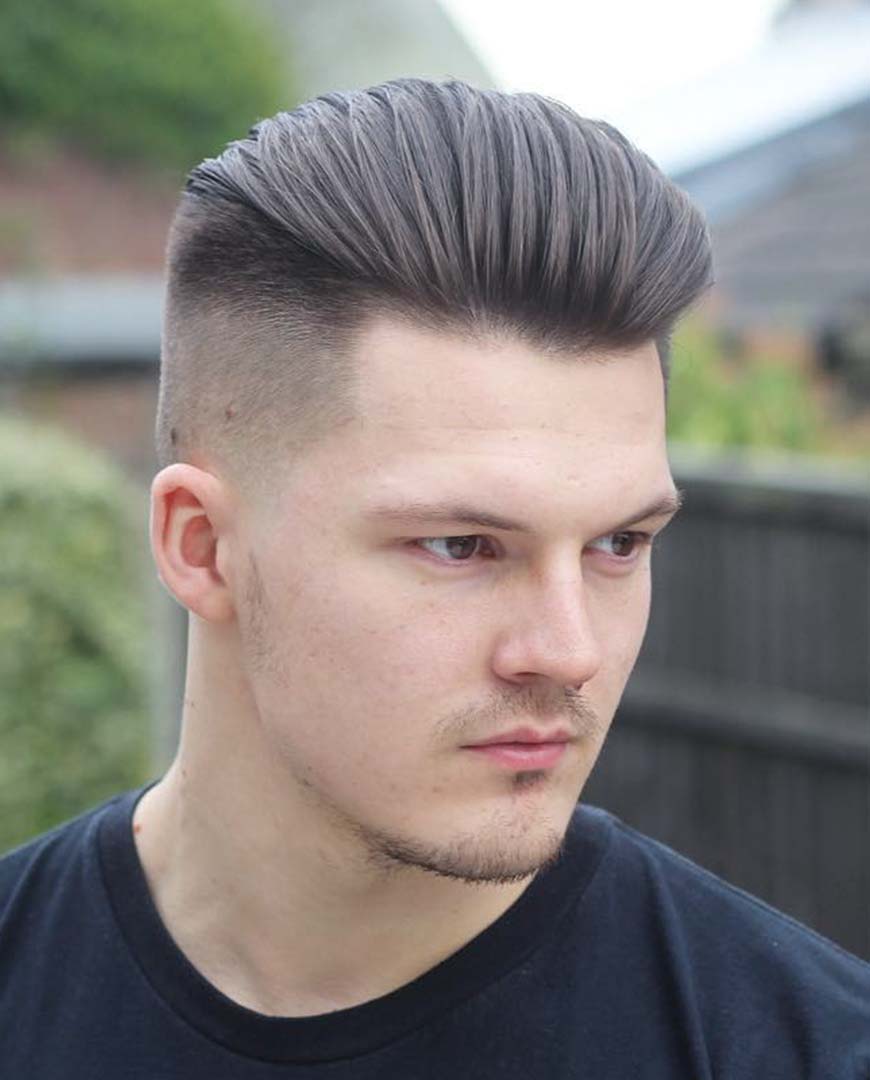 Short Hair with Undercut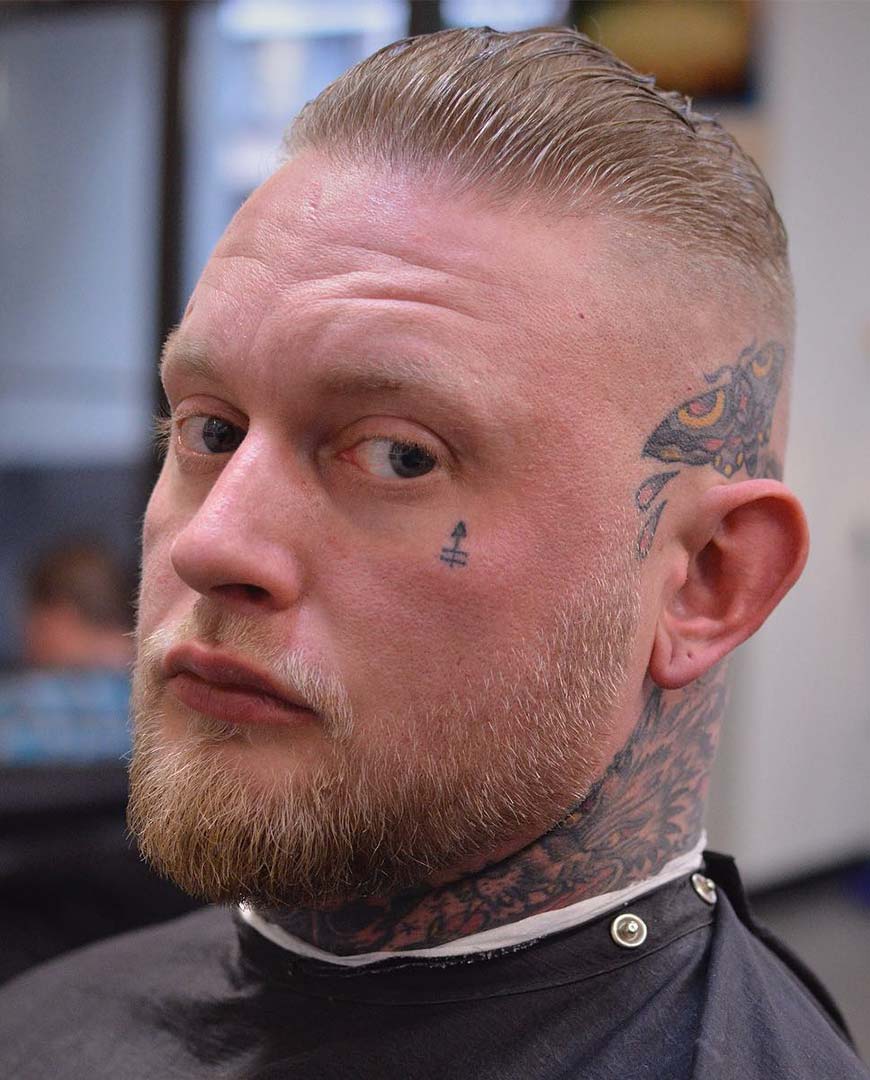 Sick Hair with Mide Fade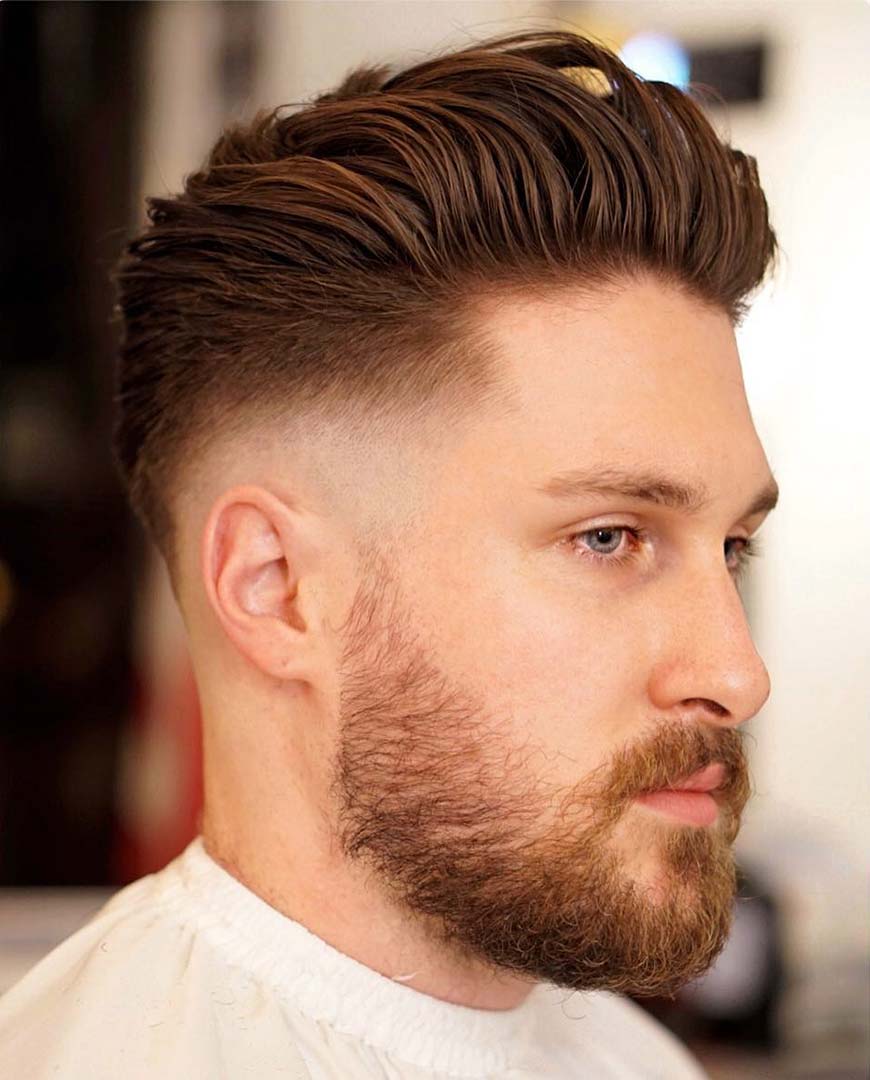 Quiff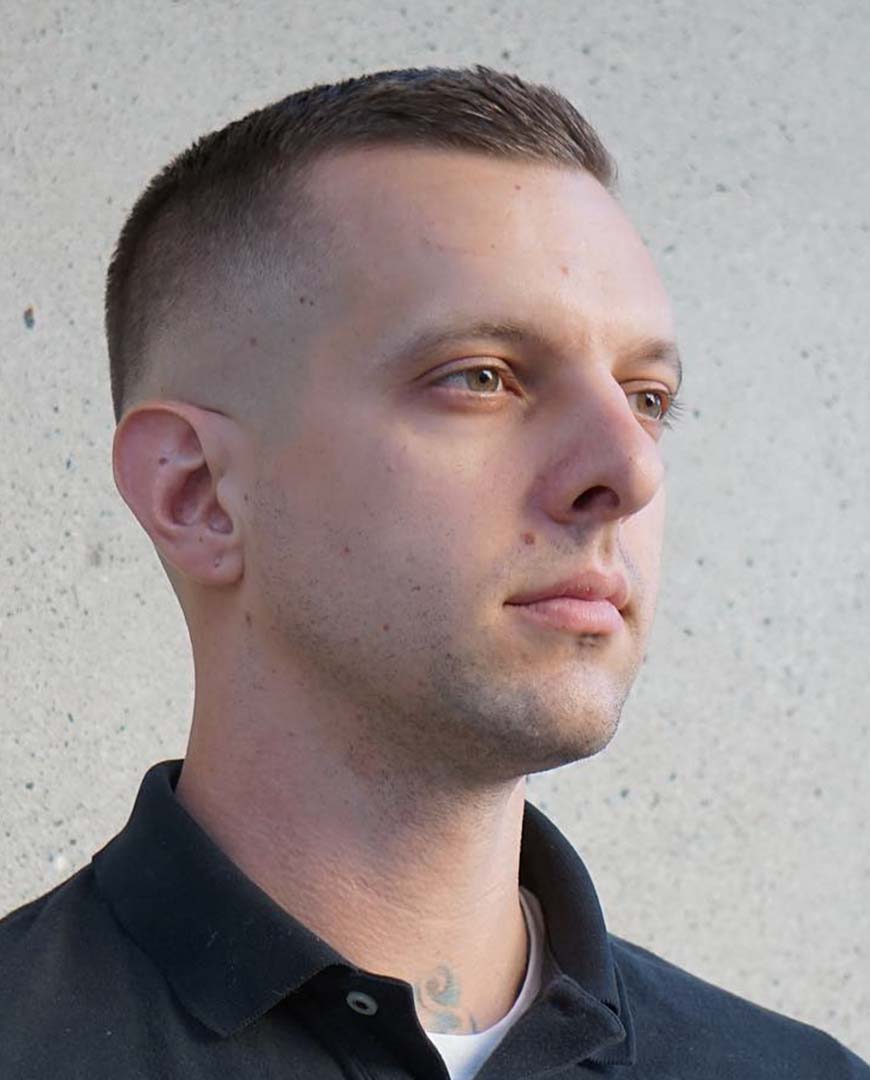 Slicked Back with Taper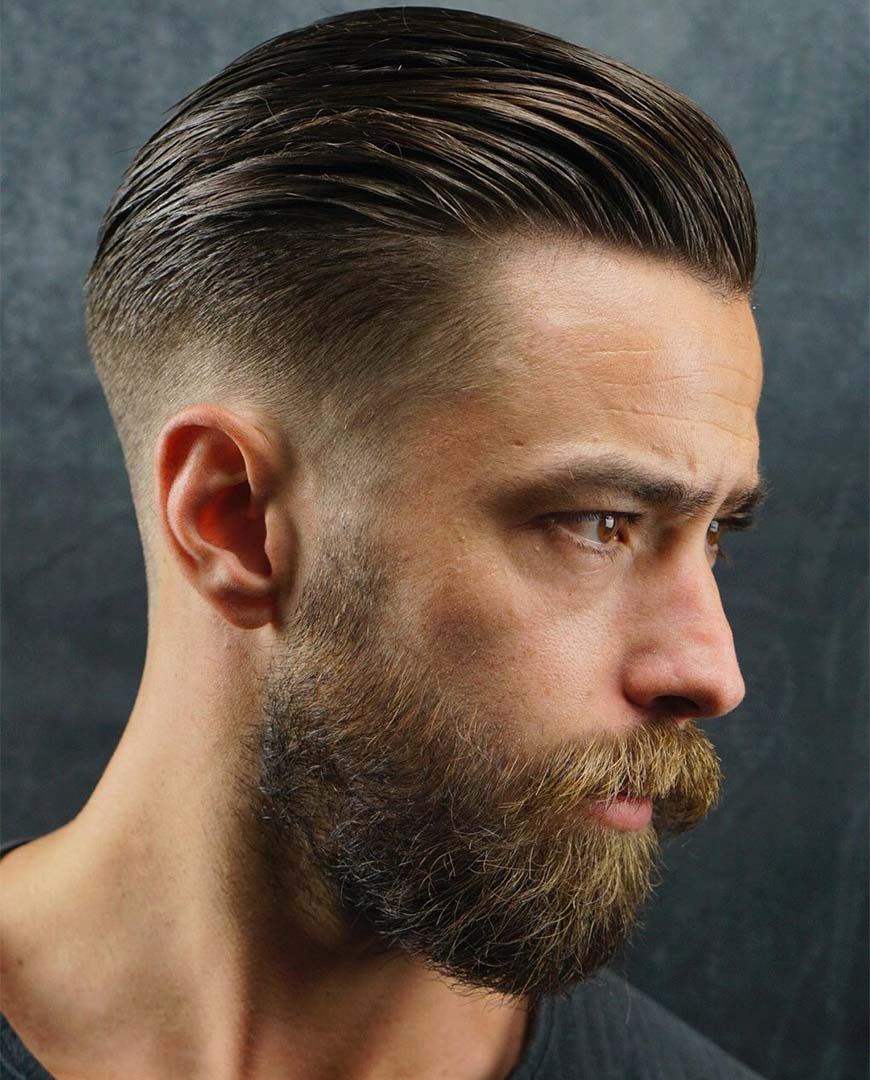 Top Knot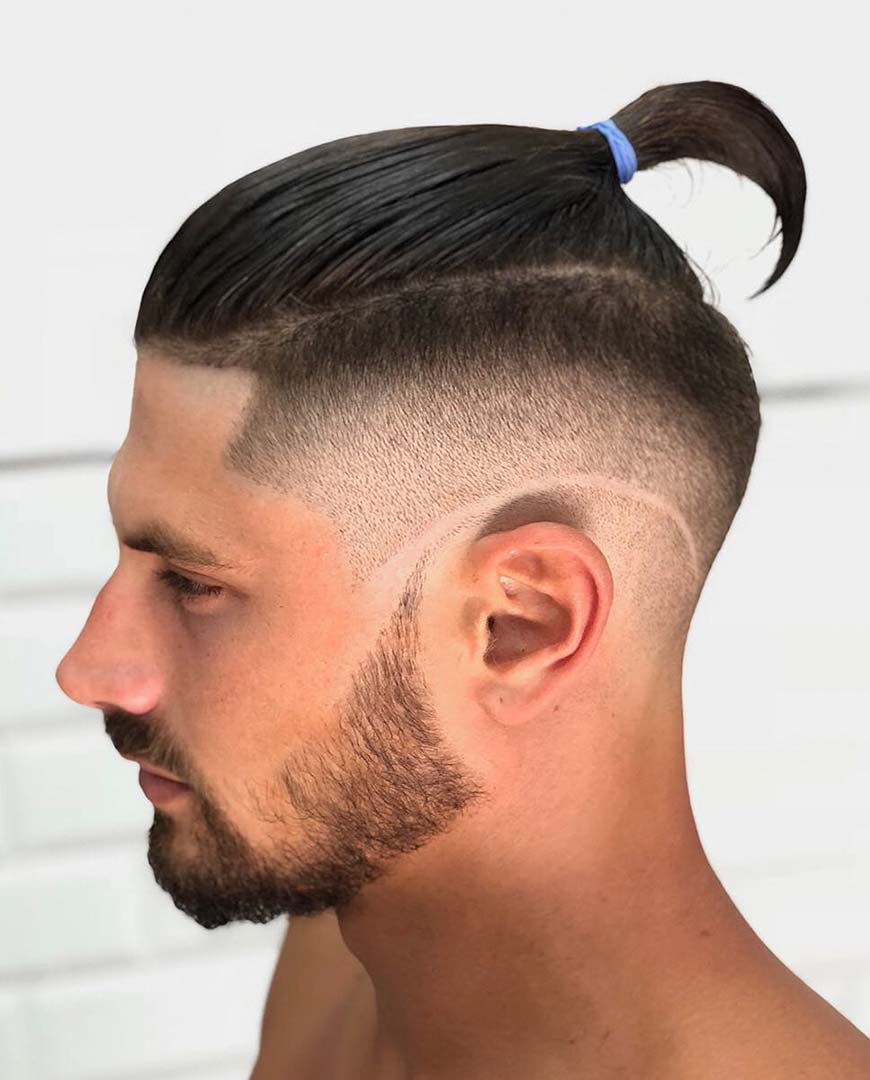 Tousled Style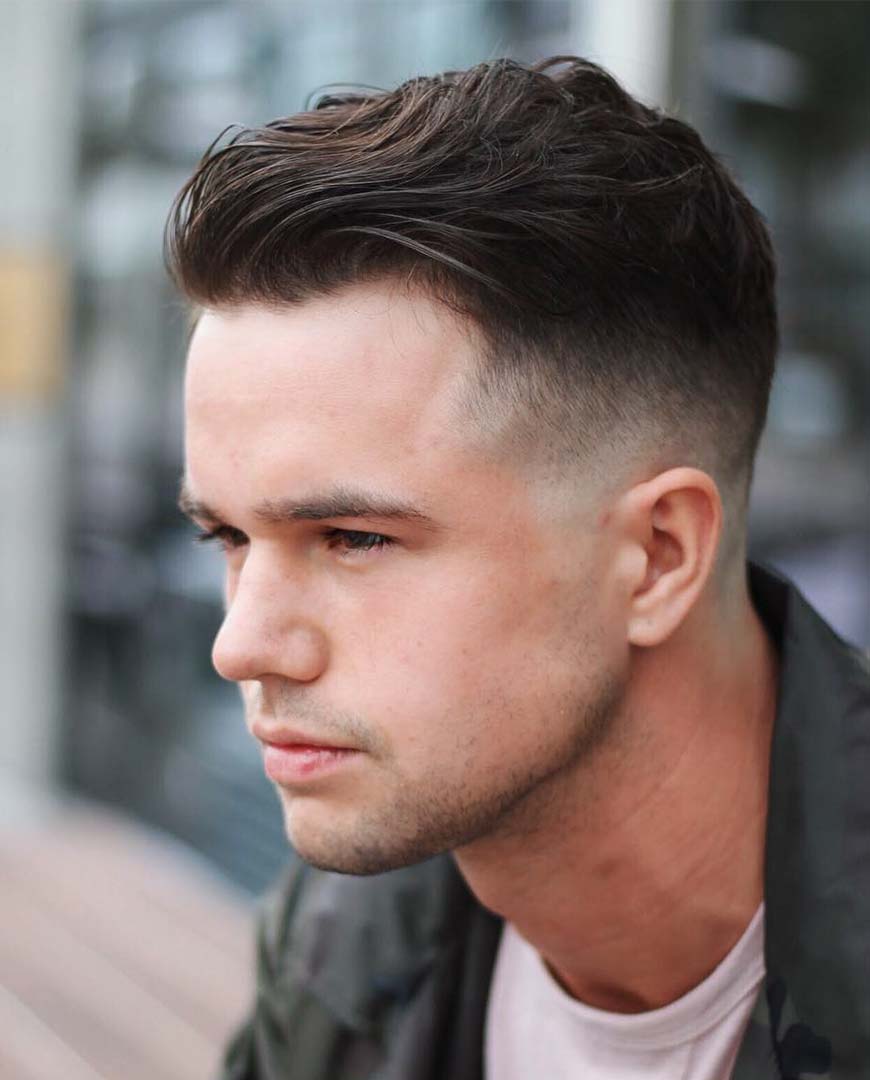 Wet and Windy Style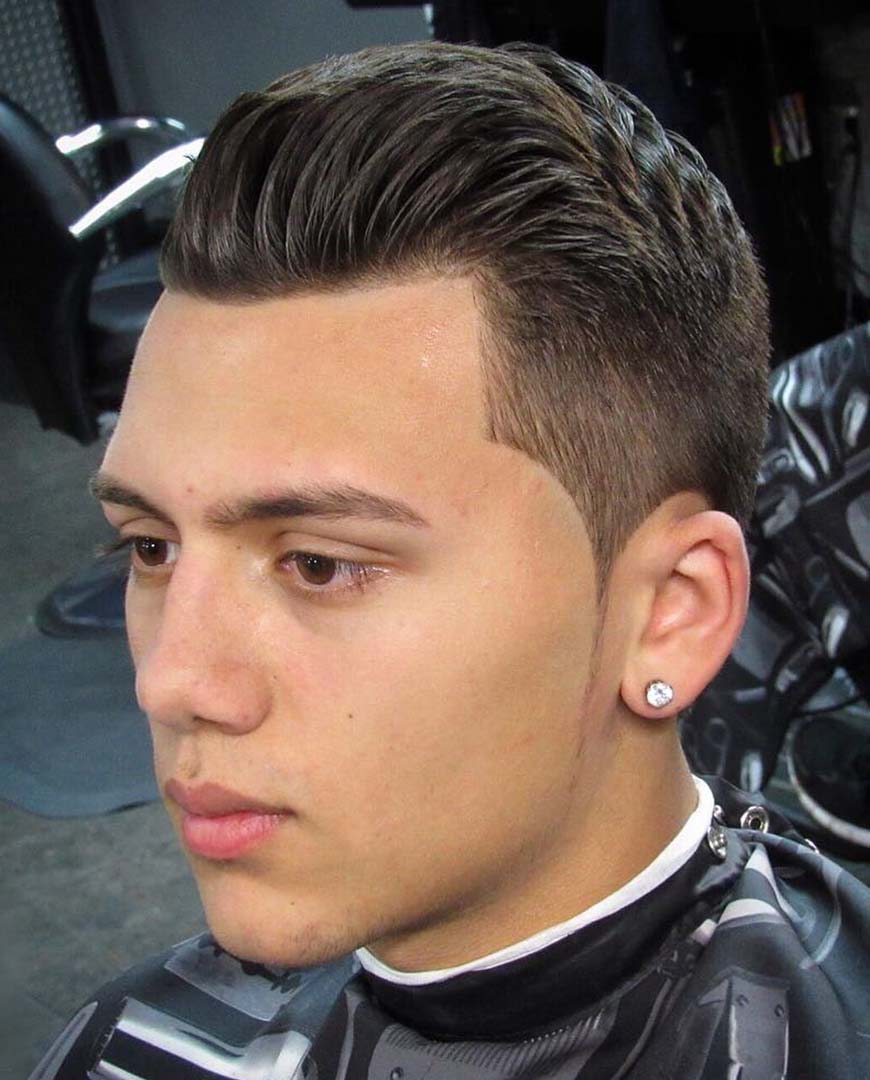 Combed Back Hair with Highlights