Dating back to the days of the Roman Empire, the Caesar haircut quite possibly may be the most classic hairstyle that is known to man. While it may have roots in ancient times, this haircut is by no means outdated but instead, with a variety of fresh interpretations and loads of styling twists, the Caesar haircut is not only totally on-trend but an extremely versatile and flattering look for men of all types!
How to Style A Caesar Haircut
The best styling method is using a comb and hair clay for texture. Distribute a dime-sized amount of product through your hair with your fingers, and then comb the fringe forward. The final results should let the bangs touch the cusp of your forehead without flowing over. This is a haircut which is a staple for barbers and hairstylists to learn so you should be able to request it by name at any barbershop or salon. Here is just a sampling of the numerous ways that you can experiment and personalize the haircut.
Maintain Caesar Haircut with Fade
Caesar hairstyles seamlessly fit into a quick grooming routine. The basic rule of thumb for the haircut is that the hair on the front, top, back, and sides should all be of the same length. This length will vary and is your personal preference but typically is between 0.3 a 3.0 long. Your main focus will be to upkeep regular appointments with your barber to avoid overgrowing the bangs and fringe.
#1 Short Caesar Waves
Short hair offers a bold opportunity to experiment. A cool weave pattern is easy to achieve by brushing the hair in a criss-cross after applying matte pomade.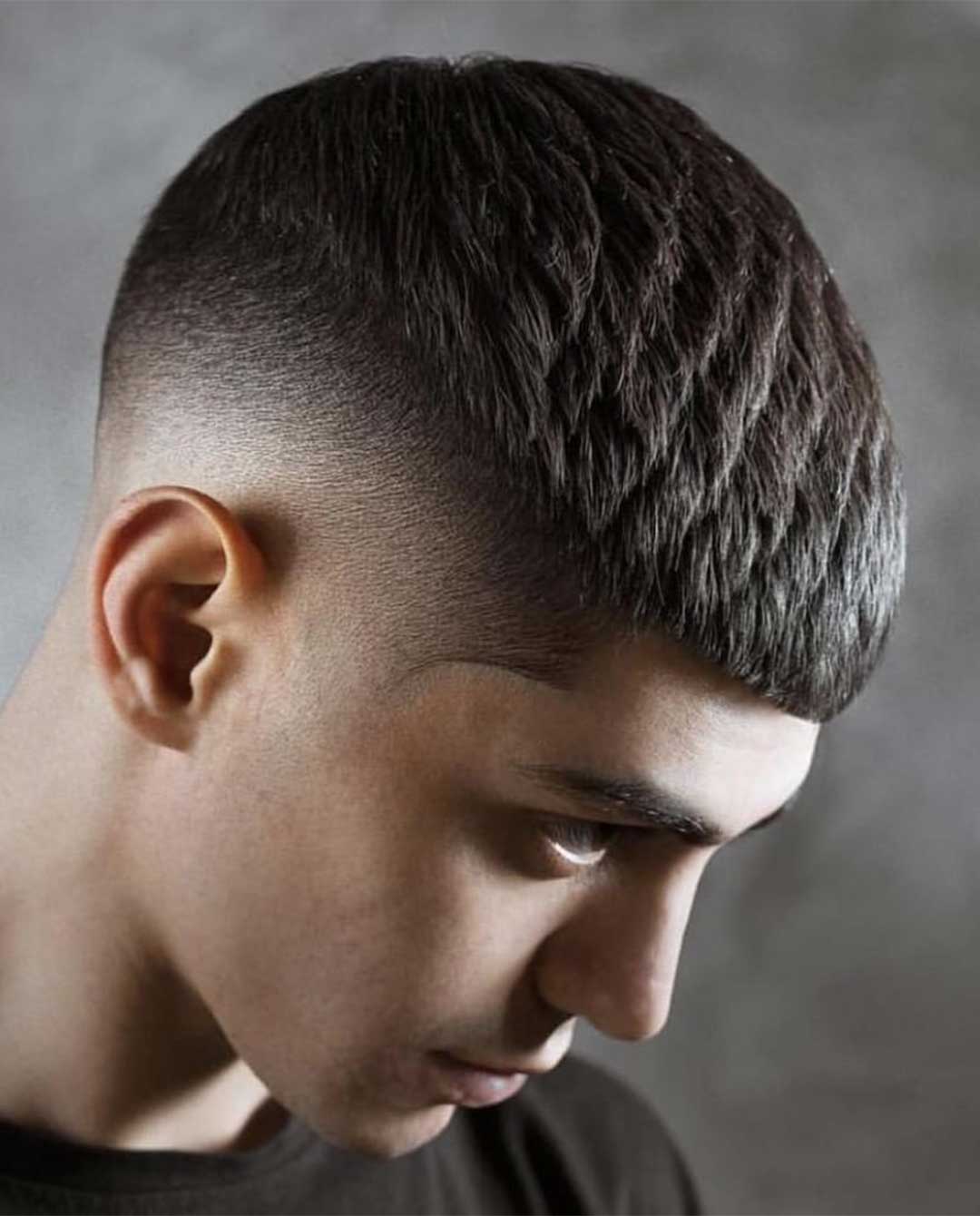 #2 Caesar with High Fade
Example of a traditional Caesar hairstyle with a high fade. The touch-up around the forehead lets loose strands of hair stick out for jagged-inspired results.
#3 Caesar with Tram Lines
Create a fringe by brushing the hair to the front with a wide-set comb. Trim the side of the hair a half an inch longer like a bowl cut, and add some tram lines for an abstract finish.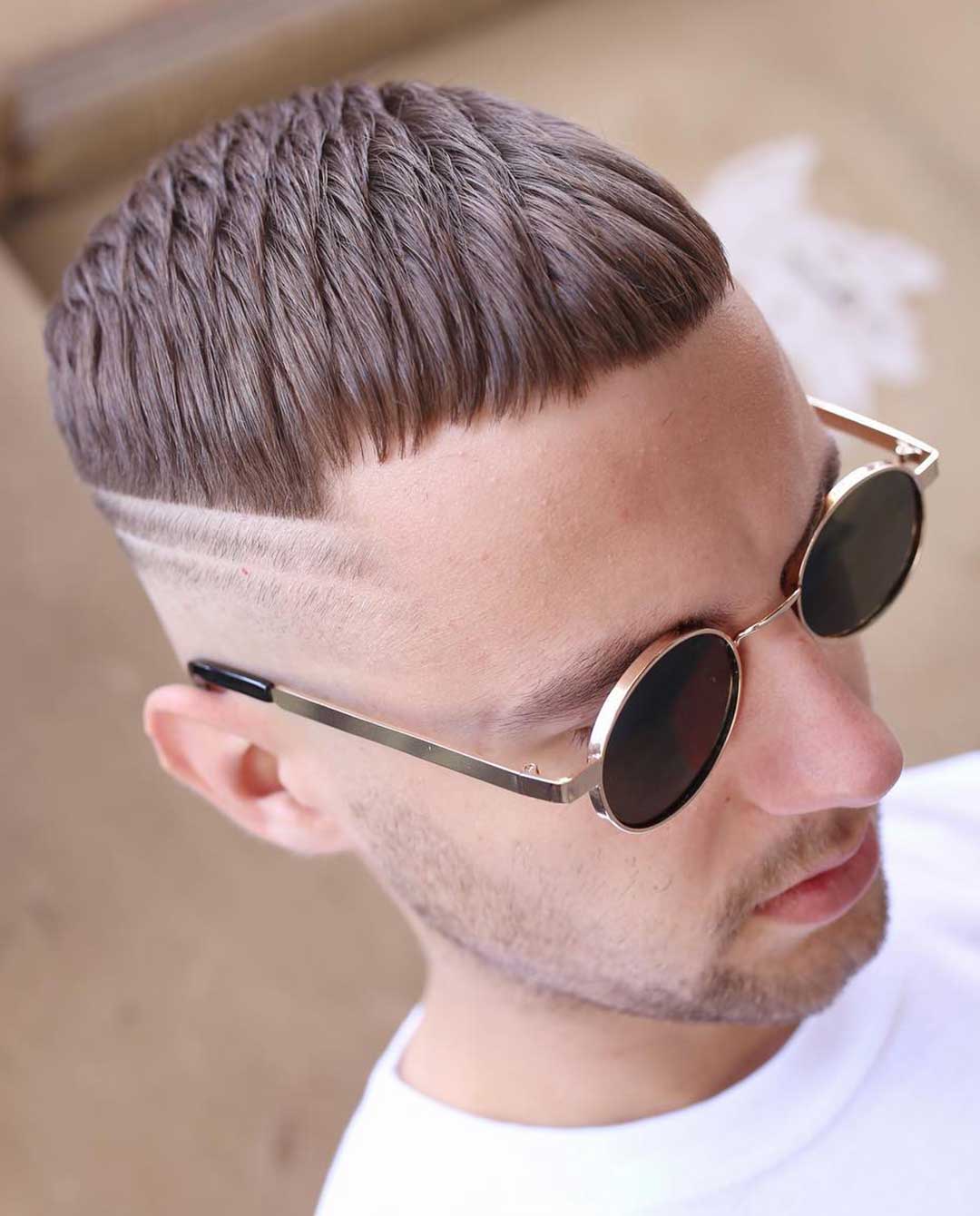 #4 Caesar Fade
A barber's approach to trimming the front bangs plays a big role with Caesar cuts. Sometimes they can find a balance of soft and hard features with a sharp line-up around the forehead and a burst fade.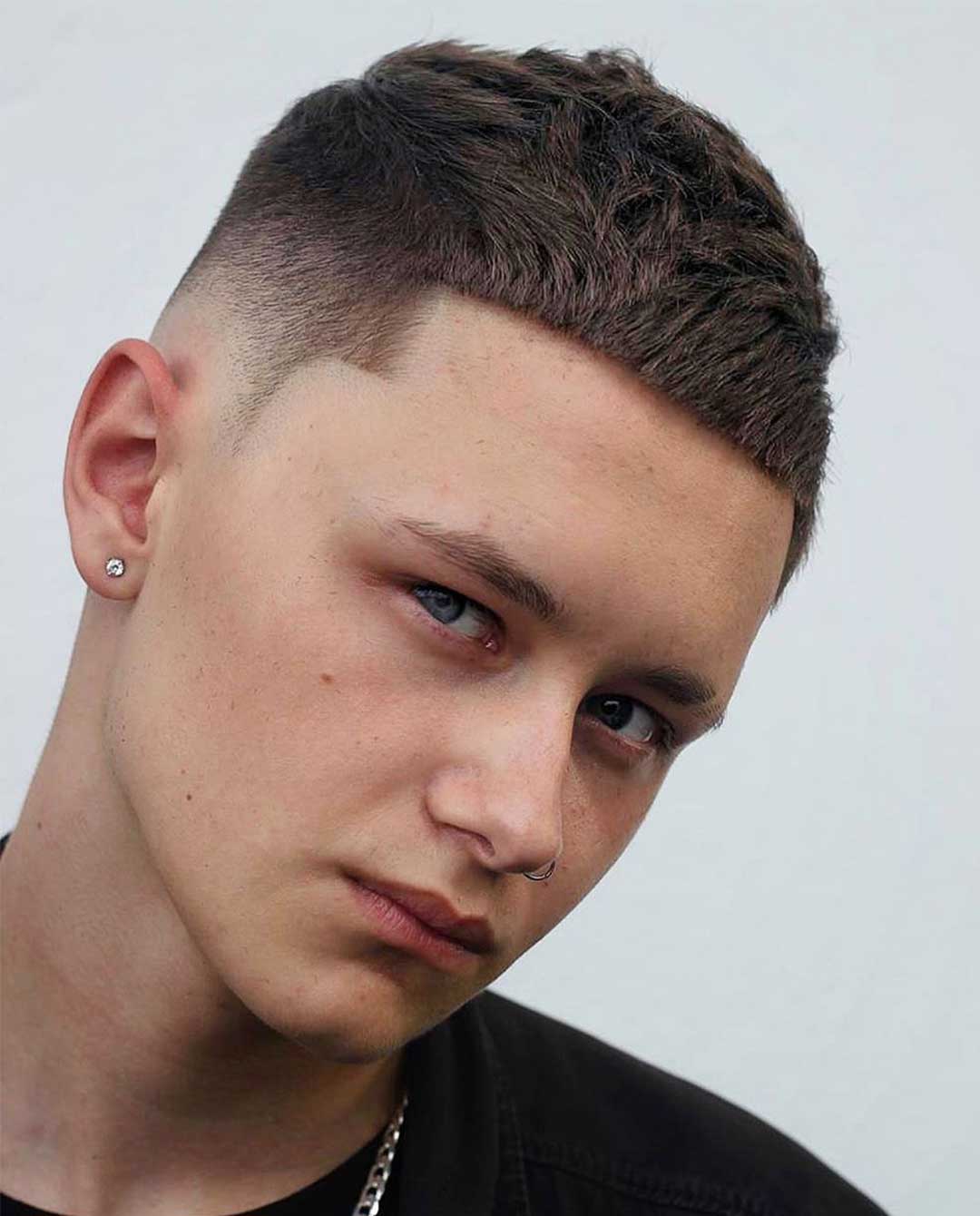 #5 Dark Caesar Haircut
Create volume across the scalp by layering the fringe strands on top of each other. This pocky styling allows the bangs to flow over the forehead and blend into the taper fade that resembles a Caesar haircut.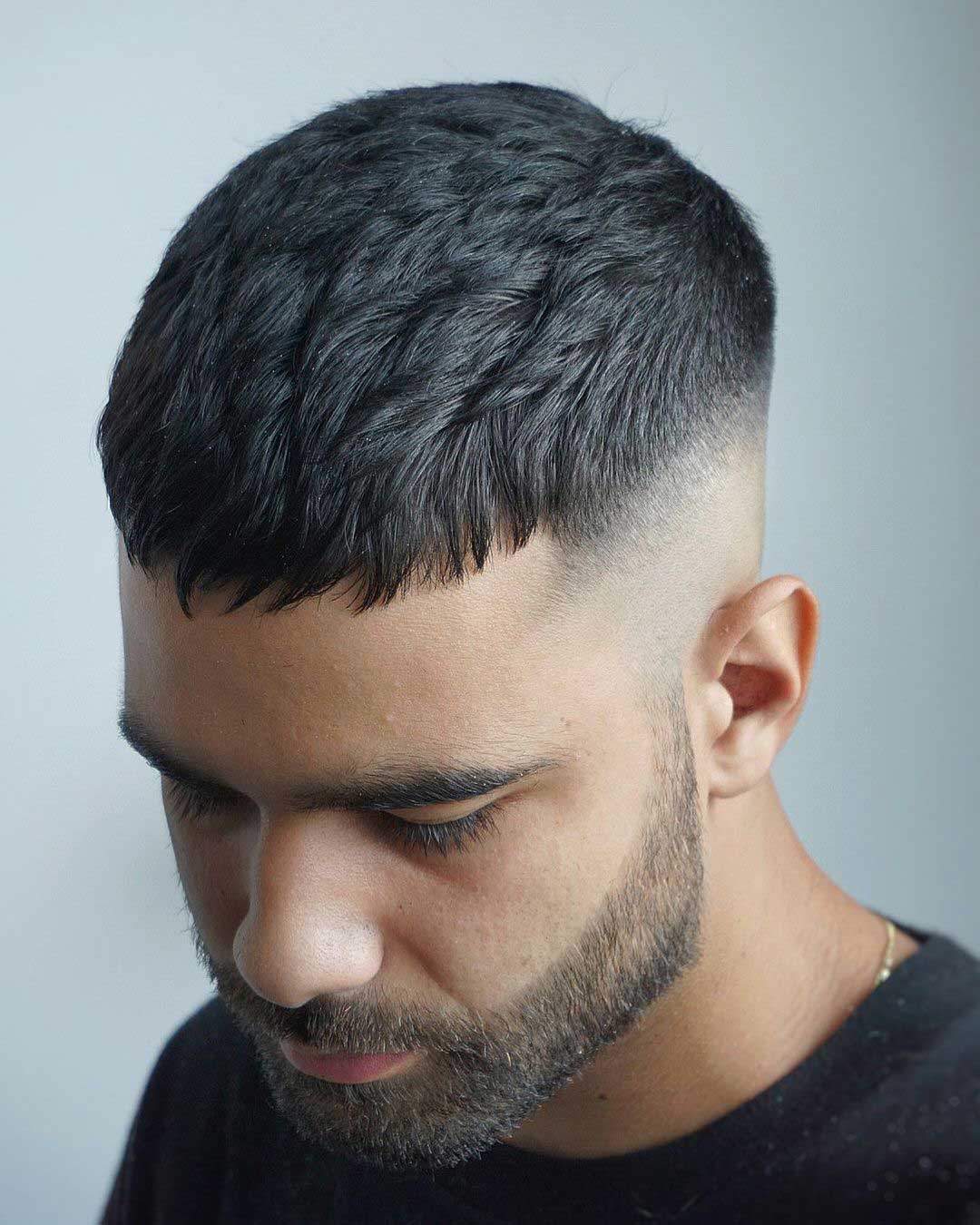 #6 Caesar Taper Fade
Little tweaks are a big difference between a Caesar hairstyle and a French Crop. Stick to the former by keeping the bangs short, smoothing your hair down, and sometimes opting for a taper instead of a fade.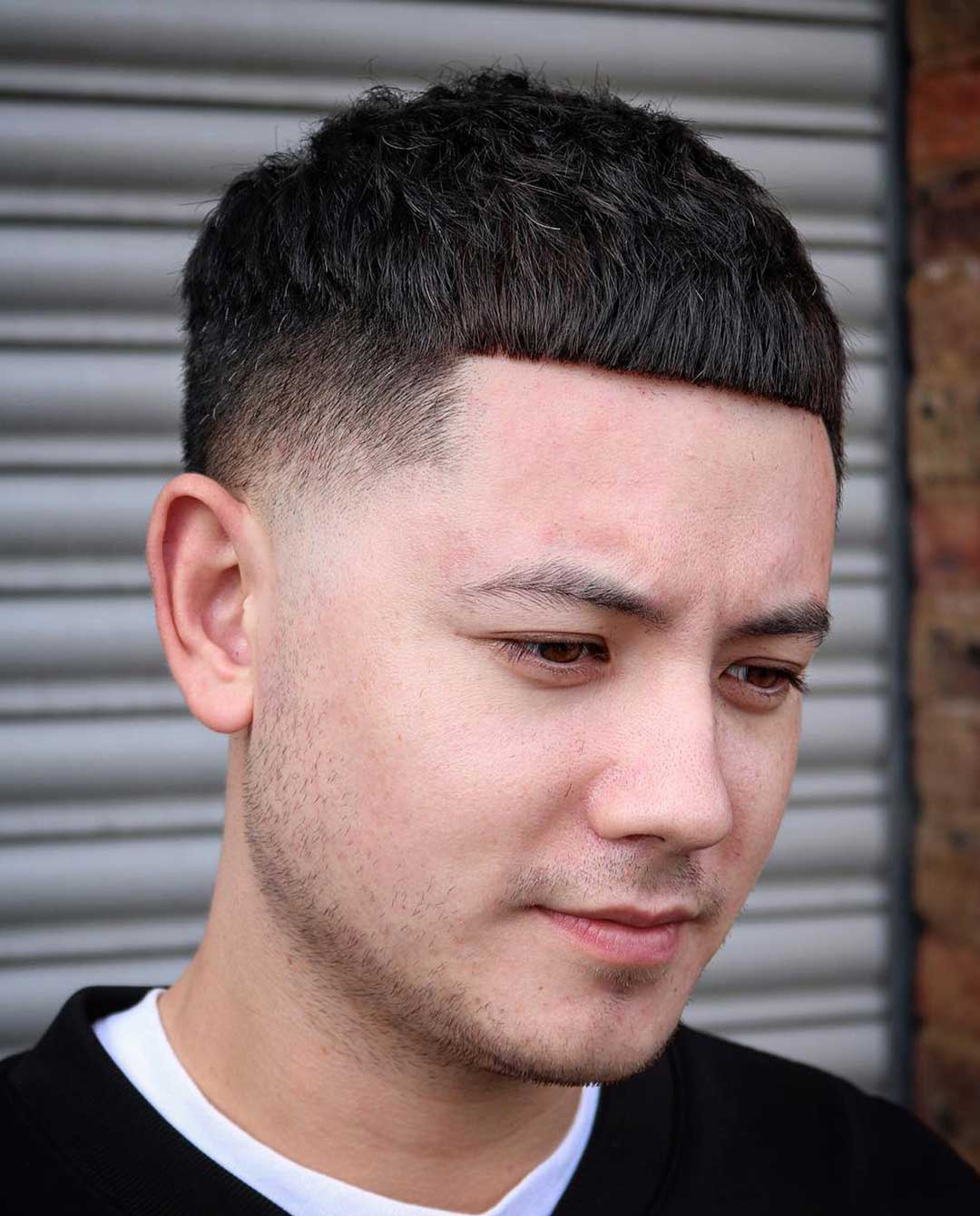 #7 Pocky Styling Caesar with Hard Line
Pocky styling offers the illusion of having long hair and definition but still plays into the clean-cut trim of a Caesar cut. A high fade and tram line also exudes the illusion of shorter length.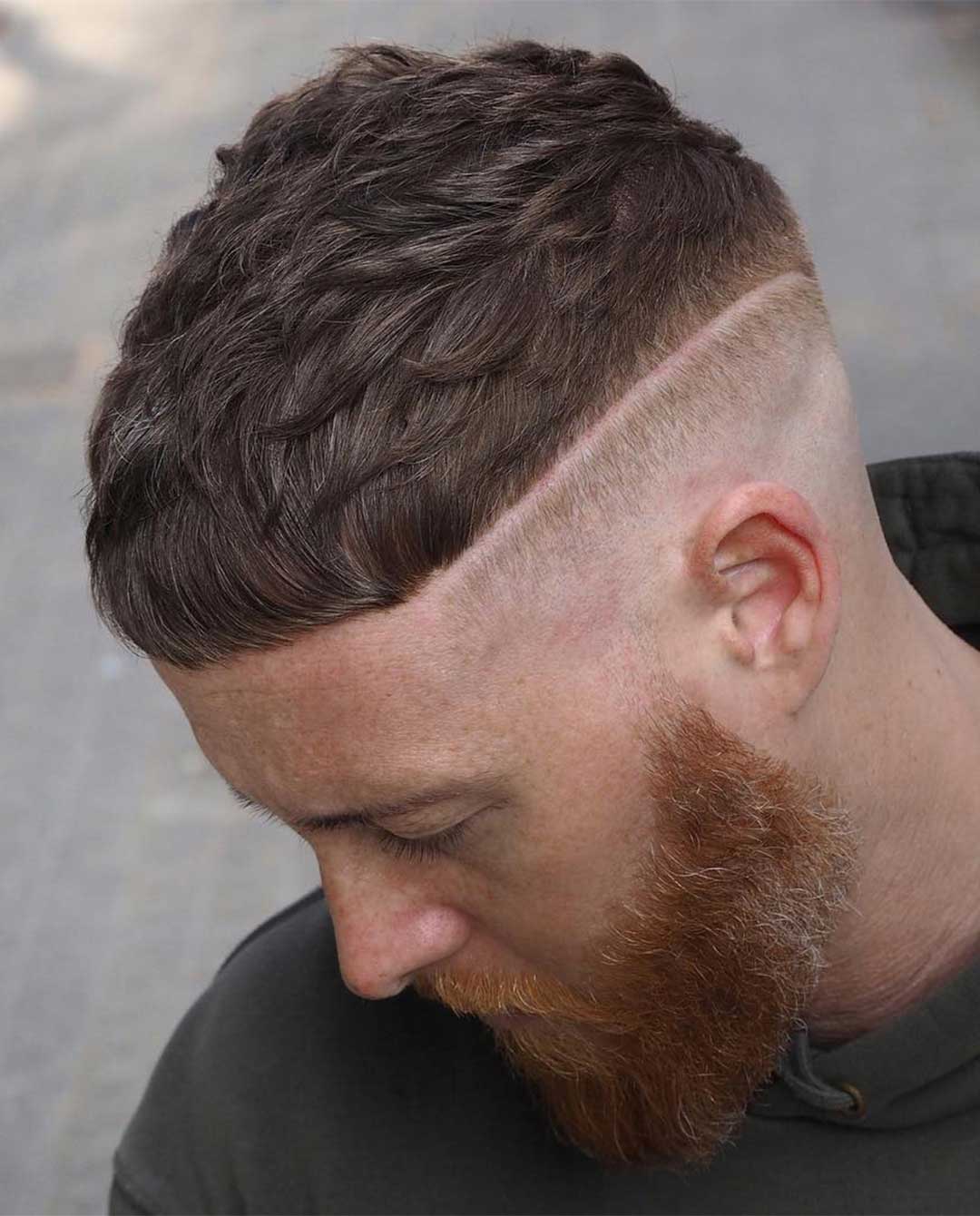 #8 Caesar Undercut with Drop Fade
Modern elements like a fade and facial hair can make old-fashioned Caesar haircuts youthful. The former balances out the thick fringe, while the latter showcases your jawline.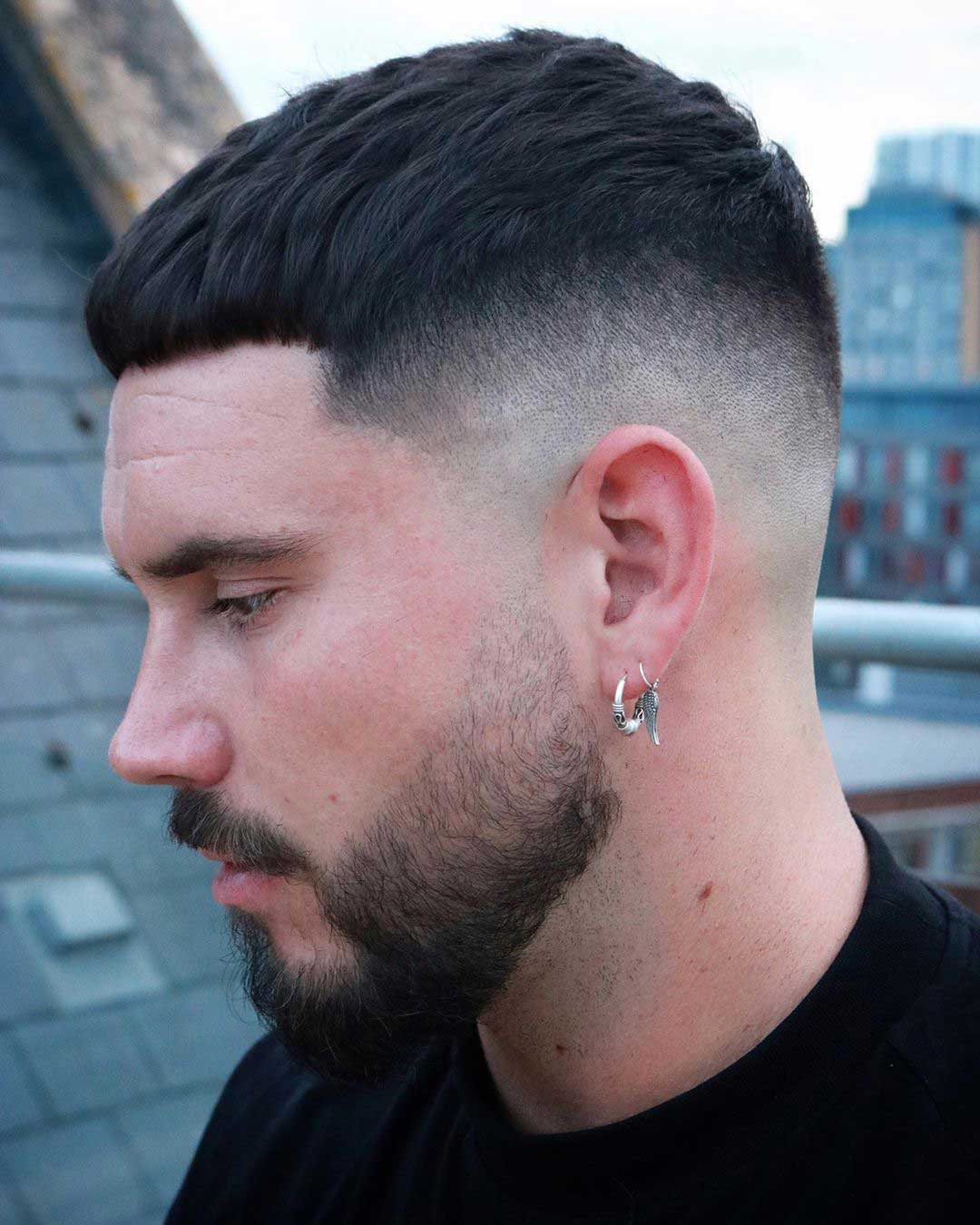 #9 Caesar with Burst Fade
Caesar hairstyles with a butch-cut trim are like peas in a pod. Add a burst fade into the mix and you've got a memorable and no-fuss look to rock.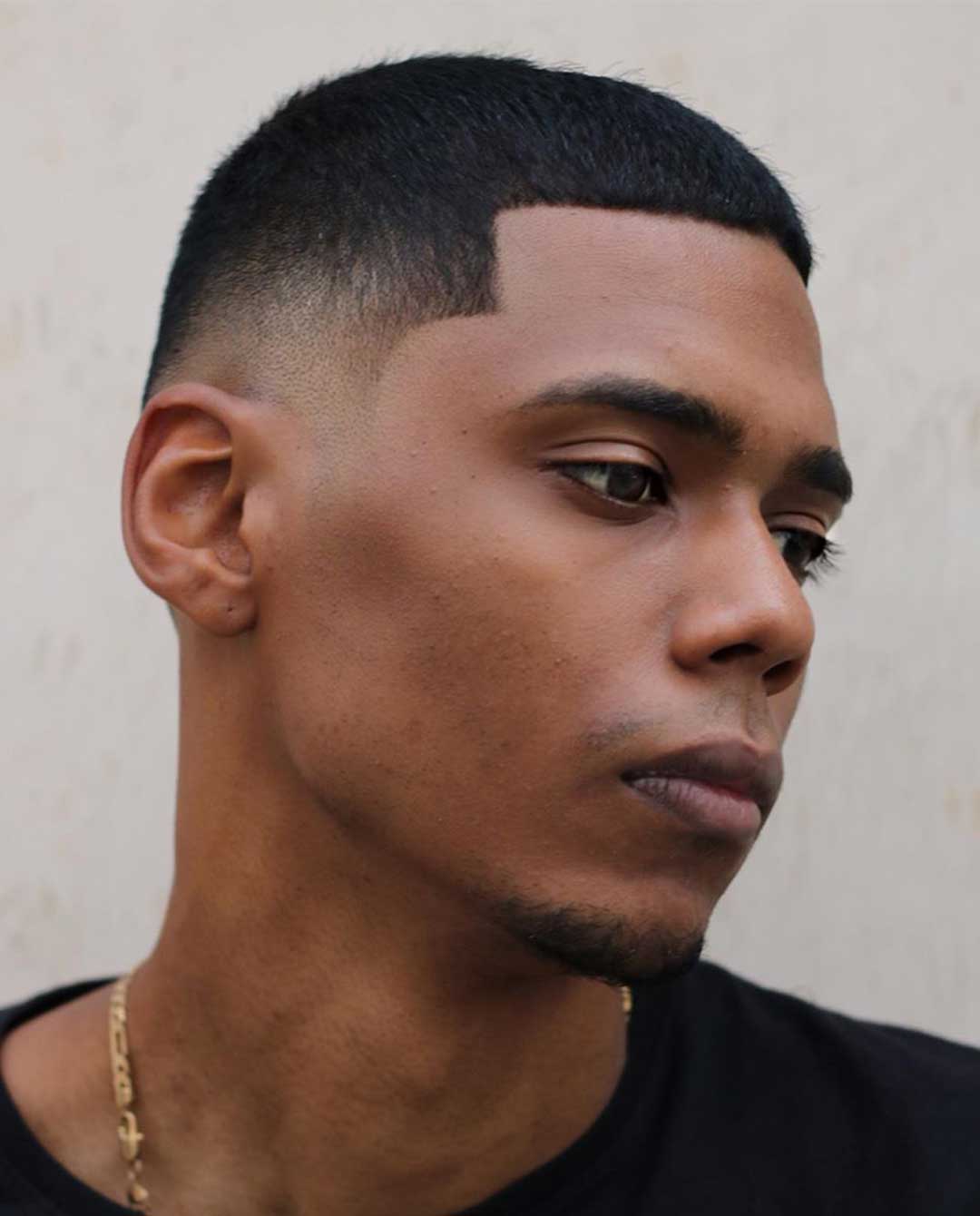 From contemporary and sophisticated to messy and effortlessly cool, Caesar hairdos remain a staple for men who prefer minimalist yet expressive hairstyles. Its versatility works wonders for your grooming routine and catapults your confidence.
#10 Classic Caesar with Long Edges
If you want a punk-inspired alternative, let the side tresses grow out a few inches longer than the fringe and maintain a round-like trim around the forehead.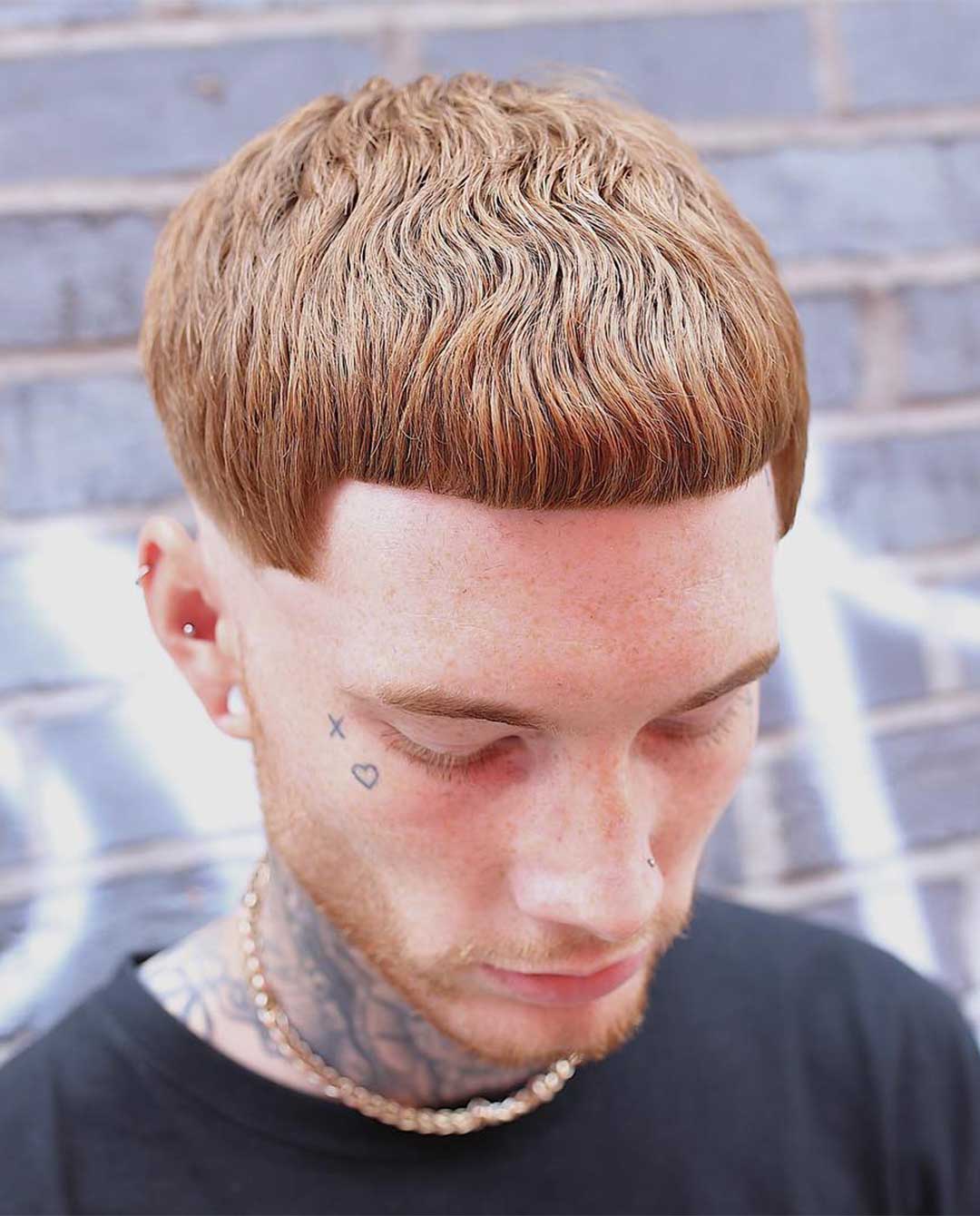 #11 Textured Top with Mid Fade
This is a style best suited to men with straight hair and either thick or thin textures work. The key is to leave a lot of length on top and to make a very clear definition with a side and back that is cut very close to the scalp.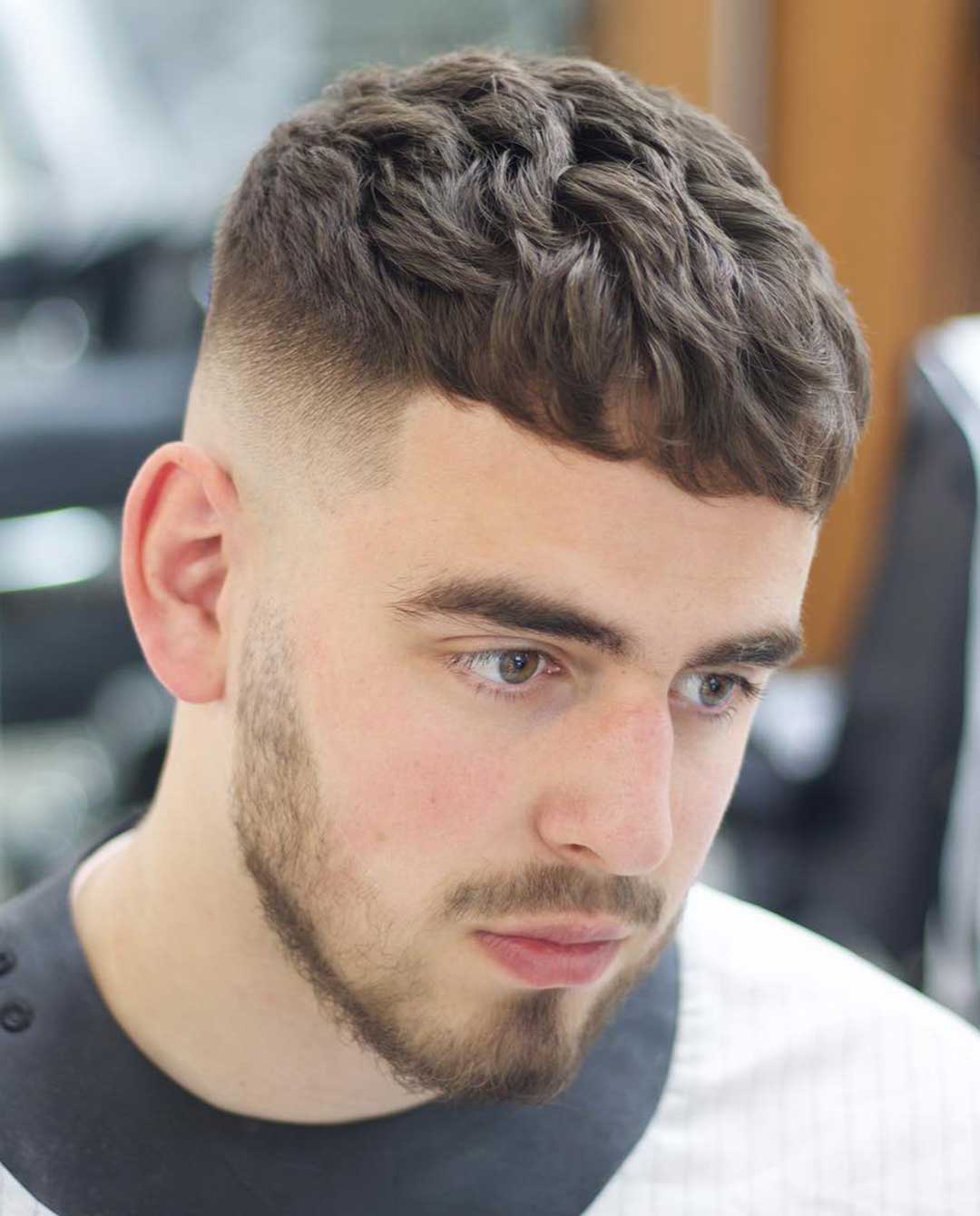 #12 French Crop Haircut
For a man with curls, Caesar fade haircut is one of the ideal styles that he can opt for. It blends the ultimate in low maintenance with a fresh and hip look for an overall style that you can't go wrong with. The curly top length complements and blends easily into the short buzz of the back and sides.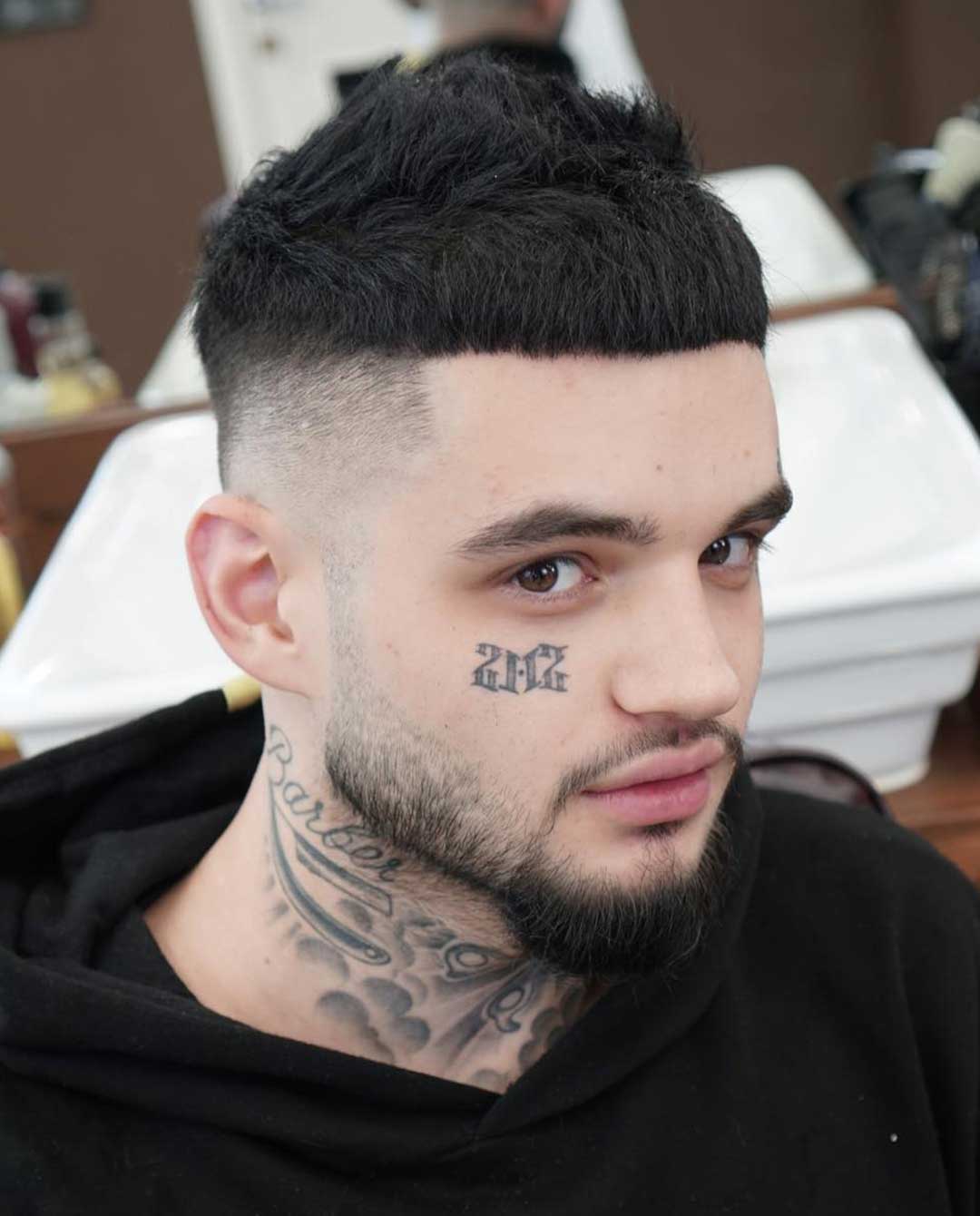 #13 Short Caesar Cut
This is similar to the standard Caesar cut, sides all are close in length on the top with a small fringe. The length is set high on the crown and it tapers to a very short buzz below.
As you see, there are countless variations on this classic hairstyle. This is to be expected since it has been around for such a long time and there has been ample opportunity for experimentation.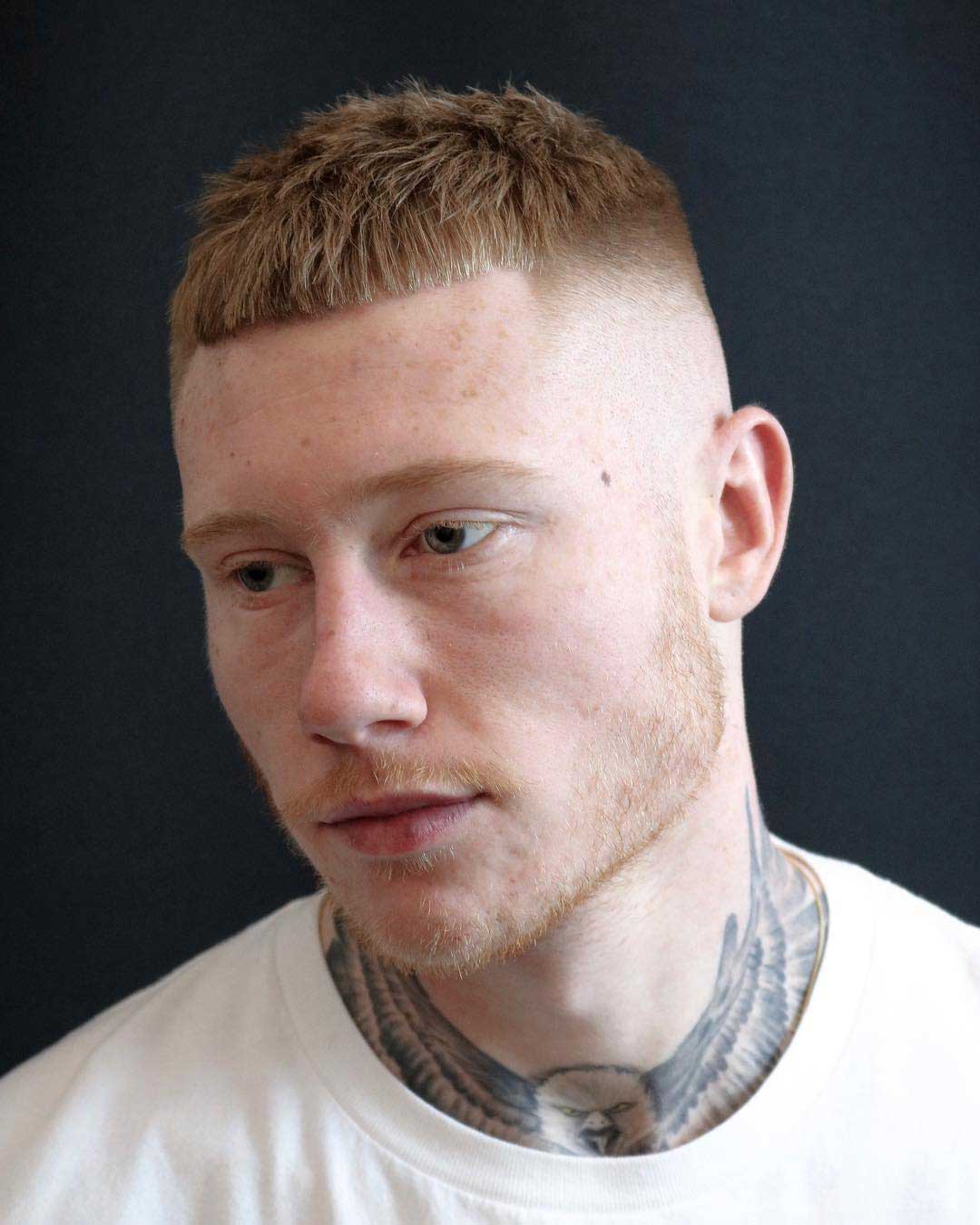 #14 Spiky Top with Side Design
A more dramatic look for a guy who likes a little more definition and who doesn't mind standing out in a crowd! The longer top lengths are in sharp contrast to the straight edge buzz on the back and sides.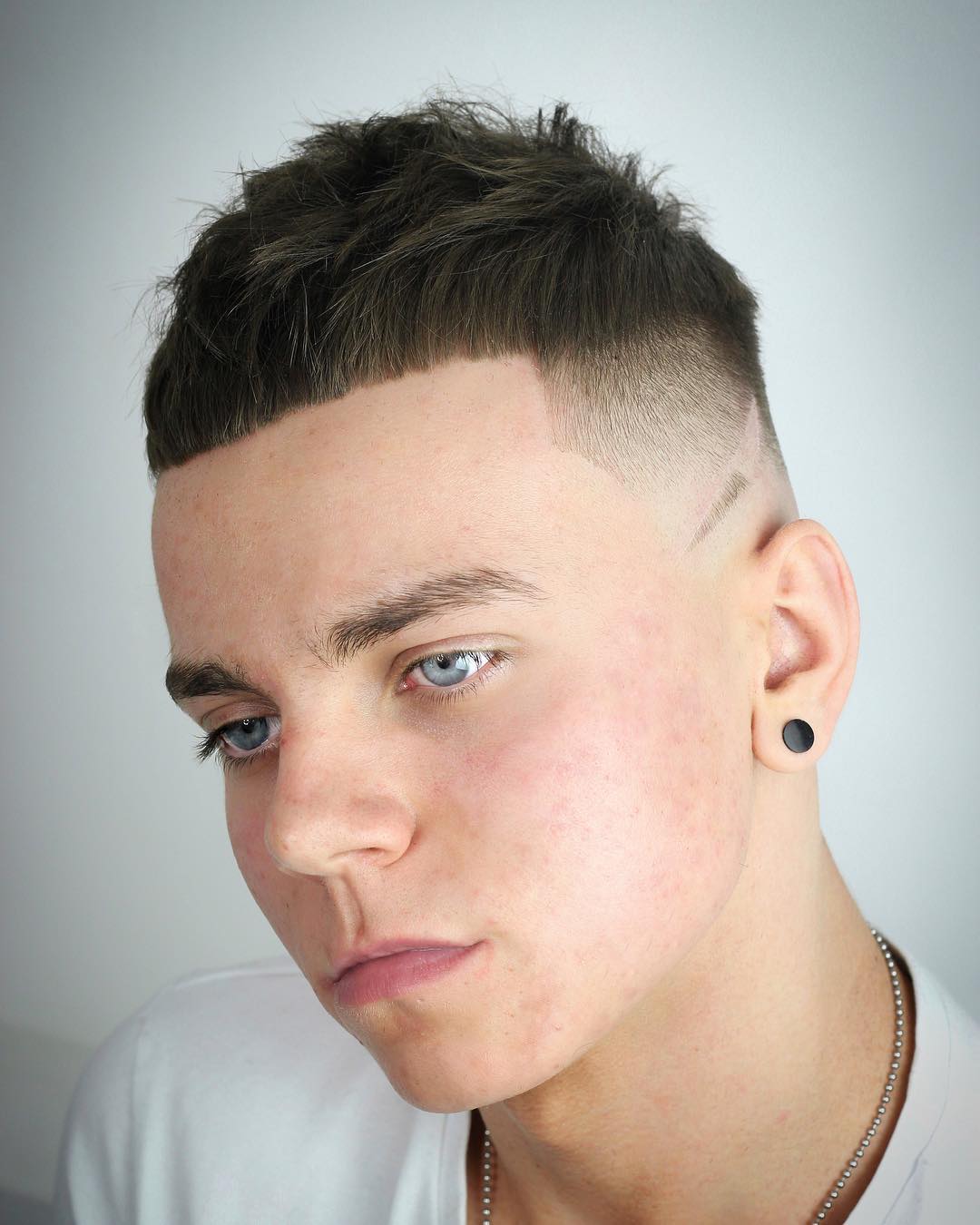 #15 High Fade + Caesar Crop
This version has a soft yet still defined top and fringe with the sides and back that are distinctly shorter throughout. The hair on the crown can be styled with ease and this is the only Caesar style that really might need any styling products to tame and set.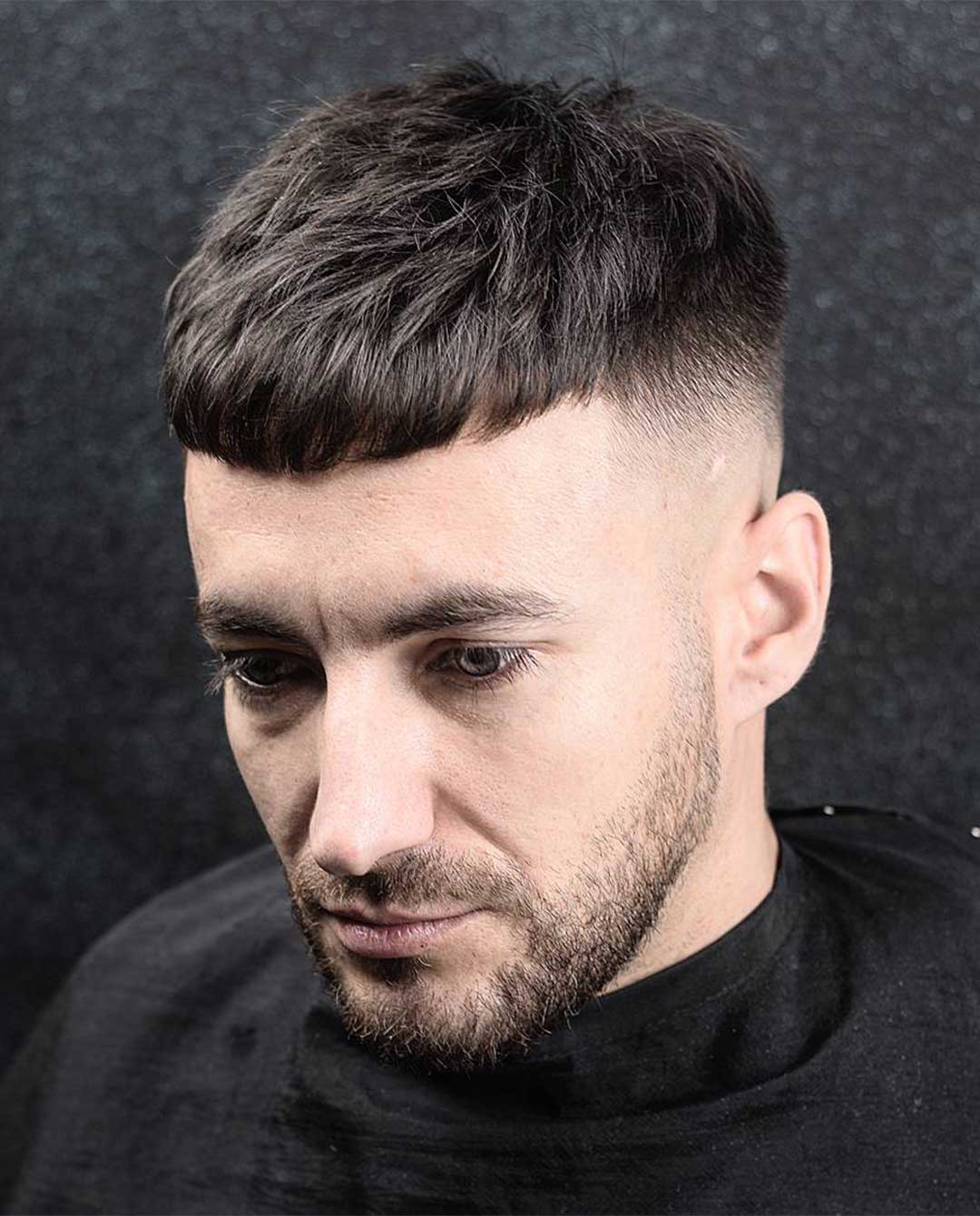 #16 Mid Skin Fade
The haircut is a fabulous choice for men of all face shapes and is a particularly good choice for men with balding or receding hairlines. It is a low-profile hairstyle that is also a neat and clean look that is appropriate for men of all ages. Other variations range from defined razor cut edges to softer, more tousled looks.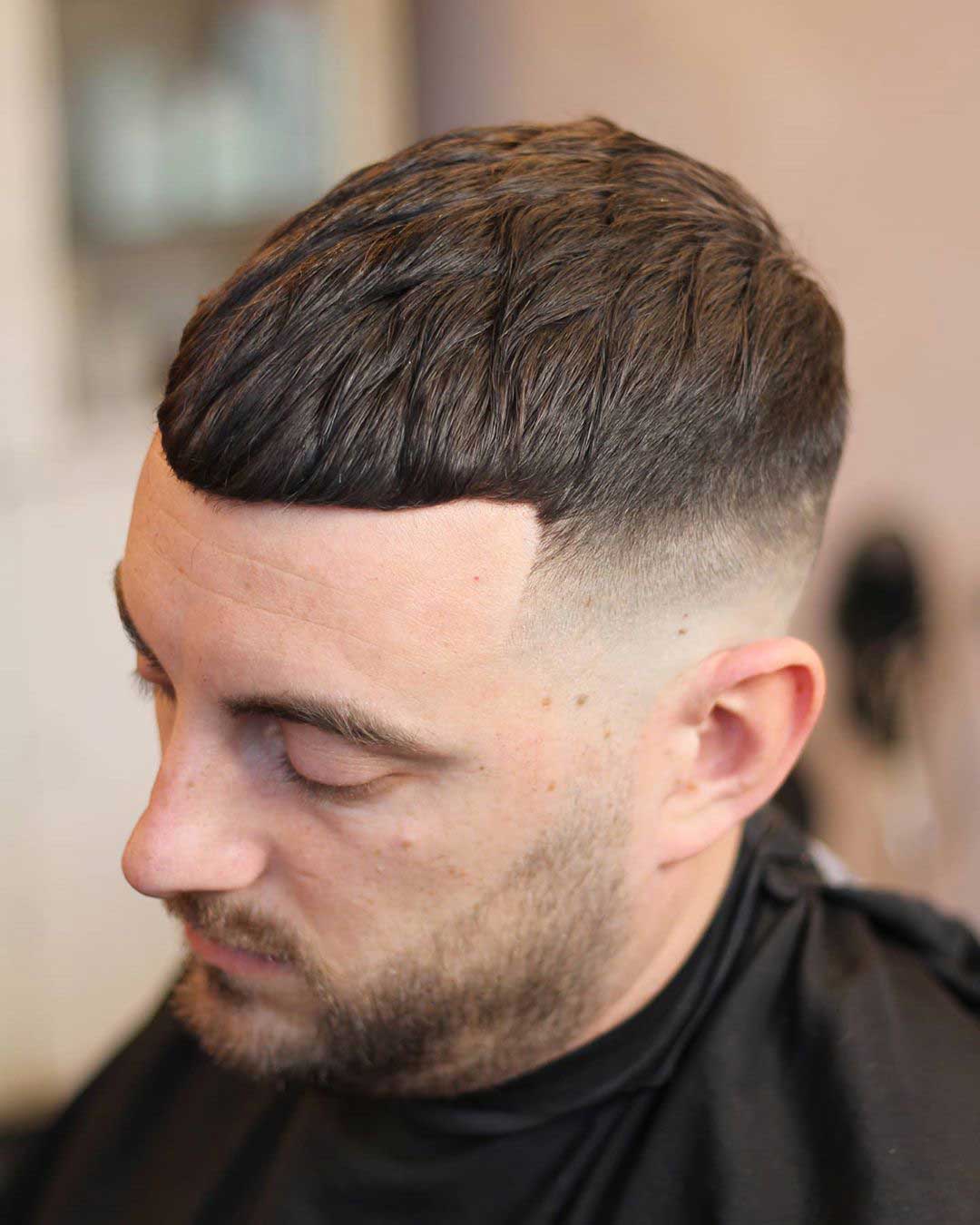 #17 High Top with Undercut
This is a totally modern Caesar haircut version that is ideal for guys with naturally wavy or curly hair. The distinctive razor fade sides contrast with the more generous longer layers on top.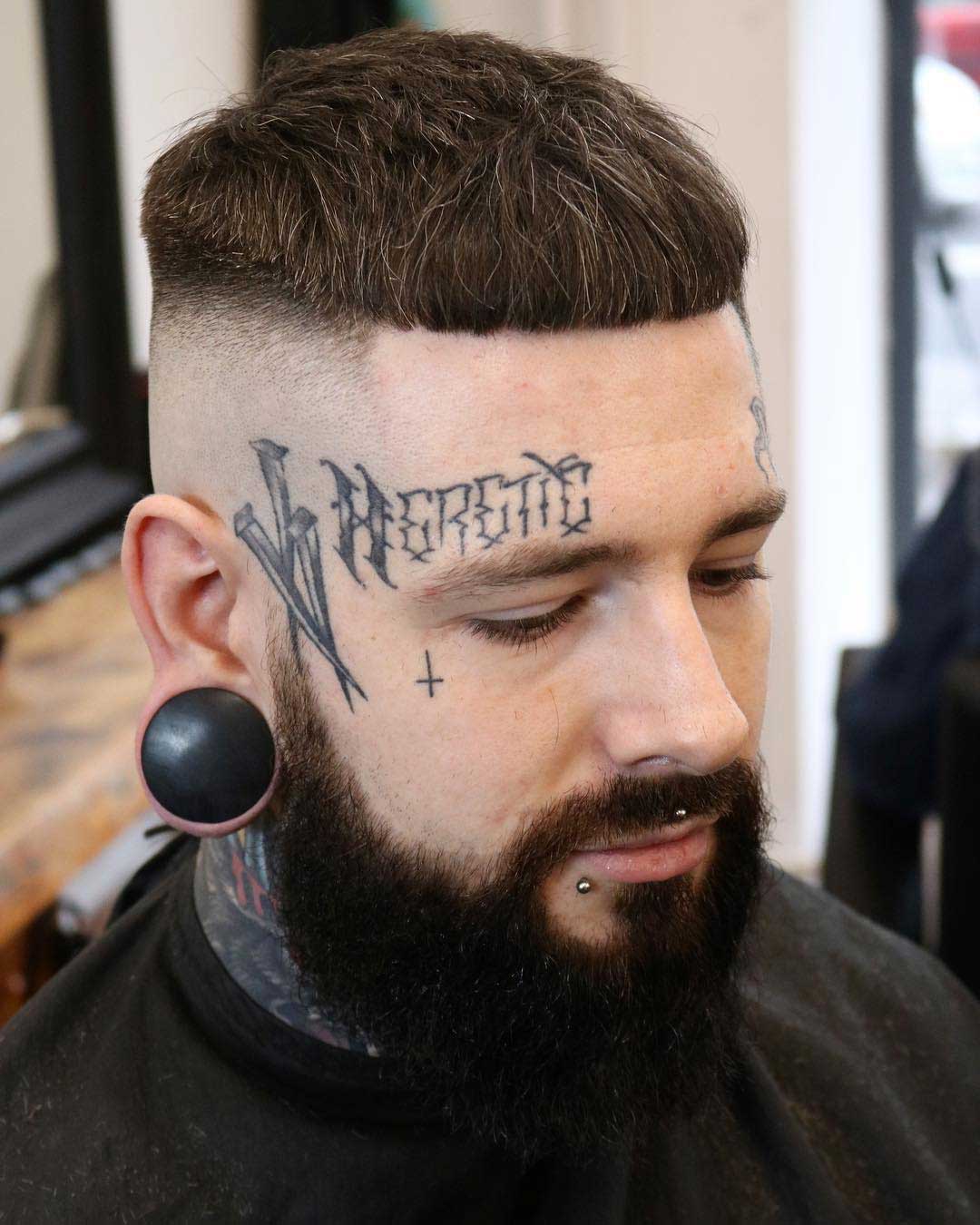 #18 Blonde Caesar with Undercut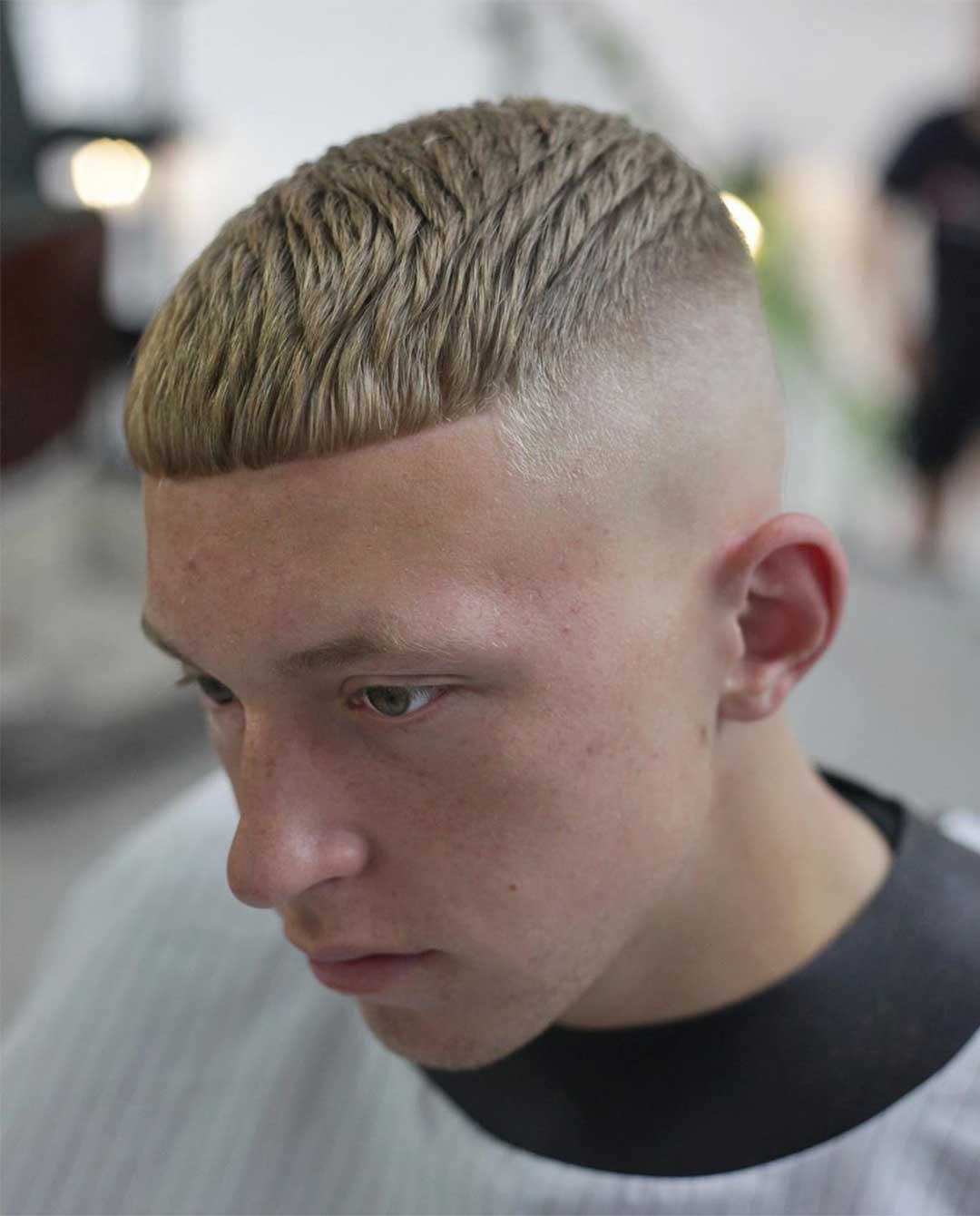 #19 Caesar + High Skin Fade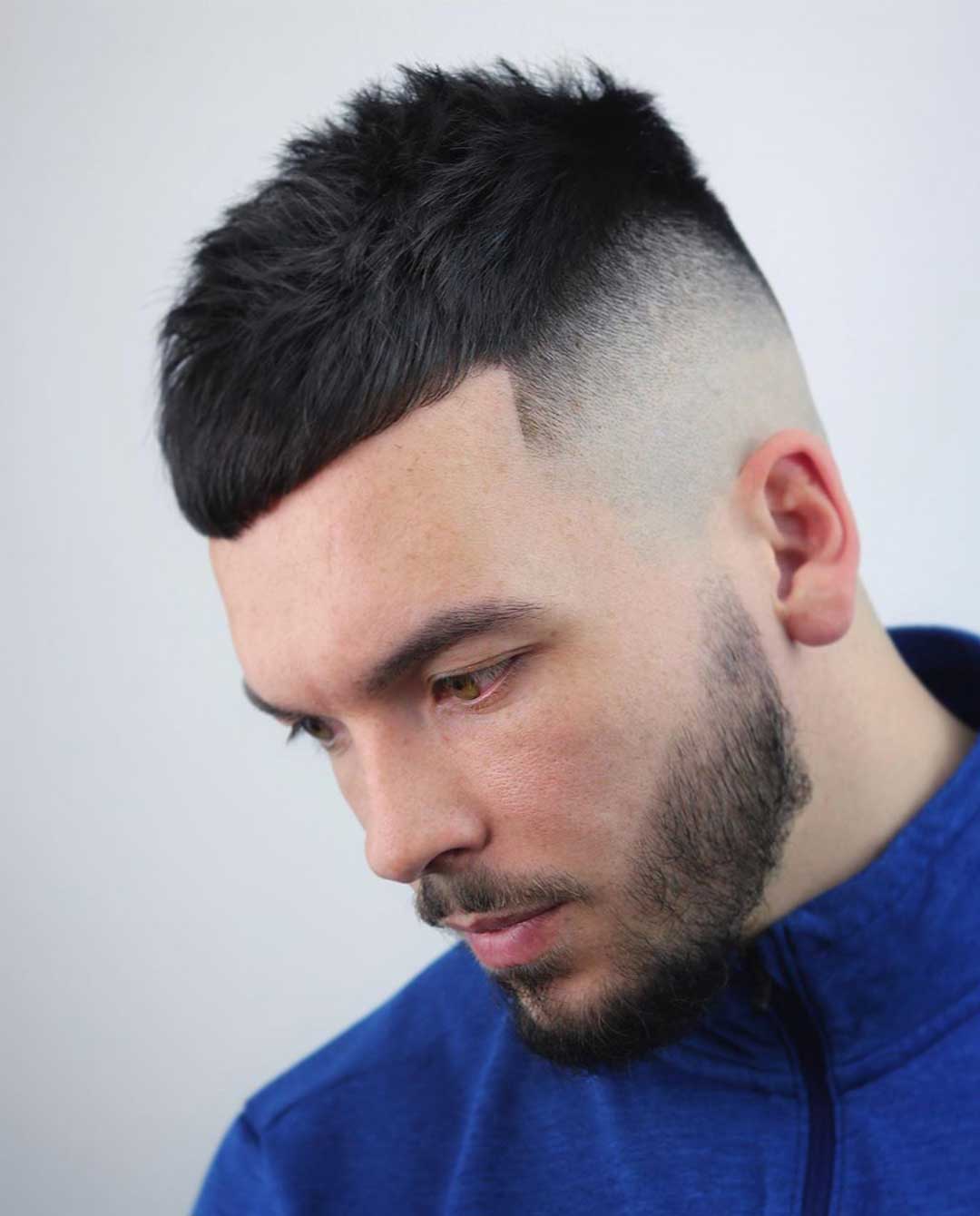 #20 Clean Caesar Style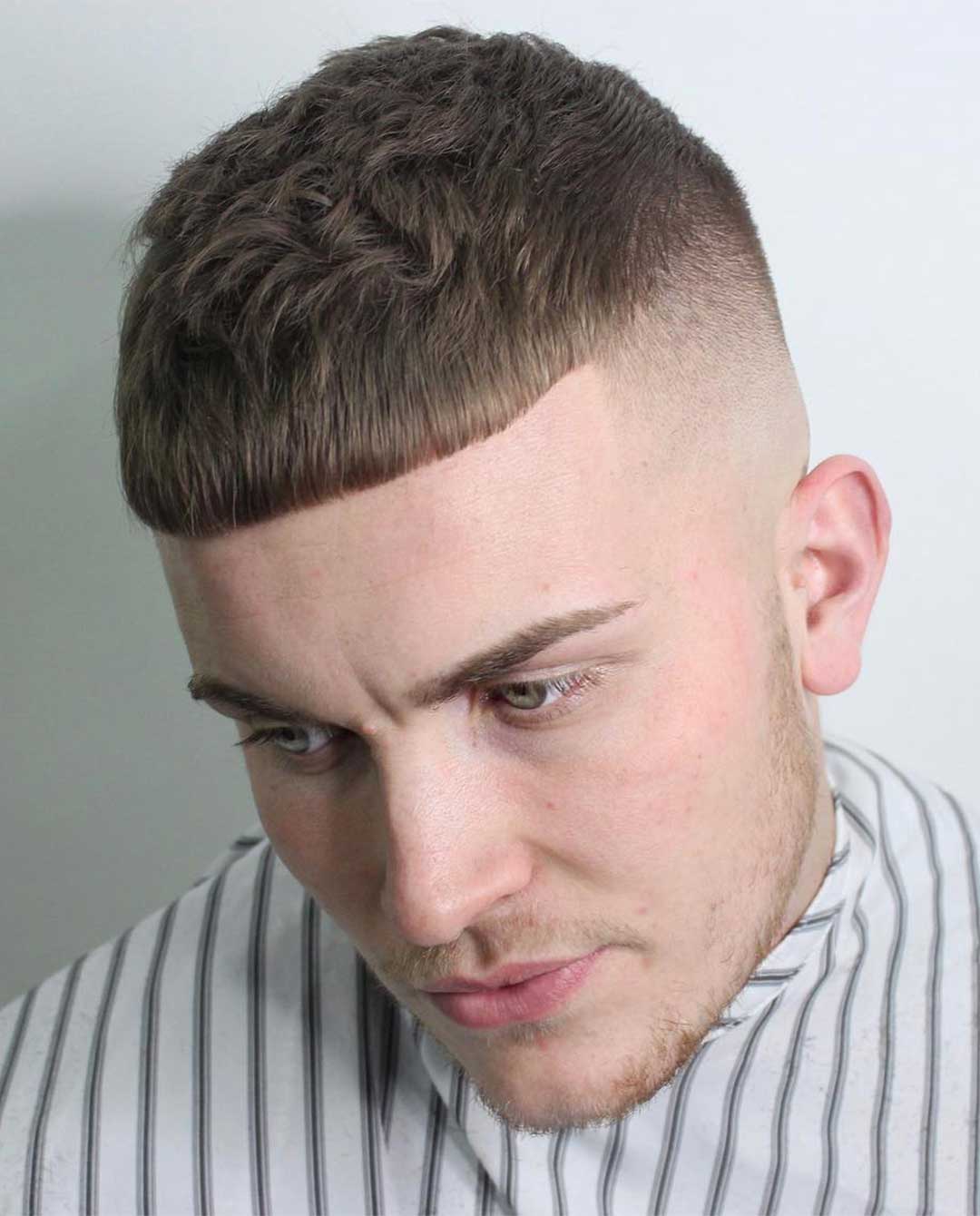 #21 Casual Caesar with Buzzed Sides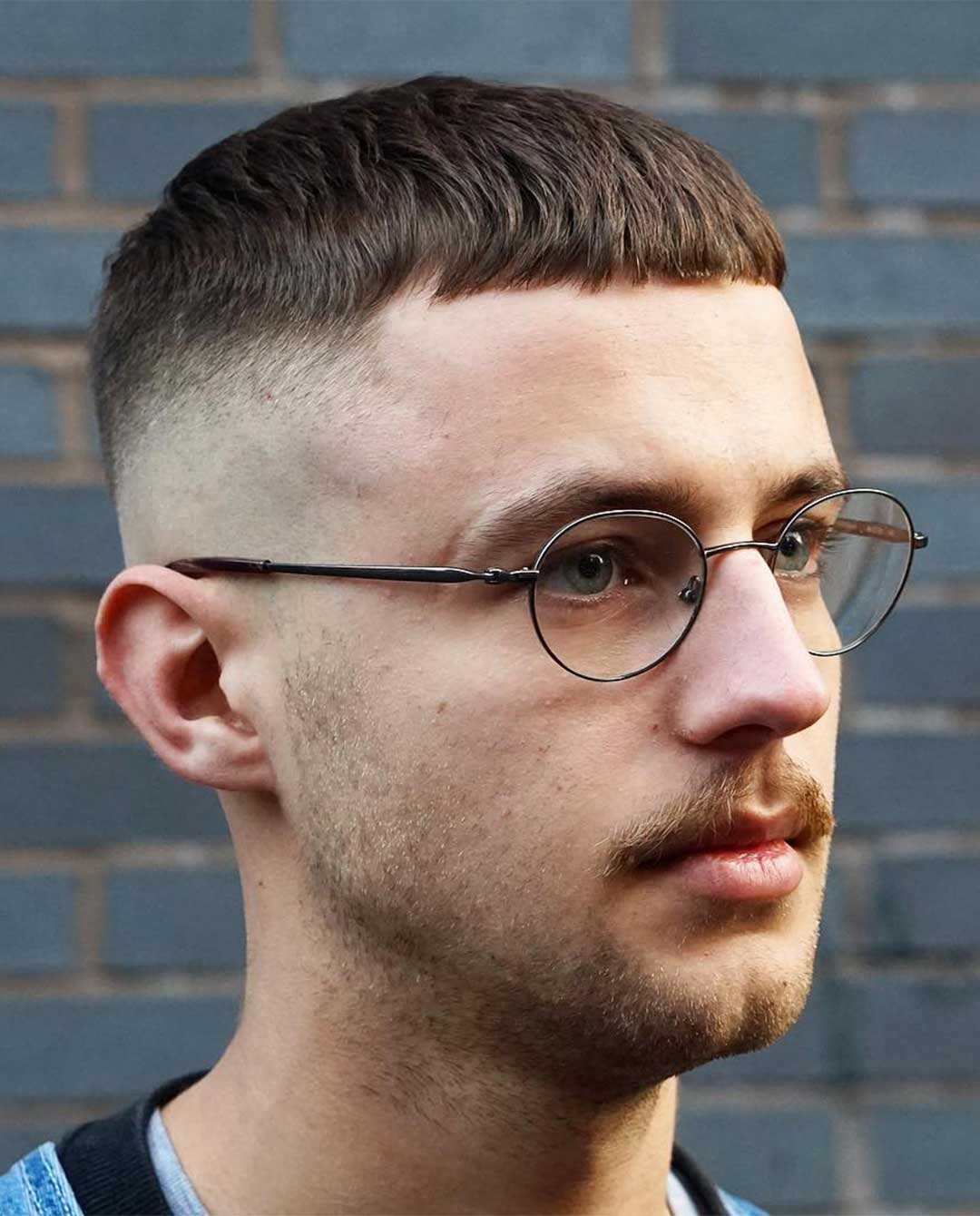 #22 Short Caesar + Mid Skin Fade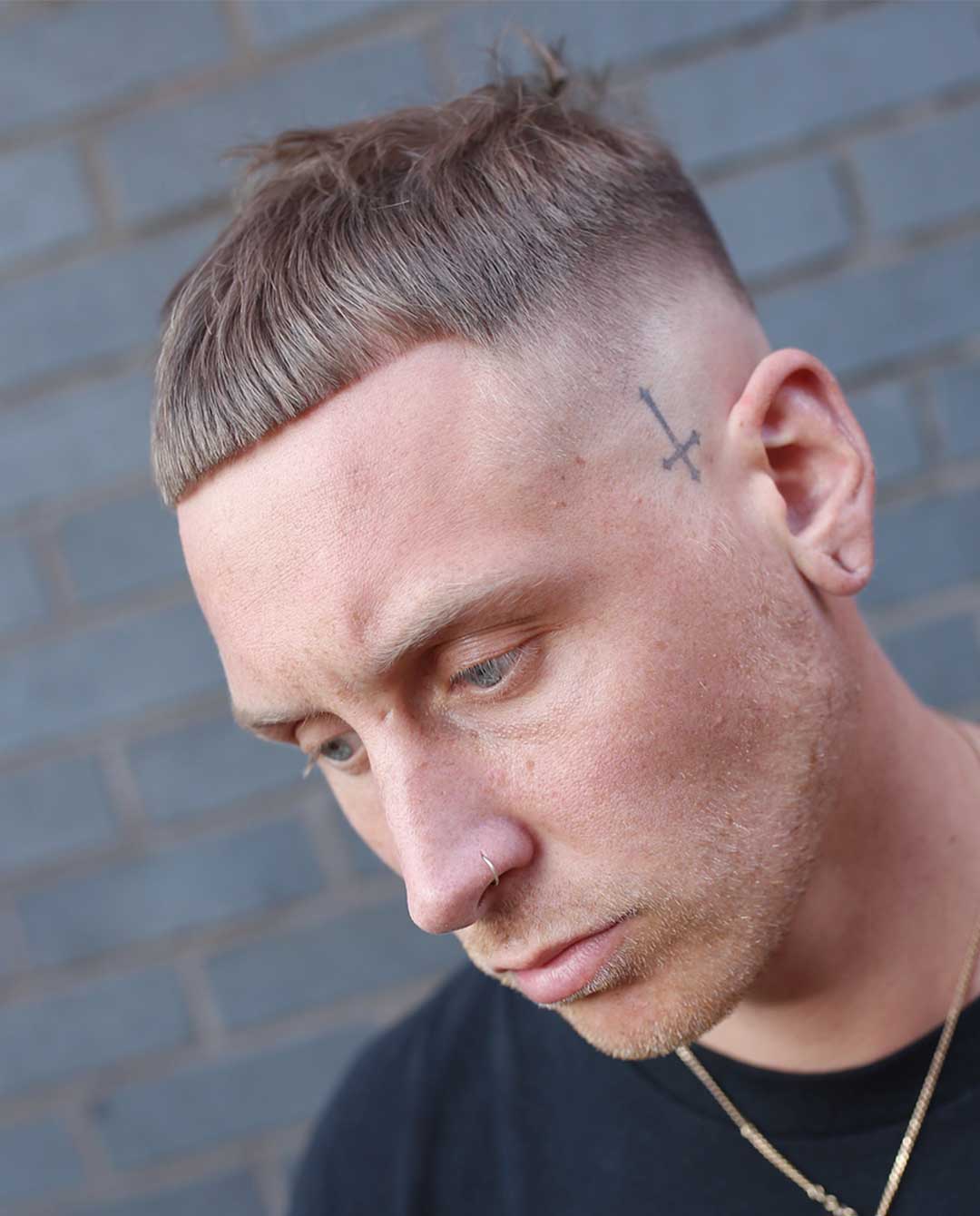 #23 French Crop Caesar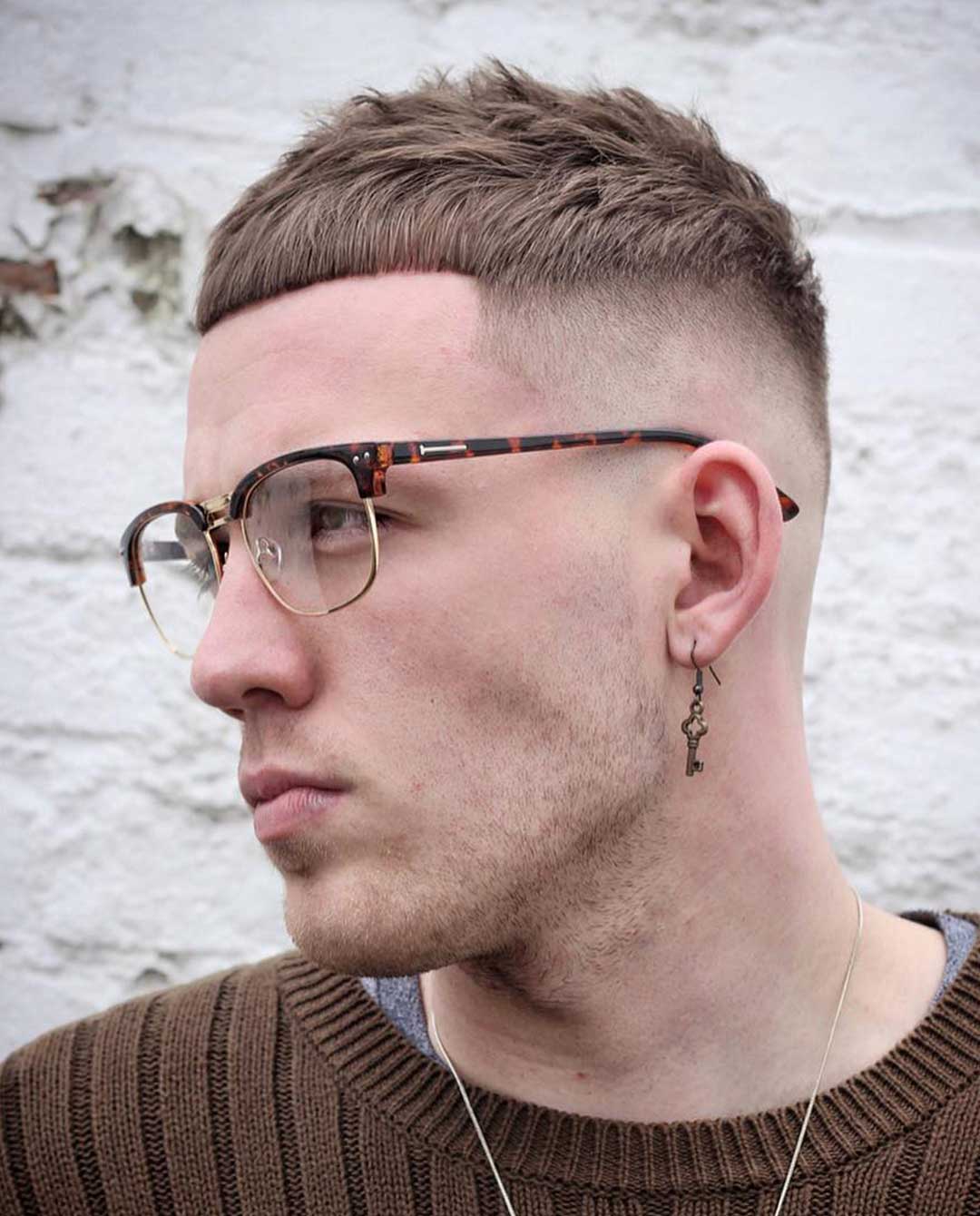 #24 Highlighted Caesar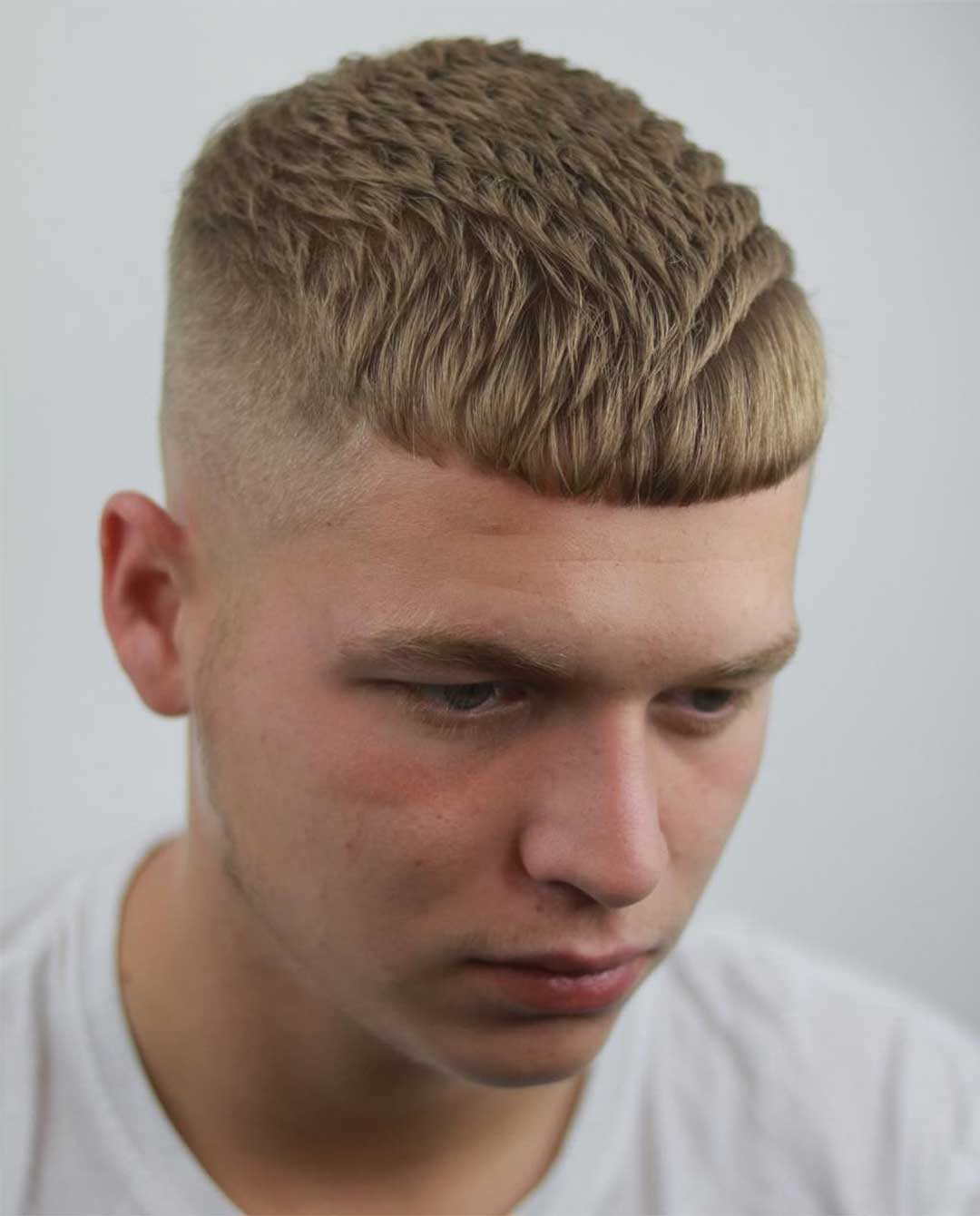 #25 Caesar with Beard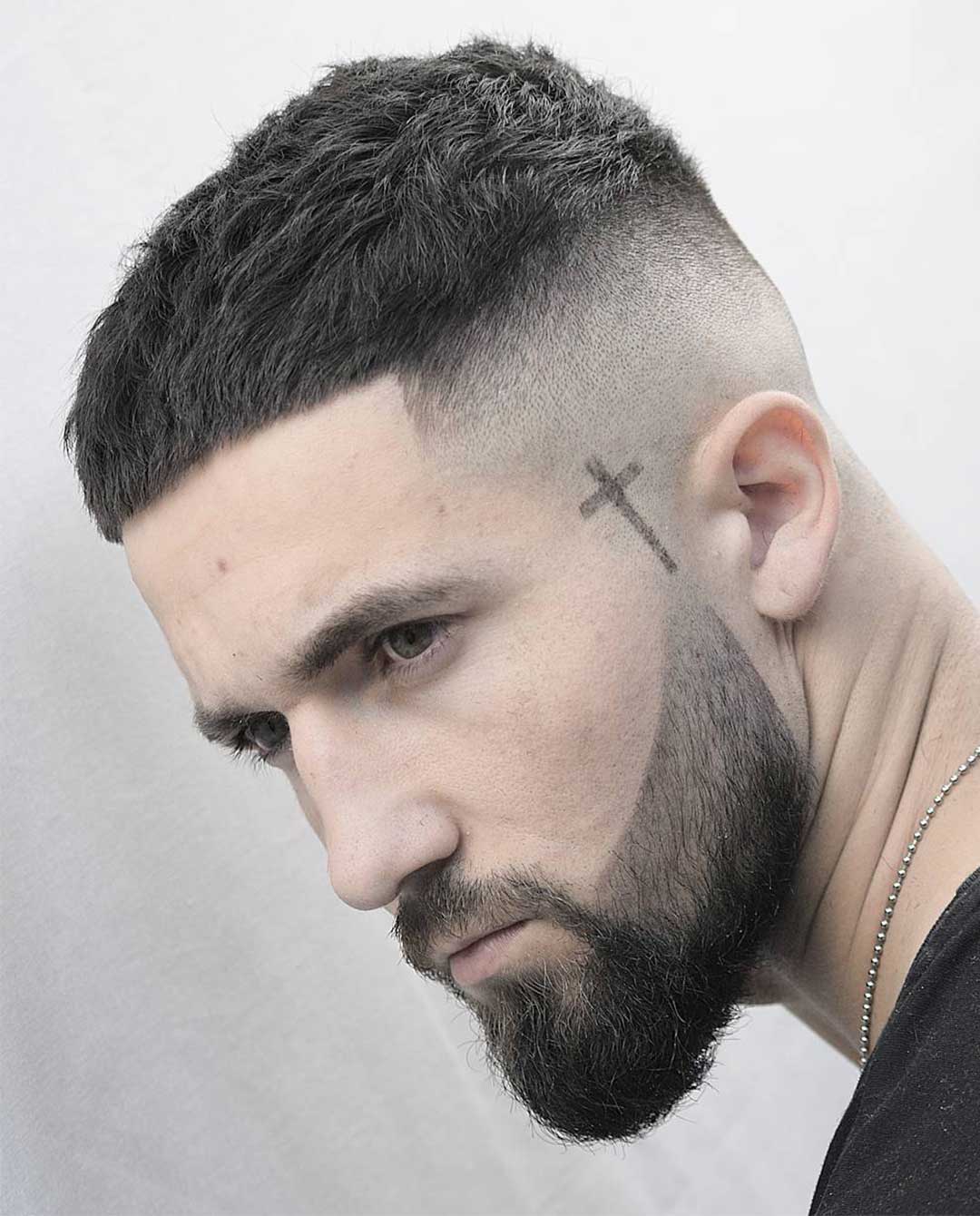 Conclusion
If you are looking for an update to your look and want to find a style that is low maintenance in terms of both daily stylings, consider one of these Caesar haircuts or perhaps create a version of your own! These looks are totally stylish for men of all ages, races, and hair types plus it is an especially flattering look for men, Give your hairstyle an update with a classic look that is still fresh and hip today.