The low fade haircut features a clean, simple look. The fade begins at the hairline but stops below the temple. This type of fade is easy to maintain and has become popular in recent years.
Often, the low fade haircut sets off an attractive pompadour or longer mass of hair at the top of the head. Because of the many variations of the haircut, wearers find the style to be versatile and convenient. Hair disappears about an inch above the natural hairline and then fades to longer lengths near the crown of the head. This style can also be tapered or shaped for added flair and drama.
The haircut is an ideal choice of style for those who want low maintenance and high style. As you'll see, these fade styles work with all kinds of cuts, from short to long or modern to vintage. Here we take a look at 40 ways to wear a low fade haircut.
#1 Messy Quiff with Taper Fade
Want a look that's smart, trendy, and sure to get you noticed? A low fade haircut combined with a quiff is just what you need. Thanks to the balance between the short sides and longer hair on top, this hairstyle looks awesome all the time. Adding a quiff will help elongate the face and is a perfect way to grow out the sides.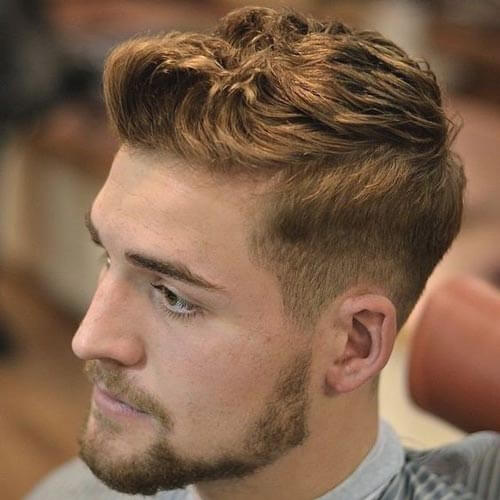 #2 Low Skin Fade Comb Over
A low skin fade haircut features hair that is shaved to the skin at the base of the nape of the neck. Because hair is so short at the lowest point, the top of the head looks fuller and luxurious. If you have thin or fine hair, a low skin fade creates the illusion of thicker hair.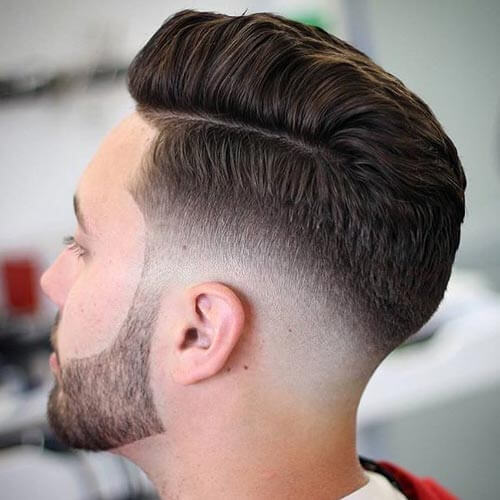 #3 High Top with Low Fade
If you're not scared to try something different with your haircut, then a short pompadour and a low skin fade can make an incredibly cool hairstyle choice. The unique look works well thanks to its short top hair, which quickly fades downward from a taper to a skin fade. This haircut requires some hair product for perfect shine and hold.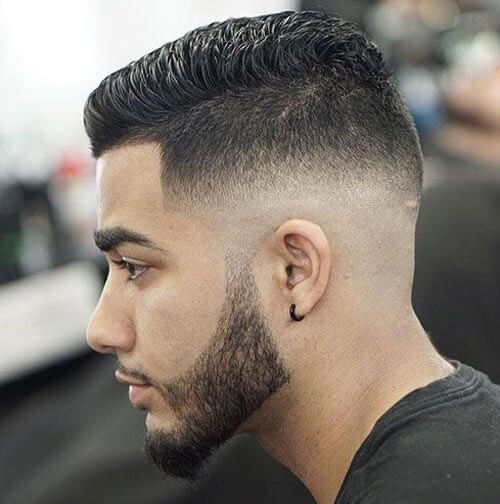 #4 Cropped Haircut with Tousled Top
This style features a gradual fade haircut with a tousled, textured top. Combing the top forward completes the look. Because of its simplicity, this haircut requires minimal styling and maintenance. Wavy and unruly hair works best with this look.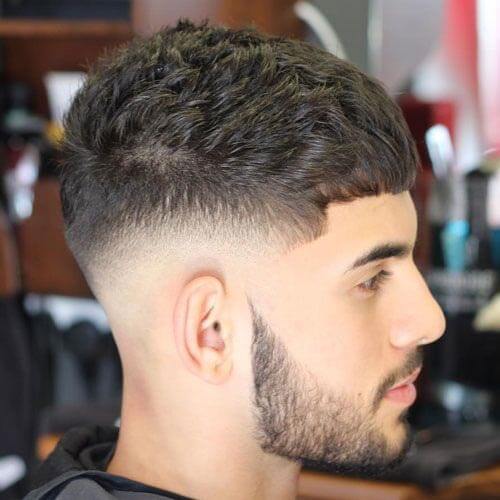 #5 Side Swept Haircut with Deep Part
If you choose a medium length, you should consider a side-swept hairstyle to complete the look. The model is wearing a sophisticated look without appearing too serious. The deep part blends perfectly well with a subtle yet sleek low fade. Of course, the sleeker your hairstyle, the more hair product you'll need to maintain it.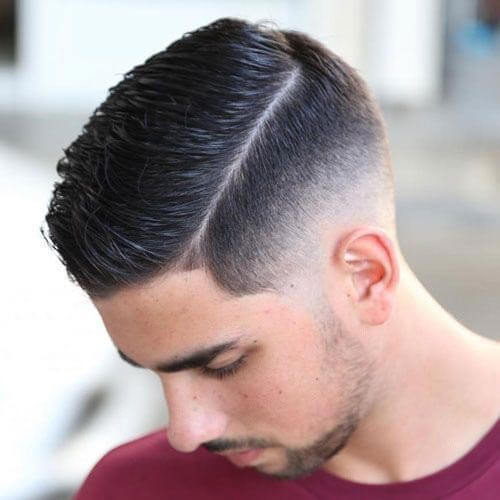 #6 Taper Fade Haircut with Spiky Top
A taper is the same as a fade haircut but much gradual. This spiky taper fade advances to a skin fade around the neckline and is perfect with the spiky texture on top. Maintainance is easy and will only require your fingers and a soft hold gel.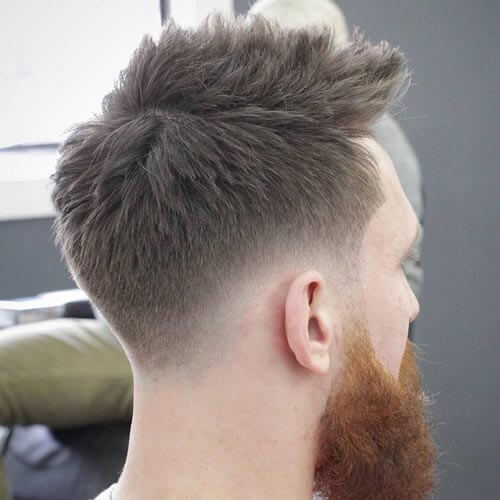 #7 Caesar Haircut with Low Skin Fade
This Caesar haircut features a modern lineup cut into a design and fades down to the model's beard. Skin fades work well with facial beards of all lengths and is perfect for many informal events. No maintenance is required at all simply visits the barbers whenever you need to trim the length.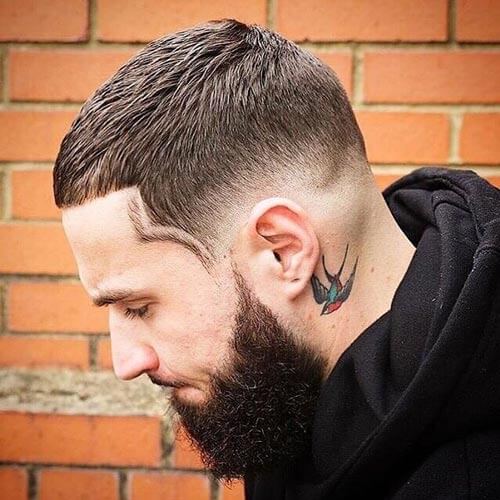 #8 Comb Over with Low Drop Fade
The hair ends in a V shape and maybe gradual or sharp. Also, the fade look gives a softer and more sculpted shape to an otherwise sharp-edged haircut.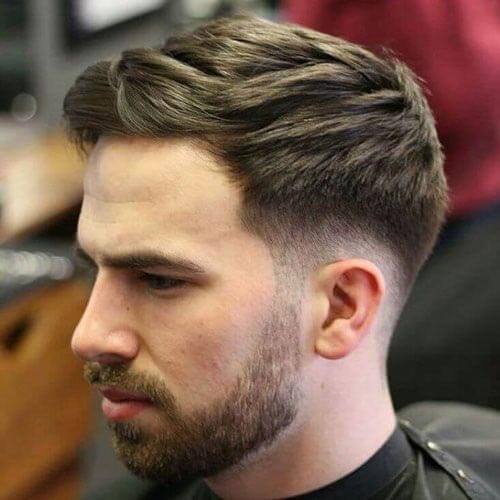 #9 Crew Cut with Brush Up
While the crew cut is a convenient haircut, it's not the most impressive of hairstyles. So, if you want to wear a super unique crew cut and want to spice it up, add a quiff and fade. A quiff is a great way to add style and a difference to your haircut without taking away its signature style. Choosing a low fade also means that you'll show just the right amount of skin and balance your military look.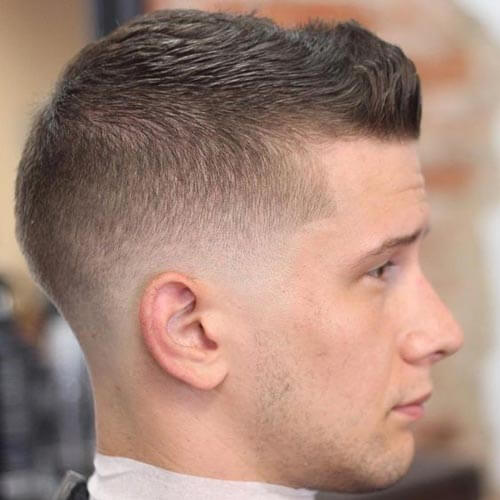 #10 Spiky Haircut with Temple Fade
For those who like statement looks, this style is for you. Spiky hair and orange-tipped edges sit at the top of the head. The beard tapers into the low skin fade that wraps around to the back of the head for added drama.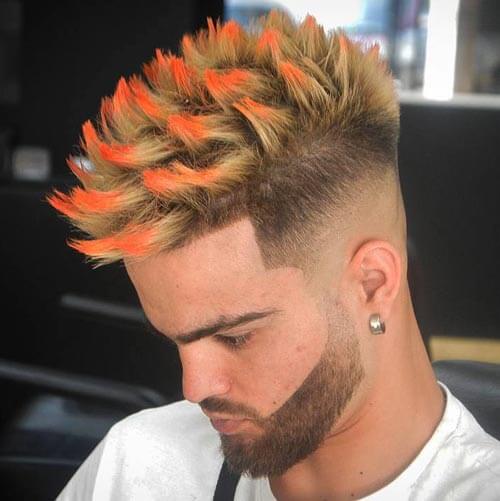 #11 Textured Cropped Haircut with Highlights
It would help if you considered this short textured haircut with a low fade for a look that's fresh and sharp. While the hairstyle is overstated and loud, it's also clean and unique. When wearing this hairstyle, remember to check-in at your haircut for regular trims and styling. Maintenance is not for the faint of heart, the texture, sections, and overall haircut all must be cared for.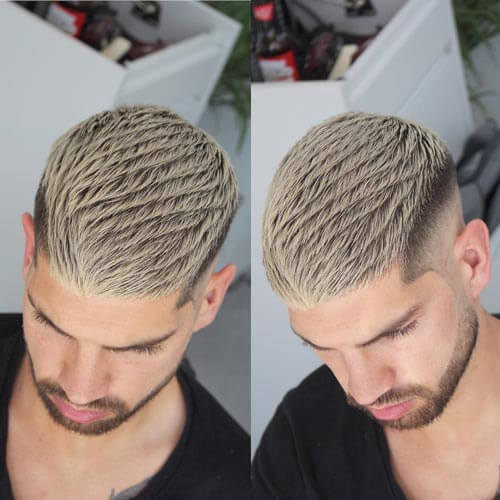 #12 Pompadour with Drop Fade
A drop fade is exactly what it sounds like. Hair is faded toward the back and drops down toward the nape. Because hair is shorter at the crown of the head, the hair on top appears thick but tidy. This look is great for thick hair and can project a sharp, neat appearance.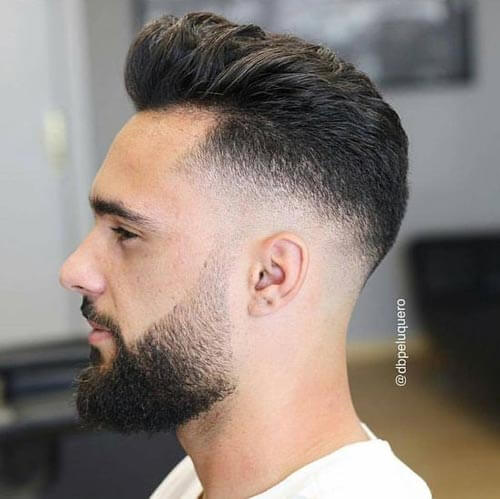 #13 Tapered Comb Over
A comb over haircut works well with all types and lengths of hair. The taper fade can be worn with a beard and goes all the way down to the skin around the temple and quickly back to the facial hair at the sideburn for a perfect transition between the two. Like all faded styles, the regrowth will look natural so you don't need to see the Barber frequently unless you want to.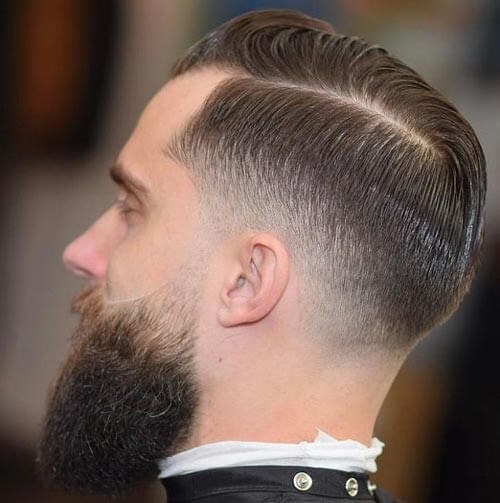 #14 Mowhawk with Low Fade
A mohawk with a low fade is less dramatic than the classic mohawk cut. Although this hairstyle still features wavy short hair worn up from the front to the back of the head, it doesn't have shaved sides like the standard mohawk cut. Instead, it tapers to a low skin fade and creates a mohawk without a bold appearance. Your natural hair texture will work great with this hairstyle and reduce the time spent on hair maintenance.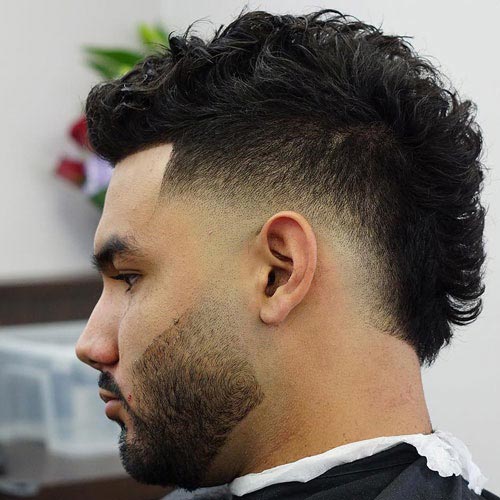 #15 Comb Over with Part and Lineup
As the name signifies, a drop fade drops down behind the ear, and in this picture, it runs all the way to the back, creating a bald V cut. This results in clean-cut edges all around. The style will stay perfect with some hair products and a wide-tooth comb. After applying your hair pomade or gel to damp hair, all the hair to air dry.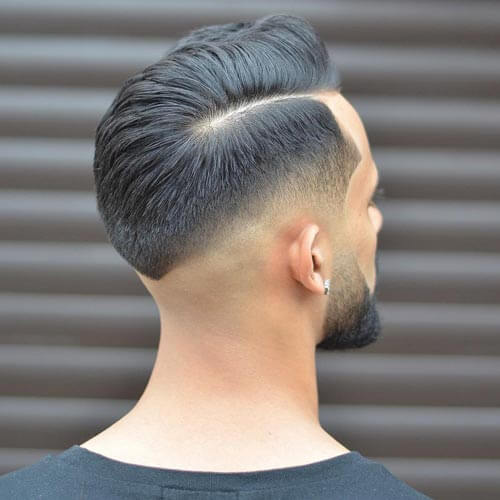 #16 Textured Spikes With Low Fade
Not all low fade haircuts look great when worn neatly. Many look their best when worn with an attitude and a youthful flair. So combining a low fade with spiky, textured hair can create a great edgy appearance. Sharp, without being out of control, this stylish combination is completely on-point and a perfect modern hairstyle.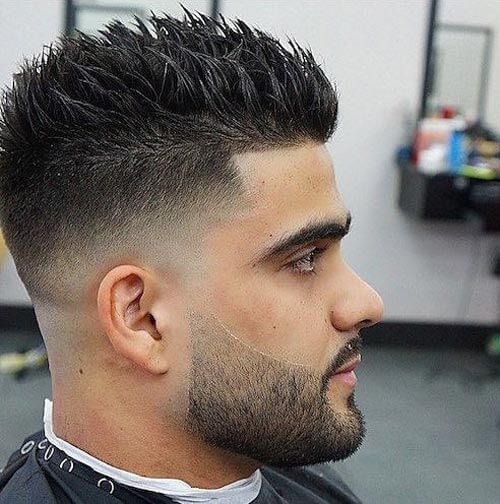 #17 Disconnected Undercut with fade
Although the disconnected undercut is already stylish and sophisticated. If you're in search of a hairstyle that'll stand out and look suave, the combination of a disconnected low fade undercut is a perfect choice. Whether you're heading to the office, the club, or out on a date, this haircut will do well to enhance your appearance for an impressive result. The matt look is achieved by applying a non-sleek hair product and air drying.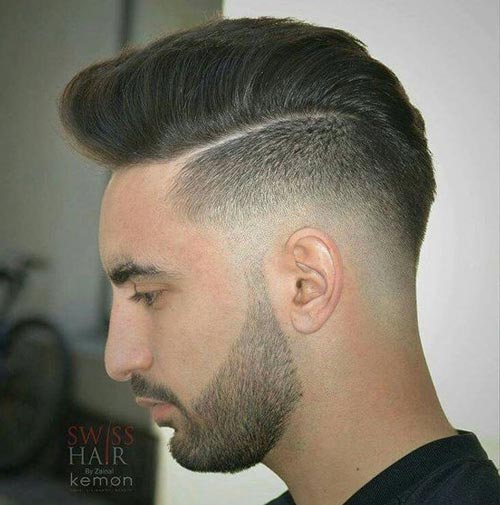 #18 Low Fade Haircut with Loose Curls
Great for people with curly hair, this style features an undercut that dramatically sets off the curly hair on top. The undercut uses a bald fade, which shaves hair right down the skin. While this style may need more frequent maintenance due to the close shave, it offers a clean and fresh look.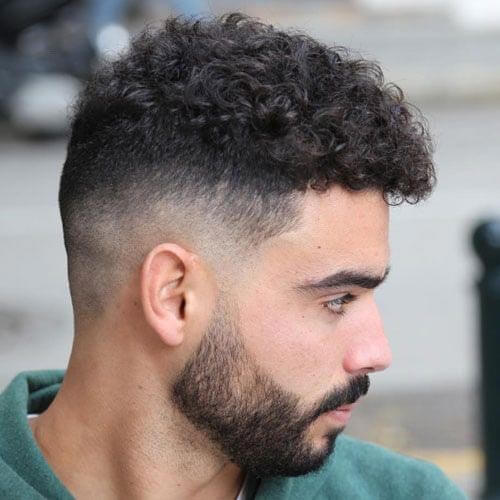 #19 Crew Cut With Curly Top
Like the buzz haircut, a classic crew cut can also benefit considerably from the addition of a low fade. The tapered shave progresses from the lineup to the beard and breaks off to the back of the head. This lineup quickly adds a more contemporary and trendy look to this traditional cut. Because of its subtlety, the fade does not change the crisp and professional appearance of your crew cut, meaning that the haircut is also perfect for the office as well as after hours.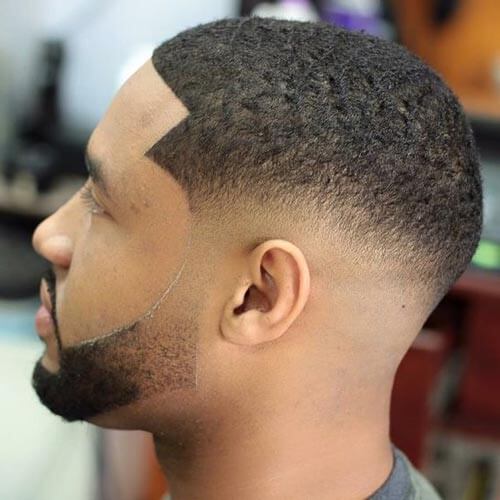 #20 Side Part with  Low Fade
Another great low fade haircut is one that features a deep side part. Hair is left long on top and around the crown of the head. The low fade wraps all the way around the head in one smooth, straight cut.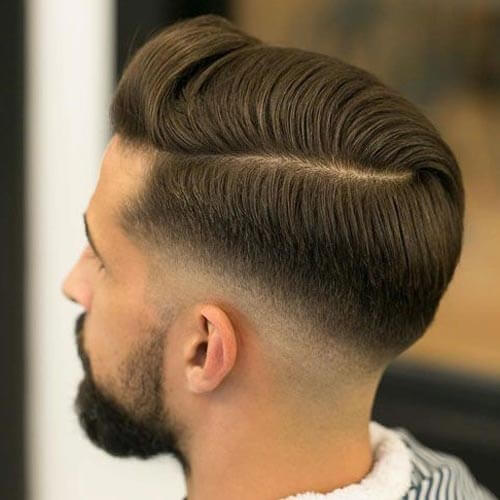 #21 Quiff with Lineup
While sophisticated and distinctive, a classic quiff can look somewhat outdated. So, if you want to rock a more modern look, it's best to give it an upgrade. While you can pick a regular quiff to infuse your look try this elongated quiff with a modern edge. Add on a subtle low fade and transform the style from dapper to dramatic. This low fade haircut will maintain its signature elegance while adding a contemporary aesthetic.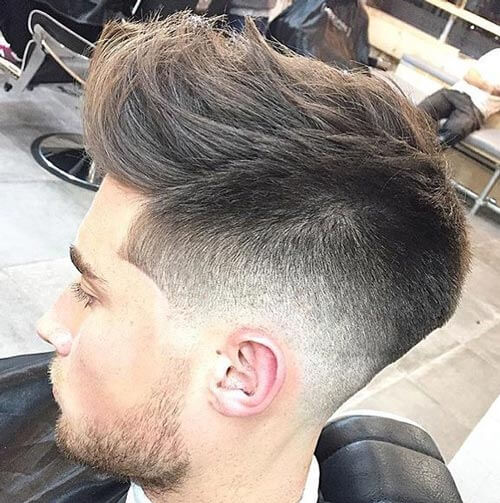 #22 Bald Fade with Curls
This haircut provides the wearer with the best of both worlds in terms of length. The low fade keeps the neck and ears free of hair while maintaining a thick top. This style is great for people with dense, curly hair.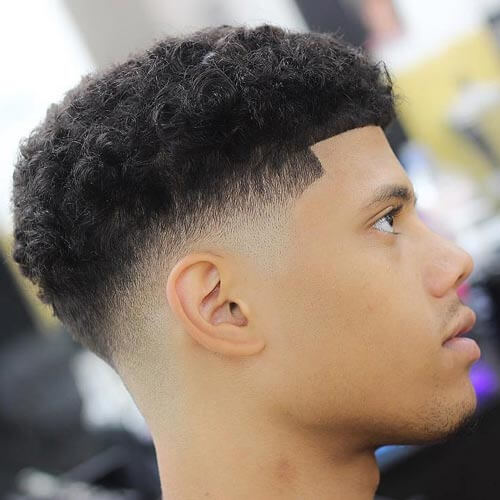 #23 Spiky Haircut
This is a stylish way to manage the sides and back of spiky hair—add some taper and a low skin fade. The fade starts at the crown of the head and ends in a low fade around the sides and back. Combine this with a lineup for perfectly groomed hair. Spiky hair needs a bit of hair product for a blowout look. Use a hairdryer and comb hair while drying.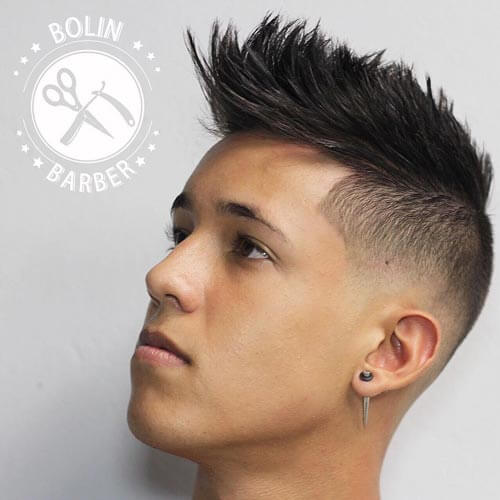 #24 Low Fade Haircut with Wavy Fringe
Want to show off your naturally wavy hair while also keeping them under control? A short fringe in front with a low fade is the perfect way for doing so. Not only will the haircut let you make the best of your hair texture, but it'll also keep you looking smart. It may be a simple hairstyle, but your curls will make it a hit.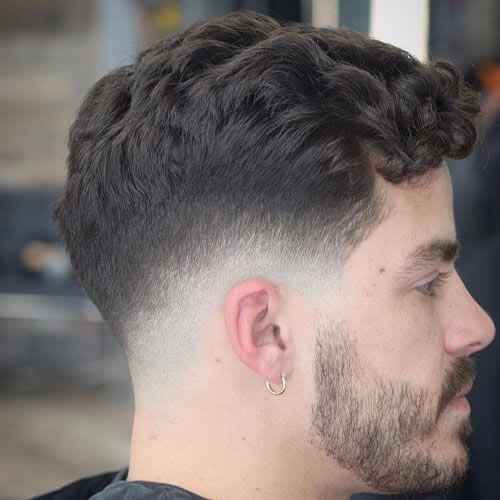 #25 Textured Haircut with Lineup
A burst fade is neat on its own but for some people, it may be a bit too basic. Adding a lineup can transform this basic haircut into a trendy style. In this picture, the hair is short and textured on the top, and the taper starts in a burst on the sides and around the ears, ending close to the hairline in a low fade and lineup. Easy to maintain, simply add in some texturizer to the top of the hair and style in any direction.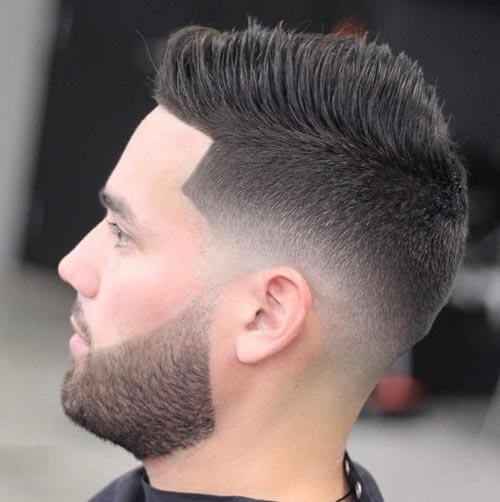 #26 Low Fade Undercut with Pompadour
Also a popular style, this pompadour gets its drama from the low fade undercut that provides a severe contrast in length. The hair nearly disappears under the longer layers sitting on top of the head, and the neck and ear areas are shaved.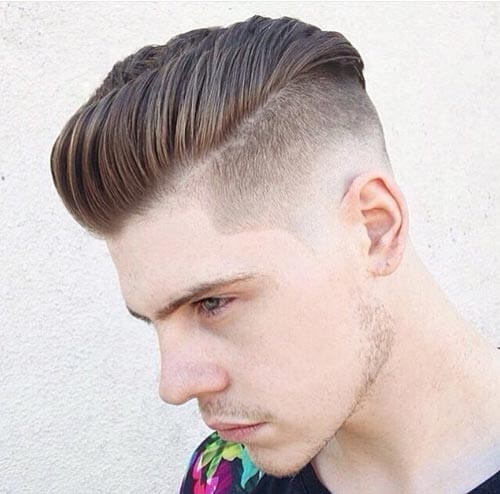 #27 Top Knot Haircut with Razor Fade
One of the best things about a low fade haircut is how versatile it can be. From top knot to low fade undercuts, you can wear a fade with just about any hairstyle. You can even wear it with a razor fade for a modern and unique look. To nail this style, all you need to do is leave a top knot, and disconnect it to a very short hair on the sides, which will fade to a low skin fade. You can wear your hair up, in a pony or combed over to one side.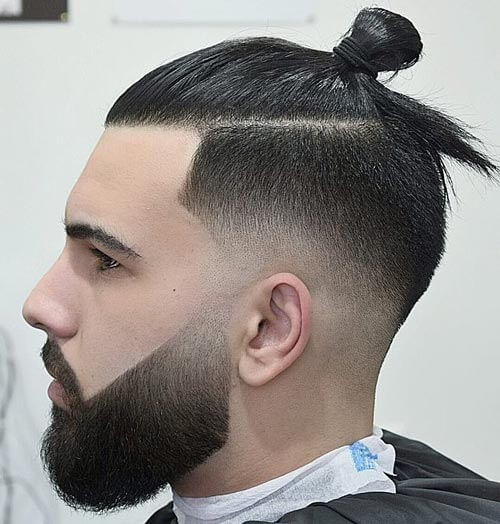 #28 Low Fade with Quiff
This low fade offers a good base for the quiff on top of the head. Shorter hair around the base of the neck sets off the longer layers Sitt Inon nd the temples and top of the head. Combing the layers up and away from the face adds style and flair.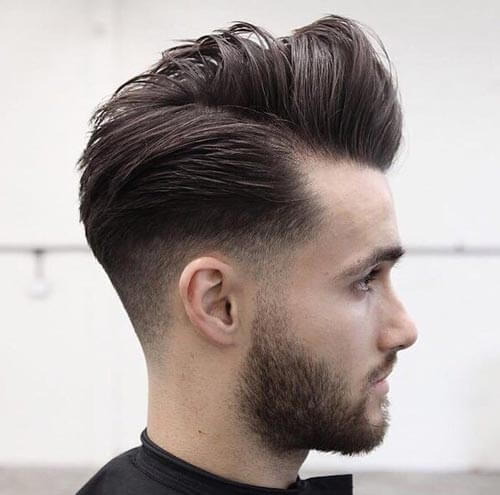 #29 Comb over with Part
This is a classic comb-over with a simple part. While super slick comb-overs are often used to disguise bald spots, this one actually accentuates the fullness and richness of the model's hair. There are many more modern and stylish variations to try. Particularly with a low skin fade and a side part that draws focus to the top. This combination produces a look that's very traditional but looks contemporary.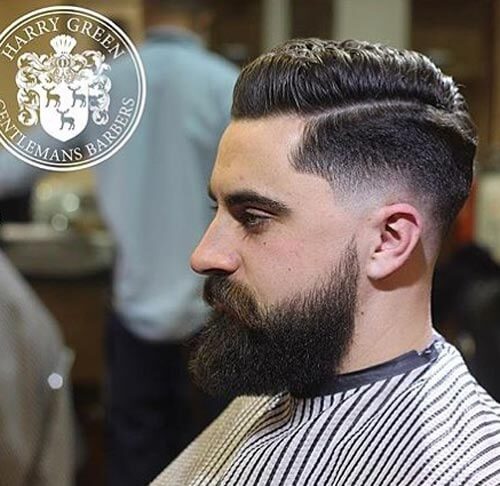 #30 Comb Over with Fringe
For those who like retro looks, look no further. A style that benefits from the long hair on top, this haircut features a taper fade in the back. Shaving hair close to the head above the ears while keeping it longer toward the back of the neck lends this style some rugged charm.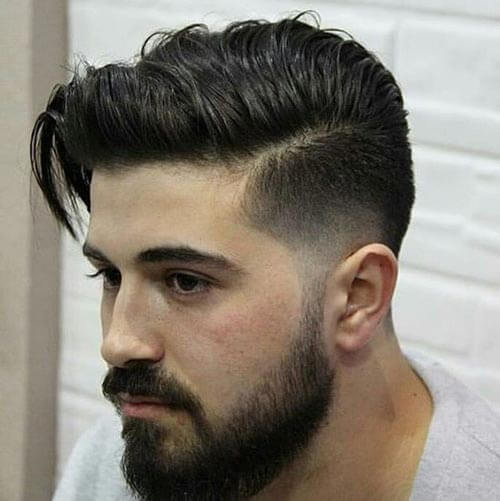 #31 Widow's Peak Haircut
The disconnected long hair on the top is styled in classic pomp. The fade starts low, around the ears and moves down towards the hairline at the back where it ends in a skin fade. This is a unique disconnected haircut and is intended to show a man's dramatic side. The hair on top can be grown to any length depending on your comfort level.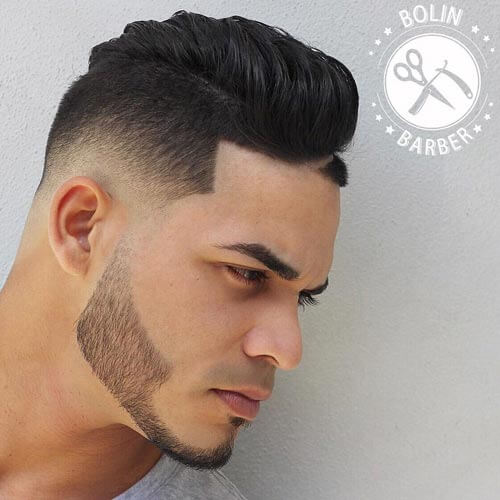 #32 Textured Quiff with Temple Fade
If you are looking for something a bit more subtle, this is not the hairstyle for you! The pompadour is already known as a hairstyle that draws attention, so adding texture and a low fade makes it even more pronounced and attention-seeking. A low fade around the edges of the hairline was used to spice things up a bit. But the hairstyle is largely meant for men who are daring or for boys who want to show off their youthful side.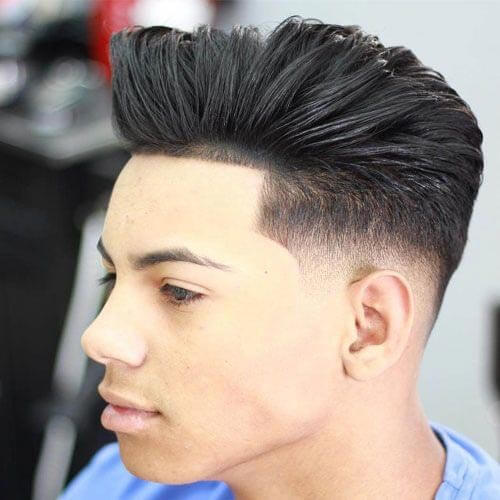 #33 Pompadour with Taper Fade
Full pompadours look even better when given a taper fade around the edges. Moreover, you can still style your hair on the top in whatever direction you want—into a quiff, comb over, slicked back, etc. This hairstyle features elements of the classic pompadour but is not too high on the top and the razor cut at the sides fades nicely into the sideburns giving the model a rugged look.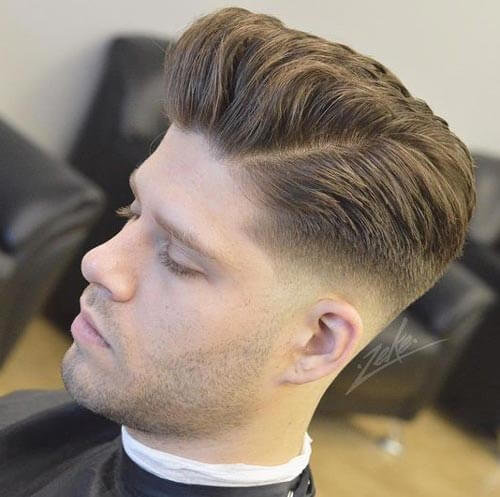 #34 Low Fade Quiff
Another taper fade style features combed-forward hair on top. Layering the hair at the crown of the head and slowly fading it shorter toward the neck offers a clean but informal appearance. The tousled and textured hair on top completes the look.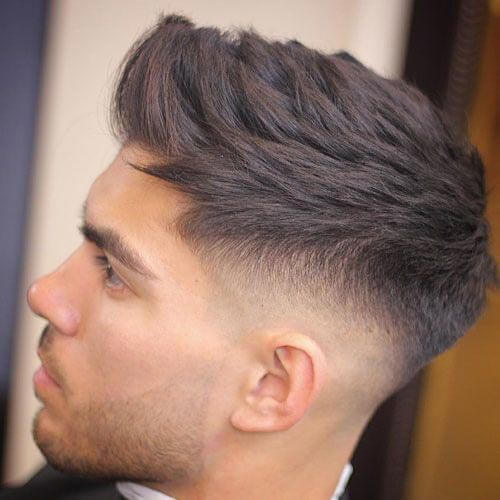 #35 Razor Faded Pompadour
A  pompadour Fade will never lose its appeal, especially if the side part line is natural-looking. This haircut is great by itself, but when a low bald fade is thrown into the mix, you have yourself a haircut to be proud of. The top hair is pomped up nicely, the side part is not too ostentatious, and the fade is exquisite. Managing this style, on the other hand, will work better with a spray-on mousse. Gently brush your hair into a pompadour and spray on your favorite mousse or pre-styler.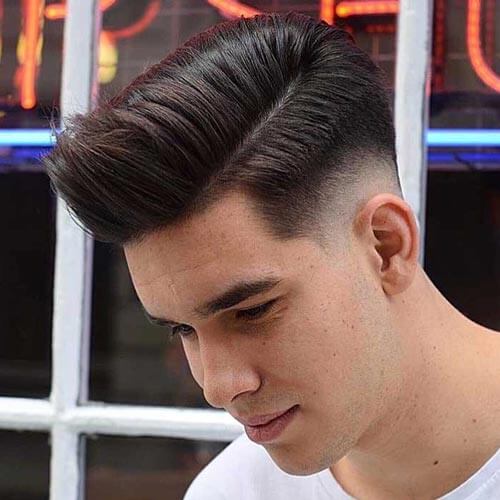 #36 Drop Fade with Waves
A drop fade like this one can pump up the volume on hair that may be fine or thin. Tapering into a V shape, this drop fade keeps the sides sharp and presents clean lines. Also, hair fades to the skin level at the sides. On top, style hair to get a wavy, textured look.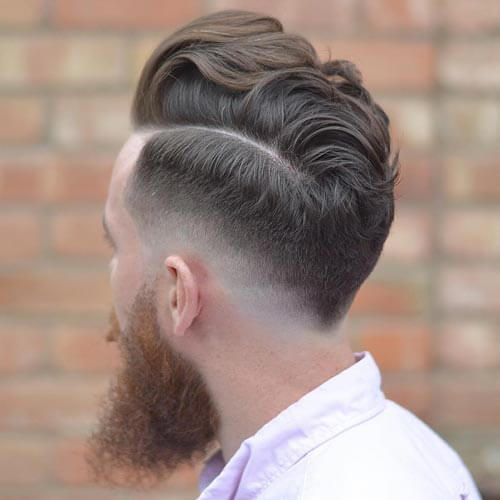 #37 Deep Parted Pompadour with Fade
If you like the look of a pompadour but haven't mastered its perfect shape, don't worry. A firm pompadour is easier to achieve but with a lot of hair products. The structured look may be too much for some people, but easier for others to keep the style together. All you need to do to add some strong hold gel to dry hair, comb the hair into pomp and spray on some strong-hold styling gel to keep it all in place.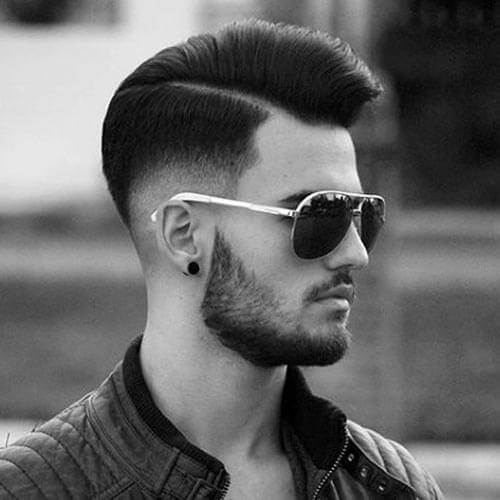 #38 Burst Fade with Curly Top
Another trend that has increased in popularity in recent years is the burst fade. Shaving hair behind the ears in an arched pattern that reaches toward the back of the head defines a burst fade. In this style, the curly top completes this highly structured and sculpted look.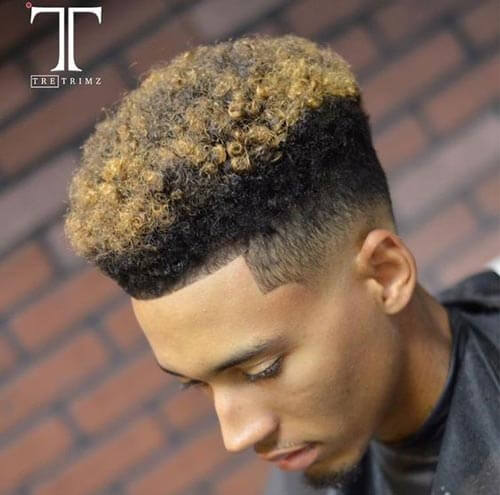 #39 Caeser Haircut with Low Fade
A Caeser haircut and a low fade are a great combination to inject a stylish touch into an otherwise bland haircut. Adding color to the top part of the hair is an excellent way to update your look completely. The fade slowly decreases the length of the hair from around the temples to the ears, naturally drawing attention to the top of the hair.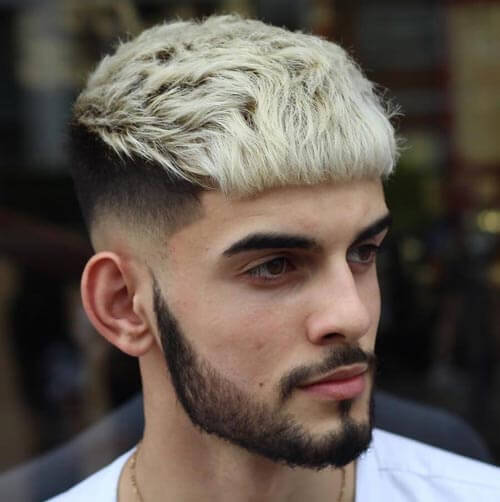 #40 Faux Hawk with Deep Part
Probably the most dramatic part of this list, this haircut is not for the fainthearted. A deep faux hawk cut into the scalp and follows the shape of the head toward the neck. A low fohawk keeps things looking sharp at the back. Styling longer hair on top accentuates the distinctive style of this cut.