The taper fade haircut is one of the most contemporary and trendy hairstyle techniques. This classic, influential haircut highlights a wide range of personalized looks from indie college students to bold entrepreneurs. Let's take a peek at the examples below to help you decide how a taper fade haircut is right for you.
What Is A Taper Fade Haircut?
A taper and a fade are part of trimming tactics barbers commonly use. The taper fade combines both components to complete multiple hairstyles. The taper clips the edges of the sideburns and necklines as the fade gradates the hair into the skin. Here are the three most common types of taper fades.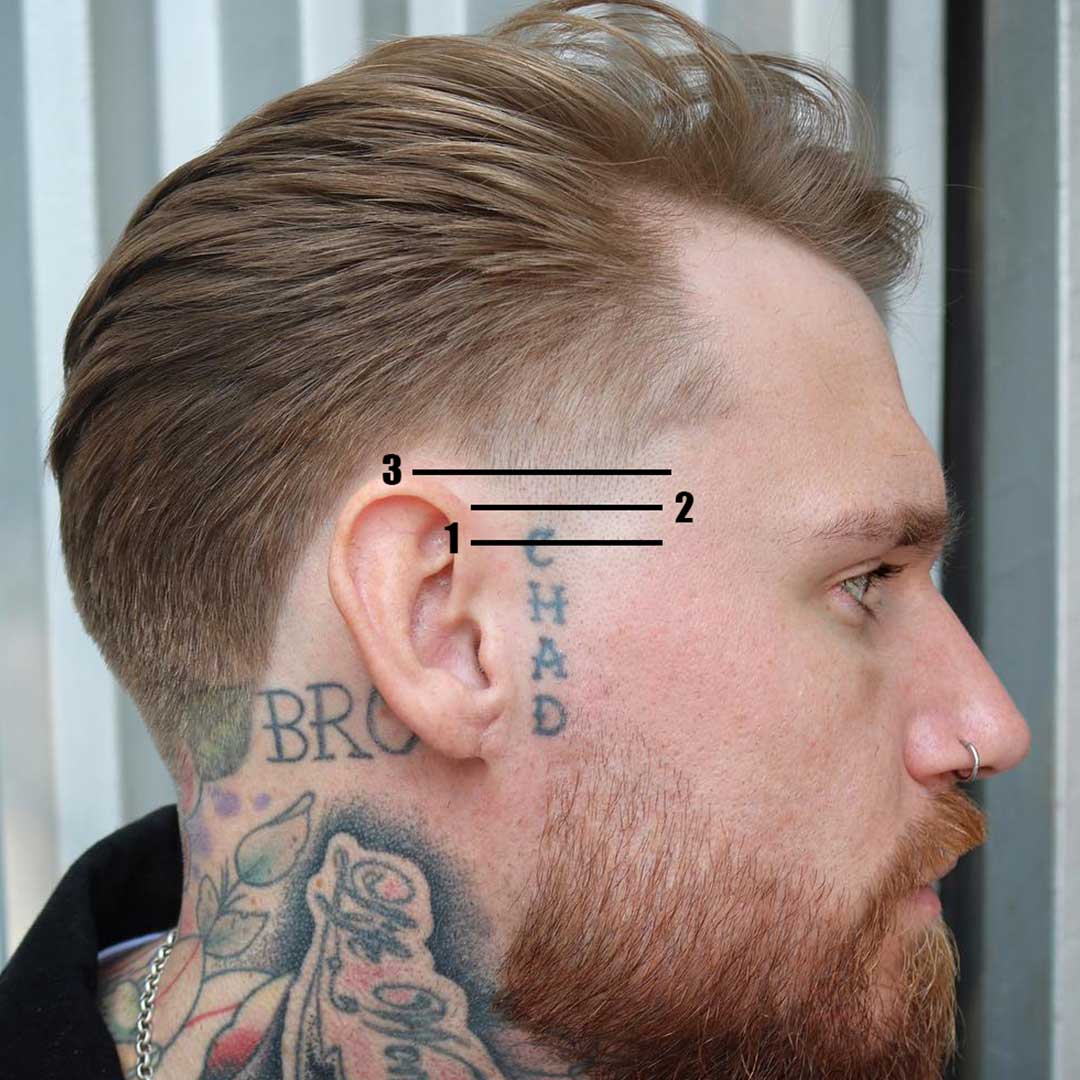 Low Taper Fade
A low taper fade starts at the lowest point near the ears. It's the safest option with the least amount of fading between the hair on the crown and sides. If you prefer avoiding shorter hairstyles where you feel exposed, this is the best option for a side part, pompadours, a comb over, and an undercut.
Mid Taper Fade
The next level up is approximately an inch higher. Instead of trimming around the ears, the fade gradation raises to the eye line. Since the central hairstyle fits varying long-to-short inspired hairdos, the mid taper fade works well with everything from crew cuts and French Crops to faux hawks and pompadours.
High Taper Fade
The shortest measurement is near the temple. The taper leads approximately two inches from your natural hairline and thins out on the sides and back. With such a short length between the crown to the fade, this dramatic version is ideal for high and tight haircuts such as quiffs, comb overs, and high tops.
How To Get A Taper Fade Haircut?
Building a foundation of knowledge for this haircut can help you determine how to get one in the future. If this is your first time trying a tapered haircut, ask your barber during your next appointment. Discuss any concerns about which taper fade will fit your hair type and style.
To create a taper fade at home, you'll need two mirrors, a comb, trimmer, and clippers. Start with the taper since it removes smaller portions of hair on the face and neck. Then, move onto the fade by scaling the rest of your head in incremental movements.
Every barber uses a personalized method to trim from the bottom to the top or vice versa. Choose the process that works for you. For this tutorial, the following steps are from the bottom to the top.
Start trimming your hair after it is fresh and dry from a shower. Detangle and straighten with a comb or brush. Begin with the taper by removing hair on the sideburns and the neckline with a trimmer. A friend can help with areas you can't see or reach, but mirrors are useful too. Then, move onto the fade. Decide where the fade line will be. Remove all the hair around your ears and in the back below the fade line.
Use the 1/8 clipper guard above the fade line all the way around to achieve the initial fade level. You can also apply the comb slightly underneath the edge of the hair as a guideline as you trim. Then, repeat the process with the next guard levels 1/4, 3/4, and 1/2 below every previous fade level. The hair should blend into the skin as you reach the shortest guard. Take your time as you move the clippers and switch the guards for the smoothest haircut.
How To Style A Taper Fade Haircut?
Maintaining upkeep depends on the fade length you prefer. Since the hair near the crown and on the sides infuse together, you can use the hair products in your regular repertoire with a few key alterations.
Prevent irritation and dryness with mid and high fades by applying moisturizer cream. If your scalp is sensitive to shaving or trimming, moisturizer cream protects the skin and replenishes future follicle growth.
Tame low to mid-length tapers with pomade or gel. Both products give your hair a wet look and an elegant shine.
Plan your next barber's appointment. Your hair grows 1/2 inch every three to four weeks. Once your scalp develops fuzz or longer hair becomes unruly, it's time to revisit your barber or try a DIY trim at home.
Difference Between Taper And Fade
Tapers and fades refine the hair around the face and neck. However, the visual results and the techniques to make them is stark.
Men who love traditional looks tend to opt for a taper. Whether the trim is close to the skin or only an inch long, the hair remains the same length near the ears and neckline. Barbers retouch the edges with shears or a standard trimmer.
On the other hand, a fade reduces hair around all the sides and neck until it "disappears" into the skin. Barbers use a clipper and comb or a clipper with a variety of guards to gradate the hair. You can add line work, personalized fringes, and various undercuts. In contrast to the taper, fades have a wide variety of styles, including the three types mentioned above as well as temp, burst, skin, and drop fade.
Elegant Slicked Back
Channel the 1920s into the 21st Century by molding your hair back into an elegant comb over. Smooth your hair down with pomade, but leave a prominent curl to frame your face. Choose a medium fade to separate the slicked-back portion from the taper, and try ginger dye to contrast the conventional black coloring men usually sport.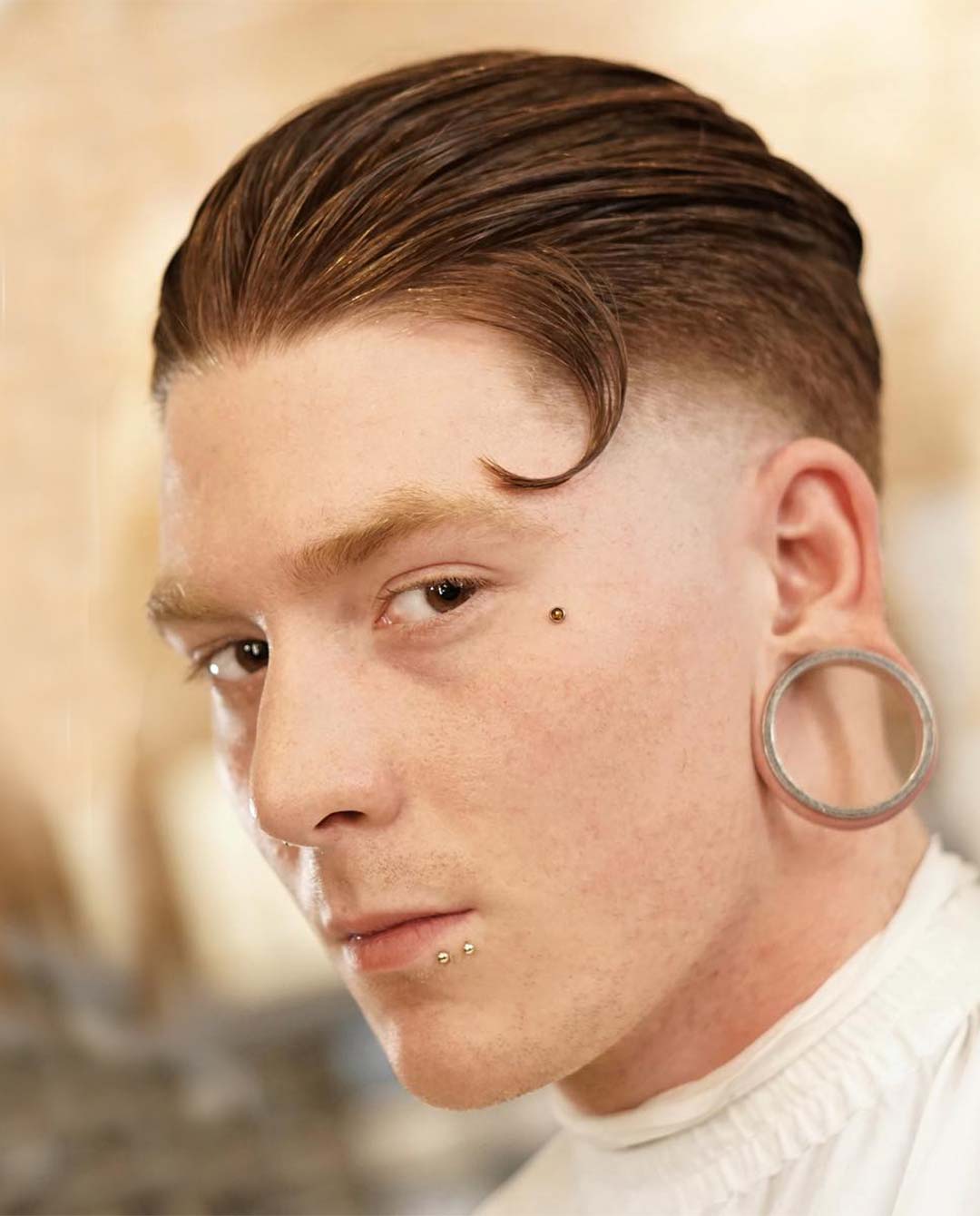 Crop Top with Fringe
Crop tops shake off all of society's expectations of how men "should" look. This deviation between long to short hair breathes new life into jagged fringes strutting out in every direction. Start by bluntly shearing the bangs into an abstract angle and brushing it over the forehead. Don't bother subduing the cowlicks as they only enhance the frayed finish.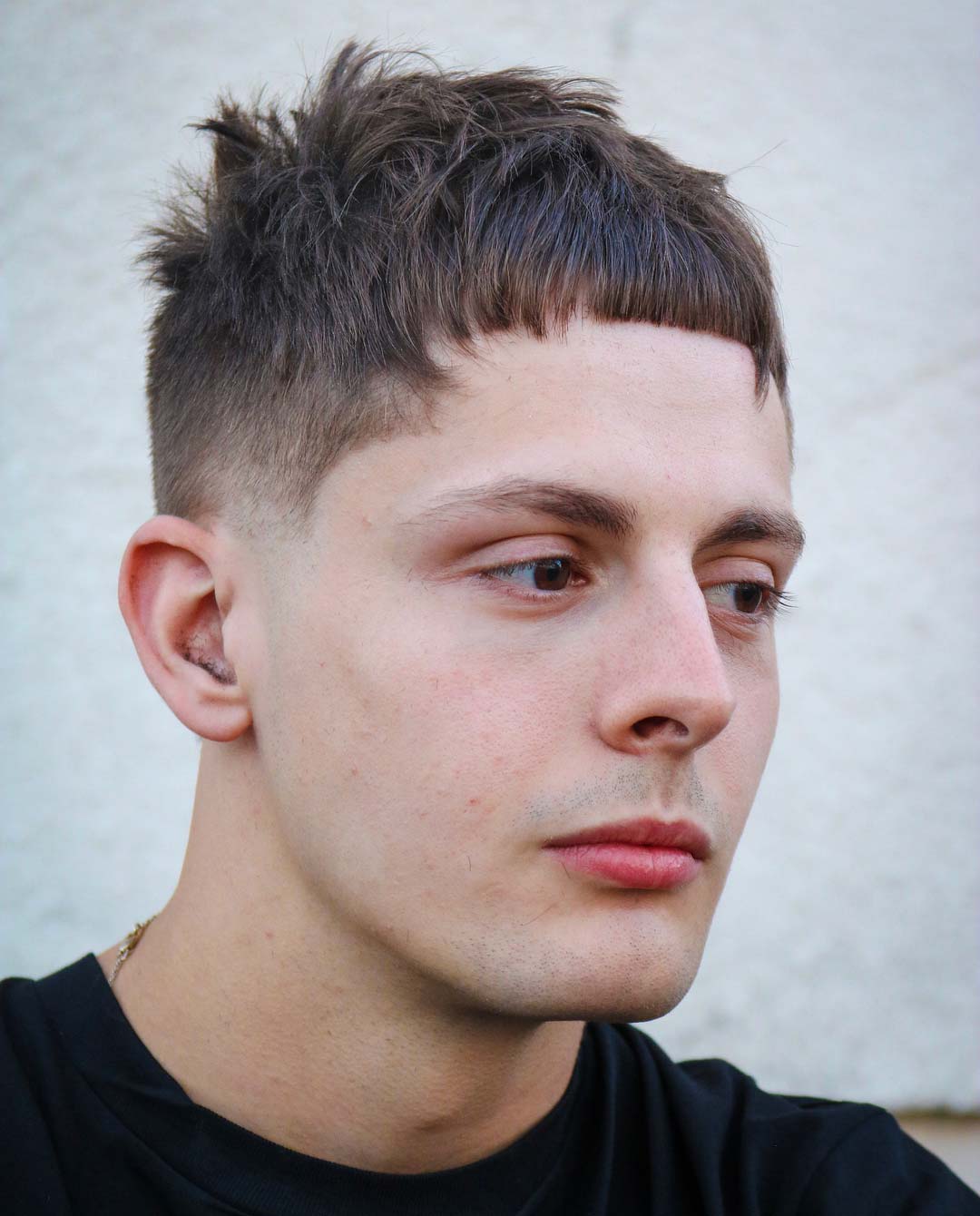 Modern Mullet + High Taper Fade
Despite the divisive reputation of the 80s, mullets are one of several fashion statements that consistently make a comeback. Maintain a meticulous design with an angled taper in the back and a high fade. Use highlights to break up the solid stretch of hair from the front to the back.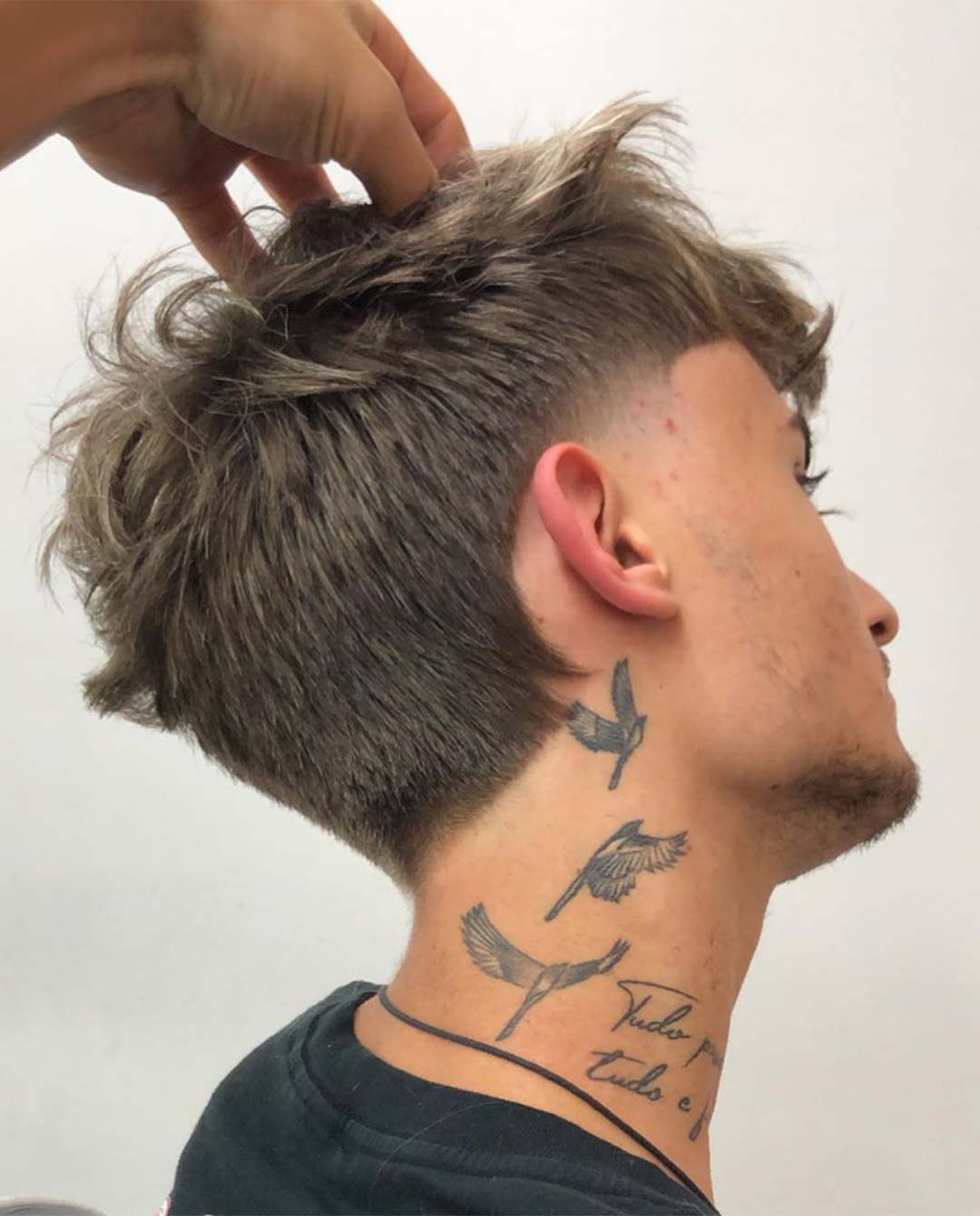 High Top Fade
If you're not ready for a full blow-out, a high top fade offers the same amount of charisma. The curls spring out in all directions. Volume decreases as the hair introduces a taper fade near the ears and temple.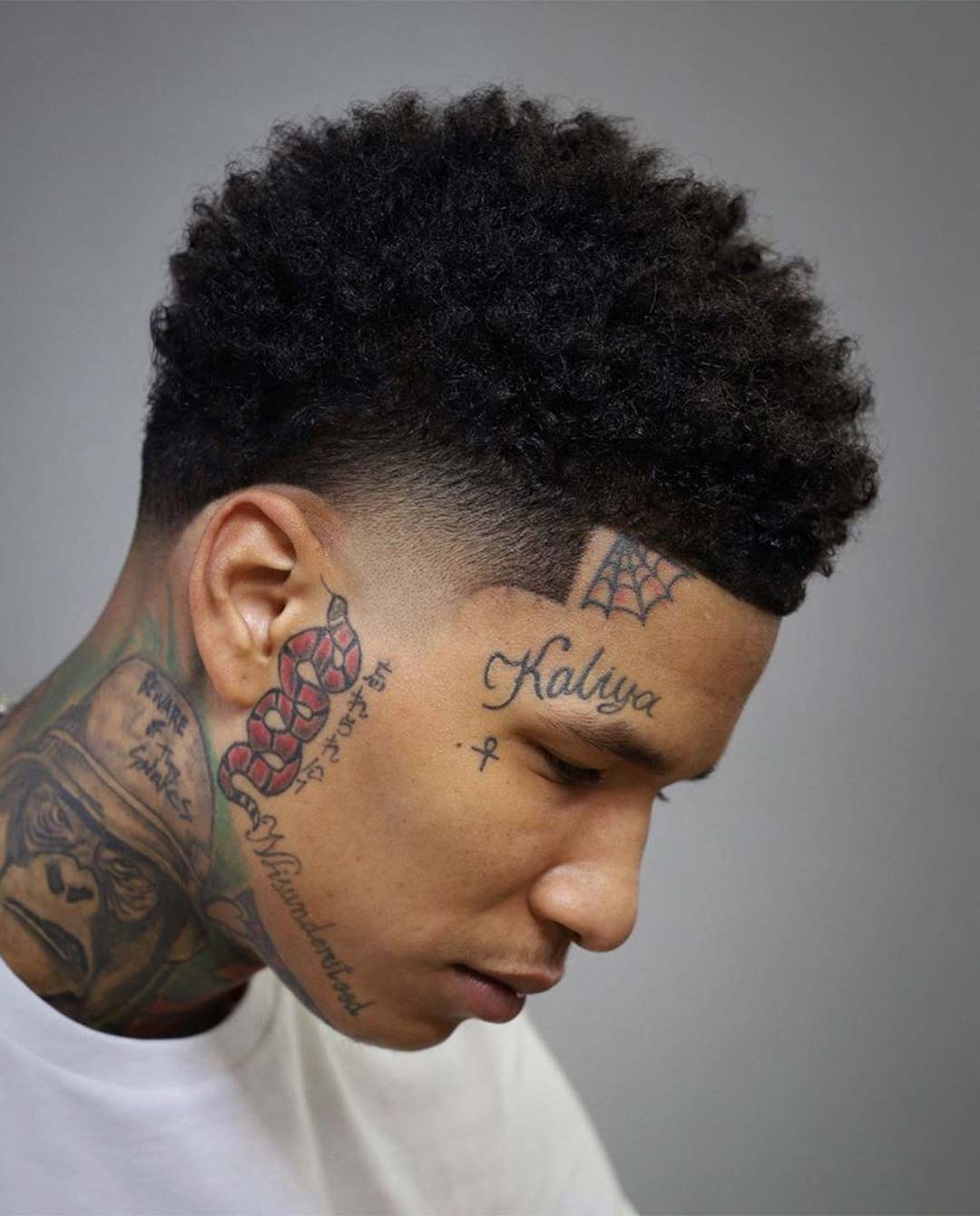 High Volume Top with Back Line
There's no way you won't catch never-ending attention with this high volume top. In the front, medium length hair brushes up into a memorable high dome. In the back, the low fade and a back line will make everyone do a double-take.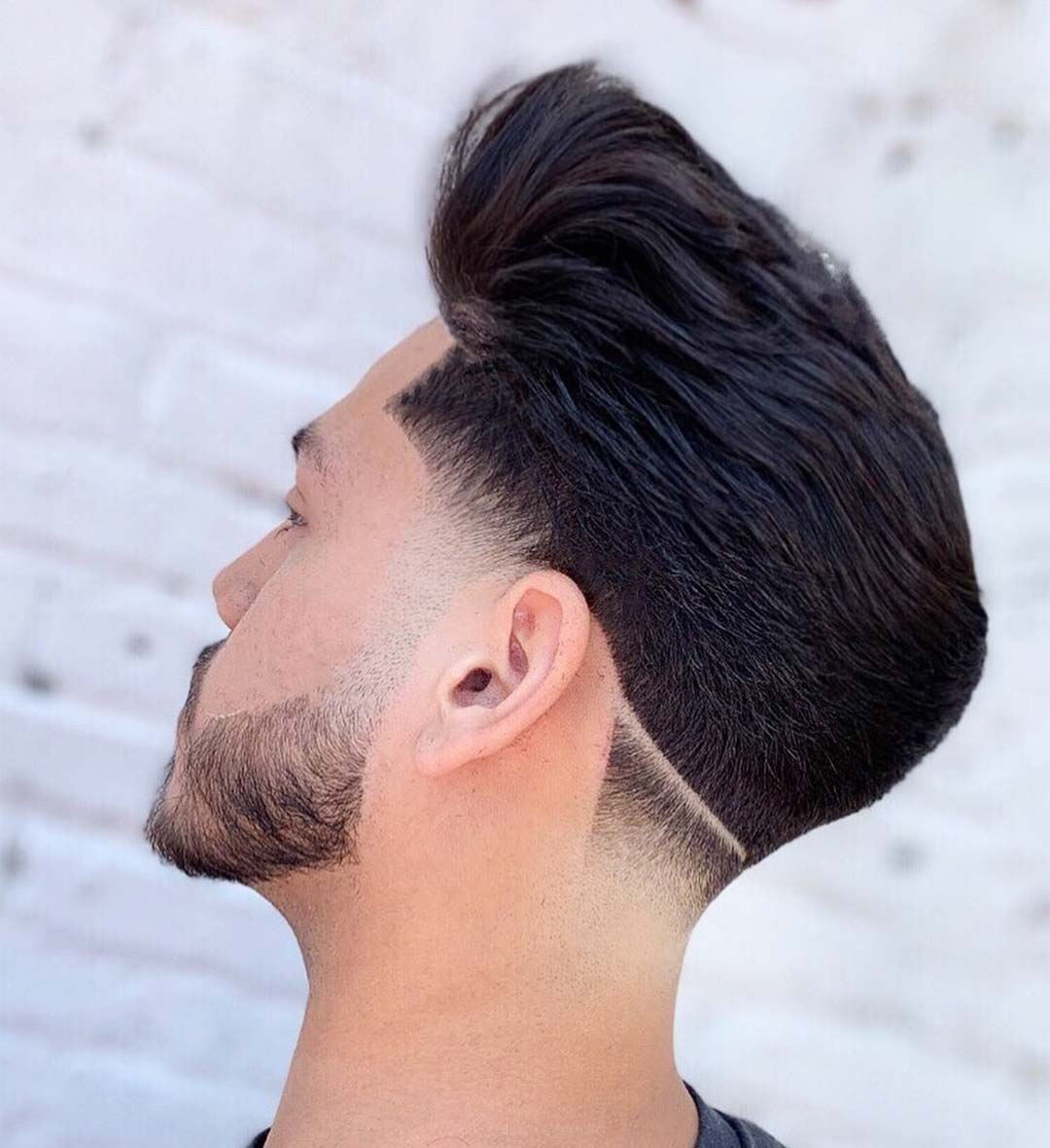 Modern French Crop
This French Crop is both sophisticated and youthful. Layers of wiry hair brush into the fringe and cultivate a contrast against his face. Ask your barber to leave an inch of hair for the taper and a low fade to follow.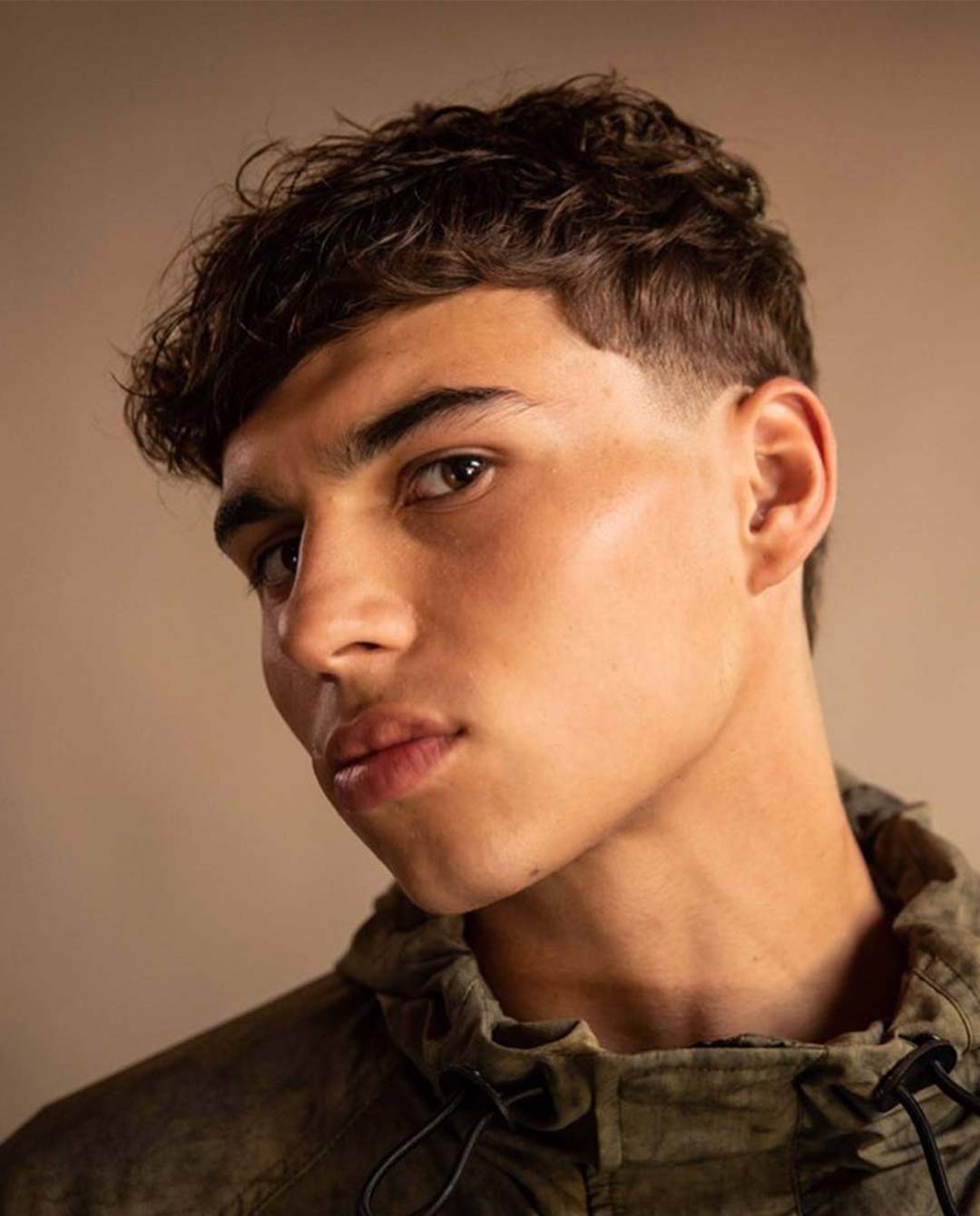 Textured Quiff + Low Taper
Short to medium length hair is versatile to rock a retro look without appearing too old-fashioned. Flipping up your hair in the front combines the subtle height of a faux hawk but the irresistible balance of textured quiffs. The pocketed locks drop into a compelling low taper fade.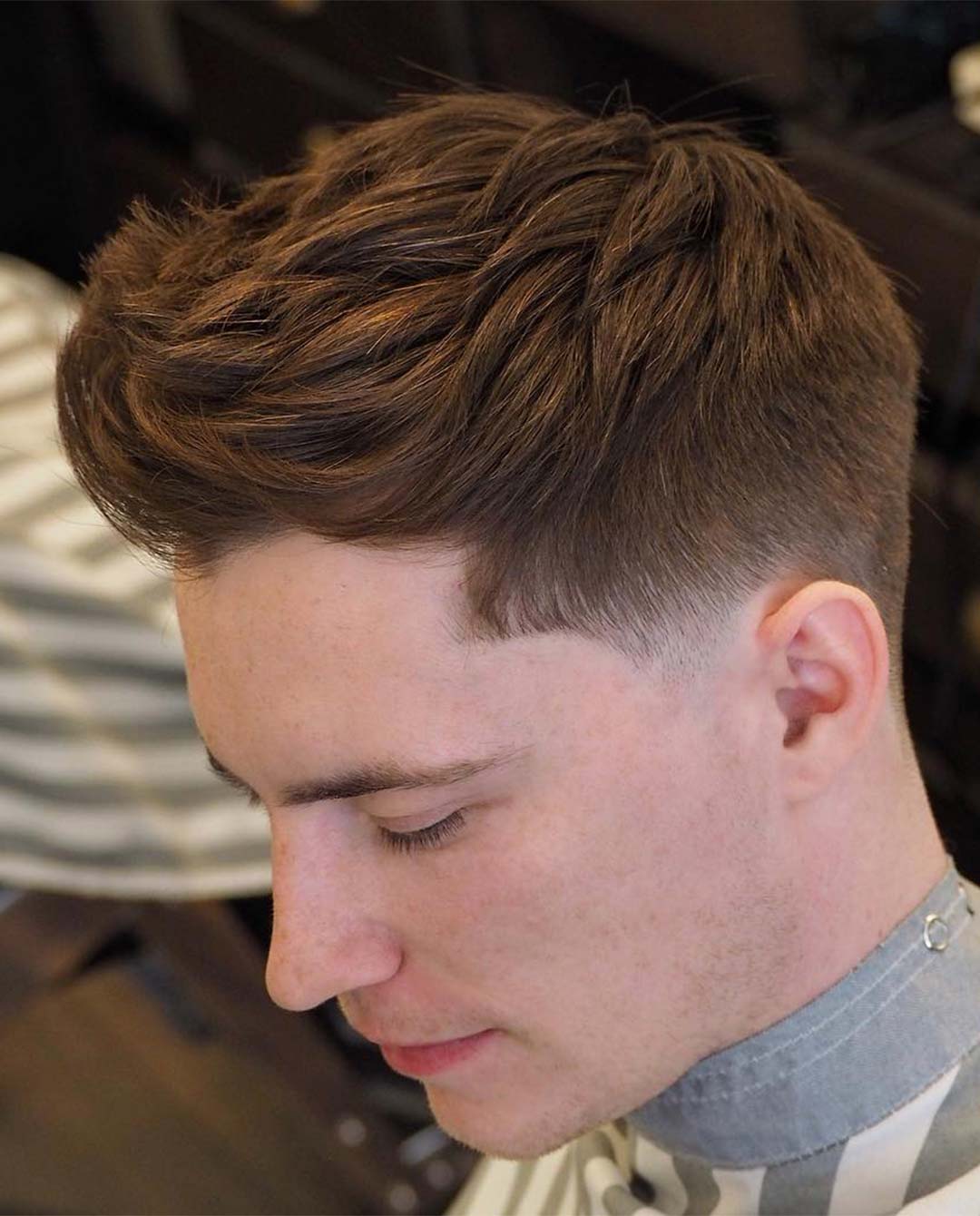 Angular Fringe with High Taper
When men typically alter the shape of their hair, it's usually to add height, strengthen definition, or change the length. This angular fringe takes experimentation to another level. One half of the parted hair swirls upwards into a wave, while the other juts forward into a sharp corner around the forehead. If you're into the art and design scene, your hair will look as effortlessly cool as an abstract structure in a museum.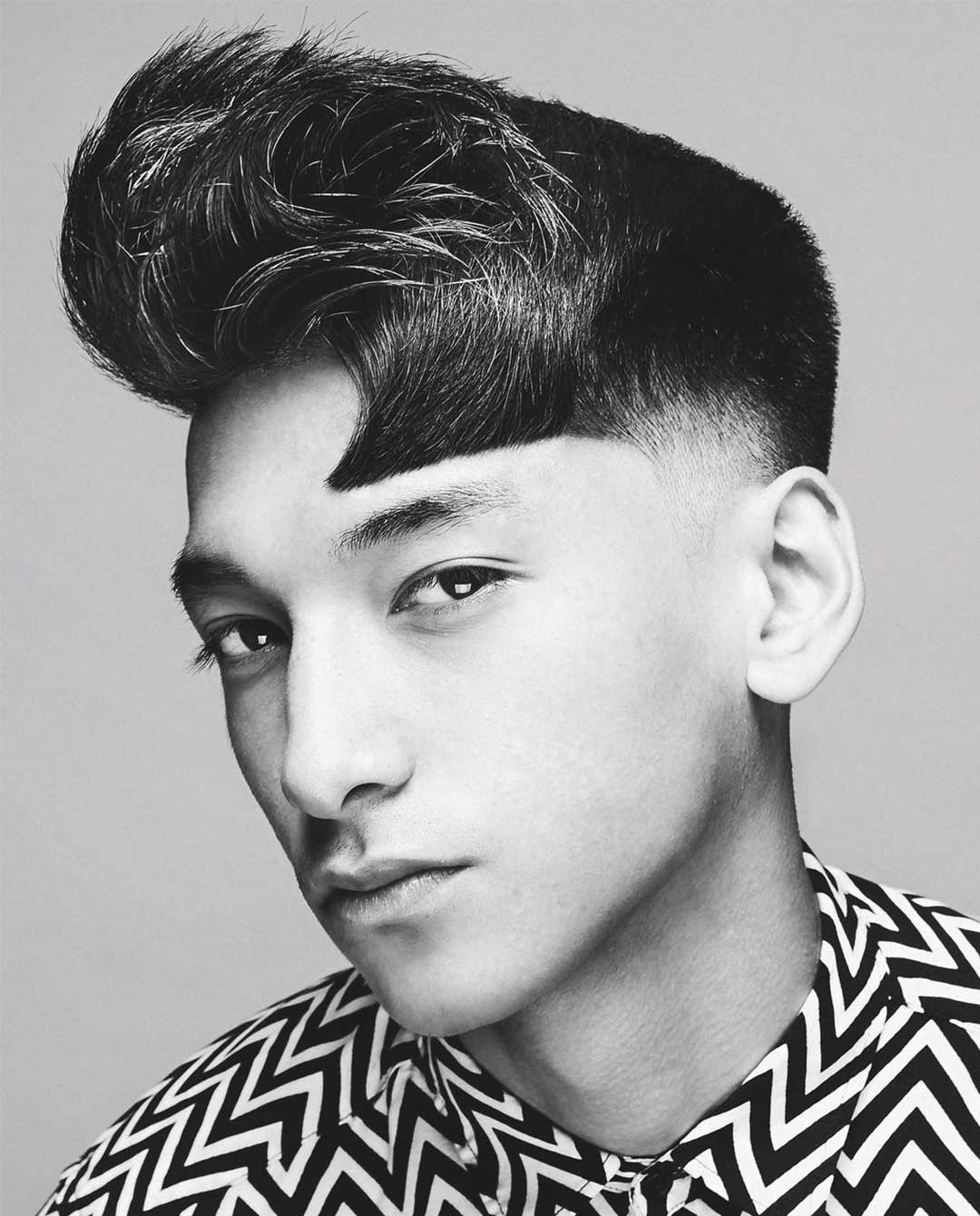 Caesar + Taper Haircut
Low taper fades pair perfectly with minimal hairstyles to avoid drastic trimming. The best example is this Caesar haircut that only exposes the sideburns and opens up the handsomeness of the model's face.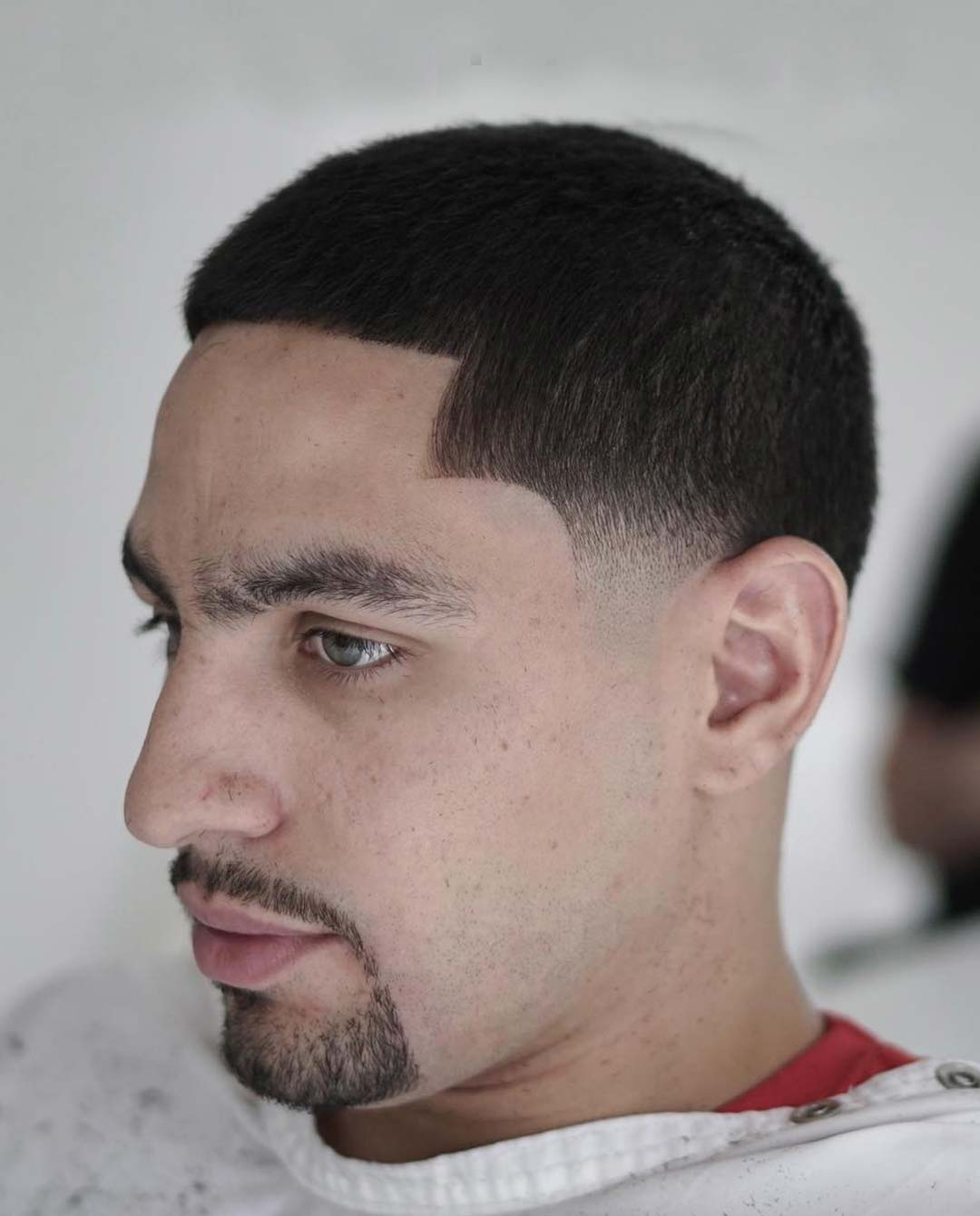 Curly Hair + Low Taper
Natural curly hair can be a curse or blessing, depending on how you style it. The chic curls provide volume, while the low taper creates a refined trim.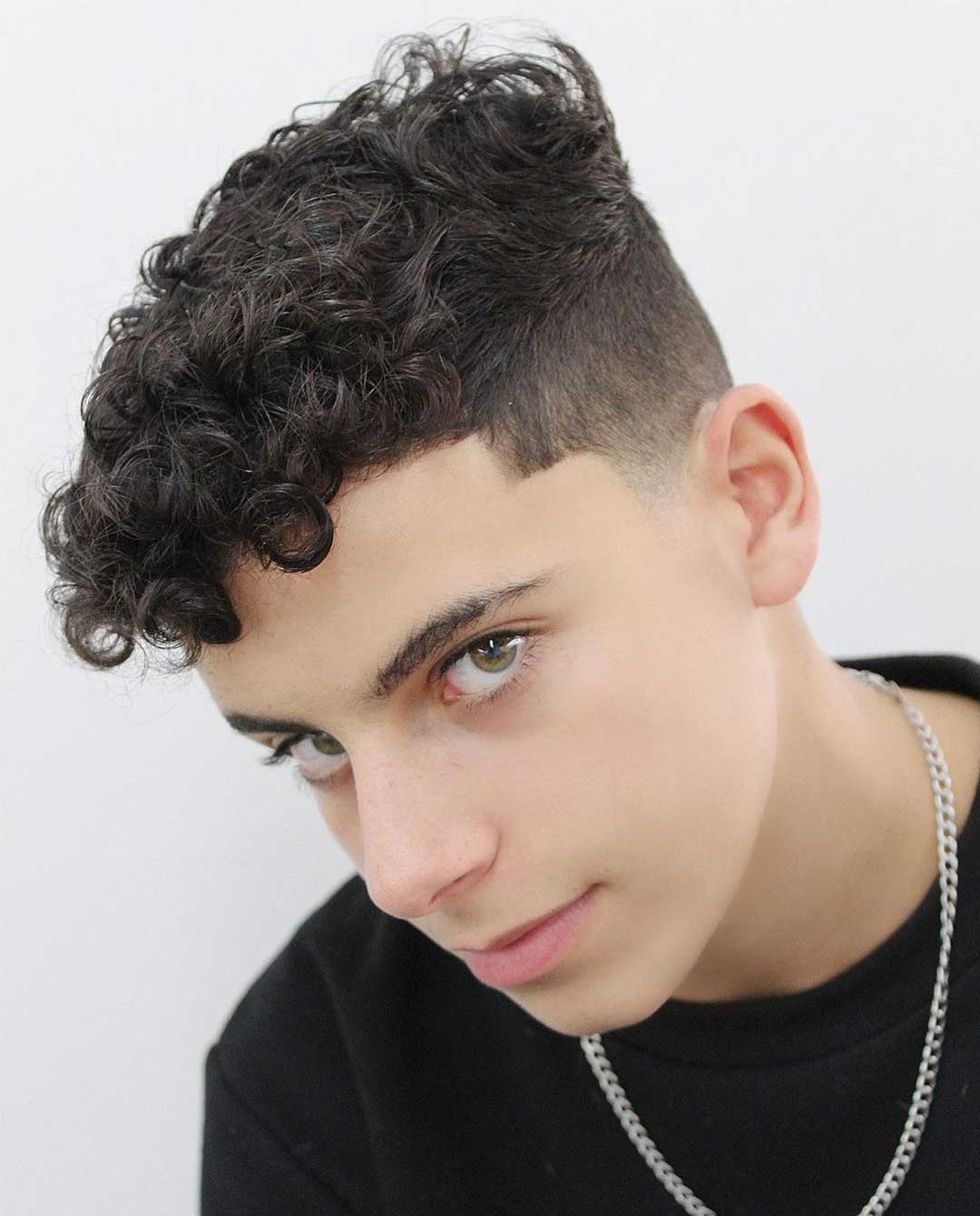 Dyed Top with Taper
It's one idea to dye your hair from one full color to another. But, it's a whole other ballgame to sprinkle alternative colors from the top to the bottom. This style will reach its best possible outcome by visiting your barber who can switch between bleaching the hair and dying it black.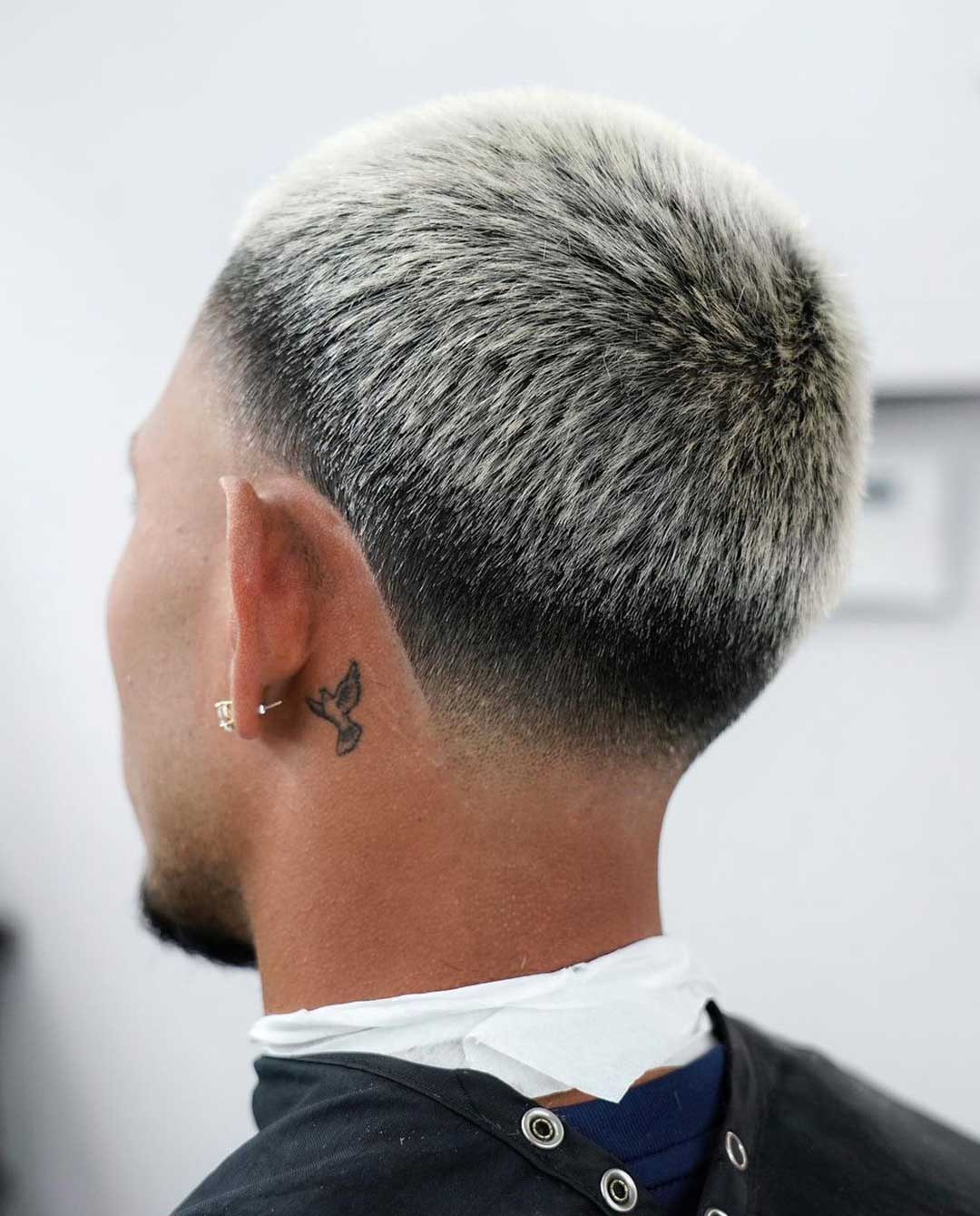 Ducktail with Taper Fade
Nobody ever expects to see ducktail haircuts, which is what makes them so exciting to try. It's a mullet with a different combing style in the back. Brush your hair with pomade from the front to the back, and then brush the sides into the center to emulate a ducktail. A fade near the sideburns switches it up from old-fashioned to modern.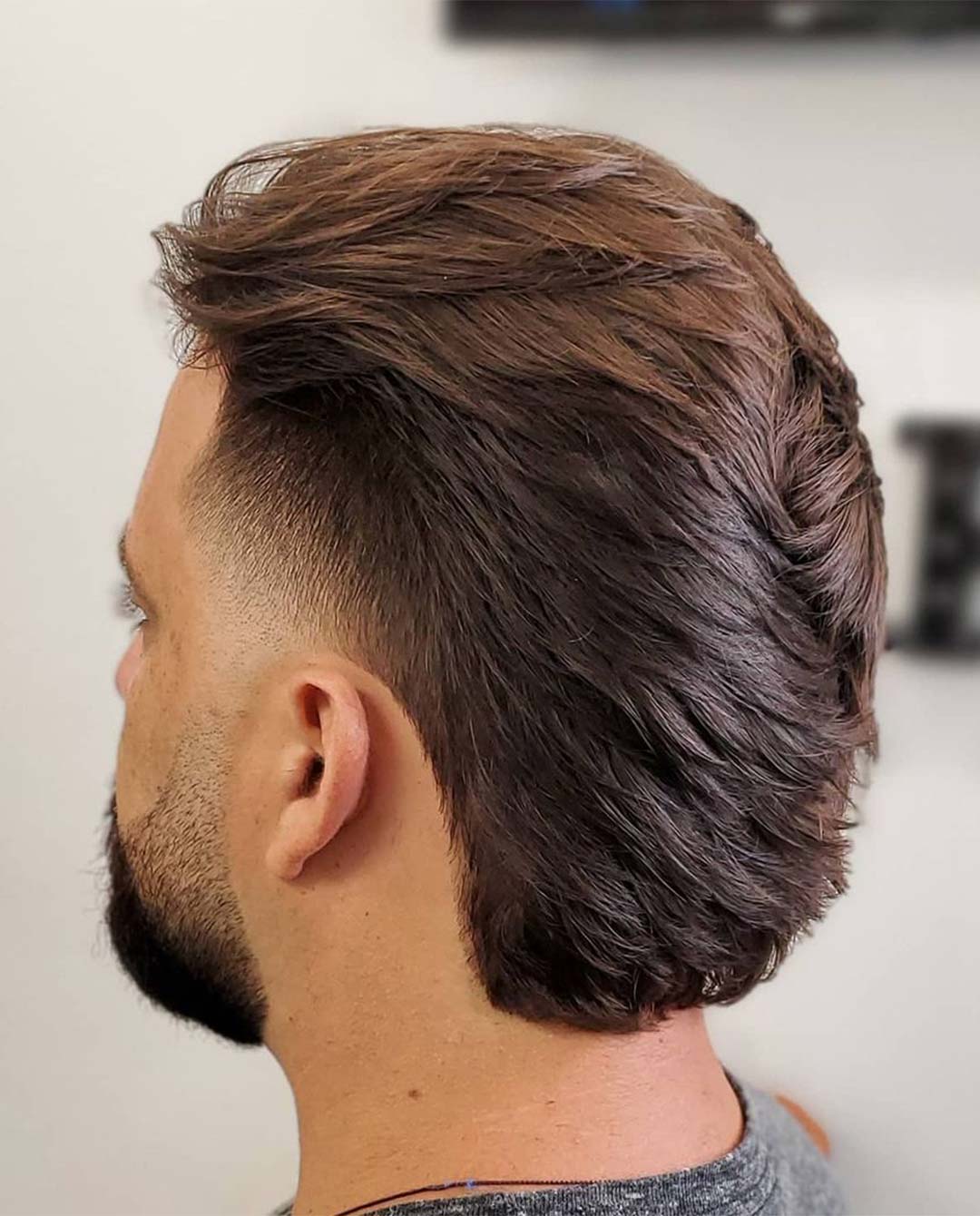 Side Swept + Mid Taper
Bring your lingering beach vibes from the weekend into your workplace with this side swept haircut. Long hair brushes back and allows some rogue strands to fall in your face. A mid taper adds an orderly touch-up along the side and gives you more skin to show off a neck tattoo.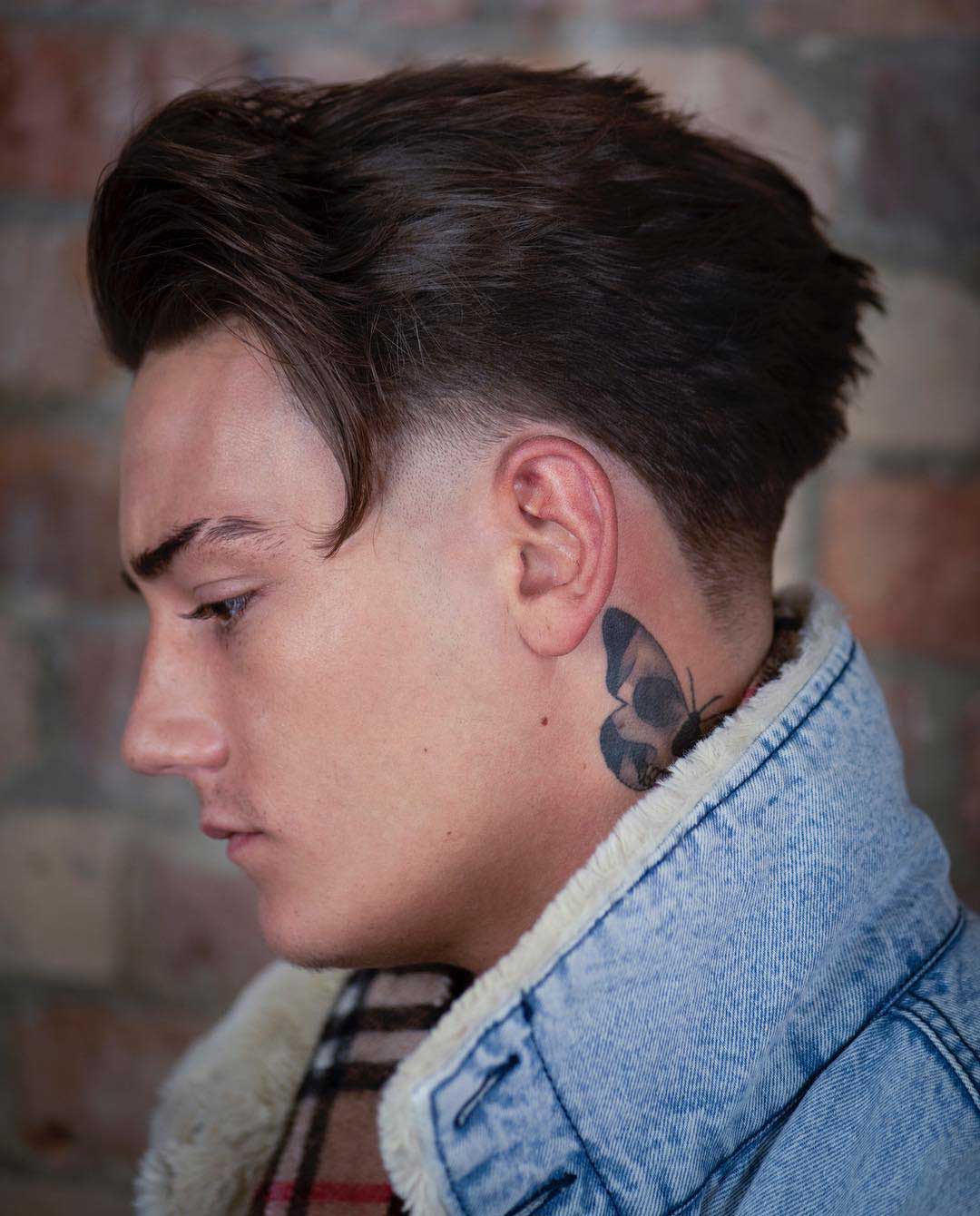 Man Bun + High Taper Fade
Masculinity usually equates to settling for a clean-cut short hairstyle. But longer hair hiked up into a fashionable man bun is equally macho. Grow your hair out six to ten inches, and then hike it up with an elastic band. Add a low fade to quell potential unruly strands underneath.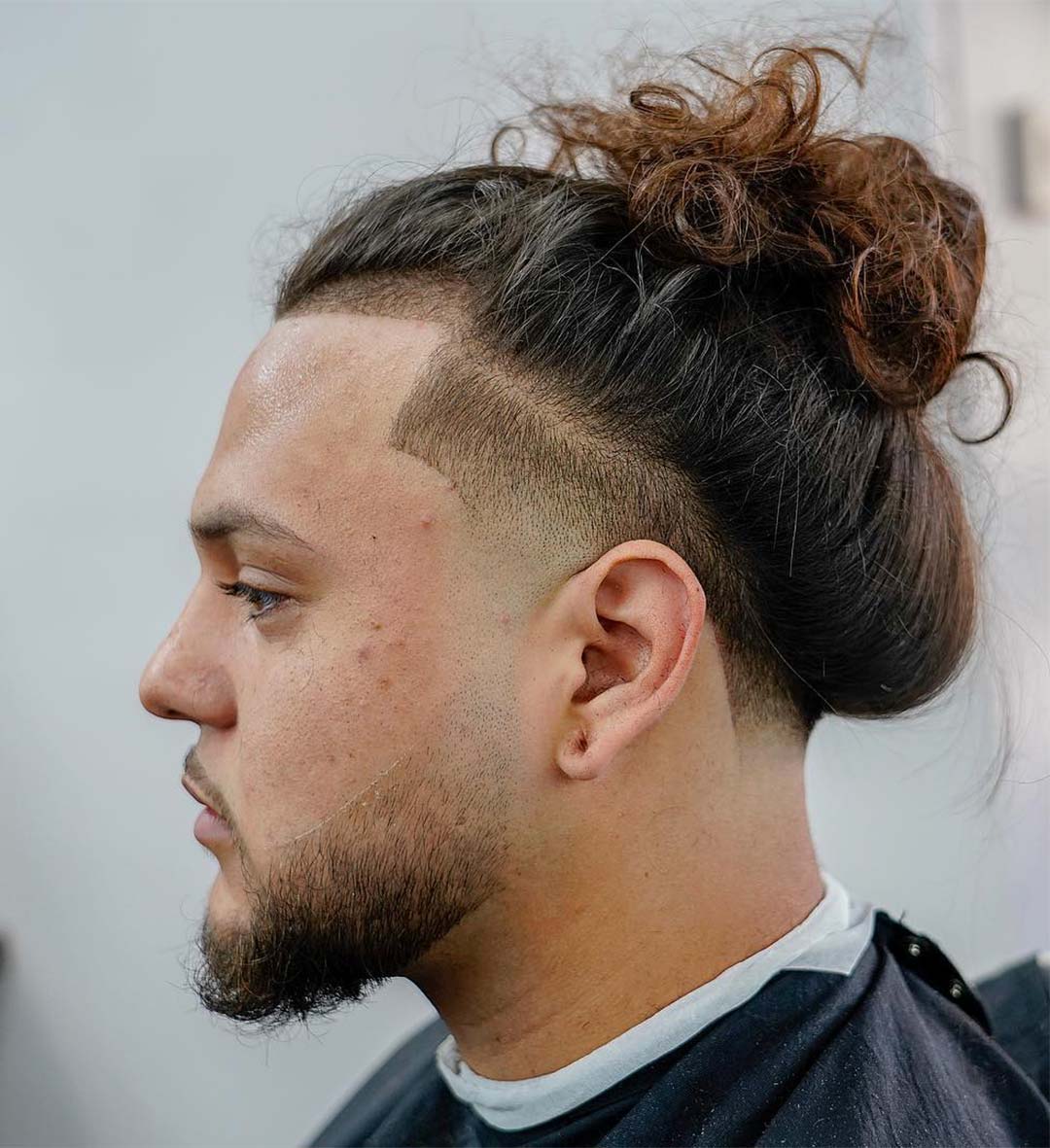 360 Waves with Mid Taper
Highlight your hair from every angle with 360 waves. If you already have 360 waves, ask your barber to eloquently crop the sides and back. Otherwise, it'll take a few weeks to train your hair into waves. Once they're ready, you can add a mid taper as the final touch-up.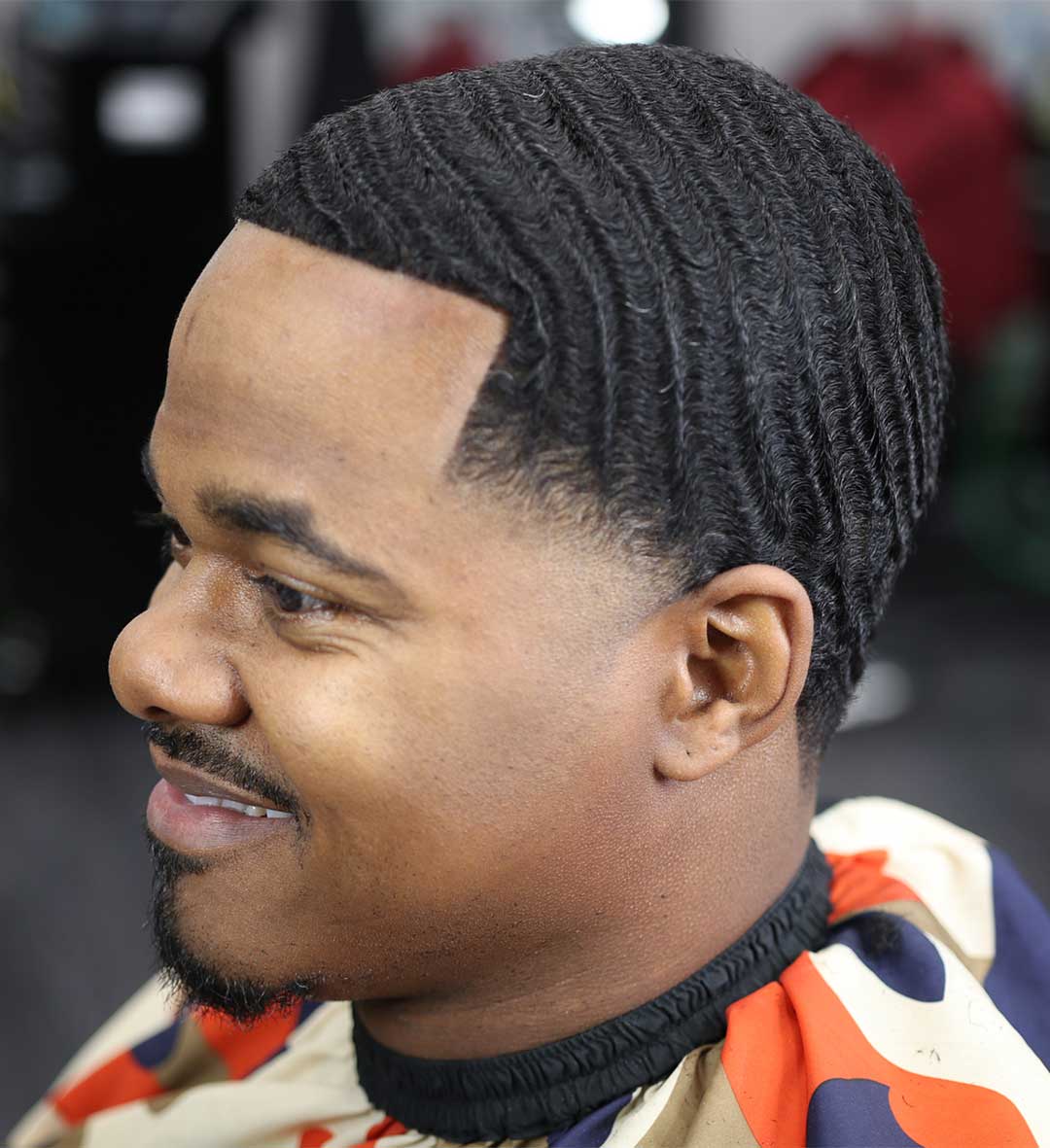 High Volume Top
Next up, we have the High Volume Top. As you can guess from the name, the key here is to obtain as much natural volume on the top of your dome as possible! Let that mane flow free, but maintain a short taper on the sides for a cleaner expression.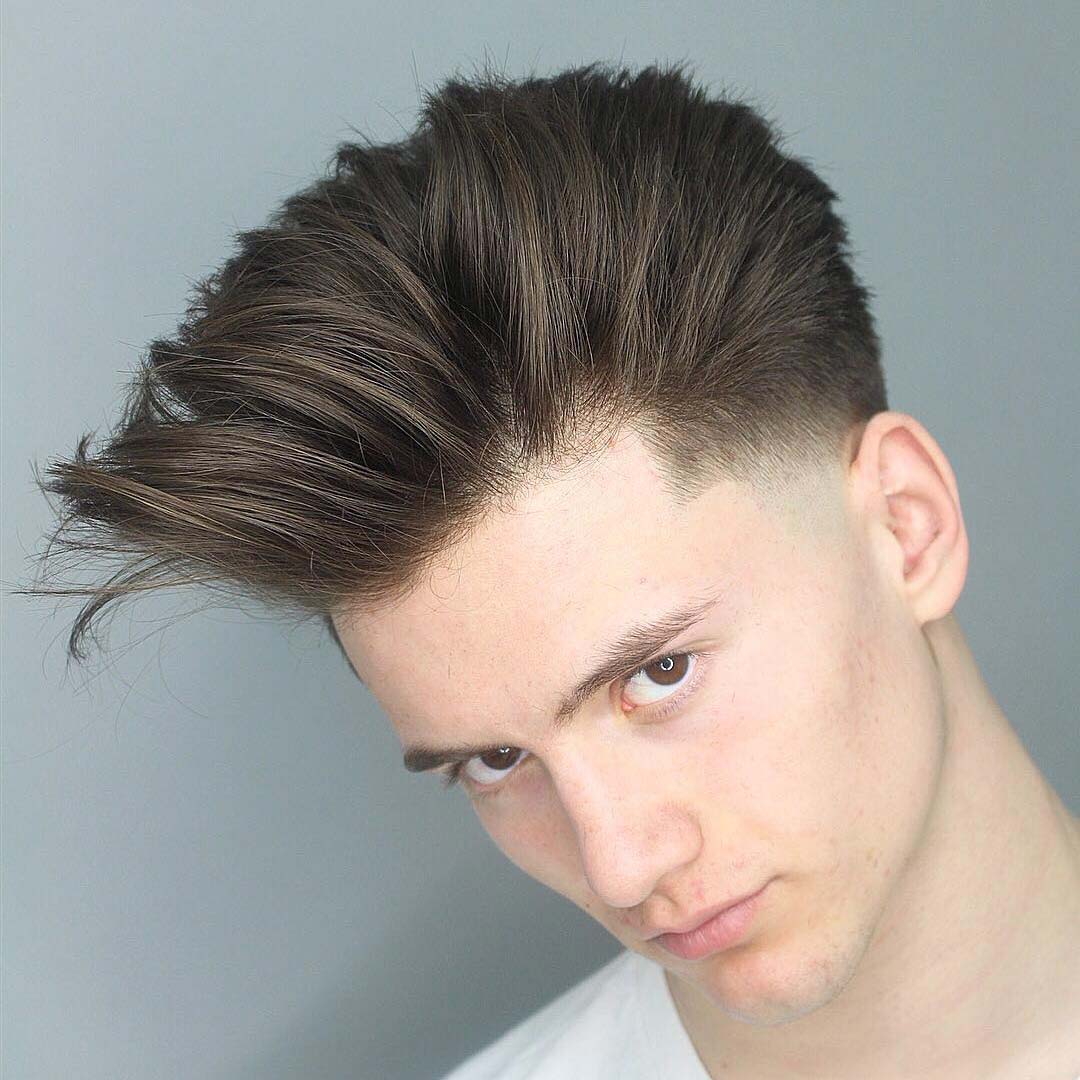 Kinky Blowout Haircut
Are you rocking naturally thick texture? This cut can help you manage it! Instead of hiding your kinky hair, this style makes it the star of the show. Blown-out hair on the top adds tons of drama and height. To keep everything else well-maintained, combine the blow-out with a simple taper.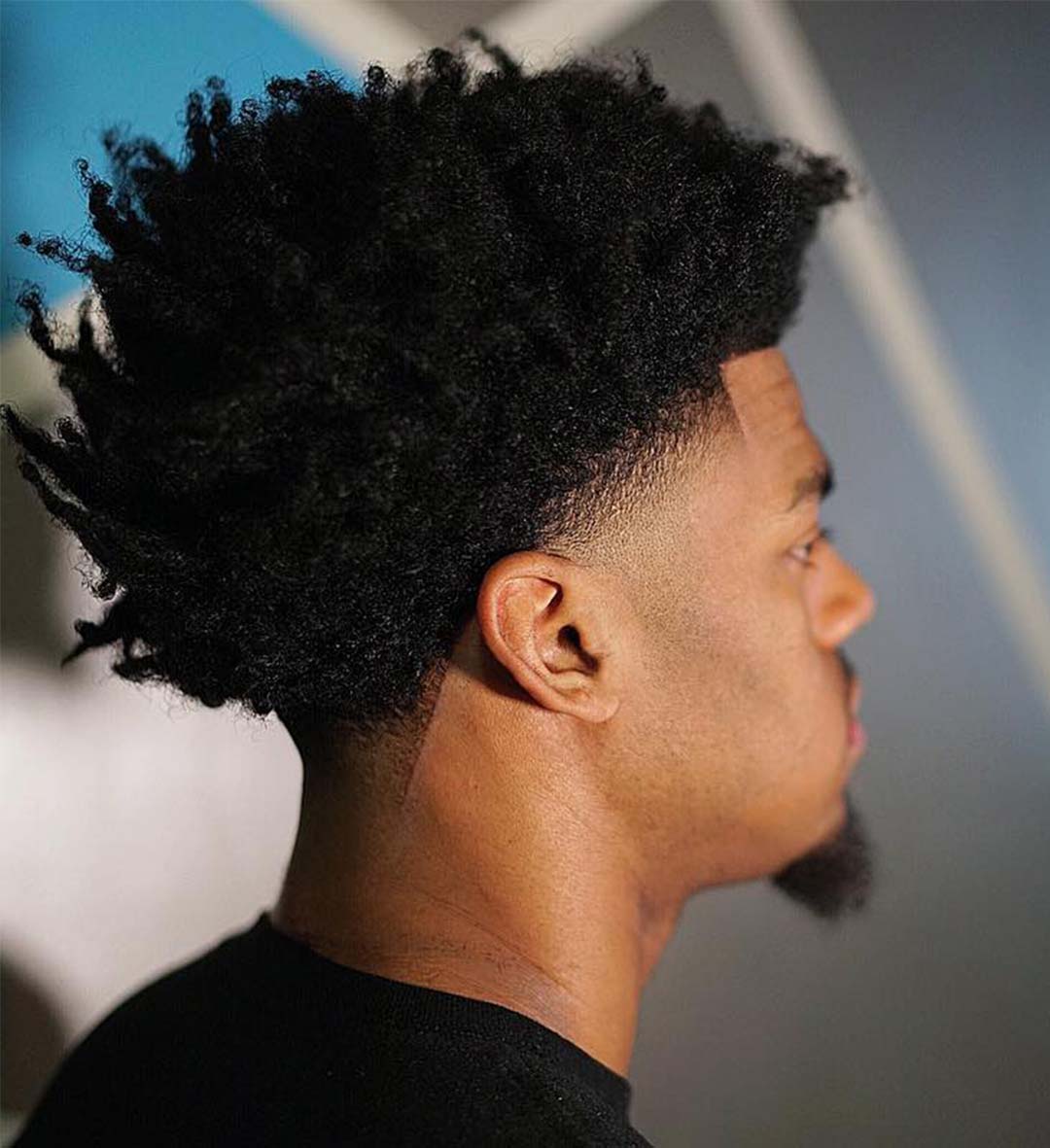 Tapered Sides and Back
Want something super simple? With this cut, you don't need tons of length or a specific texture. It works well on virtually any guy! The devil is in the details here. You have delicate linework around the ear and on the hairline. But a short taper fade on the sides and back add a punch of style.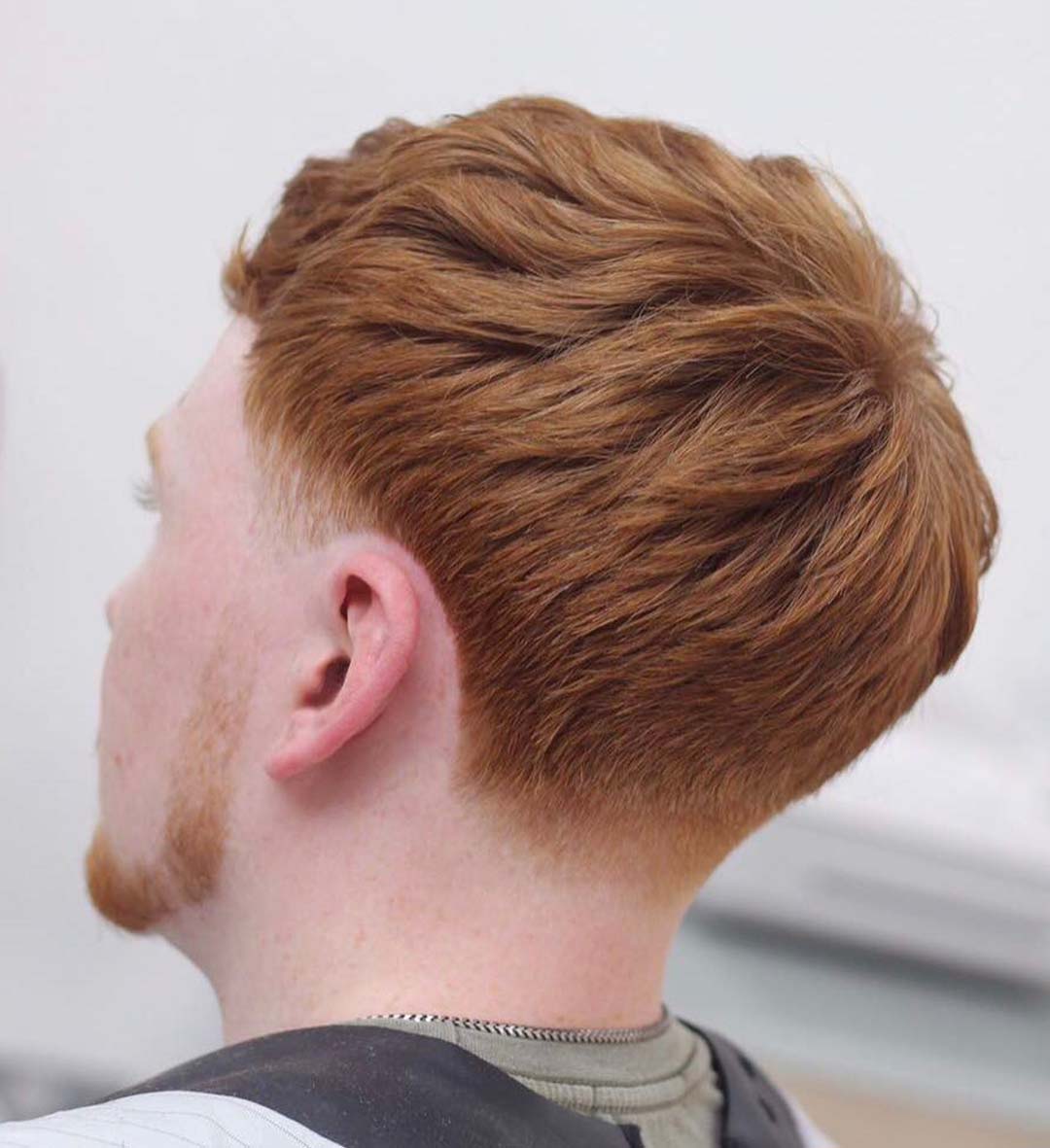 Textured Caesar + High Taper Fade
You don't need thick or lengthy hair to get a smooth taper. This style is ideal for men who want to keep things short and easy to manage. It has the blunt fringe of a conventional Caesar cut. However, the top has some understated texture that complements the taper well.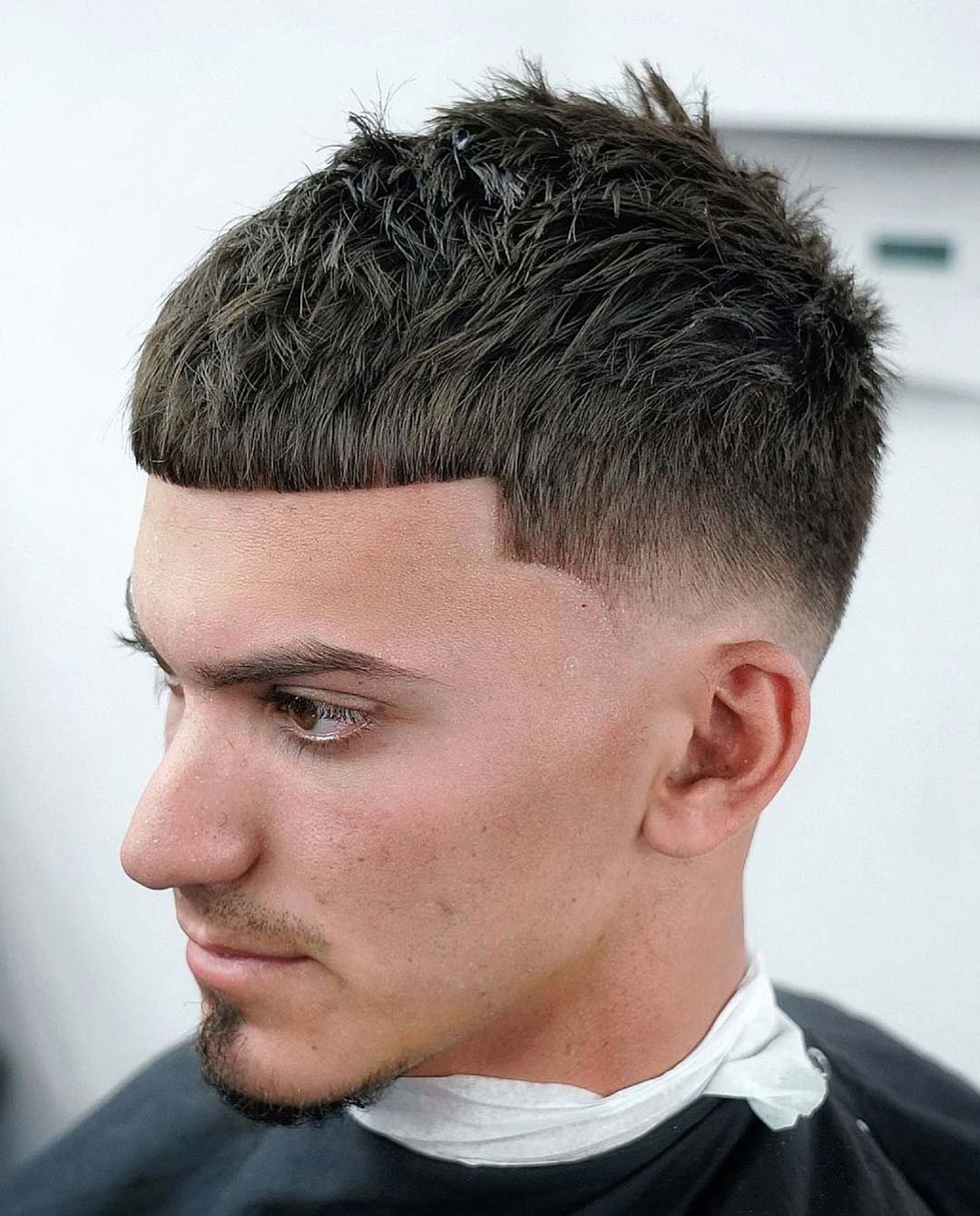 Waves and Volume
Embrace your natural texture! This cut is best-suited for wavy or curly hair. It takes advantage of voluminous length. To ensure that your head doesn't end up looking like a mushroom top, get a taper on the sides and back that works with your face shape.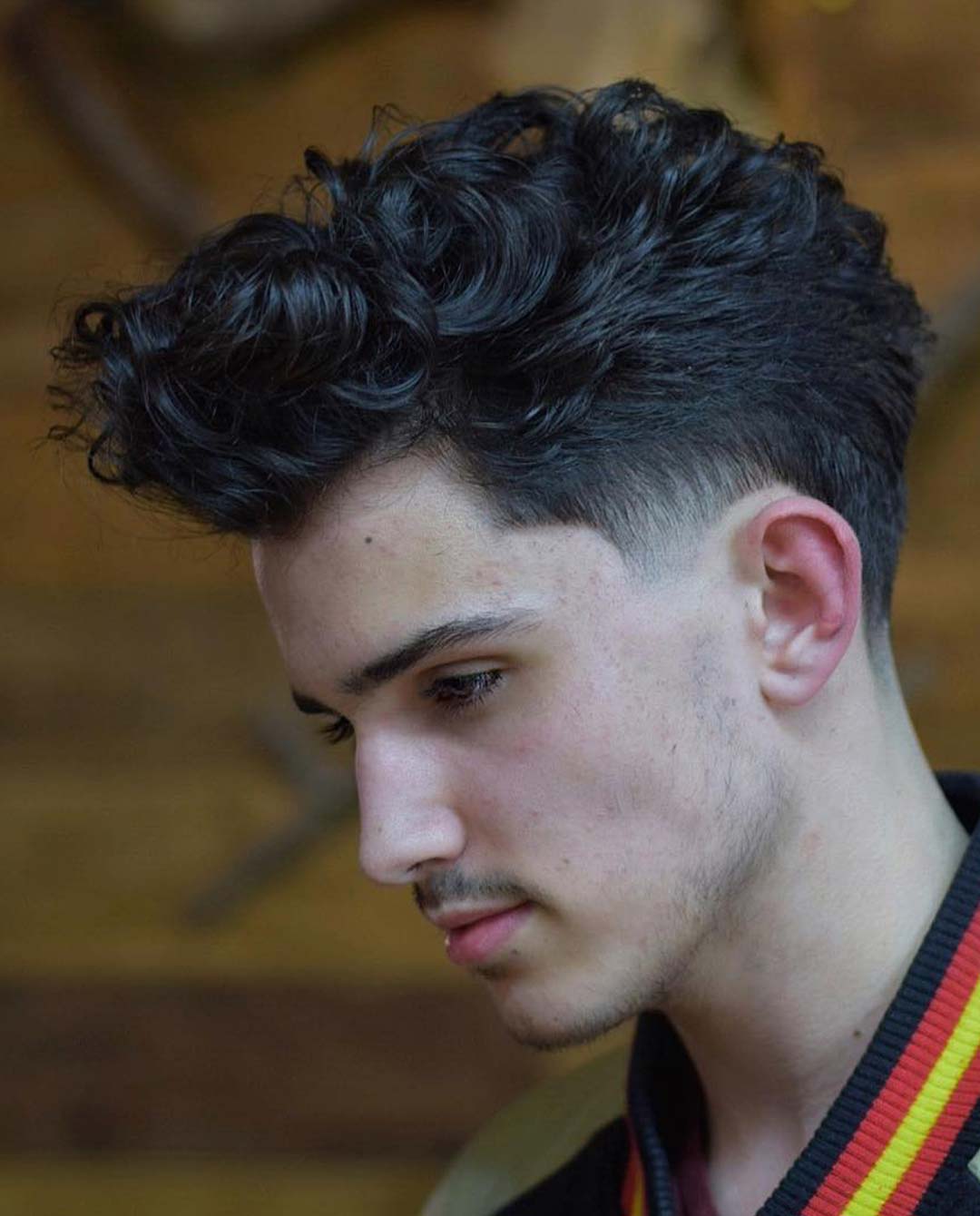 Taper Fade Afro
You can't go wrong with the classics. Here's a style that harkens back to the original taper! It's simple and relatively easy to manage. All you have to do is comb through the loose texture on the top and maintain the taper.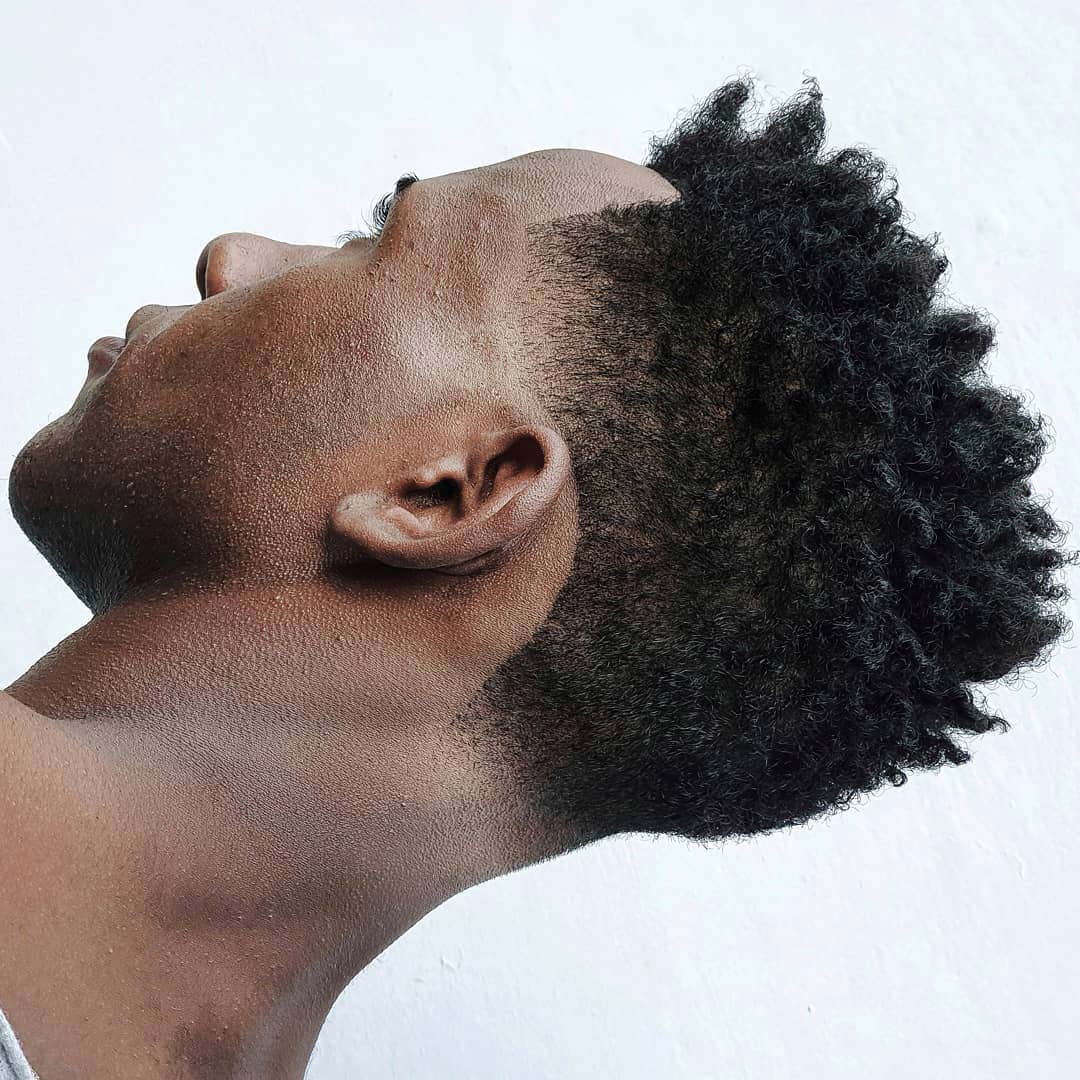 High Taper Fade
Want a quasi-rebellious fad? This hairdo is reminiscent of the punk-inspired mohawk. A high taper on the sides exposes a lot of bare skin on your head. But, it's not as extreme as a full-on hawk. Spike up the pieces on top to push that punk aesthetic even further, and you have a funky yet clean hairstyle.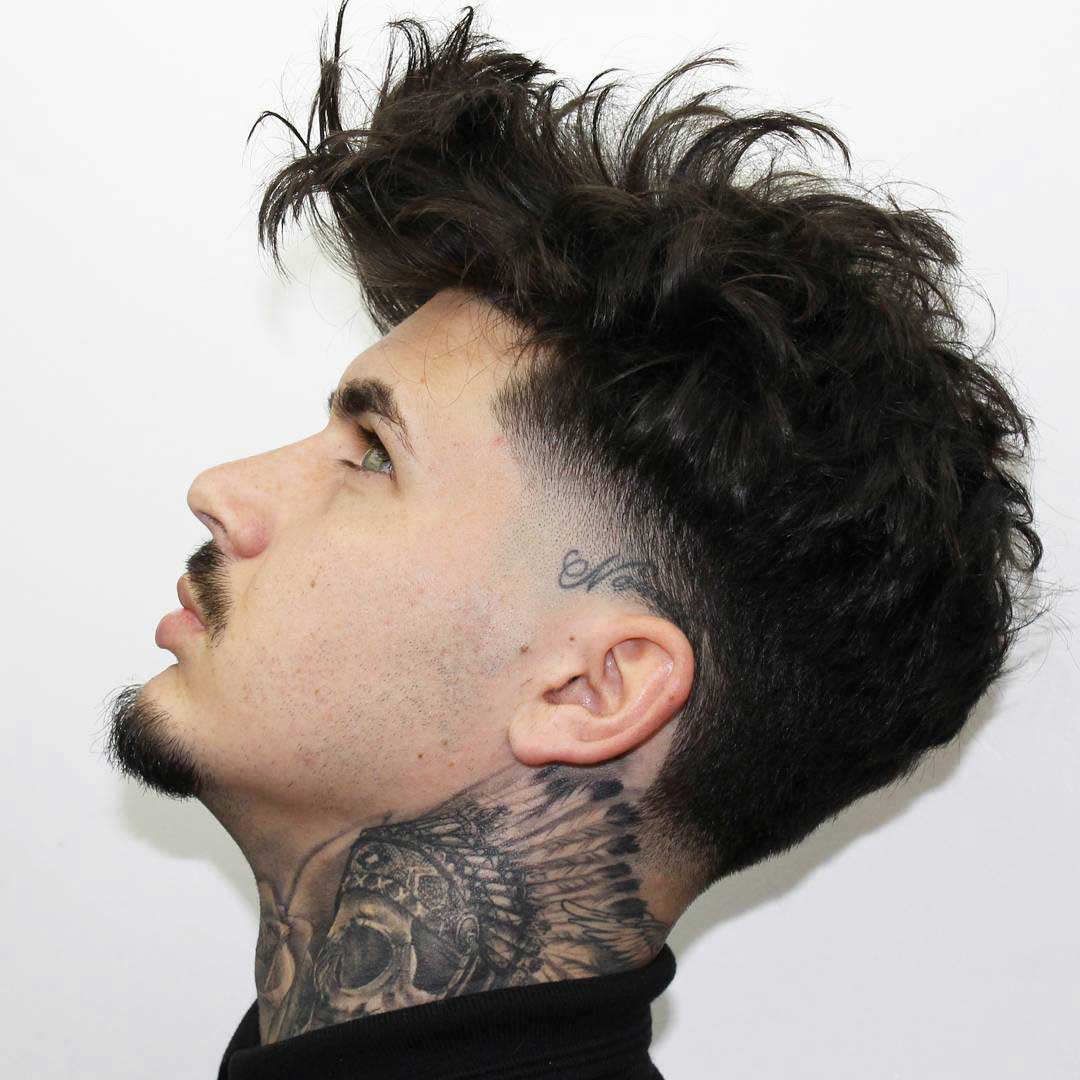 Layered Side Swept
This one is on the simpler side. But make no mistake, it has plenty of attractive details. The main focus here is on the layers. It requires a bit of length, which your stylist will layer to create organic texture. Sweep it to one side, and you'll have that textbook "Prince Charming" look!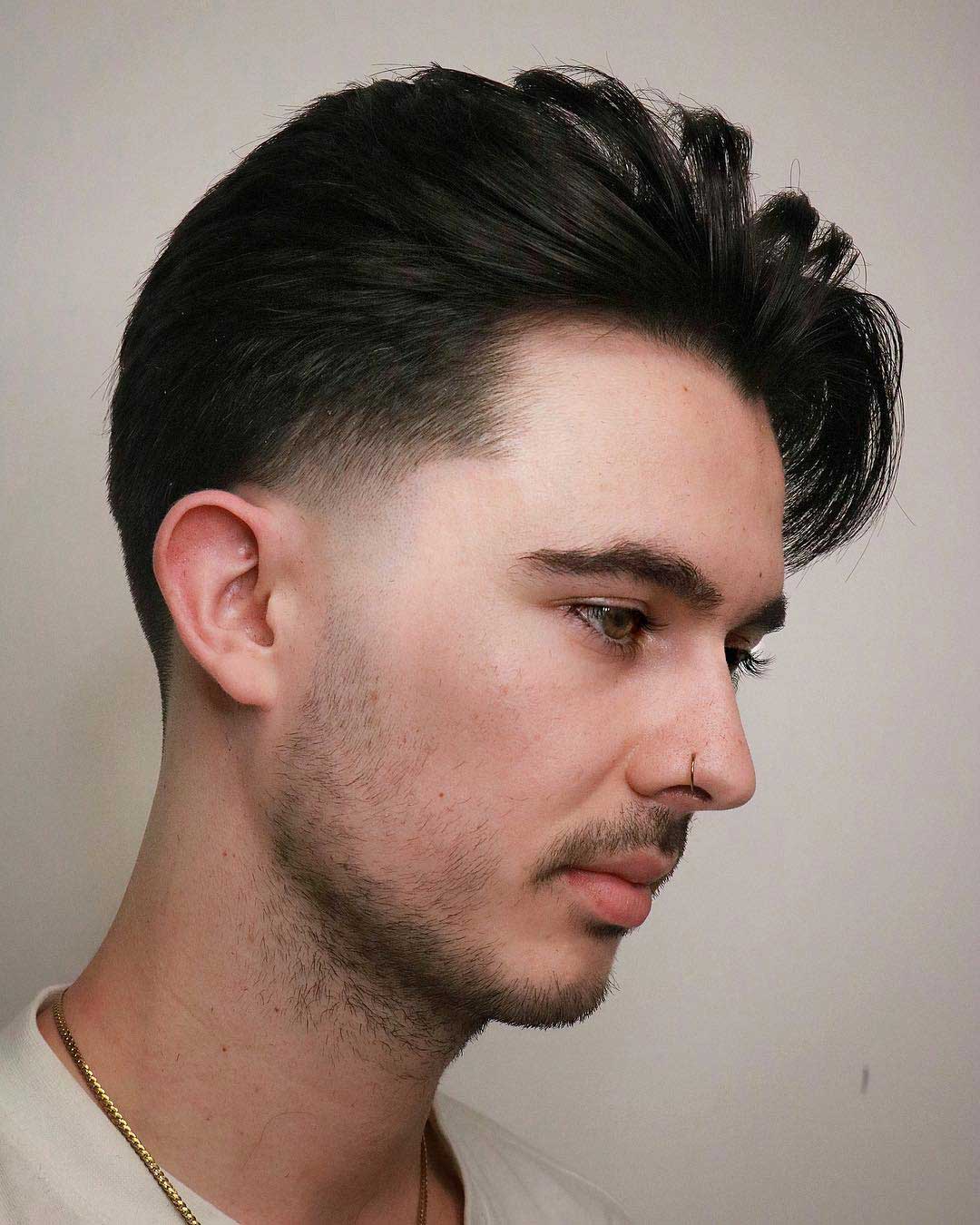 Clean Caesar Haircut
Limit grooming as much as possible with a simple and clean Caesar haircut. Since the most common length for this is less than an inch, you'll only need to brush the fringe to the front or at an angle towards your temple.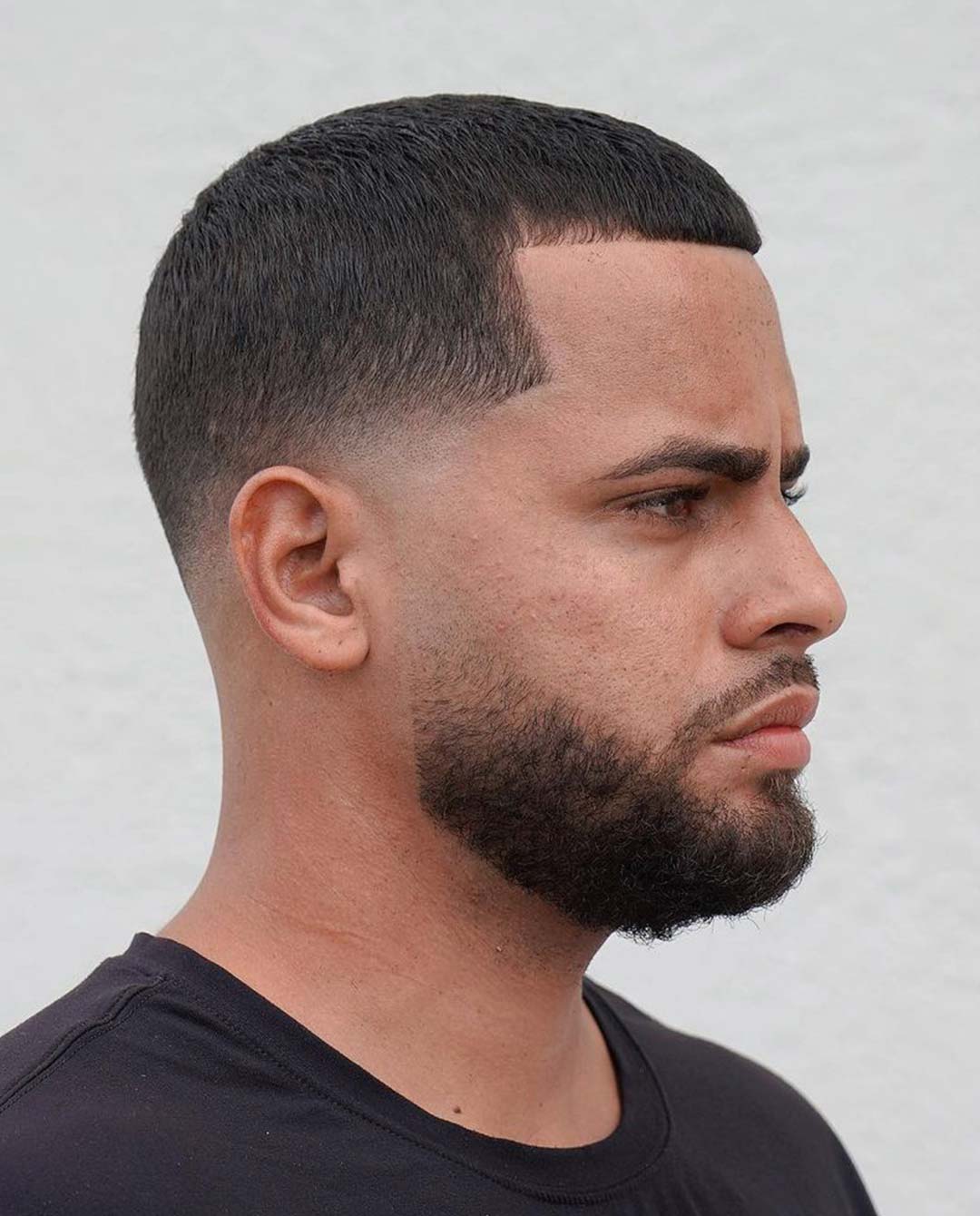 Silver Faux Hawk
Whether you're going gray naturally or dying your hair to get a smoky color, here's a style that stands out! It's a fauxhawk that utilizes the taper to get a familiar silhouette. Intricate spikes on the top give you a somewhat rebellious look while also creating tons of texture.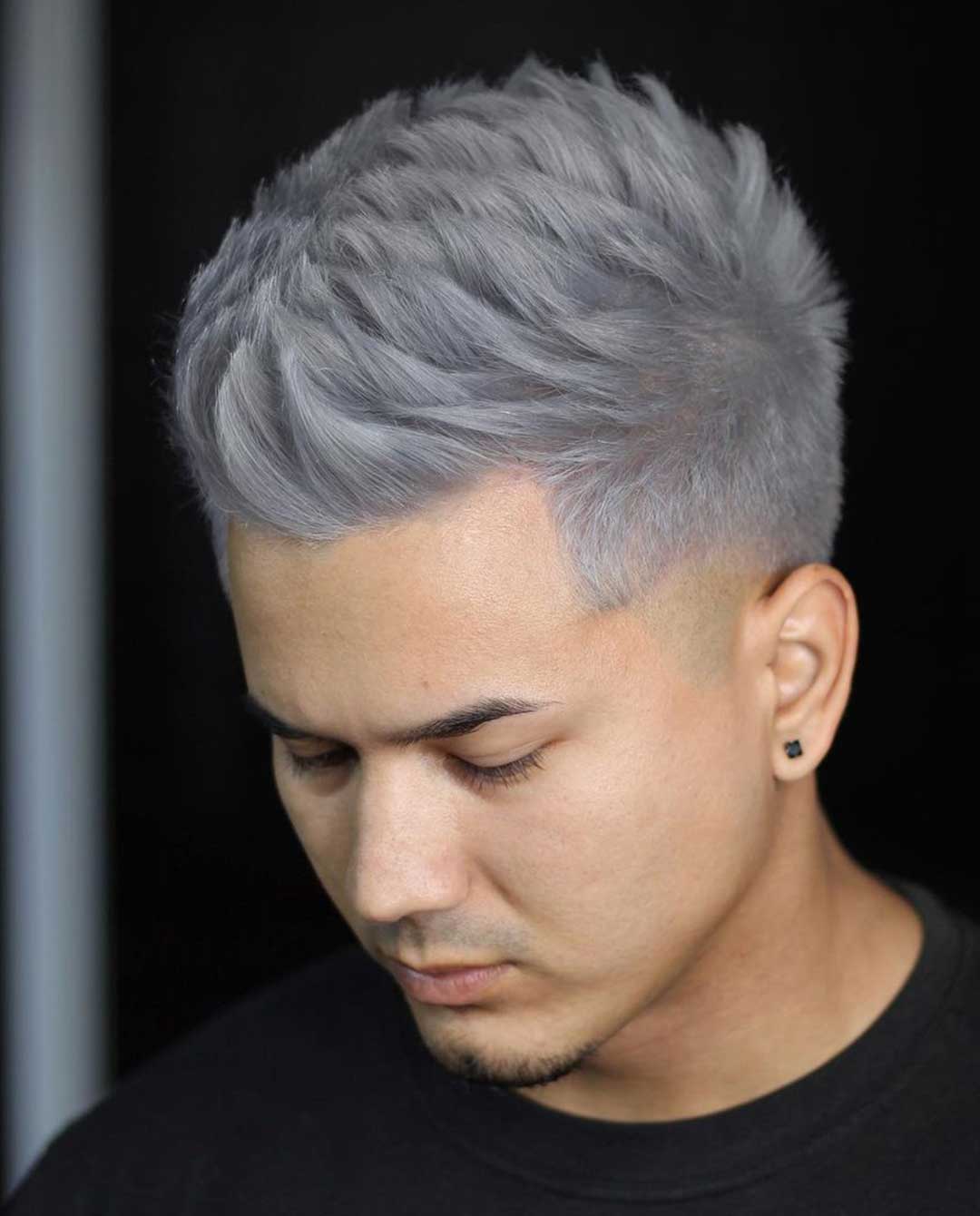 Short Side Swept
Another excellent choice for guys who prefer a straightforward style; this is a no-frills haircut that still gives you an in-vogue look. All of the hair on your head stays short. But, use a comb to sweep everything to one side. Then sport a taper fade for some understated detail.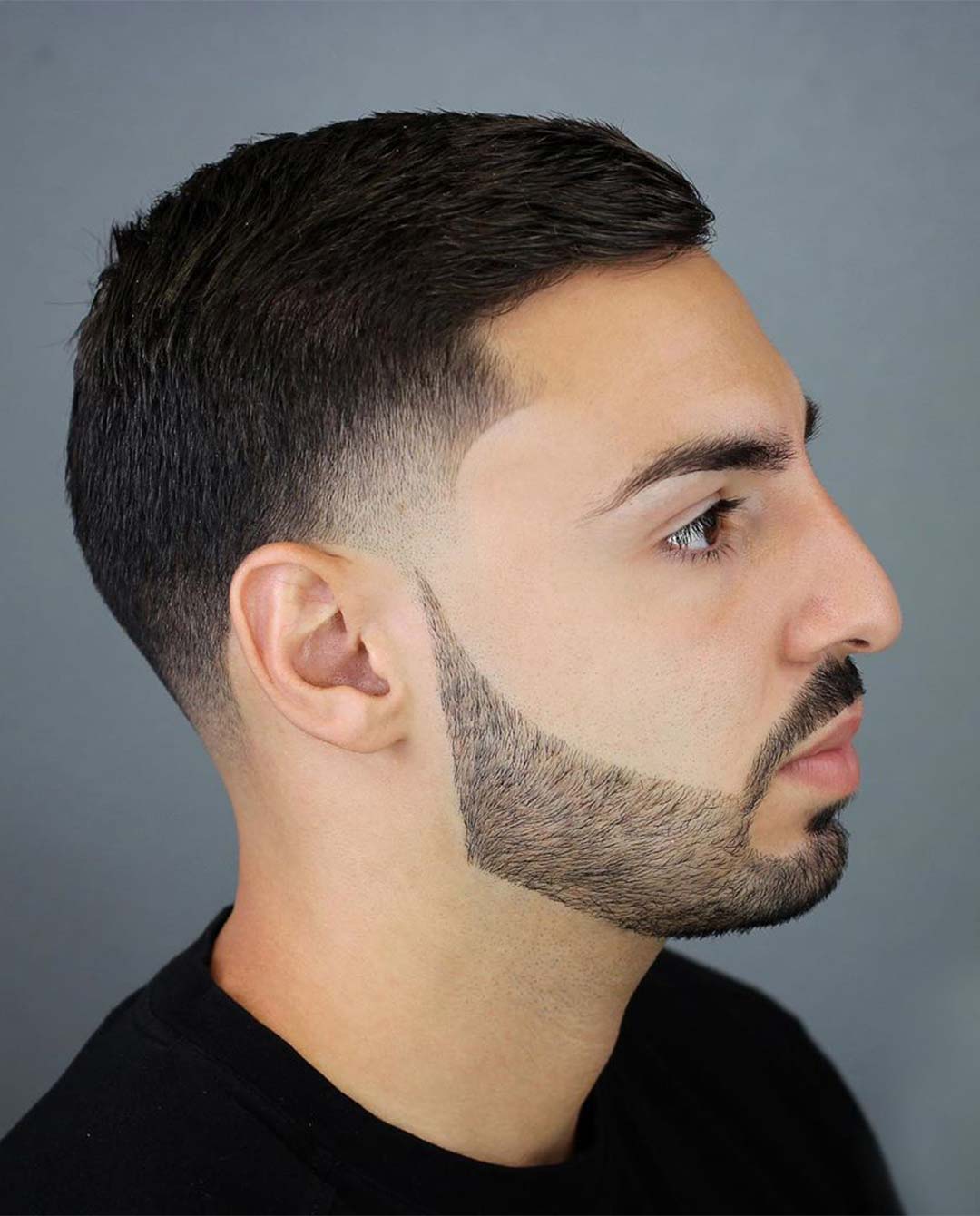 Spiky Quiff with Low Taper Fade
No one said that quiffs need perfect grooming and a defined shape. Turn conventions on their head! With this cut, you get the same-old length on top and a taper on the sides. But instead of pushing your hair back, style it to the heavens with soft spikes!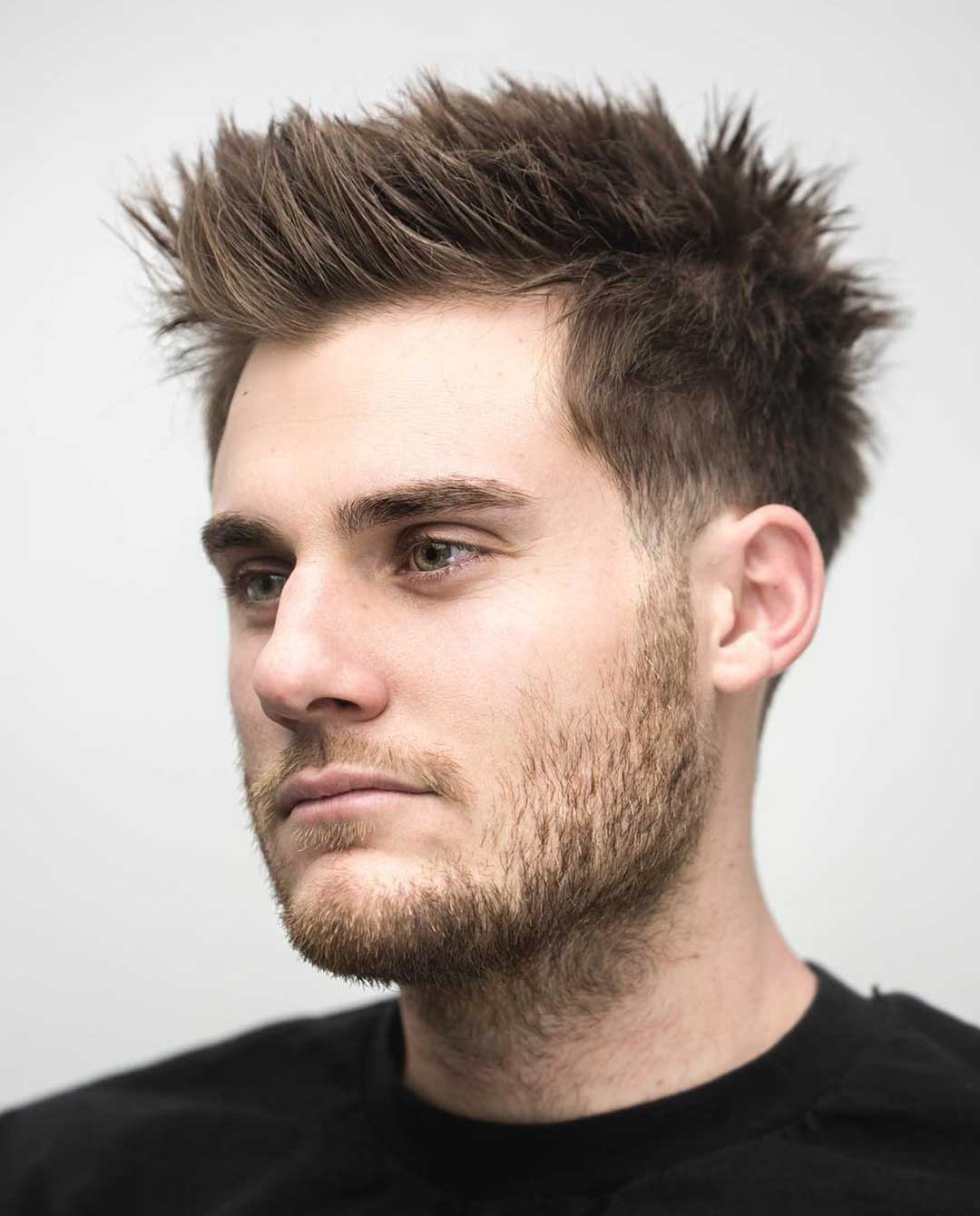 Messy Top with Blowout
This hairstyle also has some messy appeal. Though, it has a few more intricate details to get the "just rolled out of bed" aesthetic. Use a blowdryer to achieve body and texture. Carefully place a few strands of hair, and you have something that appears effortless.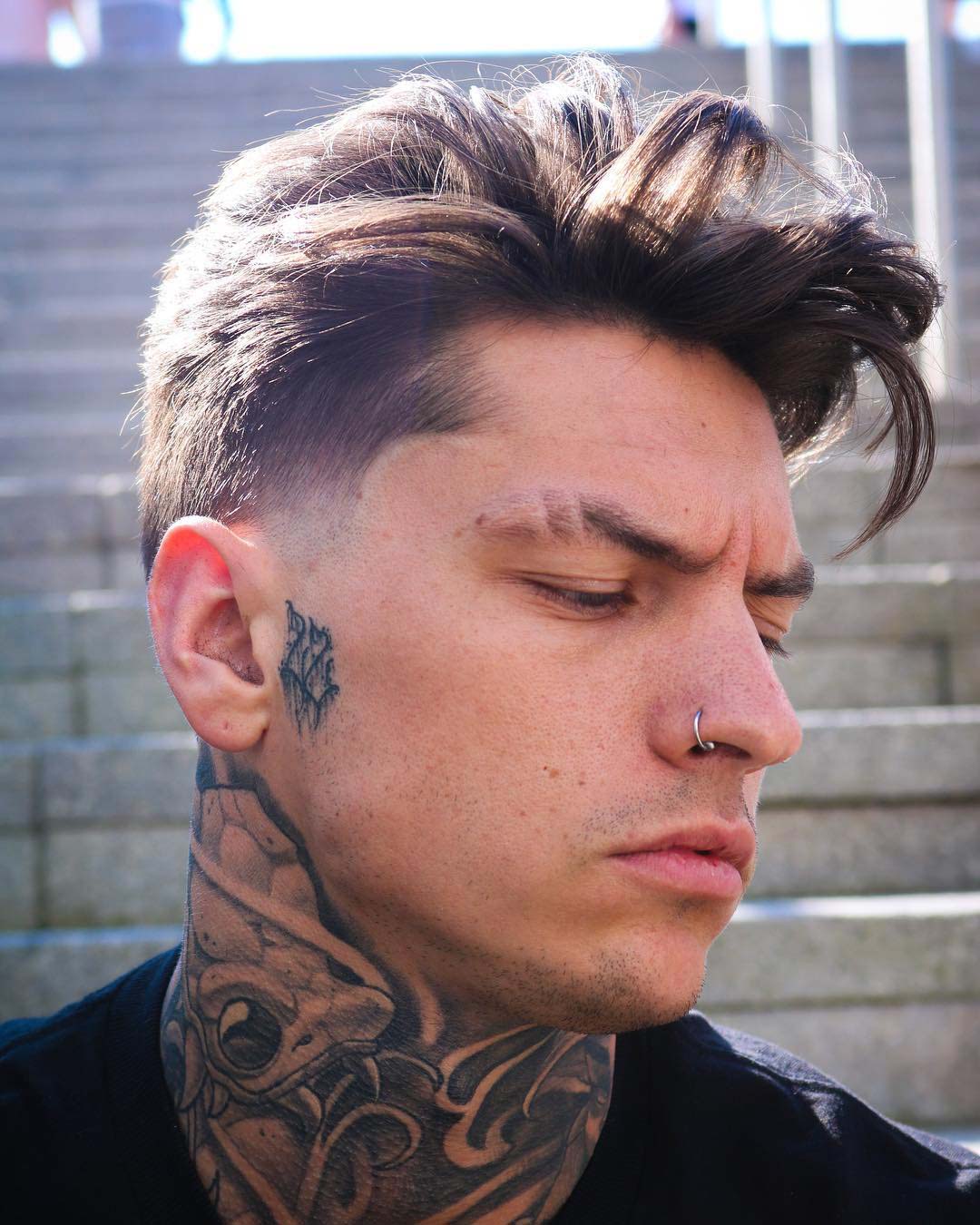 Modern and Neat Pompadour
A pompadour is all about proper maintenance. Every detail is on point. From the sculpted updo to the taper fade, the details are what make it pop. Keep the fade low and clean. You have a bit more flexibility with the dome but always wear some sculpting wax to get the shape you're after.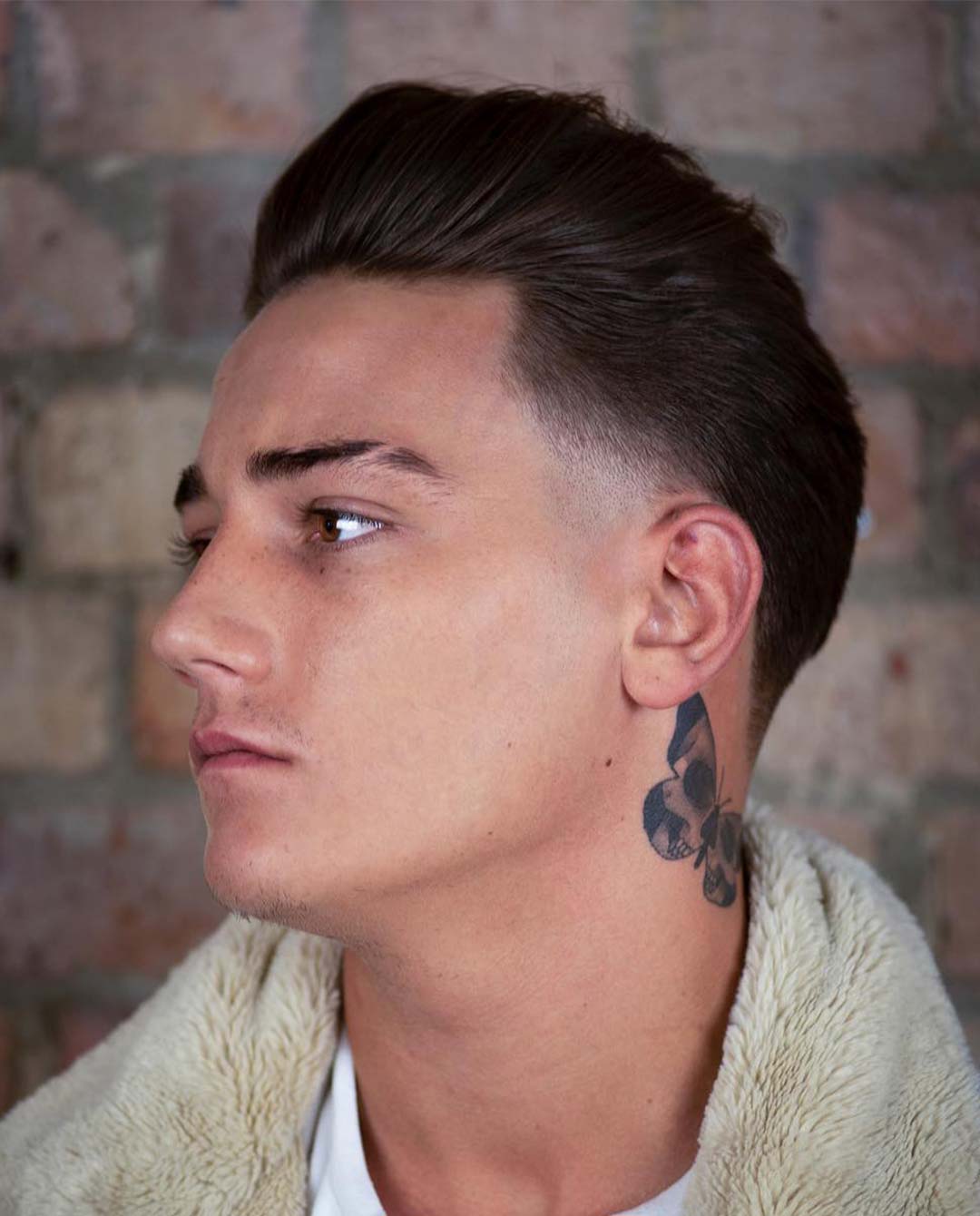 Side Swept with Waves
If you have some light texture in your hair, a coif like this can make it stand out. Leave enough length on the top to let your waves come through. Then, sweep it to the side and clean up the sides. Line up the hairline and ear, and you're good to go!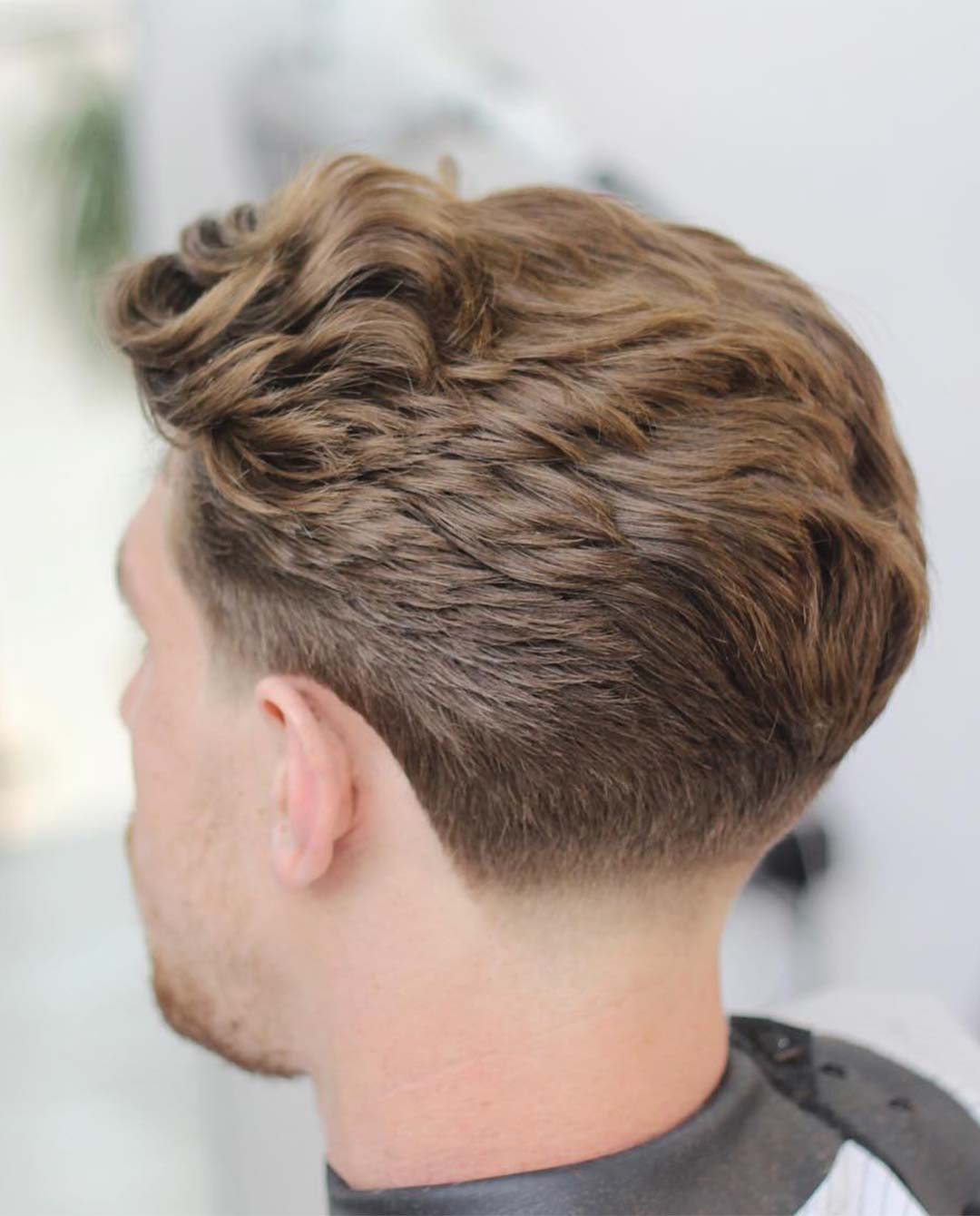 Fringe + Messy Top
Pairing a long fringe with taper seems counterintuitive. But, it works with proper styling! This hairdo welcomes a bit of mess, which makes it a cinch to prepare. Work some light-hold hair product into the top and let it fall naturally. With the cleanliness of the taper, the juxtaposition helps you stand out.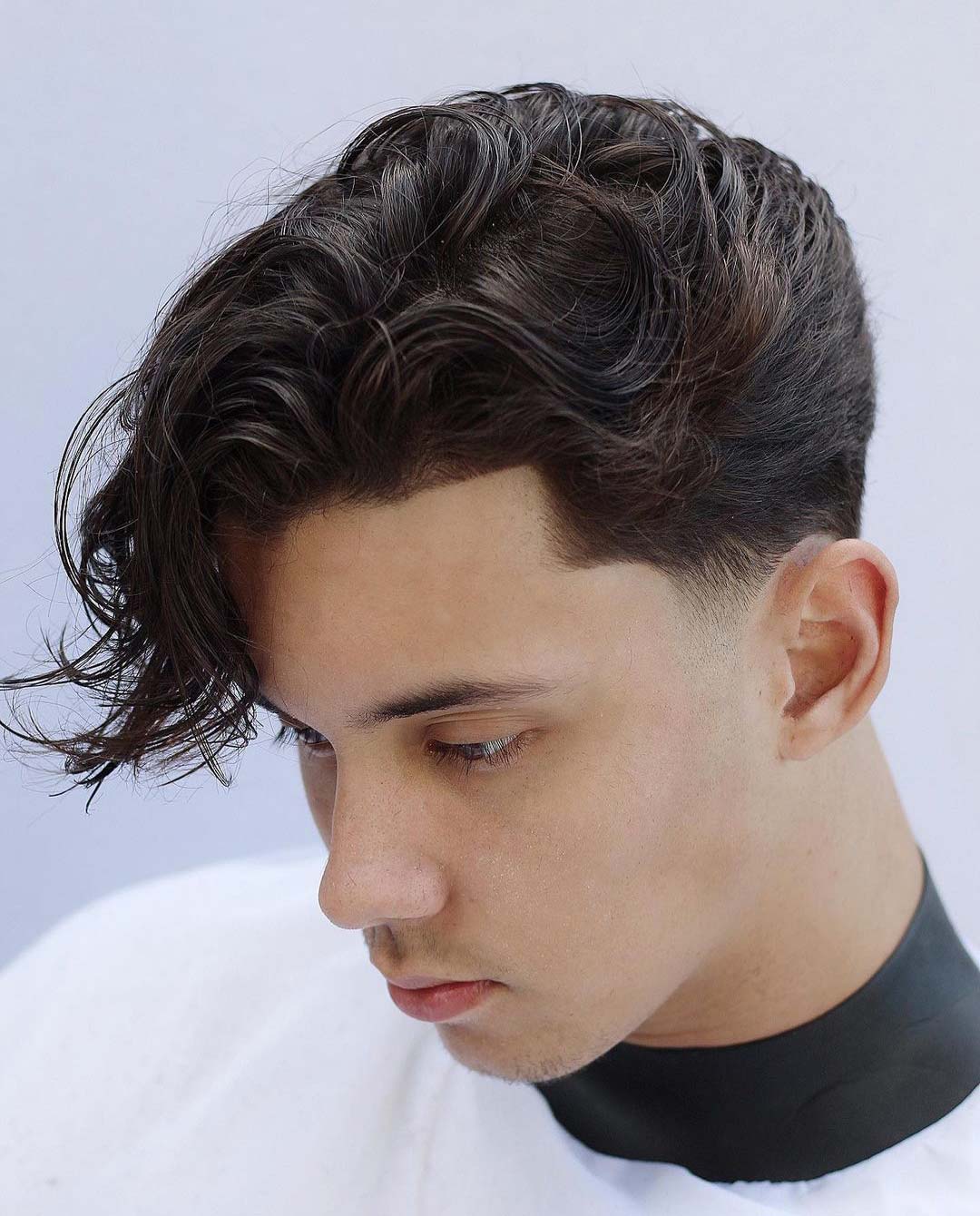 Neat and Modern Caesar
Centuries later and the Caesar haircut is still evolving. Here's a contemporary variant that gives the vintage trend an exciting new twist. On the front, have your barber cut a sharp line on the fringe. Keep things short, and use a high taper fade to give your head a more slender shape.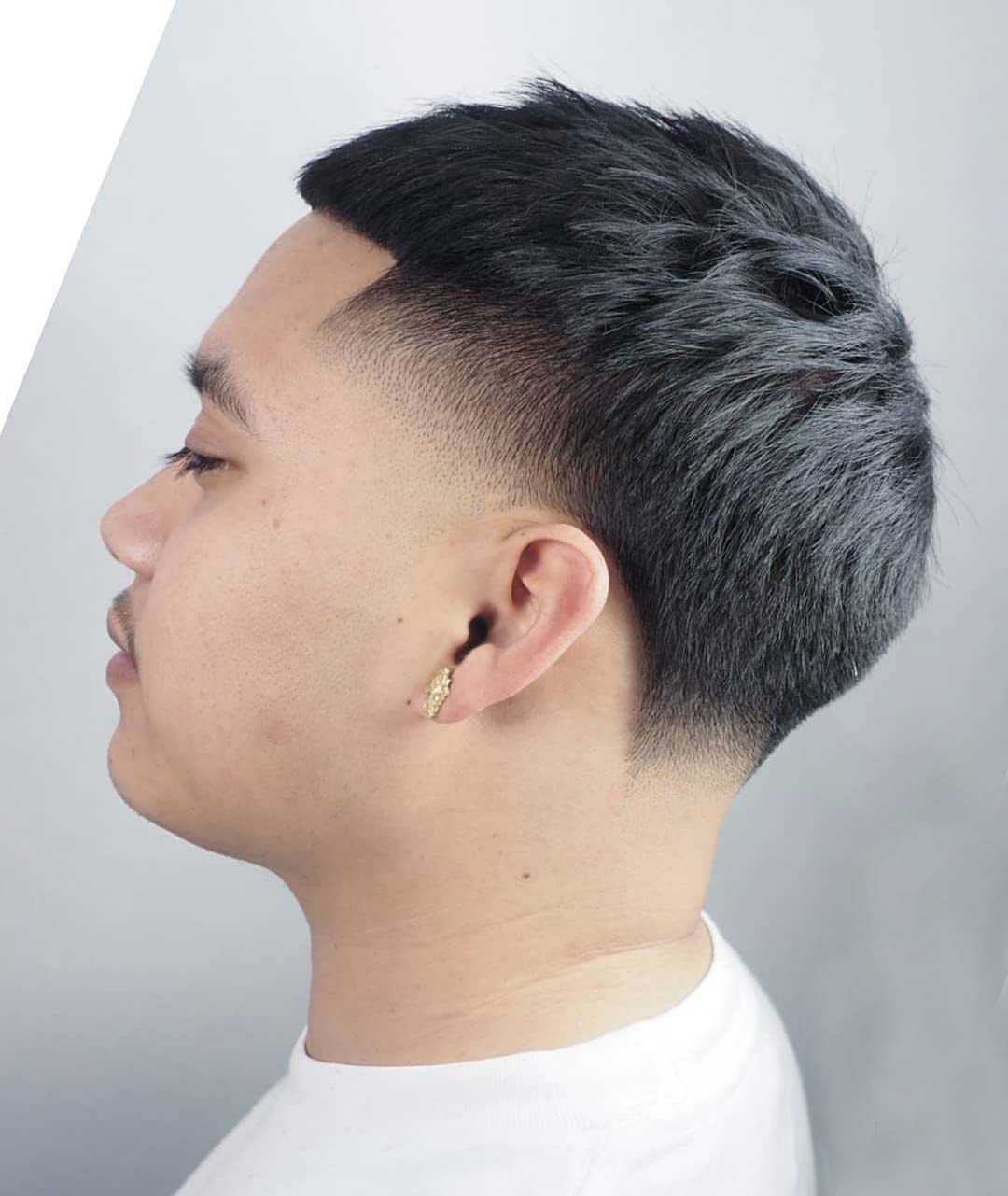 Highlighted Side Swept
Fine hair is difficult to style. Grow it out five or six inches, and you can produce as much volume as thicker hair types. When it hits the right length, sweep it to the side for extra height and squeeze in highlights for depth. A beard will draw attention away from any area you might be self-conscious of on top.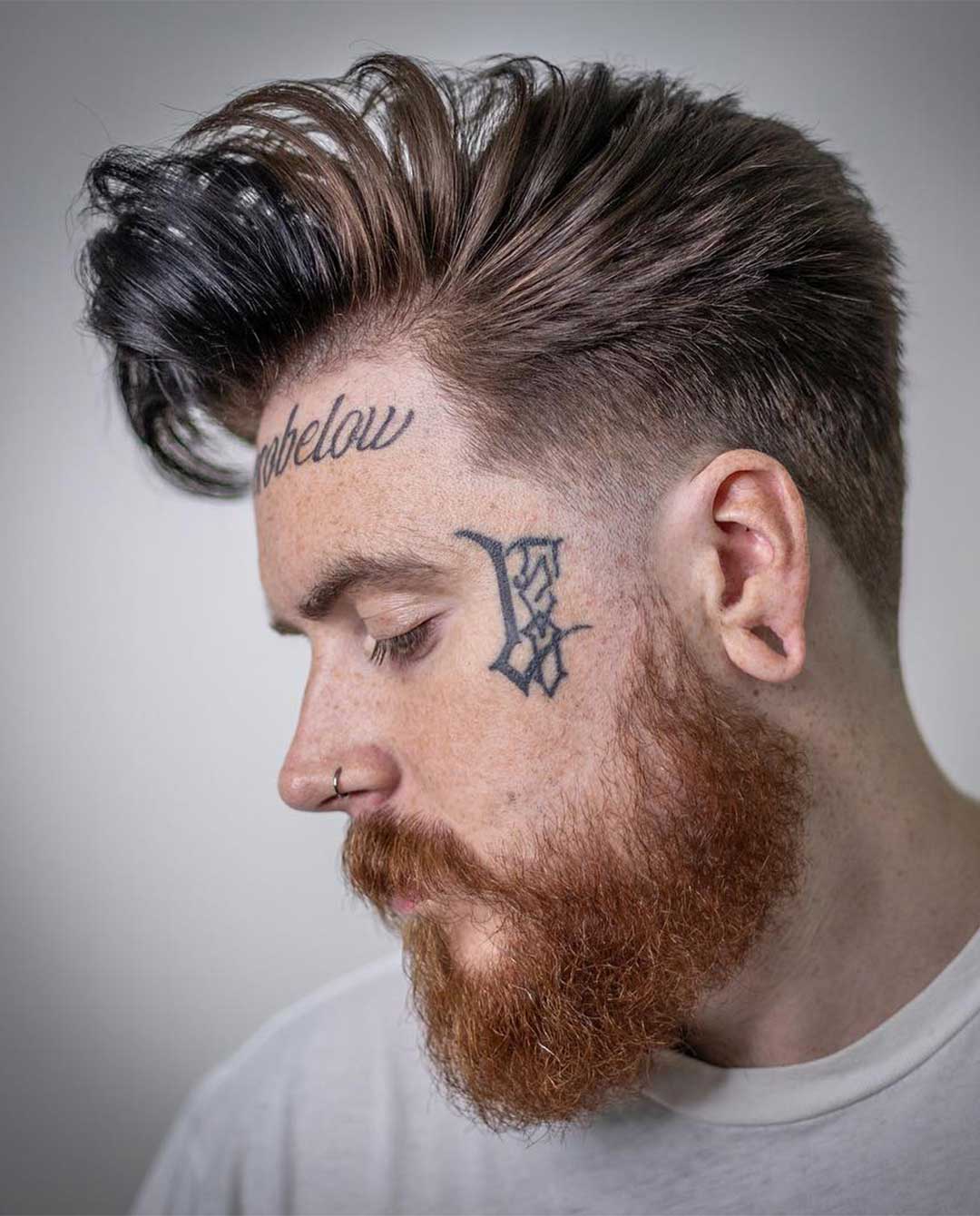 Taper Fades with Designs
Taper fades is one of the most appealing qualities of hefty hairstyles like a high pompadour. With a short taper haircut, your barber can etch in a quick design in the back. It's a neat additional detail to express your personality.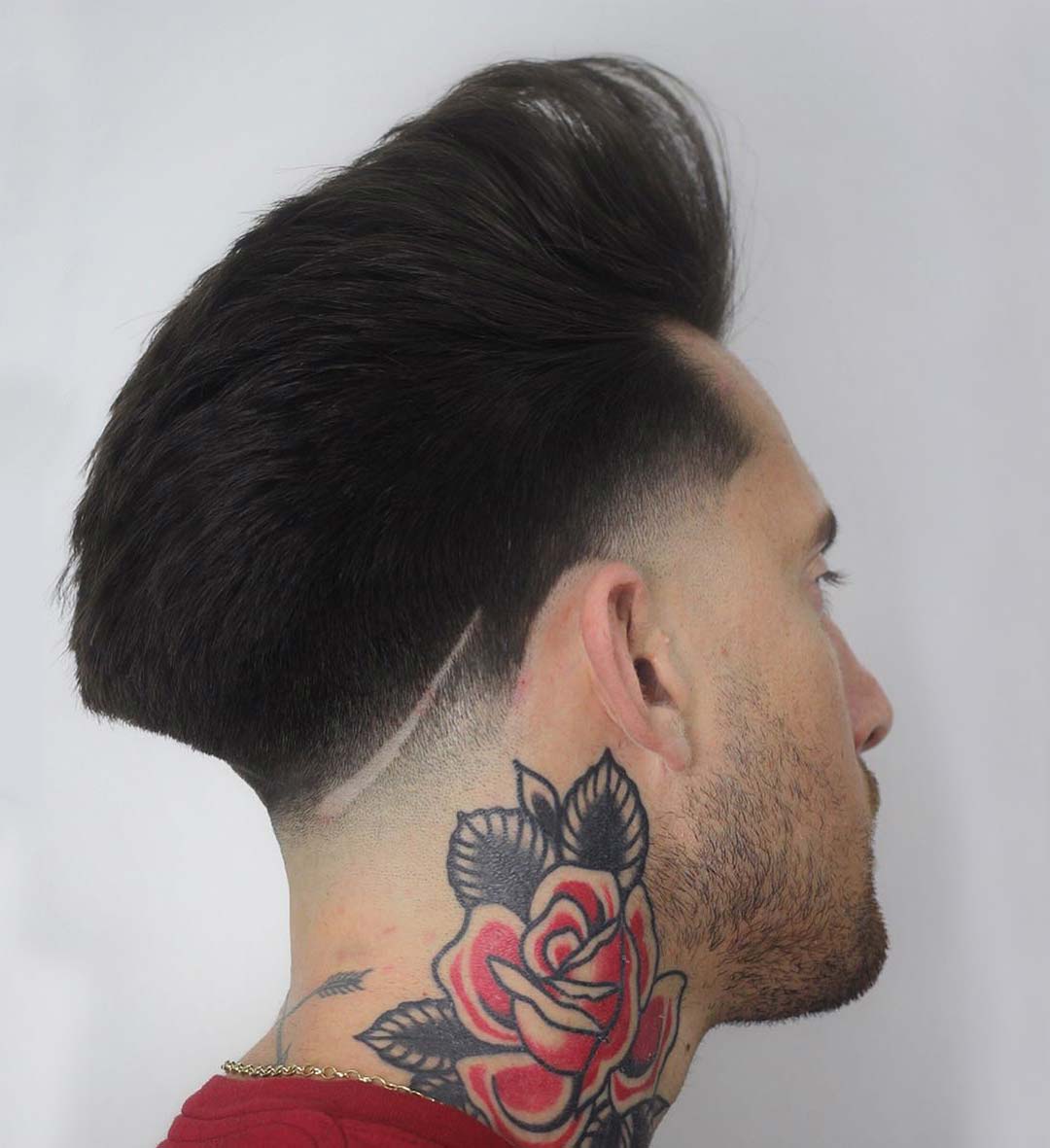 Comb Over with Part
Capture the elegance of a retro movie star and debonaire businessman by combing your hair over. Use pomade while brushing the hair to the side to develop the charming puff. Add in the contemporary element with a hard part along with the temple.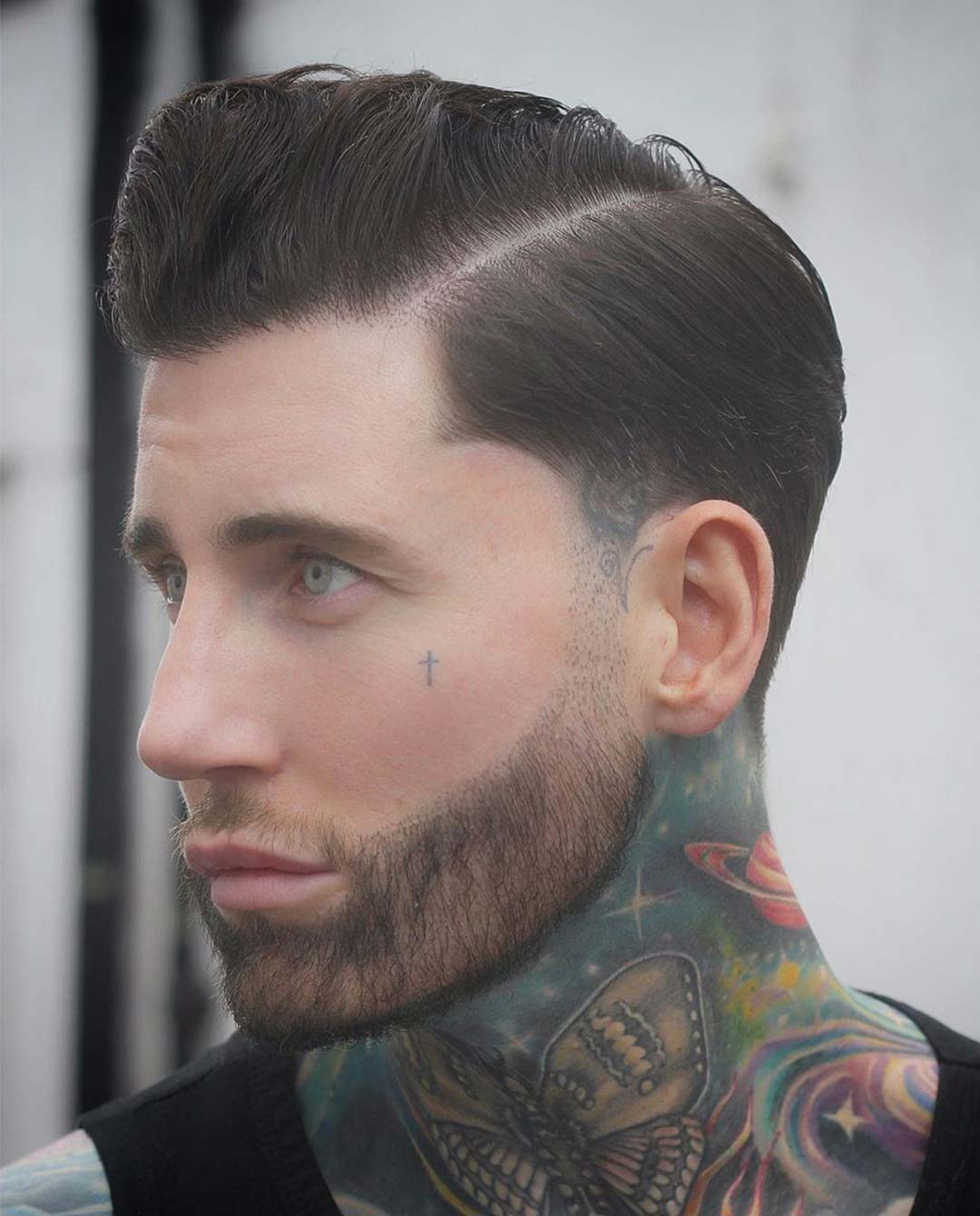 Curly Hair + Fringe
Your fringe works like a well-oiled machine on its own with curly hair. All you need to focus on is pumping up the volume with a texturizing spray and let your curls speak for themselves. Tame the edges by asking your barber for a low fade.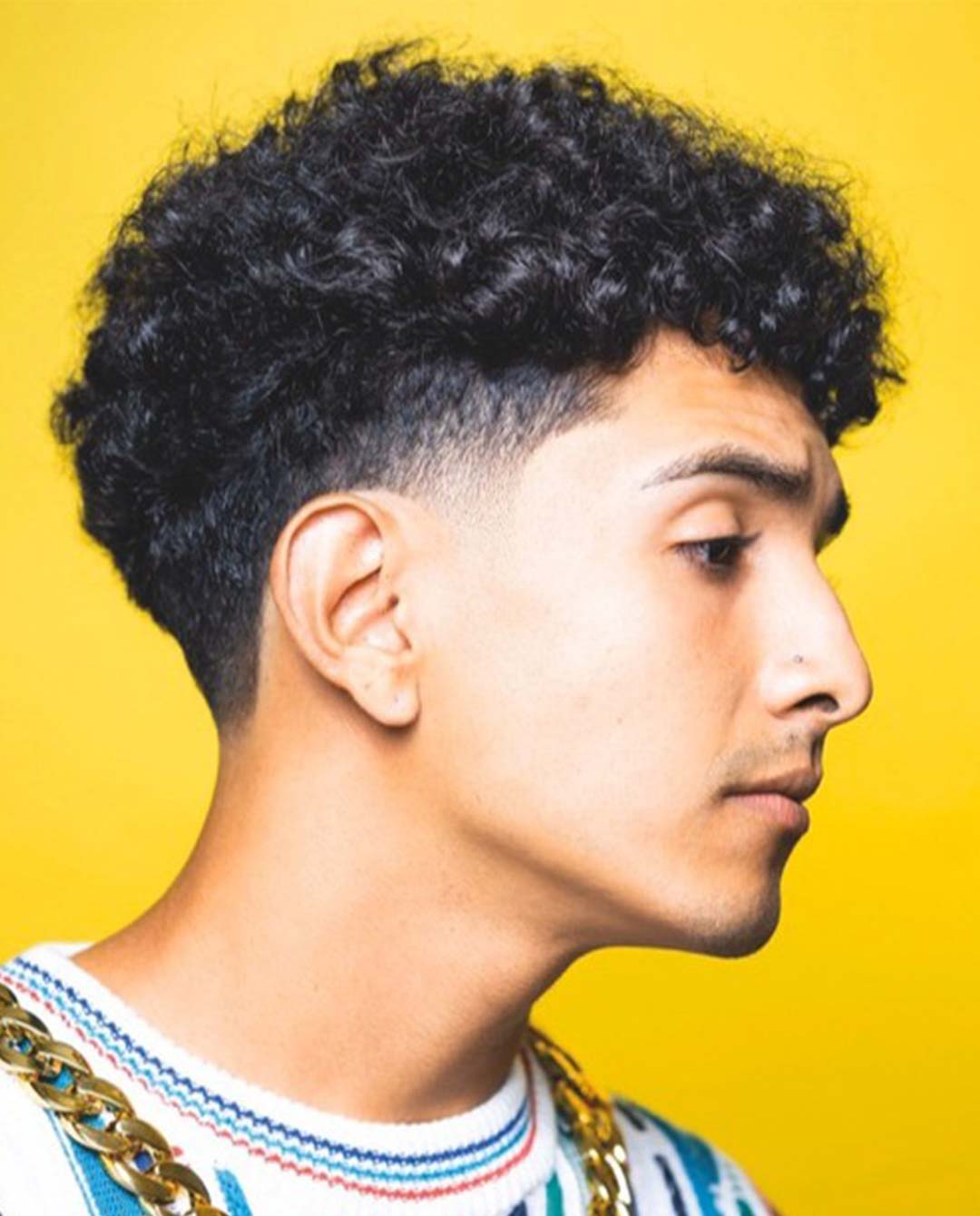 Blowout with Line Up
Blow-outs are one of the most popular styles for Afro hair. Whether you have fine coils or bouncy ringlets, the blow-out gives your hair on top an airy amount of height. Add a robust line-up near the temple to distinguish itself from the taper and fade.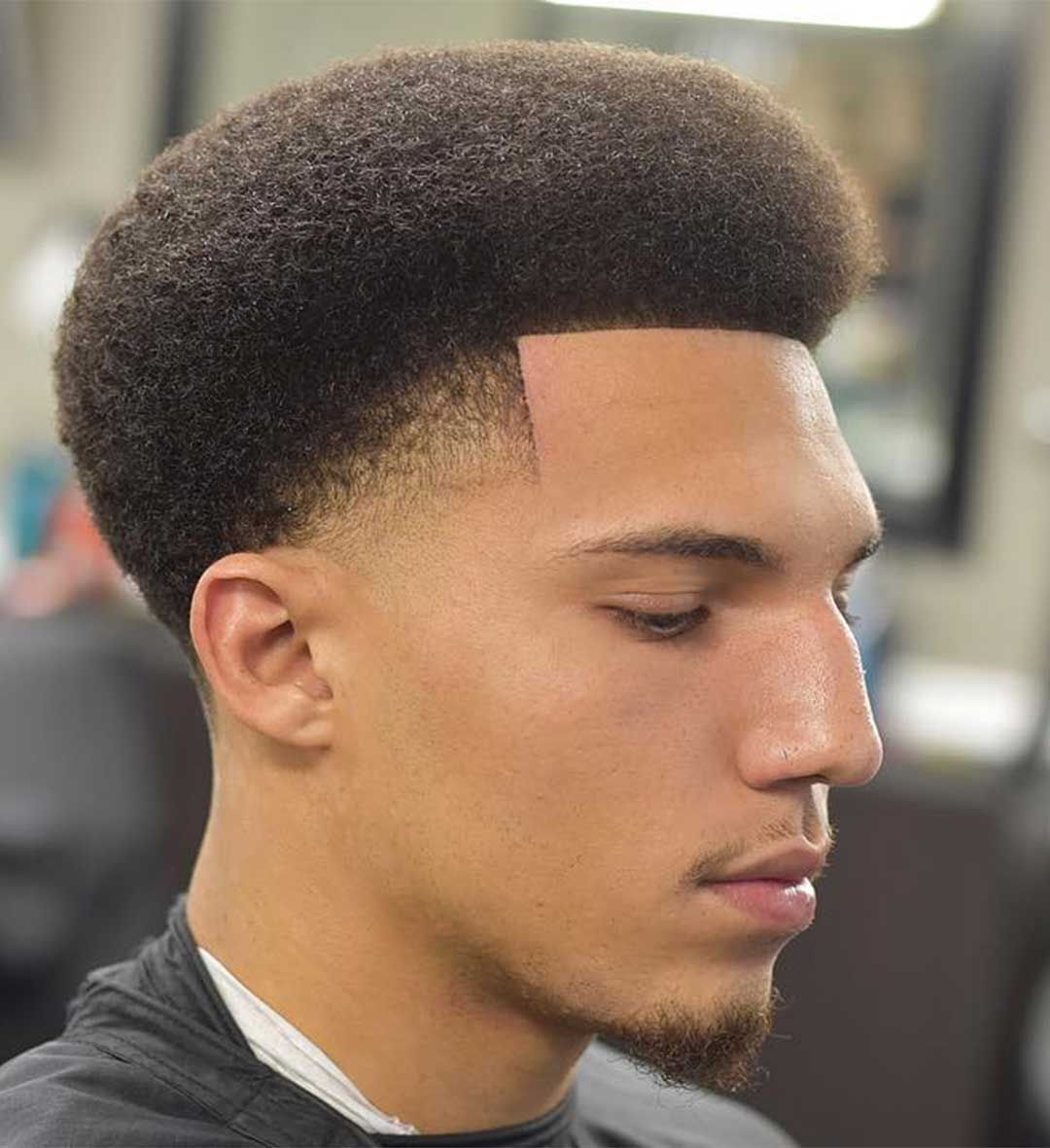 Brushed Up with Low Taper
The casual punk aesthetic bends and twists the laws of hair into unpredictable styles. Alter the unforgettable fashion of the Flock of Seagulls by brushing your hair up into a cone-like effect. Dye your hair blond to truly cement your rebellious personality into your wardrobe.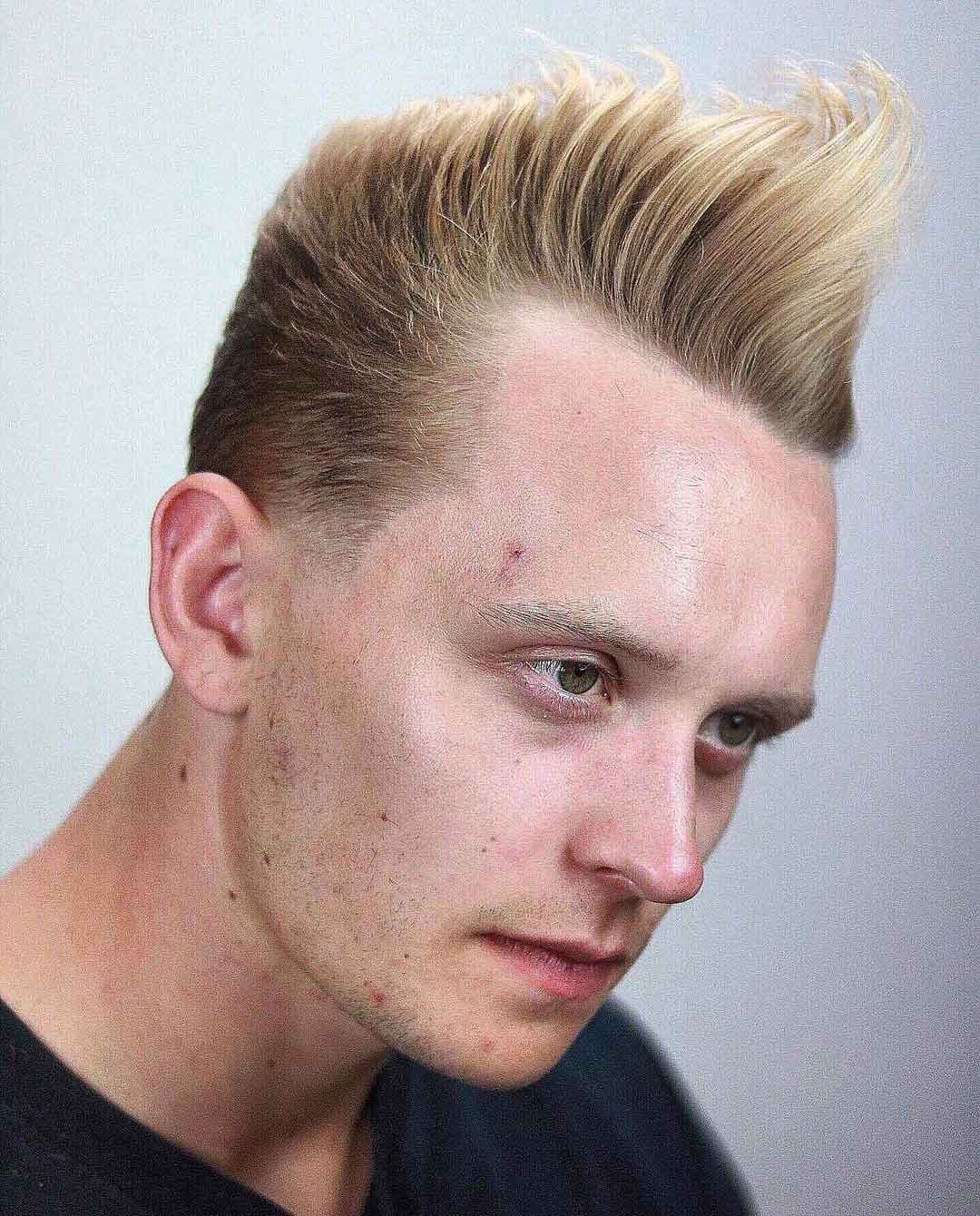 Faux Hawk + Low Taper Fade
Unfortunately, some hairstyles only work for specific hair types. For example, faux hawks wouldn't be easy to achieve with thinner or finer hair. The thick pockets of the hair brush up into individual sections as well as versatile angles. Unless you are already a silver fox, dying your hair grey can make you look more mature and nicely enhances a natural-colored beard.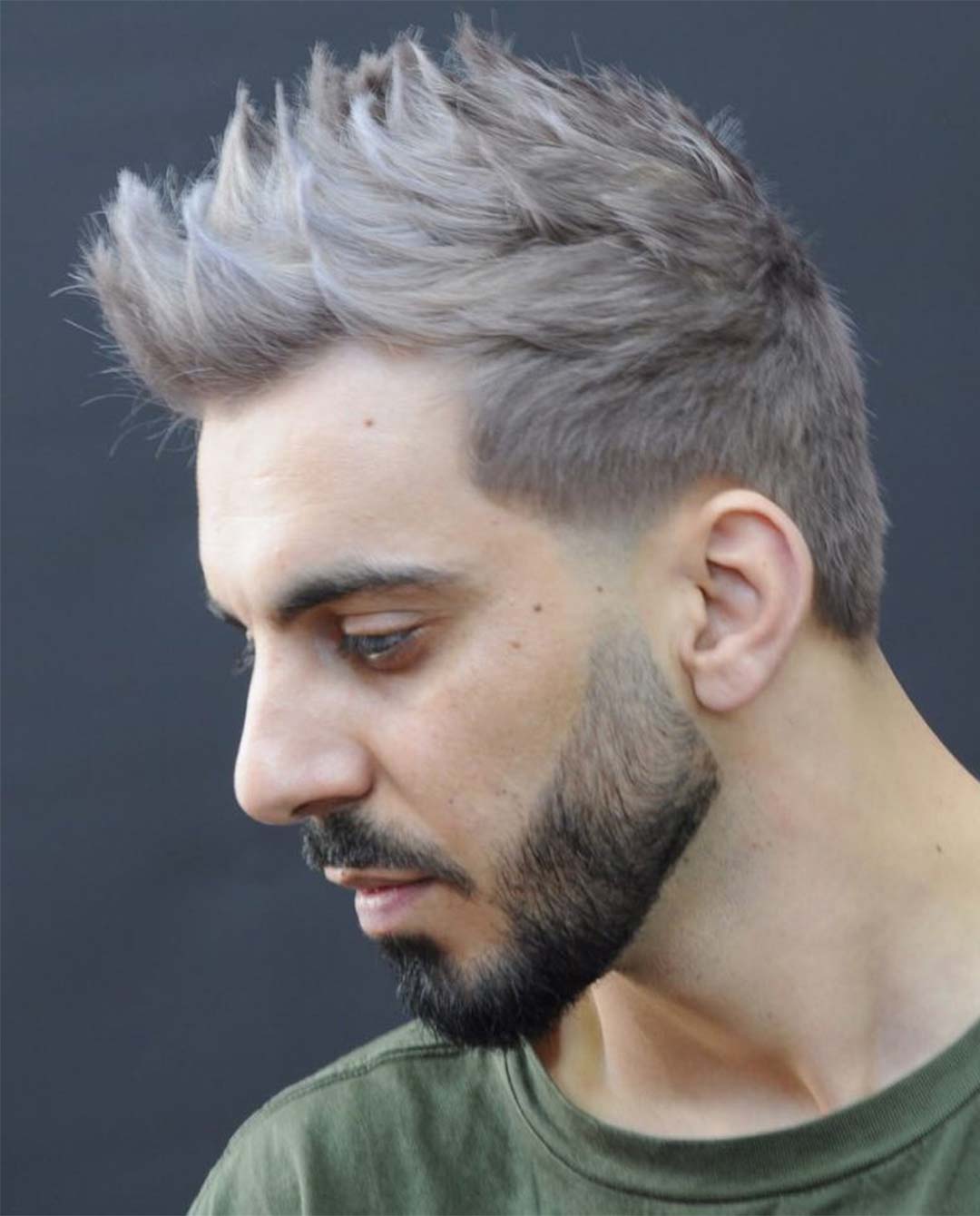 Layered Haircut with Mullet
Most men underestimate the possibilities of using layered hair to create a memorable mullet. The trick is how to style it to make it casual. Brush the layers from the front to the back for a wave effect. Then, freshen up the sideburns with an easy-going low fade.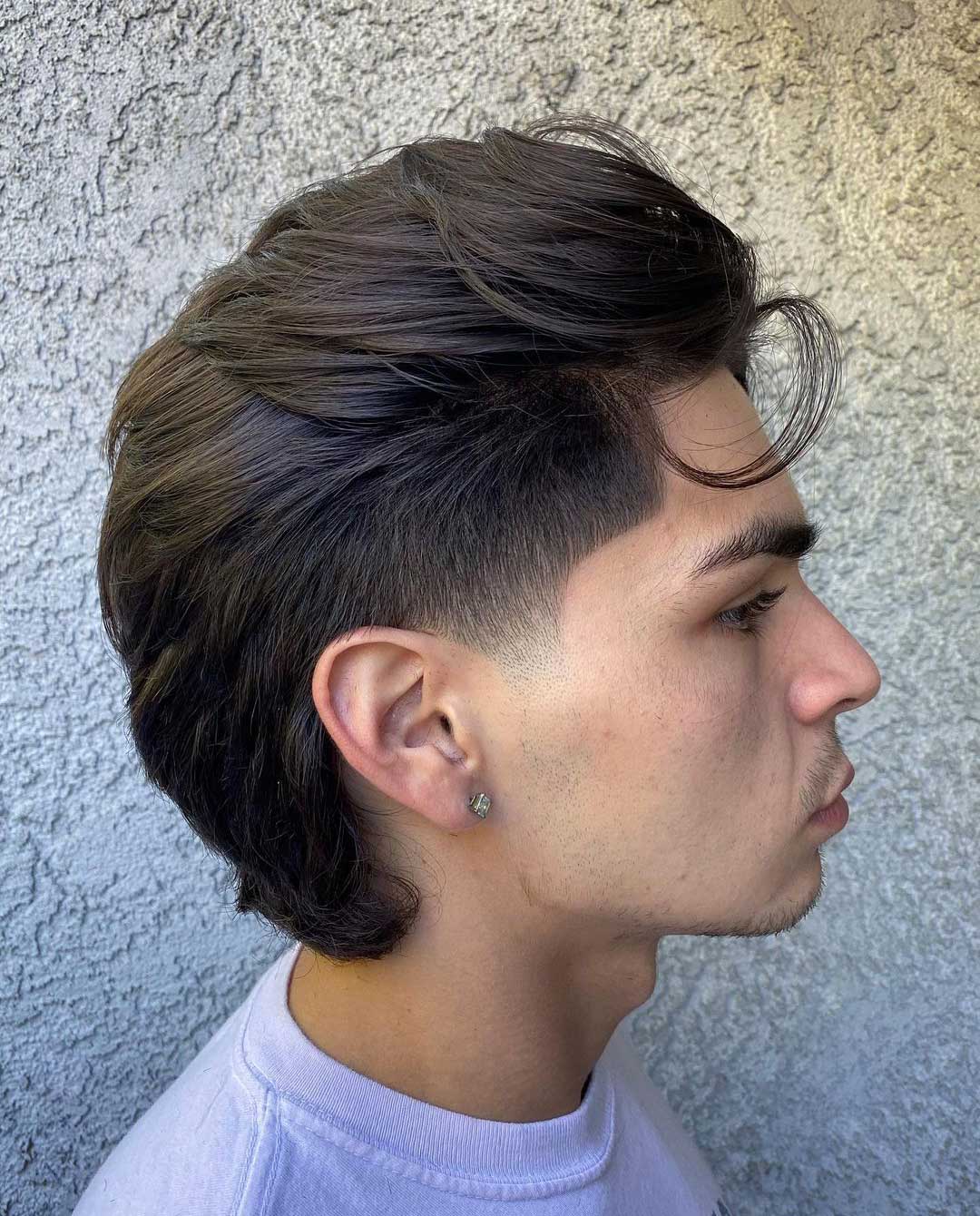 Low Tapered Sides and Back
This normal crew cut dominates the overall look but experiments with some playfulness to dye the front tips purple. Low tapered sides and back only give the illusion of not having an effective taper fade. A crisp line around the jawline clears the way for a sexy beard.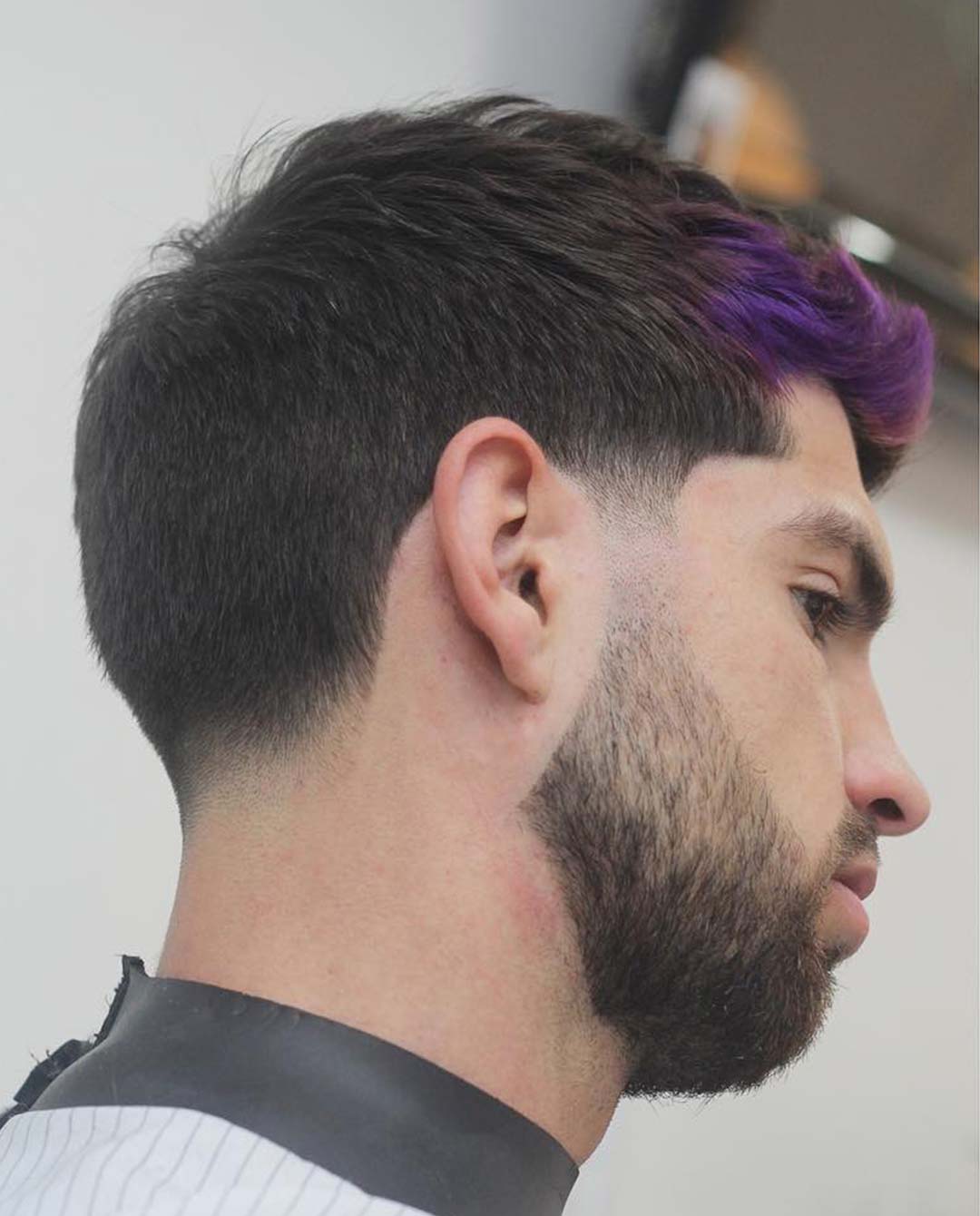 Messy French Crop
Messy French Crops naturally call for the fringe to be the showstopper. The hair curls or straightens into blunt bangs around the forehead, while the medium fade tones down the unkempt edginess of the hair above.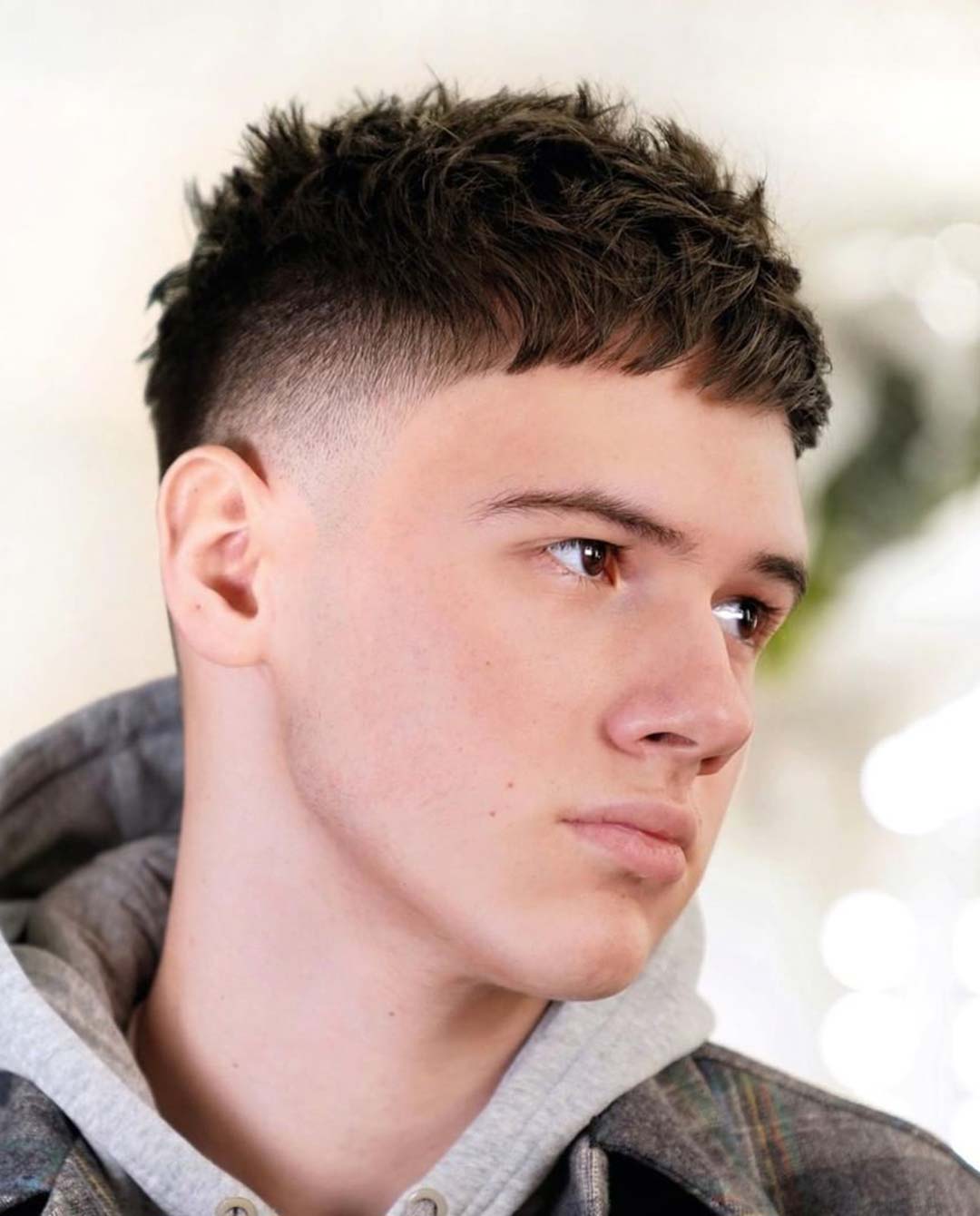 Pompadour with Highlights
You'll be ready to don blue suede shoes and strum a guitar like Elvis Presley once you try this contemporary-inspired pompadour. Matte forming cream enhances the hair's volume as you brush it back. A trifecta of other elements also makes this more up-to-date: blond highlights, rugged beard, and low fade.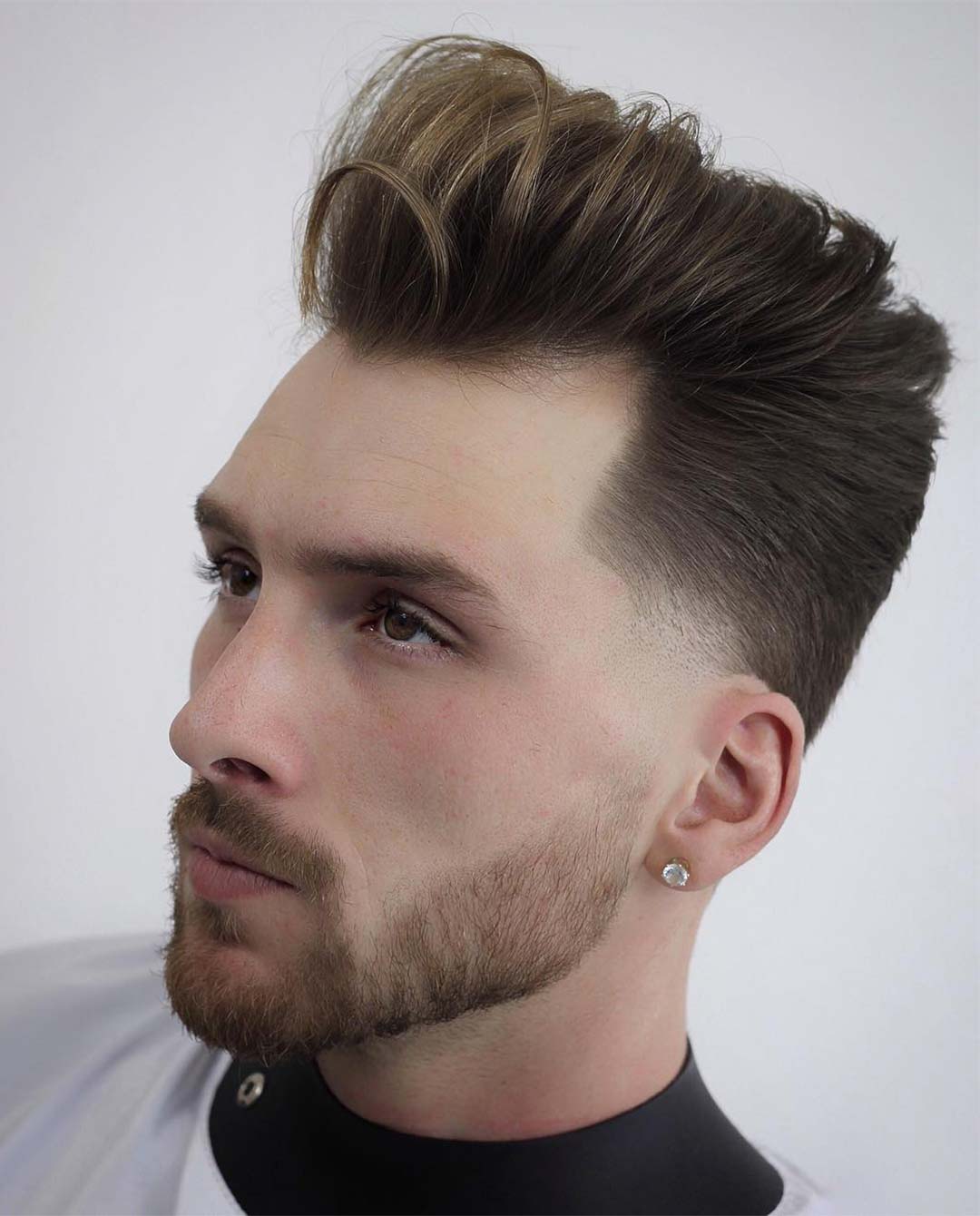 Slicked Back with Taper
Polish your appearance with a dreamy slicked back hairstyle. Pomade will be your best friend as your alternate, adding a dime-sized dash of product and brushing your hair. As the central hairstyle catches all of the shine and attention, a low fade emphasizes a regal profile.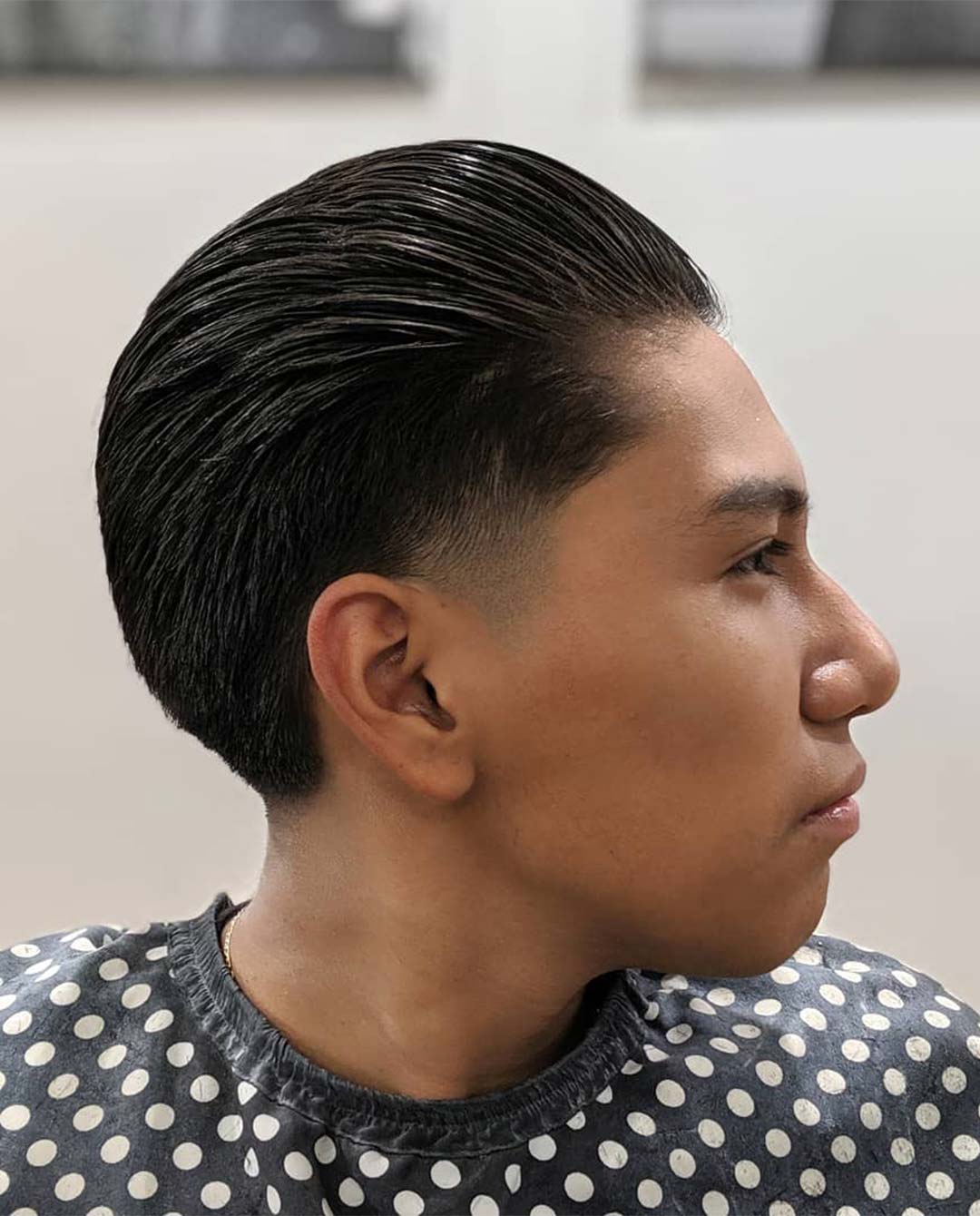 Short Comb Over
The short comb over continues to be a classic haircut that never goes out of style. You can't go wrong with brushing three to four inches of hair from one temple to the other. The low fade keeps the sides dapper and refined.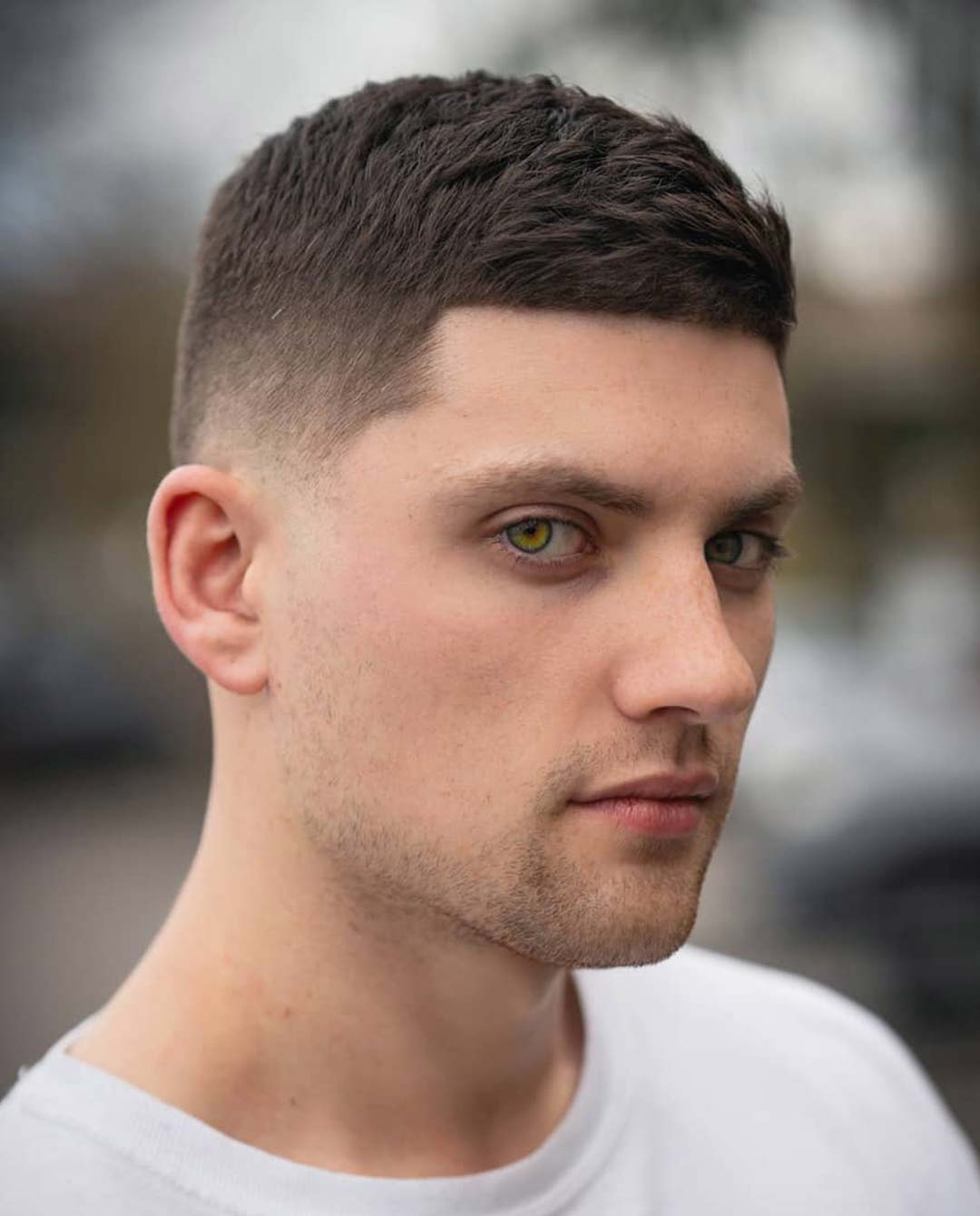 Side Swept with Low Taper
Sweeping your hair to the back renders a tailored appearance for the office and to hang out with friends for happy hour. Use hair clay to give it a strong hold. If you're unsure about growing out a beard or goatee, go for a low fade to keep the sideburns silky.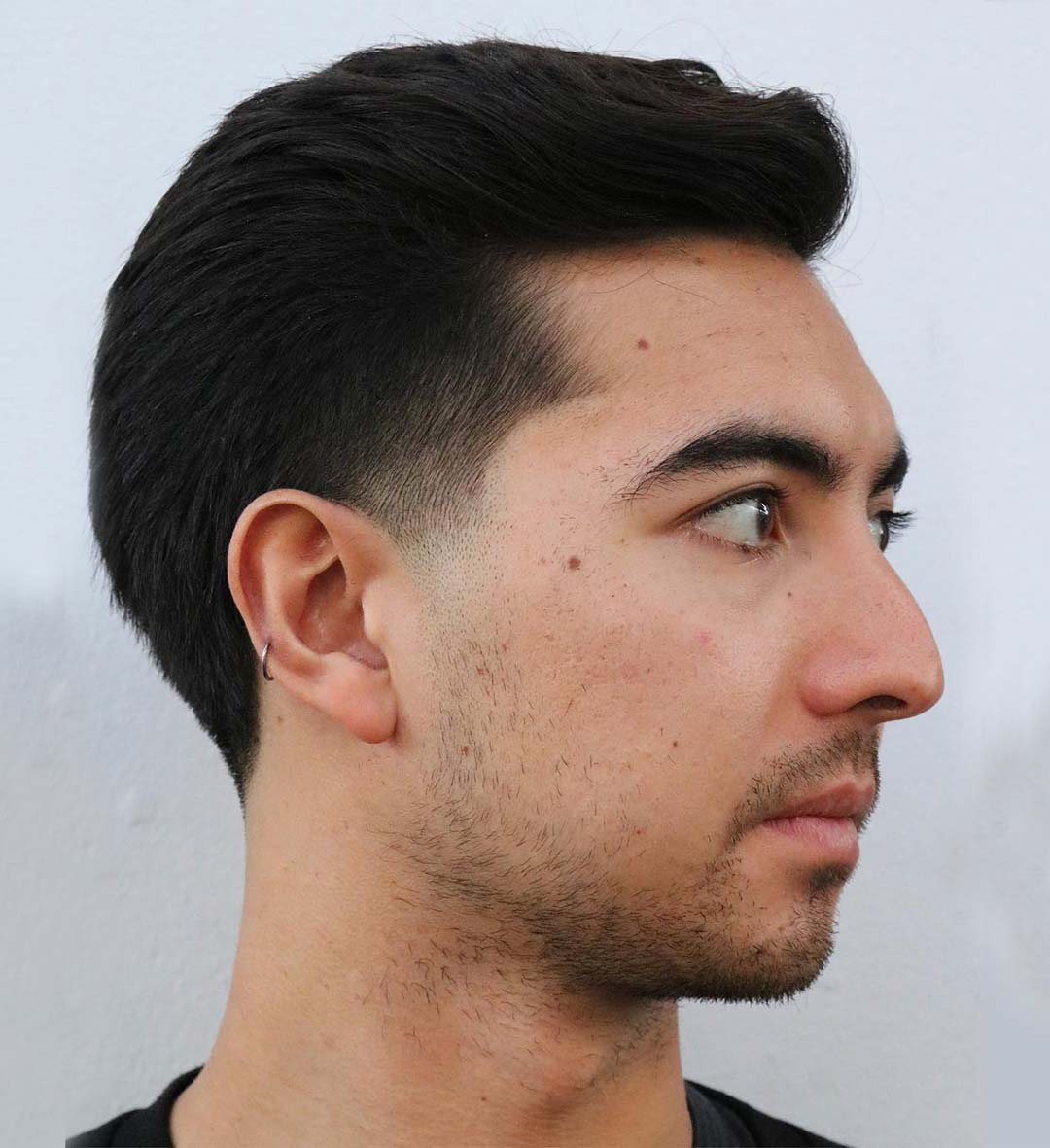 Skin Fade Taper
We didn't touch on describing low skin fade tapers above. However, this is a fantastic choice for those who don't mind baring more, especially with thick hair layers. The taper haircut is short enough to add a fiery line design near the ears.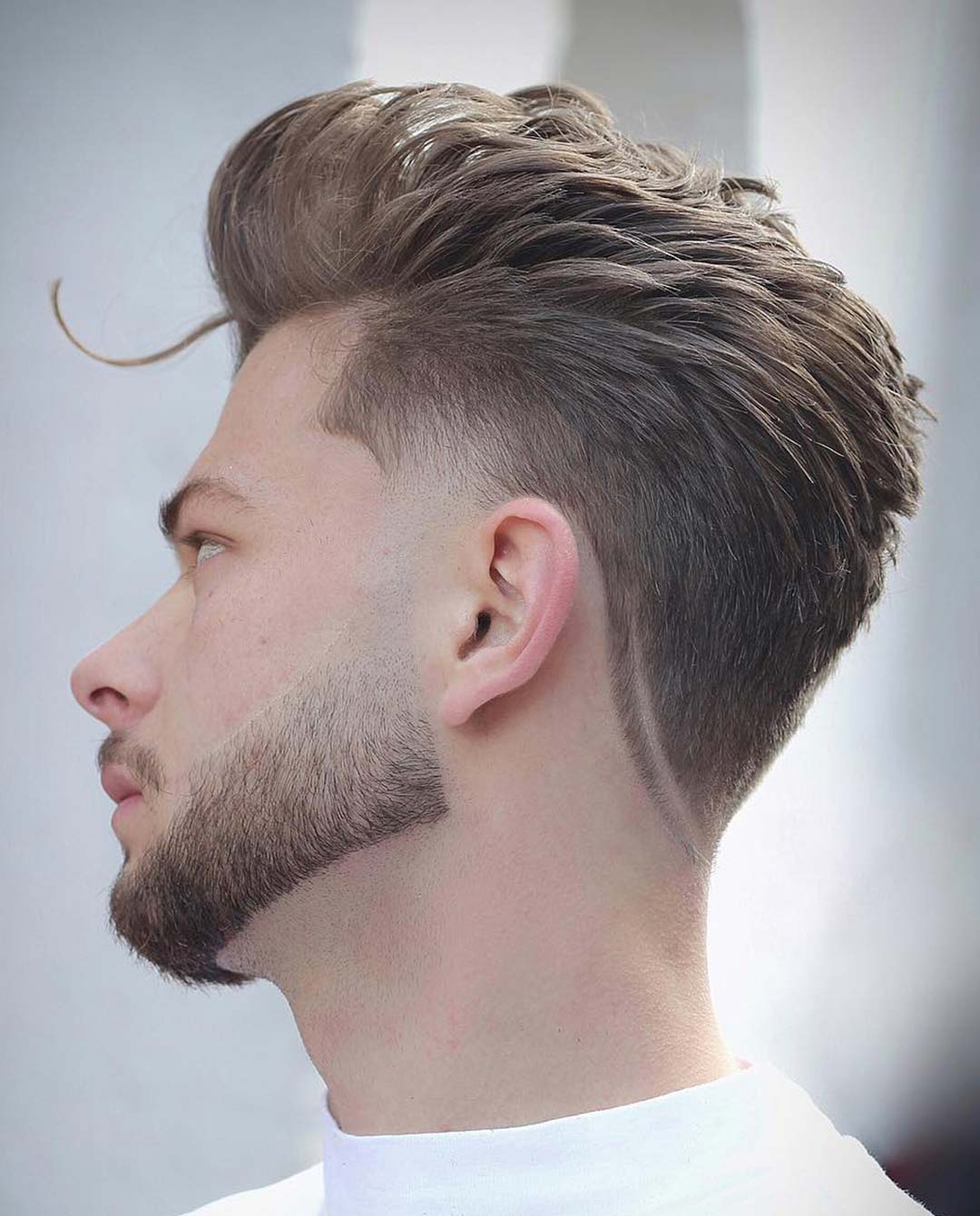 Spiky Top with Fringe
Intense spikes might exude too many harsh angles that make it difficult to blend into the crowd. But you can still enhance your inner rock star while you work at a desk job. Ask your barber to feather your hair into spikes. A medium fade will produce the edgier finish you're looking for.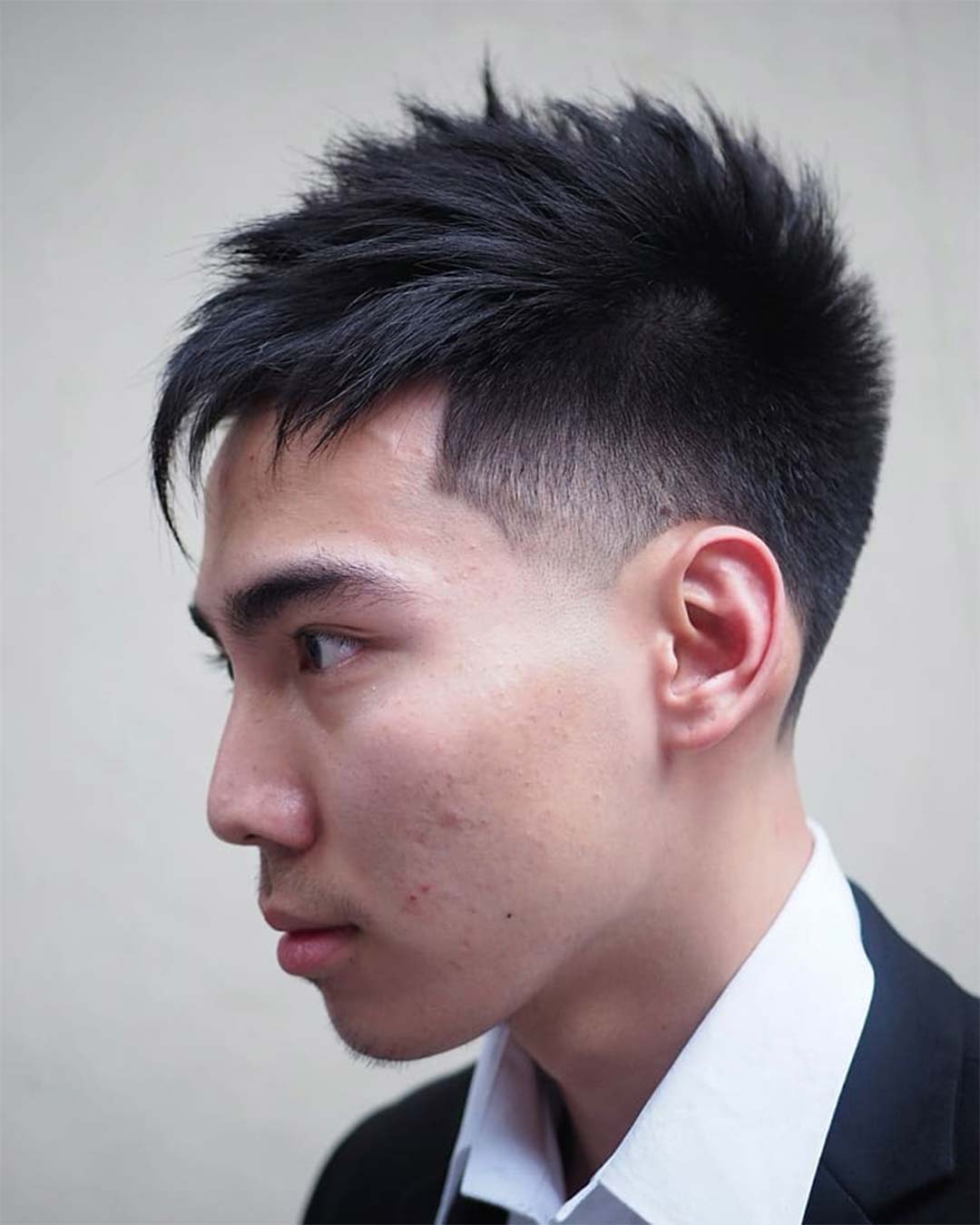 Swept Back + Skin Taper Fade
Don't know what to do with long and thick locks? Consider a casual swept-back appearance. Prevent your hair from falling into your face by loosely running gel through your hair. Let the long to shorter length on the side smoothly connect to your beard.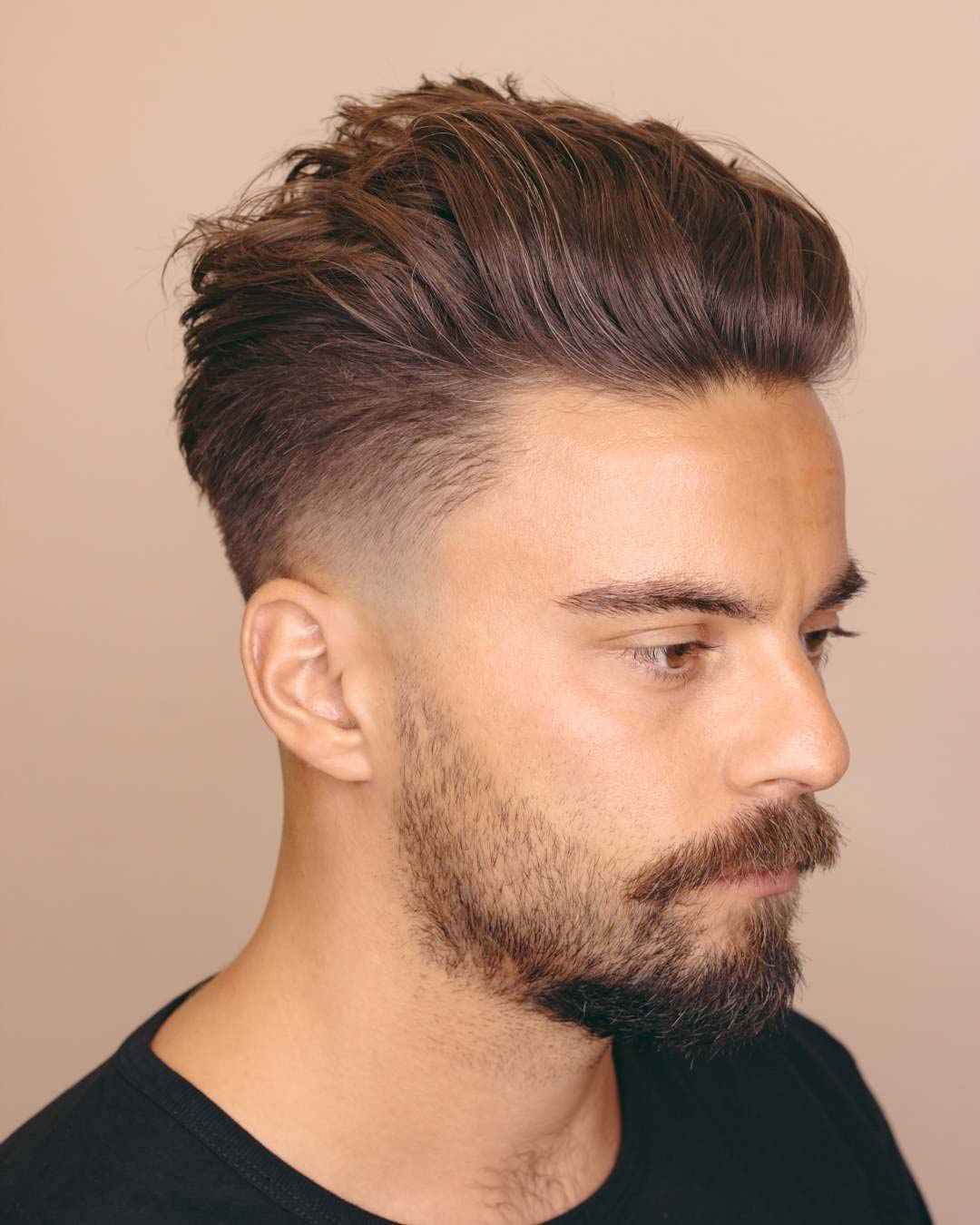 Taper Fade Curly Hair
Curly hair with a taper and fade provides a significant balance between youthful and mature. The voluminous curls on top ooze a laid-back and fun attitude. The taper and mid fade then swoop in at the bottom to add a few years to your carefree spirit.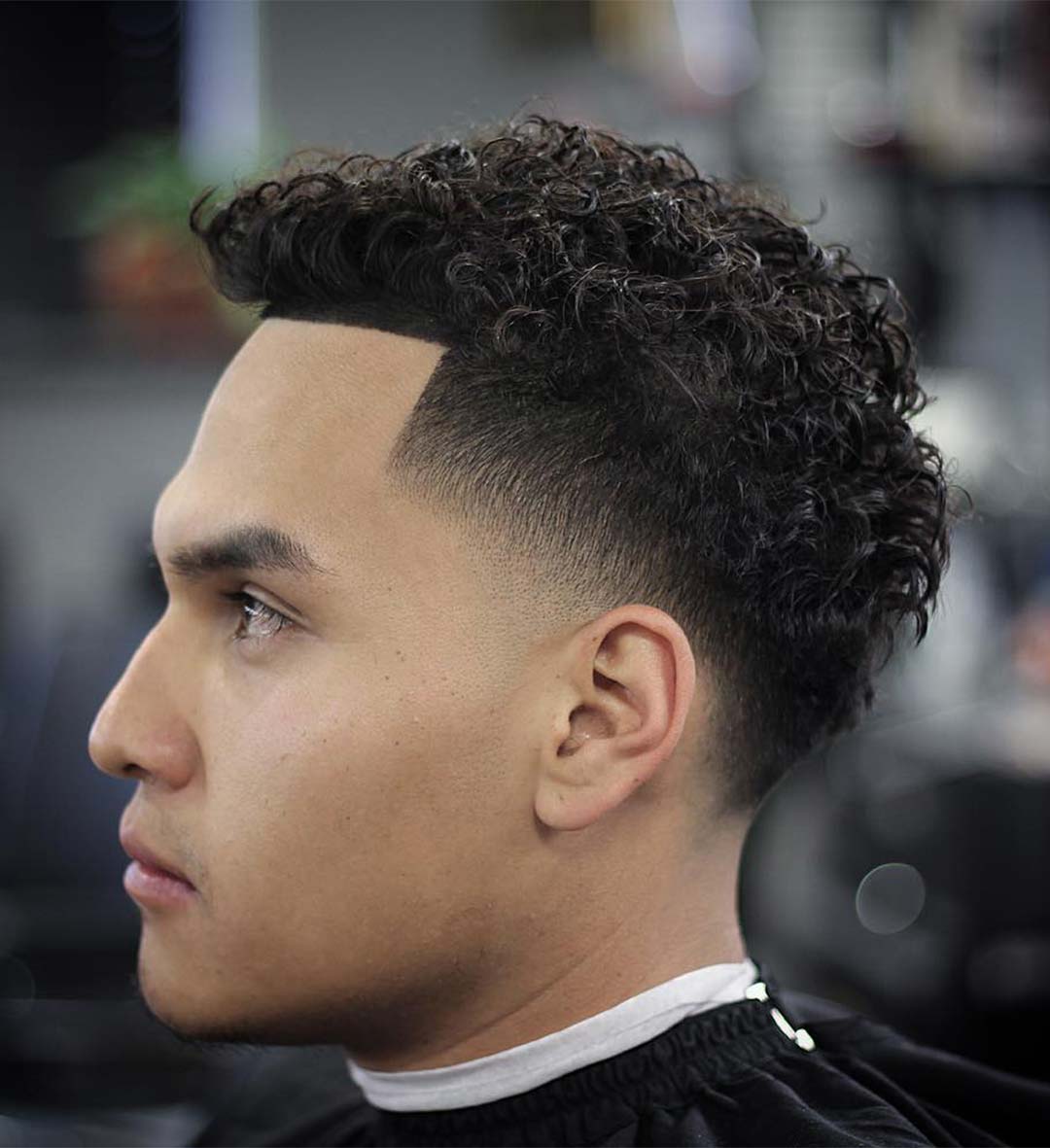 Middle Part + Dyed Highlights
Parting your hair down the center takes out all of the self-imposed hassles of deciding which side to part your hair. Brushing your hair back creates a nice wind-swept appearance as well as more volume. Blond highlights also stand out from darker brown roots.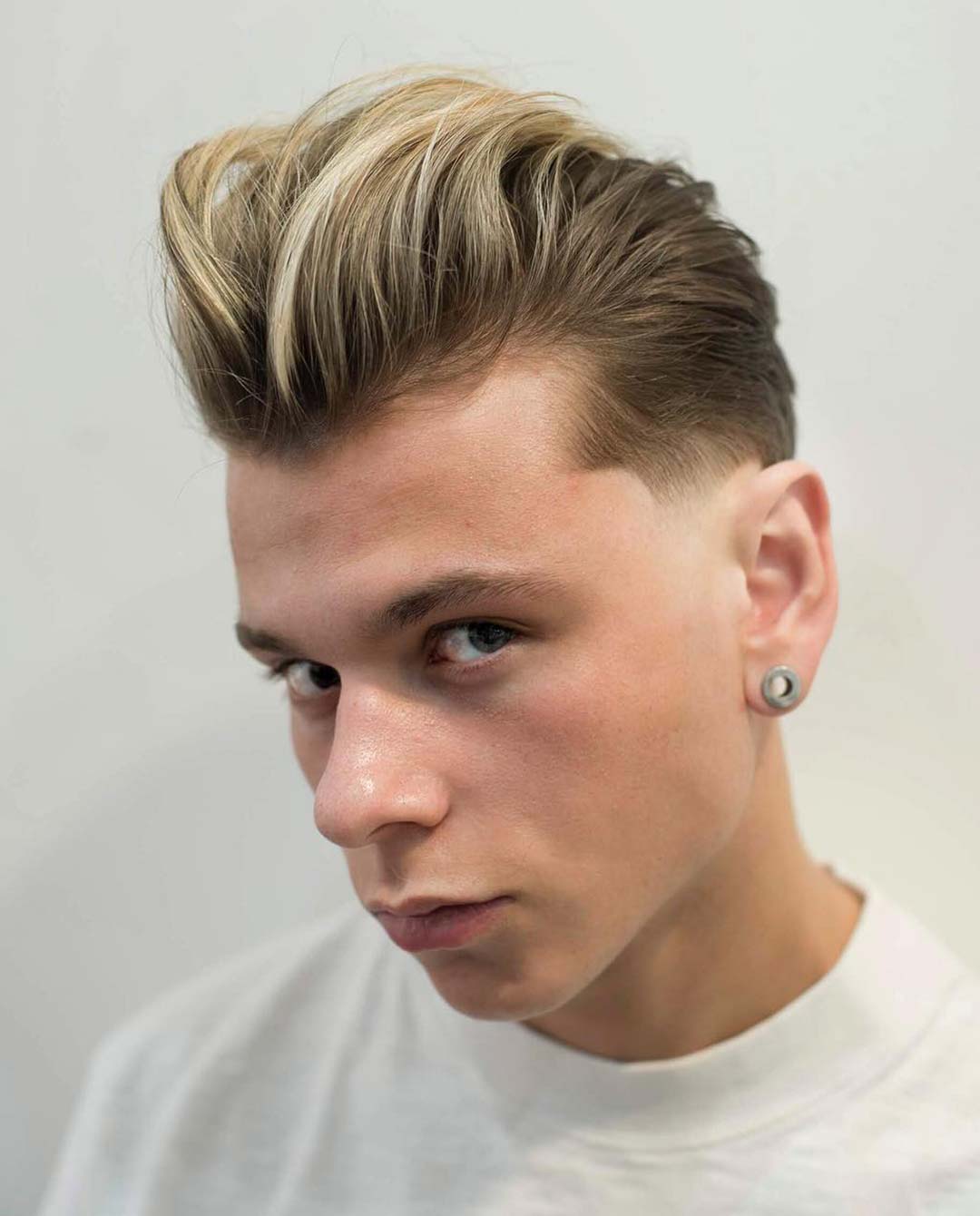 Top Knot + Mid Taper Fade
Who says that big burly man can't enjoy a fun updo? This top knot is similar to a man bun. However, the former whips the hair on top instead of lower in the back. This is suitable for someone who is on the go and needs to save time grooming.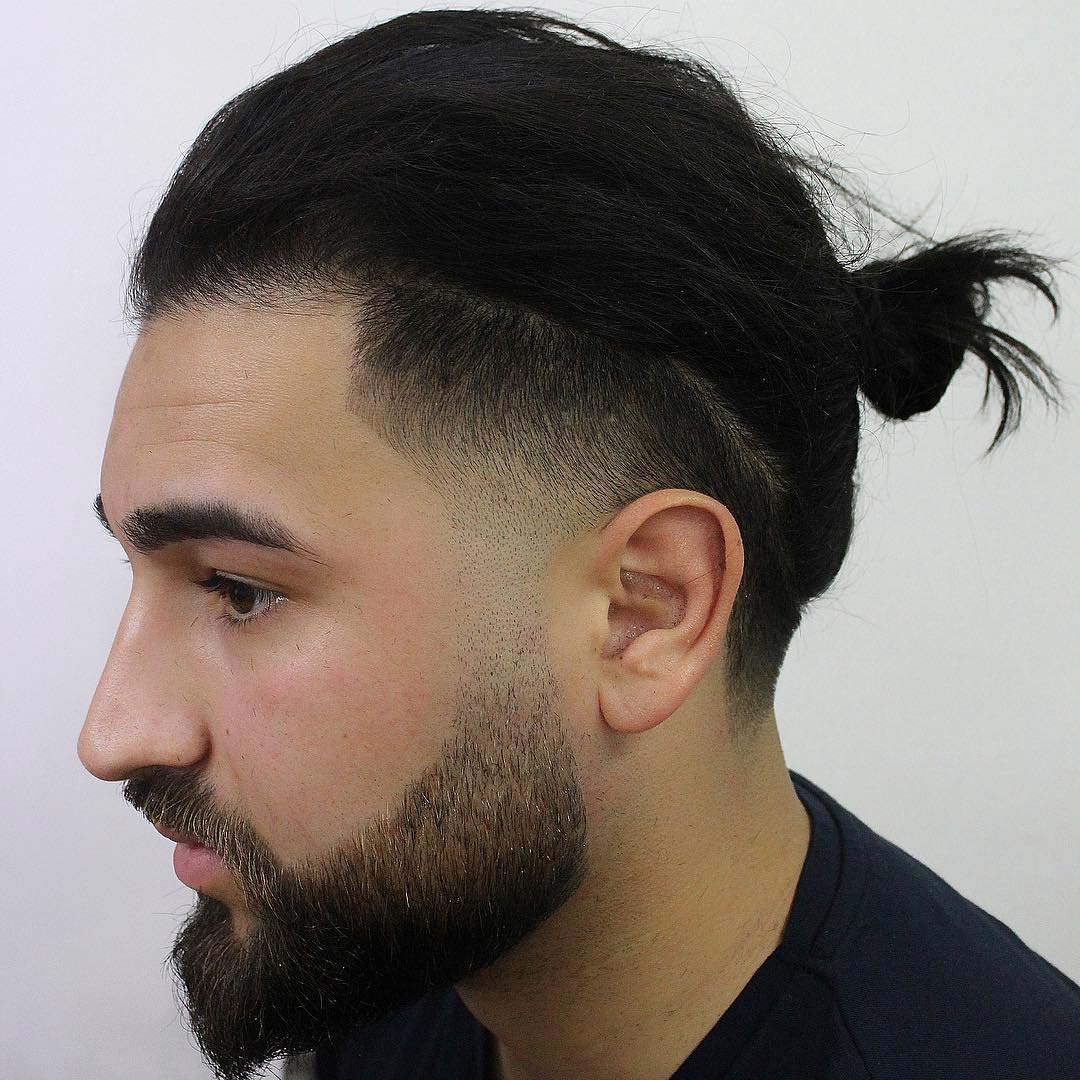 Voluminous Style + High Taper Fade
Volume is the best primer for a wavy pompadour. Grow your hair out to four or five inches to reach the right length for a tidy brush over. Use a texture powder for more substantial volume that will make you appear a few inches taller.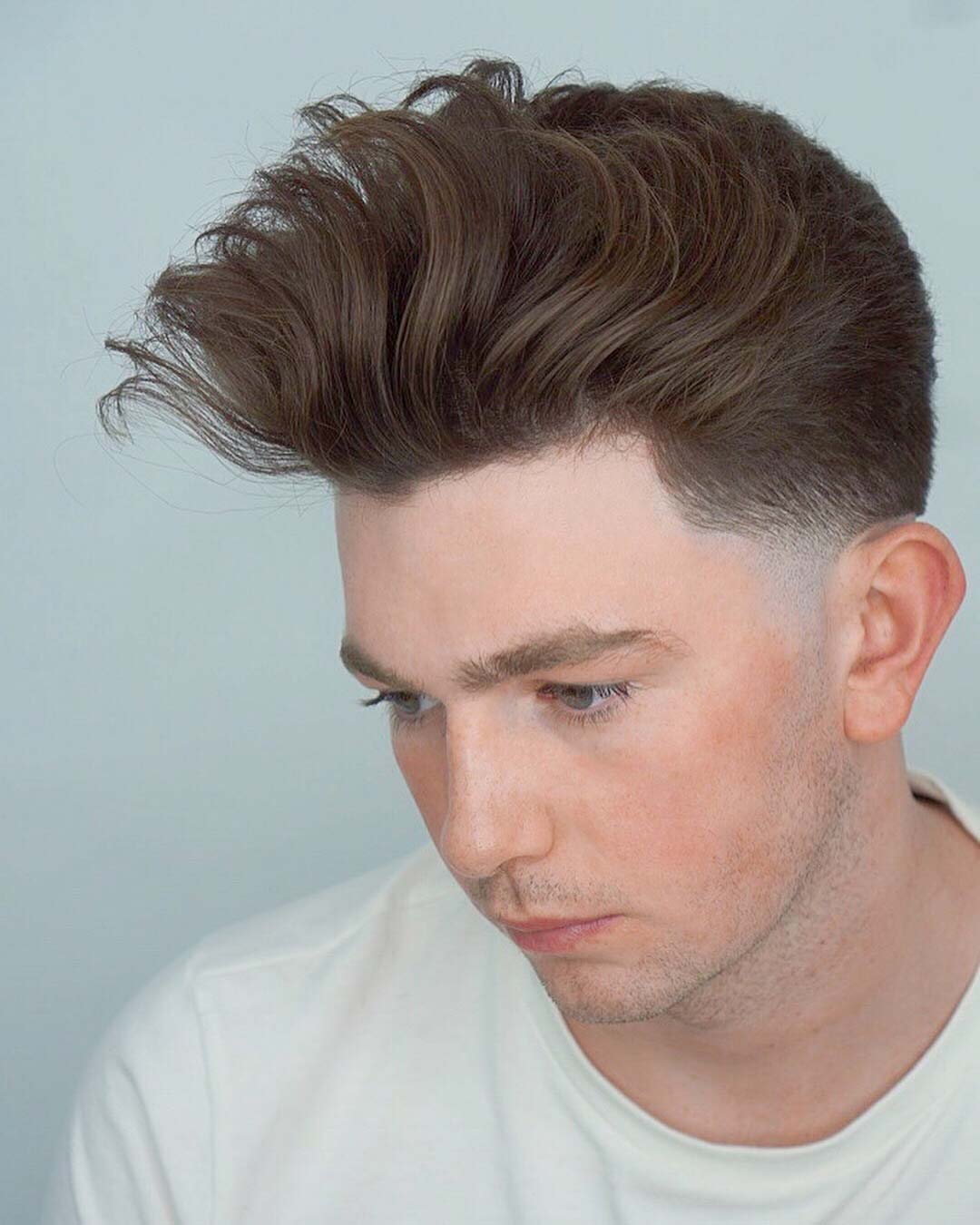 Mid Taper with Hard Line
A stronger method of differentiating the mid taper with a hard line is a clean touch-up. Instead of fading, a hard line trims the hair seamlessly around the ears in an oval shape.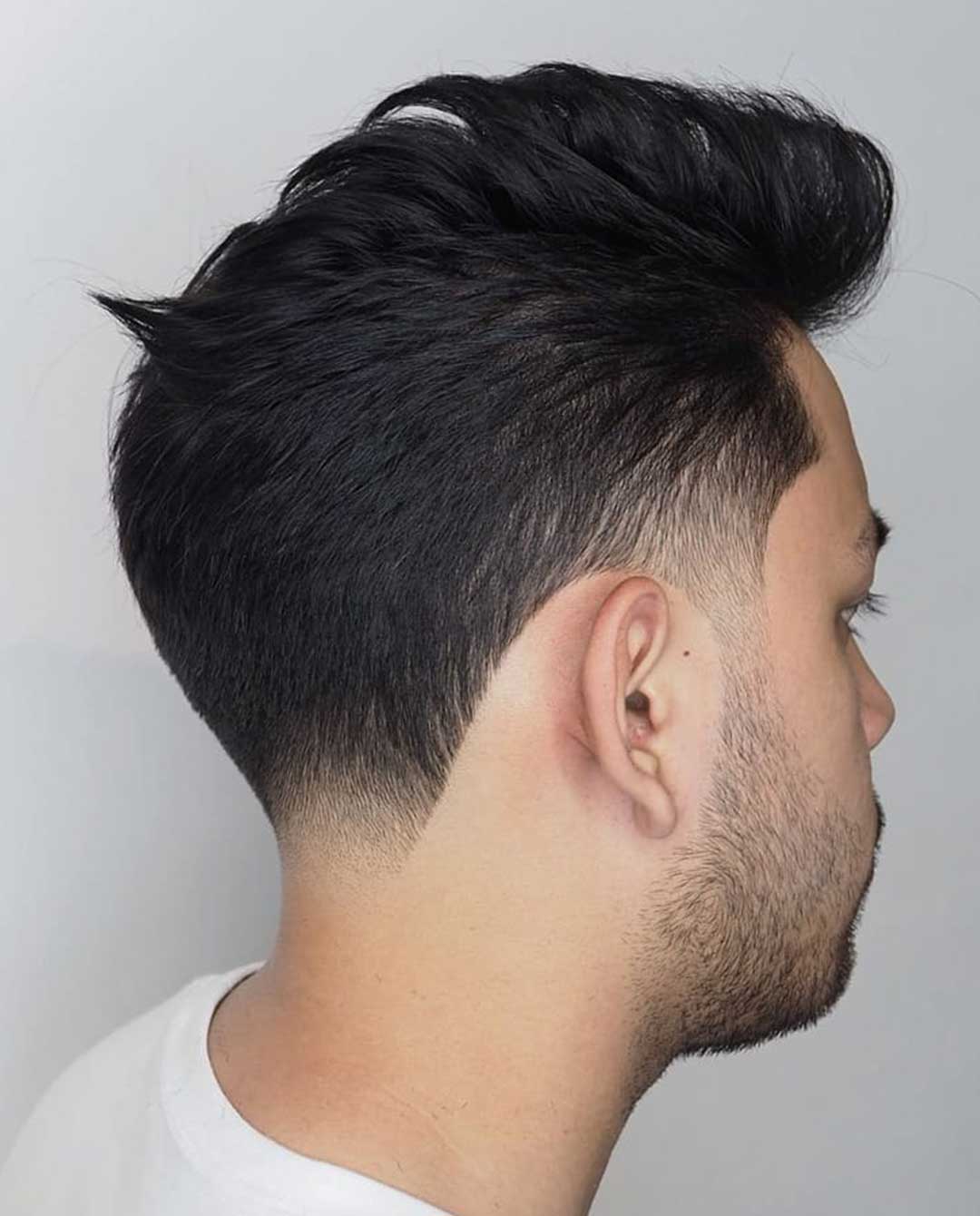 Wavy Hair with Low Taper
Echo the mysterious Hollywood teens of the 90s like Leonardo DiCaprio with enigmatic wavy hair. Start with the curtain-styled hair. Instead of letting the bangs flow freely around your face, run curly cream or sea salt spray from the roots to the tips. Comb the strands towards your crown and the sides as the cream takes hold and brings out the waves.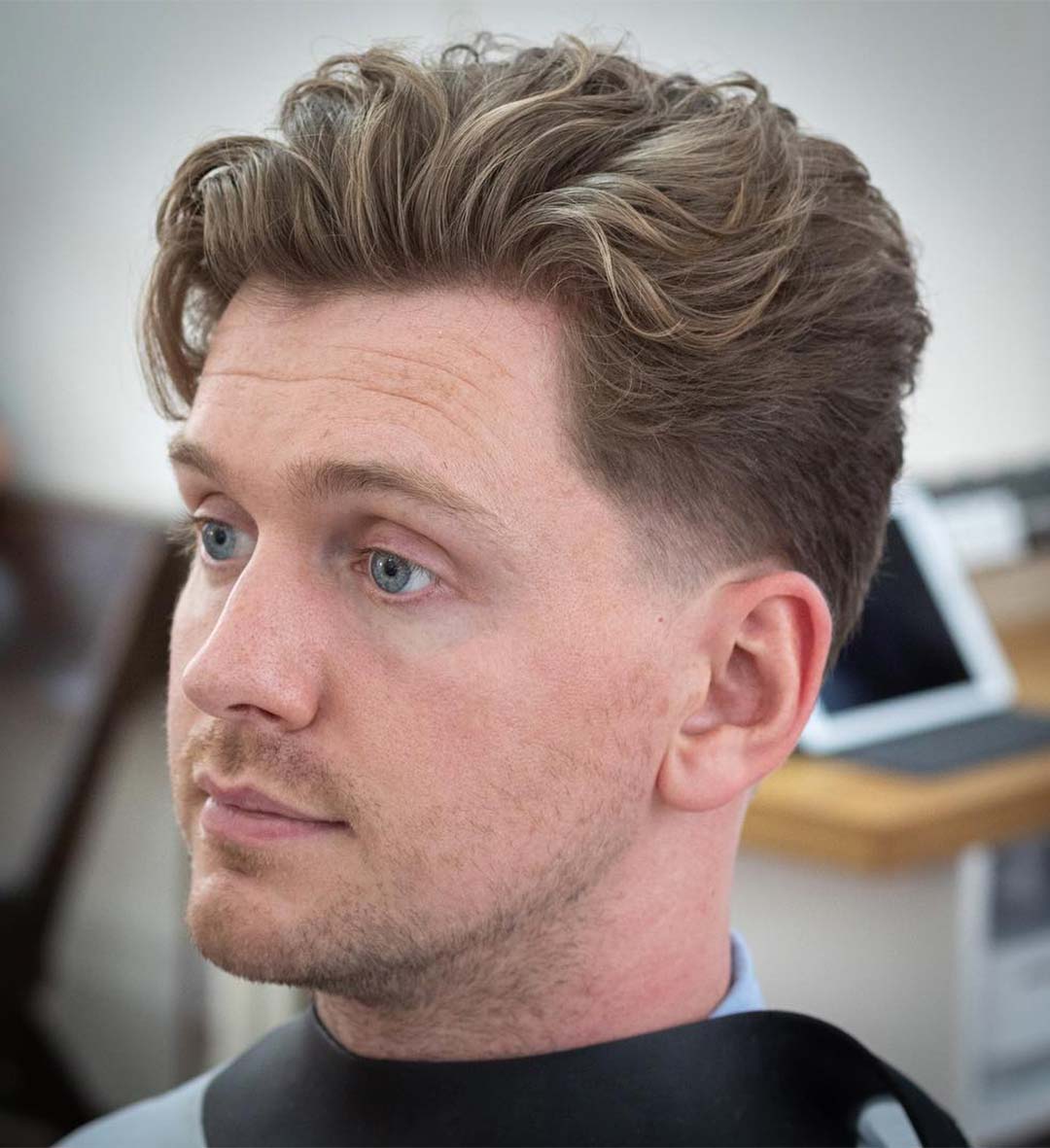 High Taper Comb Over
High taper comb over is a timeless hairstyle you can stick with, from starting college to moving up the corporate ladder. Its traditional aesthetic makes you demure, while the high taper subdues the volume on top.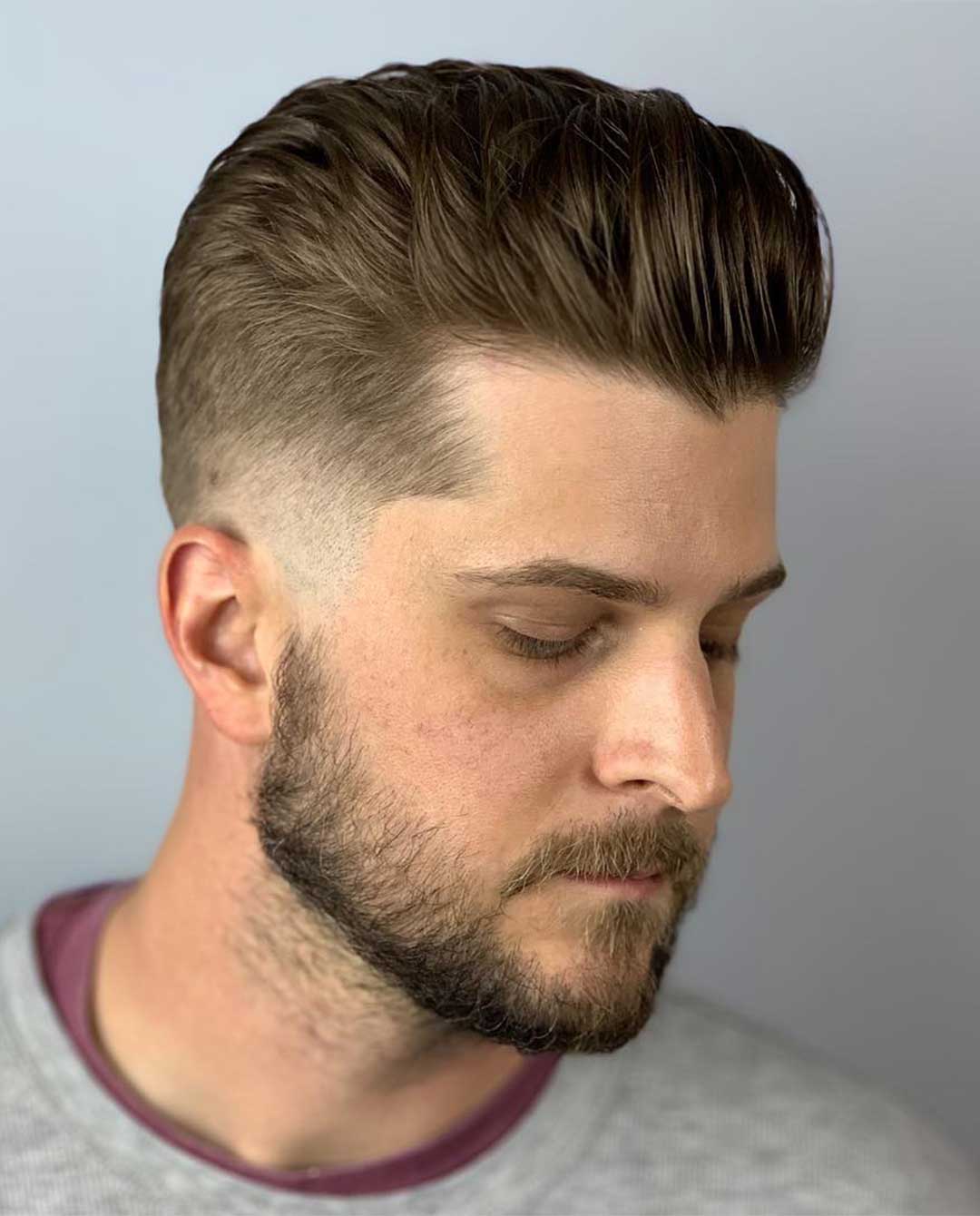 Middle Part with Taper Fade
One of the most discreet options for a maintenance-free hairstyle is a simple middle part. Set your hair aside from the center, letting strands hang loose on the left and right. Unless you use a holding gel to solidify it into a comb over, the hair will organically part into the classic 90s Curtains haircut.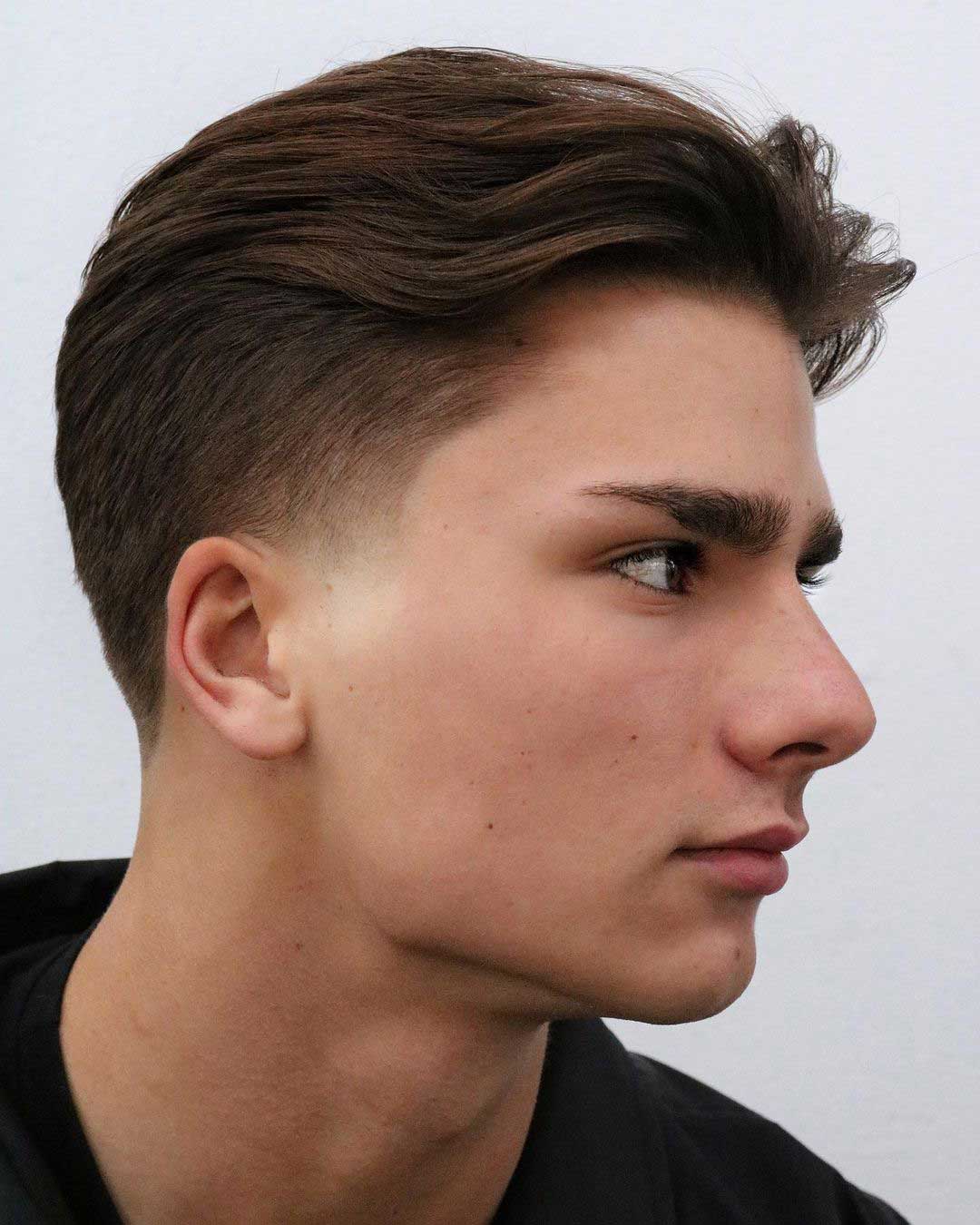 Mohawk + Taper Fade
Grooming paste or gel comes in handy for Mohawks. The strip of hair stands straight in a continual spike as you apply a blow dryer and brush upwards. A taper fade cultivates extra volume by trimming hair underneath as close to the skin as possible.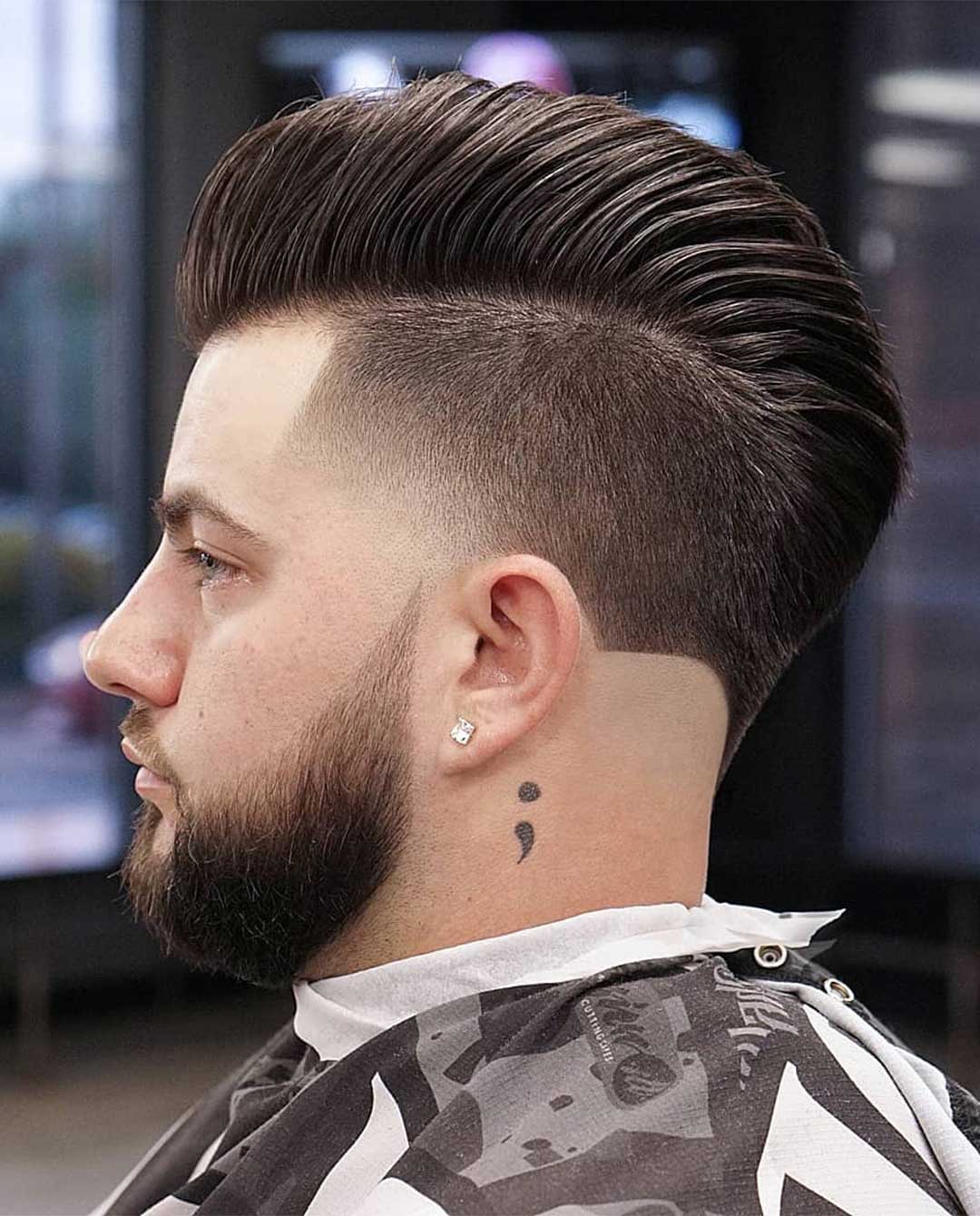 Short Curly Hair with Taper
Short curly hair produces a modest symmetry of definition, especially when you use a sponge brush. The curls frame the face naturally without the fuss of spiraling out of control. A tapered haircut adds more space for the curls to expand and won't make you as bald as you would with a mid or high fade.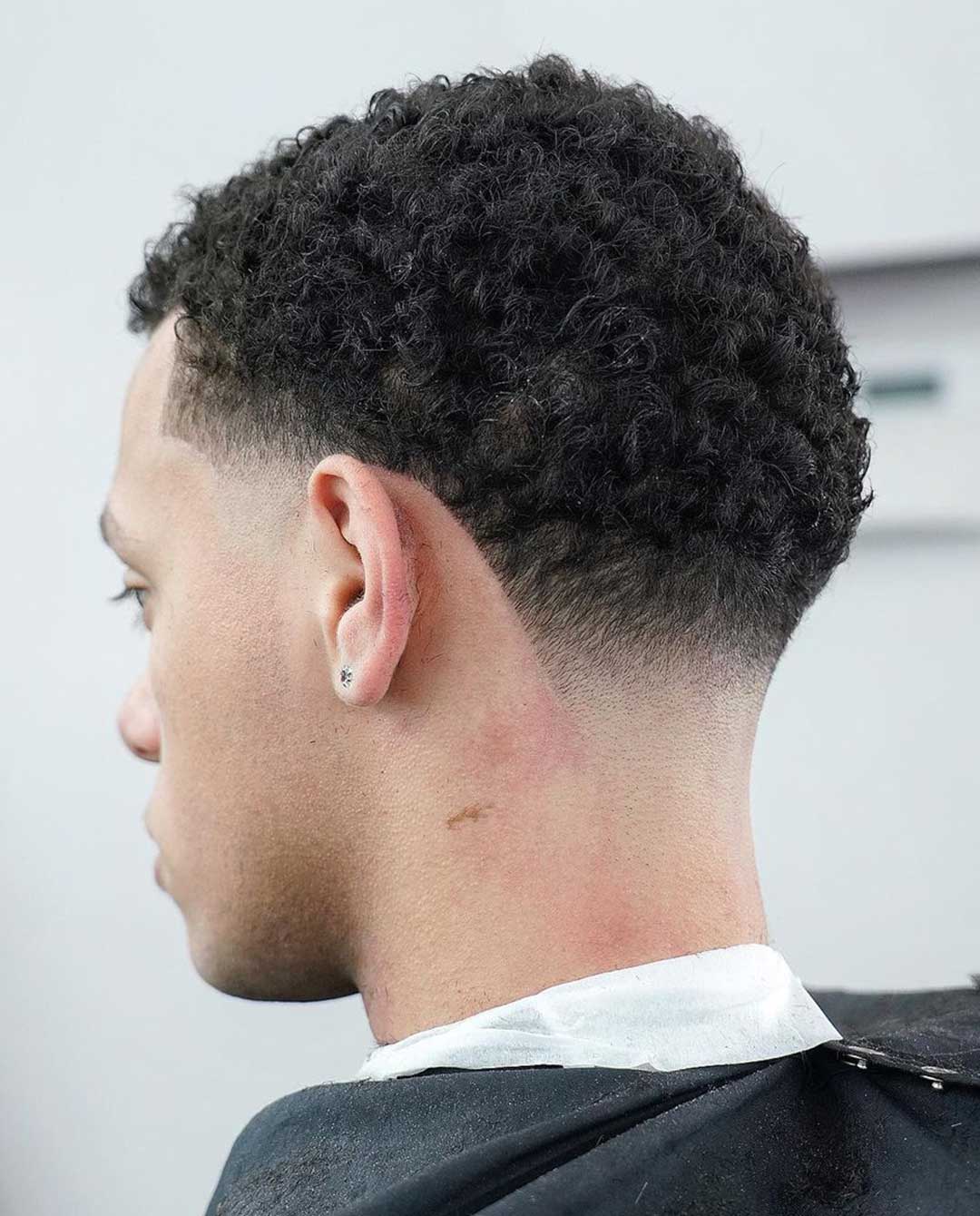 360 Waves + Line Up
Best for guys with natural texture, this haircut has some cool yet subtle details. It effortlessly combines the organic nature of waves with crisp linework. Like a traditional taper fade, the sideburns and back seamlessly transition to bare skin. Meanwhile, the hairline and ear radius are impeccably cut.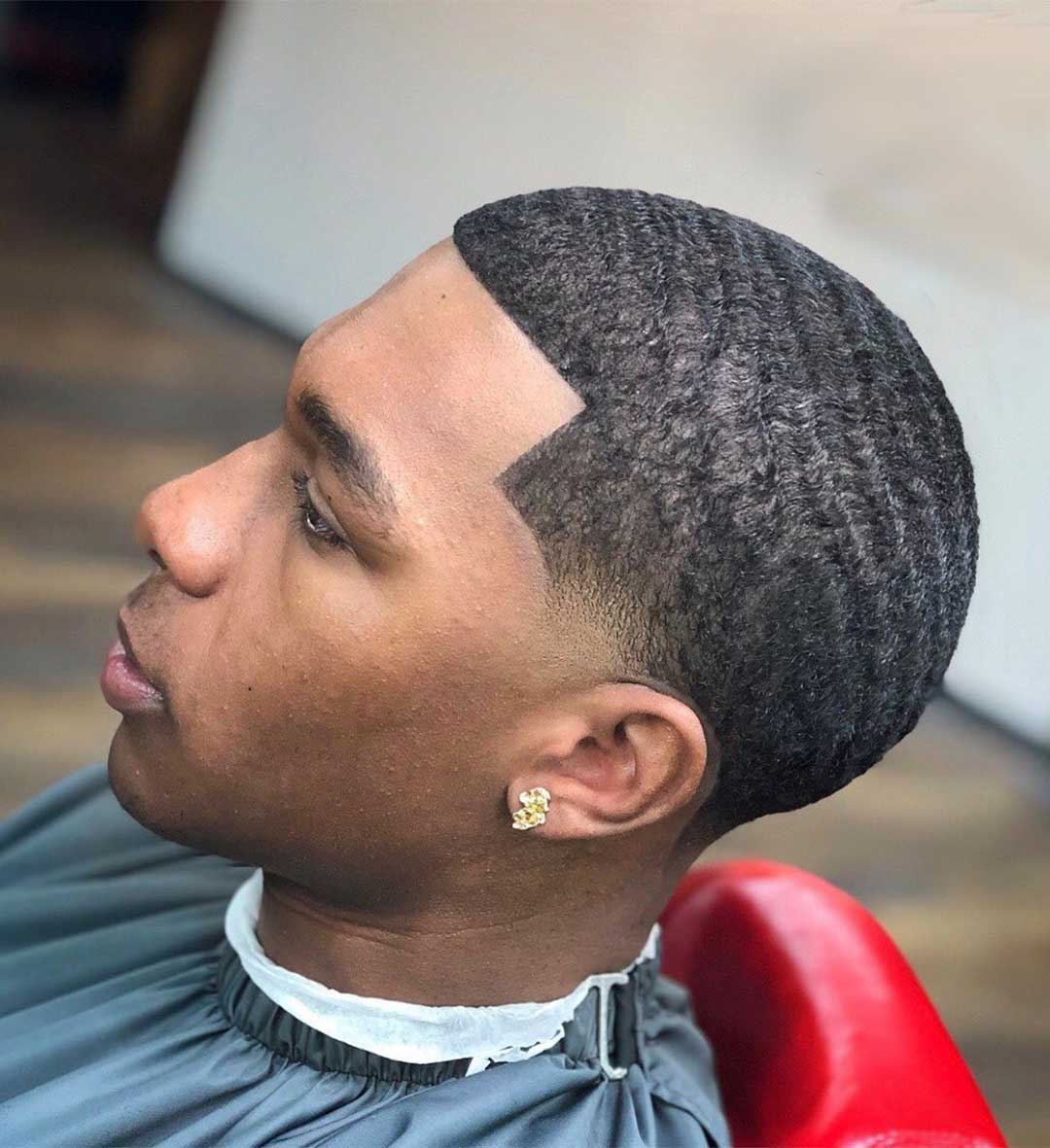 Blowout Cut with Taper Fade
Here's a style that will give you tons of volume while still giving your face an angular look. On the sides and back, you have a tight taper. It's perfect for guys who want to put their jawline on full display. Meanwhile, the top is sporting ample height, body, and texture.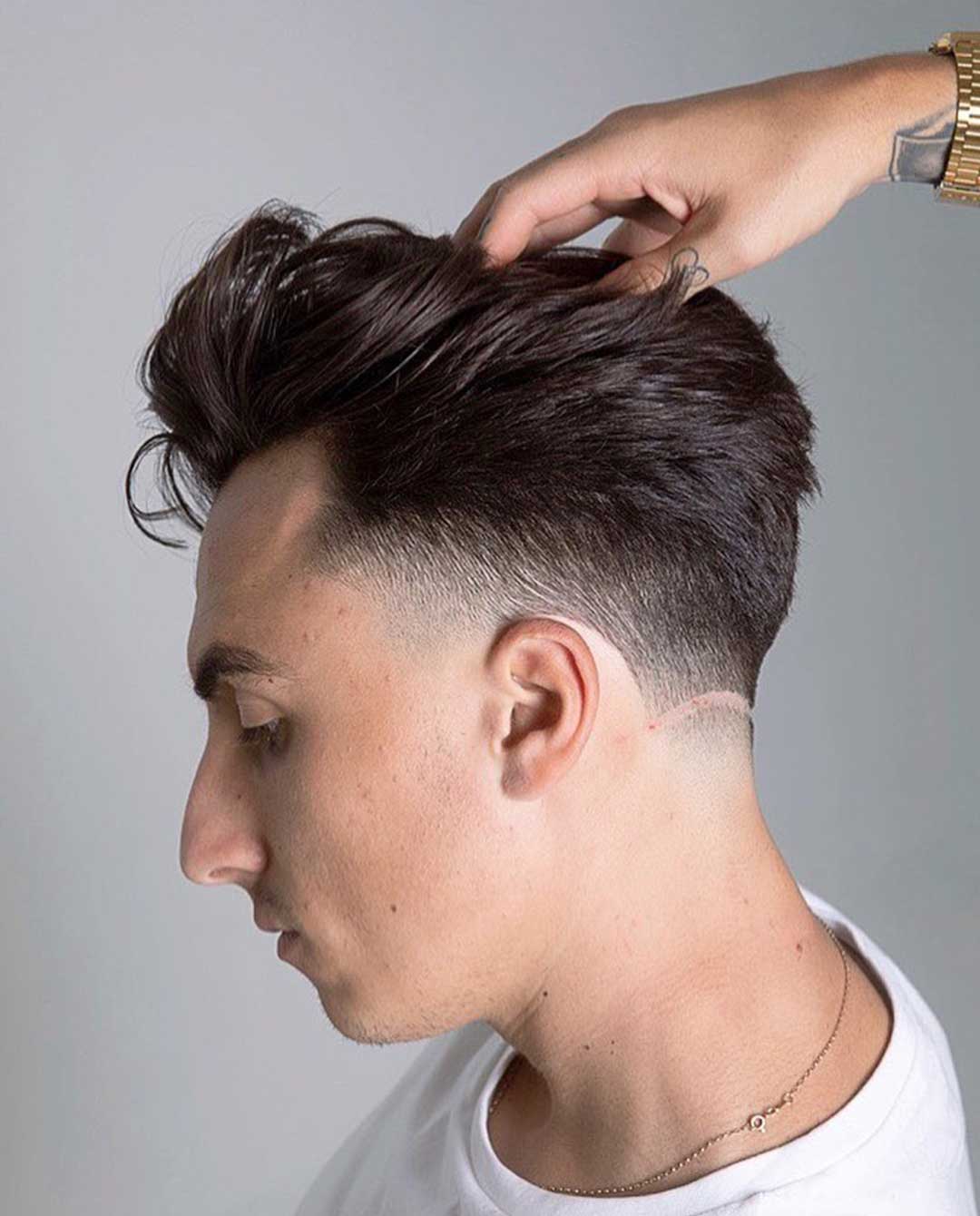 Taper with High Line Up
Taper with a high line up doesn't expose as much skin as a bald or skin fade. However, it creates just as much of an impact with a succinct polish on your sides. Three lines near the neckline plants a one-of-a-kind detailing finish.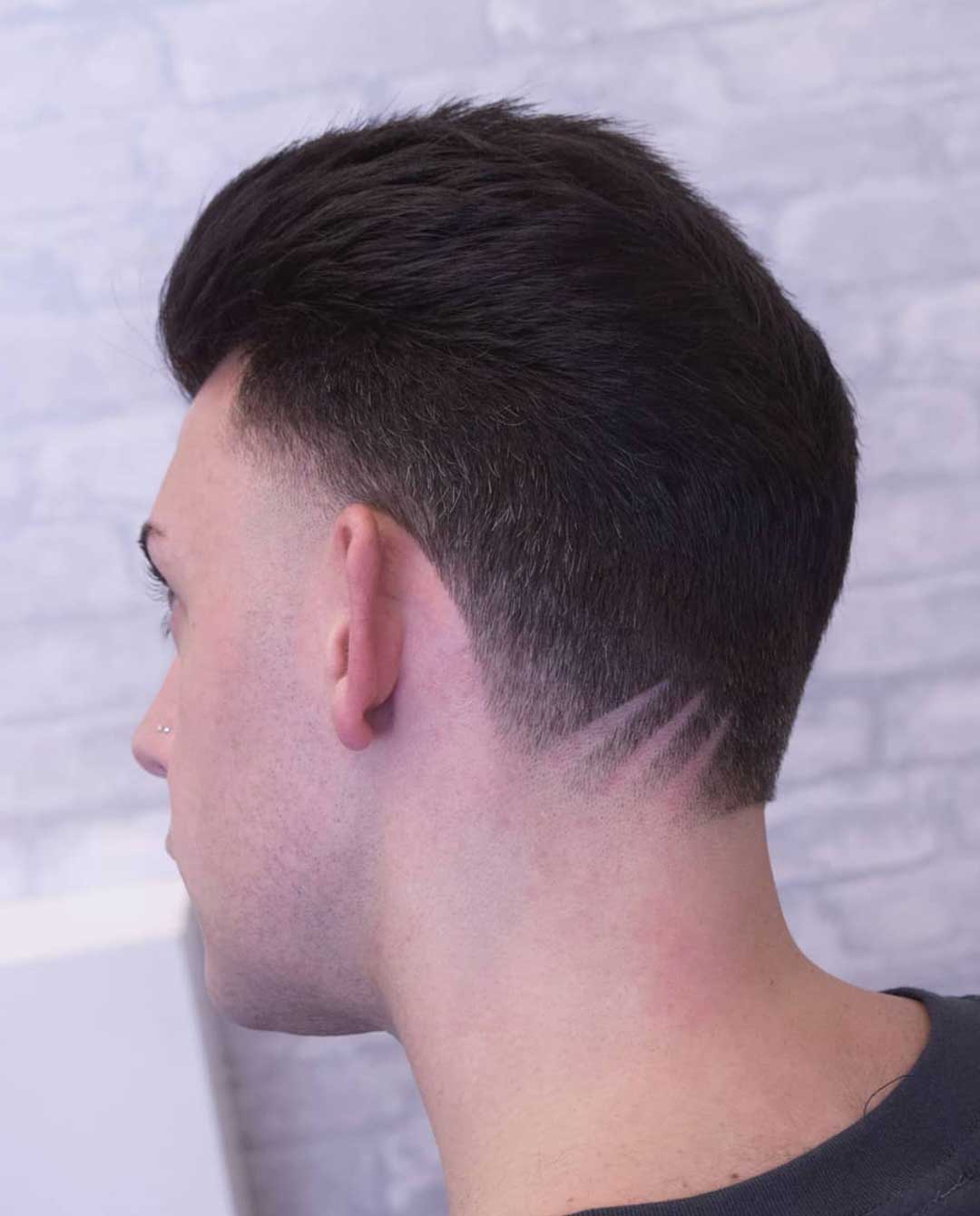 Wavy Swept back
Depending on how deep your widow's peak is, a wavy swept back establishes a tenacious angle near your forehead. The hair spreads towards the crown as the taper fade draws the eyes to the rugged beard. A razor-sharp line up around the forehead and down the jawline will make you look like a million dollars to your clients and colleagues.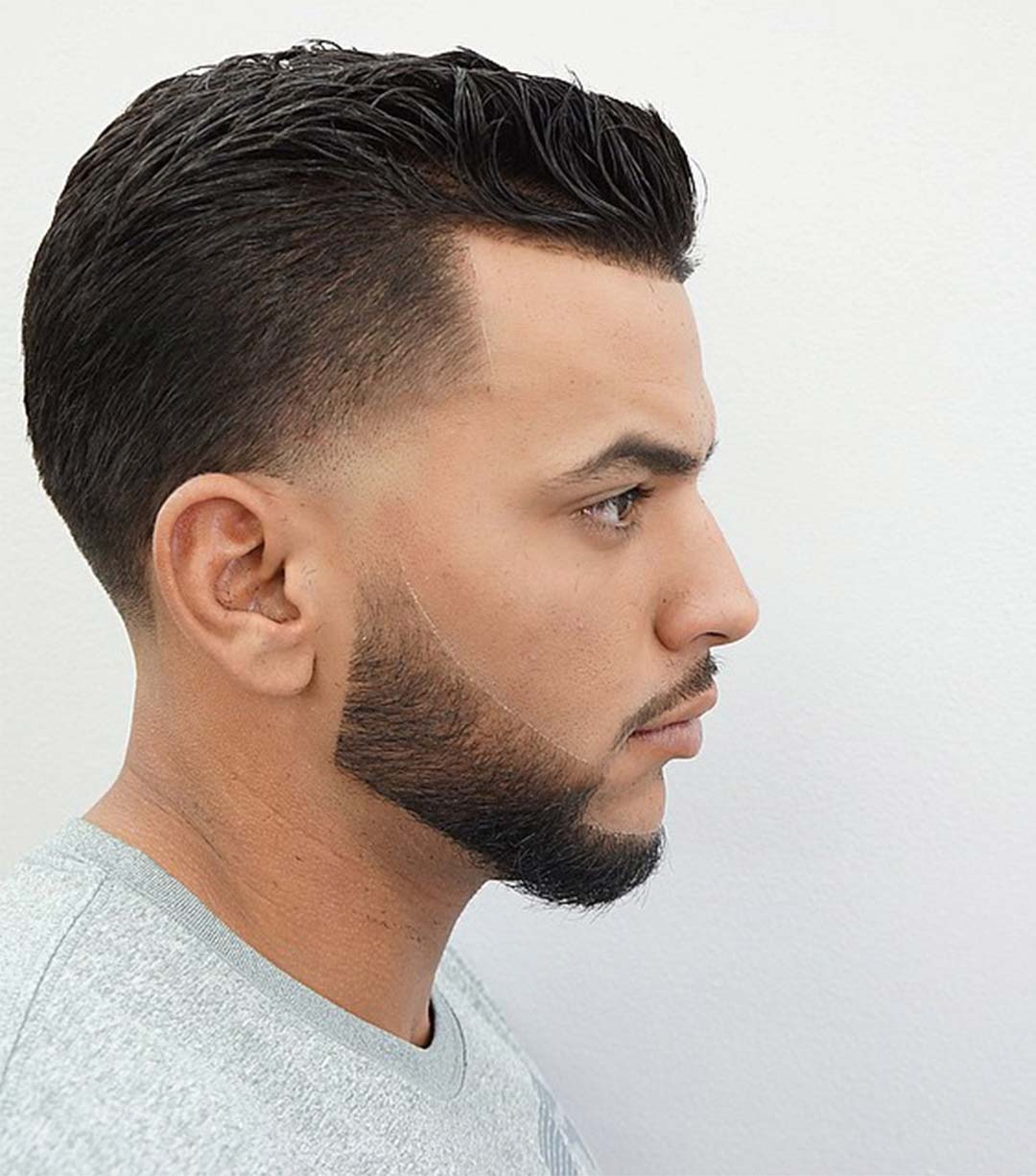 Classic Pompadour with Taper Fade
Check out this modern take on a pompadour! The dome features all the hallmarks of the classic cut, including the iconic shape. Below the perfectly coiffed locks is a subtle taper. It balances out the unique style above while keeping you on-trend by today's standards.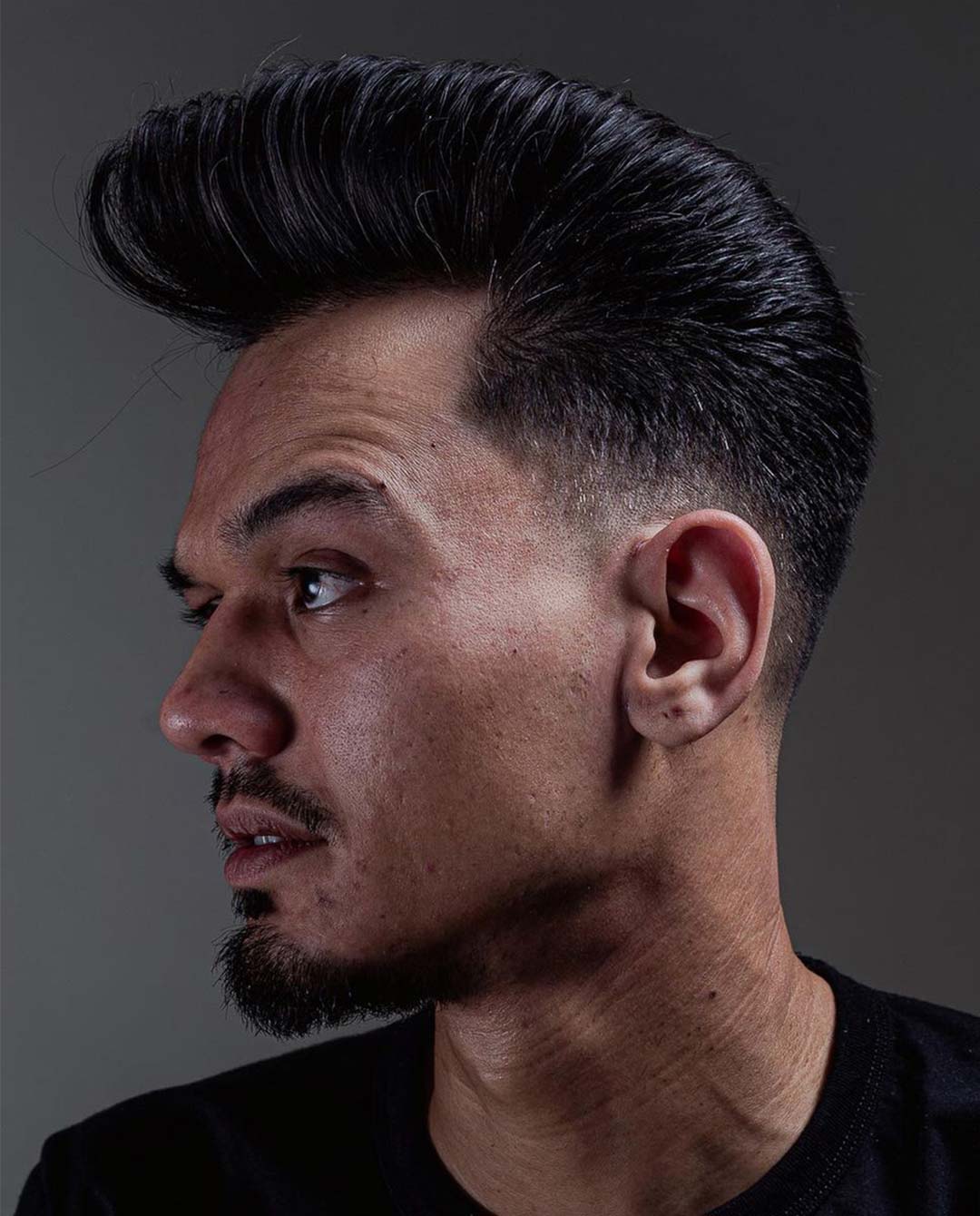 Comb Over + High Taper
This is another taper haircut that breathes new life into an old-school style. Instead of the stereotypical fashion most associate with a comb-over, this one is sleek, sophisticated, and on-trend. Slick back long locks with pomade. With the clean-cut taper fade on the sides, you'll marry traditional looks with modern aesthetics.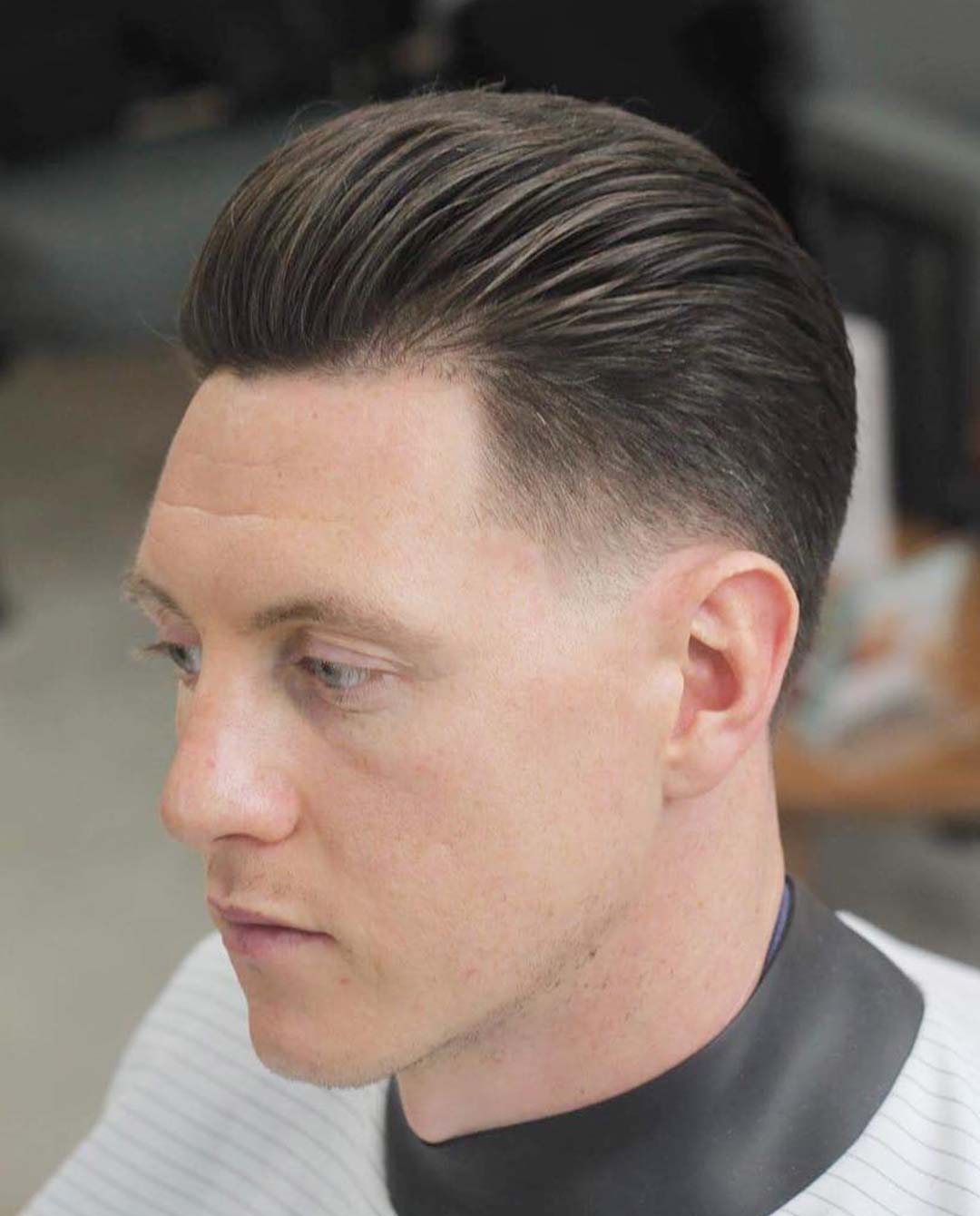 Pompadour with Mid Taper Fade
Like other pomps, this one takes advantage of longer tresses on the crown and hairline to get the familiar shape. But the difference with this cut is the subtlety of the taper. It starts a bit lower and has a quicker transition to bare skin.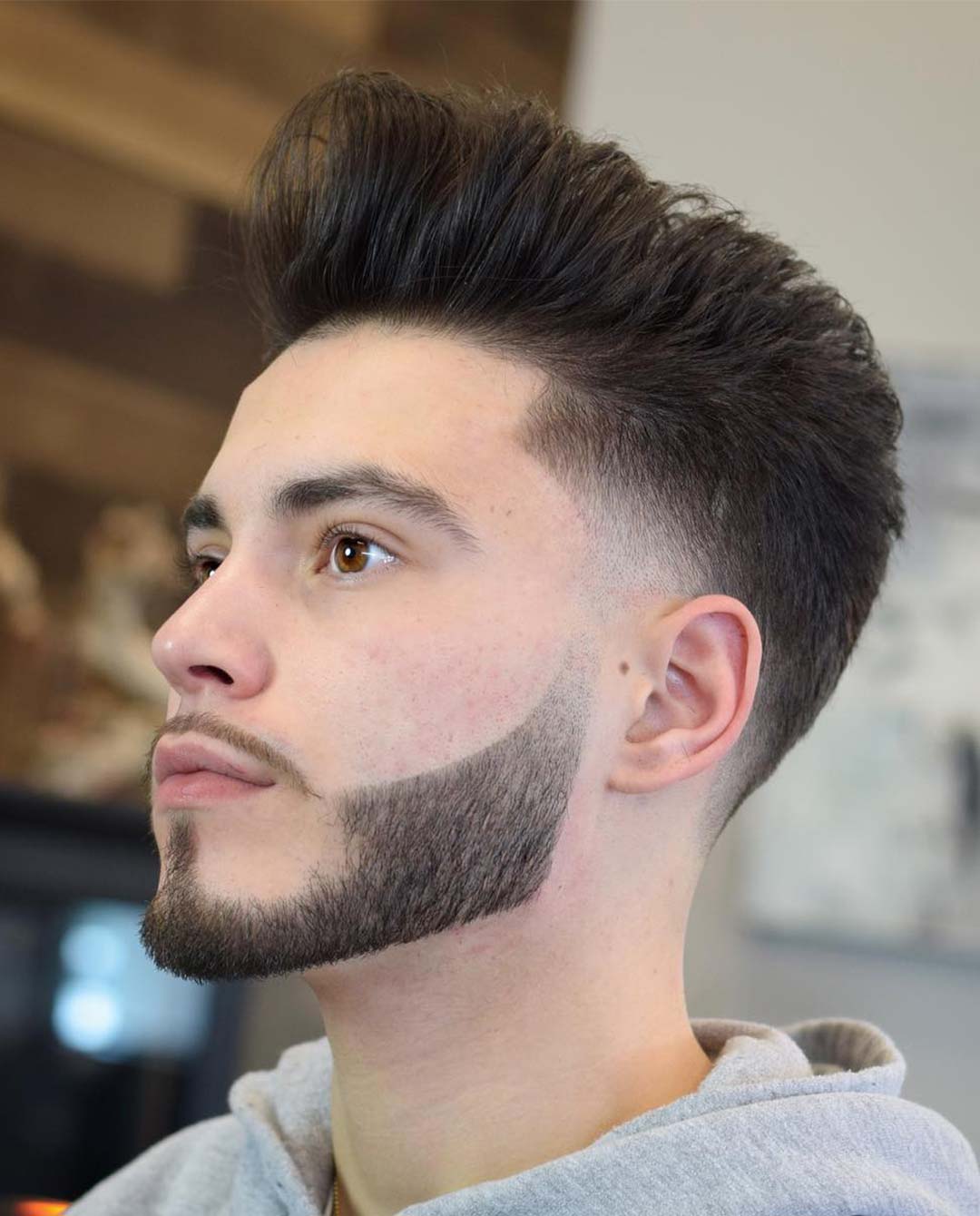 Side Swept + Mullet
The mullet is back and taking on new forms! Don't let old images from the '80s scare you. This cut merges the polarizing style of yesteryear with some sleek modern details. Side-swept fringe and length in the back provide the familiar profile. But, the taper fade on the side keeps things clean.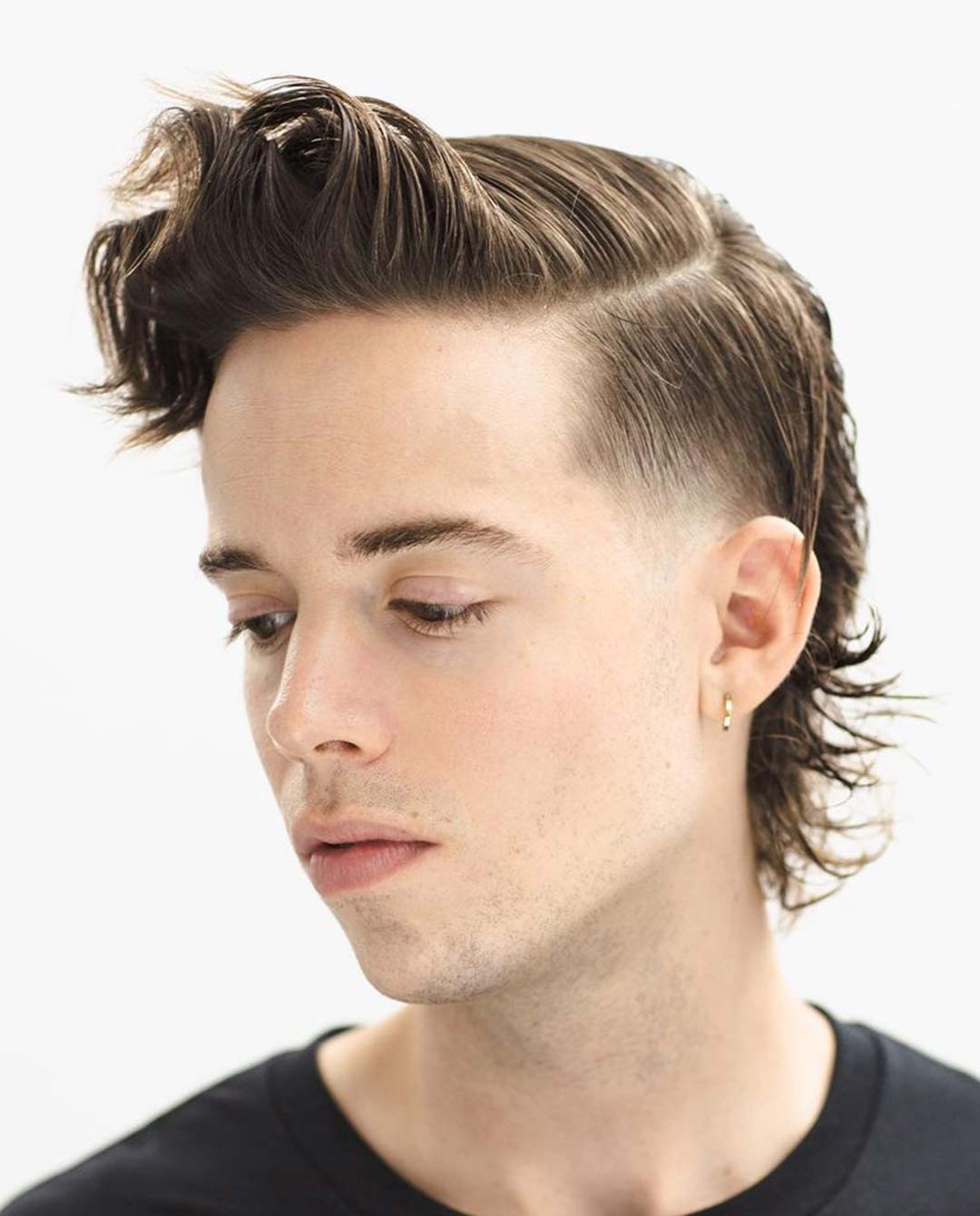 Low Taper Fade
Low-key but still crisp, this cut is very toned-down compared to other taper haircuts. But that's what makes it so great! You can do as much or as little length as you want. The clean taper lines and fade are highly adaptable, providing that nod to modern hairstyling without going over the top.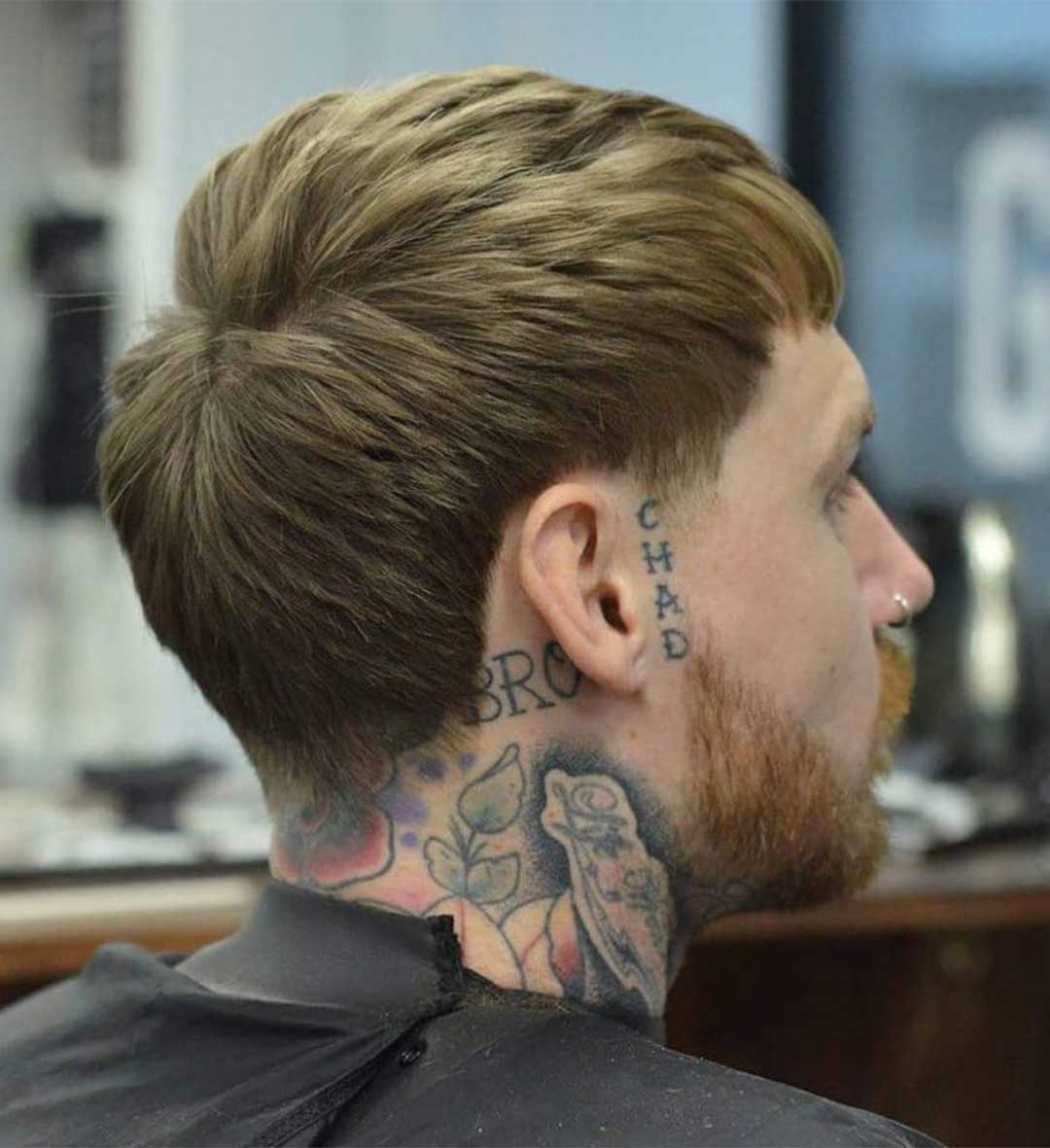 Loose and Layered
Look like a leading man in Hollywood! Cuts like this cemented the modern taper into the hairstyle hall of fame. It still works today. The unique thing about layered segments like this is the versatility you get. Slick it down for more polish, add volume for drama, or let it fall naturally for a laid-back expression.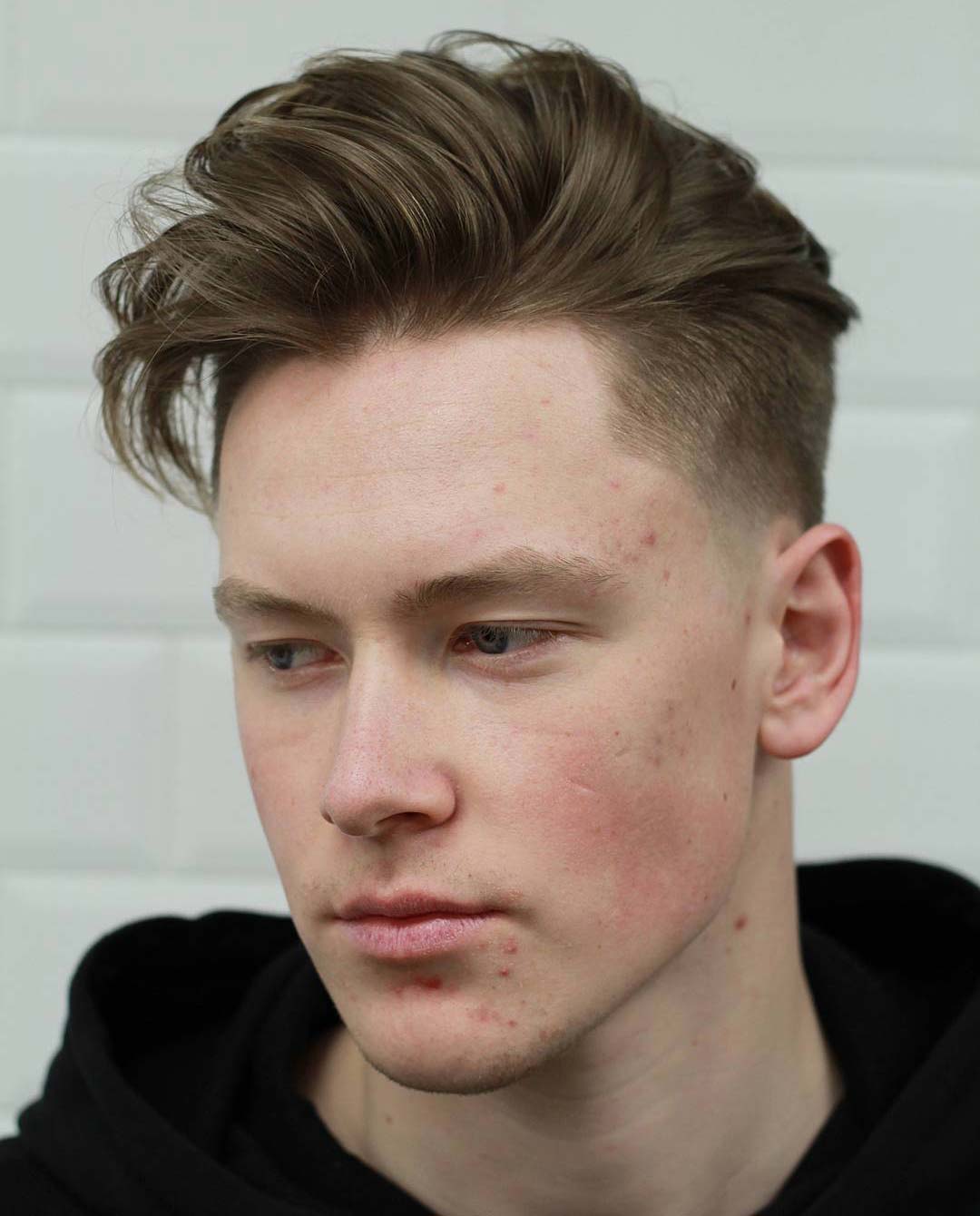 Side Part + Taper Haircut
A side part is a great way to create visual interest. Not only that, but it differentiates longer fringe from the shorter sides. A hairdo like this provides a touch of class, complete with the signature part. But of course, the taper fade infuses some youthfulness into things.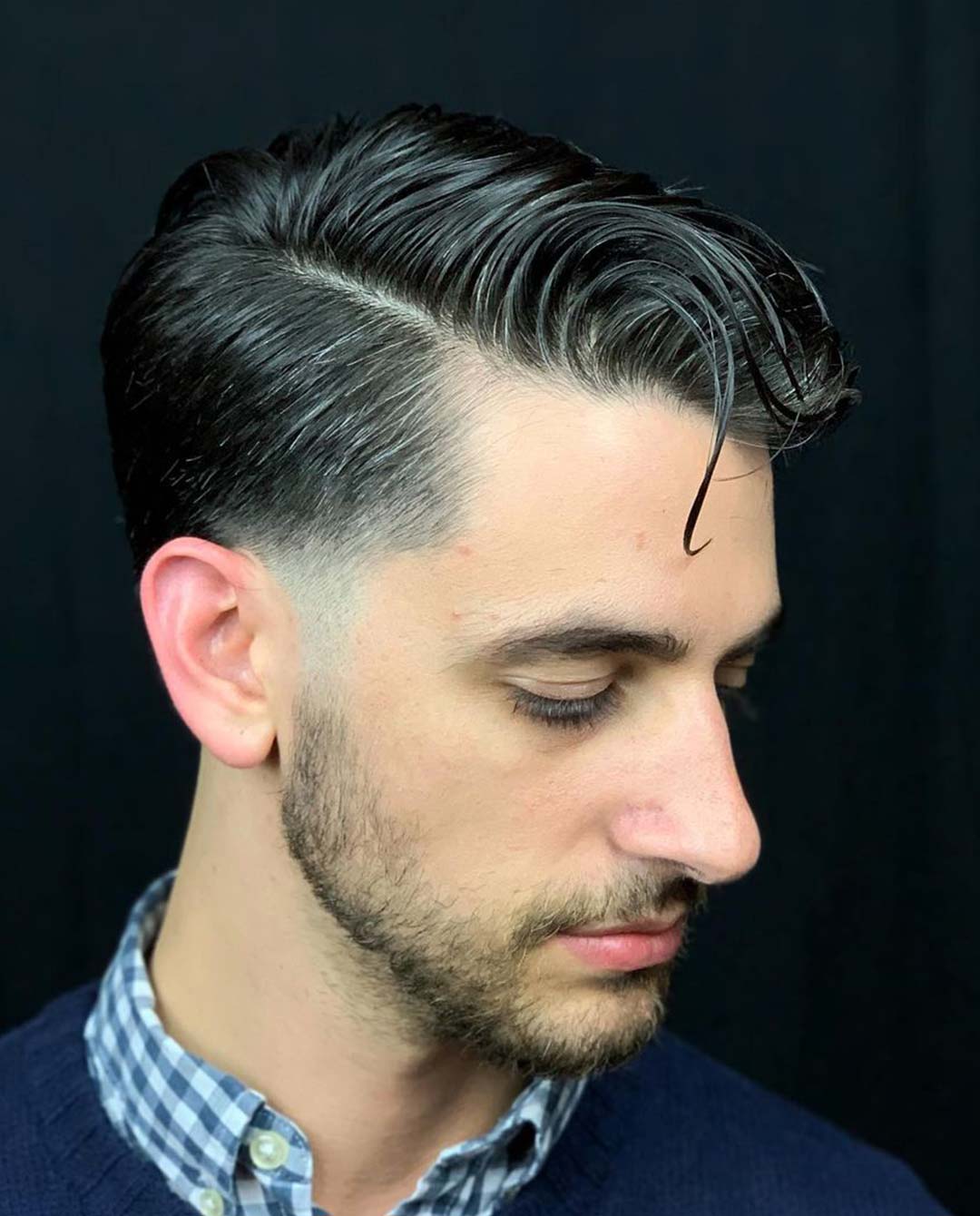 Textured Haircut with Wings
What to be a bit daring? Instead of the smooth transition you're used to with taper fades; this hairstyle has blunt wings. The sides have carefully planned texture. When done right, the fringe on the sides creates a unique wingtip that interrupts the fade.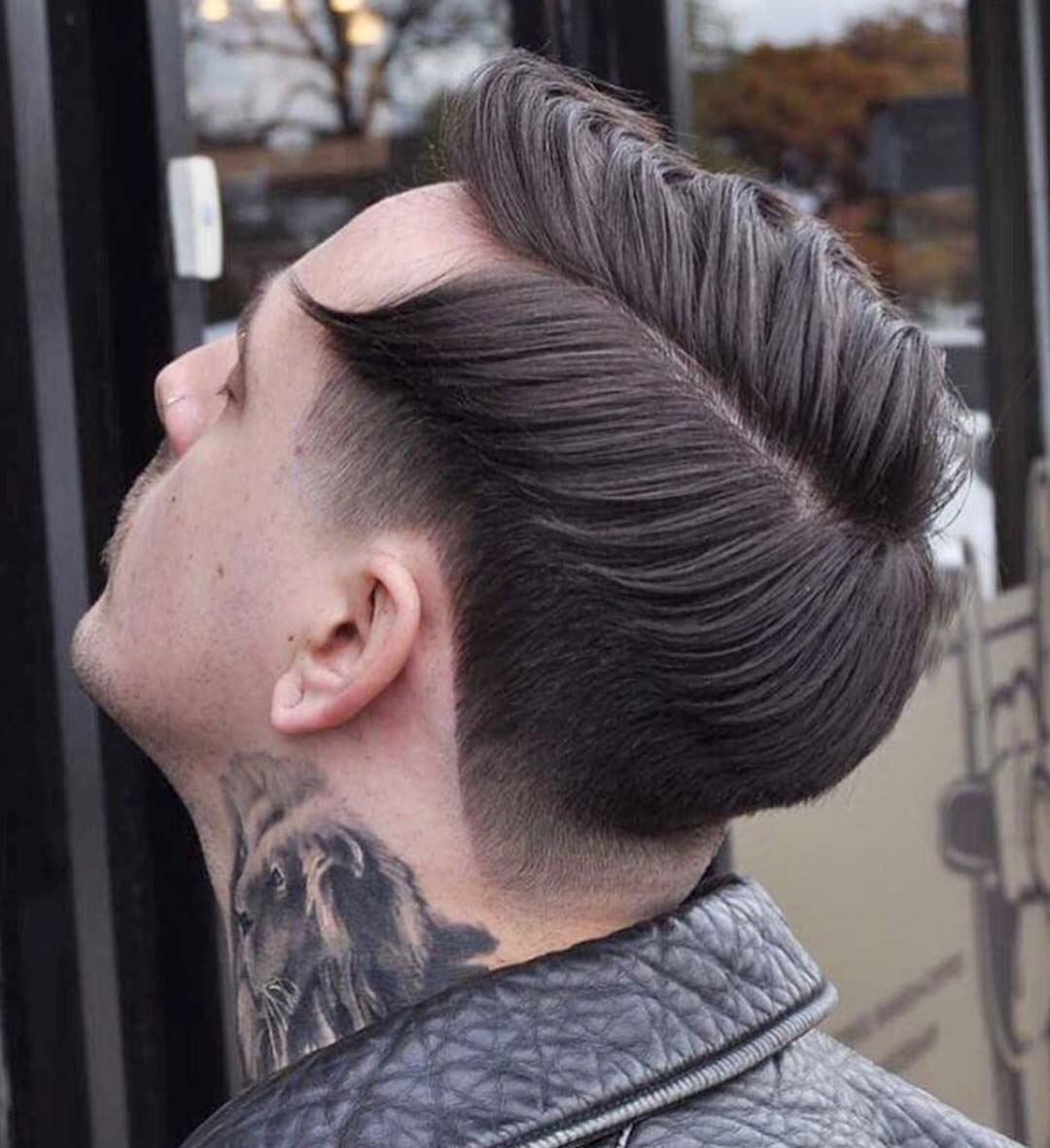 Applying a taper or fade is a vital technique barber learn to excel at. From comb overs and pompadours to the Caesar haircut and French crop, you won't have to search far for ideas to adapt these trimming details to what you envision. While there's nothing wrong with staying close to your comfort zone, trying a new hairstyle can boost your confidence and open up the possibilities to expand your style.