There's no better example of cyclical trends in men's style than the French crop haircut! First appearing during the Elizabethan era, the haircut is a mainstay that always seems to get a new life with every generation.
Thanks to modern styling and current fashion trends, this style is universally flattering. Subtle variations offer a new take on this classic hairdo, making it a worthy choice for any man.
What Is A French Crop Haircut?
The men's French crop is a versatile cut with a basic foundation. Like traditional crew cuts, the French crop features short hair on the sides and back. Up top, moderate length provides a bit of flexibility when it comes time to style.
It looks very similar to the iconic Caesar cut. But, the big difference here is the length and finish of the hair on the top of the head. Caesar haircut has shorter hair in front. But with a French crop top, you're free to get as messy or formal as you want! Add some texture to get that "fresh out of bed" look. Or, slick it down to look dapper. The choice is yours!
One of the biggest perks of this style is that it's low-maintenance. Compared to tall quiffs or perfectly coifed pompadours, the French crop is far easier to style. So, it's perfect for guys that just want to get up and go!
How To Style A French Crop?
Whether you're looking to rock a long French crop haircut or you want to keep things short with a crop top fade, it all starts with a good cut! Your barber will do most of the heavy lifting here.
After they remove most of the back and sides, there's not much hair to work with! All you have to worry about is styling the top of your dome. To do that, grab a bit of pomade or wax. Work the product into your hands until it's warm. Then, work it in! Using your fingers, style your hair to your heart's content. Focus your attention on the roots to get some volume and height. For a more relaxed vibe, shag your hair up a bit and let it fall into place. It's as easy as that!
Maintain A French Crop Fade
Generally, men with French crops have no issues maintaining them. That said, there are some things you can do here and there to keep your "do" looking pristine!
Visit your barber for regular side trims
Don't let the top get too long
Keep your scalp healthy
Wash out product and residue daily
Use light styling products
Men's French Crop Hairstyles
#1 Fade + Long Fringe
Looking to stand out from the crowd? Combining the simplicity of the French crop cut with the drama of uneven texture, this is a style that will turn heads! Up top, you have freeform volume and a razor-cut finish. But the fringe is long and angular to create some unique geometry.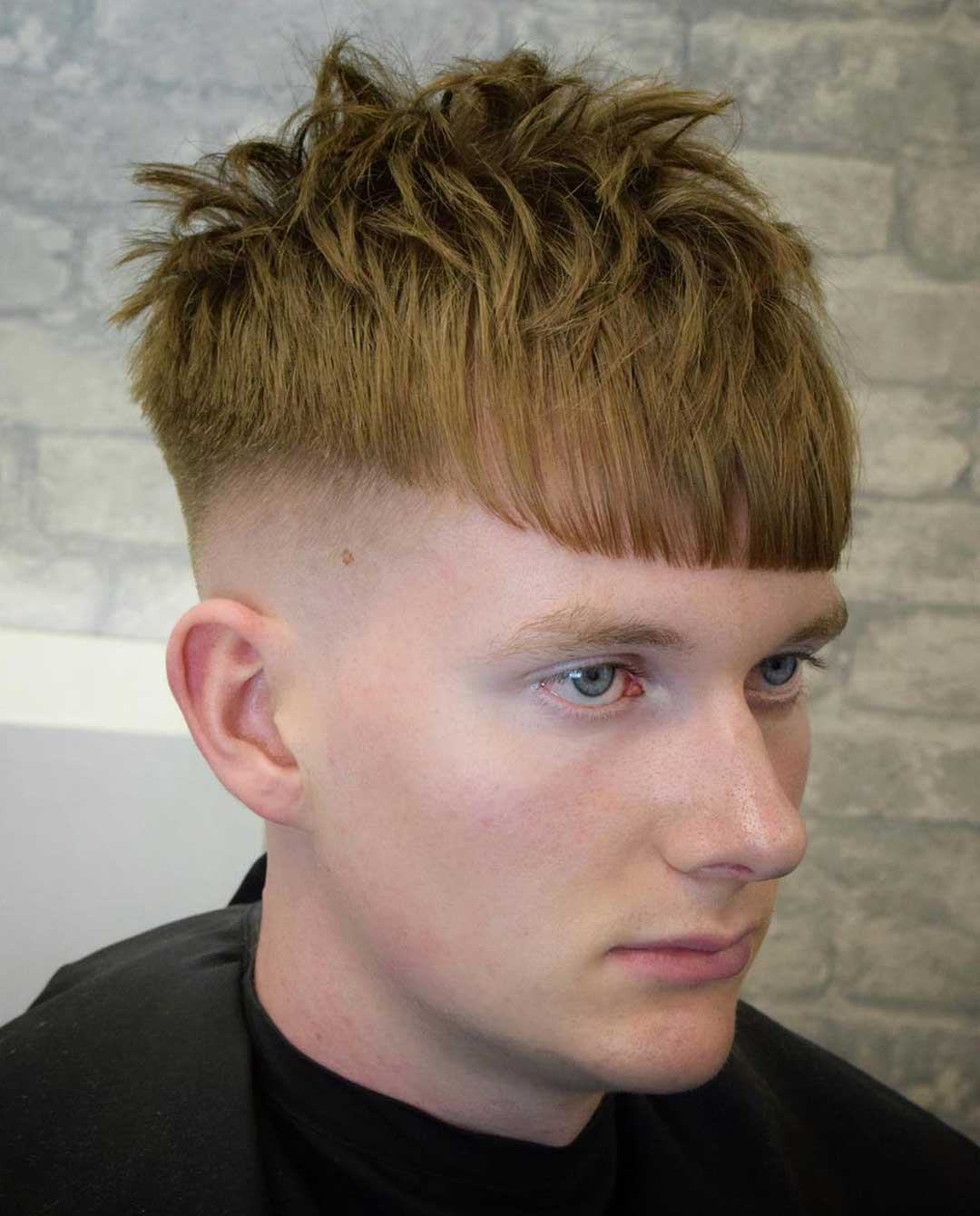 #2 Grungy French Crop Fringe
This grungy hairstyle looks effortless. Yet, it's trendy enough to fit into any environment. From a barber's perspective, the cut is a textbook French crop. But, the use of texture on the dome adds tons of character. The same goes for a subtle fade, and hard-line etch on the temples.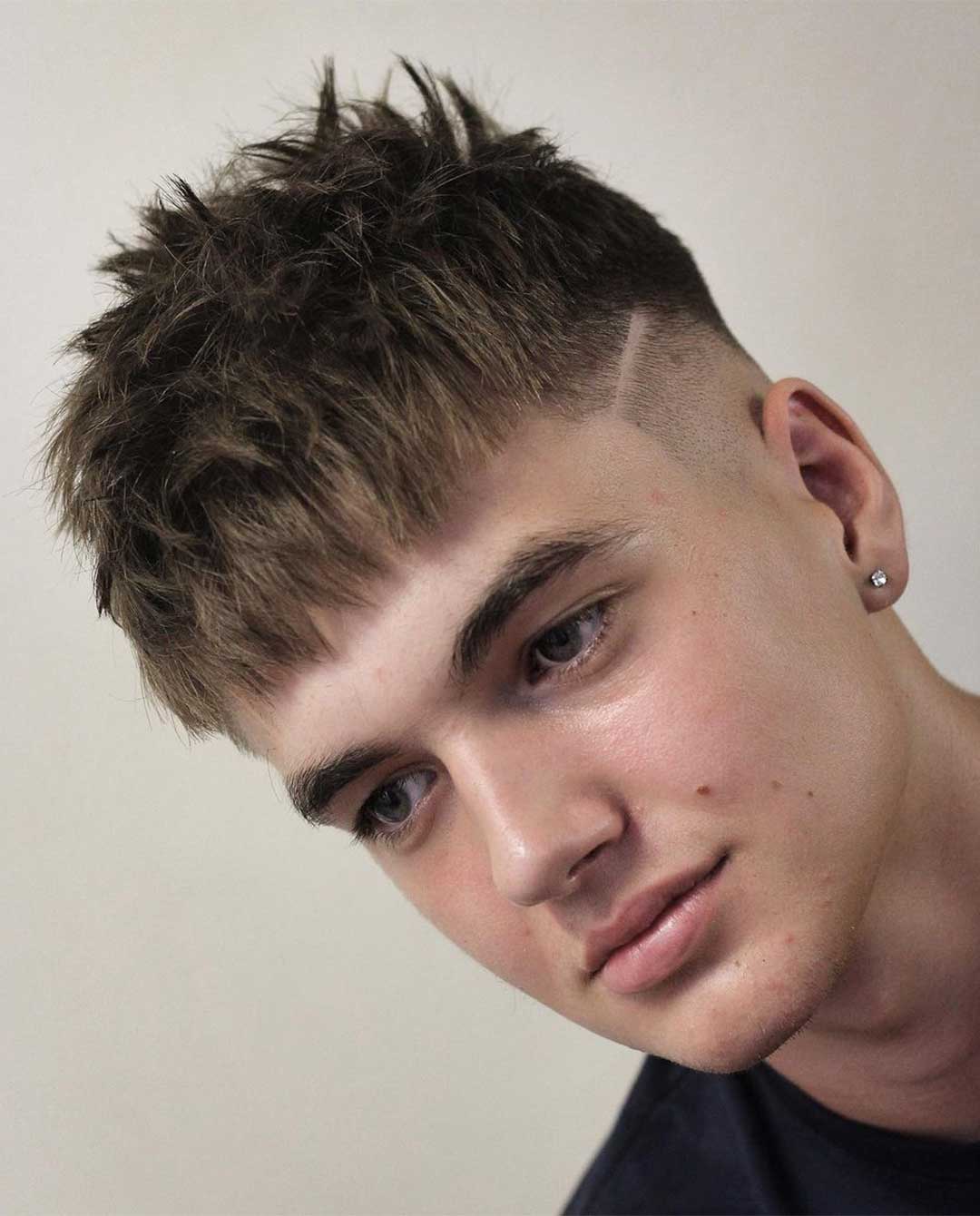 #3 Textured Bowl
Clean yet distinct, this cut is perfect for guys who don't want to spend more than a few seconds on their hair! The fringe is long and heavily textured. A spot of texturizing wax provides separation while keeping your locks flat on your head!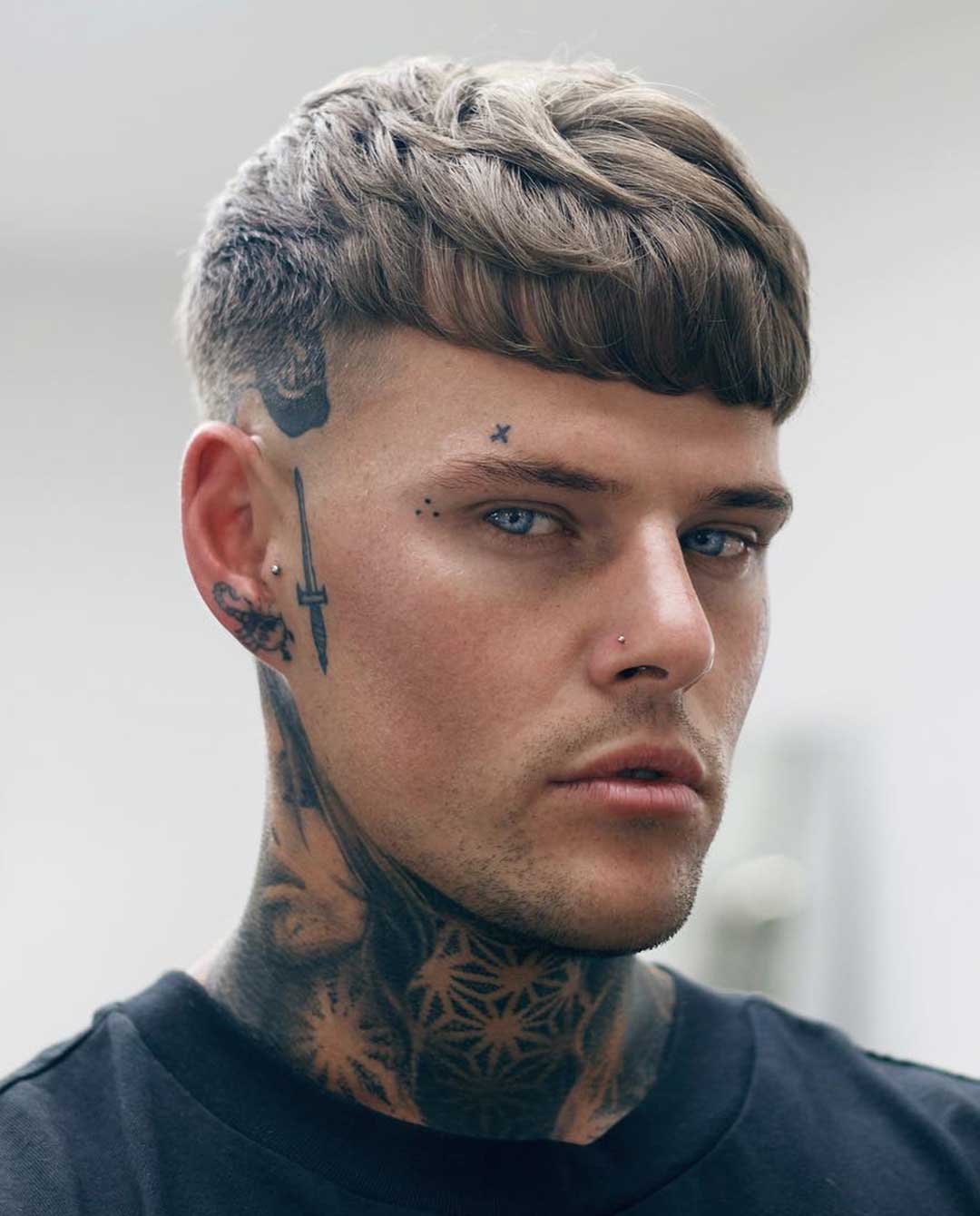 #4 Curly French Crop Undercut
Ideal for guys with naturally curly hair, this style has all the hallmarks of a traditional French Crop hairstyle. Length on the top creates a patch of low-maintenance hair. Subtle fade work on the sides makes the transition a bit smoother. Yet, the blunt cut of the fringe provides some uniformity.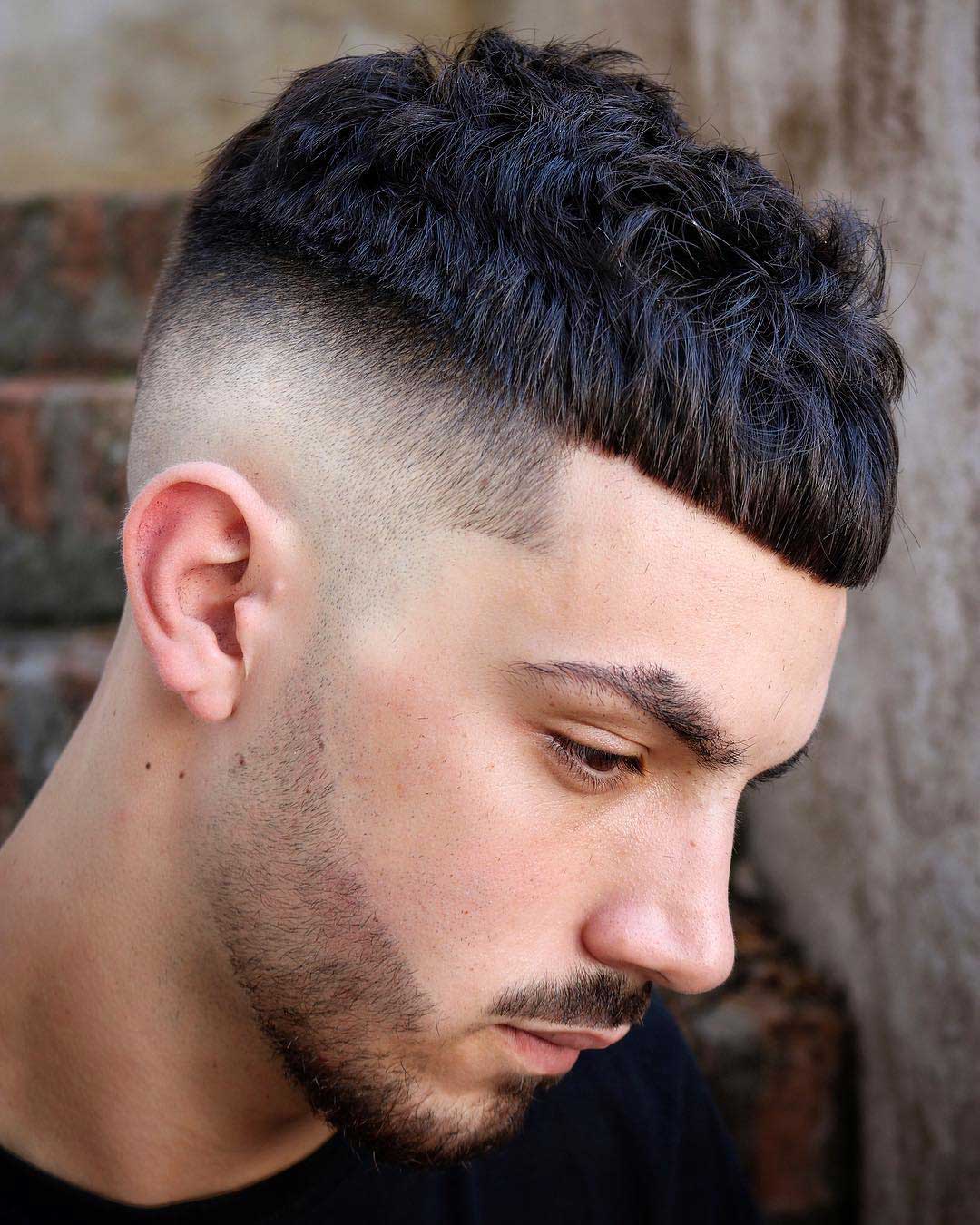 #5 French Cut with Mid Fade
Want some light bangs without dealing with all of the added weight? Here's a style that gives a modern and fashion-forward twist to the mid fade. You still have the short and uniform sides. However, the fringe towards the front of the head is a bit longer to add character.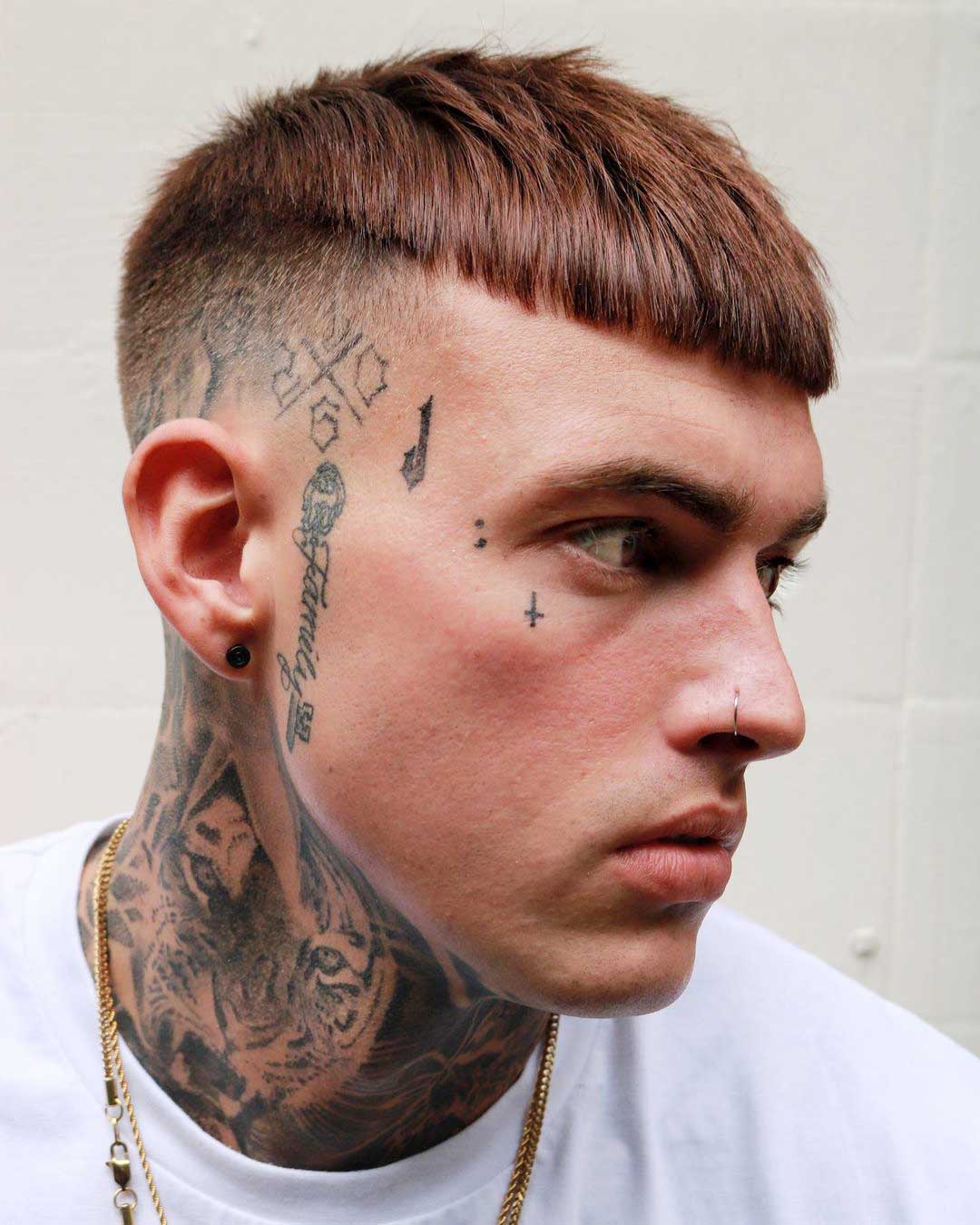 #6 Thick and Mighty Crop
Don't let your thick hair stop you from having a streamlined cut. The hair on top of the head is thick and voluminous on top. But, the buzzed sides keep your mop looking structured and clean. If you want, you can also add some subtle etching details on the sides.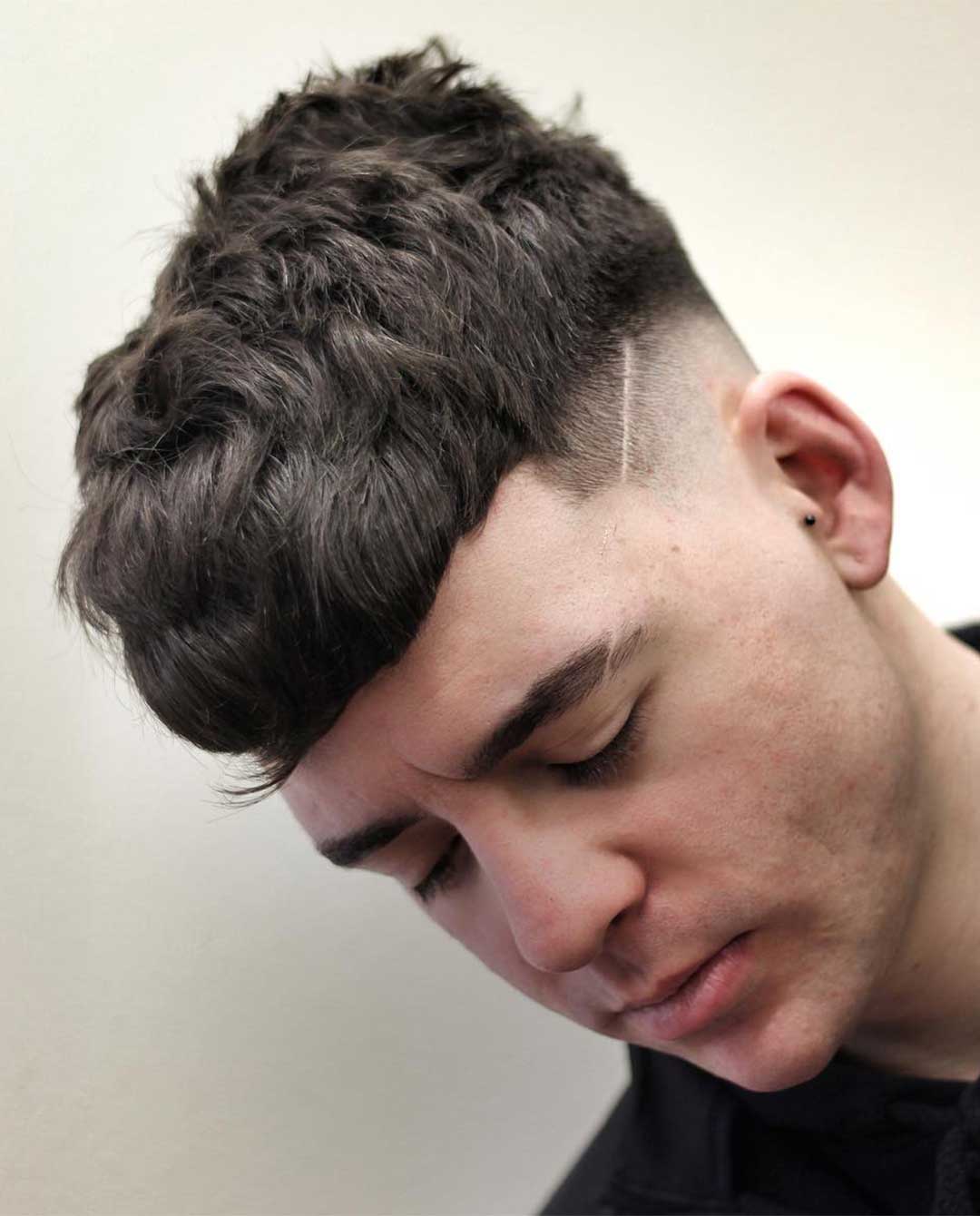 #7 Modern and Sharp
Be the beacon of forward-thinking style with this cut! At its core, this is a French Crop haircut. The beauty is in the details! It features a blunt geometric cut on the bangs, a couple of carefully selected fringe pieces at the temples, and hard etching on the temples. All of those details work in tandem to create something that's truly unique.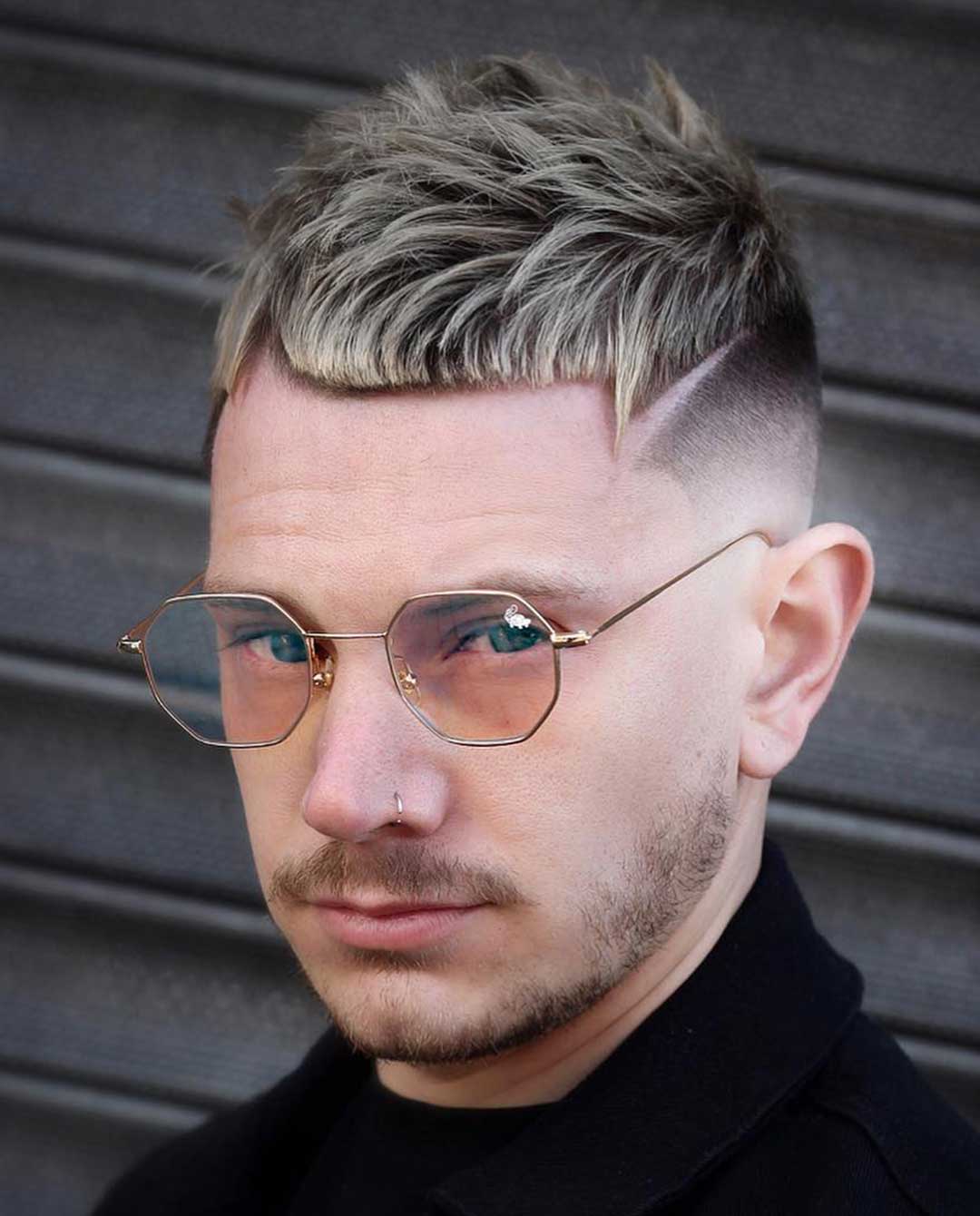 #8 Undercut Dome
Check out this bold hairstyle! Good for guys with thick mops, the cut looks good with or without styling products. Keep the sides and back buzzed short. But, leave some moderate length up top. The hair falls evenly around the dome, creating a modern twist on the old-school bowl cut.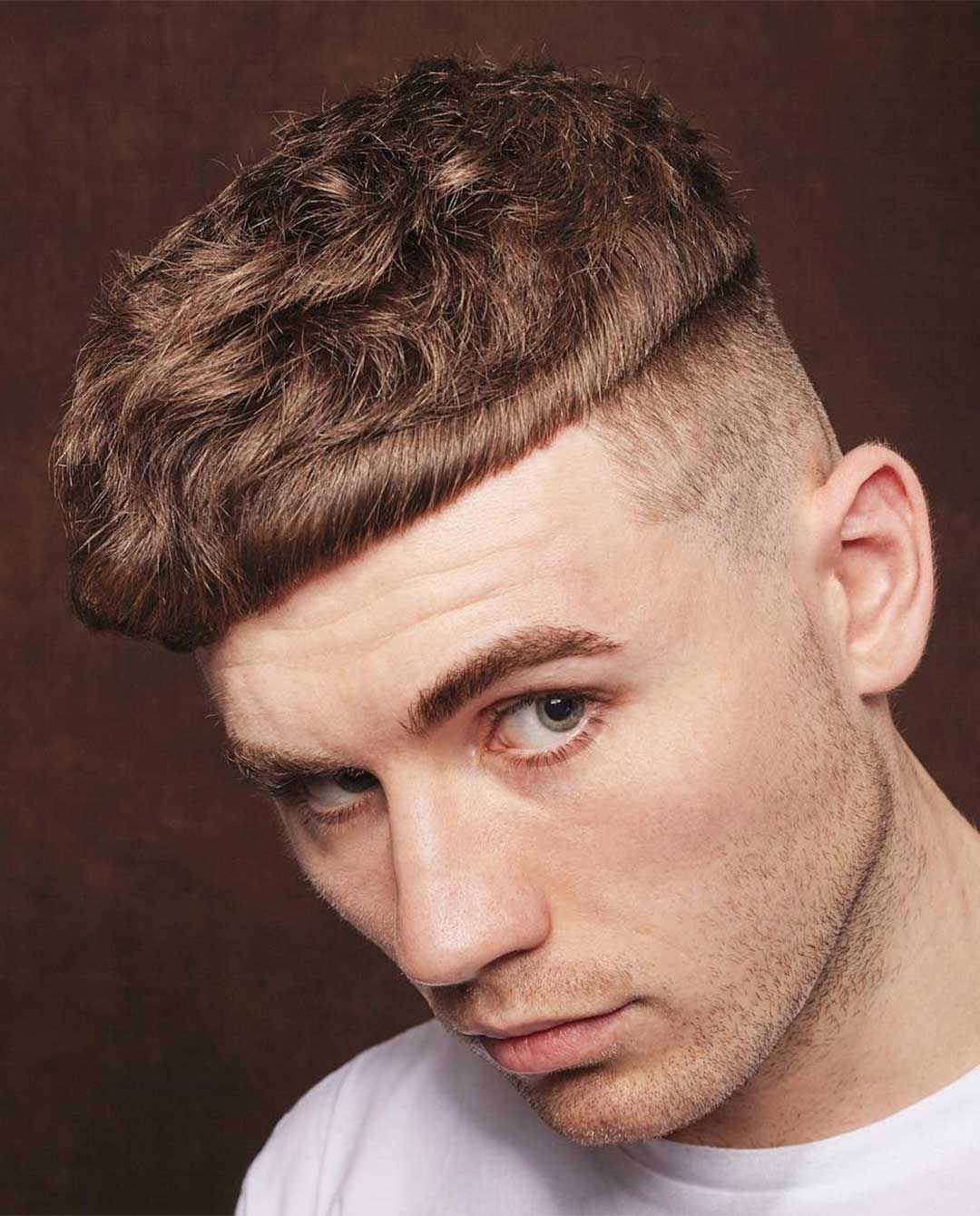 #9 Cropped Hair with Hard Line Design
No, we're not talking about a mullet here! With this style, you'll don a traditional-looking French crop up top. It has some light texture and a tight buzz fade. But on the back, two etched cuts stretch from ear to ear to give everyone a surprise when you turn your head!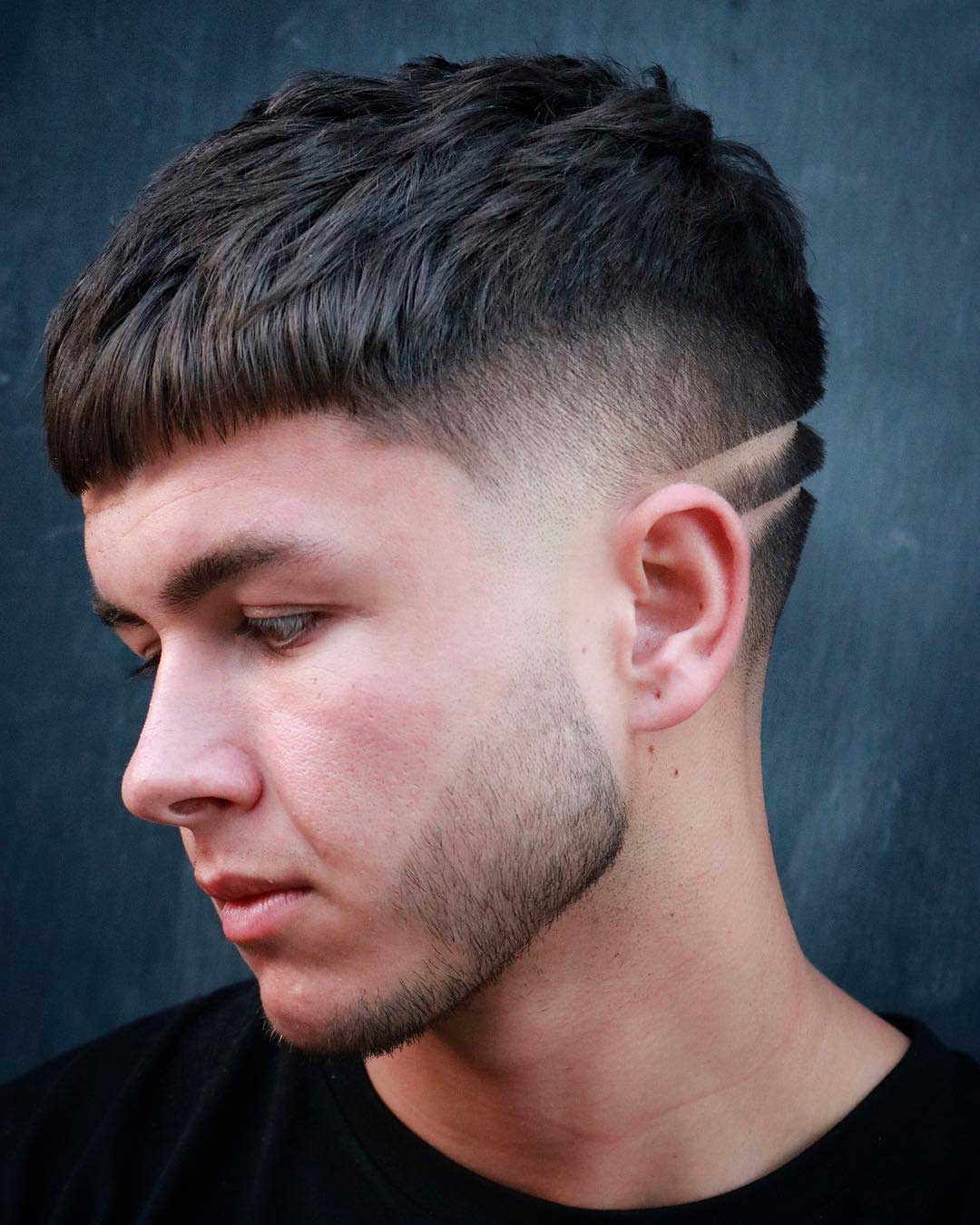 #10 French Crop + Low Fade
The best part of this hairstyle is its simplicity. It offers just enough edge to help you attract all of the right attention. The flat shape and trendy crop top fade on the sides make the cut versatile enough for formal or professional situations.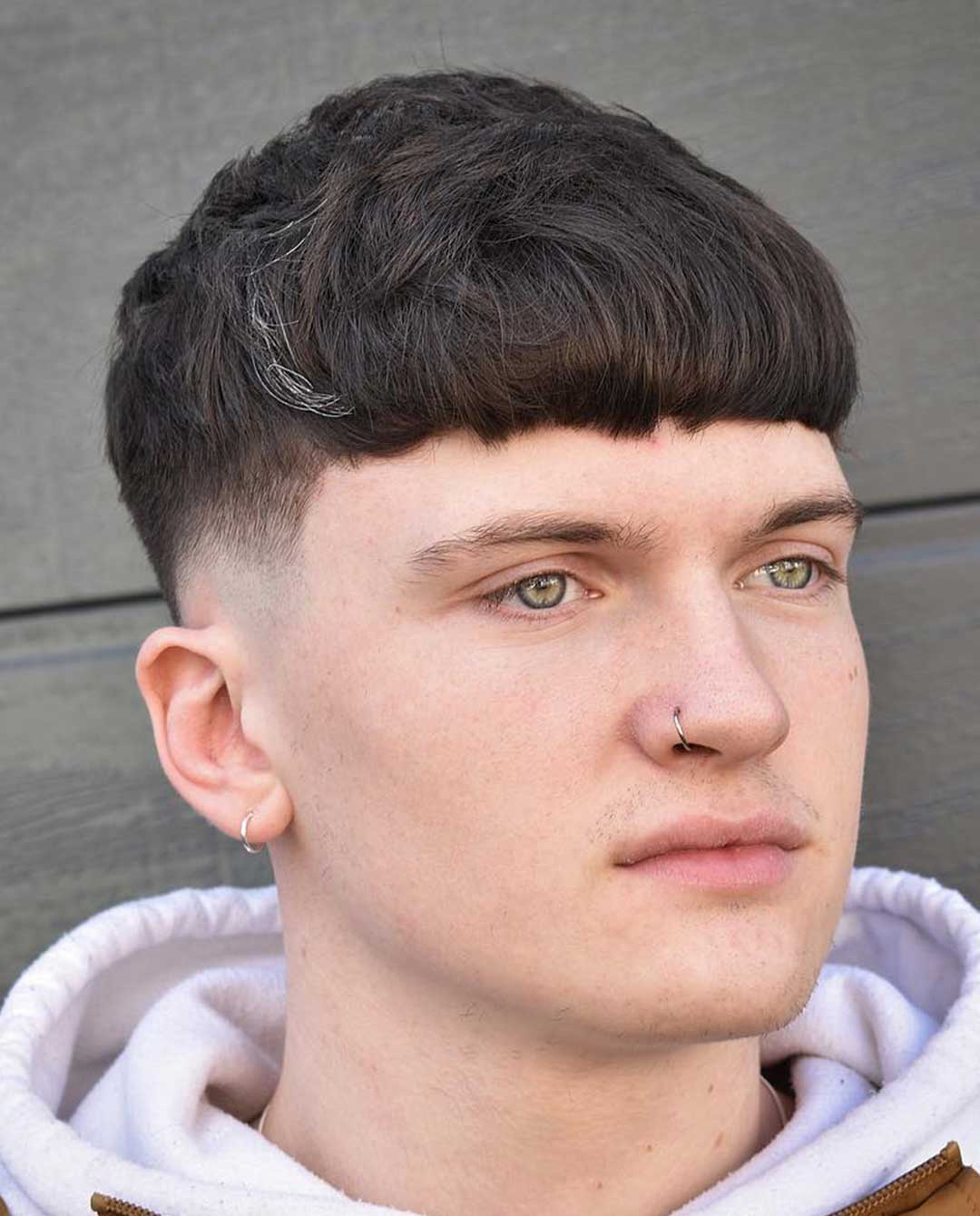 #11 Hard-Edge Crop
If you're all about the theatrics, this cut is a good choice for you! Best for guys with slender faces, this features very tight sides. All of the length on top focuses on the fringe! The triangular cut of the bangs paired with feathering at the crown gives the style a dramatic look.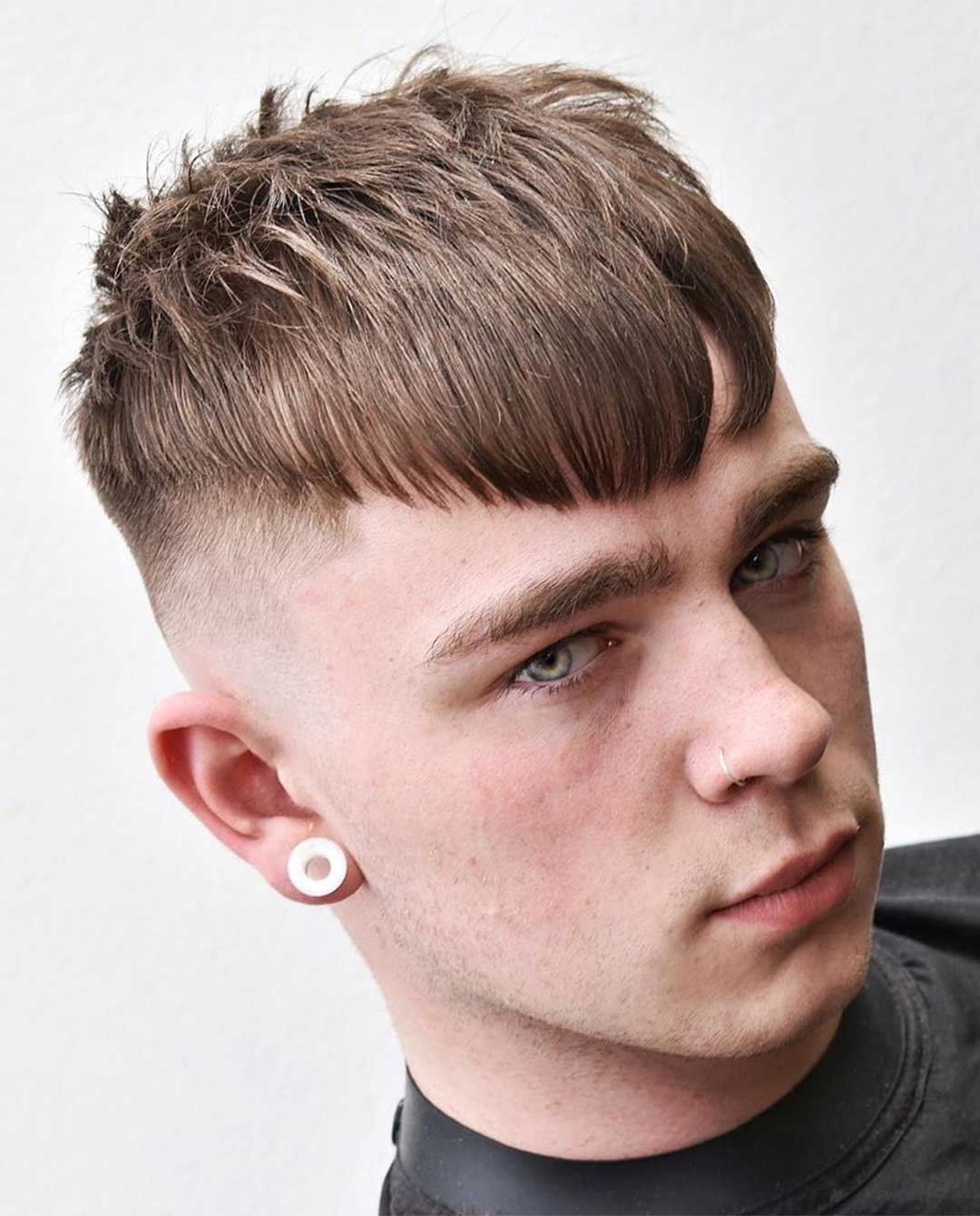 #12 Two-Texture Punk Rock Crop
Pairing straight hair with an edgy texture, this cut offers the best of both worlds. To style it, use wax to lift and separate the hair around the crown. Create some height and volume for a dramatic look. However, keep the front bangs sleek and straight for a cool juxtaposition of styles.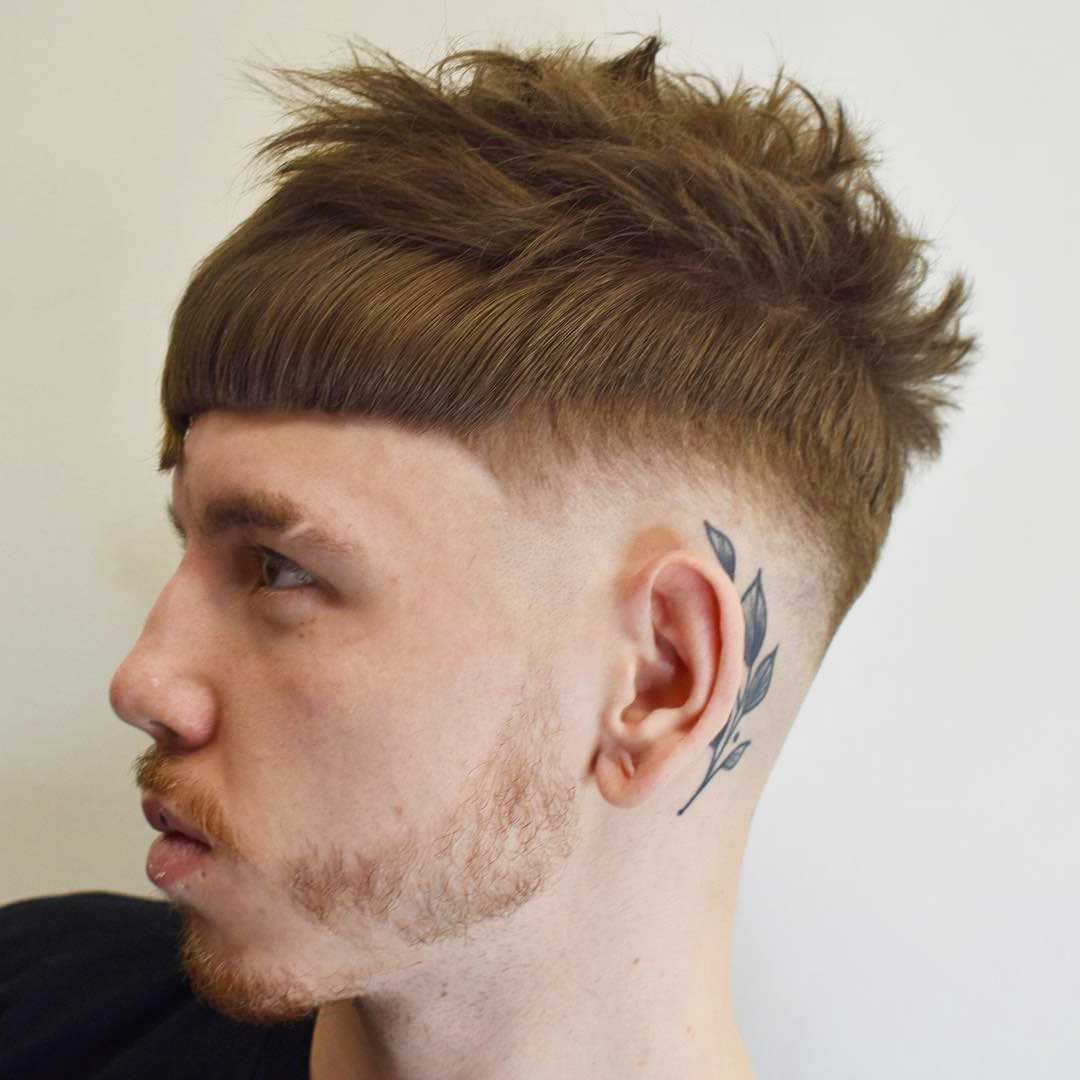 #13 Scene-Stealing Crop
Here's a "do" that's anything but ordinary! Not for the shy, this hairstyle is all about counterculture. It has bare sides that accentuate the shape of your face. Meanwhile, a small section of hair on top creates a mohawk effect. But instead of spiking the hair up, keep it flat for some sinister appeal.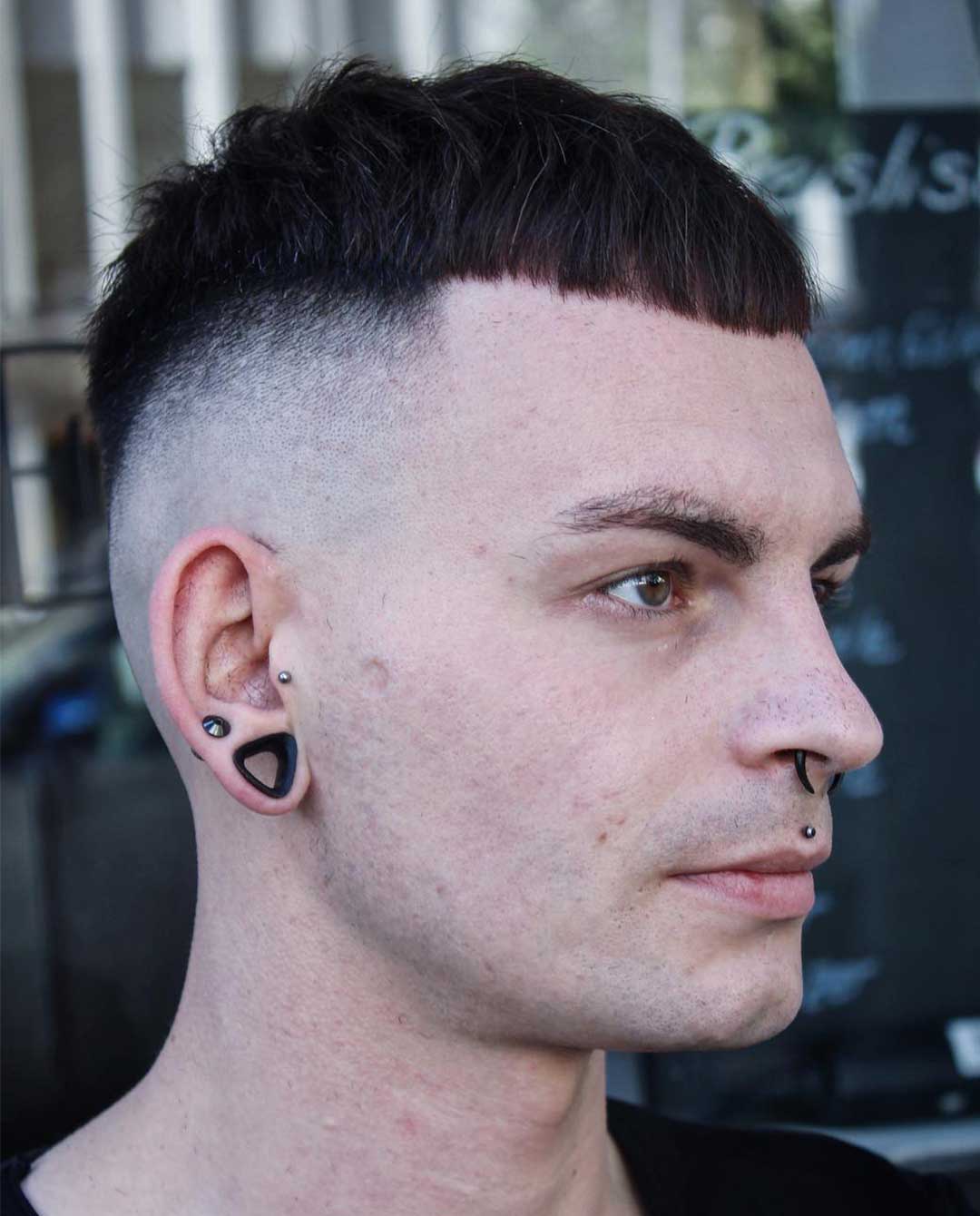 #14 Undercut Haircut
Undercuts are all about achieving a sharp contrast between the top of your head and the sides. This style fits the bill! The sides have a very subtle fade that follows the contours of your dome. Throw in a bit of texture on top, and you have an in-vogue cut that's clean and easy to style.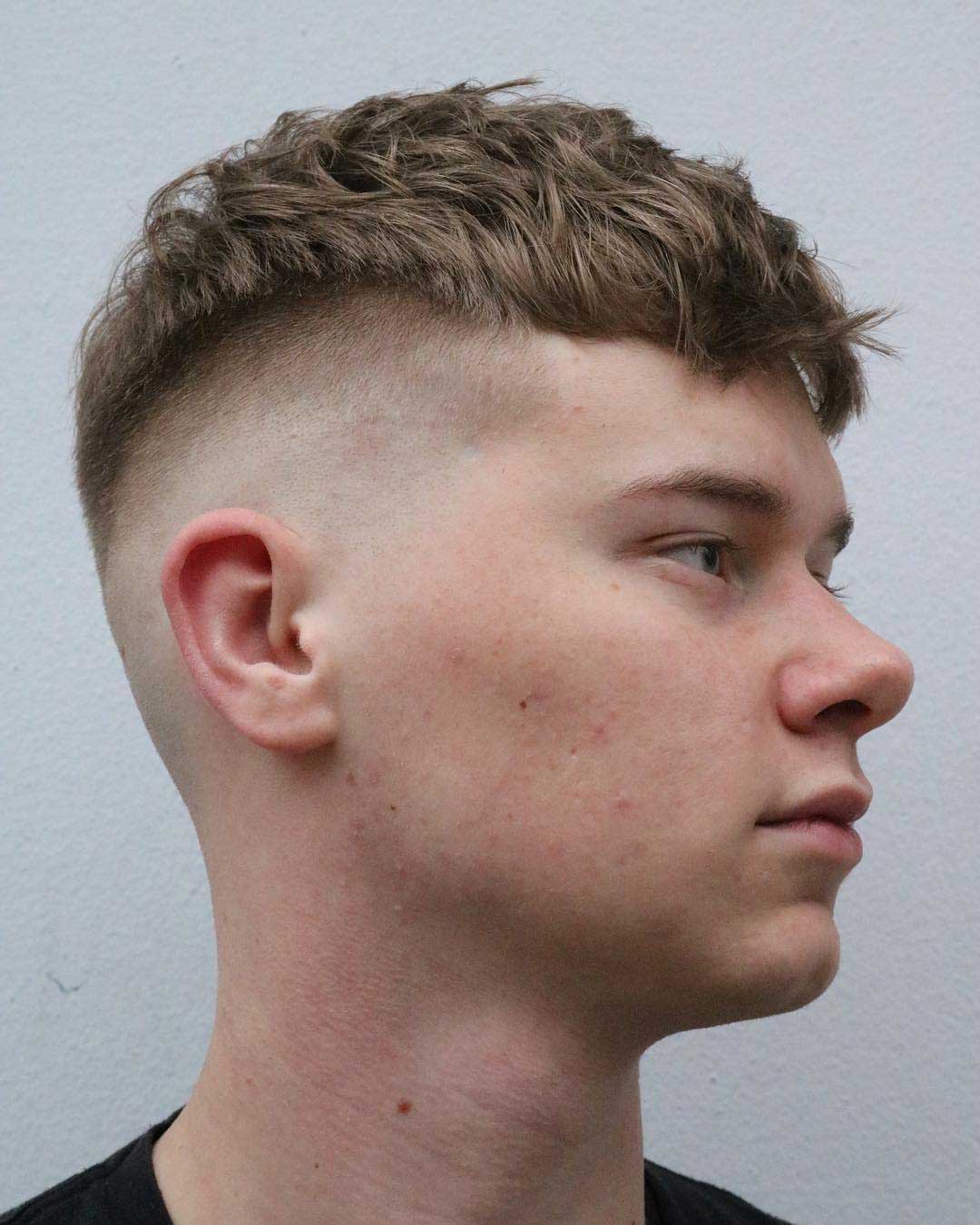 #15 Simple Top Crop
Another carefree cut, this hairdo doesn't require much upkeep. It's a hybrid between the French crop and the classic Caesar. Blunt bangs offer a masculine touch. This is a good choice for guys who have thinning hair. With the subtle length up front, you can keep those receding temples hidden away!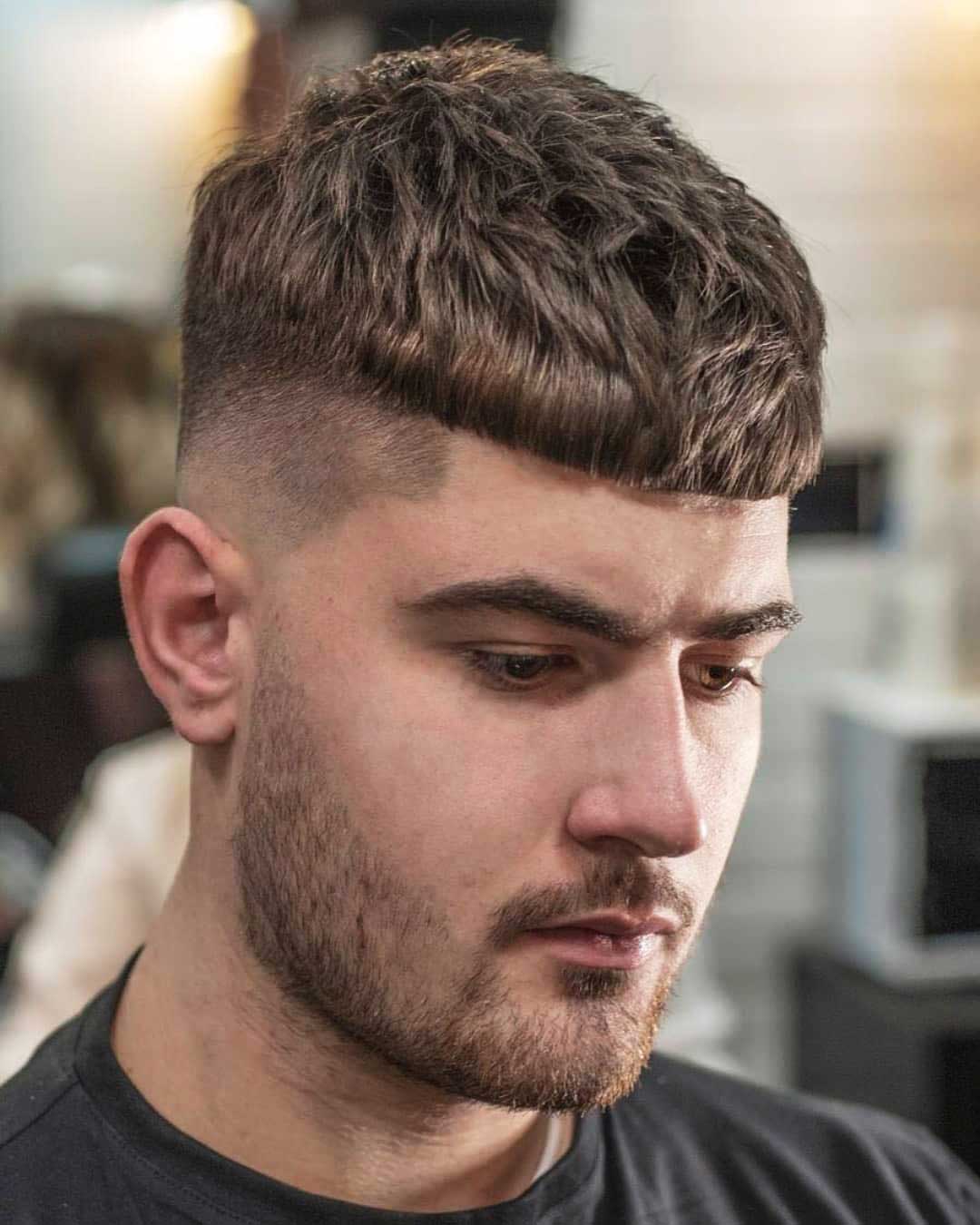 #16 Crop Top + Hard Line Design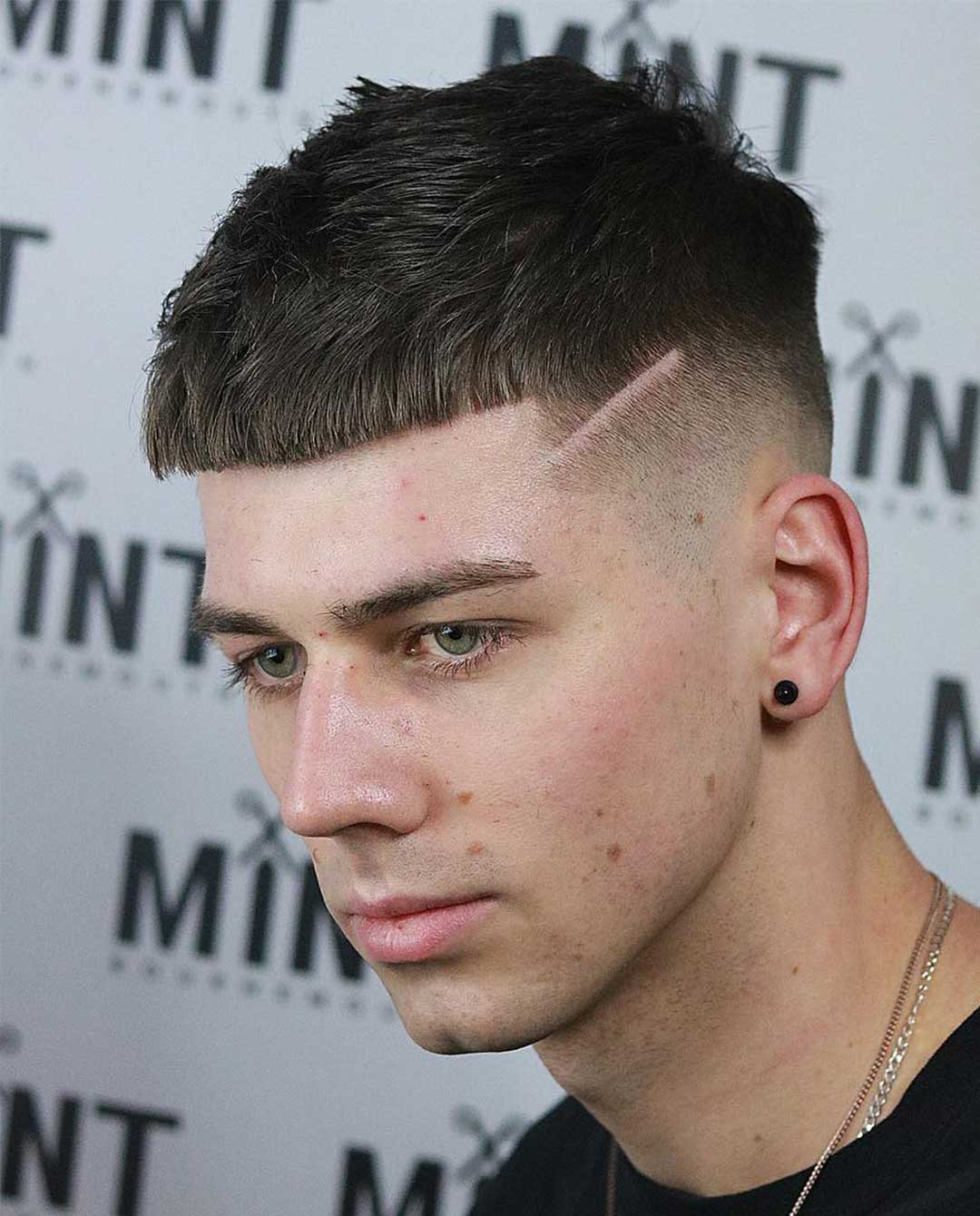 #17 Messy Top + Angular Fringe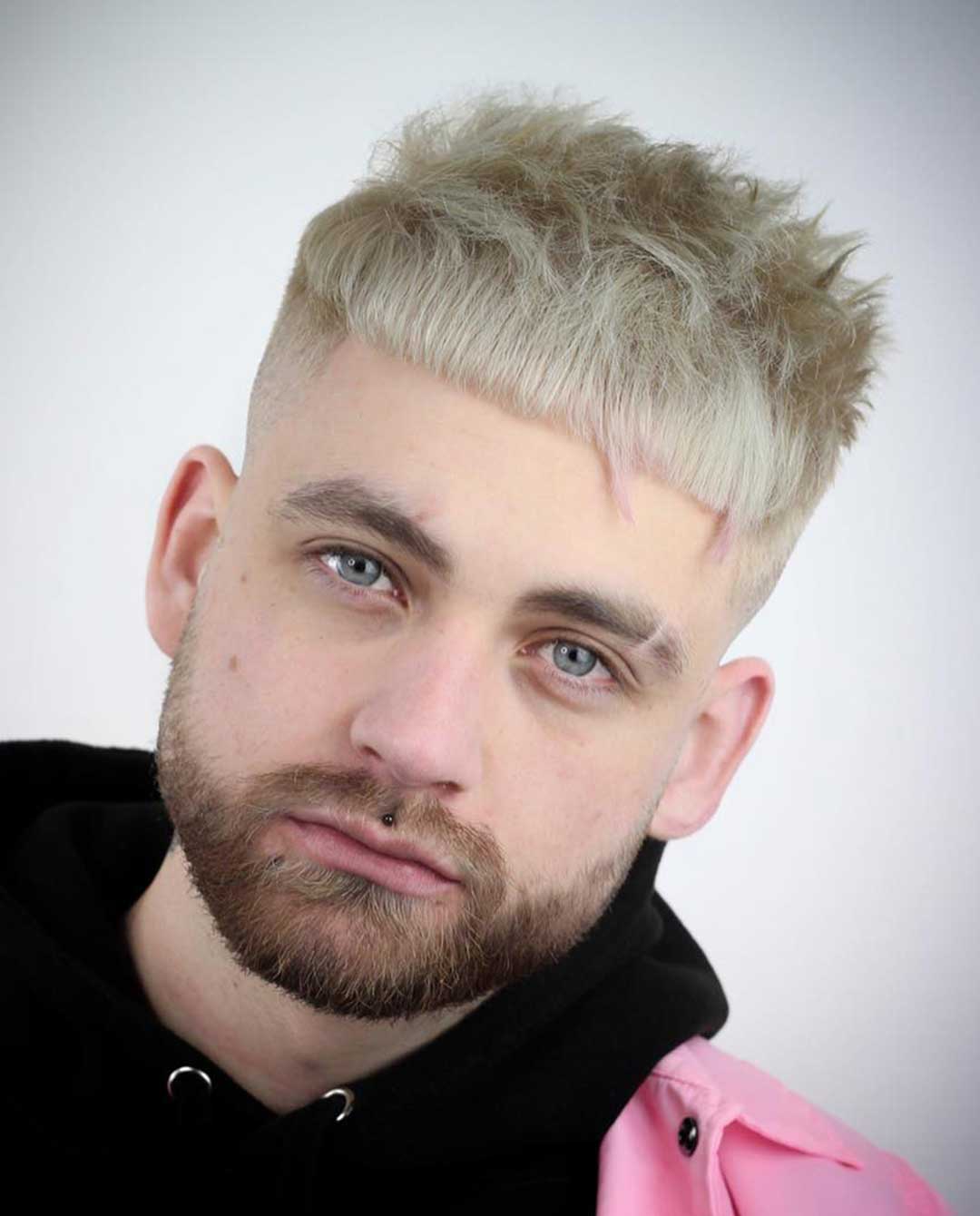 #18 Long Fringe + Low Skin Fade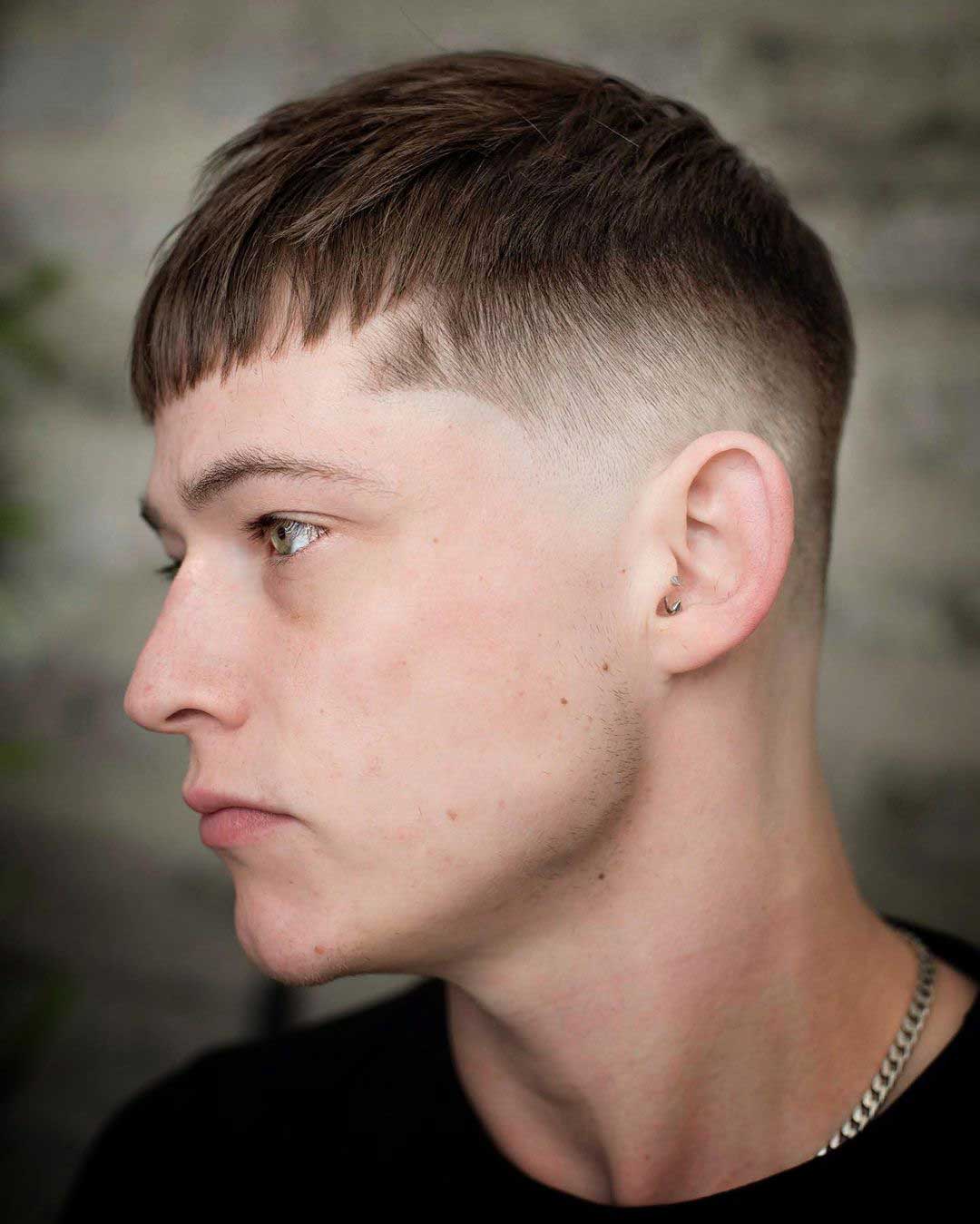 #19 Crop Top with Textured Bangs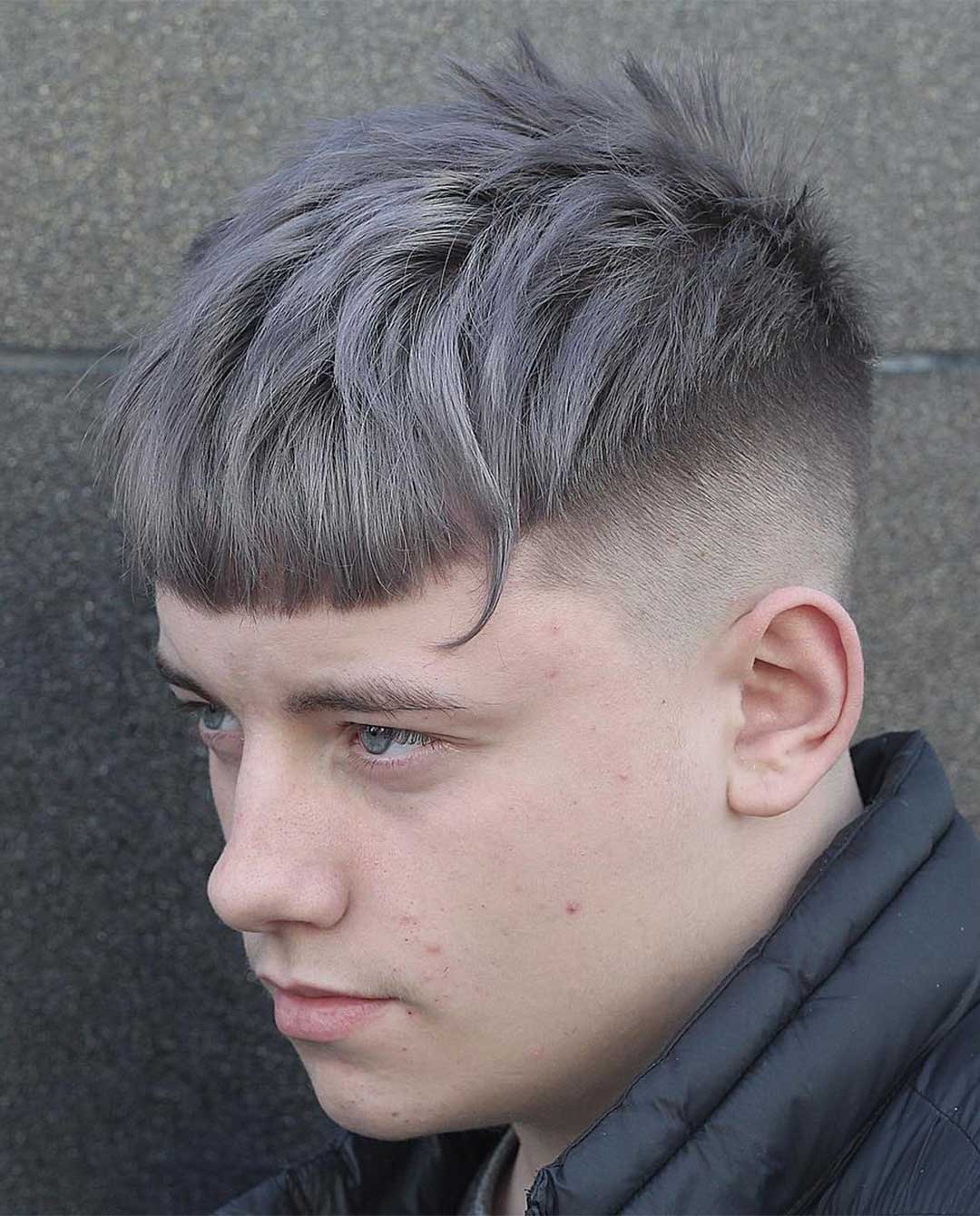 #20 Simple Crop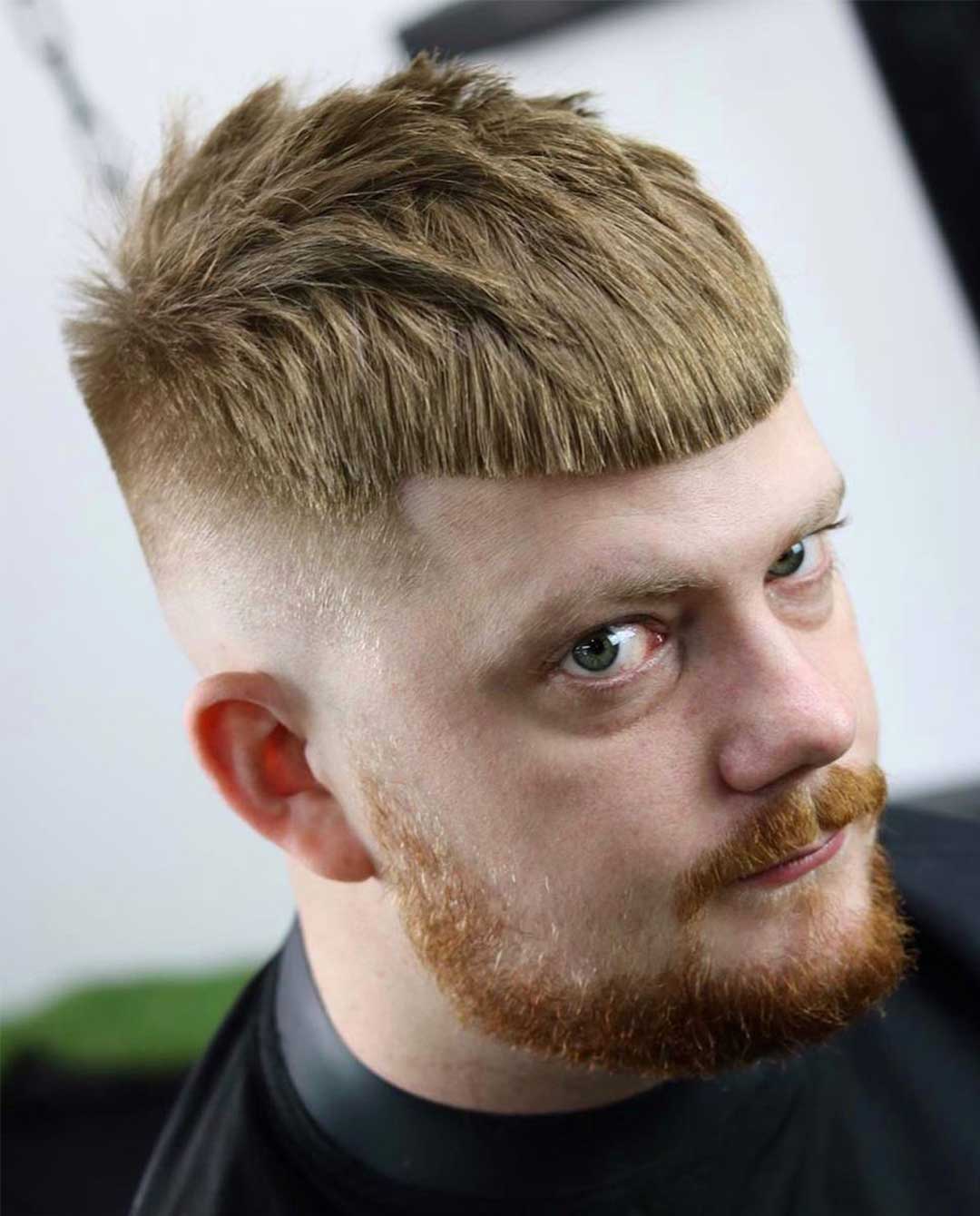 #21 Clean French Crop with Claw Design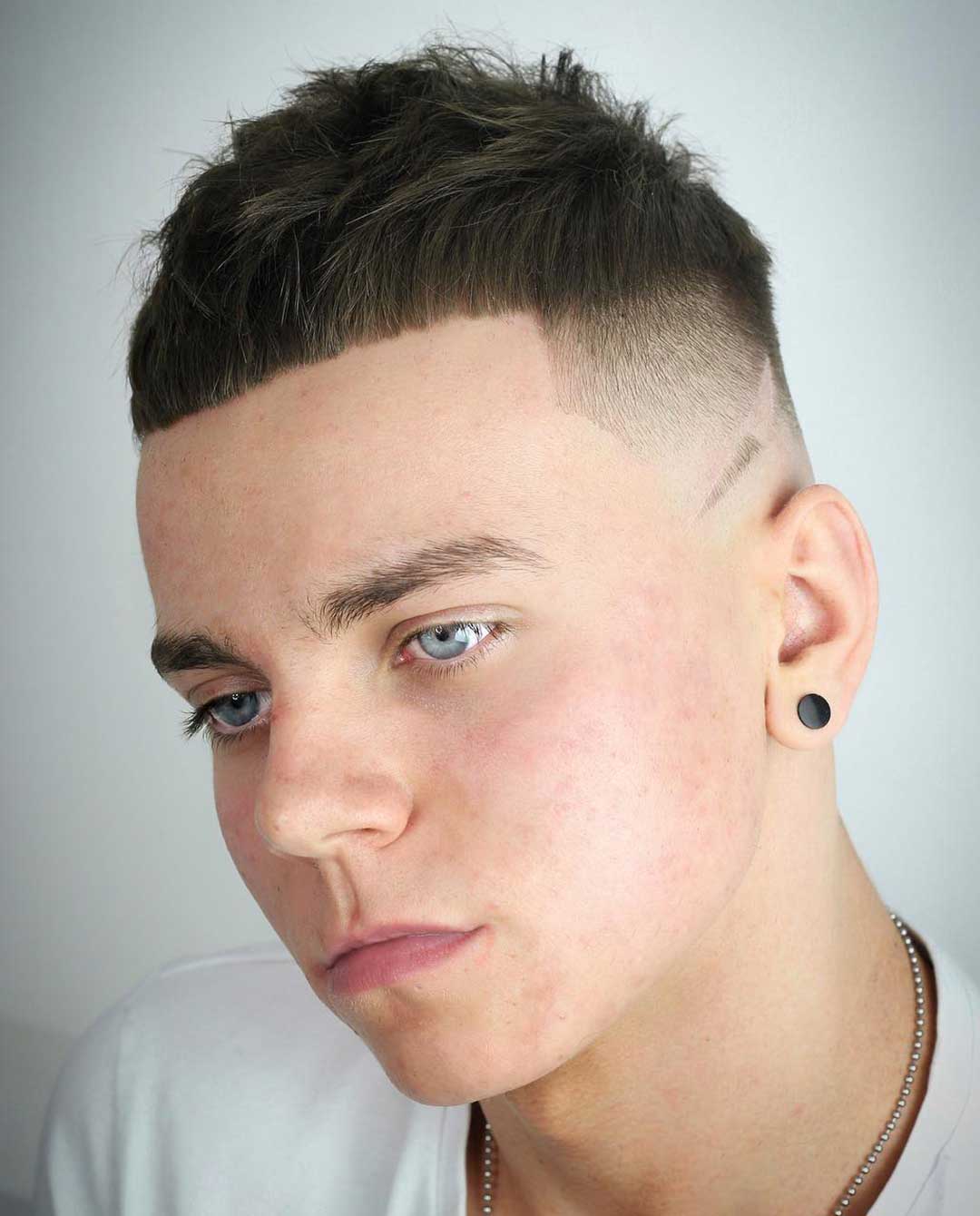 #22 Cropped Haircut with Spikes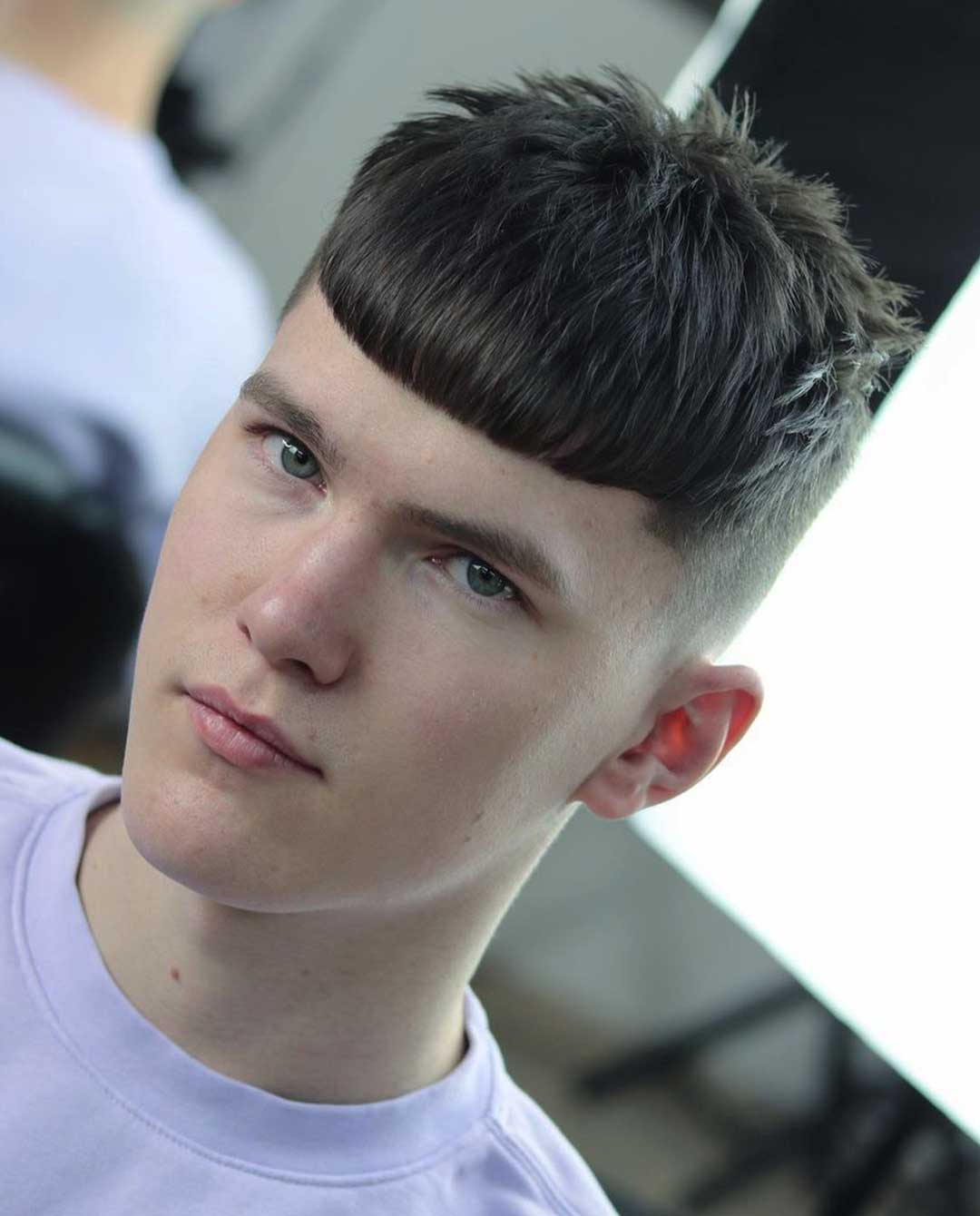 #23 Fringe + Low Fade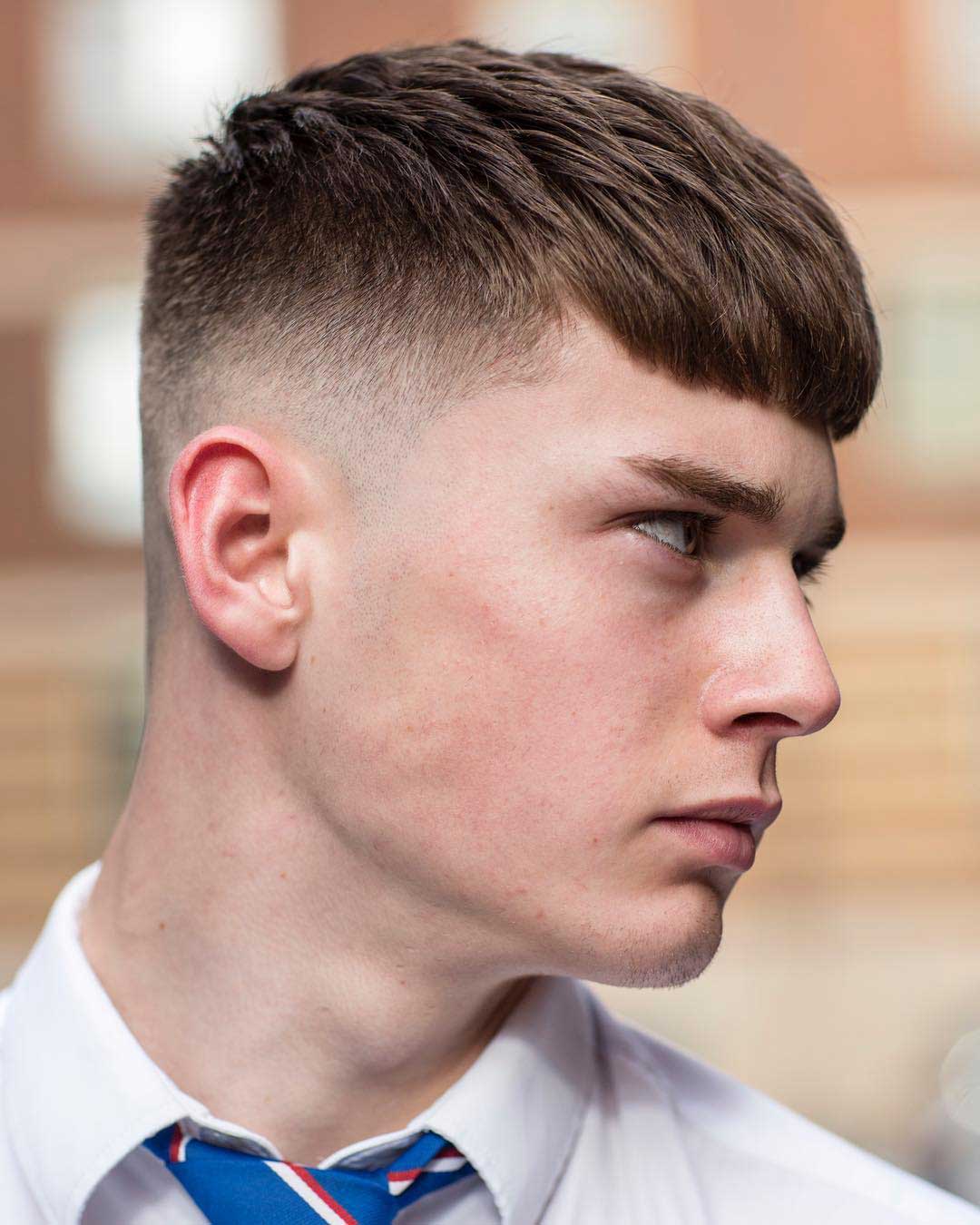 #24 Yellow Colored French Crop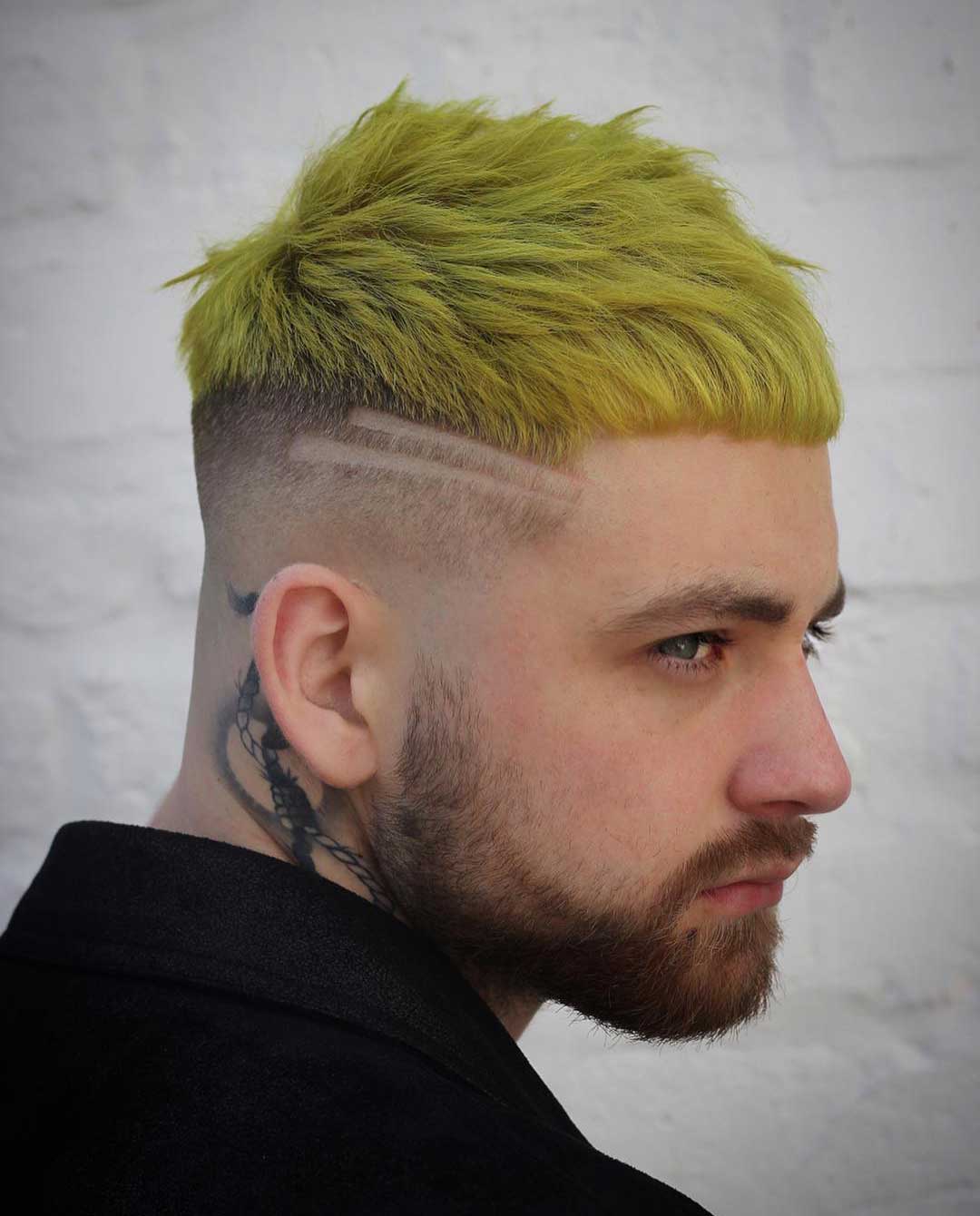 #25 Modern Crop with Line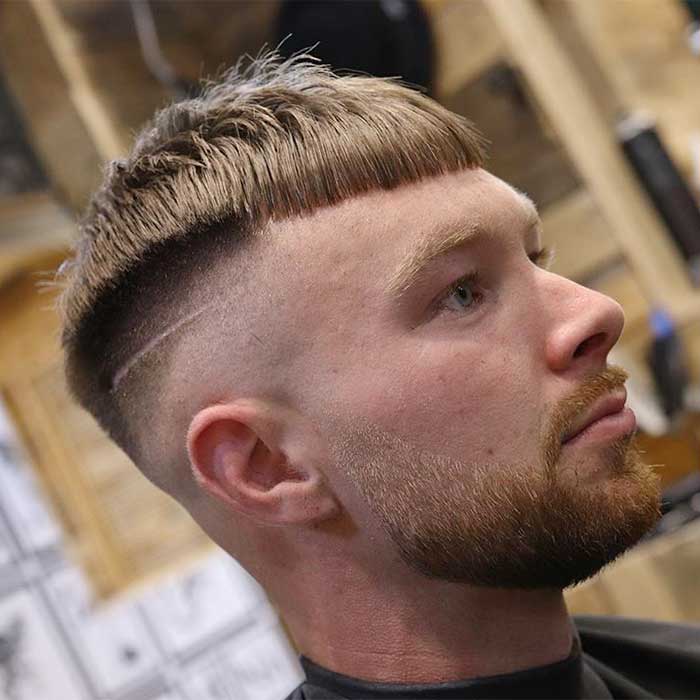 #26 Bangs + Long Fringe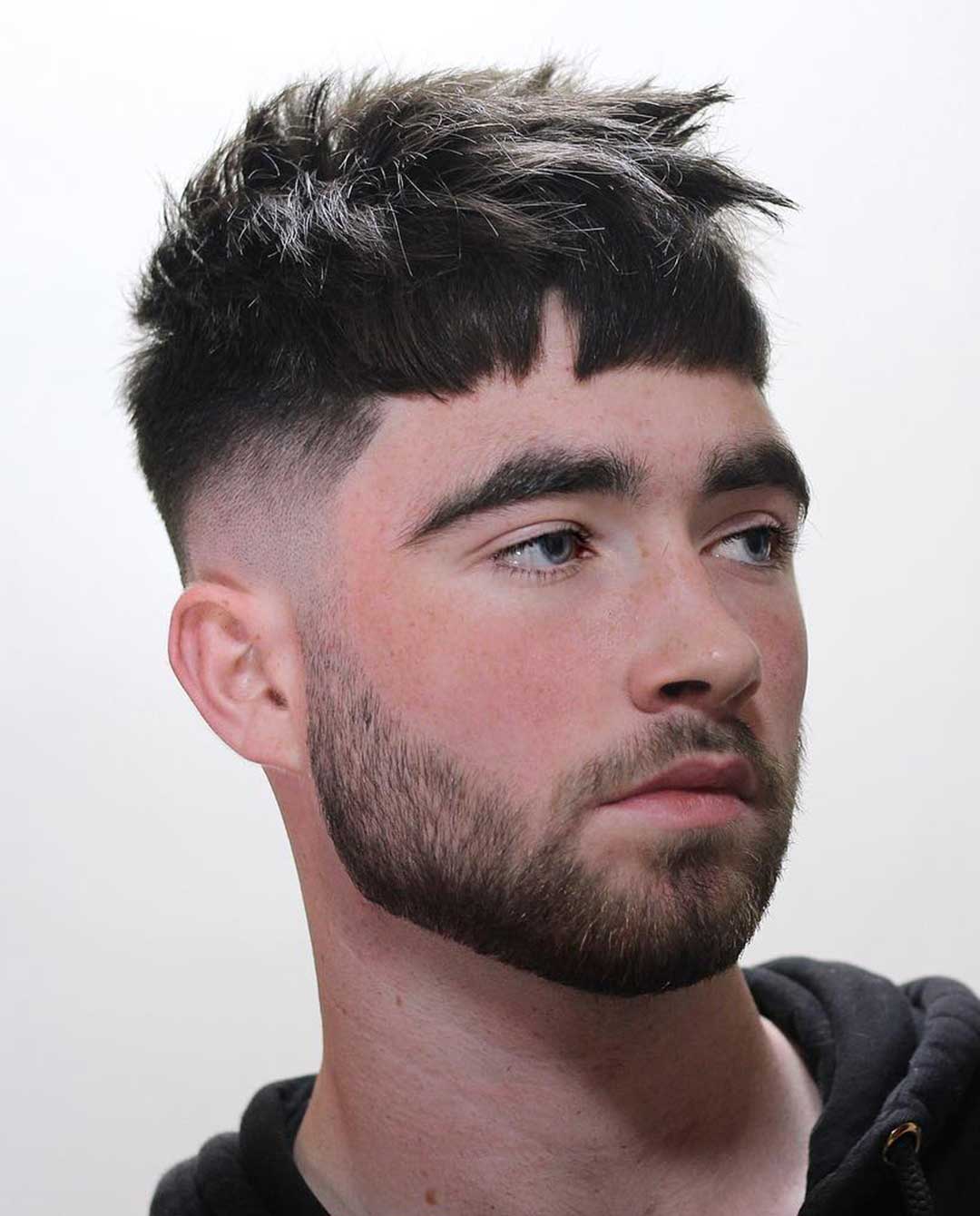 #27 Textured Crop with Drop Fade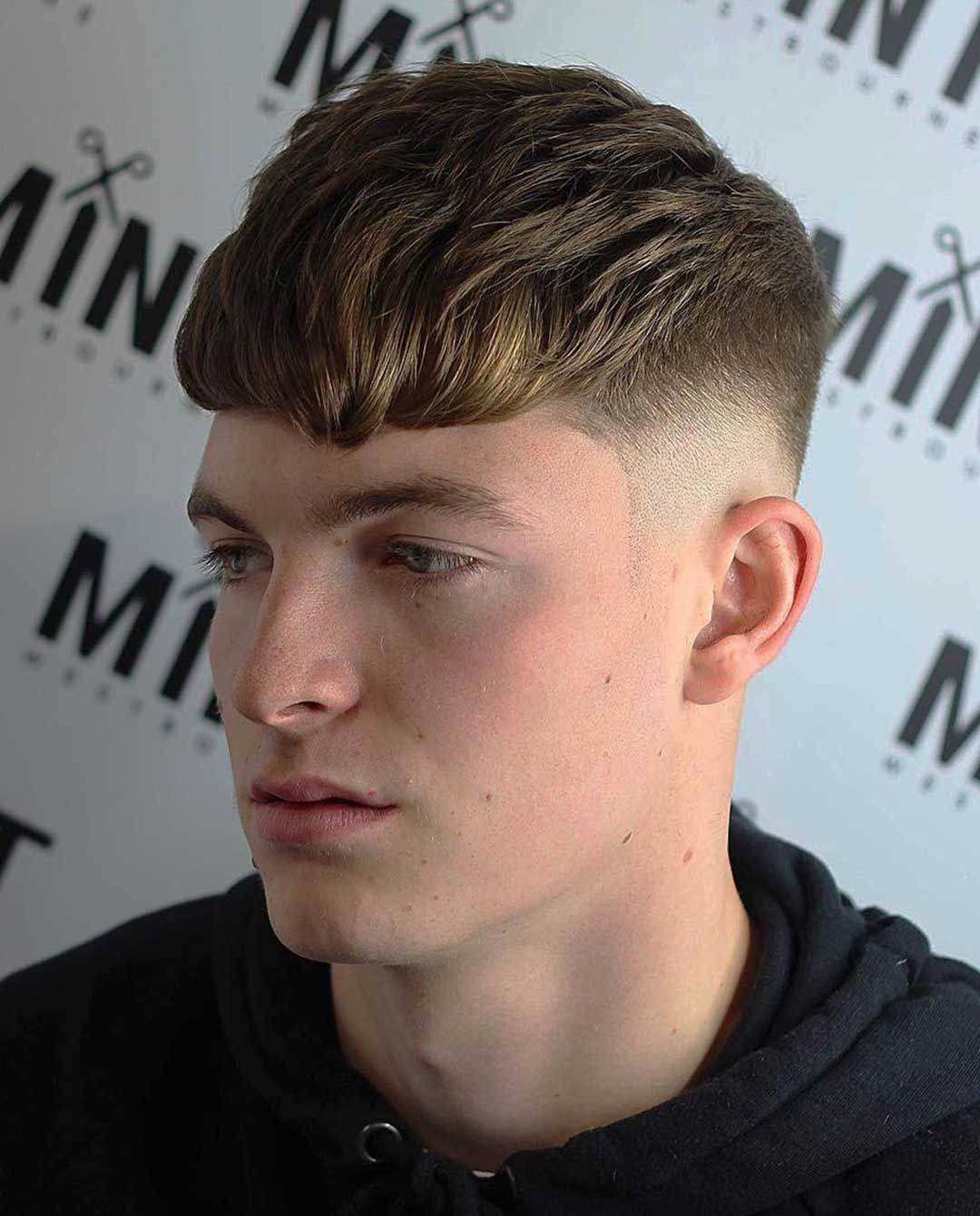 #28 Straighten Fringe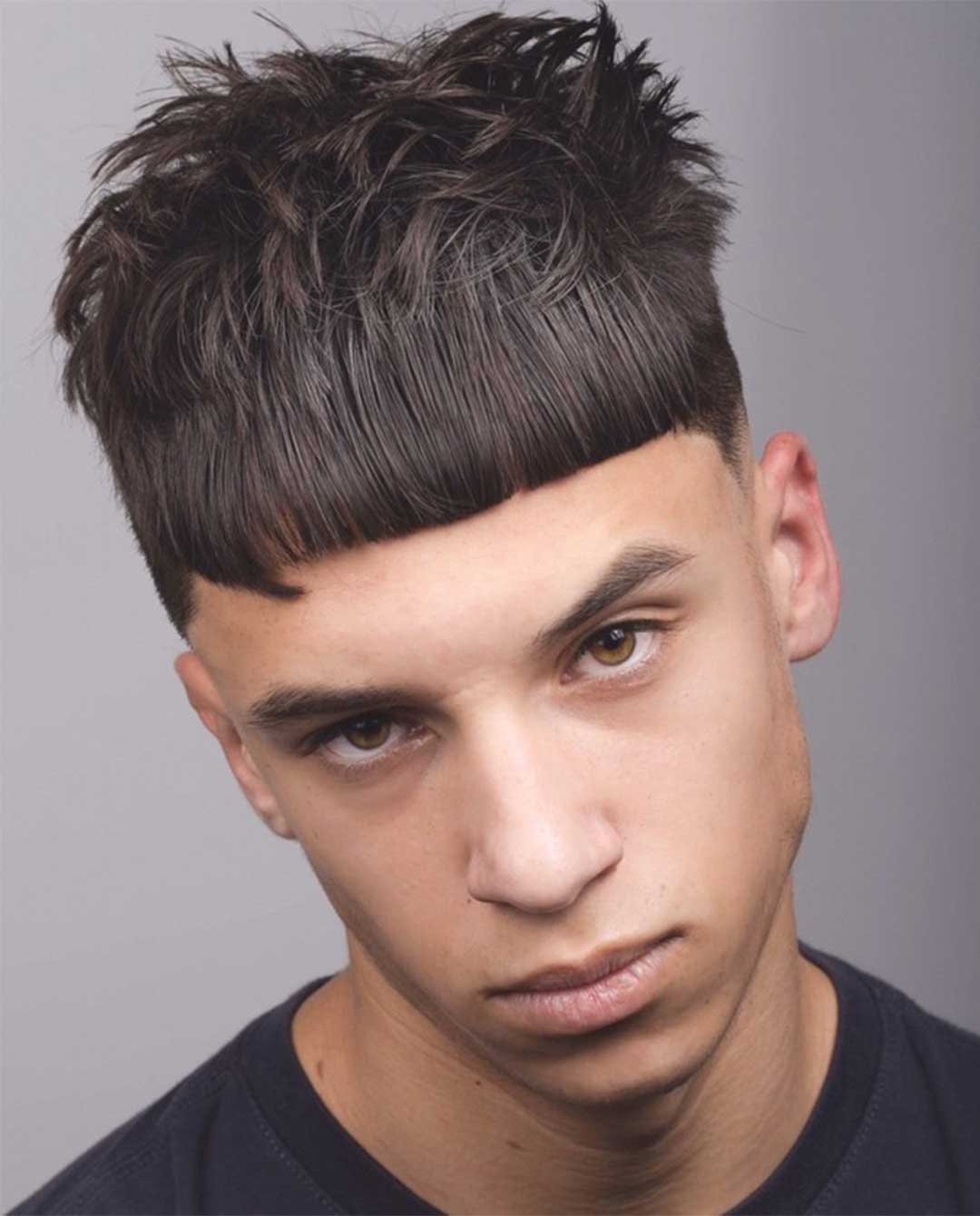 #29 Crop Top with Asymmetric Fringe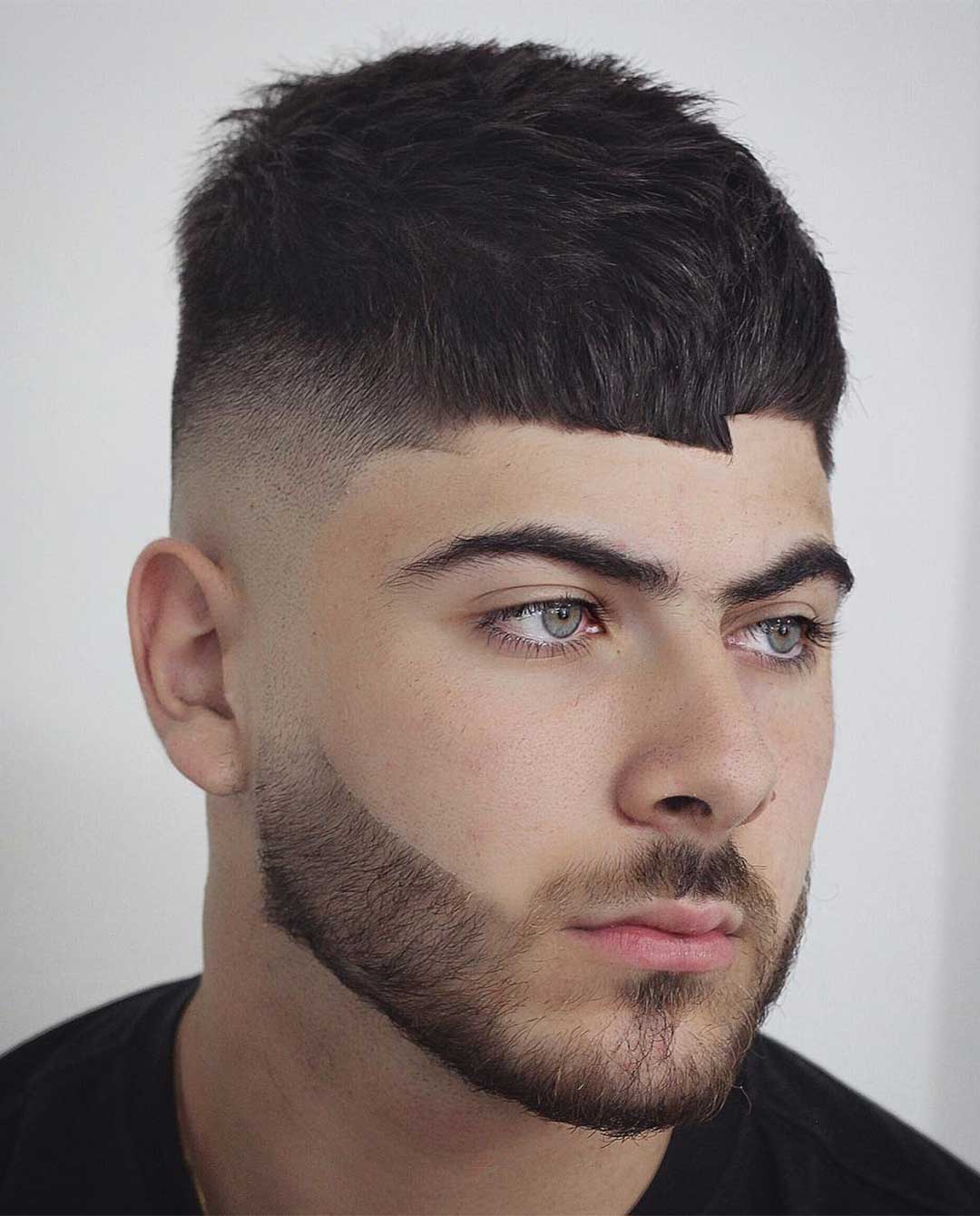 #30 Messy French Crop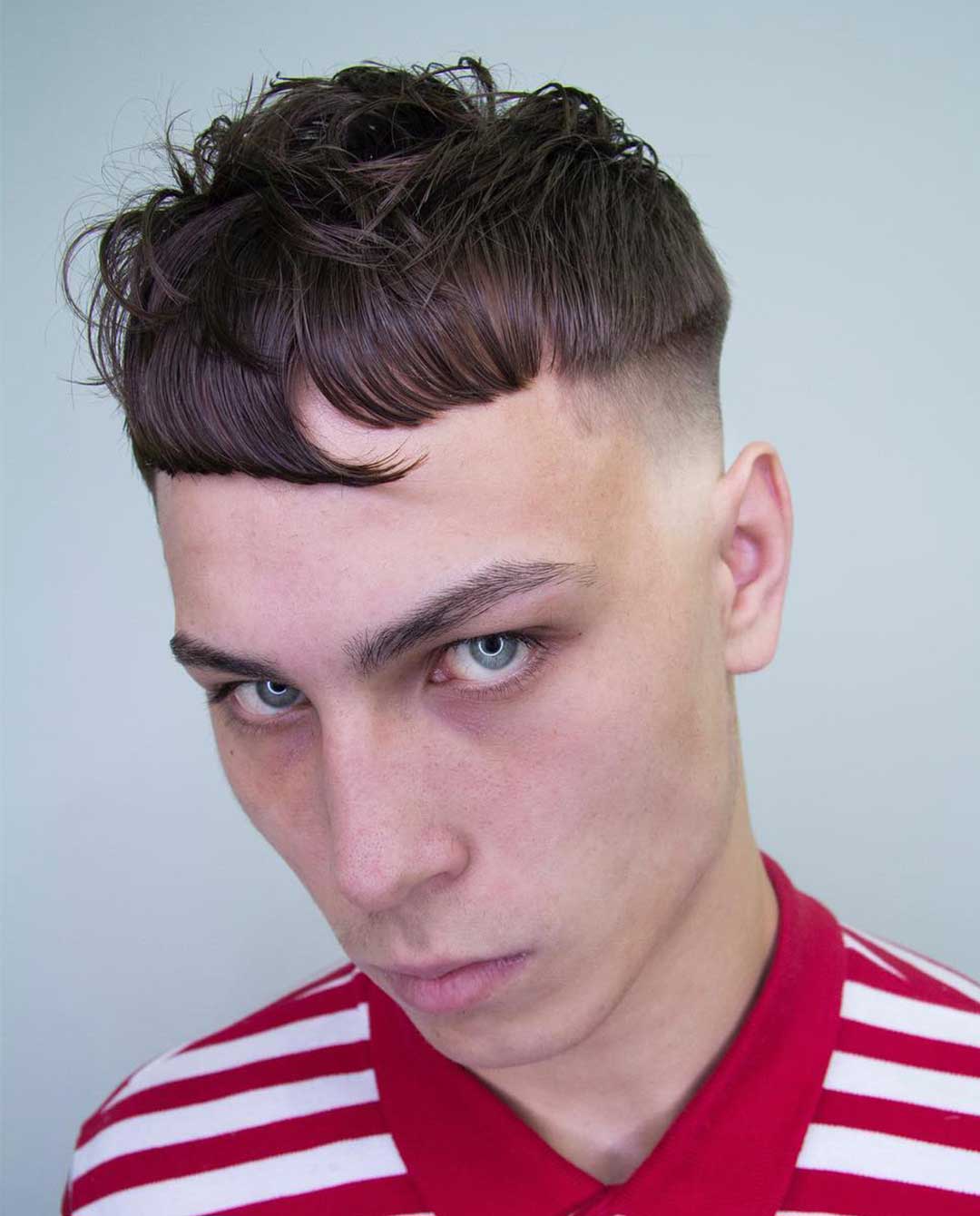 #31 Layered Cropped Hair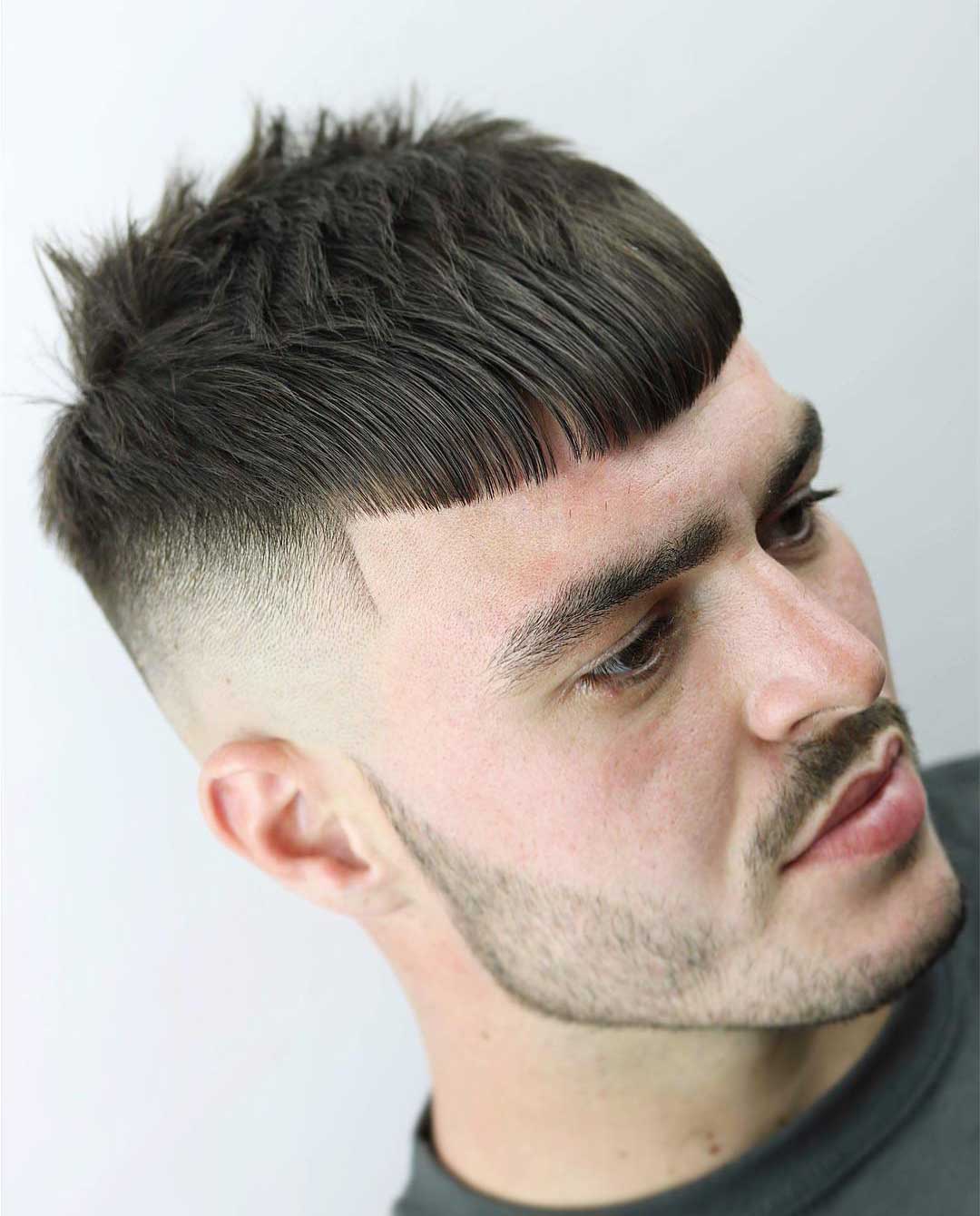 #32 Soft French Crop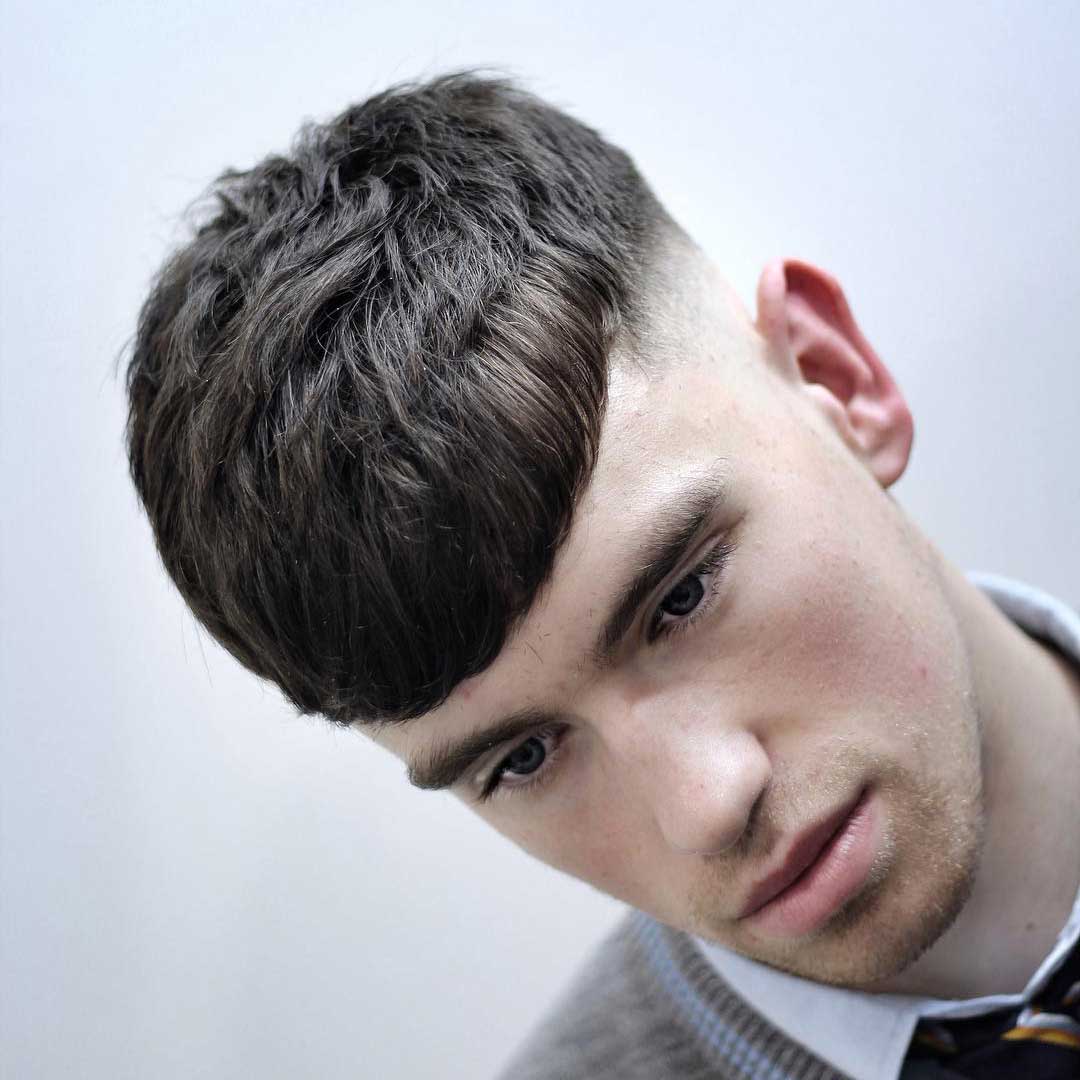 #33 Wavy Crop Top + Line Design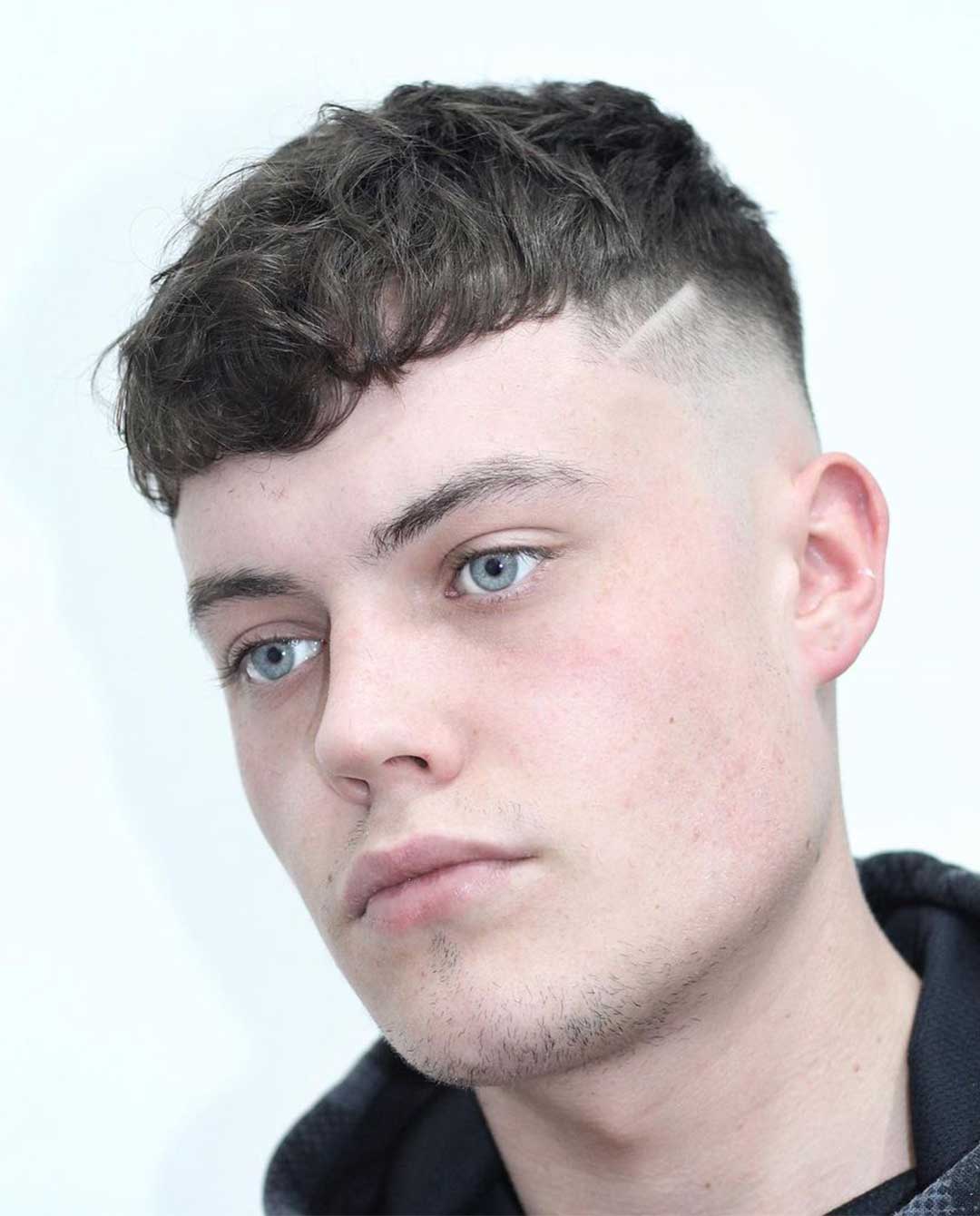 #34 Disconnected Crop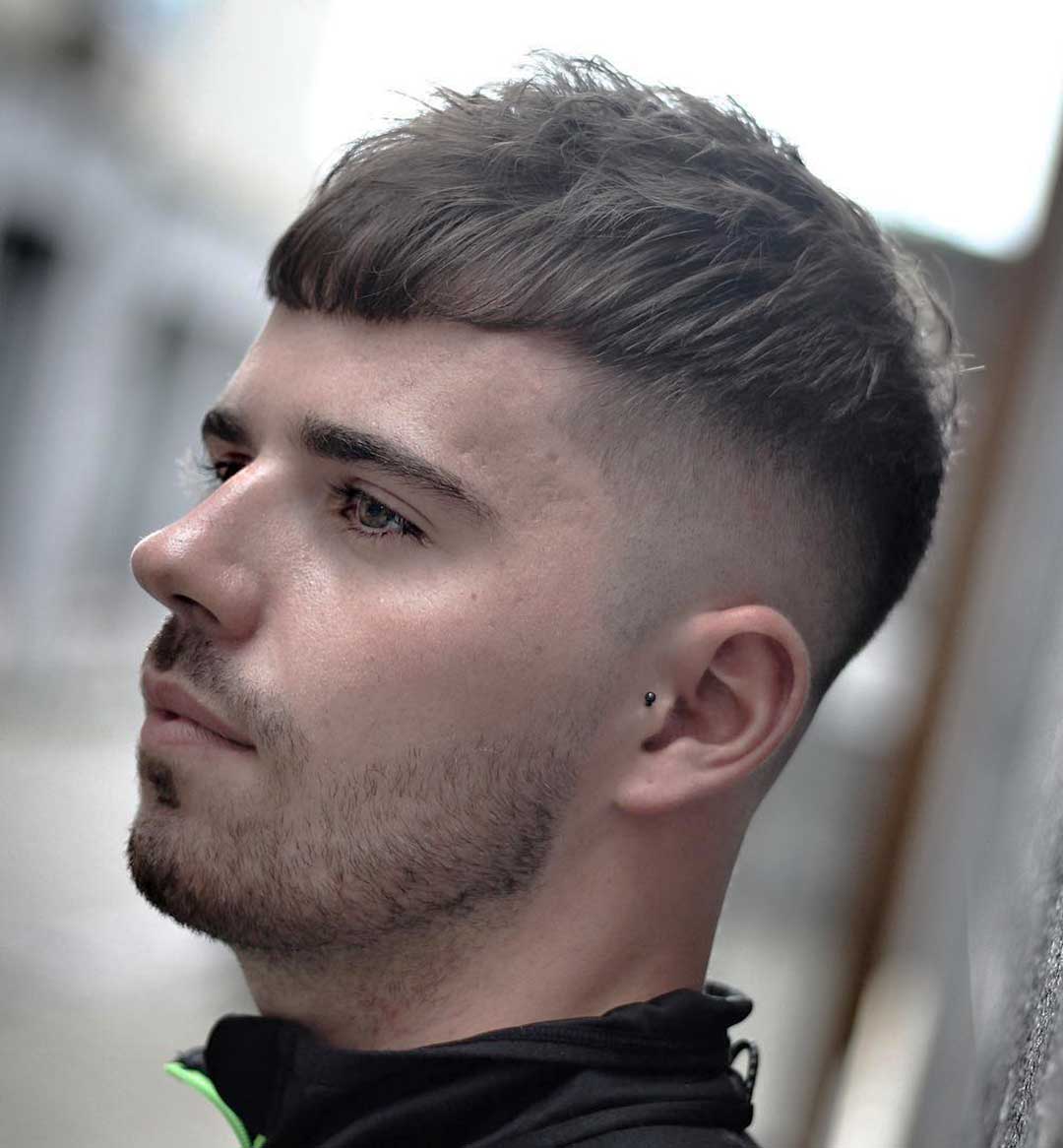 #35 Cropped Angular Fringe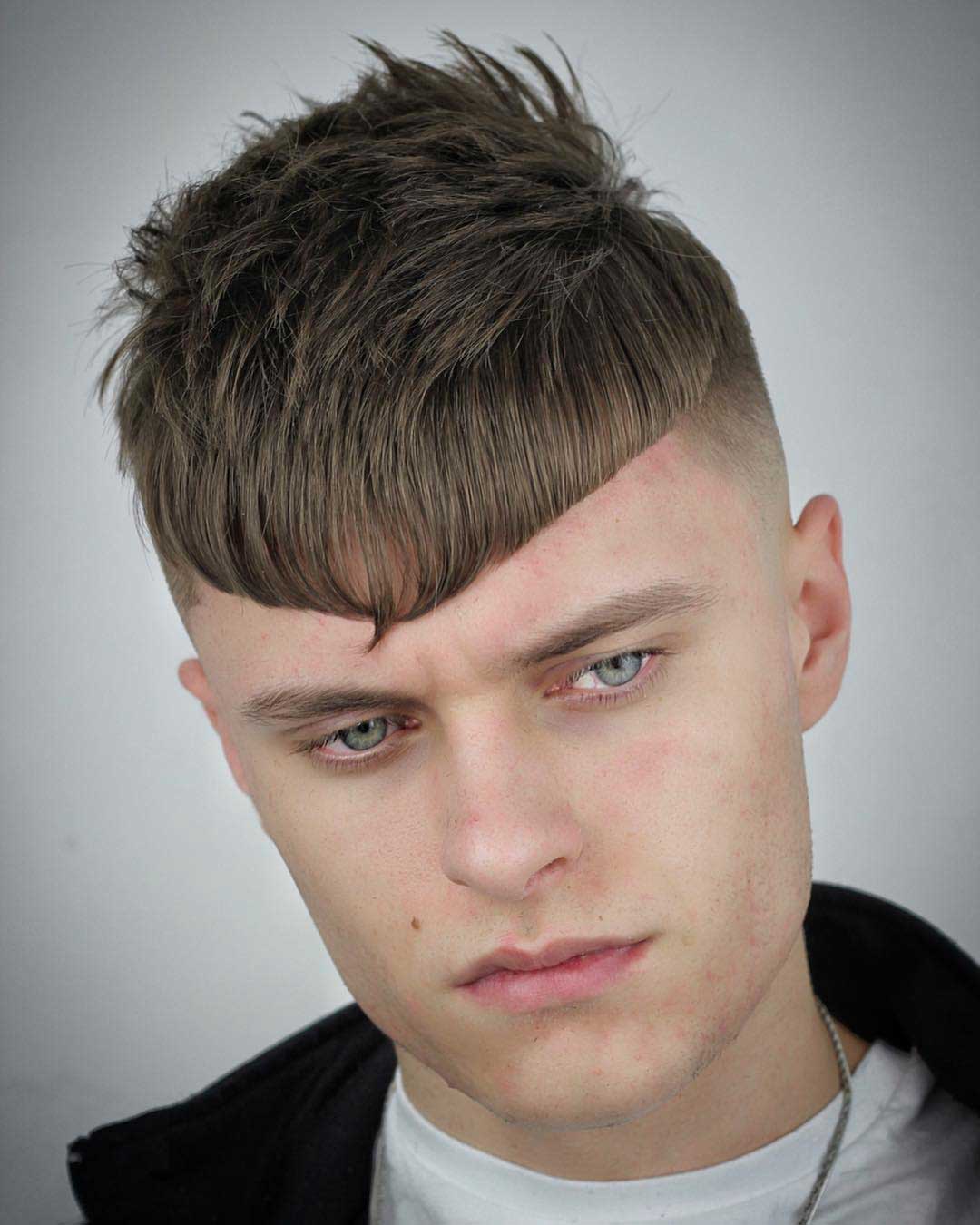 #36 Layered French Crop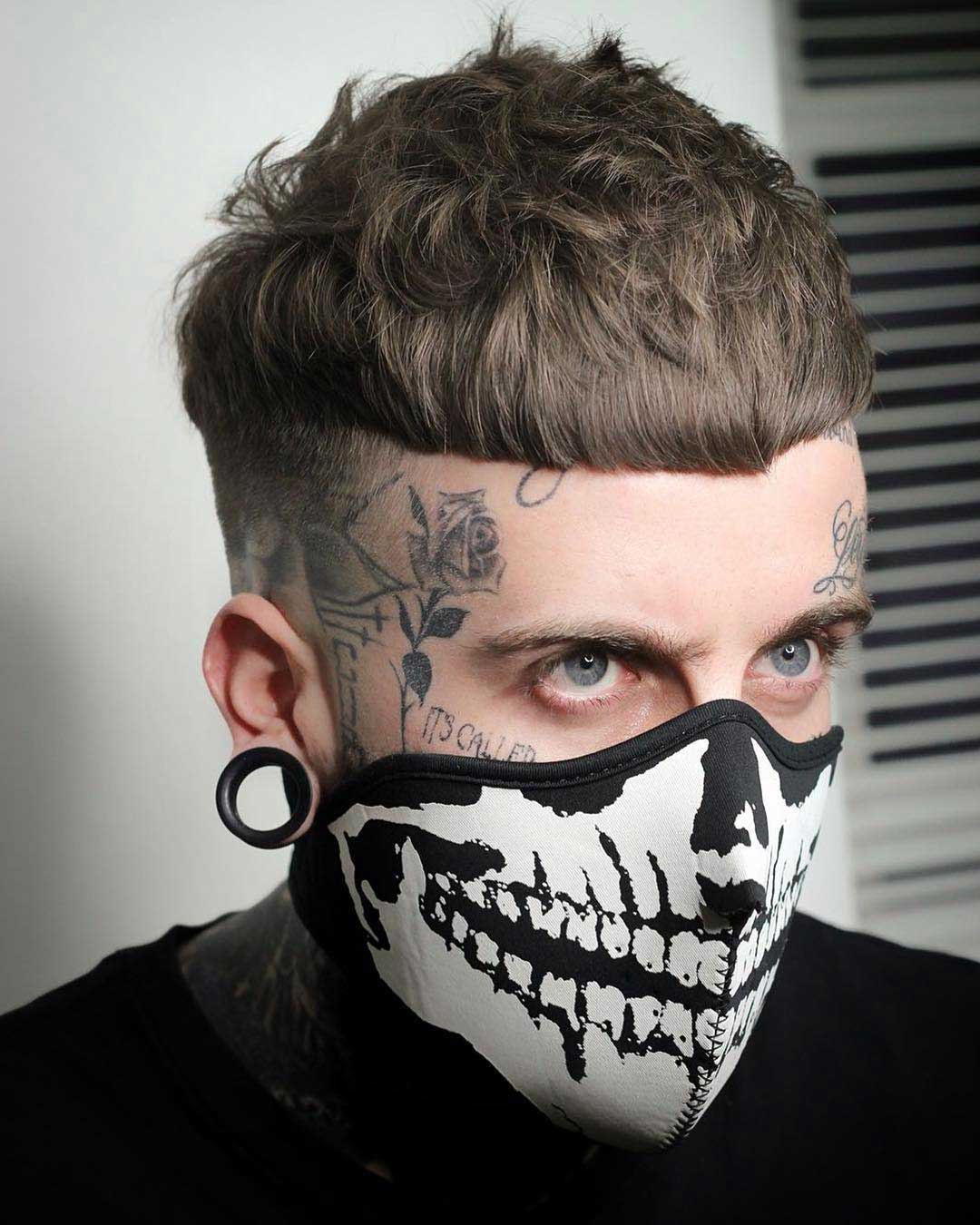 #37 School Boy Crop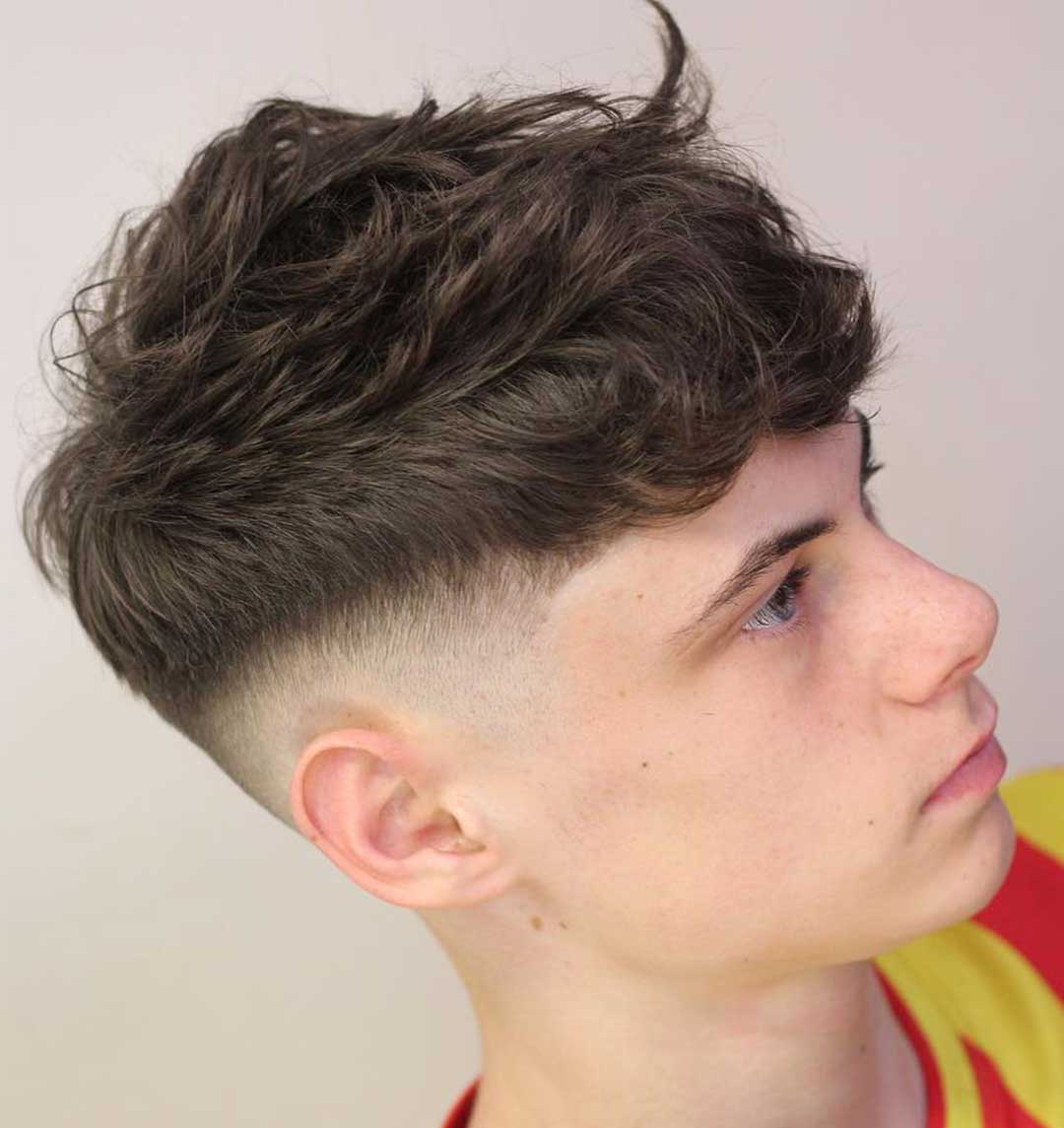 #38 Bowl French Crop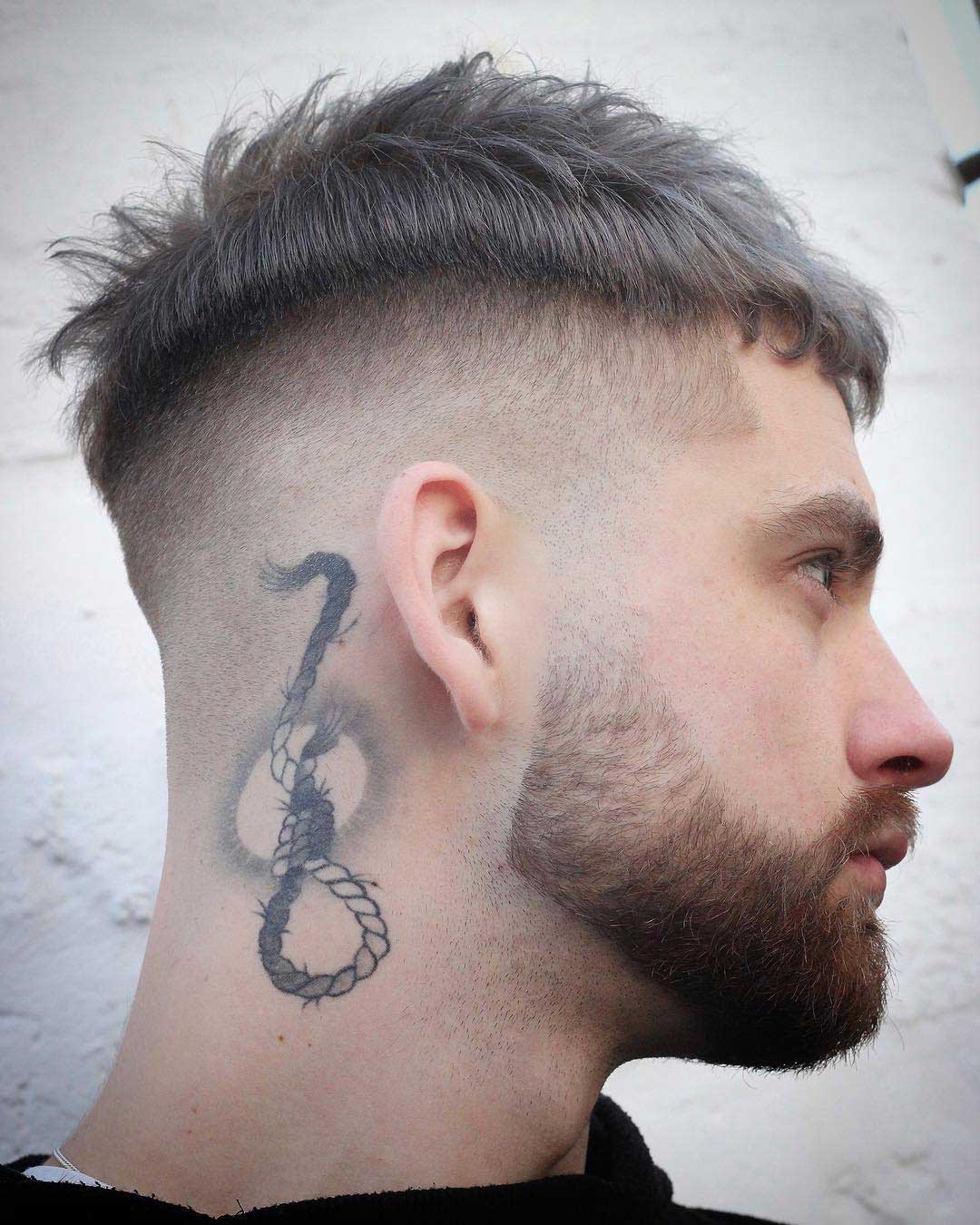 #39 High Fade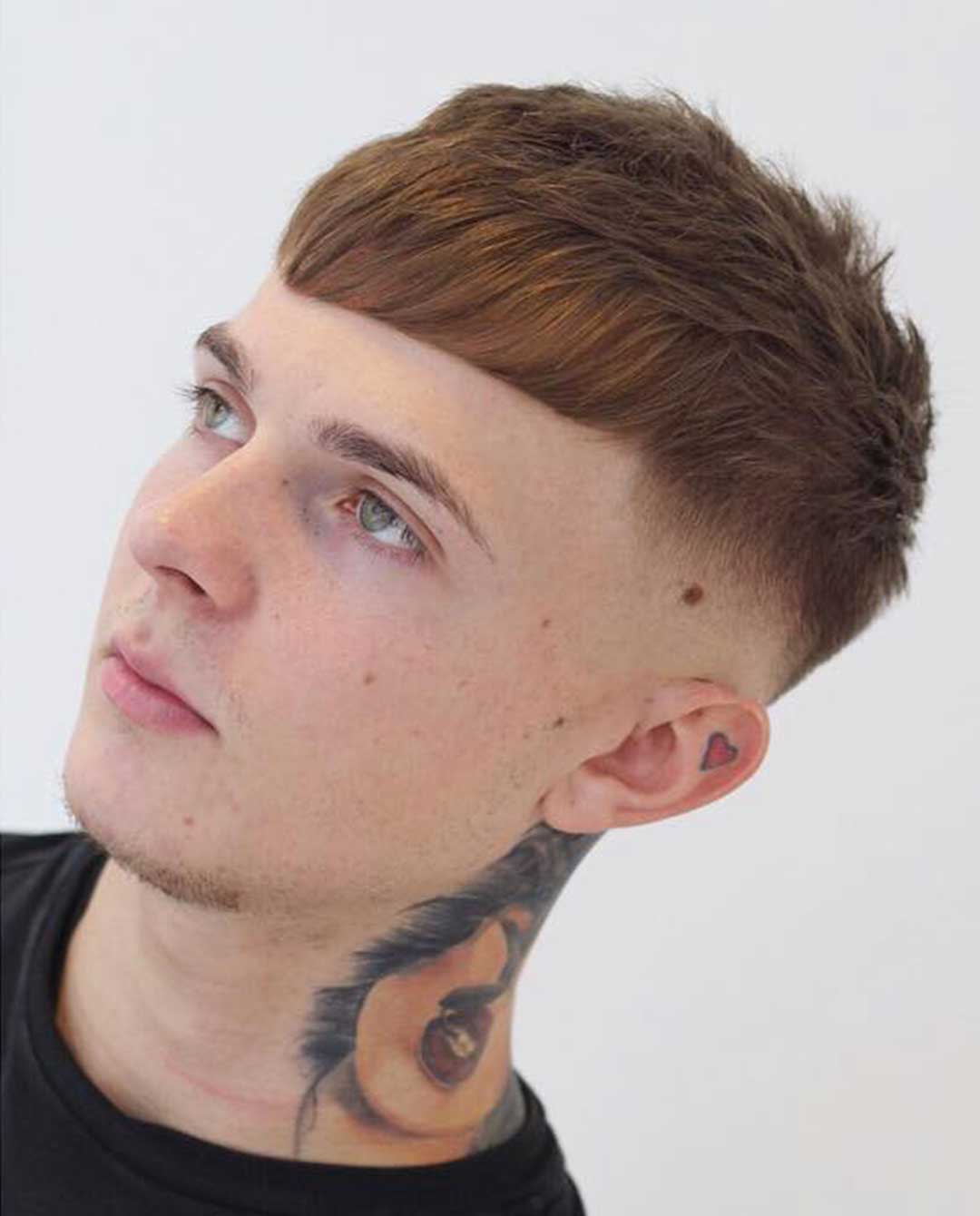 #40 High Top + Full Crop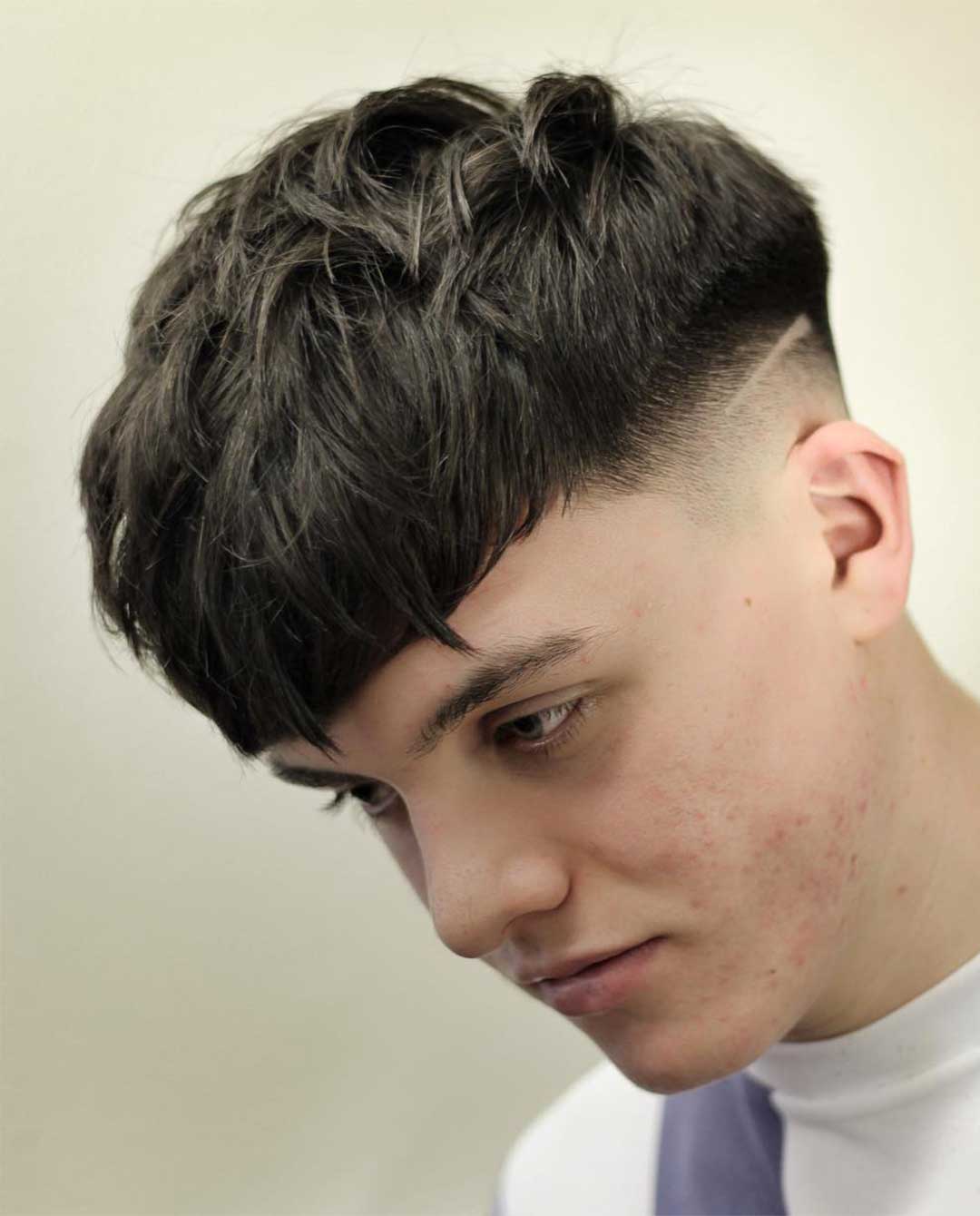 #41 Crop Top with Wing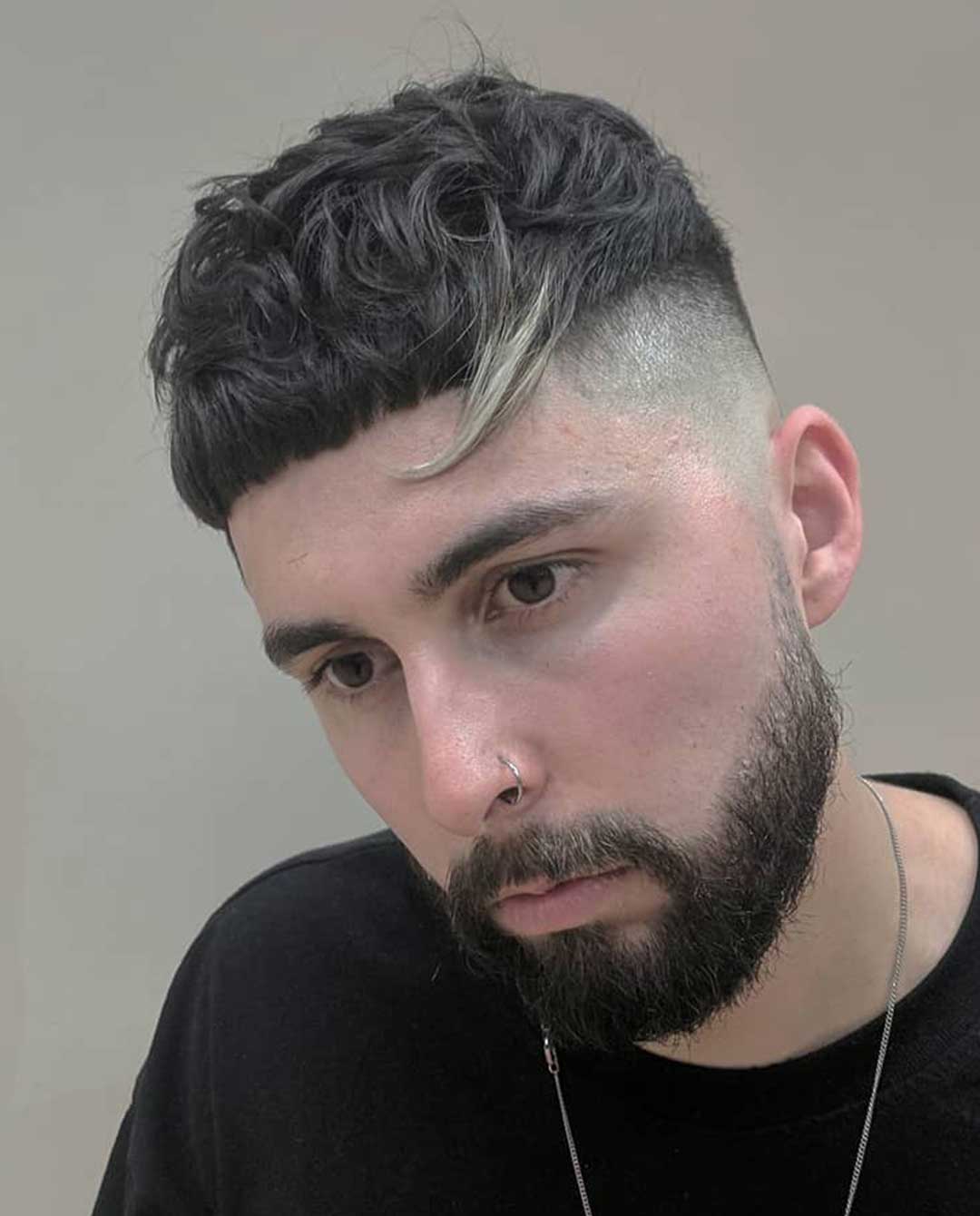 #42 Disconnected and Messy Crop Top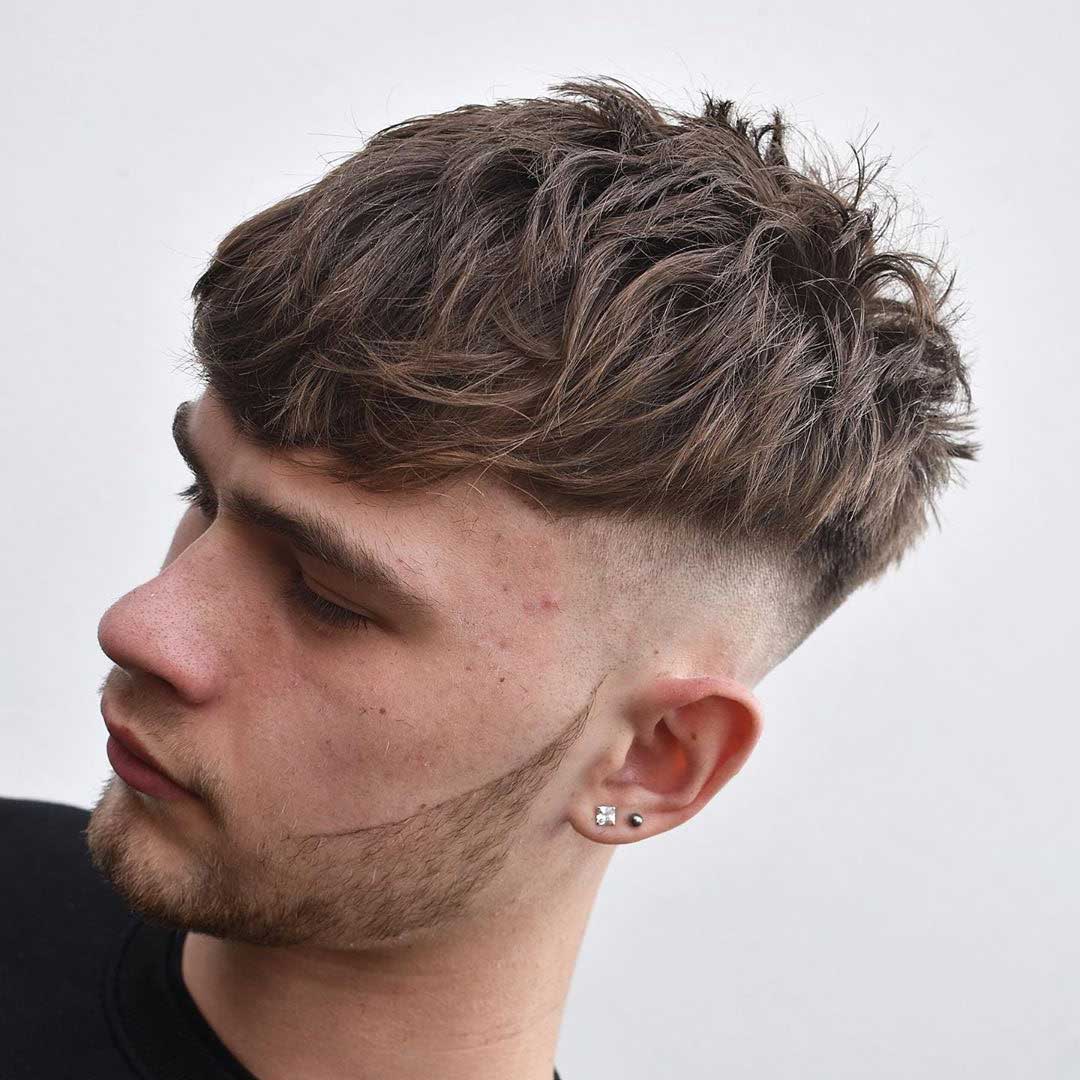 #43 Modern French Crop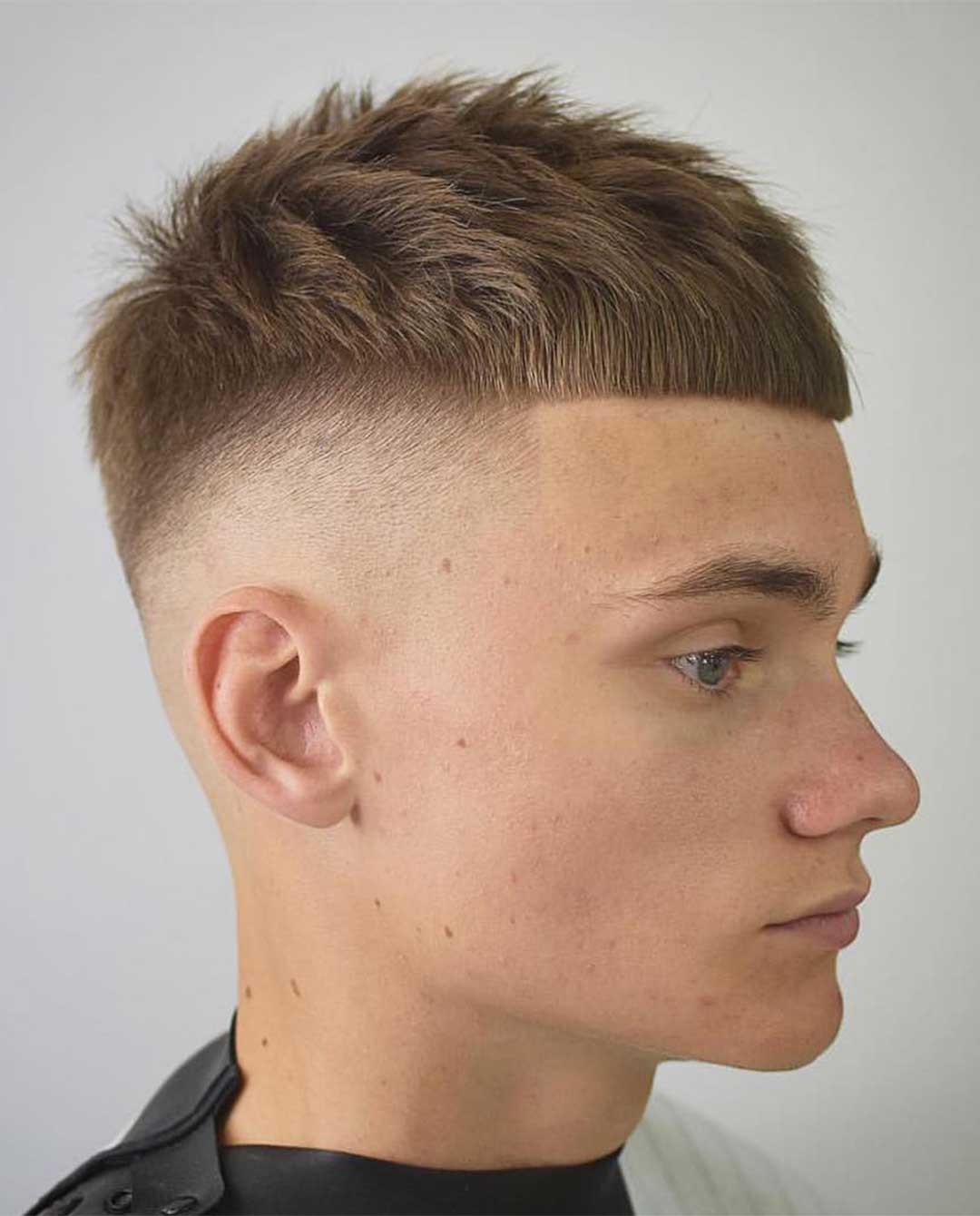 #44 Undercut + Texturized Crown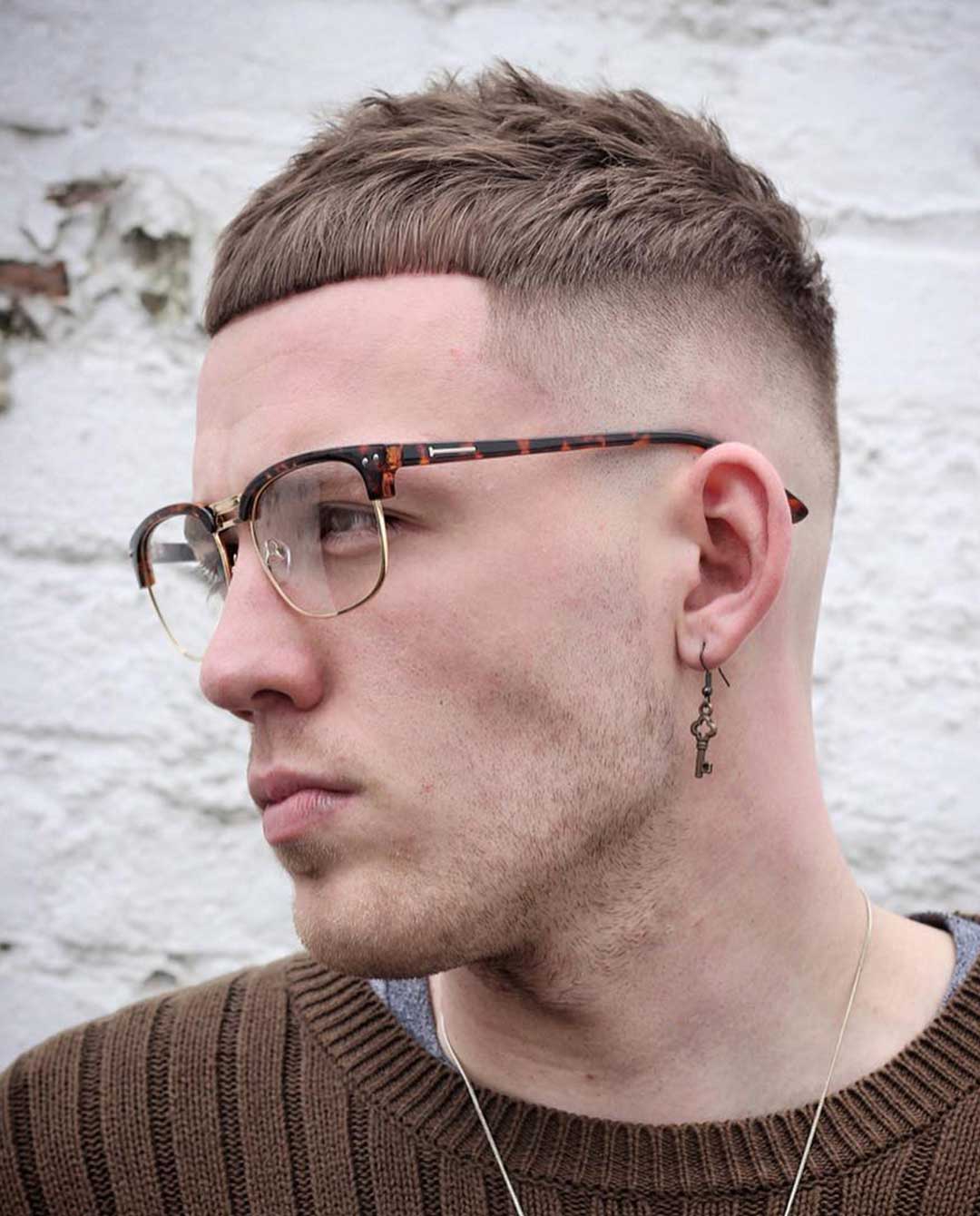 #45 Simple Crop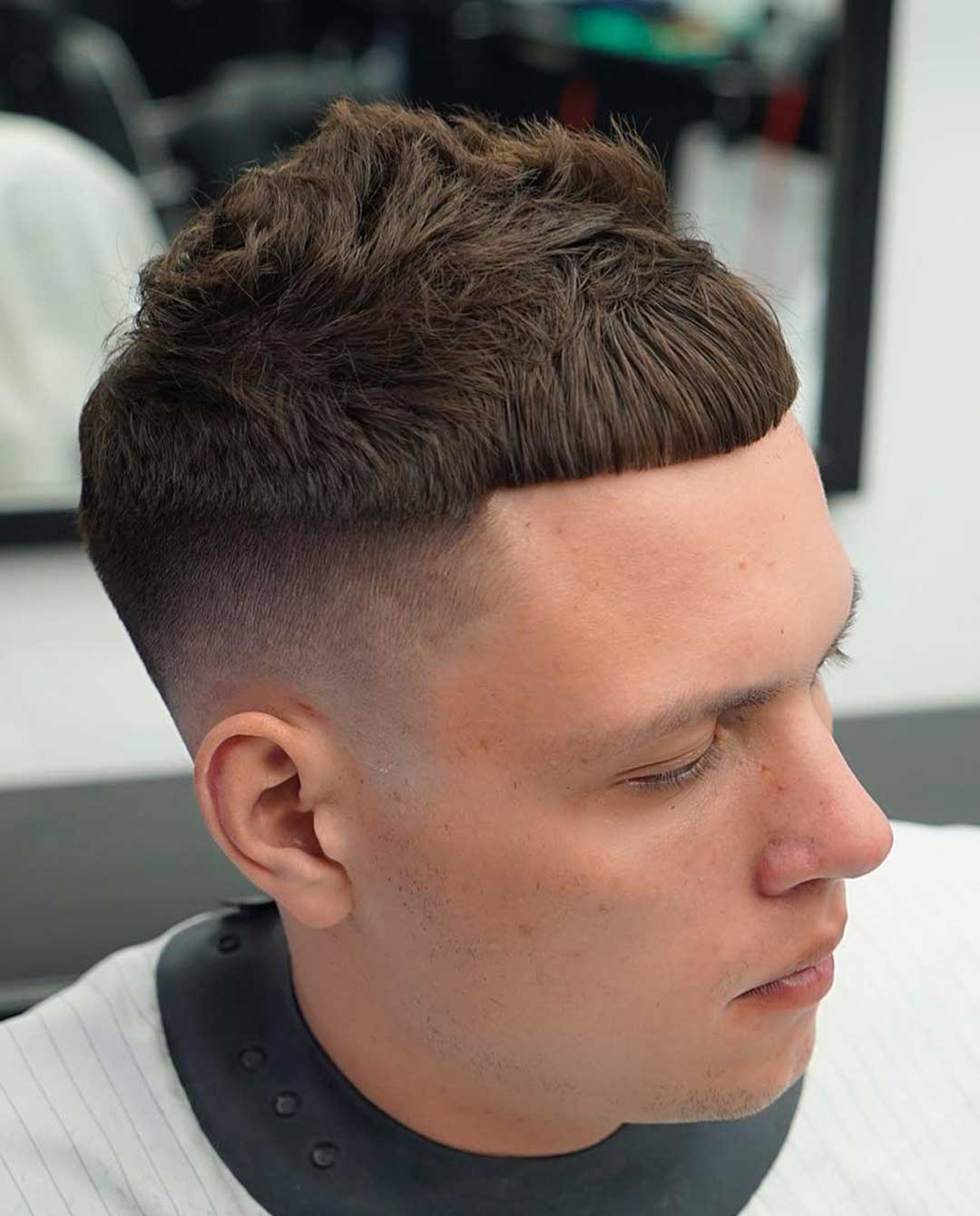 #46 High Skin Fade with Bangs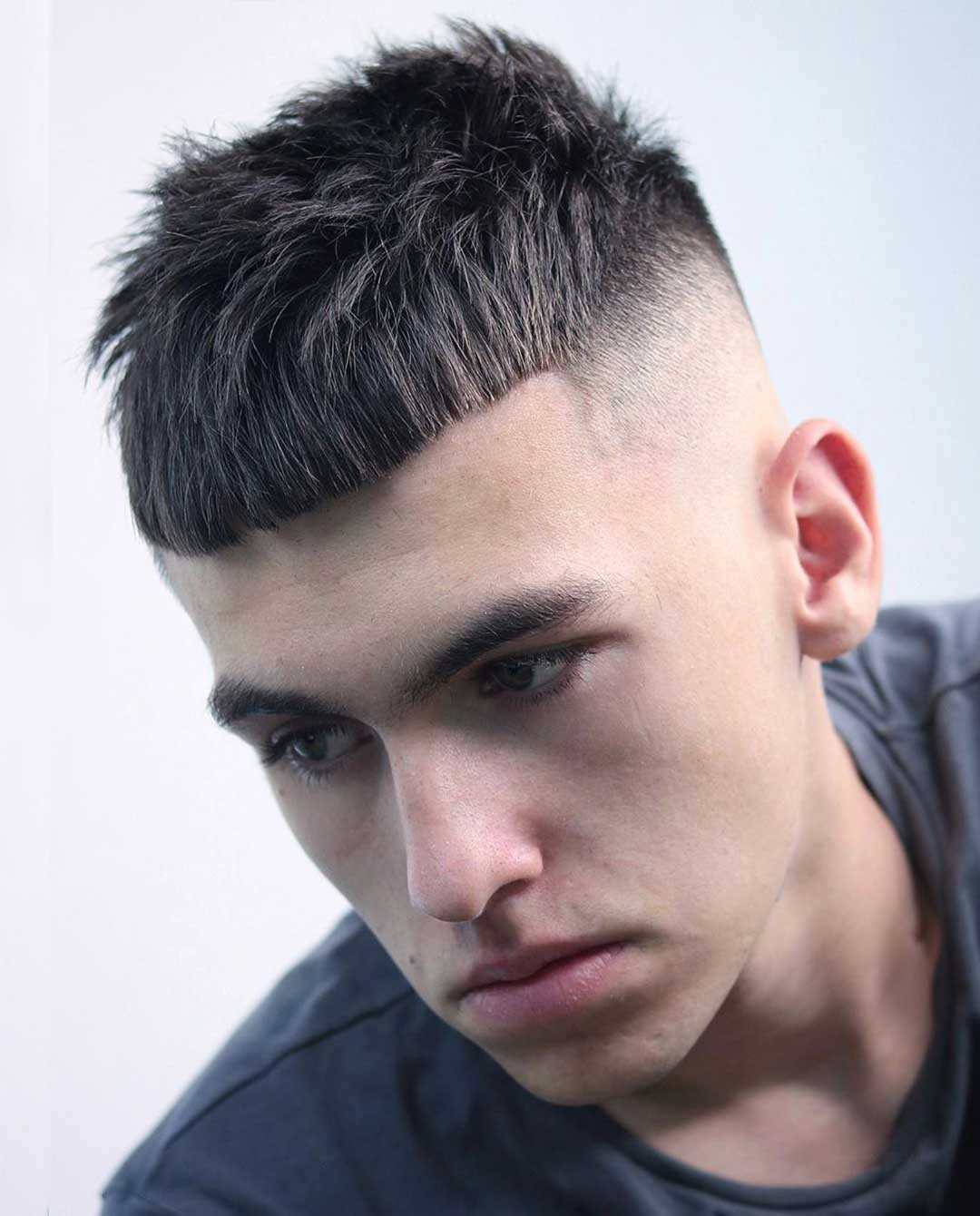 #47 Half Dyed Crop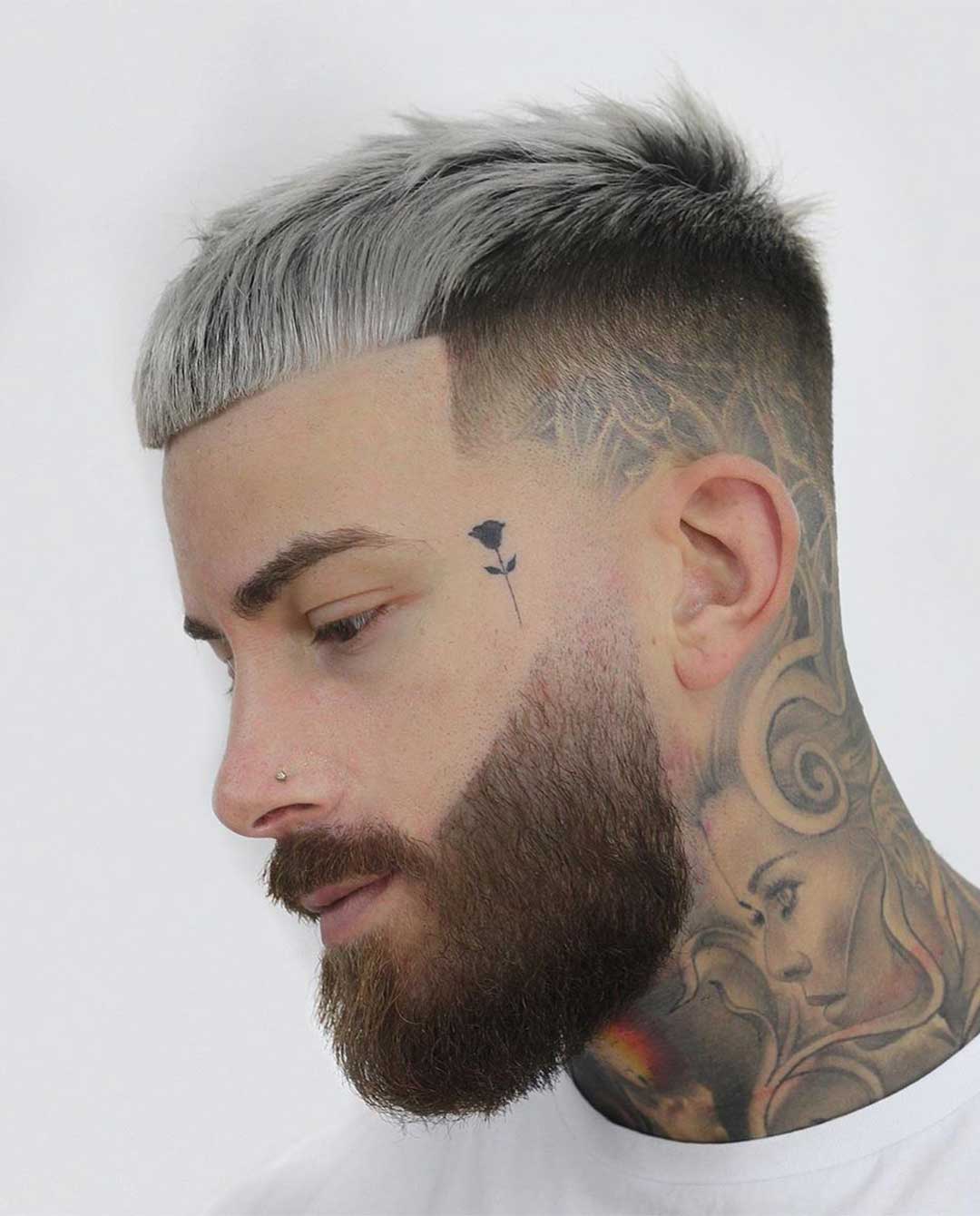 #48 Low Fade + Dyed Tips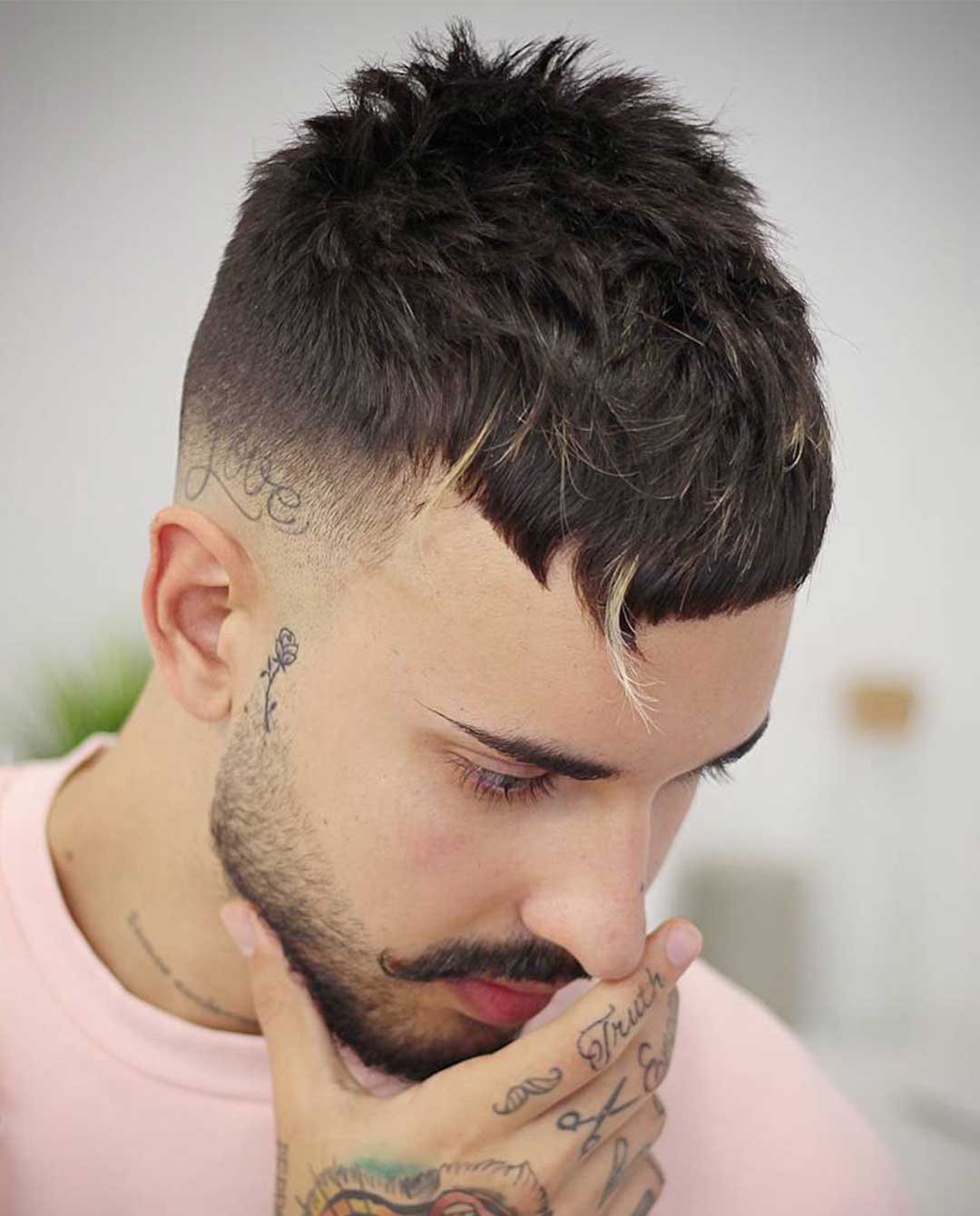 #49 High Skin Fade + Beard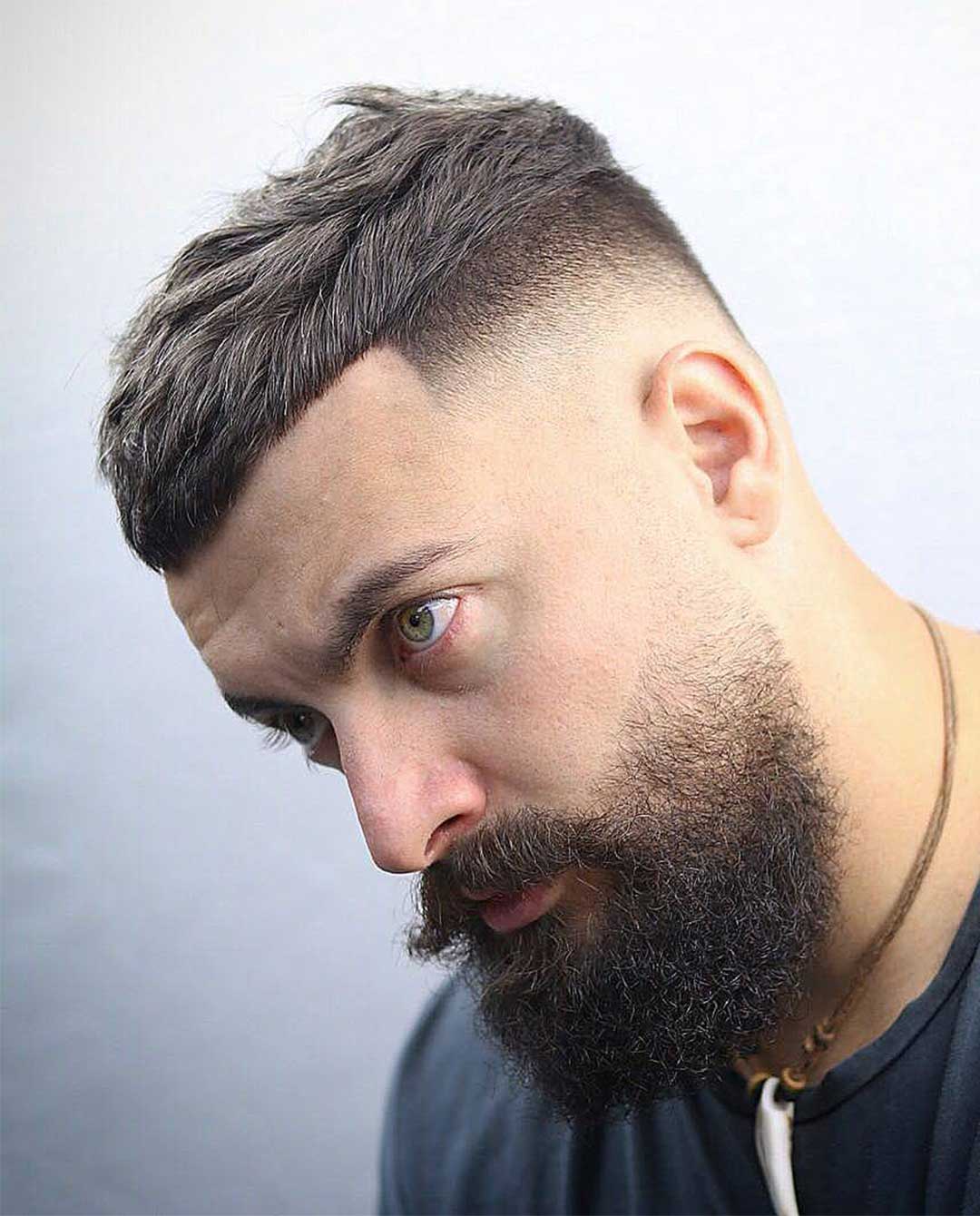 #50 Textured Top + Blunt Fringe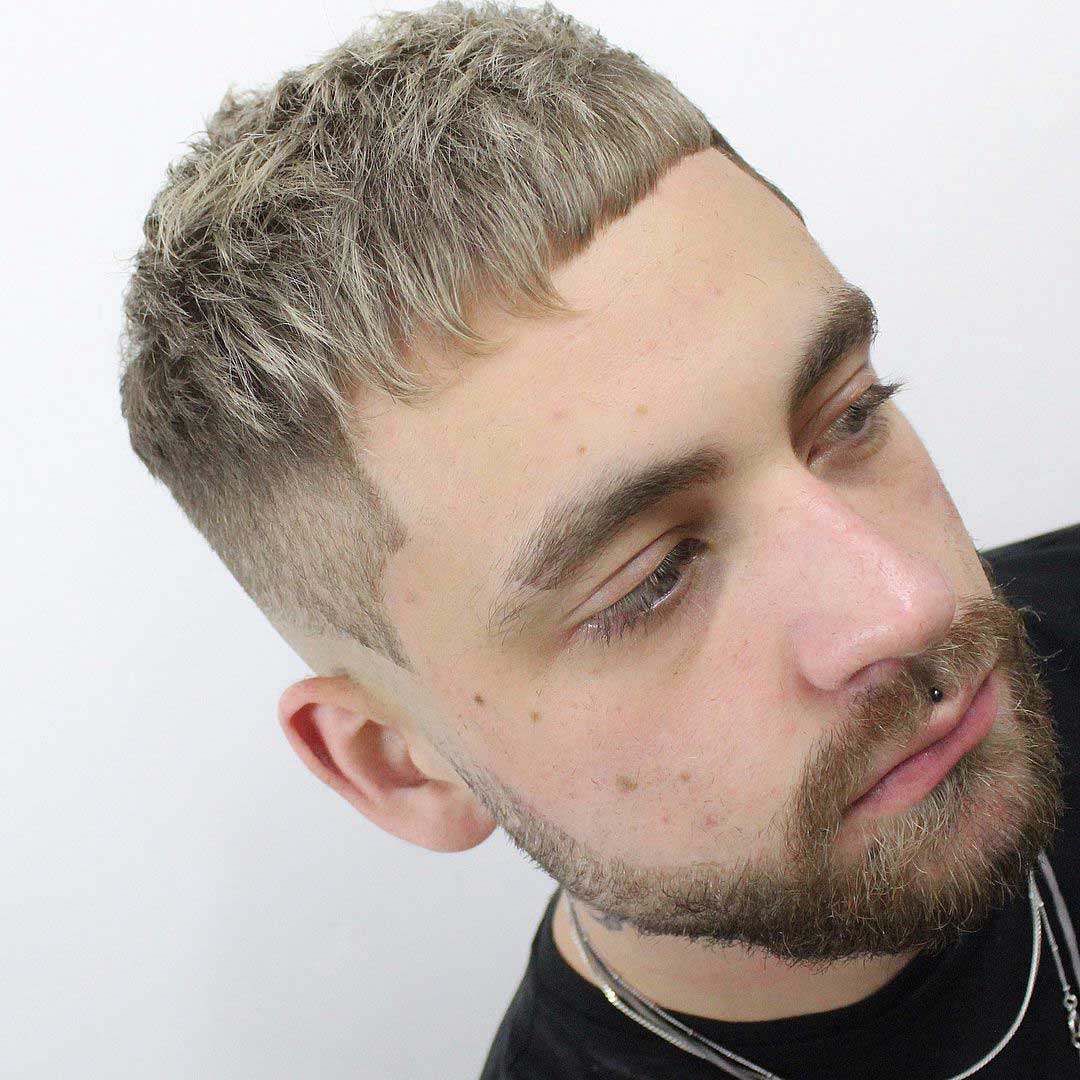 Conclusion
These styles are trendy and dripping with character. Modern French crop haircut manages to have a classic look while pushing the boundaries of men's style.
They're easy to adapt to any man's lifestyle and don't require tons of maintenance. What's not to like?