A high and tight fade haircut fade is practical, fashionable and easy to cut. The main feature of this men's haircut is the soft transition on the sides and back— from long to short hair. Inspired by military hairstyles from centuries ago, the hairstyle is a classic approach to men's hair. Even though it's versatile, it is also a low-maintenance haircut.
If you're in the mood for an edgy new look, this flattering hairstyle has more to offer than a regular buzz cut.  Check out these 24 great high and tight fade haircut ideas.
#1 Spiky High and Tight Fade Haircut
Spiky hair looks great especially when the hair length is short. A high and tight fade is a nice addition to this spiky haircut and does not need that much care. But if you want to make it look different and impressive, add some hair gel to damp hair and brush up as many spikes as you wish.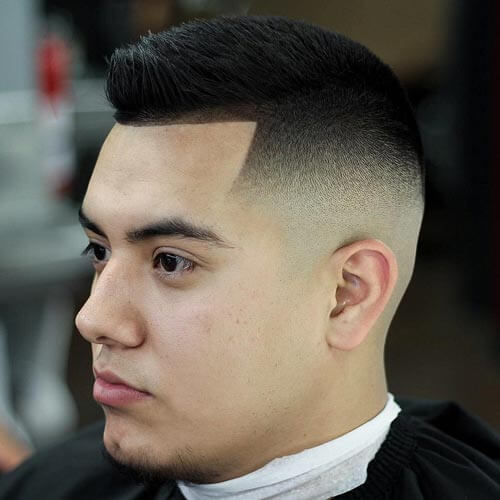 #2 High and Tight Taper
If you are not totally ready for a high and tight cut, you can still look great with the help of a taper cut. Your hair can be cut into a taper fade, but not a skin fade. Apply enough hair products to your hair and style with your hands to create a wet and well-planned disheveled look.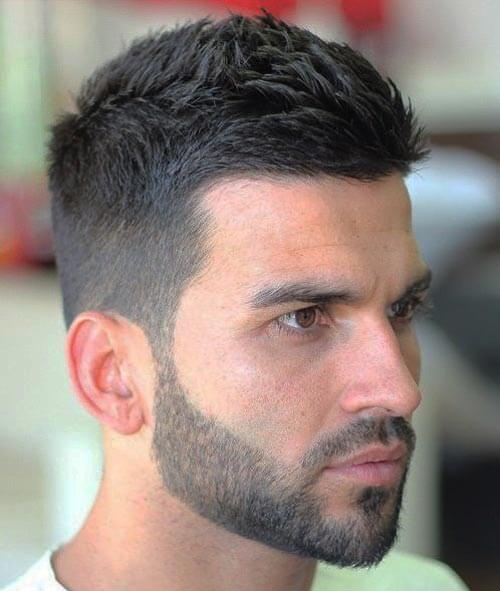 #3 Textured High and Tight with Low Fade
A textured high and tight haircut is another way to make your hair look unique without cutting it too short. But, this look will require some hair gel and a little extra work in front of your mirror. If you plan to keep your hair looking stylish for a long, you must give it some attention.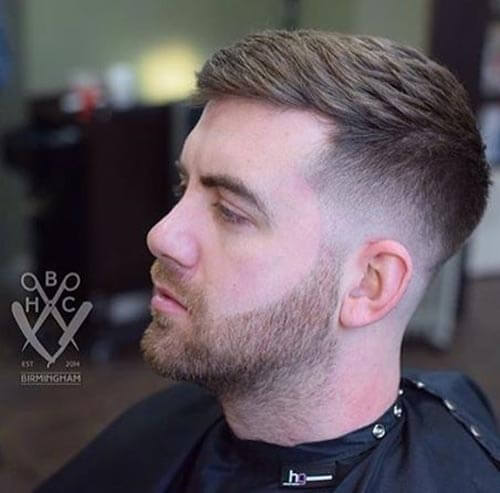 #4 Brushed Up High and Tight Fade
This wonderful high and tight crew cut is ideal for men with thick or thin hair. Only a small band of hair is left on top and brushed upwards. Due to the hair length, the bangs in front will stand out and create a stylish look. Add some styling gel and air dry to perfection.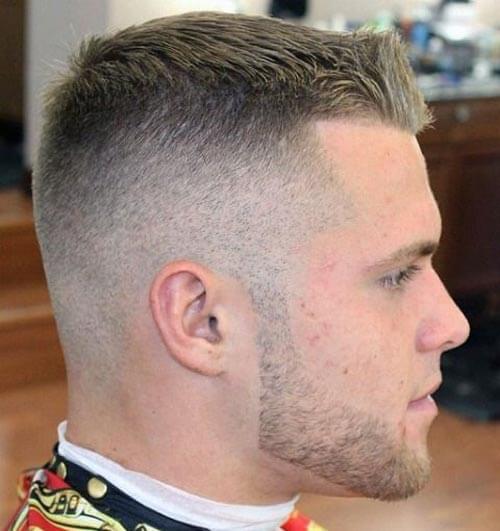 #5 High and Tight Buzz Cut
This is the classical military buzz with a twist. The buzz cut has a way of making men look severe, but this look is softened with a high and tight fade. This haircut is very easy to manage because there is absolutely no maintenance required.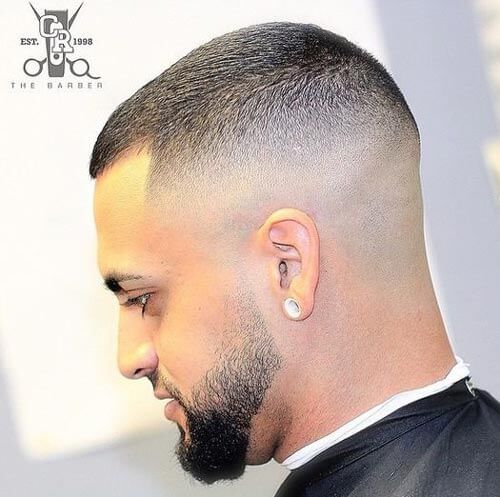 #6 Wavy Hair High and Tight Fade
This haircut is perfect for men with medium length hair and no desire for a military look. The hairstyle can easily be created with the help of some hair pomade and natural waves. The top hair is cut to an average length of about 2 inches, and the sides cut down to a low fade.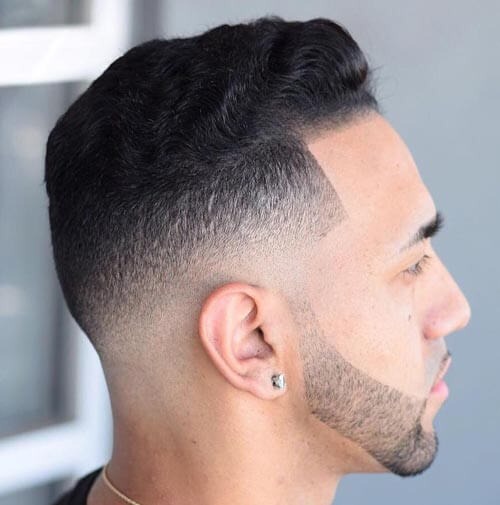 #7 Textured High and Tight Buzz
This could have been a classic high and tight haircut if there was no texturizer. The high fade and all-around crew cut have a unique front hair texture. It takes about 5 minutes to style this haircut and it will last at least a week with proper care. No hassle, just brushing and hair gel.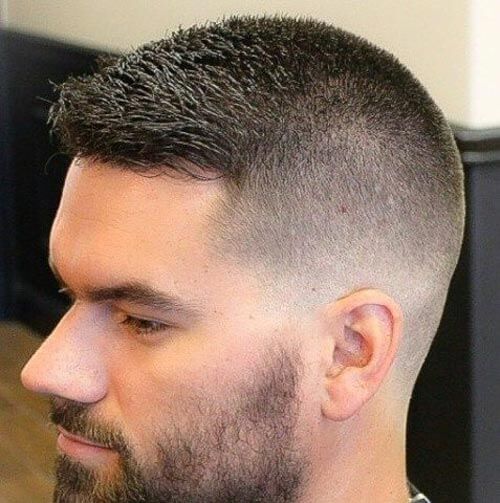 #8 High and Tight with Razor Fade
If you have kinky afro hair, you might be tired of managing it and could be looking for a way out. A simple high and tight haircut is a great choice for your hair type. Leave some hair on top to make the haircut look even more special and fade the sides and back to the skin. All you need is a hairbrush to keep this style looking good always.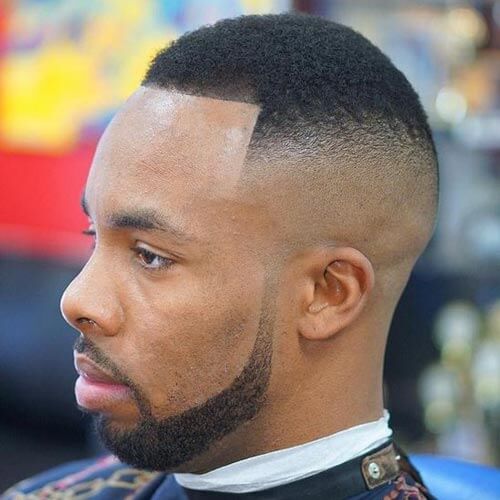 #9 Spikes with High and Tight Fade
Some high and tight haircuts can have an Ivy League look. If you want that look while also ridding yourself of any maintenance hassles, then try a short high and tight fade. Leave your hair very short by the sides and back and make a neat spike on top. This is a good hairstyle for any age and easy to manage too. Just add some hair product to damp hair and air dry before brushing.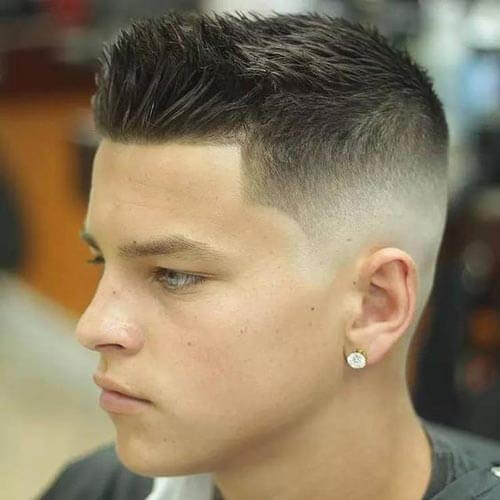 #10 Quiff with Taper Fade
Want to diversify your short taper fade? Add a quiff. It is very easy to style and will take just a few minutes. Brush your hair from the crown to the front, then comb the front hair upwards into a simple quiff. Spray on some styling product to keep the quiff stiff and make it stay in place and voila!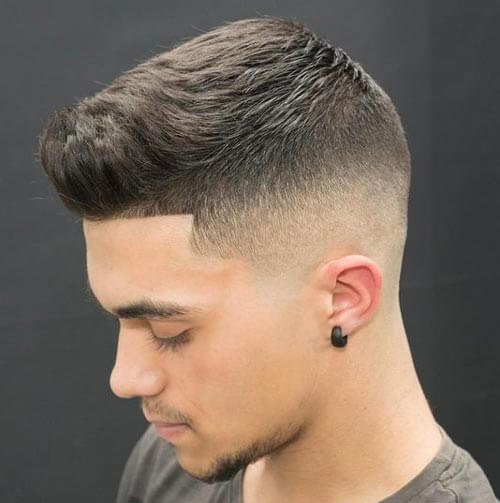 #11 Quiff with High and Tight Fade
If you want a high and tight haircut, but have doubts about what to do with your top hair, then try a subtle quiff. This hairstyle will make a statement as it looks like an undercut. Don't forget that even though you will look unique, you will also need to spend time keeping your hair looking dapper. Maintainance is a must for this style.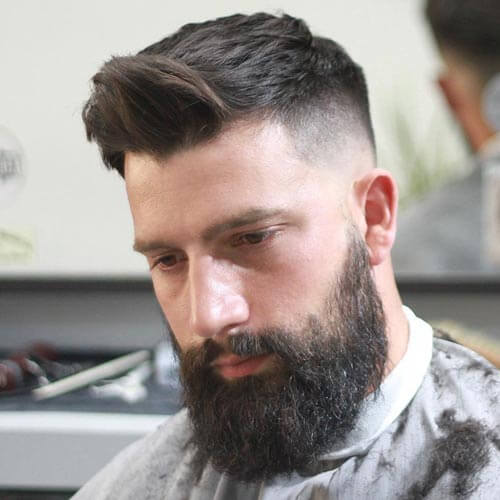 #12 Fringe with High Fade
If you have a receding hairline, a high and tight haircut is an excellent choice. This hairstyle will make you look a lot younger than you actually are and will attempt to cover up any bald areas. Simply brush your well-trimmed hair forward and you are set to go!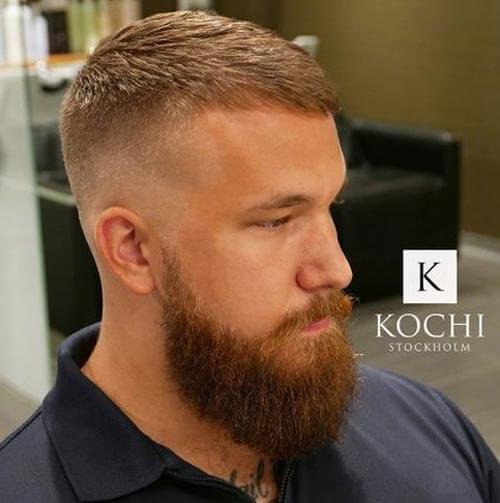 #13 Pompadour with High Fade
Another way to wear a distinctive pompadour is to leave the top part spiky. This haircut is perfect for special occasions, and may not make a great hairstyle for everyday wear. It will need a lot of hair gel and regular maintenance; so be prepared. A special pompadour like this will make you stand out from any crowd.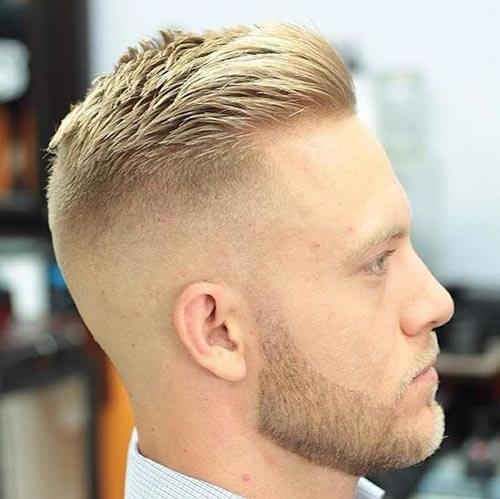 #14 Comb Over with Undercut Fade
This comb over haircut does a great job of disguising the models thinning hair and looks thicker with a high and tight fade. High and tight haircuts look awesome with beards and mustaches, so you may want to consider growing one for a more attractive and manly look.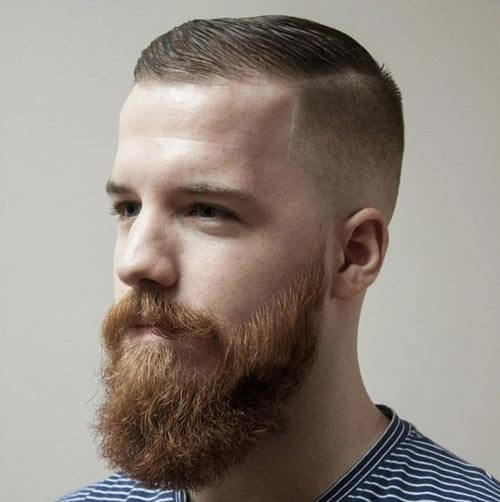 #15 Skin Cut High and Tight
The high and tight is traditionally cut by military men, especially the Marines. Here's a really short variation with a high fade and tight top. This haircut goes short all the way down to the skin and is a very comfortable haircut for any season. What's even more special is that you don't need to do any maintenance, none at all!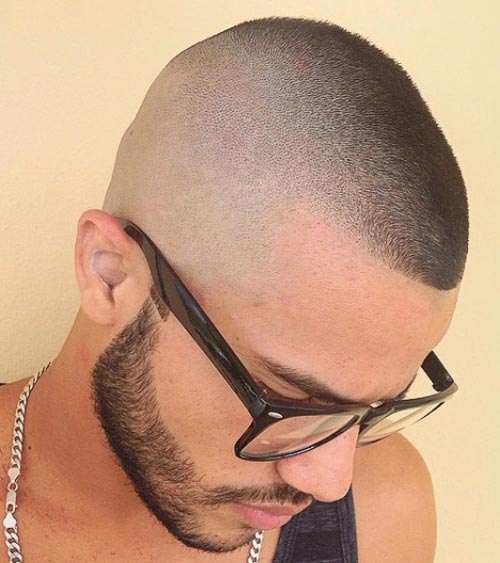 #16 Brushed Up with Skin Fade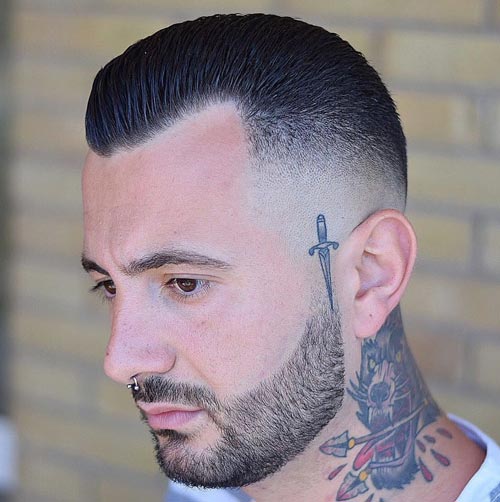 #17 Messy Hair with High Skin Fade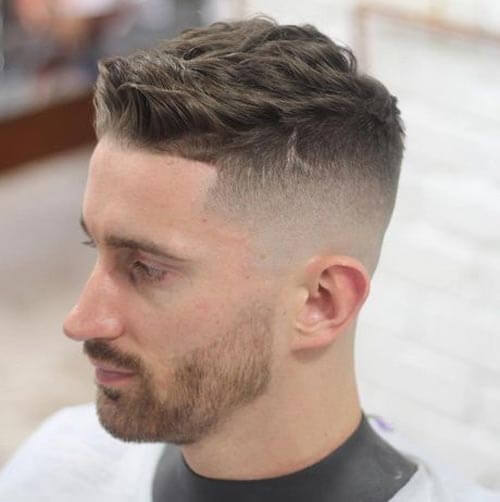 #18 Comb Over with Little Pomp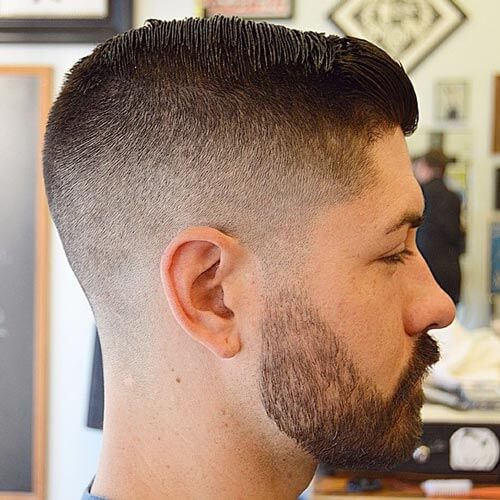 #19 Widow's Peak Quiff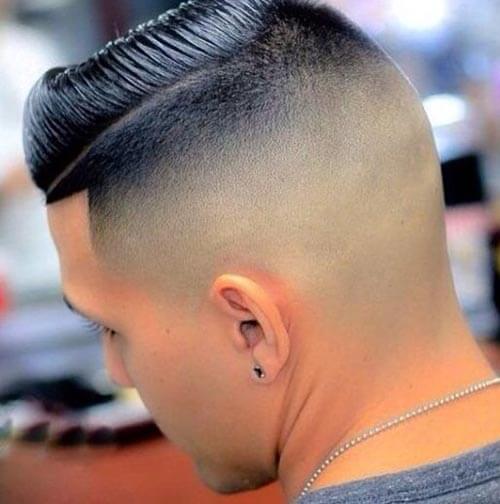 #20 Drop Fade with Curls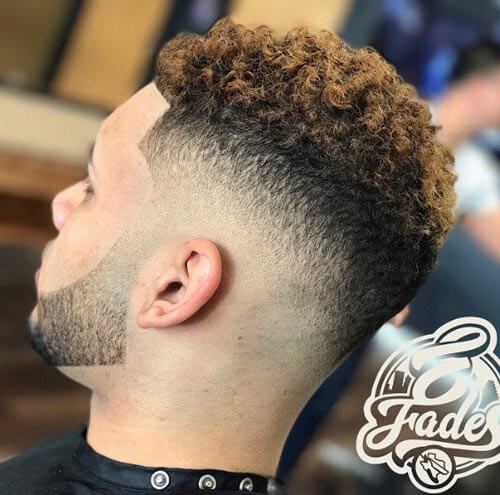 #21 Comb Over with Drop Fade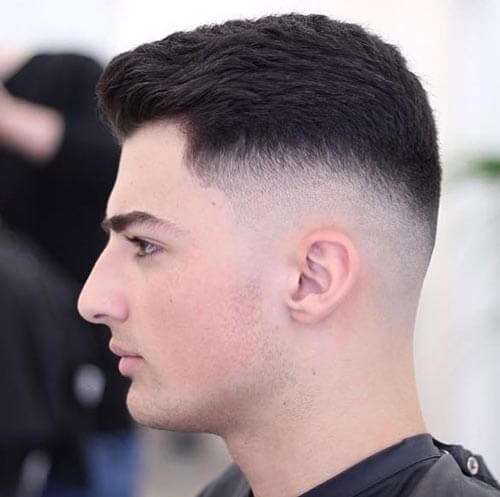 #22 Spiky High and Tight haircut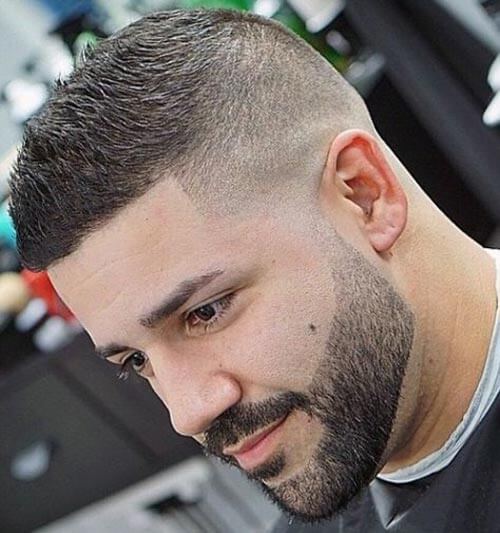 #23 Swept Side with Razor Fade
#24 fade with curly top