Many hairstyles fade from fashion, but a crew cut haircut remains a classic. The crew cut haircut is for men who are searching for a look featuring low maintenance and high style. Whether you are an office professional or a party animal, it can be adapted to your personal aesthetic. Although first made popular in the military, the haircut has found its way to the general population and is no longer just for soldiers.
What is a Crew Cut and how to style it?
A typical crew cut haircut features very short hair on the sides of the head that slowly graduates to longer lengths at the top of the head, and it can be adapted to several different styles. The crew cut fade at the sides of the head can be shaved down to the scalp or left longer for a less dramatic look. Due to the longer lengths at the top and crown of the head, the hair can be shaped to look flat, rounded, or otherwise sculpted. It offers a structured, clean appearance when seen in profile. Another advantage of the crew cut haircut is that it may be applied to any type of hair. Depending on the length of hair, this hairstyle can also be parted different ways and cut to varying lengths.
Achieving a clean, consistent appearance is key to this style. While it may look like a simple process, cutting crew cut haircuts takes skill. It is always best to go to a professional to get the best results. Some styles are more complicated and require more maintenance than others.
Overall, a crew cut haircut, or any close-cropped style that uses the crew cut fade technique, is an excellent way to achieve a streamlined, structured style that projects confidence.
#1 Short Curly Haircut
Short curls look fantastic on men but require some extra maintenance. Cutting crew styles can help manage your locks. With a curly crew cut, all you need to do is brush your hair and trim regularly.
The high faded sides were meant to be worn with hair combed forward from the crown to the front. It's a great way to manage coarse, thick or curly hair. The haircut will help tame your locks and show off your best facial features.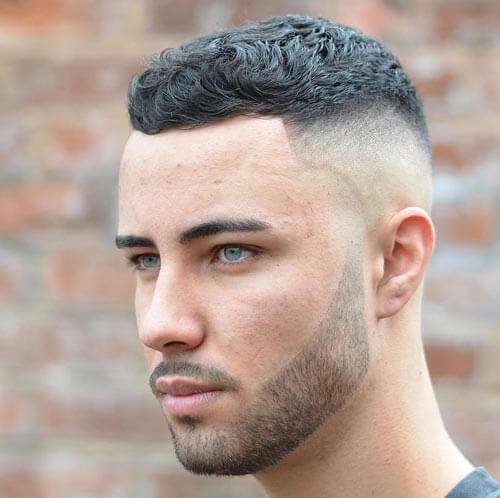 #2 High Temple Fade with Beard Design
In this geometric crew cut haircut, the sharpness of the hairline at the temple echoes the sharp fade of the beard. This style is attention-getting and requires some maintenance.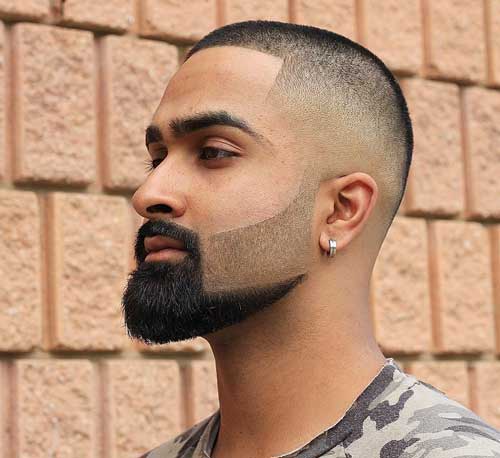 #3 Fade with Side Design
This style is short but not plain and boring. The model has thin hair but the haircut and texture masks this perfectly. To wear this hairstyle, wash your hair and add about a fingernail-sized of pomade. For a contemporary, carefree, and casual look, create any design you like on the sides.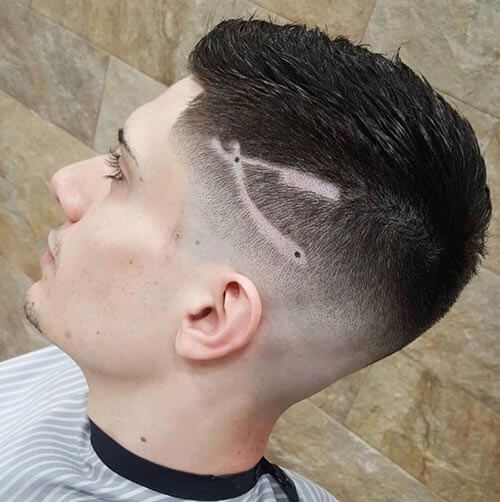 #4 Comb Over with Shaved Sides
This style works especially well for straight hair. The crew cut fade starts at the ears and graduates to longer lengths at the temple. Hair at the top is parted on the side and then cut, with one side remaining longer. The longer hair can be brushed flat or styled upward at the front.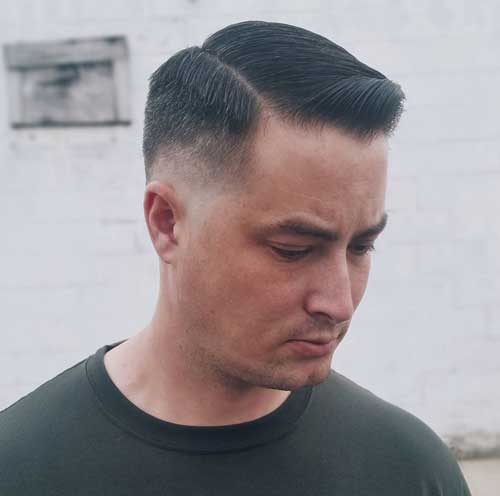 #5 Quiff with Low Fade
This crew cut fade hairstyle comes with a quiff and is especially ideal for thick hair as it makes it more manageable and cleaner-looking. This is a relatively short haircut that was styled with a short hair flick at the front. This gives your style a gentle hint of a uniqueness without doing anything too extravagant.
Combine this short haircut with a full beard for a rugged and masculine look. Maintenance is easy, simply apply some pomade and air dry to get that slightly tousled look.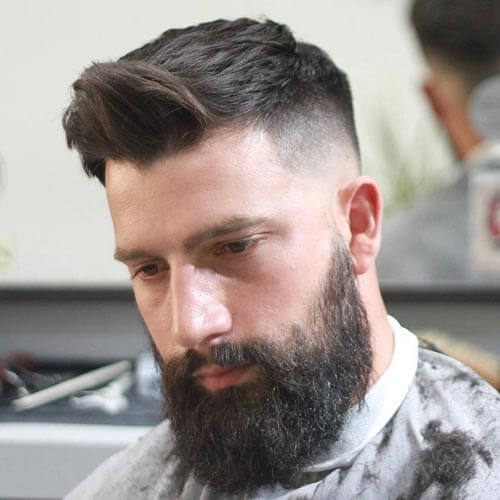 #6 Taper Haircut with Skin Fade
Taper hairstyles are convenient and even more so when the taper starts at the crown of the head. Your crew cut hairstyle will stand out if the sides are faded to the skin. This will give you time to grow the top part of your hair.
This is a simple haircut with short hair all over except at the front. It is easy to maintain and is great for men who want a modern looking crew cut fade style.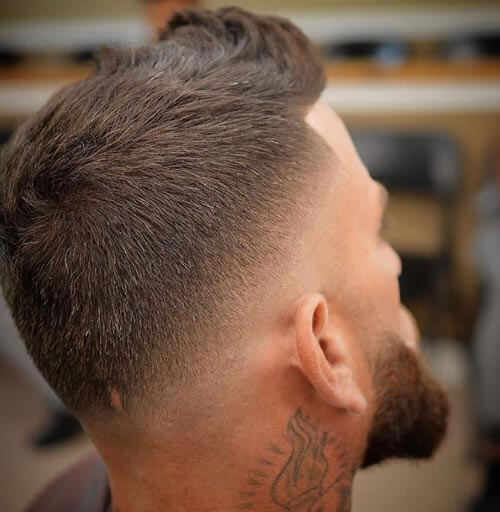 #7 Pinwheel Design
A complicated and high-maintenance crew cut haircut, this high and tight style is mixed with a pinwheel design shaved into the sides of the head.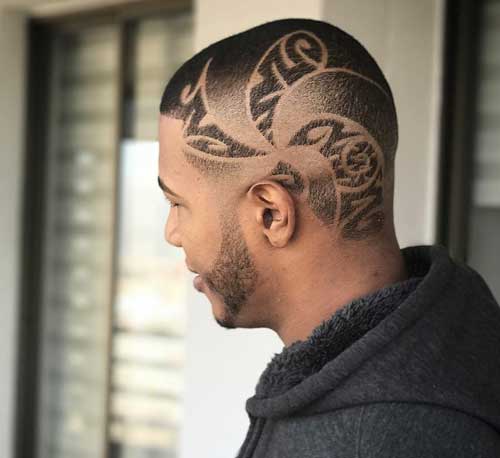 #8 Wavy Temple Fade Haircut
In this style, the hair at the side is not shaved to the scalp and offers a professional look. Hair at the top of the head is slightly longer. The hairline has clean, sharp edges.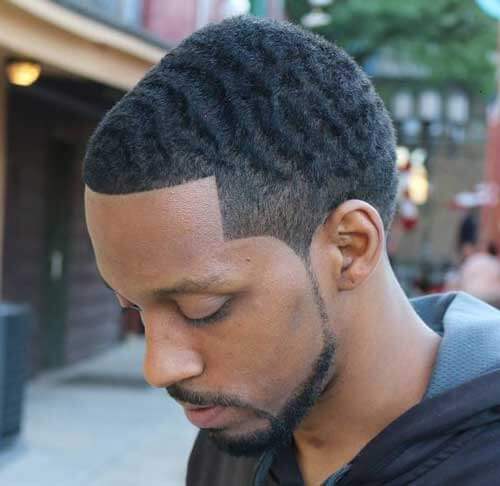 #9 Side Swept with Side Part
This one is another side-swept hairstyle with a low fade. Although this haircut is not a military-style crew cut, it was styled forward and to the right from the crown to give it a crisp look.
Men with thinning hair can pull this look off with ease because it creates an illusion of fullness and texture. As expected with these types of hairstyles, add some medium hold hair product before sweeping it from left to right.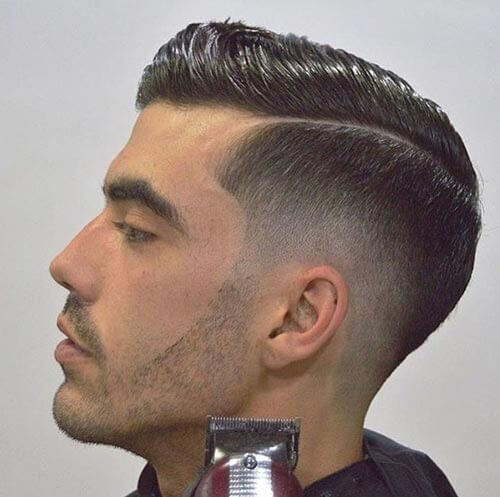 #10 Crew Cut with Deep Line
Getting a short military haircut is low maintenance and perfect for all types of hair and facial contours. It's the ideal wash-and-go hairstyle that just needs daily washing and the occasional brushing. Excellent for active and busy men who don't want to fuss with their hair every day. This cut features a deep line with high faded sides that makes this style more convenient for any man.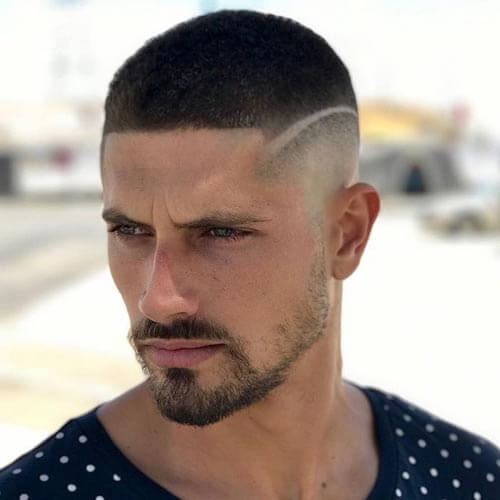 #11 Side Comb with Bald Fade Sides
For a striking look, try this style with shaved sides and a long top. Hair can be styled into a side part or slicked to the back or side. A slightly tapered fade can be seen toward the back of the head.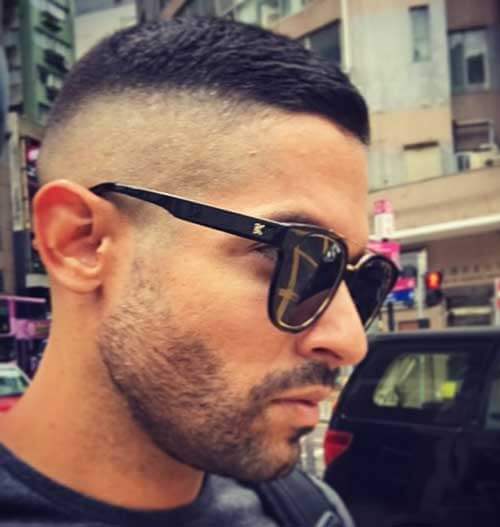 #12 Brushed Up Mohawk with Fade
Take the military-edge off with a crew cut, brushed up mohawk. This is a great look and will suit most men. To create defined pomp, you will need some medium to strong hold mousse or gel. Brush your hair into smooth pomp and leave it to air dry.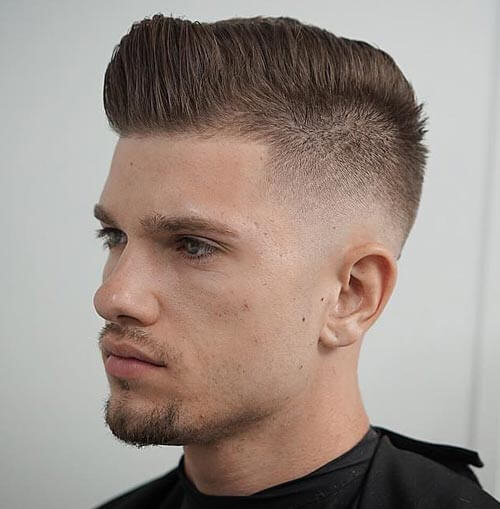 #13 Buzz Cut with Unique Textured Design
Make a statement with this style. A barber's skill at cutting crew cuts can be put to the test by the varying lengths and parts required for this cut. A skin fade reaches just above the ears.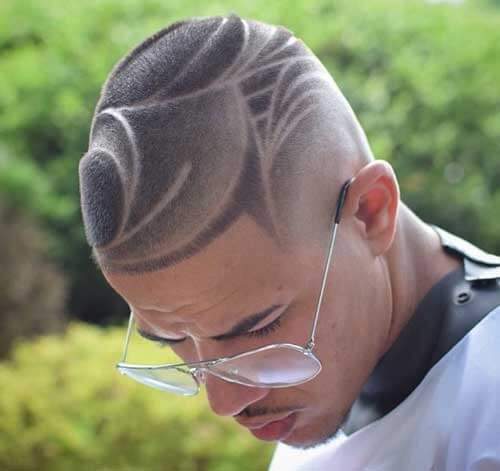 #14 Textures Slick Haircut with Deep Part
Slick haircuts are modern and the best type of hairstyle for trendy men. A slick crew cut is incredibly easy to maintain and style. Wash and condition your hair frequently, brush it with a medium bristle brush, and apply ample quantity of hair gel when styling to give it that shiny look.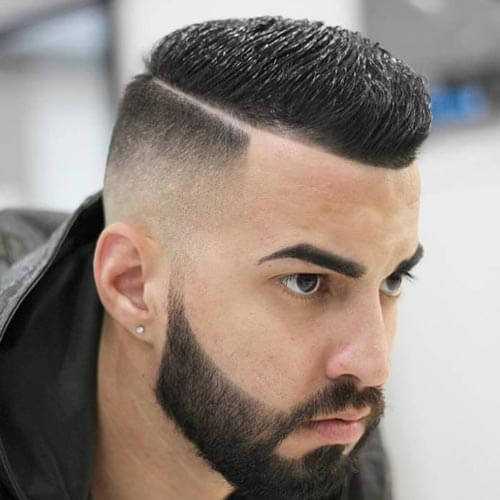 #15 Tousled Mid-length Crew Cut
A slightly less dramatic look than the bald fade, a mid-length crew cut with longer sides provides a professional look. This cut works for wavy hair that can be styled on top.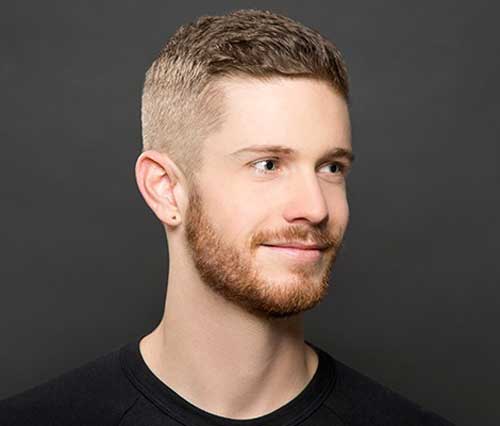 #16 Middle Part Design
The shortest of crew cut haircuts on this list, this style features an induction style buzz cut with a middle part shaved into the top for emphasis.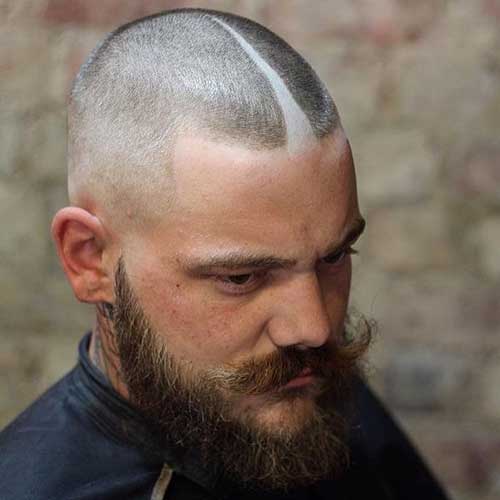 #17 Textured and Spiky
A textured and spiky crew cut allows for many styling variations, which is great if you like to routinely update your look. For super-thick locks, use an anti-frizz serum to smooth the hair and make it look healthy. Anti-frizz will do the same job as pomade, but won't weigh your hair down.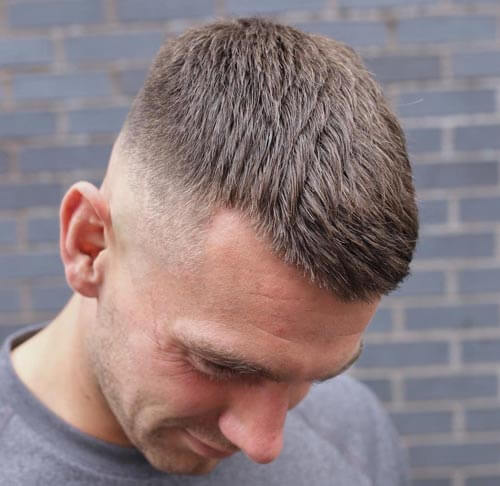 #18 Comb Over with Taper Fade
The contrast between the pomp in front is not so different from the rest of the top hair. This Comb Over haircut is modern while still befitting any face or age, which makes it a fantastic go-to haircut when you're not sure what your next hairstyle should be. The size of the Comb Over is discreet with the potential to grow out well.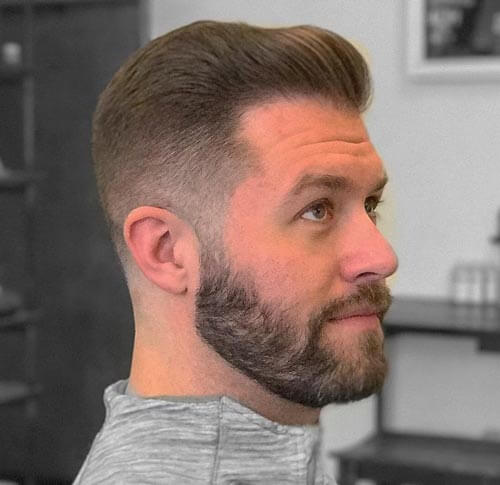 #19 Buzz Cut with Fade
The hair is closely cropped near the top and shaved on the sides. The fade is shortest at the top of the ear and lengthens above the temple.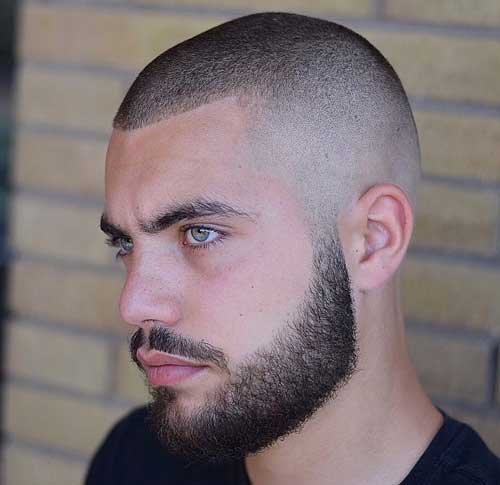 #20 Comb Over with Undercut
Comb over is classic and low-maintenance. The hairstyle is suitable for work or play. Combine this timeless style with a crew cut for a soft, well-groomed and professional look. The sides of this style is a sharp, cutting crew cut that is edgy and draws attention to the volume on top.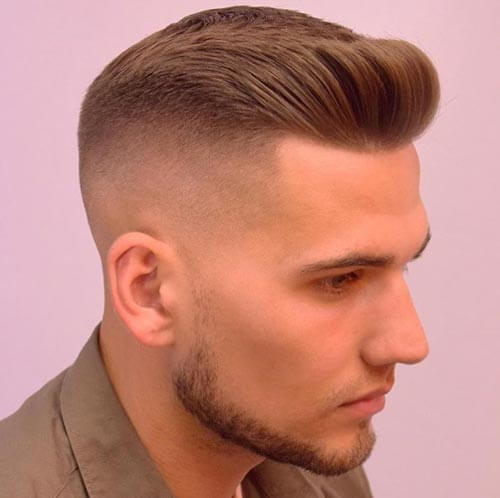 #21 High and Tight Crew Cut
This geometric style features a small but smooth transition between a skin fade circling the nape of the neck. The beard is shaped similarly to the hairline at the temple.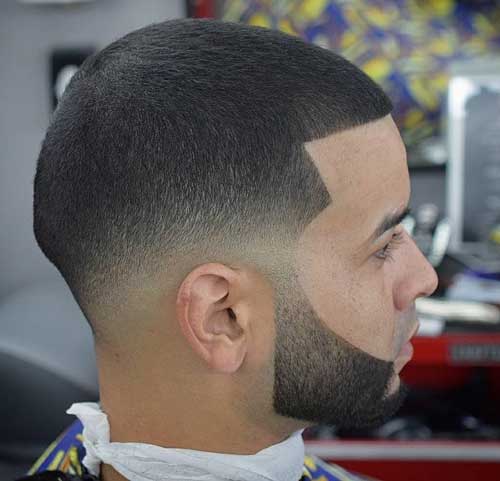 #22 Wavy Haircut with Shaved Design
This style gets a boost from a graffiti design shaved into the crown. The nape of the neck is shaved, and a high fade completes the look.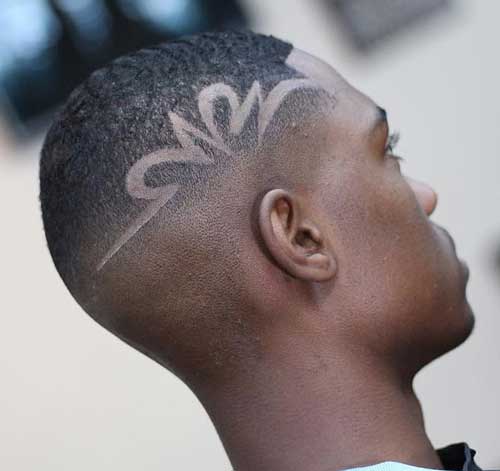 #23 Ivy League
The textured top is the highlight of this style. Hair at the crown is cropped closely and is longer in the middle. This style works well with straight hair.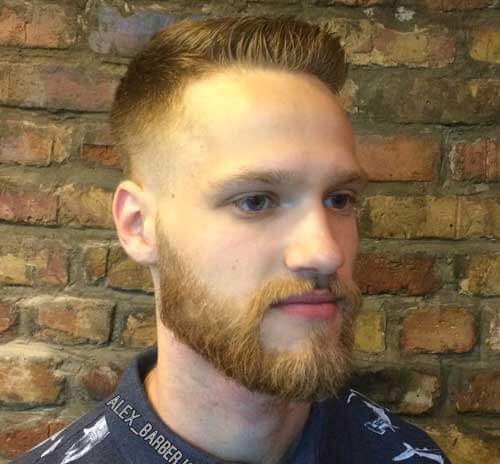 #24 Buzz Cut and Temple Fade
A buzz-length crew cut gets a little structure from shaved-out ears, a tapered skin fade at the nape, and sharp edges.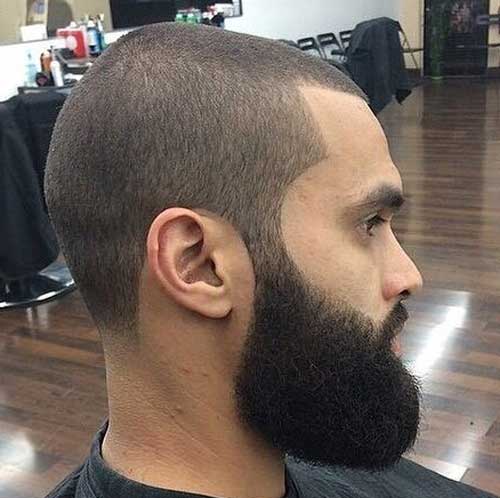 #25 Brushed Up Crew Cut
Brushed up creates a dramatic look for the longer lengths on top. Hair may be slicked back or spiked according to length. It would require closer maintenance to keep sides closely shaven.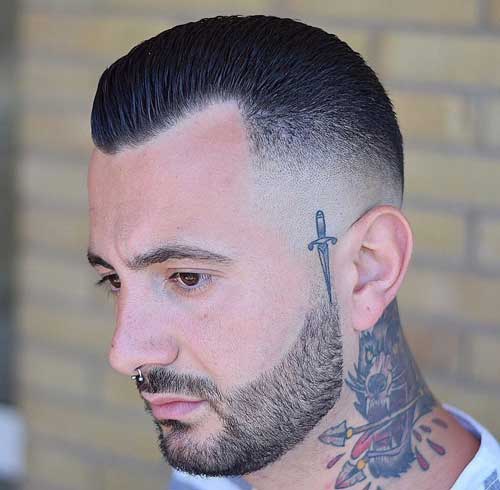 #26 Quiff Haircut with Part
A dramatic look for people who want to have long hair without getting weighed down. The sides are shaved short, and the top is long. A side part provides flair.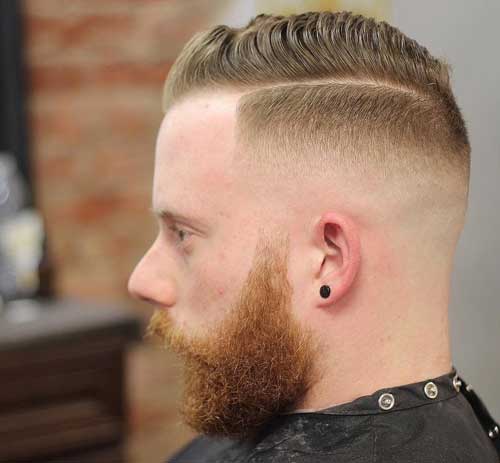 #27 Wavy Crown with Bald fade
The low skin fade allows the hair to be shortest around the ear and side-burn area. Hair at the top of the head is slightly longer. Lines are kept clean.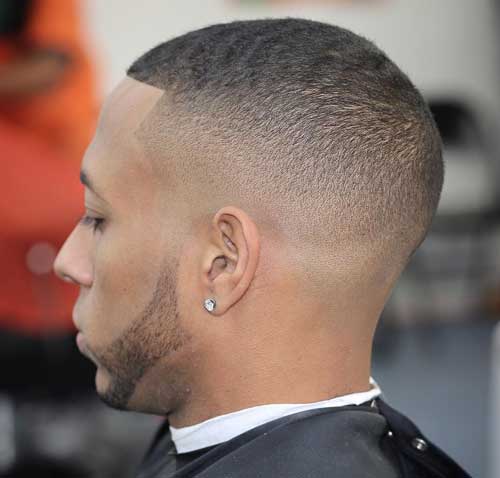 #28 Mid-length Hair
A conventional choice, this mid-length crew cut gets separation from the beard with a small skin fade. The length is mostly even all over, slightly longer on top.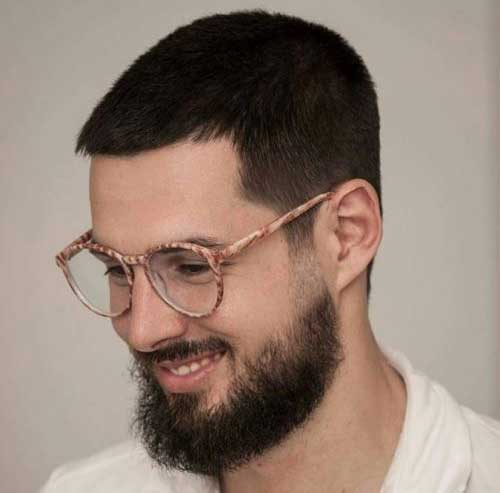 #29 Wavy Swept Up Haircut with Undercut
If you have a short wavy hair, you can use the natural texture of your locks to create this style. To keep this swept up looking great always, all you really need is a shampoo and conditioner that is perfect for your hair type. Use a soft-bristled brush, add some product for styling and you'll save time getting ready every morning.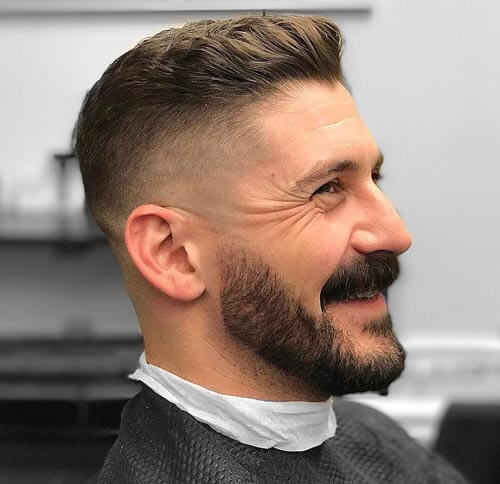 #30 Quiff Haircut with Skin Fade
A quiff with a crew cut haircut is a timeless look that is stylish and works well on almost any man! The model in this picture is wearing a well-groomed beard and quiff that will get heads turning every time.
The haircut tapers down to a skin cut from the crown downwards and is combed forward to create a quiff at the front. To maintain this style, simply work some light hold gel into your hair using your fingers or a fine-toothed comb.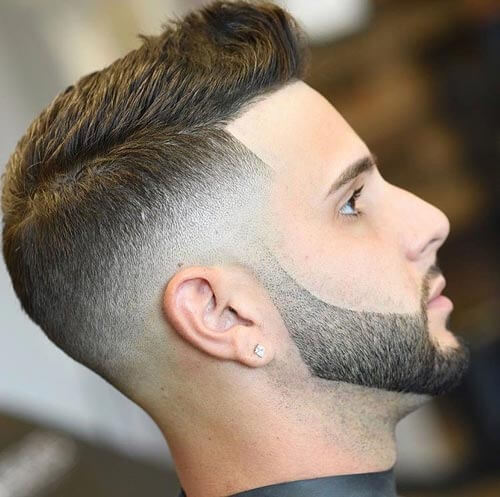 #31. Comb Over with Mid-Length Sides
This crew cut is less maintenance due to the longer side lengths. The longer hair on top provides plenty to work with. This style works best with straight hair.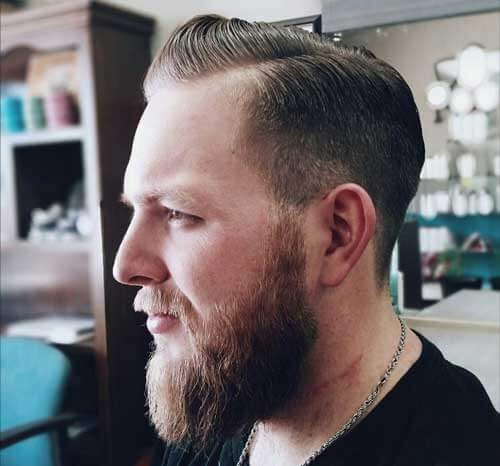 #32 Life-line Design Shaved Cut
This hum-drum buzz cut with a low fade gets some drama from a shaved-in design. Other than the design, the length is even all over.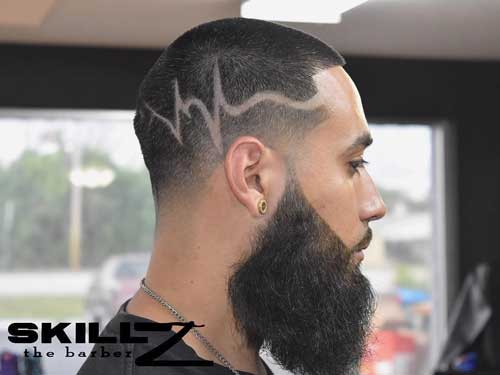 #33 Caesar Haircut with High Fade
Hair at the top of the head is combed forward. Hair at the sides of the head uses a high fade to slightly longer lengths toward the crown of the head.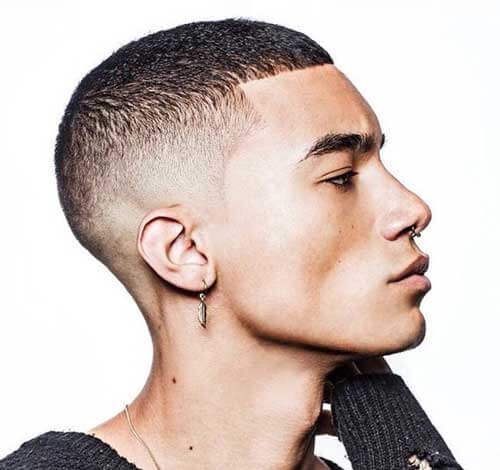 #34 Comb Over with Mid-length fade
This haircut has some retro charm. Areas just above the ears are buzzed close to the scalp, but the back of the head is buzzed slightly longer for a more gradual fade. The top is kept long, and can be styled parted to the side or slicked back. Great for thick, straight hair.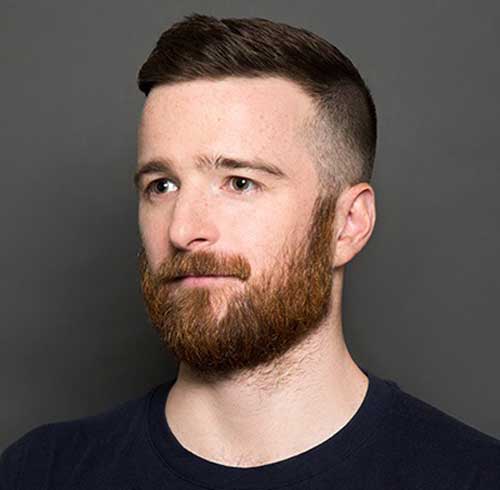 #35 Spiky brush cut
This brush cut style offers a clean, shaved look at the side-burn area. It remains longer everywhere else, and longest at the top of the head. Excellent for thick, coarse hair.
#36 High and Tight Haircut with Buzzed Sides
This style offers some height to the hair, as the graduation of longer hair at the very top of the head achieves a stacked effect.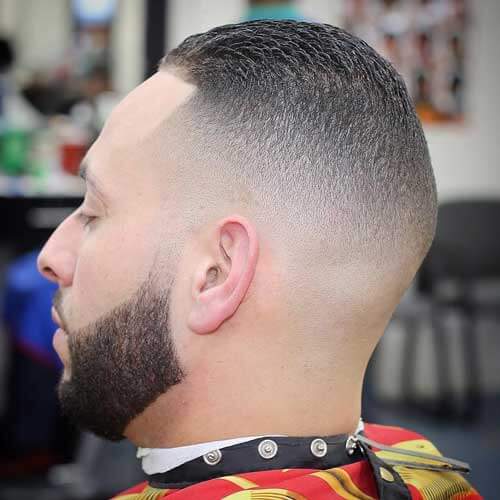 #37 Low Skin Fade Haircut
This crew cut fade is low on the head. Hair at the nape of the neck is shaved and quickly graduates to an even buzz cut.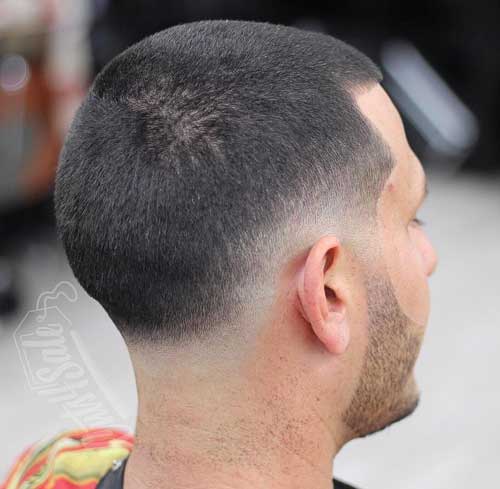 #38 Simple Buzz Cut
The skin fades at the side of the head transitions to the slightly longer buzzed portion of the head seamlessly.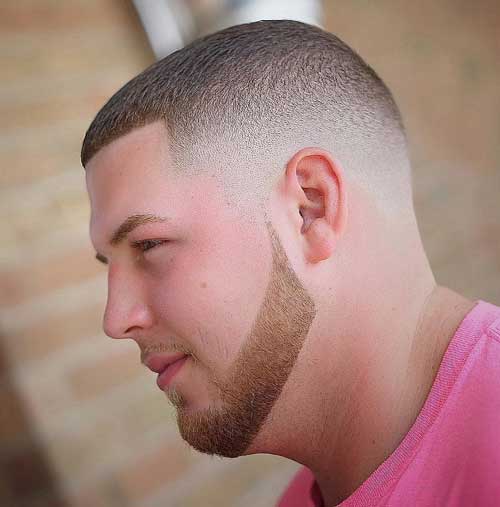 #39 Side Swept with Part
For the perfect side-swept hair cut, you will need to have a longer length on the top. The long hair on top can be styled with some gel to give it a textured, slick wet look.
To get the best results, trim the part of your hair that's closest to your ears and the nape of your neck every 2-3 weeks. This will keep your haircut looking sharp. Add some hair product and sweep the hair from left to right daily.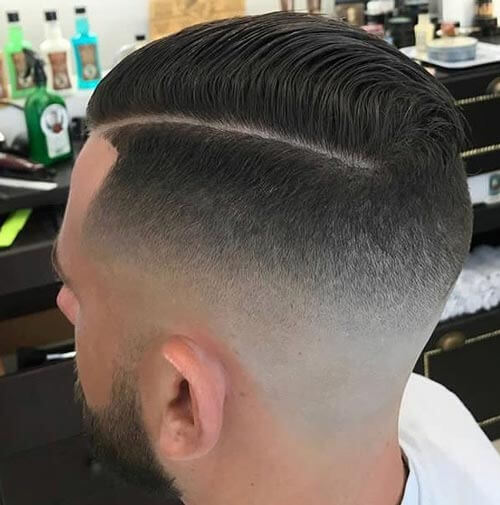 #40 Spiky Hair with Part
Short spiky hairstyles are a classic look. It is a simple, no-nonsense haircut that works well on almost any man! Keep the sides short but leave about 2 inches at the top. You can run your fingers through the hair for a genuinely tousled look.
Create defined spikes by using some hair products and then run a comb straight up through the hair from the roots.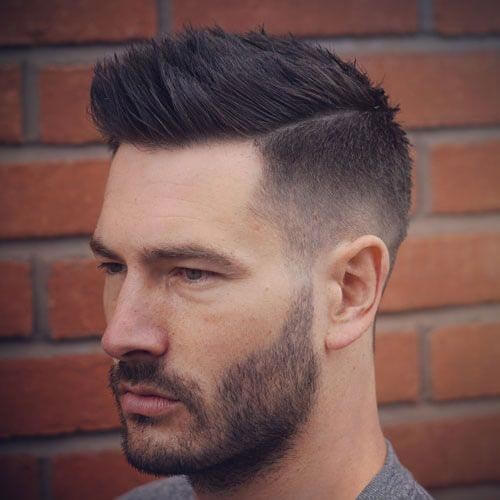 #41 Comb Over with Side Part
A side part complements wavy hair in this style, which features a skin fade on each side and longer hair on top.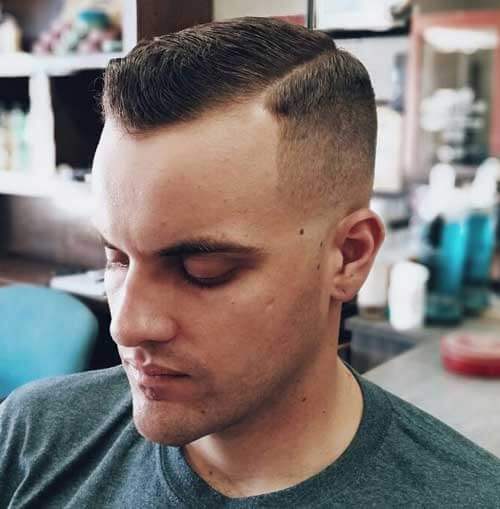 #42 Thick Top with Curve Design
This hair cut is hard to ignore. A sharp design highlights where the fade meets the crown of the head. Not for the faint of heart.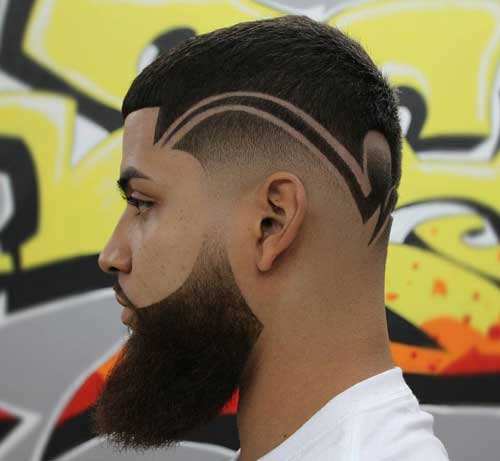 #43 Deep Parted Comb Over
A simple but effective style, this haircut features a straight side part, temple fade that is higher in the front and angled toward the back, and medium length hair at the top.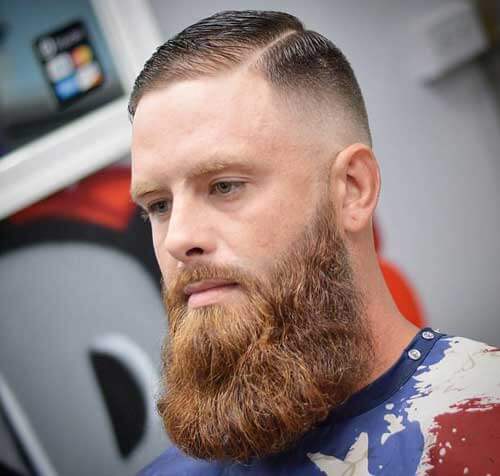 #44 Subtle Side-Burn Taper
This crew cut haircut is more subtle. The hair length is mostly even, but there is slight tapering at the ears, temple, and nape.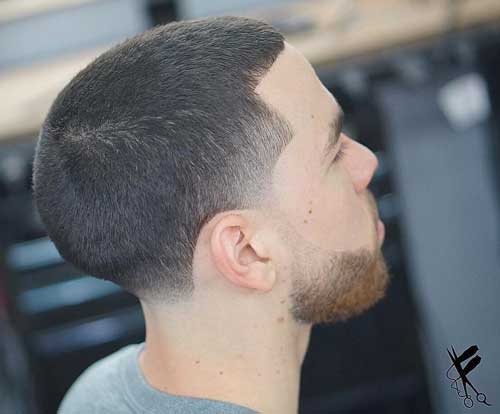 #45 Textured Caesar Haircut
Great for short or fine hair, this haircut features a high skin fade the reaches the temples. The hair on top is cropped close to the head and maybe combed forward for a blunt appearance.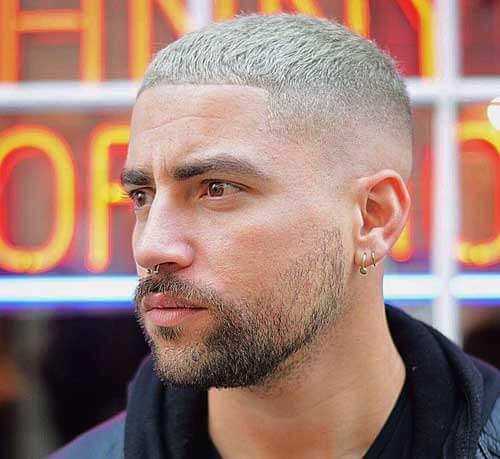 Overall, the crew cut haircut is an attractive and versatile style. Many styles and looks are available, and cutting crew cuts take practice and consistency. This haircut can provide a clean and neat appearance in no time at all, and work with all types of hair. Styles may range from edgy to professional, and from conventional to an alternative. It is a great choice no matter your style.