First seen in the military during the 40s and 50s, the fade haircut is a barber's staple! Originally, fades were practical and serious. But these days, they're anything! Fades are a low-maintenance hairstyle that gives men tons of trendy appeal. Thanks to its wide adaptability, it's the go-to for any fashion-forward gent. Not only that, but it's adaptable to any hair type and lifestyle!
How To Get A Fade Haircut
Getting a fade is a pretty straightforward process. This style is so popular that your barber or hairstylist is likely well-versed in the process! That said, the key here is communication. While it looks simple, fades are far more complex than most think. It requires a steady hand and copious amounts of artistry!  The most important things to think about are where you want your fade to start and end. Desired hair length is significant, too. Fades can be as dramatic or subtle as you want them! Having a clear idea of the type of fade you're after can give your stylist the tools they need to get the job done. If all else fails, bring a photo of your desired cut with you! The more direction you can offer, the better.
How To Maintain A Fade Haircut
Keeping your fade pristine is no easy task! Fade haircuts are notorious for losing their appeal after only a few days. Luckily, there are some things you can do to keep that fresh and stylish look for a bit longer!
Use a razor to keep the edges sharp
Don't attempt to do linework or buzzed cuts yourself
Keep your hair clean and healthy
Use a brush to keep short hairs even and flat
Get professional touch-ups every two to three weeks
Different Types of Fade Haircuts
Which Fade Haircut is for You?
When most people think of a fade, they imagine the same thing. They think of that signature transition from long hair to short hair on the sides and back. But, these cuts aren't that rudimentary!
The beauty of a fade is that it's flexible enough to fit any guy! No matter your face shape or personal aesthetic, there's a fade-out there for you. Check out some of the most common variants and see which one is right for you!
Low Fade Haircut
Low fades are one of the subtler options. With this cut, the transition is less noticeable and doesn't offer as much contrast. But make no mistake: It's still plenty stylish! The transition begins just above the ear, leaving more room to complete the fade.
Low fades are ideal for guys with a more rounded face shape. Not only does it complement your head, but it may help give your dome a taller and more structured look.  It's also a great choice if you're rocking medium-length tresses up top. A low fade complements thicker locks, such as a quiff or curls.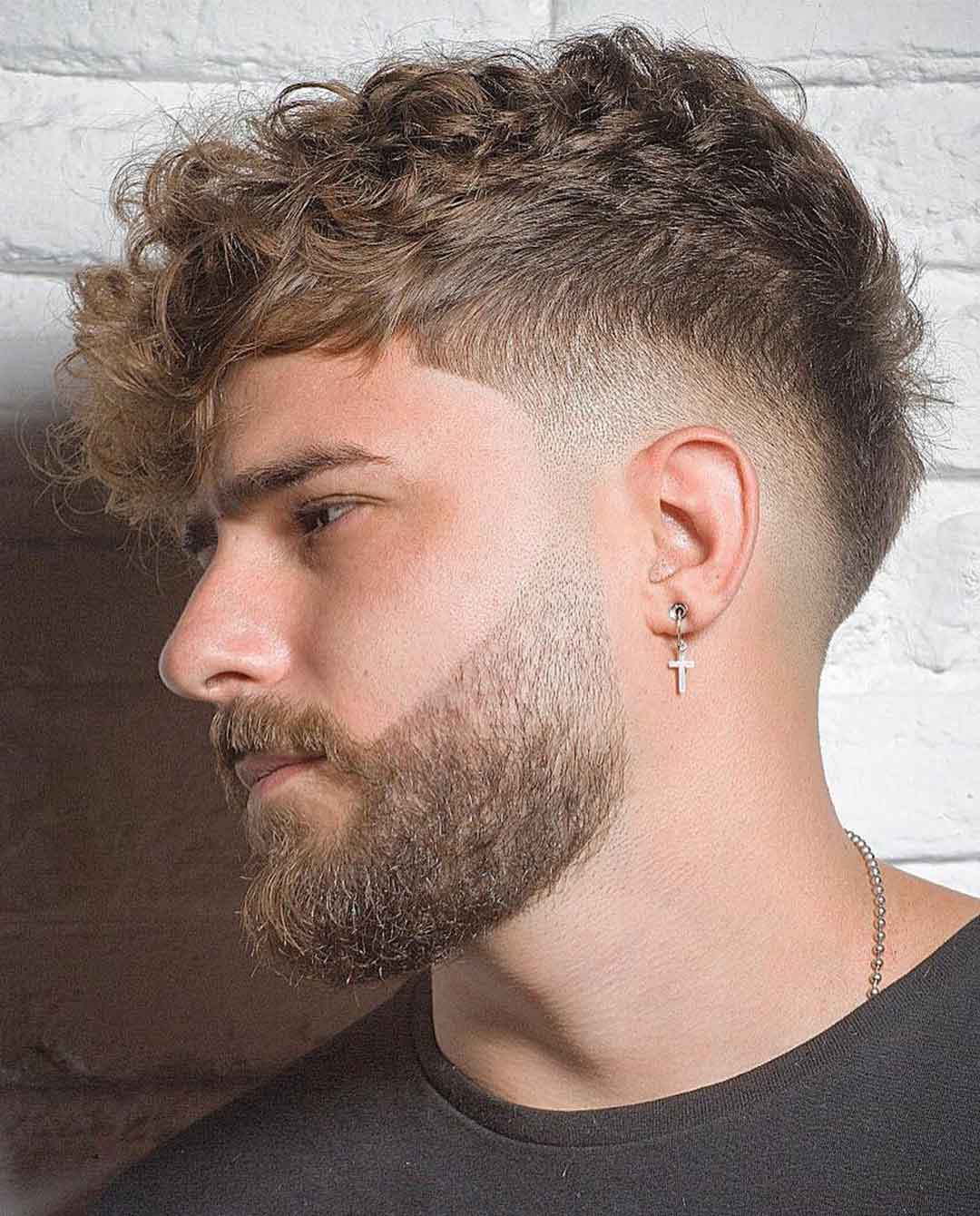 Fade Haircut with Messy Top
This fade haircut cut entirely marries grungy and sleek aesthetics. It offers a unique juxtaposition that appeals to current trends. Perfect for men with naturally curly hair, the cut is easy to maintain. Leave some length on top and let those curls fall. Use some flexible wax or pomade to create texture, and you're good to go! As long as the back and sides stay clean, the look is easy to pull off.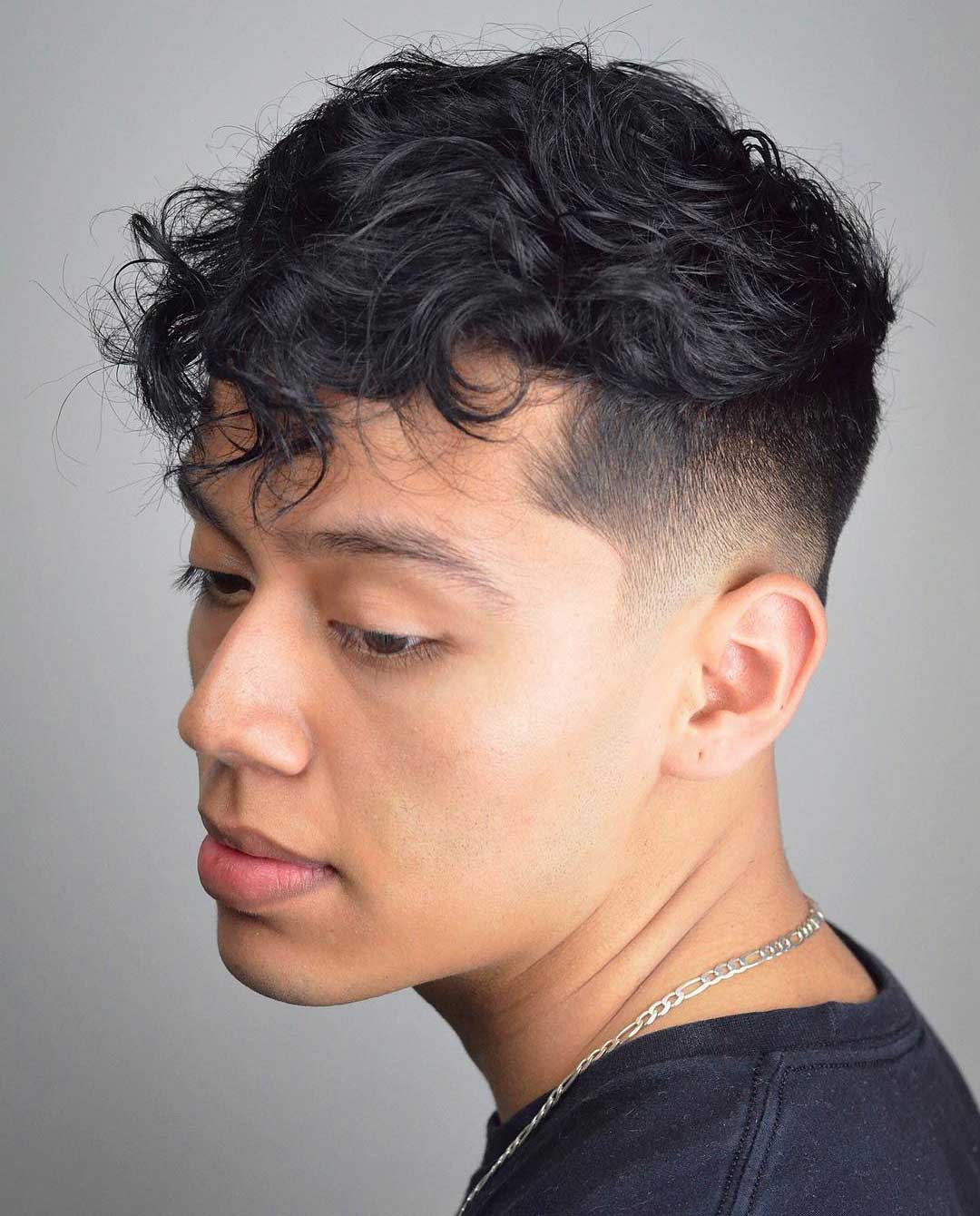 Caesar + Low Fade Haircut
Here's a style that harkens back to old-school cuts of yesteryear! It's a modern take on the classic Caesar cut. On top, keep the hair short, straight, and flat. Some simple comb work will give you that signature Caesar profile. Meanwhile, clean linework and a killer low fade offer the finishing touch. This haircut is an excellent option for men with slim heads and angular jawlines.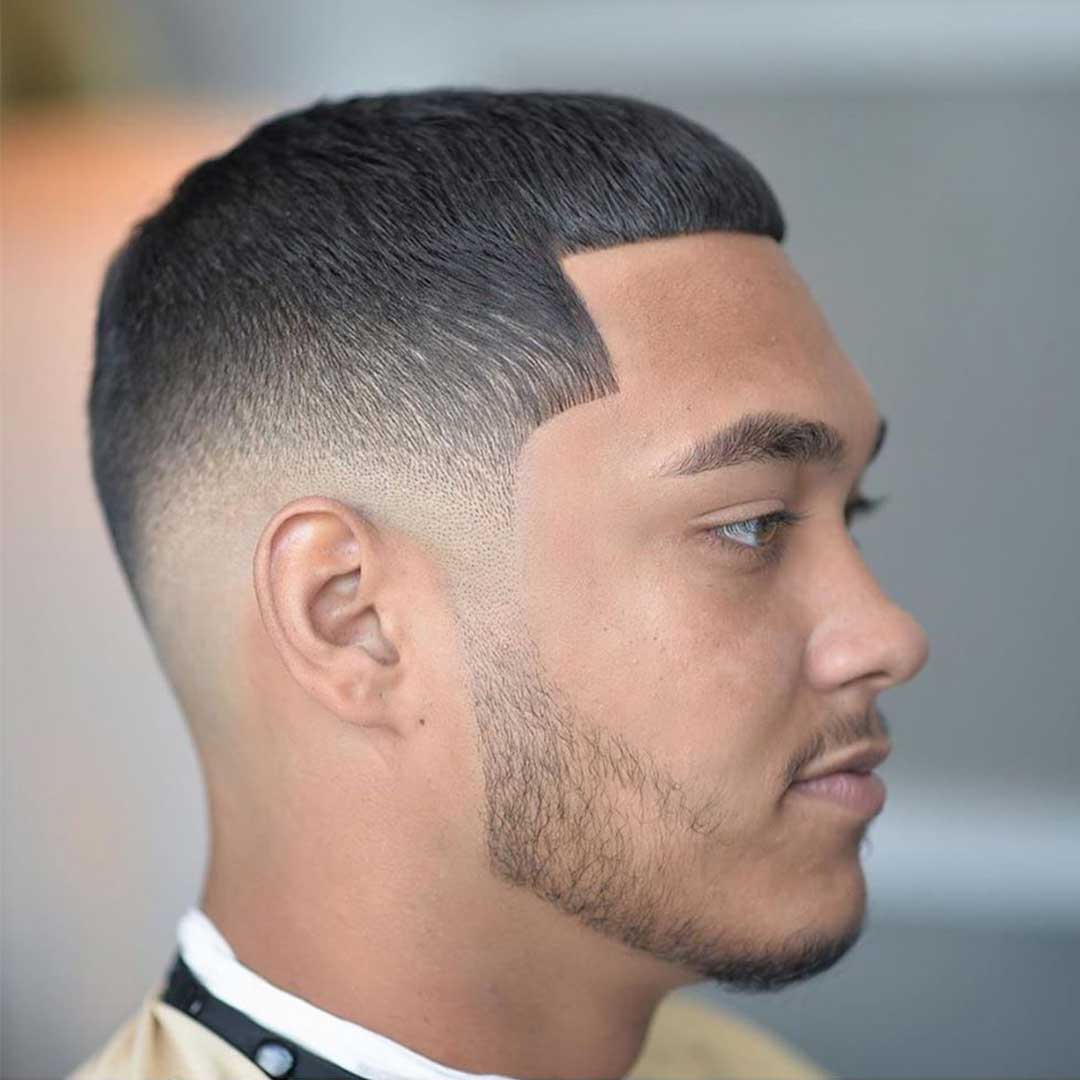 Brushed Up
Want something that's unmistakable counterculture without going over the top? This might be the cut for you. The mohawk and punk fashion inspire it. The top features brushed-up hairs that stand on end with the help of a little sculpting pomade. While it doesn't have the buzzed sides, the fade simulates the look and gives your head a clean-cut look.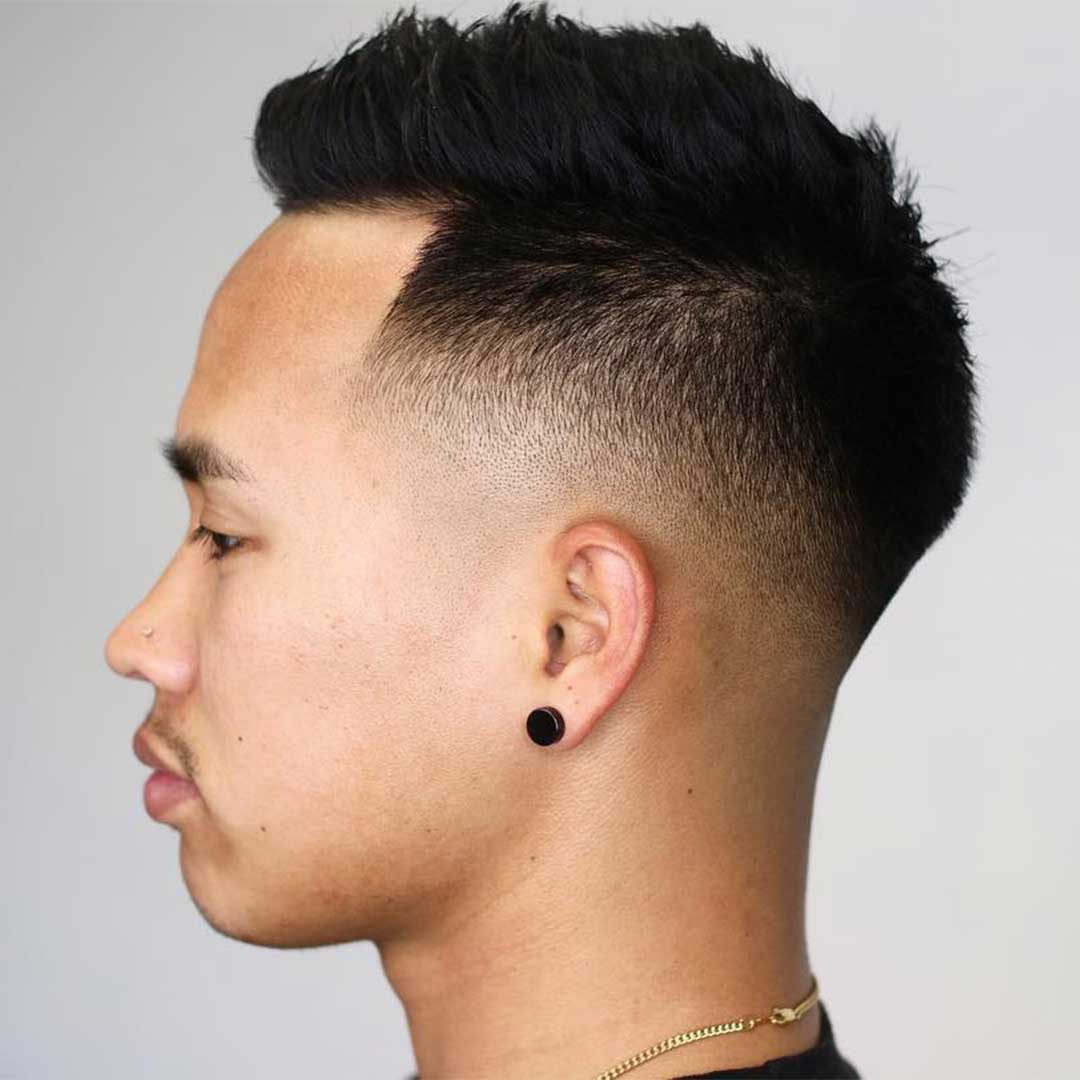 Comb Over Low Fade
Originally used to cover up bald spots, a comb over is a popular hairstyle for men to use for different hair types and occasions. Medium length hair works best because this hairstyle primarily parts the hair from one side to the other. Pomade generates an extra shine. Instead of a traditional taper, try a low fade haircut. The latter gives this polished look a gentle gradation around the ears and enhances the volume.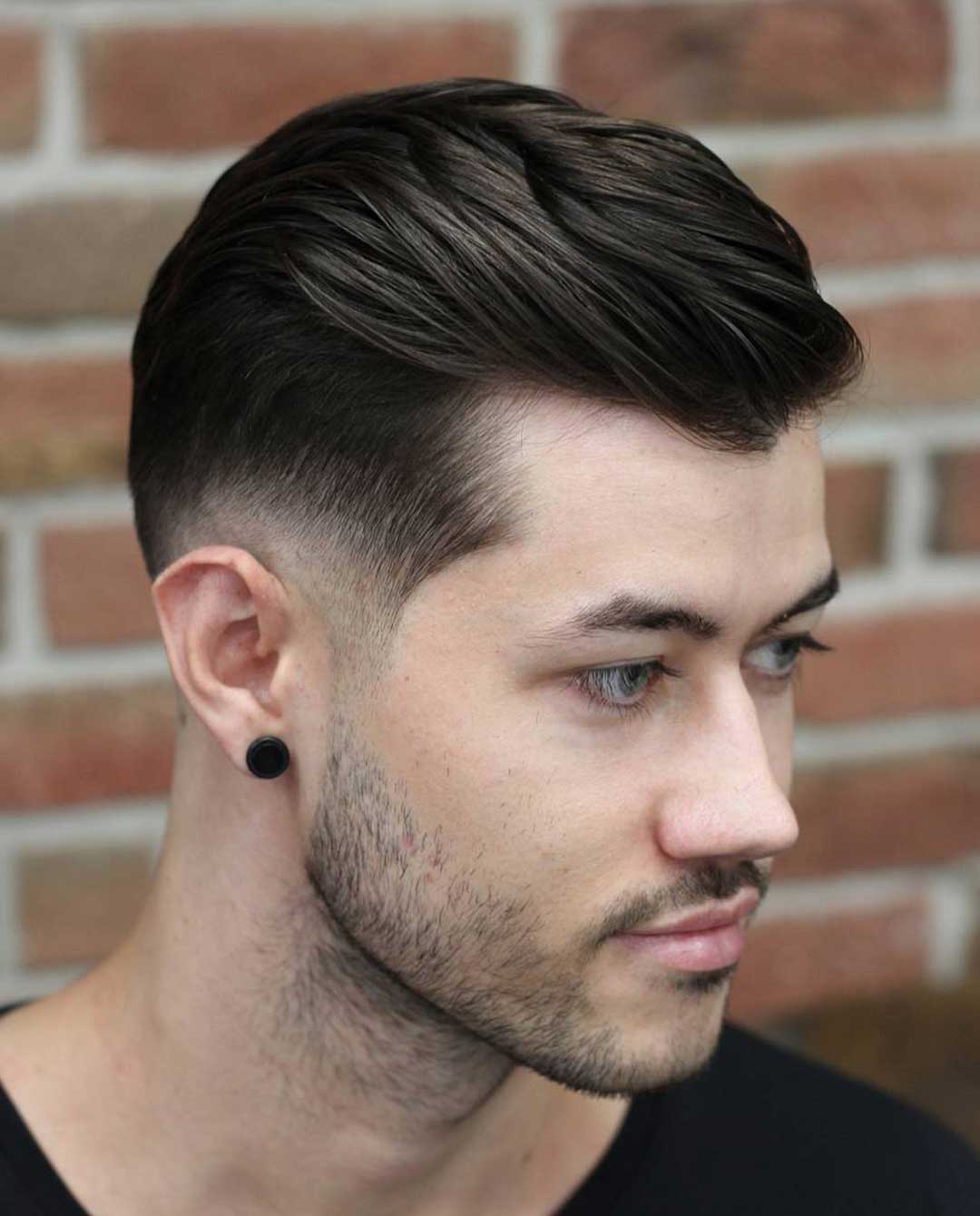 Long Quiff
A quiff is essentially a carefree pompadour that looks messier on purpose. To achieve this version, grow your hair to three to five inches on top. Create an upward motion by brushing and blow-drying at a slant and using hair wax or clay to hold the style down while still looking wind-swept.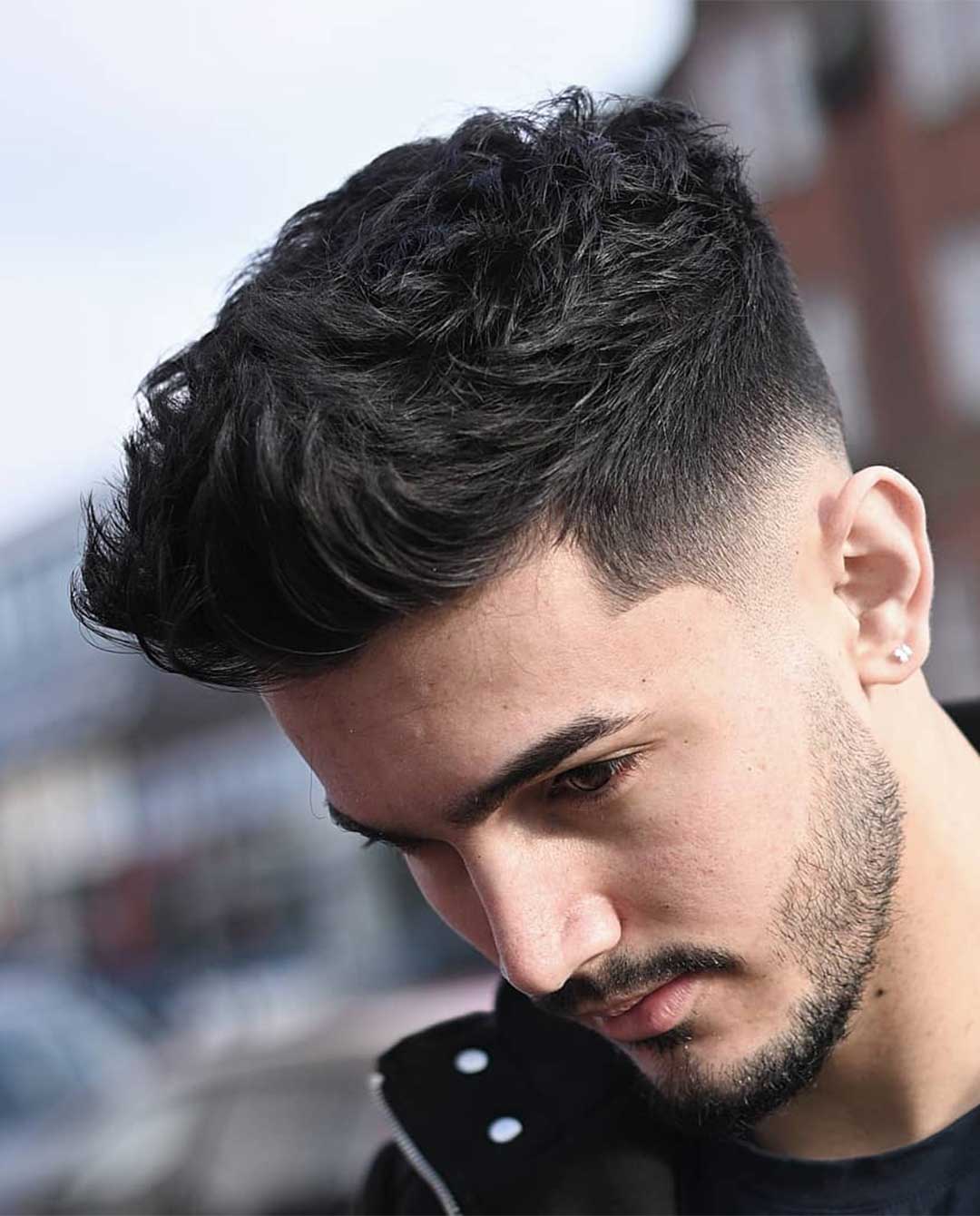 Dyed Top with Skin Fade
Dying your fringe refreshes a classic hairstyle into an edgier punk-inspired upgrade. The strands start with blond and then gradually preserve the natural color near the roots. Make this hairstyle look extra crisp with a low skin fade haircut that dissipates into the skin.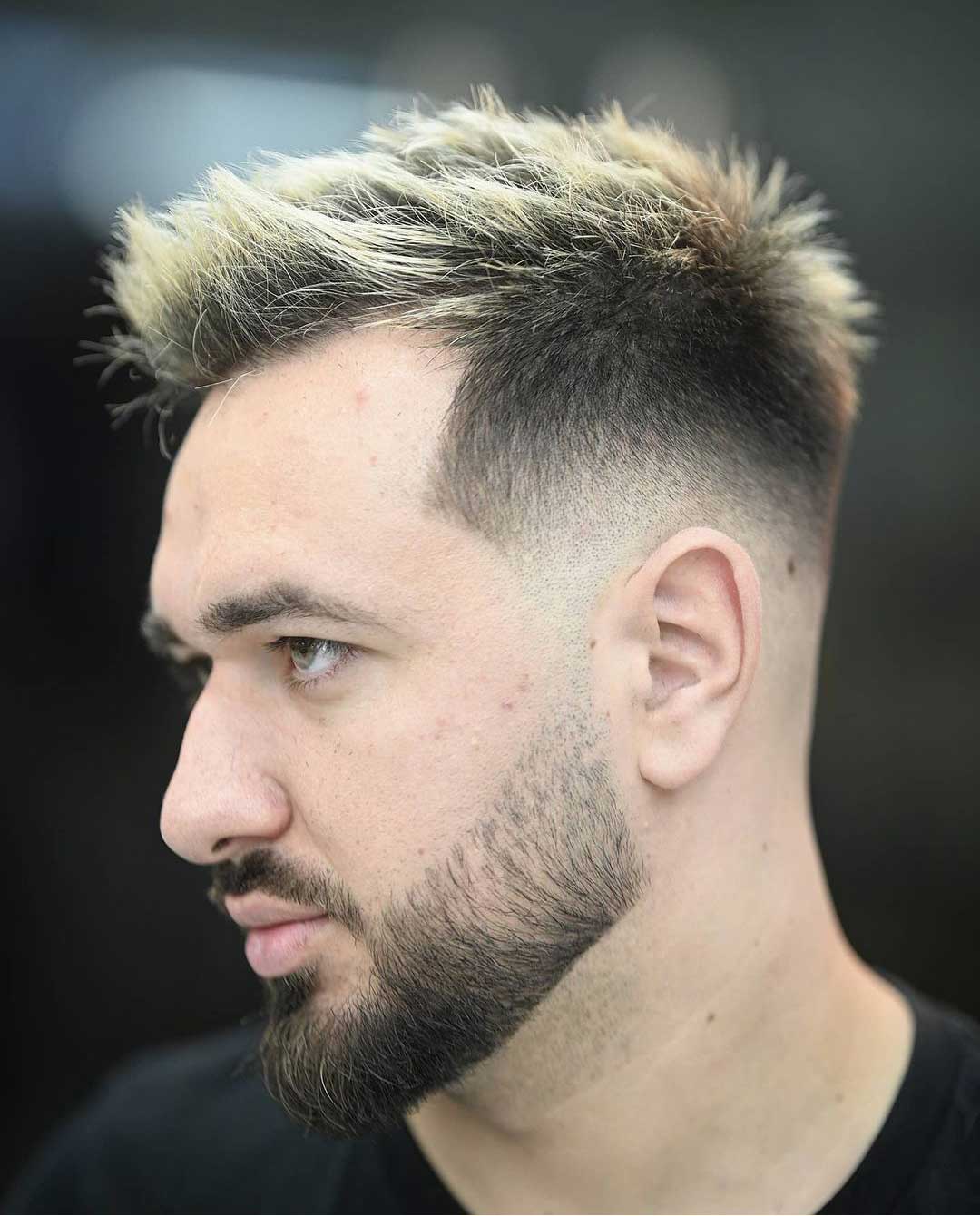 Mid Fade Haircut
Here's a versatile fade that offers a softer look. This style was one of the first to come out of old military buzz cuts! It's a more relaxed version of those prim and proper crops of yesteryear. As you can guess, this fade starts a bit higher than a low fade. It begins in the middle of the head but still below the temples. Barbers can carve a clean fade down to the nape of your neck. They can also use their skills to create an organic fade that follows the contours of your skull for a grittier look. Either way, a mid fade complements just about any hairstyle. It's one of the more flexible variants, adding a nice finished touch to any cut on top.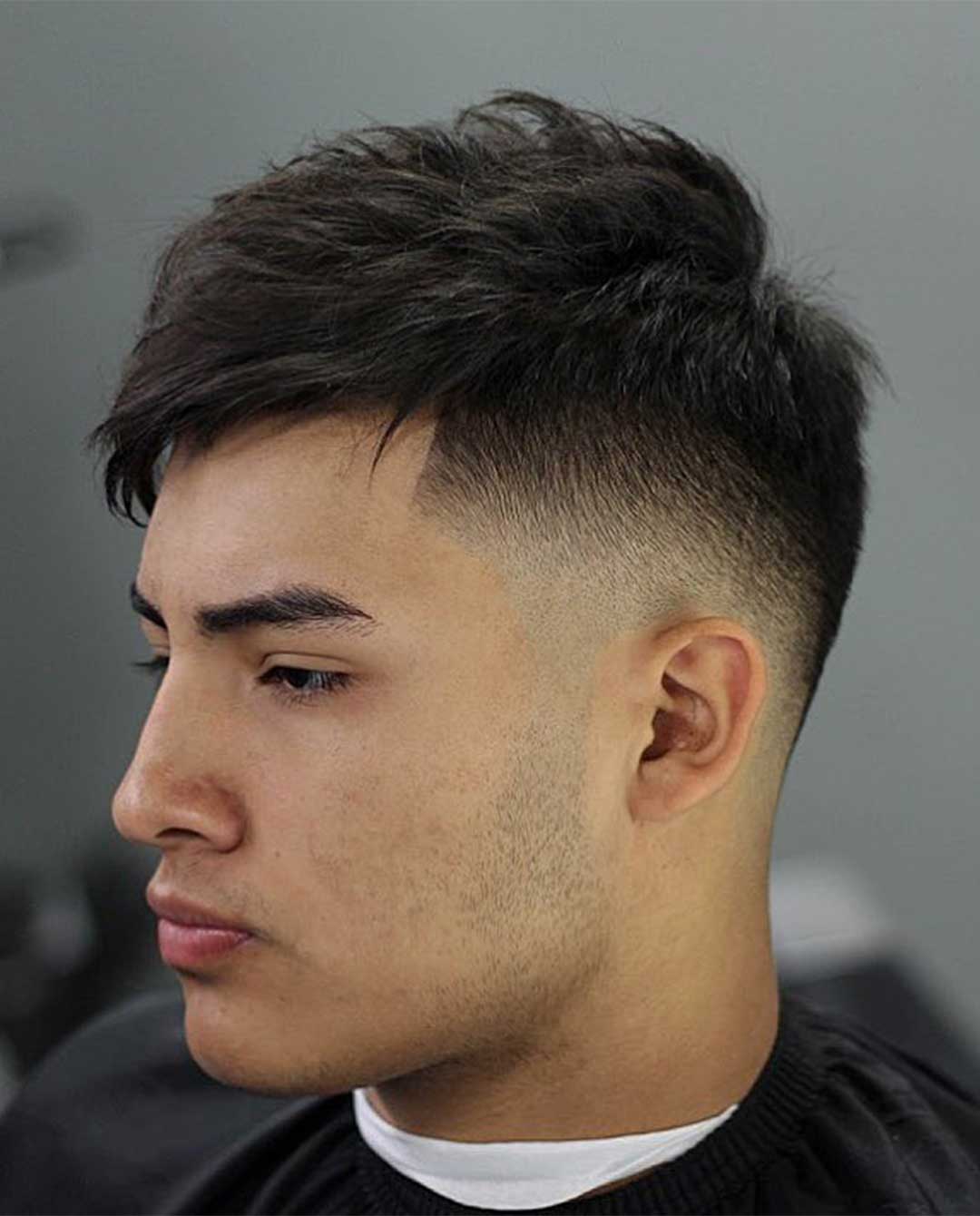 Hard Parted Comb Over
Get some rockabilly style through a modern lens! This cut has all the hallmarks of a side-swept quiff. Dramatic length on the top combs over to the side, creating that iconic swoop and plenty of height. However, a mid-level fade eases the transition. A hard side part marries the two while a single fringe piece offers the finishing touch.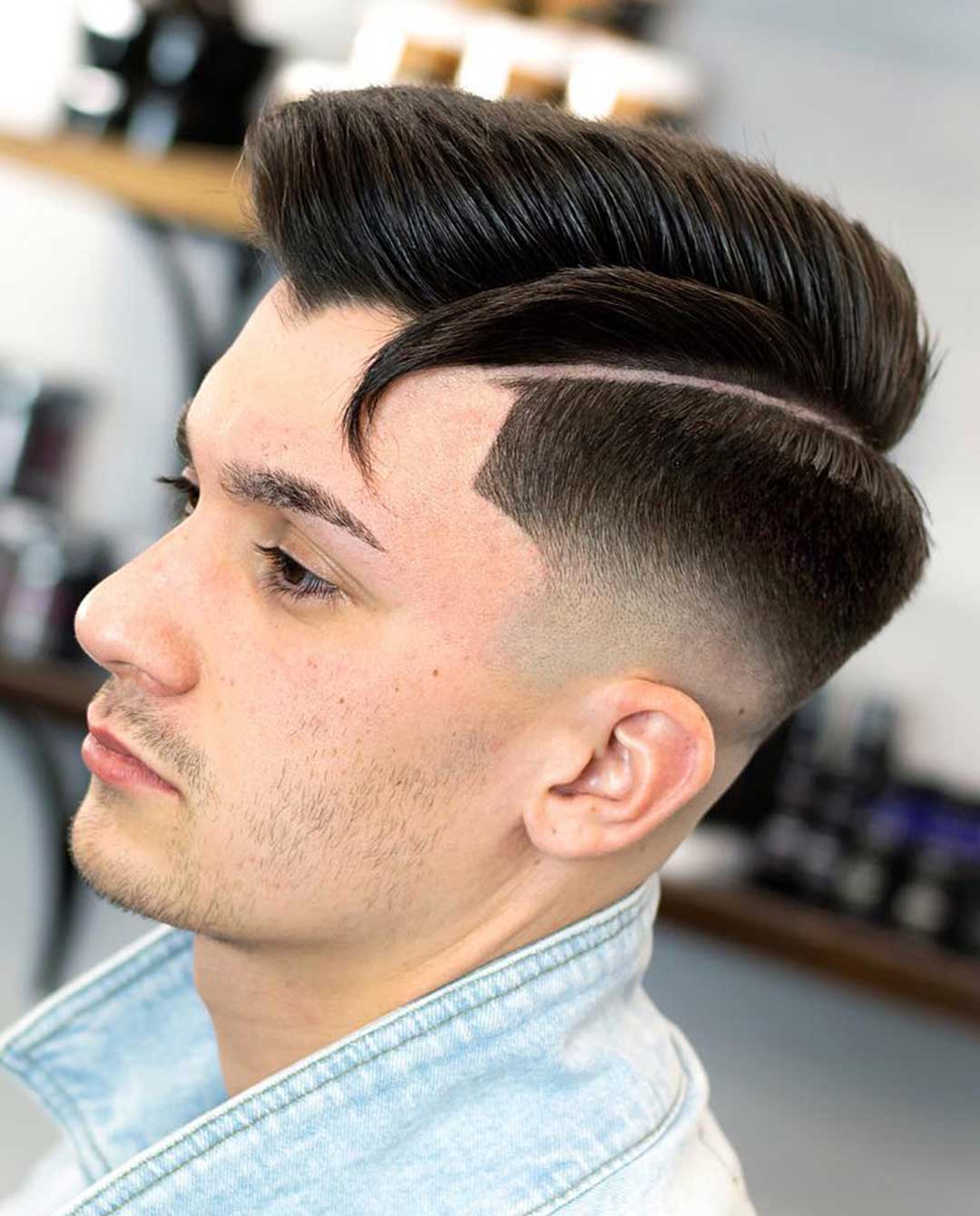 Caesar + Fade Haircut
Here's another cool take on the Caesar cut. It's similar to the previous flat look we went over early. But the main difference here is the subtler transition between the top and sides. The fade begins much lower. Not only does this create a less-dramatic look, but it reshapes the head for a boxer appearance.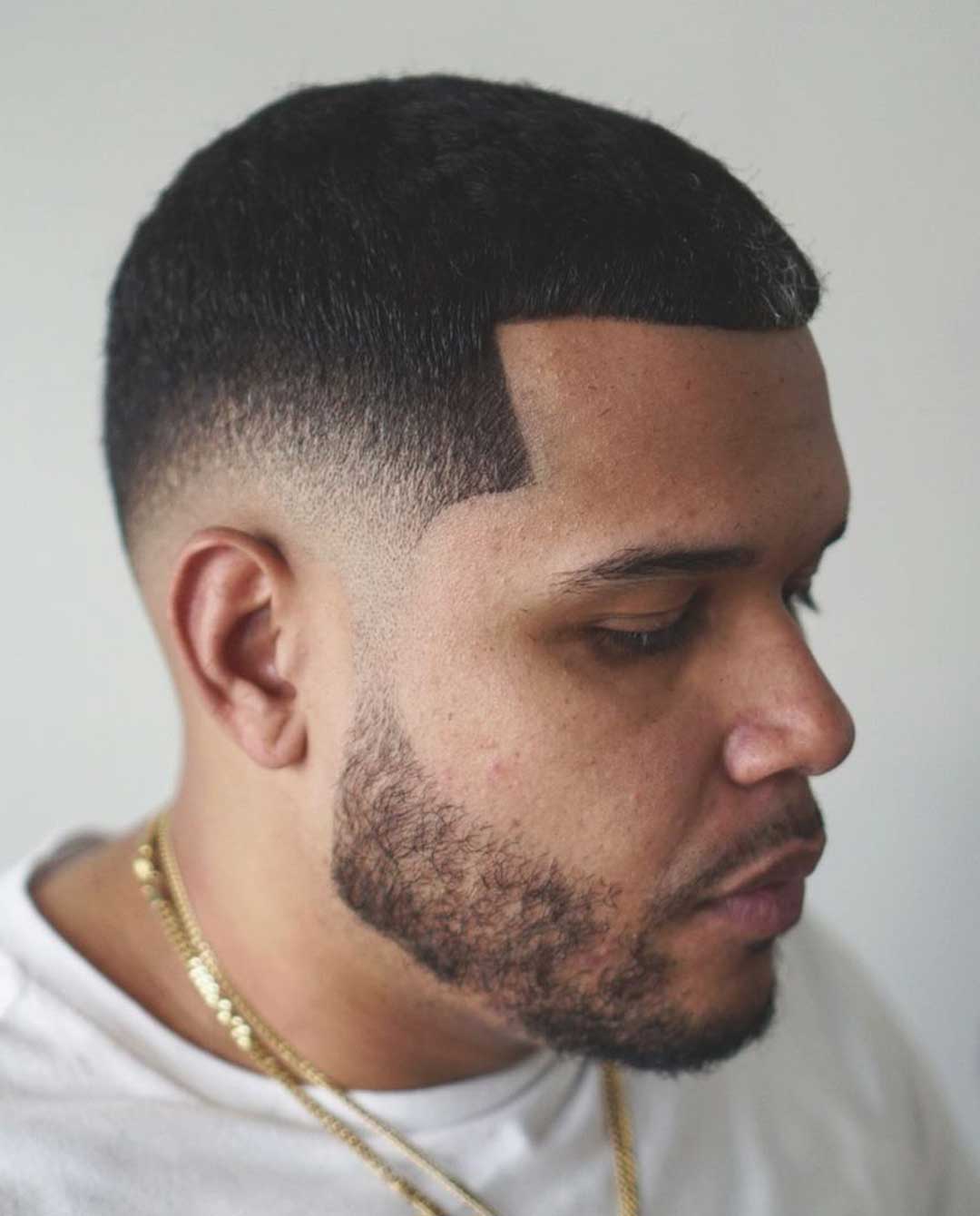 Mid Fade Pompadour
Height and form is the name of the game with this fade haircut. The top of the dome features ample length. With some assistance from strong-hold wax, you can send your locks to the heavens and get a dramatic look. The mid fade on the sides offers a smooth transition to bare skin. But, it provides enough of a contrast to keep your head nice and elongated.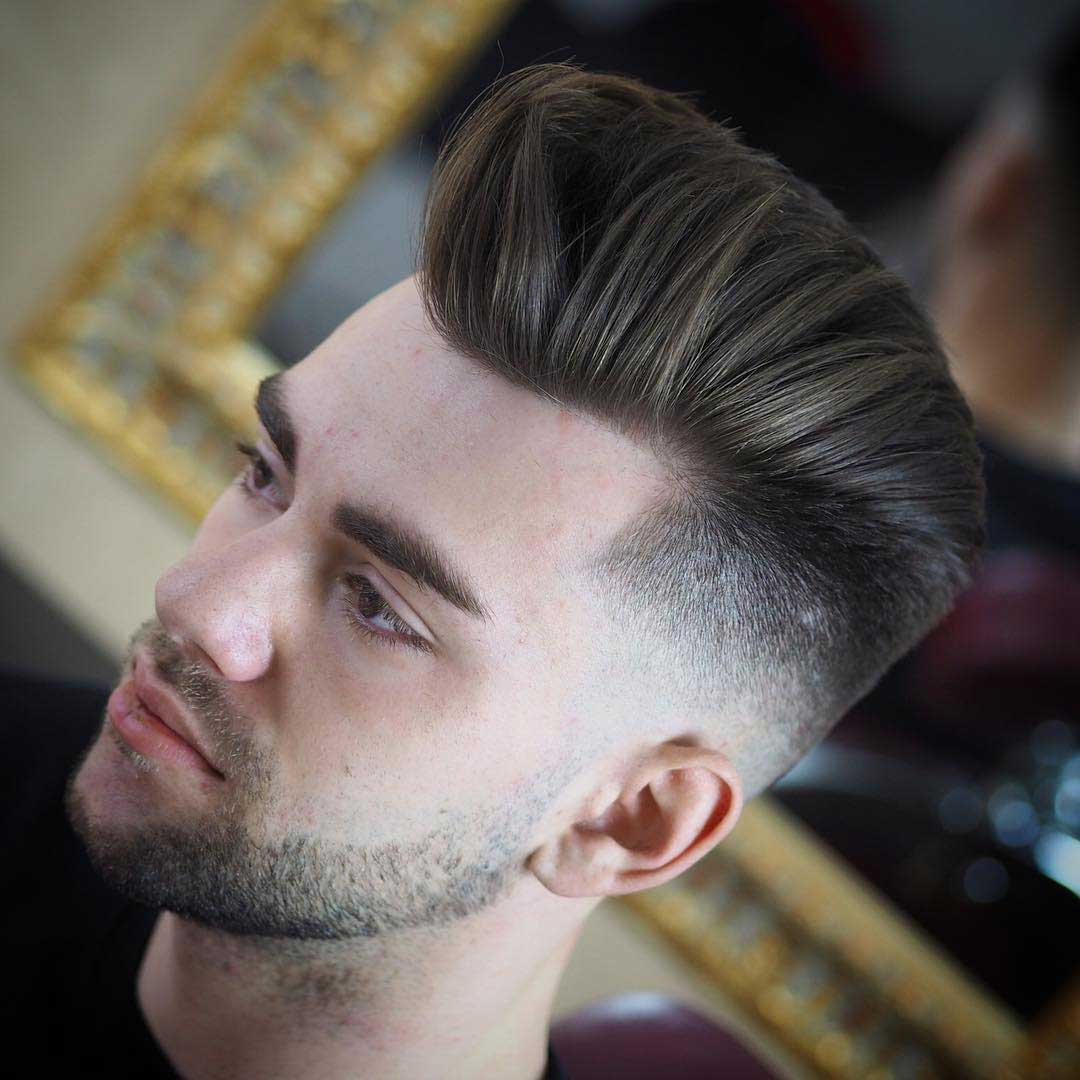 Side Swept Fringe
Side swept hairstyles appeal to men who love to flaunt a roguish aesthetic. Part of the hairstyle subdues the short hair on the left with a good brush backward to the nape. The other part cascades longer natural locks over the face. The whole dynamic hairstyle tops off with a mid fade.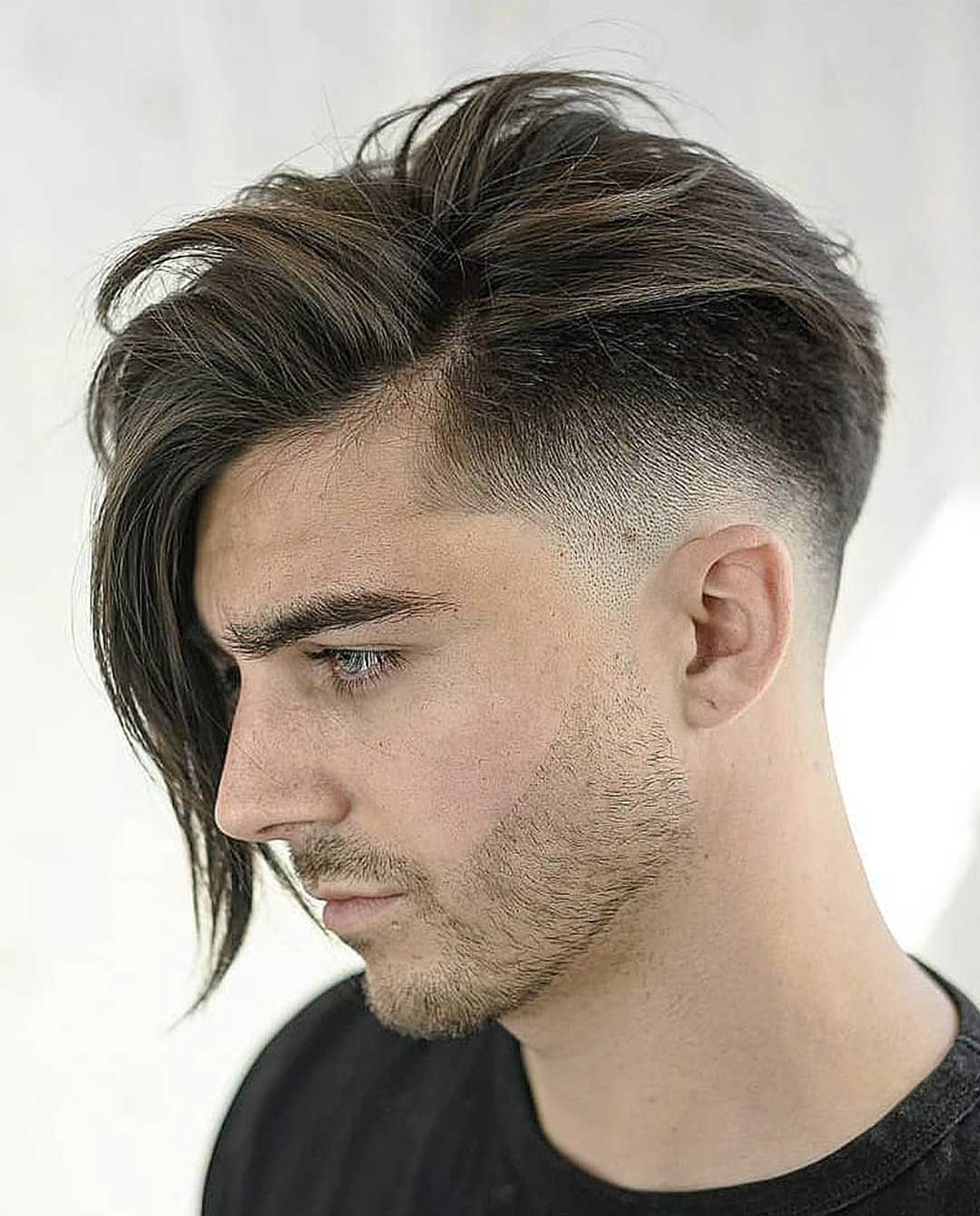 Cropped Top Mid Fade
Bluntly chopped hairstyles are best to try if you're used to shorter rebellious haircuts. This top fringe is a loose combination of a French Crop with layers and the short length of a cropped crew cut. A mid fade softly compliments the jagged bangs and a sophisticated goatee.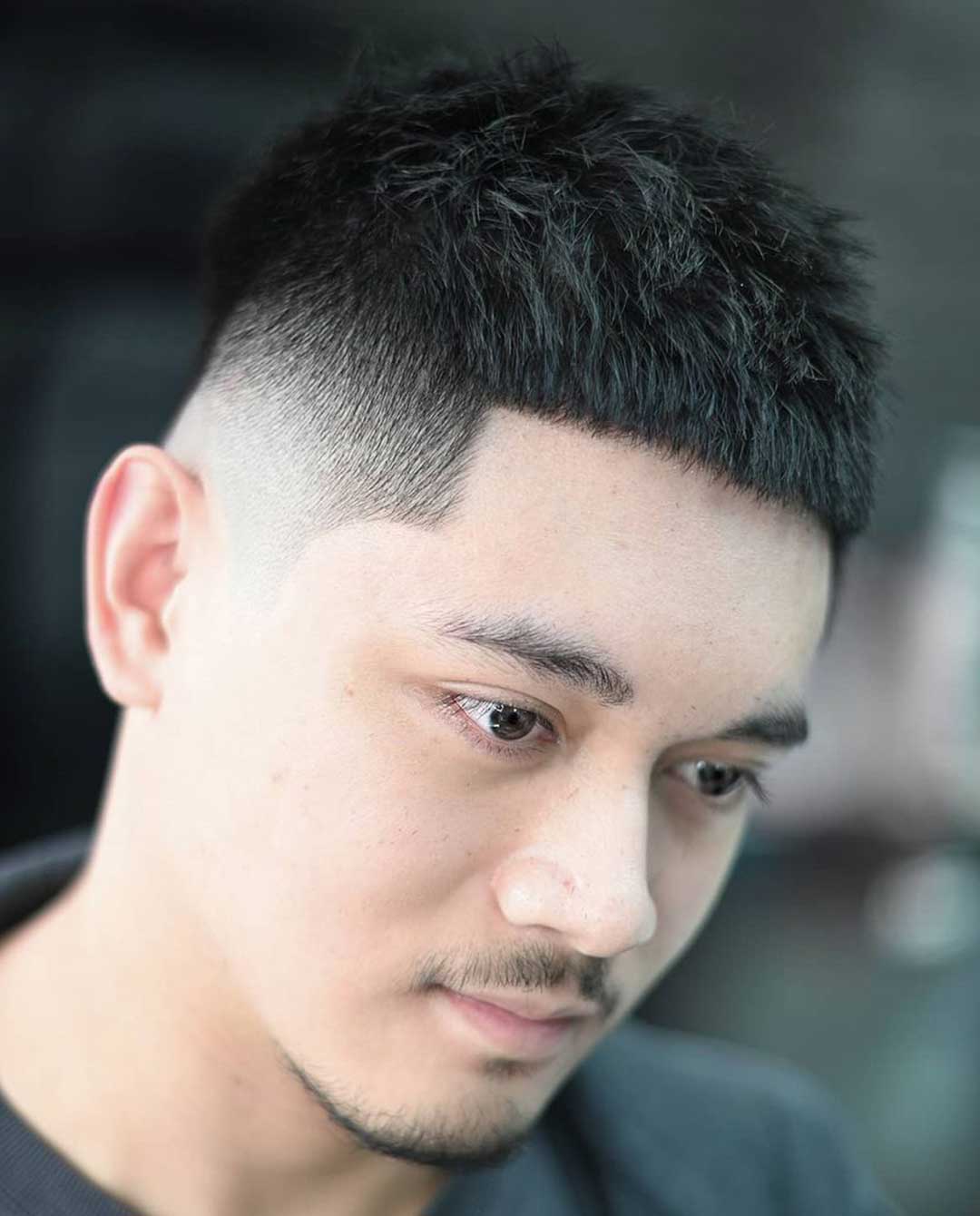 Layered Comb Over
A layered comb over is tough to beat for texture and volume. Use a round brush and a blow dryer to part your hair to the side near the front. Cultivate a little dome by brushing further towards the back when you reach the crown. Let one thick strand stand out in a subtle curl near the forehead, and add a medium fade haircut for a clean-cut finish.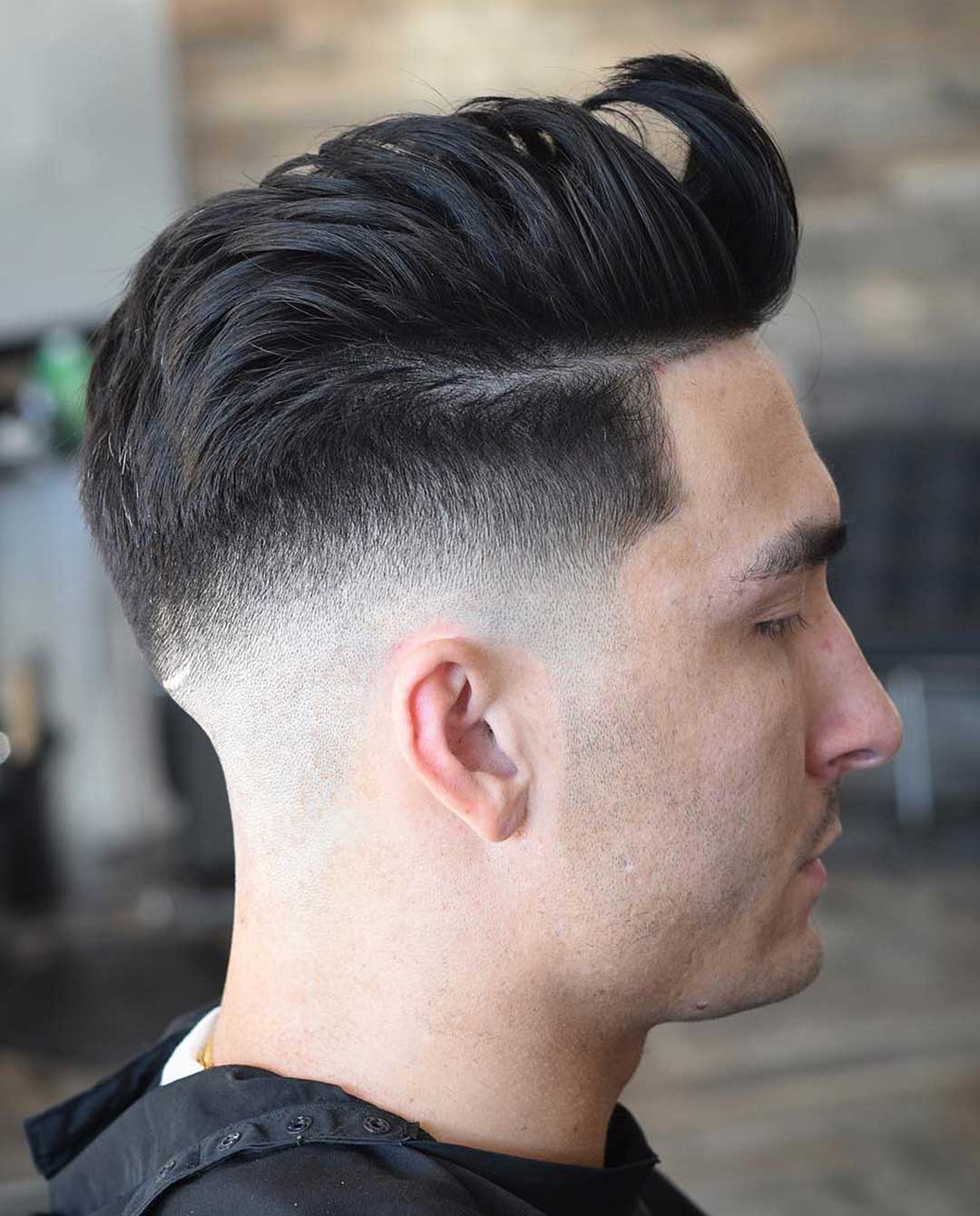 High Fade Haircut
High fades often conjure up thoughts of military crew cuts. But, modern high fade hairstyles offer magazine-ready flare! These cuts start near the top of the head. Usually, barbers will begin the transition at the temples. The resulting fade is long and dramatic. It offers up some sharp contrast to create a strong and masculine look.
High fades are perfect for guys with longer faces. The juxtaposition between the hair up top and the sleek sides works wonders for men with robust jawlines, too. It's best to pair a high fade with short hair on the top. Doing so pushes that head-turning contrast even further and emphasizes any styling to longer hair. High fades also look great with slicked-back styles, such as a quiff.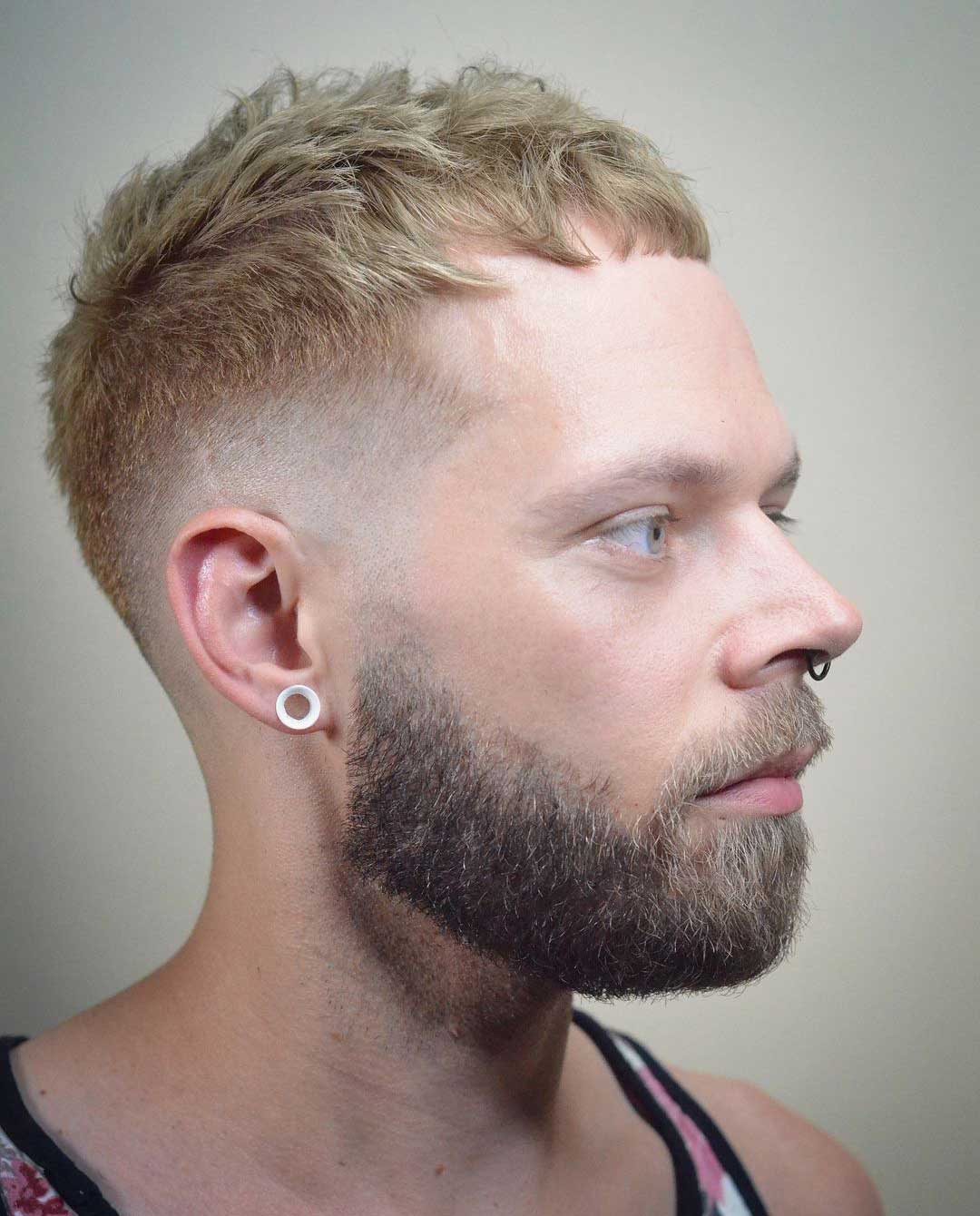 Comb Over High Fade
Check out this simple yet sleek cut. Ideal for guys with longer and thicker hair, it offers a manageable alternative to other styles. Use a bit of product to sweep the tresses over to one side and manage flyaways. You can work the product at the root to get some subtle height. But, the high fade and simple profile are the stars of the show here.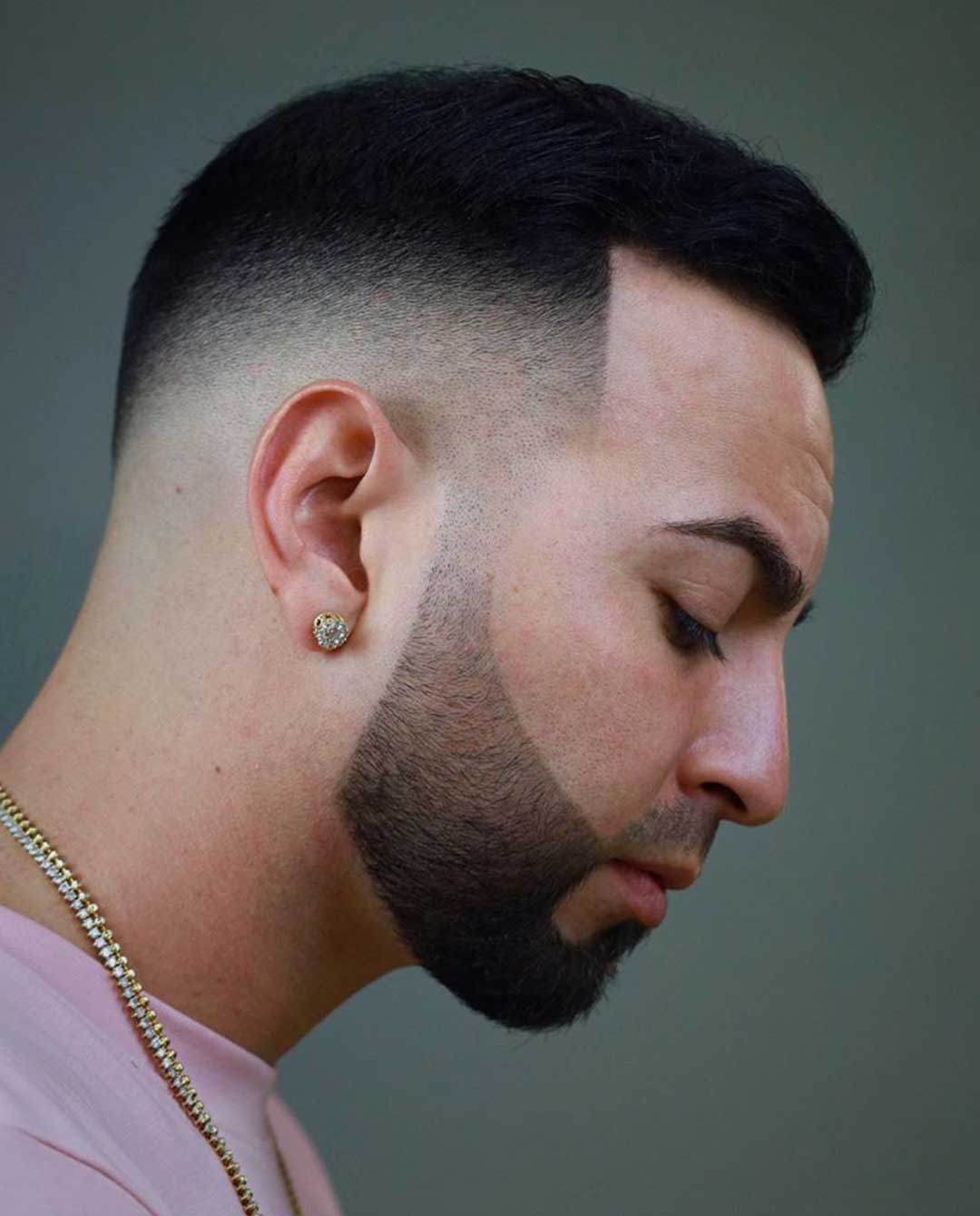 Quiff with High Fade Haircut
Another quiff hairdo, this one takes an edgier approach to a traditional silhouette. You still have all the height of a standard quiff. But instead of slick and uniform locks, this style is all about creating harsh lines. It's rocking subtle, messy spikes. However, the high fade keeps the sides nice and tight.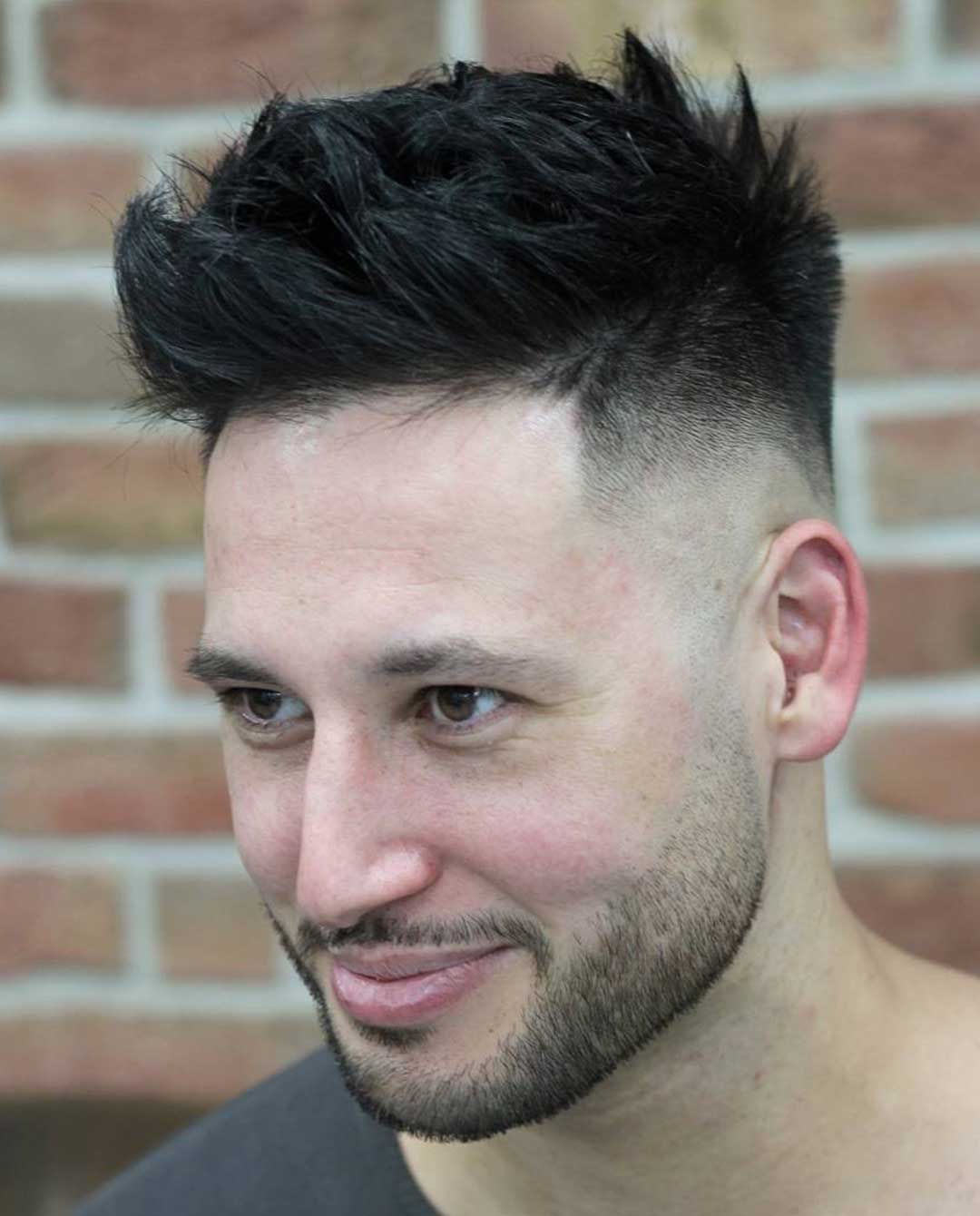 Long fringe + High Fade
Who says you can't have a fade with fringe? This cut is a fantastic choice for guys with slimmer faces and longer hair on top. Let your tresses fall over your forehead. With some texturizing product, you can achieve an organic look that doesn't appear forced or overdone. The high fade complements everything going on up top without drawing too much attention.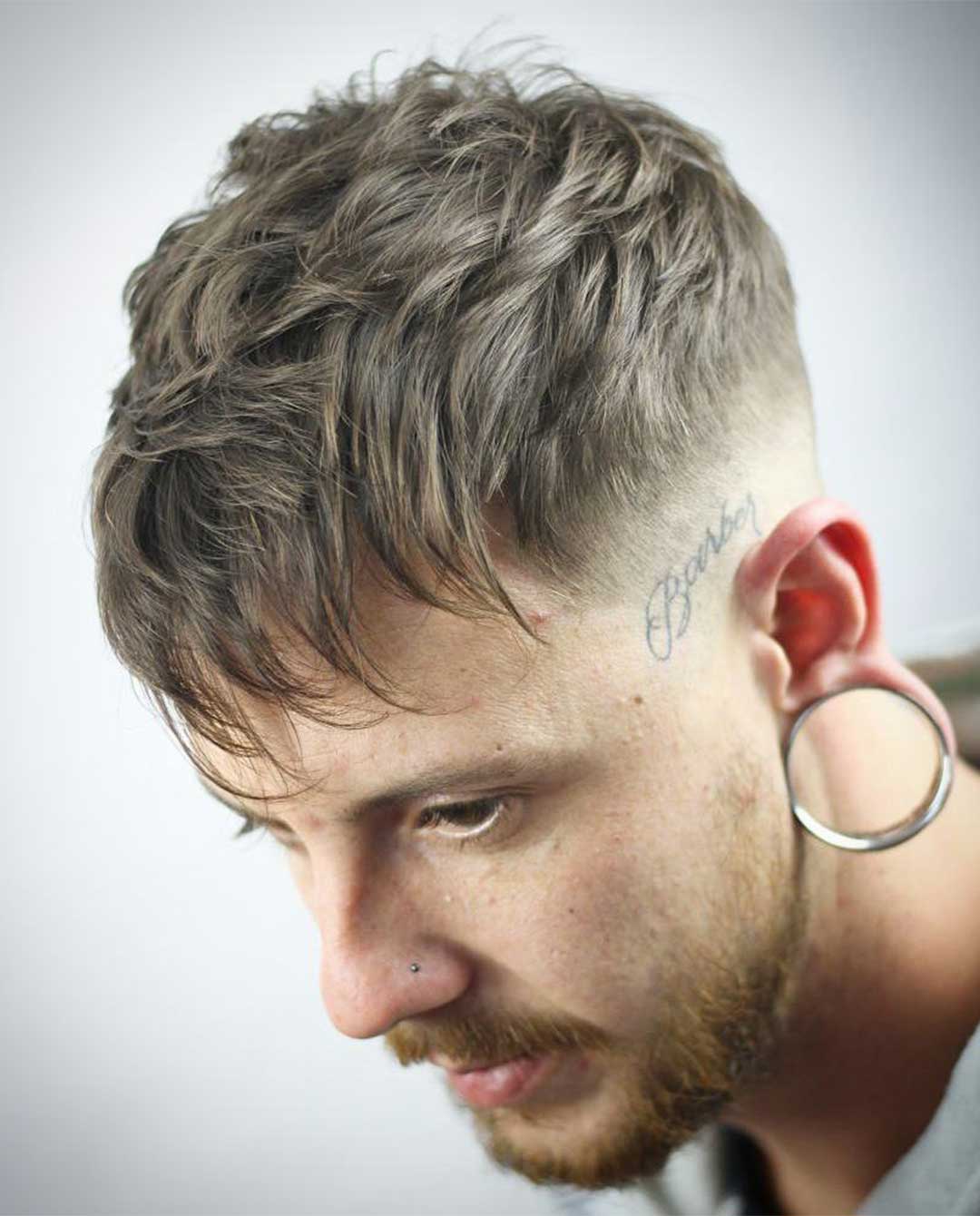 Spiky Quiff
If you have a round or square face, aim for a hairstyle that enhances your height. A spiky quiff with a high fade will elongate your face. Your hair should be two or three inches long to spike the hair upwards with a comb. Add gel or wax to keep the strands standing at attention from sunrise to sunset.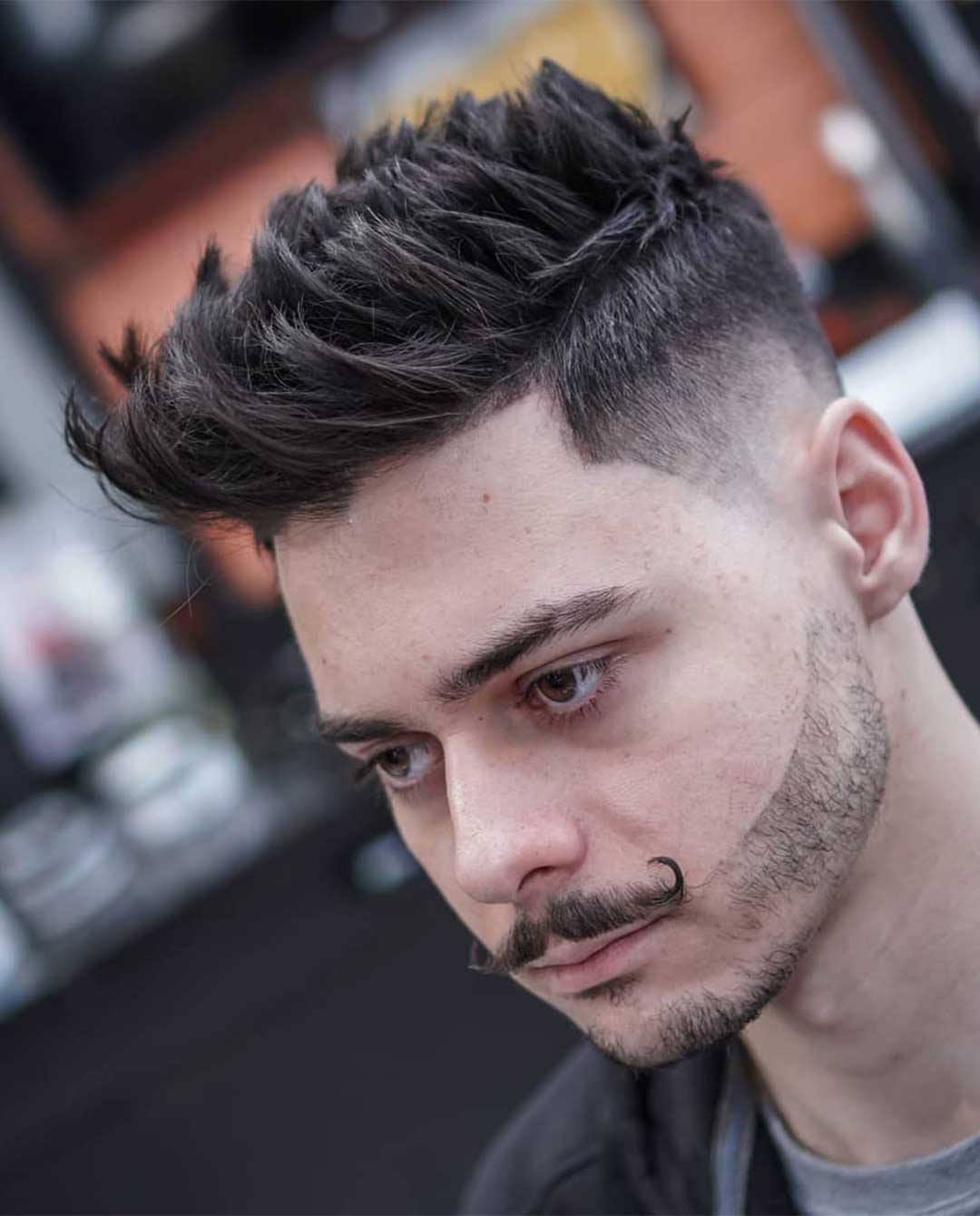 High Crop Top Fade
Expand everyone's definition of a gentlemanly hairstyle with this high crop top fade. Similar to a French Crop, the hair shuffles towards the forehead. The fringe's arched angle establishes a narrowing effect with all types of face shapes. If the high fade is too minimalist, balance it out with a rugged beard.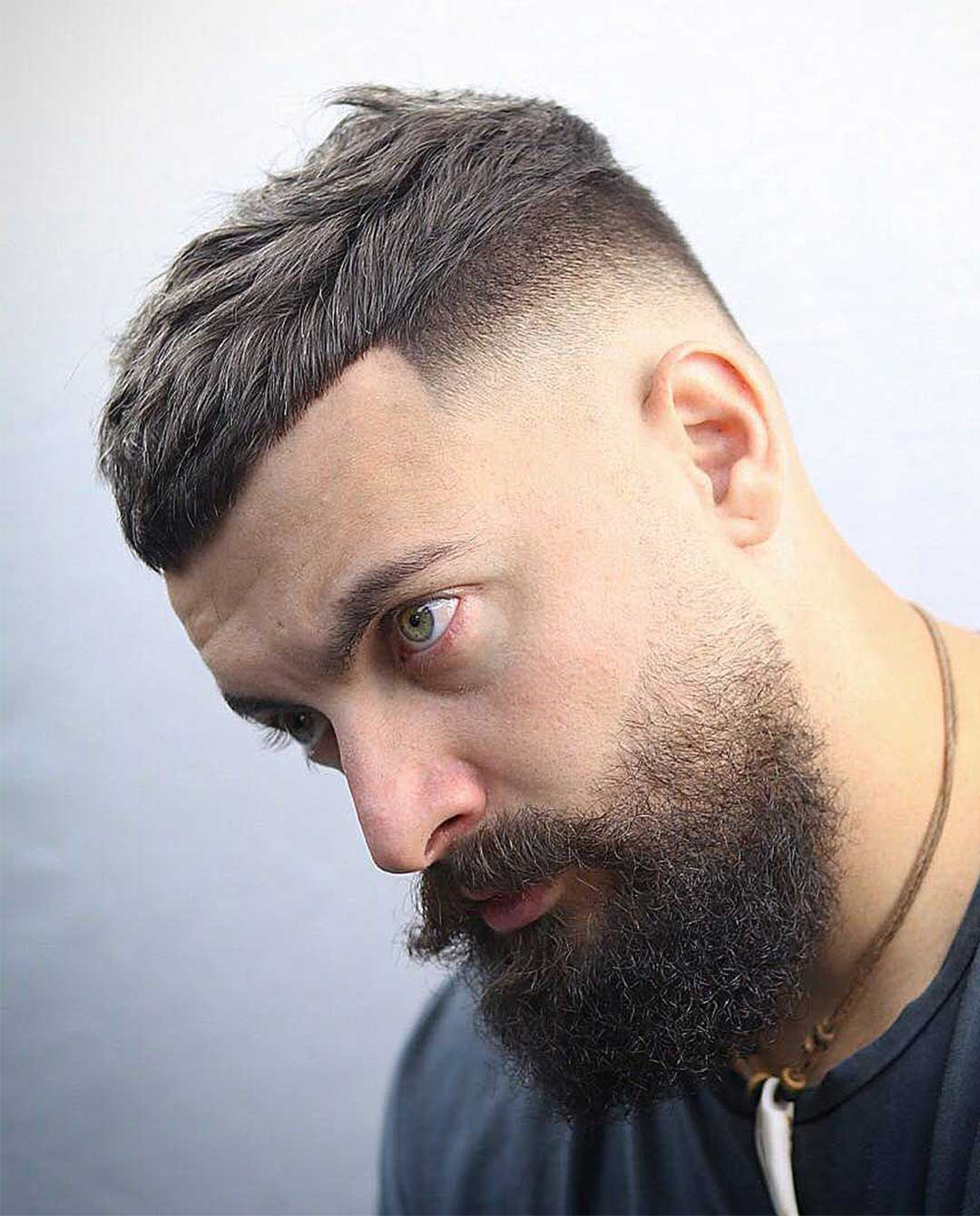 Short Pompadour with High Fade
Typical pompadours emulate a Johnny Bravo wave with long hair and volume. Smaller pompadours achieve the same height, but they remain equally debonair and eye-catching. A high fade makes a lower puff look bigger, but takes half the time to brush, blow-dry, and mix in pomade.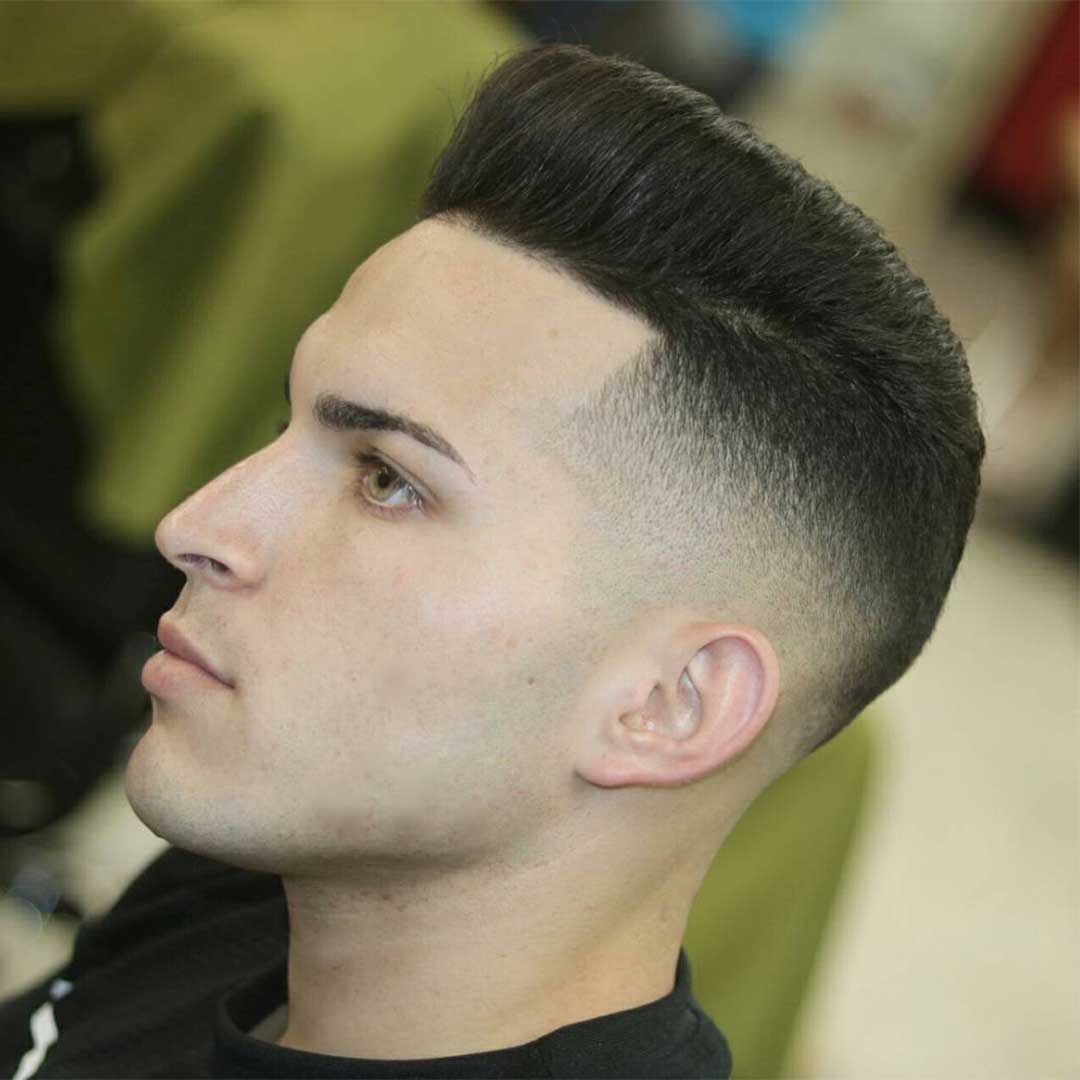 Difference Between Low Fade vs. High Fade
Low, mid, high: What's the difference? It all comes down to where the transition of the fade starts. With a high fade, the transition begins towards the top of the hair near the temple line. Meanwhile, low fades start just above the ear. The difference is subtle at face value. But, the starting point for the fade has a significant impact on the extremity of the fade. Higher fades create more contrast, making that fade the star of the show!  Learn these differences! Once you figure out what works for you, telling your hairstylist what you want will get even easier.
Bald Fade / Skin Fade Haircut
If you want the most distinction in your fade as possible, go with a bald fade. This is one of the more dramatic fade variants out there, so it's not for the faint of heart! Popularized by punk aesthetics, a skin fade is just what it sounds like. It's a fade to bare skin! Sometimes called a zero fade or skin fade, this cut is more complicated. Rather than gradually swapping out the guards, they have to use a guardless clipper or specialty tool.
As you can imagine, bald fades leave a lot of your head exposed. For this reason, they're often best for guys with slimmer domes and structured jawlines. These fades look fantastic with thick hairdos up top. They can work with shorter styles, but leaving too much of the scalp exposed could create a super rugged look!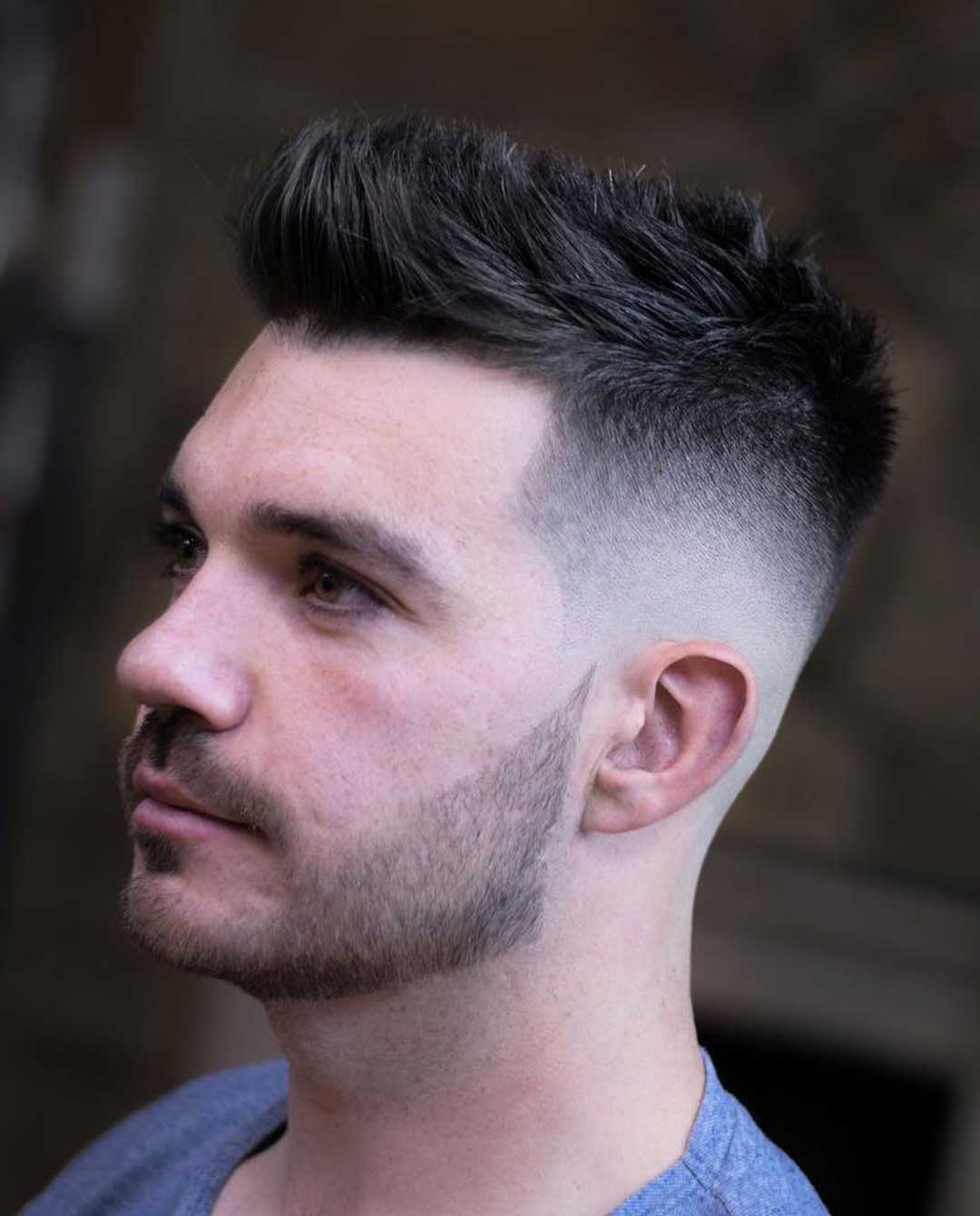 Clean French Crop
Check out this cool French crop. If you're rocking shorter hair and want to get some on-trend details, this cut has it all! It's on the simpler side, letting your hair on top fall forward naturally. But the sides and back have some high-contrast dramatics! The fade starts at the middle of the head and quickly transitions to skin.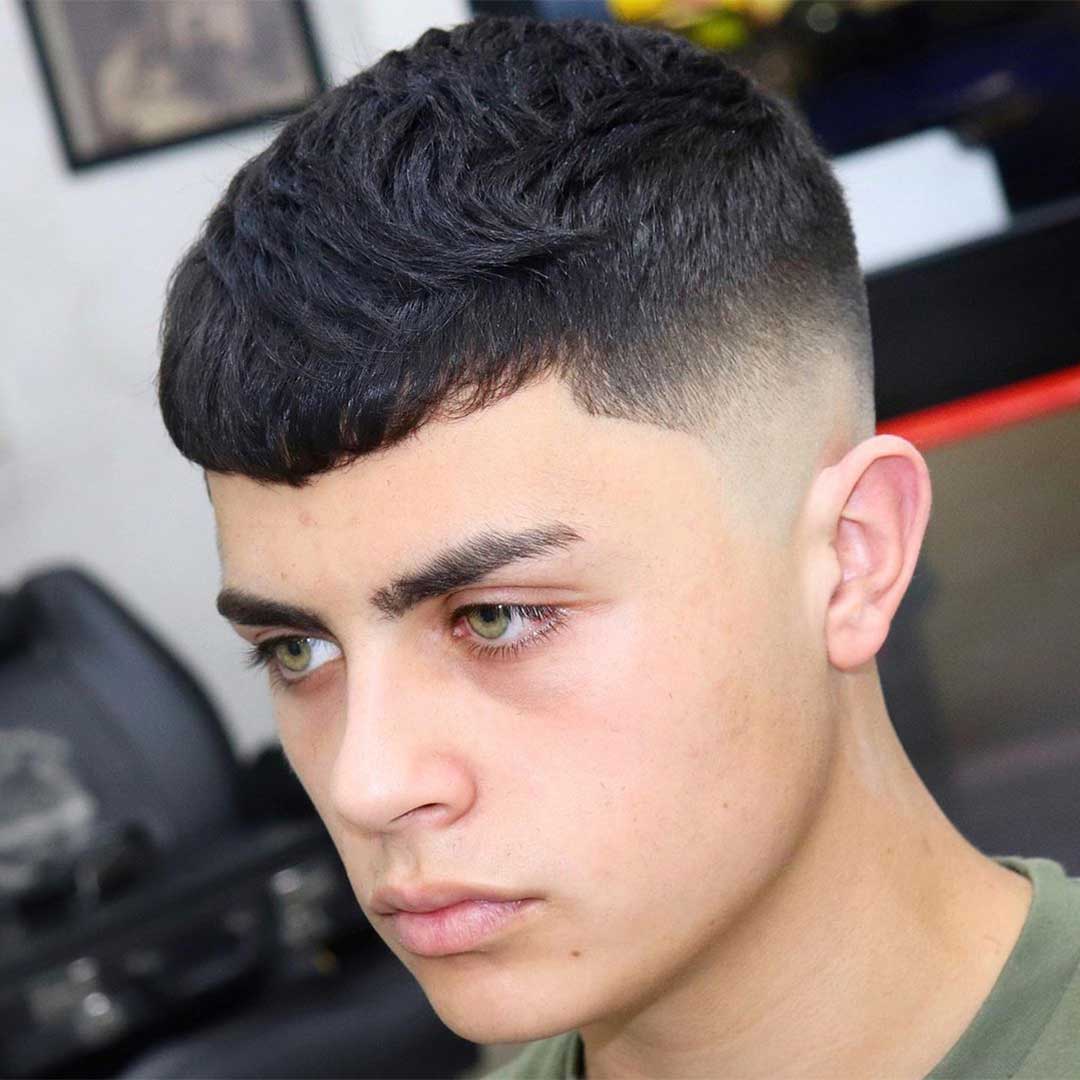 Angular Fringe
Stand out from the crowd with this edgy fade haircut! It has tons of organic texture. The style doesn't have quite as much roughness as some other styles. That said, the angular fringe in the front makes up for the subtlety on the dome! Pair that with visible skin from the fade, and you have a rebellious look that will turn heads!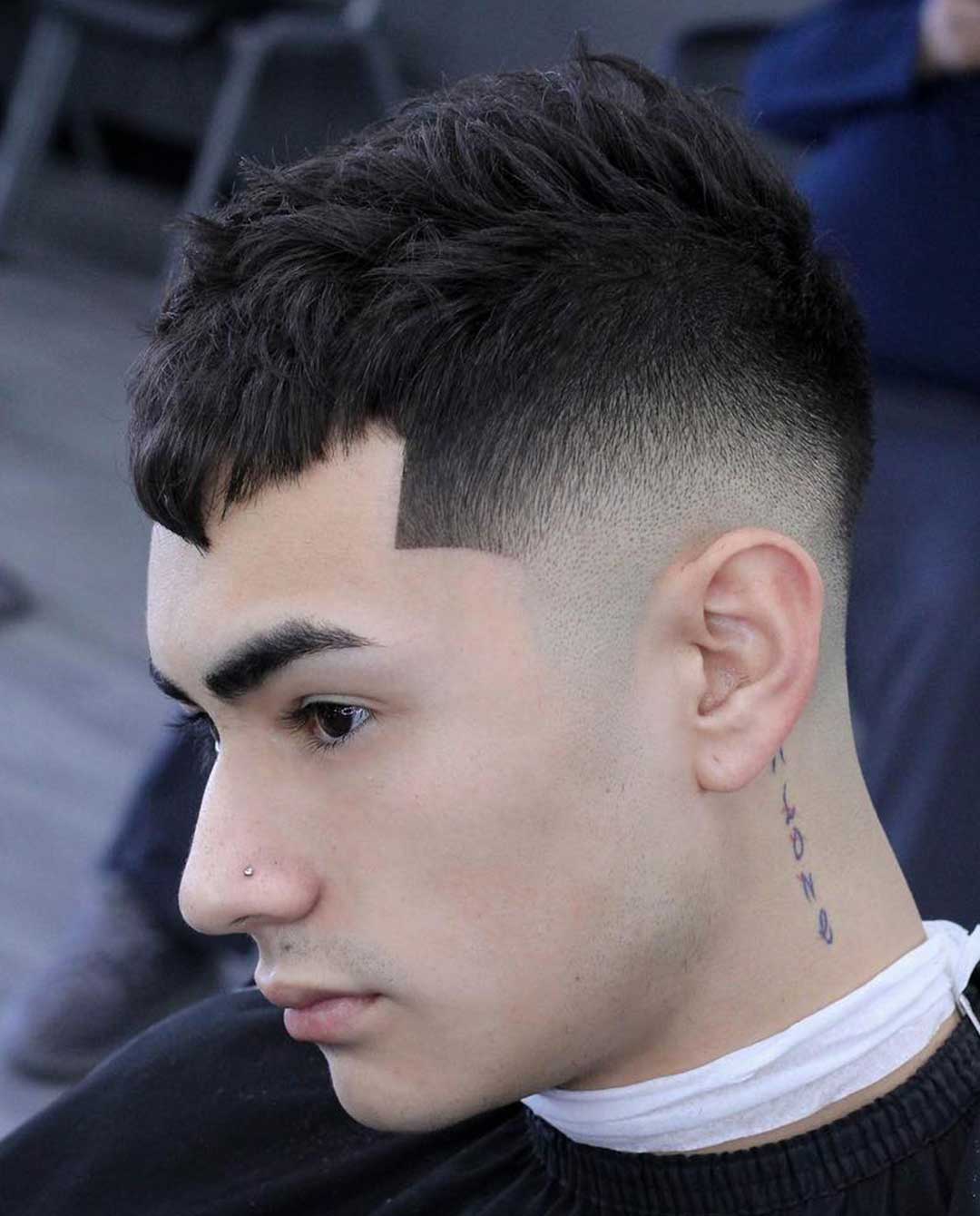 Layered Comb Over
This cut will make you a standout by combining the clean comb-over with the slickness of a skin fade. It's best-suited for guys who need to have a more formal look for work. The top has all of that formality you need. But, some subtle layering gives the comb-over a more fashion-forward appeal. The same goes for the contrast offered by the skin fade.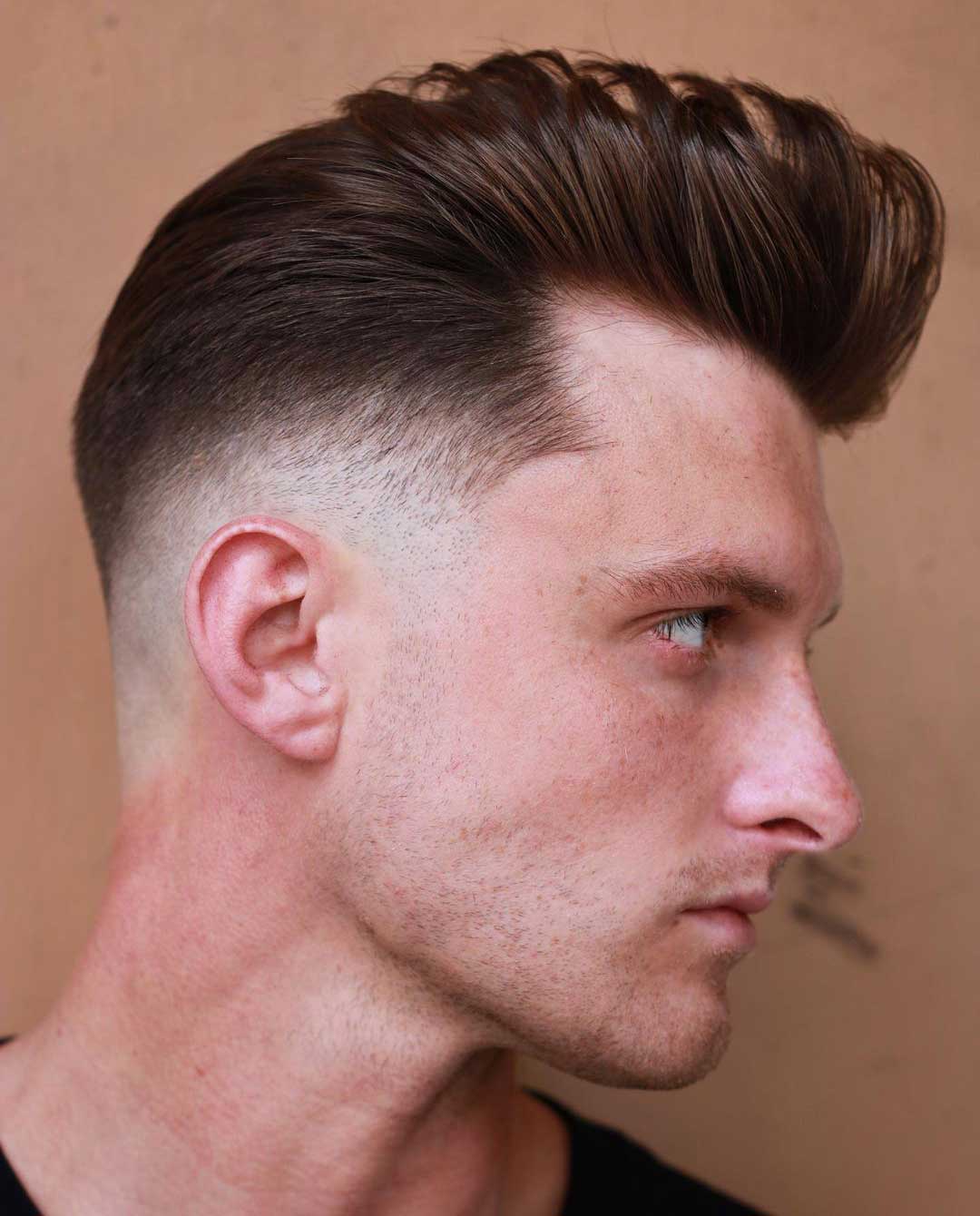 Mohawk with Skin Fade
Long hair Mohawks already deviate from the norm of traditional hairstyles. This version takes it a step further by spiking a wider strip of medium length hair from the forehead to the back. The wispy hair texture and a skin fade blend the strands to emulate a simple brush-up.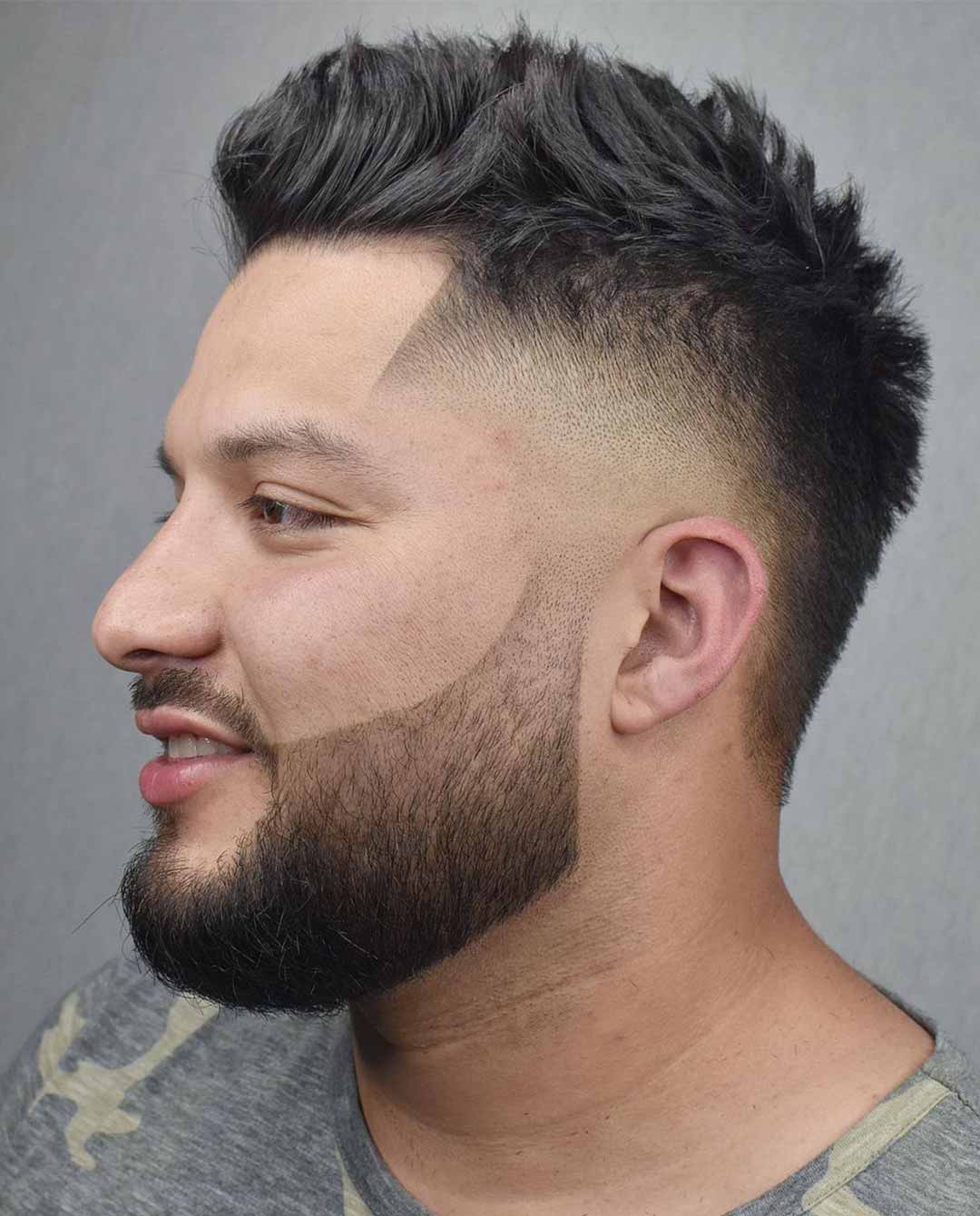 Curly High Top
High tops initially hit peak popularity in the 1990s and continue to remain trendy today. The high fade lets the curls flourish with texture and works best for African American men. A leave-in conditioner will be the essential product to maintain a natural flow of curls and protect the scalp. Comparatively, Afros are more challenging for white and Latina men because their hair texture is commonly straighter. Texturizing spray can help produce curls but might not make them strong enough to create an abundance of appropriate curls.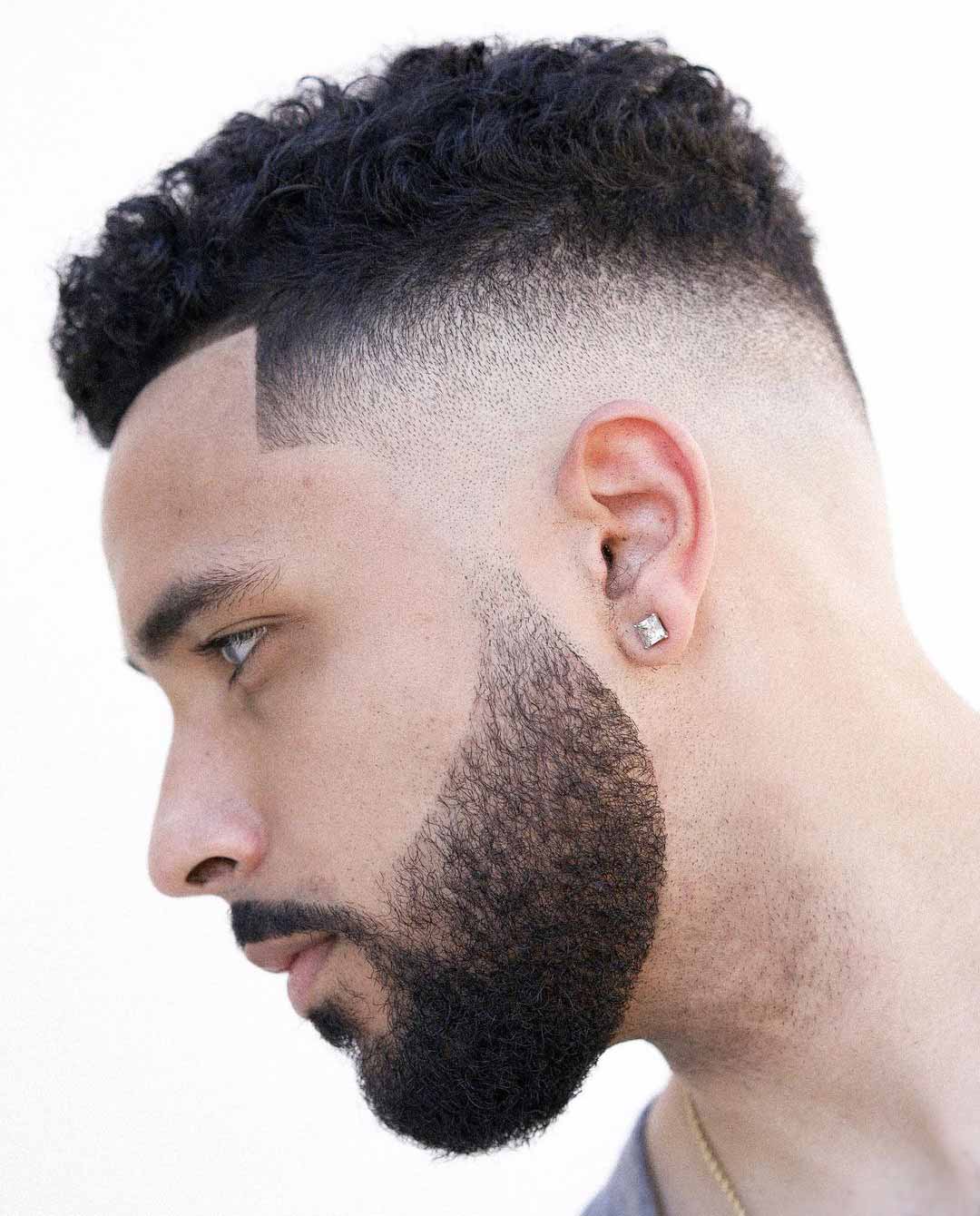 Quiff + Skin Fade Haircut
A messy quiff offers a casual look for both your professional and personal life. You don't have to brush medium length hair upwards, but you can make it tidier than if you just rolled out of bed. An actual length of hair on the crown combined with the drop fade offers a flawless tousled appearance.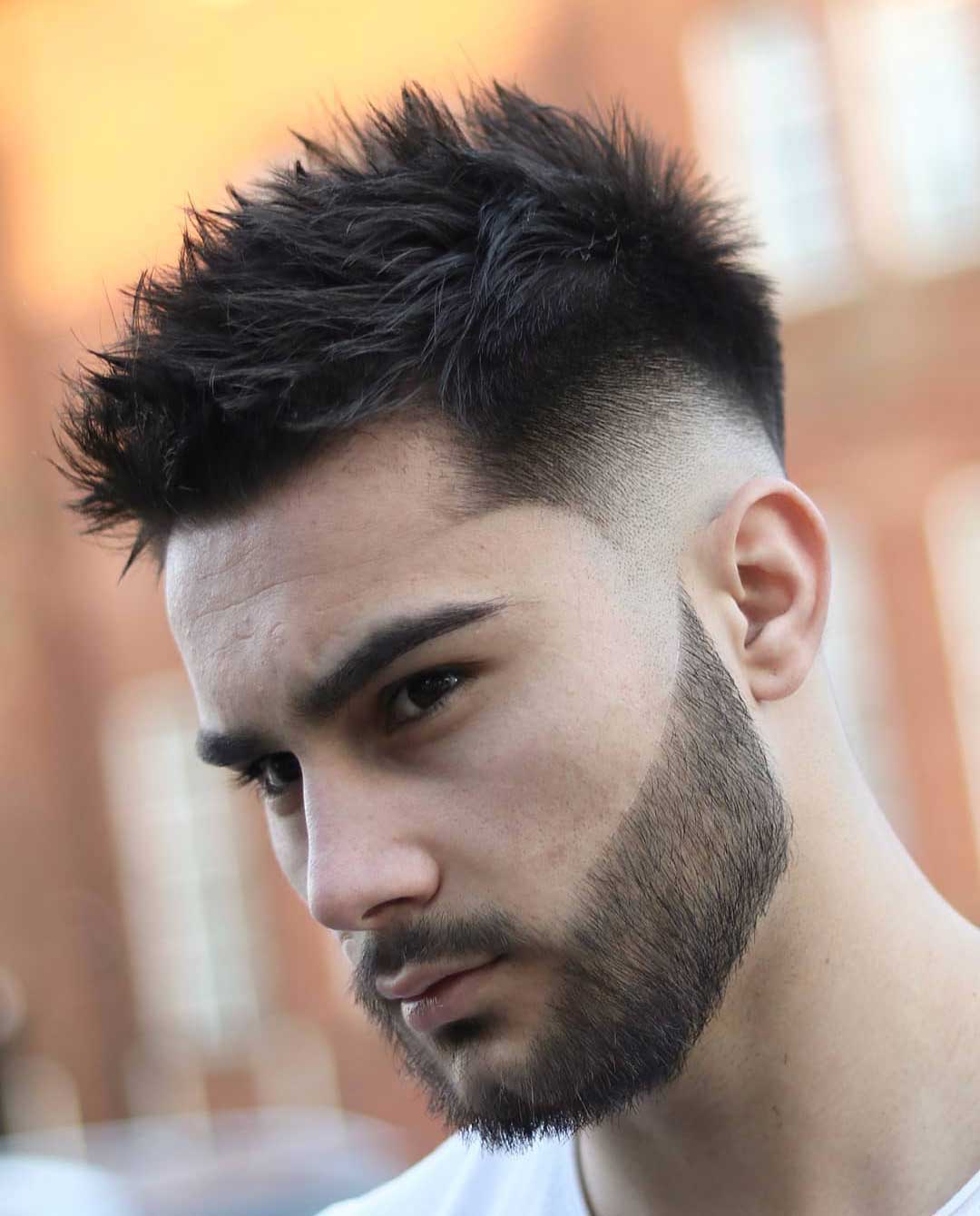 Drop Fade Haircut
Check out this fashion-forward fade! Drop fades have been around for decades. But it's only recently that they've stepped into the style limelight! A drop fade is similar to a traditional fade. But, the transition follows the contour around your ear and drops lower in the back. As a result, it creates a cool tapered point on the end of your dome. Of course, the drop features a fade, too. So, it's not overly dramatic or harsh. These cuts are quite popular with guys that have thick and textured hair. The transition is very noticeable. However, it's more organic, creating a softened look.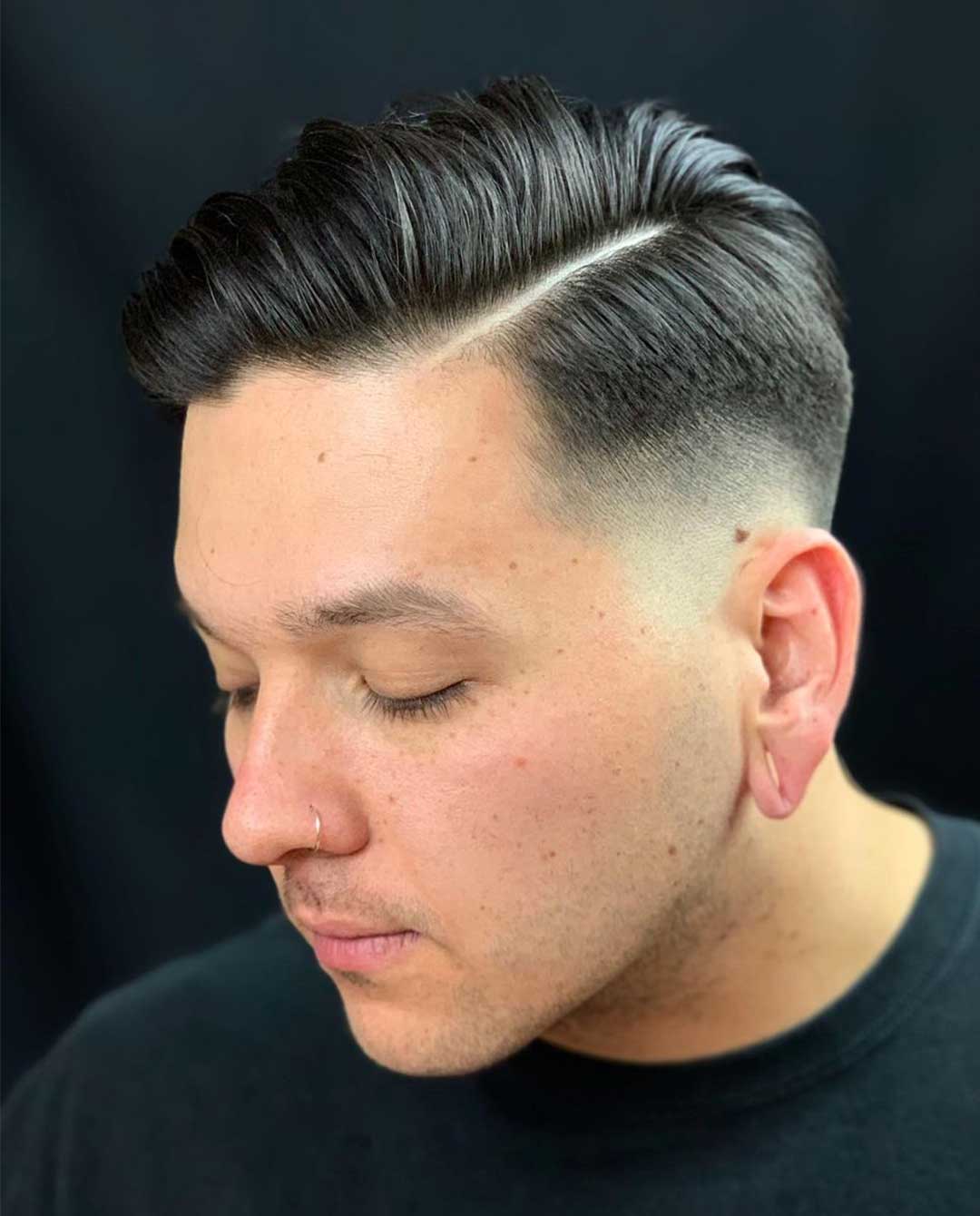 Quiff with Hard Part
Make the natural waviness of your hair work for you instead of against you! With this cut, the length of the quiff lays relatively flat. The height comes at the front of the hairline with a well-placed upward curl! A high fade haircut on the sides gives you the structure you need. Add a hard part, and you have a cool finished look!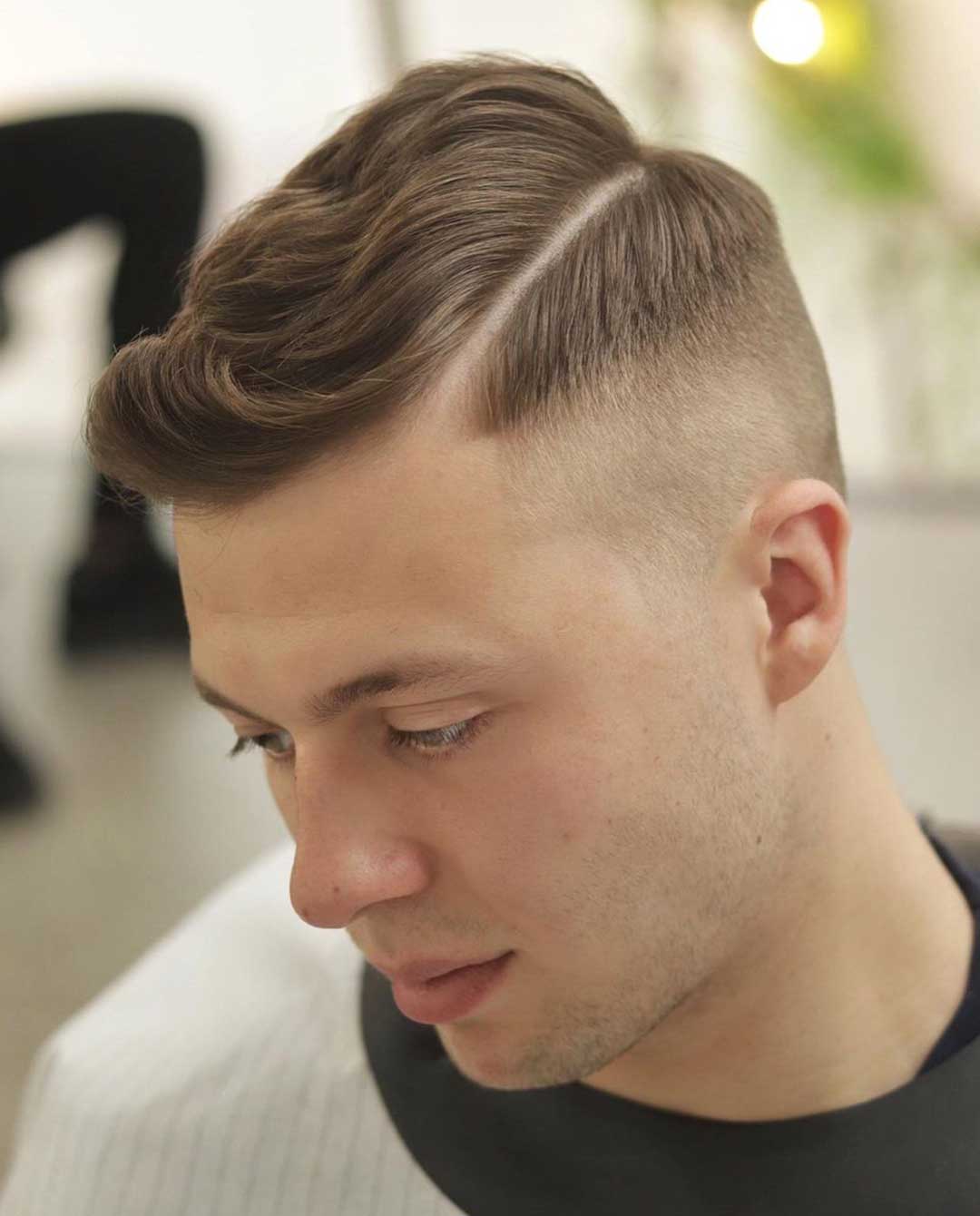 Cropped Curly Top
Your curls don't have to make your head look top-heavy! Instead of that dreaded mushroom-top profile, this cut gives you a clean and refined look. The coils work in your favor to provide texture and coverage. On the back and sides, a high-contrast drop fade transitions to bare skin. It follows the contours of your dome, creating all kinds of visual interest.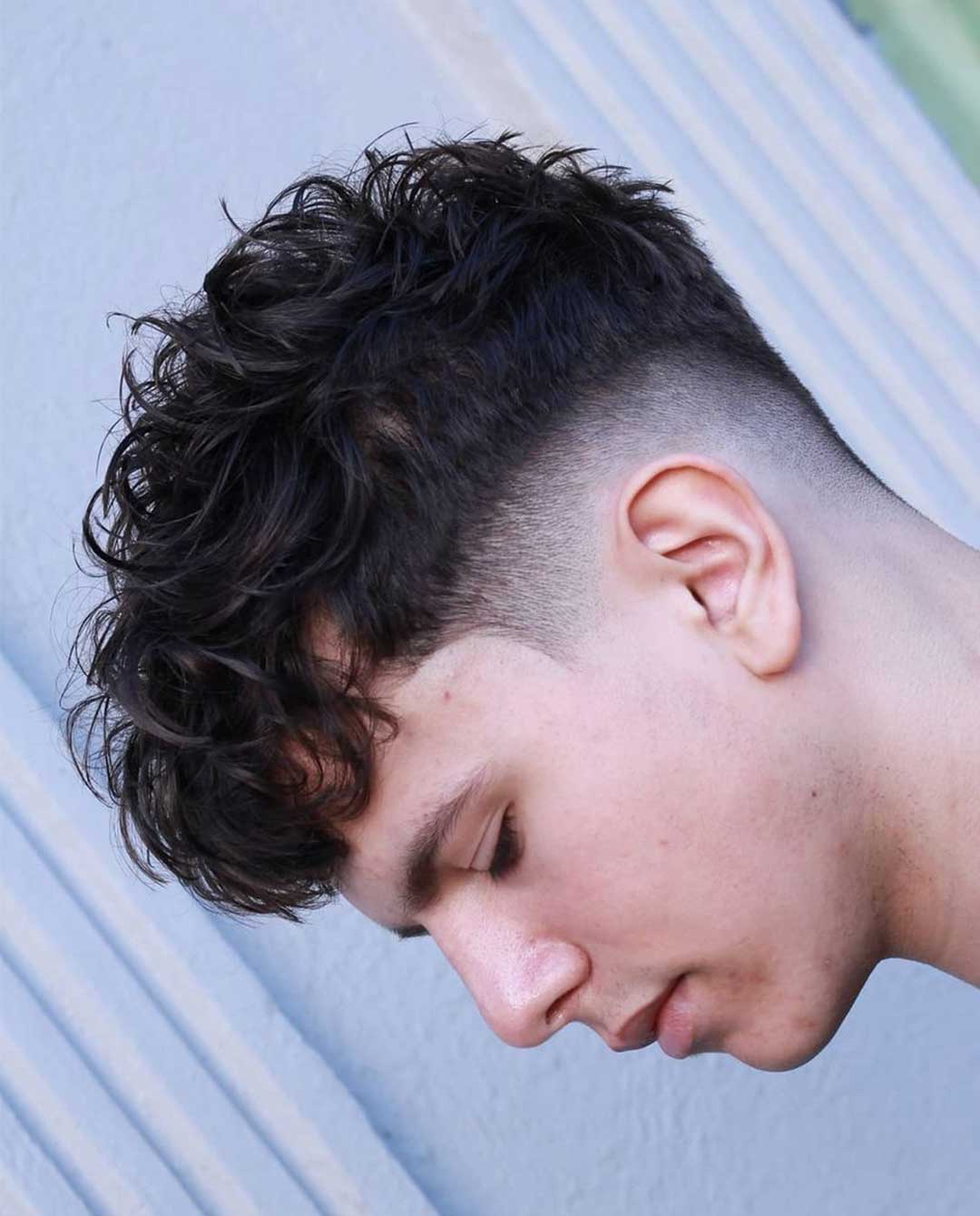 Comb Over + Taper Fade Haircut
Want something super angular and clean-cut? Check out this hairstyle! Guys with well-defined facial features are going to have an easier time pulling it off. The height and structure of the comb-over elongate the face even further. At the same time, strategic styling on the sides cements the angles of your head and neck.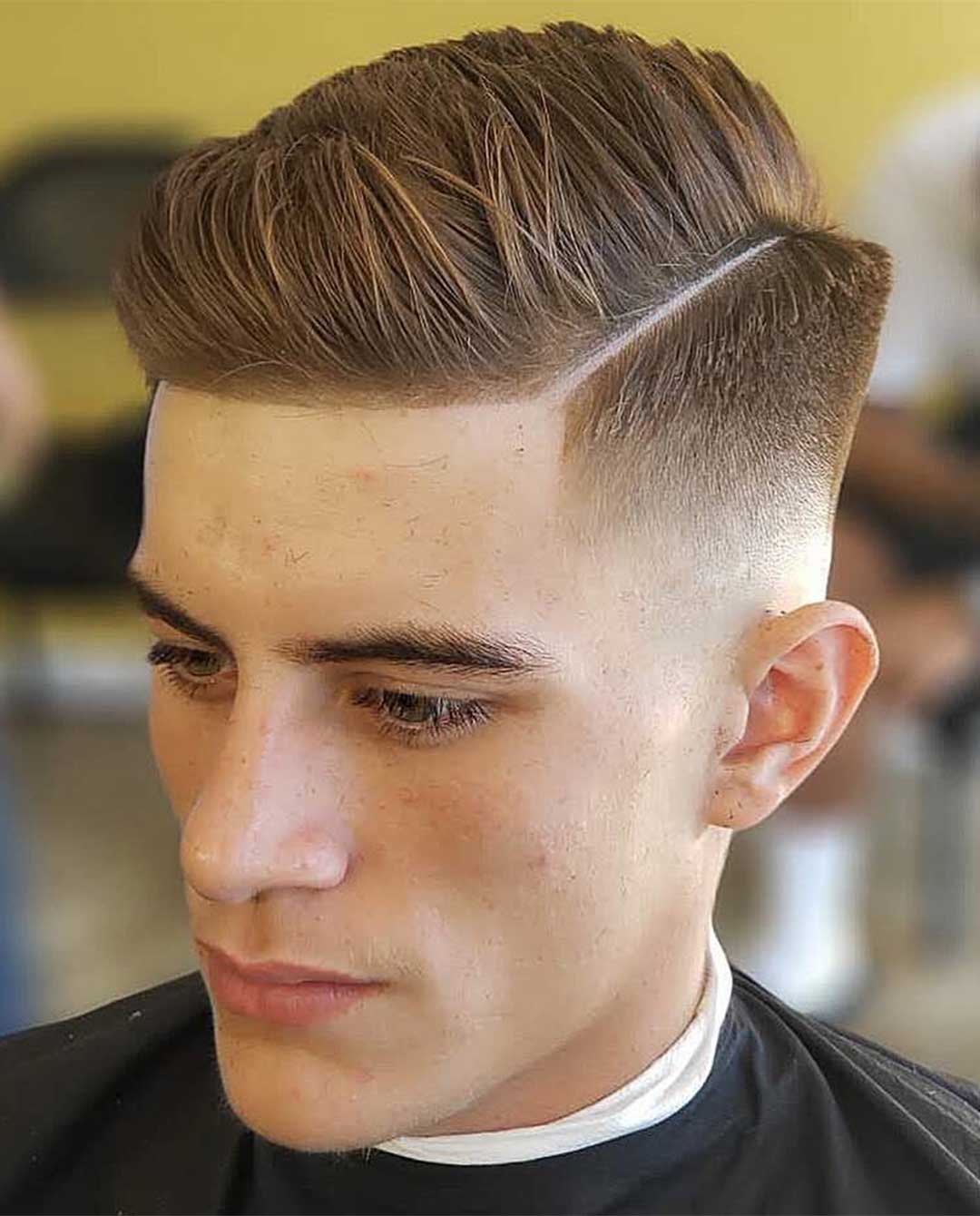 Faux Hawk with Drop Fade
Faux hawks give the impression of a Mohawk but offer more freedom for styling. Use a brush and your fingers to pocket the hair along with the crown upwards. Ask your barber to leave an inch of hair trimmed before the drop fade for a sharper transition from the faux hawk to the skin.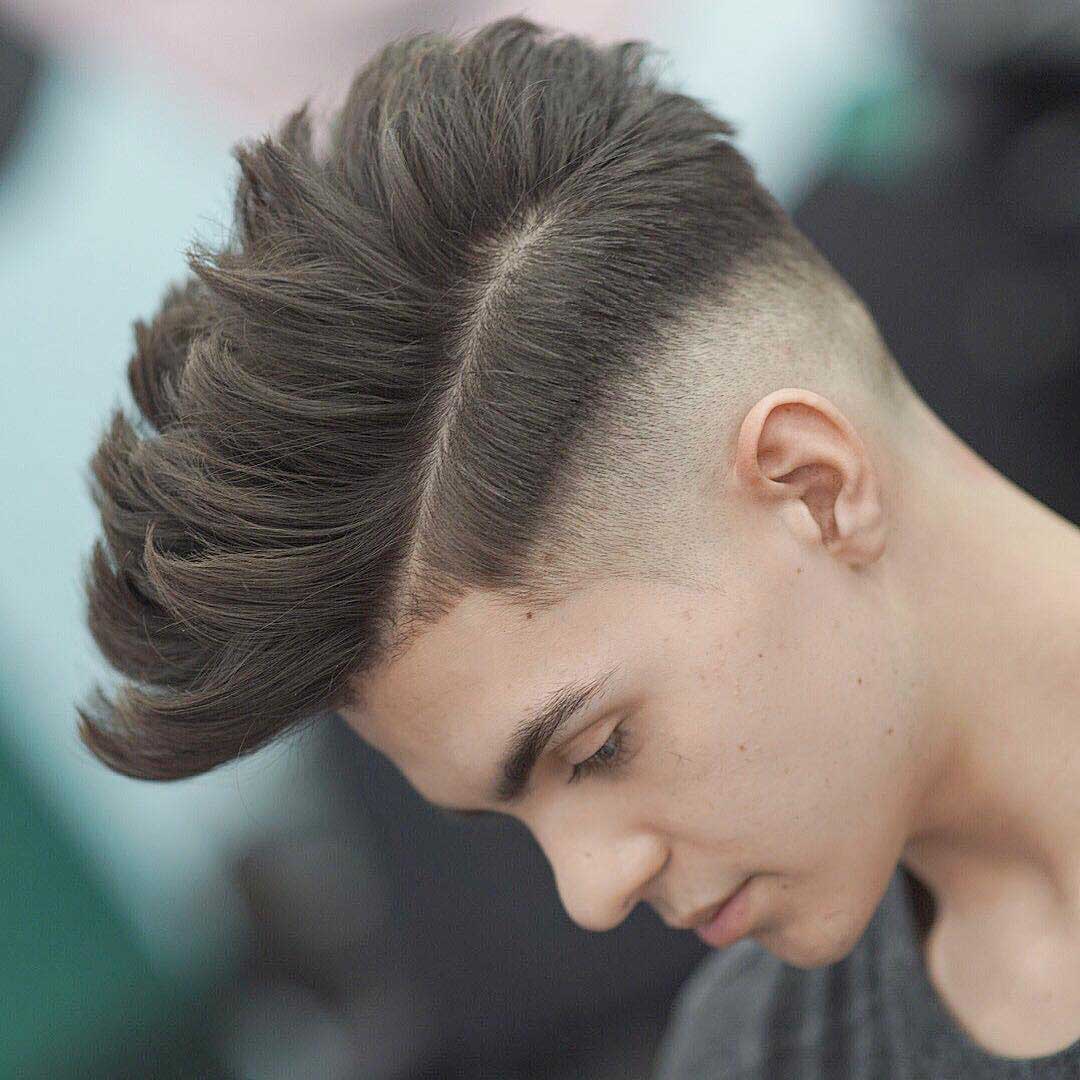 Curly top + fringe
Similar to the previous example, there's about an inch of hair left for a subtle part. A majority of the curly top shifts to the side for a youthful and charming look. Long thick tendrils loosely recreate the asymmetry of a pompadour, but also hide or camouflage strong jawlines and cheekbones.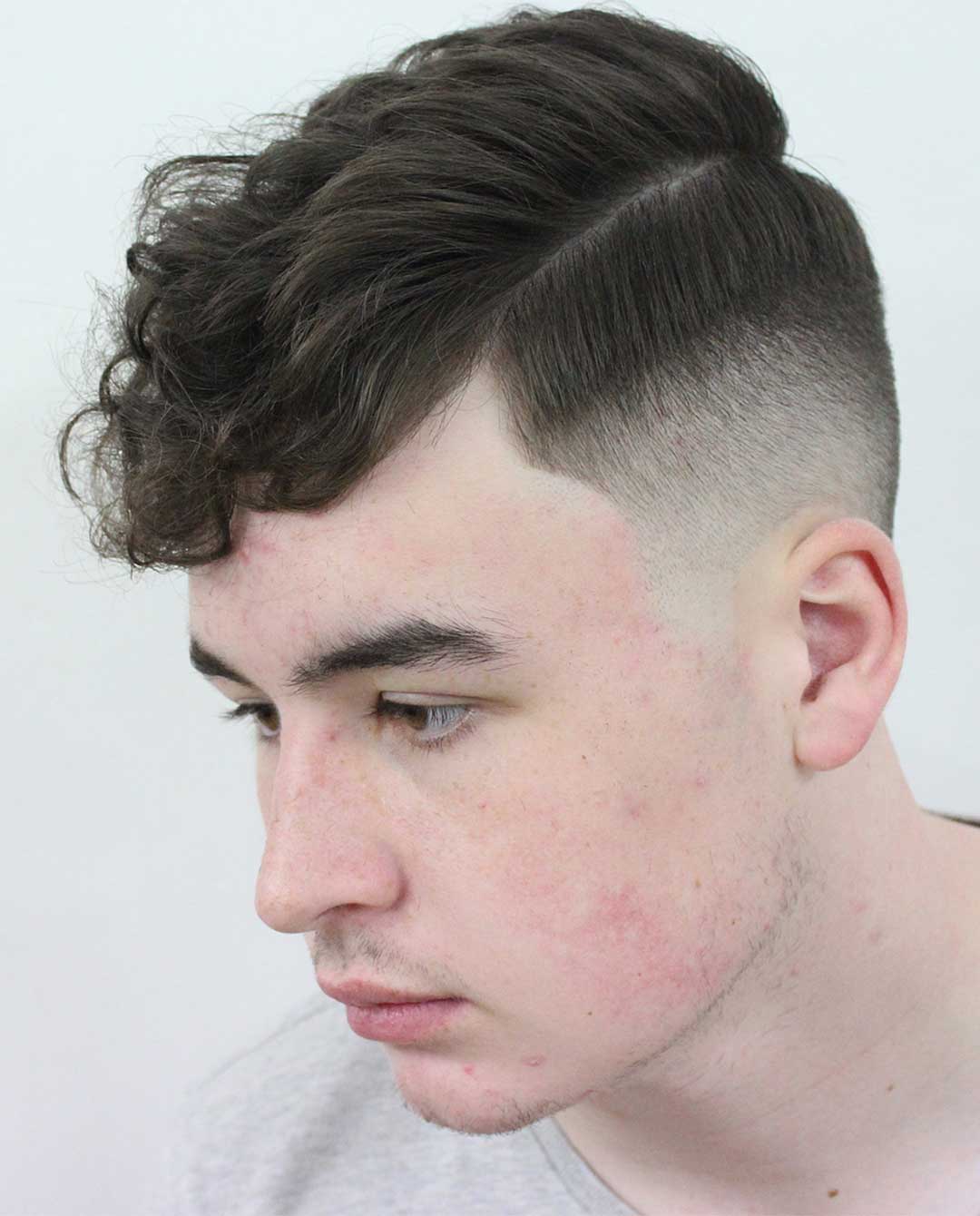 Comb Over with Part
Exude a classic movie star's eloquence with a super sleek hairstyle. Use a brush to part your hair from one side to the other and backward for a dome effect. Leave an inch of hair before the drop fade to even out the comb over. Lock up both sides with pomade for extra sheen.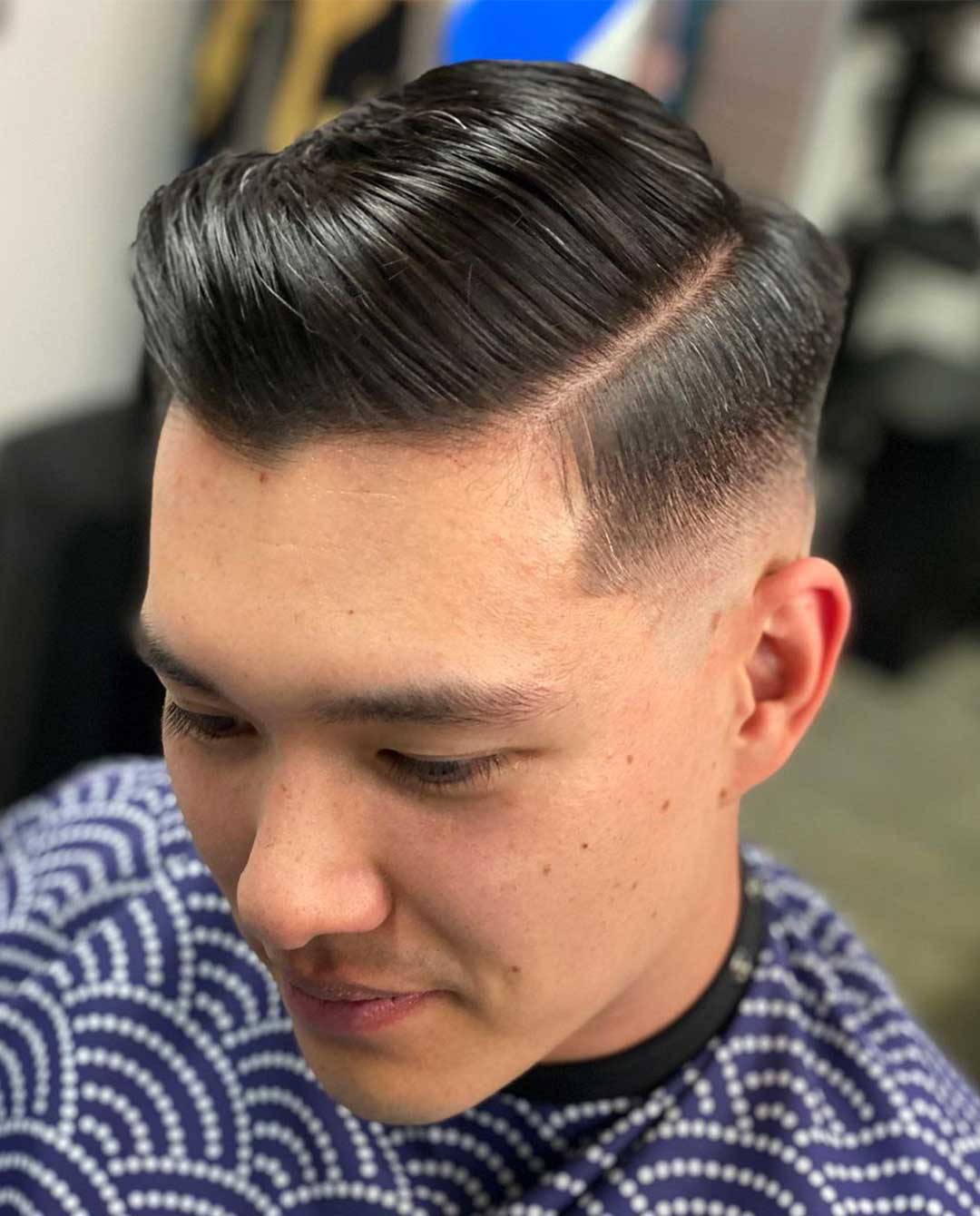 Burst Fade Haircut
Best for guys who want some noticeable flare, the burst fade has a lot to offer in the style department! The best way to describe a burst fade is to compare it to a mohawk! It has a lot of the same hallmarks. You're getting smooth and short sides. But, the hair on the back and top grow free! With the burst fade, the transition curves much like the drop fade. The main difference here is that the semicircle fade leaves length in the back of the neck. You can leave length to the nape of the neck. It's a suitable style for guys with longer hair. Short cuts just don't do this fade justice!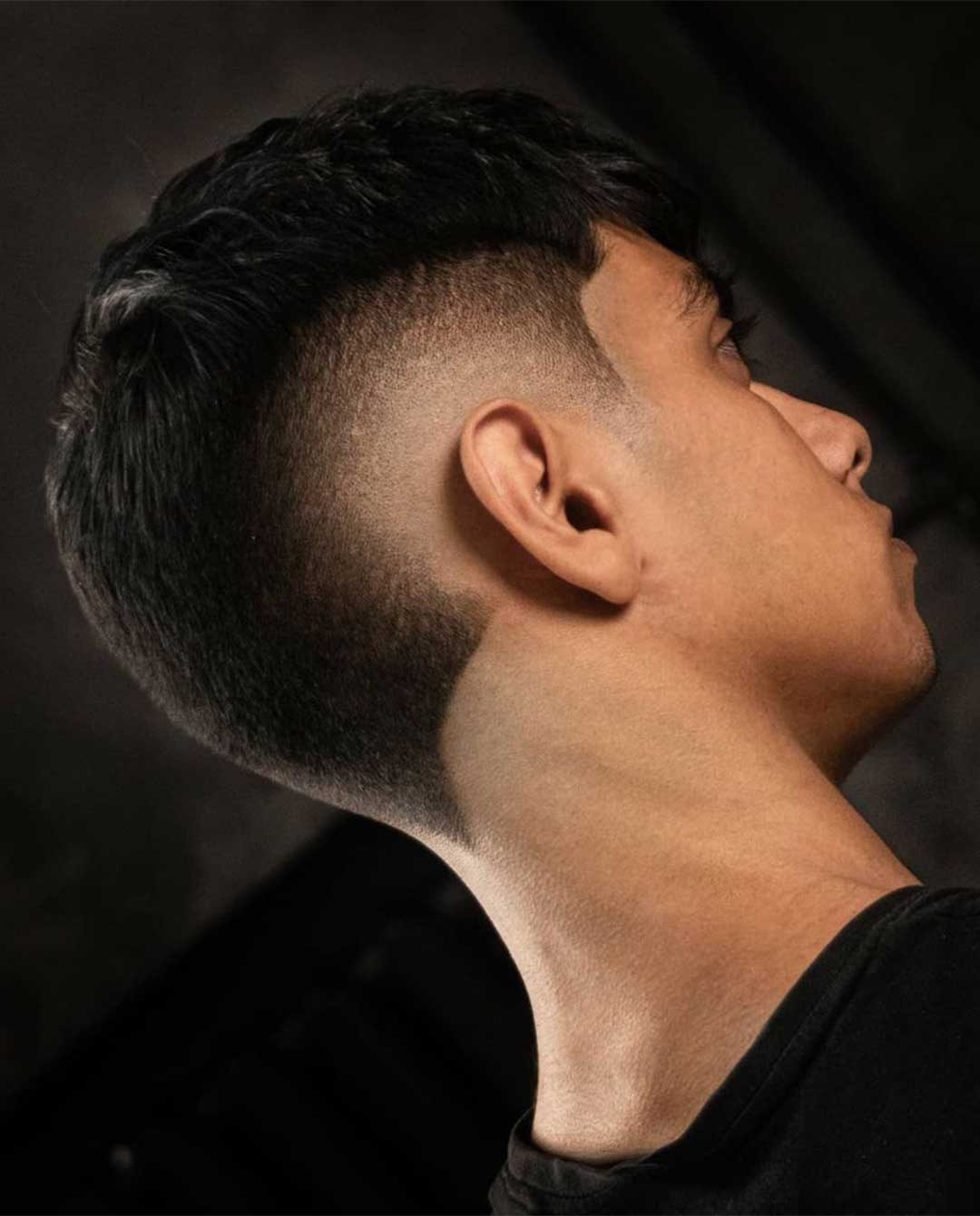 Burst Fade Mullet
Mullets aren't a thing of the past anymore! This modern variation of the mullet works well for guys who aren't afraid to rock it! Keep the top and back long. Throw in some pomade for texture and definition. For the sides, get a classic burst fade haircut. The mullet is unmistakable and ready to capture some attention!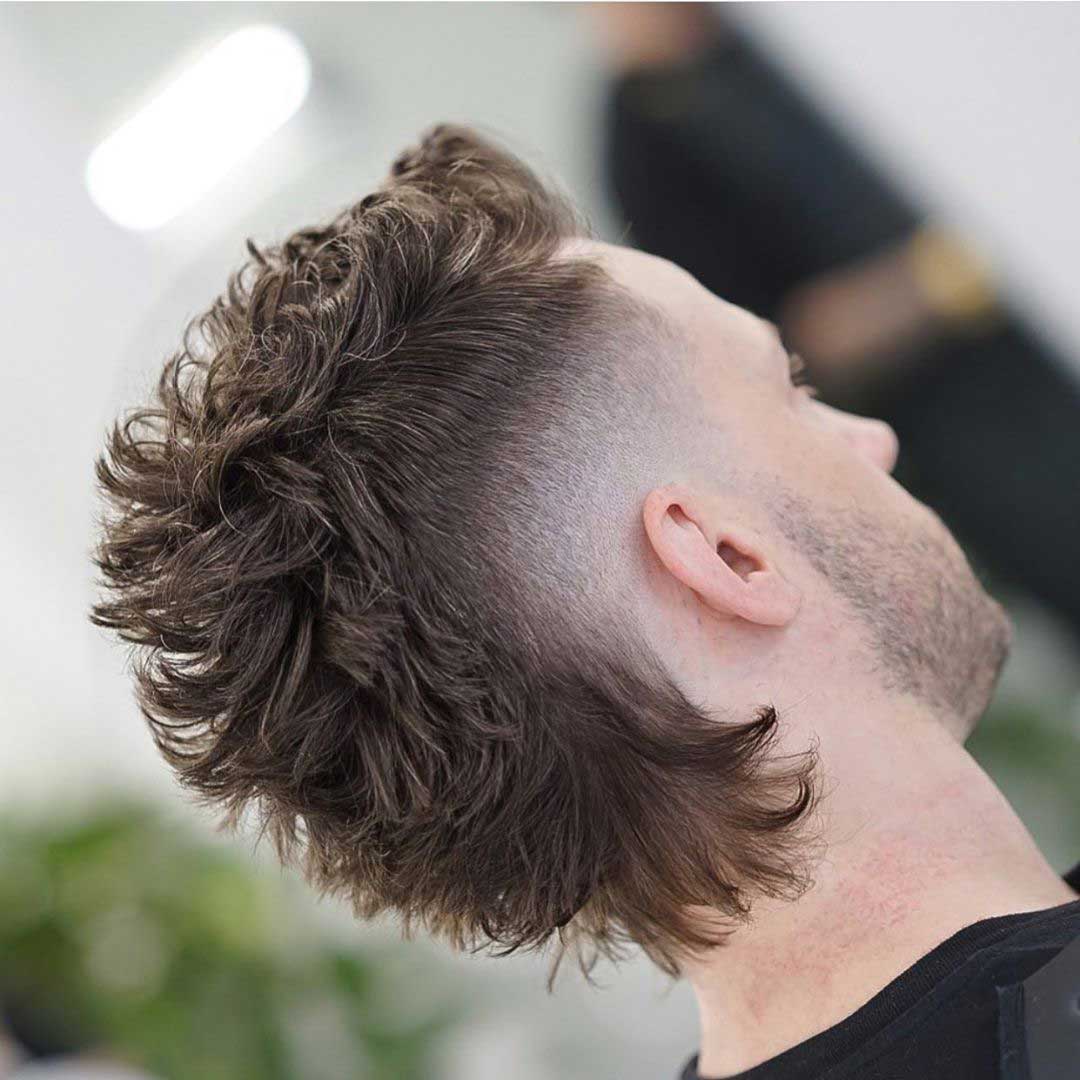 South Of France Haircut
Here's another eye-popping burst fade. But, this one is a bit more subtle than the previous style. You're still getting the mullet-inspired profile. However, this cut is more about simulating a mohawk. All the hair on the top and back are short, leaving a subtler transition for the burst fade.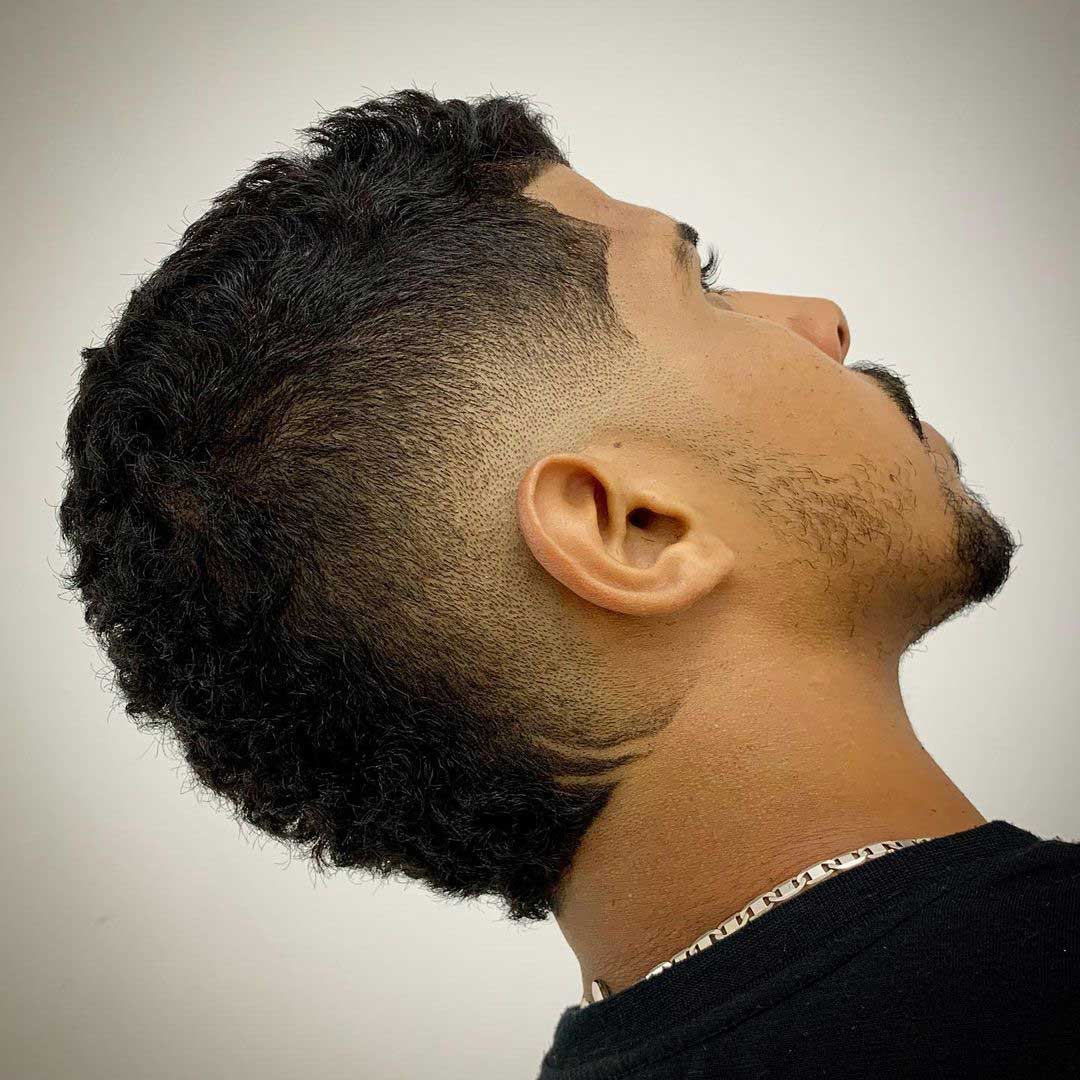 French Crop with Skin Fade
Check out this cool take on the French crop. It's the right choice for guys who have thick hair they want to keep short. All of the locks on the top are short, allowing your barber to do some nice line work. Have them keep everything blunt except for the burst fade. If you're rocking darker hair, the fade to skin offers tons of eye-catching contrast.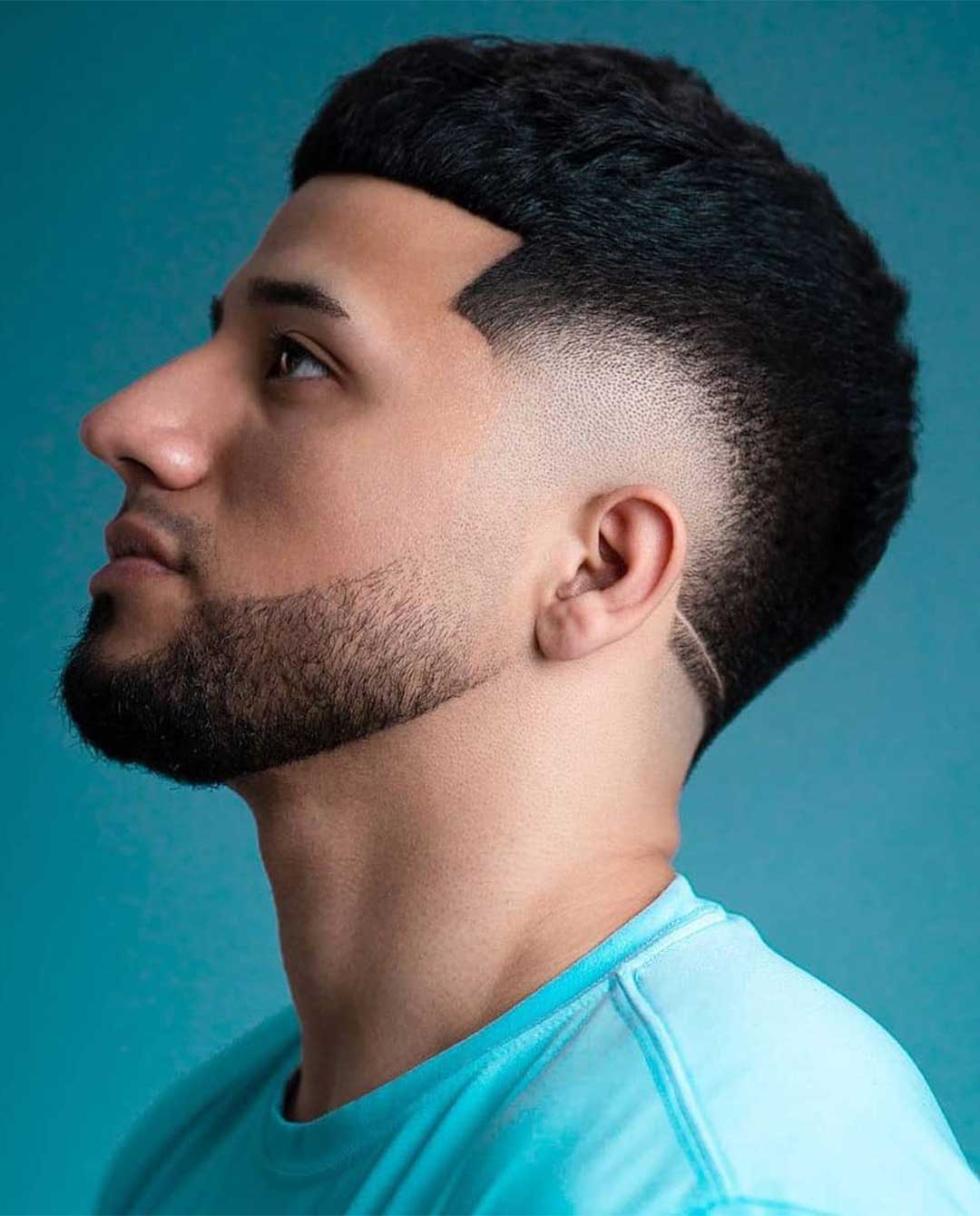 Kinky Mohawk
Afros offer so many possibilities for styling, especially when they're just starting to grow out. When your curls are short, it's just the right time to develop a Mohawk-like look. Let your hair run freely from the front to the back, and then ask your barber to squeeze in a burst fade for fuller dimension.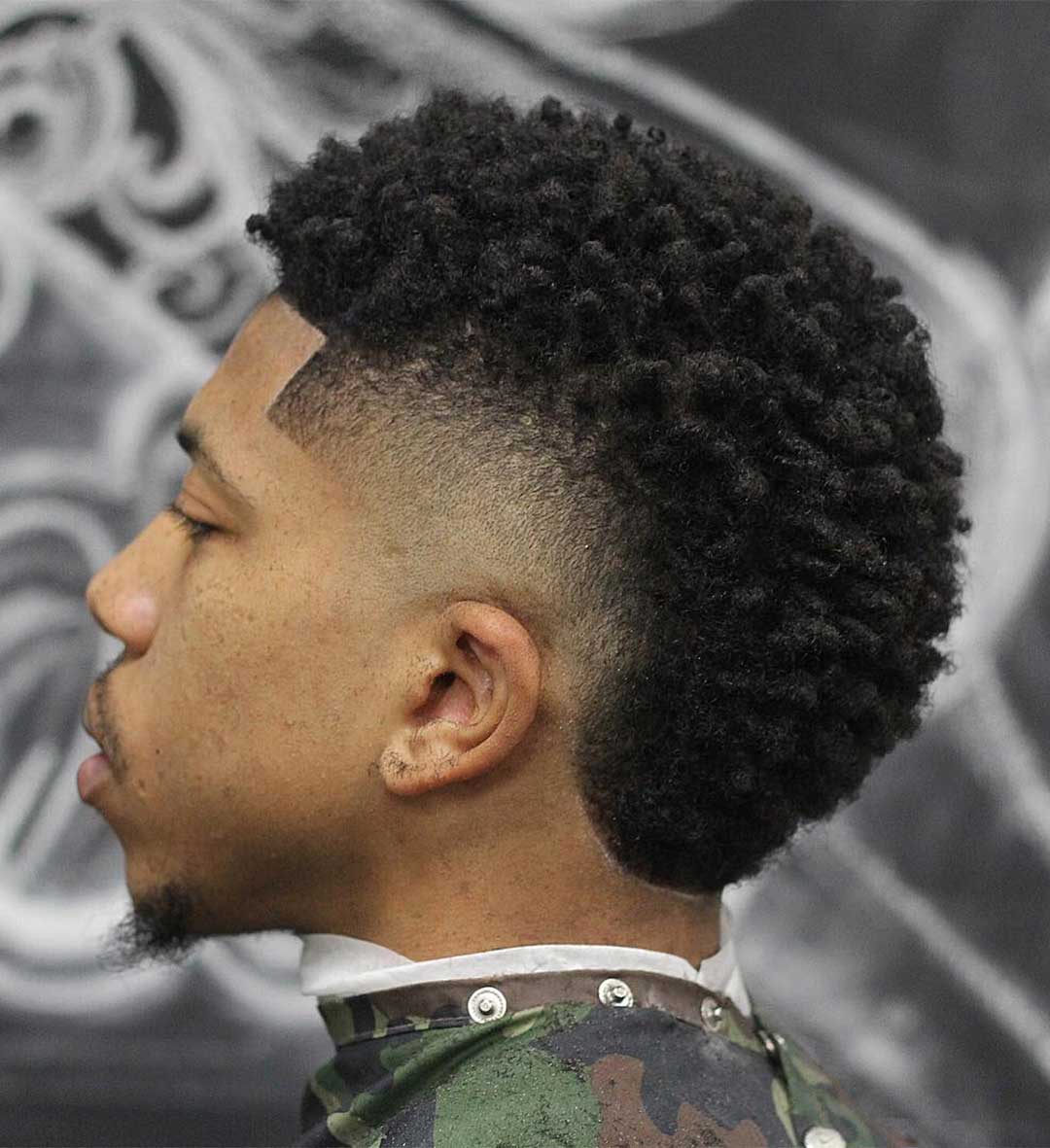 Curly Hair + V-Shaped Neckline
Thick curly hair is a perfect excuse for breaking the rules of your previous hairstyles. From afar, this looks like a radical Mohawk, but up close, it appears like a thick mane of luscious curls. Make the burst fade haircut even more rebellious by adding a V-shape neckline for a truly unforgettable finishing detail.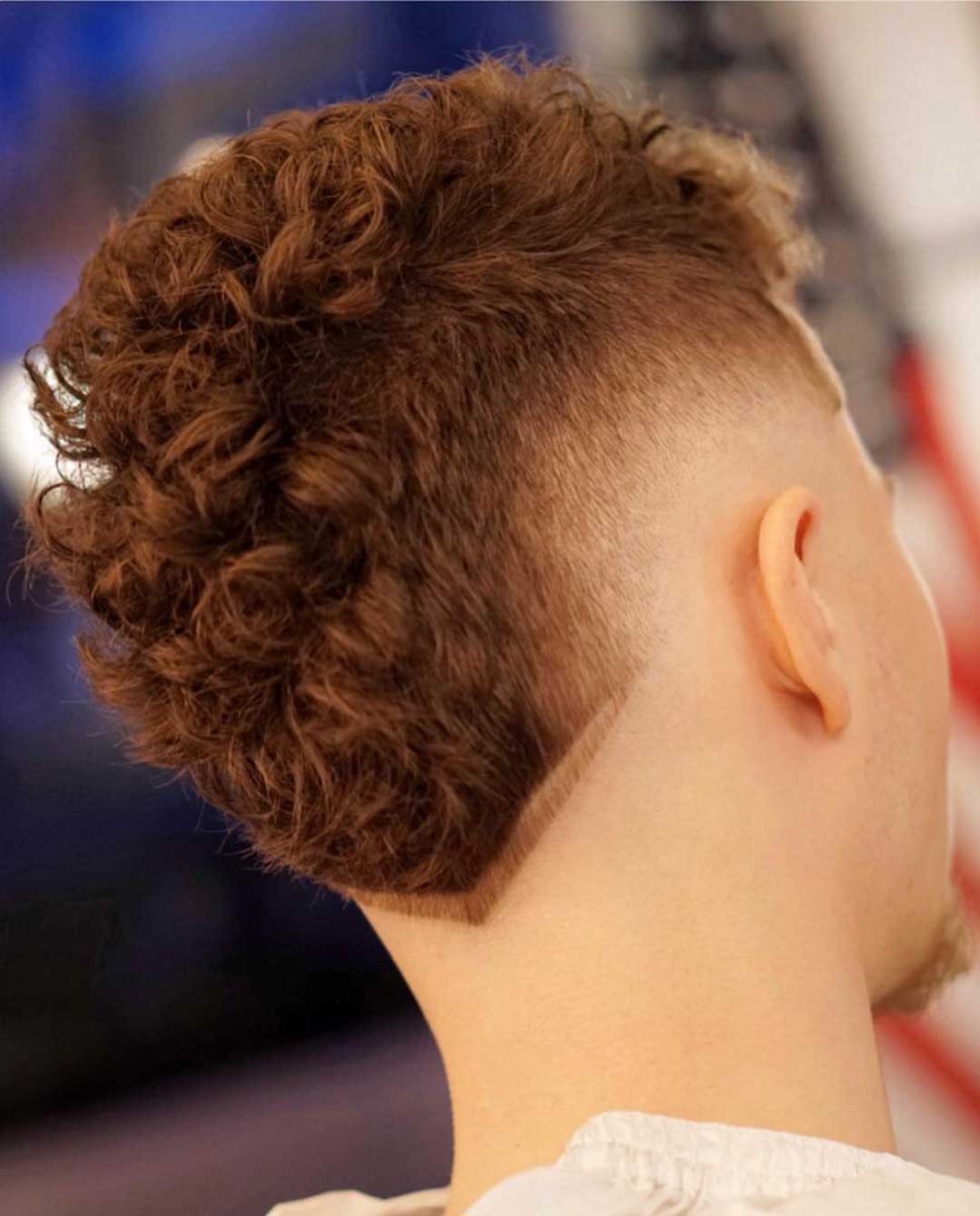 Burst Fade Mohawk
Burst fade haircuts provide a soft trim around the ears that make Mohawks appear larger than life. Start growing your hair out at least six inches. Use a brush, wax, and hairspray for the spikes.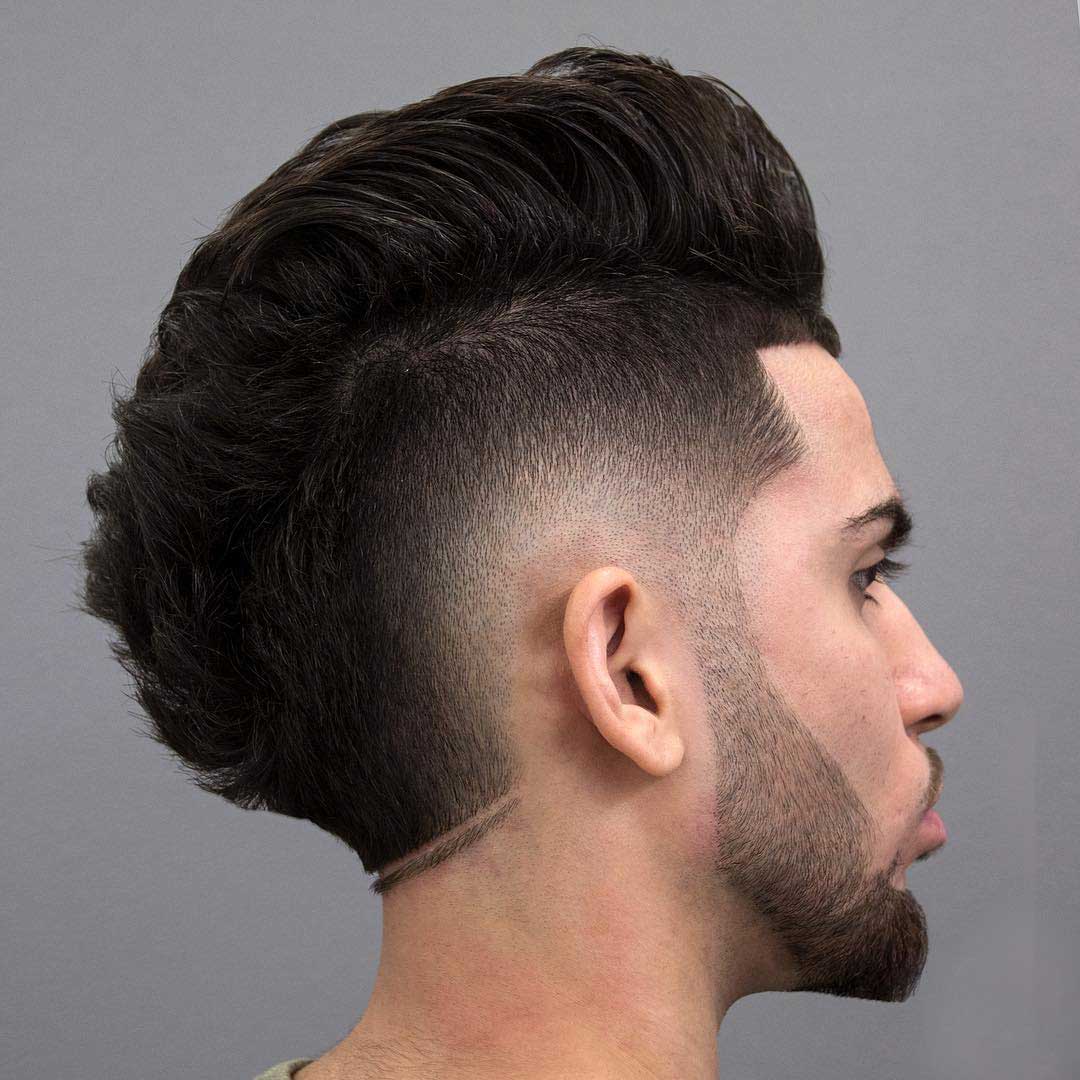 Scissor Fade Haircut
The scissor fade is unique to the others. Traditionally, fades are all about creating that streamlined look with super-short sides. The scissor fade can achieve that, too. However, it's geared toward guys who want more length on the sides than a traditional fade.
To get this appropriately named cut, barbers use scissors rather than clippers. Your stylist will get as close to the skin as possible near the nape of the neck. Then, they'll use a comb to progress up and create a smooth transition to the length on top. Scissor fades look more natural. They do best with guys that have a lot of length on the top. It creates that smooth look while still providing enough thickness on the sides to cover the scalp.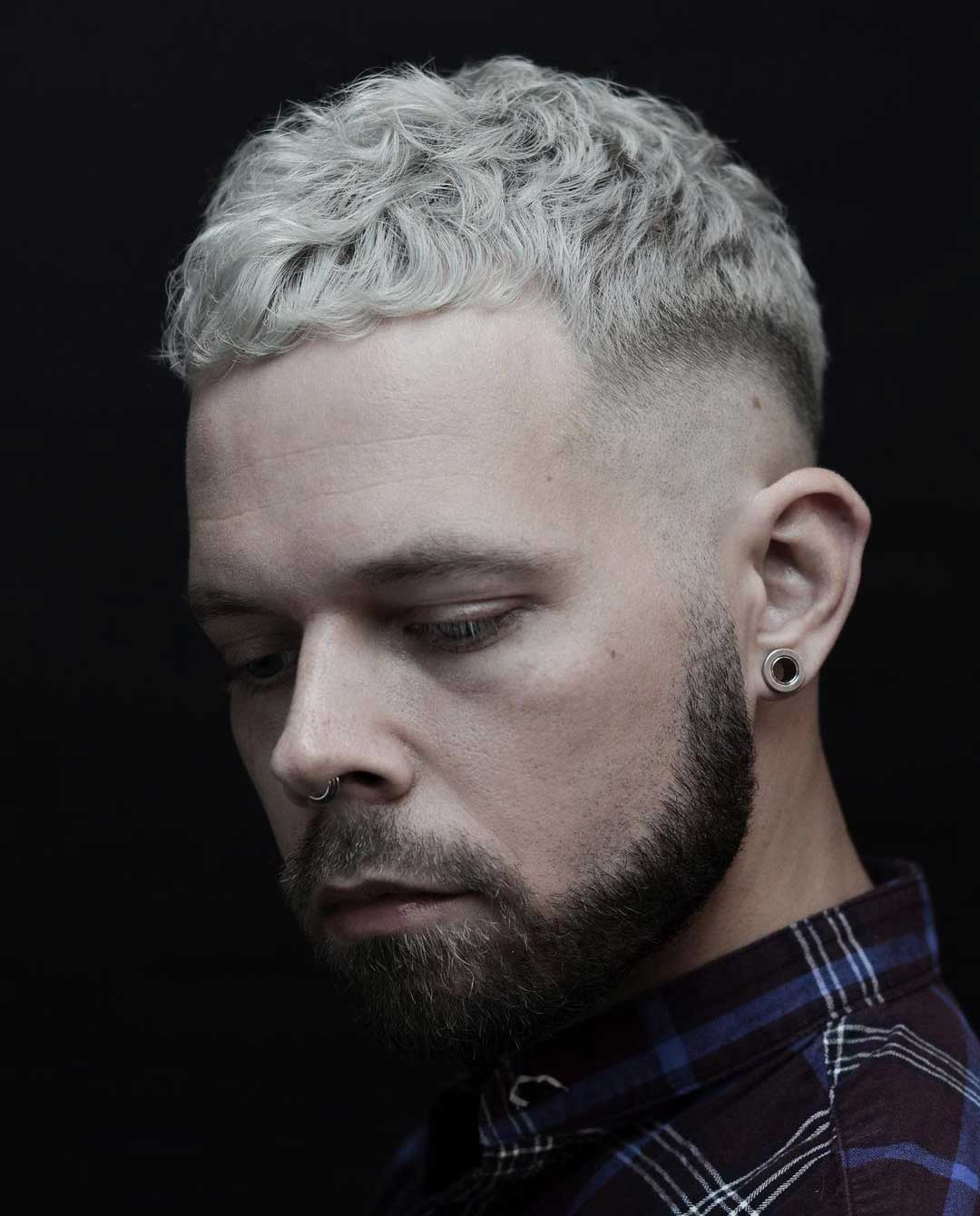 Temple Fade Haircut
This fade gained popularity in the 90s and Aughts! Even two decades later, it's still a go-to for many guys! Originating in Brooklyn, this cut is all about emphasizing the temples. There's a lot of variation with this cut. But typically, it involves a line-up around the temples and ears. Barbers may create a more drastic, non-faded line around the ears to keep things clean. However, the temples receive that iconic transition. Temple fades are cool because they do a lot to frame your face. You can use them to make your head look more angular and refined. Alternatively, you can pair the temple fade up with another dramatic hairstyle for a unique look.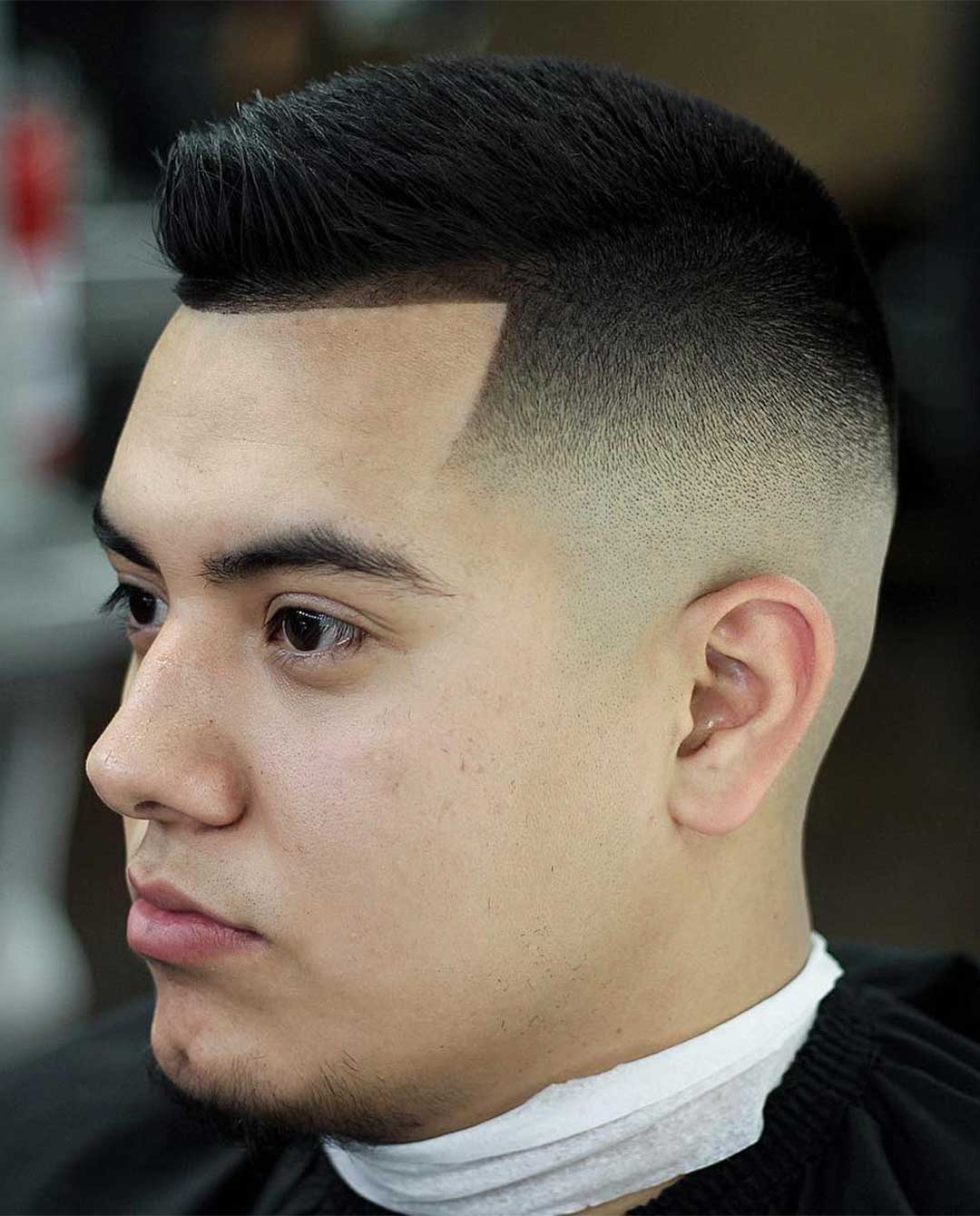 Blowout with Temple Fade
Whether you have naturally thick hair or locks that need a bit of encouragement, this fade haircut offers plenty of volumes. A classic blowout achieves all the height and thickness you're after. But of course, the sides have a sleeker look. The temple fade is quick and perfectly marries the sides to the top. It's high-contrast, but the juxtaposition just works!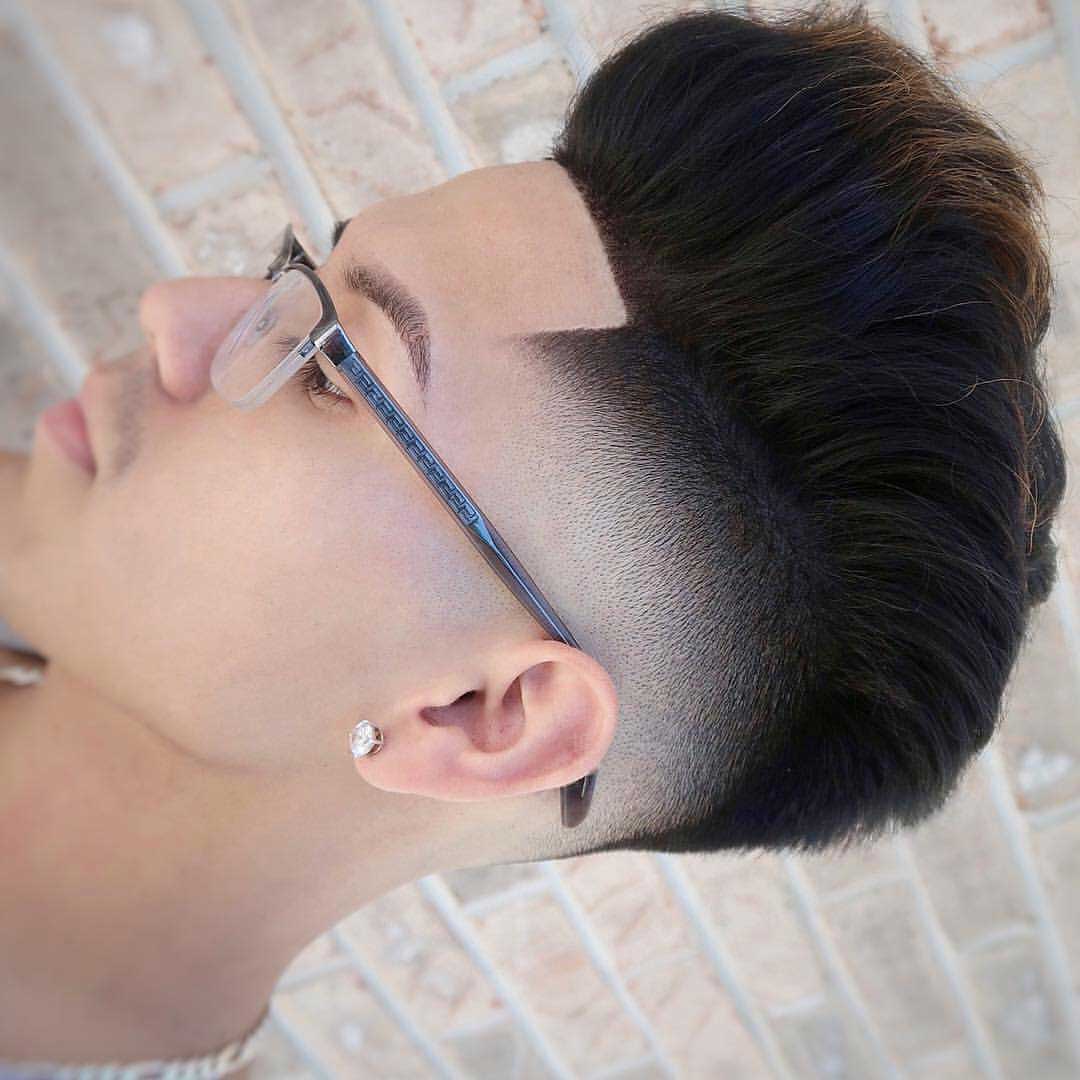 High Fade Haircut + Curls
Give your curls a chance to take center stage! With this haircut, your curls can create some much-needed edge. Instead of giving you a pillow-soft dome, work some wax in to achieve a more manageable sculpt. Pair your curly tresses with a high fade at the temples, and you have a trendsetting cut.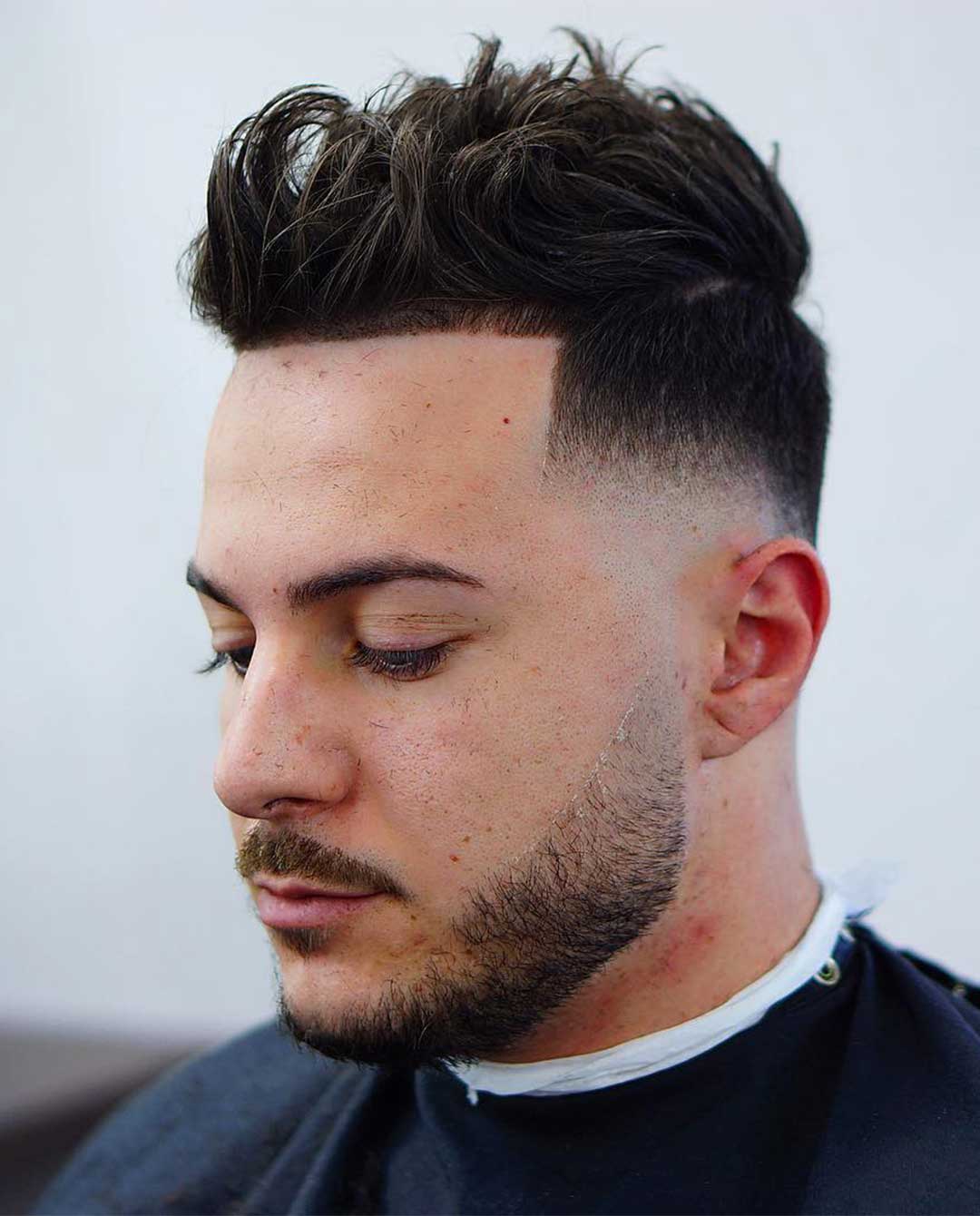 Messy Comb Over
When most people think of comb overs, they imagine slick and consistent hair with a posh look. This haircut turns that precedent on its head. You're getting a pretty tight and easy-to-manage comb over on the top. But instead of keeping things uniform, mess it up a bit for texture! The temple fade on the sides pushes that modern twist even further.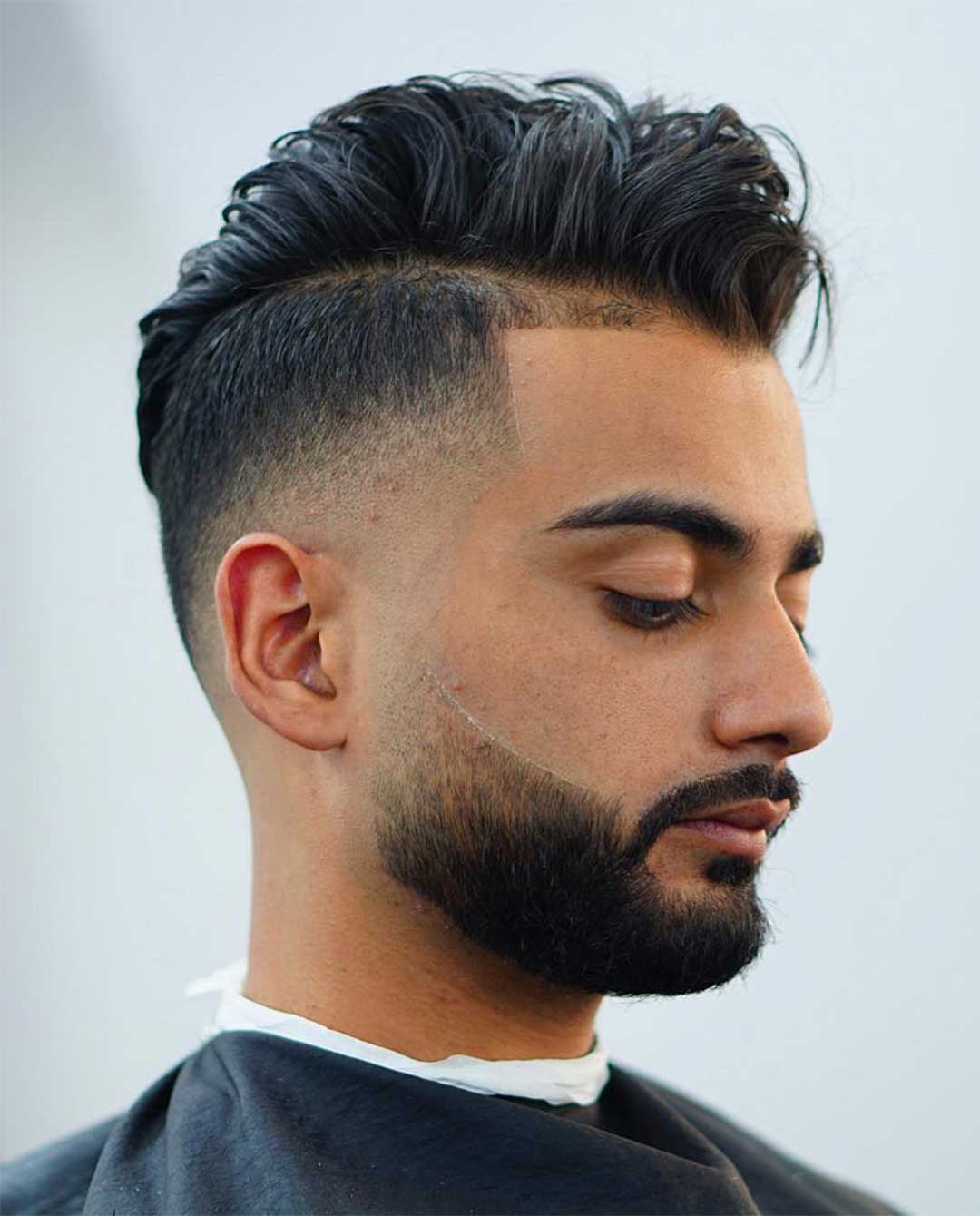 Line Up with Temple Fade 
A solo distinguishing feature can single out one fade and another. And that is the line up. A clean-cut line up trims the skin so smoothly around the forehead; you'll look like you're ready to hit the runway. The formal quiff seamlessly matches the clean shave underneath.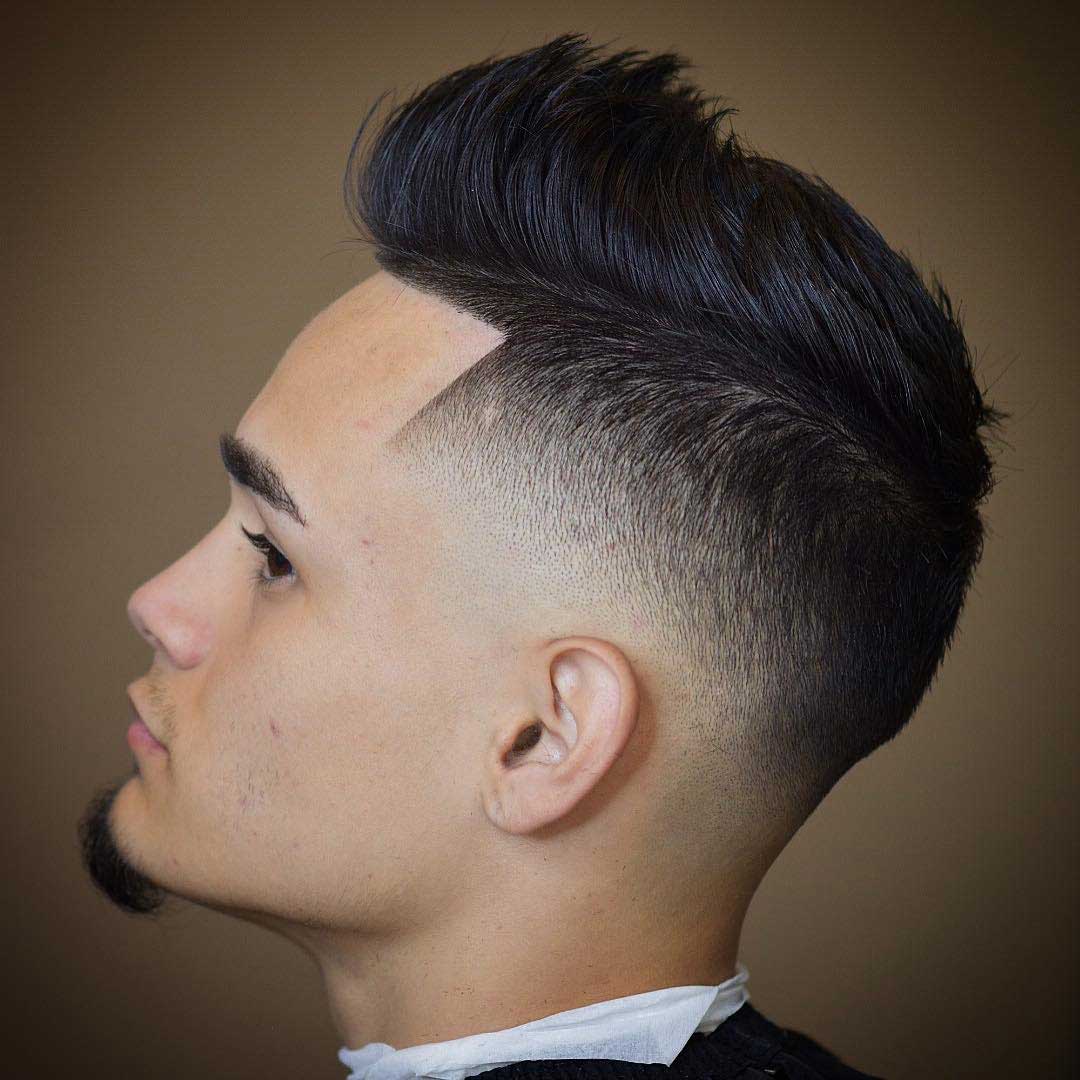 French Crop with Fade Haircut
A French crop is a textbook option for traditional hairstyles. However, men continue to beckon it out of the dark ages today. One noticeable element is the temple fade. With the hair brushing forward on top, a temple fade haircut defines the bangs. Depending on the angle of your French crop, it can add a significant dimension to your face shape.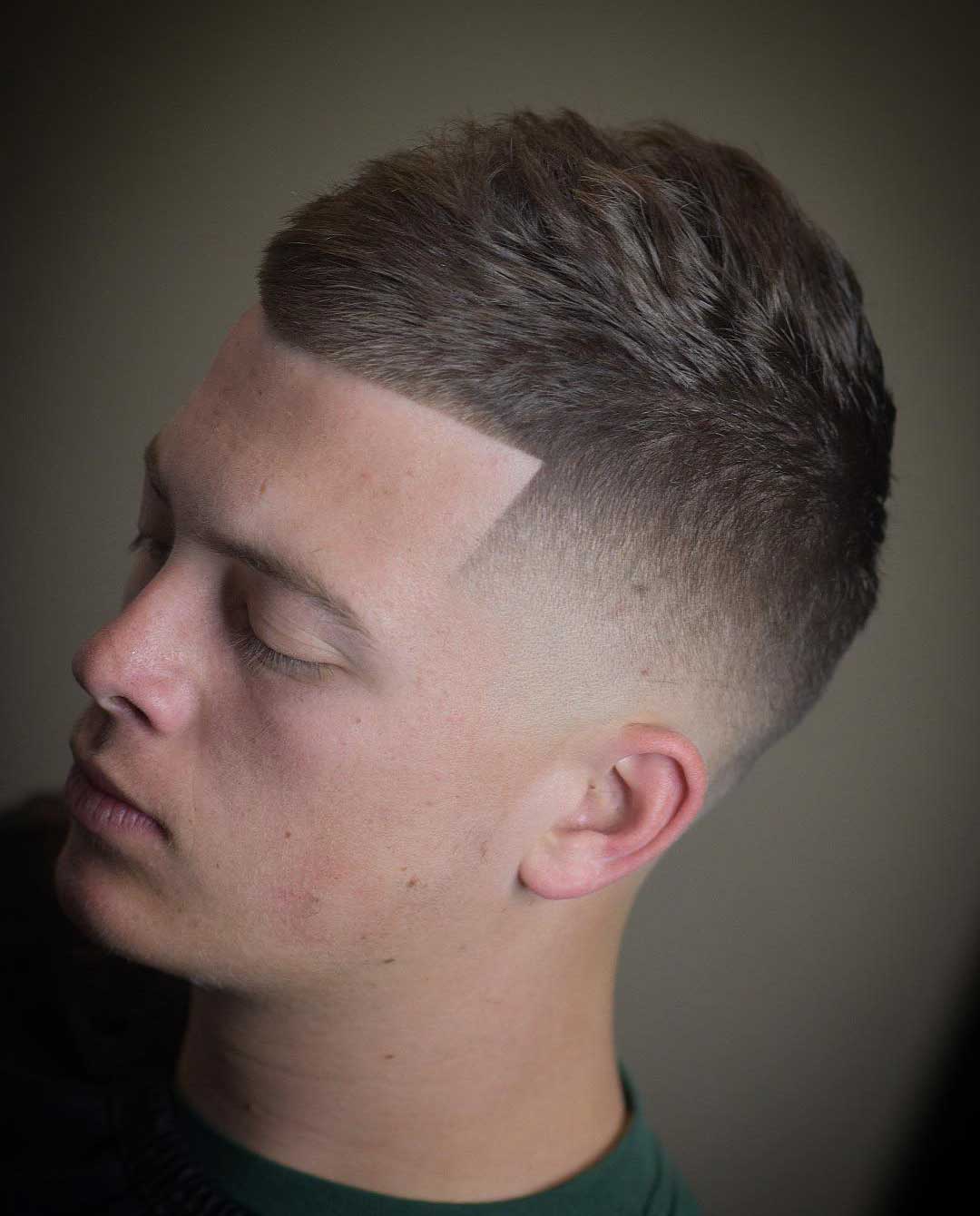 Wavy Hair + Brush Up
Thick hair offers limitless styling ideas, but full wavy hair can be daunting if you want a simple maintenance routine. Keep it short by booking a regular appointment with your barber. Simplify your style by parting your hair by brushing it up on one side and a classy temple fade on the other.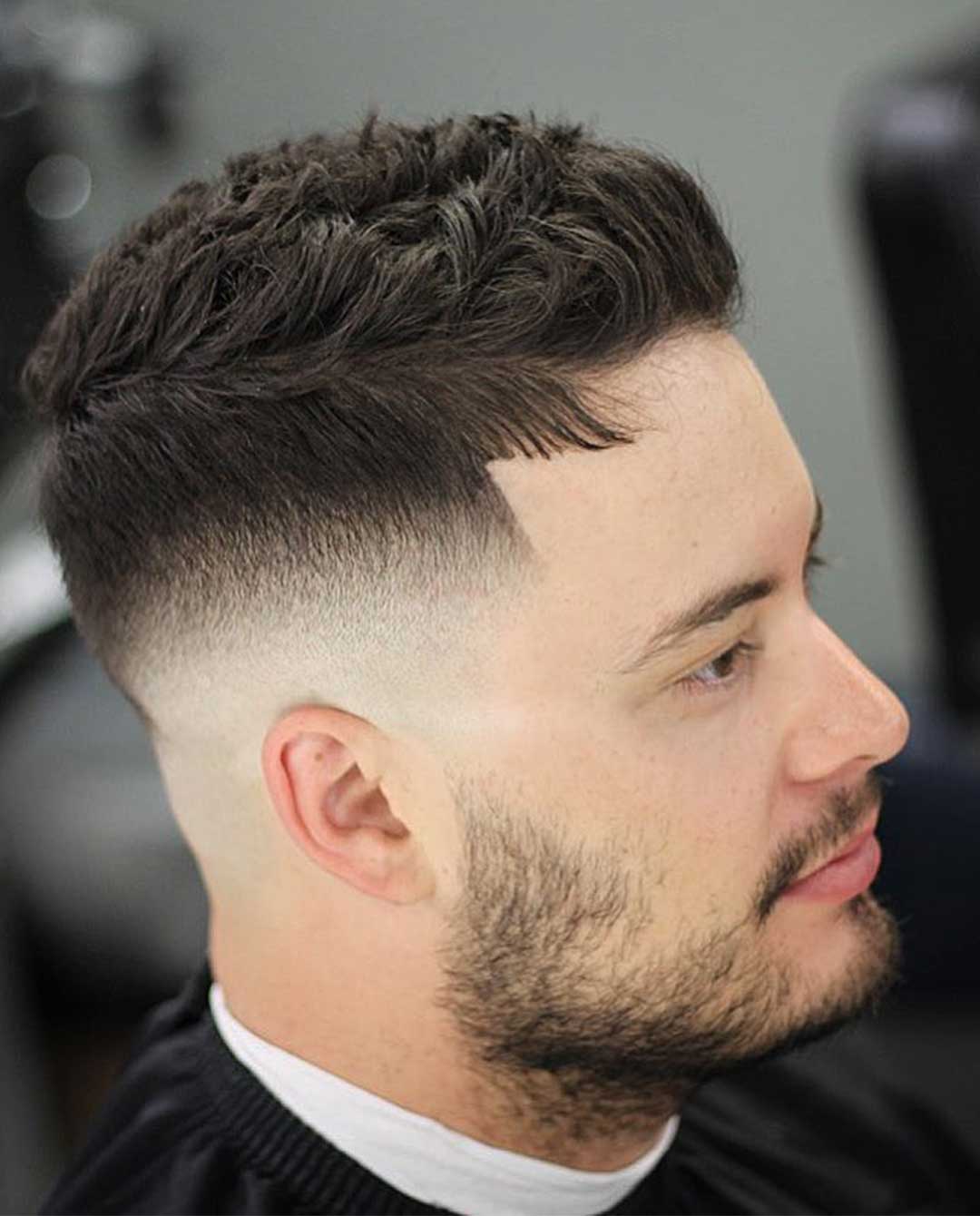 Taper Fade Haircut
Taper fades are somewhat of an oxymoron. You'll learn why in a bit! Nonetheless, they're still a popular hairstyle that you can see many guys ask for. With a taper fade, you're not creating an entire transition down to bare skin. These cuts involve a hard stop at the bottom. There's still the signature transition from long hair to short hair. The bottom of the transition is sporting a visible line that you can keep clean with a line-up! The great thing about taper fades is that they're adaptable to just about any length. If you want super short hair, your barber can create a taper down to the thinnest guard. That said, it also works if you want a bit more coverage on the sides.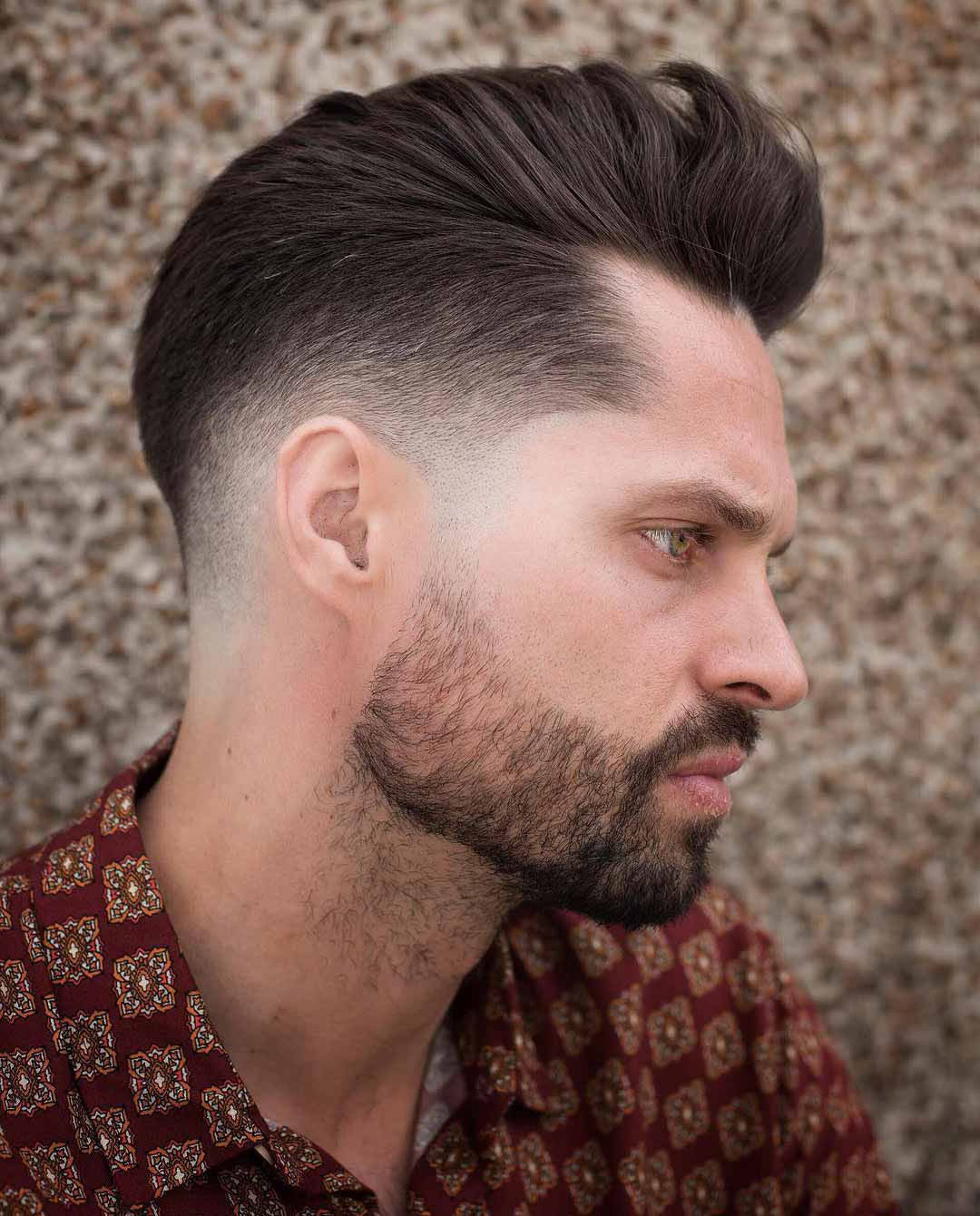 360 Waves Haircut
Take a look at this awe-inspiring haircut. Best for guys with natural texture in their hair, it's a cool alternative to traditional fade haircuts. Massive curls create a 360-degree rippling effect. The center is on the crown. But, it radiates outward for a cohesive look. A subtle taper on the sides and back provide the finishing touch.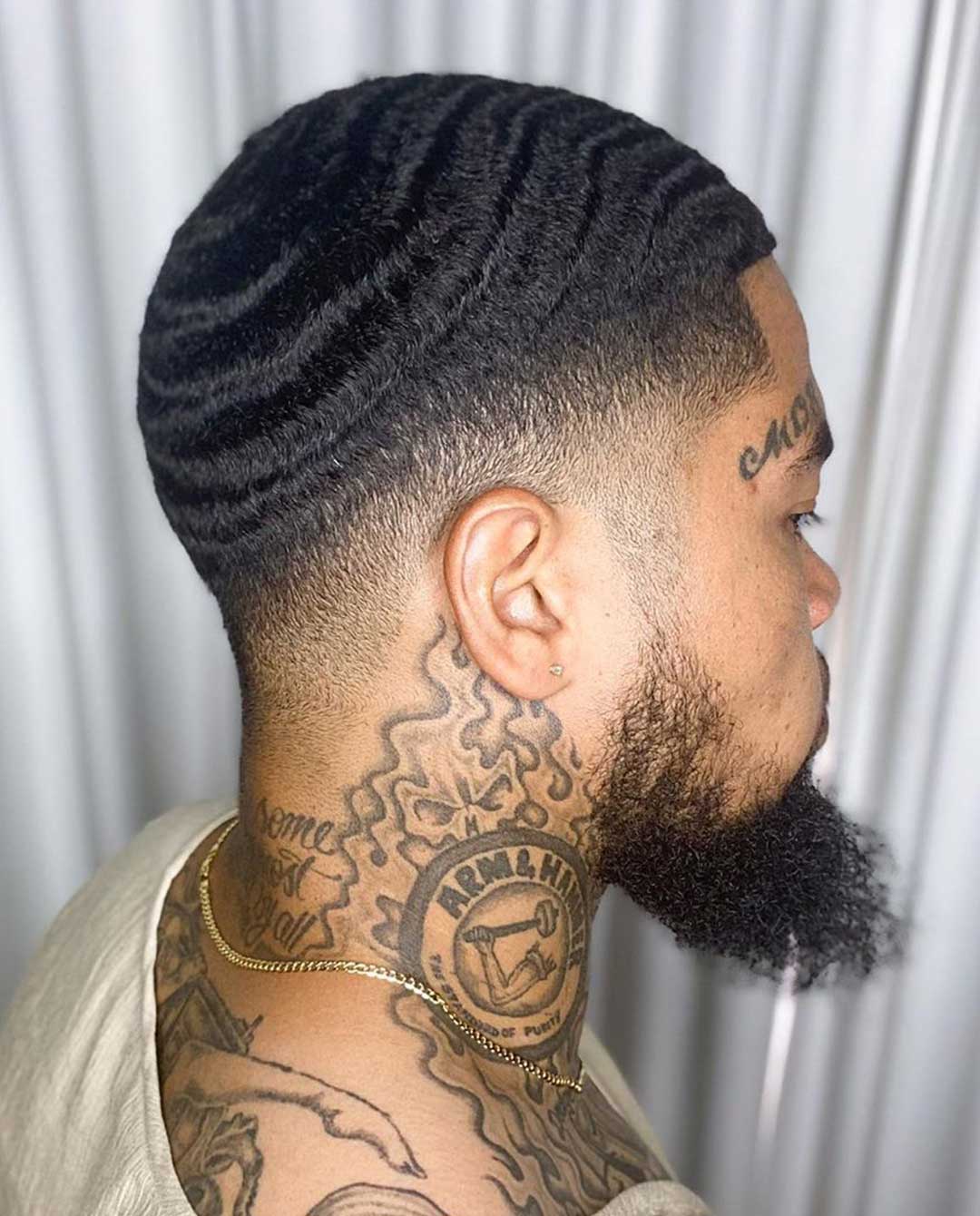 Comb Over + Taper Fade Haircut
If you don't want such stark contrast on the sides of your head, this fade haircut has you covered. You can rock a classic comb-over on the top. It gives you all the height and volume you're after. The sides have some length, too. But, they taper sharply around the ears to help you have a clean-cut look no matter what's going on up top.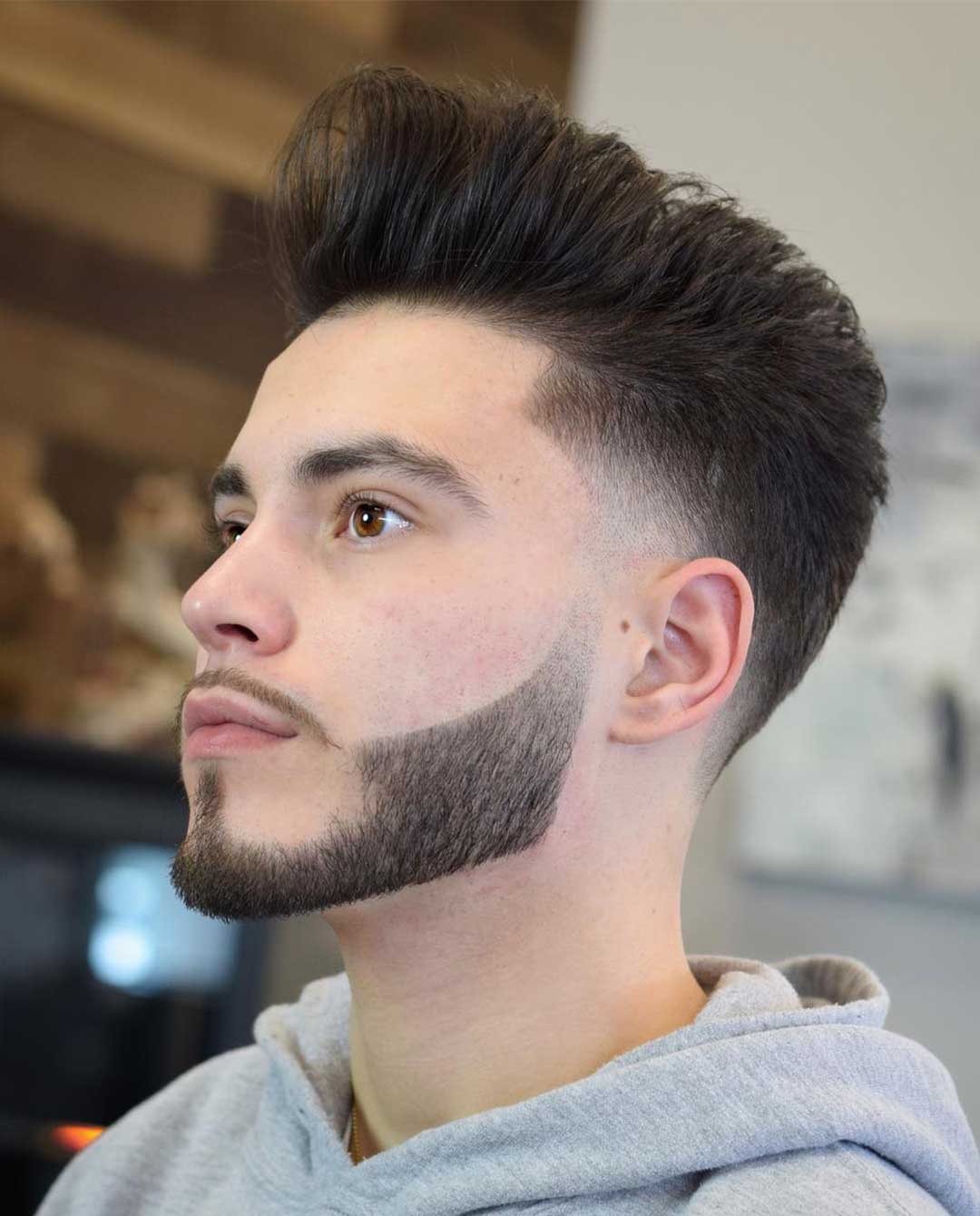 Caesar Haircut with Taper
Here's our last Caesar style. Like some of the previous ones, this cut is all about keeping things short and simple. The hair is short and lays flat against the head to let your facial features come through. Blunt cuts at the hairline and temple push the aesthetic to the limit as the taper on the bottom makes for a smooth transition to skin.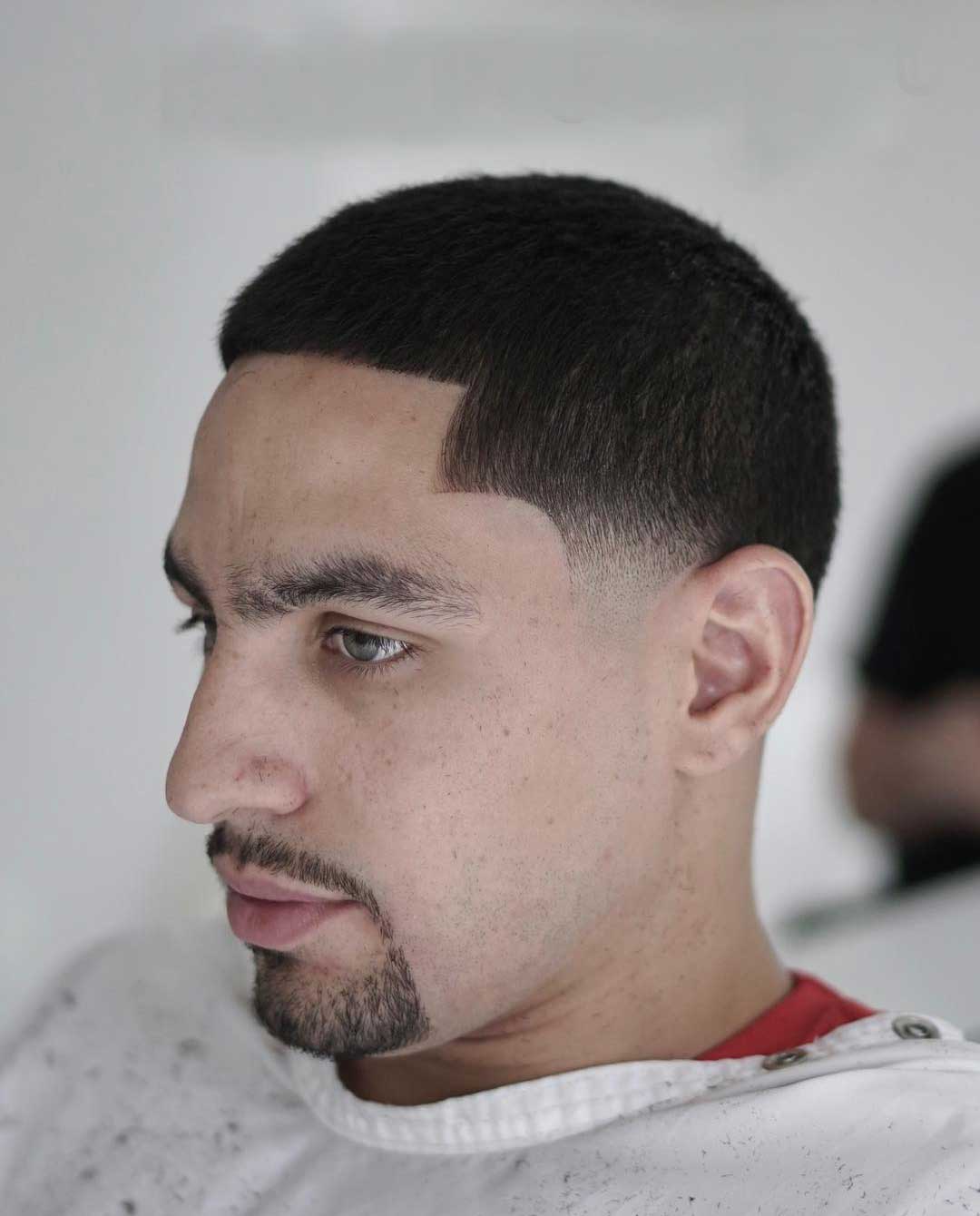 Kinky High Top
Fade haircuts are great to make any hairstyle look disconnected. But if you want to take complete advantage of your Afro's potential, opt for a taper. The hair along the side and back adds more space for additional curls to grow and makes your Afro thicker.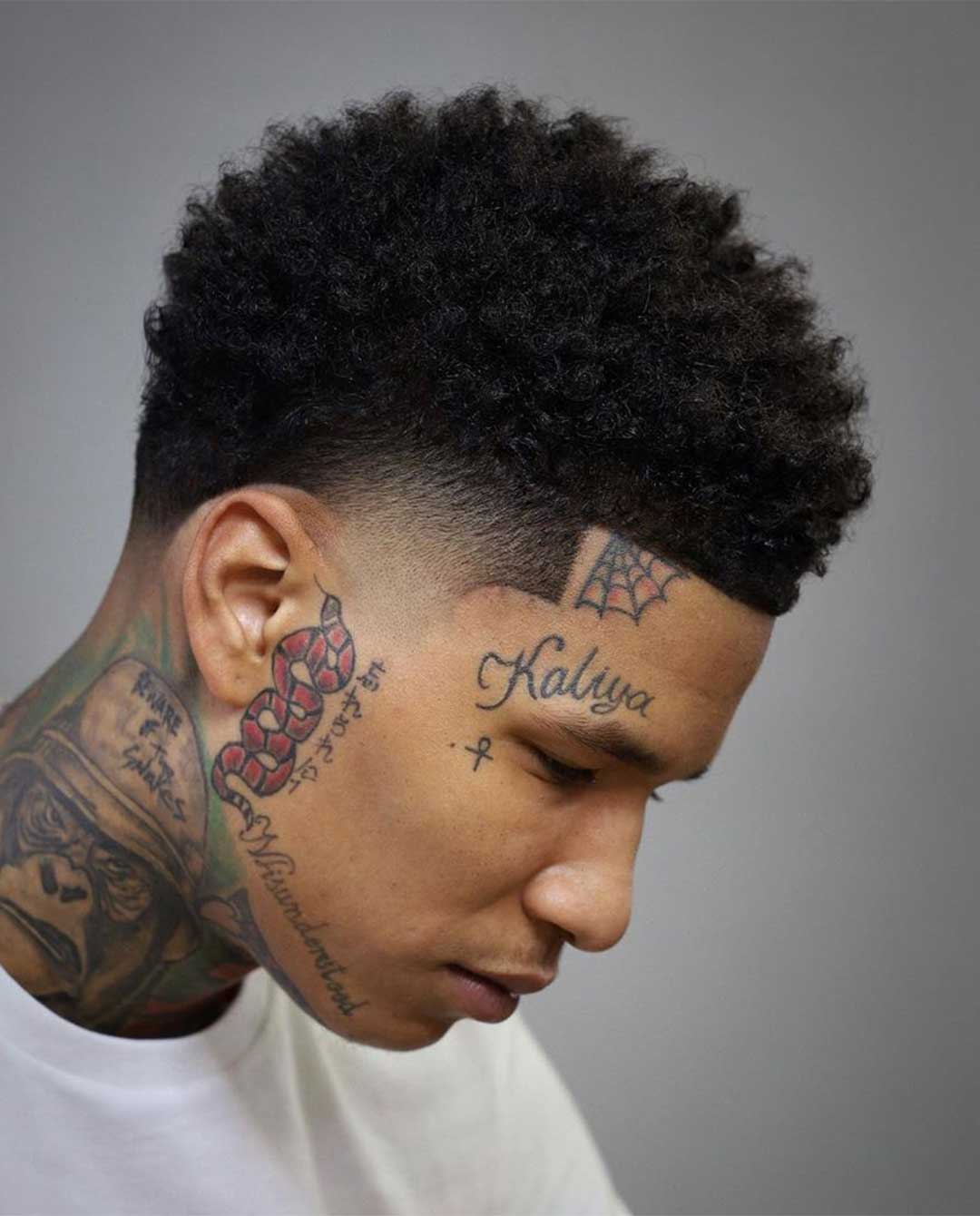 Short Comb Over
A crew cut or undercut is the most common option for hair that maintains even length all over. However, a comb over with taper is just as svelte. The shorter length takes less maintenance to brush over to the side. If you have thinner hair, a comb over will lie flatter, but it will still offer a striking cosmopolitan appearance.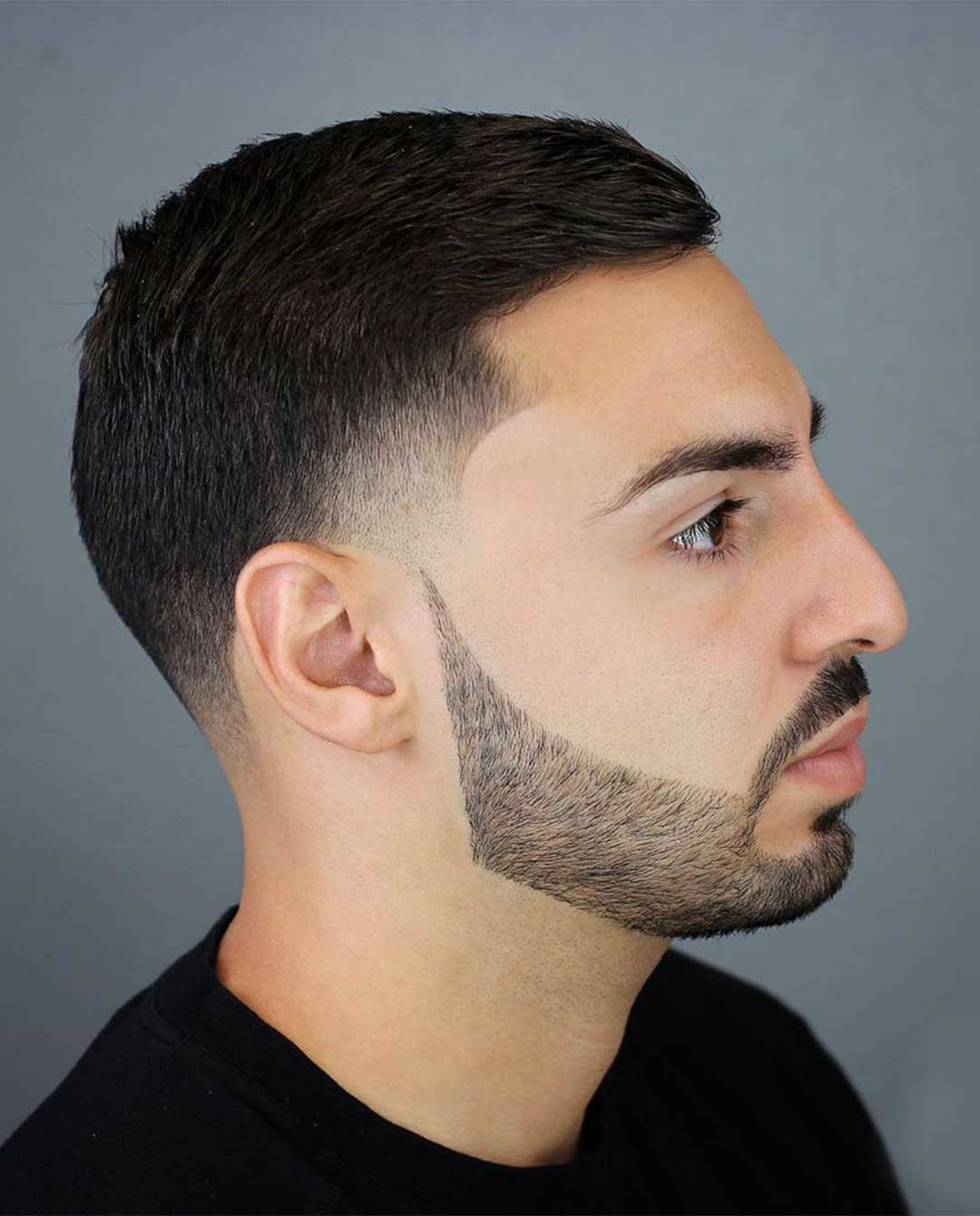 Pompadour with Taper
Pompadours are one of the most orderly hairstyles. A heavy dose of pomade structures the haircut to remain upright. If you want more of a wind-swept alternative, go for a taper instead of a fade. More hair along the sides adds a mellow maturity.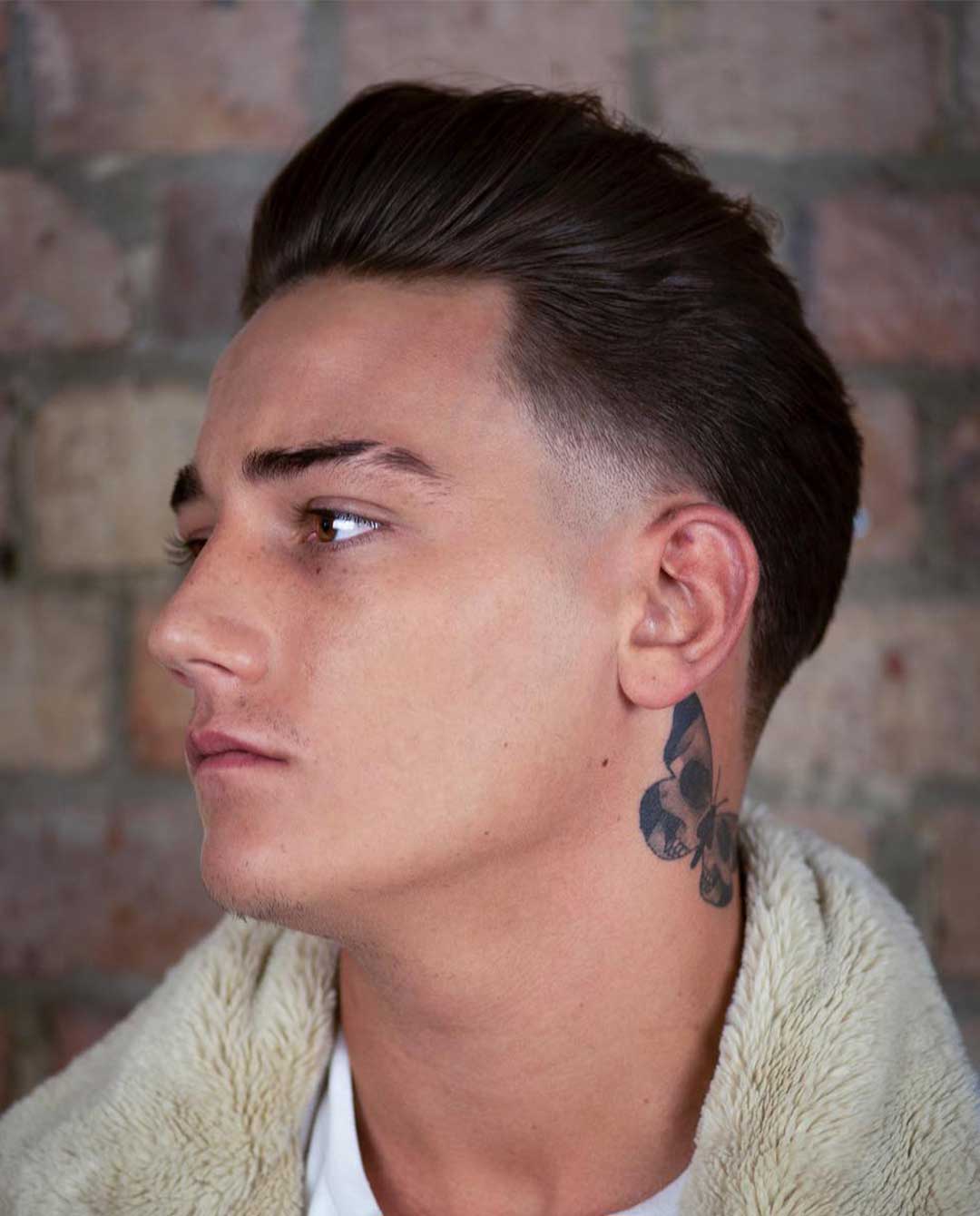 Difference Between Taper vs. Fade
Here's where things can get a bit confusing! Often, you'll hear guys using the terms "taper" and "fade" interchangeably. While similar, they are two different cuts. The most significant difference is the end of the transition. With tapers, the transition ends on a clean line of short hair. With fades, the transition generally blends to the skin. Tapers are the more conservative and reserved of the two. Even with short tapers, you're leaving less of the scalp exposed. Thus, it's a bit more clean-cut and less edgy.
Men's Haircut Combinations with Fade
Comb Over Fade
Remix the retro throwback of a comb over with the contemporary trim of a fade haircut. Brush your hair with a hard part to create a charismatic coif. A clean fade keeps the side short. This smooth and sophisticated comb over is perfect for work and formal occasions more than everyday wear.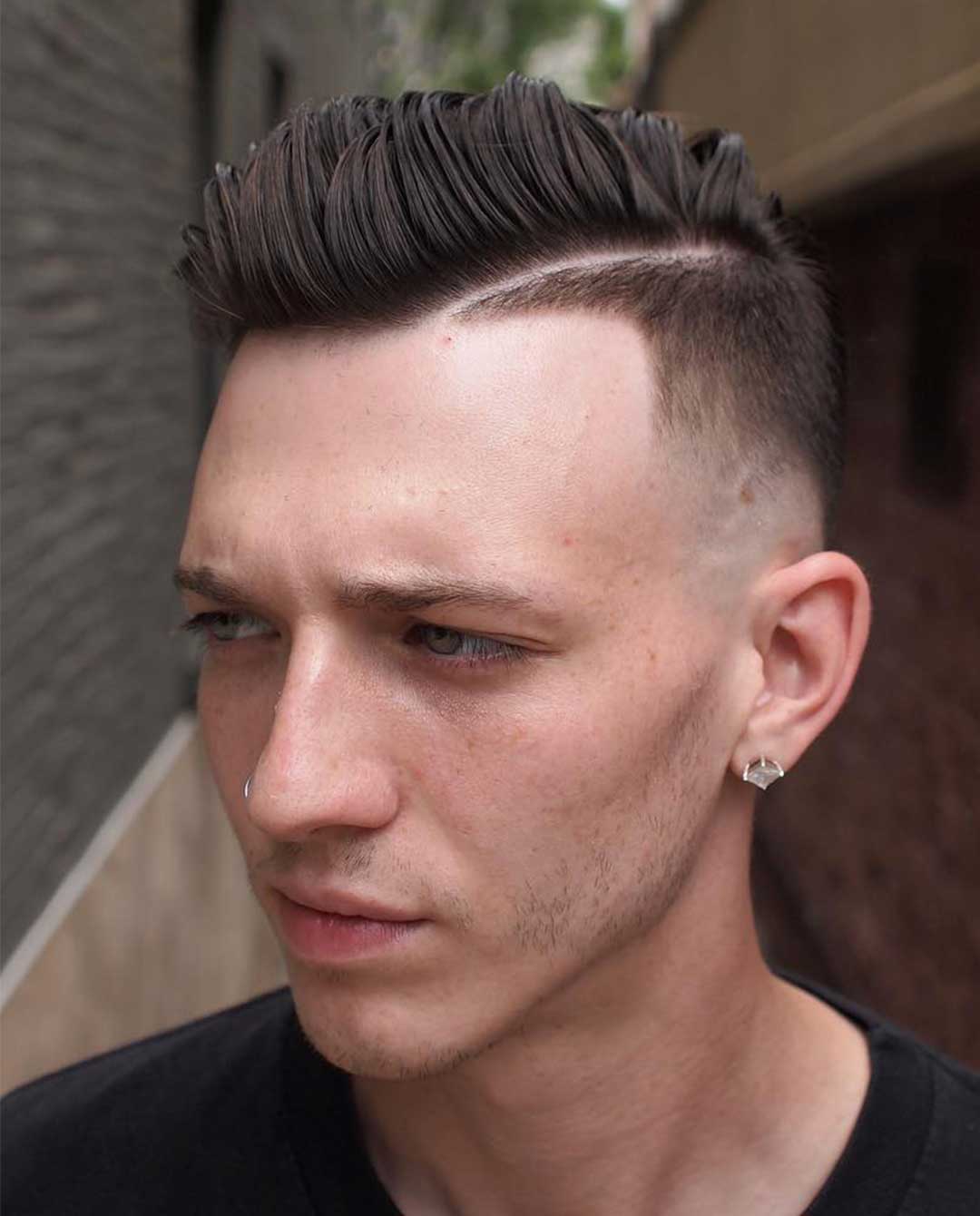 Undercut Fade Haircut
From short to long or thick to thin, an undercut fade accommodates all hair types and lengths. The sides and back are short for a fade, giving you the freedom to style the top fringe. Brush your extended strands forward with a wide-tooth comb for extra texture.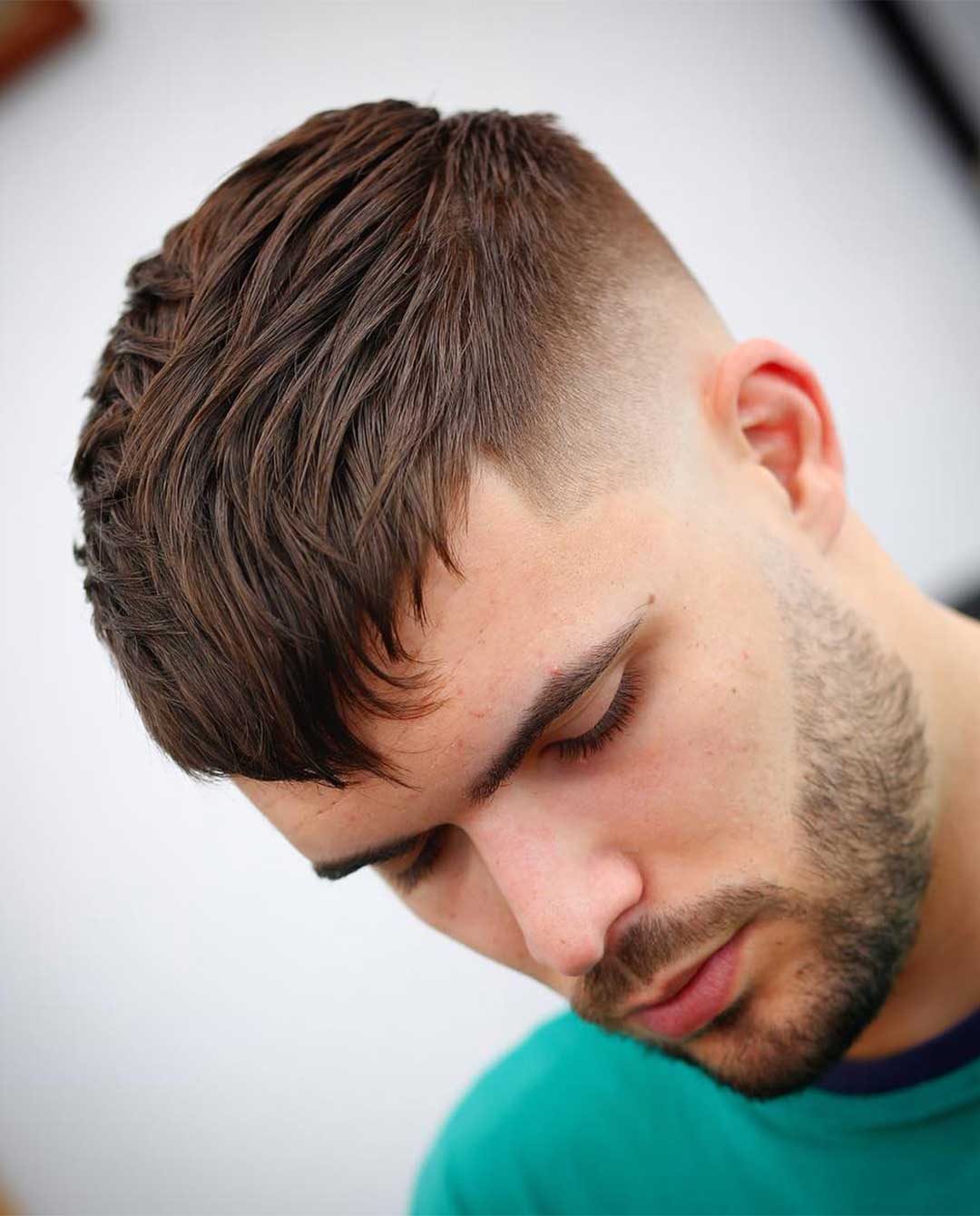 Curly Hair Fade
Curly hair provides a beautiful texture on its own. But how do you modernize your fringe and contain unruly locks from spiraling out of control? Enhance your curls with a texturizing spray or clay, and then tame them down with a temple fade. The latter gradually straighten your hair from the nape to the crown.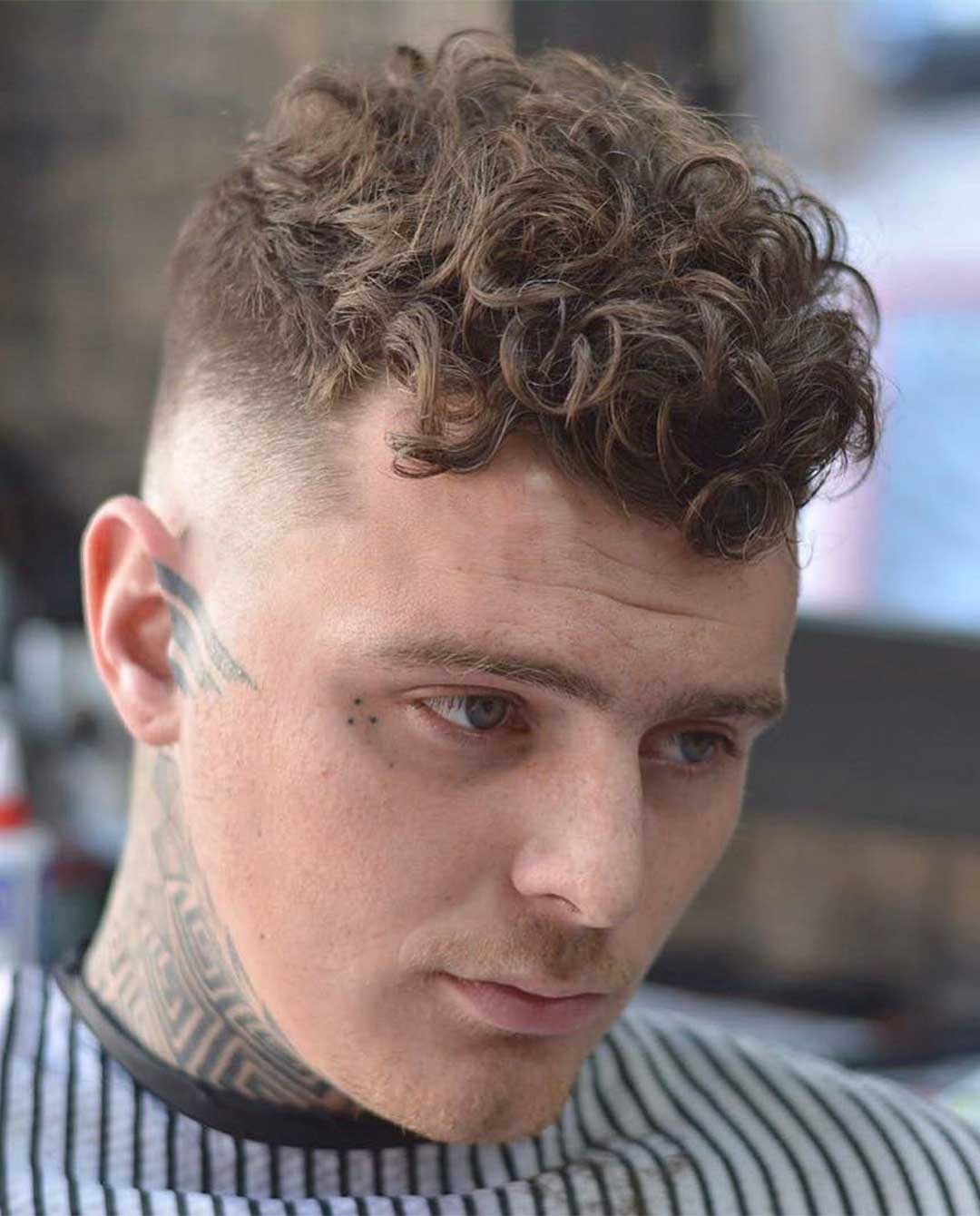 Side Part Fade
The side part remains popular because of its timeless simplicity. Your barber will use a wide range of clippers to shorten the part and smooth out the sides. It'll require regular maintenance to remain short at two to four inches long. However, your grooming routine will only need to include slicking the parts with a brush and quality hair gel or pomade for an exquisite shine.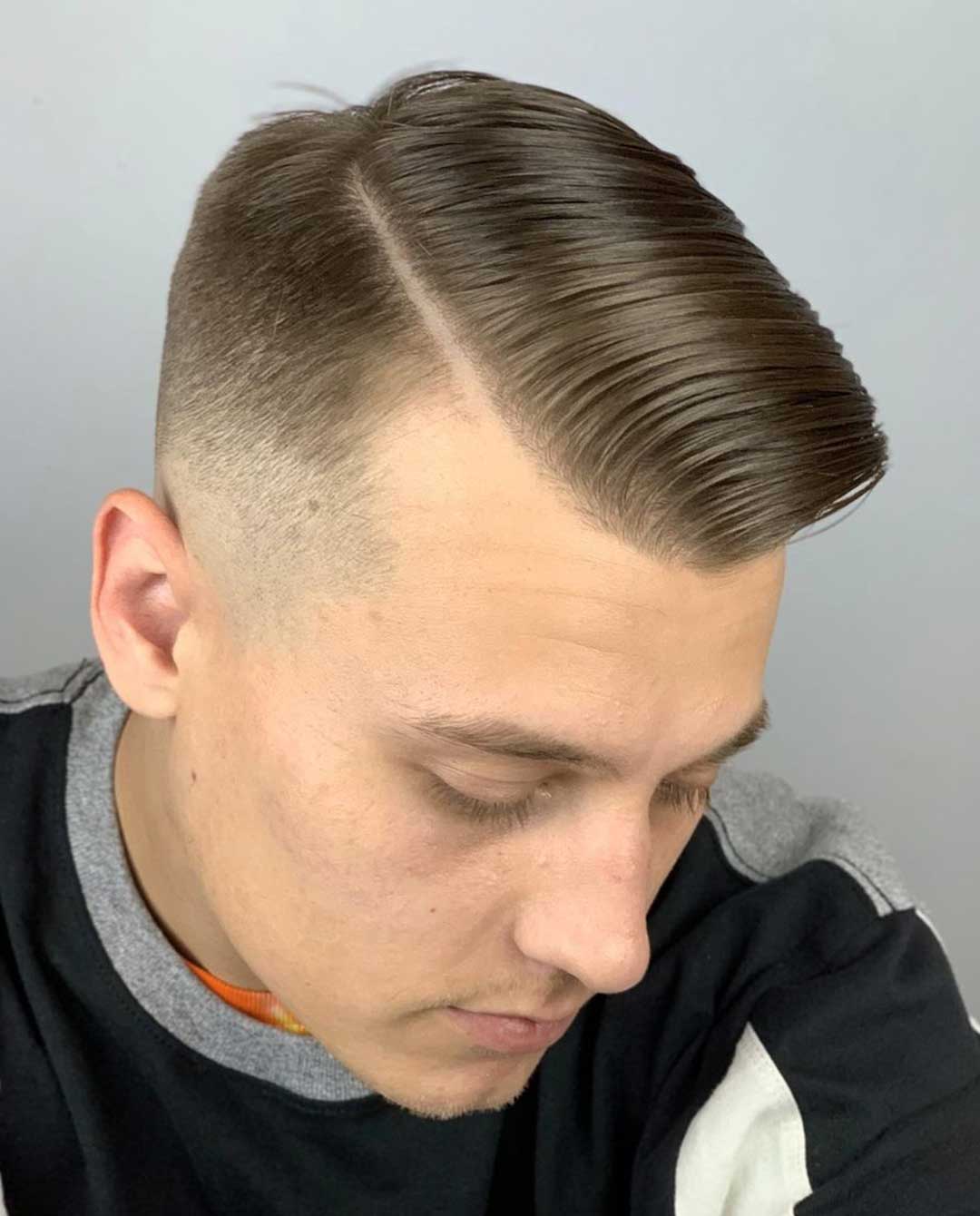 Pompadour Fade Haircut
Volume is the name of the game for this vintage-inspired hairstyle. The hair whips up into an airy coif by brushing it backward or to the side, blow-drying, and adding pomade. A fade haircut adds a striking contrast to the pomp's fullness with leaner hair on the sides. Fuller hairstyles like this work best with a triangular face shape to lengthen the face and accentuate the chin bone.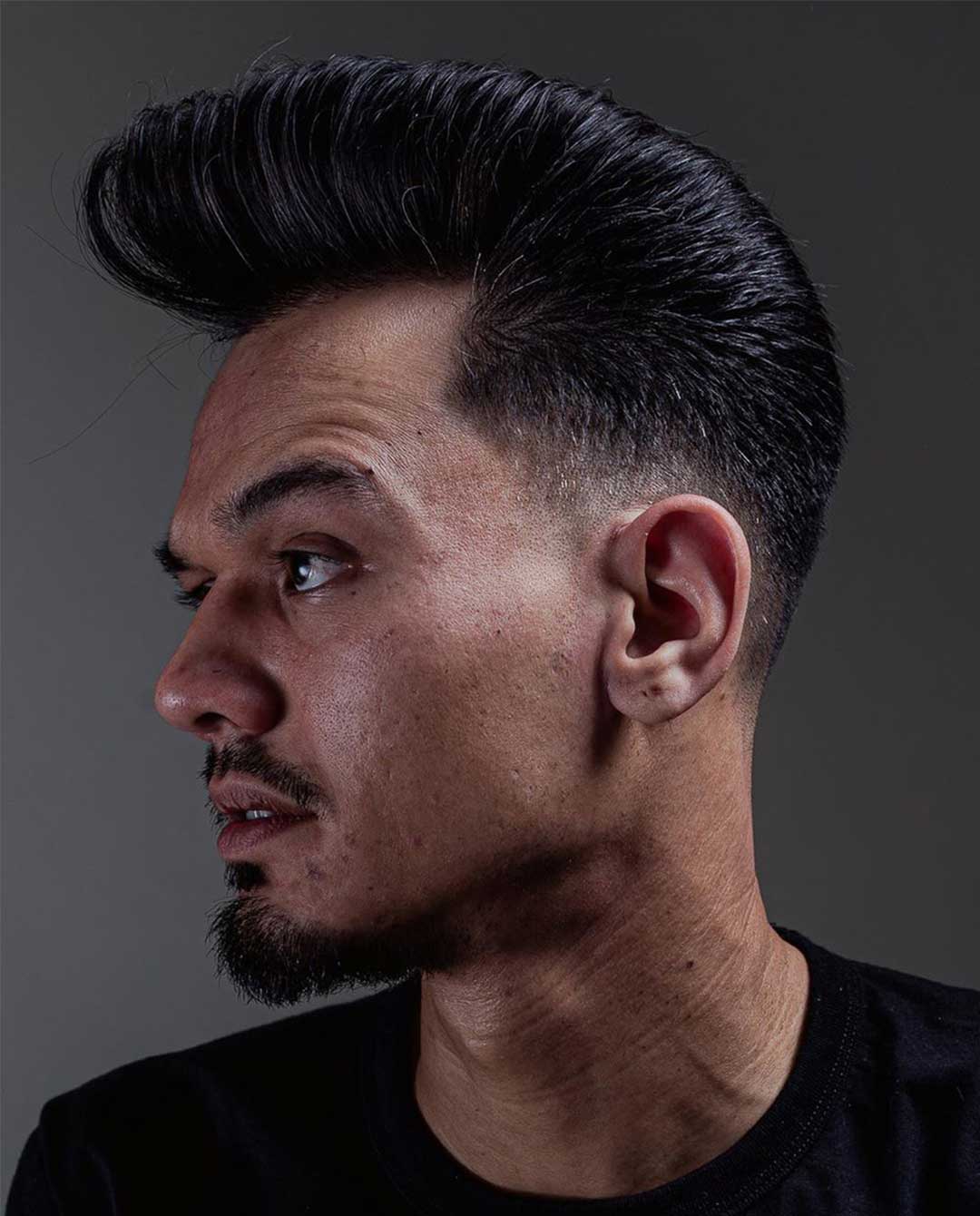 Faux Hawk Fade
Faux hawks provide a daring risk without going overboard. They mimic a Mohawk by spiking the hair on top into a low or high peak. However, this style separates itself by blending the top into the sides instead of going completely bald. A low or high fade haircut adds an extra punch of drama.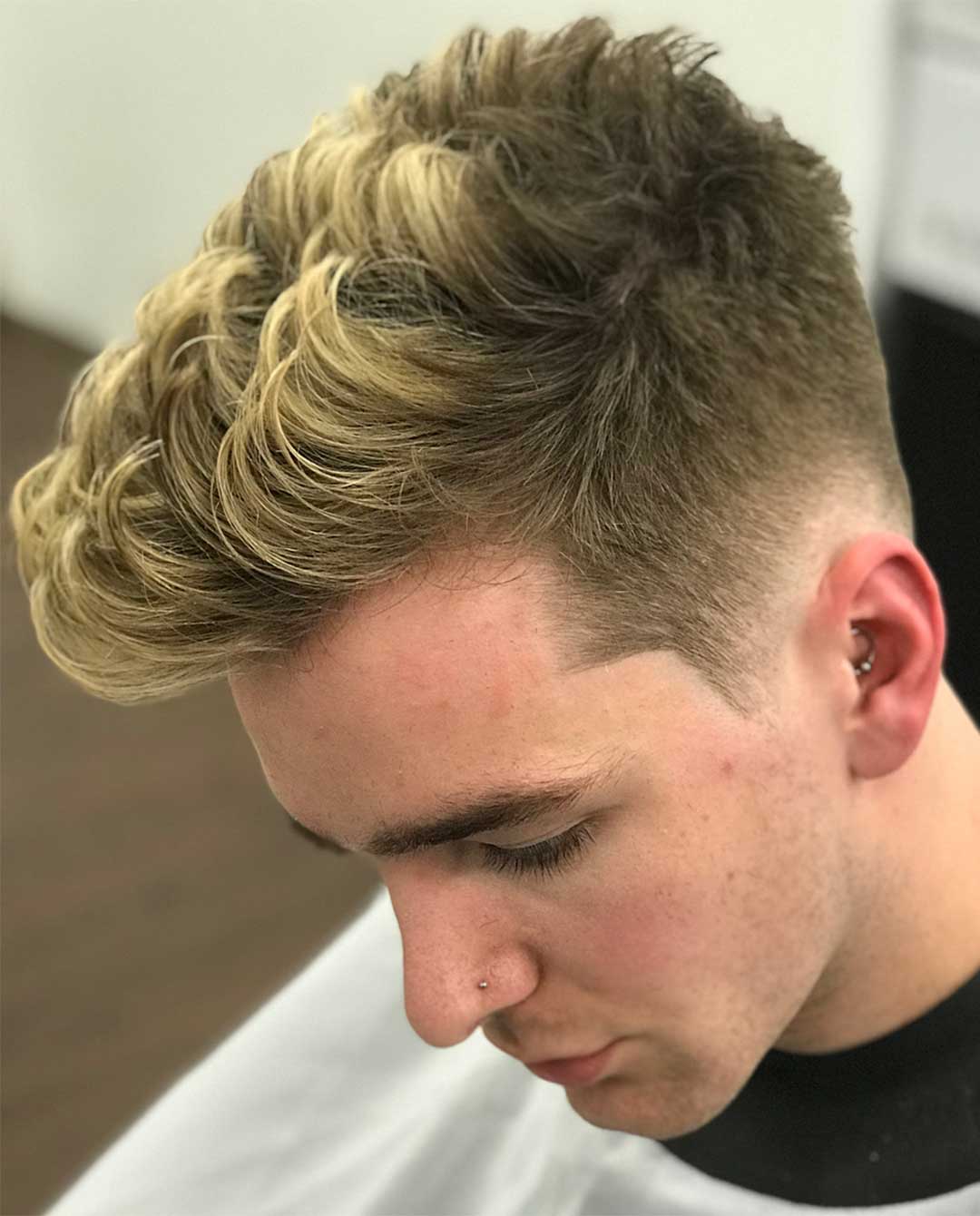 French Crop Fade
A French Crop is one of the most classic hairstyles you can achieve. The classic version resembles a Caesar cut with a longer fringe on top. More modern versions like this pump it up with an edgier finish with a fade. Follow the traditional style with a cropped fringe for medium-length bangs, and then break the rules with a low fade for subtle punk rock vibes.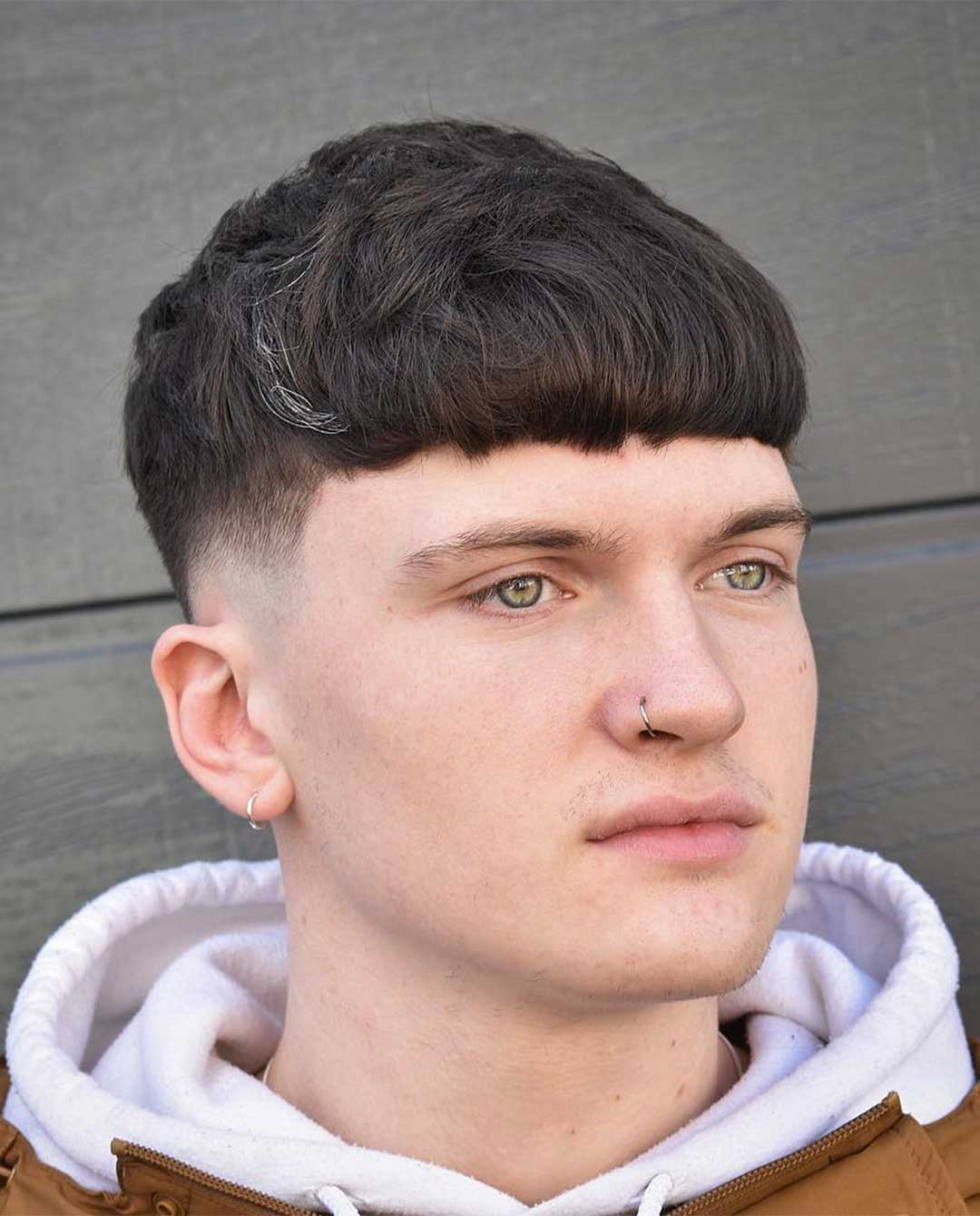 Buzz Cut Fade
For an absolute no-fuss hairstyle, a buzz cut is a way to go. This haircut remains short around one inch long, allowing the fade to blend into the scalp and crown of the head with ease. Dying your hair copper or blond can soften the look and set you apart from other buzz cuts. Without frilly or longer hair to style, you'll have to be comfortable sporting such an extreme trim with confidence.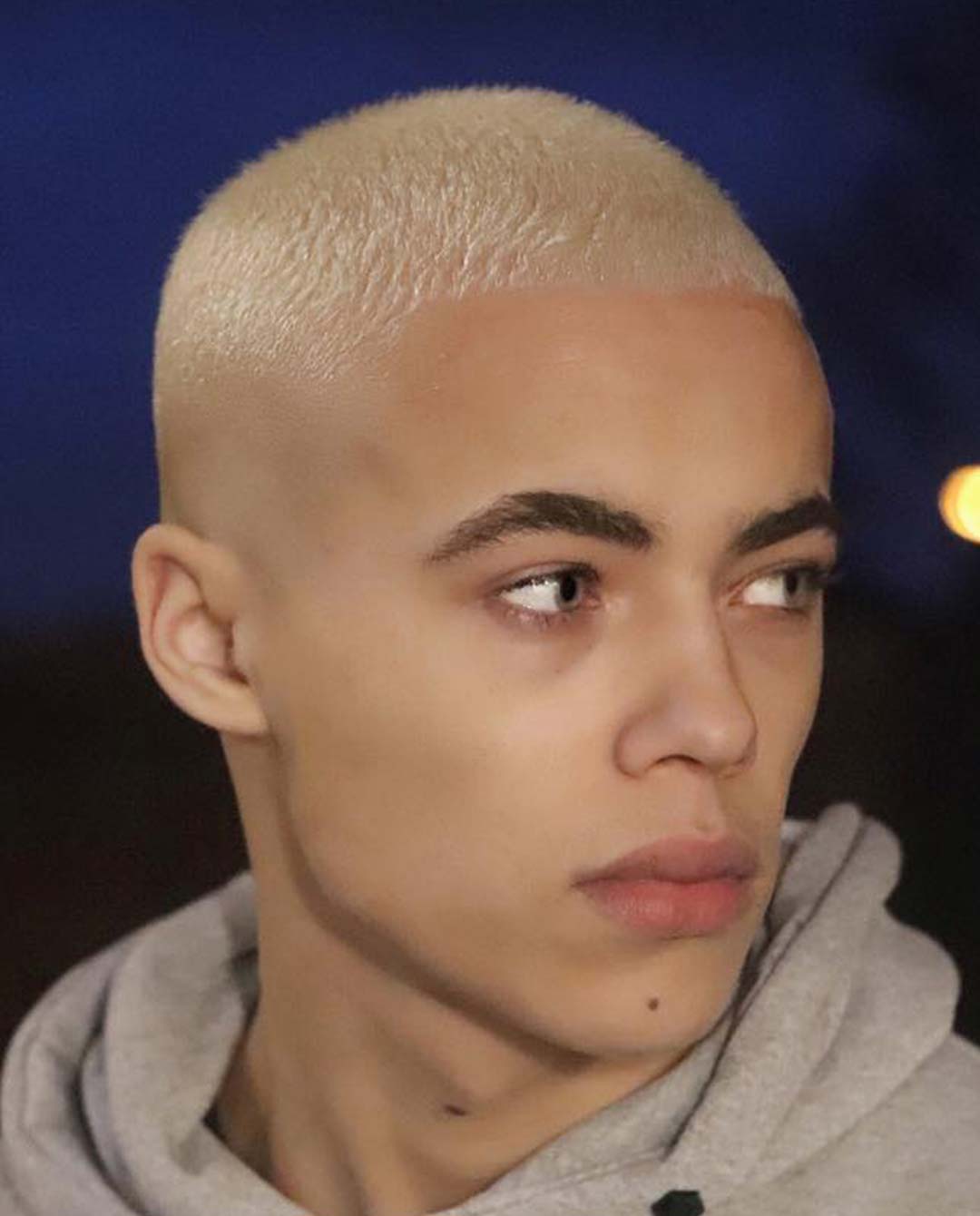 High Top Fade
No other look salutes the golden age of hip hop more than a high top fade. Natural coils on top flow on top and around the sides. The fade gradually disappears into the skin around the temple and towards the neck. An edge-up around the forehead tops off the playful afro with a contrasting maturity of a slick high fade haircut.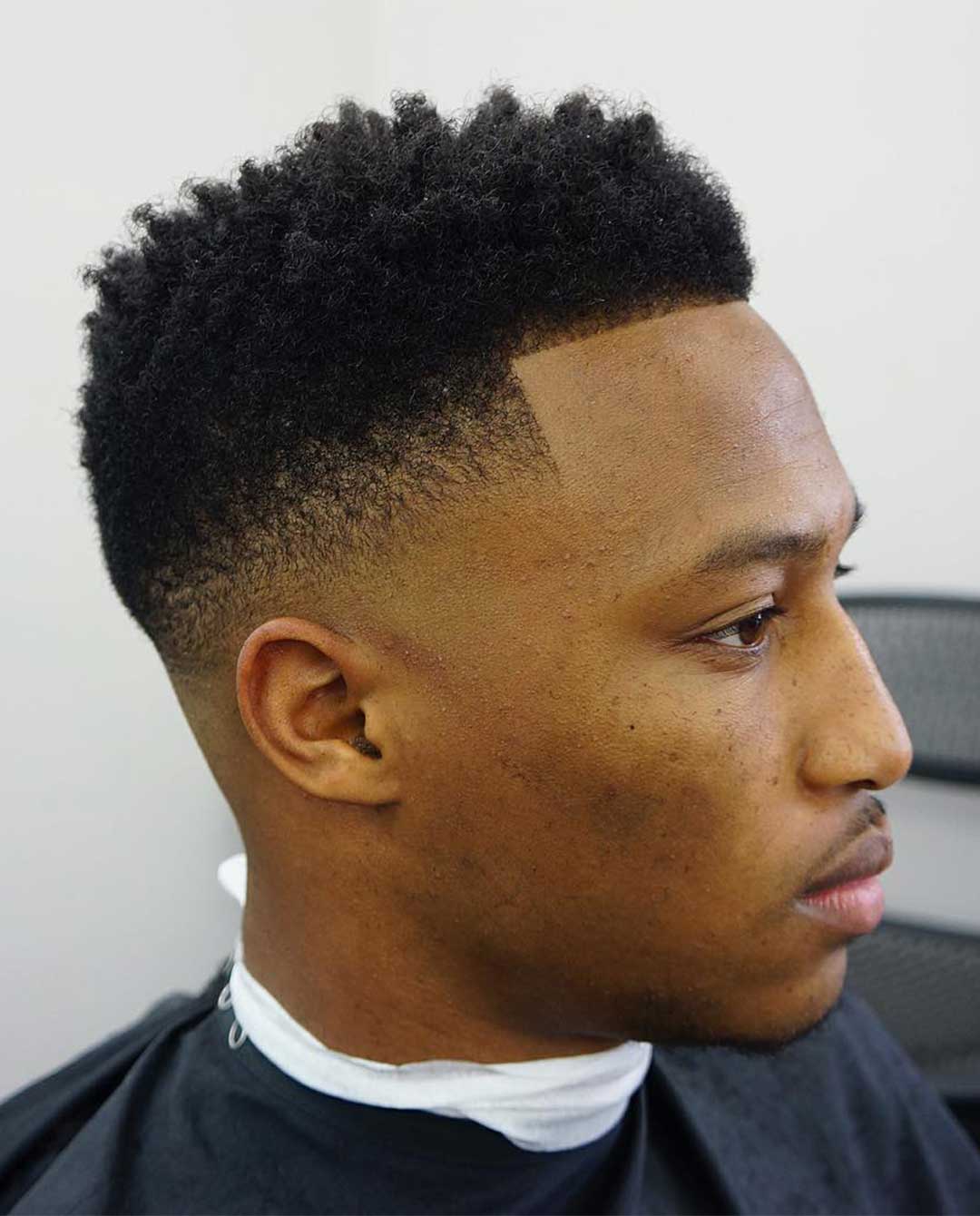 Hard Part Fade
A hard part fade looks almost identical to a side part fade at first glance, where the hair parts into two distinct sides. The hard part, however, differentiates itself with a visible shaved line along the part. This small razor-like feature adds a contemporary element to fade haircuts and epitomizes the grandeur of classic movie stars.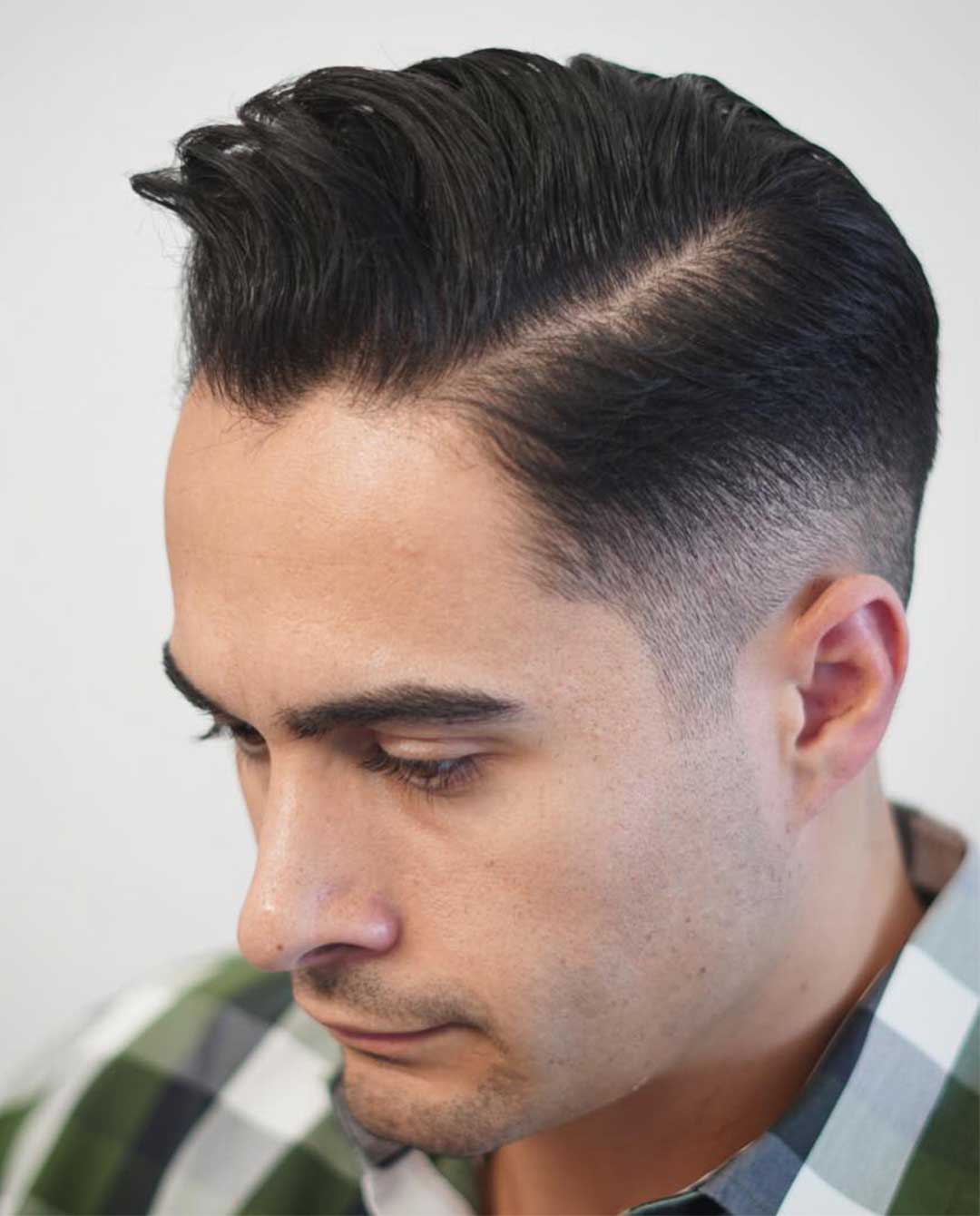 Mohawk Fade Haircut
No other hairstyle makes a bolder statement than a Mohawk fade. A strip of hair from your forehead to the nape stands at attention in a spike. You can also go for an alternative route by building up the volume with the top fringe and shortening the sides. A fade haircut, especially a burst fade, creates a stronger illusion of height.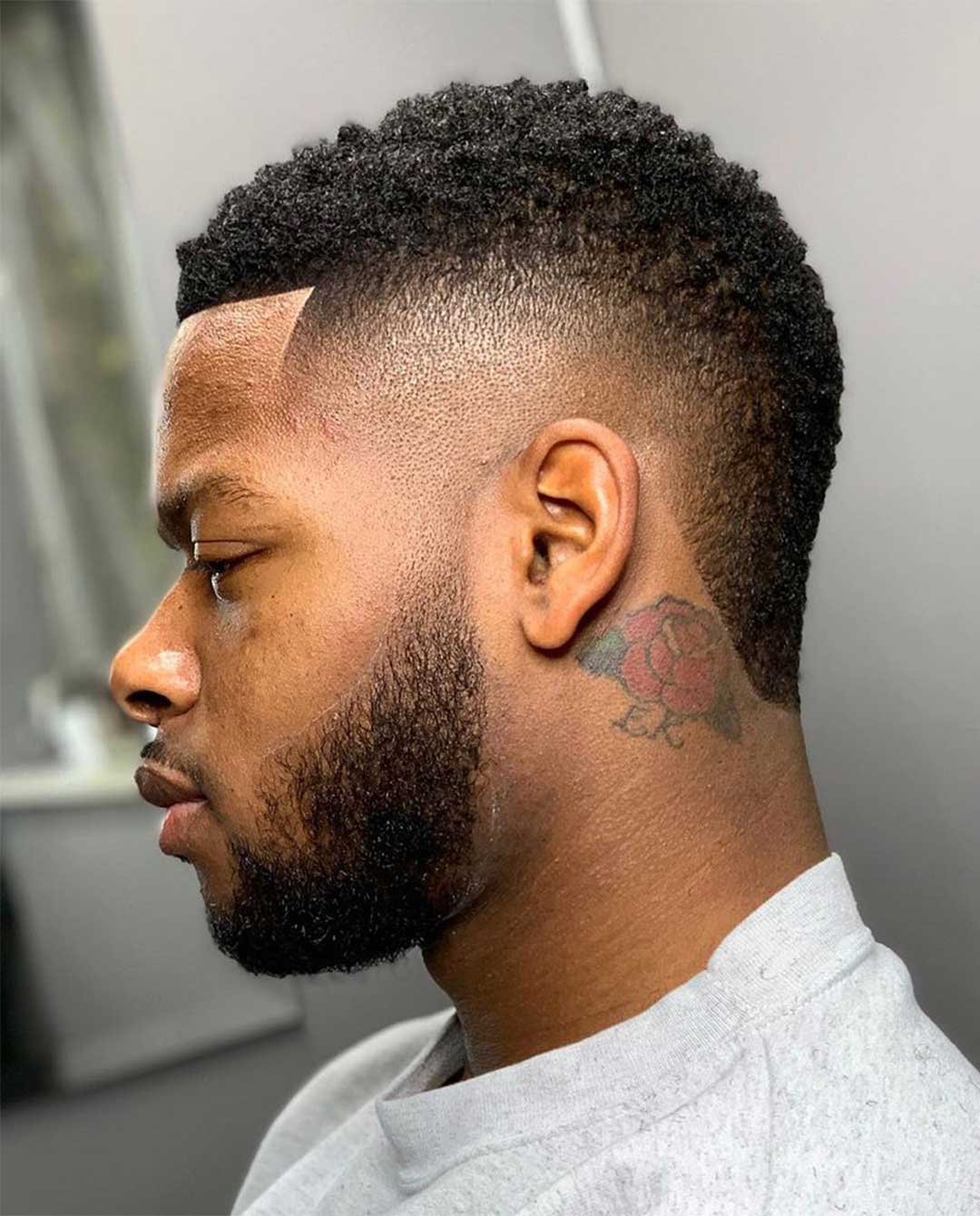 Quiff Fade Haircut
The first image to pop into your head for a quiff might be Elvis Presley inspired puff or coif. Today's revolutionized version brushes the hair into an upward movement in the front. For extra oomph, hair around the crown brushes towards the side to mingle with a high fade.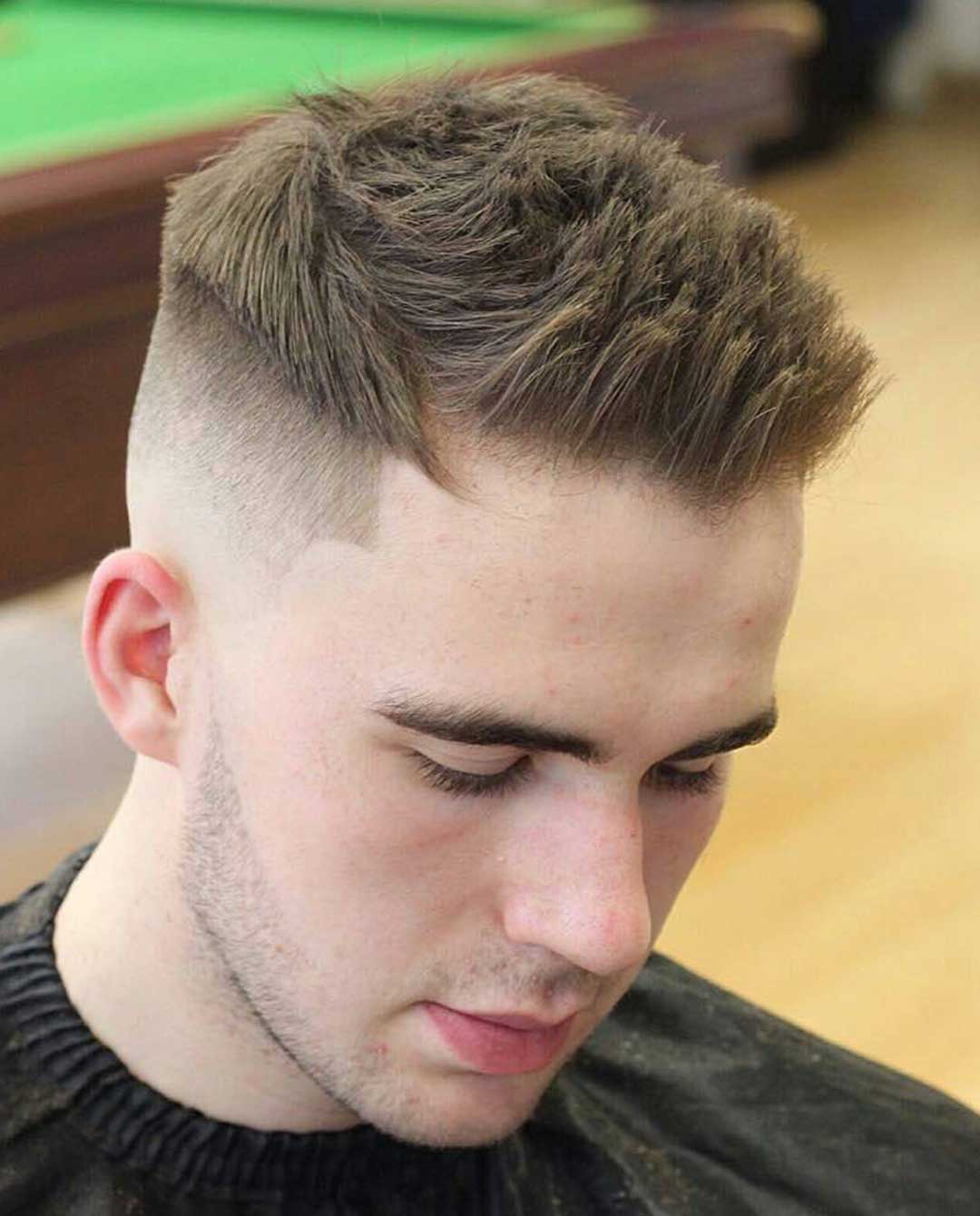 Crop Top Fade
Crop top fade is similar to a French crop except that the former exudes more rebelliousness. The crop's angle can drop into two varying lengths for more layers around the forehead. A jagged fringe takes a look to the next level by appearing disconnected.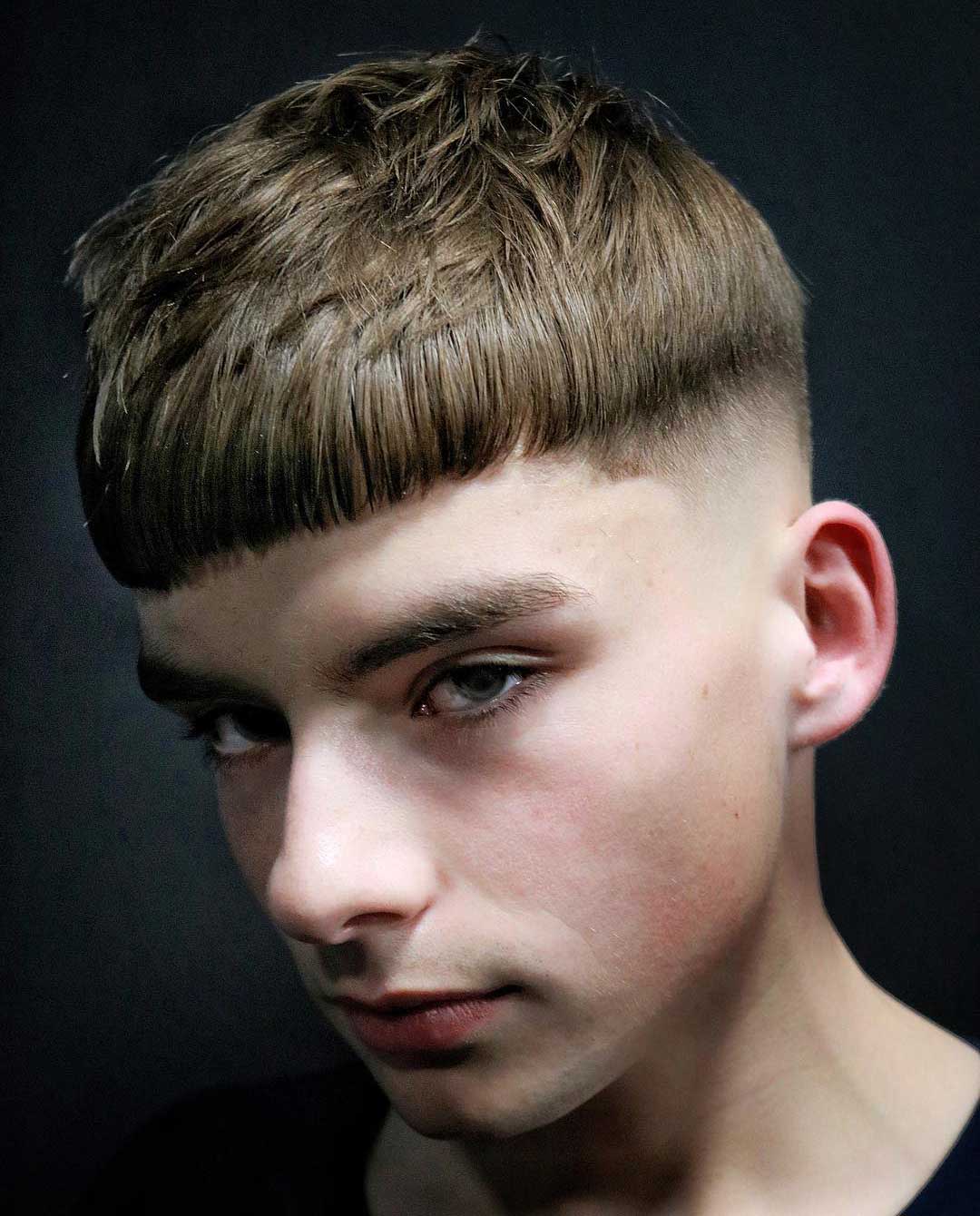 Curly Top Fade
Let your curls remain the center of the attention with a top fade. The latter starts baring more skin around the temple, creating height around the ears and neck. The hair around the ears and neck casually straightens along the skin. Your curly hair can fall in all directions or towards the front with pomade or clay to hold it into place.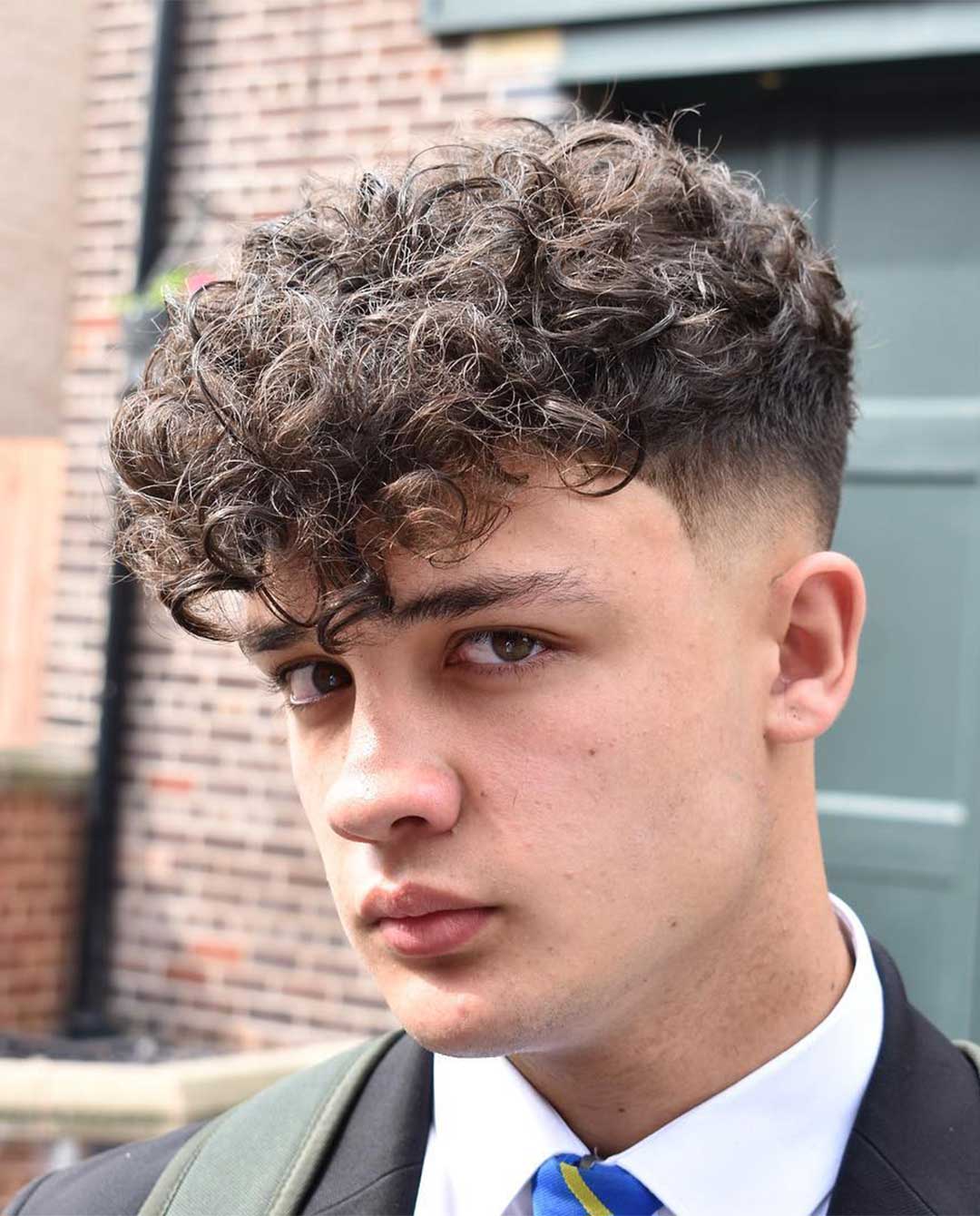 Crew Cut Fade
A crew cut fade is a practical haircut that blends in professional and personal environments. The hair on top trims short and cleans up your image, especially with a high fade and a sophisticated beard. Crew cuts' versatility includes all face shapes and hairstyles.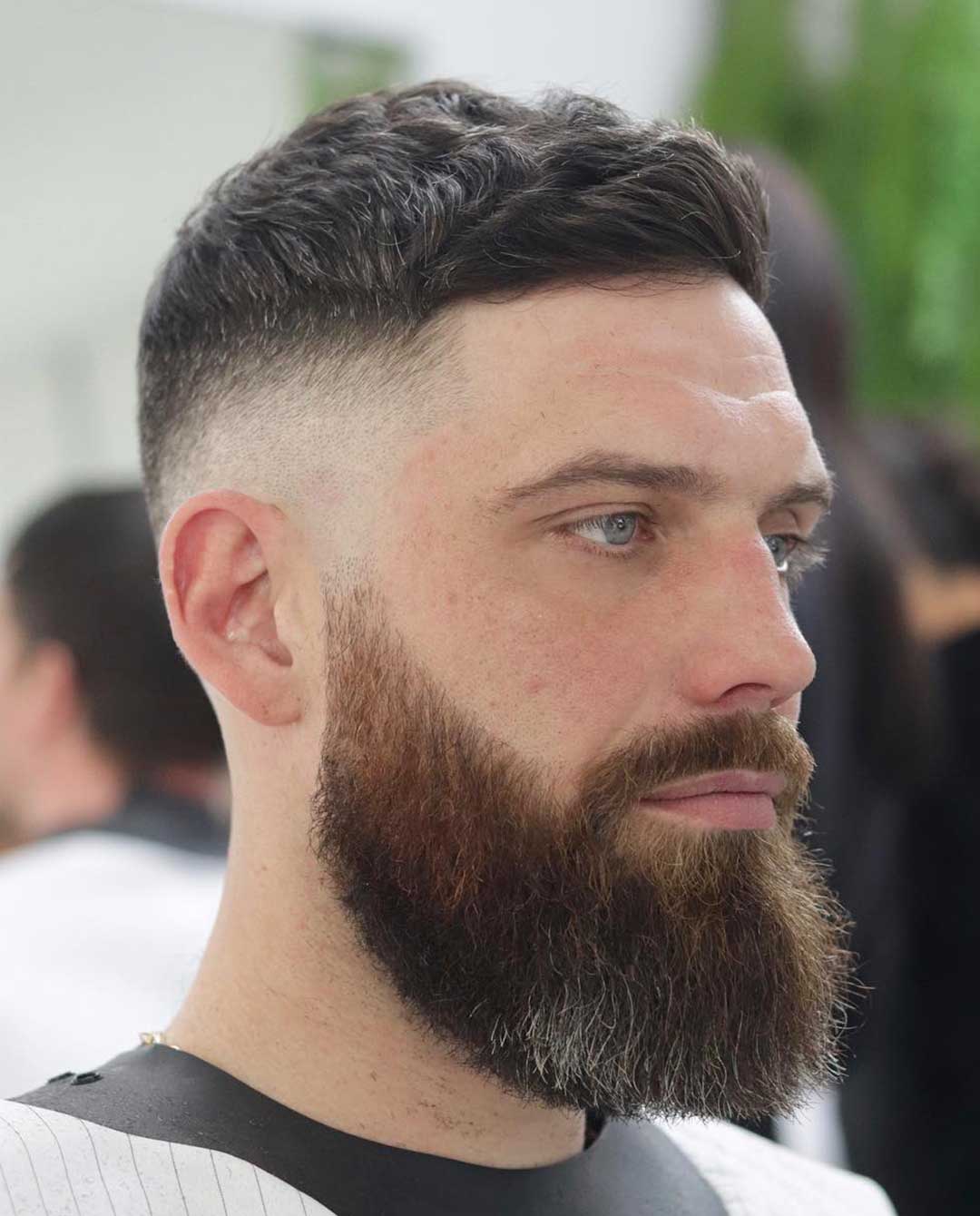 High and Tight Fade Haircut
High and tight fades echo the same militant precision of a buzz cut but with a little wiggle room for length. The hair is a couple of inches longer and maintains a neat crop on top. A lower fade polishes your faces from all angles and softens the harsh trim of the cut without losing the masculine edge.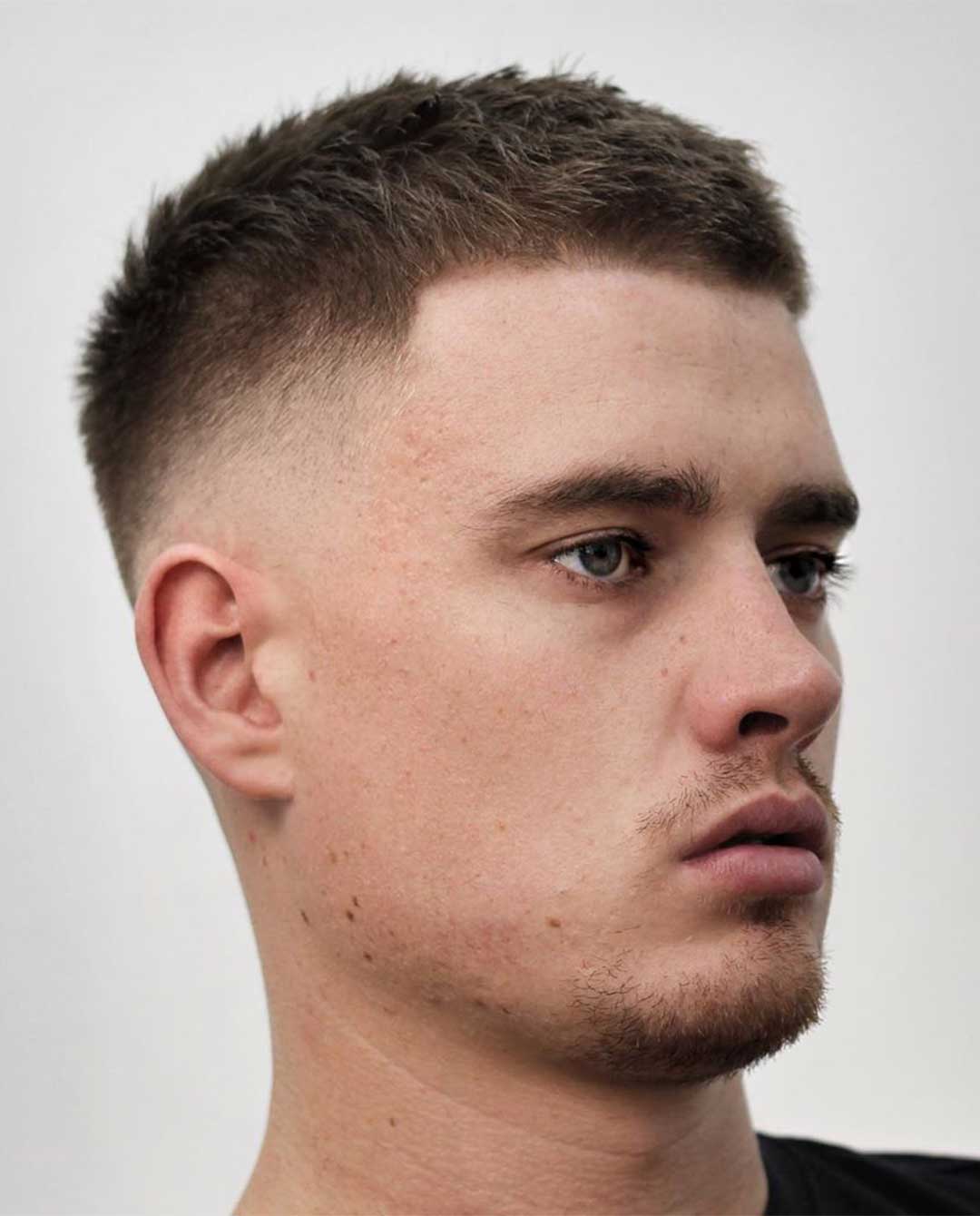 FAQ:
Conclusion
Have you decided which kind of fade is right for you? As you can see, the possibilities are endless with this versatile cut. It's no surprise that men's fades are one of the most popular cuts out there. With its low-maintenance nature and fashion-forward aesthetics, you can't go wrong with a fresh fade!