The drop fade haircut is a modern version of the popular classic fade. Just like the name implies, the drop fade is cut low behind the ears, creating a taper. The curved shape gives the hairstyle an even and natural look. If you want a stylish fade haircut, check out the below collection of cool drop fade haircuts.
Medium Fade Spiky Quiff
A cool and chill haircut is one that is comb hair up and does not require so much effort to maintain. This spiky comb-out can work with straight hair or can be a fade with a curly top. The edgy look on top can be achieved by running your hands through your hair after applying some hair product.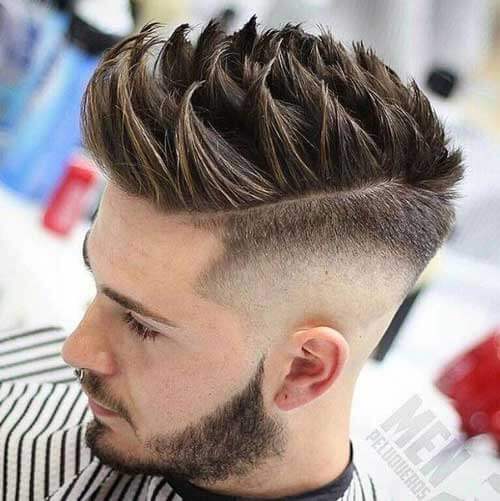 High Drop Fade with Comb Back
A high fade haircut is convenient because it is great at keeping hair out of men's faces. At the top of this haircut is medium length hair, combed back for comfort and looks. The high fade on the sides tapers off to a medium fade at the back.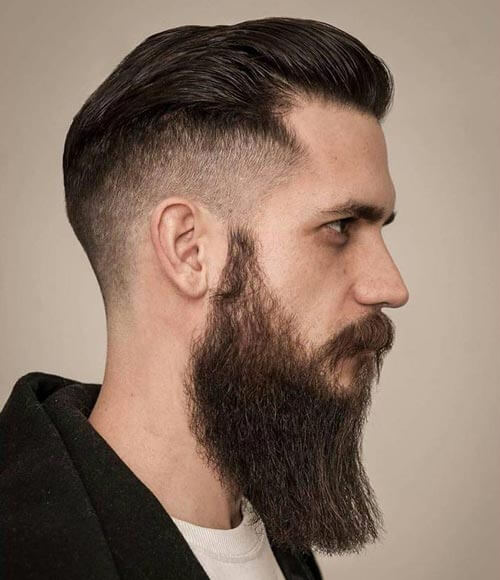 Drop Fade with Waves
If you have wavy hair, then a drop fade with waves could be a good choice for you. Cut your natural waves short enough so it stands upright and mixes it up with a discrete side part, a high or low drop fade.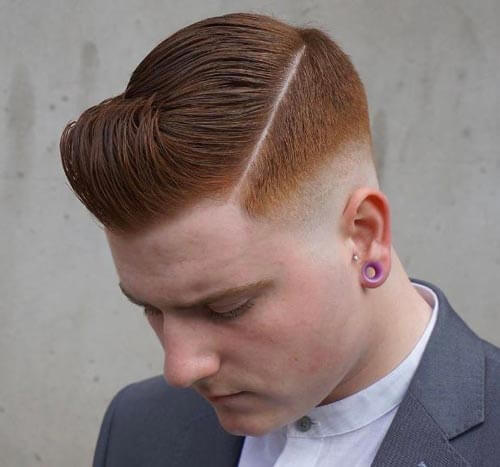 Deep Parted Quiff
The quiff with medium drop fade is a classic haircut for men with thin or straight hair. The side part is deep and starts right at the temple. The quiff gives the hair volume and will require some light-hold hair product.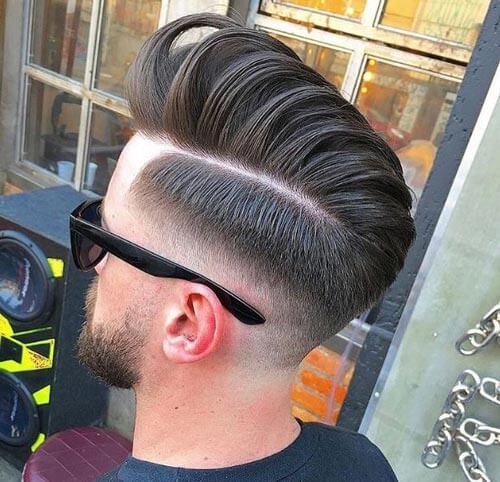 Low Fade Comb Over
Getting the crown right is the most important part of any haircut. For most men, a comb over haircut will stand out no matter what hair product is used. Mix up a comb over with a drop fade, and you have a classic and fashionable look.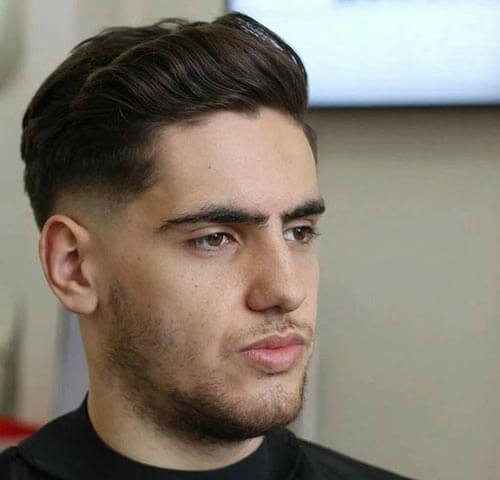 Side Swept with Low Drop Fade
Side swept hair is a good look for any man. This style is cut short with a medium taper around the sides and back with a longer front for the side-swept cut. Easy to maintain, just put on some light-hold product to keep the front hair in place.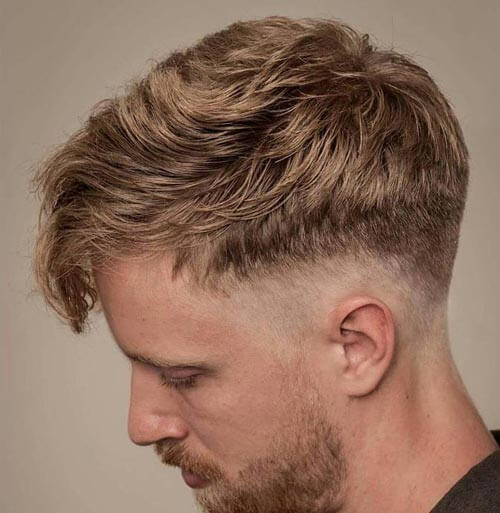 Pompadour with Undercut
Men have loved the pompadour haircut for ages, and now with a drop fade, you can create any masterpiece haircut you want. The model in this picture is wearing a long pompadour with an undercut and side design. To get this look, add some medium-hold hair product and air dry.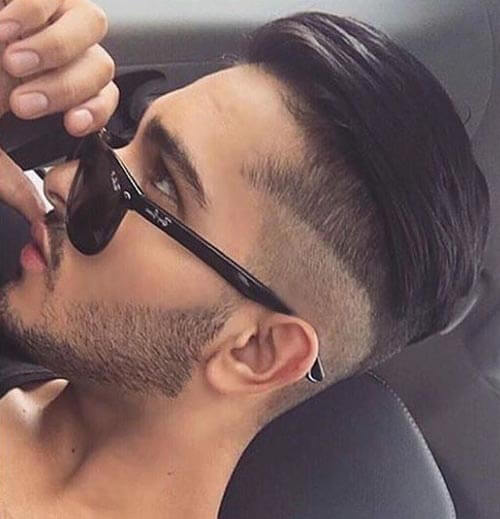 High Fade Quiff Haircut
A modern variation of a drop fade haircut is one with a quiff. This version features bald sides and a v-cut at the back. The top hair has a sharp taper off giving it a crisp look.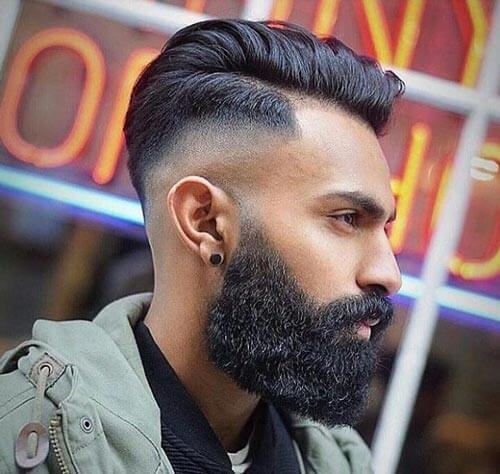 Fade with Curly Top
This is another example of a drop fade with curls. The model's natural hair is in kinks and curls, making it the perfect hair for this style. Maintaining curls is not easy, but with the right hair products and a short length of hair, this style will be easy to manage.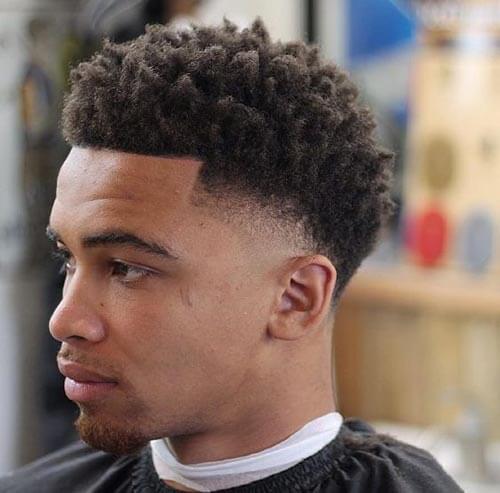 Low Fade Comb Over
This side part and comb-over haircut are perfect for any man with medium-length hair. The low drop fade around the ears makes it easy to wear, and the hair product gives the hair some sheen.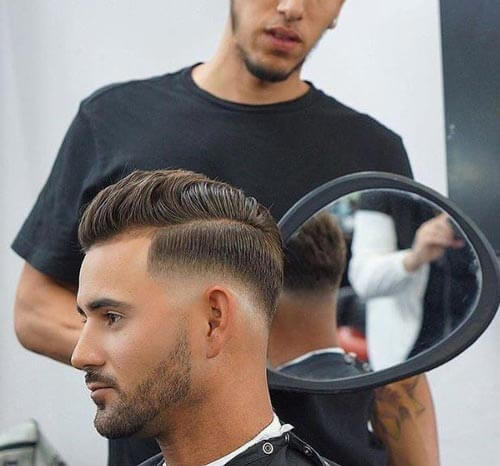 Skin Fade with Double Razor Line
This is a nice drop fade haircut for guys who want a hassle-free style and only want to spend a few minutes every day on the top part. The razor lines on the side are cut in a stylish arch, and the side combed hair shows off the volume. The top hair will need some maintenance on a daily basis — but not too much.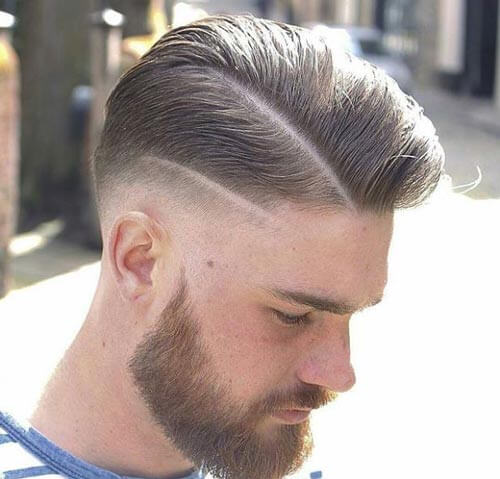 Drop Fade with Curls
A drop fade with curls will add a clean-cut edge to your short haircut or tame thick or curly hair. The length of your curls should be cut just right to prevent tangling, and your drop fade with curls must be shorter at the back and sides. You can also try this with a drop fade Afro haircut; make sure your fro isn't too big.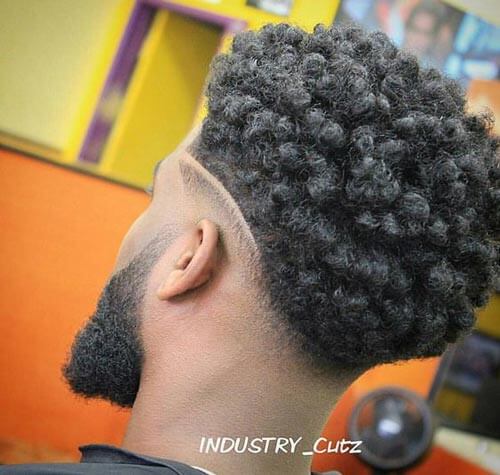 Textured Double Parted Haircut
 One of the trendiest looks for men is a side part with volume and texture. This style can work with short haircuts, and wavy or curly hair. Our model has a double side part and spiky hair on top. This is made even more fashionable with the bald sides and temple design.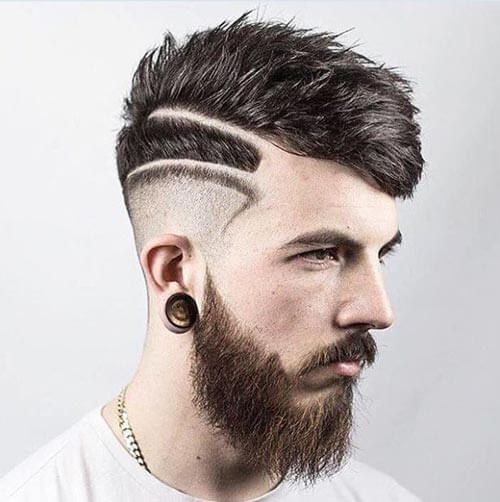 High Fade with Razor Line
A sleek drop fade haircut is a trendy look for men. This style is designed around the temple with a side part that is cut all the way from the front to the back. Hair product is required to keep this hairstyle shiny and held in place.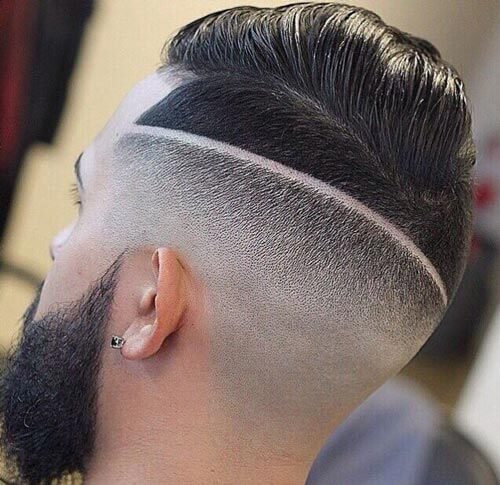 Textured Haircut with Taper Fade
This undercut and drop fade haircut is a unique style that creates a v-cut look at the back. The sides are cut very low, and the back of the hair has a quick taper at the neckline. Bringing the focus to the spiky combed-out hair on top.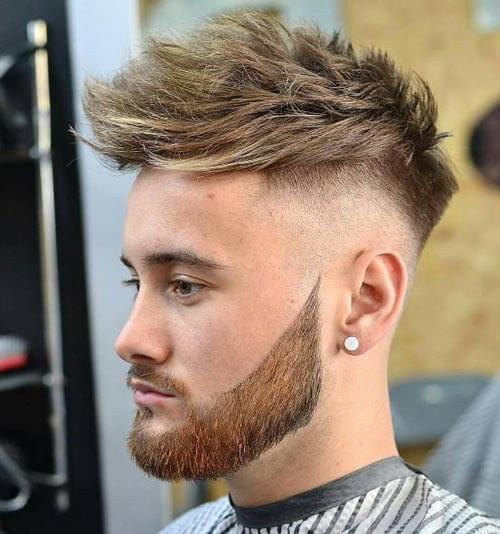 Tinted Haircut with Comb Over
Most people will stay clear of gray-tinted hair to avoid an aging look. But if you can make this work, then you're in for a treat. Maintenance is easy because all this style requires is a comb-over. You can even use your fingers to achieve that trendy disheveled look.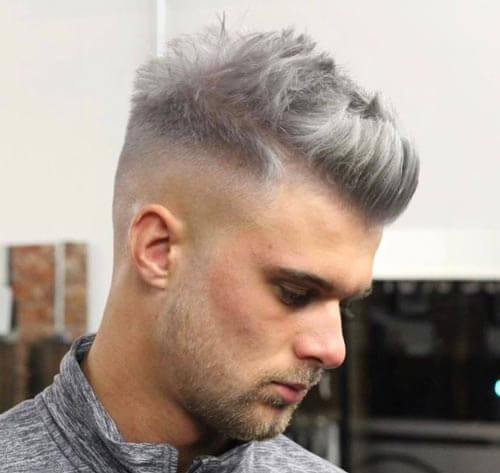 Textured Quiff with Medium Fade
The top makes use of the texture and volume of the model's hair. The medium fade is bald around the ears and drops down to the back of the head. A low fade also transitions into a perfectly groomed beard with sideburns that are longer down the cheeks.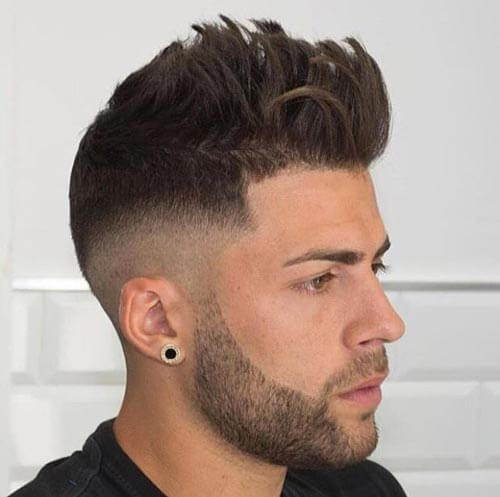 Comb Over with Low Fade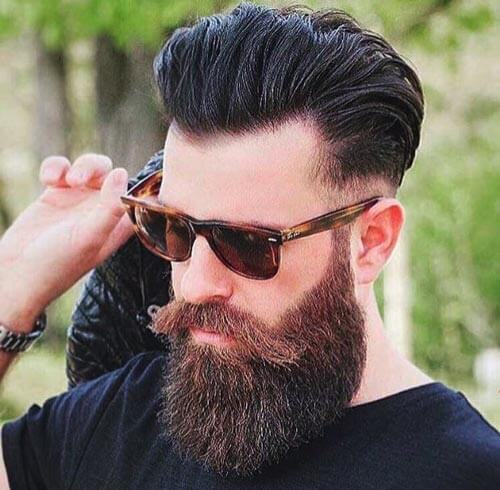 Spiky Faux Hawk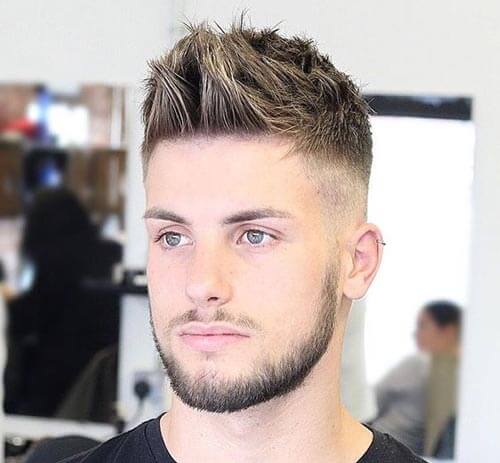 Quiff with High Skin Fade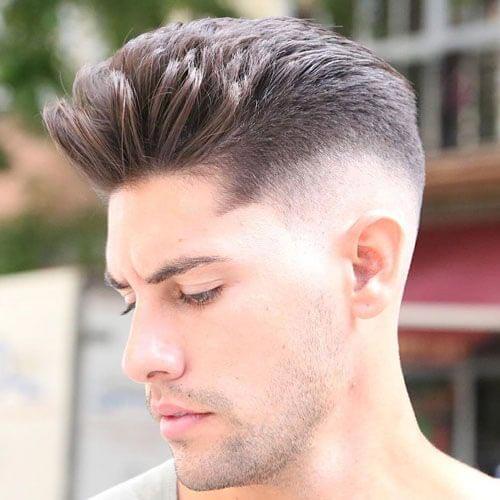 Tapered Caesar Haircut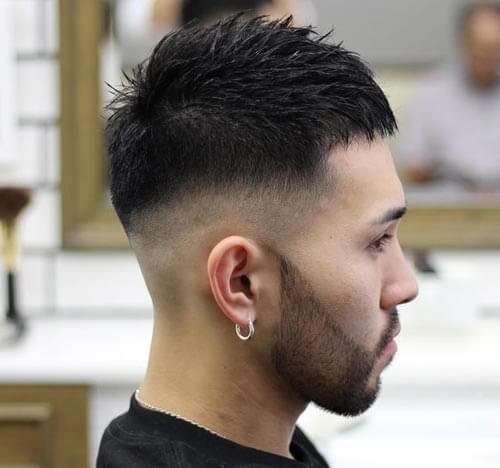 Drop Fade Afro with High Shape Hair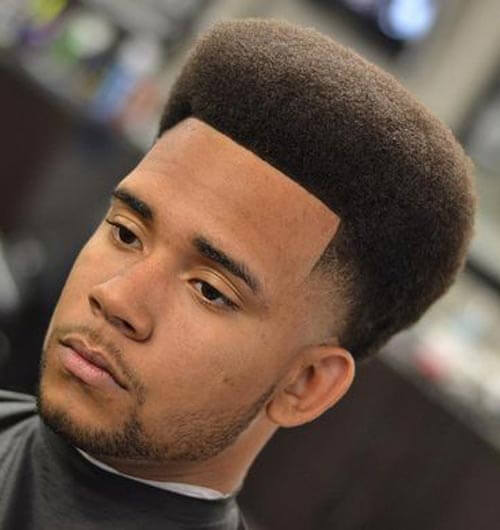 Slick Back Haircut with High Fade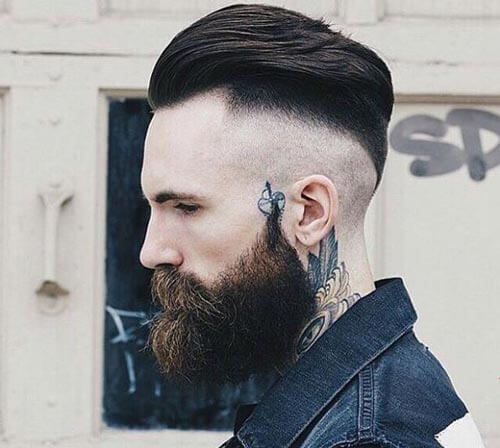 Pompadour with Low Drop Fade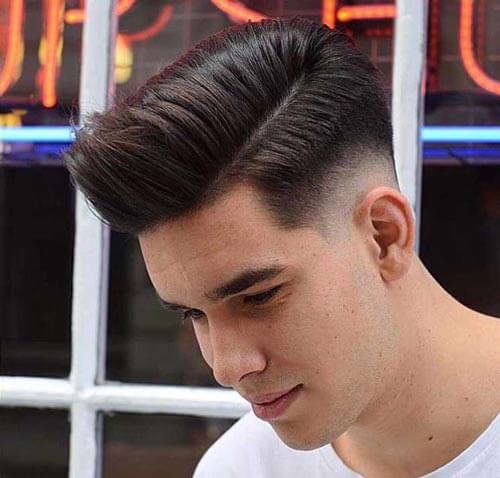 Layered Quiff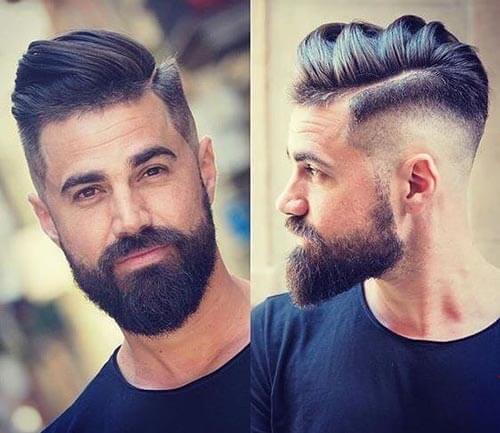 Low Drop Fade With Curls