Even though a punk Mohawk seems contemporary, traditional Mohawks date back to Native American warriors using their hair to protect their tribes. As Mohawks became popularized throughout the 20th Century, British punk rockers in the 1970s began rebelliously styling their hair. Their punk hairstyles later morphed into a staple for misfit teenagers expressing themselves and engaging in the counter-cultural movement.
From the outside looking in, it might seem like punks are up to no good. Underneath the surface, however, their wardrobe and attitude serve a message against the rules of traditional society. There's no better way to make a statement than with how they look, especially with their hair.
How To Style A Punk Mohawk Hair
Men of all ages are inspired to radically transform their appearance with punk hairstyles in a few simple steps. Start with spritzing your first spike with hairspray as you hold it high into the air, and then blow dry it. As you create more spikes along with your head, you'll alternate this step repeatedly to create a sturdy Mohawk that won't bend. You can take risks and infuse this style with wild hair dye selections and unique spikes.
The Photo Gallery Of Punk Mohawk
Slick Blue Mohawk
Even authors break out of their comfort zone of what a writer should look like. Best-selling author Max Varun showed off his unconventional roots for this promo. He buzzed his natural hair close to the scalp but not enough to be bald. His Mohawk is a mix of his natural brown hair and blue dye slicked it out into a loose fan.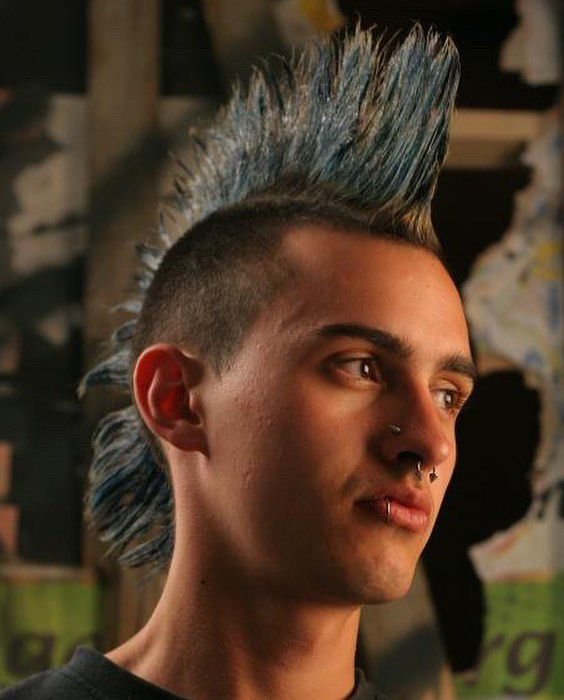 Dragon-Inspired Mohawk
Not every punk Mohawk aims for the biggest spikes. An effective Mohawk can lay low and soft. To stand out, dye your hair like this fiery red. Hair sprays and brushes your hair outwards, and then let it fall more naturally into a dragon-like tail.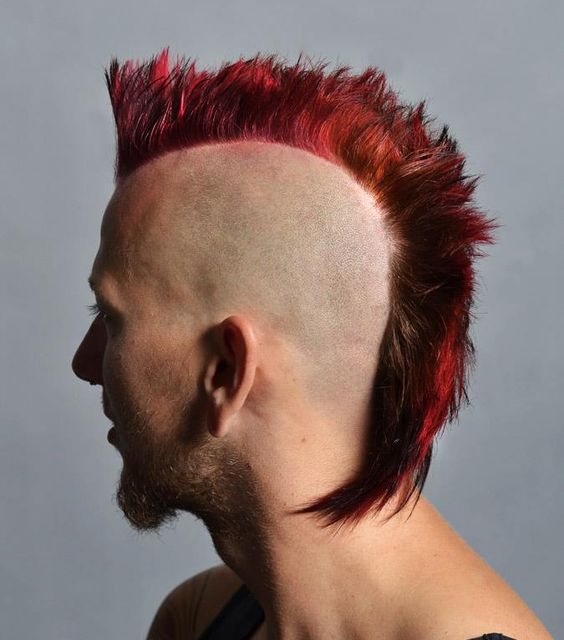 Jared Leto Hot Pink Spikes
Follow the daring footsteps of actor and musician Jared Leto whose fearlessness knows no bounds. Leto kept his hair around the crown of the head and dyed his natural black roots with platinum blond. The roots blend into a blazing hot pink dye to radiate a cyberpunk halo.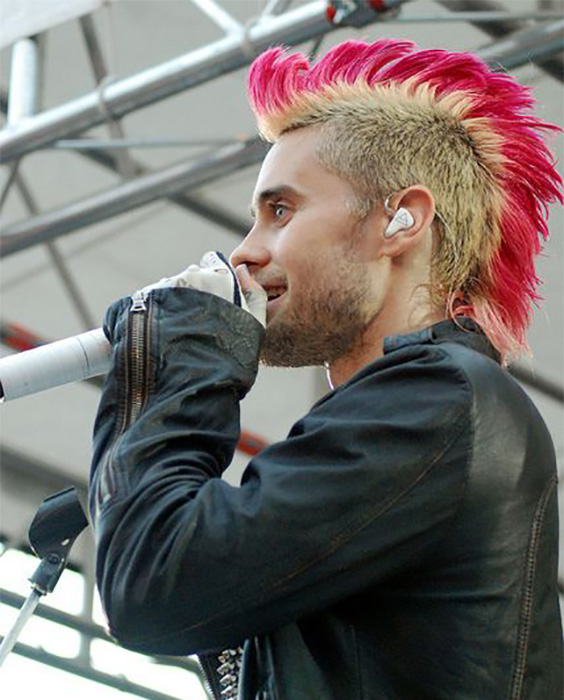 Yellow Liberty Spikes
Most men will practically bleach their hair white, but sunbeam yellow can equally catch everyone off guard. To create liberty spikes, leave space between each spike and set a flat foundation. Tip the edges with black dye to make it extra grungy.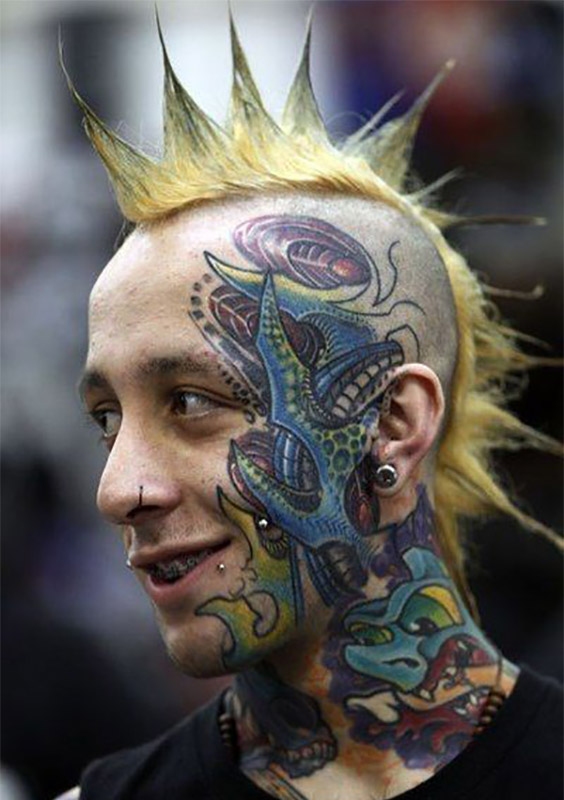 Rainbow Punk Hairstyle
A grizzled black beard offers a stunning contrast to a Mohawk covered in rainbow hair dye. Cover the crown of the head with one main color, and then dye sections of the other hair one color at a time. Sneak in a subtle shaved pattern into the trimmed hair to top off the whole look.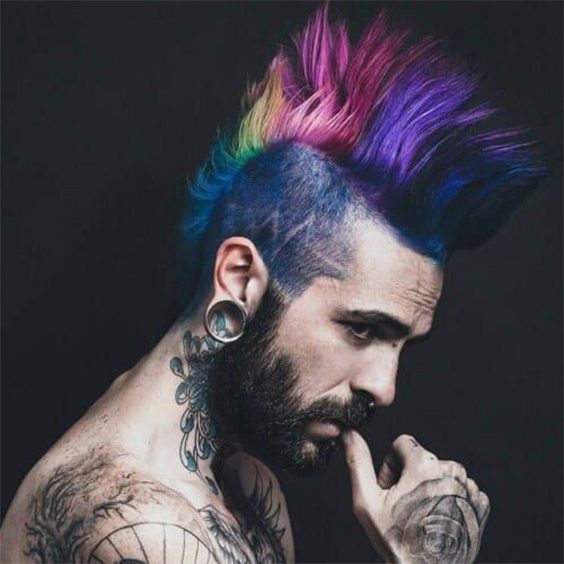 Rugged Brunette Mohawk
This guy's hairstyle holds onto his natural hair color but captures attention with the size of the spikes. It's fuller in the front and thin in the back. He seized full advantage of every strand as the Mohawk extends from his forehead to the base of the neck.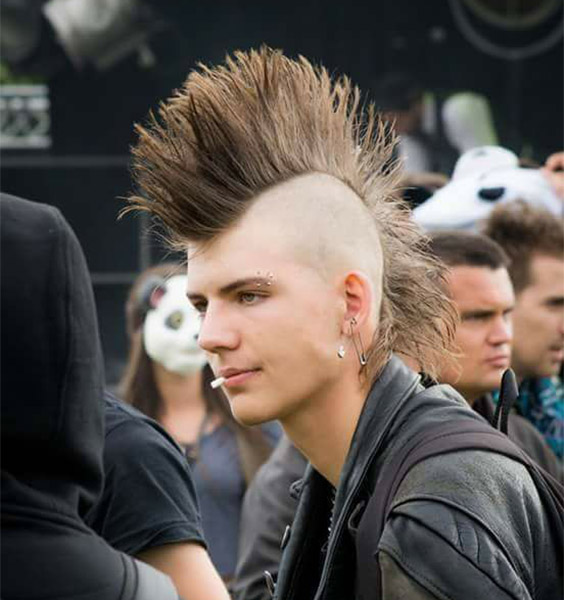 Two-Park Punk Mohawk
Enjoying a punk lifestyle is all about doing what makes you happy whether you're young or older. This mature punk's thin hair cascades over the crown of the head. Two fan mohawks are separated with one spike near the forehead and the other near the neck.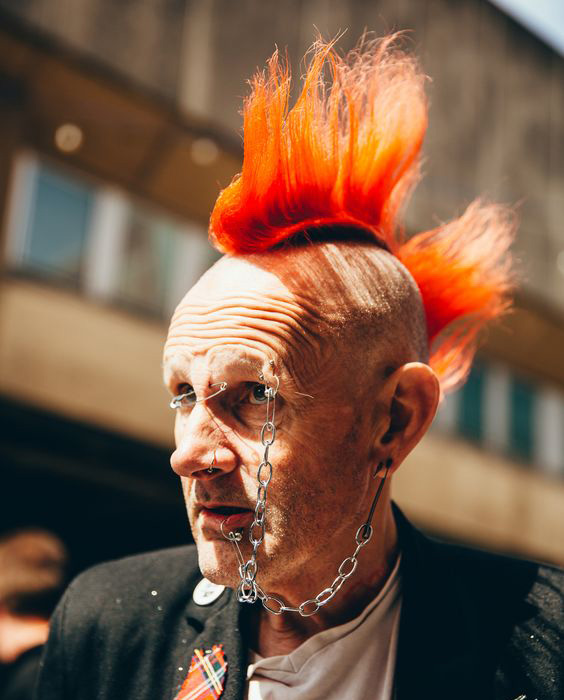 Underwater Punk Mohawk
This Mohawk is thicker than most spikes by not shaving the entire scalp. Replace the hairspray with hair gel, and use your fingers to tease the hair outwards. Your style doesn't need to stick to one tone. Combine colors like the shining blue, green, and black for an unexpected underwater effect.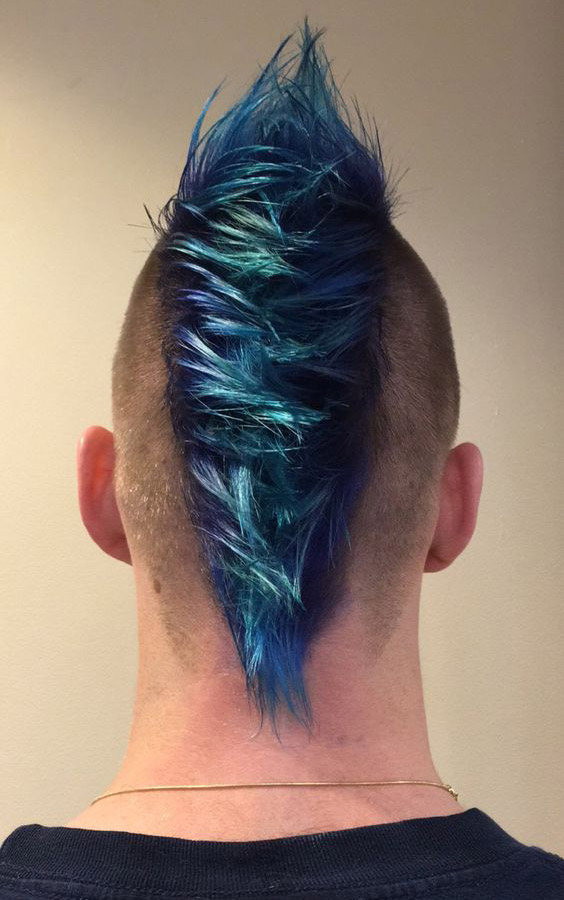 Teal Striped Fan Mohawk
To dye your hair first with broad and thin stripes, consult a stylist who will set the varying colors. Instead of hair spraying and blow-drying individual spikes, use a comb and hairspray to create a "fan" effect.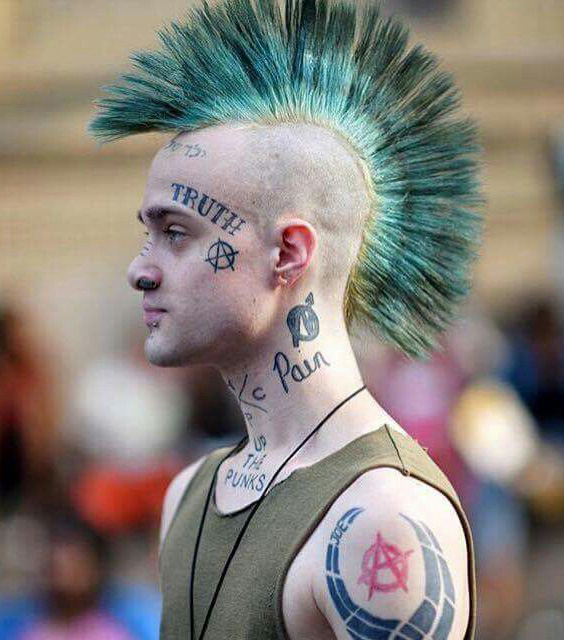 Triangle Shaped Spikes
Whether your liberty spikes are thin like icicles or thick like triangles, the spikes ultimately depend on the length of your hair. For even and round triangles, your hair must be medium-length to mold into the right shape. Gel or hair spray will work effectively to hold up the spikes.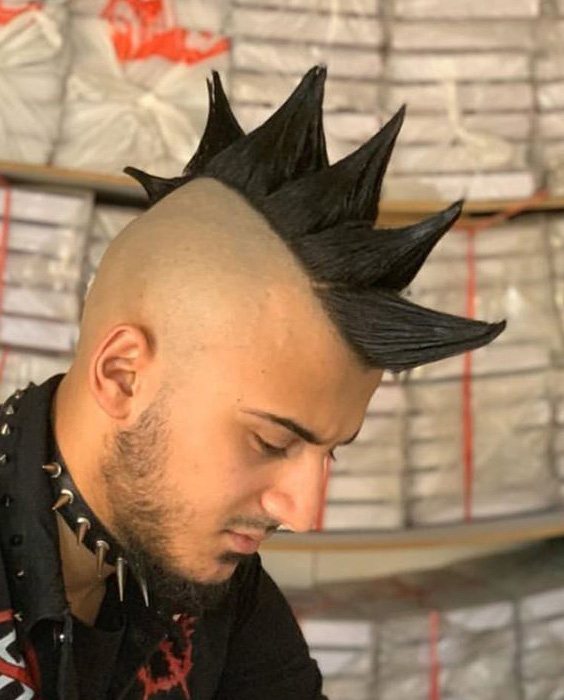 Purple Hair Raiser
Another prime example of liberty spikes is a collection of spikes that blend into each other. Dye the hair a succinct dark purple with black roots and allow significant space between the spikes to prevent looking too cluttered.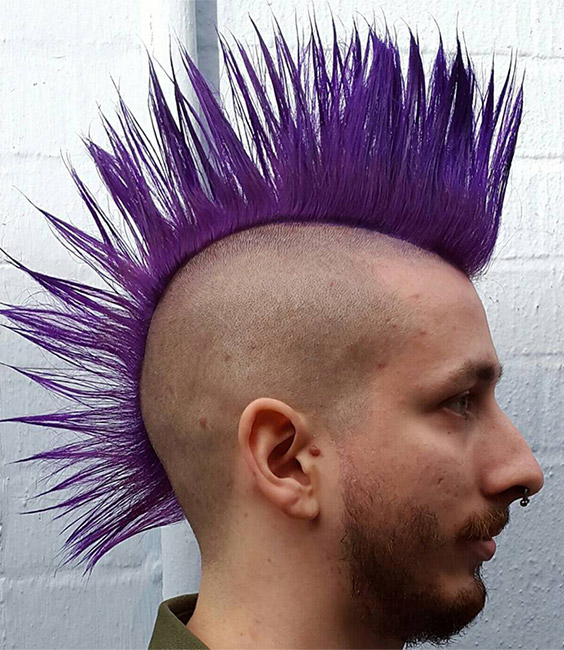 Double Punk Mohawk Illusion
Elongated spikes aren't the sole way to make the most out of a Mohawk. Buzz the sides of the head close with a tapered fade and shape the hair into a slick point around the neck. The combination of small spikes and the pattern creates a cool double Mohawk illusion.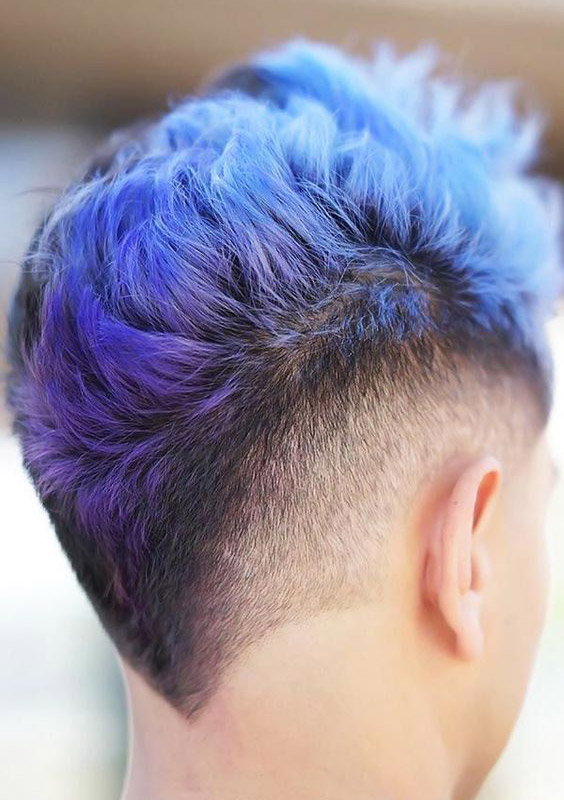 Leopard Print Pattern Mohawk
Why not go for a dynamite trifecta of styles by adding a leopard pattern? The main Mohawk covers two tones with black in the center and neon red on the ends. After the Mohawk was set, he also dyed his scalp red and added half-circles of black to replicate a leopard print.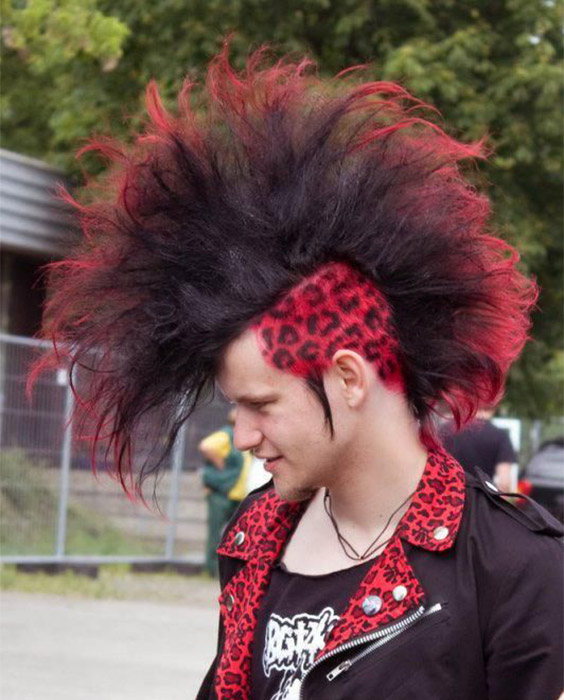 Messy Fringe Mohawk
You never know what chances you're going to see Jared Leto take. Even though he kept a Mohawk, he wiped the slate clean with black or brown dye and shaved his head. He teased his hair outwards for substantial height, but it maintains a messy fringe.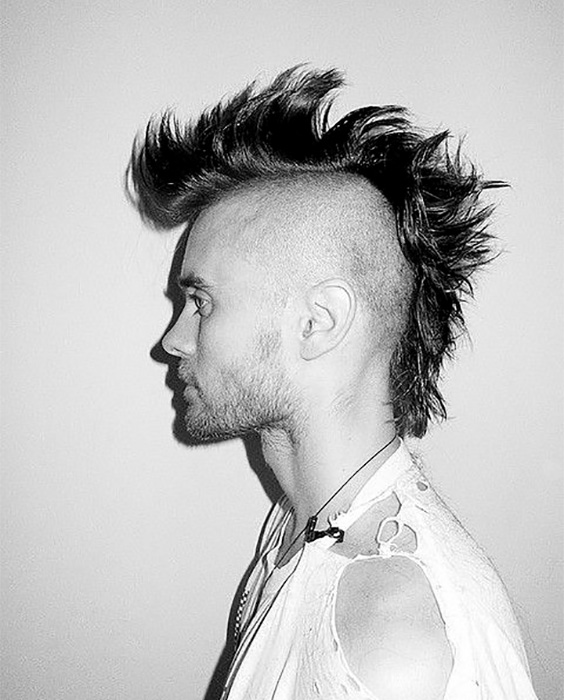 Airy Punk Mohawk
Most men automatically concoct a stern punk Mohawk. This airy style is a result of the hair's thin strands. Even though it's been shaped with a blow dryer and dyed red and black, it looks like the breeze blew it out.