Dreadlocks are the definition of sophistication and cool. By extension, Mohawk Dreads catapult conventional dreads to the next level with intricate styling and personality.
As one of the oldest hairstyles in the world, dreadlocks cross cultures between India, Ancient Egypt, Greece, and the United States. India's Vedic scriptures are the first written evidence of a 'twisted lock of hair' worn by the deity Shiva and continued to evolve throughout various religions, cultures, and public figures. Most notably, the Black community celebrates its African history with dreadlocks.
Today, traditional dreadlocks are as popular for casual wear as honoring a specific religion or culture. Mohawk Dreads revolutionized dreadlocks to make room for more self-expression.
The Photo Gallery Of Mohawk Dreads Styles
#1 Dyed Mohawk with Bounded Bun
This style is an example of several details uniting to create an unforgettable look. The braided blond Mohawk sits high on top of the head and contrasts perfectly with the darker roots. To cap it off, a slick high fade blends into a sharp shaved line and cross symbol in the back.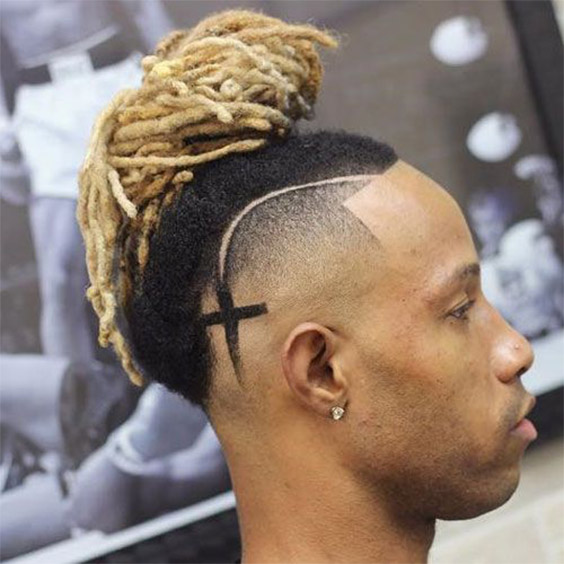 #2 Two-Part Mohawk Dreads
Mohawks commonly form from the forehead to the nape of the neck with one long "strip" of hair. Tap into your wild side by sectioning your dreads into two compact braided parts. Copy the criss-cross style around the head with cornrows, and dye a variety of loose strands red to tie the whole look together.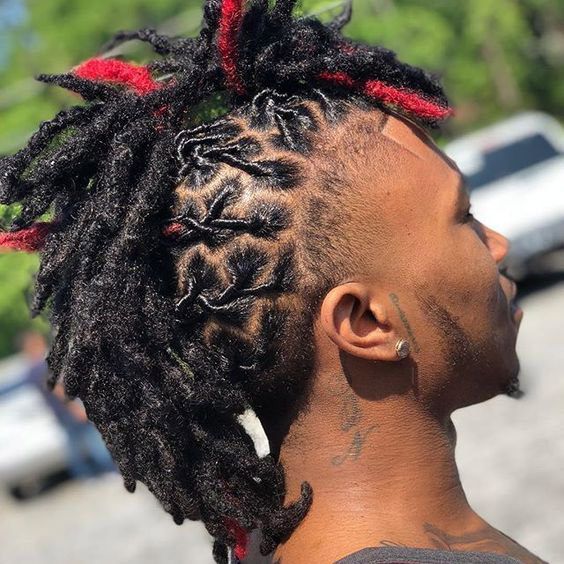 #3 Classic Mohawk Dreadlocks
When you go all-in with a high fade, your thick Mohawk Dreads will draw the eyes downwards from the front of your face towards the back. The full nature of the dreadlocks almost resembles a warrior Spartan's helmet. A sharp-line up around the hairline and C-shape for your beard will enhance the sophisticated confidence you have within.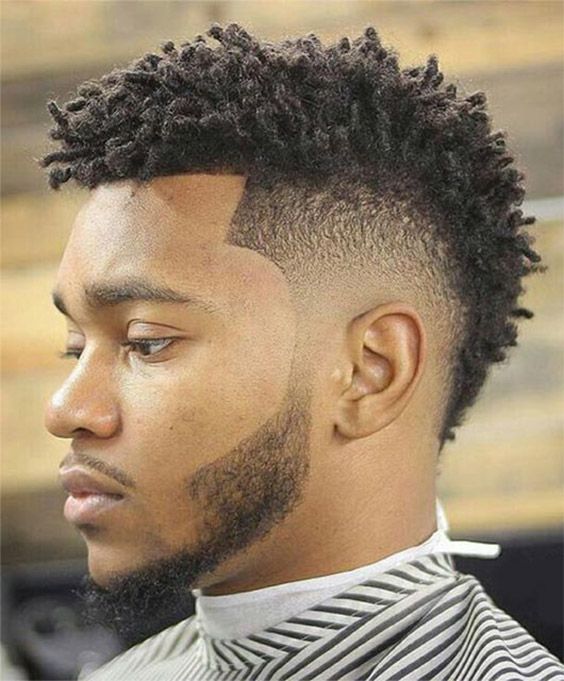 #4 Upturned Mohawk Dreads
Reverse the traditional style of a Mohawk from back to front by pushing your hair forward instead. When your dreadlocks first lock, it's not uncommon if they stick out. To make them hang, tuck them forward when they're damp. Eventually, the strands will adapt to their new direction.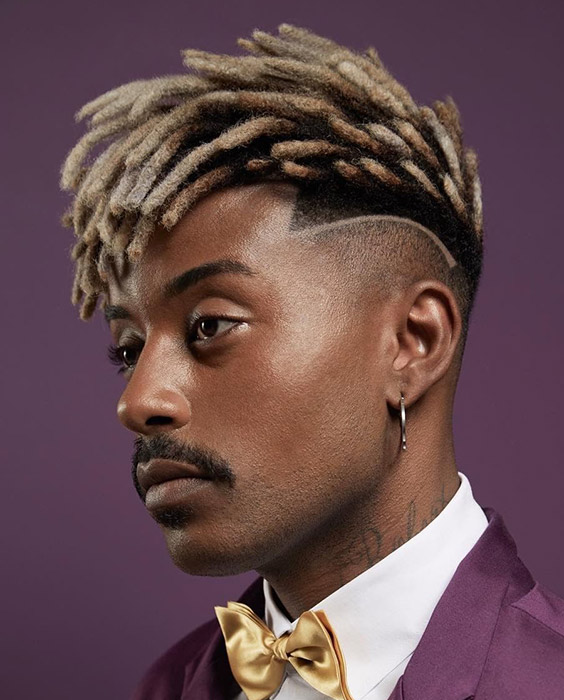 #5 Afro Mohawk Dreads
Touch up a traditional Mohawk by combining shorter dreadlocks along the side and longer dreadlocks in the middle. Add a dash of spontaneity with the uneven lengths by dying the center of your hair and the tip of your beard the same shade of copper. A two-tone Mohawk is a piece of cake to groom and shows off your personality.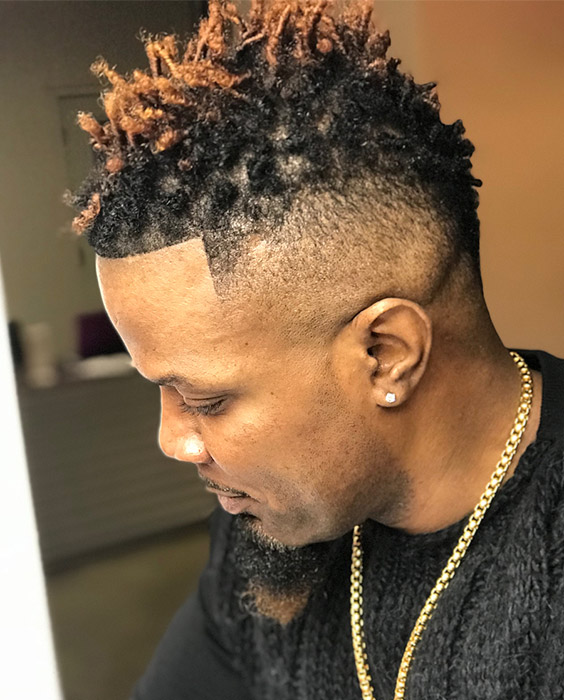 #6 Medium Fade with Short Dreads
To reach your ideal hair length, dreads take anywhere between a few months to a year to grow fully. Train your dreads to "slick" backward by spritzing your hair with a leave-in treatment and clipping it down a few times a week. Use a medium fade to smoothly transition your hair on the side and the dreadlocks.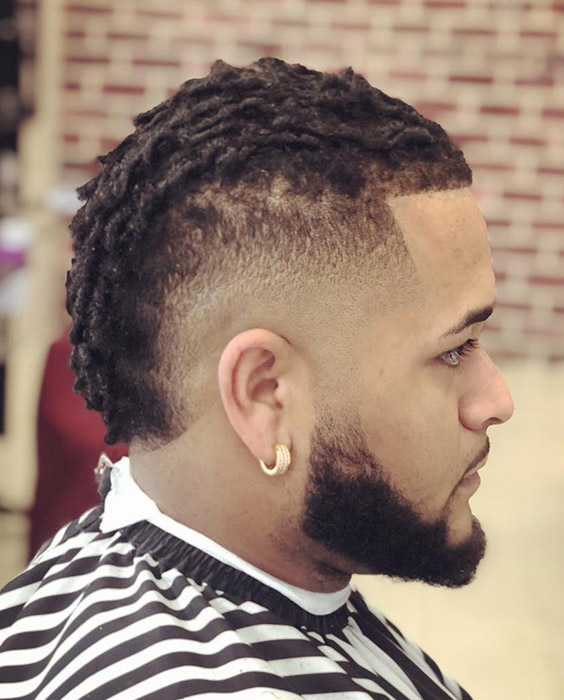 #7 Medium Braided Dreadlocks
Give your Mohawk the illusion of definition by matting the shorter strands on top of the longer strands. If you need to change things up, tie the shorter strands into a small man bun.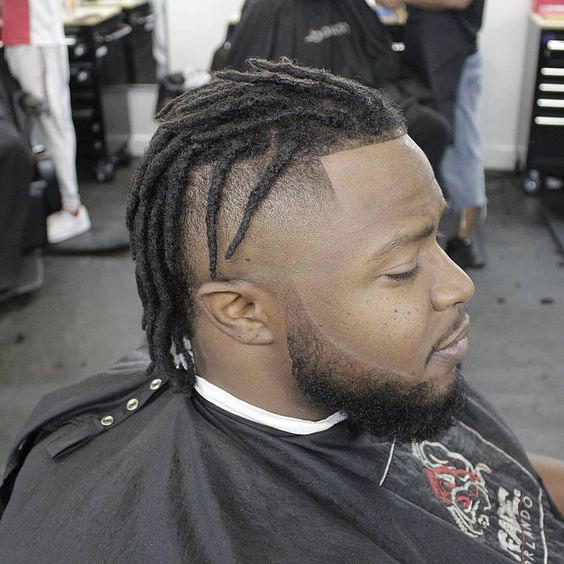 #8 Forward Flipped Mohawk
The tragic villain Erik Killmonger from "Black Panther" is a great example of a forward flipped Mohawk. Similar to the example above, another method to push your hair forward is to wear a wave cap while you sleep for the first few months. The Mohawk will start to take a life of its own.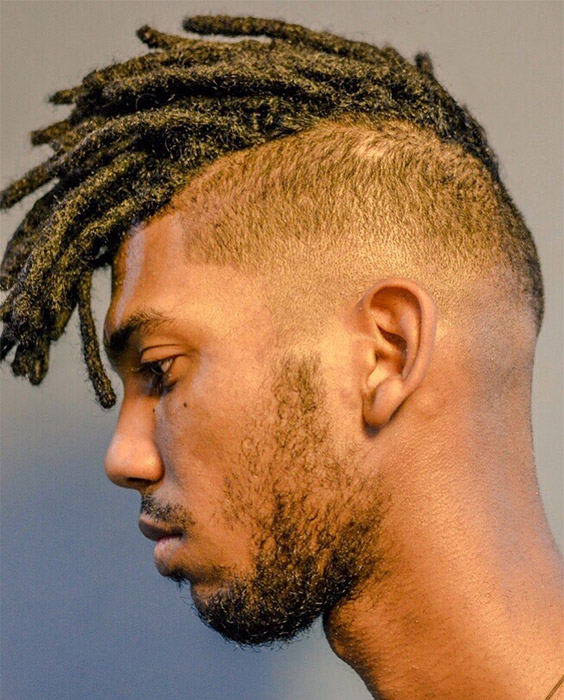 #9 Edgy Blond Mohawk Dreads
Section the dreadlocks for dying, and then gradually blend it in with your natural hair shade. Pile the dreads high into a ponytail for the ultimate Mohawk effect. Ask your hairstylist to add curved fades for an edgier finished product.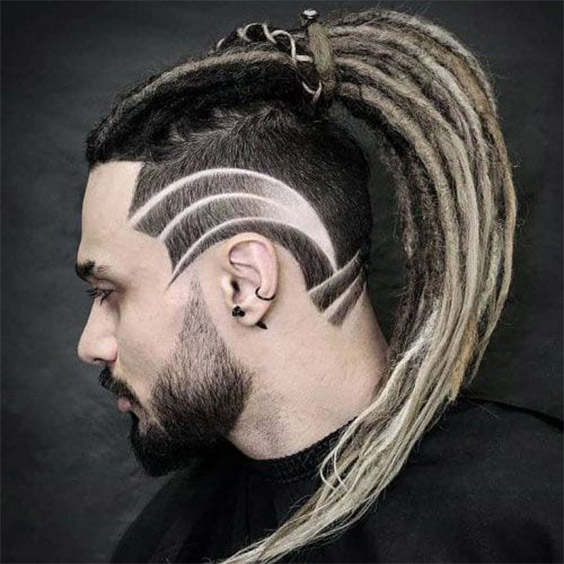 #10 Blond Tipped Short Dreads
If you don't want to dye your short dreads, consider coloring the tips with an ombré effect. Another alternative is to go for a tramline around your scalp. This tram line runs along the base of your hair and makes it look disconnected.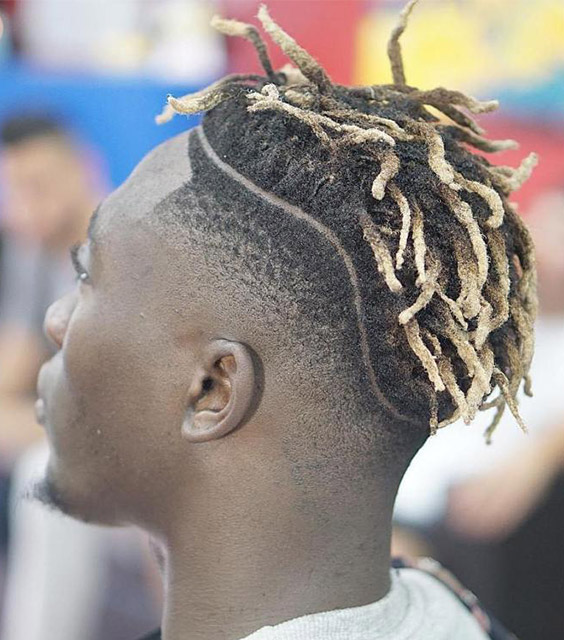 #11 Semi-Freeform Spike Dreadlocks
Letting your dreadlocks grow without extensive manipulation is one of the most authentic ways to wear your hair. Spikes easily produce a unique Mohawk-like shape when you section individual strands into different corners. Transform a smaller part of the dreadlocks by using dye for highlights.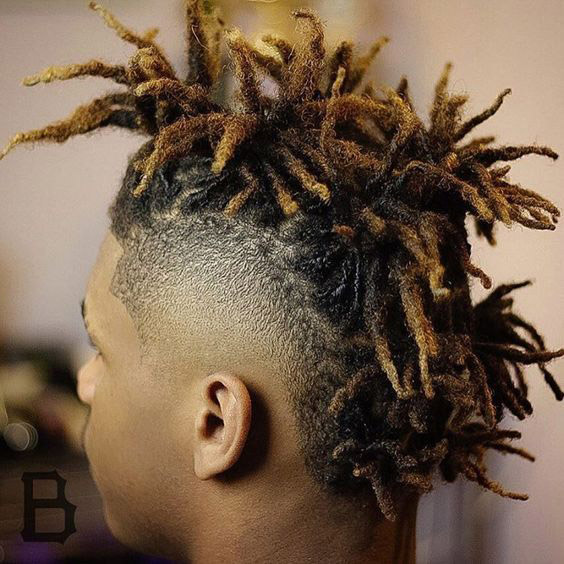 #12 Mohawk Dreads with High Fade
Long and wide dreadlocks are perfect for situating into a Mohawk. However, if you don't want it to obscure your face, you'll need to use a hair tie at the base to keep the style in place.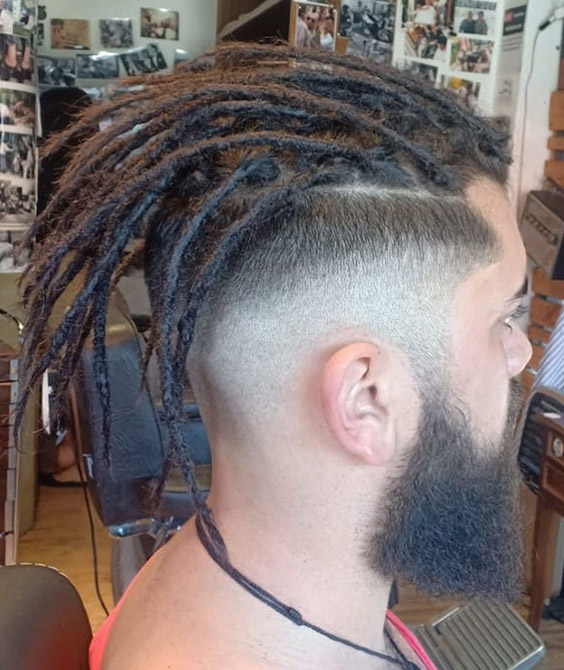 #13 Short Dreadlocks
If your hair is short but thin, this might not work for you. To create a thick Mohawk that doesn't depend on volume, it's best to rock a short Mohawk if your hair grows out dozens of dreadlocks that bind together.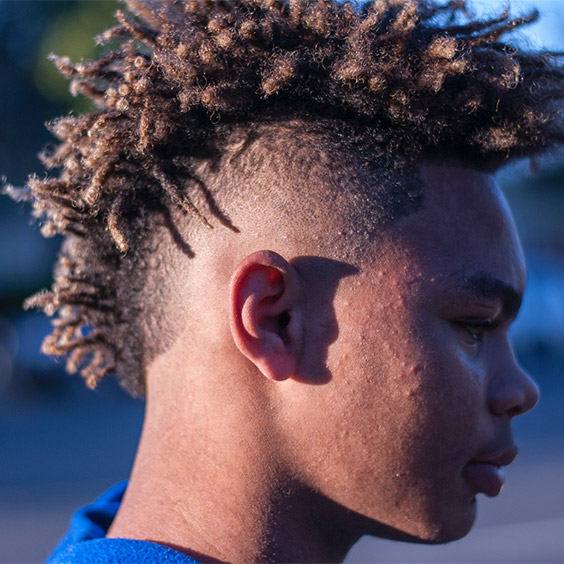 #14 Thick Ponytail Dreadlocks
Thick and long dreadlocks are best for people who can handle the weight, width, and length of each strand. A bald shave instead of a high fade draws attention straight towards your style. Keeping the hair in a high ponytail will keep them out of your face and help you stay cool during the summer.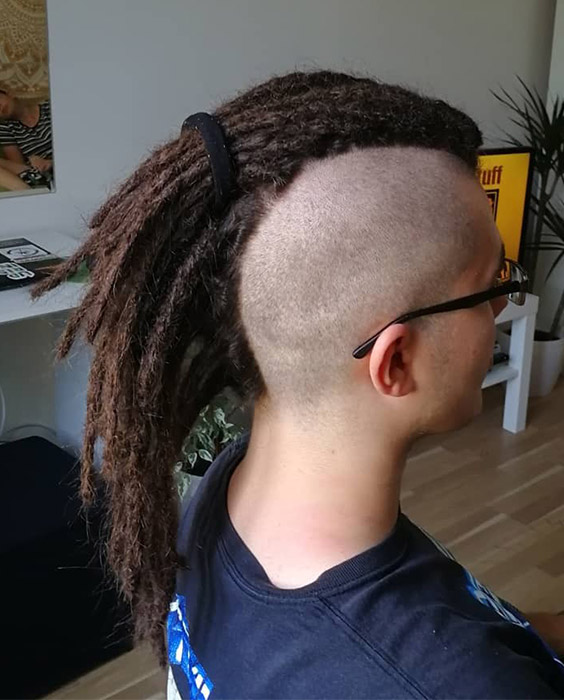 #15 Fishbone Dreadlocks
Fishbone braids lock-in at an angle and creates a pattern around the scalp. They can be just as mesmerizing as the overall hairstyle. These braids start separately at the forehead before binding together at the neck base into a combined low ponytail.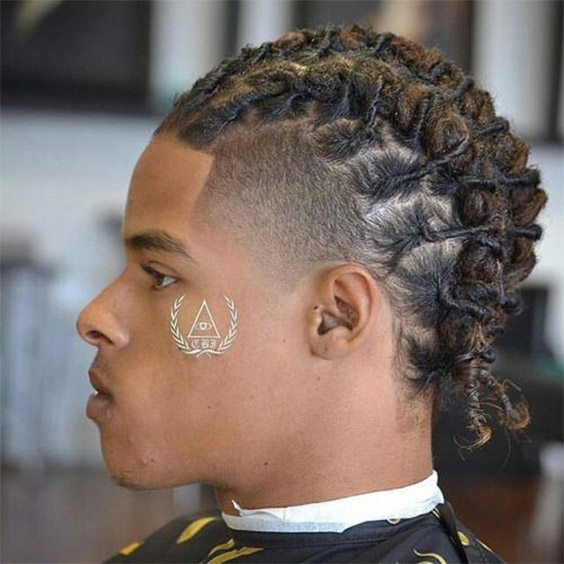 #16 Long Mohawk Dreads
Most dreadlocks are tightly twisted from the roots to the tips. The tips in this picture are rather loose and untidy. Depending on how tight you prefer your locks, a Mohawk dreads style is best for those who prefer that their appearance looks messy and simple.