A military haircut is the ultimate minimalist option for men who prefer a straightforward style. What was once reserved for active combat personnel is now available as wardrobe inspiration for teens, business people, and older gentlemen. Although a military haircut looks simple to the naked eye, there is a wide range of alternatives to choose from.
What Is A Military Haircut Called?
There is no one and done term for a military haircut. A common hairstyle for Marines is the high and tight, while the buzz cut remains popular in the U.S. Army. The long list of other types includes the induction cut, high and tight recon, the burr cut, regulation cut, recon, ivy league, flat top, brush cut, and crew cut.
What Haircuts Are Allowed In The Military?
The haircuts mentioned above are acceptable in the military today. The most important component is managing a short length to maintain professionalism and a cohesive look with their comrades. A personnel's style depends on ranking, training, commanding officer's regulations, and the branch of military government they serve.
How Do You Ask For A Military Haircut?
The high and tight cut is the most common request. A more specific description should be along the lines of one to two inches long on top with a high to medium fade. Discuss options about what clipper guards they will use and what you prefer. As a back-up, take visual references with you to pin down your exact ideas.
Difference Between A Crew Cut and A High And Tight.
A crew cut tapers at the sides and back of the head, while high and tight clips remain short all the way around. The latter often culminates with a high fade or skin fades. Crew cuts also maintain a longer length on top to buffer into peaks, but a high and tight hairstyle looks more like a lid with a shorter length and supple width covering the crown.
Need examples? Check the gallery below:
Flat Top
If you only have half an inch to work with, a flat top creates subtle spikes near the crown for a pristine appearance. A barber will shave the sides and back but leave a strip of hair on top using clippers to trim the hair parallel to the floor. You will need to apply a small dose of gel to brush the hair up every day. Additionally, a sleek mustache is a suitable option to pair with a Marine haircut as long as it extends along the upper lip and the rest of the face remains freshly shaven.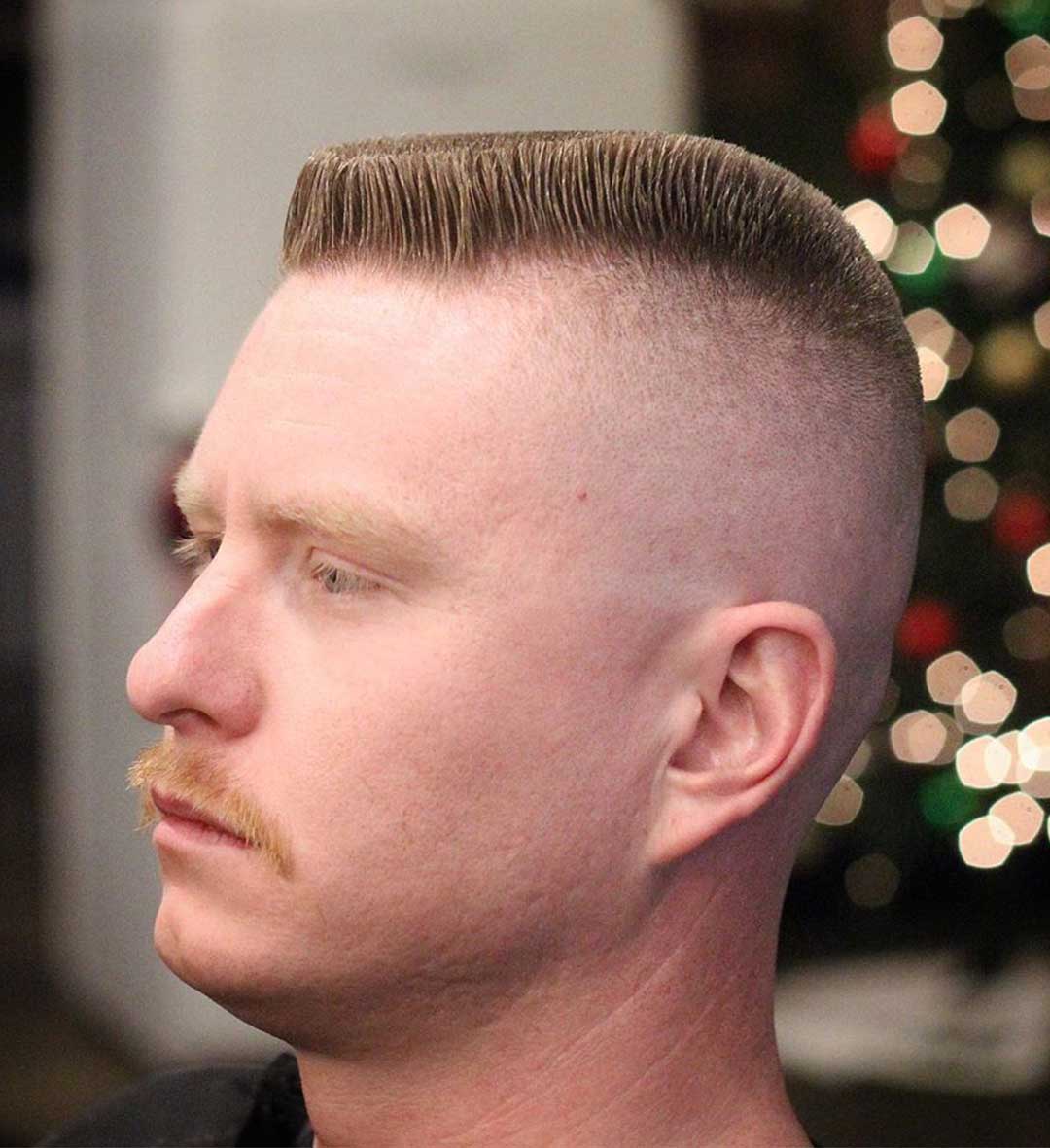 Regulation Cut
Tap into a vintage military hairstyle with a trendy regulation haircut. Short to medium length hair works creates a comb over across the hairline at the temple. A brush up in the front provides an extra lift. The soft part cultivates a tidy distinction between the two sides before it tapers into a medium fade.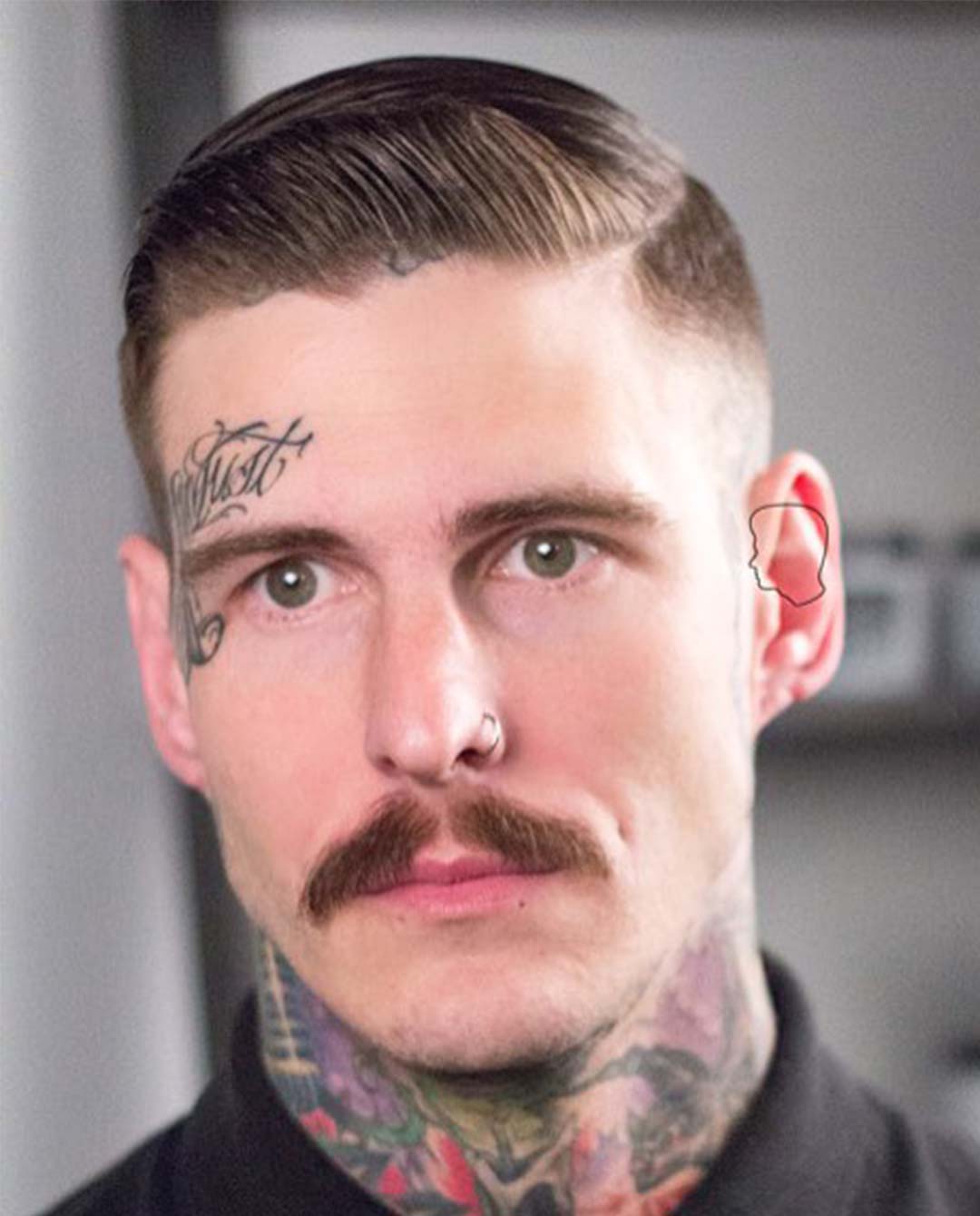 Military Crew Cut
Younger college students and businessmen searching for a masculine yet sophisticated hairstyle should check out crew cuts. The hair on top ranges around four inches long, while everything else trims even shorter with a taper or medium fade. The small amount of hair on top could use a gel product to tousle upwards for tidy spikes.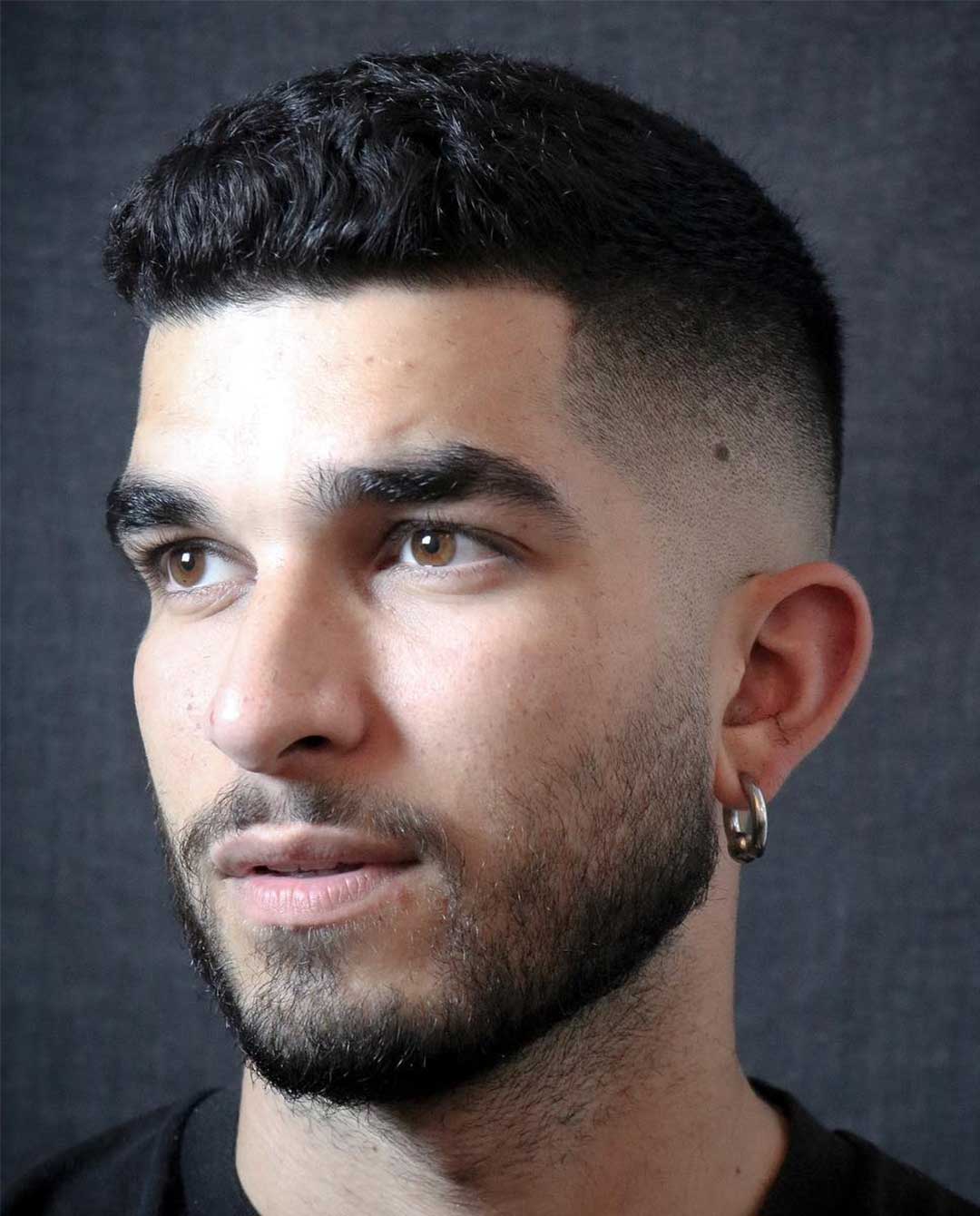 Military High and Tight Haircut
High and tight haircuts are the epitome of a standard uniformed look. The wide-framed stripe here only grows an inch long before it needs a new trimming. A matching high taper along the temple adds extra length to the shaved neck. Since your face is the focal point here, this high and tight Marine haircut works best for square, oval, and triangular face shapes.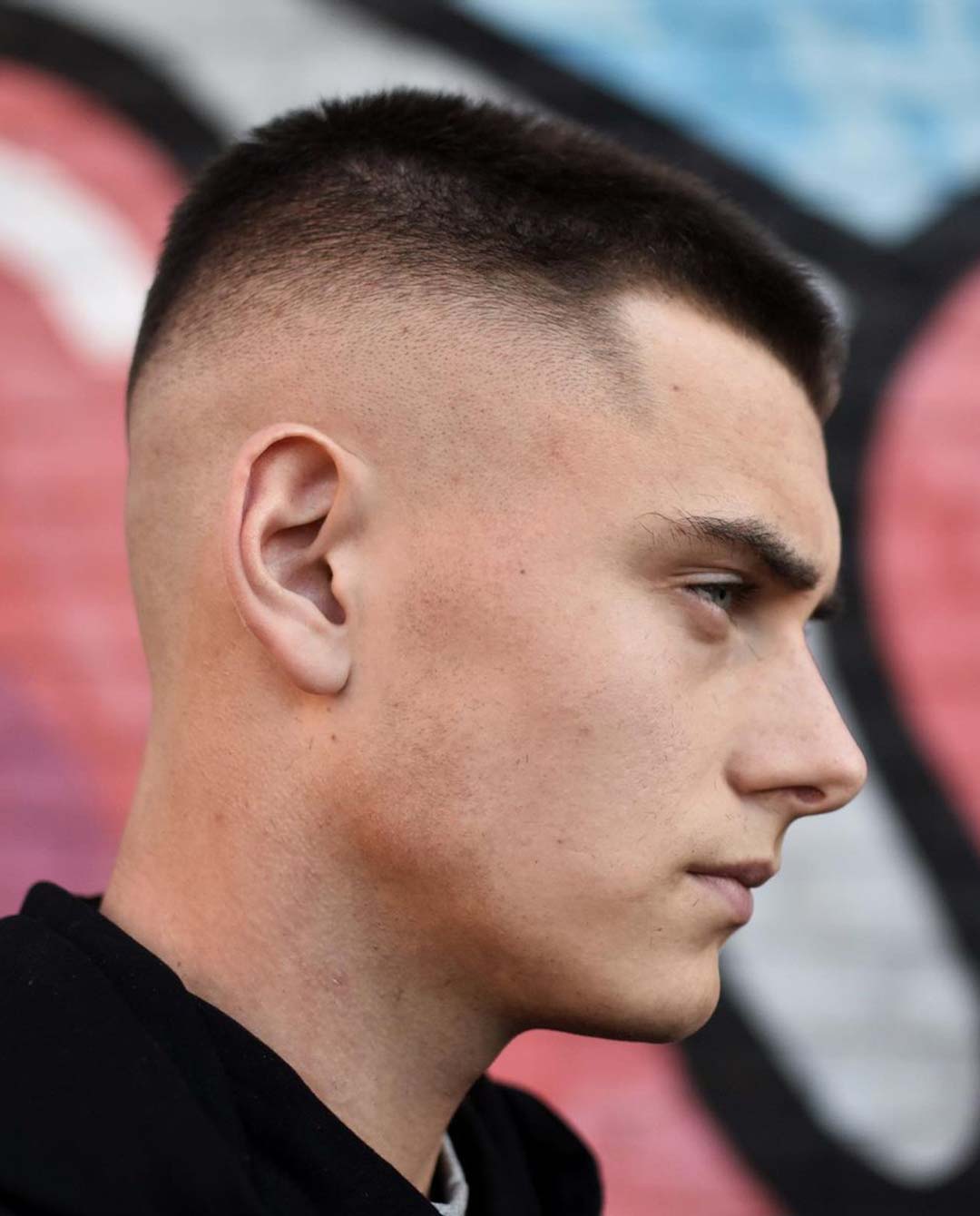 Ivy League Haircut
When your hair grows long enough to use additional products and requires more upkeep, you're slowly straying away from military haircuts. An Ivy League cut offers the charismatic aesthetic of a crew cut but opens up more options for styling. Instead of parting your hair to the side, maintain a soldier's enigmatic precision by spiking your hair. Make sure the hair stays an even length with a medium fade for a unified, cohesive appearance.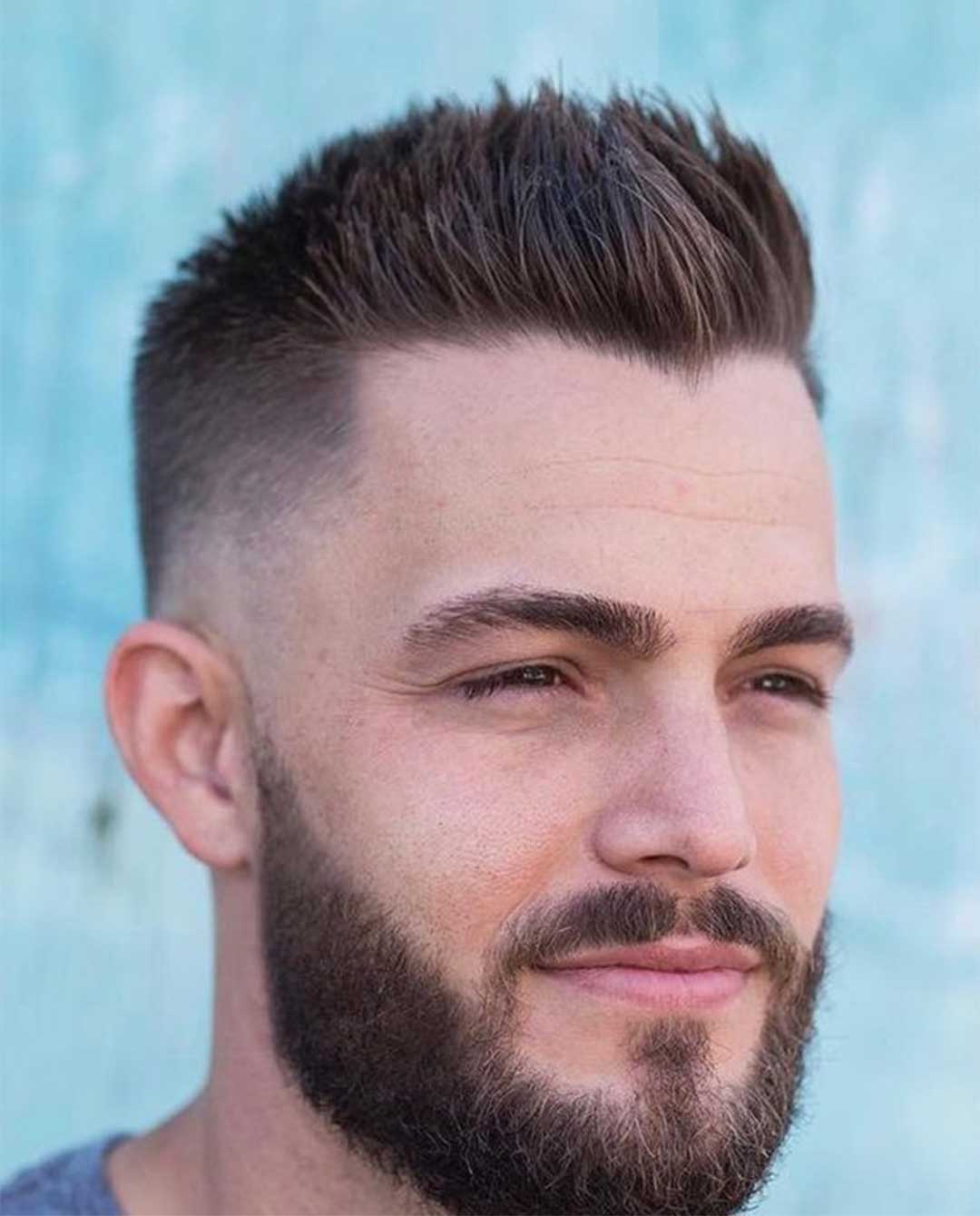 High Top with Disconnected Sides
Disconnected haircuts typically transition from shorter to longer hair without gradually blending the two. One way to achieve a high top with disconnected sides is to add a hard part. A razor-sharp edge near the temple defines the fringe along with the crown and the taper underneath. The hard part makes it look like the top is separate from the sides and back.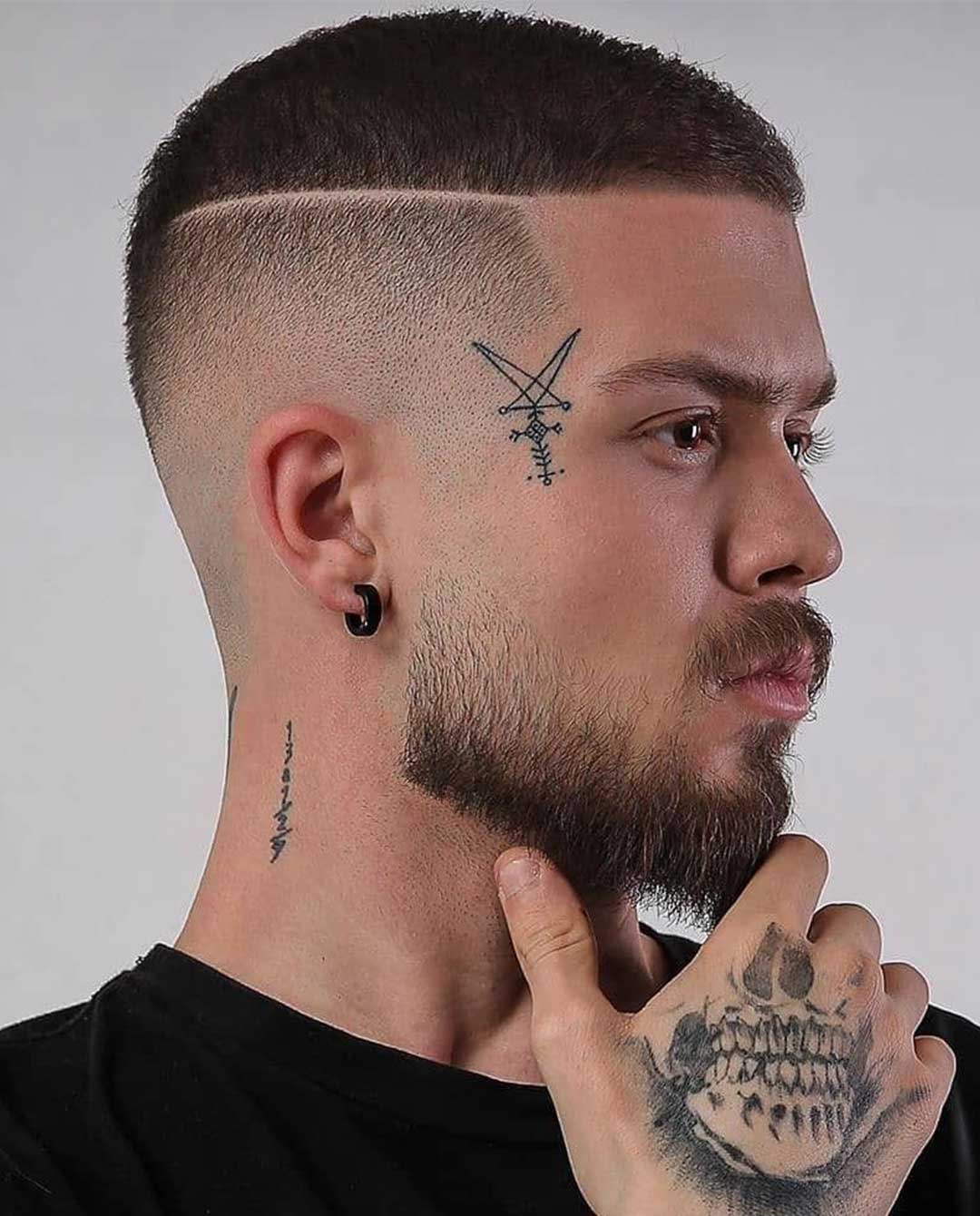 Military Buzz Cut
Buzz cuts are one step above an induction haircut or shaved head. They replicate a five o'clock shadow along your scalp as if you didn't shave for a week or two. A buzz cut will accentuate the smallest details on your head, including large ears, uneven bumps, or scars. You must be confident if this is your first time attempting a buzz cut.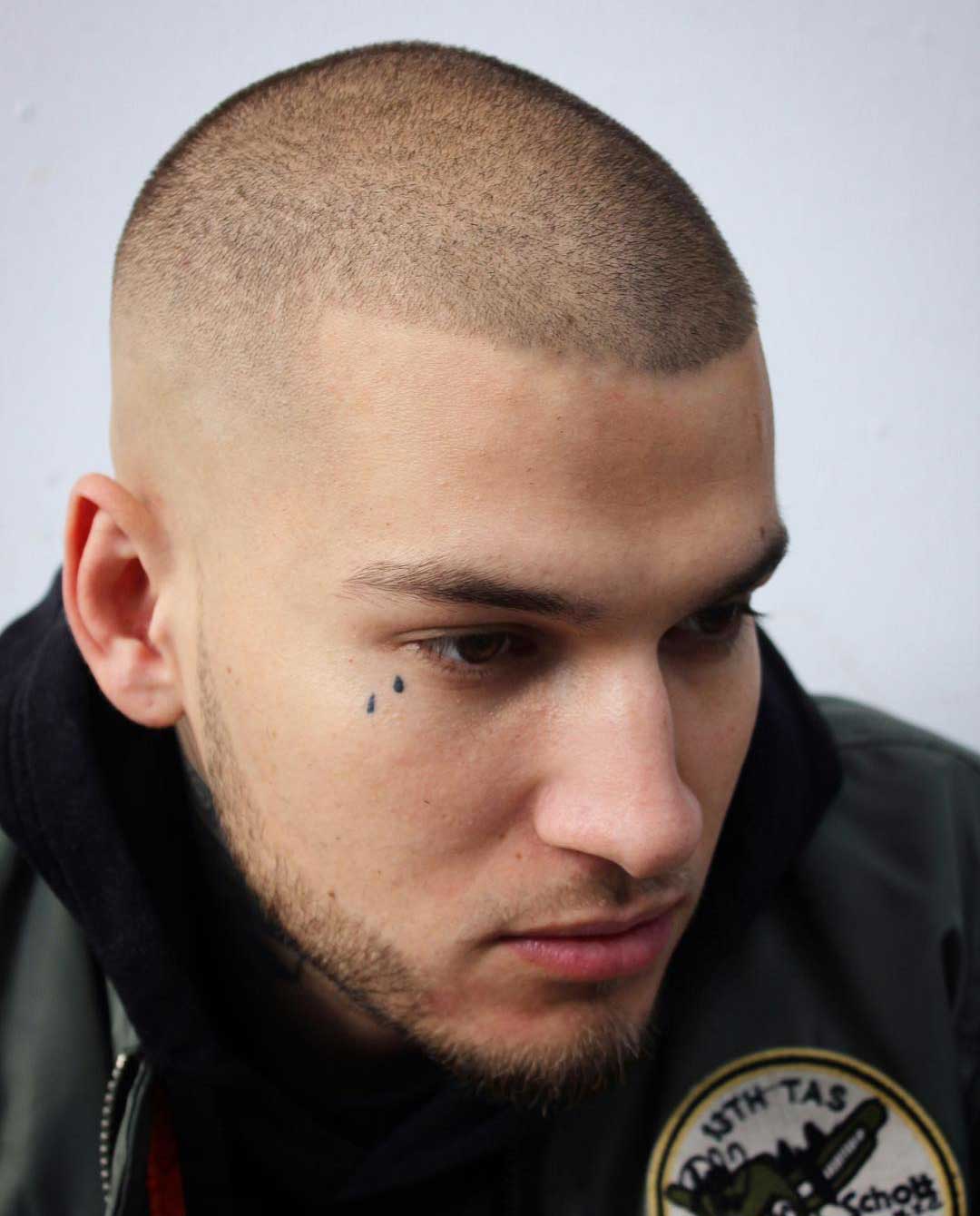 Military Cut
It doesn't get any more classic than this military cut. The hair lies flat across the top of the head, brushing forward to the forehead. There is no gradation between the taper and fade, letting the hair exude punk-rock inspired vibes. Though military guidelines prohibit facial hair like a beard, a strong streak of hair along the jawline for a civilian softens the high and tight edginess.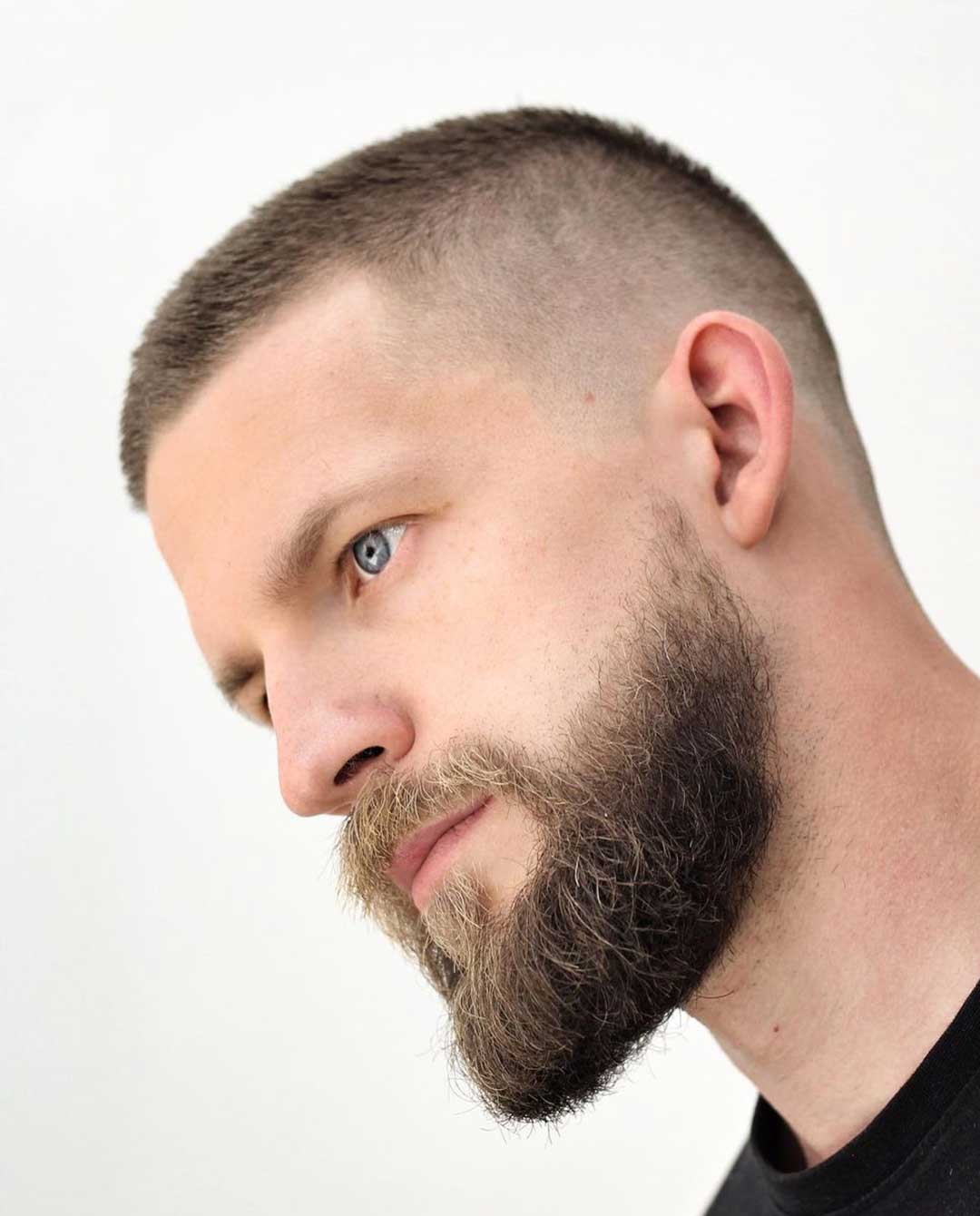 Brush Up
Depending on how meticulously you groom your hair, you can emulate a military-inspired flat top hairstyle with a brush-up haircut. You don't want your hair to flop forward or look messy. Avoid the medium length that brush-ups usually have by keeping your hair short, around one to two inches long. Brush the strands from the back towards the front and spiking the hair near the forehead. Take your time shaping your hair to give it the meticulous exterior of an Army haircut.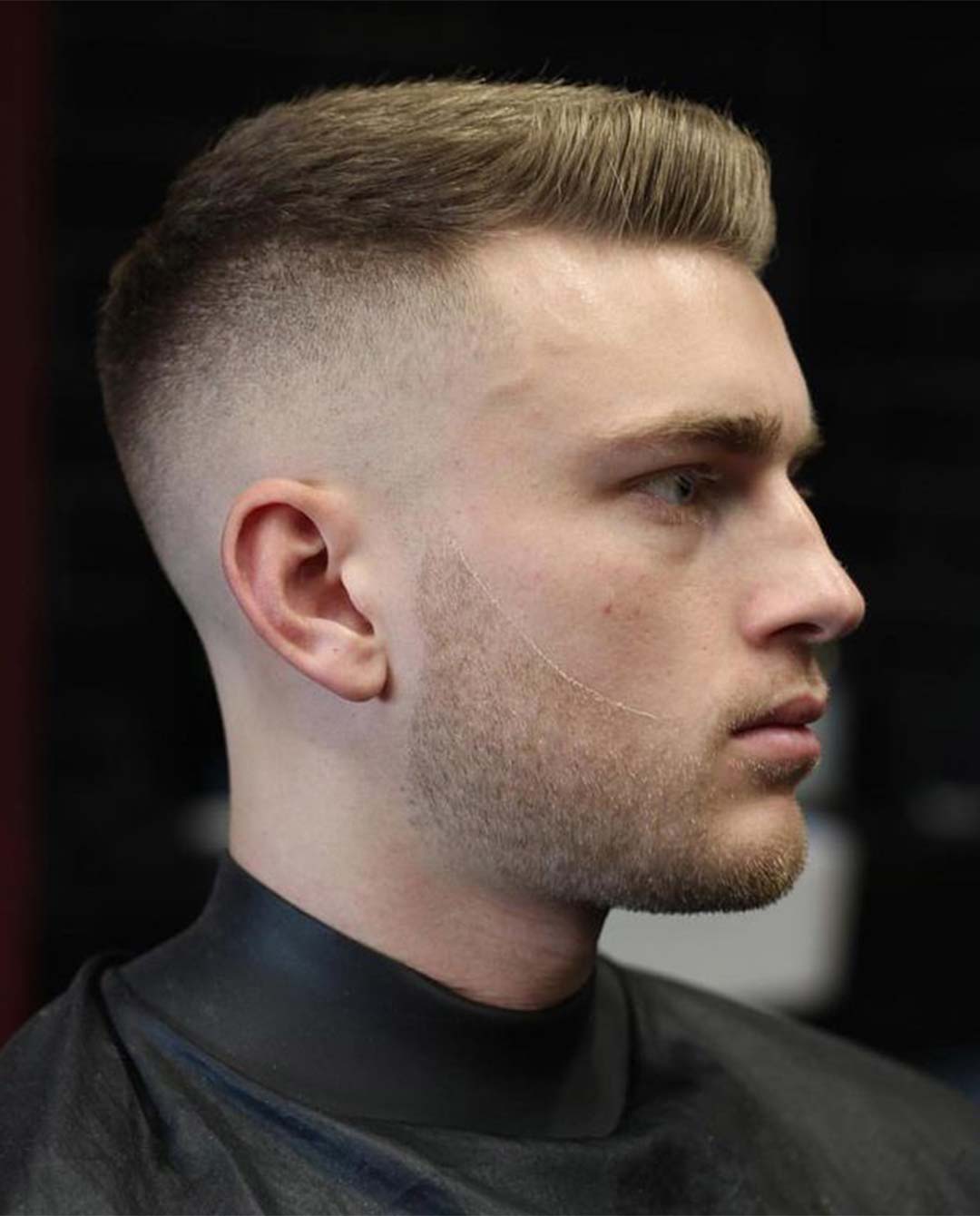 Butch Cut
From a simplified grooming routine to camouflaging thinning hair, butch cuts can solve a lot of hair problems. It contains fuzz on top of your head. The even length won't require excessive grooming, except butch wax if it has trouble staying flat. A dramatic tram line near the temple will break the style out of monotony.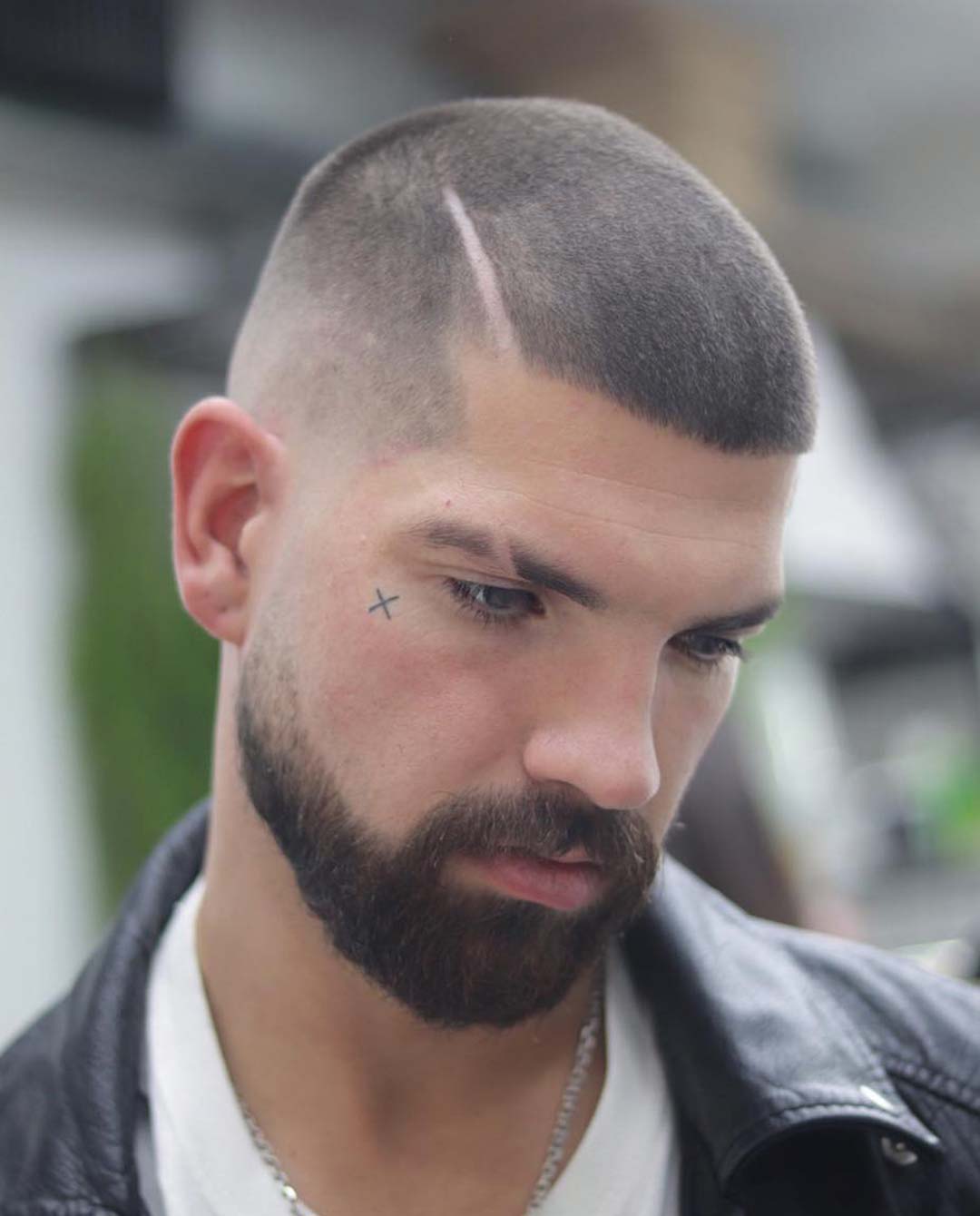 Short Comb Over
A short comb over shares the same foundation as a regulation cut but with some distinct differences. They both part the hair to the side; however, a short comb over creates a puff near the forehead. The length and method of brushing cultivate the softest peak possible. For a contemporary twist, a burst fade extends the hair from the crown while shortening down the sides.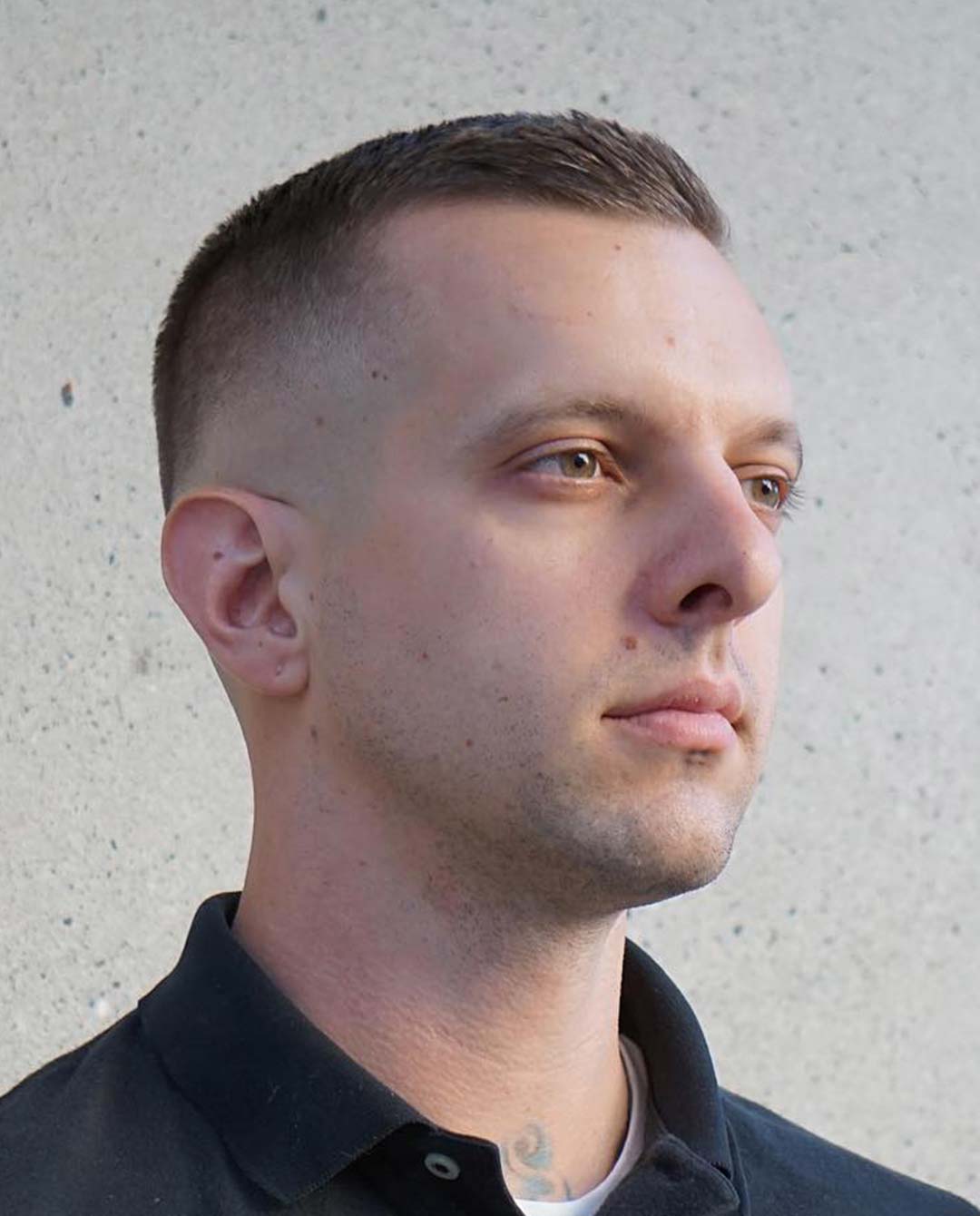 Quiff with High Fade
Switch up the tedious nature of a militant hairstyle with a quiff with high fade. Texture and volume never hurt a civilian's appearance before. Let your hair grow out at least three inches long to brush it towards your face and prop up the front fringe with pomade. Add a dash of svelte cleanliness with a high fade and facial-hair free face.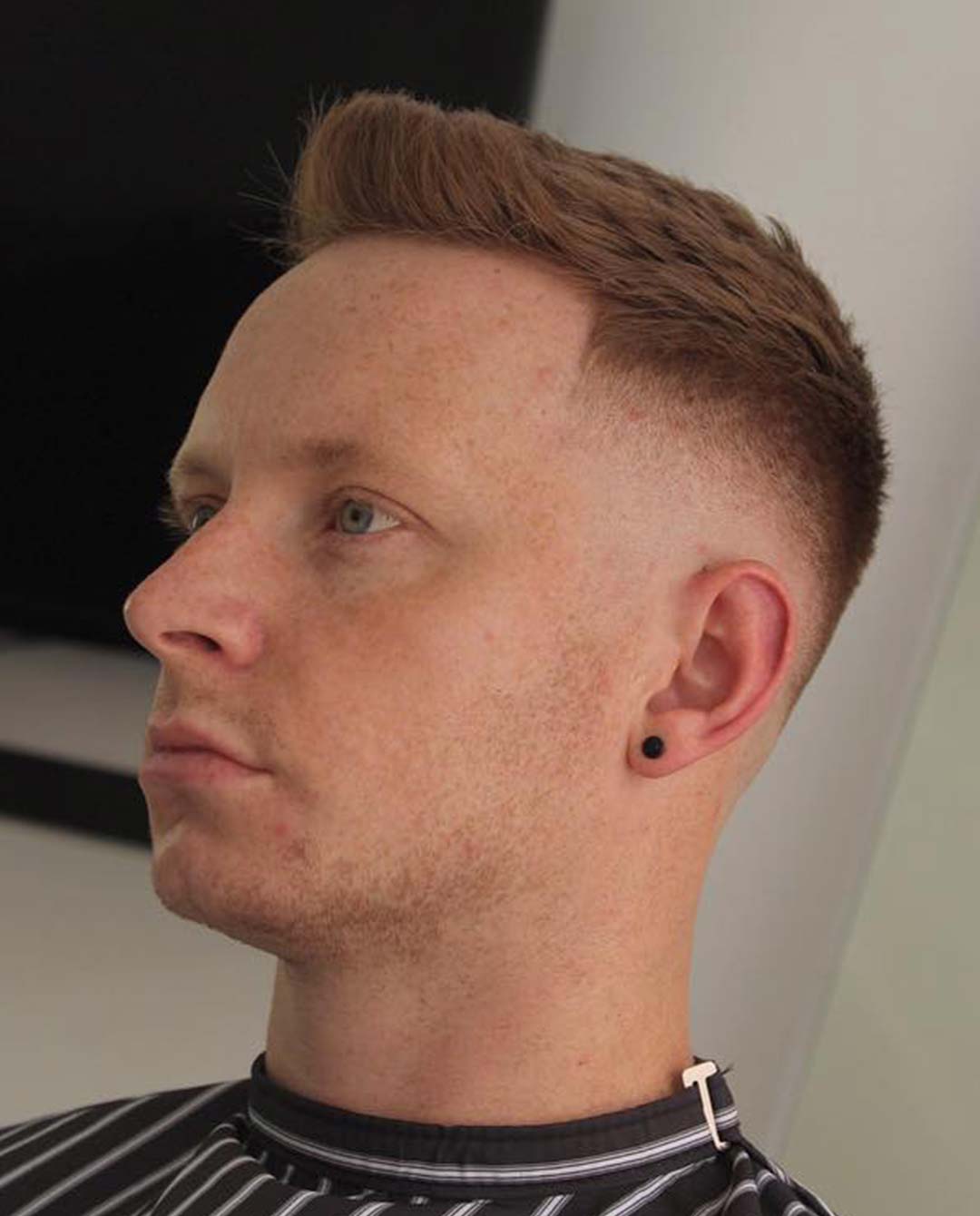 Jarhead Haircut
Here's another example of a military cut known as the jarhead haircut or the "walker" when worn by civilians. The jarhead leaves only about 1/8 inch of hair close to the scalp with a high fade. Everything about this cut naturally matches the shape of the head with no room for styling and no worries about having a bedhead. Once the hair starts to look shaggy, it's time for a touch-up.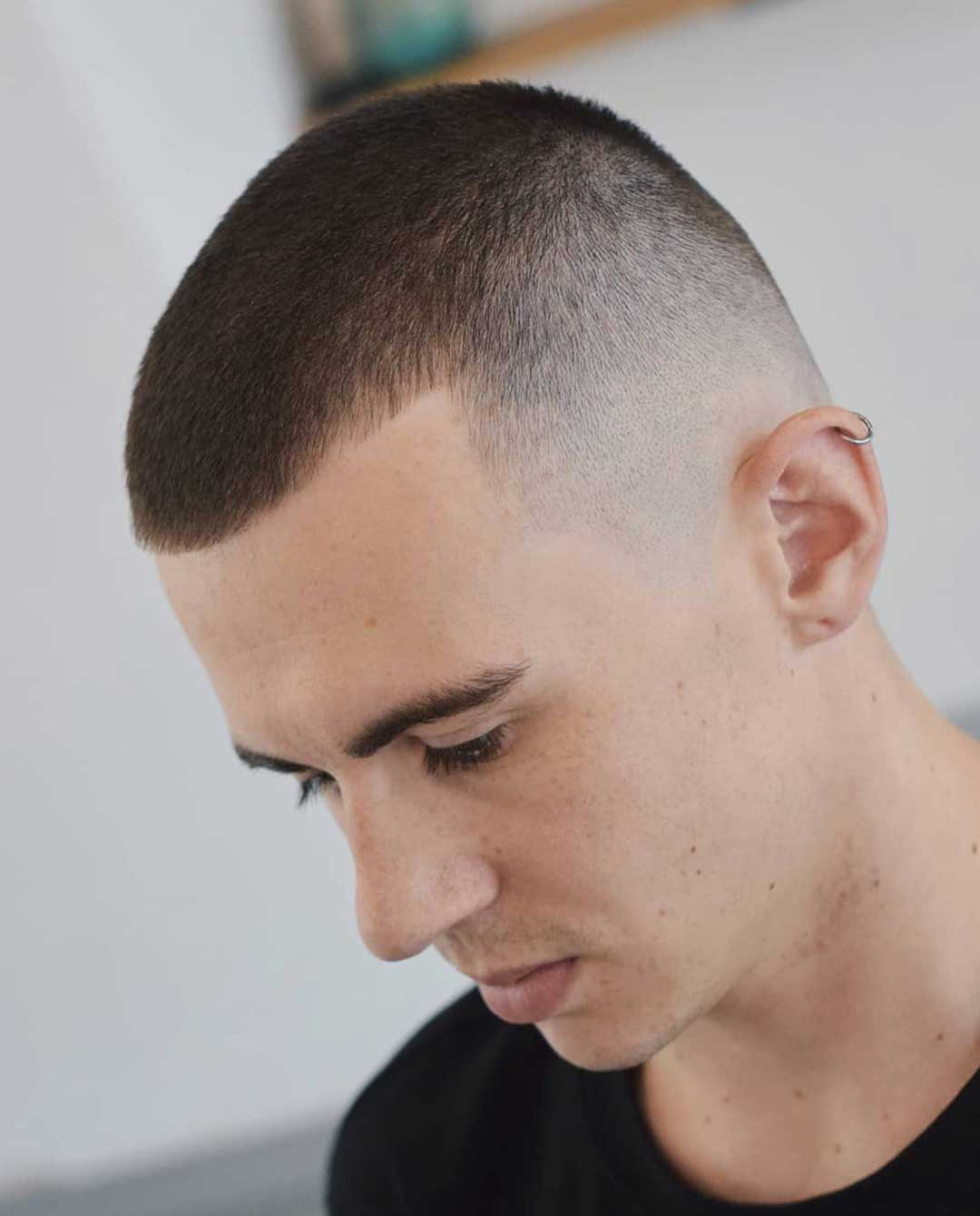 Crop Top Haircut
At first glance, crop tops don't fall into the traditional route of a French crop. With the hair pushing forward to the forehead, it comes pretty close. Instead of going the classic route with a messier fringe and taper, this blunt chop limits itself with less than an inch of hair along the top. It easily combs to the front and looks more disconnected with a shave along the sides and back.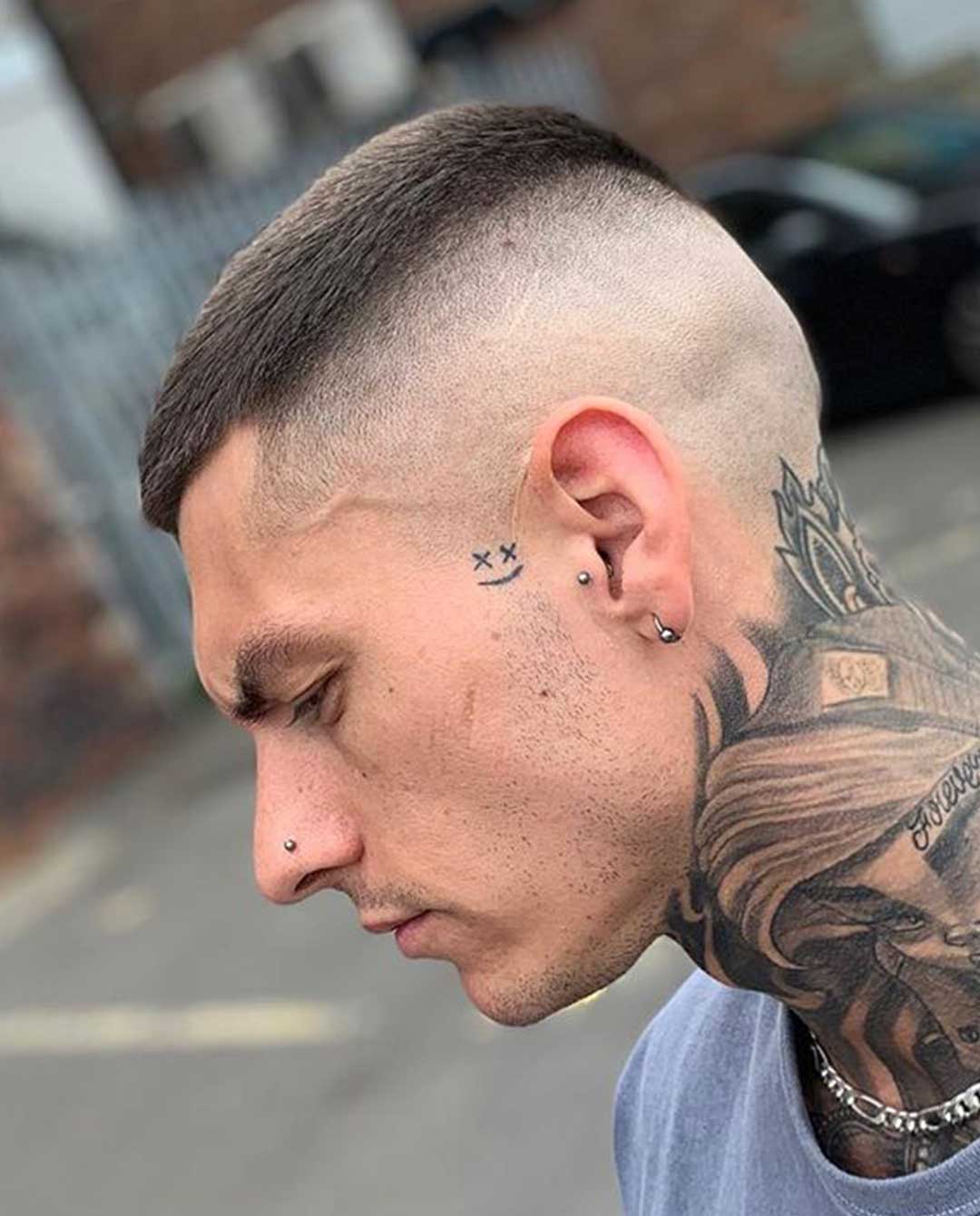 Marine High and Tight
The marine high and tight remain popular because you can just throw on what you want and head out the door with minimum grooming. The tasteful finish confined to the crown of the head doesn't speak to everyone though. A little messier fringe that grows out an inch more beyond the crown breaks the rules of the style's reserved nature but still looks refined with a medium fade.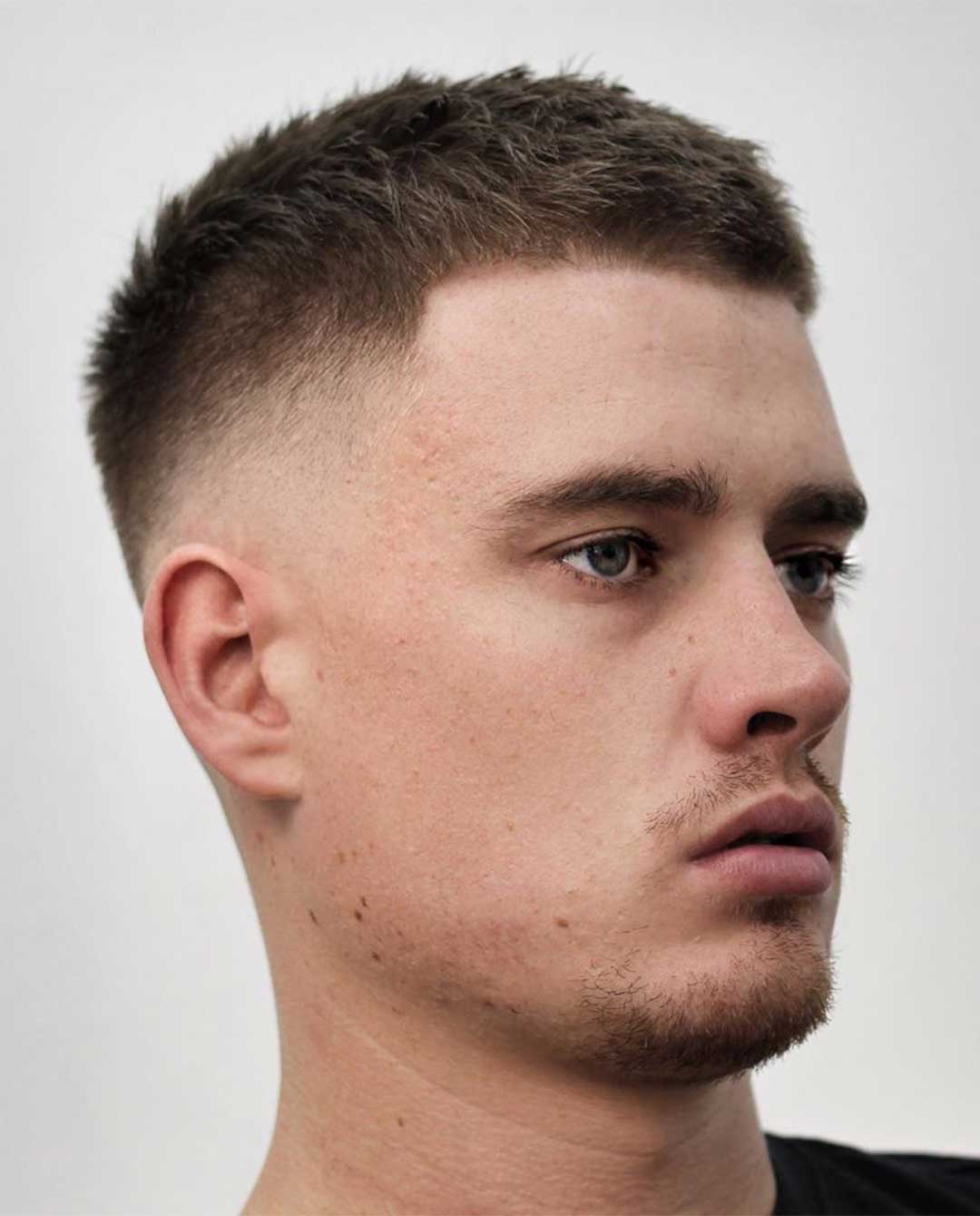 Buzz Cut + Skin Fade
Everyone recognizes a buzz cut when they see it. The short trim on top matching the even length along the sides exudes stern masculinity while remaining classic and fashionable. To take the style up another level, consider pairing a buzz cut with a skin fade. The unexpected bald-like patch along the sides adds height for men with oval or round faces.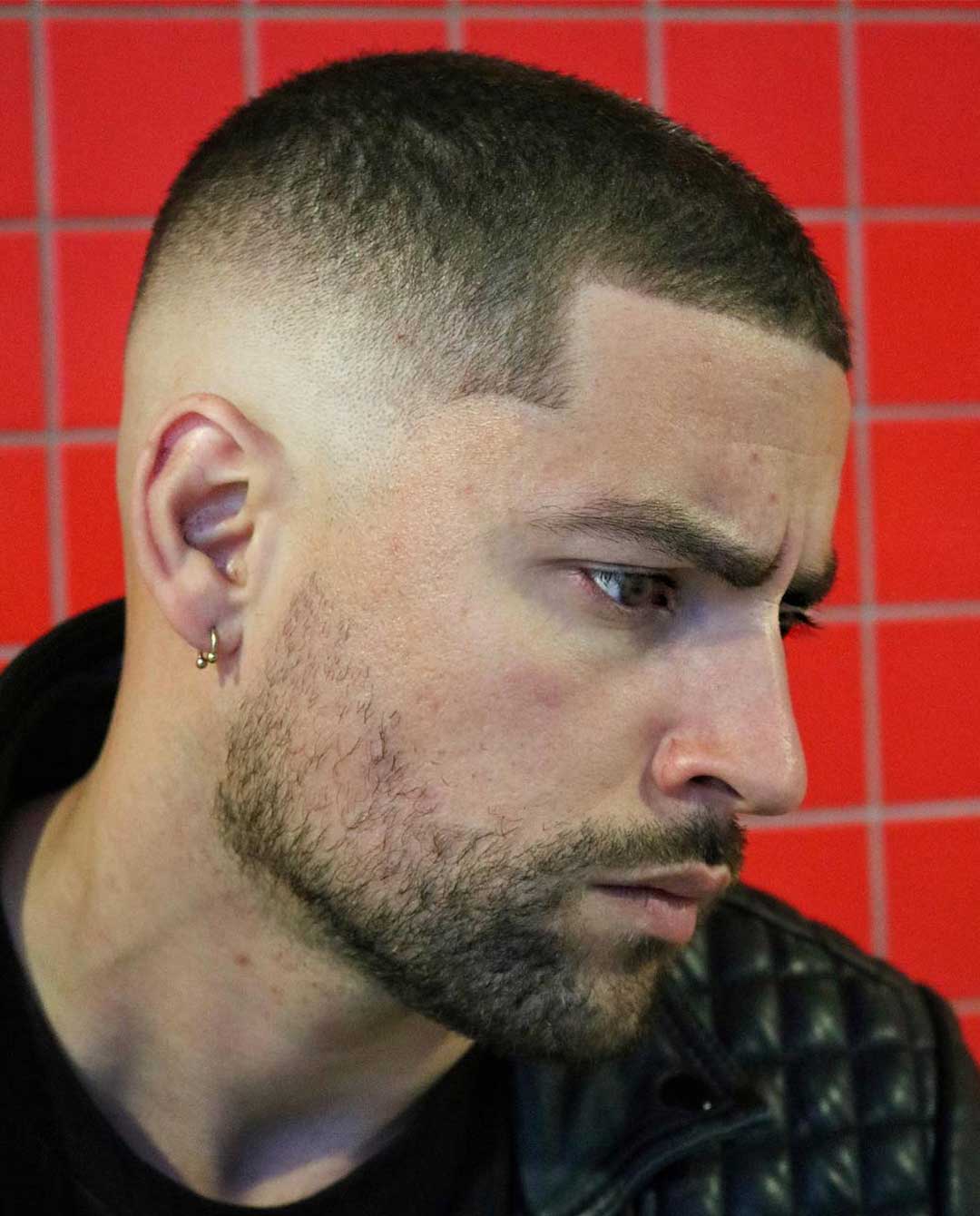 Crew Cut with Tapered Sides
Even though a crew cut with tapered sides lacks glitz, it makes up for in pragmatism. While the puff of hair on top offers a dash of texture, the tapered sides lie low in the background for the fringe to take center stage. There's just enough playfulness between the brush up in the front and short sides to look easy-going but not boring.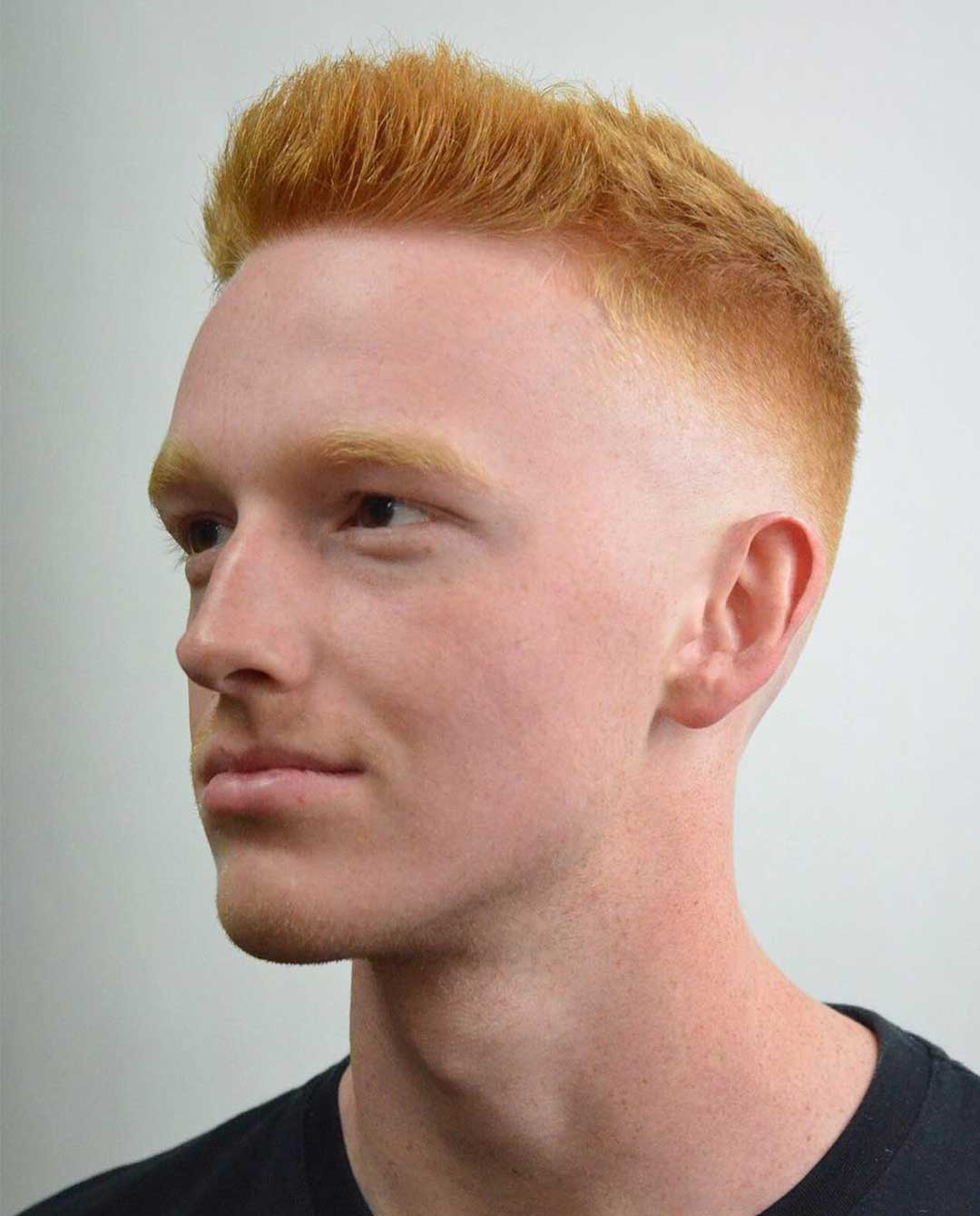 Army Burr Cut
One of the shortest army haircuts is the burr cut. This look is so easy to achieve you can do it at home using a clipper with a one or two numbered guard. The trim should only leave 1/8 of an inch on top, ultimately creating symmetry from your forehead to the nape of the neck. Combine the style's sharpness with a rugged beard to complement the hair's short length.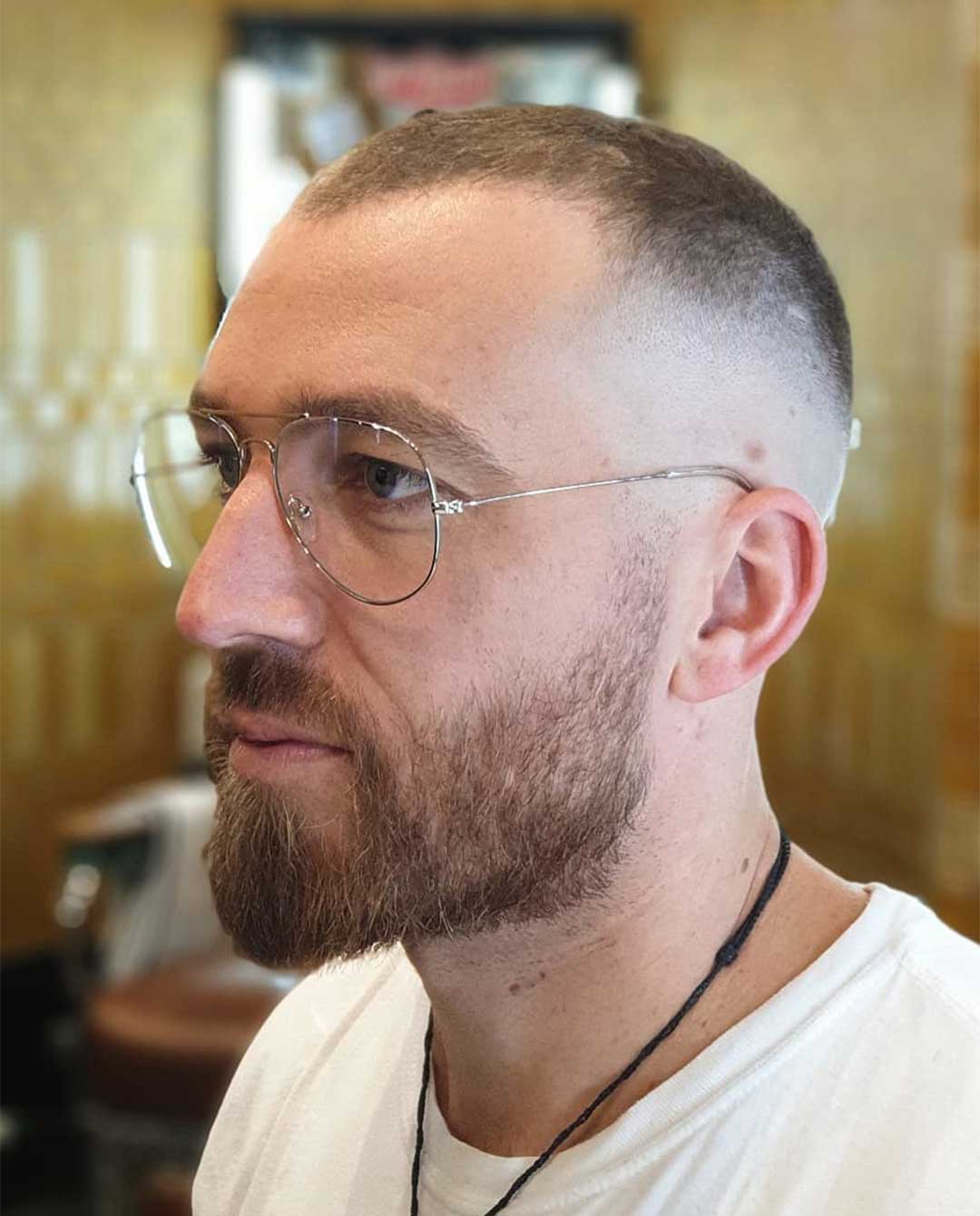 Comb Over with Undercut
When in doubt about settling for one haircut, go for broke and combine two like a comb over with undercut. Even if your hair doesn't break the one-inch barrier, you can use the front of your hair to comb upwards for an elegant life. The hair behind the puff cuts along the crown as an undercut. A spotless shave along the sides finishes the retro elements into a modern twist.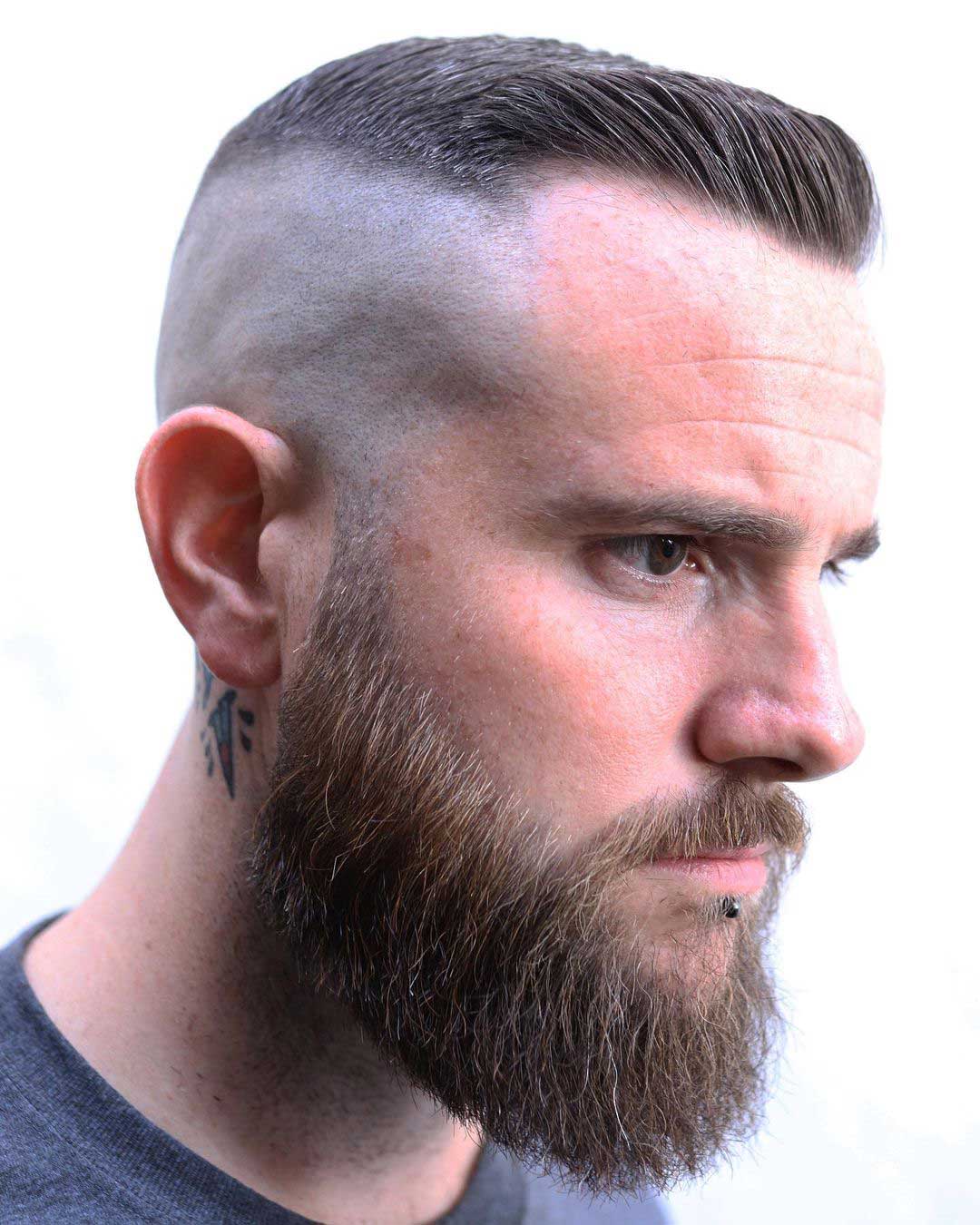 Crew Cut + Wavy Top
Though most military haircuts are an organic fit with short and fine hair, thicker hair can still carve out a unique look with a crew cut. A crew cut lays a gentlemanly foundation and a proper trim along the sides near the top. Longer length, around three to four inches with uneven trims in the fringe, adds texture and volume. If you want your hair to lie flat, use a dab of smoothing cream to weigh the waves down.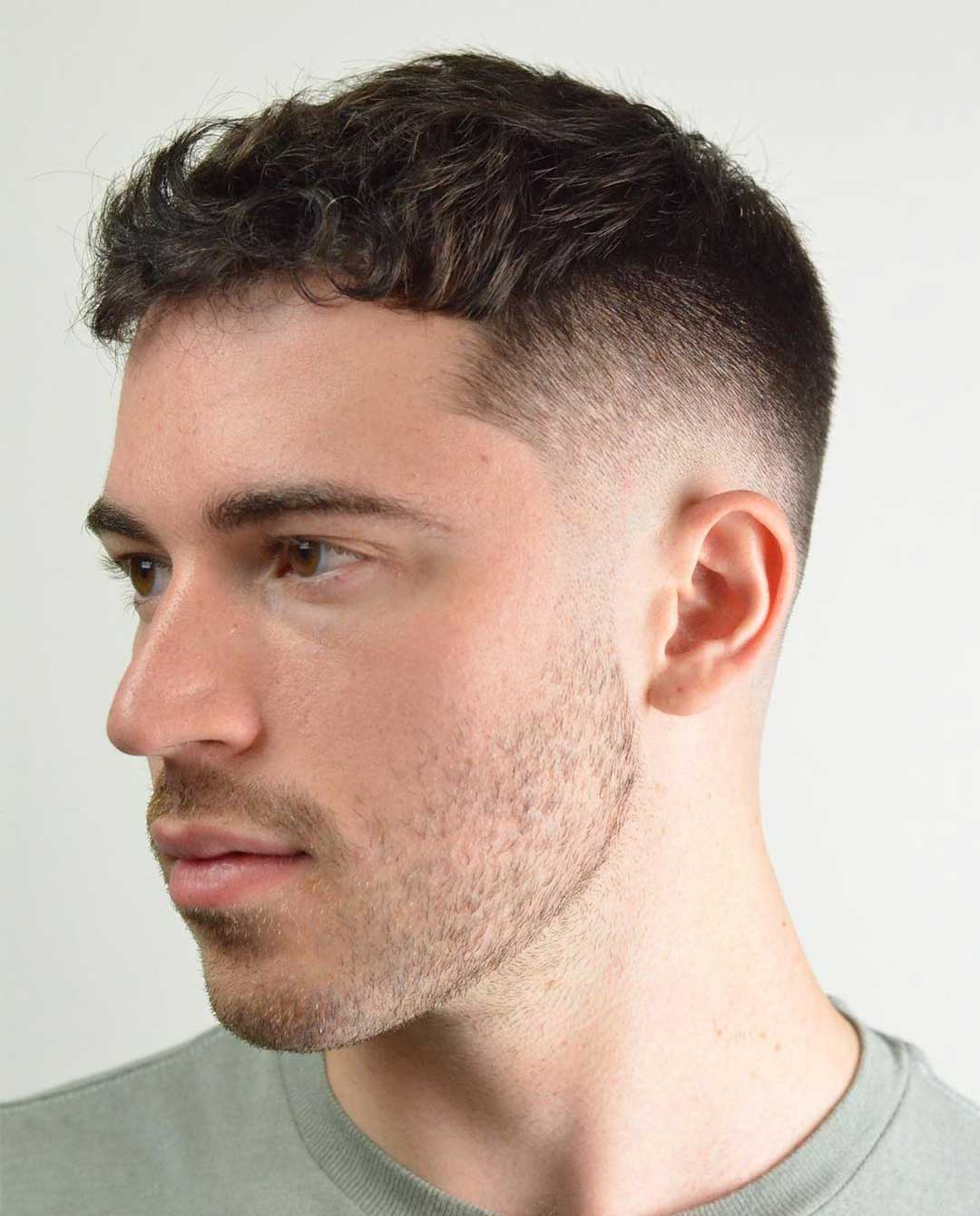 FAQ:
Why do soldiers cut their hair short?
Soldiers must act quickly and think on their feet. Hair that gets caught in their helmet or obscures their vision is an unnecessary hassle. In most situations, especially for those serving in combat, unruly hair can mean life or death. Their busy yet unpredictable lifestyle away from home also calls for a haircut that requires convenient grooming and promotes unified discipline between units.
Are mohawks allowed in the military?
Most Mohawks require significant bulk, volume, and length to pull off. They yield more eccentricities than the traditional military guidelines allow and are not an authorized haircut in the U.S. military.
Do marines have to cut their hair?
The Marine Corps provides minimal lee-way for Marines to adjust their appearance more than the U.S. Army. Hair cannot be longer than three inches, avoid protruding through the helmet, and sideburns cannot extend below the ear.

Whether you're playing basketball or conducting a business pitch, a military haircut is a part of your appearance that is free from distractions. Other than a regular appointment with a barber or DIY trim at home, you won't need to spend extra time or money on a haircut that does all the work for you. One of these military hairstyles can be a one-stop-shop for everything you need to look and feel your best.