A traditional fade is a classic hairstyle element that exudes sophistication and elegance. In contrast, a reverse fade challenges wearers with their imagination and allows a stylist to hone their skills.
Originally, African American soldiers utilized the fade in the 1940s to create a hairstyle that matched their clean-cut appearance in the military. As the fade branched out into casual wear for non-military members, it transitioned to match more rebellious lifestyles in the 1970s. Instead of blending longer hair from the crown into shorter hair towards the neck, a reverse fade is thicker around the neck and fades closer to the skin at the sides and crown.
Interesting Ways to Wear Reverse Fade
While the fade will always be a definitive part of a stylist's toolbox, the alternative offers versatility for unconventional men to celebrate their aesthetic in exciting and bold ways.
Separated Crown with Fade
A Mohawk is a perfect blank canvas for a reverse fade. This double fade combines at the top and bottom to form a subtle arrow towards the eye-line. The Mohawk on top deceptively stops in the middle and then continues with an extra tail at the neck.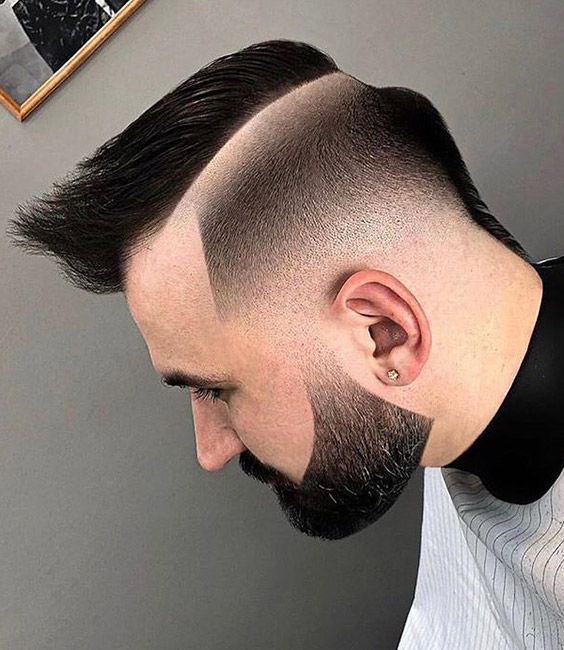 Mirror-Effect Crosses
A short haircut like this utilizes every strand with pointed fades accentuating the neck and a diagonal taper across the middle. A mirror-effect of crosses in the back adds another layer of significant detail.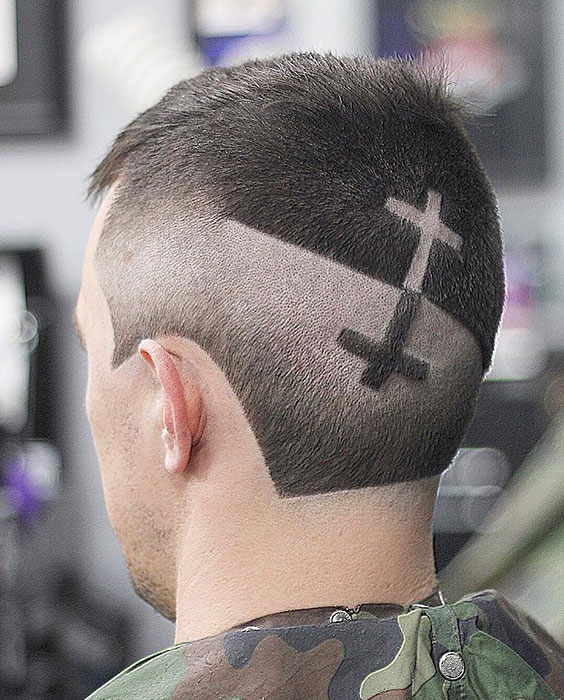 Spiked Punk Faux Hawk
A Faux Hawk on its own will turn heads everywhere you venture. Take the style further with spiked bangs, a pointed shave towards your forehead, and a mid-level fade.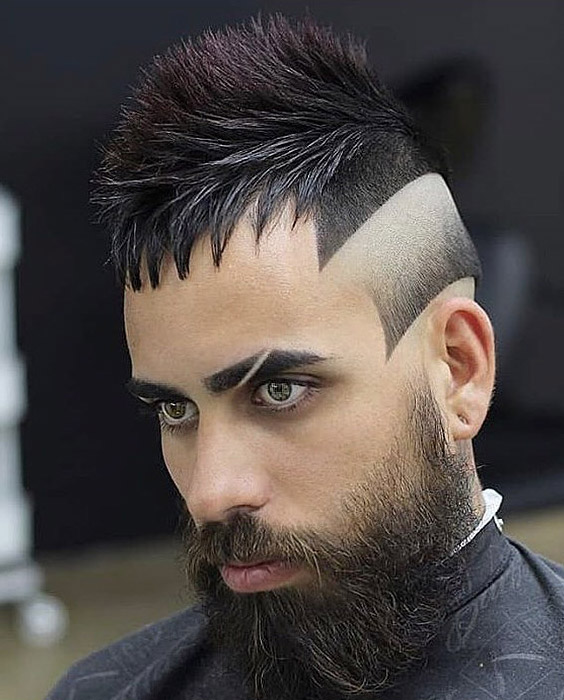 Box Braids with Curvy Designs
In the right hands, skilled barbers use their tools like a sculptor with marble, removing the excess material to reveal something extraordinary underneath. After edging the hair away with a traditional fade at the temple and a reverse fade at the neck, ask your stylist to add eye-catching curves around the side and into the beard.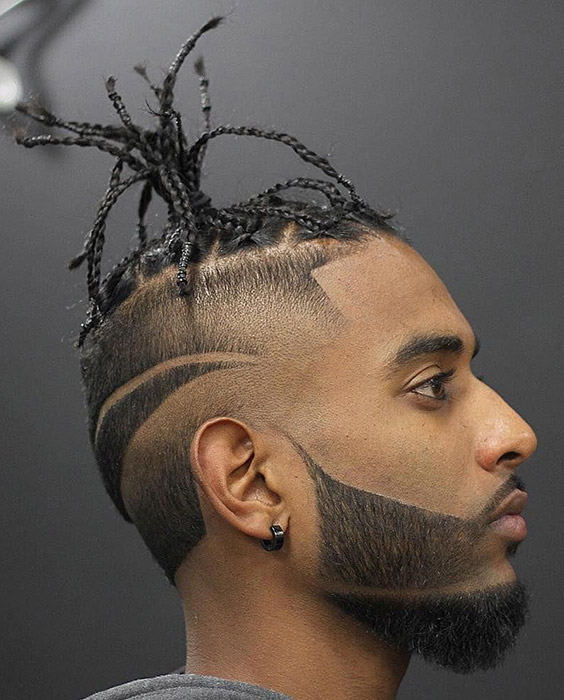 Bald Fade with Faux Hawk
A high fade will produce a seamless transition of longer to shorter hairs from your temples. This rebellious version sets itself apart by featuring a prominent and clear shave inside the curved line.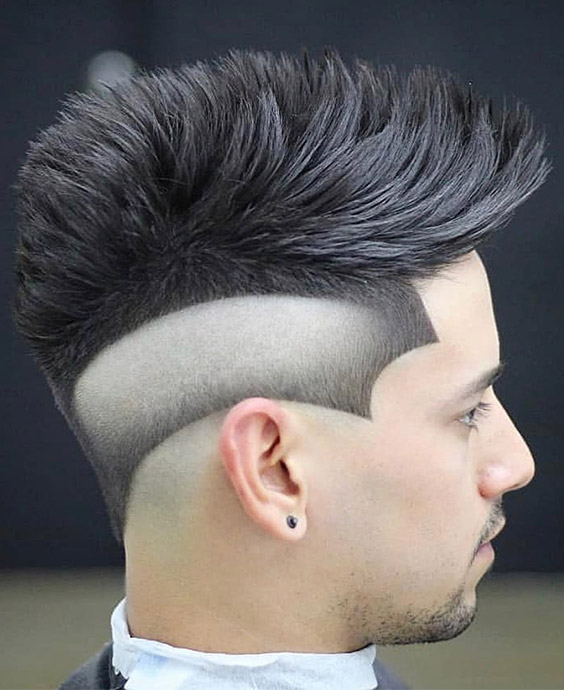 Two-Tone Drop Fade
It's not how much hair you have to sport; it's what you do with it that counts. Coloring your hair with a platinum dye and utilizing your natural hair add more definition. Use your roots as a marker for a slick punk design like a curved fade along the side and to distinguish the hairline.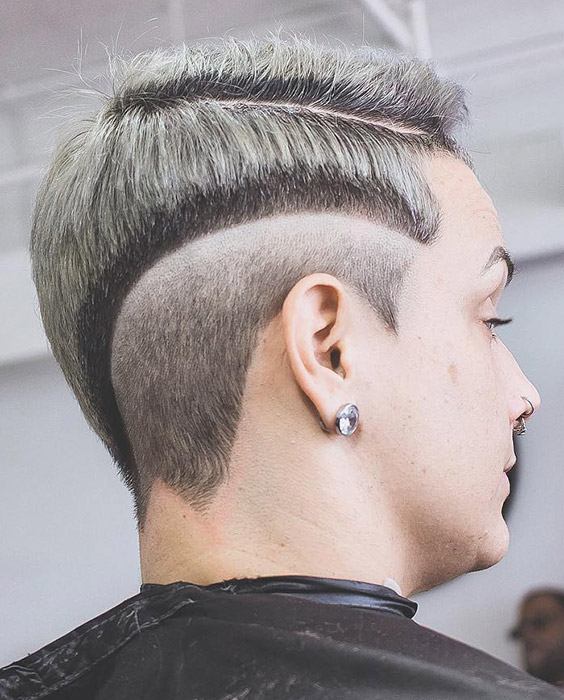 Box Cut with Drips
Highlight a box hairstyle with captivating bright dye to stand out from the crowd. With the fade along the back and sides, sharp-edged lines and raindrops will make your natural hair drip from the sides.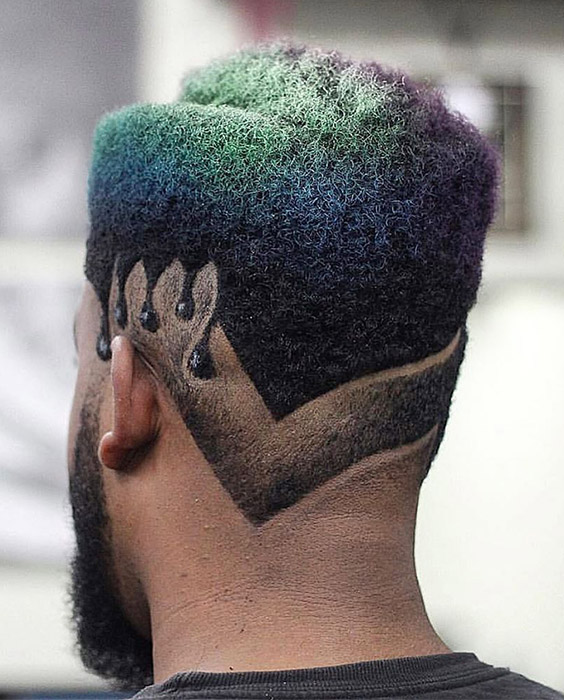 Geometric Undercut
A reverse fade can take a step back from the limelight to let the rest of the hair speak for itself. A geometric pattern elevates a classic undercut into a playful hairstyle with a carefully shaved Greek-inspired design.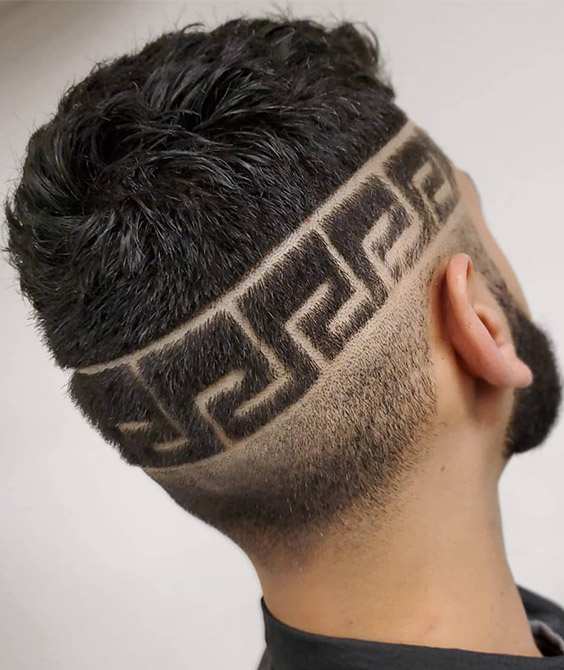 Edgy Pompadour with Lined Fades
Elevate a retro pompadour into a contemporary edgy look by spiking the hair upwards. Use a reverse fade around the scalp to etch a distinct set of lines.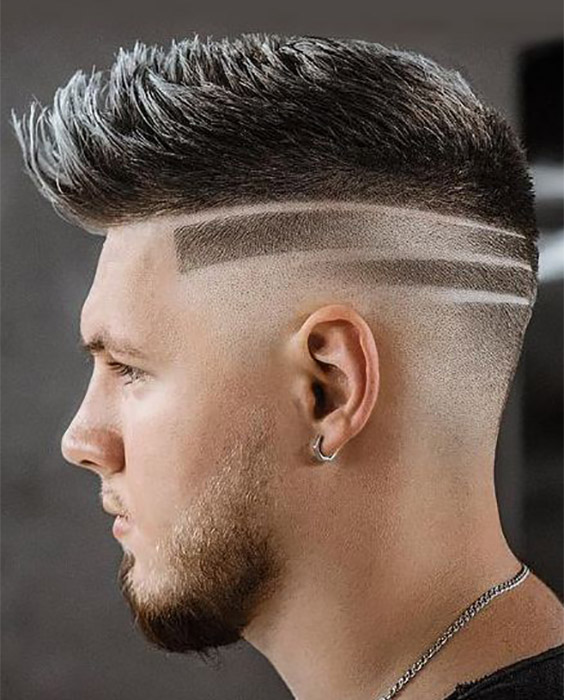 High Mohawk Fade
Donning a fade doesn't mean you must limit yourself to a slick 9-5 cut. Showcase a sharp high fade with an eccentric Mohawk by growing out your hair at the crown as long as possible and styling it upwards.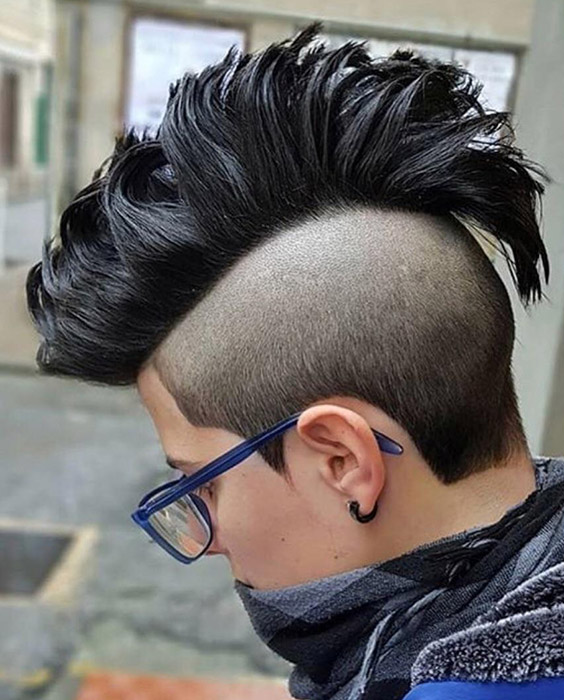 Messy Reverse Fade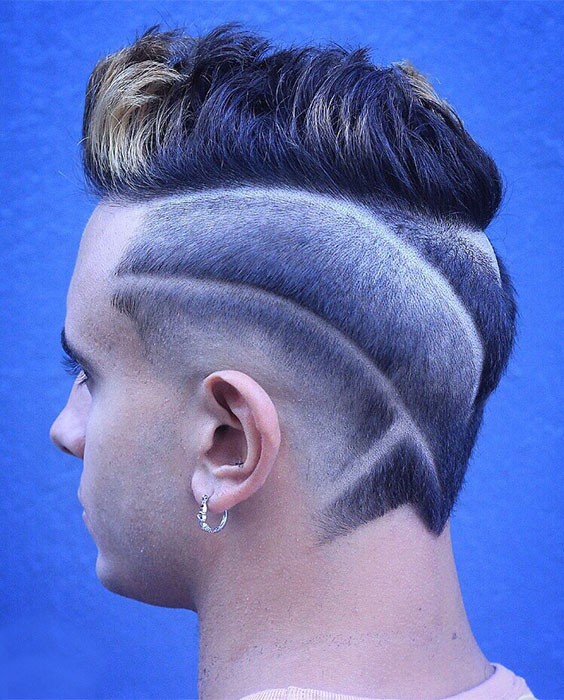 Neck Reverse Fade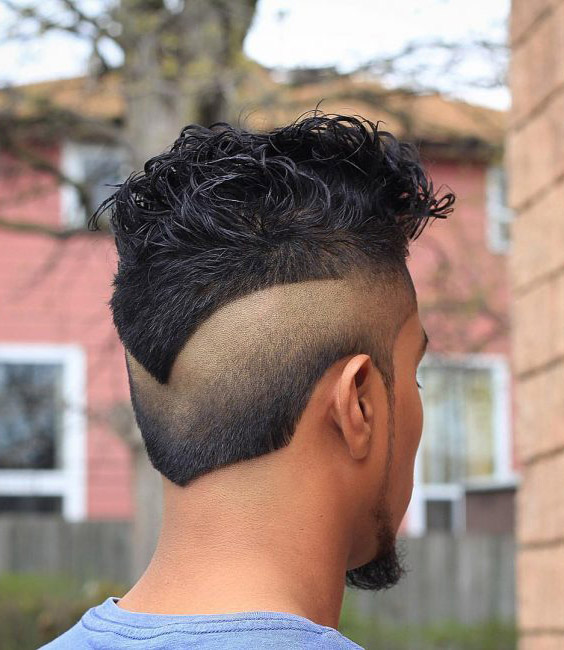 Sectioned Fades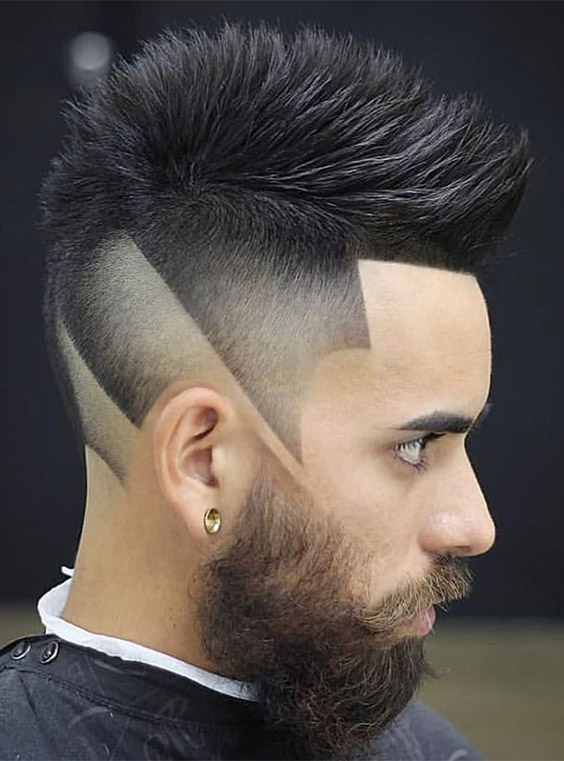 Wavy Fades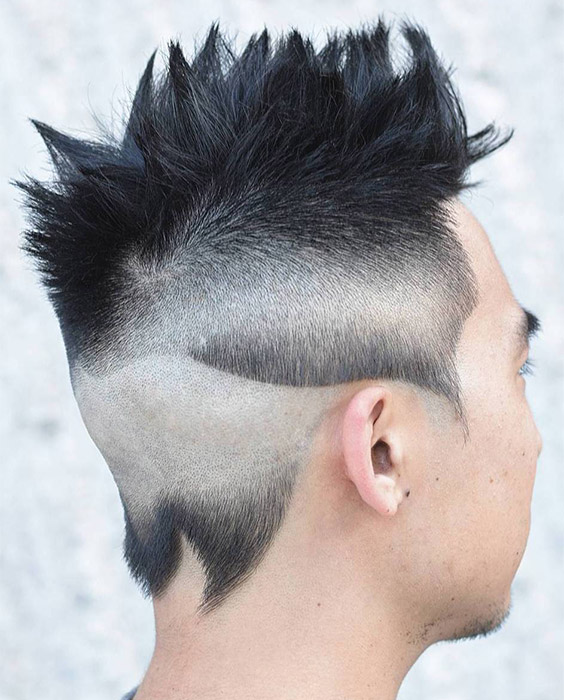 Flat Top with Angular Fade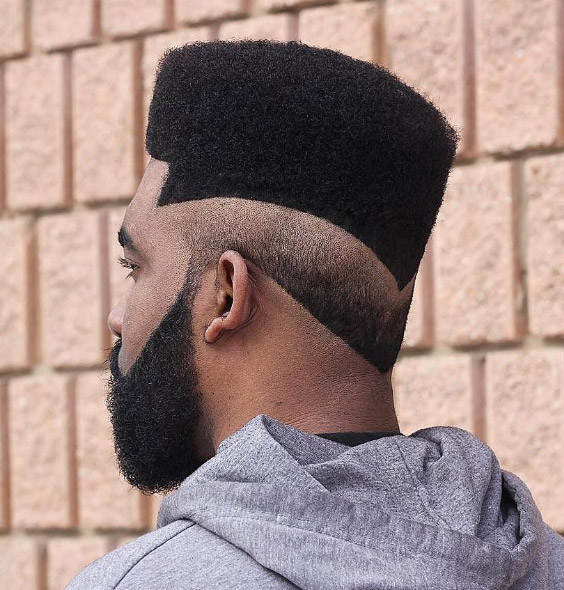 Burst Fade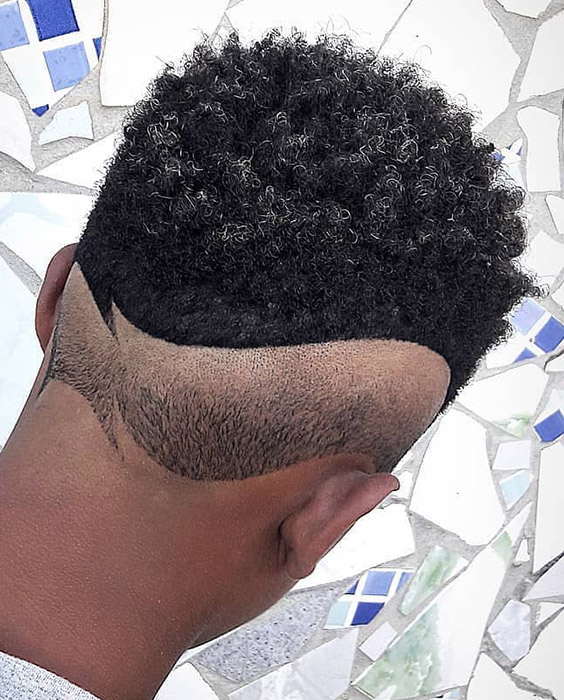 Reverse Fade with Curvy Line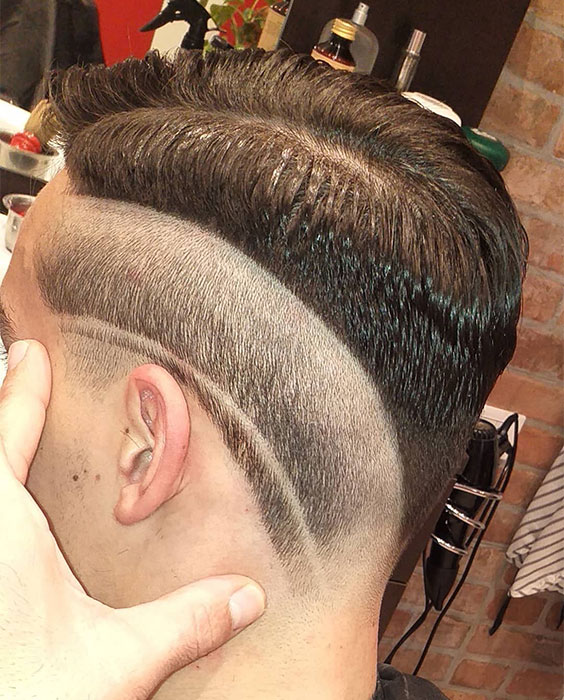 Mid Reverse Fade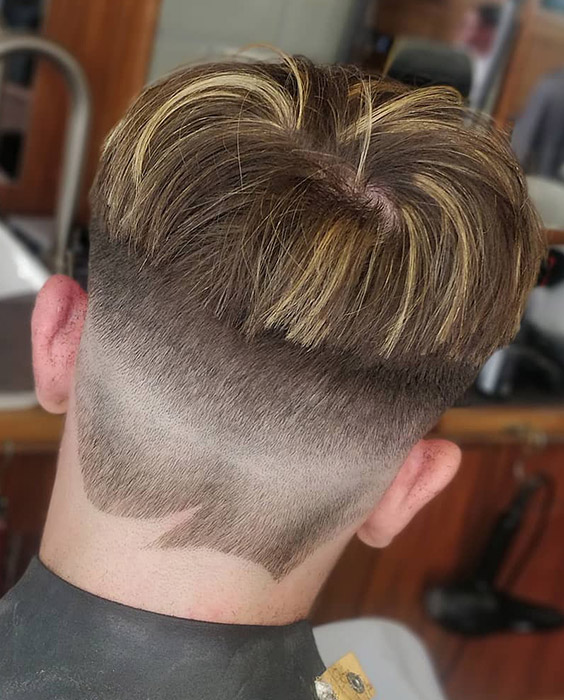 Long Wavy Mullet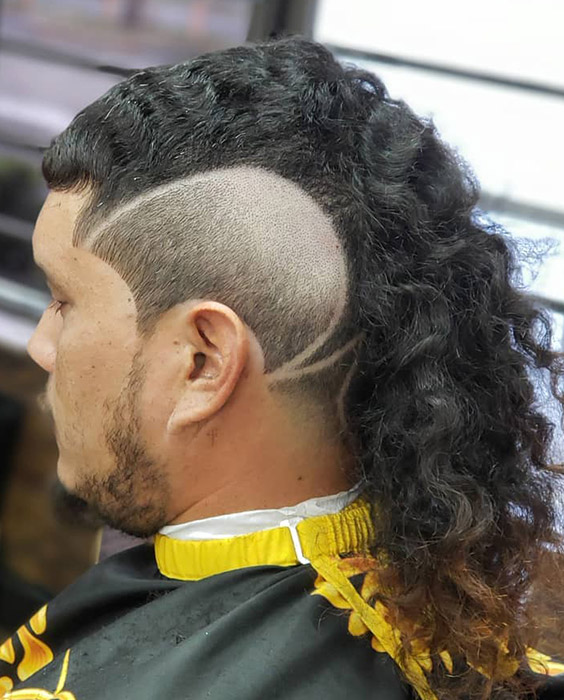 Bald reversed Fade