The low skin fade haircut is a stylish and popular hairstyle whose main feature is cutting the hair to a bald level 1-2 inches from the ear and back hairline. It is a nice way to amp up any haircut and typically leaves some longer hair at the top. There are also several ways of altering this brilliant-cut to create different looks. Here are some low fade ideas that you can try out!
#1 Pompadour with Low Fade
Pompadour hairstyle is ageless and cut that will always make men look refined. This modern style is cut with a side part and a low skin taper fade on the sides and back that make it look more sophisticated.
The low bald fades enhance any haircut and help you break away from the normal long top with short sides style. In this picture, it makes the brushed back hair and layered bangs at the top look very trendy.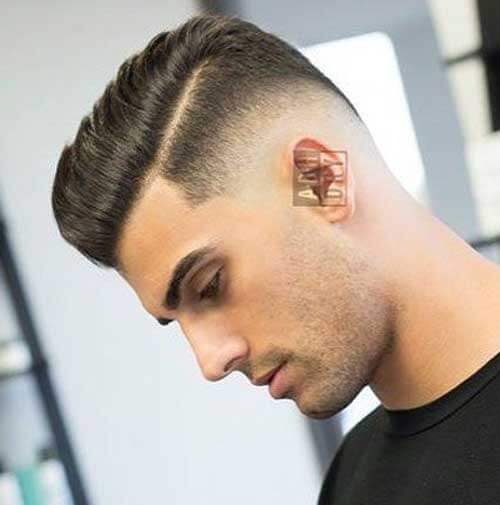 #2 Low Skin Fade Comb Over
A low skin fade comb over adds a modern touch to the classic side-swept haircut. This style features a low fade down to the skin and all the way around. The look dramatically raises the hairline and creates a clean-cut finish.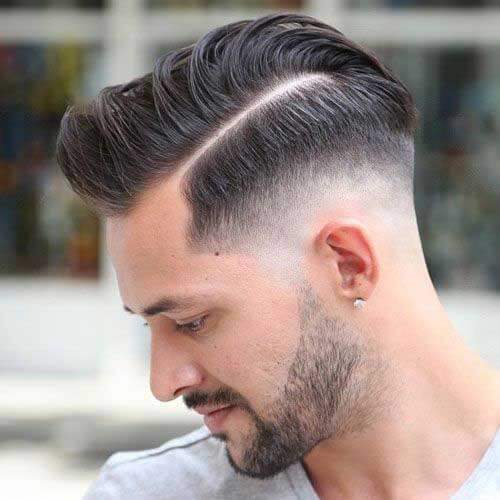 #3 Curly Low Skin Fade Mohawk
The low skin fade mohawk is one of the most popular haircuts for men and looks especially great with black hair. The hair is left longer on top, while the sides are cut short and tight. The low fade is sharper at the back, giving it an angled look.
These are natural curls means that you will need some quality hair product to style them. And if you finish your sides with a skillful bald fade like in this picture, you will look exquisite.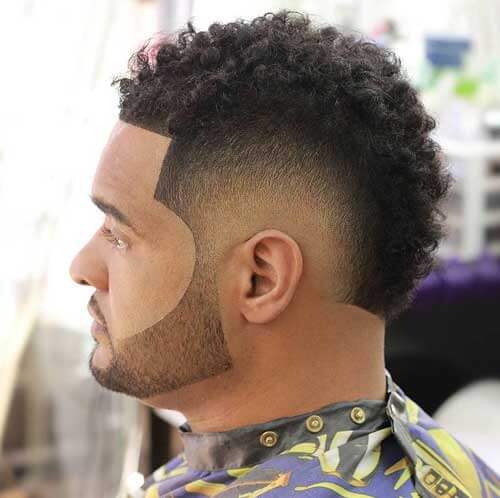 #4 Textured Quiff with Low Fade
This haircut starts by chopping off strands to create edgy thick waves at the top and also fading the sides. You will need some hair products to style the textured top and to give it a perfect hold. This style works well for guys with thick natural hair.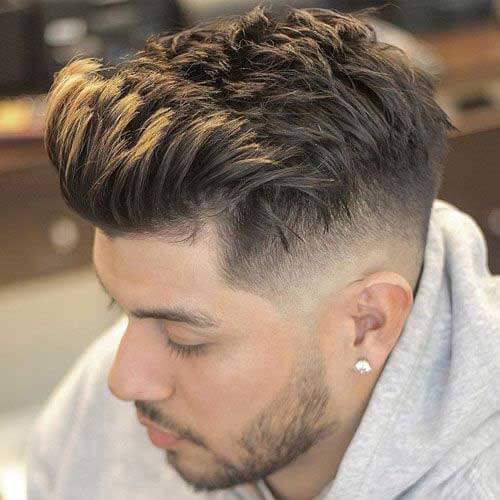 #5 Side Swept and Low Bald Fade
In addition to working well with different types and lengths of hair, a low fade can also be worn with a beard. The hair is allowed to taper down the temple and the facial hair at the sideburns for a natural transition between the faded hairstyle and beard. Like all low fade necklines, the growing out process looks seamless, so you won't need to weekly visit the barbers.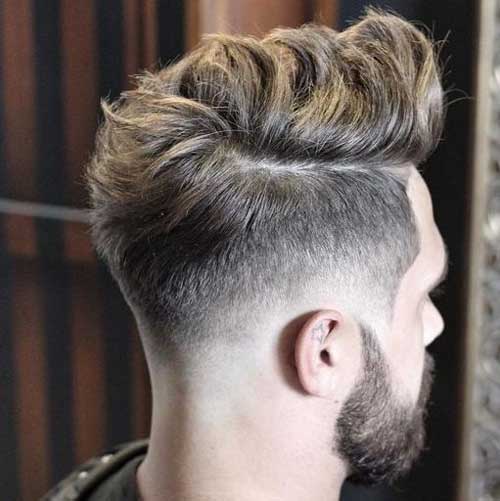 #6 Long Fringe with Low Fade
The low fading on the sides and back of this hairstyle is what makes the hairstyle achievable. Aside from the low fade, it also has a daring cut on the top that involves is front swept hair with a long fringe, giving the style a lift at the front.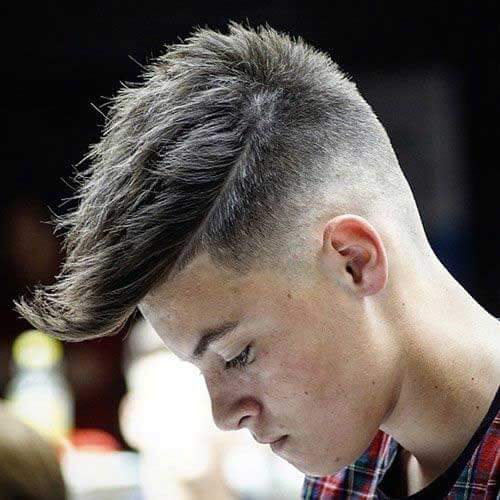 #7 Ponytail Haircut with Low Fade
These types of cuts are for gentlemen that want to stay sharp. It requires leaving some long hair at the top that can is held as a bun, side-swept, or combed back. This style features a taper around the ponytail that fades low. It is easy to maintain and does not require any hair products.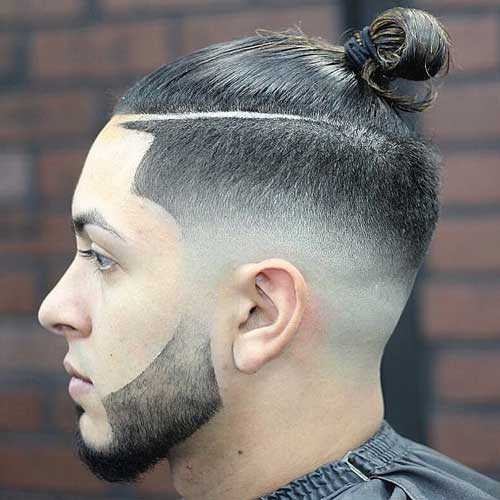 #8 Brush Back with Low Fade
The haircut is a brushback style with a sharp fade on the sides and back. This is a perfect combination that will look great on any man. The sharp neck fade looks great and grows in clean. To wear this hair, grow some hair on the top and get a sharp low fade.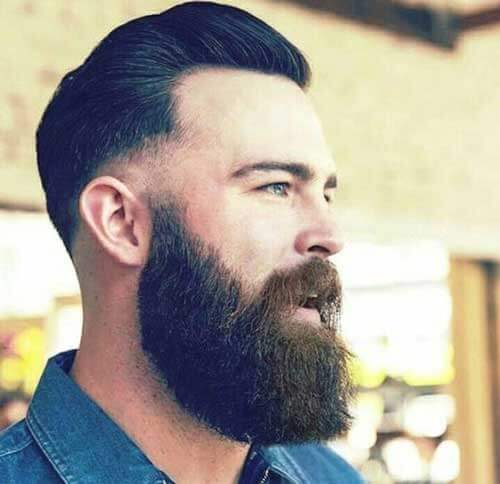 #9 Textured Layers with Low Fade
This cut is a stylish way to manage the sides and back of thick hair. The taper starts at the top center of the head and swirls down to a low bald fade. The haircut will make you look groomed to perfection all the time. A unique cut like this requires some serious skills to create and also includes an up-swept bang at the front.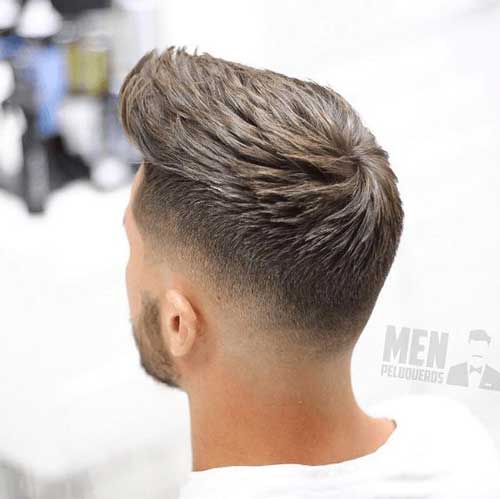 #10 Quiff with Taper
Layered hair that is styled as a quiff is a good way to stay trendy. This haircut has a skin taper fade on the sides and back to enhance the design. Quiffs are one of the cutest hairstyles for men, which is even more evident with great hair texture and volume. This style is fantastic and easy to replicate.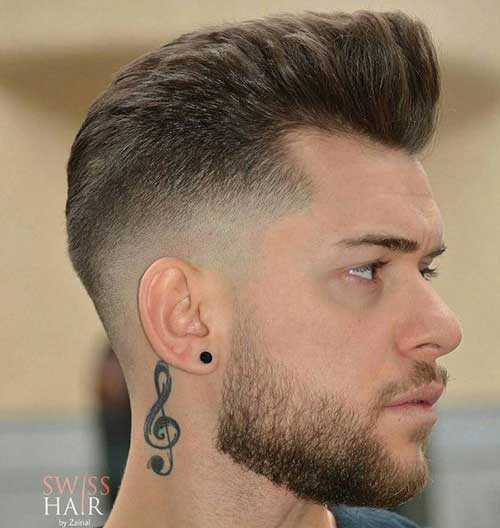 #11 Low Skin Fade Faux Hawk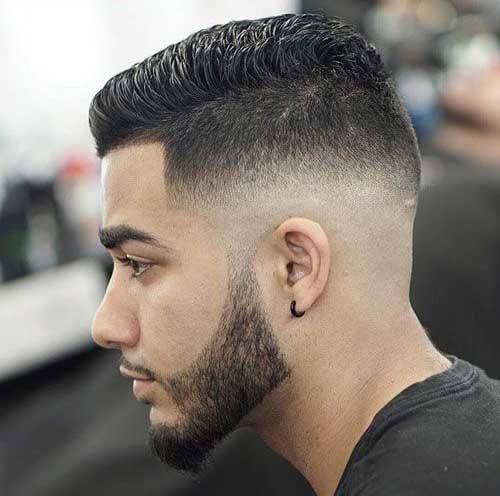 #12 Deep Parted Mohawk Fade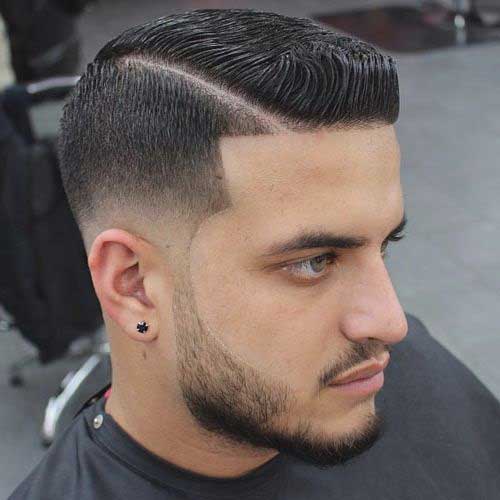 #13 Skin Fade with Curly Top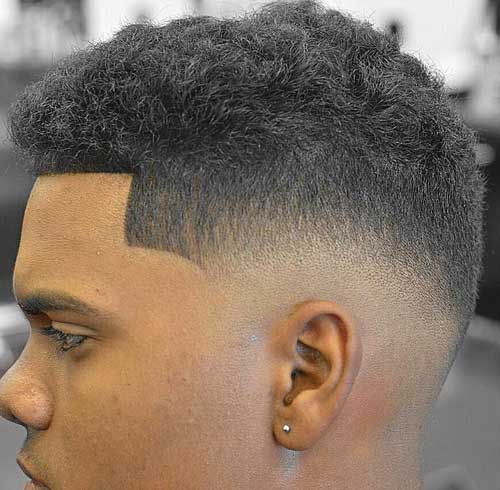 #14 Comb Over with Taper Fade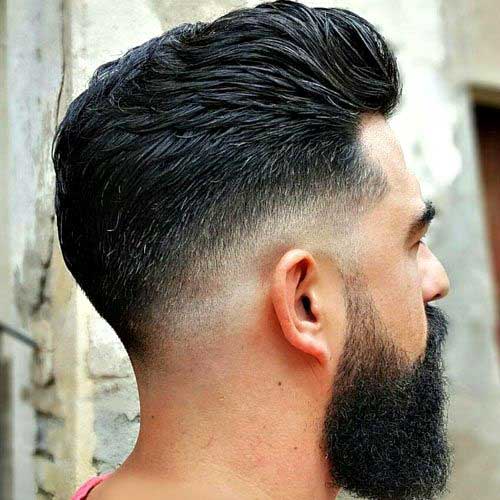 #15 Textured Widow Peak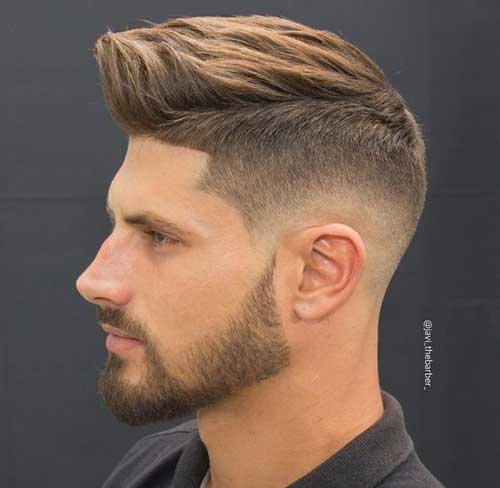 #16 Low Skin Fade Comb Over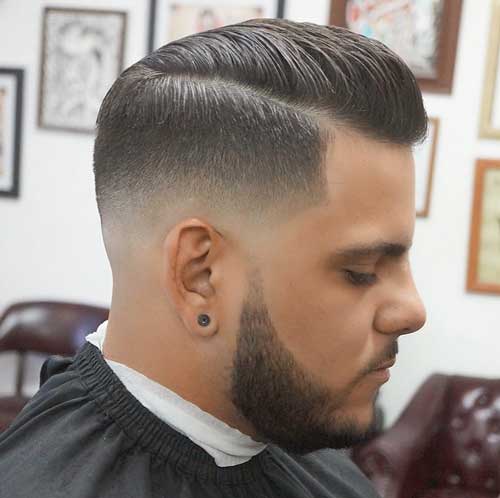 #17 Stylish Comb Over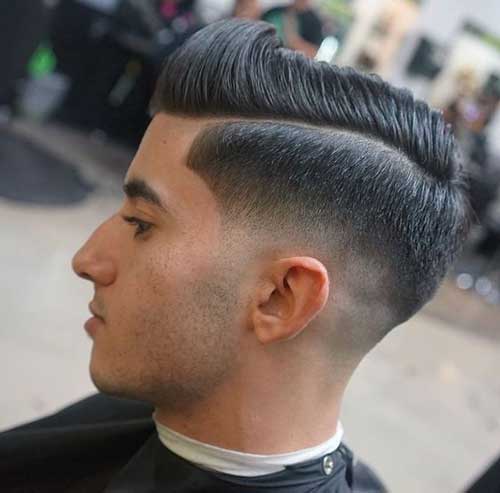 #18 Layered Pompadour with Part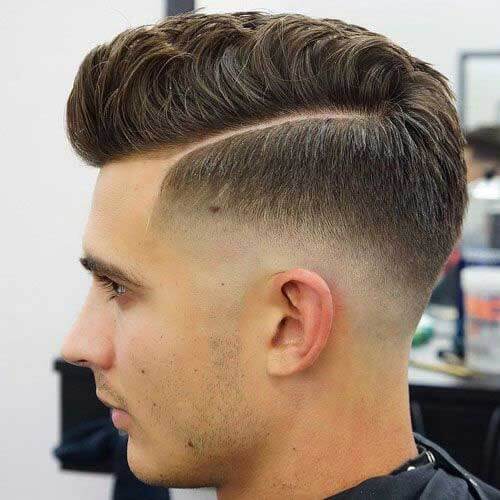 #19 Drop Fade Afro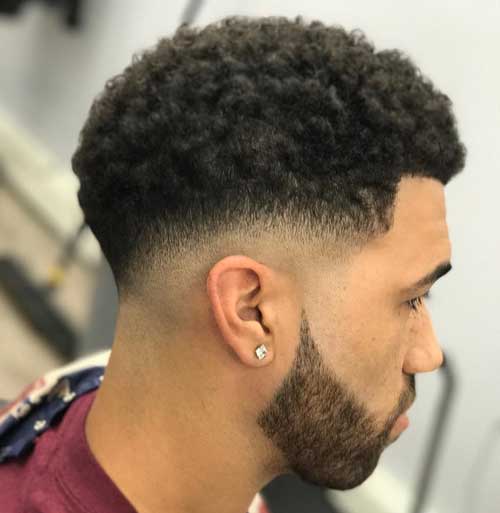 #20 Low Fade Quiff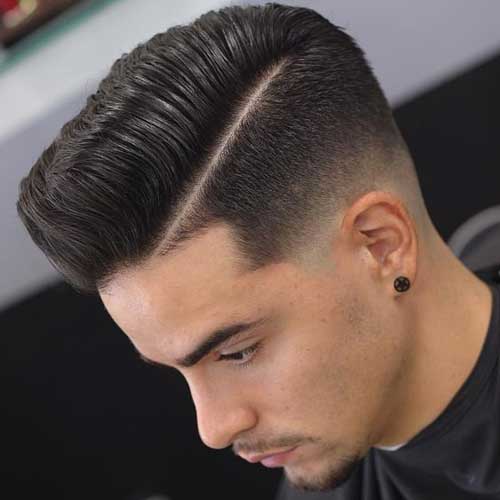 #21 Temple Fade Caesar Cut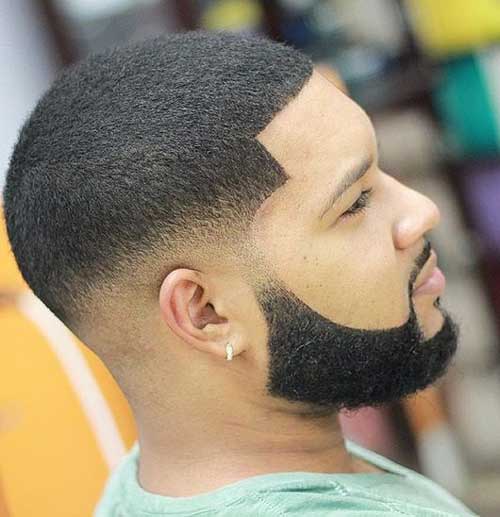 #22 Low Skin Fade Mohawk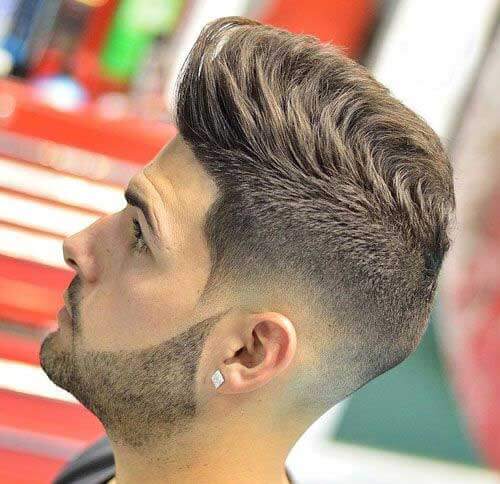 #23 Widow Peak with Part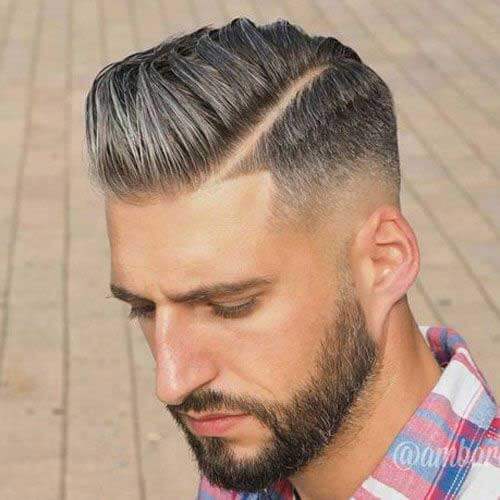 #24 Modern Pompadour with Fade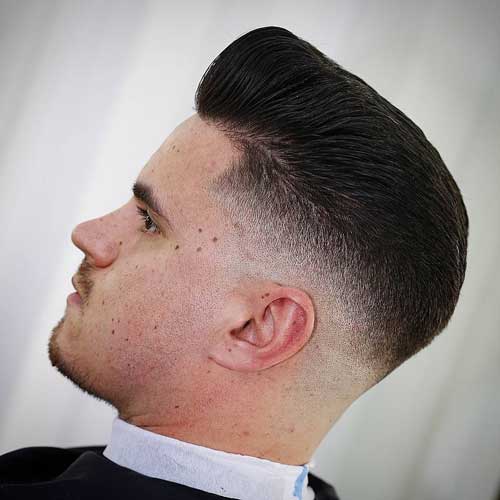 #25 Temple Fade Quiff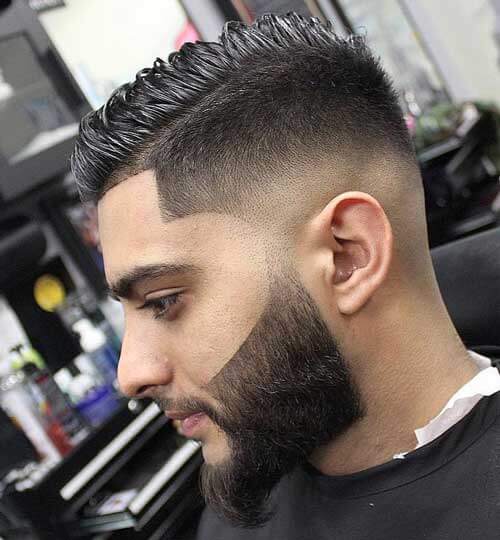 #26 Messy Taper Cut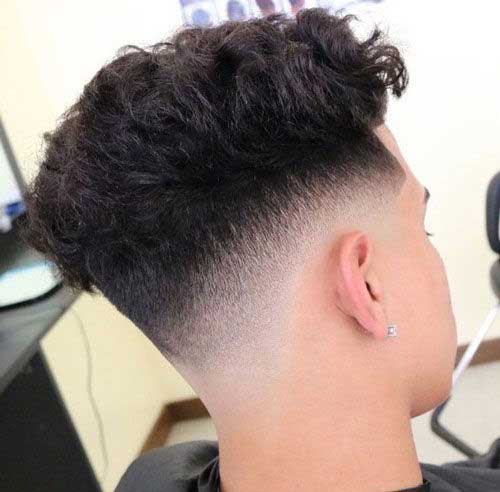 #27 Deep Parted Quiff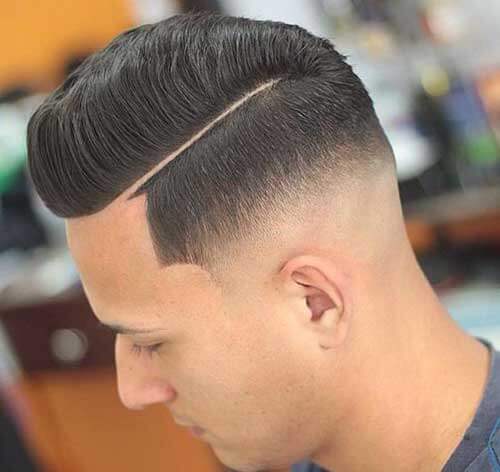 #28 Drop Fade Pompadour