Have you noticed someone sporting unique braids lately and wondered what they were called? They were likely box braids! You might not be familiar with them yet, but they're starting to catch on everywhere. Keep reading to learn the scoop on box braids and to see some inspiring styles that you can try for yourself.
What Are Box Braids?
This classic hairstyle has its roots in African culture and has become popular around the globe in recent years thanks to celebrities like ASAP Rocky and Rihanna. They're created by dividing the hair into small square-shaped segments and braiding it freely away from the scalp. Extensions can be woven into the braids to create additional length and volume. Once the hair is braided, maintenance is very simple. The braids will need to be wrapped nightly while you sleep to keep them looking sharp but otherwise, you'll only need to cleanse your scalp and lightly condition the braids.
How To Style Box Braids
Box braids have the potential for endless versatility. They can be any length, any width, and any color your imagination can conjure. You can wear them flowing around your shoulders, cropped neatly around your face, or pulled back in a functional updo. Right now, the on-trend silhouette features short hair on the sides and back to highlight the braids on the crown of the head.
How To Maintain Box Braids?
Washing your hair comes down to your personal preference. Some braid wearers vote against regular showers to prevent weakening their braids, while others believe it's okay to lather, rinse, and repeat as needed. Ultimately, your scalp and hair should be free of bacteria, dust, and other particles in the air that will affect your skin. The following steps for maintaining box braids and keeping your scalp clean are simple and low-maintenance.
Spot clean your scalp every three to five days. Spritz and massage the exposed areas of your scalp with a mixture of water and shampoo. After 15 minutes, lightly rinse your hair in the shower. To dry, squeeze your braids to remove excess water with a towel.
Keep your scalp moist. Apply a conditioner leave-in treatment or a cream containing coconut or almond oil at least once a day. Spritz your chosen product on your fingers and lightly rub it through your scalp and braids.
Don't wear your braids for too long. It's recommended to only wear them for six weeks. New hair grows quickly and will stretch or eventually break, possibly leaving you with hair loss if worn longer than eight weeks.
The Photo Gallery Of Men's Box Braids Hairstyles
Square Pattern with Man Bun
The man bun is the centerpiece of this style. Tie all of the individual braided locks high on the scalp. With all of the hair piled on top of the head, shave trim lines around the head that mimics the square sections that are made with box braids.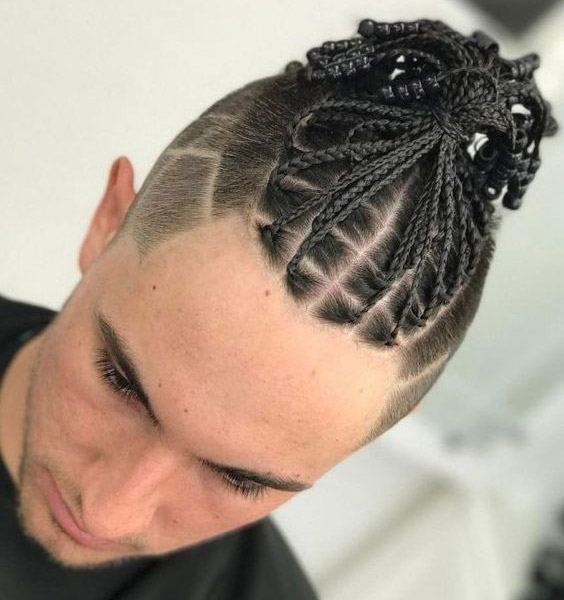 Large Box Braids
Because the boxes on his scalp are so large and his hair is so straight, he's able to really play with the shape. He's chosen to divide his braids with a sharp zigzag pattern and apply a glossy styling gel to his scalp. The overall effect is strikingly glossy and brings to mind a work of modern art.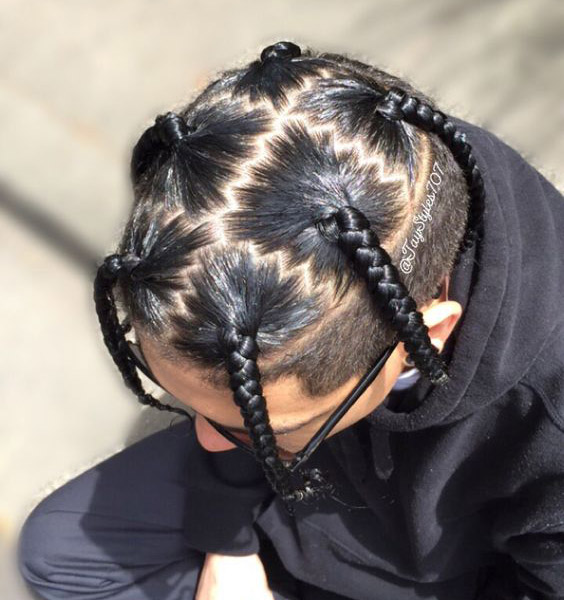 Edgy Braids
What makes this style unique is the dramatic fade below the braids. It provides a pale backdrop that allows them to stand out in dramatic contrast. They're further accented by a cross shaved into the upper portion and razor-sharp edges surrounding his face. This is definitely a style for someone younger with plenty of time to devote to regular appointments at the barbershop.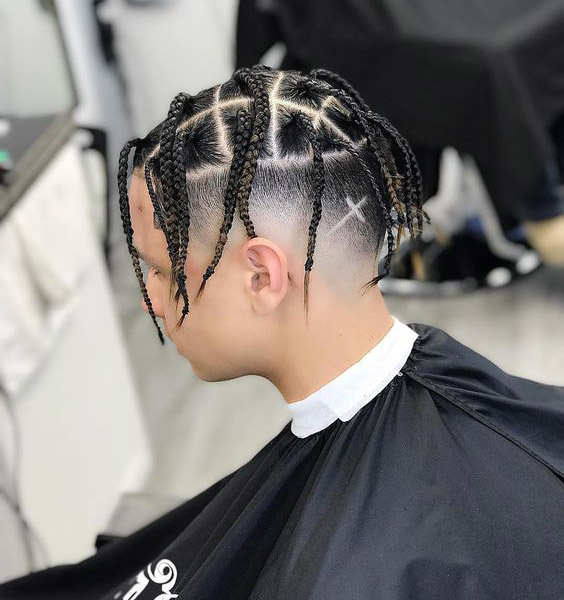 Dyed Top Knot
High ponytails aren't just for cheerleaders. Why shouldn't guys get to have some fun with their hair? This perfectly balanced style has paired delicate blonde braids with a sharp chestnut-colored fade.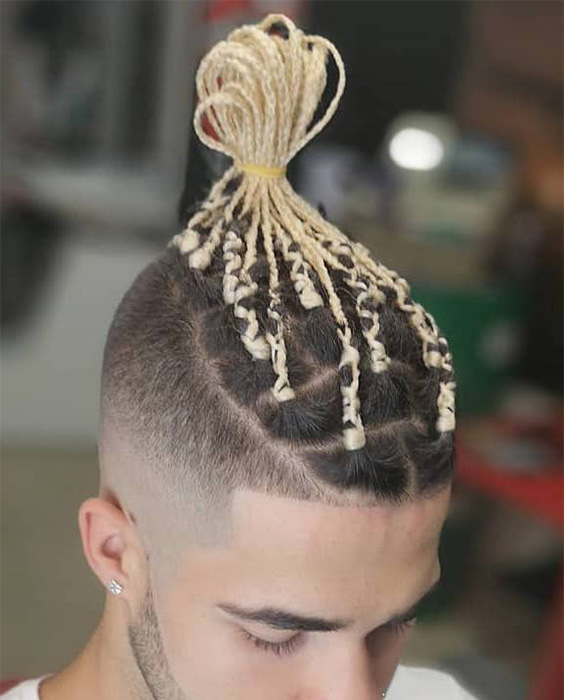 Reverse Dyed Ponytail
This style is shaved close all around the sides, seamlessly blending his hair with his beard. His shoulder-length braids are pulled back into a loose ponytail at the back of his head, keeping them out of his face for the perfect relaxed summer vibe. This is how you can be practical but still keep an edge.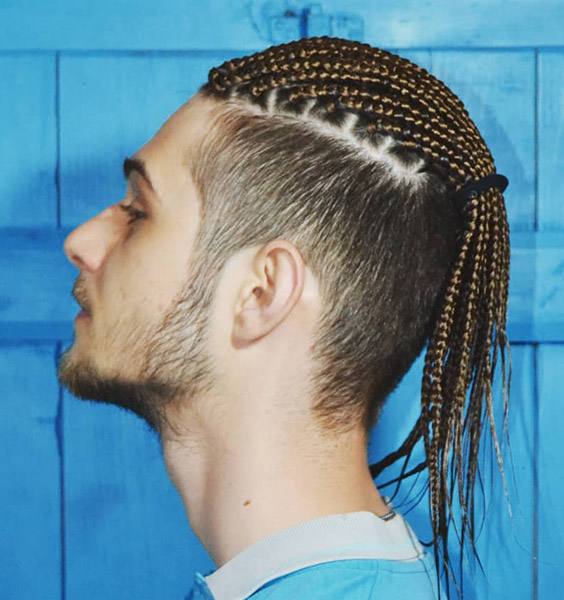 Thin Hairline with Braids
Wrap your tiny braids to the back instead of letting them fall in front of your face. A thin hairline around the forehead can foster a smooth transition from where your hairline begins and your braids begin.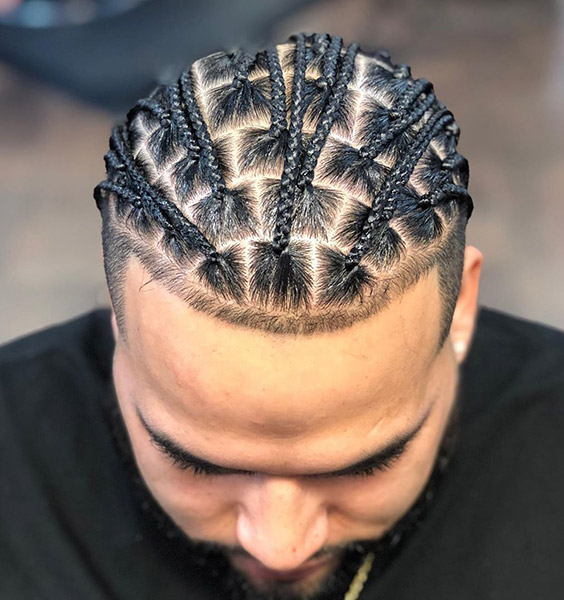 Half Up, Half Down
If you think updos like this are for girls, this man will prove you wrong. His thick hair is too heavy to be contained in a ponytail, so he's wearing the rear segment of his braids in a cascade over his shoulders. It's surprisingly regal! The addition of golden hair cuffs highlights his piercings and tattoos and pulls the whole look together.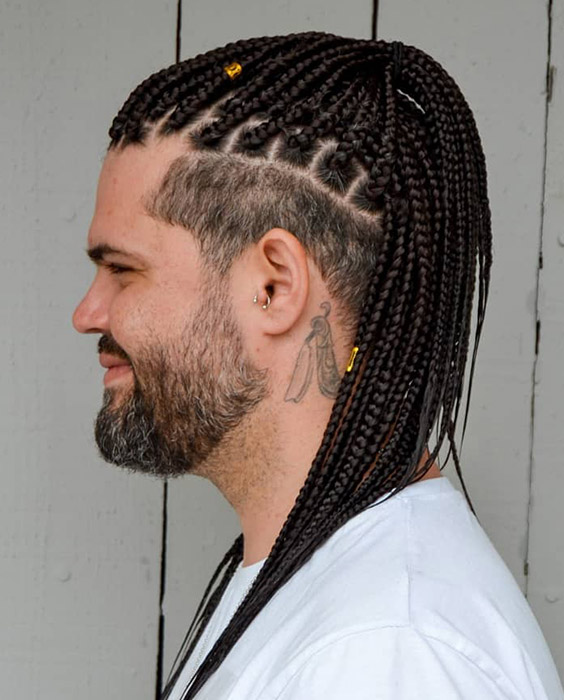 Box Braids with Fade
These classic box braids have been given an elegant, soulful update by being pulled into a massive but gentle French braid and adorned with silver hair cuffs around the crown. It's a strikingly poetic look that would rule in any environment.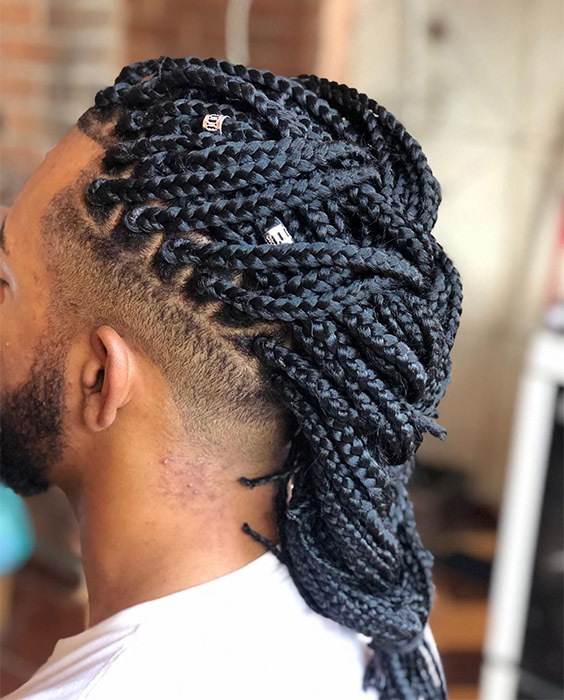 Clipped Braids with Accessories
Braids flowing naturally is an opportunity to take them from plain to unique. Cuffs come in all different shapes and colors. Add clips to a few or all of the braids as a statement piece that compliments the whole style. With trimmed hair along the side of the head, your braids will turn heads.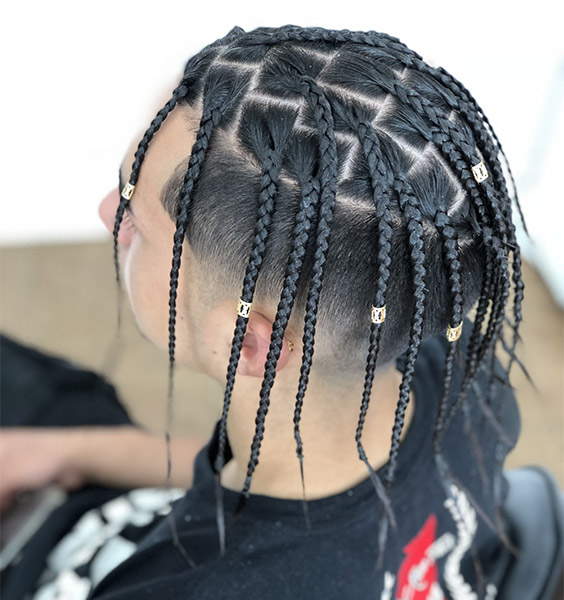 90s Style
This combination of bleached blond hair with colorful, decorative beads is an awesome throwback to the 90s that would look totally at home at any beach on the West Coast. It's casual, fun, and expressive.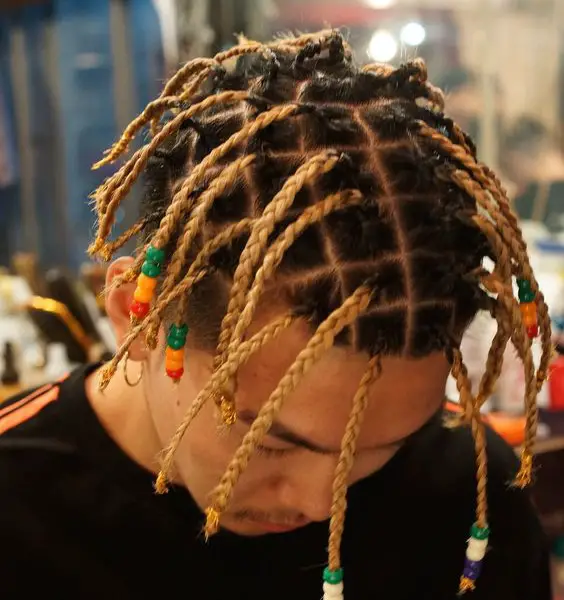 Single Box Braids
Braided hairstyles were invented to protect hair that grows in a tight curl pattern, but as we saw earlier, braids can also highlight the silky texture of straight hair. This minimalist style is all about shine and simplicity.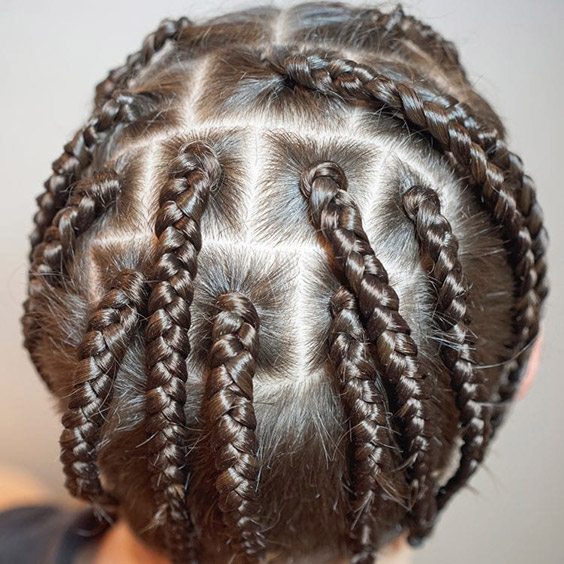 Bejeweled Braids
You would think that a head full of hair jewelry would be dramatic, but this style manages to remain both casual and easy-going. His chin-length braids fall around his face for a nonchalant, relaxed effect.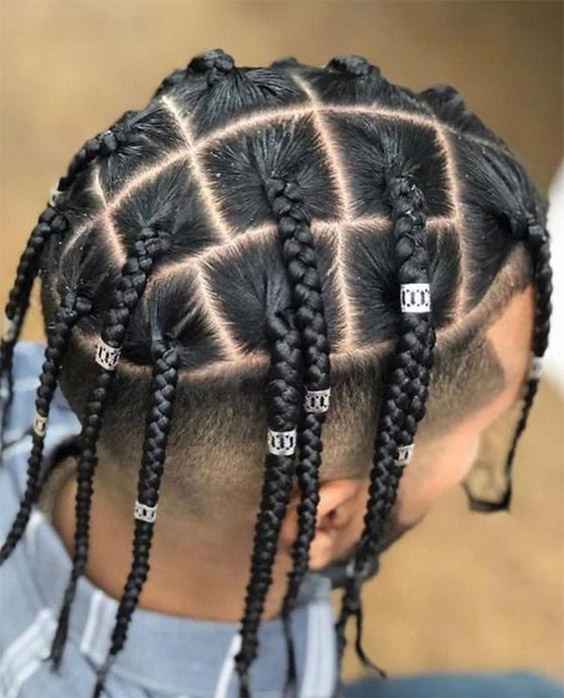 High Ponytail
Thin braids have enough strength and body to be sculpted but retain the flowing grace of loose hair. It's the best of both worlds. These braids would look just as good worn down to frame the face.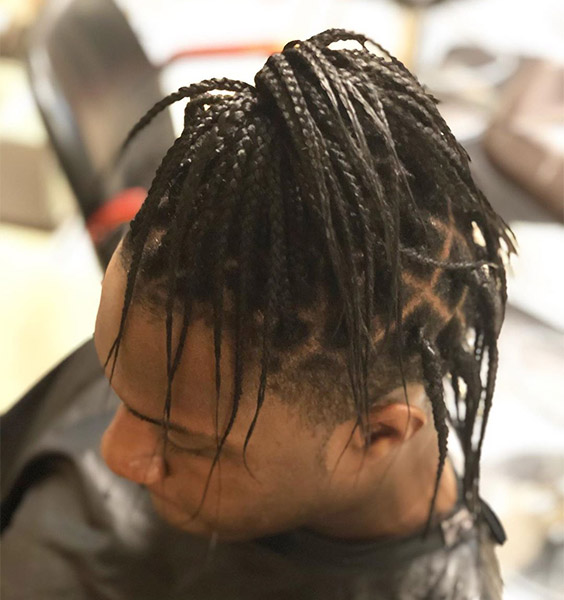 Interactive Box Braids
Braids, unlike loose hair, are fundamentally architectural. You can pull off textures and even structures that you never could otherwise. These braids combine unconventionally angled shapes with a 3D, basket-like texture.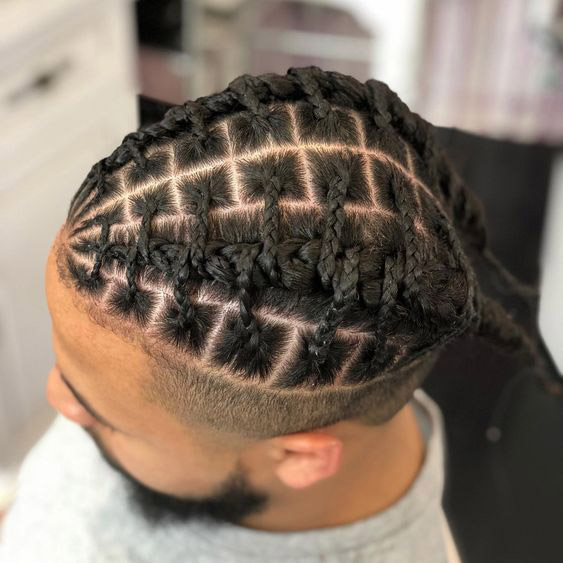 Edge Updo
Do you know how they say that opposites attract? It's true. This combination of a stern, manly buzz cut with a romantic high bun works precisely because of the contrast between the two elements.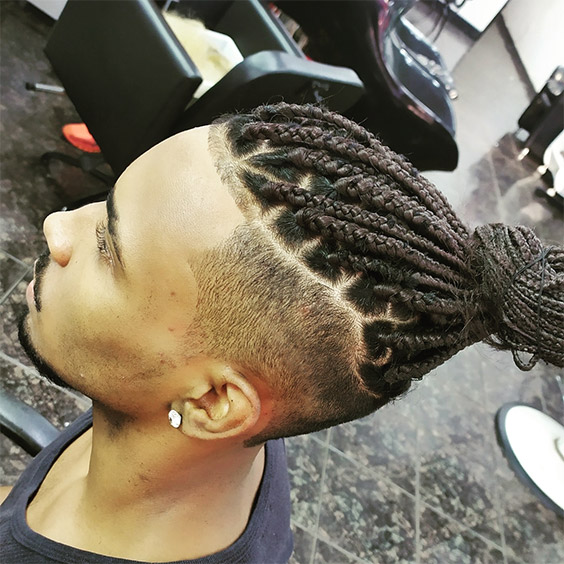 Super Short Braids
This is a truly creative way to blend the classic simplicity of a crew cut with the artistry of braids. Who would have thought that the 1990s staple of bleached blond tips could be brought back with class and gravitas? This is ideal for anyone who wants to express their personality in a subtle manner.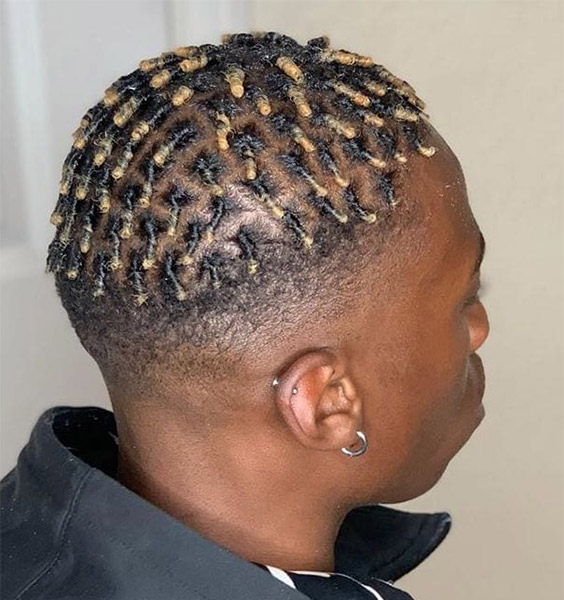 High Top Box Braids
There are plenty of ways to show off your handsome box braids. A high-top man bun keeps the hair polished for work and laidback for casual wear. Top off the style with a clean geometric shave on the beard around the temples.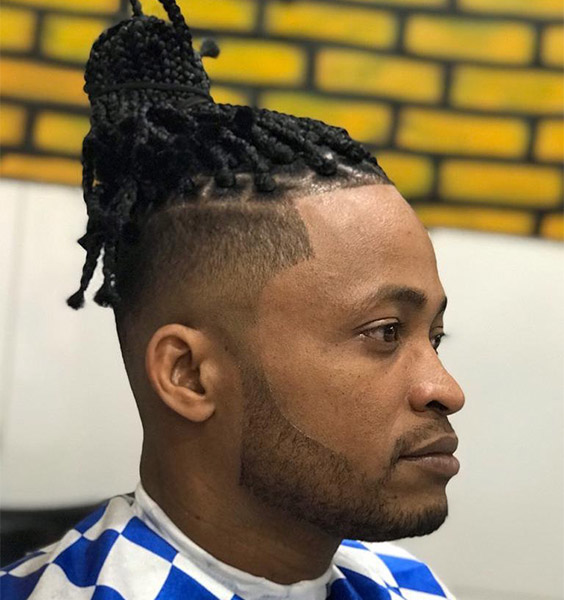 Low Braided Ponytail
Give your natural locks a dash of variety and color with synthetic copper hair. Then once your braids are set, use the two-tone combination to twist it into a low ponytail on the back of your head. It's enough to keep your locks out of your face and the braid flush against your scalp.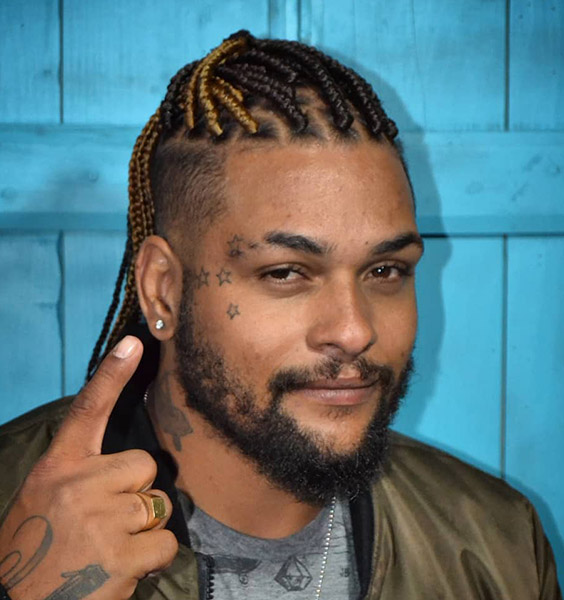 Interlaced Braids
Short braids are great for alternating different patterns and styling techniques. Create a cool twist on your scalp by matting them down with hair gel. Take it a step further by interweaving the longer braids higher on the scalp into the shorter braids below.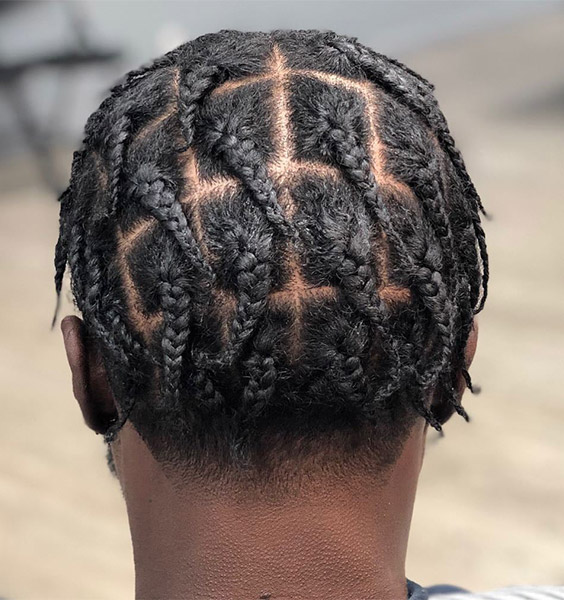 Loose Symmetric Twists
When your braids are effortlessly tidy, why not let them fall proudly? Weave each braid tightly enough so it does not slag, but remains loose and relaxed. With the right balance of symmetry, the braids will blend in together for a charming tailored appearance.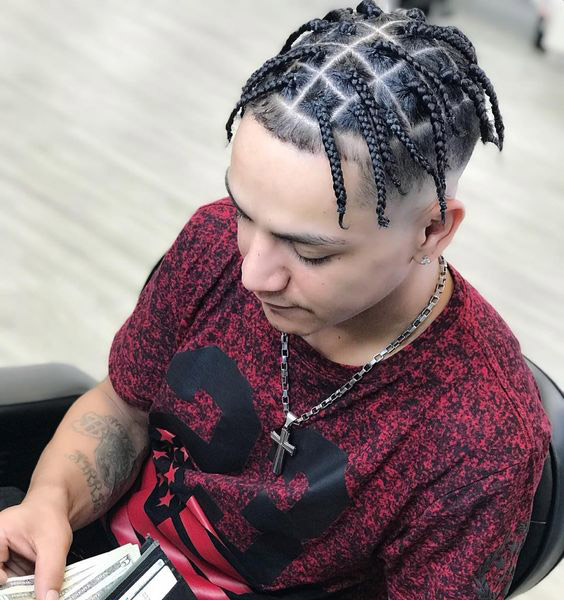 Box Braids with Design
This style pairs two attention-grabbing concepts: a Greek wave pattern etched into his edges and red synthetic extensions to elongate his braids. This is not for the faint of heart!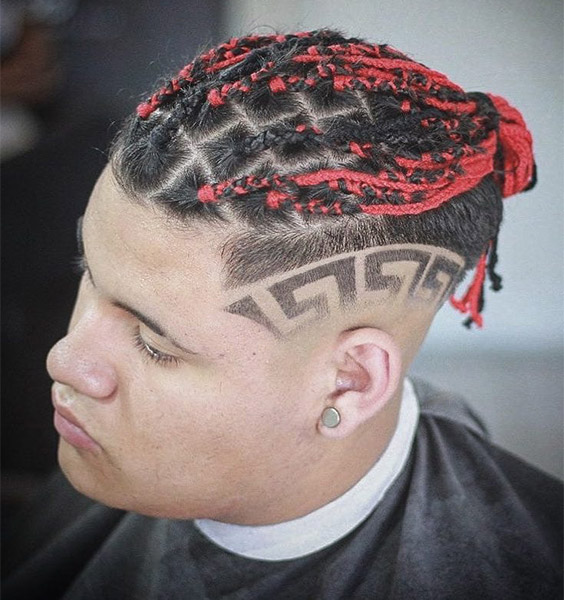 Jump Rope Twist and Cornrow
A jump rope twist, also known as a Havana twist, fosters a smooth and polished braid. Twirl both strands of hair individually and then crisscross. To get the smooth jump-rope look, it's important to twirl the 'legs' of hair before you crisscross. To break up the box braids, set one cornrow down the middle of the head with a braided tail.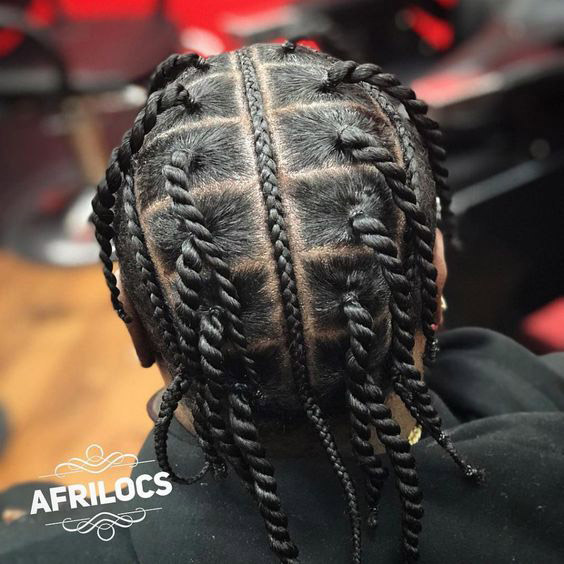 Double Box Braid
Weave two rows of box braids into a jumbo braid with synthetic hair that runs from the forehead to back to the head. Tie both jumbo braids together into a looped ponytail. You won't get more of a conversational starter than this style.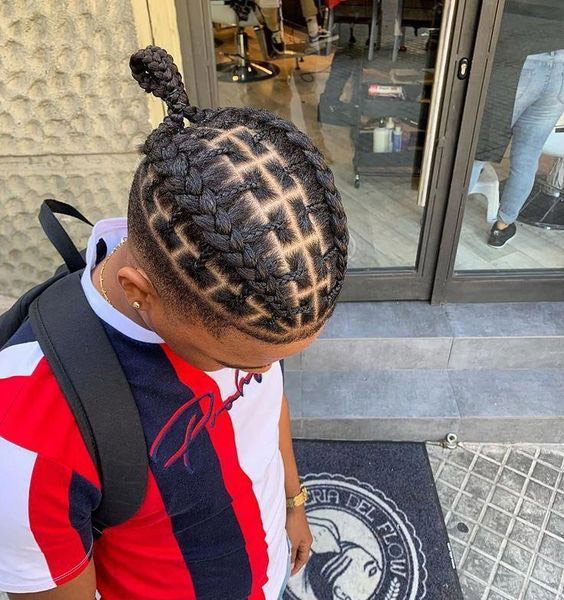 Ear Length Braids
Match appealing braids with a sharp beard to create a dashing and alluring look. Punctuate each ear-length braid by shaving a curve with the beard around the jawline and a sharp corner at the temple. The combination will be an eye-catcher.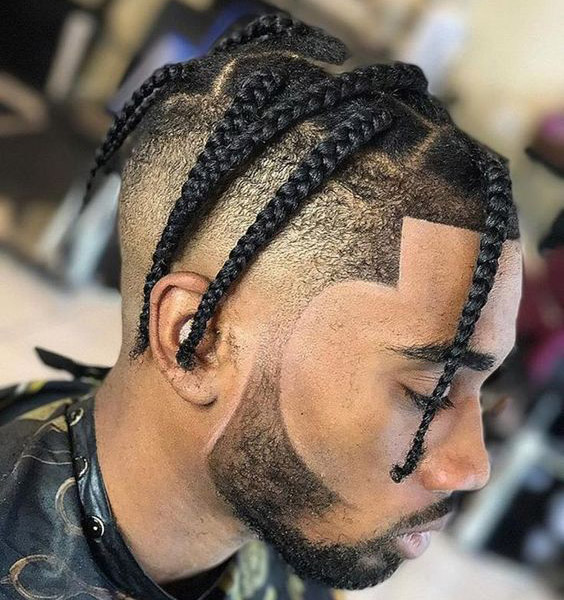 Mini Twin Braids
The staggered sections of short boxed braids give you the freedom to let them fall naturally or in a purposeful pattern. The further apart you braid your hair, the fewer braids you will style. They can fall wide enough to create separation or close together for an illusion of mini twin braids.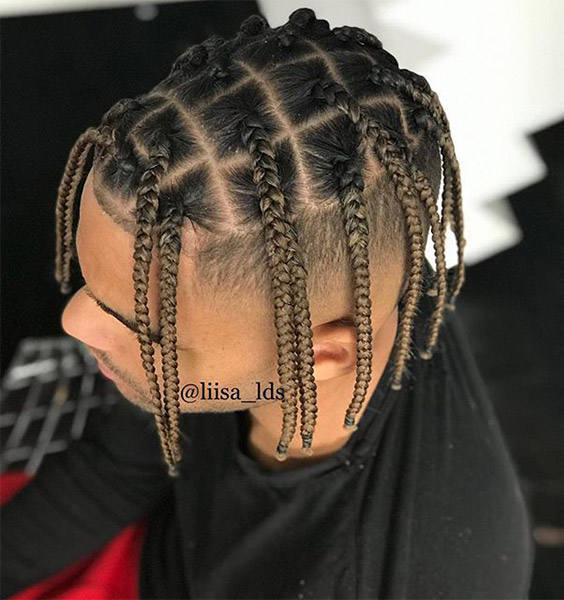 Thick Bun
When your hair is a mix of short and long synthetic braids, there's no limit to where you can elevate the style. Take the individual smaller braids and cluster them together into jumbo chunks on top of the head.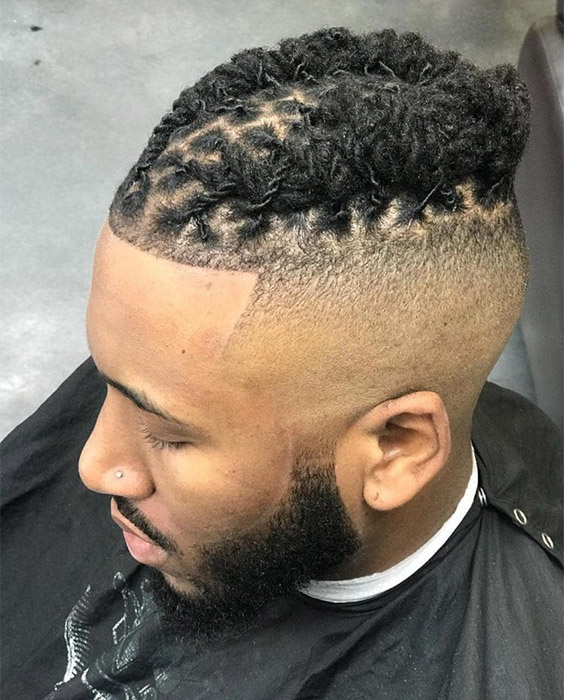 Thick and Thin Braids
Work with what you've got, whether your hair is long enough on its own or with synthetic extensions. Create as many braids as possible, no matter what size they are, and let them curl at the ends. Braid from the center outwards for an appealing middle part. To add subtle curls to the end of your hair, wrap it around hair curlers and dunk the ends into a small cup of hot water. When you release your edges from the curlers, you'll be set and ready to go.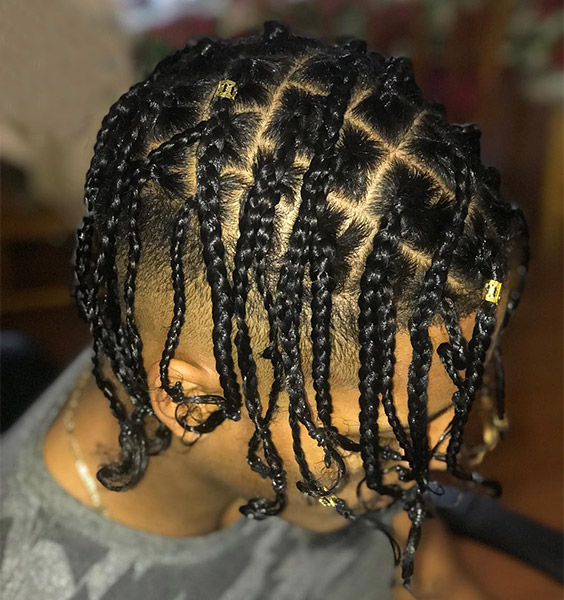 Blond Highlight Braids
One of the main appeals for synthetic hair is the bold colors you can choose. Step out of your comfort zone with a platinum blond that creates a dynamic contrast against your natural locks. Add a cuff to the roots before you start your braids for extra oomph. Braid as many plaits as possible to create volume.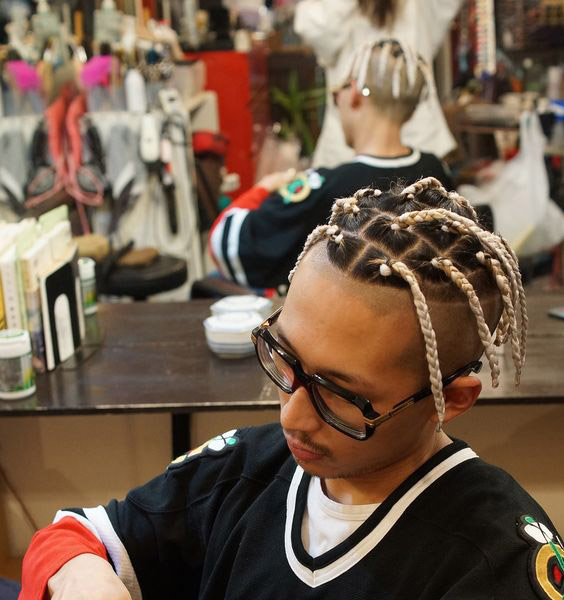 Skullet Braids
These braids may be inspired by the 1970s, but this type of skullet haircut is the newest trend with the way they're being worn. From the front, it looks like he has a minimalist buzz cut. It's not until you see the back that you'll notice his glossy braids erupting in a lush half-mohawk. This effortless, surprising look has a ton of attitude.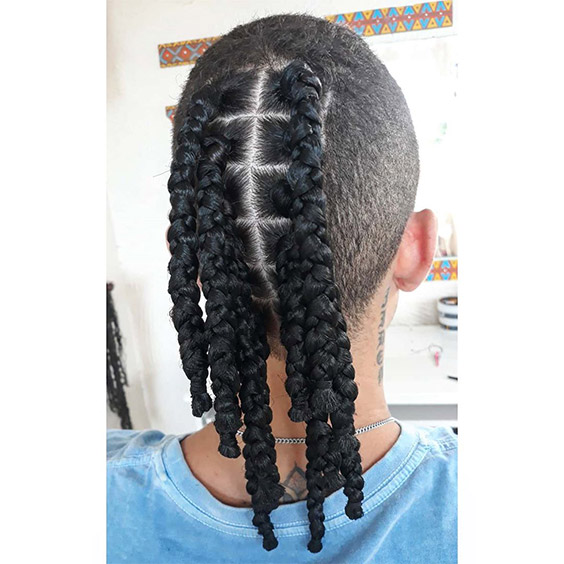 Highlighted Edges
Skinny braids create a refined look that's free to be swept up into a ponytail or to flow at your shoulders. Cap off the edges with a highlighted color like natural brown or copper.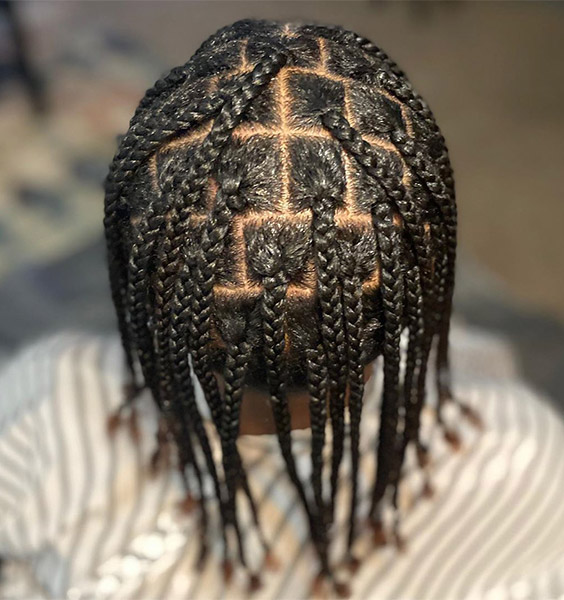 Waist-Long Braids
Styling braids that go past your shoulders or even your waist can be a challenge to keep them under control. Keep half up and half down by wrapping them in a loose man bun around the back of your neck. Add some rare highlights in the synthetic hair to break up the black locks.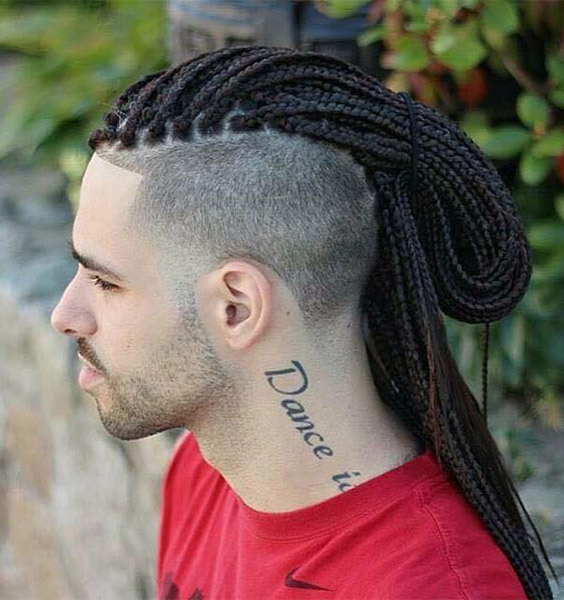 Short Braids with Shaved Sides
Box braids automatically create square or triangle sections around your head. Instead of shaving your head, create a thin line around your head. It's a neat trick to make it look like you're exuding more braids than you are.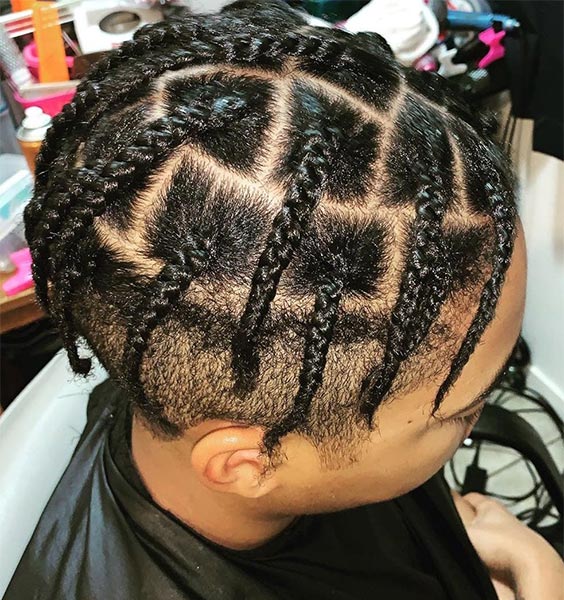 Blond Dreadlocks
Make your short braids stand out from a crowd with some cool blond dreadlocks. They're perfect for adding texture as well as variety.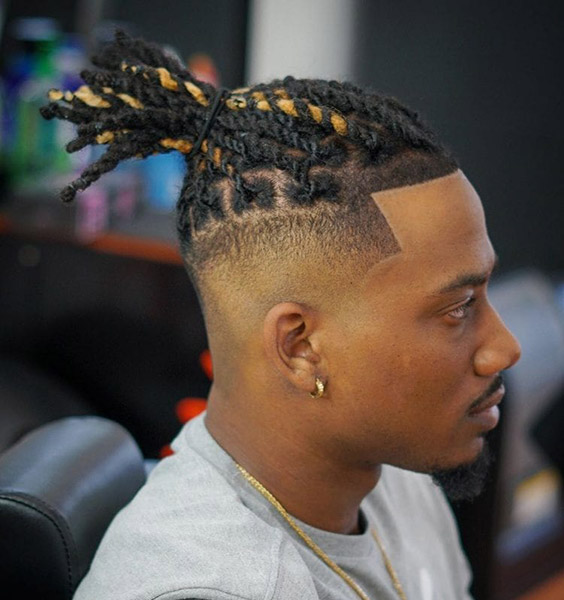 FAQ:
Do braids damage hair?
Box braids and knotless box braids are a protective hairstyle because they shield your natural hair from daily wear, tear and do not require chemicals or heats to set. This style will only cause damage if your hair is improperly braided or if the braids create too much pressure on the scalp. If your hair is too tight or painful, remove them to prevent follicle damage.
How to stop braids itching?
To stop mild itching, use a scalp tonic. Check your preferred brand for anti-itching products with healing ingredients such as aloe vera and tea tree oil. If consistent itching persists, you might be allergic to synthetic hair. If your hair is already in braids, mix one-part apple cider vinegar or white vinegar to three-parts warm water into a spray bottle, spritz your scalp, and lightly massage. To remove the artificial coating before braiding, soak it in this mixture for 15 minutes and then air dry.
Do I need to oil my scalp regularly?
Oiling your scalp should be a part of your morning routine to keep your hair healthy and hydrated. However, you don't want to go overboard with too many products to clog your pores and build-up grease. It's recommended you lightly use moisturizer or conditioning treatment at least once every day.
How do you sleep in braids without ruining them?
To sleep in braids, wrap your head with a bandanna, do-rag, or scarf. If your braids are longer, tie them in a ponytail with an elastic band, and then wrap them in a head covering. Silk and satin fabrics are best because the smooth texture will prevent frizzing and keep your edges fresh. If you switch positions while sleeping, the ponytail and bandanna protect the braids from tangling or weakening.
Now you know all about box braids, and you've seen 33 different ways that this styling technique can be worn; the only thing that remains is to figure out which version is right for you!