There are many different hairstyles that you can choose from, but sometimes it can be hard to find the right one for you. If you are looking for a new style, then you should consider short sides long top haircuts.
The top of the hair is kept long, while the sides and back of the head are cut very short. It can be worn by teens and adults of all ages, depending on the style. A young teen may opt for a more stylish look, while an older man might choose to keep it simple and professional with a no-nonsense style. There are many different variations of this style, so you can choose the one that best suits your personality and lifestyle.
Check Out The Best Short Sides Long Top Haircuts
Deep Parted Comb Over
These stylish comb overs are simple to maintain and add volume to your hair. It's the perfect choice for people who regularly want to update their look. The top section of the hair is easier to create several different styles.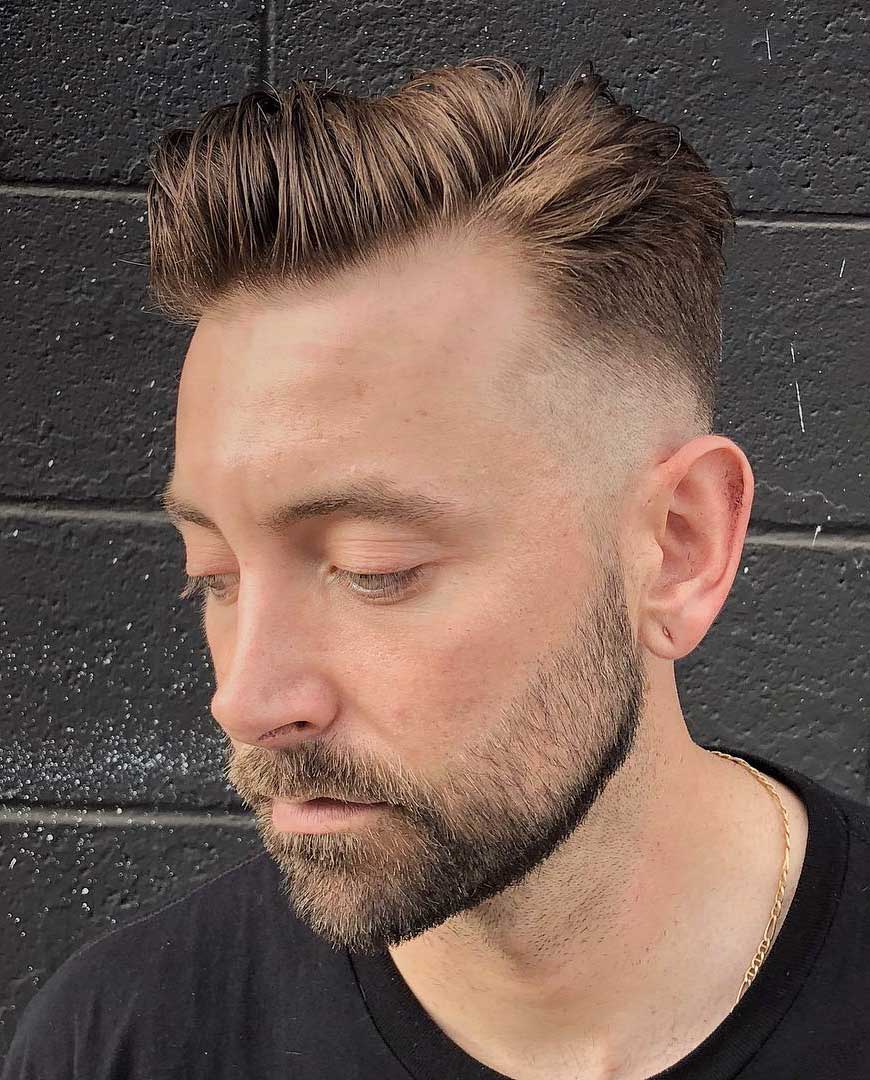 Dyed and Spiky Quiff
The sides and back are shaved, which creates a neat finish. To get this look, you need to keep your top hair long. Then, you can use a wide-tooth comb to detangle it. This will also help you to keep the frizz at bay and make it easier to spike your hair.
This short sides long top hairstyle has a textured upward look, which gives the wearer a vibrant appearance. While you should take special care when dyeing your hair, this style will make you look great no matter what. However, if you're planning on wearing your hair up, you should know that this style will require an extra hold. Because of this, you can try using a matte pomade paste.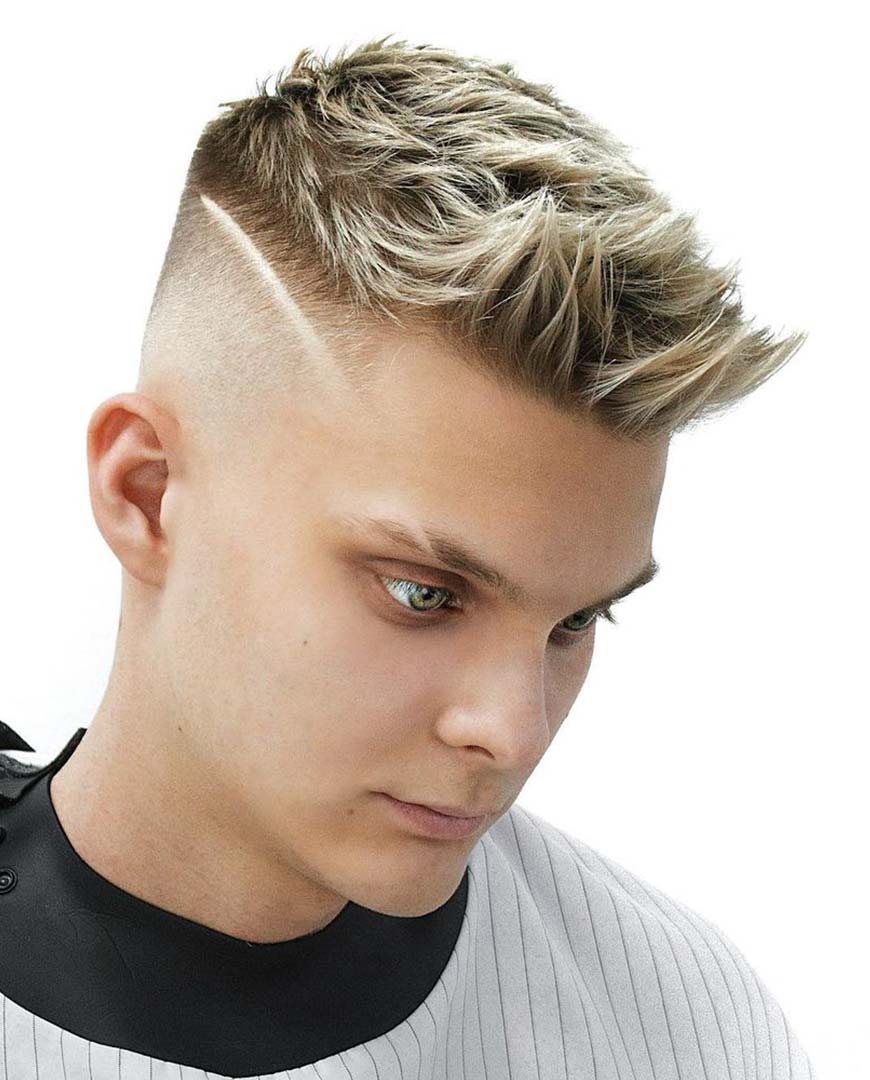 French Crop with Highlights
The French crop is a trendy haircut that emphasizes the hair on the top of the head. Usually, this hairstyle features an extra-long fringe that hangs down towards the forehead. If you have long hair, you can trim it short to stress the hair in the front. You can also leave the fringe long. The long fringe should fall on the forehead and reach the eyebrows.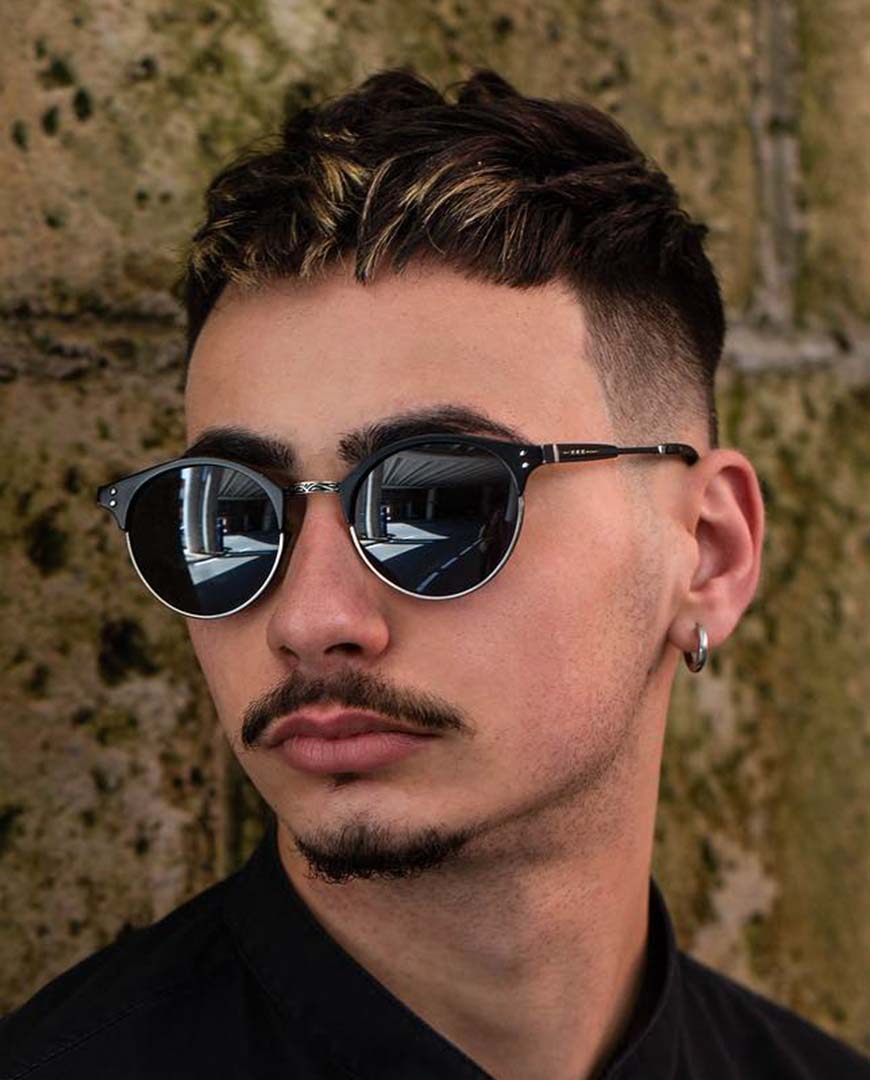 Short Comb Over with Beard
You can opt for a low fade, which is very clean, and a drop fade, which starts higher at the temple and ends lower behind the ear. The comb over hairstyle will make your face look longer and thinner. However, you can easily style it according to the occasion. If you want to make your short comb over more stylish, you should use a pomade or clay.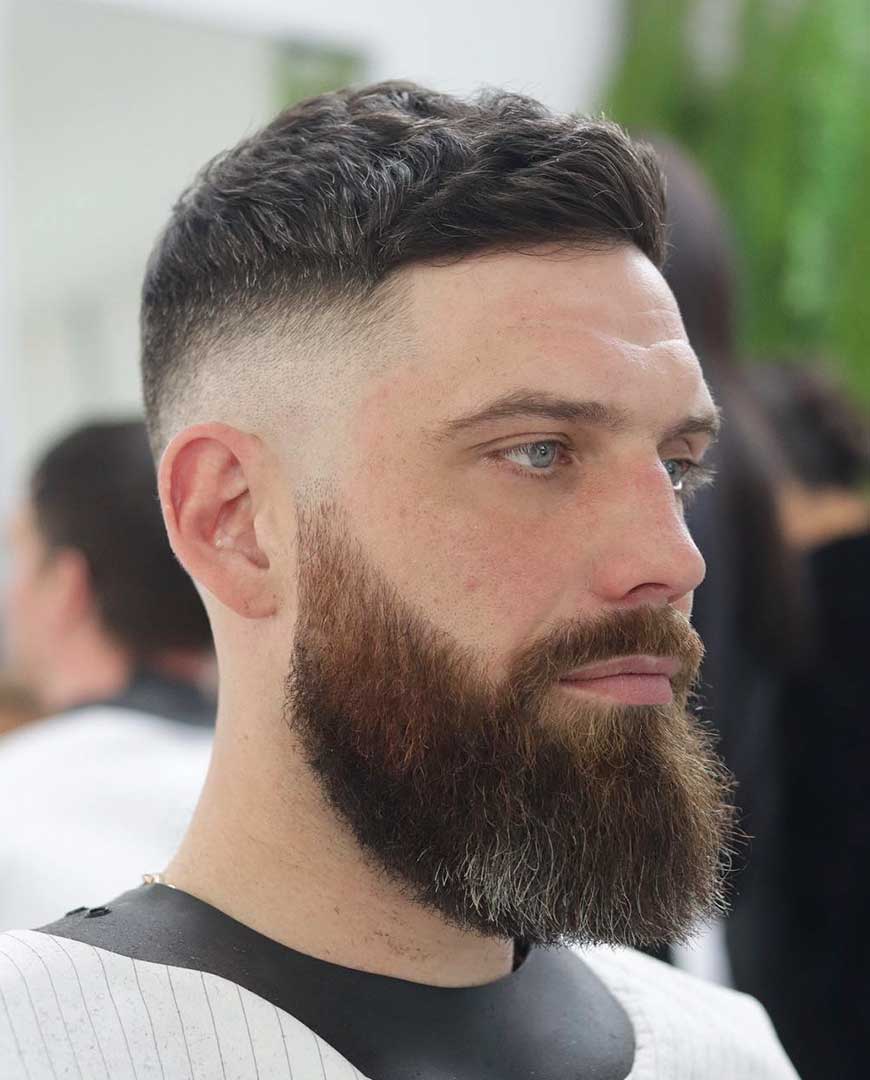 Short Mullet with Mustache
The short sides long top style may be subject to ridicule, but it is a fashionable look that always turns heads. Moreover, this look requires no trimming, so you can leave it as long as you'd like. If you're in a business environment, you can have a mustache and a short mullet and still look great in a suit and tie.
The top portion of the hair has been neatly layered and trimmed to add angles. The back hair has been left uncut and longer than the front, giving the mullet a scruffier look.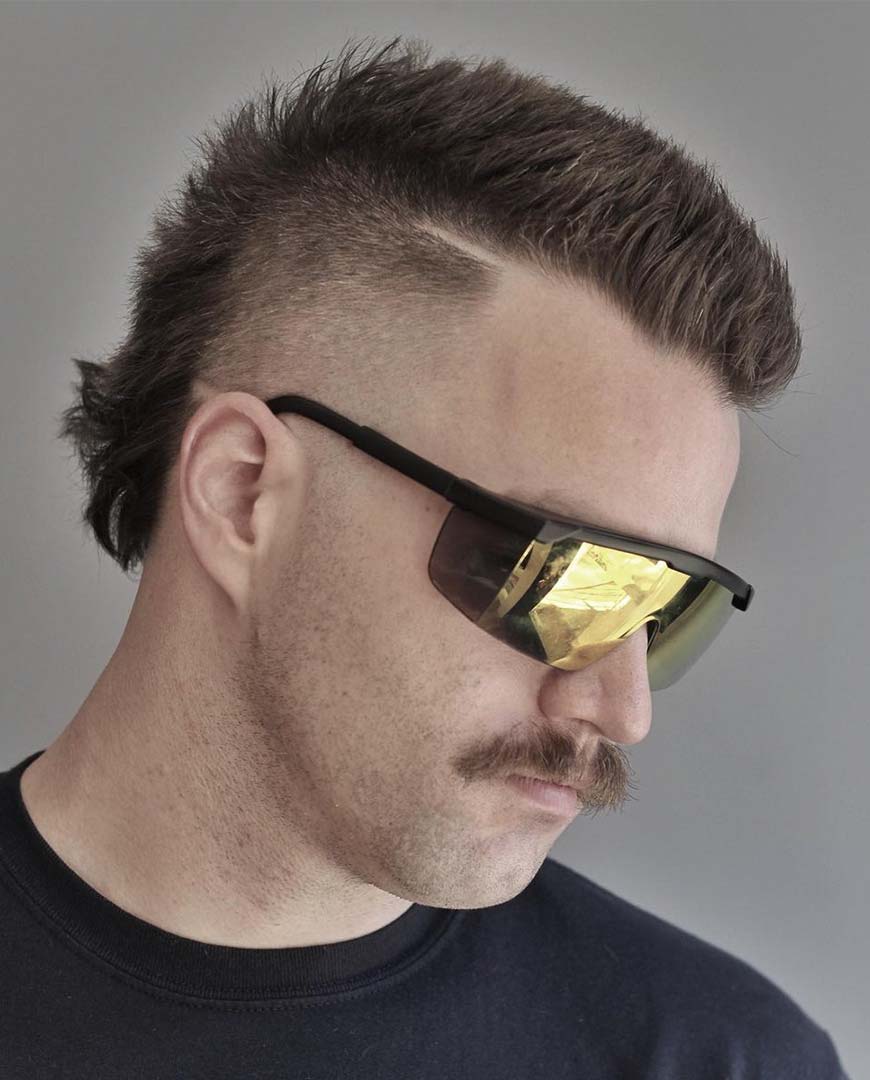 Short Pompadour
The short pompadour is often confused with a quiff, but it's different. The haircut is a modern version of the classic style. The sides and back should be kept shorter than the top, and the hair should be slicked look. 
While it may be easier to maintain short pomps than their longer counterparts, they require more confidence and commitment than the long variations. Therefore, it's best to keep the rest of your hair tidy and use a strong hold hair spray to keep the style. In addition, this short sides long top haircut needs little time to manage, but also you will get a timeless appearance.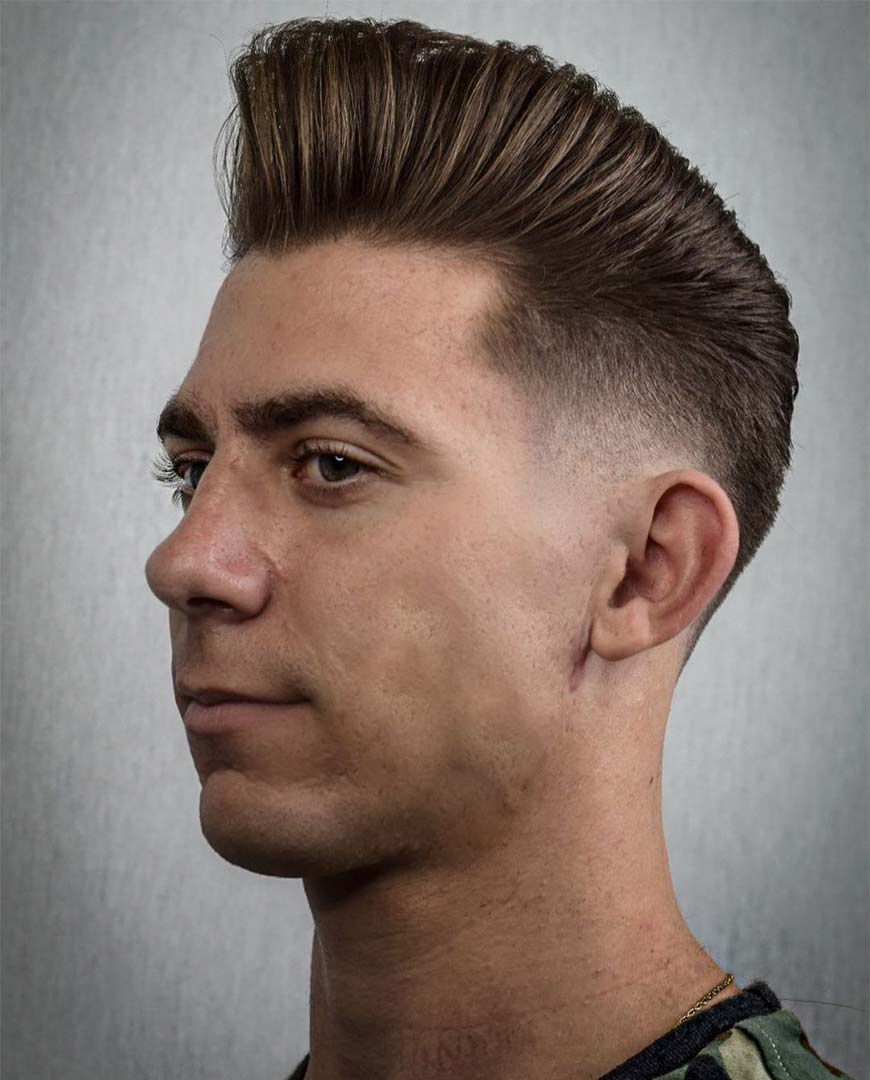 Line Up and Quiff
A sharp-edged line up will add movement and contrast to the disconnected undercut. The top hair is left up to 5-6 inches long, and you can keep your hair unkempt or have a side swept. A side swept will accentuate the edgy look of this style.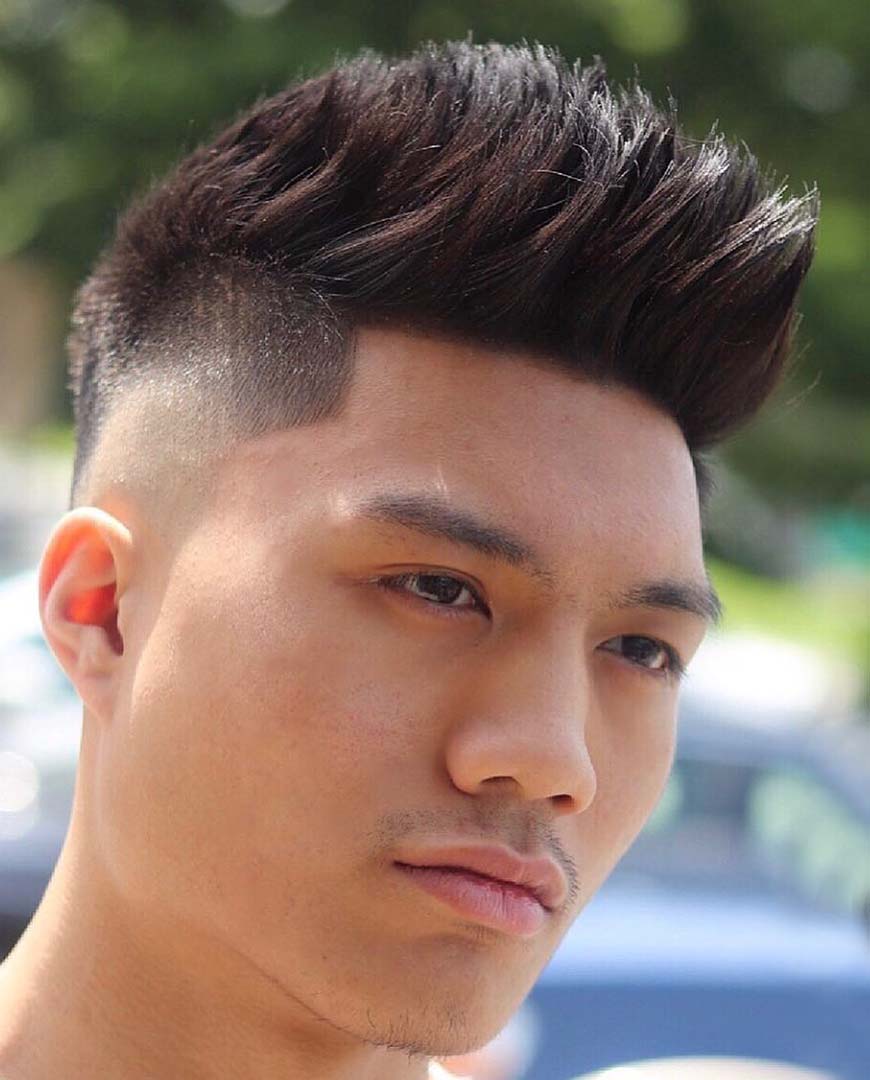 Blonde Flow Hairstyle
This short sides long top hairstyle is a popular choice for formal and preppy occasions. It's a style that reflects the freedom of youth. The short layers in the front create a softer look than the full, long style. It is also a practical and quick style that can easily combine with any haircut.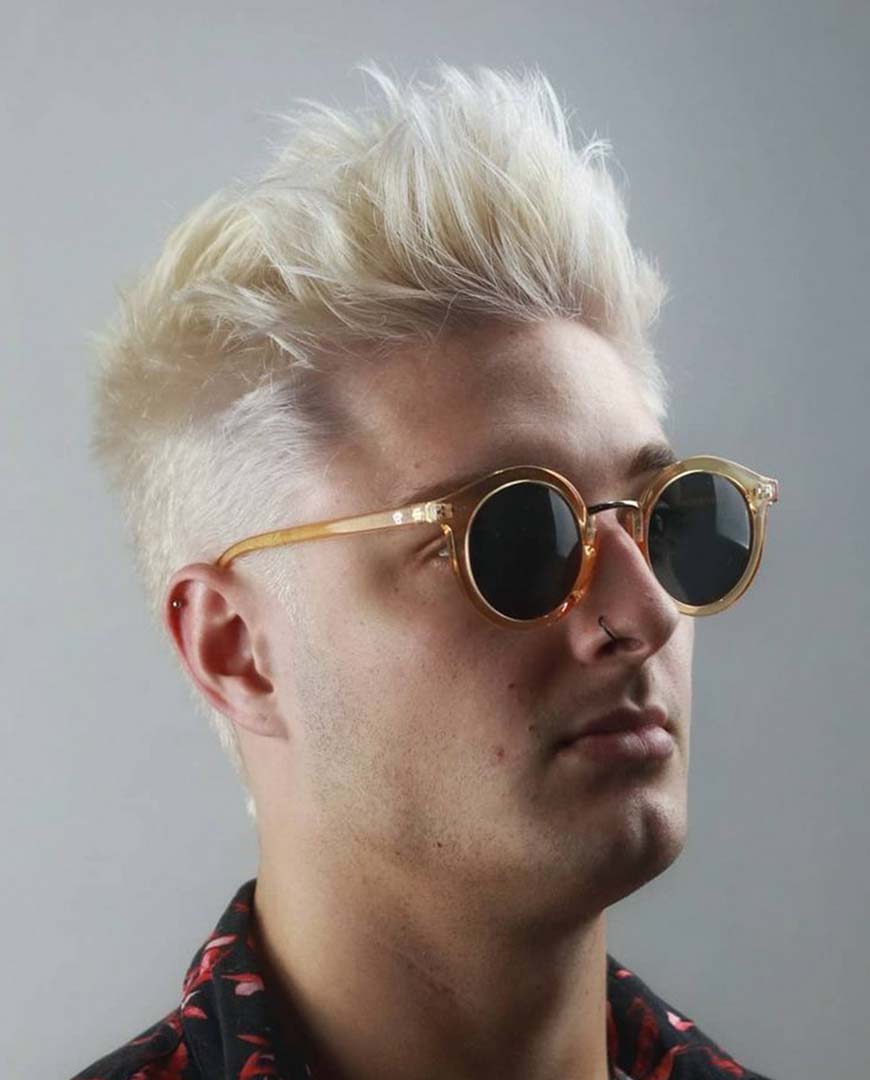 Mid Fade with Wavy Top
It is an ideal haircut for guys with thick and naturally wavy hair. A mid fade with wavy top works very well. It frames the face, which makes it appear longer and more composed. The long wavy top adds an extra touch of sophistication to this style. 
The wavy top gives the impression of fullness and helps blend thinner patches. Whether you want to make your hair look long or slender, this cut can help you achieve that look. In addition, you can use hair mousse to create a spiky look. A slick back also provides a dramatic look.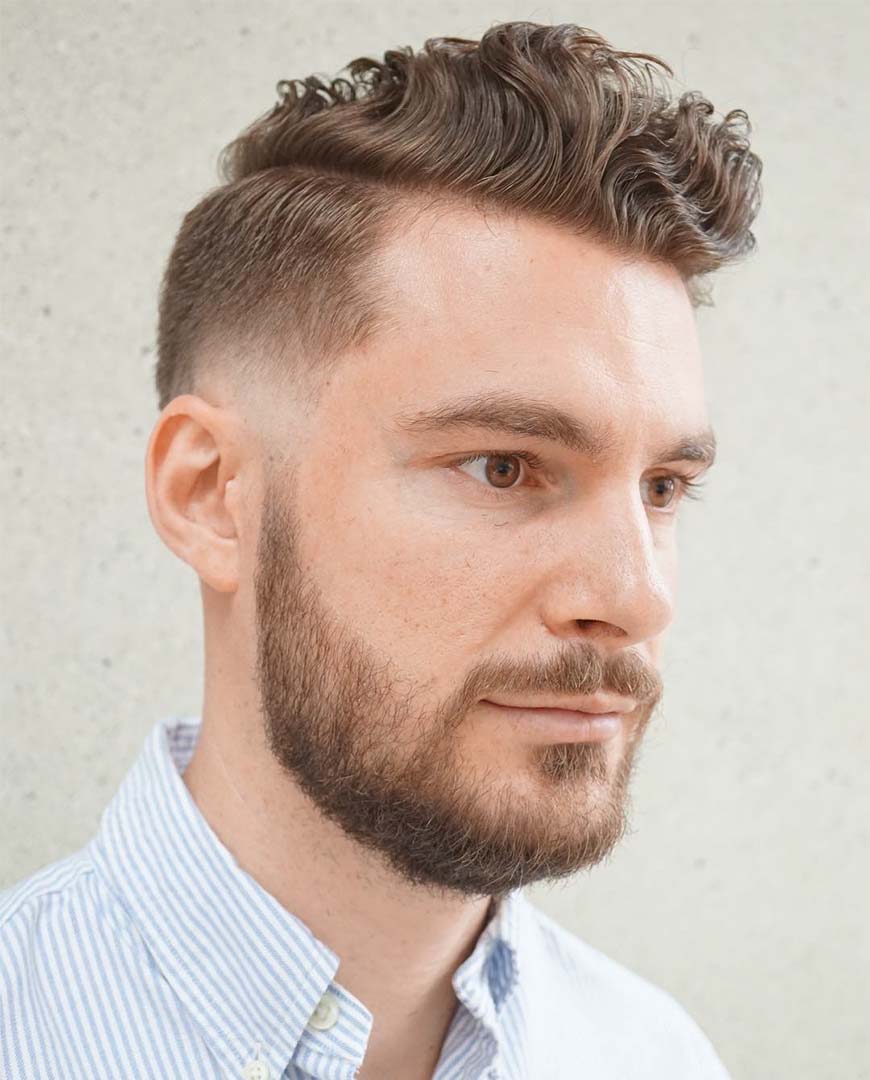 Long Ivy League Haircut
This hairstyle is a smooth balance of length and thickness. The top is left longer than the sides, and the sides are kept short. Stylists often combine this cut with a side part. Its flexibility is an added benefit. You can style it as long as you want or keep it short and manageable. The key to this short sides long top style is healthy hair. Healthy roots will make the transition to the shorter sides more subtle.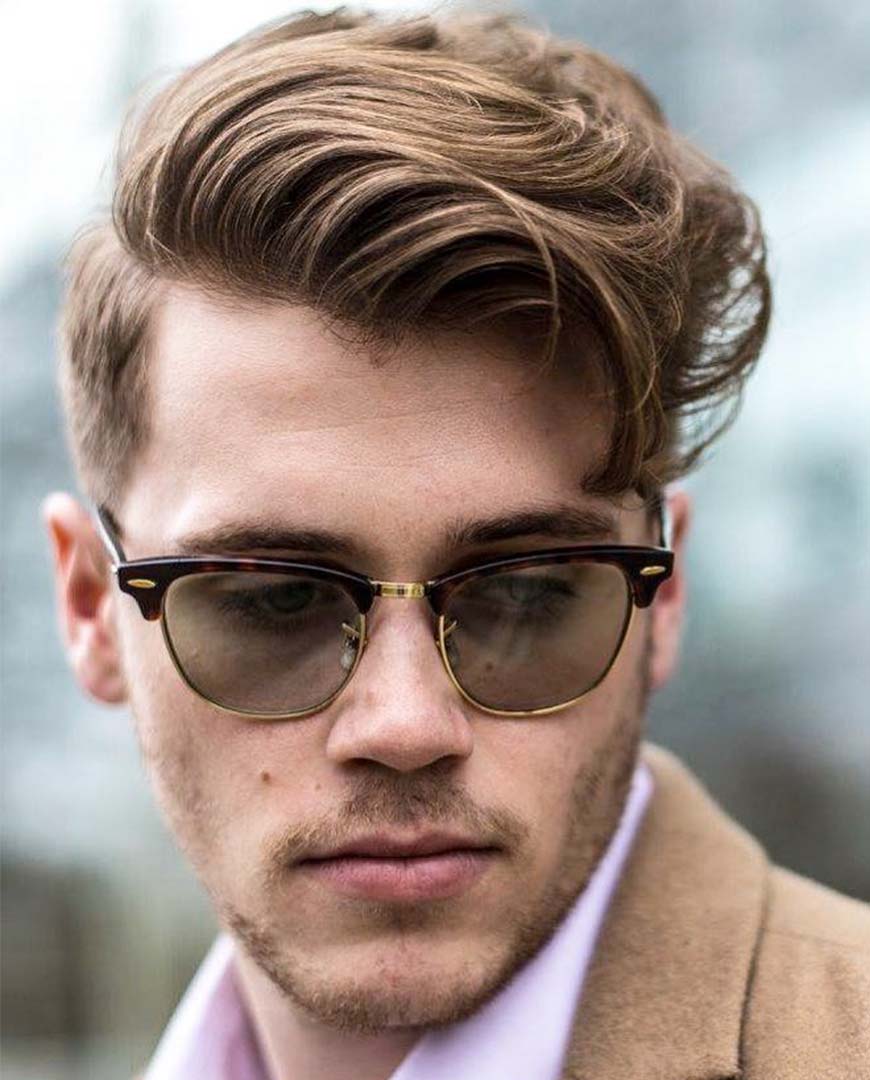 Slicked Back Pompadour
It's a simple yet classic look that works well with any hair type. The first step is to make your top portion of hair damp. Then use pomade or wax to build volume. Once you've achieved the desired amount of luster, you can comb your hair back with a fine-tooth comb or your fingers and then give the front hair a pomp-like shape. Finally, spray a good amount of hairspray to secure your look.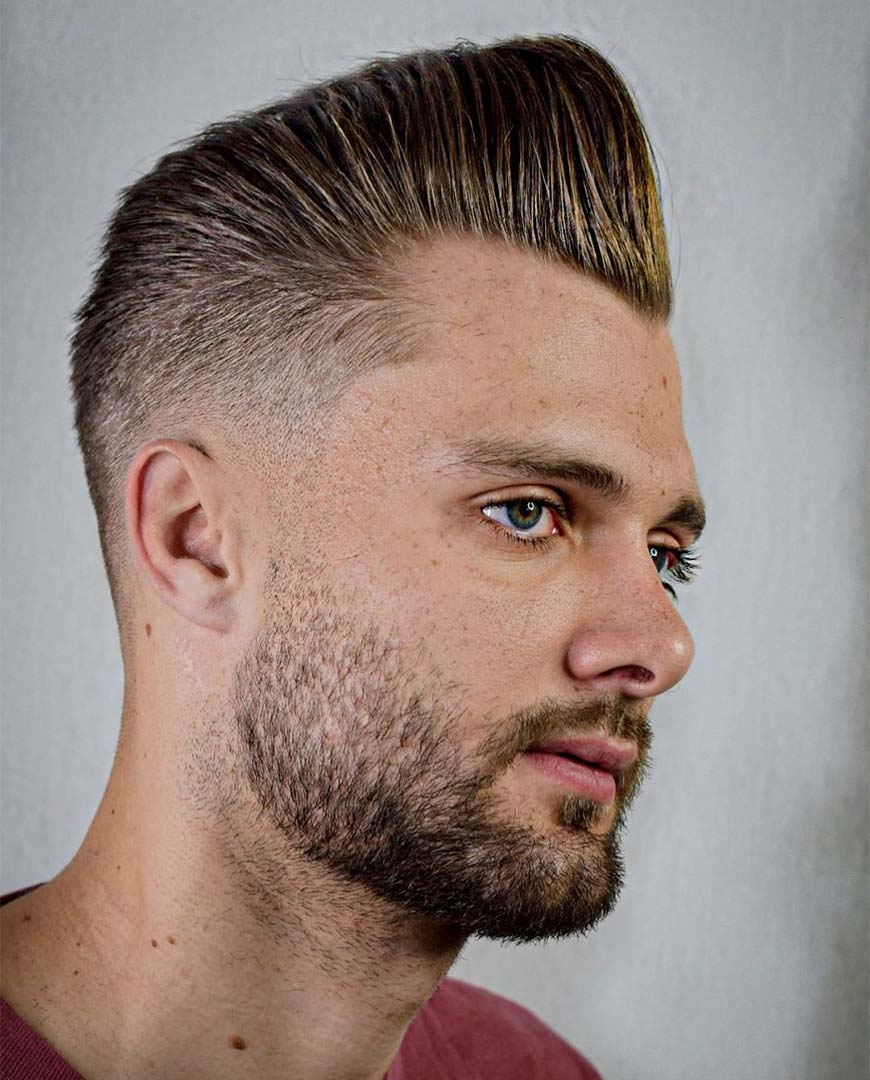 Stylish Comb Over with Undercut
The top portion of the hair is long, while the sides are short and disconnected. This looks cool and sophisticated, and it can go well with various top hairstyles.
Whether your side part is a hard line or a soft line, you will look your best with this style. Part your hair diagonally and gently separate strands with your fingers to create a more edgy look. Tapered sides are also great for adding a bit of volume to your style.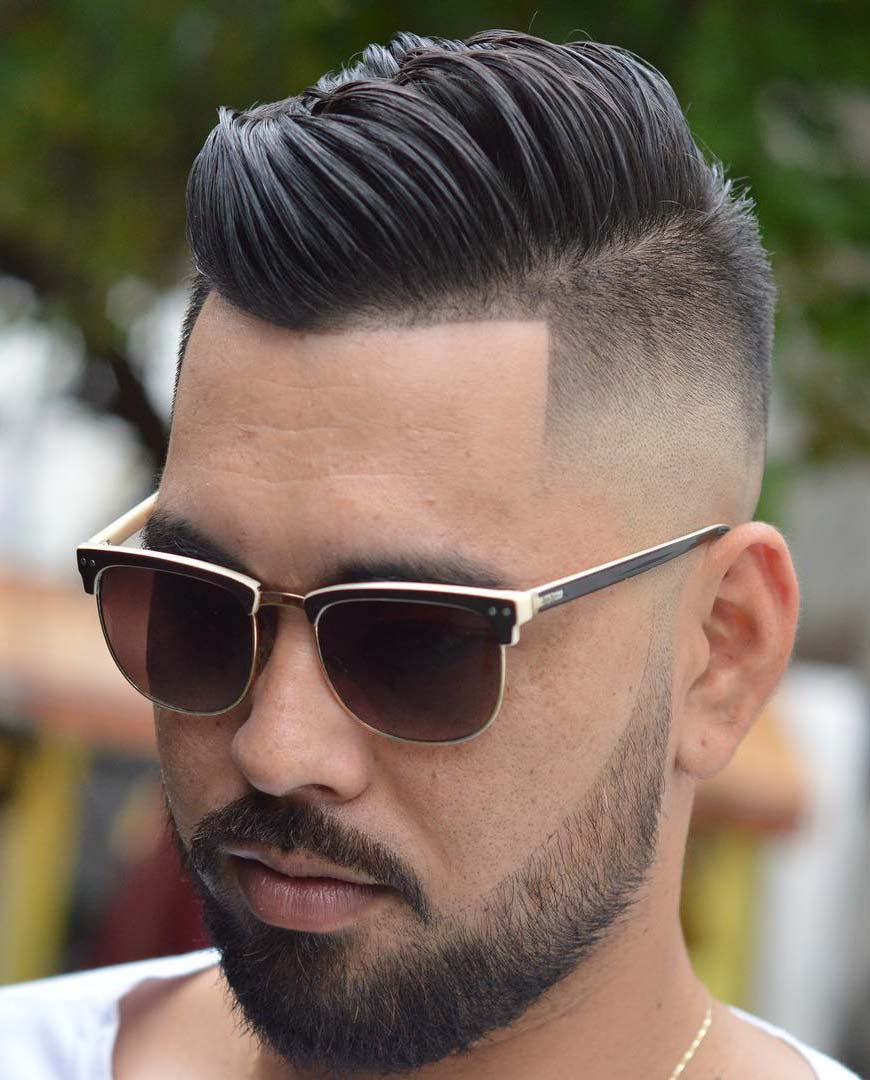 Mid Drop Fade with Curls
This faded haircut is perfect for a man with thick, curly hair. It is easy to comb and maintain, so you can wear this style every day. To add more texture, use pomade on the hair. The curls will be more defined with the pomade.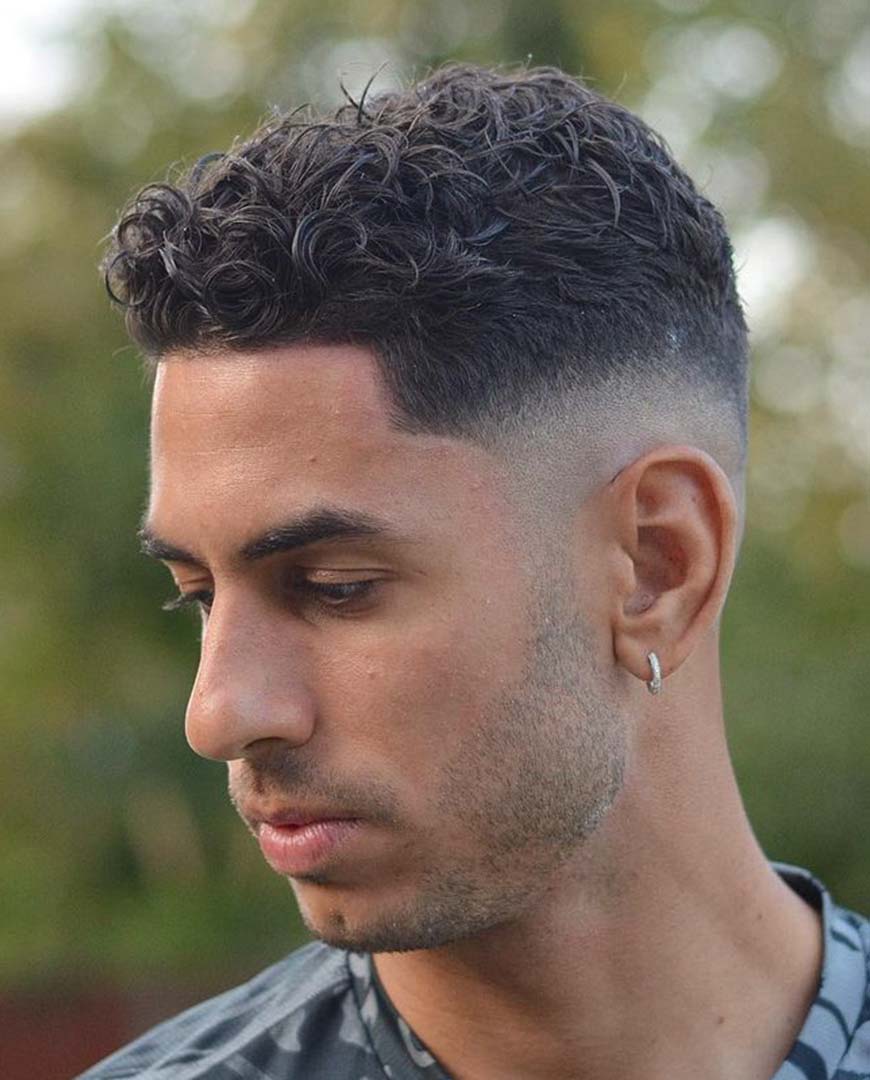 Tousled Forward Top
The style is one of our favorite prom hairstyles. It's easy to do yourself and will leave you feeling confident. It's a classic short sides long top look that can work for a variety of occasions. Moreover, the tousled-looking style keeps the short hair soft and flirty.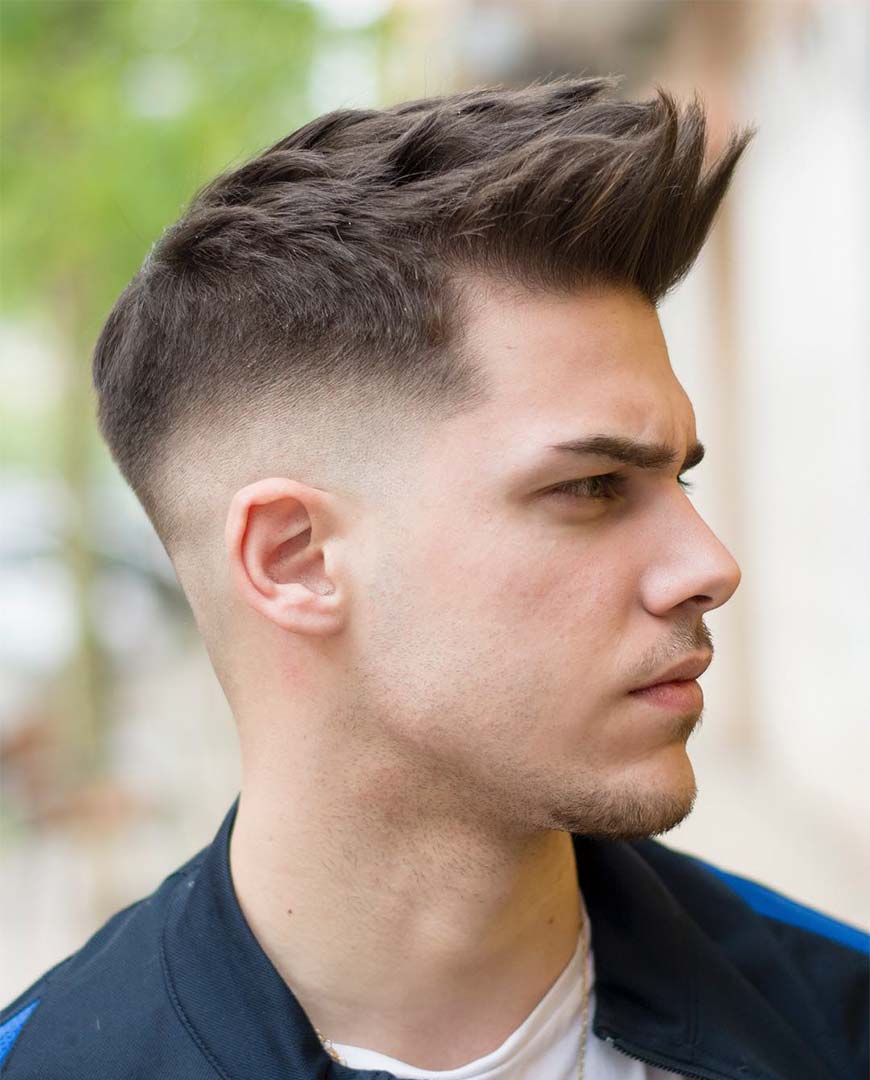 Simple and Natural Texture
The messy look adds dimension and style, and you can add your nape and side designs if you like. If you want to emphasize your shakedown nature, consider short hairstyles. This short sides long top hairstyle will give you plenty of room to play around with your style.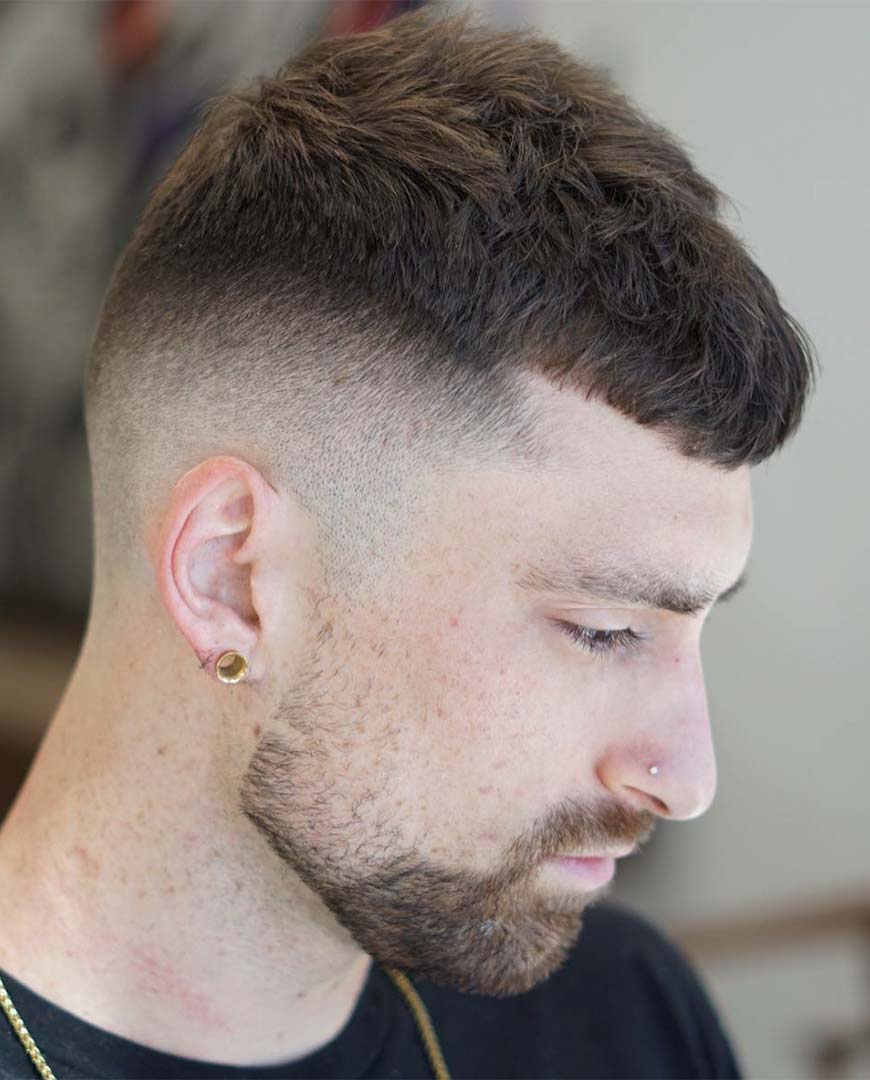 Relaxed Faux Hawk
The Relaxed Faux Hawk has a high fade and complements round faces. The sides of the hair are usually clipped short while the top is left longer and spiked or formed into a point. The height of the hair elongates the entire look. If you're planning to try it yourself, be sure to experiment with different products to find the best one for your hair, you should buy a strong hold hair product and use a sea salt spray to keep the height.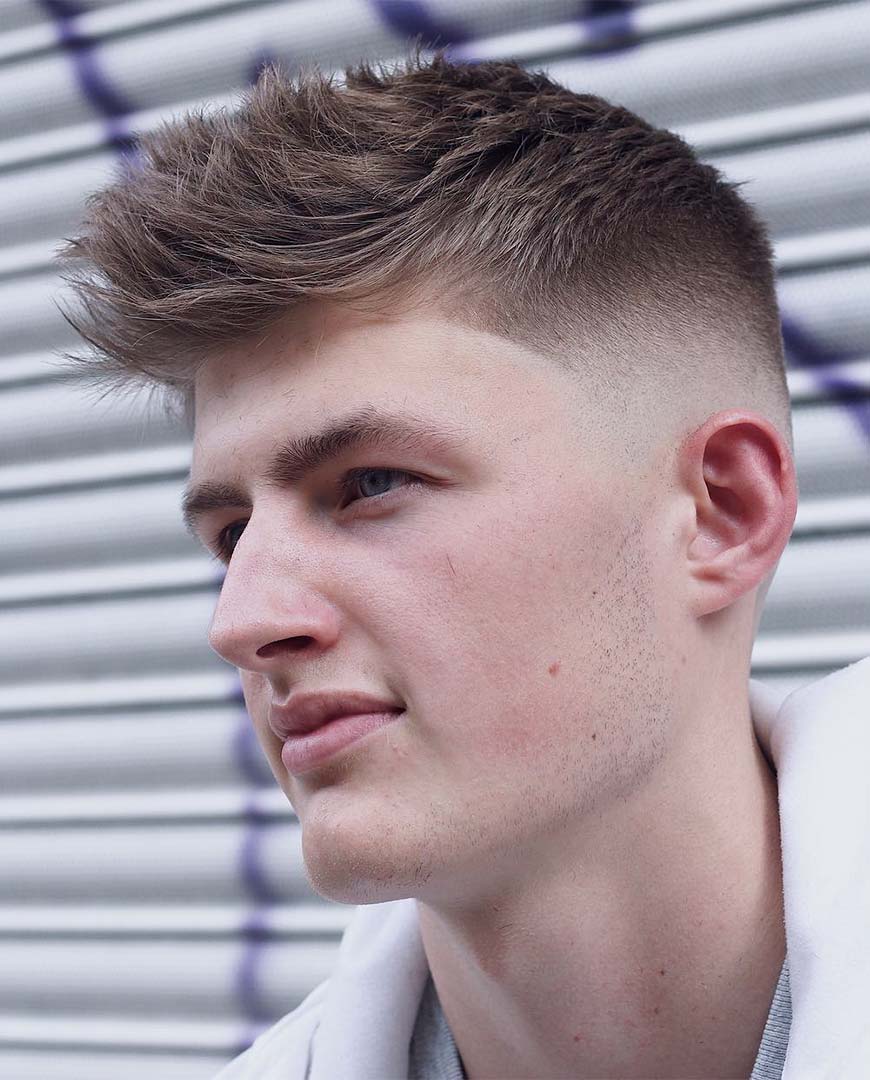 Choppy Waves with Disconnected Sides
Adding choppy waves to your fine tresses can create a hypnotic effect. Combined with waves and skin fade will be your new favorite summer hairstyle. Short choppy layers and disconnected sides will add a touch of edginess to any tresses. This short sides long top hairstyle will also frame your face and illuminate your complexion with shine.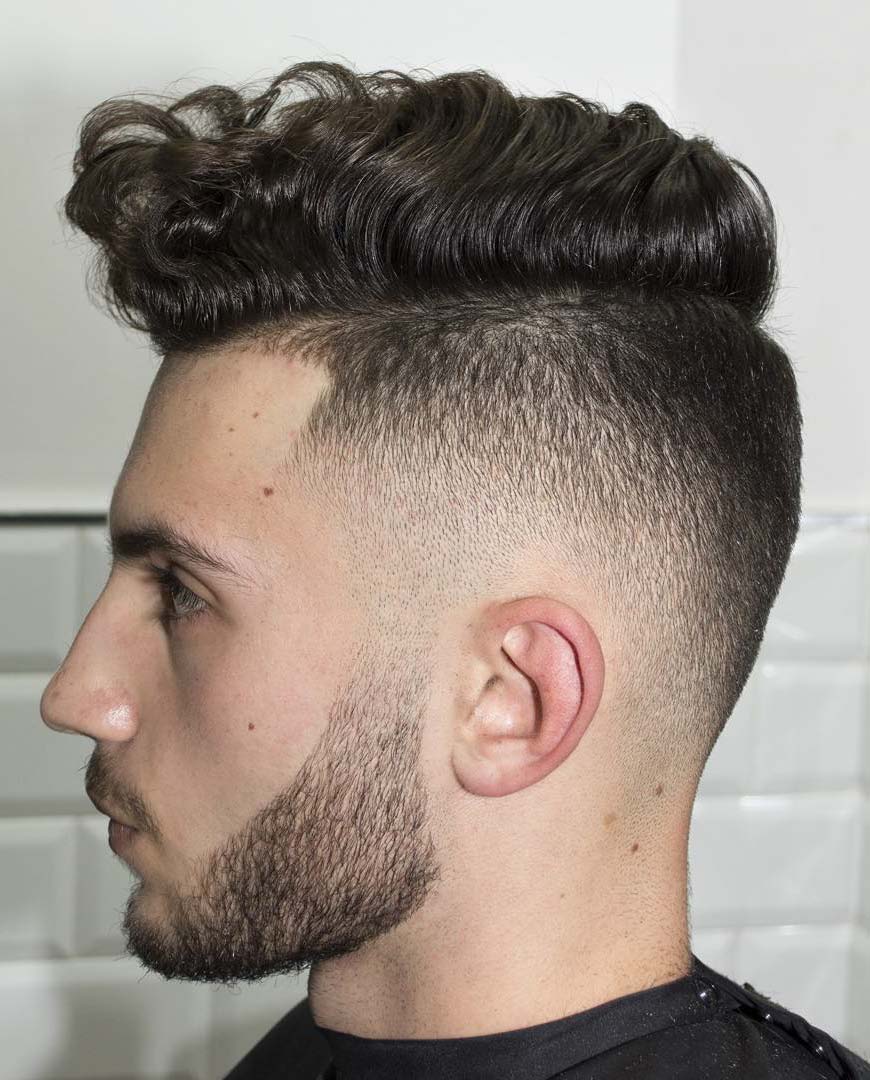 Volumetric Comb Over with Low Fade
A low fade is a better option for men with long faces. The back and sides retain little volume, while the front will upward. Alternatively, you can use a high fade to narrow the jawline and give cheekbones a more masculine look. It works with a wide-brimmed top and neat sides. It's best for gents with a wide forehead and a receding hairline, as it can add sharpness to the face.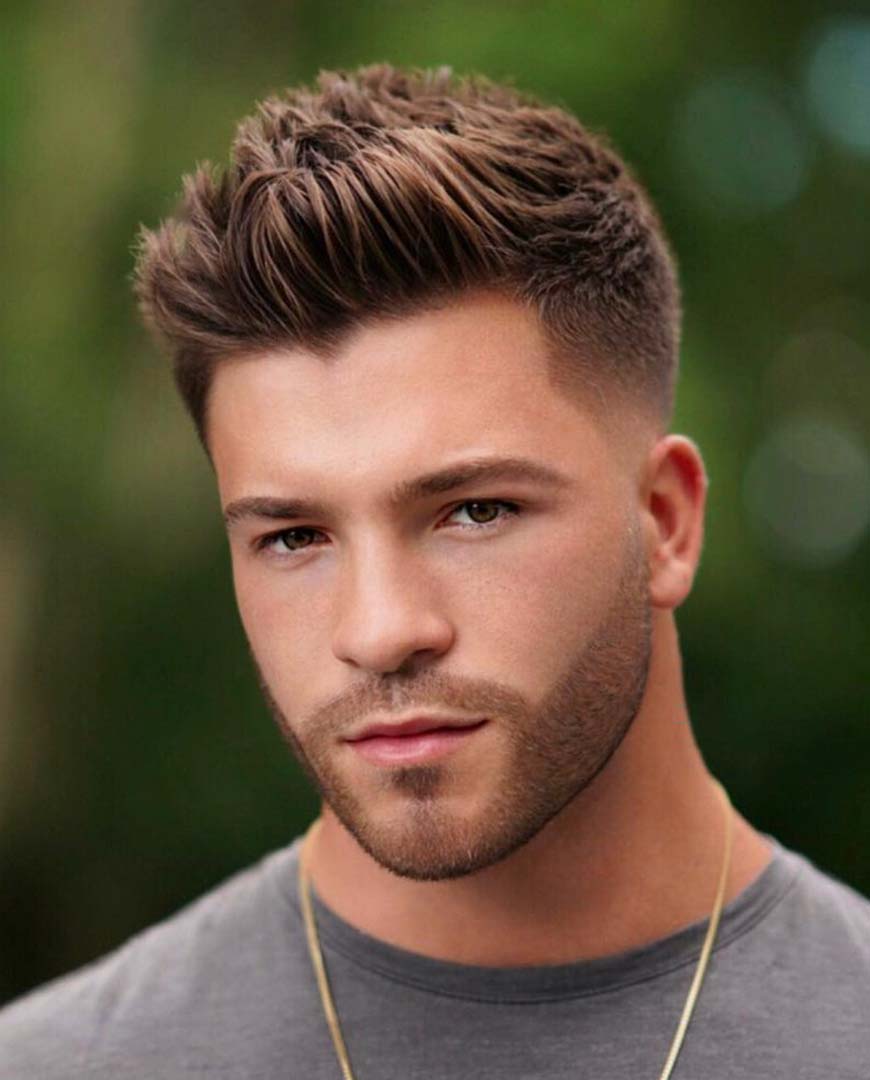 Textured Haircut with Fringe
Trying a textured haircut with fringe is a great way to update an old favorite. You can wear this cut swept to the side, French cropped, or in various other ways. 
If you want to experiment with your fringe, go for a messy style. The fringe will appear to shorten the length of your face. 
Whether you want to add texture to your hair or change your part line, this short sides long top look is ideal for any occasion. You can trim the fringe into a layered style. A textured fringe can be cut short or long. According to a fringe length, it can make your hair appear thicker or thinner. If you wear your fringe short, it will make your fringe appear fuller.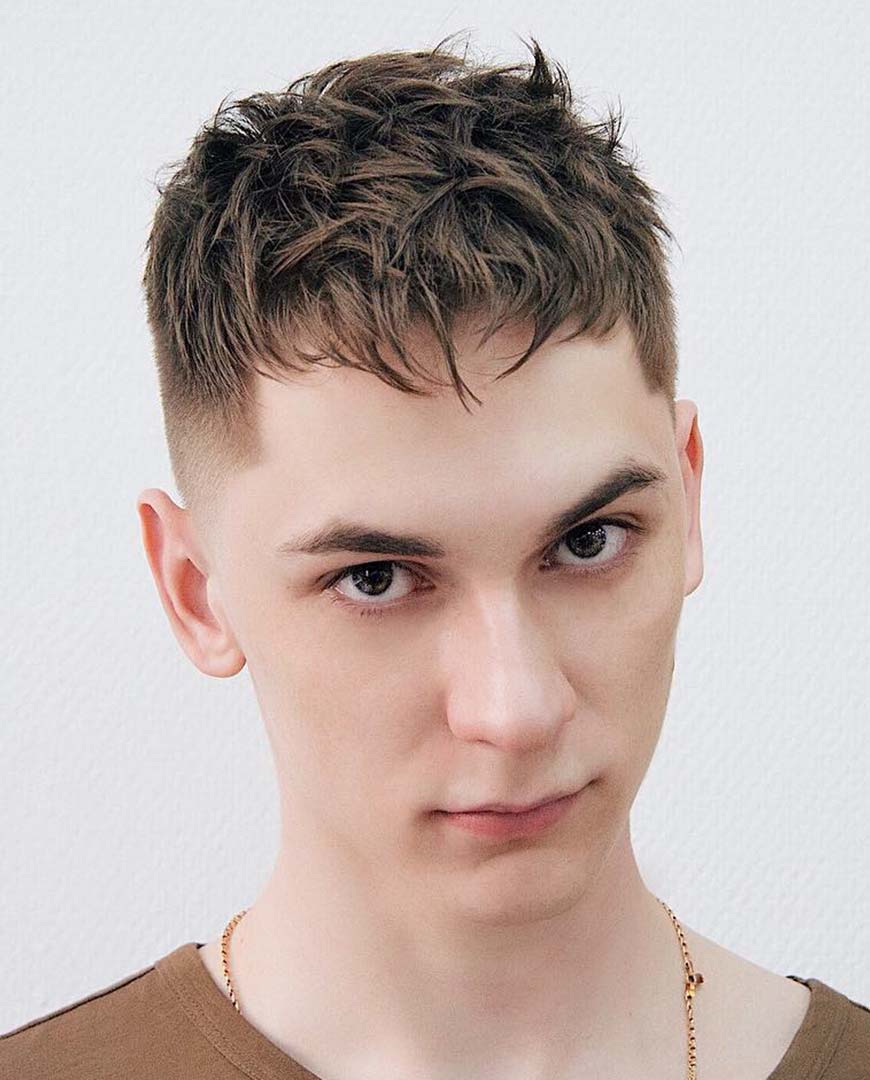 Curly Bun with Shaved Sides
It's a hairstyle that combines a high bun and shaved sides. First, flip the hair to one side and tie it up in a high bun. Then, to create a more voluminous bun, draw out small strands and loosen the rest. This style will work well on people with heart and oval-shaped faces. Also, you can add a high fade to get a cleaner look.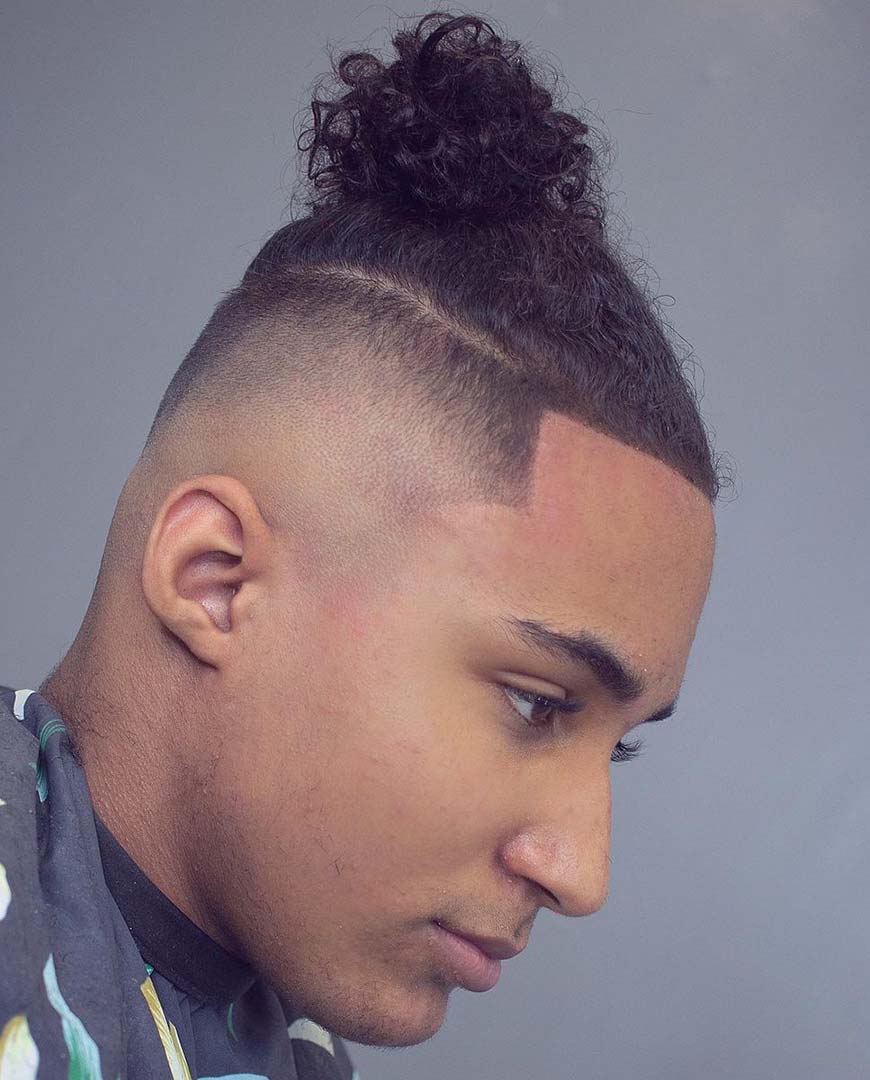 Long and Twisted Haircut
If you have long hair, you can opt for a twist out to create a sleek, masculine look. You can even choose to bleach your ends if you want a more natural look. Whether you choose a natural or bold color, you will never go wrong with this look. You will feel confident in the way you look.
You can also choose to go for a crocheted wig to give your long tresses a modern look. The most important thing to remember is that your tresses should be loose, not tightly coiled. This will make it less likely to break easily, and you will have to use more leave-ins if you want your tresses to stay in place. 
For those who want to make a statement, the best way to pull off a long and twisted hairstyle is to bleach the tips of the tresses. This will ensure that every eye is on you at all times. Another great way to add some color to a twisted hairstyle is to bleach the tips. This is a good idea because it will make it easier to try other colors in the future.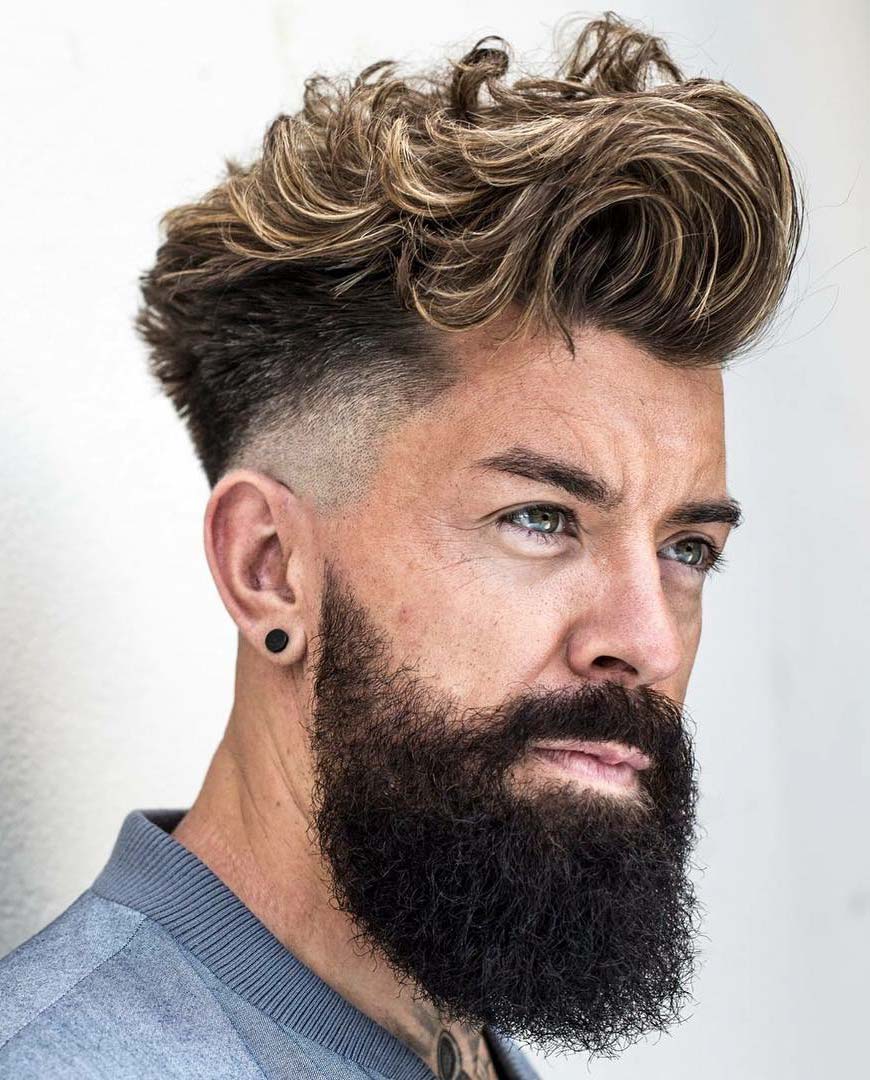 Skin Fade with Sharp Line
The skin fade, also known as a bald fade, is an edgy hairstyle that will define your facial features while leaving a clean and sharp line.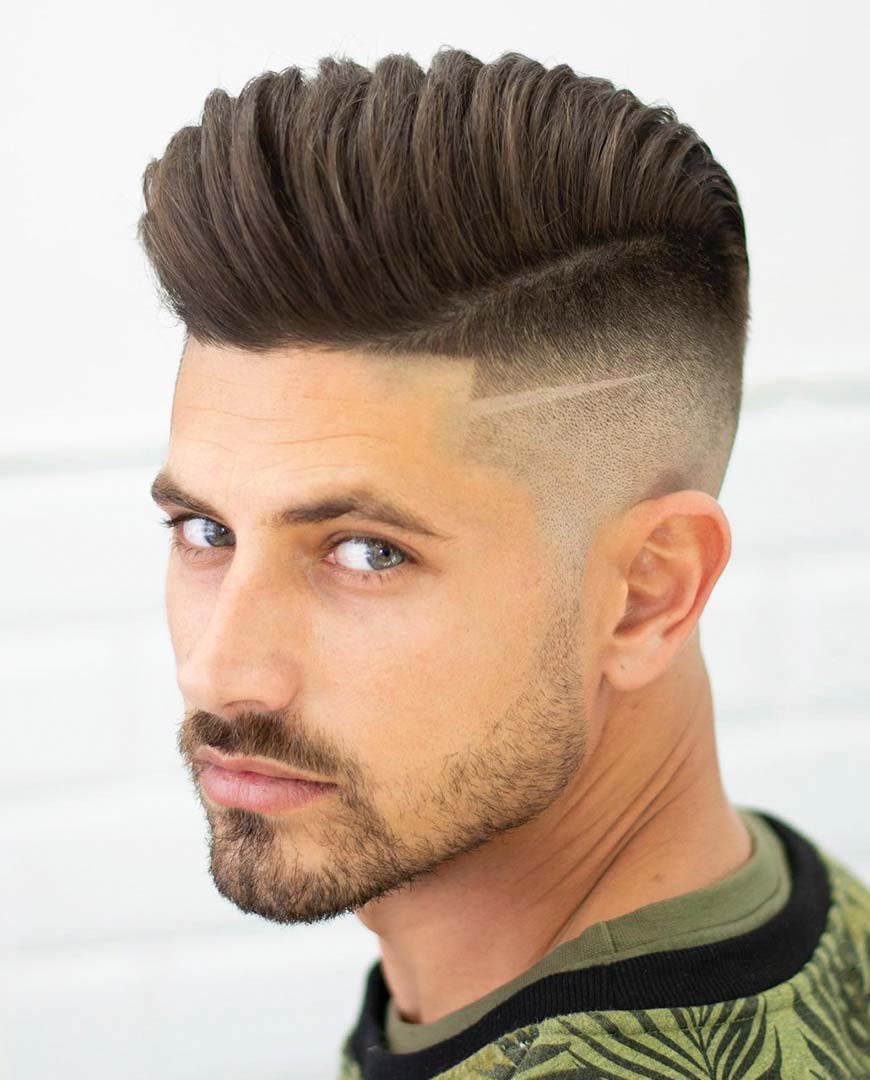 Natural Texture and Skin Fade
A skin fade is a perfect match for a crew cut, crop top, and side-swept fringe. While skin fades may look dramatic, you can try other types of fades, for example, drop fade, taper fade, and temple fade.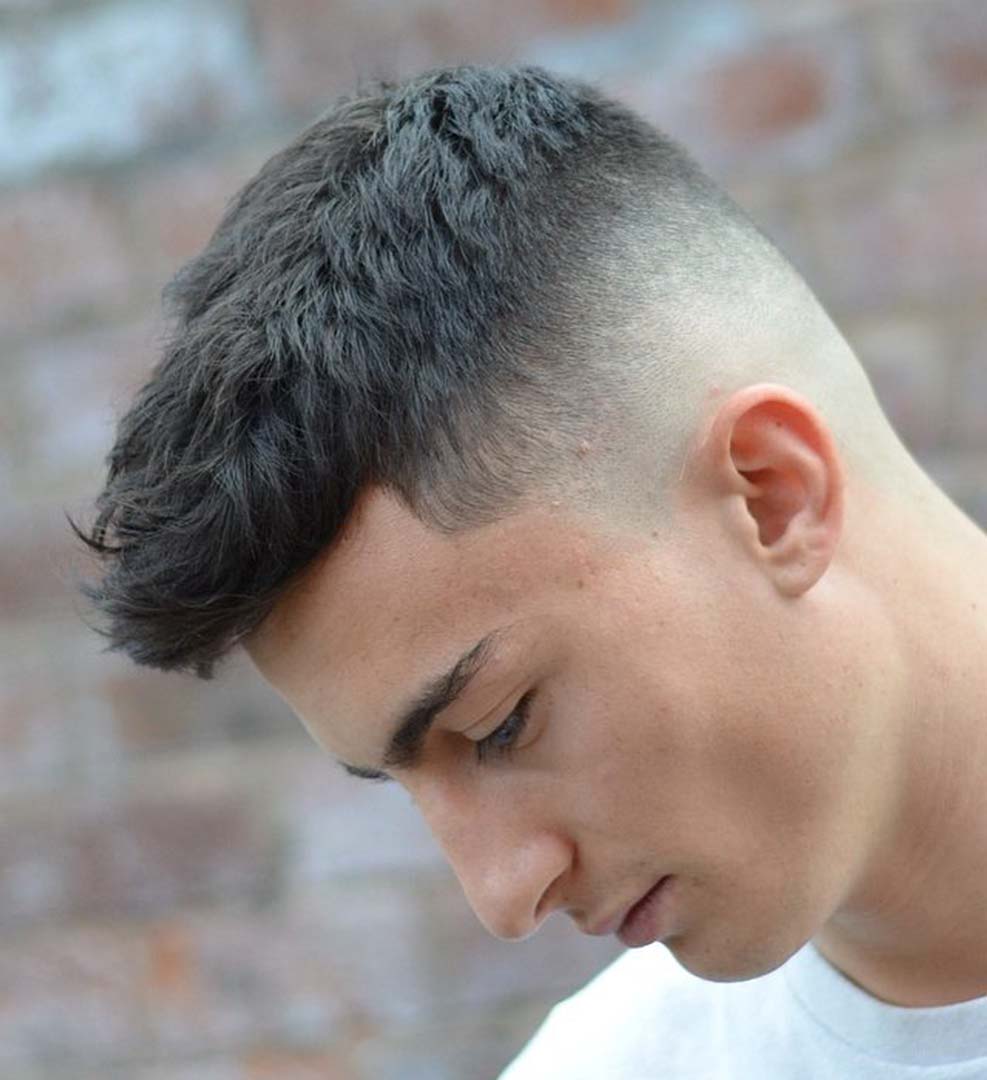 Crew Cut with Low Beard
While the crew cut can look good with any facial hair, the lower beard can make this style appear more rugged. On the other hand, adding a beard gives you an athletic look and fills your jawline. This style is excellent for people with any facial shape and can work with any hairstyle.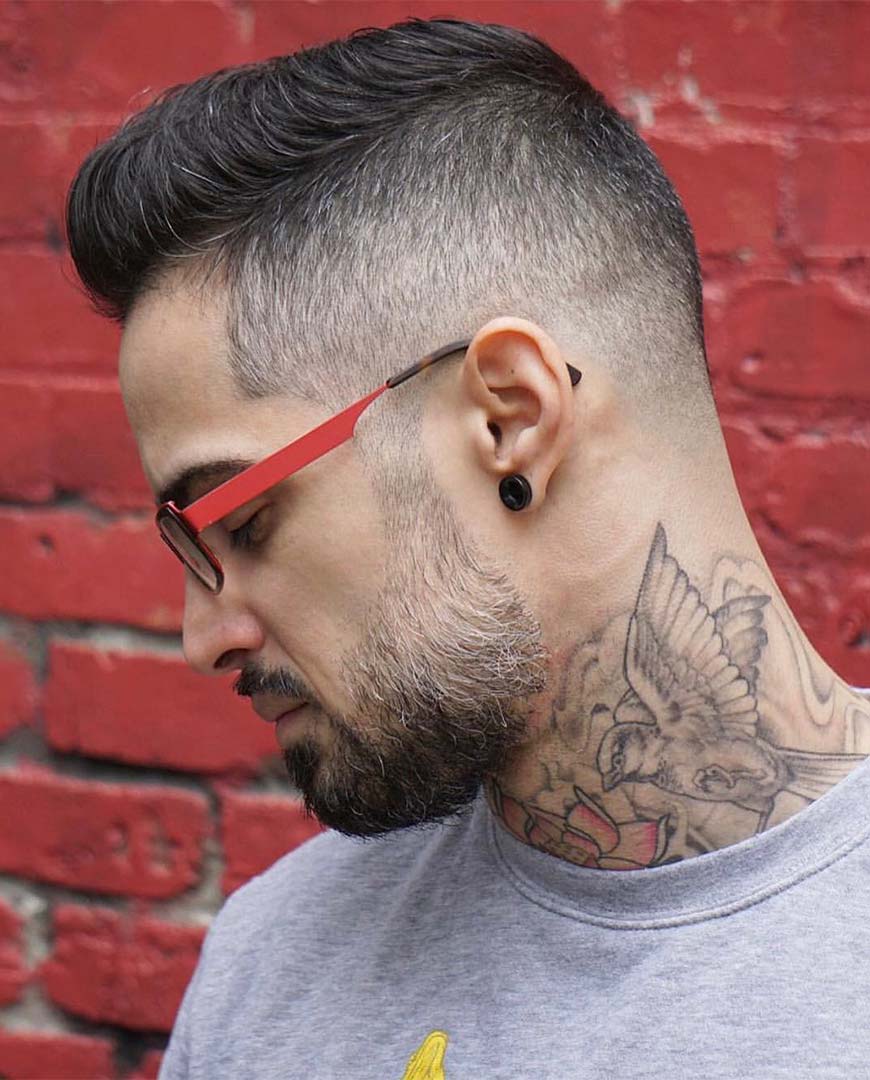 Textured Hair with Brushed Up
For the perfect textured look, Pekela recommends "walking up the length." Simply brush up and out of your hair, focusing on the ends. This will avoid tangles and prevent your brush from getting stuck at the ends.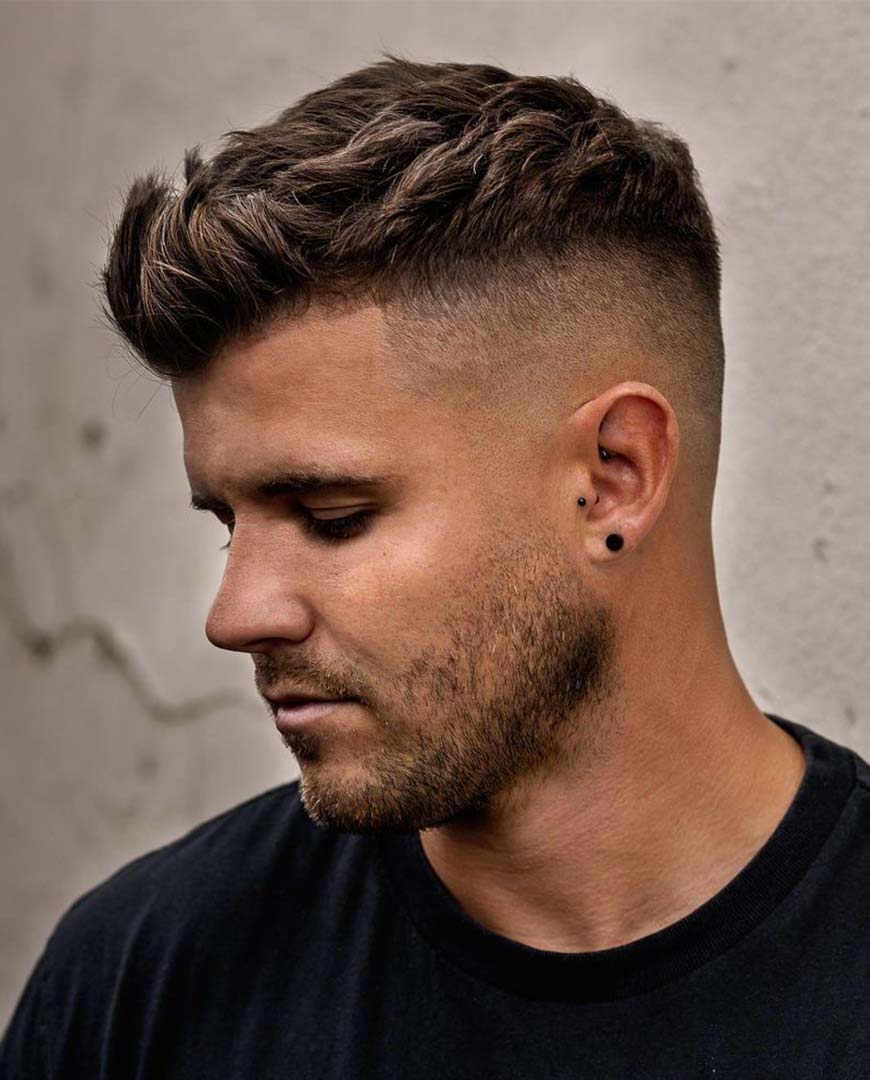 Thin and Layered Faux Hawk
The natural hair layering will help camouflage the sparse strands, while the low fade on the sides will direct attention upward. A layered faux hawk can work well on both short and long hair.
You can use a gel or foam to add extra volume and keep the follicles in place. Then, brush the hair up and down. This will ensure that the strands are evenly spaced.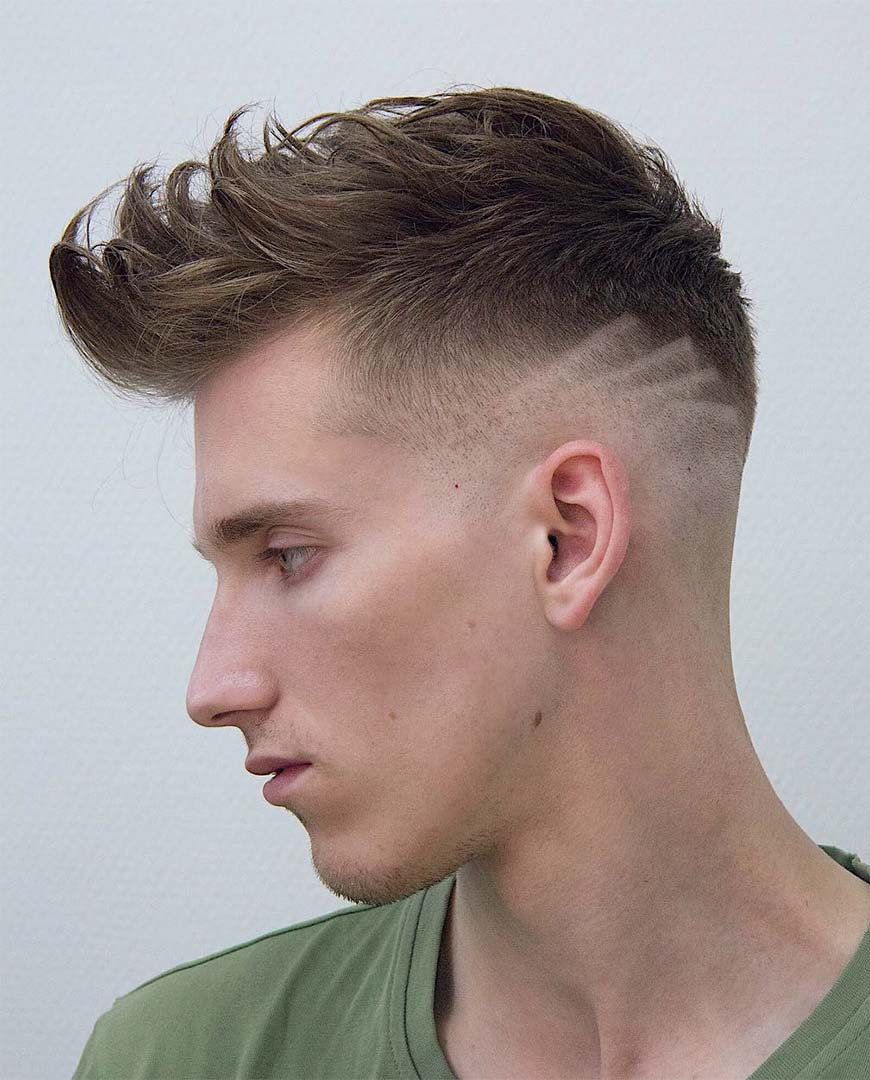 Volumetric Hair with Highlights
Whether you're opting for a subtle or bright streak, the perfect men's highlights will add dimension and make your hair look more appealing. Choose a lighter shade than your main hair color, and try to find a color that matches your undertone. Warm color will look better with cool hair, while a cool shade will look great with gray or white hair. While coloring your own tresses is a great way to achieve a natural-looking result, it's important to avoid the use of bleach, as it can cause a yellow/orange tinge.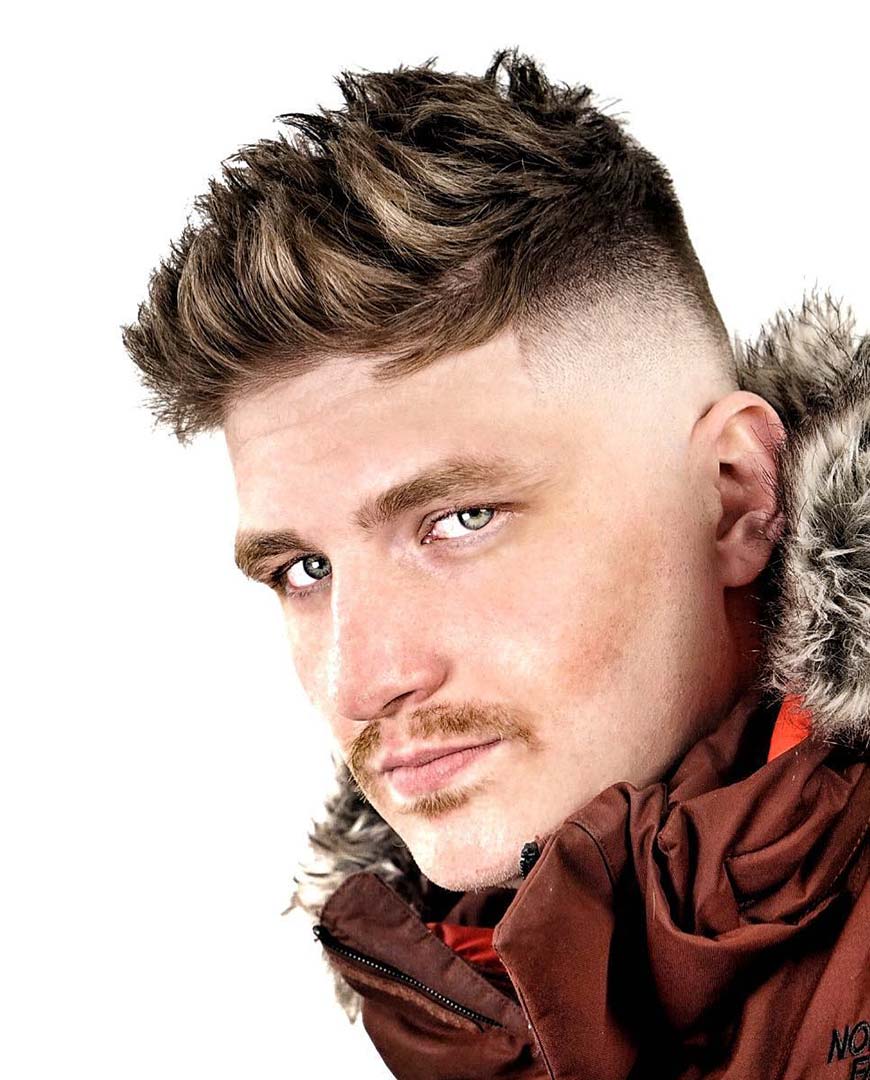 Braided Top Kot with Design
The braided top knot is an elegant style that never goes out of style. This short sides long top hairstyle elevates an everyday bun to a stylish and unique look. To get this look, begin by braiding your hair into a high bun. Then, use a finishing spray and a hairpin to secure the look.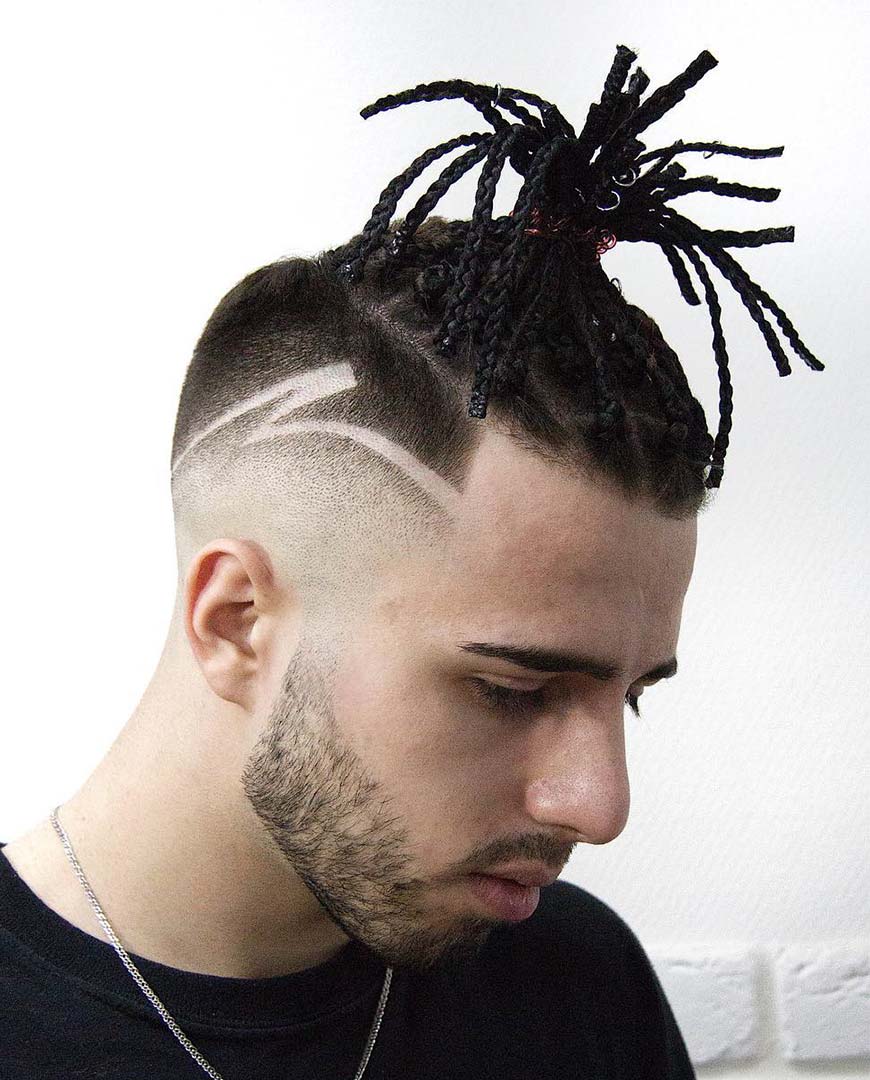 Comb Over with Highlights and Part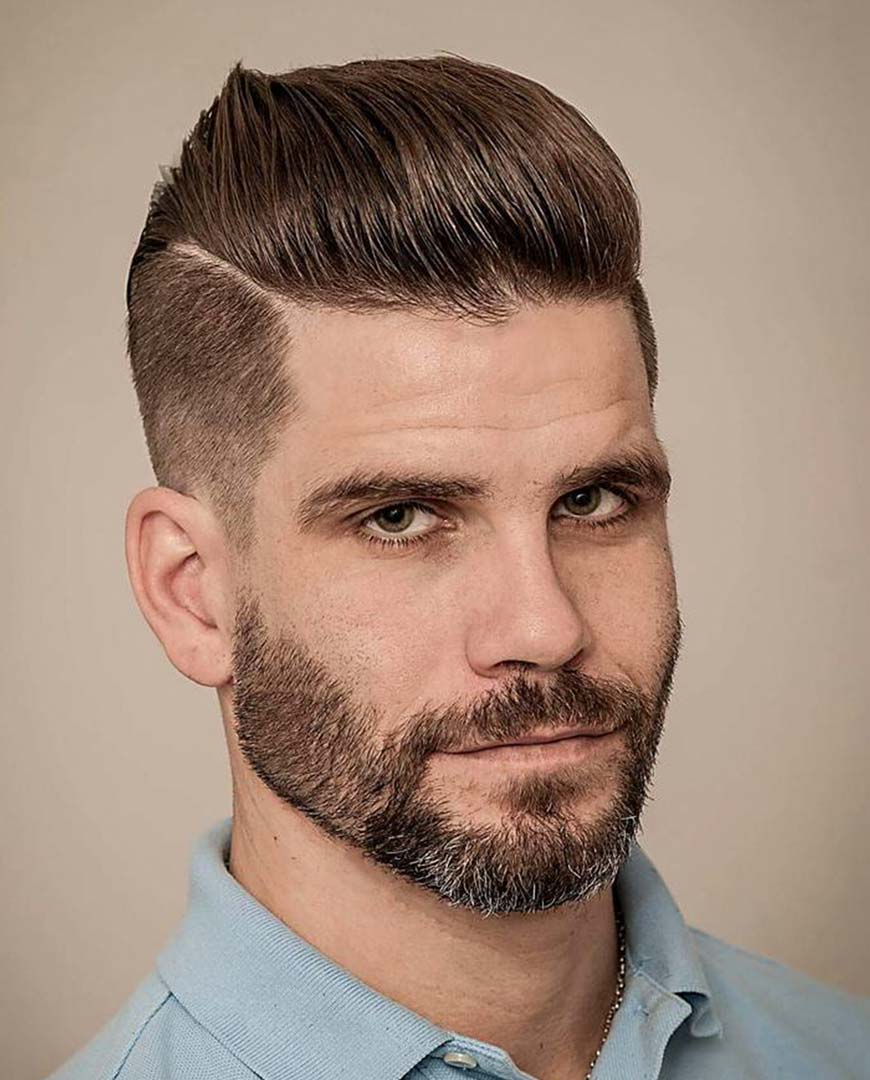 Kinky Flat Top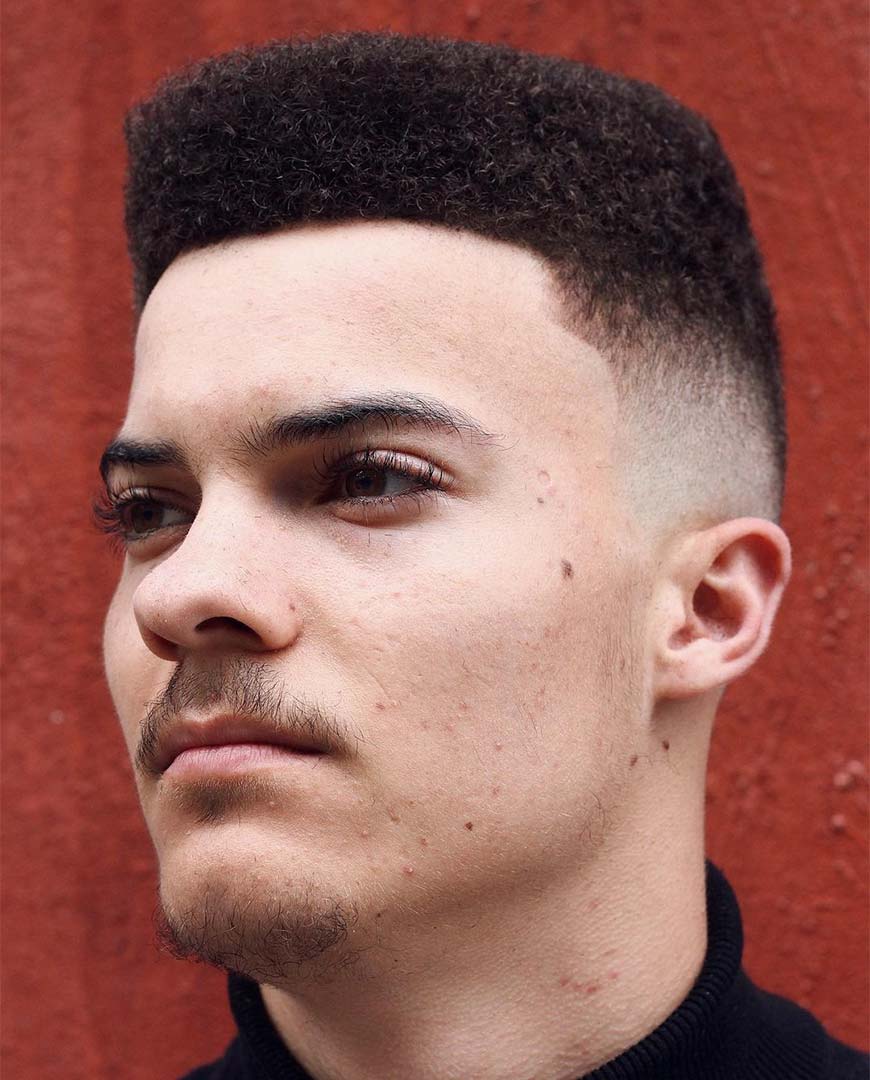 Sleek Side Swept Undercut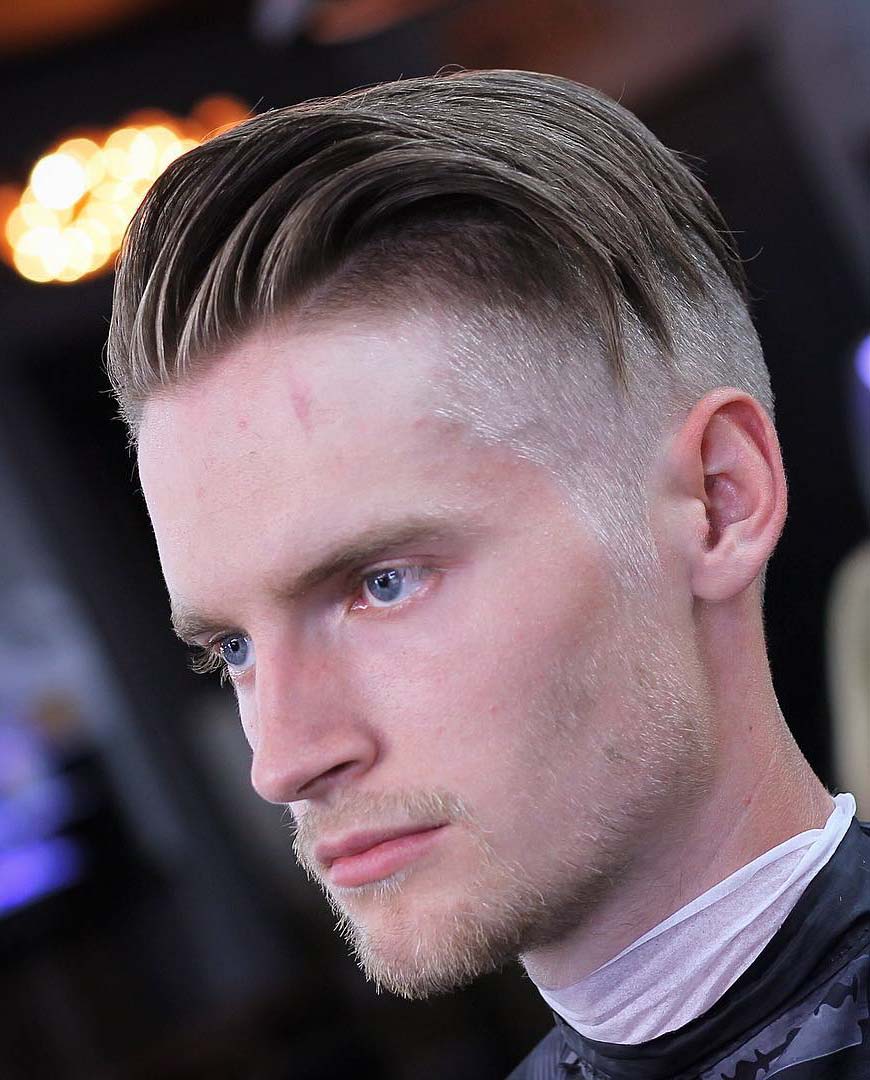 Disconnected Undercut and Hard Line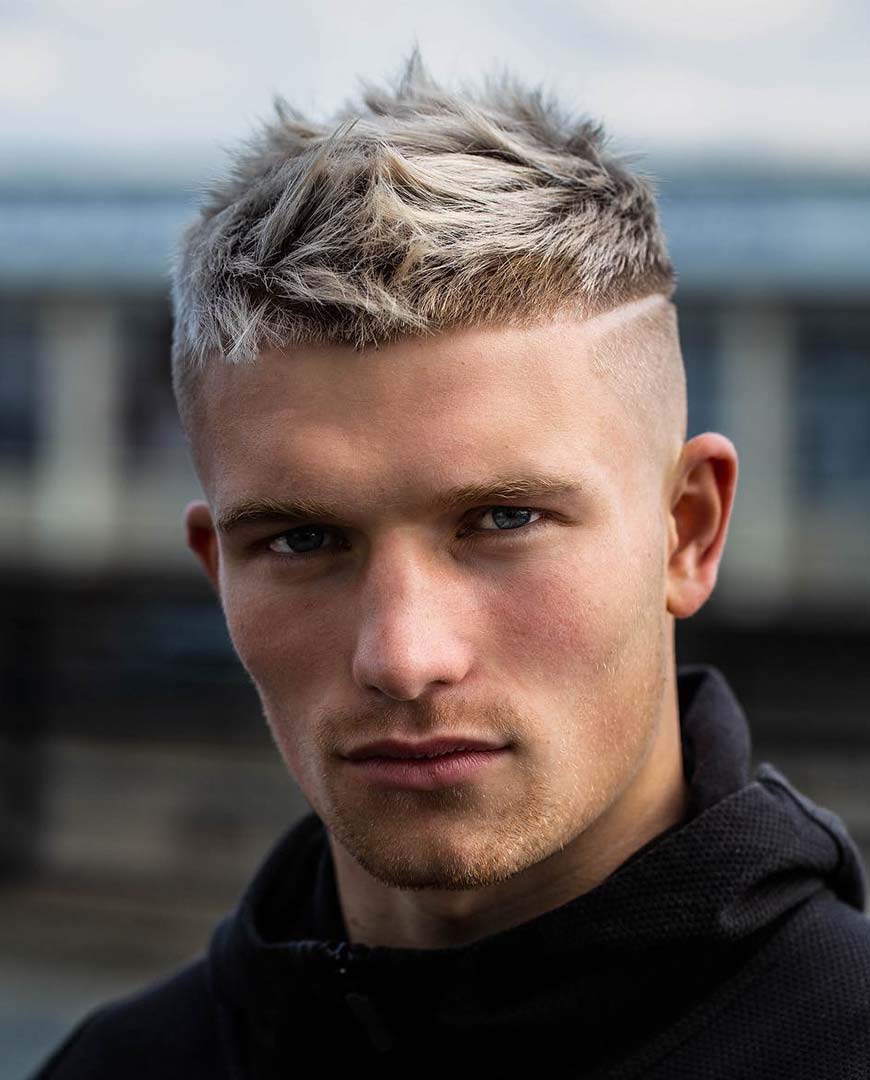 Mid Drop Fade with Curls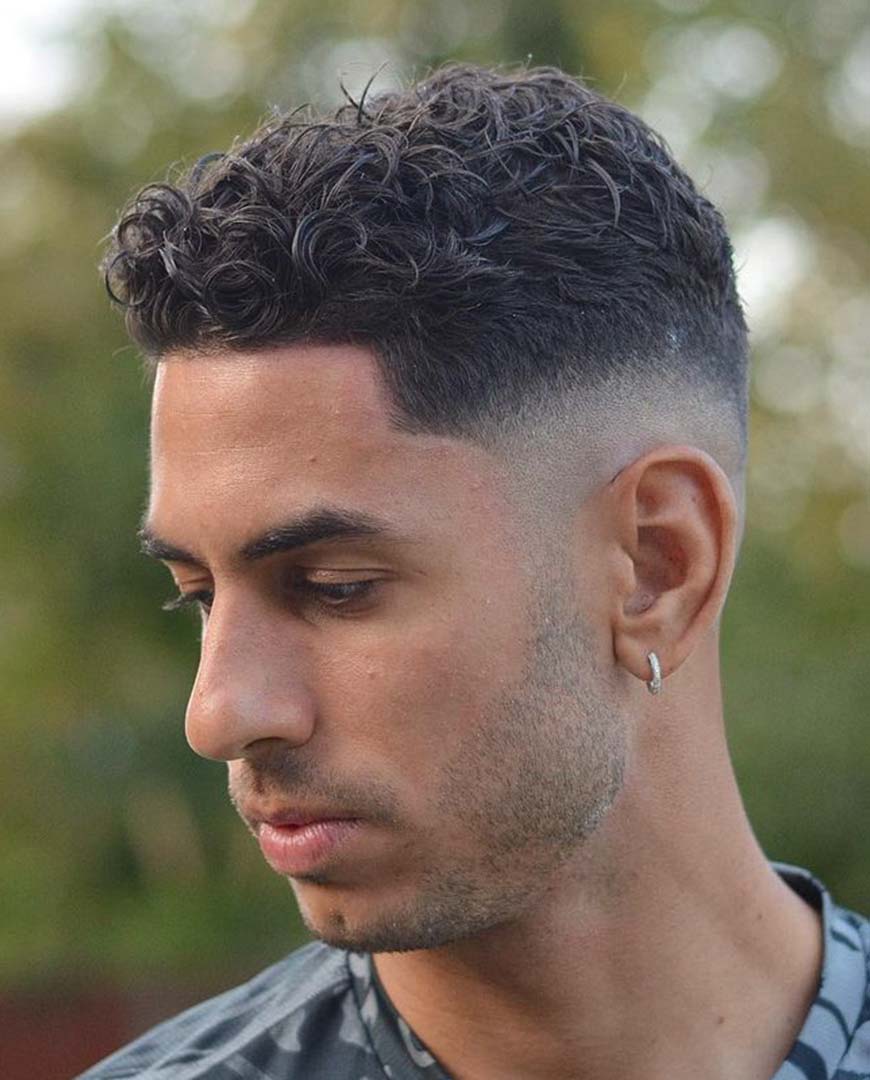 Disheveled Hair with Side Line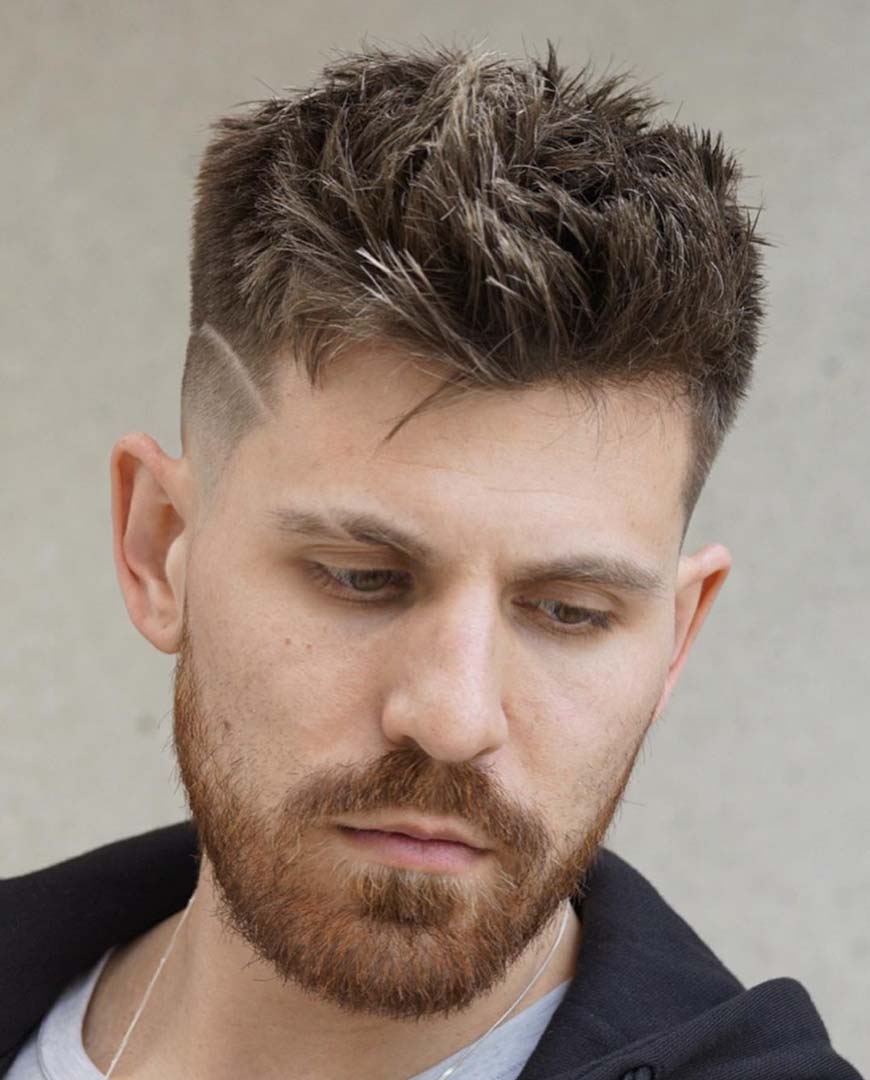 Pronounced Spikes with Undercut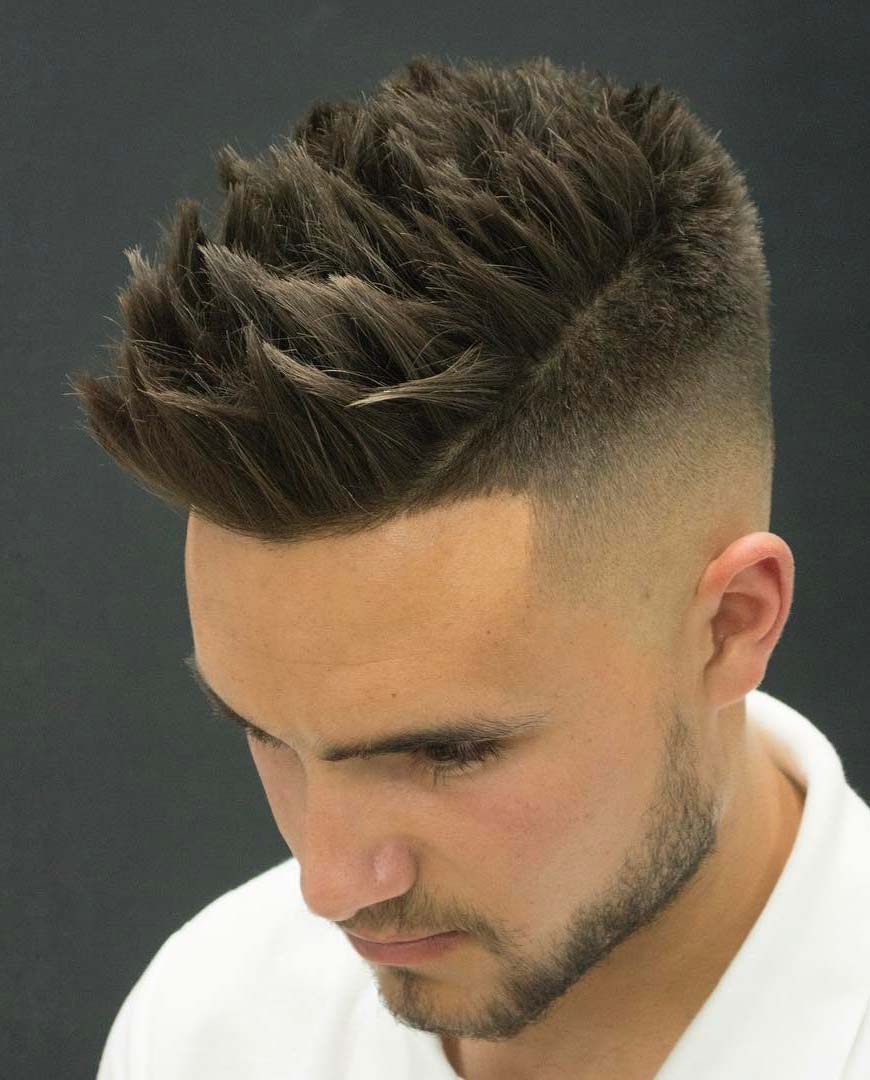 Defined Comb Over with Bald Fade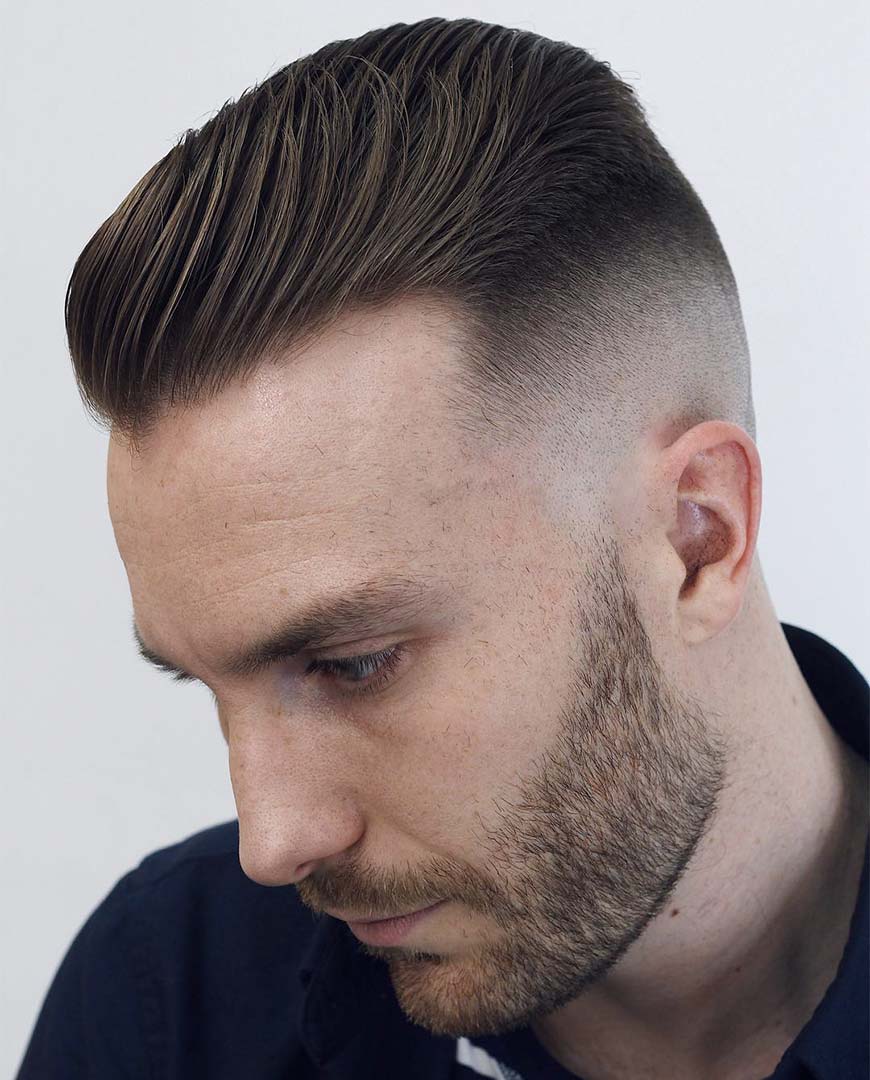 Wings and Pomp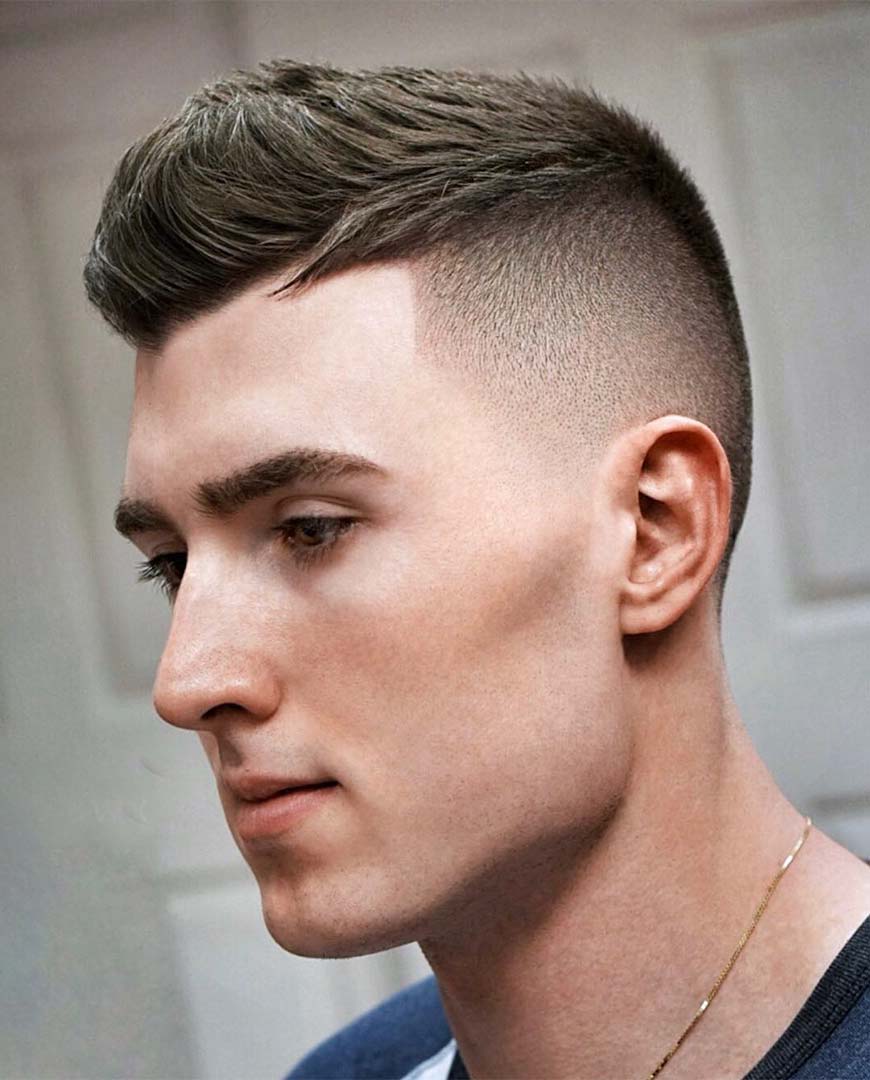 Rough Brushed Up