Short hairstyles for men are fashionable, sexy, and easy to maintain and style. Many men enjoy the convenience and simple elegance of these 50 short hairstyles.
The Benefits of Short Hairstyle
Usually, a short haircut showcases hair that is only a few inches long. Some styles may feature longer hair on top, but trimmed sides and sharp edges are the norms. Because of the hair's brief length, a short haircut is simple to style and does not require much product or intensive maintenance. Generally speaking, short haircuts for men are a great way to achieve a classic look with ease.
#1 Pompadour with Highlighted Tips
Great for short or coarse hair, this short haircut features high and tight sides. Longer and highlighted hair on top gives this style a kick of visual interest. Comb hair upward for structure, or leave it tousled for a more casual look.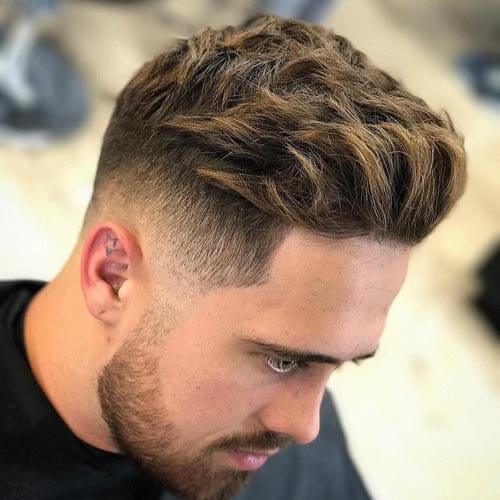 #2 Quiff with Taper Fade
A classic example of how to style a quiff is to comb the hair forward from the back and comb the front hair backward. The top view is exactly what you see in the picture. Styling is easy and is all in the wrist action. You will need to give your hair some attention to keep it looking like this.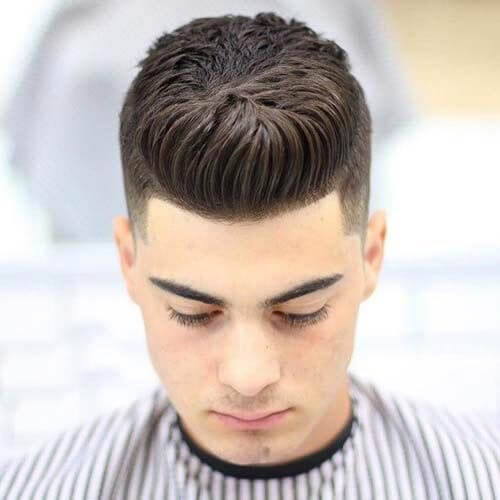 #3 Deep Side Part Pompadour
High on style, this haircut makes a statement with a deep side part shaved into the scalp for emphasis. Comb over long hair on top and set with the product to keep this cut looking neat and trim. Finally, sides remain sharp and short at all times to offset the dramatic hair on top.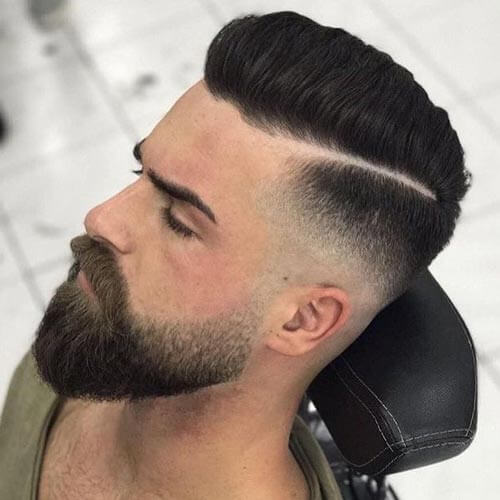 #4 Slicked Back with Mid Fade
This slicked back look provides a sharp, sleek edge to the normal crew cut. Though longer hair appears on top, this style is shorter than a pompadour for maximum convenience. Use hair products to comb hair off the forehead and set it into a defined structure.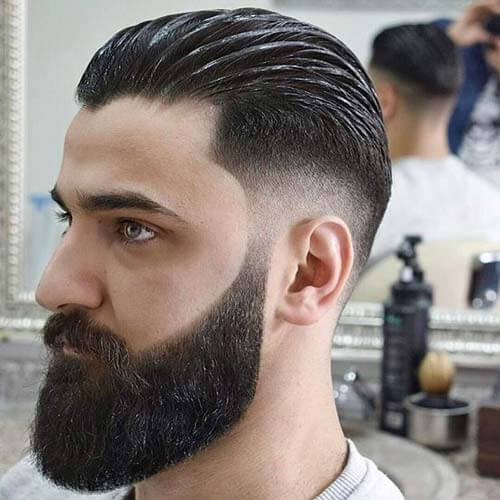 #5 Quiff with Waves
For those with naturally wavy hair, this style can be a lifesaver. A short, low fade on the sides complements the wavy texture on top. Natural waves and very short sides help this style maintain its shape by itself. Keep the sides short and sharp to ensure that this cut retains its form.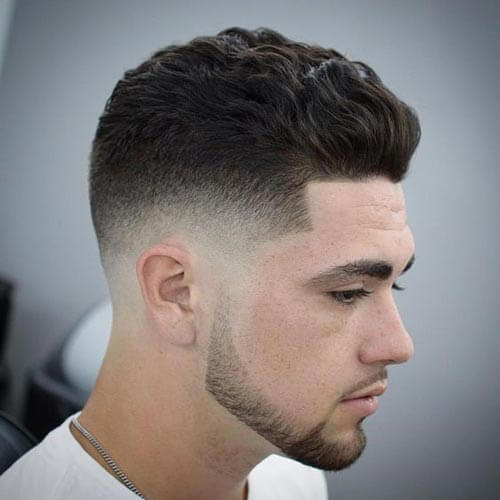 #6 Stylish Comb Over
A high fade is another way of representing an undercut. In the picture, the model is wearing a comb over with a high fade. Cut in two ways; the hair is combed to the side and from the front to the back. You can wear this to any occasion and will need some hair gel to keep it looking tidy.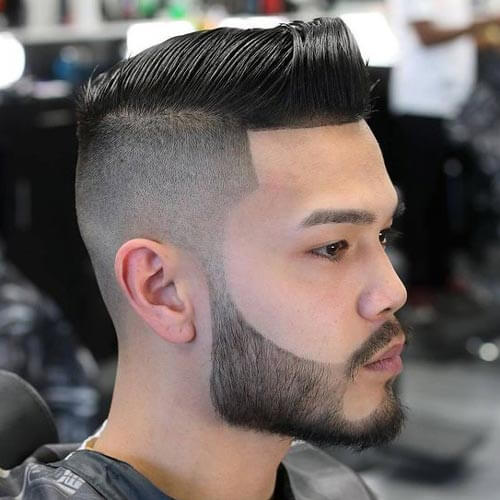 #7 Side Part and Comb Over
This classic short haircut is great due to its simplicity. Neatly faded sides transition to a slightly longer top that does not need much extra styling. To finish off the look, part hair on the side and slick over to create a clean and neat appearance.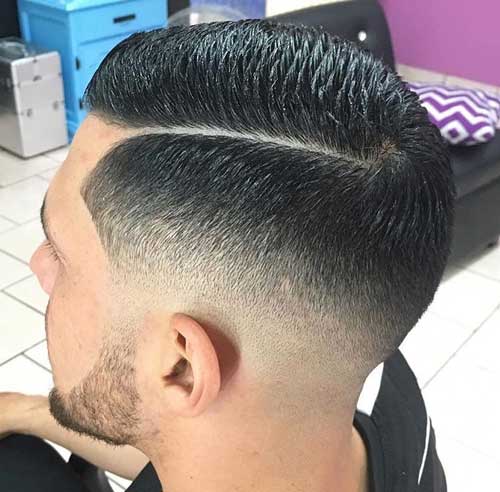 #8 Razor Low Fade and Deep Part
Men who don't want to commit to a short haircut will love this razor cut with a deep part. It will require some hair product and a little time to style, but if you sweat a lot, stay clear of this hairstyle, especially during the summer.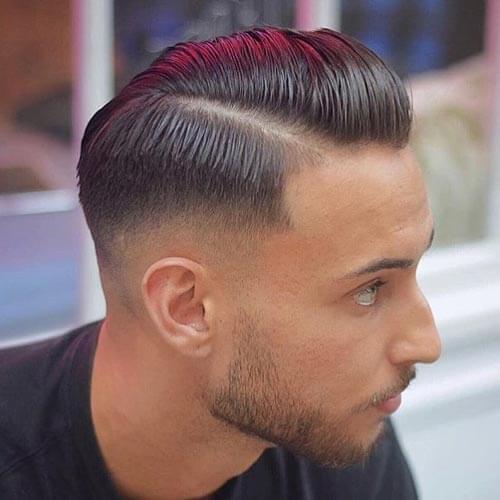 #9 Disconnected Undercut with Spikes
A disconnected undercut is a distinctive style that makes a statement. While hair remains long on top, a hard part at the back of the head gives way to a shaved undercut. Though it may require frequent upkeep to keep the undercut looking sharp, this style has an attitude.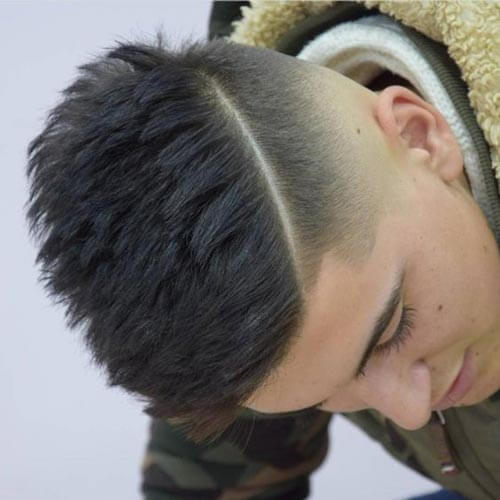 #10 Neat Crew Cut
When you do not want to cut off all your hair, a concise buzz cut will do the job. It is ideal for guys on the go and requires no maintenance at all.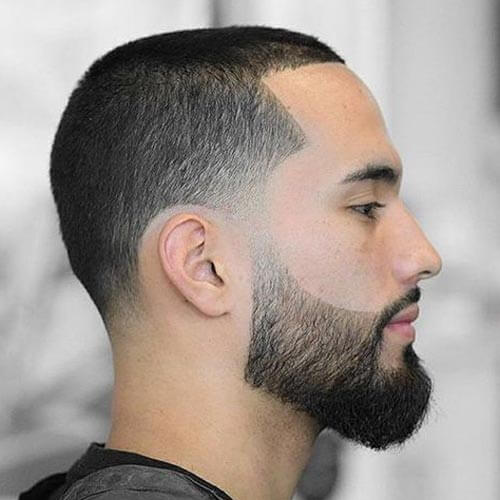 #11 High and Tight Comb Over
Great for dense or thick hair, a high and tight cut with a longer top can be a great compromise between long and short hair lengths. Sides feature a high fade look, with combed-over hair on top. If cut the right way, a minimal styling product is necessary to achieve this look.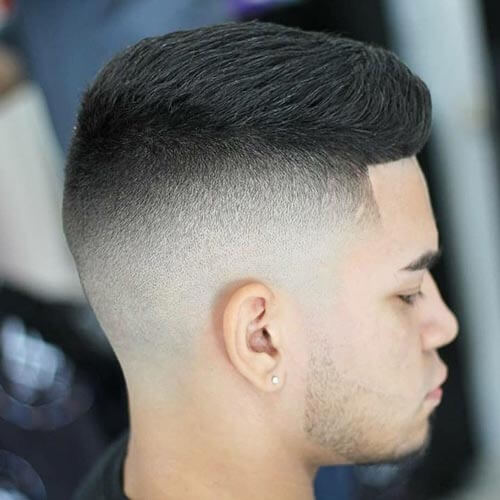 #12 Highlighted Comb Over
Get a boyish look with this comb over and part haircut. Ask your barber to cut it about two inches long on top and very low on the sides and back. You want to create an undercut effect that tapers off to a fade. Comb the hair forward and to the side for a fresh look.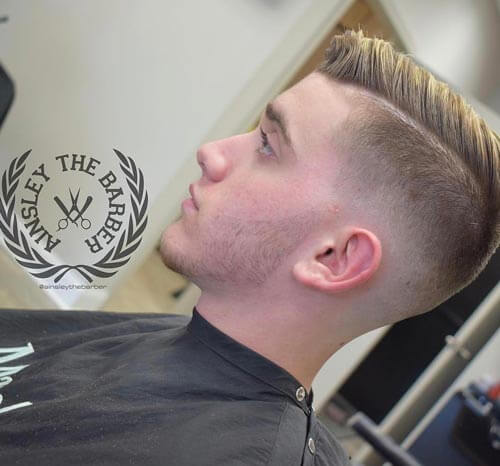 #13 Temple Fade Mohawk
Short and strong, this look projects power due to its straightforward style. A mohawk haircut that tapers toward the back of the neck transitions to a slightly longer top. This cut especially complements the texture of black hair. It requires low maintenance but delivers high style.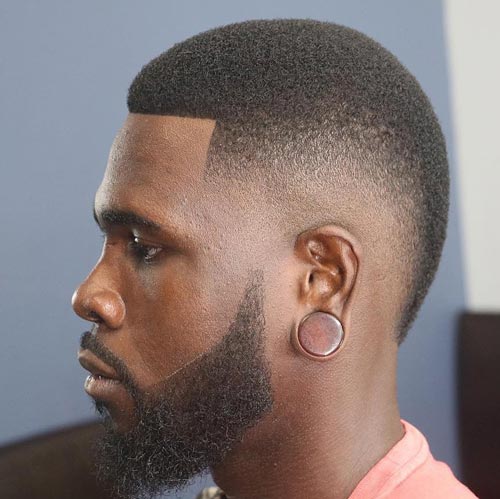 #14 Lineup and Fade
Adding a lineup to a pompadour is a great way of giving the hairstyles some definition. Any man can wear a haircut, and any occasion will be suitable. If you have an ultra-formal job, then wear one like this that is not too high on the top. Daily maintenance is a must to keep it looking this fab all the time.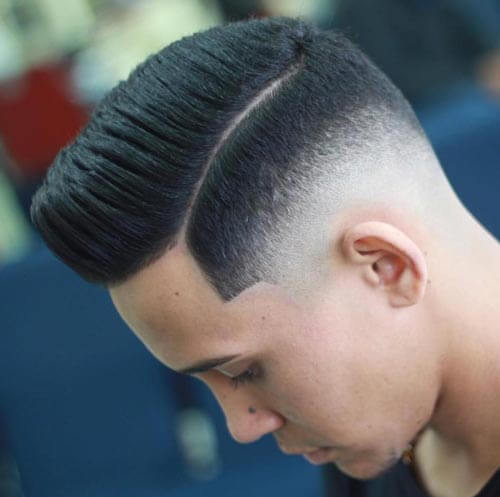 #15 Sliced Side Part with Low Fade
A low fade sets off the side-slicked top on this short haircut. To add interest, flick hair upward at the front of the head and set with gel or styling product. This style offers a vintage flair. Because of its highly structured appearance, regular maintenance and daily styling is a must.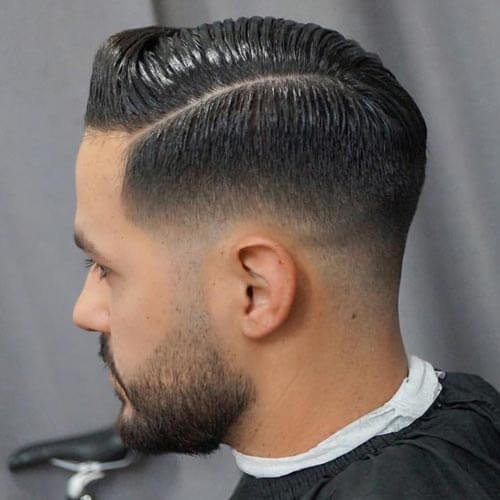 #16 Edgy Side Part and Bald Fade
If you are searching for that trendy, edgy look but with a bit of personality, then a razor cut will suit your needs. The top of the head can be cut between 2-4 inches so that you can do a combover with ease. There's so much you can do with this hairstyle: you can comb it into a pompadour, sweep it to the side, and more.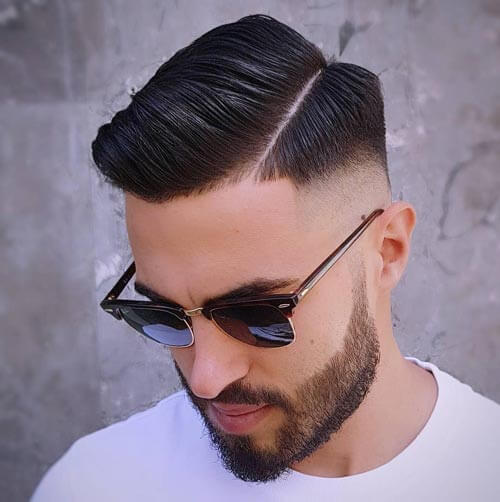 #17 High Fade Pompadour
A high fade Pompadour is a go-to cut for men who enjoy vintage or retro styles. Shaved sides add to the drama of the longer hair on top. Comb the pompadour backward off the face for a casual look, or use the product to give it a more formal, structured appearance. The clean line between the sides and longer hair on top adds a sense of simplicity to an otherwise high-style cut.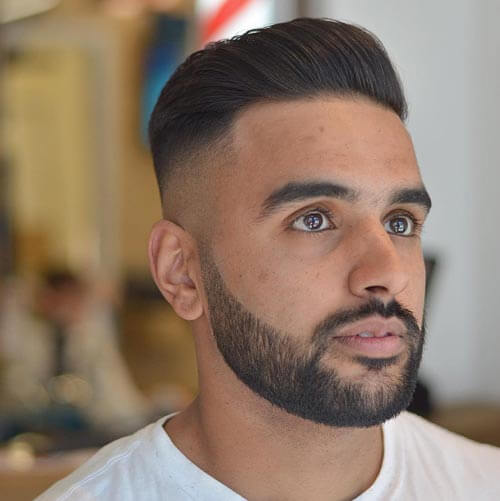 #18 High Top Buzz Cut
For those who want a shorter look, the buzz haircut is one of the best short hairstyles for men. No maintenance, no fuss, and no hair products to worry about. The only choice you will need to make is how short you want your buzz cut.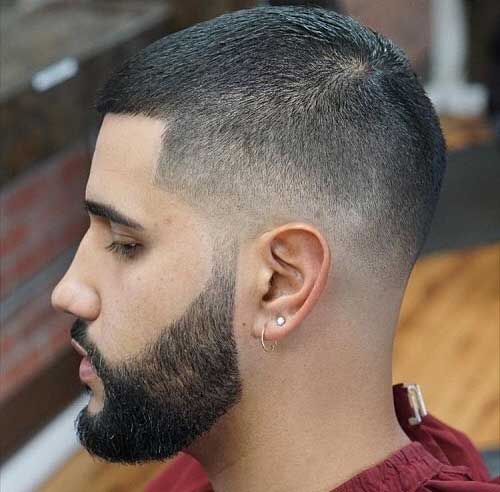 #19 Taper Fade Pomp with Quiff
For men with flamboyant personalities, this cut could be for you. Combining several styles in one, long, spiked hair at the top of the head dramatically shortens and tapers at the nape of the neck. Comb longer hair over to the side to add some pizazz to this look. Straight hair works great with this style.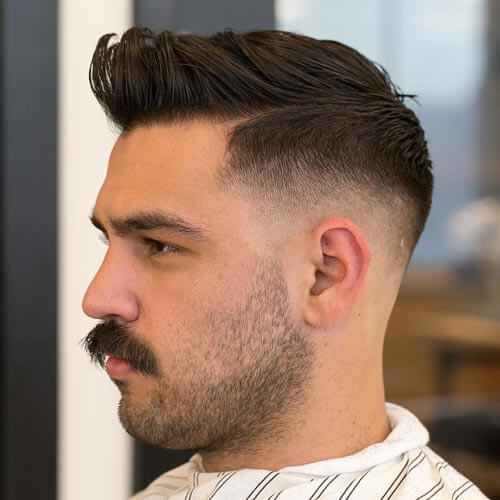 #20 Curly Hair with Temp Fade
Curly hair is not so hard to maintain with the right short haircut. For men who want manageability as well as the ability to show off their style, this haircut is the answer. The hairstyle nicely defines the curls and is perfect for work or school.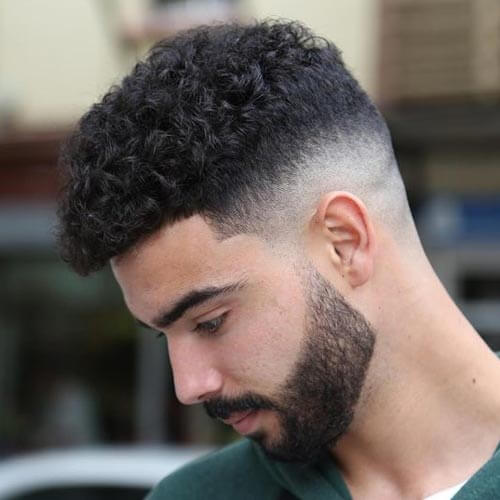 #21 Low Fade with Tousled Top
A more casual cut, a low fade with a tousled top offers a toned-down look. While a low fade keeps edges sharp, the hair on top remains textured. The structure of this cut provides a "bed head" appearance without looking sloppy, and it works best with straight or wavy hair.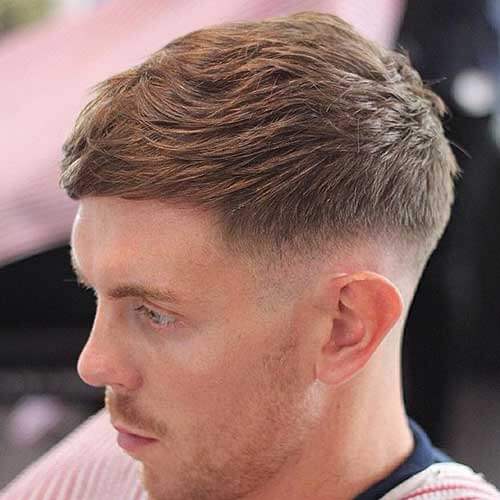 #22 Side Slicked Haircut with Low Fade
It's hard to go wrong with a classic slick look. Whether you comb it to the side or back, you will get a pure vintage look that never goes out of style. Work some hair gel into your hair and brush it into a slicked hairstyle.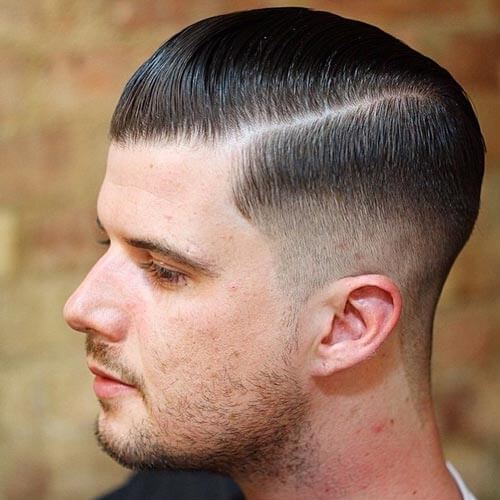 #23 Wavy Pompadour with Temple Fade
Men who have coarse, wavy hair look no further than this style. The natural wavy texture of the hair provides structure to the longer hair on top. A temple fade offers a dignified transition to a shaved nape and ear area.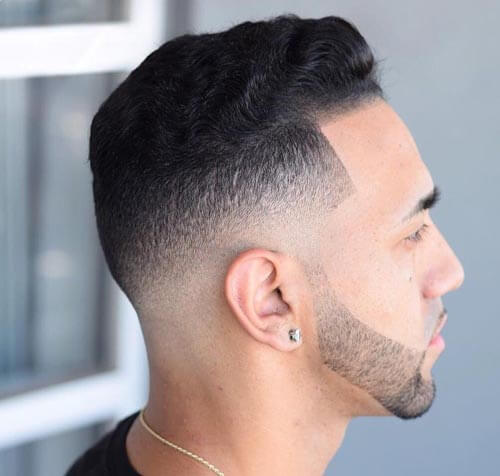 #24 Deep Parted Comb Over
As far as short haircuts go, this one is a mix of medium length hair on top and short hair on the sides and back. You will need some hair product to style this, but once you get the top combed over nicely, the sides and back are easy to handle.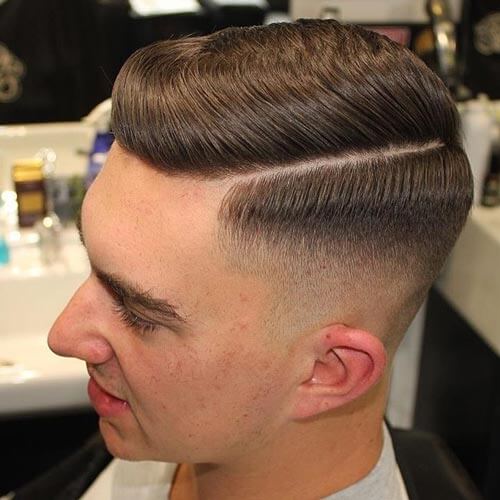 #25 Spiked Faux Hawk
A faux hawk is an easy way to make a statement without committing to a show-stopping Mohawk haircut. This faux hawk features longer hair at the top of the head and a closely-cut, but not shaved, crown. Extremely short hair transitions to a skin fade toward the nape of the neck. Finally, spike the hair on top to get a maximum edge from this style.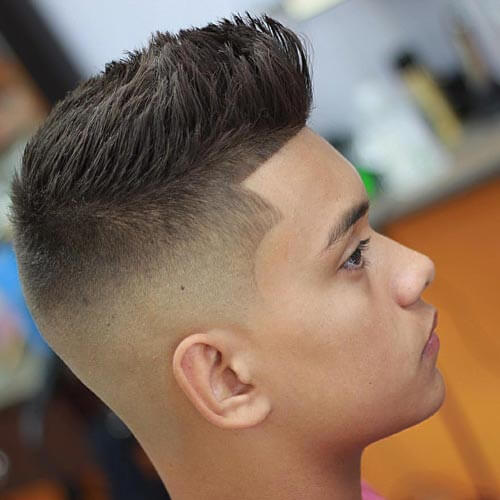 #26 Textured Spiky Hair with Fade
Men with voluminous hair sometimes have problems keeping their hair in check. A spiky haircut with layers on top and a fade at the sides and back is a great look for a full head of hair. No hair product is needed if the hair is cut short enough to spike on its own, otherwise using mid-hold products will help you create spikes with your fingers.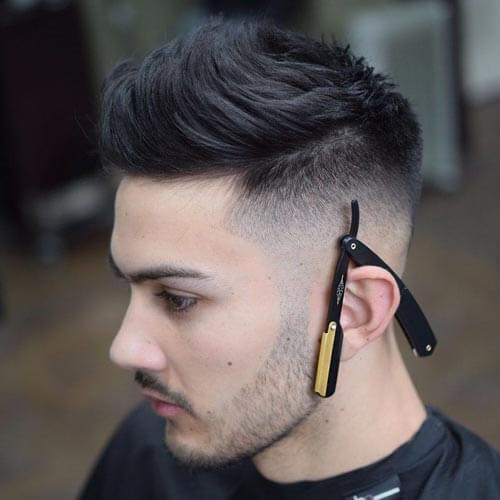 #27 Curly Crew Cut
Curly hair can be controlled with the right haircut. This high and tight style showcases curls while keeping them in check. A low fade below the crown of the head keeps edges looking neat and trim. Short sides provide a good structure for the trimmed but curly hair on top.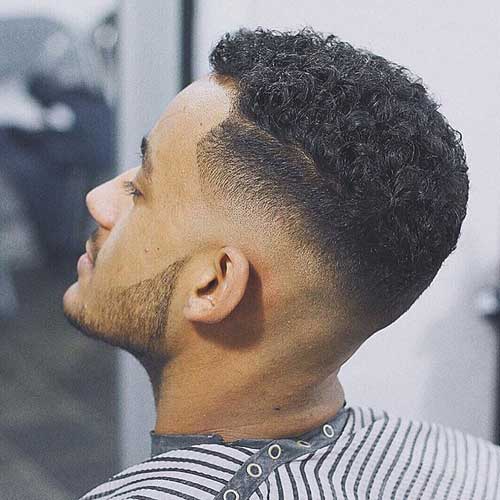 #28 Modern Side Slicked Haircut
Short hairstyles for men look great when slicked back or to the side. Our model is wearing a perfect example of a side slicked haircut. The deep part gives the hair character and will be perfect for formal or informal occasions. Be prepared to carry out some maintenance and arm yourself with some hair gel and a hand dryer to get this look.
#29 High and Tight with Taper Fade
A high and tight haircut is a classy look for men who want to look put together at all times. The sides are usually cut very low into a high fade, and the top can be any length you want. The haircut is a perfect example of a really cool hairstyle that is fuss-free.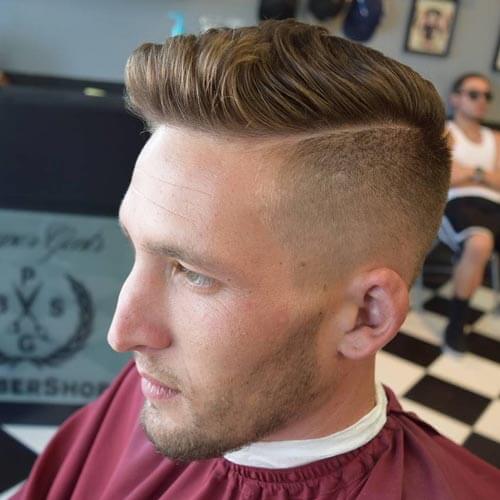 #30 Sectioned Hairstyle with Deep Part
Some hairstyles should be displayed on a mantle for the world to see. A sectioned hairstyle for men is usually a work of art, and this one is no exemption. Of course, it is not going to be easy to maintain this hairstyle. You will be making several runs to the hairstylist just to keep it together.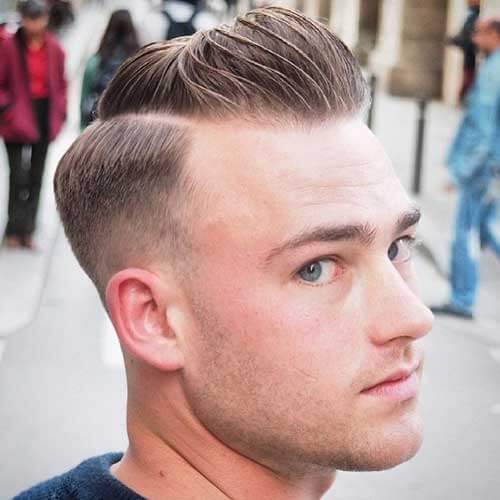 #31 Short Haircut with Taper Fade
Adding a taper fade to a short haircut is the easiest way for any man to look handsome. The model is wearing a style that does not require any maintenance. Simply comb, and you're ready to hit the road. You can use your fingers and a bit of hair product to make it look edgier.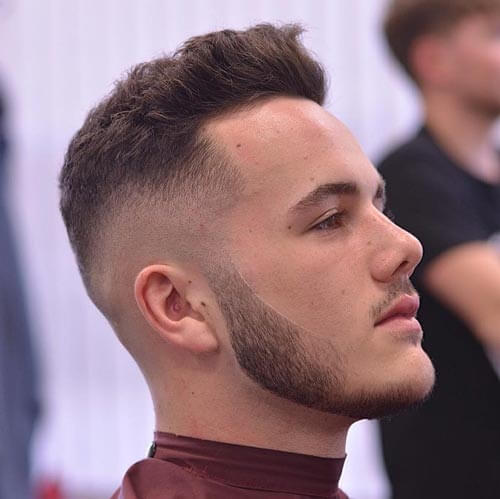 #32 Pompadour with High Fade
Pompadour is a cool hairstyle and even cooler with a high fade. For this style, ask your hairstylist to cut the sides very short with layered hair on top. You will need a light-hold hair product to keep your pomp upright.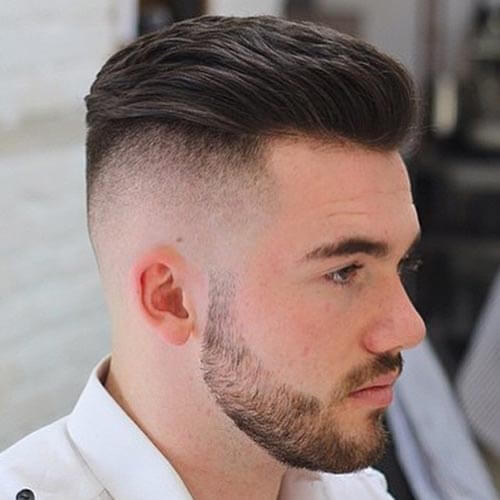 #33 Comb Over and Burst Fade
Burst fade haircuts are great at pulling attention to the top of the head. To style, comb backward from the front to the side while the hair is wet, then use a blow dryer to finish the job.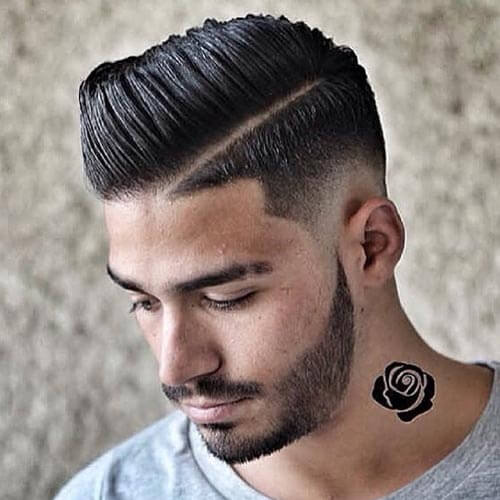 #34 Short Curly Haircut
This is the best solution for men with curly hair who want manageability as well as style. Curly hair naturally requires maintenance as you will need a curl defining shampoo and other hair products to keep your hair tangle-free. But once you get a handle on managing your curls, this hairstyle is the epitome of simplicity.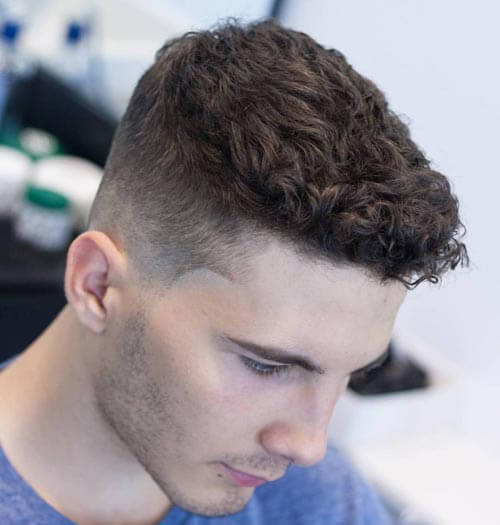 #35 Caesar Haircut
A cousin of the crew cut, this short Caesar haircut will get you as close to a buzz cut as any other short hairstyles for men. Although almost anyone can wear this style, it is perfect for men with square-shaped heads.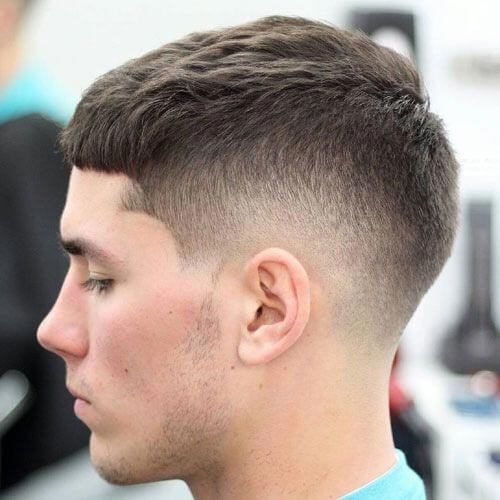 #36 Buzz Cut with Bald Fade
You can never go wrong with a classic buzz cut. It is perfect for work and play, and it does not require any maintenance. You can decide to reduce the intensity by not wearing a beard and can grow one if you want. This version of the buzz cut comes with a bald fade on the sides and back.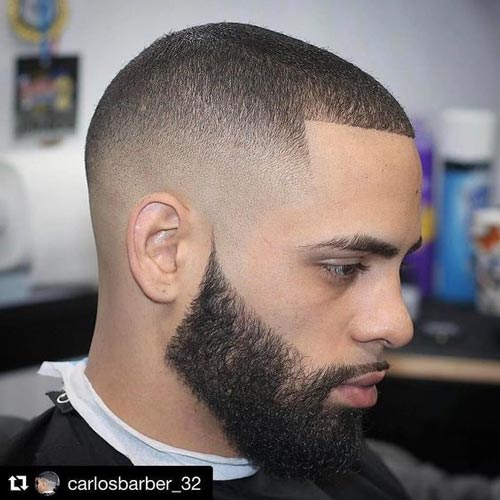 #37 Textured Side Swept Hair
You don't need to have thick wavy hair to get the perfect side-swept hair—just add in some texturizer and hair gel to get your hair looking like the model in the picture.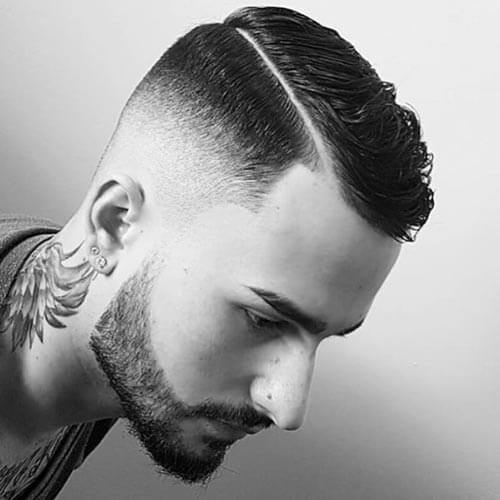 #38 Side Parted Quiff
Any longer than two inches and this hairstyle will be classed as a deeply parted quiff. Cut into layers on top; the haircut has a fade down the sides and back. You don't have to do much to maintain this hairstyle; all it needs is some medium hold pomade and a blow-dry after styling.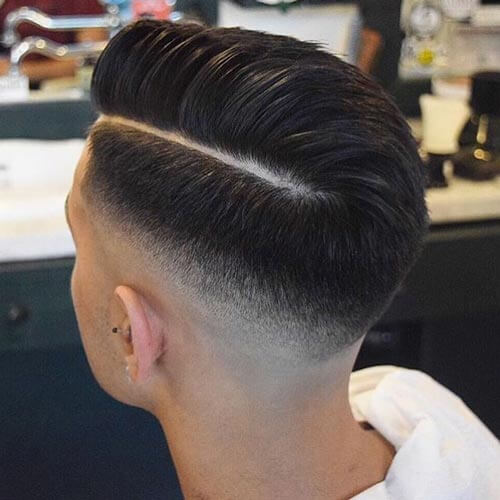 #39 Buzz Haircut with Side Design
Is it a wave or a bird? Some men want attention and don't mind the stares from admirers. The design on this buzz cut was done around the ear to the back, giving it the appearance of a mohawk, but not quite…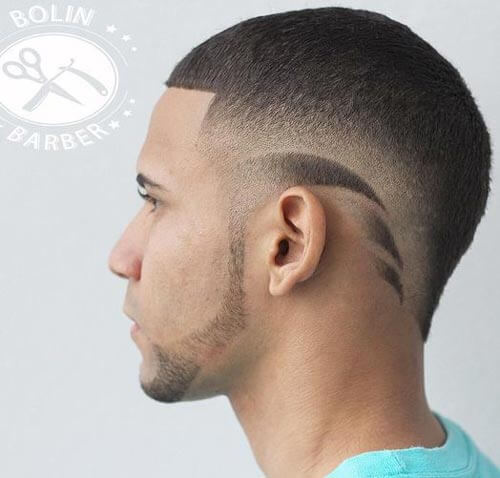 #40 Long Curly Top
Those who are not quite ready to get rid of the long tresses, try a curly long top with a layered cut at the crown, sides, and back. Your curly hair can be combed to the side or slicked back. You can do so much with this hairstyle, but remember, you will need to give it some attention to keep it looking great.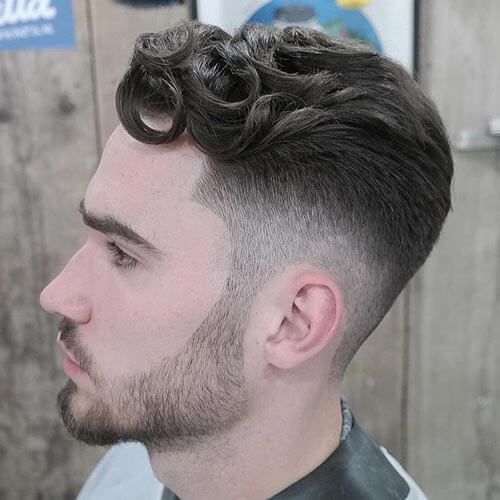 #41 High Bald Fade
Change your look easily with a side combed hair and deep part. No matter what occasion, this hairstyle will do you proud. To get this fashionable look, use light to medium hold hair products and air dry to perfection.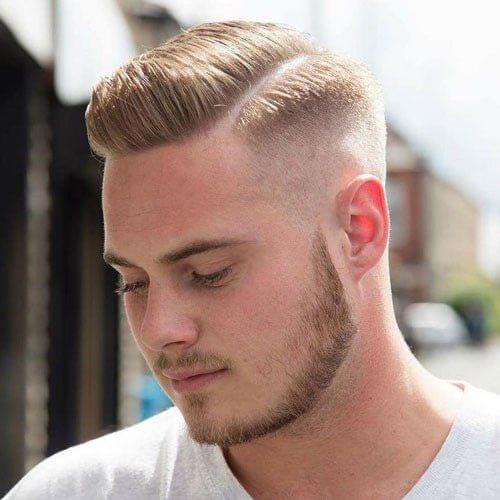 #42 Quiff and Comb Over
Pompadours are for savvy and experienced men—at least that's what the hairstyle gives off! Remember Travolta in Greece? It's easy to love the different angles of this hairstyle and how it gets longer as it progresses to the forehead. A pompadour with a combover is even more suave, trendy, and fabulous for any event.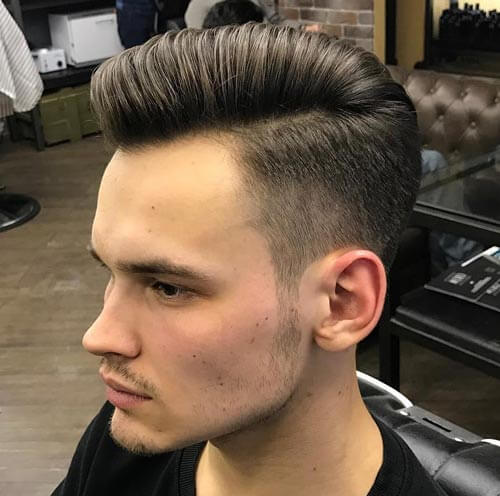 #43 High Top Fade with Fringe
The model is wearing one of the easiest hairstyles to emulate, ideal for any facial shape. Ask your barber for a short haircut that is very low on the sides and back with about an inch on top. To maintain this hairstyle, just towel dry and use any hair product of your choice.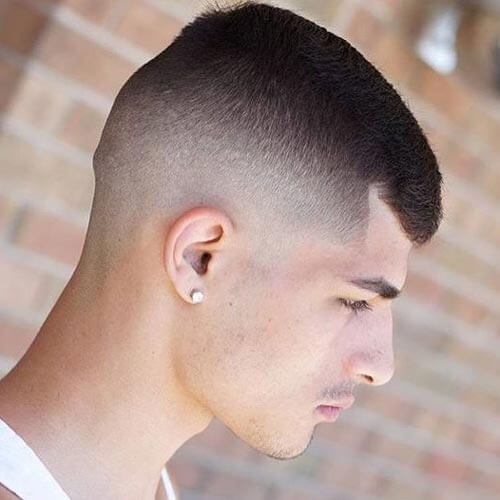 #44 Buzz Cut with Side Design
Cut the top of this hair very short or make it slightly longer than what the model is wearing in the picture. The side designs will keep you looking sharp but be prepared for regular visits to the barber.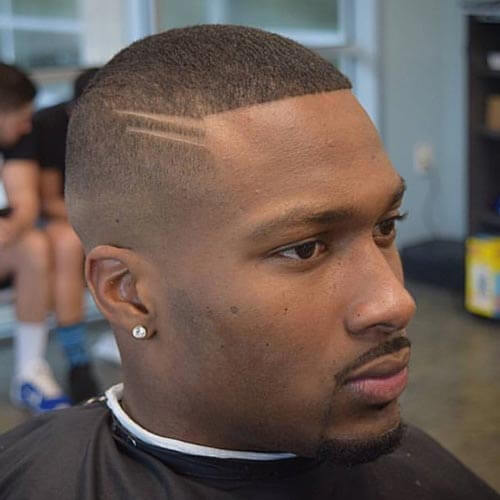 #45 Textured Quiff with Fade
Edgy and textured into a quiff for an all-around superb look. If you want to stand out on any occasion, this textured quiff will be perfect for you. Remember to run your fingers through your hair to add a bit of texture. Ideal for men with straight hair who want a not-too-conservative look.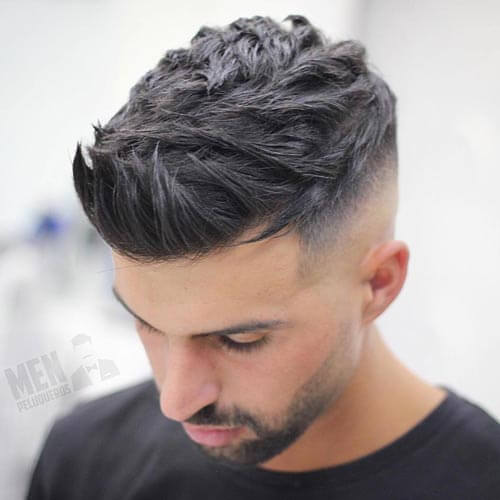 #46 Classic Comb Over
Nothing accentuates a comb over better than a full beard. Comb overs are a popular haircut for people with thinning hair, but in this case, with a full head of hair and beard, you can create a look that shows your unique style.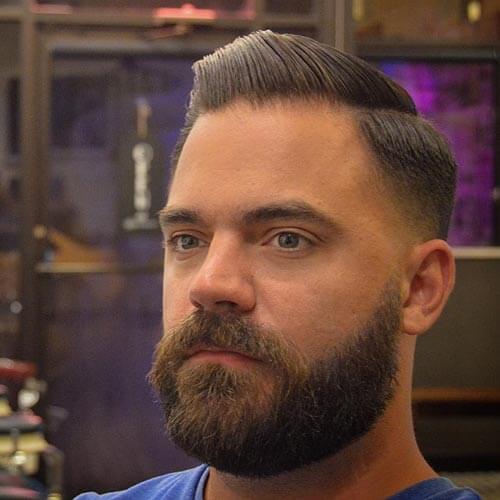 #47 Razor Haircut with Side Part
A prominent side part will make you stand out from the crowd. You can slick this look to the side or to the back, but you will need some hair product and a blow dryer. This look is not for those who want to avoid hair maintenance.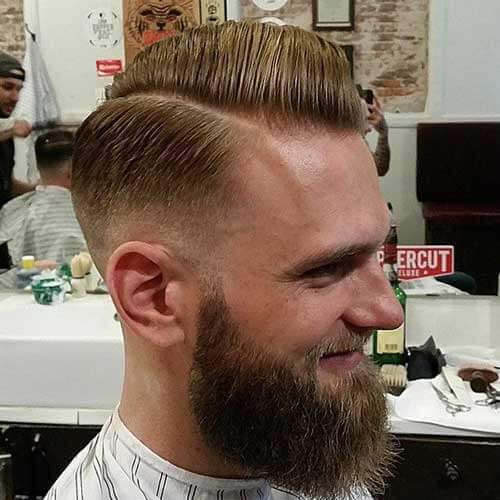 #48 Textured Side Combed Hair with Part
Slicked hair is stylish but when you add some texture, you'll effectively change the game. The model is wearing a side slicked hairstyle with traces of a quiff in front. If you are not a fan of hair products, then this hairstyle is not for you.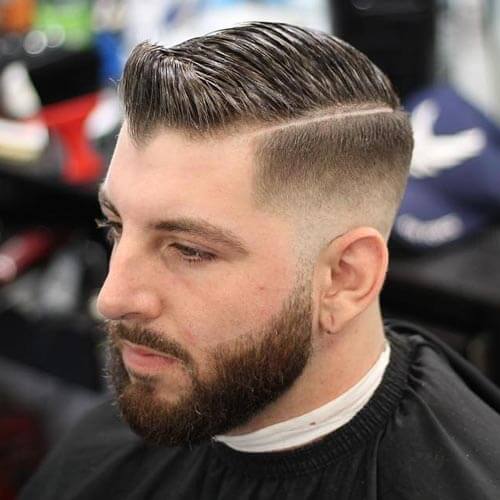 #49 Pompadour with Taper Fade
The pompadour is much more than a vintage haircut. For men with a good sense of style, this is a haircut that'll get you noticed any day! You will need to give it some maintenance time though. Use a strong-hold gel and brush the hair before blow drying.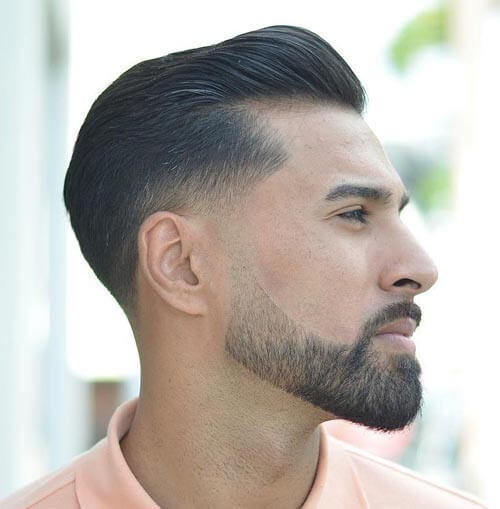 #50 Caesar with Curly Hair
A Caesar haircut is a hairstyle statement to make this season. With curly hair and a taper fade, this Caesar is a unique take on an otherwise classic hairstyle. Use the natural texture of your hair to get this look. No maintenance is required. However, you will need a trim now and again.