The crew cut fade is an extremely popular hairstyle for many reasons. What was once a status symbol among ivy league colleges in the 1920s and 1930s has become a stylish and clean look for individuals who value style and love to be noticed.
The crew cut has a few different measurements depending on what type of style you are aiming for. When cutting crew haircuts, some barbers may choose to forgo a guard while others will use one. The numbers will generally be the same, though. Measurements go from 0-10. For a crew cut haircut, lower numbers will be around the nape of the neck and sides, getting longer towards the occipital bone and the top of the head.
A crew cut fade is easy to style, but still, requires a bit of maintenance. Ask your barber or stylist for recommendations, but many men choose to use a pomade to keep their style locked in. Whether you want a matte look or some shine to your crew cut fade, there is a pomade out there for that.
Men's Crew Cut Fade Haircuts
#1 Mid Length Crew Cut
This is great for men who aren't looking to go military short but still want to keep things looking clean. Those with straight or semi wavy hair usually find the best results with this cut, and styling with pomade is an easy way to keep a finished look.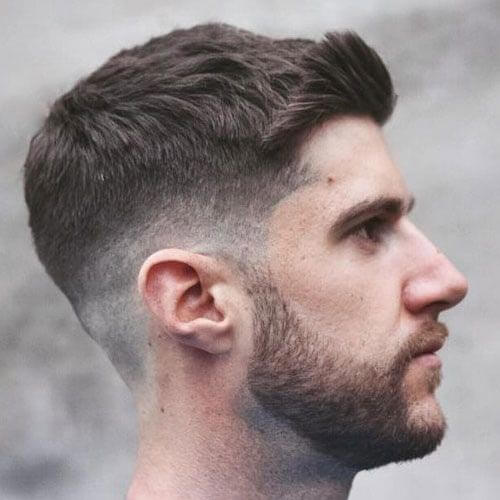 #2 Buzz Crew Cut with Faded Sides
The crew cut is technically a buzz cut but is unique because of the faded sides. The top is an iconic buzz haircut with origins from the fifties. This short crew cut fade suits men with square or oval-shaped faces. Cutting crew hairstyles like this also suit men with different facial shapes.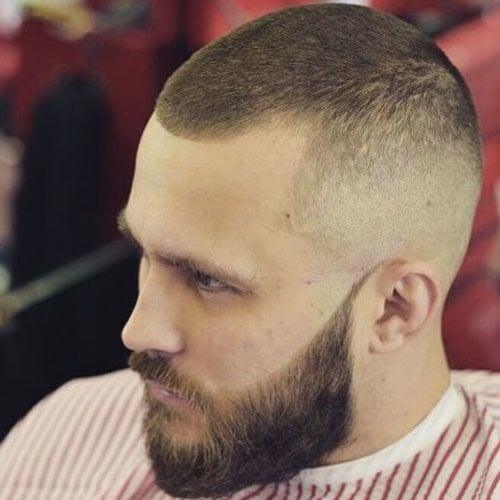 #3 Spiky Top with Fade
For those who want the spiked crew cut with less harshness and intensity, the fluffy spiked crew cut is for you. Style it with a matte loose hold pomade for a messy yet solid style.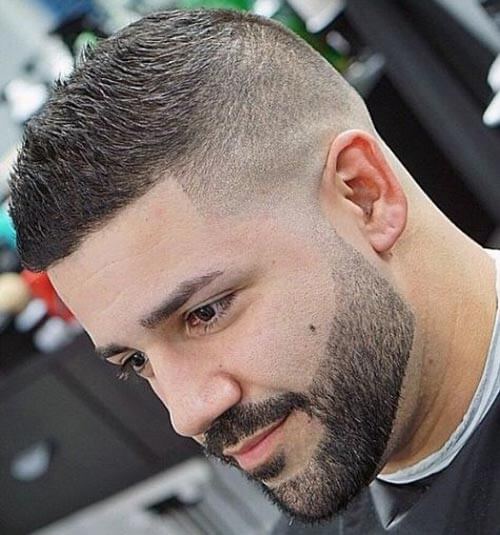 #4 Caesar Crew Cut Fade
The Caesar haircut is a classic men's hairstyle that never goes out of fashion and features short, horizontal bangs. The hair on the sides is the same length as fringe and is sometimes cut shorter. The textured bangs minimize the look of a receding hairline.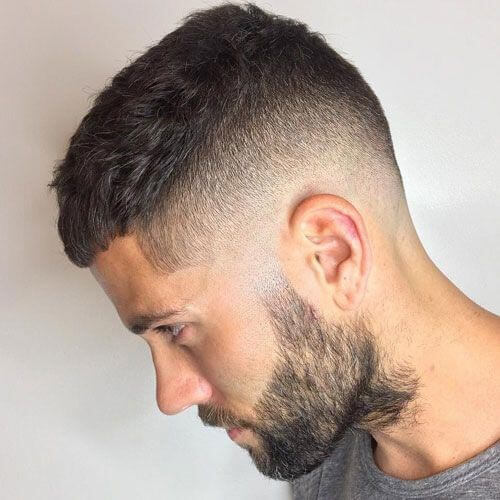 #5 Side-Swept Tousled Crew
The side swept tousled crew gives you the ability to have an effortless and impeccable style. Relatively short on the sides and medium length on the top gives easy styling options as well.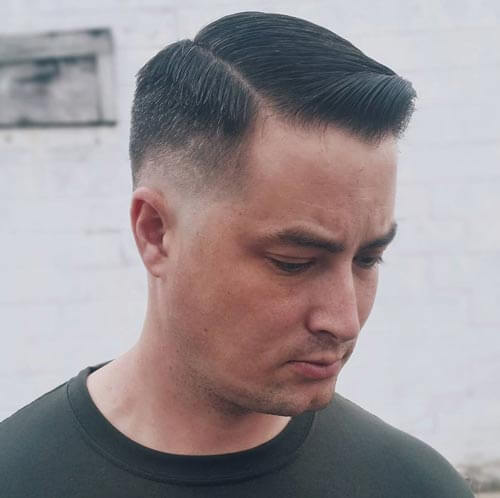 #6 Textured Crew Cut with Low Fade
This forward-cut crew looks like an army crew cut but with longer textured hair on top. All hair types can pull off this style, whether you have wavy or straight hair. Ask your hairstylist to cut your hair "forward" so the finished look frames your forehead and emphasizes your face and style.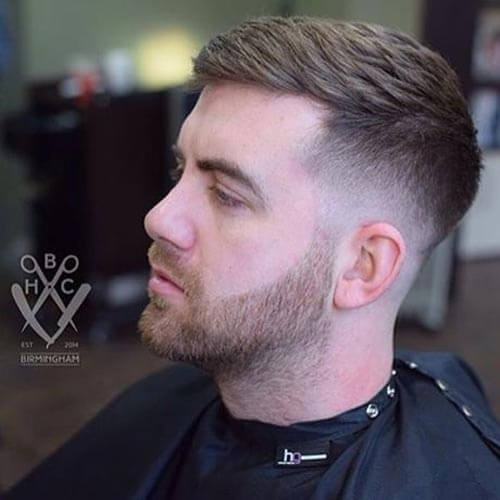 #7 Pompadour Undercut with Part
Cutting crew haircuts with a pompadour have a youthful charm and will suit any type of facial shape. This haircut is trendy, with a subtle effect that balances the serious look of a military cut. The cut is easy to maintain and style. You simply need to wash your hair with a conditioner, brush, and style the hair with pomade.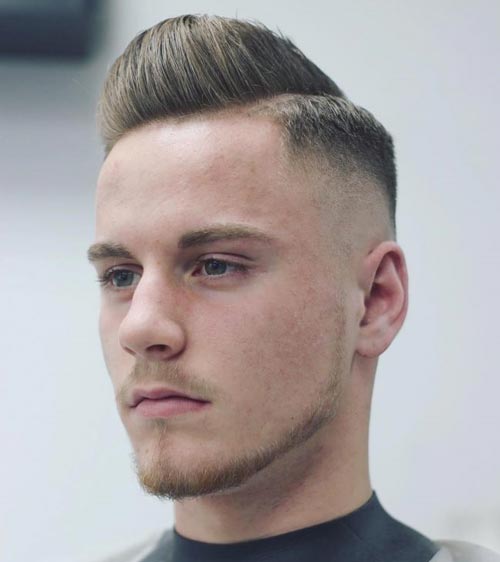 #8 Curly Crew Cut Fade
This is ideal for those with coarse or curly hair. The curly crew cut is impeccably tight on the sides, and still very short on top to ensure that everything stays in place.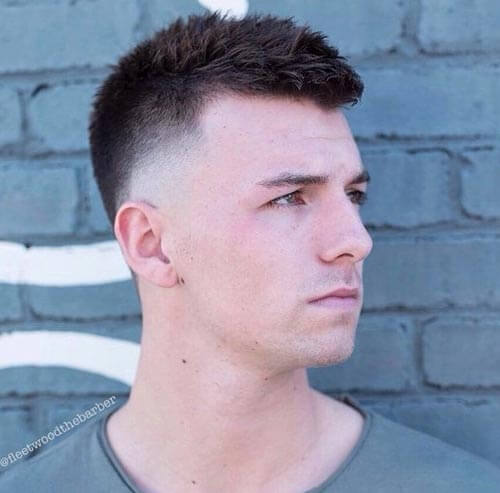 #9 Textured Comb Over
The contrast crew cut is excellent for those really wanting to make a statement and is great for straight, wavy, or curly hair. Ask to keep the sides very tight and short and the top long.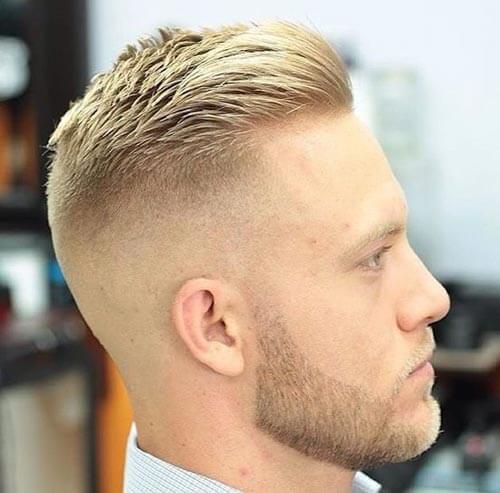 #10 Textured Quiff with Faded Sides
Quiffs go well with a lineup and crew cut fade. The style in the picture features short layers, forward brushed hair for a sculpted look, and faded sides. This quiff haircut does not go overboard, so you won't need too many hair products to maintain the look.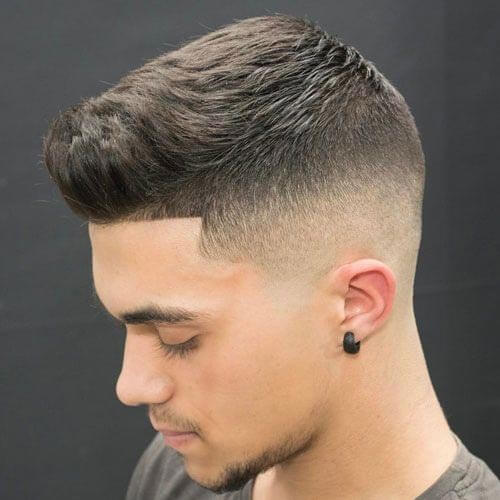 #11 Side Swept Pompadour with Tapered Sides
This side swept pompadour is a modern crew cut fade haircut that is swept to one side with a taper fade cut on the sides. The short hair starts from the crown and is longer as it progresses to the front. To keep the hair upright and firm you will need to use some hair product.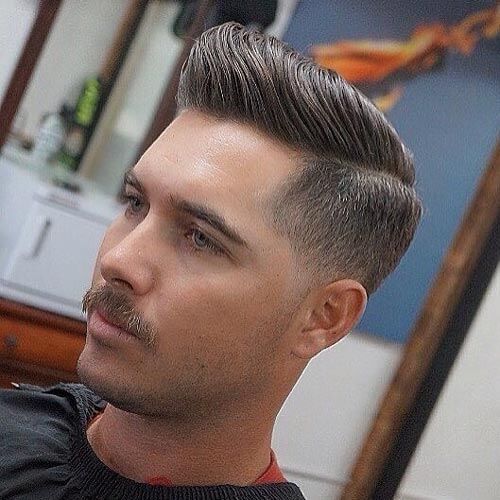 #12 Spiky Front with Faded Sides
This slightly spiked crew cut fade style looks dapper and clean making it a great choice for any occasion. Although the hair is short, this stylish crew cut has a dynamic texture that keeps it sharp and edgy. Use a wide-tooth comb and some quality hair product to get this hair texture.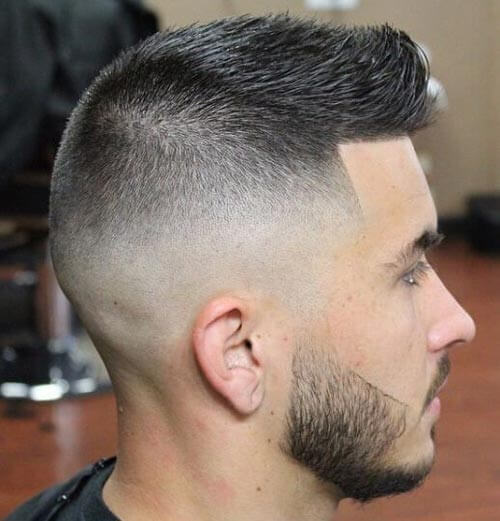 #13 Side Part with Drop Fade
The best haircuts for balding men make use of their hair texture. This cut minimizes the appearance of a receding hairline and the thinning hair is made to look fuller with the added texture. The low fade on the sides pulls focus to the full hair in front. This style will work well with any light hold mousse.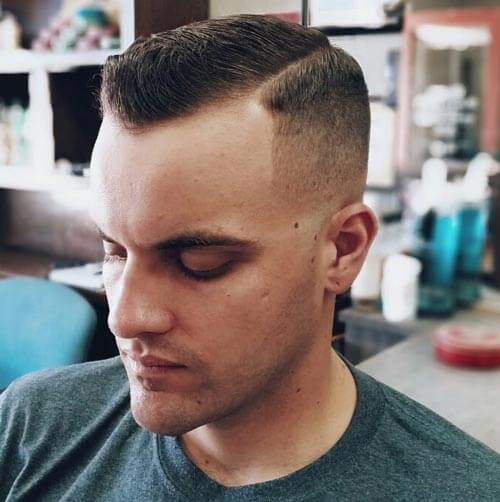 #14 Military Cut
No matter if you are in the military or not, the military crew cut is about as traditional and put together as it gets. This cut is characterized by its entirely shaven back and sides and a short top to keep cool and put together.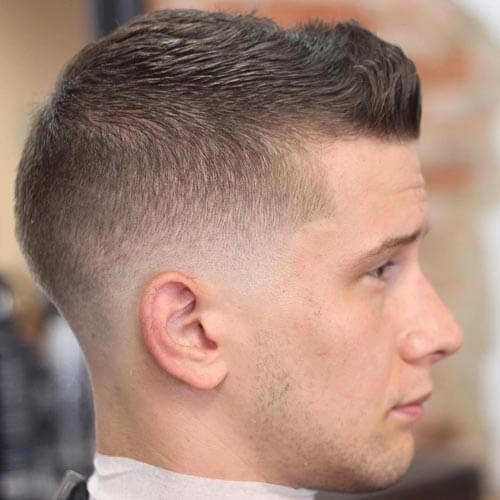 #15 Widow's Peak Crew Cut
A natural widow's peak is used in cutting crew styles that look timeless. The defining feature of this haircut is the layered length, short sides, and tinted hair. Use a comb or run your fingers through to get this look. Best for wavy or curly hair, so you won't need to use any hair products.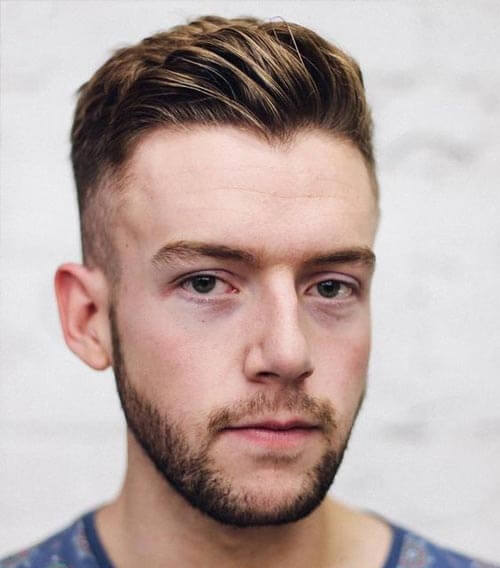 #16 Side Swept Crew Cut Fade
Side swept hair is a signature look for men and one of the most popular hairstyles. When combined with a crew cut, it becomes a classic haircut that is easy to maintain. The short crew cut has sharp edges and combed to one side. The spiky look is modern as well as fresh.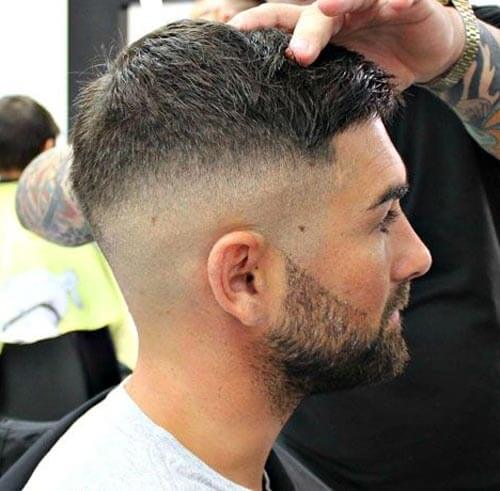 #17 Deep Parted Pompadour
This is a unique crew cut that features an undercut, pomp, and drop fade. The hair on the top is mid-length from the crown and the sides have a sharp undercut and fade which blends well with the beard. The hairstyle is trendy and doesn't need too much product or maintenance. Just add some pomade and brush to the side.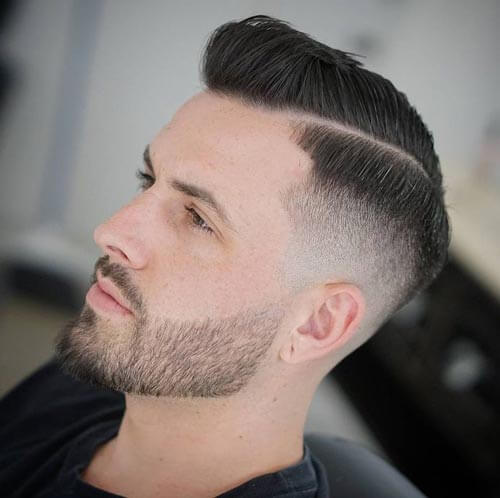 #18 Buzz Hairstyle With Crew Cut
The high and tight buzz haircut has clipped sides that are slightly longer than a regular buzz on top. This creates the perfect "high and tight" appearance and is one of the easiest hairstyles to maintain. The top hair is a medium length of about 2 inches and can go in any direction you choose.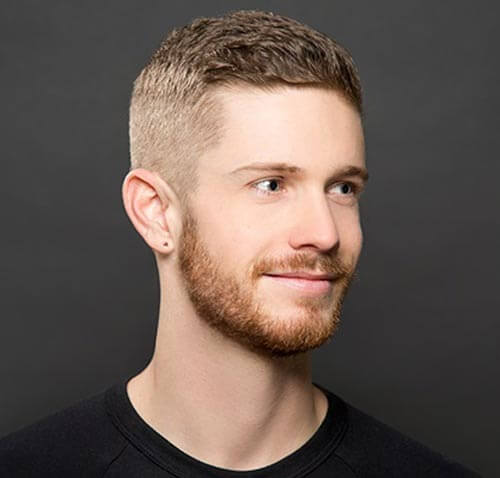 #19 Long and Tousled Crew Cut
This cut is great for those men who rock the messy look and keep it flawless. Longer sides and an even longer top help drive home this look, and it is easily styled with a loose hold mousse.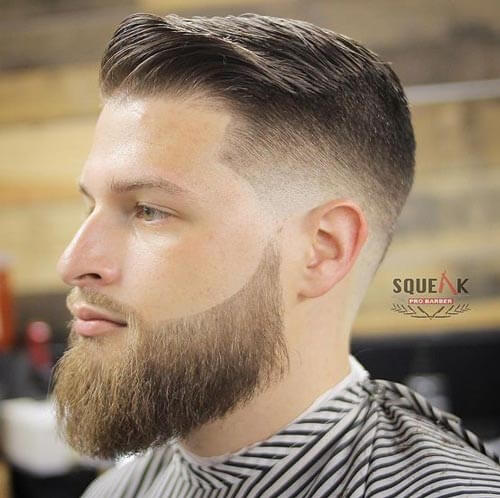 #20 Skin Fade with Brush Up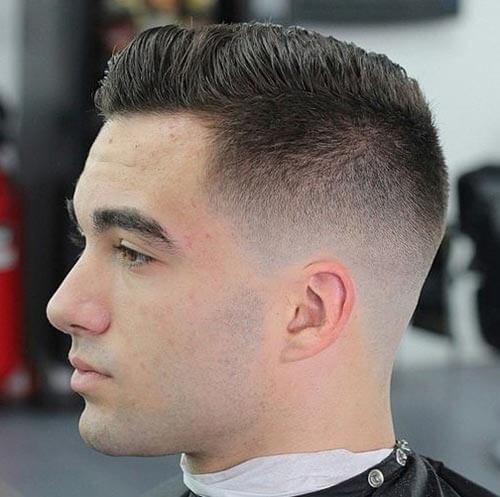 #21 High and Tight Haircut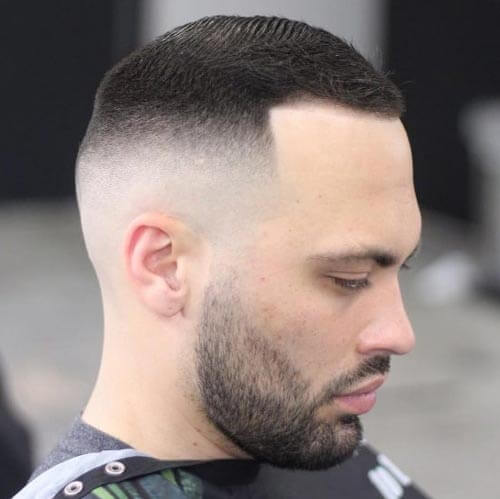 #22 Comb Over with Buzzed Sides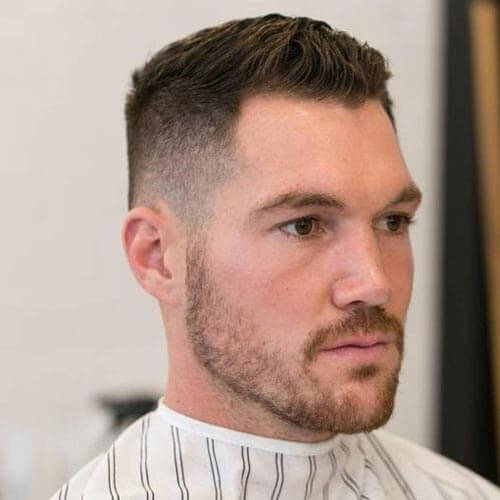 #23 Brushed up Hair with Skin Fade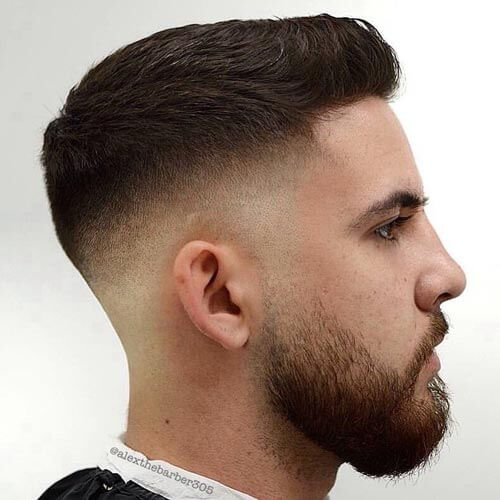 #24 Side Swept Haircut with Undercut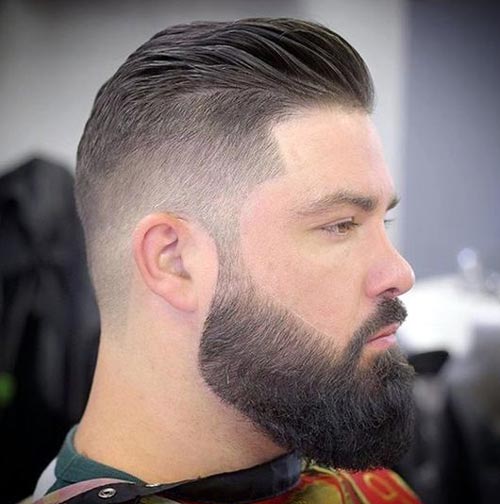 Conclusion
The crew cut fade is one of the most versatile men's haircuts and has been around for almost a century. Keep your look clean and your head cools in any weather and takes these inspirational pictures with you to your next barber appointment.