An undercut fade adds a modern twist to a man's hairstyle. It is characterized by a sharp cut that is very similar to a high fade that you can slick back, wear as a pompadour, or even create the illusion of a Mohawk. There are different types of undercuts, some are modest, and some will turn heads. Check out these 28 undercut fade haircuts and choose one that will suit your style.
#1 Pompadour with Tapered Sides
Pompadour hairstyles are sometimes mixed with an undercut to play up the drama of voluminous hair. While a low fade softens the look a bit, the sharp cut makes the look more intense. By styling pomp, you can get a daring undercut and a more relaxed top section. The top hair is 2-3 inches long and requires some hair gel to keep it in place.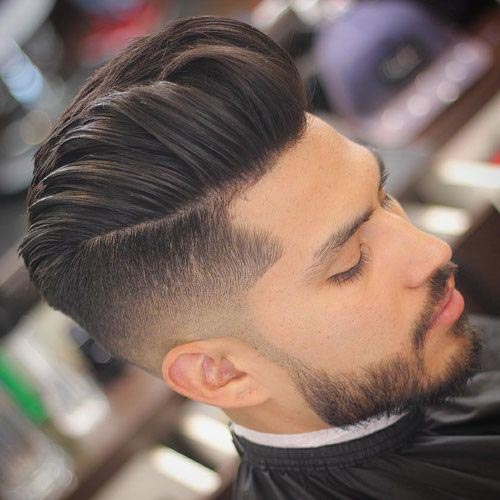 #2 Slick Back Hair with Undercut Fade
This slick back hairstyle blends well with the low fade. Distinctive and well-polished, the hairstyle features a sleek top with ample volume and a low fade undercut. Perfect for men with straight hair, this style is great for formal or informal occasions. To get this style, you'll need some pomade or hair gel for maximum slickness.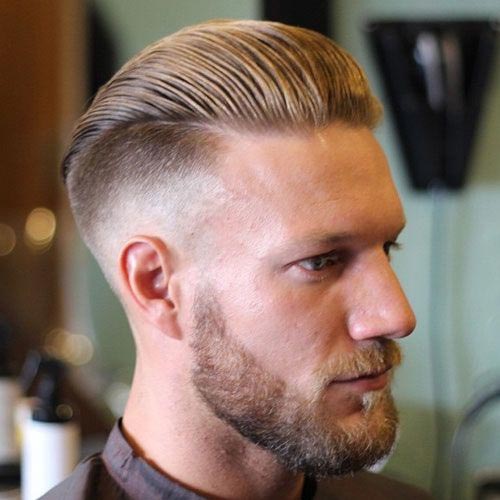 #3 Undercut Fade with Side Part
This is a comb-over type of hairstyle that can look like a Mohawk or a regular comb over. The right side has a disconnected undercut fade, while the left has a side part. Men who want a unique look can get it by creating a shaved side part to separate the undercut from the top hair. You can also add some highlights to the tips of the undercut for a bohemian effect.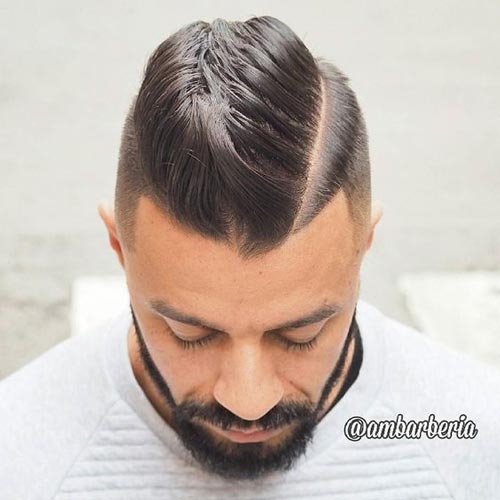 #4 Wavy High Top with Low Fade
Wavy hair can also be used for a high top with a stylish low fade. This hairstyle features an undercut fade that extends from the sides to the front of the hairline. Although the model has wavy hair, any type of hair texture will work for this look. Just be sure to keep the top hair long enough to provide balance to the overall look.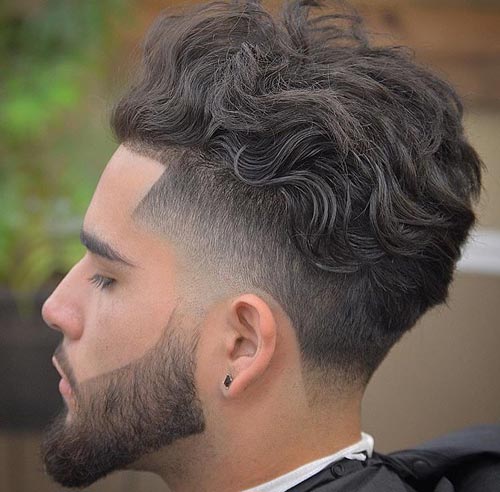 #5 Side Combed Disconnected Undercut
A faded undercut involves a gradual reduction of the hair from long to short, but a disconnected undercut is a sharp departure from the longer top hair. This version has a deep sideline between the combed hair and the undercut fade. Finish this look with a smooth comb-over to get a mix of modern and classic.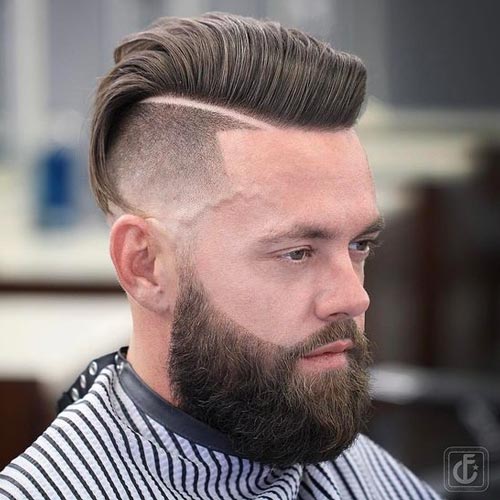 #6 Quiff Undercut with Drop Fade
Textured men's hairstyles always stand out, but when combined with an undercut, it stands out even more. Some hairstylists know how to undercut and quiff hair to perfection. The key is to make the top section longer so that you can brush it to the side, or to the back. Maintaining this look requires some medium hold gel to keep the hair texture intact.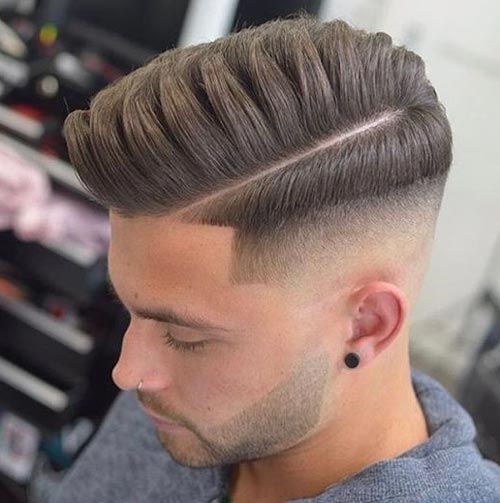 #7 Comb Over with Low Fade Undercut
This undercut style is cut in layers and looks great when it is styled to the side. The best way to sculpt this comb over is to use some wax and a blow dryer to achieve the textured volume. The sides start with a taper fade and progress to a bald fade.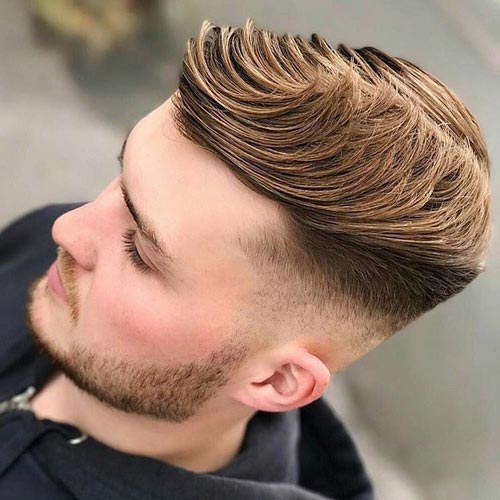 #8 High Pompadour with Undercut Fade
This spectacular pompadour is perfect for all fashion-forward men. Combine this undercut fade with full hair to create an eye-catching, modern look. Because a pompadour can elongate the shape of a man's head, this haircut is best reserved for men with round-shaped faces. Hair gel is necessary to keep this pomp firm.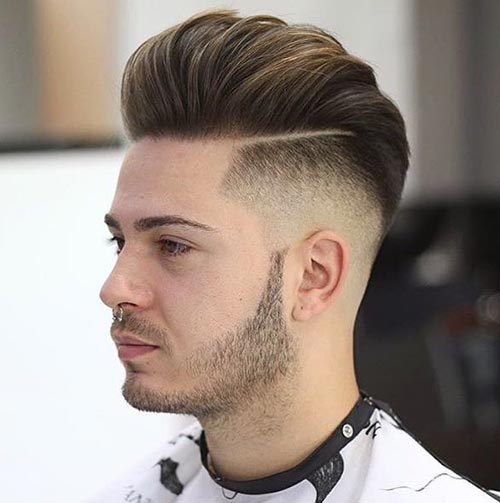 #9 Quiff With Undercut Fade
A tousled quiff is not something you see every day. This low fade haircut is bound to be your favorite new style for a casual laid-back look. All you need is a basic undercut fade and a choppy cut on the top styled into a quiff. Of course, you can wear a tidy version of this style, just use a comb for a smooth result. The look is also easy to maintain, use a dollop of pomade and apply to your hair before drying.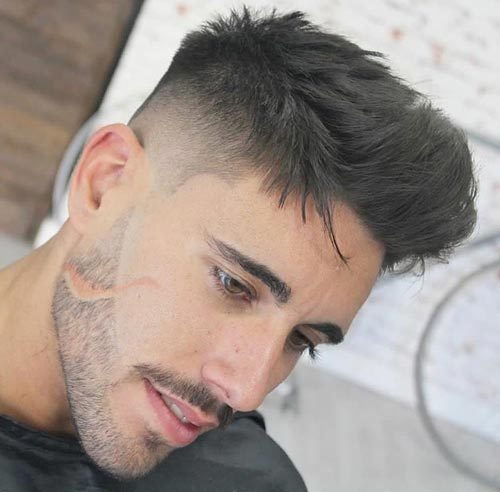 #10 Textured Haircut with Undercut Fade
If your personal style is "sharp" and "svelte", then this look will be great for you and is how to undercut and texture medium length hair. Sophisticated and simple, yet modern and edgy, this style will look good for casual occasions. It's also the best for guys who like the pompadour, but don't have the volume to pull it off. Add some hair product to style this hair and keep it in place.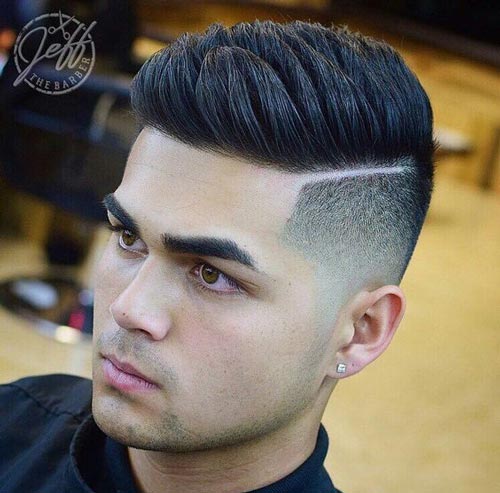 #11 Pompadour with Deep Part
Pompadours stand out when you add extra volume to the top of the hair. This haircut stands out with a modern flair and can easily be created by blow-drying the hair upwards and to the back with a hair brush and pomade. Remember, the bigger the disparity in length between the top and the sides, the more intense the hairstyle will look.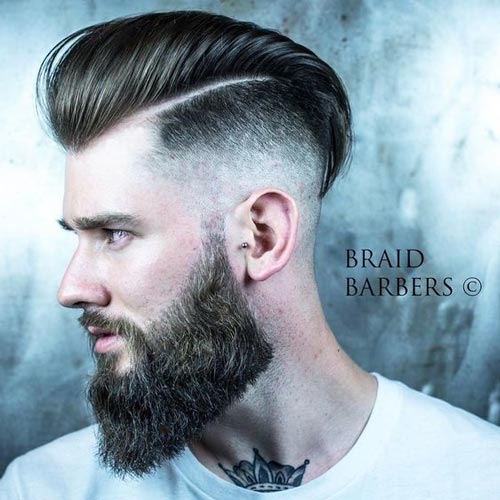 #12 Curly Undercut with Bald Fade
The undercut is not only for men with straight hair. Wavy and curly haired men can also look fabulous in an undercut. If you have naturally curly hair, then you can use some hair product to achieve a neat and clean look. Cut your undercut smoothly to give it a masculine touch of class.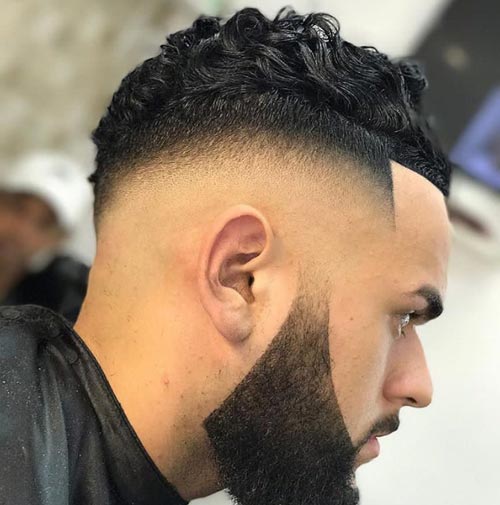 #13 Pompadour with Low Fade Undercut
This style is fashionable with long hair on the top and an undercut that tapers off to a low bald fade. Style the hair on top in any direction, for a very versatile hairstyle. Apply some wax with a matte finish to your hair and you are ready to go.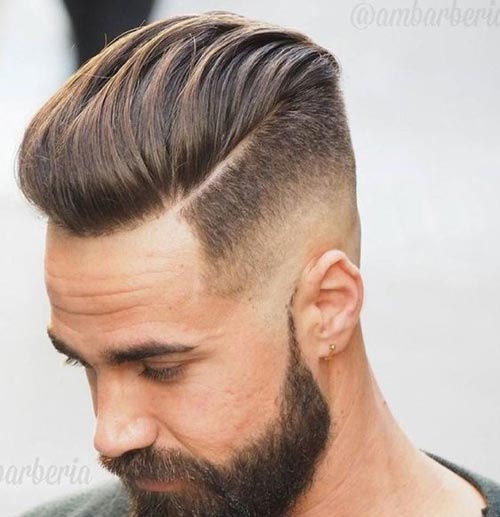 #14 Comb Over with Double Razor Fade
This style is graphic with a double hard part on the side. While a standard side part will separate the hair, a double fade adds a striking effect to the haircut. The hair on the model is also textured and cut in layers. This style requires some hair products to maintain this texture and look.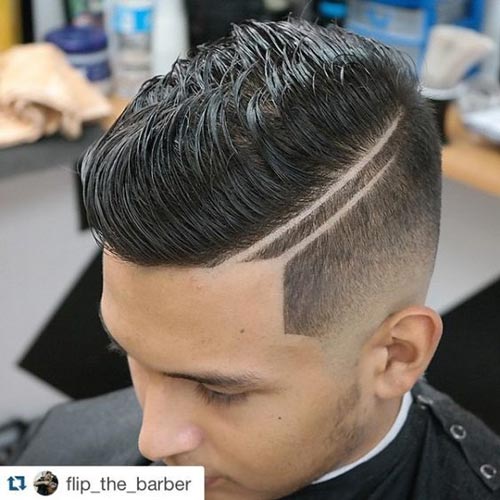 #15 Tapered Pompadour with Bald fade
A taper haircut is another classic style and goes well with an undercut. This hairstyle is cut in layers from the crown to the top section. The best hair styling products for this kind of style is a medium hold gel or mousse with a semi-matte finish.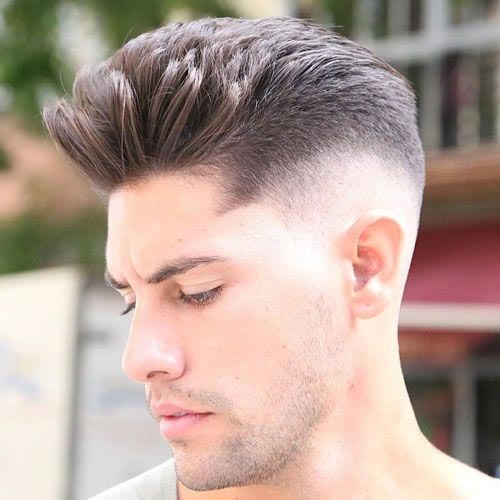 #21 Modern Pompadour with Deep Part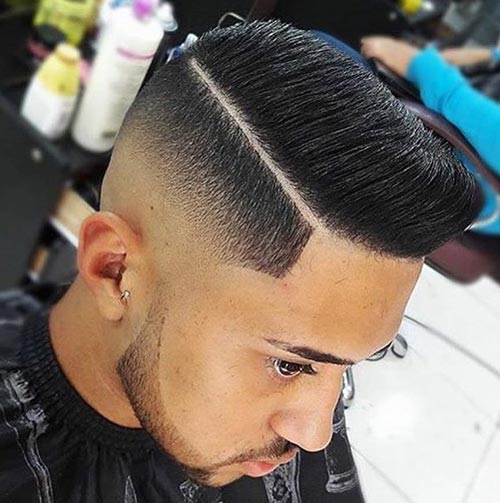 #22 Temple Fade Undercut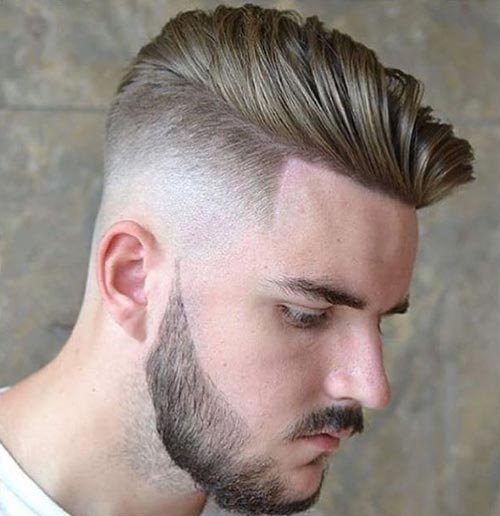 #23 Textured  Caesar Haircut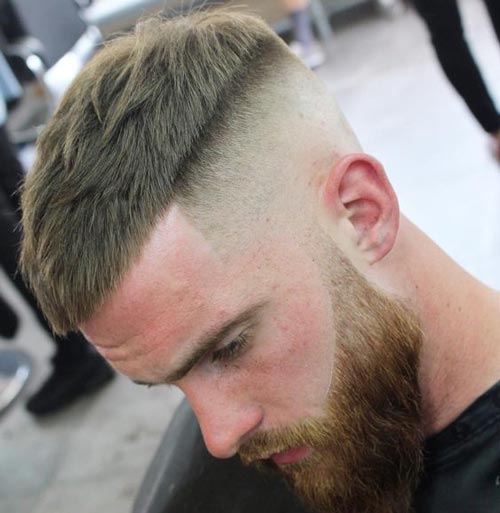 #24 Comb Over with Skin Fade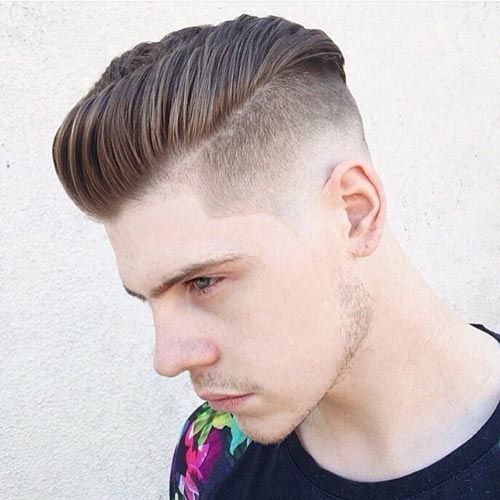 #25 Crew Cut Razor Fade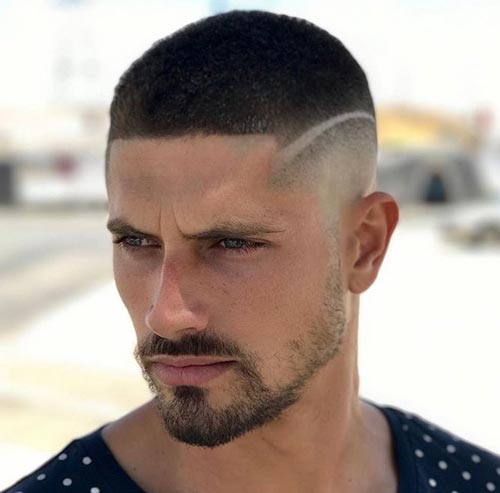 #26 Undercut with High Front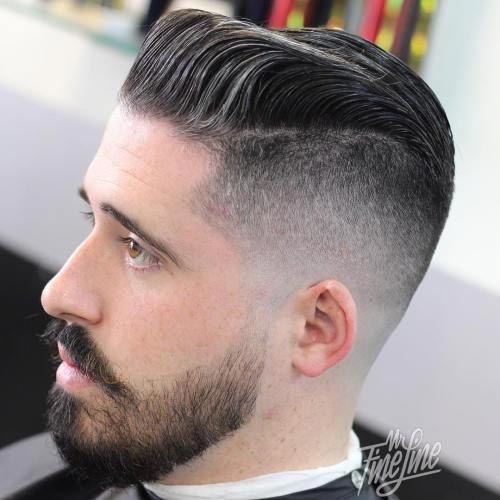 #27 Skin Fade Caesar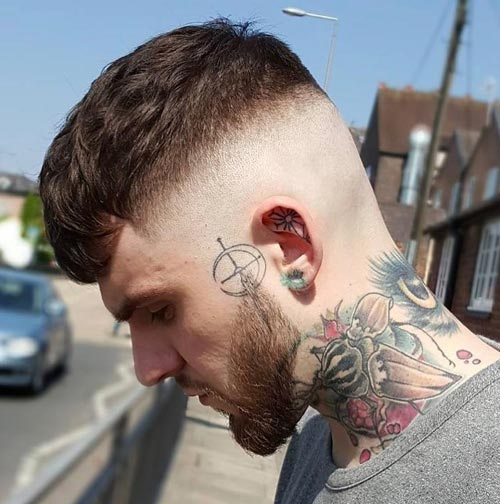 #28 Deep Parted Undercut with Fringe