When it comes to finding a haircut for black men, you have many different options available, which makes deciding not so simple. Especially when you're not sure what haircuts are out there. You can go with a short, medium-length, or even a long style.
No matter what you choose, make sure you pick a style that suits your face shape and hair type. Although the styles may change over time, one thing that has always remained constant regarding haircuts for black men is that they have to be low maintenance.
Because hair is often textured and curly, it can be not easy to style and requires a lot of upkeep. However, a few exception cuts are both stylish and low maintenance. And don't forget to take into account the latest trends in black men's haircuts. Keep reading for some tips on choosing the right haircut for you.
Check Out The Best Black Men's Haircuts
Afro High Top
This haircut is an excellent option for black men who want to stand out in a crowd. The high skin faded sides and high top adds a little fun to this style. For the best results, choose a barber who has experience with this type of hairstyle. 
This style will complement a shaved beard and will look great with your curly hair. The cut can be short or long, depending on your preference. This style is very versatile and can be worn with both suits and casual clothes. It can be challenging to maintain the style properly, but the results will be worth it!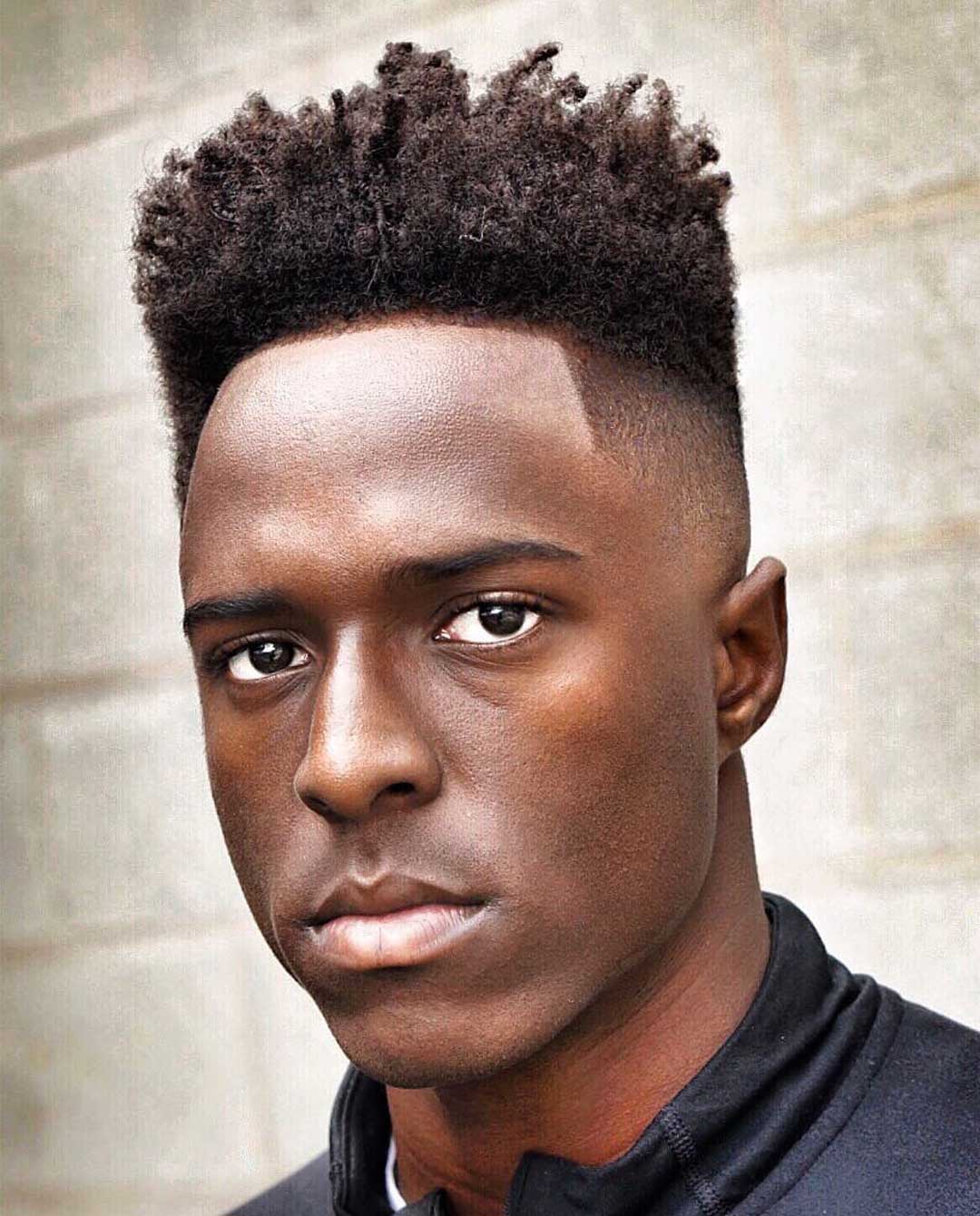 180 Waves Haircut
A good way to achieve the signature look of a 180 waves haircut is to brush your hair in one direction, creating a spiral around your head. A high fade is one of the easiest way to achieve this style, and this cut shows the full force of your new style. The small details of a high fade add a sharp, professional edge to your spiral. A hair lotion will also help maintain moisture and prevent scalp irritation. Here are the essential products you need to get the 180 waves haircut.
The best way to keep your 180 waves haircut looking great is to brush your hair daily. It is also important to maintain your cut, which means brushing it at least twenty minutes a day. Some barbers recommend up to forty minutes.
If you have short or medium hair, you can go for a 180 waves haircut with it. This style is widespread among rappers and has become a popular choice for black men. Drake, Nas, and Raekwon all sported the style. Moreover, Michael B Jordan, who wore a 180 Waves haircut, sported a version of it in a movie.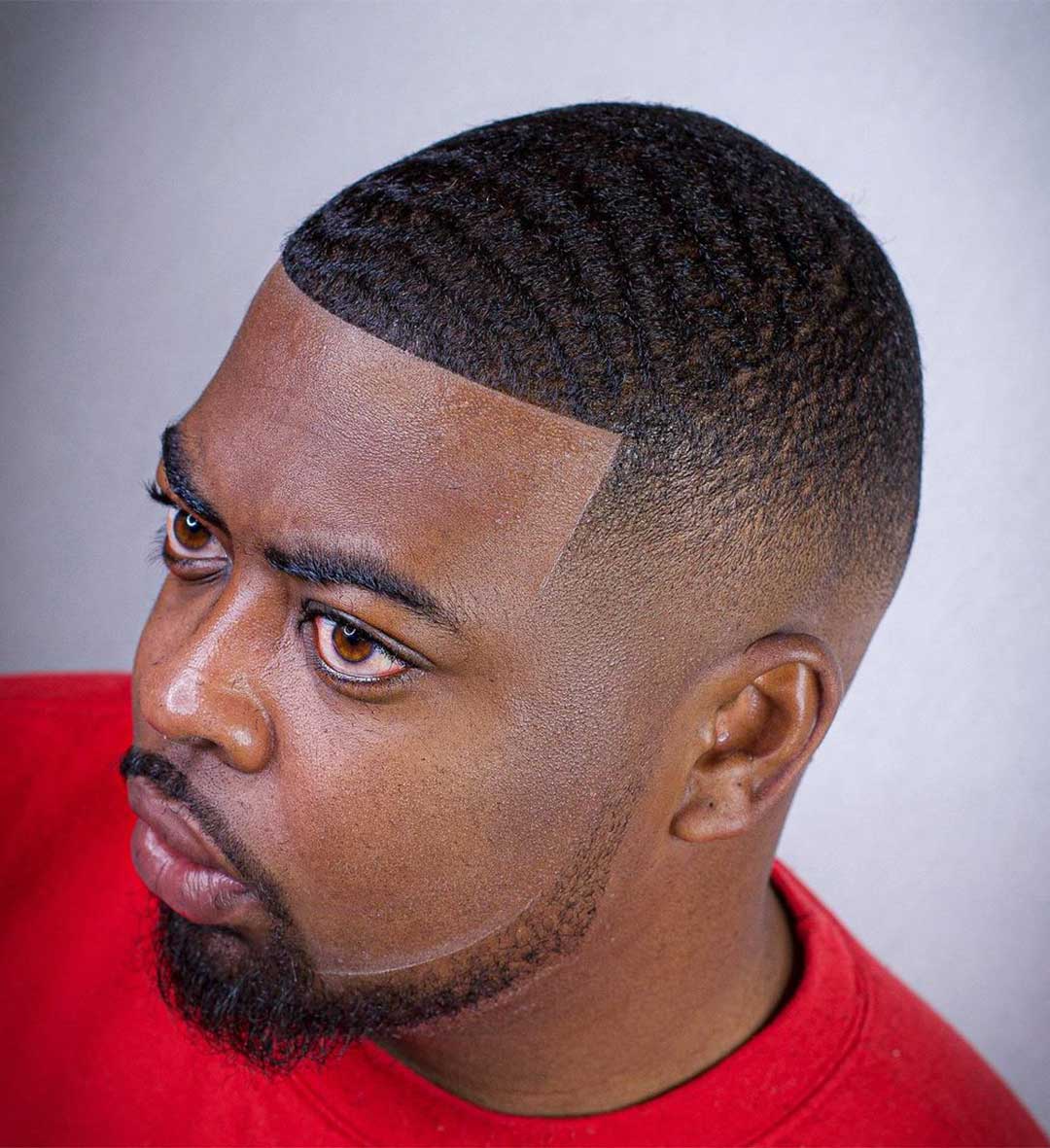 Cornrow with Bun
A cornrow with bun is a cute and elegant way to wear your hair. A bun covers the top part of the hairstyle. The cornrows can be braided asymmetrically, with geometric elements, or in a single row. First, the cornrows must be tied in a circular row, starting from top to bottom. Next, you can tie a bun around the top or ponytail.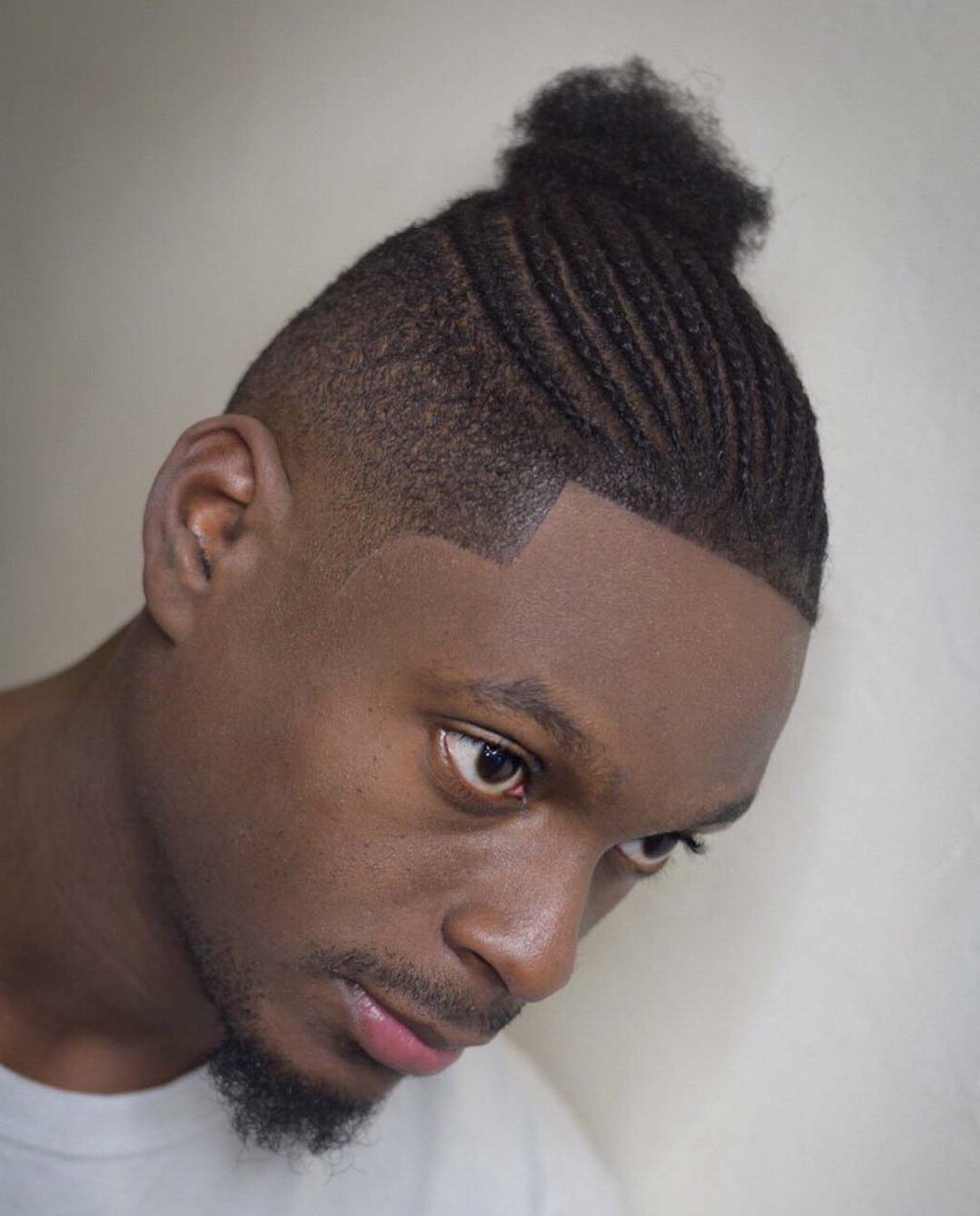 Modern Afro Cut
An afro cut with a side bang is another modern look. The afro cut is medium-length and is shaped in several different directions. The strands are visible but can be left loose for a more textured look. The neckline and sides will also be slightly faded. 
Simply diffuse the sea salt spray through your hair and let it dry naturally. This spray will enhance texture and hold your hair in place. It's also great for creating volume and defining curls. You'll never regret your decision to go with a short afro. You'll look fabulous in any style.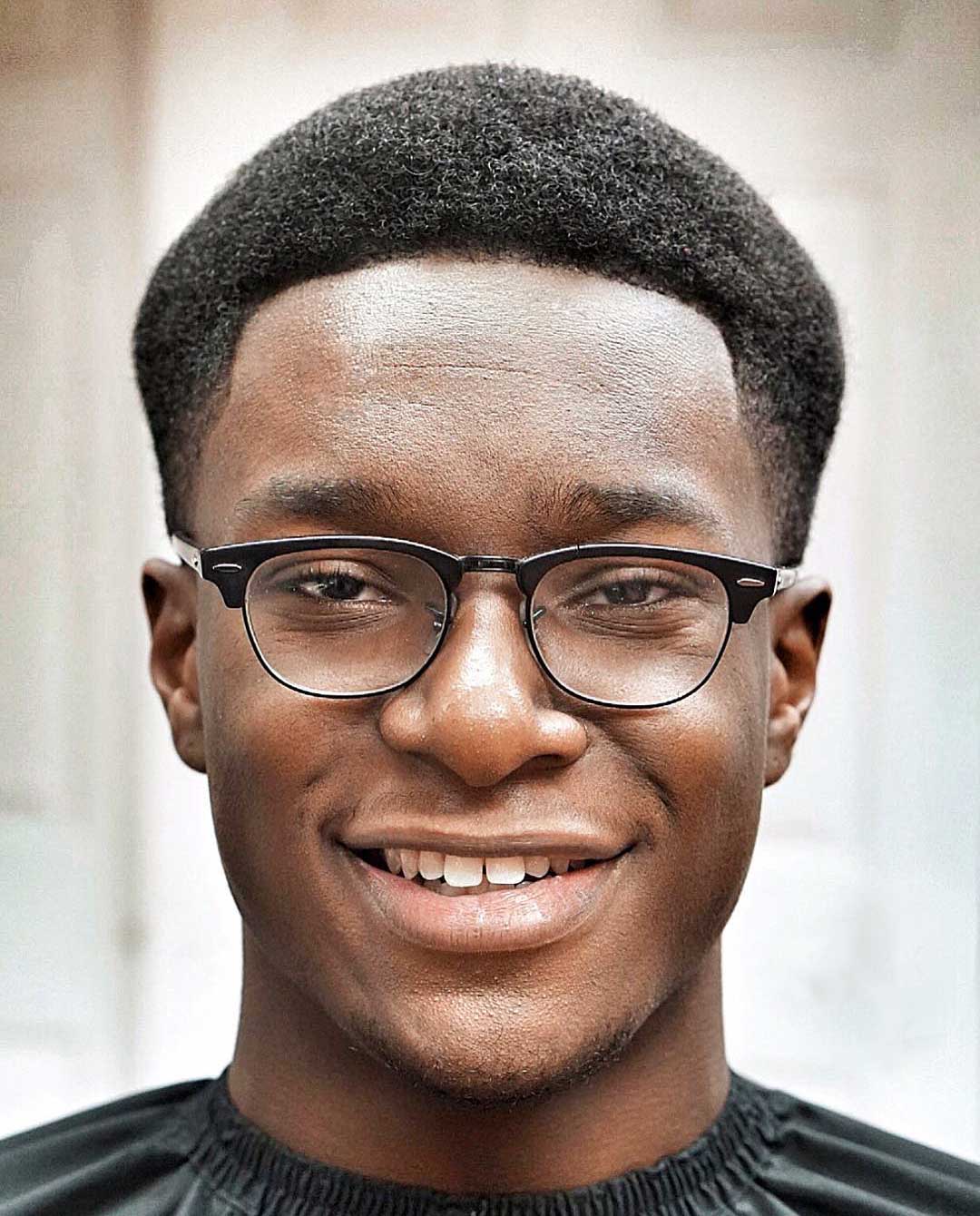 Mid fade + 360 Waves
Its clean low cut is enhanced by a precise shape up. This haircut can look great at any age and is ideal for black men. This style is characterized by its alternate lines and sleek waves, making it look casual and professional. 
A 360-waved hairstyle requires time, patience, and the right brushing technique and styling products. People with African-American hair are perfect candidates for this style, but anyone with wavy hair can achieve this style with a little bit of patience.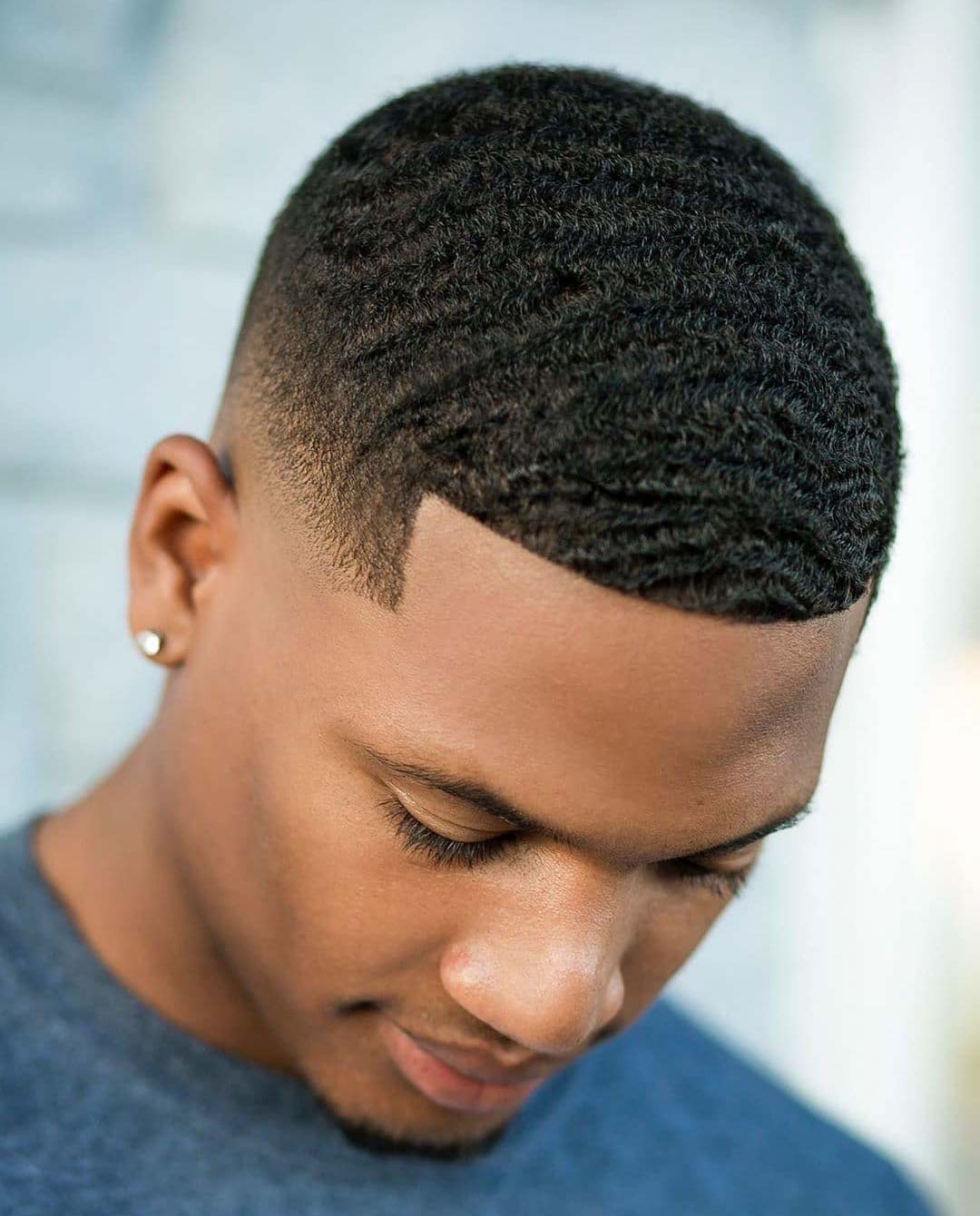 Mohawk with Dyed Tips
If you're trying to add some flair to your haircut, a mohawk with dyed tips might be just the thing. To create the mohawk with dyed tips, first cut the hair on the sides of the head. Then, use the clippers to cut each side section of the hair. Then, apply the dye to the top. Now, you're ready to apply the hair gel and secure it.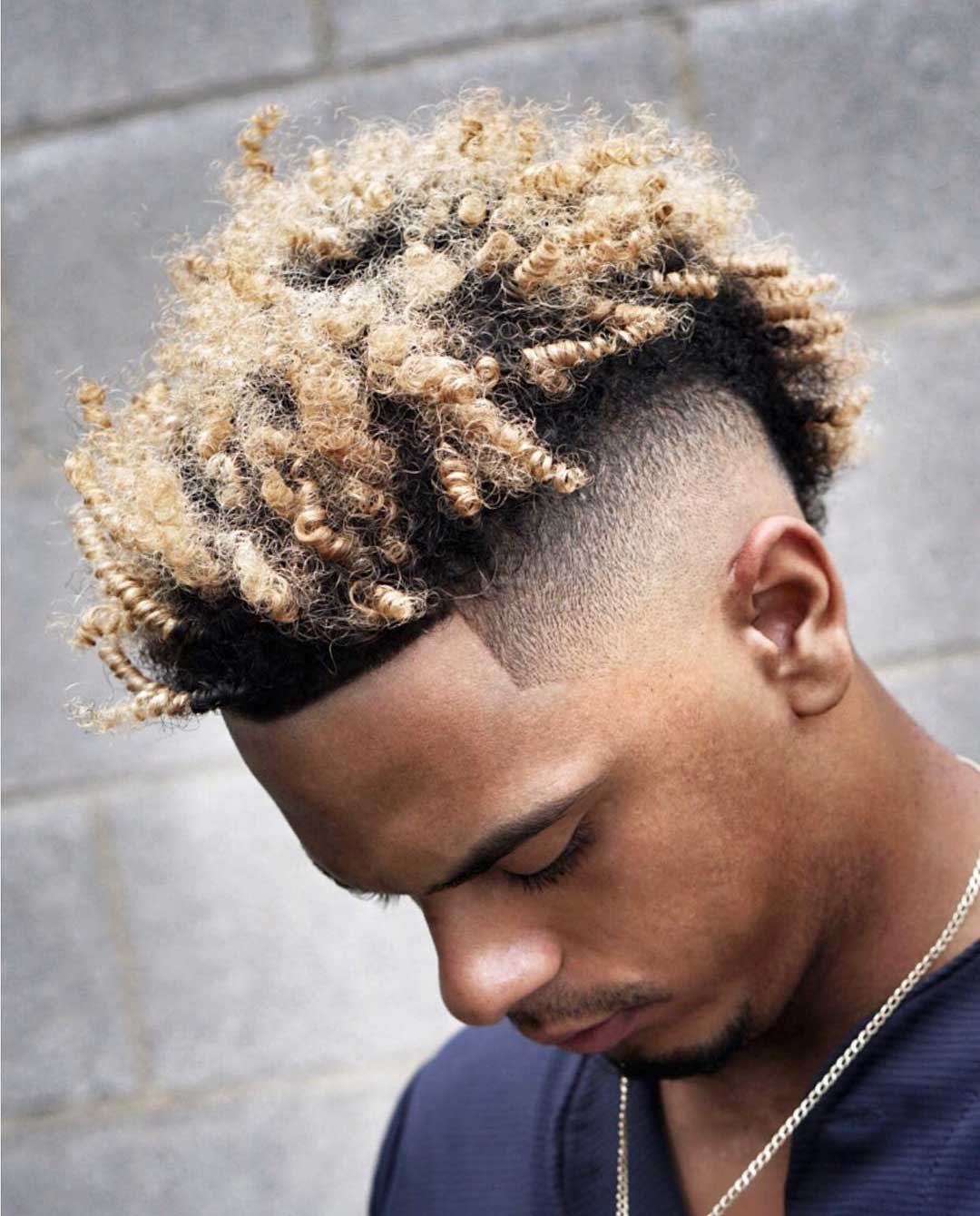 Short Blowout Cut
When you have a short blowout cut, the results will be more natural and flattering than ever. Aside from looking great, this style is also easy to style. The key to this style is to maintain its natural look. A barber should use the correct tools and products to achieve this look. First, towel dry your hair with a warm towel and apply styling product. Once dry, use a low-heat hairdryer to blow-dry the rest of the hair. To avoid frizz, you can comb your hair straight from the roots or a barrel brush to get wavy layers.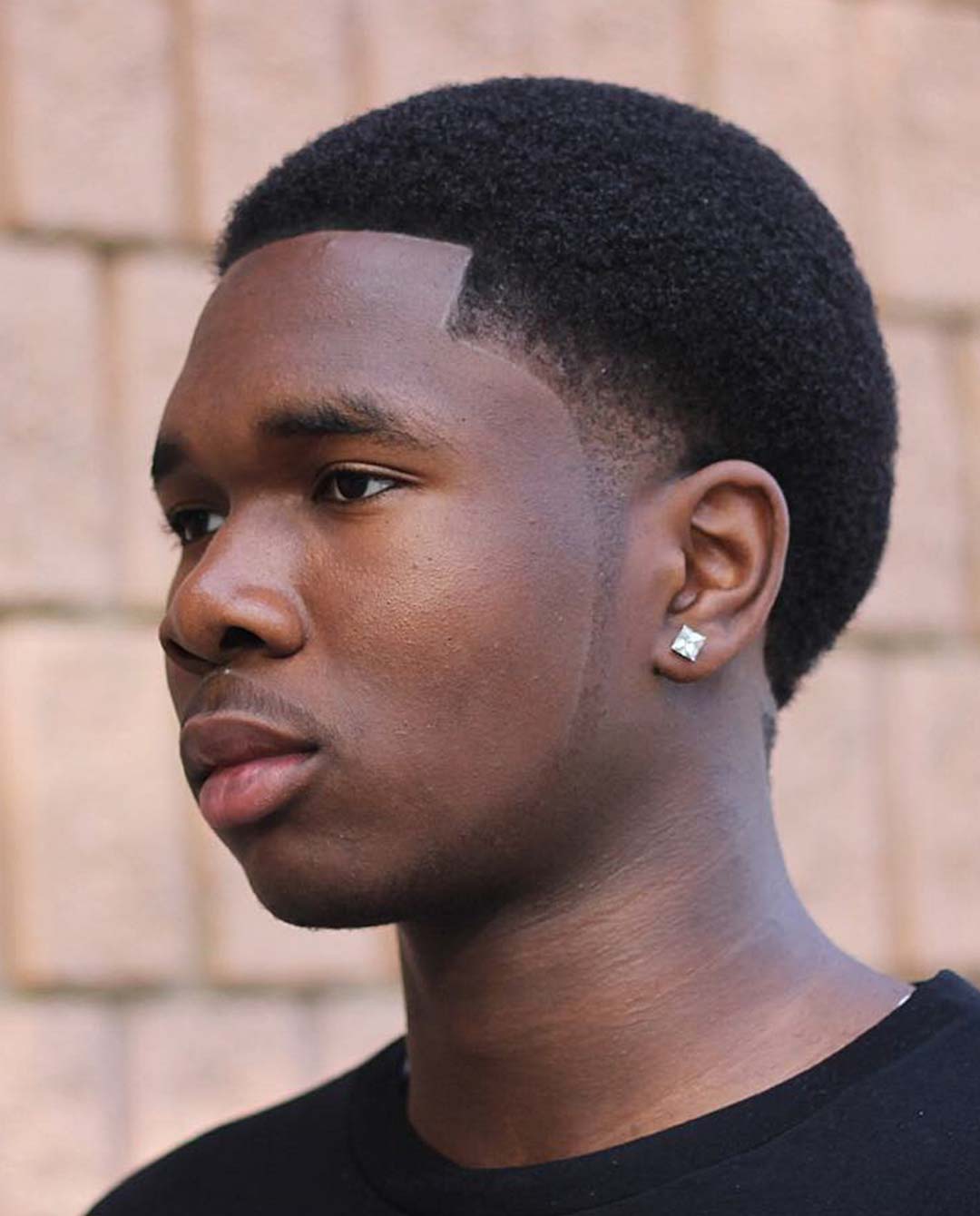 Short Buzz With Beard
A buzz cut is a great way to balance a rugged style with a short haircut, but before you start styling, there are some pitfalls to be aware of. Fading hairstyles have been a rage for a while now, but a short buzz with a full beard is an excellent option to emphasize a round face. A long beard will make this look more pronounced, but you can also experiment with the stubble if you're feeling extra daring.
When wearing a short buzz with a beard, you need to consider how the two will contrast with each other. The right balance between a beard and a buzz will make your facial hair look fuller while the thick hair on your head appears lighter. However, a beard with a long buzz will still look more masculine. To achieve the perfect balance, it's important to keep both trimmed neatly.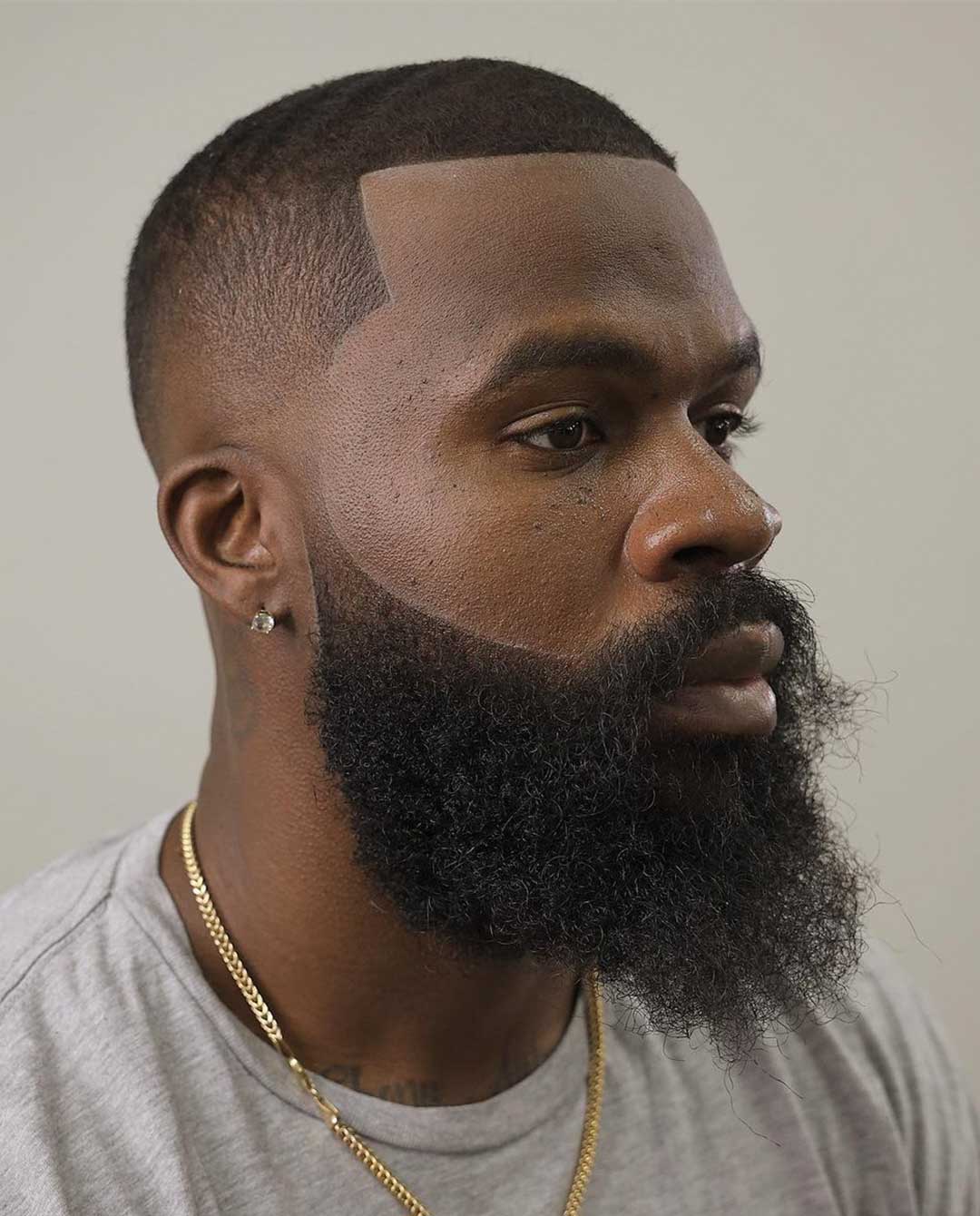 Short Curly Style
A short curly style can be a stunning style. It can be a great attention-getter. Invest in frizz-free styling products so your curls stay defined and intact. To create a textured, voluminous look, use a texturizing spray. This will make your curls pop. In addition, you can use this product daily to keep your hair moisturized.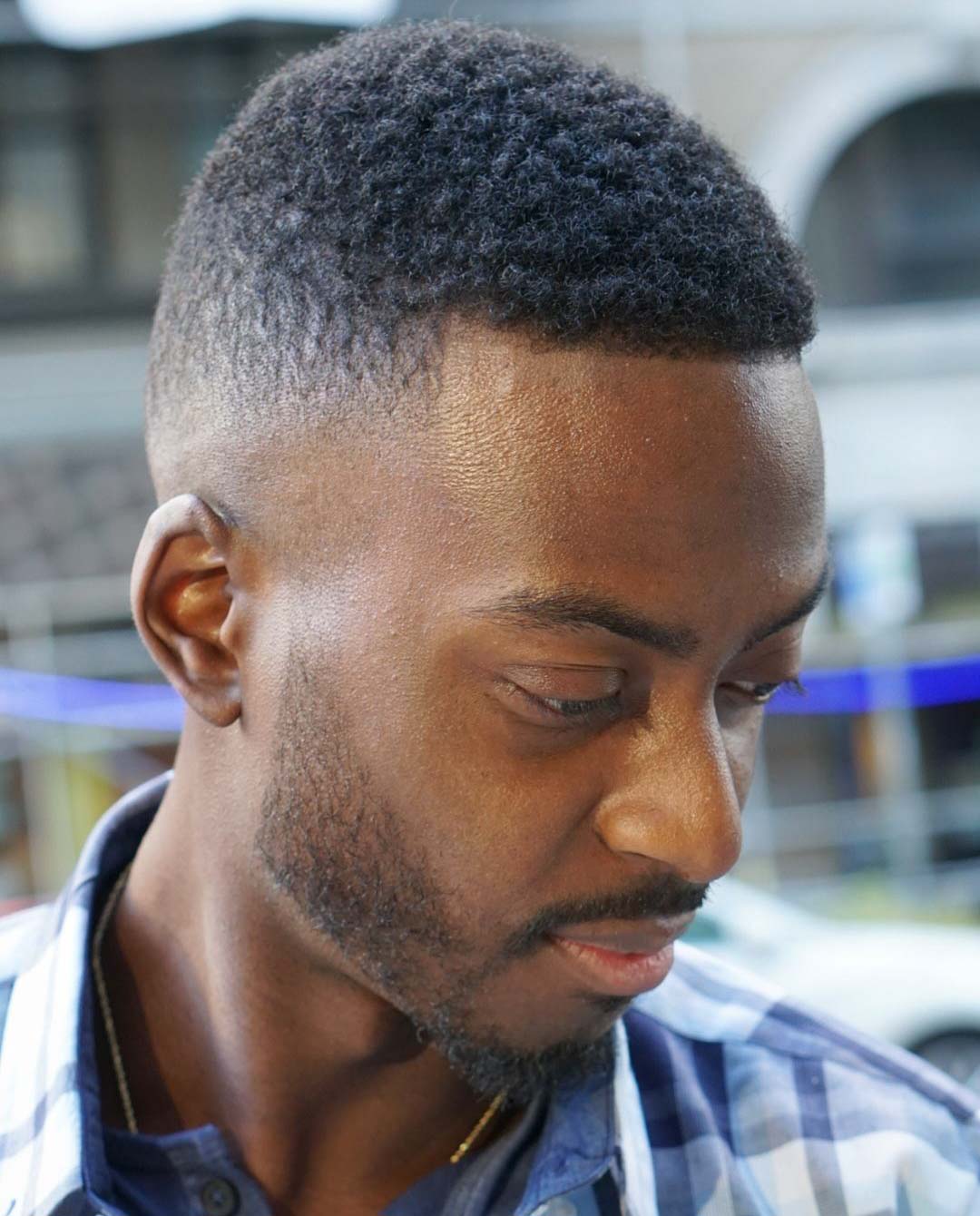 Caesar Cut + Skin Fade
This haircut is distinct from other caesar cuts in that the skin fade and sharp trim separate it from other versions. The resulting haircut has an impressive overall look that can easily be managed by any man. These combination styles are ideal for black men with thin hair and who have an active lifestyle. In addition, the hairstyle is low maintenance and is suitable for any age.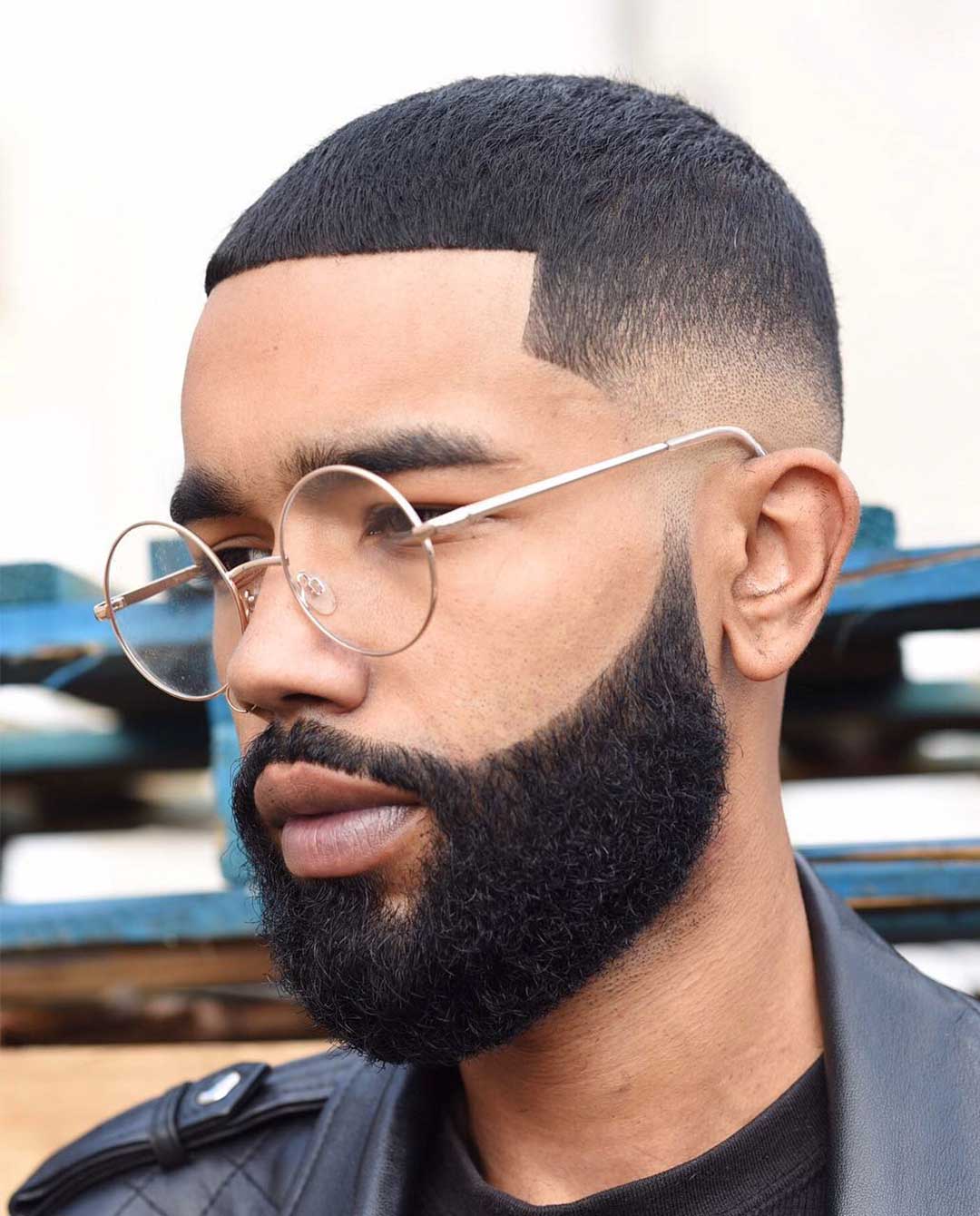 Cornrow and Top Knot
You can enhance a cornrow by adding highlights. A darker highlight can add a sharper look to your hairstyle, while a lighter one gives it a softer appearance. Likewise, a disconnected undercut can add some sharpness to your cornrows. Also, you can wear a top knot with an undercut or with a side design. This will draw the attention up to the hairstyle on top. However, if you don't have the right length, you can use extensions and weaves to recreate the suitable braids.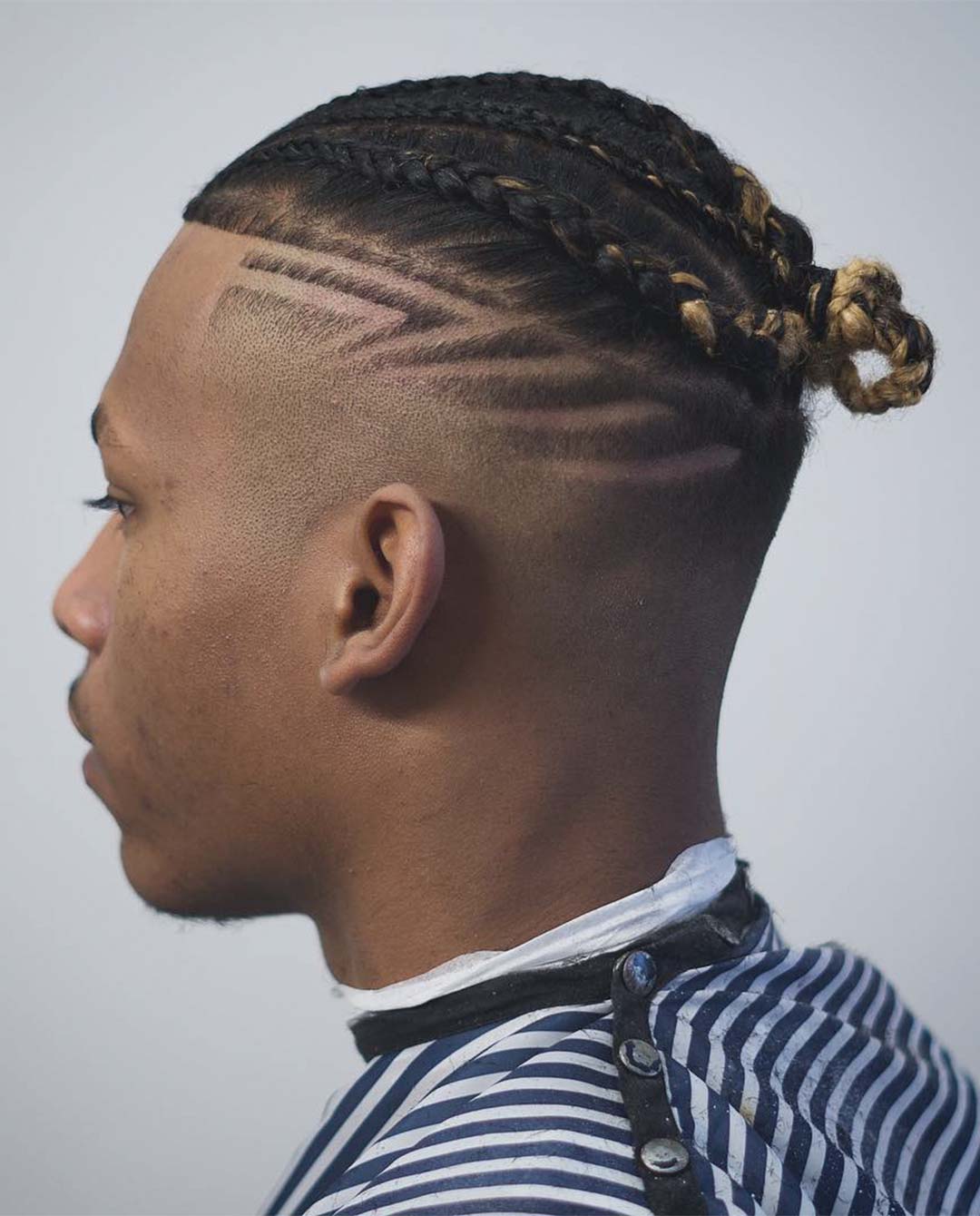 Medium Curls + Hard Line
This style gives your hair a clean and sharp look, which is ideal for a busy working man. In addition, it balances the relaxed aesthetic of textured curls. 
To make your curls last longer, use a gel that has an alcohol-free formula. It will keep your hair in place and protect it from frizz. Another option is an alcohol-free gel that has oils and softens the hair. Finally, to enhance your natural curly texture, try an alcohol-free gel. It will help to add shine and volume to your hair.
3A curls are considered the most manageable and healthy of all hair types. While it may not require much styling, a light styling cream can help to control the strands. You can also try a blow-dry brush to give you a smooth blowout. 
A combination of types of curls makes it difficult to decide what to do with your hair. For example, if you have type 4B hair, you may want to use a pomade or another styling product to keep your curls in place. A pomade is a great option to make your hair look healthy and to avoid frizz. The pomade will also give you a shiny finish and help define your curls.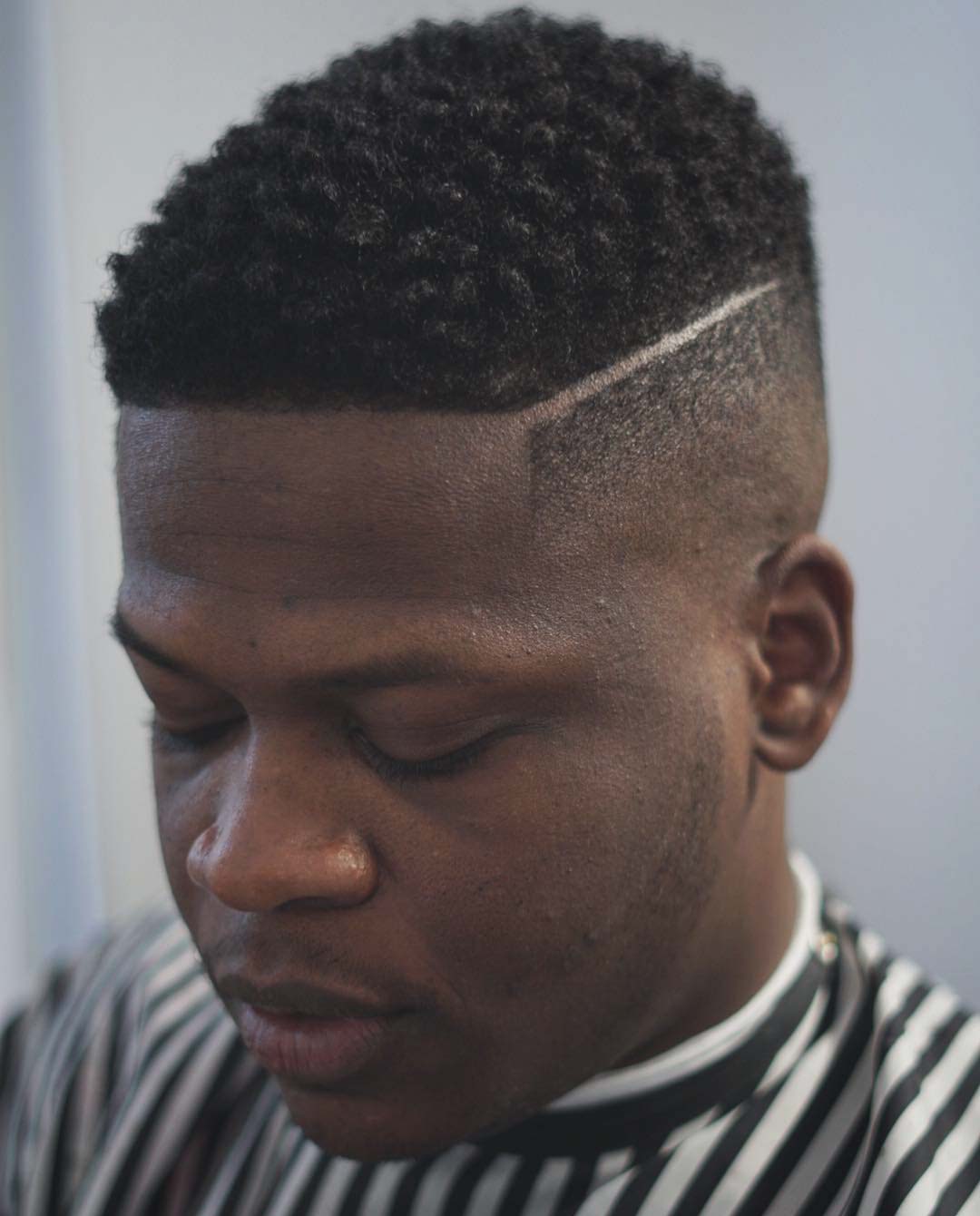 Dyed Flat Top
The dyed flat top is a popular style for black men who want to add a touch of color to their hair.. If you're in doubt, consider having your hair colored a few shades lighter to give your hair a little more character.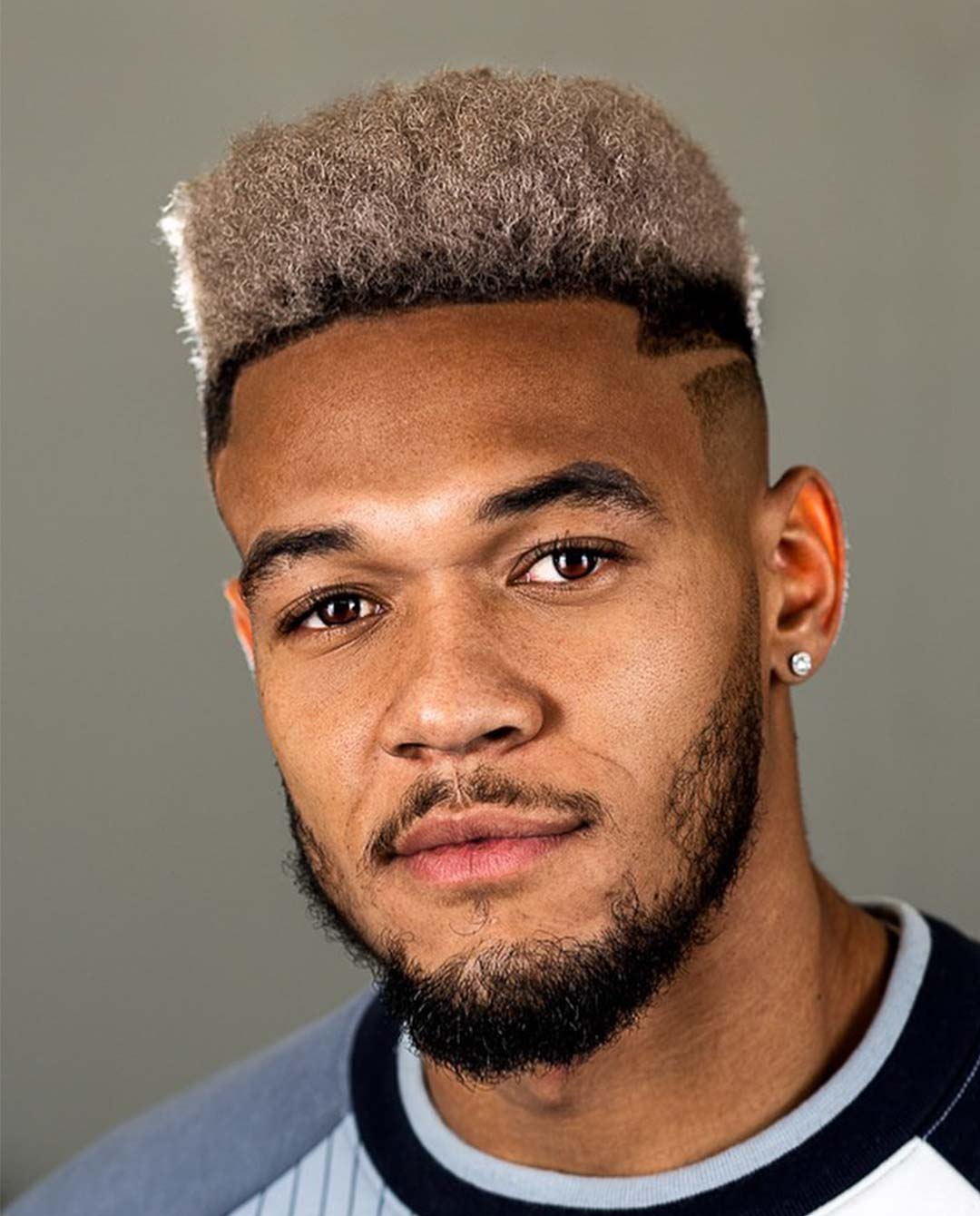 Buzz Cut with Fade
This hairstyle has several variations, including extra short hair with shaved sections and a cool fade. A mid fade is the best choice for men who want to keep a little texture on top. The hairline can be low, mid, or high. This type of haircut looks best when the man has facial hair. If you want a more clean look, you can opt for a skin fade.
A low fade will create a soft look, while a high-skin fade will give you a razor-sharp military look. In addition, this hairstyle will give you a confident and well-groomed appearance.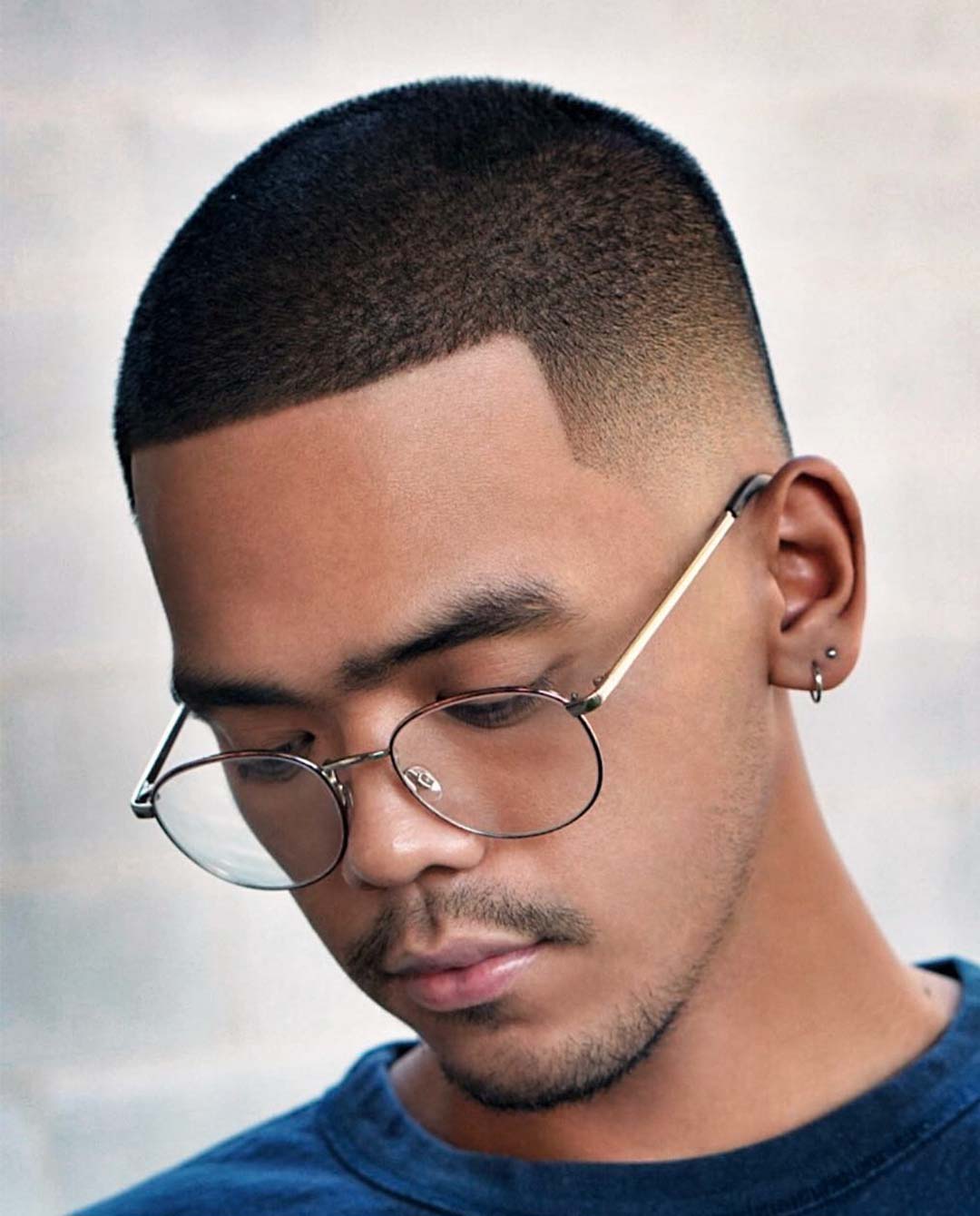 High Top + Line Up
A high-top is great for black men who want to bring back the golden age of hip-hop. These styles are fun and unique but need to be maintained properly. The hairstyle is typically symmetrical, with long top locks and short sides. This style is not suitable for thin hair and requires frequent grooming.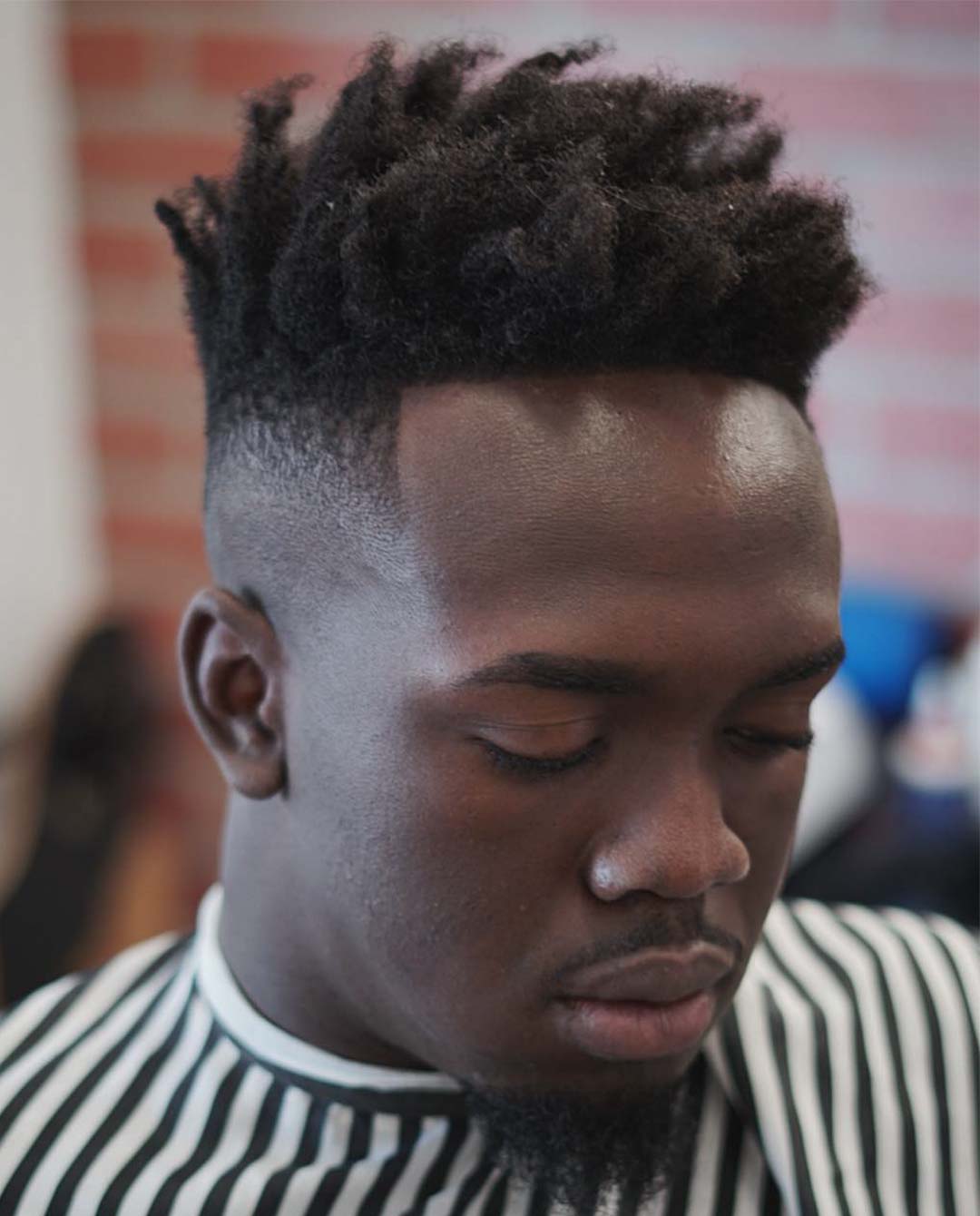 360 Waves with Low Fade
The 360 waves style is a low-cut, clean cut with a shape-up. The deep waved design will become more visible over time. This look is particularly flattering for black men who can pair it with a matching beard. However, it requires a lot of time and care. It requires the same styling products as other long-lasting waves. 
Having 360 waves is not an easy task. It requires time and dedication. It's an ongoing lifestyle change and needs some maintenance. It would help if you were committed to caring for your hair and avoiding damaging chemicals.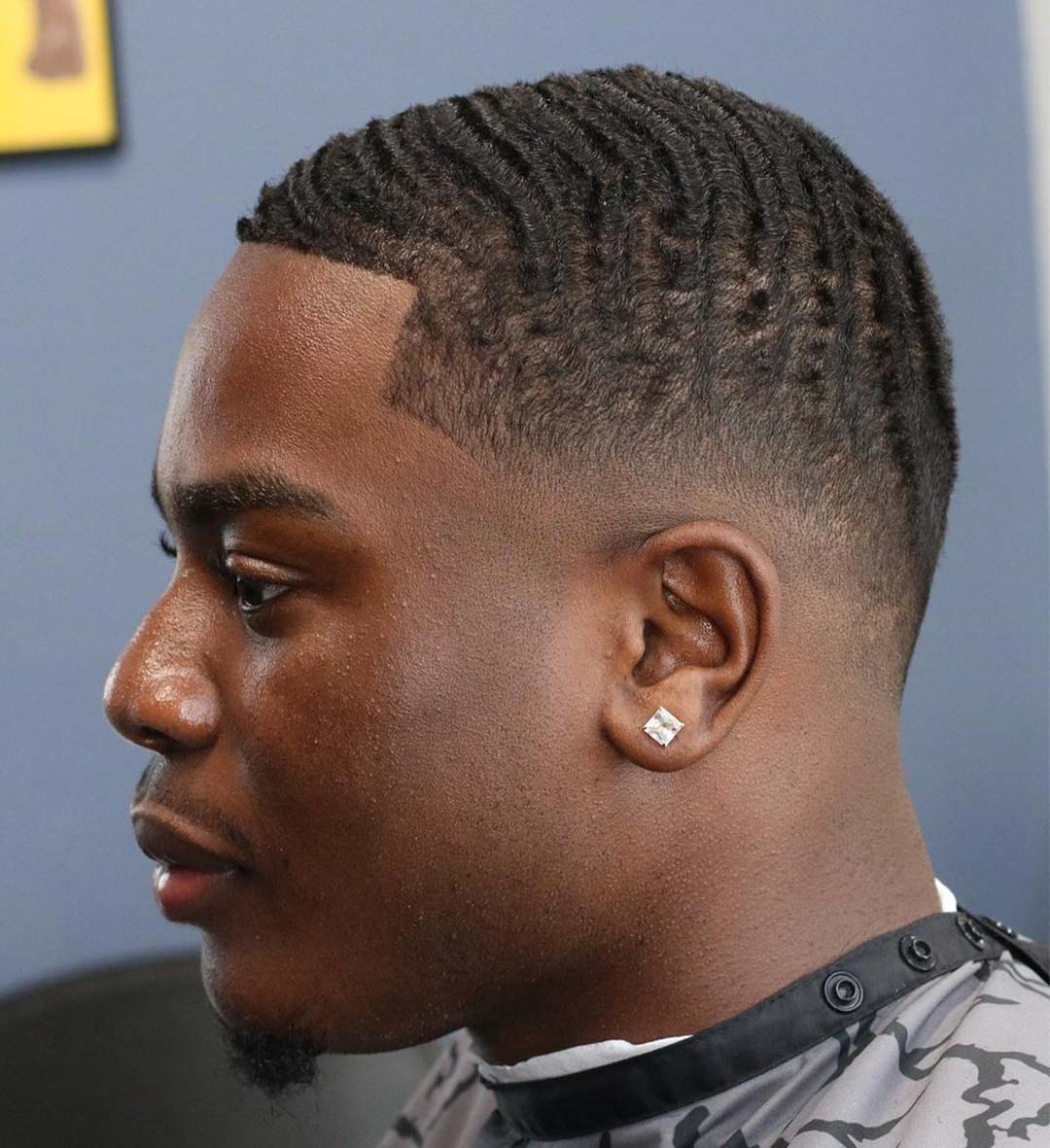 Curly Man Bun
If you have curly hair and want to create a man bun, you will need to collect all of your hair in one spot. Then, tie it into a bun with an elastic or a neutral-colored hair tie. This style will leave you with a smooth, loose ponytail. The haircut will complement any style and will never date. If you've got long hair, a man bun is an excellent choice for you. You will look great both at a party and on the beach.
Curly-haired men should take special care to ensure that their man bun is moist. Because it's more difficult for men to maintain, many curls will become frizzy if they're too dry. To avoid this, you can try a low-volume bun instead.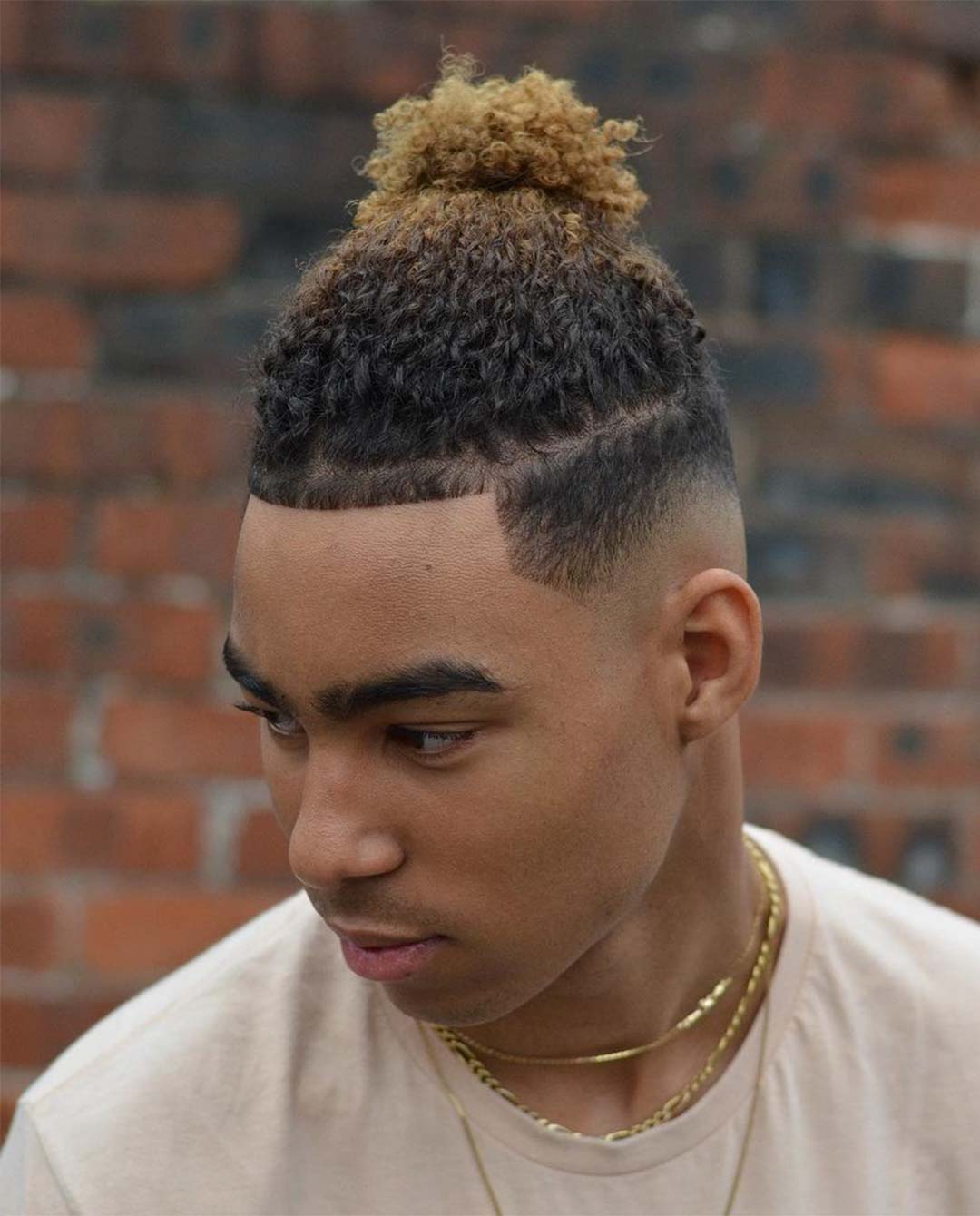 Afro Style
This style requires minimal maintenance and brushing. This is a good option for people with naturally curly hair. First, you will want to mark your bald line with the first guideline. The temples are the most important part of your hair, so you need to make sure you keep your bald line as even as possible. After that, you can follow the steps above to achieve an elegant look. Finally, you should maintain your hairstyle between cuts using conditioner and styling products. However, we recommend a professional trim for the best results.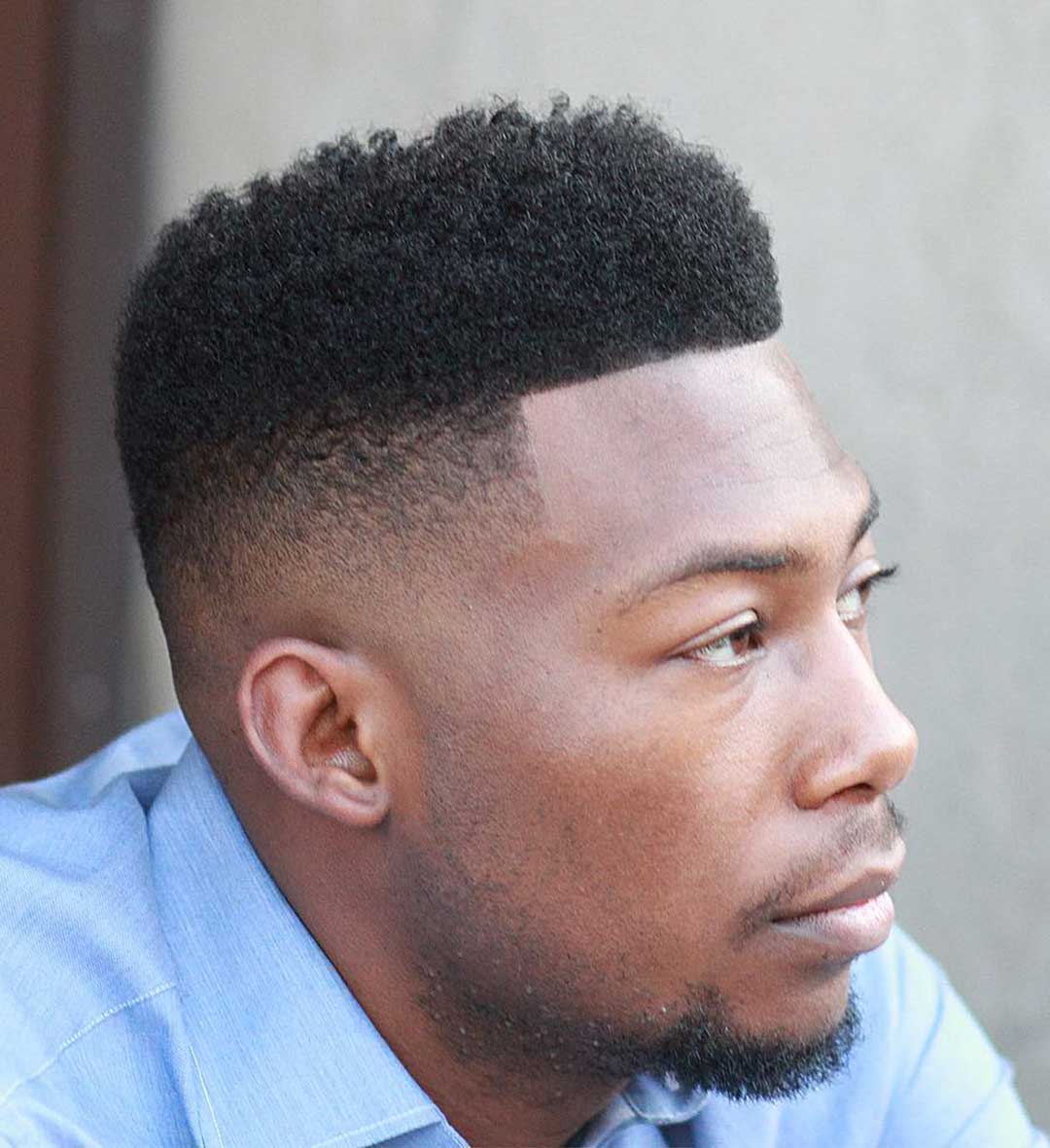 Braided + Shaved Sides
A braided top with shaved sides is a trendy haircut for black men who want to be different from the crowd. Place the braids at the top of the head, and then shave the rest of the hair. The braids can be tight or loose, depending on your style and preference. For more formal occasions, you can sleek the braids to keep them neat. Then, for a more casual one, let them out and wear them out for the day. In the end, you'll look fabulous in a braided top and shaved sides!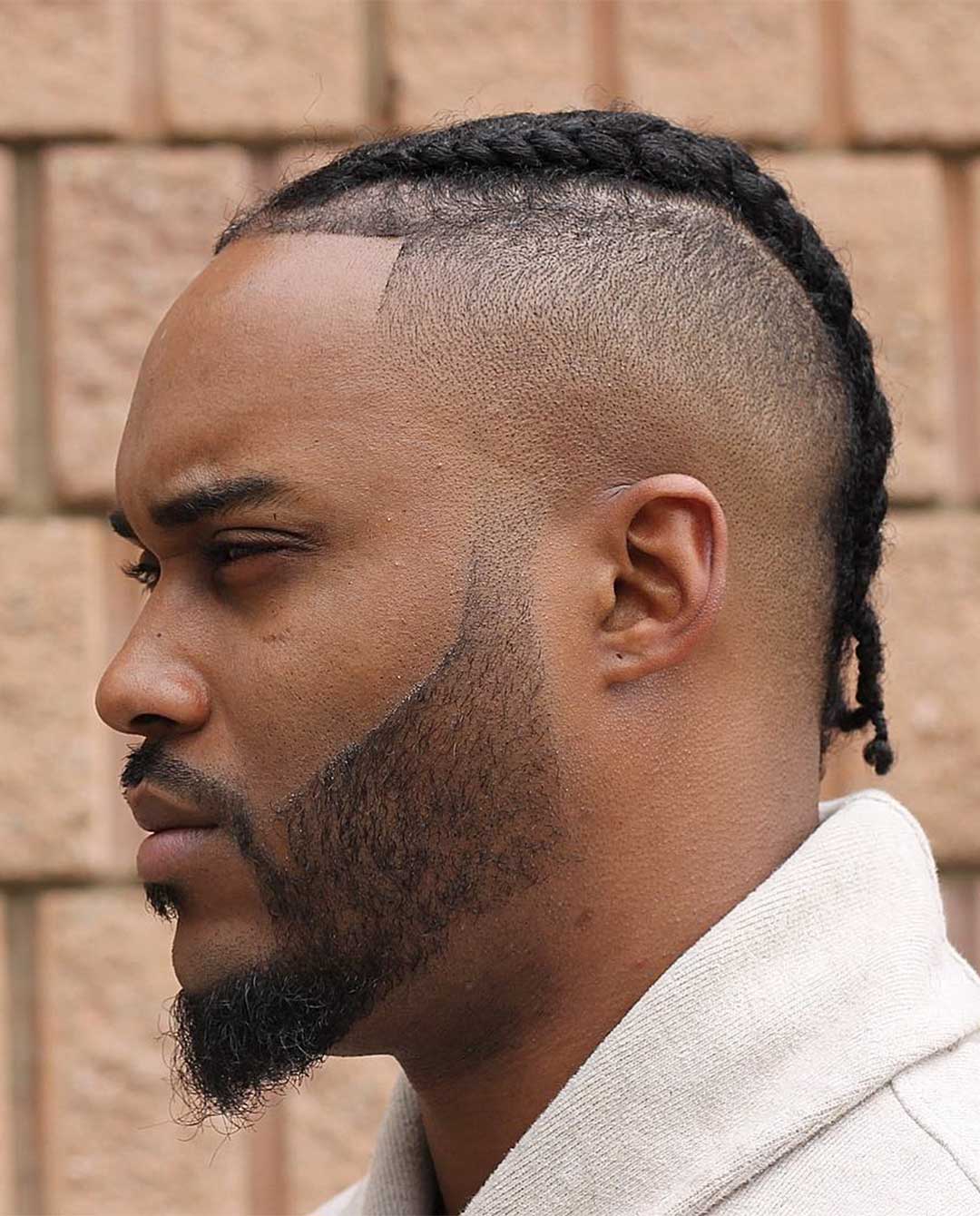 High Top and Temple Fade
A high top fade is a popular cut for black men because it's easy to manage and looks sharp. It's also a key part of the Golden Age of hip-hop, so it's easy to see why it's still so popular. There have been dozens of different variations of the style, but one of the coolest ones is the high top with temple fade.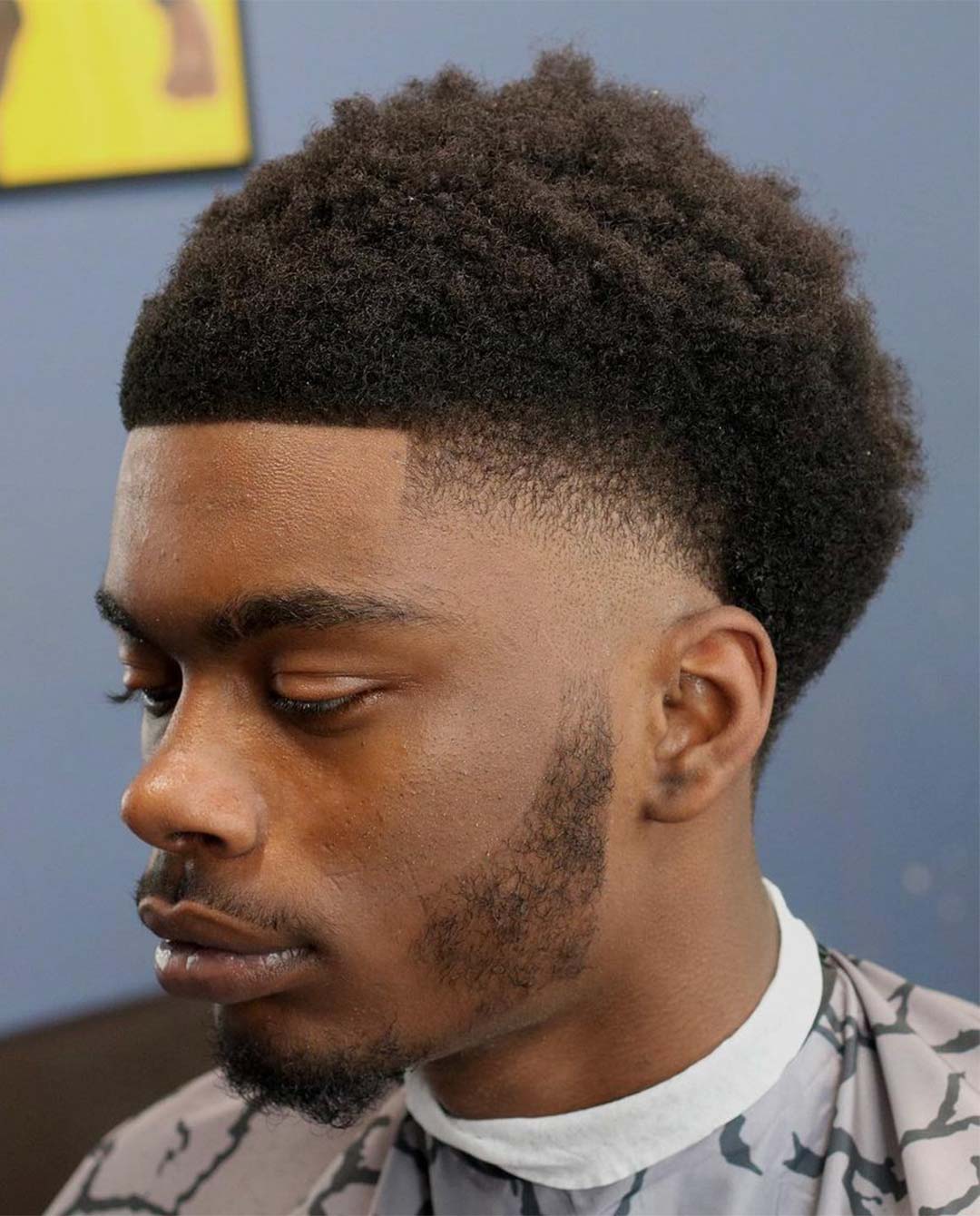 High and Tight
The high and tight is a concise style that men often favor with busy lifestyles who want a shorter style that's still fashionable and unique. It features tapered sides and back, with a longer top. Of course, if you're not sure, you can always go for a classic crew cut – Tommy Egan's look from the Power movies or Macklemore's. Among the various hairstyles for black men, the high and tight is the most popular. This style is simple to maintain, hassle-free, and timeless.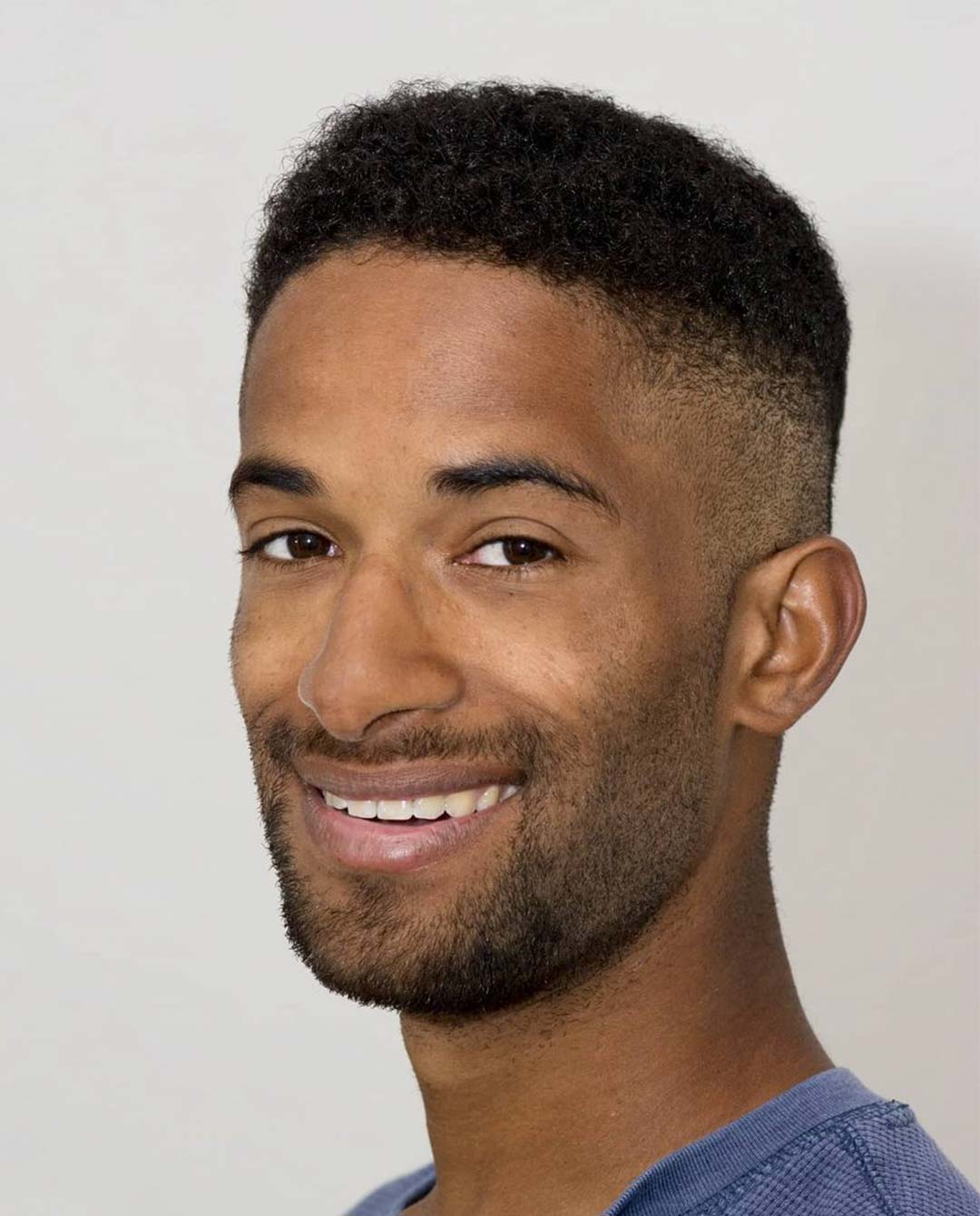 Afro Waves + Taper Fade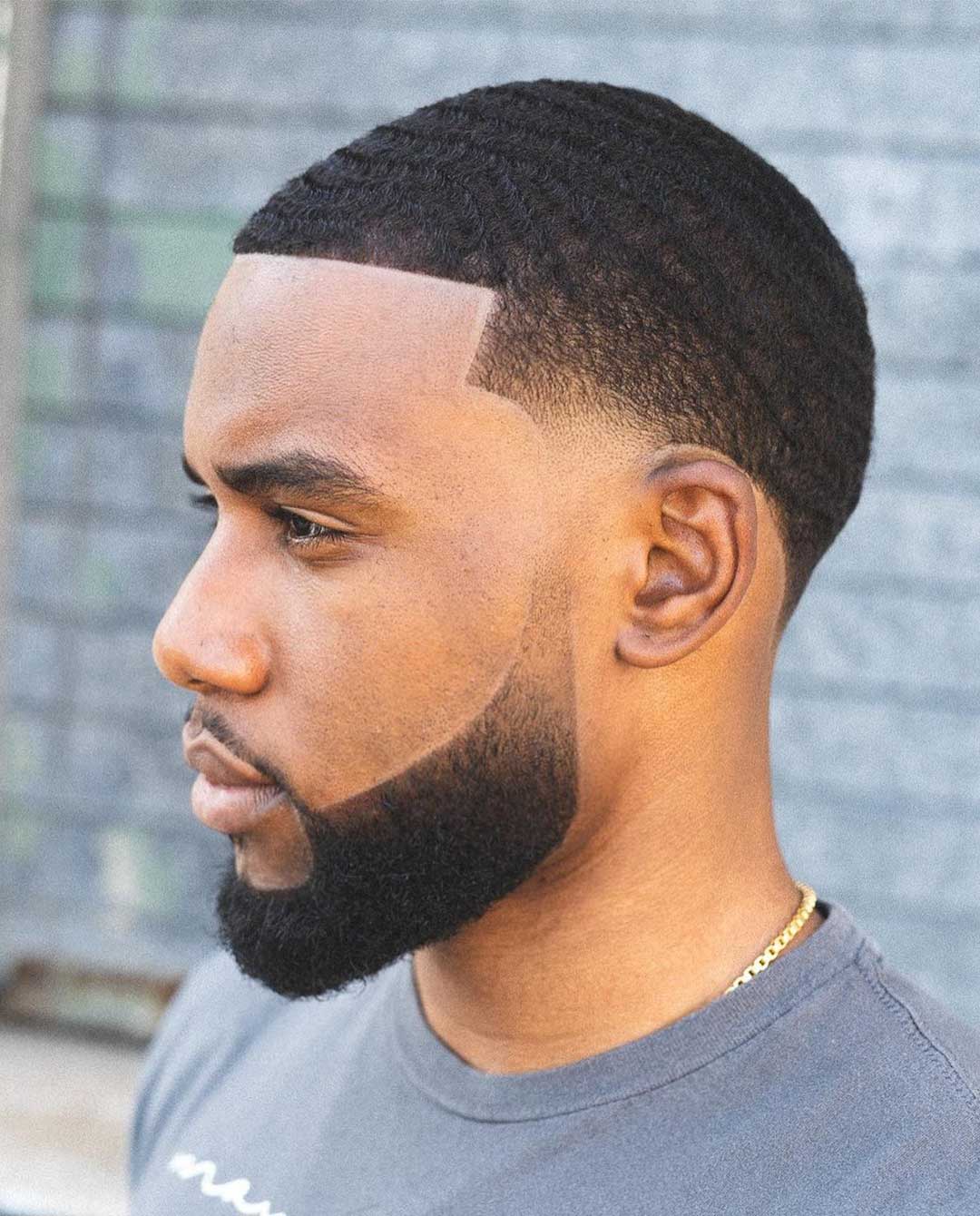 Mohawk Haircut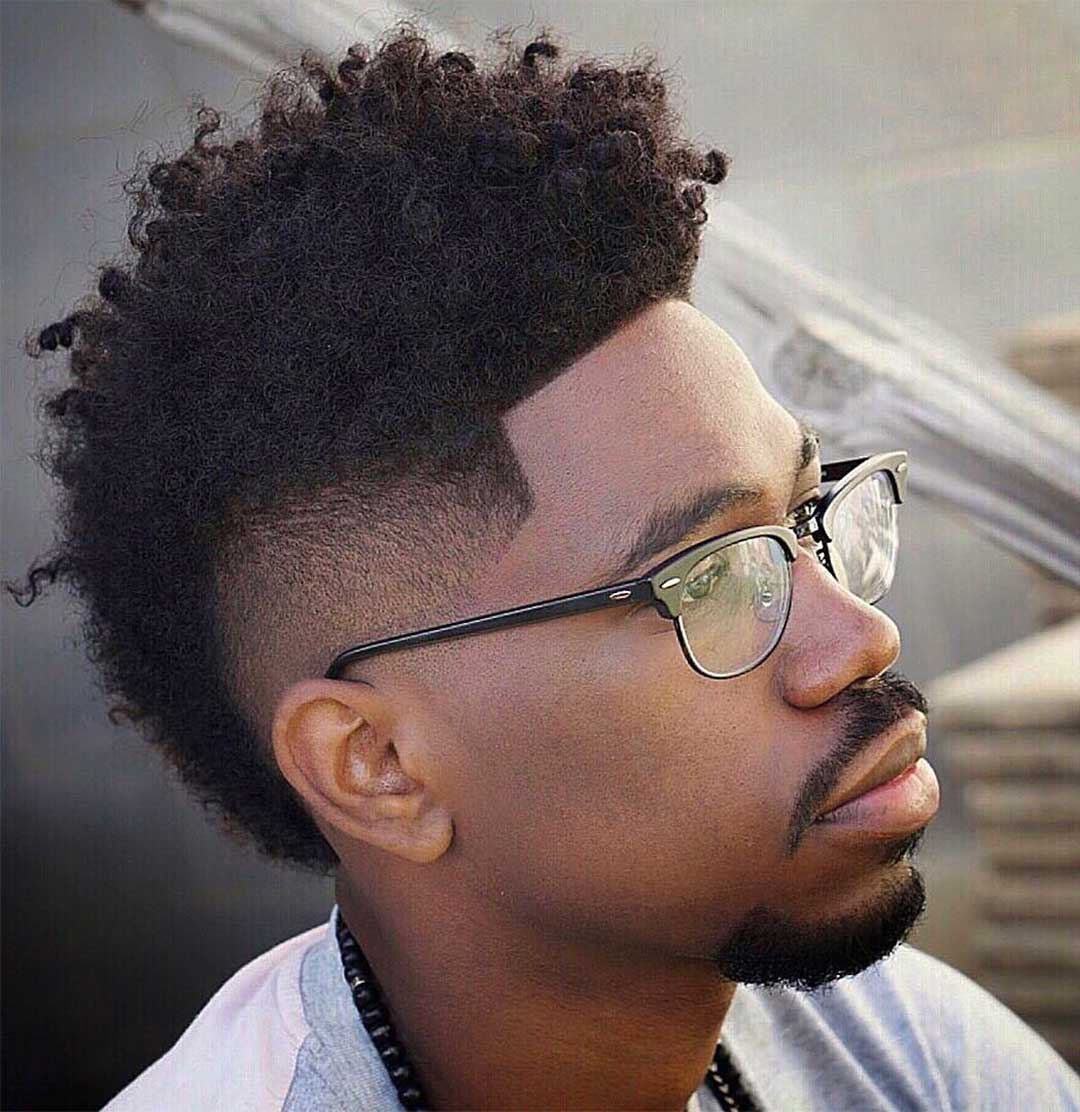 Neat and Modern Cut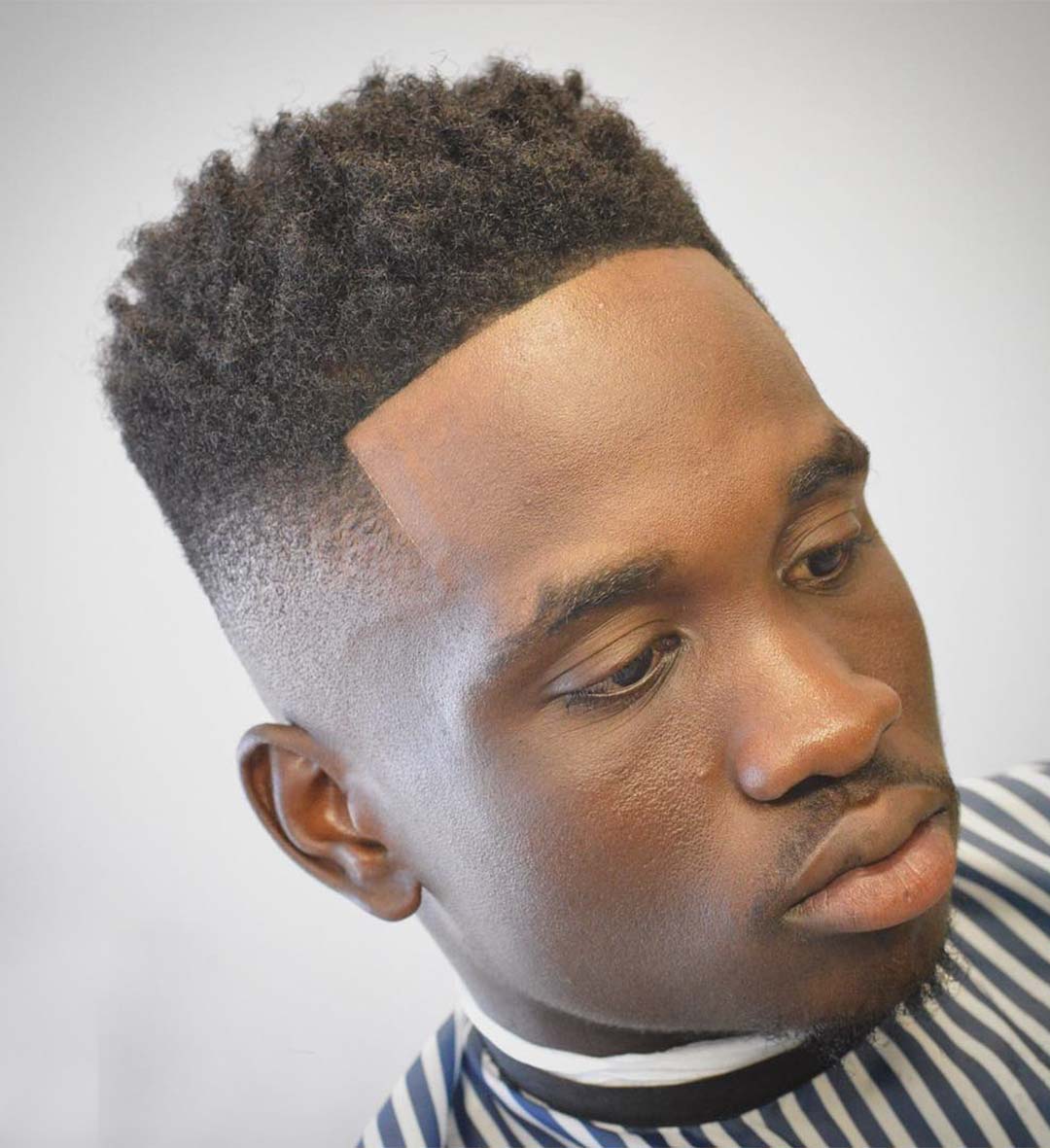 Overflowed Afro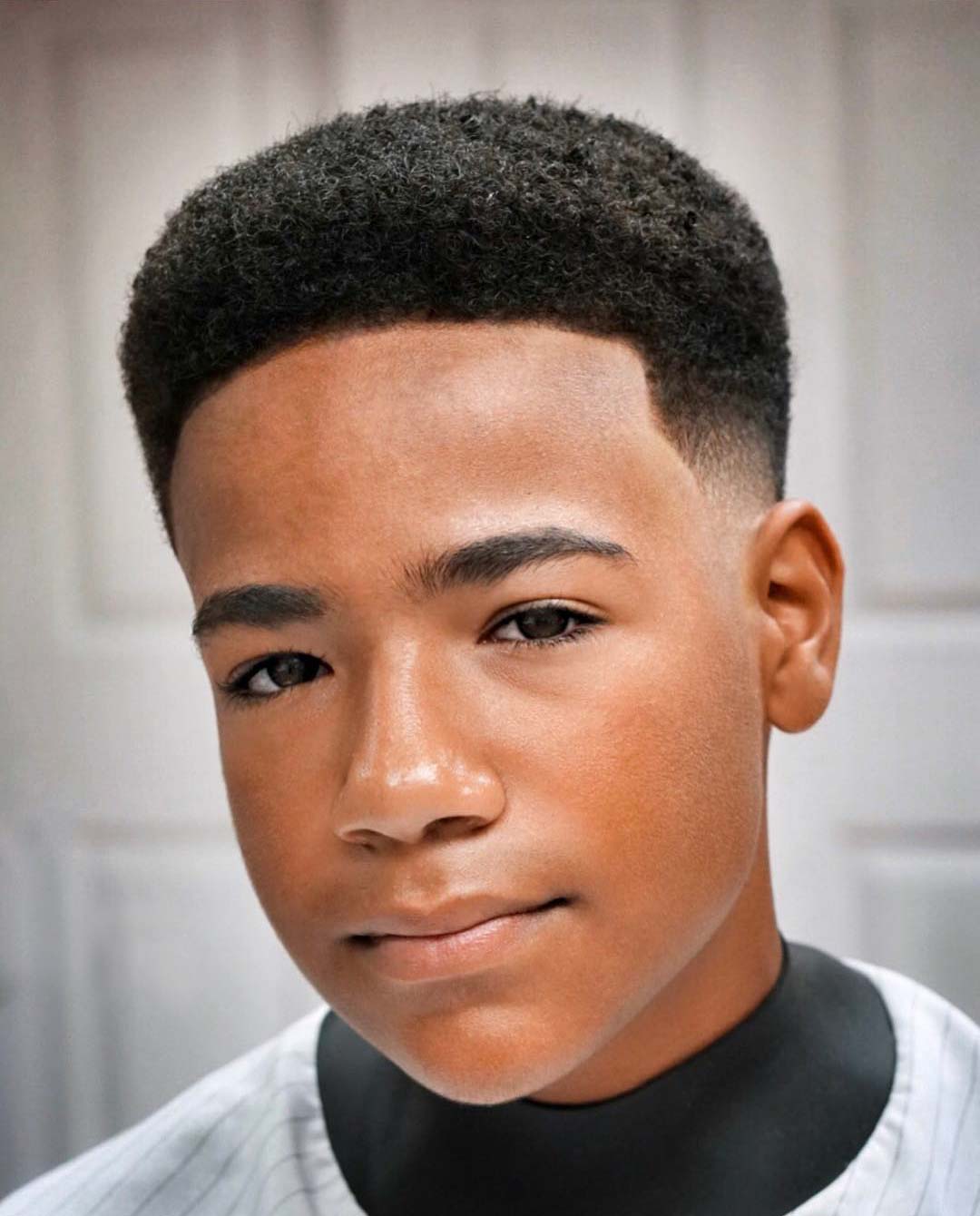 Kinky Mushroom Style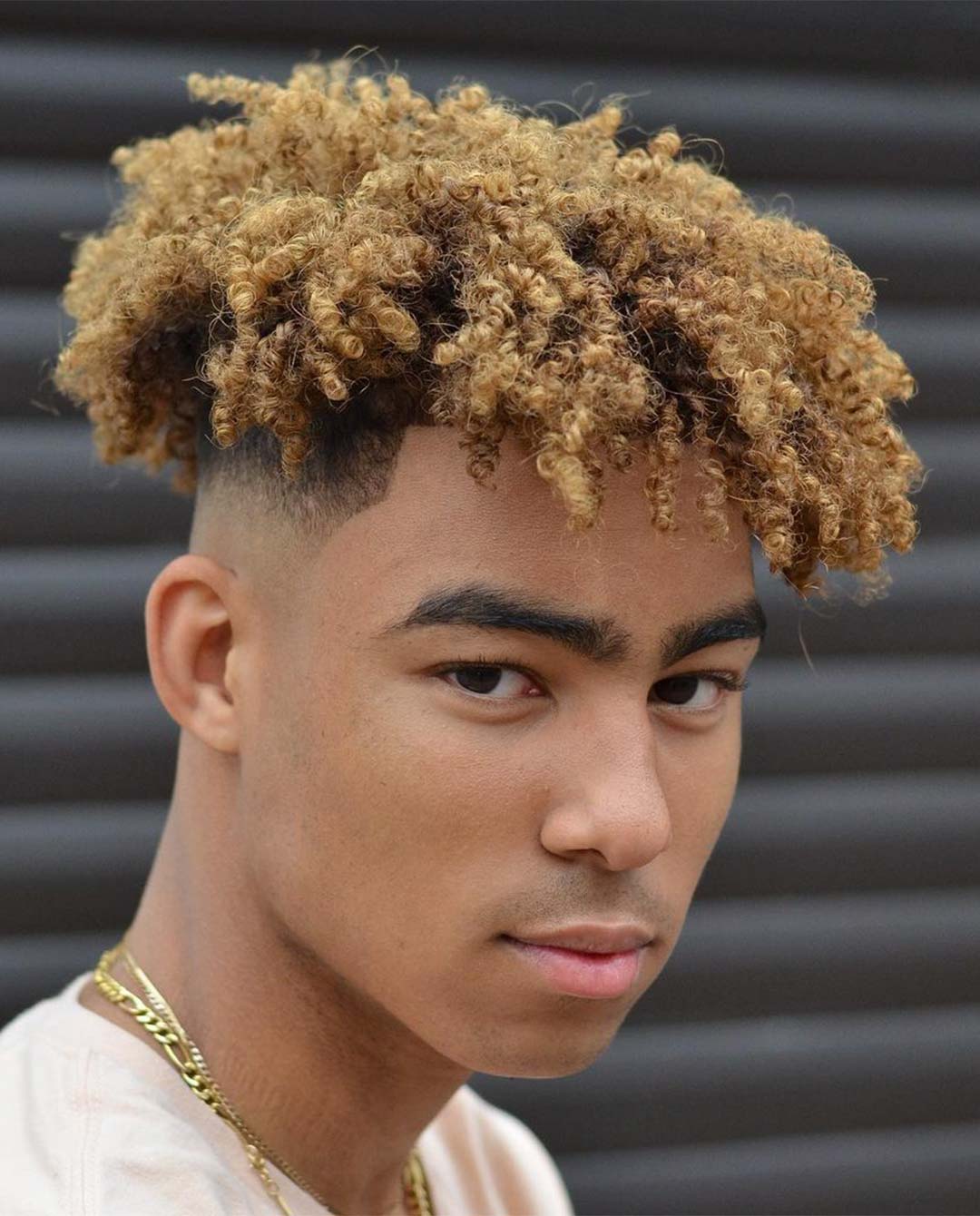 Line Up with Waves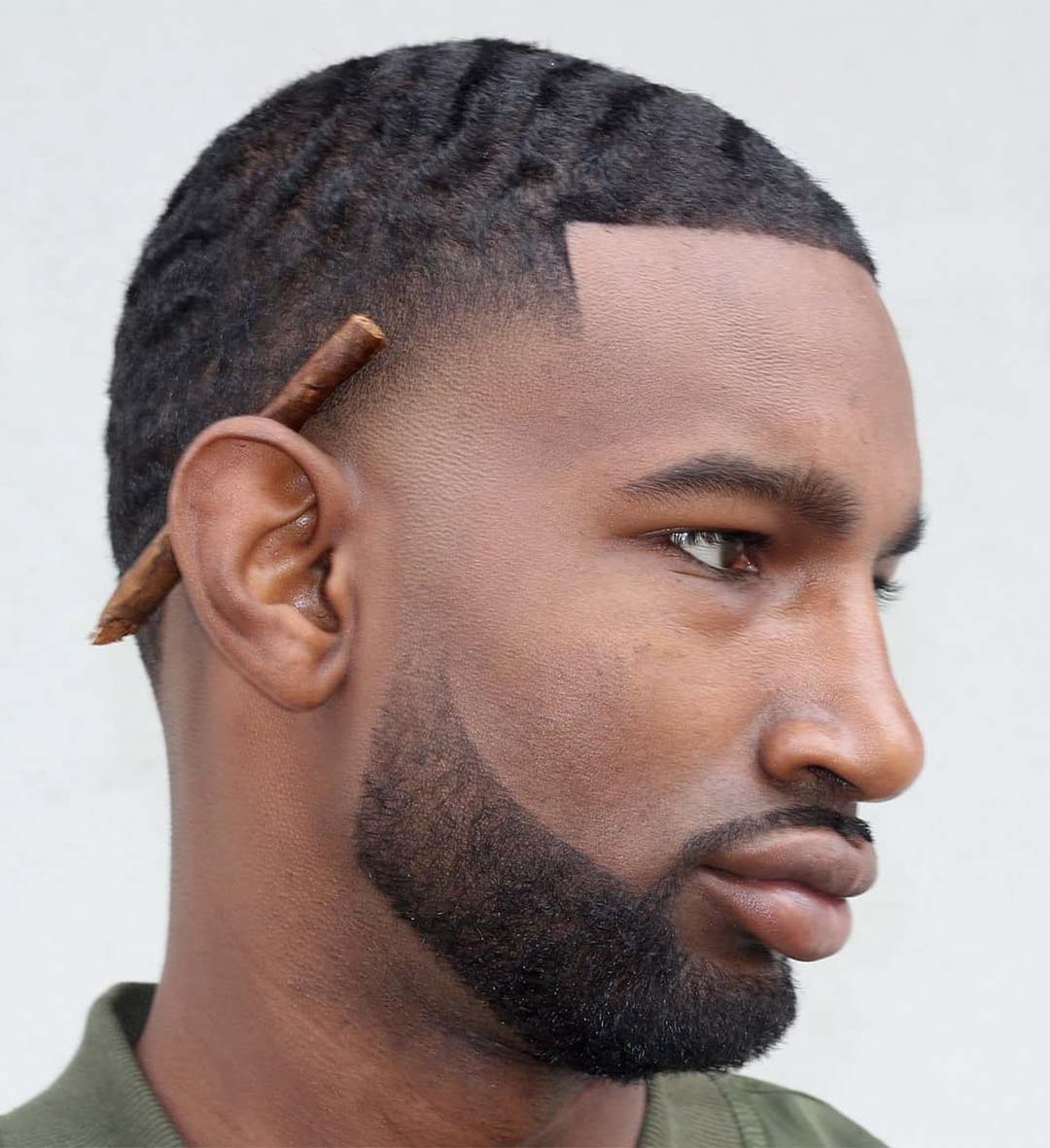 Flat Top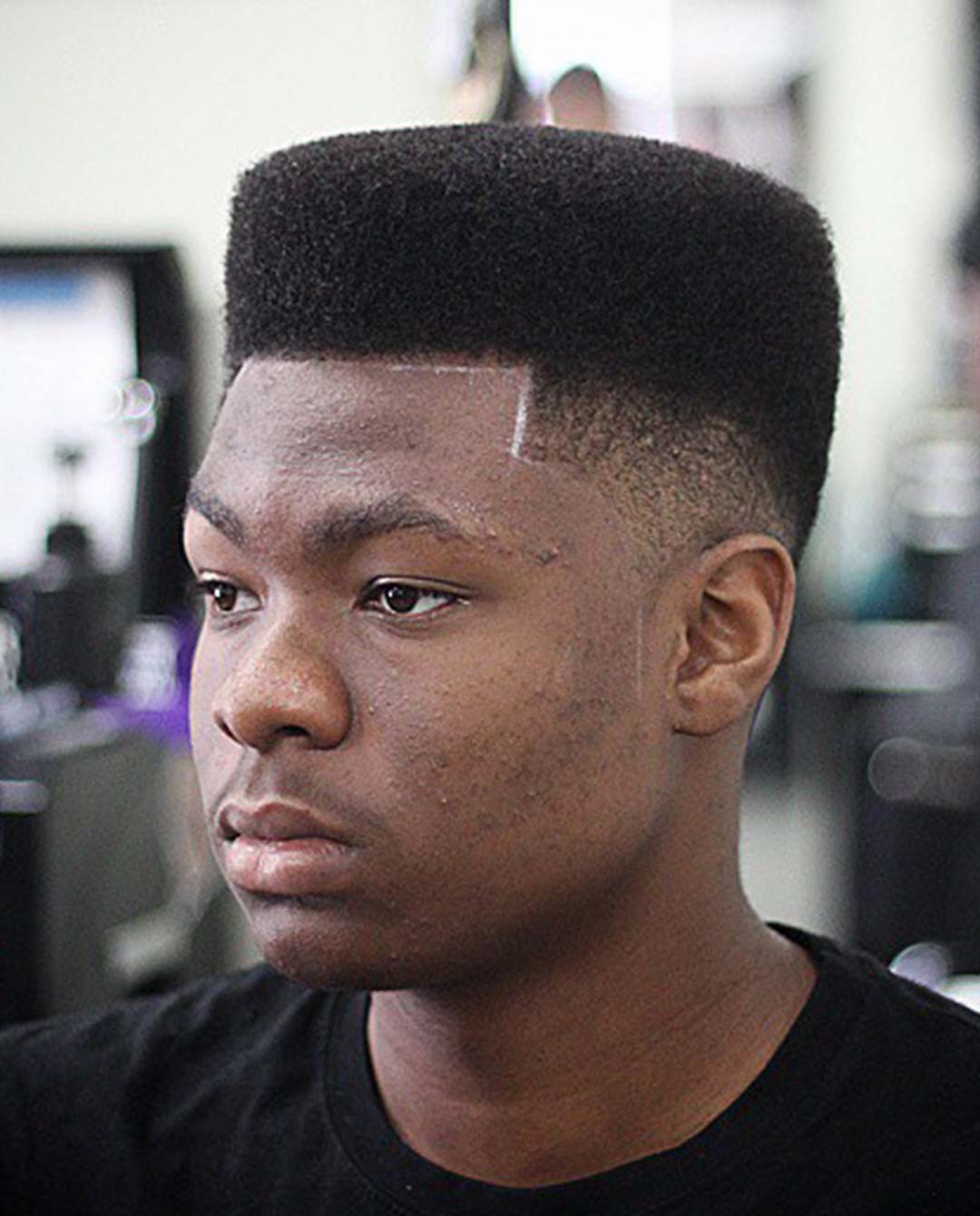 Hard Line and High Top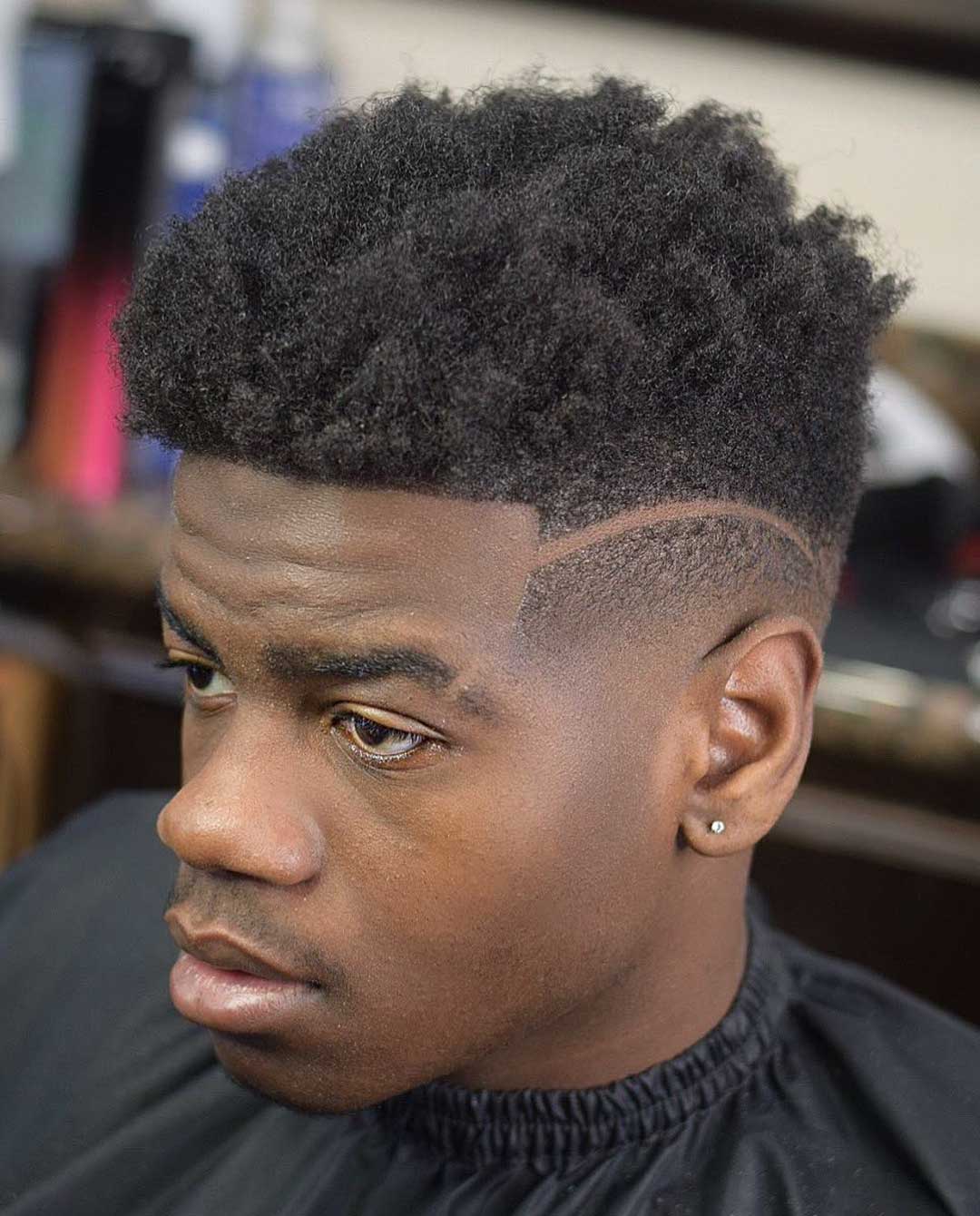 High Curls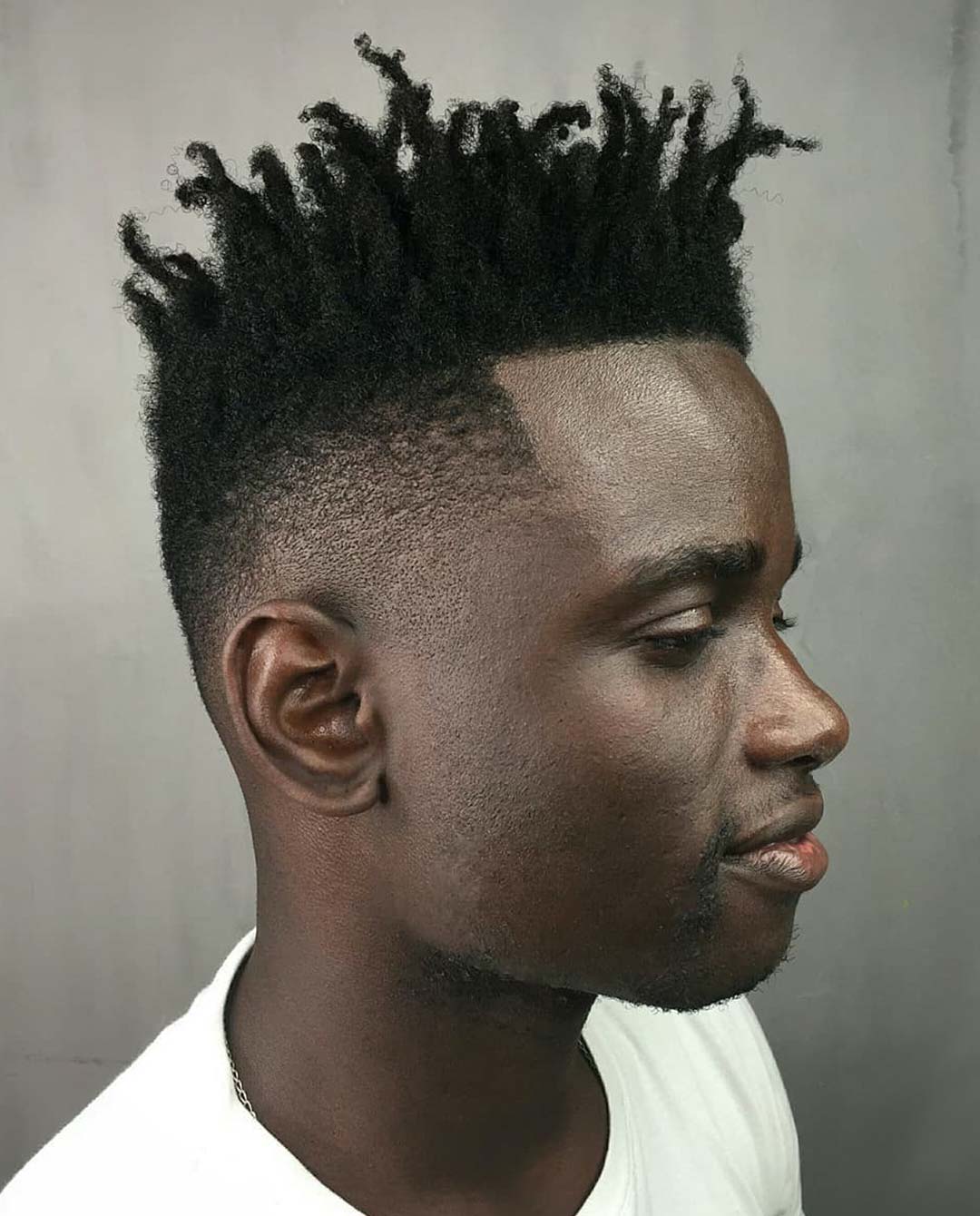 Loose Mohawk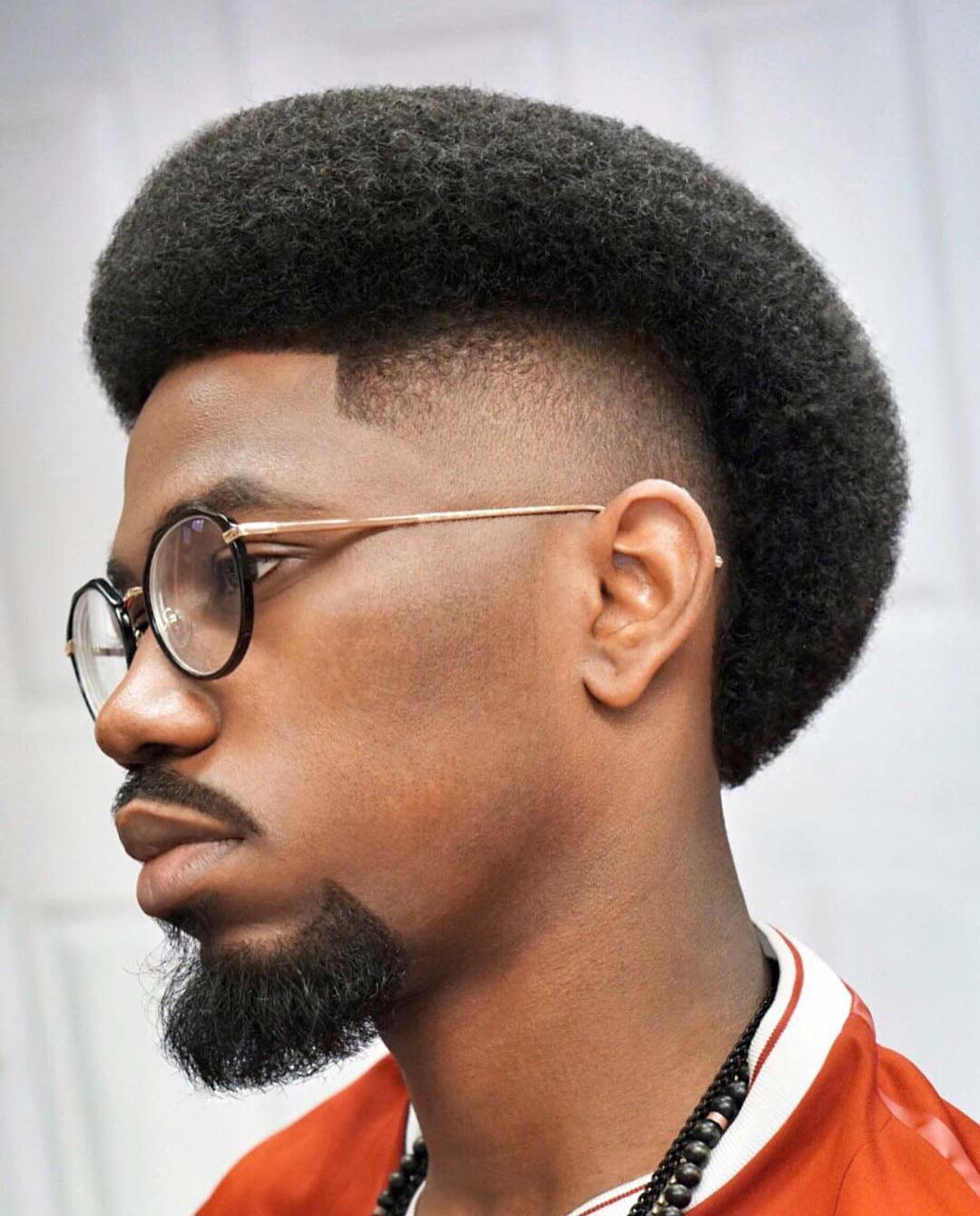 Long and Spiky