A high top fade haircut features closely shaved sides and a longer top. This style offers an edgy look while presenting a tidy appearance.
How Style High Top Fade Haircut?
Especially suited to the texture of black hair, high top fade haircuts make a statement while keeping a neat and tidy appearance. Usually, shaved or buzzed sides are the norm. The fade begins above the temple and transitions into the top. This hair can be curly, buzzed straight across, or shaped in an edgy way.
Because this style relies on crisp edges, regular maintenance and upkeep are advised. However, a high top fade can be a great way to show off a big personality.
#1 Straight Across and Curly High Top
The high fade on this cut starts at the crown and wraps around the head at the same level. Also, this high top remains curly, free and is combed straight up. Finally, buzz the shortest hair of this fade close to the skin to maximize the clean look of the cut.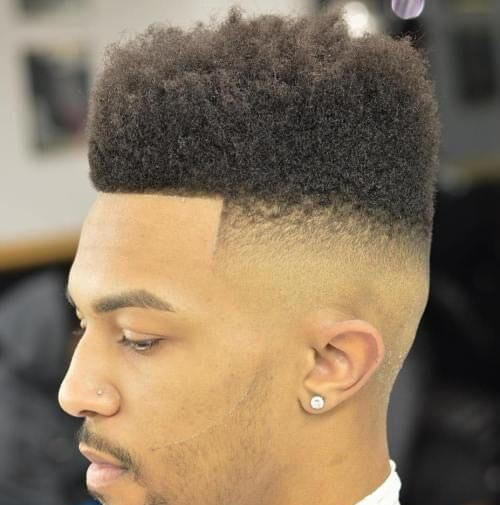 #2 High Top Fade With Part
A well defined hard part can make any hairstyle stand out. The side part defines the contrast between textured hair and the tapered side. This style is perfect for any event but you'll need some hair products to keep the style. Use a blow dryer after application for best results.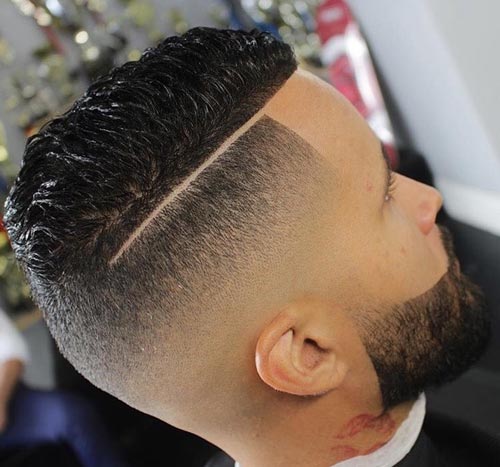 #3 High Top with Short Dreadlocks
A more casual look, this high top fade features high and tight sides that gradually transition to the top of the head. The hair is medium size and twisted into small dreadlocks that are dyed for emphasis and personality. A favorite of many sports stars, this cut offers personality without being too outrageous.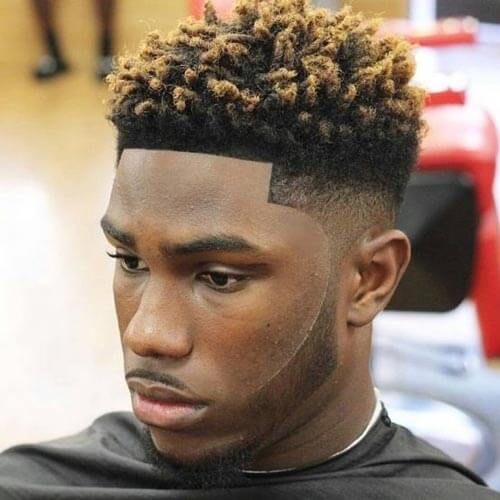 #4 Textured Taper Fade With Design
Men's haircut with side designs are eclectic and this textured wave is no different. The waves and texture add volume to the hair and the design gives it a dapper look. To style, add some hair gel and comb in place before air drying.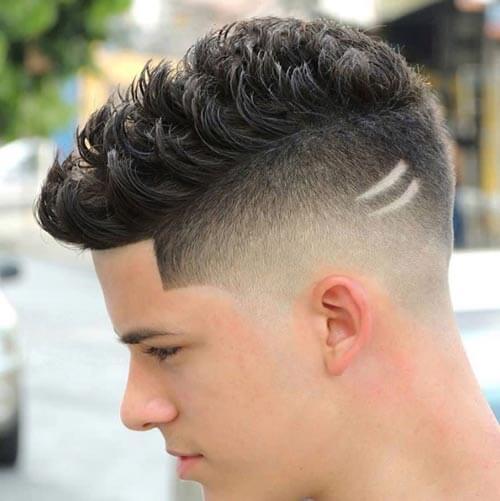 #5 Loose and Curly Flat Top
For a softer look, this loose and curly flat top might fit the bill. The severely shaved sides offset the softer curls on top. Don`t use too much product to give it a less structured, flyaway appearance. Artists and free spirits are fans of this style.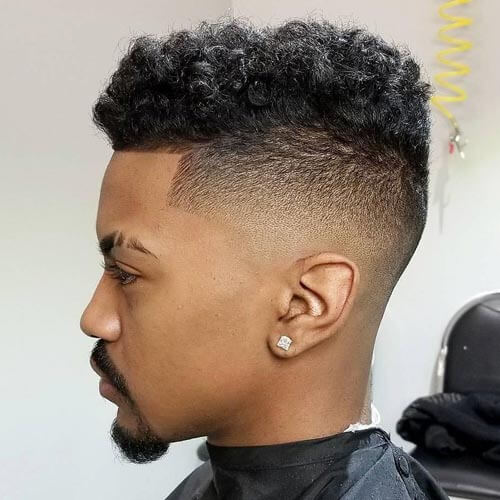 #6 Temple Fade High Top
Show off kinky curls with this thick high top, where a lower temple fade incorporates a larger mass of hair and maximizes the height of the high top. Curls are defined and flow freely from the top of the cut. Finally, shave the neck and ear areas for a clean appearance.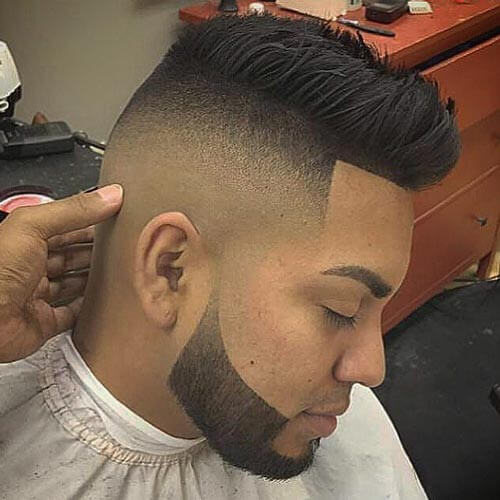 #7 High Fade with Long Hair on Top
For those with straight hair, a high fade pompadour combines the appeal of a high top fade haircut with retro style. First, a high fade neatly transitions into curly hair. Then comb the hair on top of the forehead to complete the look.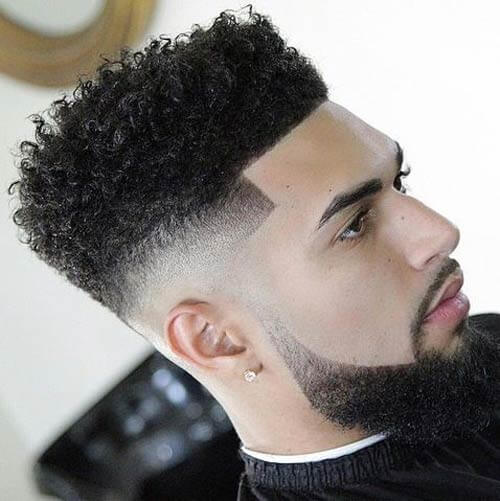 #8 Wavy Hair and Bald Taper Fade
Your natural waves can come in handy if you choose this style. The latest looks are embracing natural hair textures, so if you have wavy to curly hair, be sure to give this look a try. Perfect for men who do not want hair maintenance hassles, just comb and you are all set!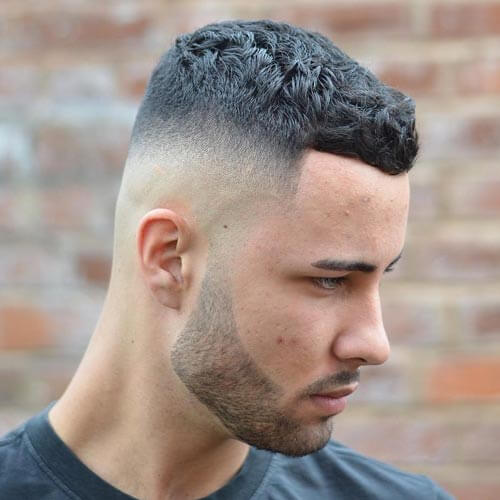 #9 Modern Flat Top
A great style for those who want to keep things simple, a high and tight haircut requires less precision and maintenance than other styles. A high fade transitions to slightly longer hair well above the temple. Lastly, the fade tapers at the crown toward the neck.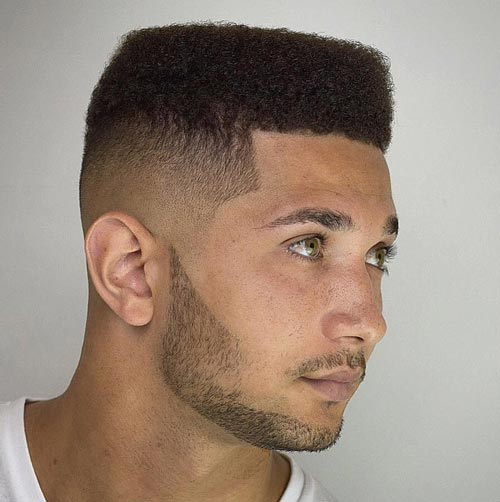 #10 Kinky Hair With Lineup and Fade
Kinky hair taper fade is a popular choice for black men of all ages. The gradual reduction of hair length in this fade haircut merges with the facial lineup to give the model a clean, well-shaved look. No maintenance is required, just keep your natural hair kink-free.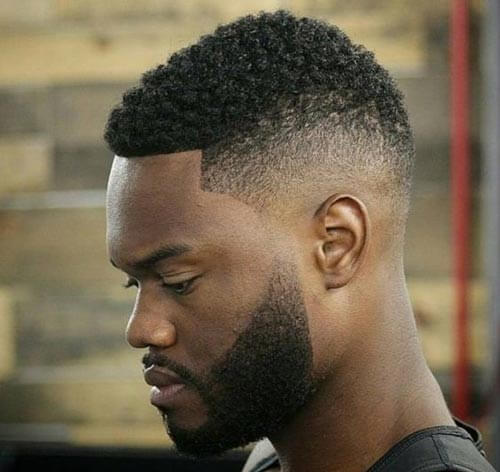 #11 High Top With Temp Fade
A thick flat top makes a masculine statement while keeping things elegant. A high fade transitions into the temple, but the hair is cut straight across. Doing so creates a squared-off boxy look that can complement a rounder face shape. In addition, all of the straight lines gives a clean feel to the style.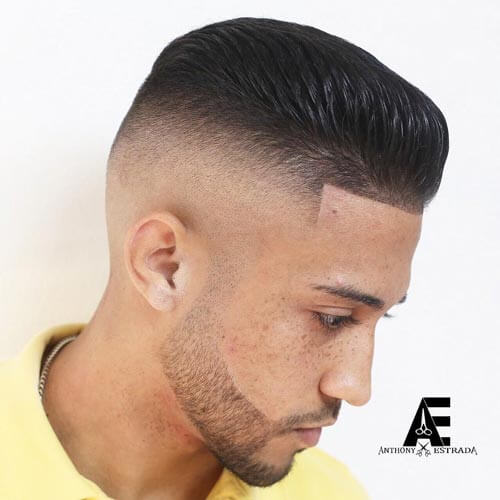 #12 Fade With Curly Top
If you grew up in the 90's then your fascination with the curly high top fade is totally understandable. This hairstyle was all the rage back then and is making a comeback. Apart from getting a trim, you really don't need to do anything else to keep this hairstyle looking sharp.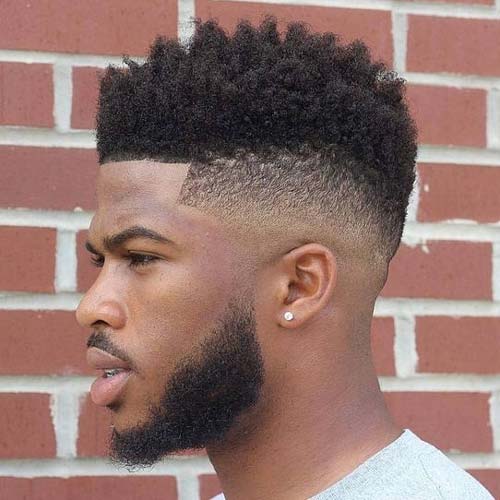 #13 High Top With Lineup and Fade
Men can get a low, medium or regular high top fade, but the main feature of this modern haircut is the taper cut. The high top fade features mid-length hair on top and a gradual fade that accentuates the hi-top.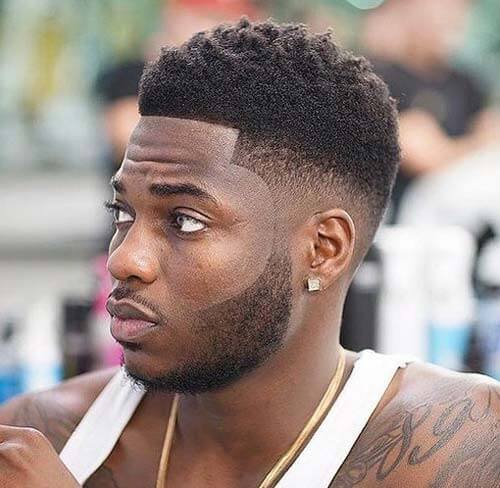 #14 Will Smith High Top
Trying out a faux hawk high top can be a great way to get straight hair in the game. Buzz sides up past the crown of the head for height, and comb the hair on top backward. This style can be a subtle way to make a statement.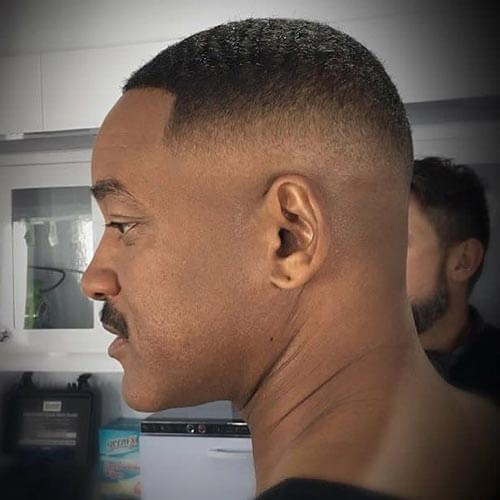 #15 Flat Top With Taper Fade
The structure and silhouette of a flat top haircut are unique, and in some ways is comparable to other popular haircuts. The addition of a taper fade draws focus to the flat cut on top and will be a head-turner no matter where you go.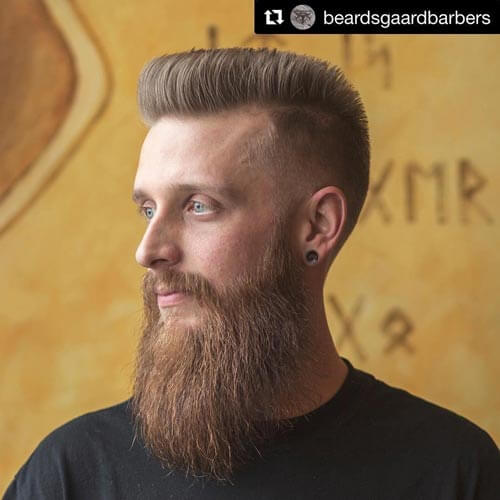 #16 Full High Top with Highlighted Tips
This high top is all about volume and personality. Tips of the hair are bleached or highlighted to add some definition to an otherwise free-flowing style. Also, cut the sides clean and with smooth transitions to achieve the best result. Finally, cut a small side part into the front to add flair.
#17 Short Curly Hair With Temp Fade
Curly hair can be difficult to manage, but at the same time, it will make you look cool and original. If you have curly hair, then this stress-free hairstyle might just be the one. Add some hair product to give it some shine, otherwise, you don't really need to do any maintenance.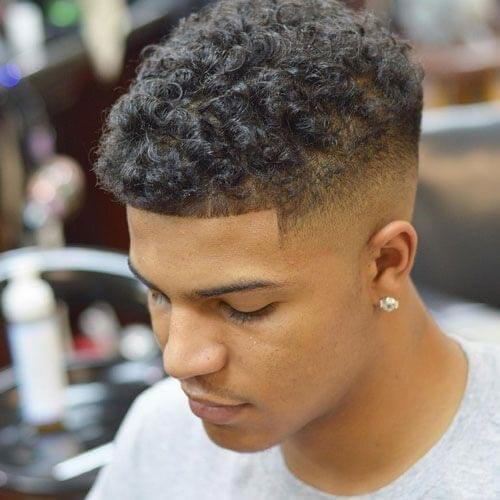 #18 High Top with Rounded Edges
Following the shape of a classic flat top, this cut sets itself apart because of its rounded edges. The softness of the edges still offers structure around the head. In addition, sides are kept tidy and smoothly transition into a close cut at the nape of the neck.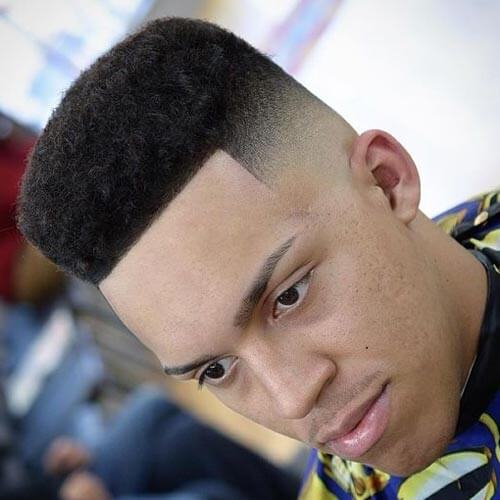 #19 Afro High Top Fade
A high top fade haircut for men with afro hair can look incredible if cut by a skilled barber. Choose a striking, structured and impressive high top fade haircut like this one. Keep it simple, but yet high enough to make an impact.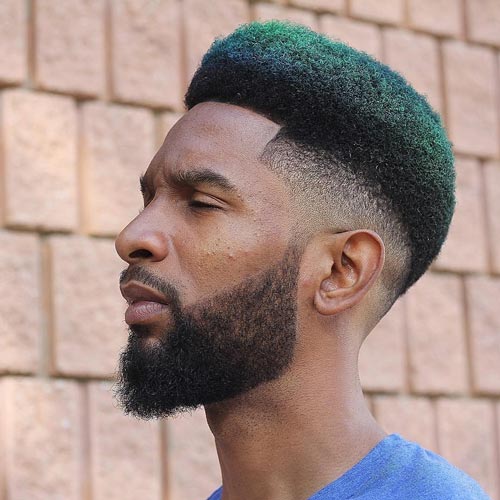 #20 Modern Flat Top
This flat top is popular because of its simplicity and sharpness. Sides are kept high and tight in a military style. Spike the longer hair straight up to achieve a maximum edge. Gray or coarse straight hair works well with this style.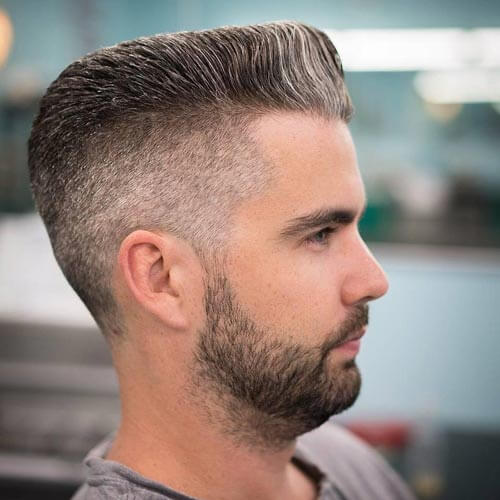 #21 Textured Haircut With High Fade
A high fade pulls focus completely to the top of the head.  Give some texture with comb over to get a faint quiff look. Maintenance is necessary to keep a hair in place, so add some hair product and air dry for perfection.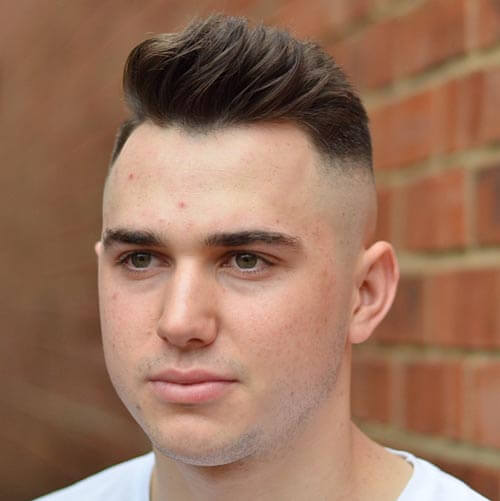 #22 High and Tight Haircut with Curls
A fun and playful style that features curls on top, this cut offsets an explosion of top curls with closely shaved sides and a brief fade. Because of the close shave around the ears and neck, be sure to get regular trims.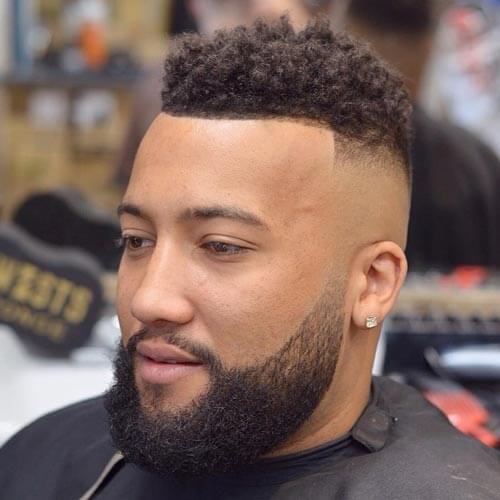 #23 Curly Afro Hair With Low Fade
Combine your afro haircut with a taper fade for a modern, fresh look that is unique. The curly hair creates a boxed shape with distinct lines that reveals a sharp sense of style.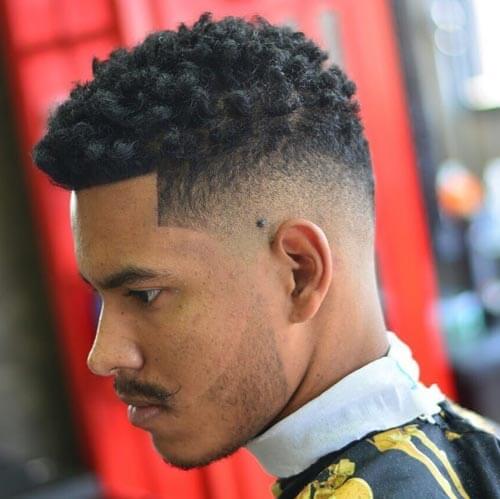 #24 High Top with Wavy Layers
For those with wavy hair, this style keeps its shape while showing off natural waves. To begin, shave sides down to the scalp to keep the overall look from becoming untidy or shaggy. Because of the close shave and clean lines of the fade, proper maintenance is imperative.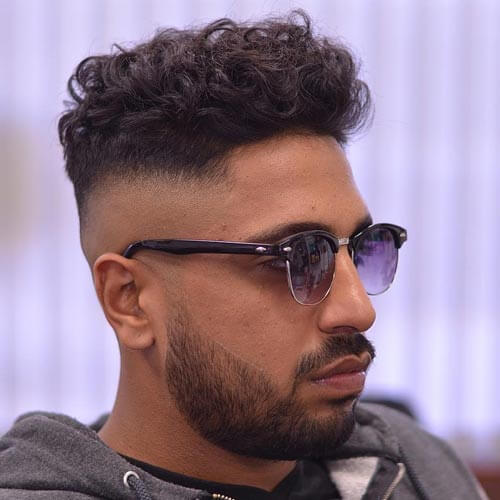 #25 Cropped Haircut with High Fade
A small quiff, or slight curl at the front, give this style some big personality and is reminiscent of a superhero. First, shave the sides completely. Then style longer hair in a tousled fashion, and gel a single curl at the forehead using the product.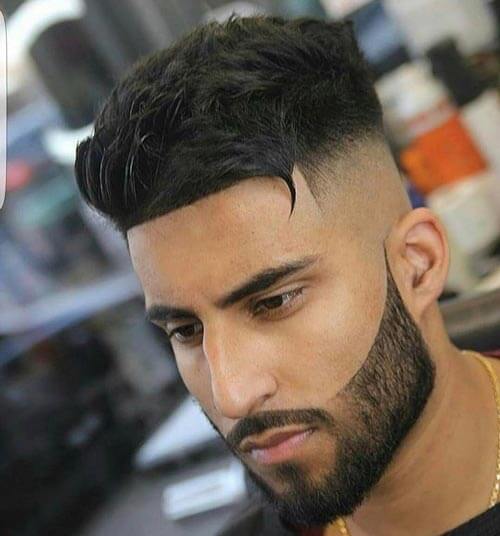 #26 Medium Flat Top
A fairly straightforward high top gets some oomph from a slightly asymmetrical part. The flat top remains denser but shorter to offset the statement part. Finally, the sides transition gradually on top.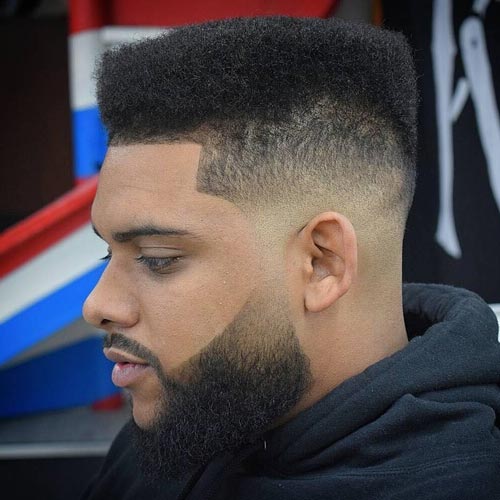 #27 High Temple Fade Afro
Let your natural, African hair grow to about 4-5 inches high and then cut your sides into a high top fade. Wearing this type of Afro means that you can be professional and also creative at the same time.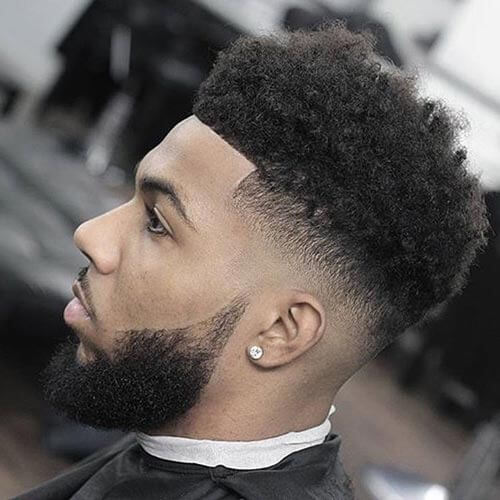 #28 Undercut Fade with Curly Top
A medium high top fade offers you a variety of styling options for your hair. You can braid it, twist it, or go for temporary dreads. The great news is that maintenance is a breeze.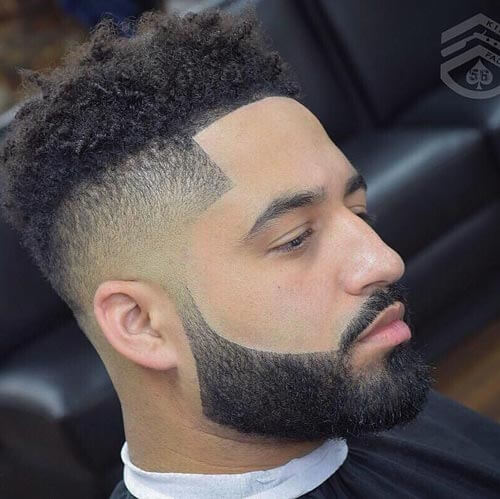 #29 Neymar Curly Top
Most undercuts work with straight hair, but curly afro hair can also do the magic. The afro undercut is simple and stylish. It looks great on black men with natural curls. and when paired with a design, this hairstyle is a modern marvel.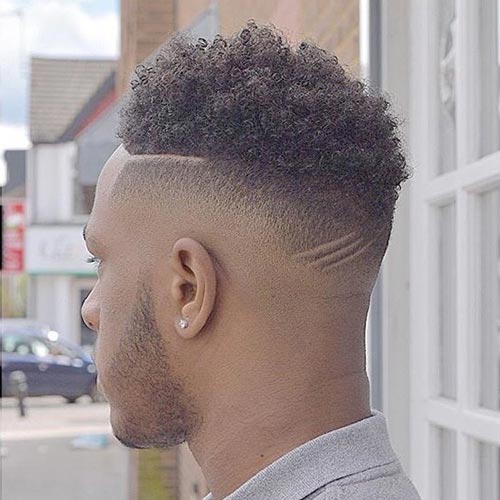 #30 Afro High Top Fade With Part
There is no better example of a high top fade with a hard part than what the model is wearing. You can keep the hair short or go for a detailed, deep part. You can even choose shorter hair, but the distinctive feature is the hard part which defines the high top.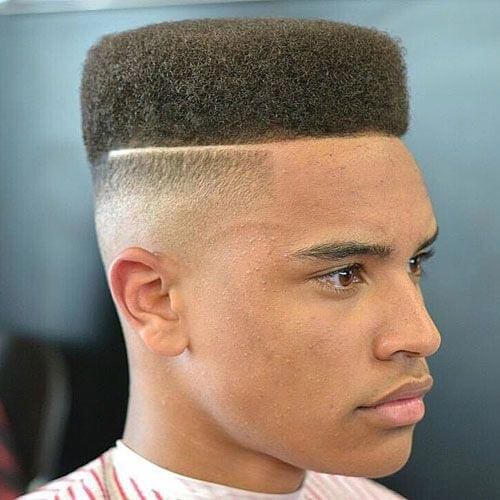 #31 Spiky Quiff With Fade
For an edgy look, try this spiky quiff with a fade on the sides and back. The hair is naturally wavy and cut so that it appears to stand straight up. You can get this look with some hair products if you don't have naturally wavy hair. But note that you will need to maintain the look with frequent styling and air drying.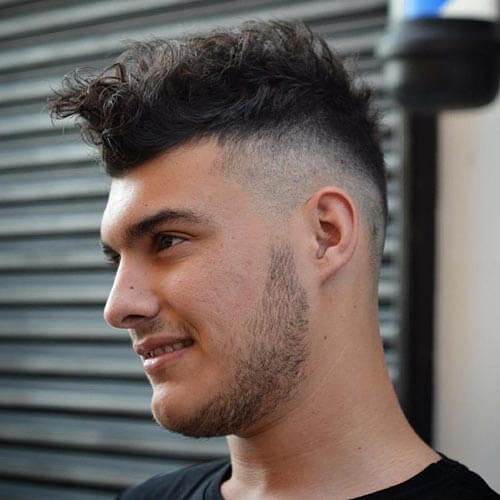 #32 Pompadour With Taper Fade
What makes this pompadour awesome is the large volume of hair (the "pomp") in the front. Great for any occasion or hair type. If you prefer a more conservative look with little maintenance, keep the pomp shorter.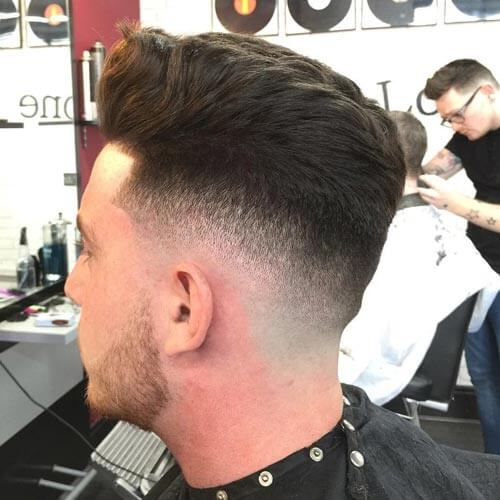 #33 Wavy Hair With Lineup
Wavy hair and a lineup is not a common haircut. But this edge up is perfectly defined with straight lines and right angles. You will have lots of fun with this and you don't have to worry about spending too much time on maintenance.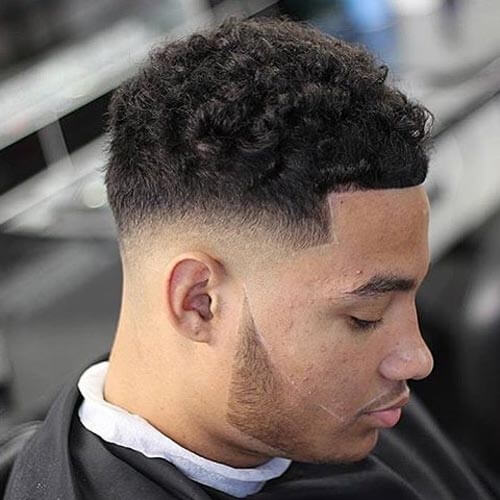 #34 Curly Hair With Bald Fade
Busy men love haircuts that are short and to the point. With curly hair, you can get the best style to suit your lifestyle. Sporty or active, no matter your preference, this is the best haircut for men who don't like frills. A spray of gel and brush will do just fine; in terms of maintenance.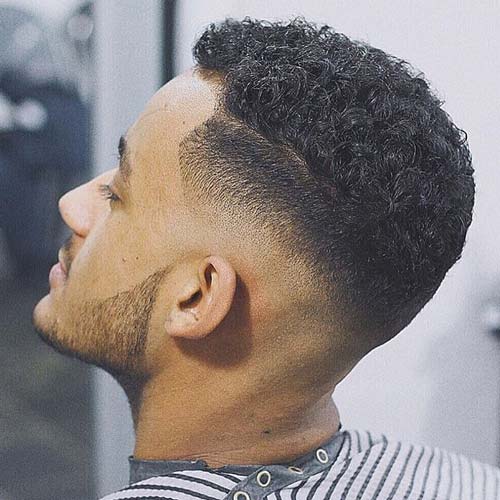 #35 Spiky Curls With Deep Part and Fade
Very short curls tend to look spiky. These tresses don't have to be curly all the time, you can gel it down flat for variety. Style your hair into a straight brush up for a distinct and individualized look.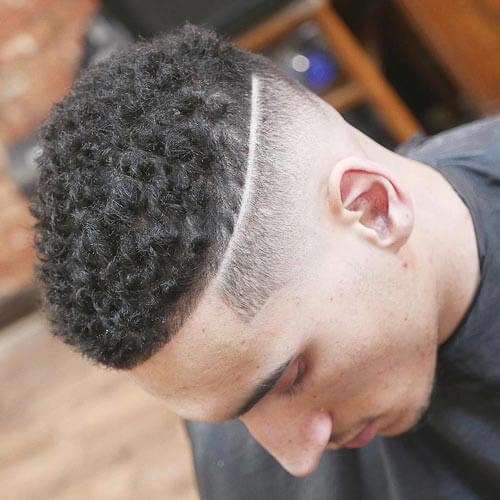 #36 Tinted High Top With Side Design
Pair the natural texture of your hair with a flaming color for effect! The appearance of this haircut is one of boldness and shows that you are a man that's not afraid to stand out. It is a remarkable hairstyle, especially when paired with designs from the lineup to the side of the head.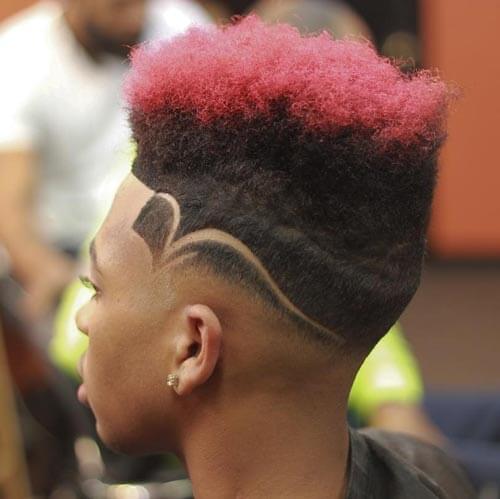 #37 Sleek Pompadour With Drop Fade and Part
For this look to work, add a high drop fade with straight lines to create an almost mohawk-ish look. You will need some hair product to keep the pomp up and the shine glossy. Add some hair gel and dry with a blow dryer and spray on some shine to finish off the look.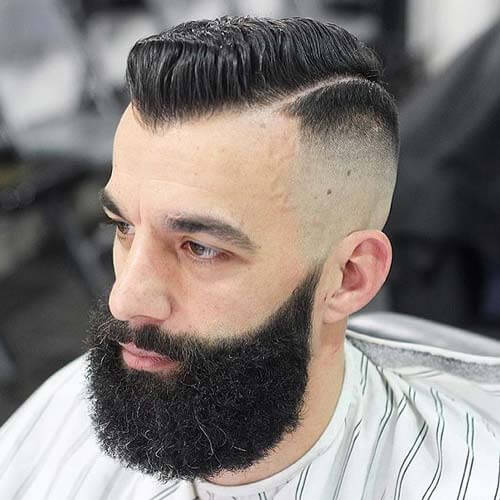 #38 Curly Top With Temple Fade
Combine two unique hairstyles such as the Mohawk and Afro to create a look that is innovative and funky. Style your tresses high atop your head for a notable fashion. Combining two unique hairstyles (taper fade and high top) will get you the perfect results. The look is funky and creative for men with curly hair and will save you a lot of time on maintenance because you will not need to do much to keep the haircut looks great.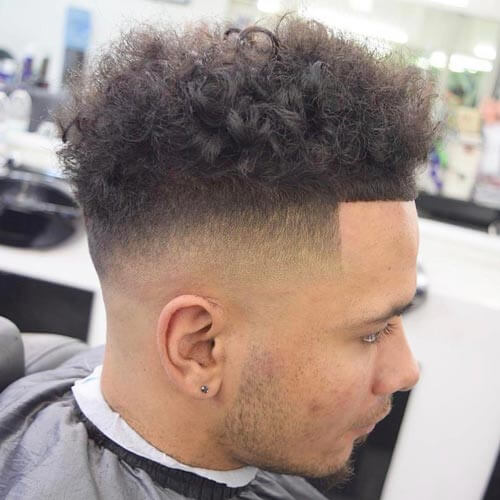 #39 Mini-Afro With Buzzed Sides
If you want a hairstyle that showcases all the best features of your natural, curly African hair, this mini-afro is ideal. It does not require any maintenance, just a comb through will keep it looking great and tangle-free.
#40 Short Cropped Razor Haircut
Short hair with a razor cut is a classic look that is incredibly sleek and easy to maintain. This version features a regular high fade with a sharp razor finish to separate the style. The hair is brushed forward and gives a timeless laid-back appearance. A lot of barbering skill is required to get this perfect look.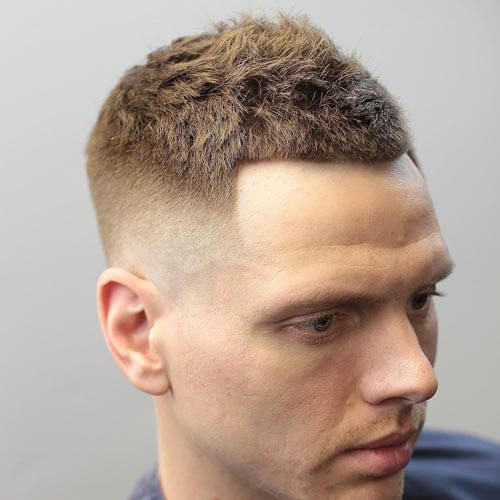 #41 High Flat Top With Deep Part
A combination of a flat top and a high top is a creative way of expressing yourself and showing off your style. When you add in a deep part you are effectively creating a game-changer hairstyle. The hairstyle is not a great choice for formal occasions, but otherwise, have fun wearing it!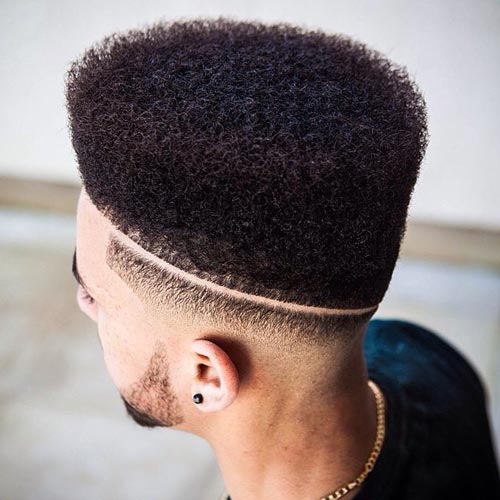 #42 Textured Hair With Lineup and Part
Great for any man or event, this textured hair looks full and the lineup gives the model a clean boyish look that is enviable. Maintenance is necessary to keep this style looking fresh always.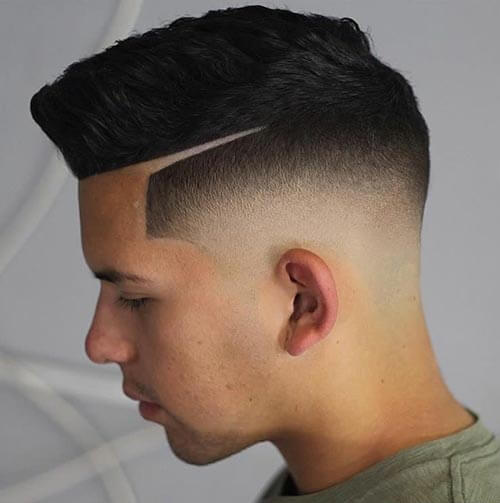 #43 Curly High Top With Temple Fade
Take your look back to the days of street rapping and hip-hop with a high top and lineup, but this time, add a taper fade for contrast. You will exude sophistication and a confidence that only a true gentleman can have. This hairstyle will require some attention to keep it looking shaggy always.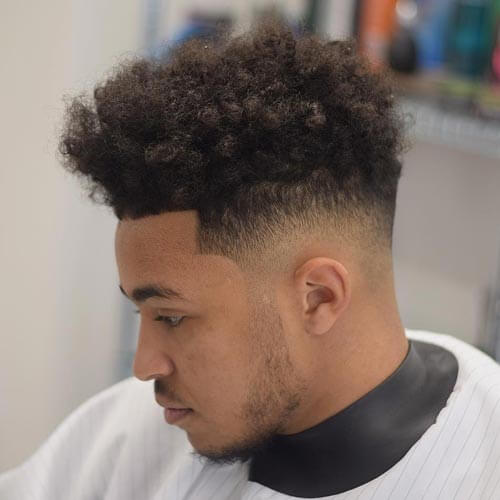 #44 Drop Fade with Curls
High tops like this were common and revered in the 90s' and today we can see why. This one is for men who want to make a striking statement. It features a contrasting taper fade and ultra-curly afro hair that not many can pull off! It will look great with a beard, but a clean-cut look works too. The key to getting this look is to grow the hair up to 5 inches or more and make a fade around the temple.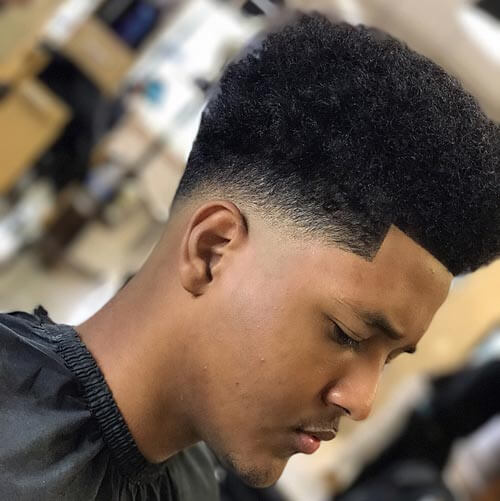 #45 Curly High Top With Designs
Cut your curly hair into a high top and style forward. Shave the sides and back of your head to enhance your curls before crafting the artwork. The designs are bold and outstanding, but you can opt for any level of subtlety you like. Keep your curls tangle-free and you'll keep this style looking fresh always.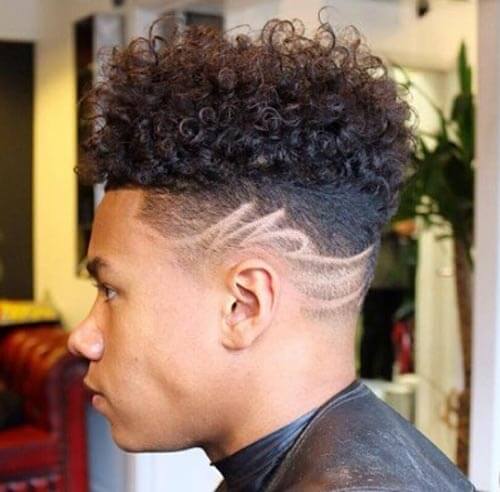 #46 Clean Razor Cut With High Top
A razor fade pompadour is a signature haircut that only men with style can pull off. In this version, the hair is about four inches on top with a high bald fade on the sides. The haircut looks spiky, but not quite because of the length. Any shorter and you'll have a totally different hairstyle.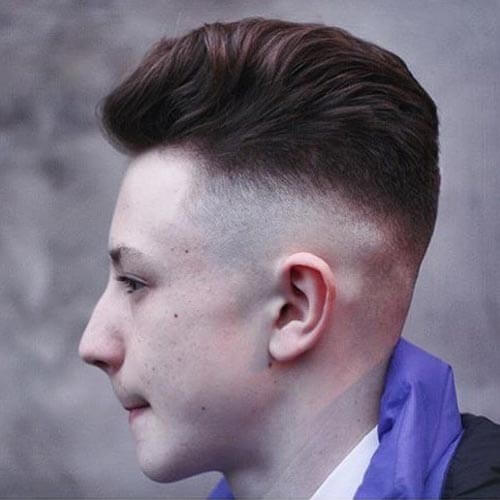 #47 Sectioned Pompadour and High Fade
Pompadours are a great 50s look and perfect for classy men. This model has a tinted top and sectioned the hair to give it an artsy look. The hair will require some maintenance with hair products and extra styling.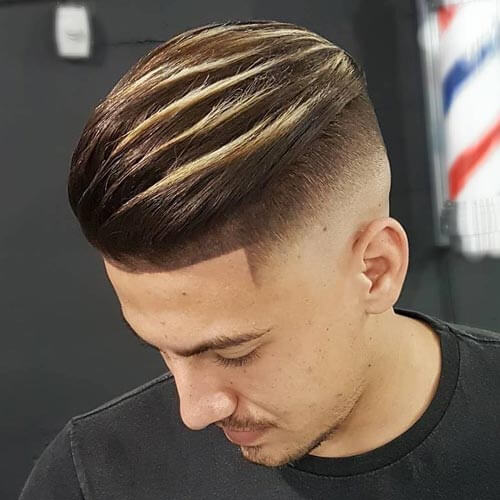 #48 Curly Haircut With Mid Bald Fade
A curly taper cut with medium fade is a wonderful haircut for daring black man. You can add various shades of colors to showcase your amazing curls and pair it with this classic cut. You will need to keep your hair tangle-free, but if you don't mind the tangles then get ready for a dread—which will look great too!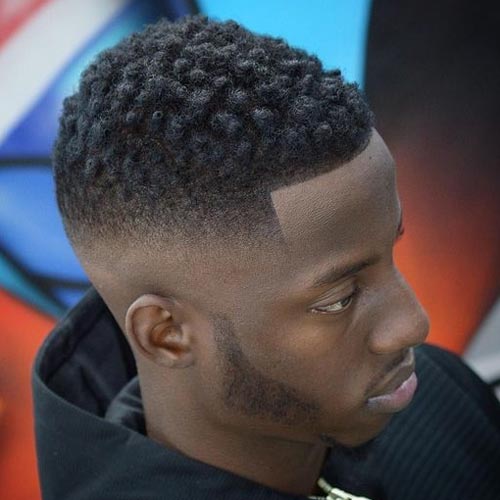 #49 Brush Forward Haircut
We know that cool teens love the brush forward look, but any man can pull it off. It is a practical and flattering men's hairstyle that suits everyone no matter your hair texture. The brush cut is achieved when hair is brushed forward from the back to the front. Simply apply any hair product (optional) brush forward and air dry.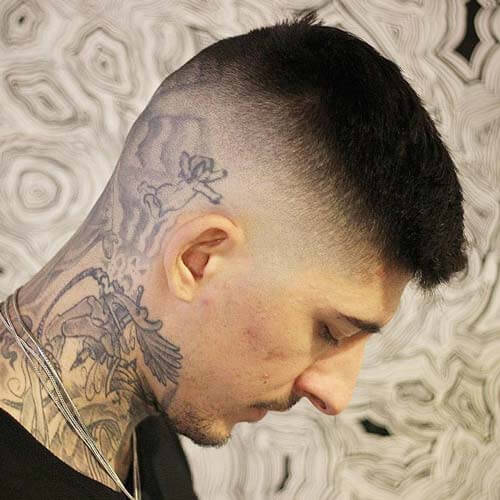 #50 High Fade with Long Hair on Top
For a hairdo that will match your individual personality, wear your natural texture. This look is crafted from the model's natural afro tresses and flows well with his overall demeanor. The kinky curls on top are well-cut and the taper fade brings that into focus.