A high top
fade haircut
features closely shaved sides and a longer top. This style offers an edgy look while presenting a tidy appearance.
How Style High Top Fade Haircut?
Especially suited to the texture of black hair, high top fade haircuts make a statement while keeping a neat and tidy appearance. Usually, shaved or buzzed sides are the norm. The fade begins above the temple and transitions into the top. This hair can be curly, buzzed straight across, or shaped in an edgy way.
Because this style relies on crisp edges, regular maintenance and upkeep are advised. However, a high top fade can be a great way to show off a big personality.
#1 Straight Across and Curly High Top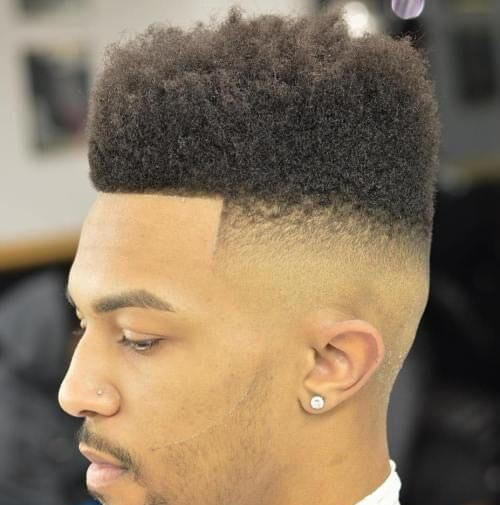 The high fade on this cut starts at the crown and wraps around the head at the same level. Also, this high top remains curly, free and is combed straight up. Finally, buzz the shortest hair of this fade close to the skin to maximize the clean look of the cut.
#2 High Top Fade With Part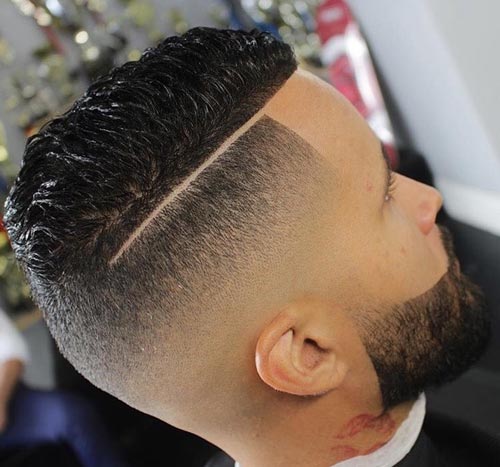 A well defined hard part can make any hairstyle stand out. The side part defines the contrast between textured hair and the tapered side. This style is perfect for any event but you'll need some hair products to keep the style. Use a blow dryer after application for best results.
#3 High Top with Short Dreadlocks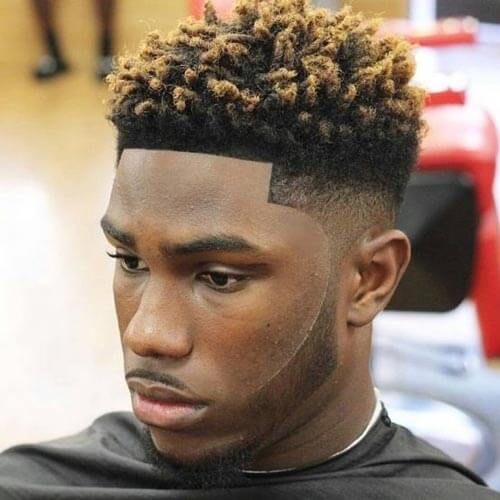 A more casual look, this high top fade features high and tight sides that gradually transition to the top of the head. The hair is medium size and twisted into small dreadlocks that are dyed for emphasis and personality. A favorite of many sports star, this cut offers personality without being too outrageous.
#4 Textured Taper Fade With Design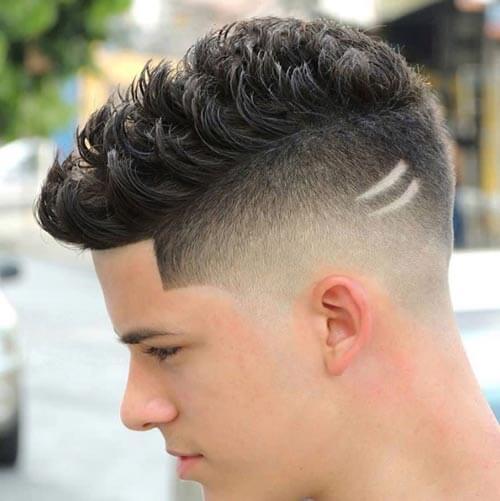 Men's haircut with side designs are eclectic and this textured wave is no different. The waves and texture add volume to the hair and the design gives it dapper look. To style, add some hair gel and comb in place before air drying.
#5 Loose and Curly Flat Top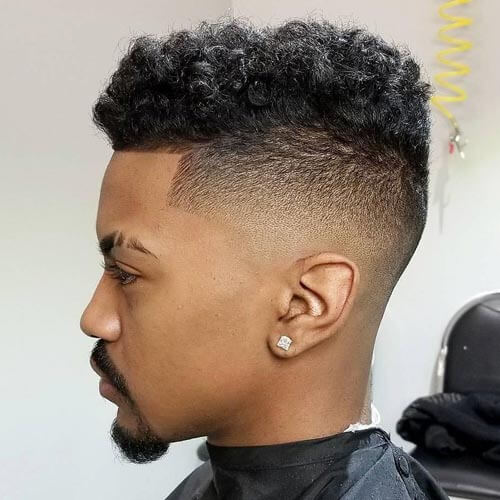 For a softer look, this loose and curly flat top might fit the bill. The severely shaved sides offset the softer curls on top. Don`t use too much product to give it a less structured, flyaway appearance. Artists and free spirits are fans of this style.
#6 Temple Fade High Top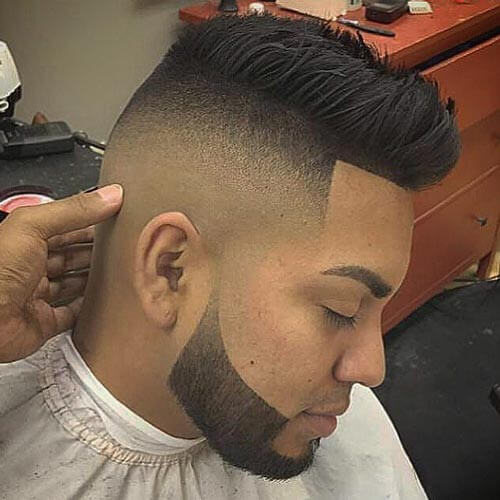 Show off kinky curls with this thick high top, where a lower temple fade incorporates a larger mass of hair and maximizes the height of the high top. Curls are defined and flow freely from the top of the cut. Finally, shave the neck and ear areas for a clean appearance.
#7 High Fade with Long Hair on Top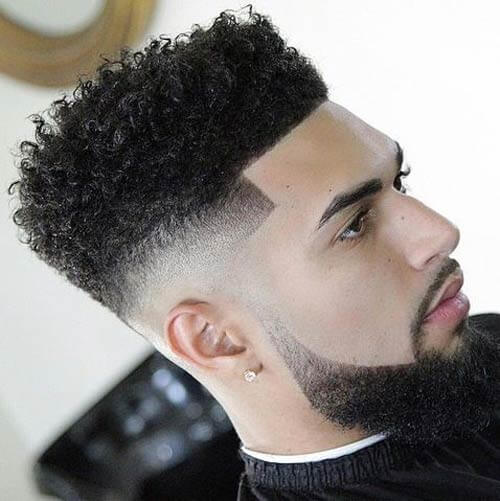 For those with straight hair, a high fade pompadour combines the appeal of a high top fade haircut with retro style. First, a high fade neatly transitions into curly hair. Then comb the hair on top of the forehead to complete the look.
#8 Wavy Hair and Bald Taper Fade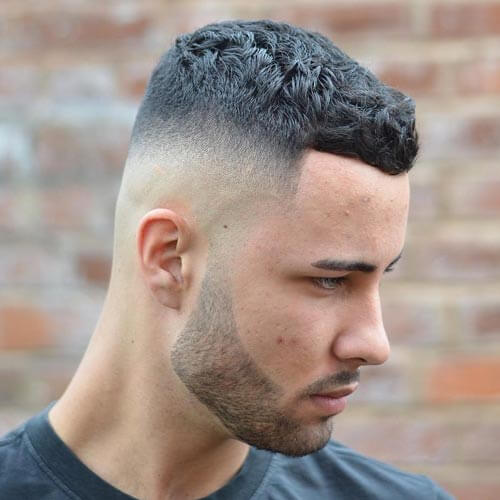 Your natural waves can come in handy if you choose this style. The latest looks are embracing natural hair textures, so if you have wavy to curly hair, be sure to give this look a try. Perfect for men who do not want hair maintenance hassles, just comb and you are all set!
#9 Modern Flat Top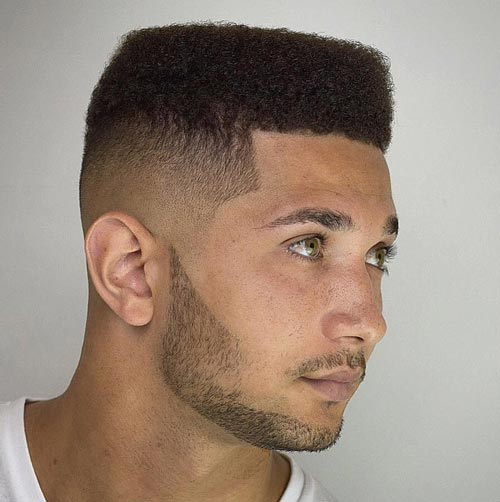 A great style for those who want to keep things simple, a high and tight haircut requires less precision and maintenance than other styles. A high fade transitions to slightly longer hair well above the temple. Lastly, the fade tapers at the crown toward the neck.
#10 Kinky Hair With Lineup and Fade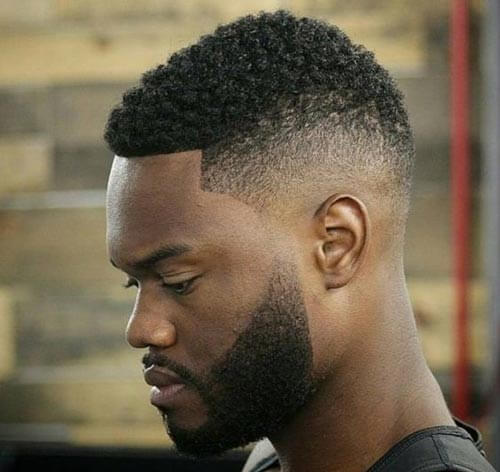 Kinky hair taper fade is a popular choice for black men of all ages. The gradual reduction of hair length in this fade haircut merges with the facial lineup to give the model a clean, well-shaved look. No maintenance is required, just keep your natural hair kink-free.