In the realm of men's hairstyles, there exists a hidden gem that exudes unspoken confidence—a haircut that effortlessly blends the boundaries of style and sophistication. Allow us to introduce you to the enigmatic charm of the mid fade haircut.
The mid fade is characterized by a gradual transition of hair length from the sides and back of the head, creating a smooth and seamless blend between longer hair on top and shorter sides. Unlike high fades, which start near the temples, or low fades, which begin closer to the neckline, the mid fade finds its balance right around the midpoint. This midpoint transition gives the mid fade its distinctive look, adding depth and dimension to the hairstyle.
The mid fade offers a versatile look that can be adapted to suit various hair types, textures, and personal styles. It works well with short to medium-length hair and can be combined with different top styles such as a pompadour, quiff, or textured crop. This haircut also provides the option for various styling variations, allowing you to experiment with different looks and techniques. Get ready to elevate your style game with the timeless and versatile mid-fade haircut.
French Crop with Bald Fade
This haircut blends the hair on the sides into the skin, creating a dramatic contrast with the hair on top. To achieve the look, keep the hair on top point cut and flick the fringe to the front. This hairstyle is laid-back but very effective.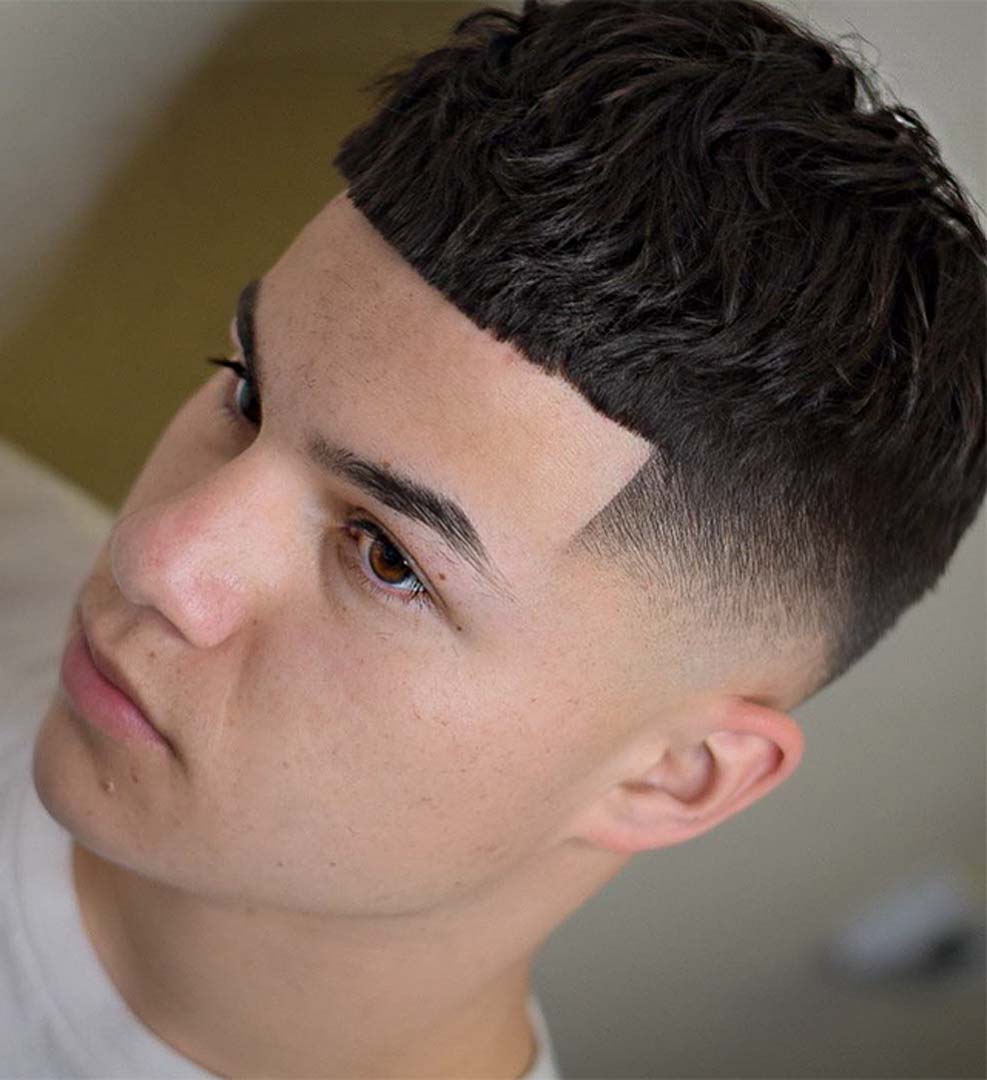 Brush Up
It's not always necessary to brush the hair on the front if you want to achieve a brushed-up look. In some cases, you can brush the hair on the top of your head, with the sides undercut to a mid fade. This blend of daring and refined elements makes for an ideal match.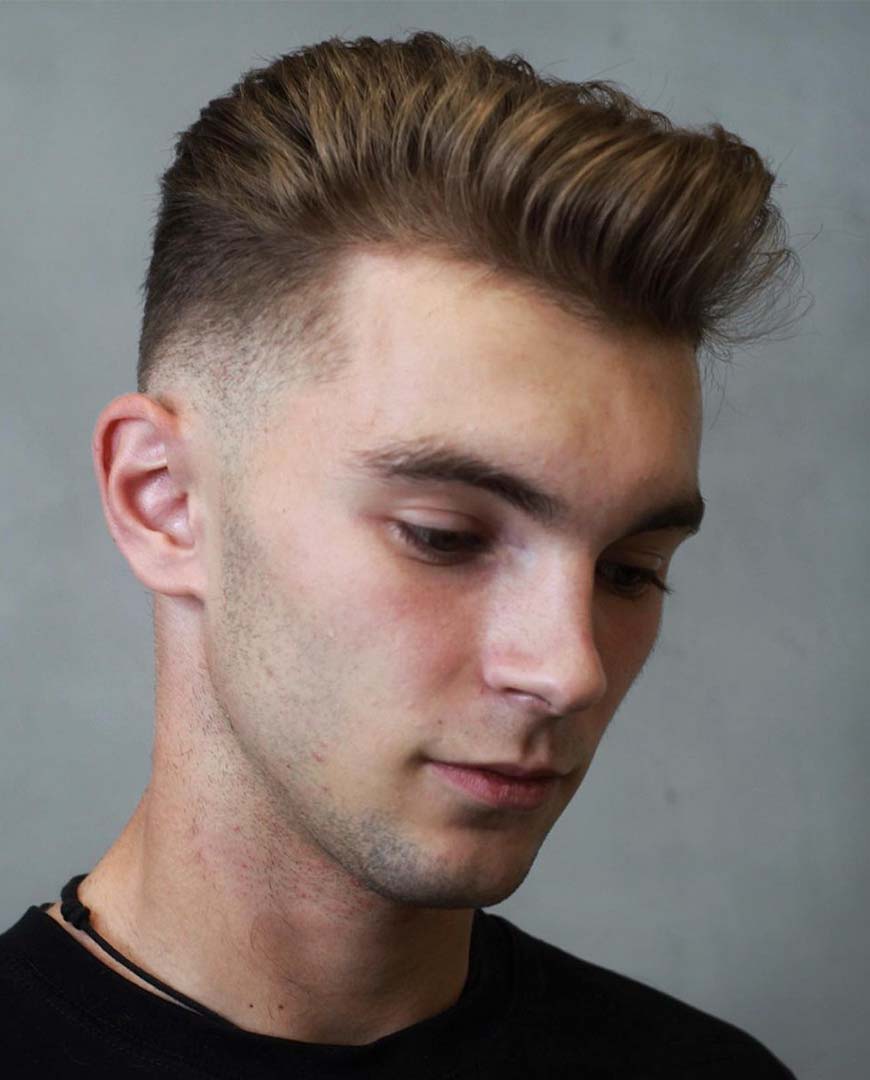 Buzz Cut with Fade
When it comes to styling a super-short haircut, there are not many additional factors to take into account beyond the natural way that the hair falls.
Although the faded haircut is commonly associated with a short, closely-cropped style, it doesn't necessarily have to be harsh or extreme. If you're unsure about the length of the fade on the sides, it's best to start with a higher clipper guard and work your way down gradually. This approach can help you avoid feeling uncomfortable or self-conscious, especially if it's your first time trying out this kind of cut or you have a formal job.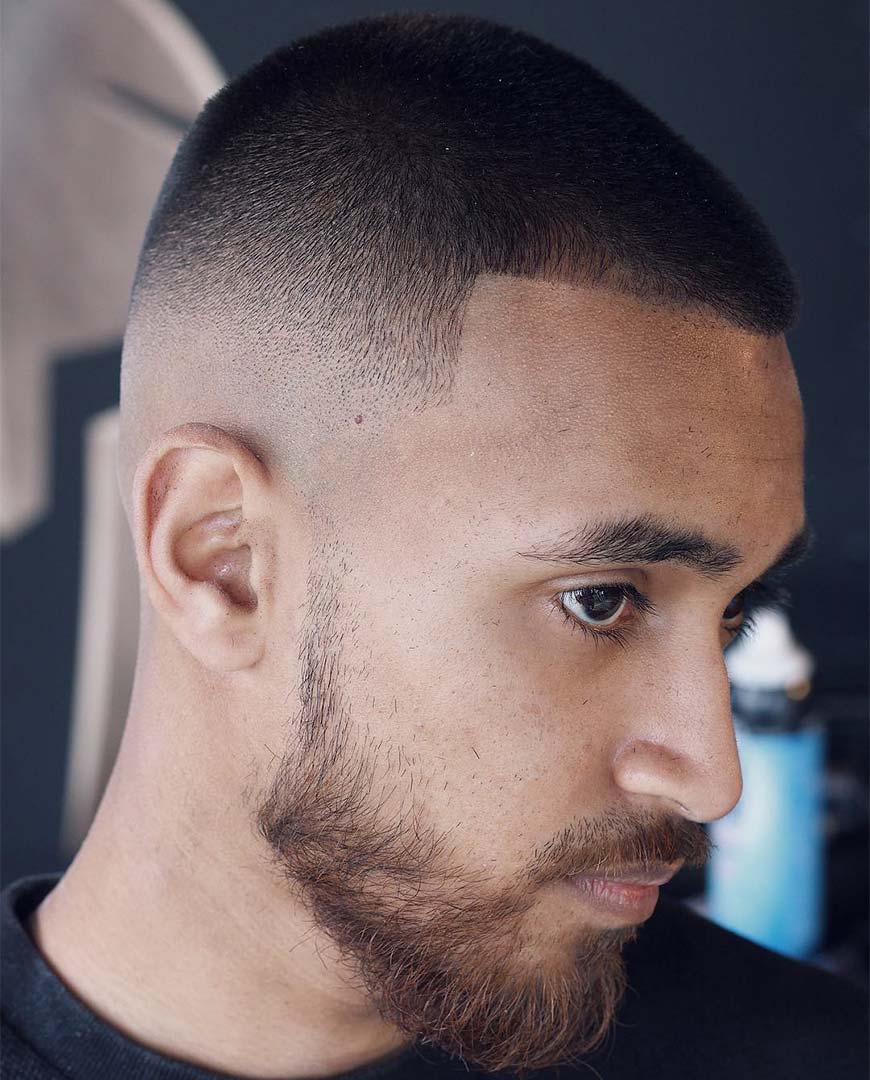 Mid Drop Fade
This particular type of undercut features a smoother finish and gradually tapered sides, making it an ideal option for men who prefer having hair of medium length.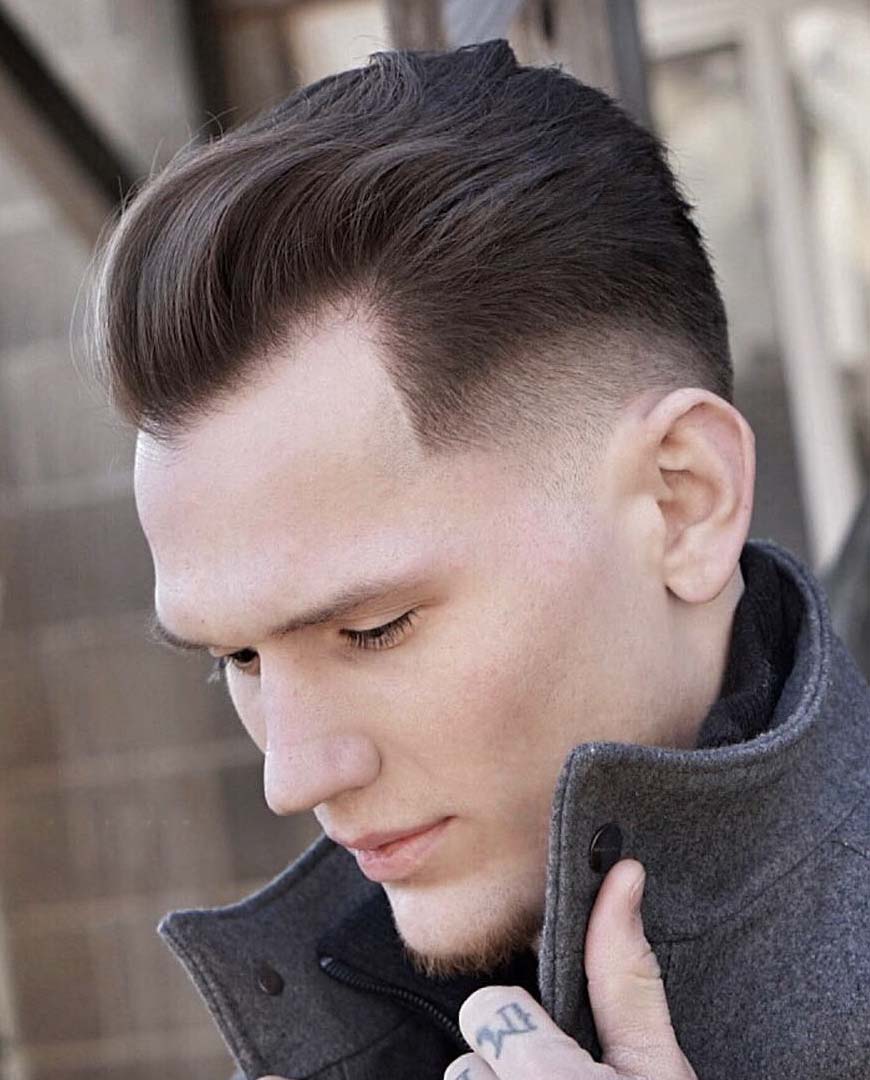 Buzzed Mid Fade
To achieve a proper buzz cut fade, it's essential to maintain longer hair on the top of the head compared to the sides. The fade should be concentrated on the bottom portion, incorporating the areas above and around the ears. This technique can create a sharp and refined look.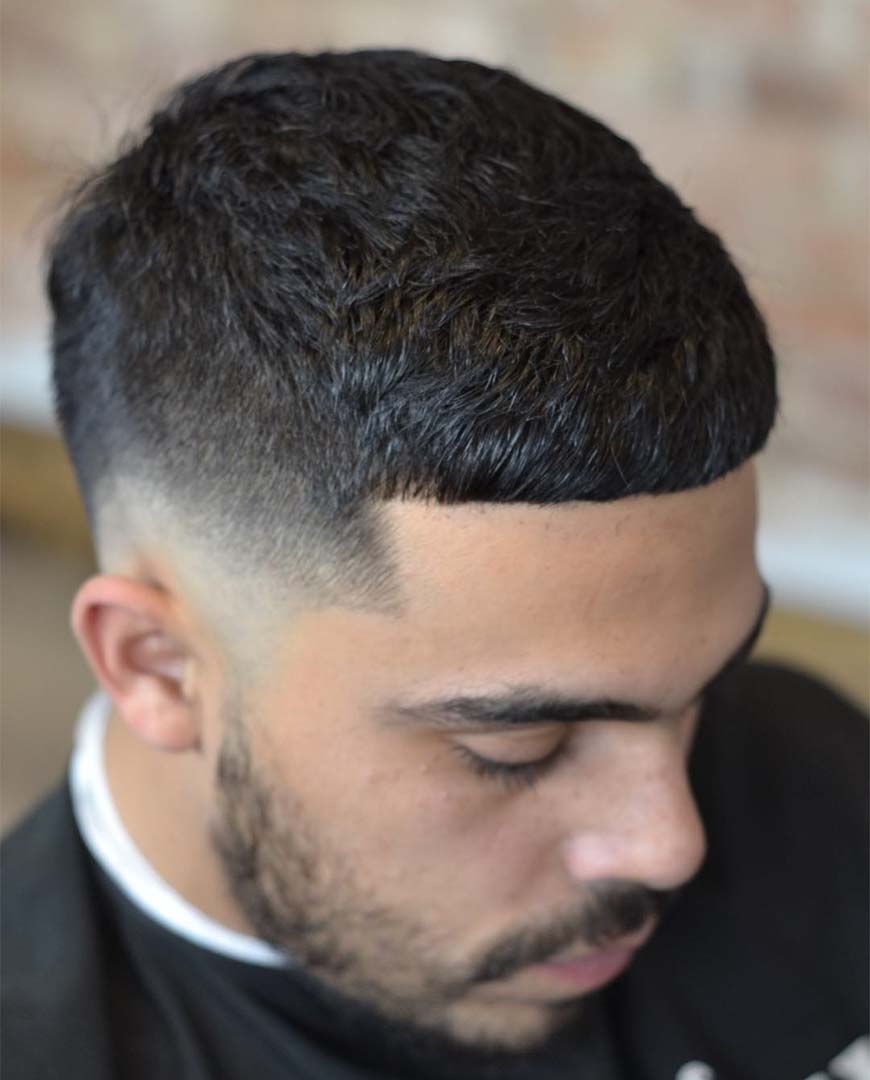 Mid Fade Quiff
Combining a quiff haircut with a mid fade can create a striking hairstyle that is relatively easy to maintain. To achieve this style, simply comb your hair back and apply a styling product with your fingers to add texture and volume to your quiff, enhancing its appearance.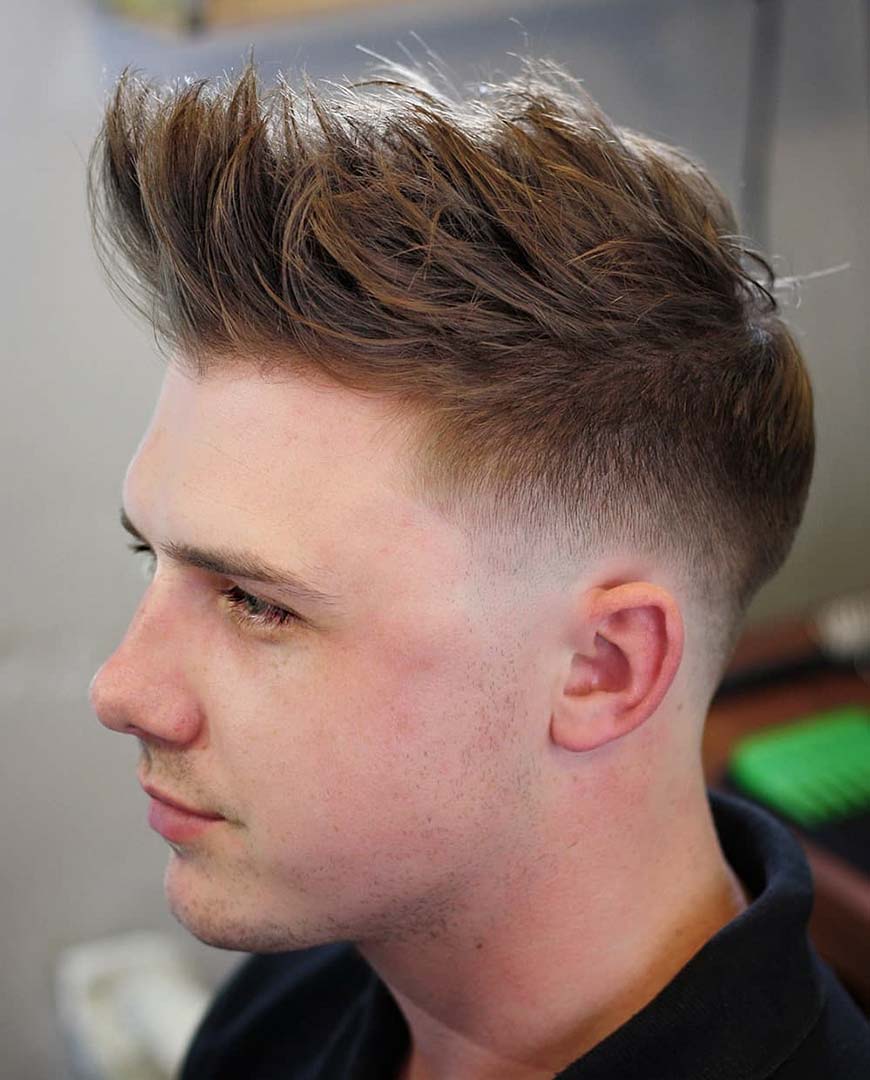 Classic Haircut with Drop Fade
This stylish pairing of a drop fade and a matte finish pompadour adds some modern elements to a traditional style, producing a sophisticated and fashionable result.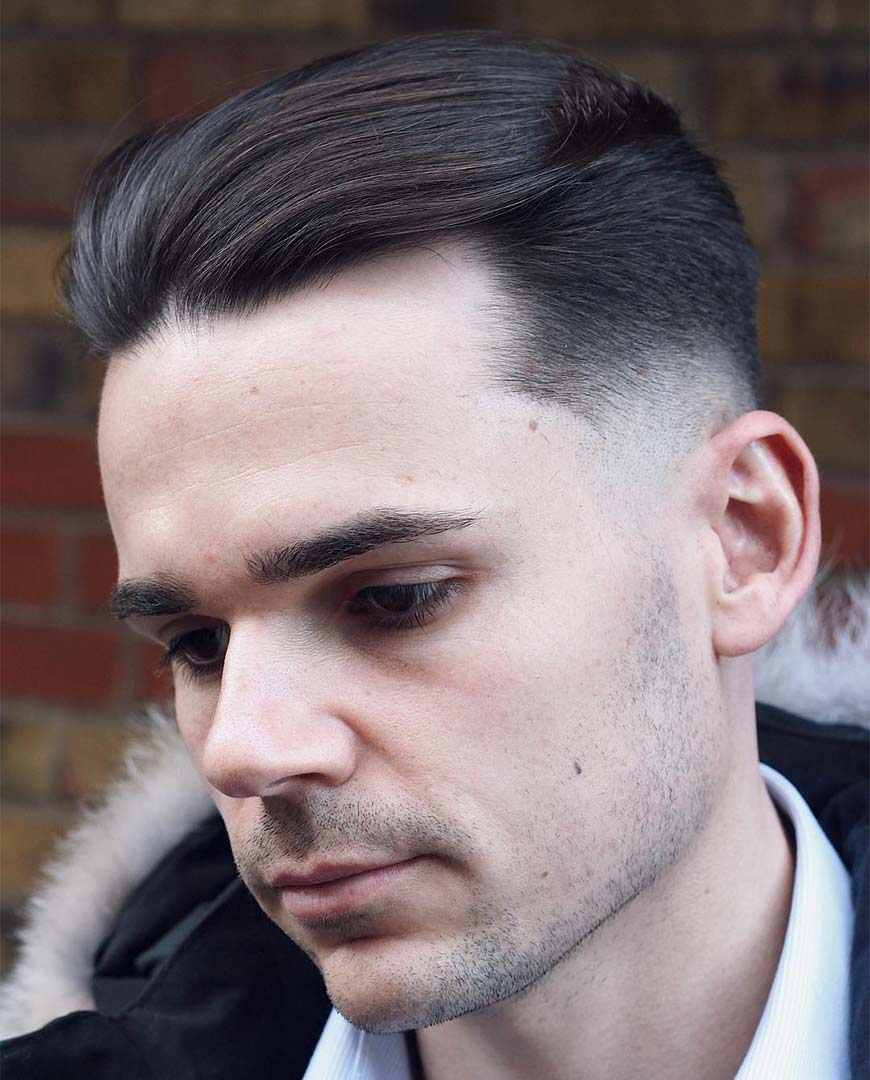 Mid Fade Undercut
To update the traditional pompadour haircut, incorporate a mid fade undercut to give it a contemporary touch. Since the shorter sides create the necessary contrast, it's unnecessary for the top to be particularly lengthy. Simply ensure that it can be swept back and styled as desired for a polished look.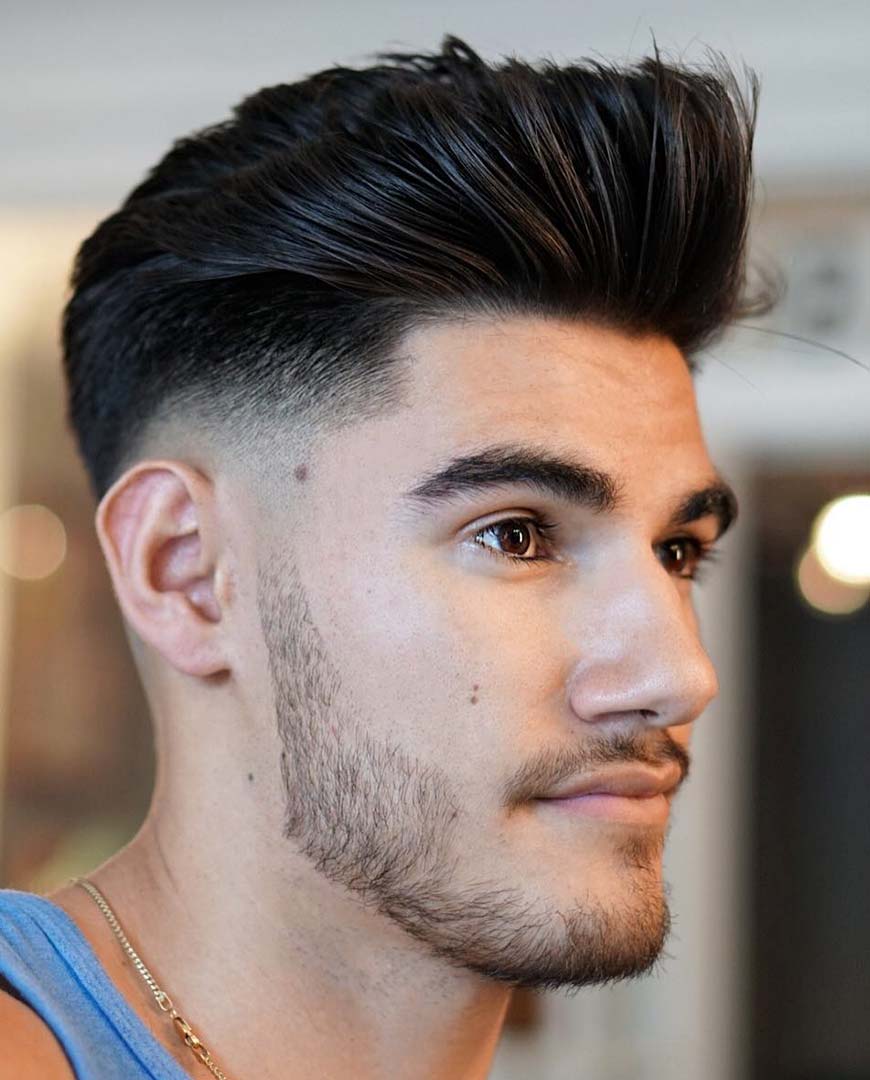 Comb Over with Deep Part
The part is shaped using a razor to achieve the appearance of a skin fade, while the opposite side features a neat quiff that adds significant volume to the overall style. The sides unite at the back of the neck, forming a V-shape. Please note that the upkeep of this haircut requires regular trips to the barber, as it is not a low-maintenance style. Keeping up with the necessary maintenance ensures that the cut remains sharp and polished.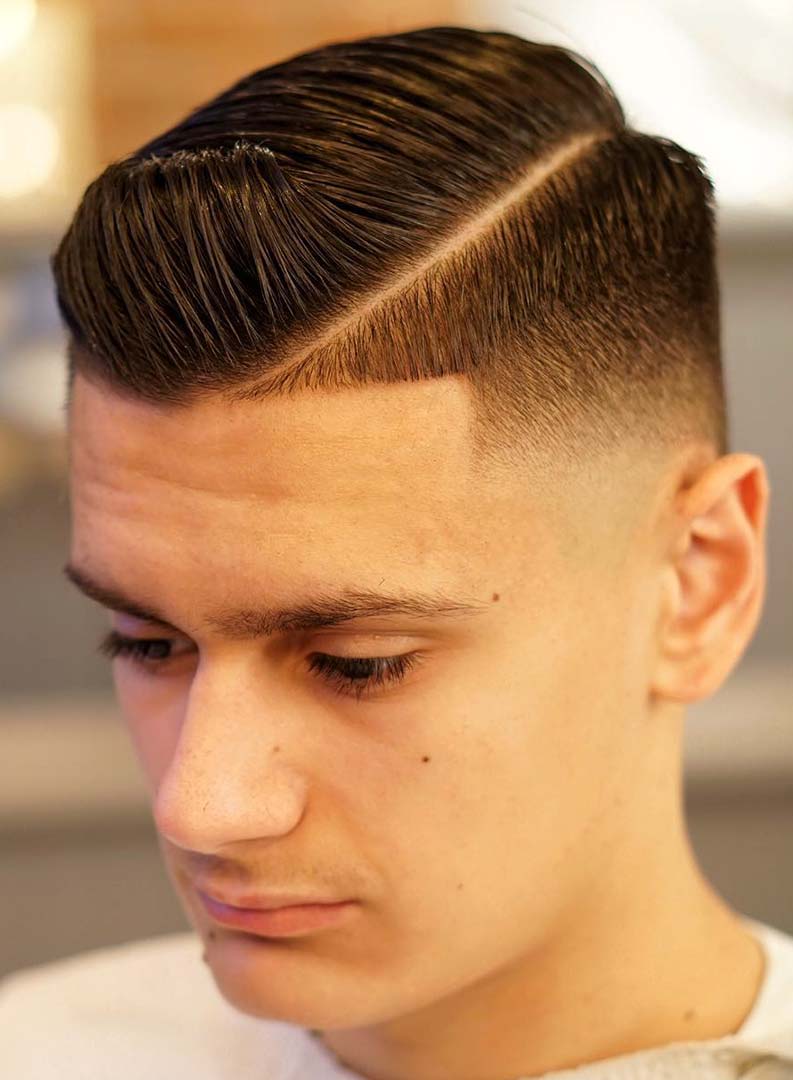 Brush Up Mid Fade
Having thick hair requires a stronger hold. Brush Up offers an ideal combination for this type of hairstyle to ensure a long-lasting hold. It's a popular style that we recommend trying to stay on-trend.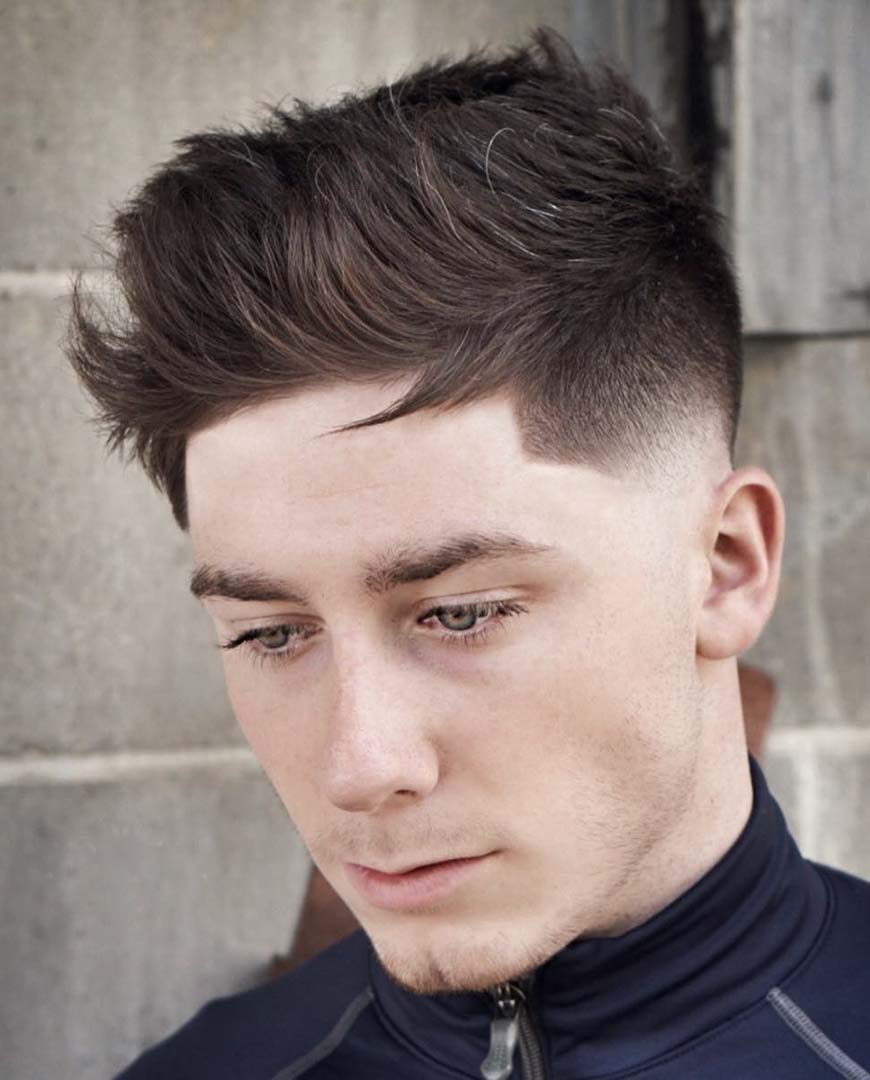 Comb Over with Mid Fade Undercut
The mid fade haircut focuses on the length of hair on top, while keeping the sides and back short and tight. It is a classic style that may appeal to men who prefer traditional looks. A comb-over style with a mid-fade could be a great option for those who prefer a simple and timeless appearance.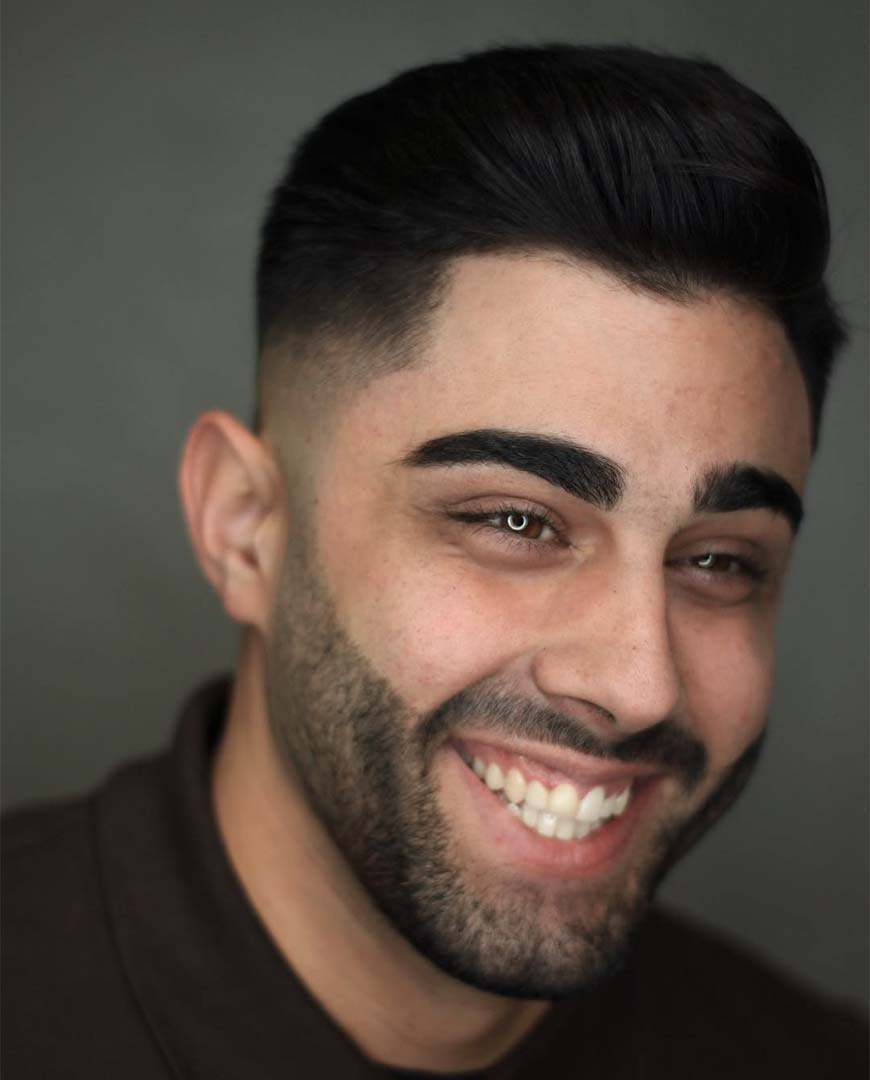 Comb Over with Part
If you have a receding hairline, trying to pull off the slick-back hairstyle is recommended. While this classic cut can give your face a squared appearance, it works best for longer hair on top and is quite similar to a side-part style.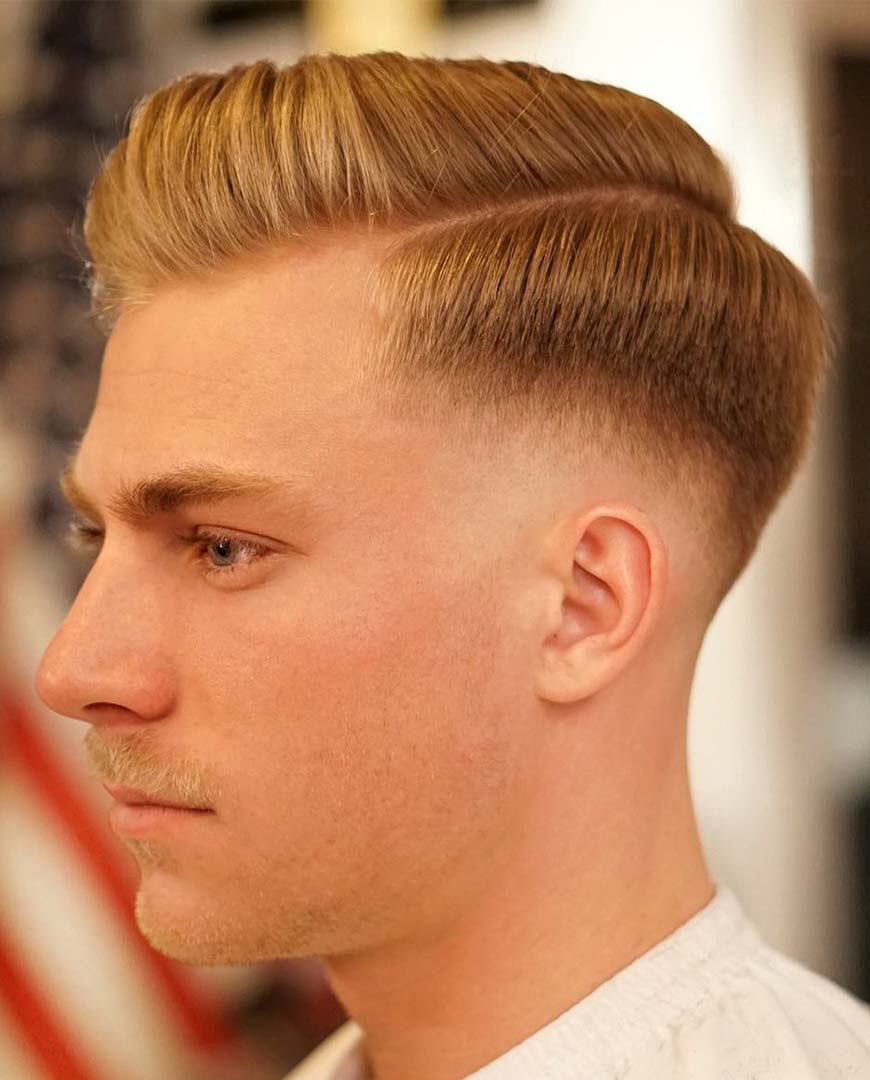 360 Waves
The perfect combination for your next haircut could be waves and a mid-fade, as this hairstyle has a unique elegance due to its combination of spiral waves that add style along with the mid skin fade applied in the sides and back. It successfully strikes a balance between being stylish and handsome, making it an excellent choice for fashion-conscious men.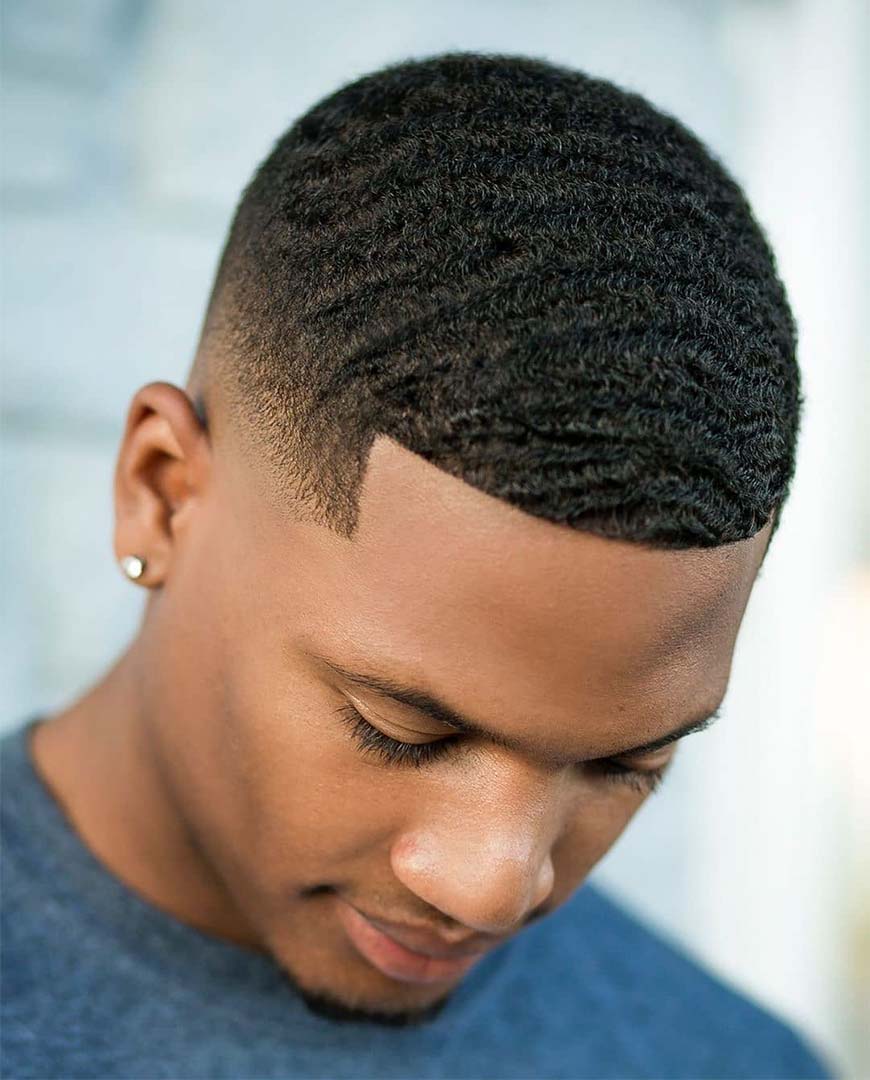 Blonde Hair with Quiff
With a tapered fade on the sides, all eyes will be drawn to the top. Running a brush through the hair on the side creates the effect of flowing strands on the forehead. Additionally, the highlight dye adds a special touch, accentuating the wave at the top and making it stand out even more.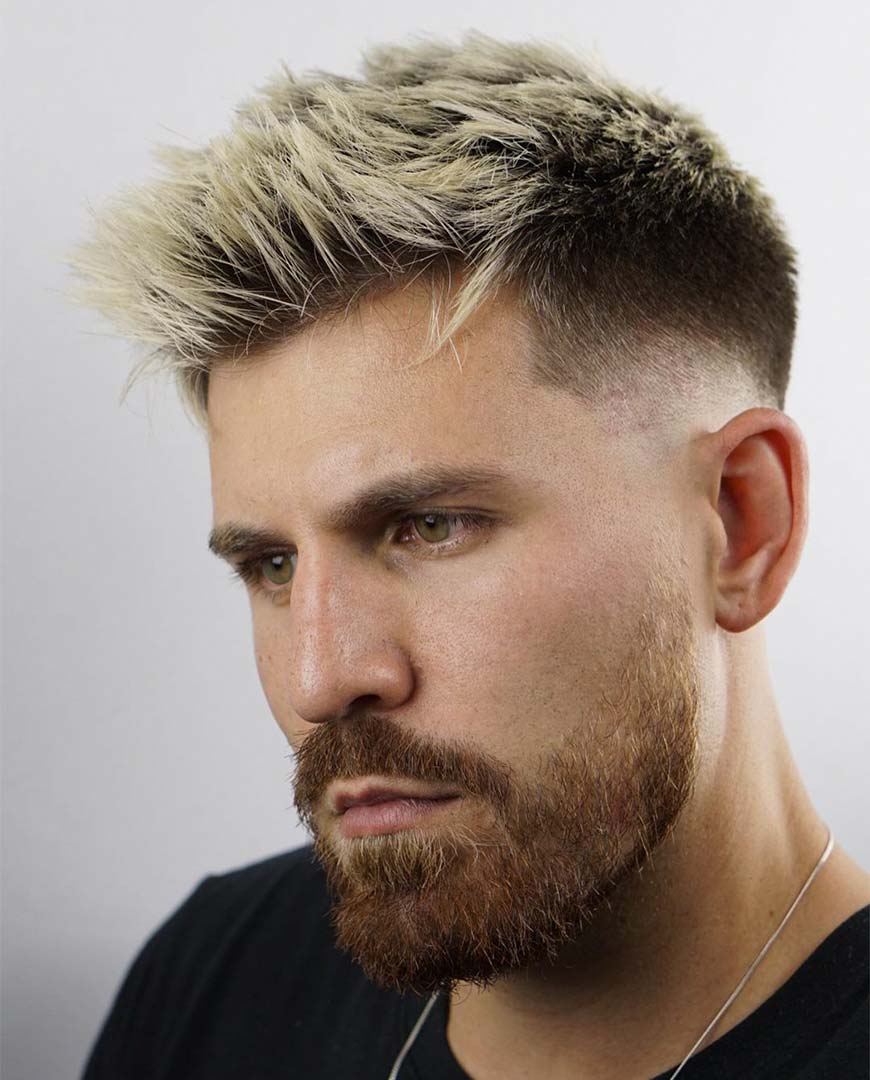 Buzzed Caesar with Sharp Line Up
A Caesar haircut that incorporates a mid-fade is considered to be one of the most polished haircuts available. This style features an even-length top and sides with a partial ridge and a closely cropped mid fade situated just the temple area that gradually fades around the head.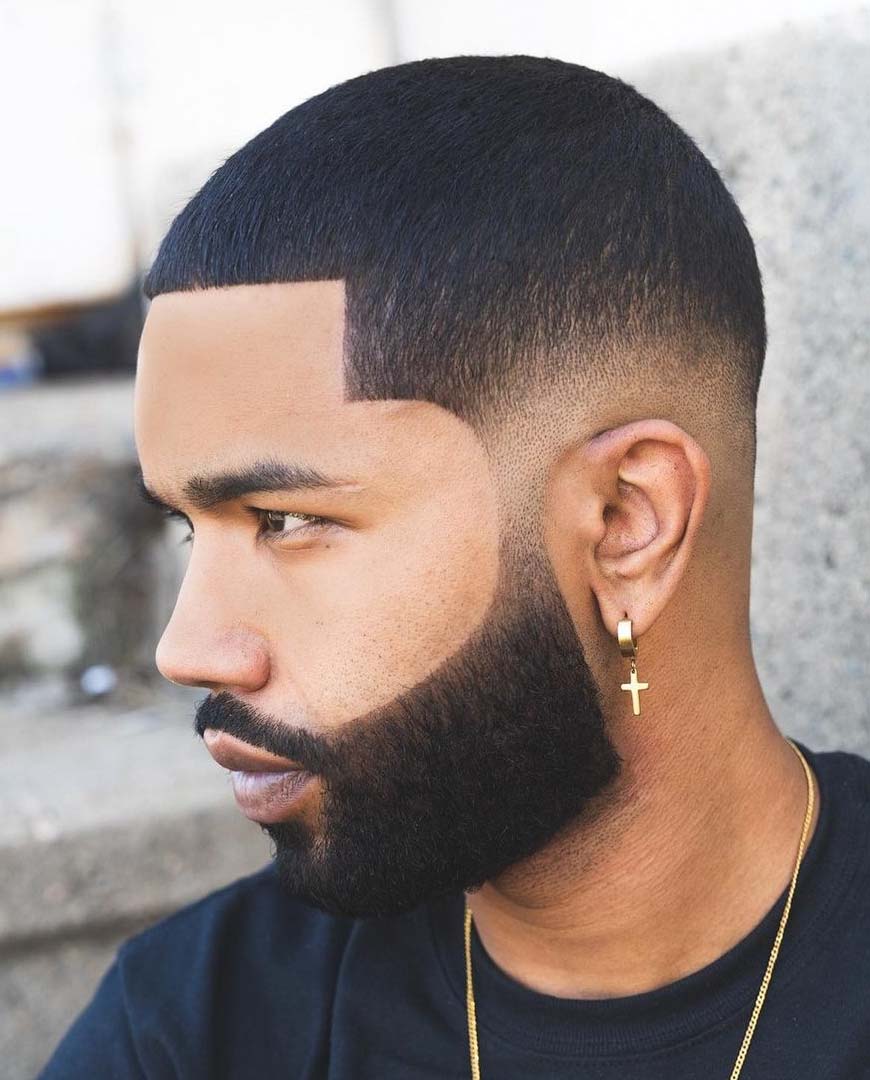 Crop Top with Dyed Tips
Elevate your hairstyle by coloring the upper part of your hair blonde while maintaining the natural hair color on the sides. This contrast between dark and light shades creates a bold and impressive appearance that is sure to catch people's attention.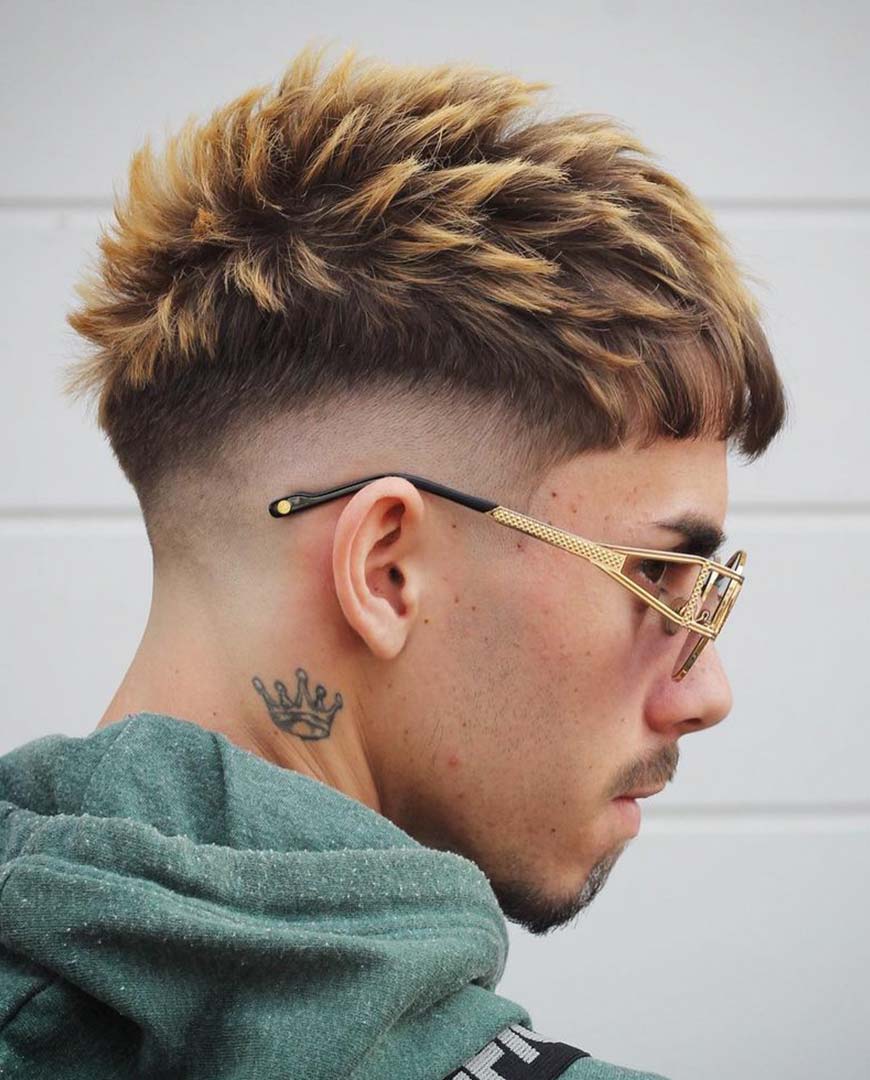 Cropped Hair with Design
For those who like short haircuts, a chic style can be created by implementing a textured crop top that is shorter in length and includes an undercut and razor cut features. This hairstyle is anything but dull and will surely make a statement.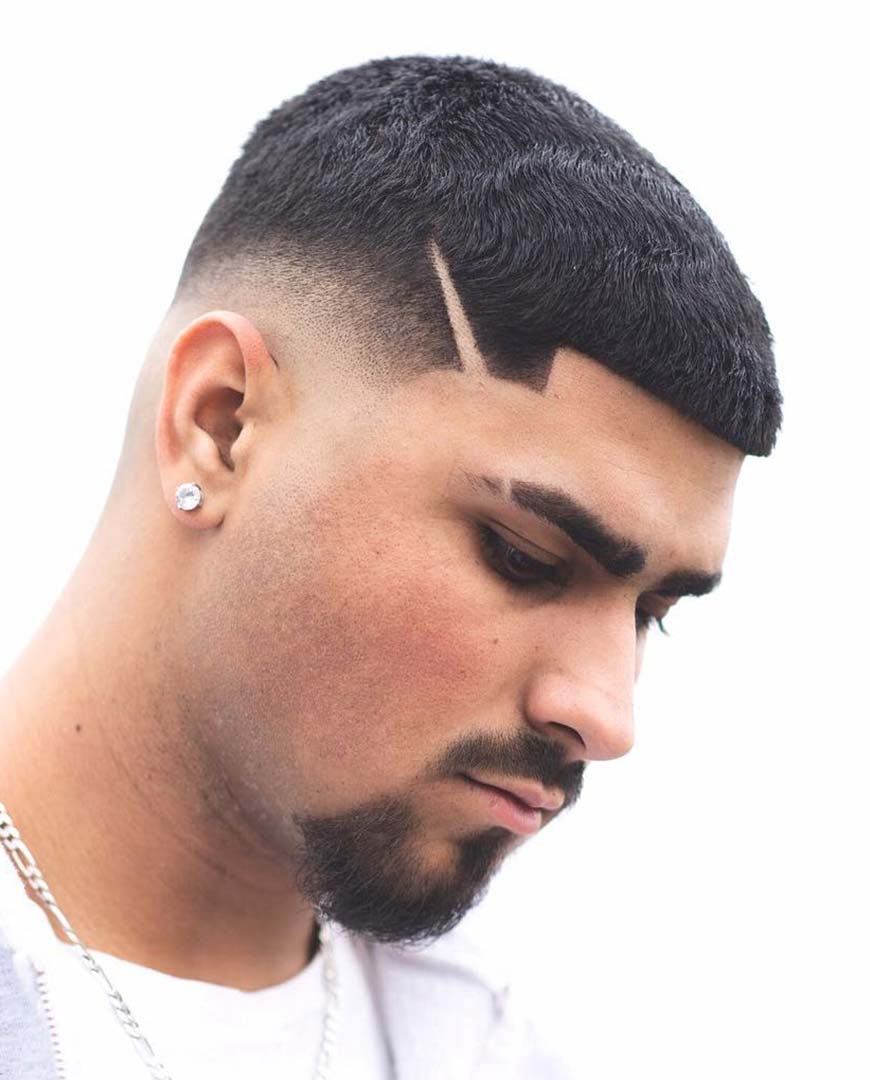 Curly Hair with Fringe
If you have curly bangs, you can opt for a fringe hairstyle, specially designed for relaxed hair. The most suitable way to style it is to keep the length at the top while using a mid fade on the back and sides of your head. The outcome gives you a look that fits somewhere between a bohemian and a leisure style. You can decide if it suits your personality or not.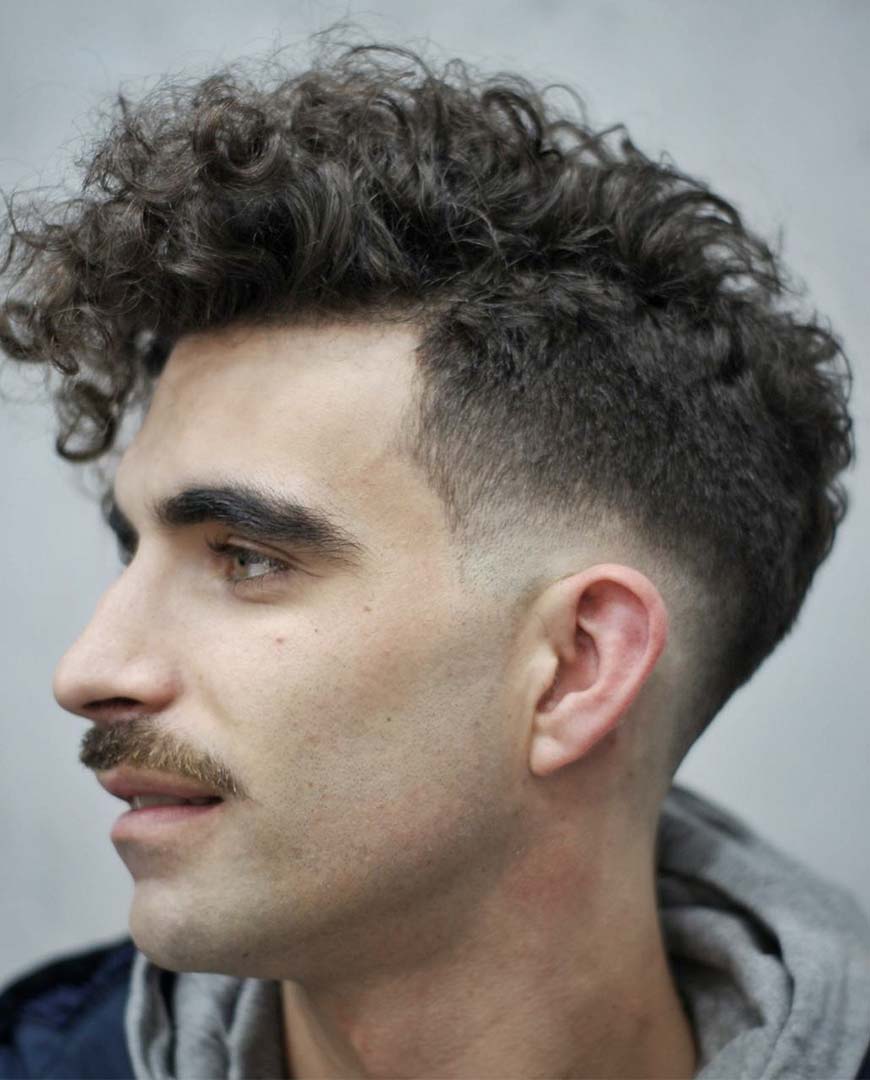 Deep Parted Comb Over
When you combine a short comb-over hairstyle with a fade, it automatically transforms into a more stylish appearance. To further accentuate the look, consider adding a distinct hard part.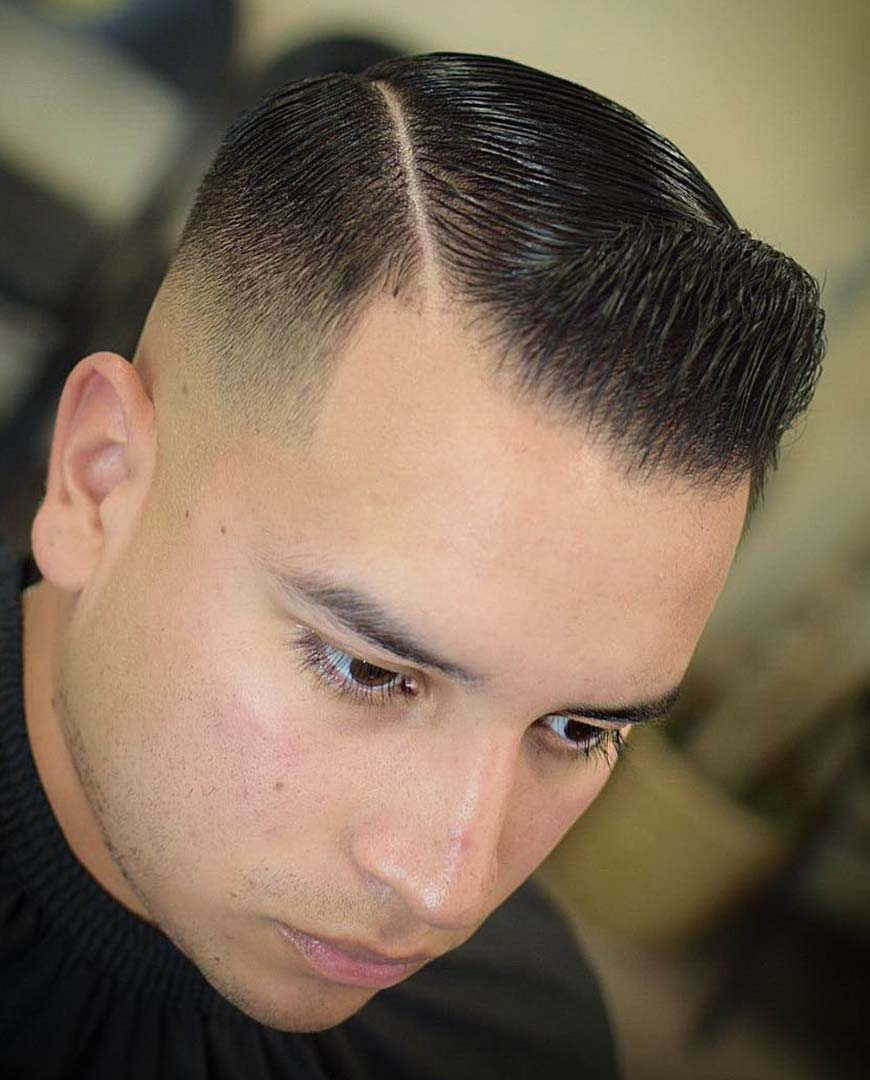 French Crop with Beard
When combined, a French crop and an undercut create a subtle yet appealing hairstyle. The undercut frames the face and accentuates the jawline, making it more prominent, especially when adorned with a full beard. Additionally, the undercut creates the optical illusion of facial symmetry and height.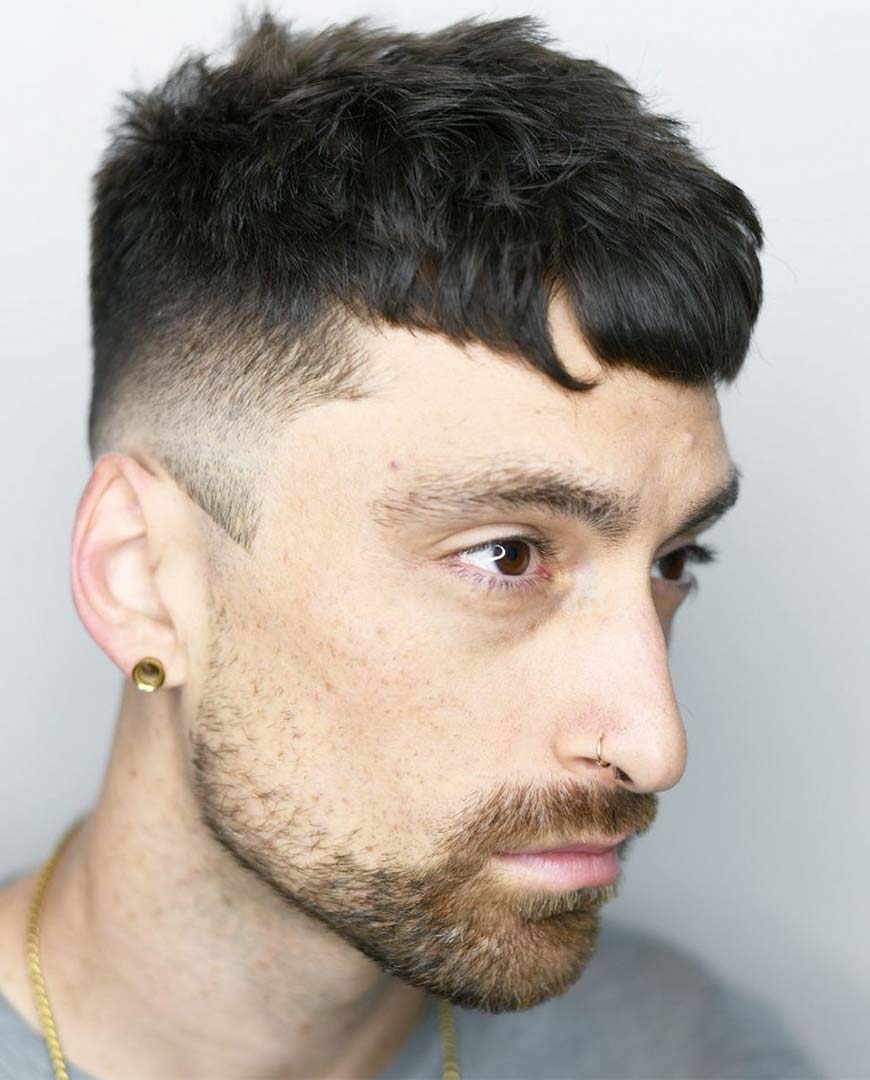 Crew Cut with Mid Fade
Here is a description of a mid-fade hairstyle that features a smooth integration into the top section of the hair. Although the top has more length, it still qualifies as a short haircut. Additionally, the hair at the front is combed backward, which adds movement and body to the hair.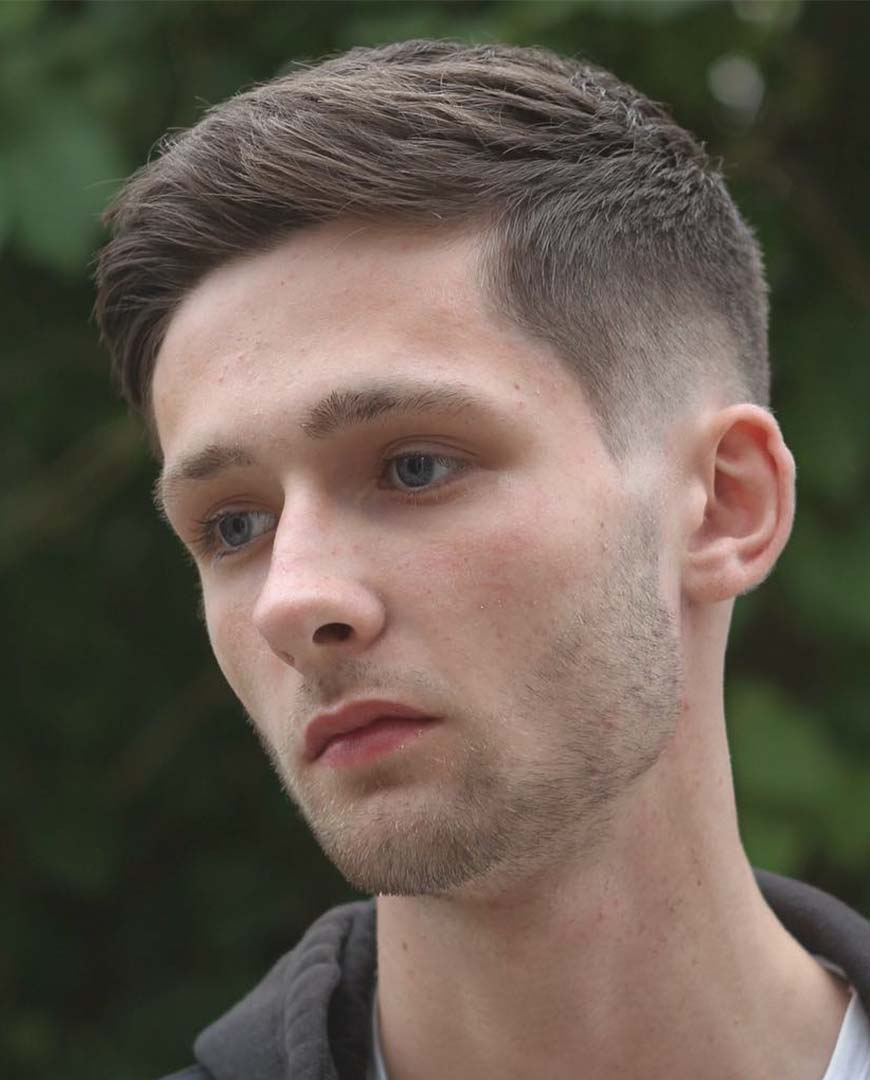 French Crop with Mid Fade
To create a more textured appearance for thicker hair, consider tousling the top of your French crop, resulting in a rugged, yet refined style. This is especially effective in contrast to the closely shaved sides, a defining feature of the French crop.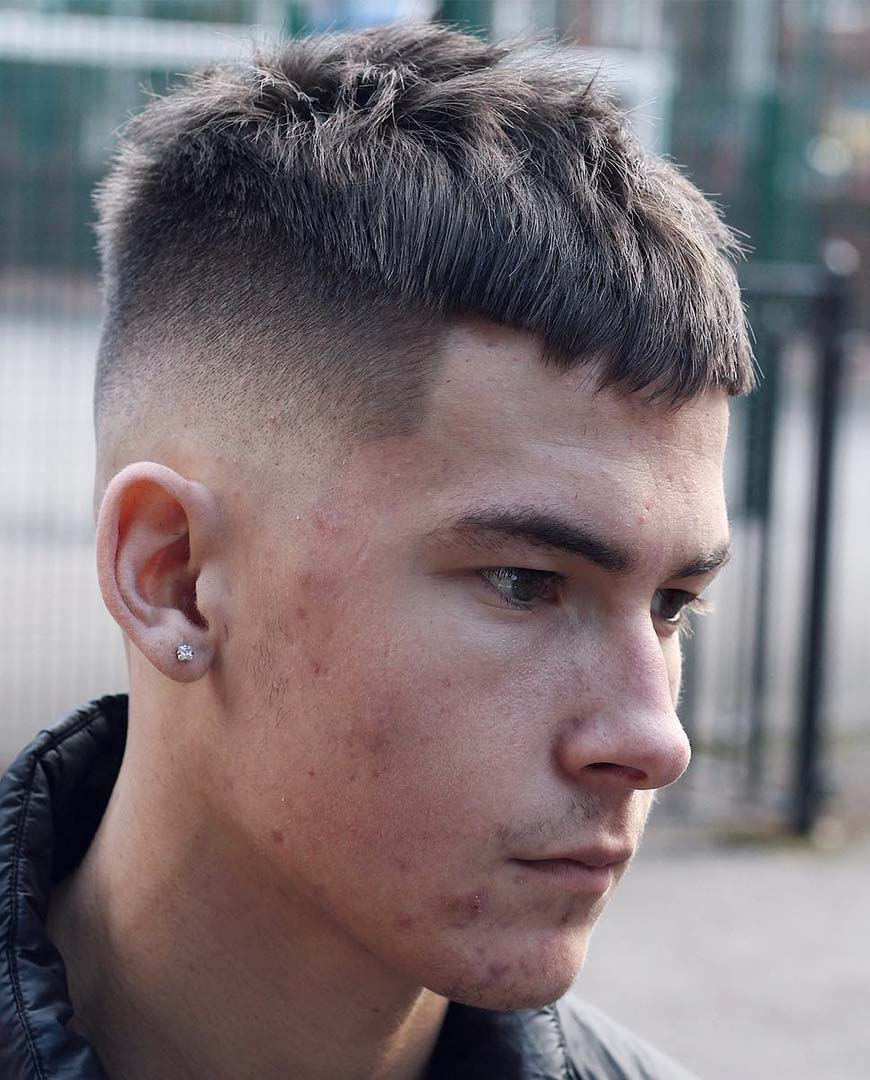 Clean Cut Mid Fade
There are various techniques that you could apply to achieve a medium fade hairstyle. Among these methods, a mid-drop fade stands out as an intriguing and attractive option. Despite giving you a polished and neat look, this style still leaves a considerable amount of hair at the back. This feature makes it a suitable choice even for professionals in formal work settings.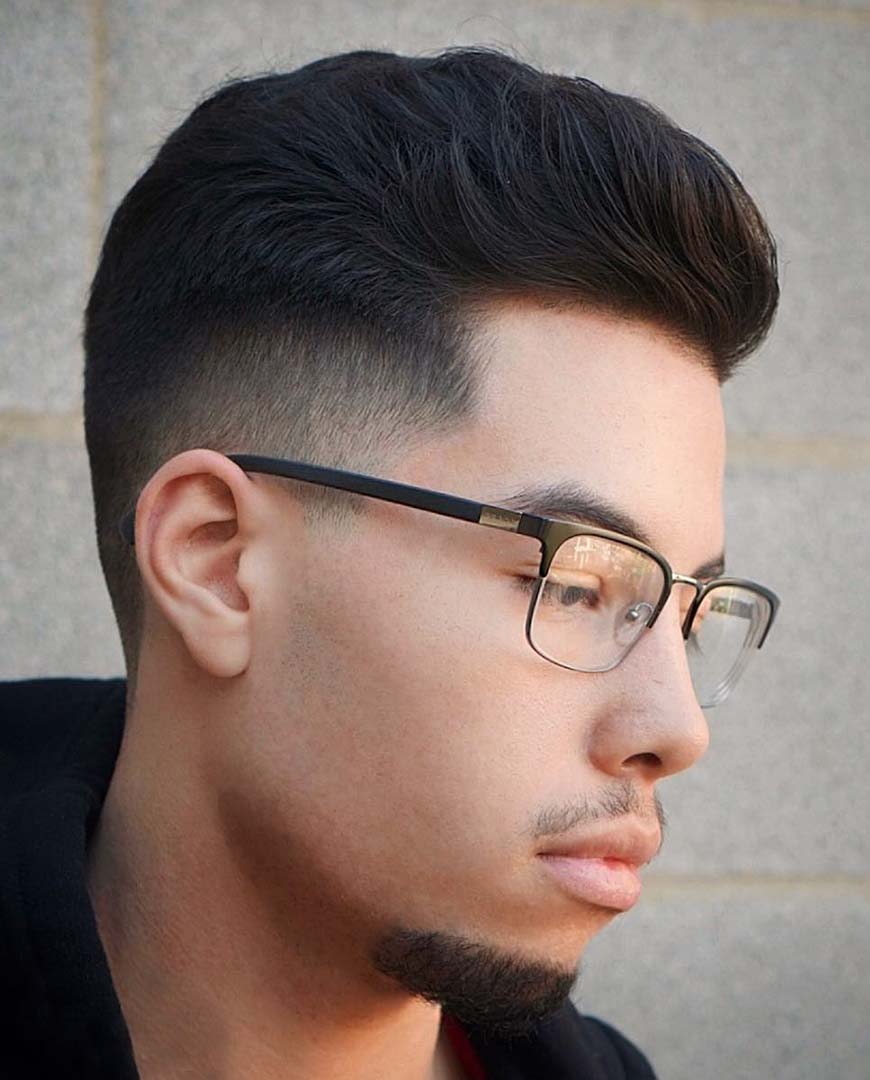 High Volume Top
This hairstyle is inspired by the retro era and is a fusion of various classic haircuts. The brush-up flat top gives it a distinctive look. The sweeping upward motion of the brush complements the style, making it a perfect choice for those who seek a professional-looking hairstyle.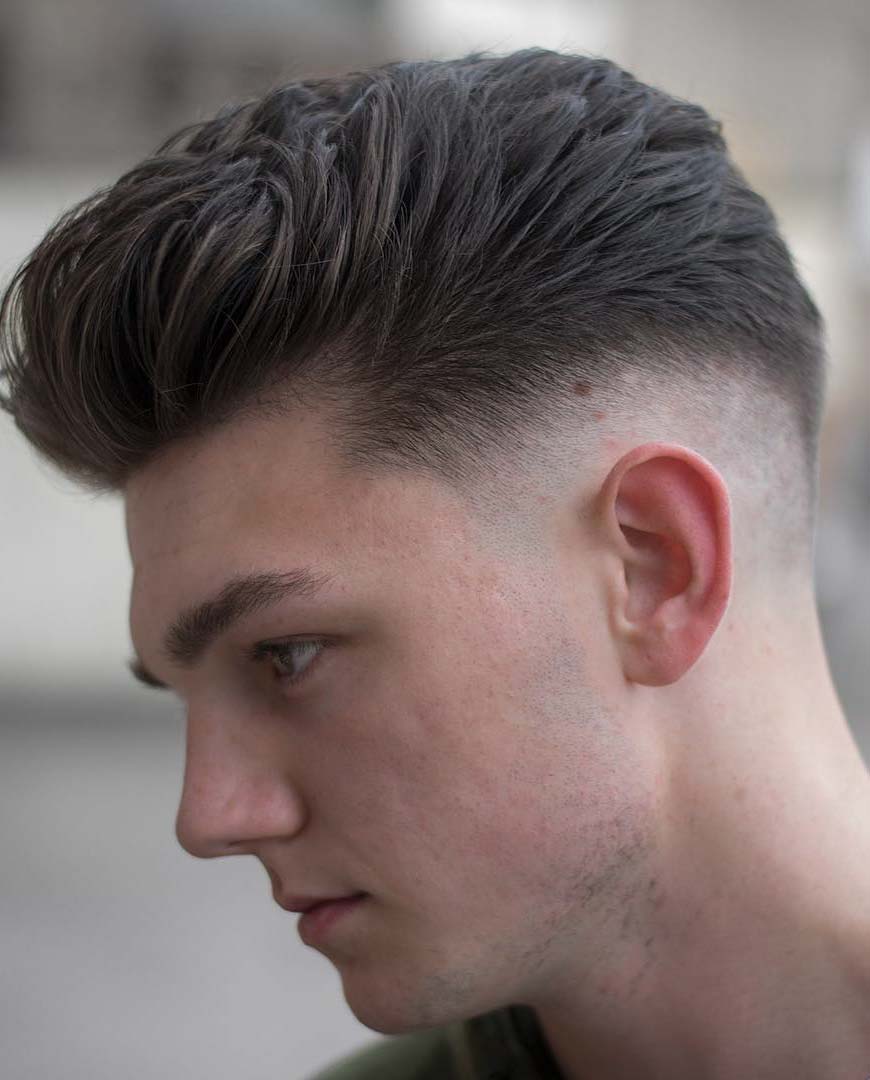 Long Top with Pushed Forward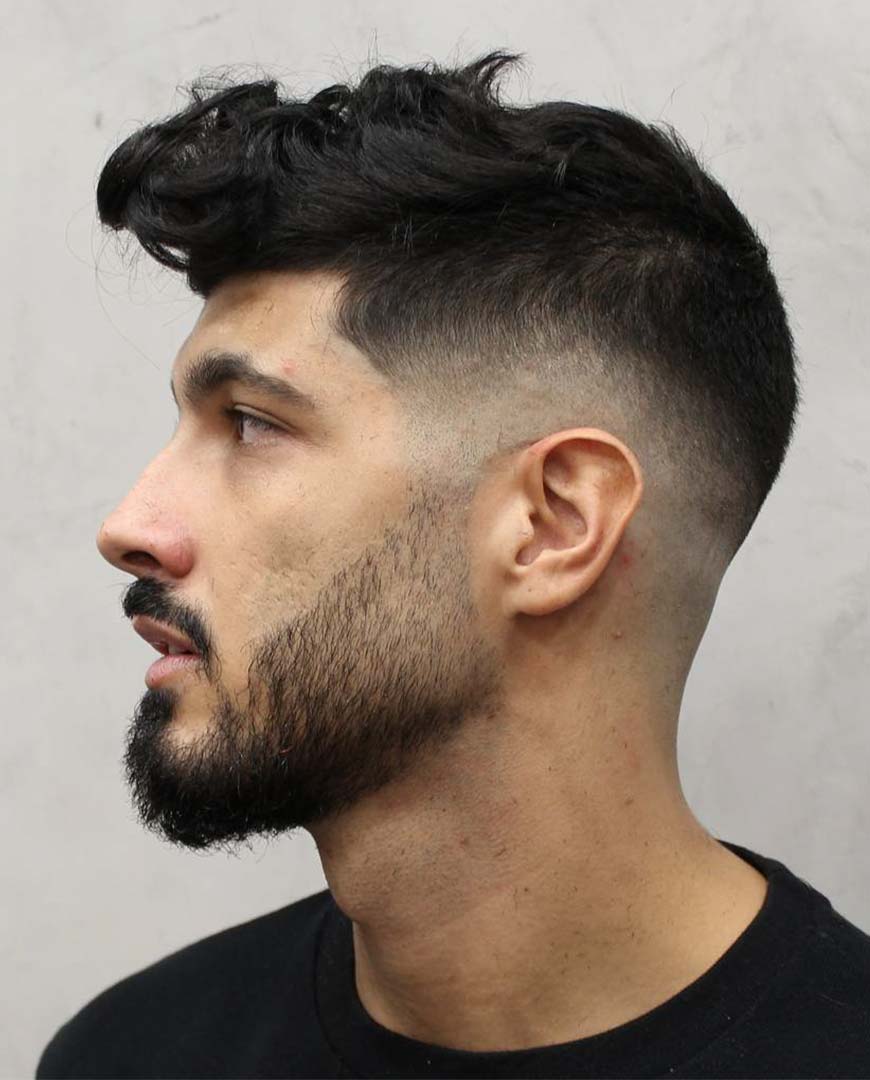 Short Wavy Hair with Mid Fade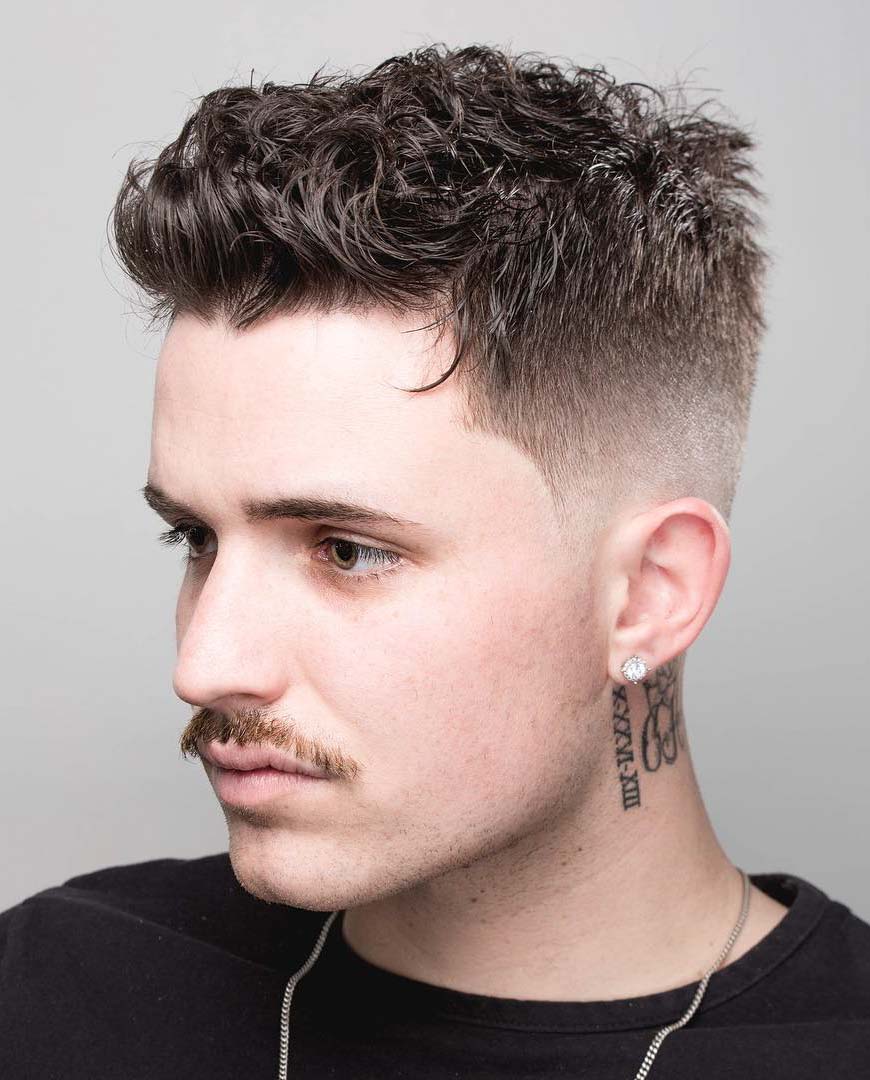 Textured Crop Top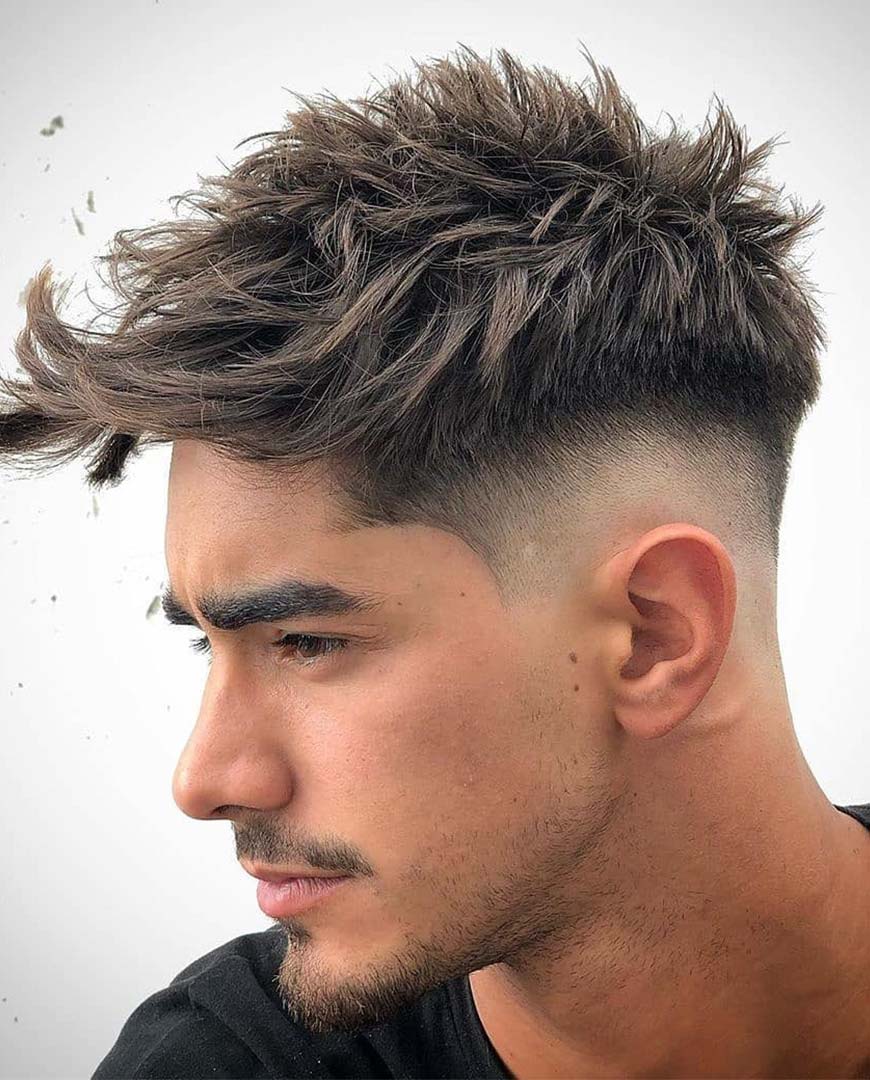 Mid Fade Slicked Back
While this hairstyle may not be classified as a traditional slicked back style, it still satisfies the necessary criteria. The hair at the top of the head appears to have a natural movement and texture, suggesting that only minimal products were used to style it.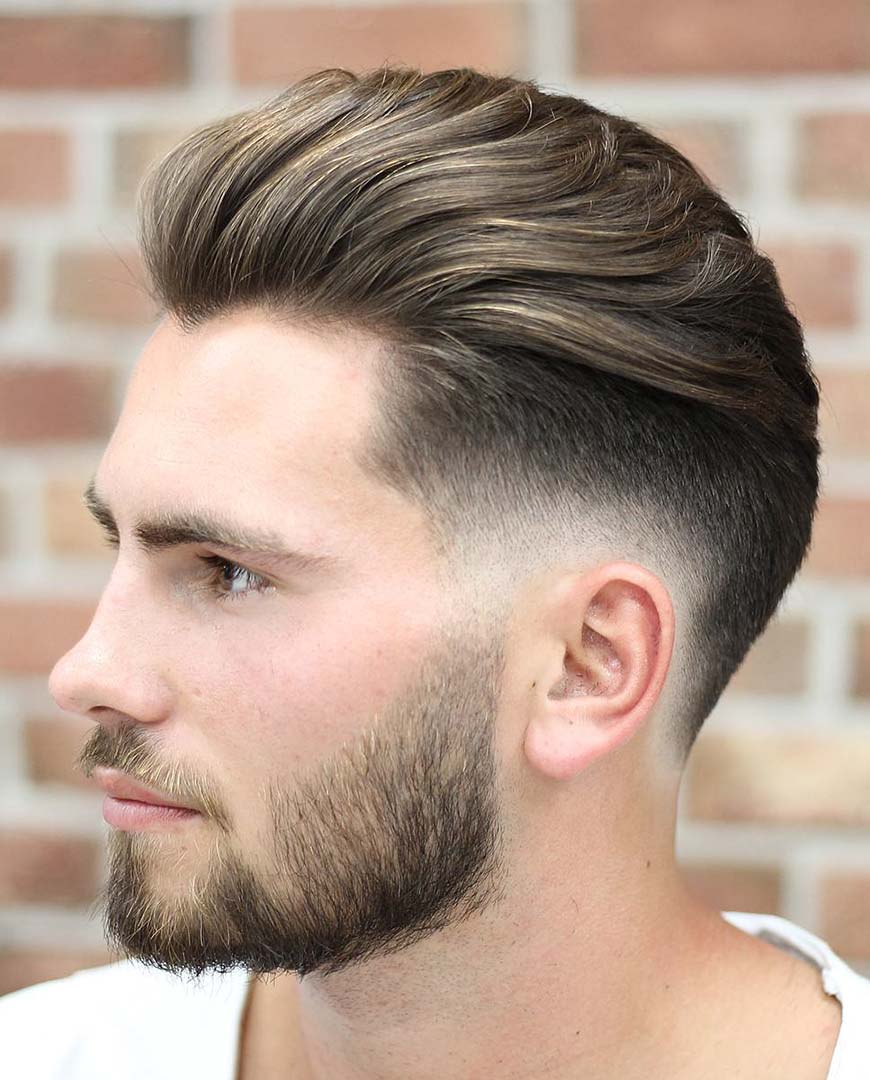 Slick Back Haircut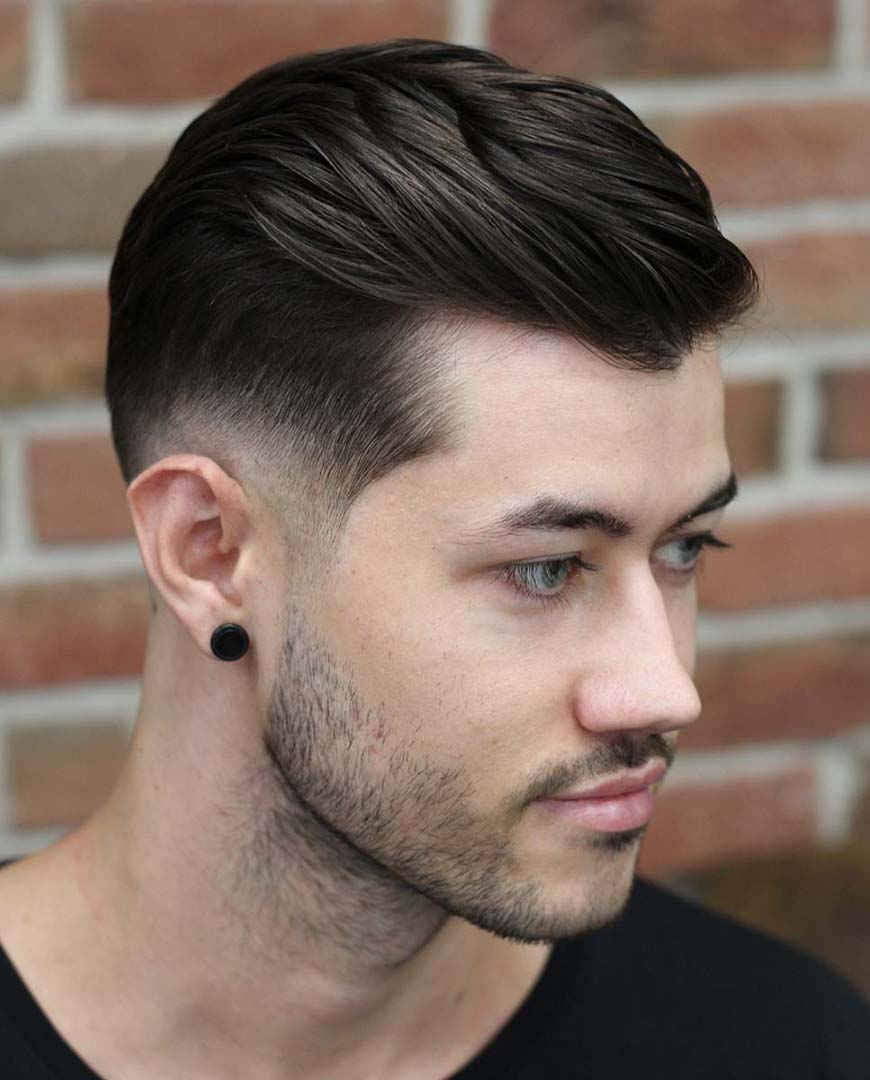 Tousled Cut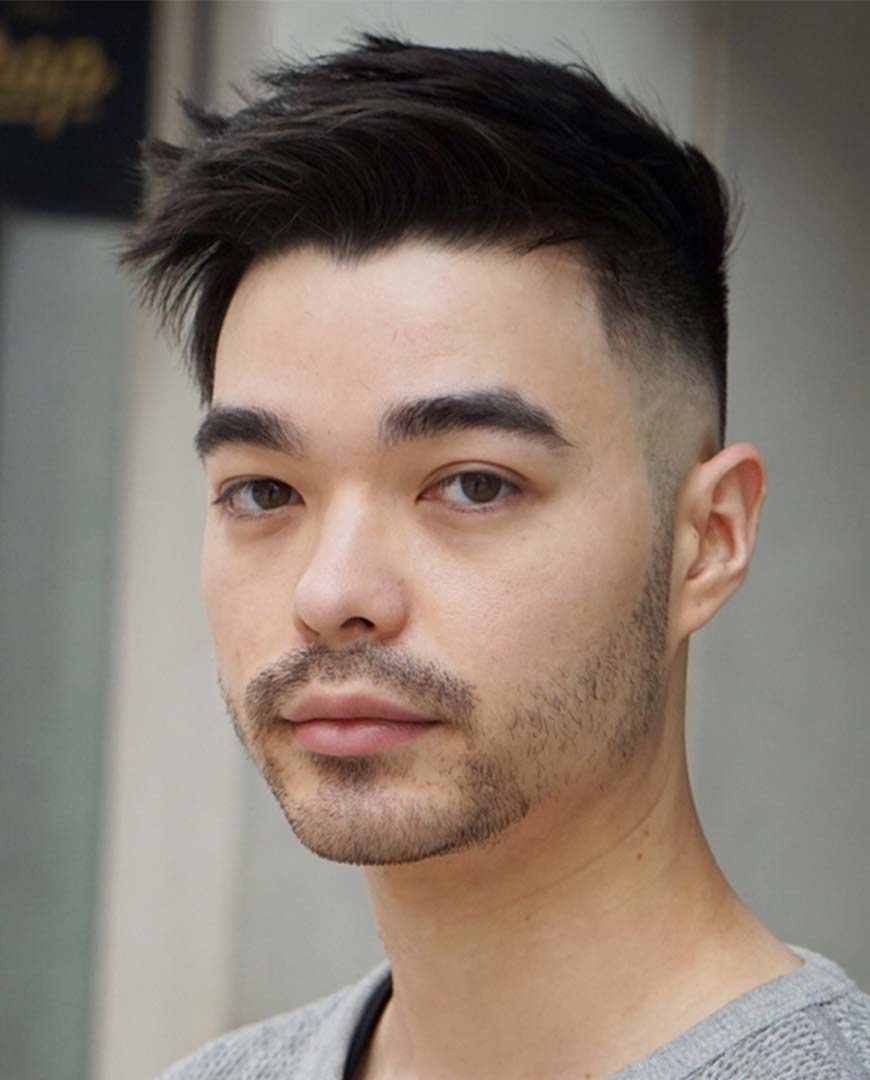 Widow's Peak Straight Hair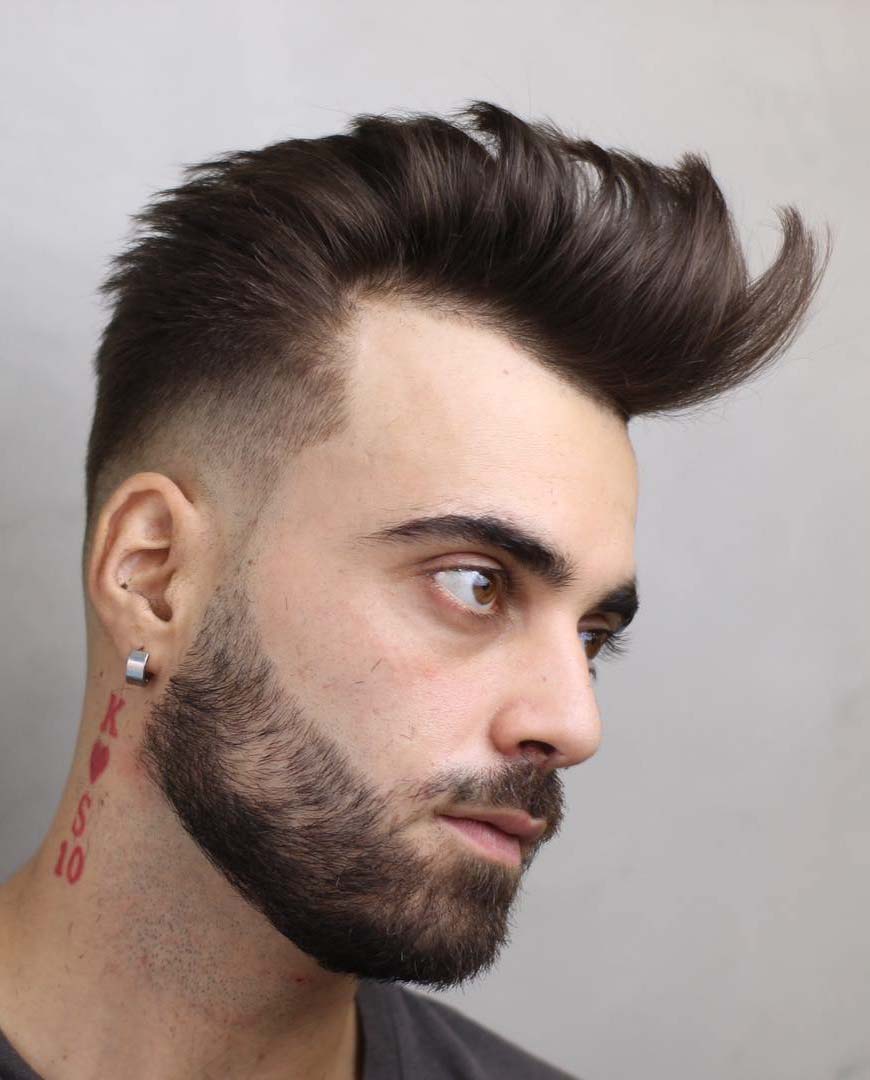 Textured Hair with Skin Fade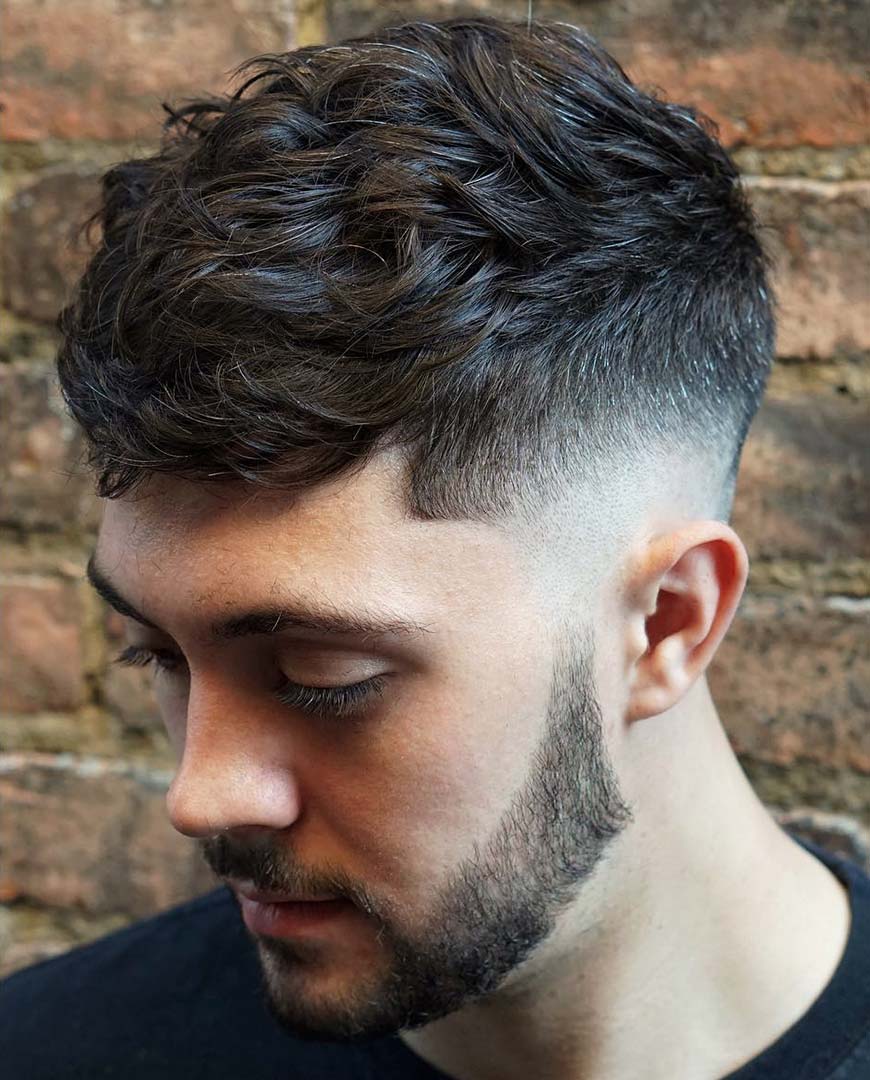 Middle-Parted Hair with Mid Fade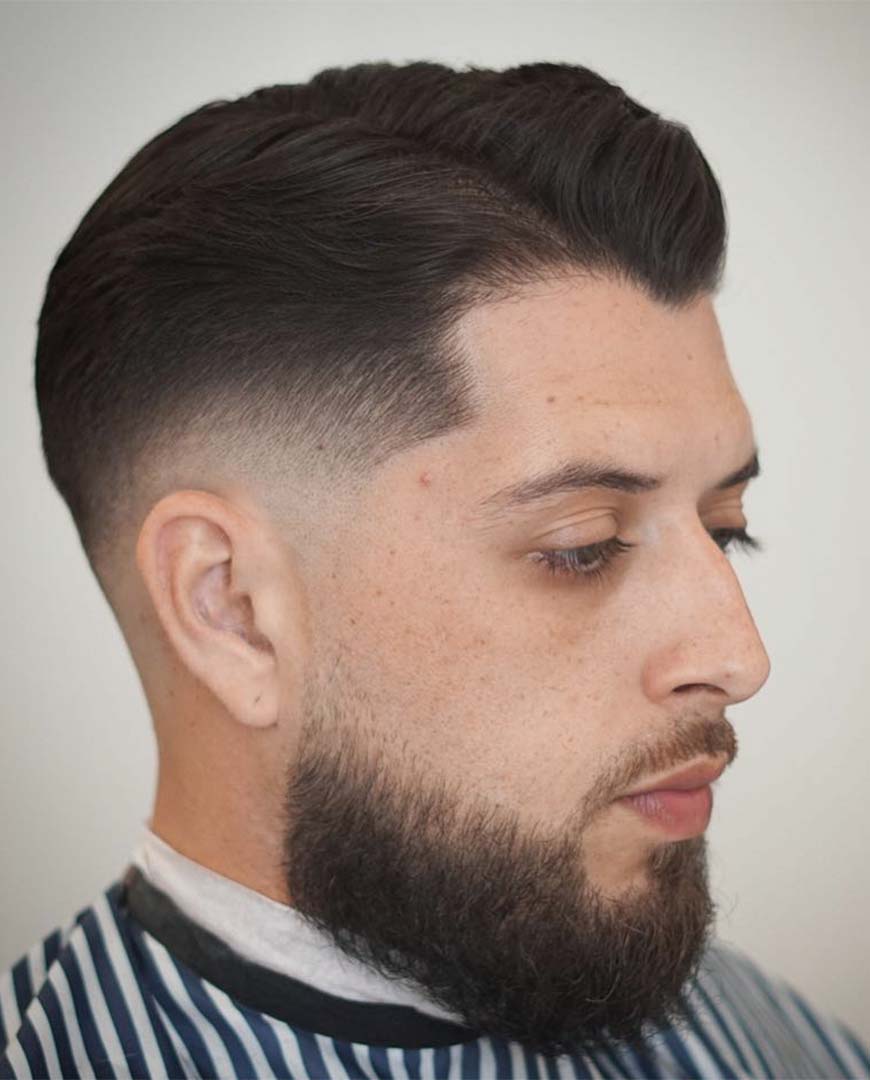 Pompadour with Mid Fade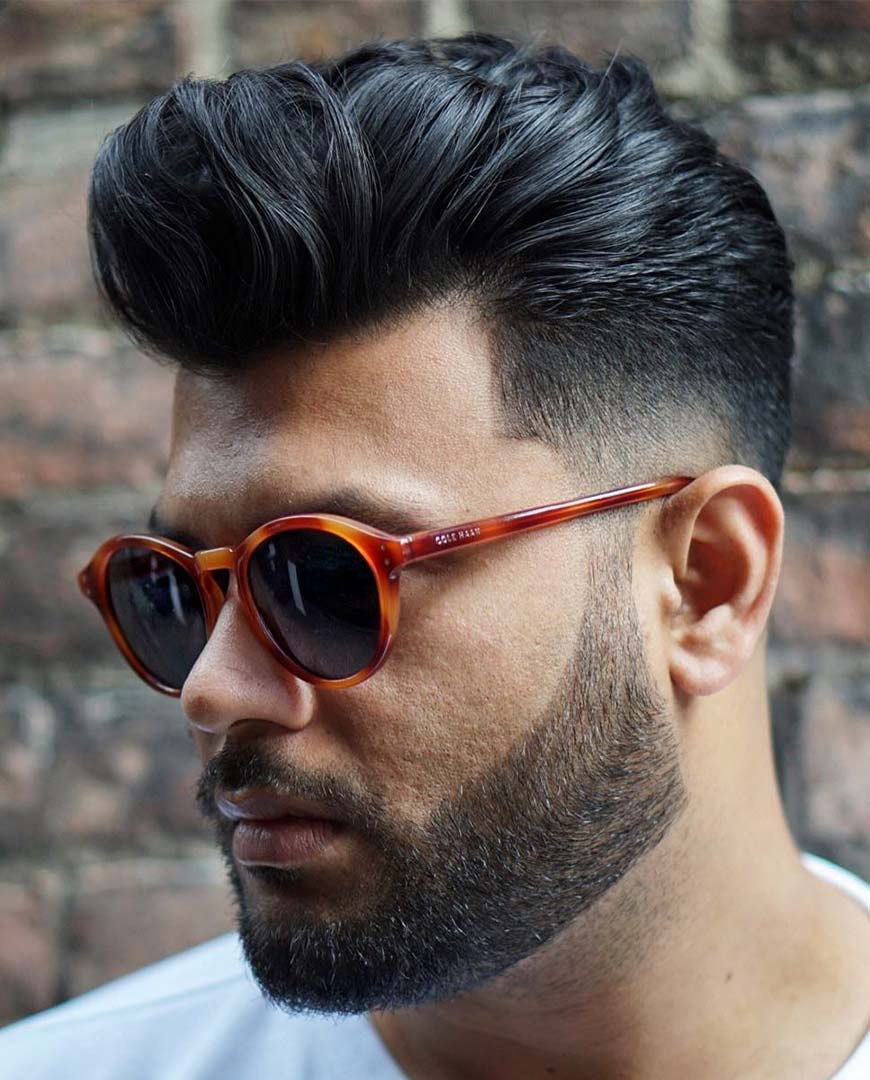 Side Parted Hair with Medium Fade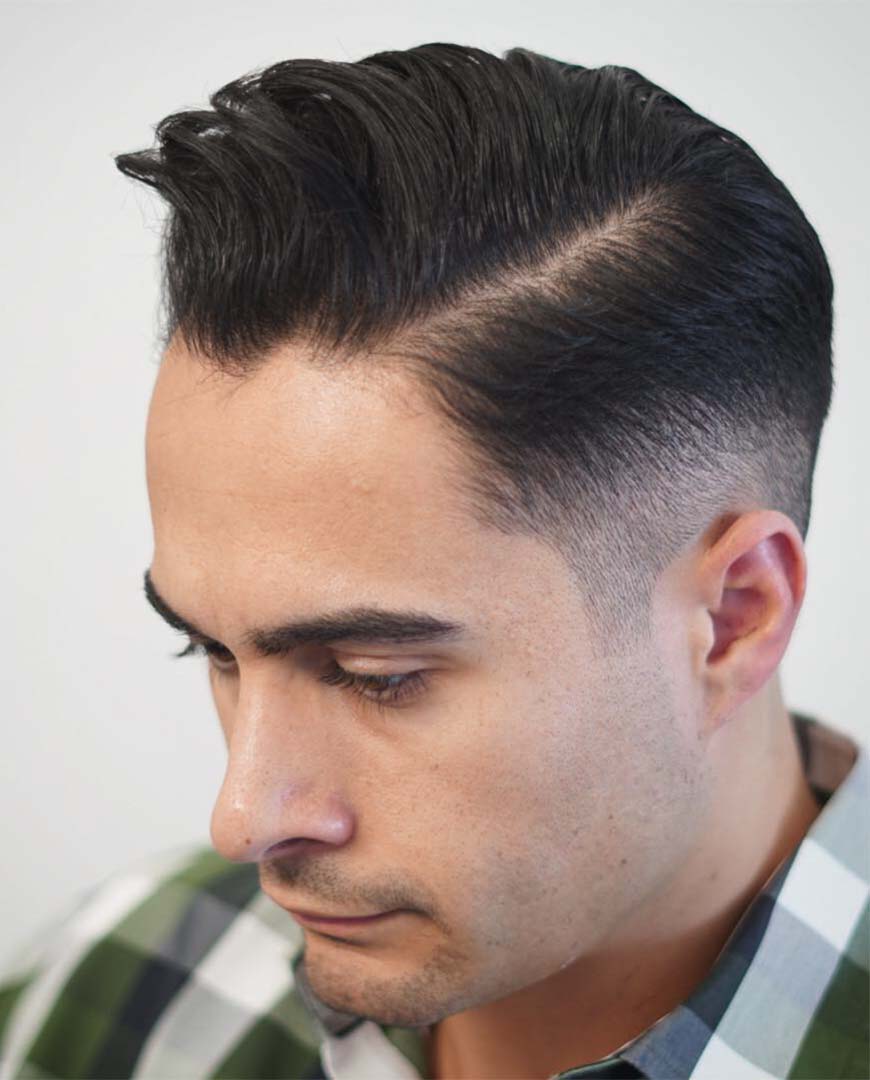 Spiky Faux Hawk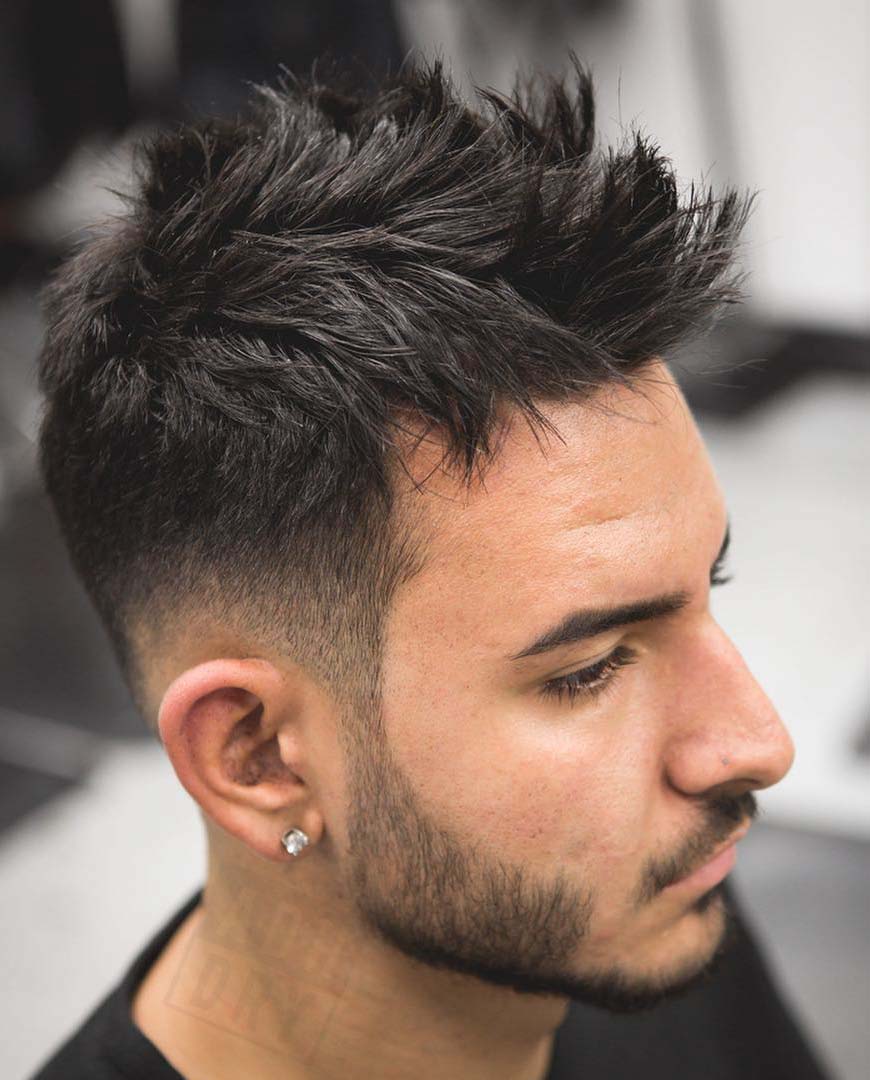 Voluminous Pompadour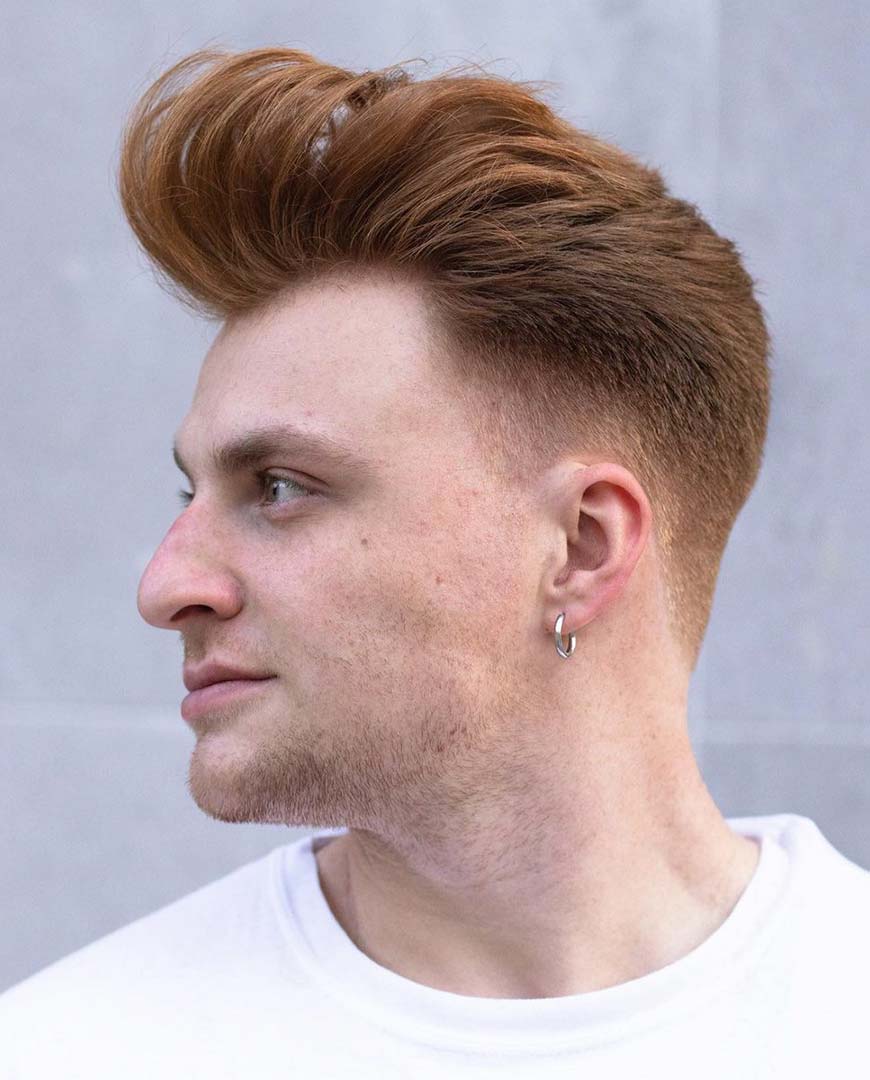 Short Hair with Beard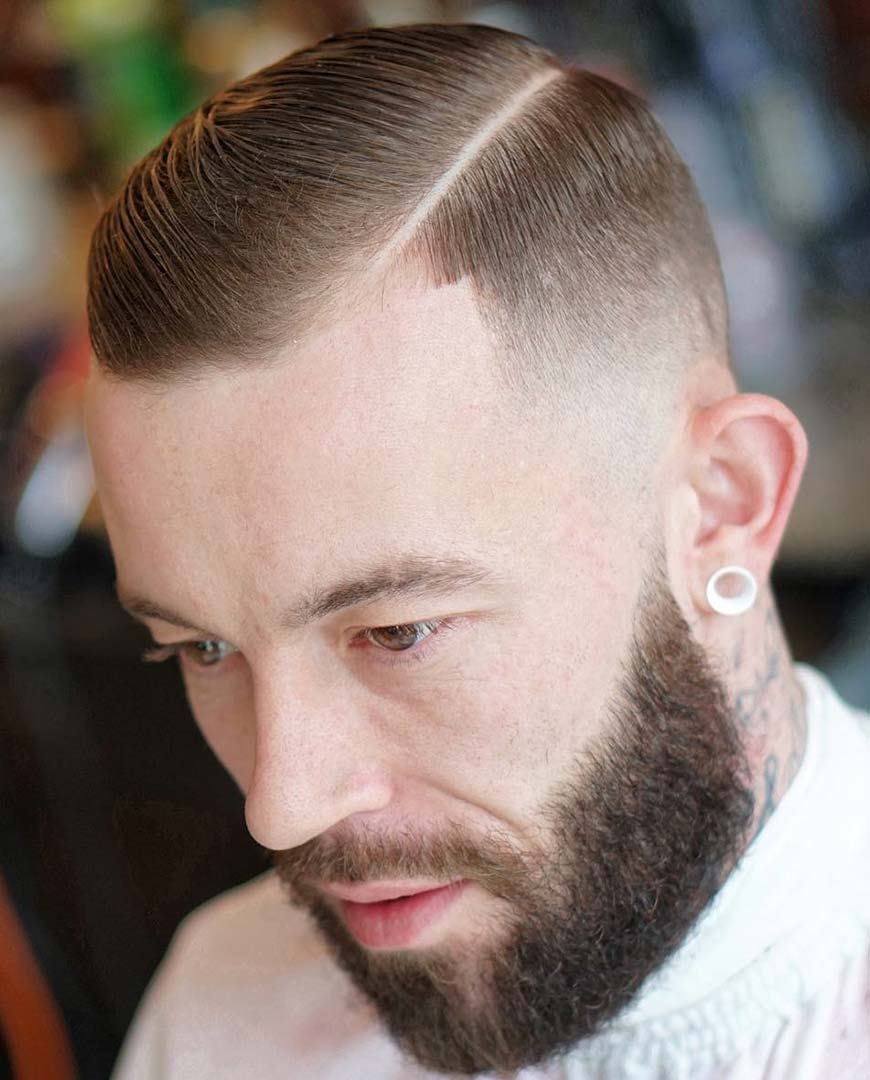 Messy Top with Fringe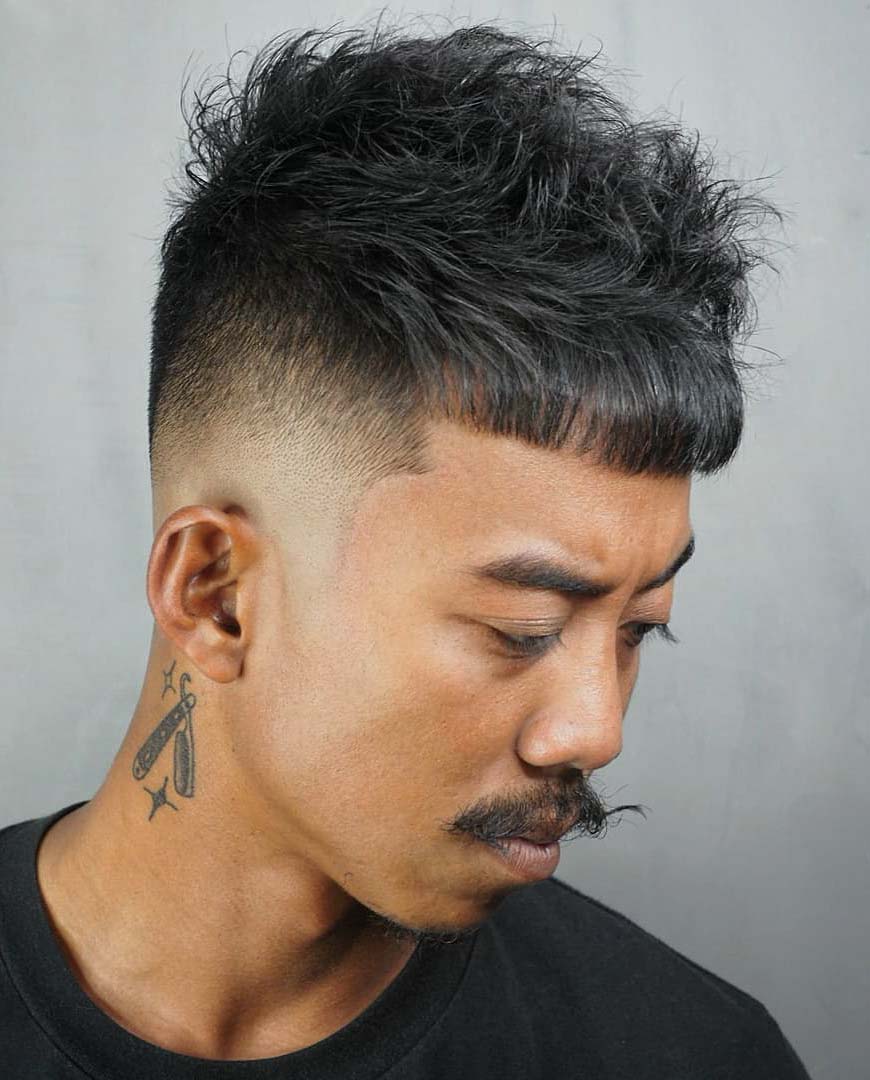 Pompadour with Mullet and Taper Fade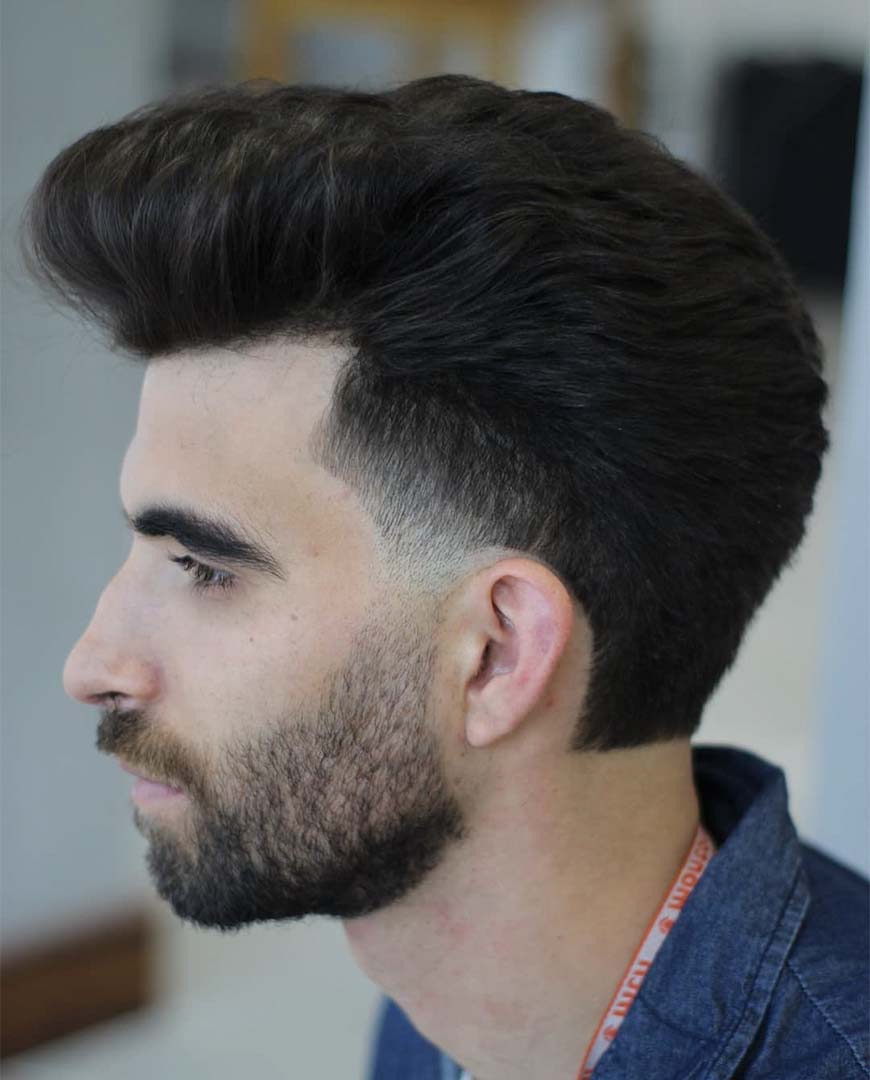 Kinky Top with Dash Design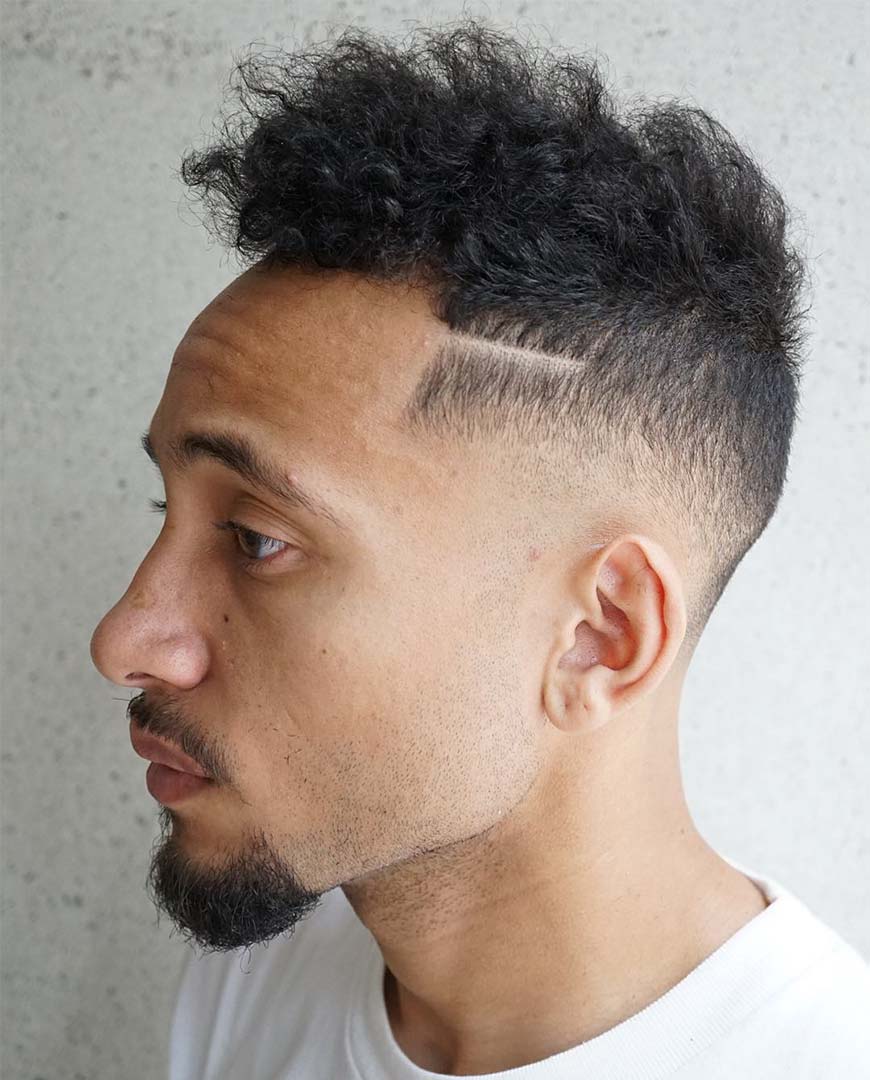 Modern Spiky Top with Line Up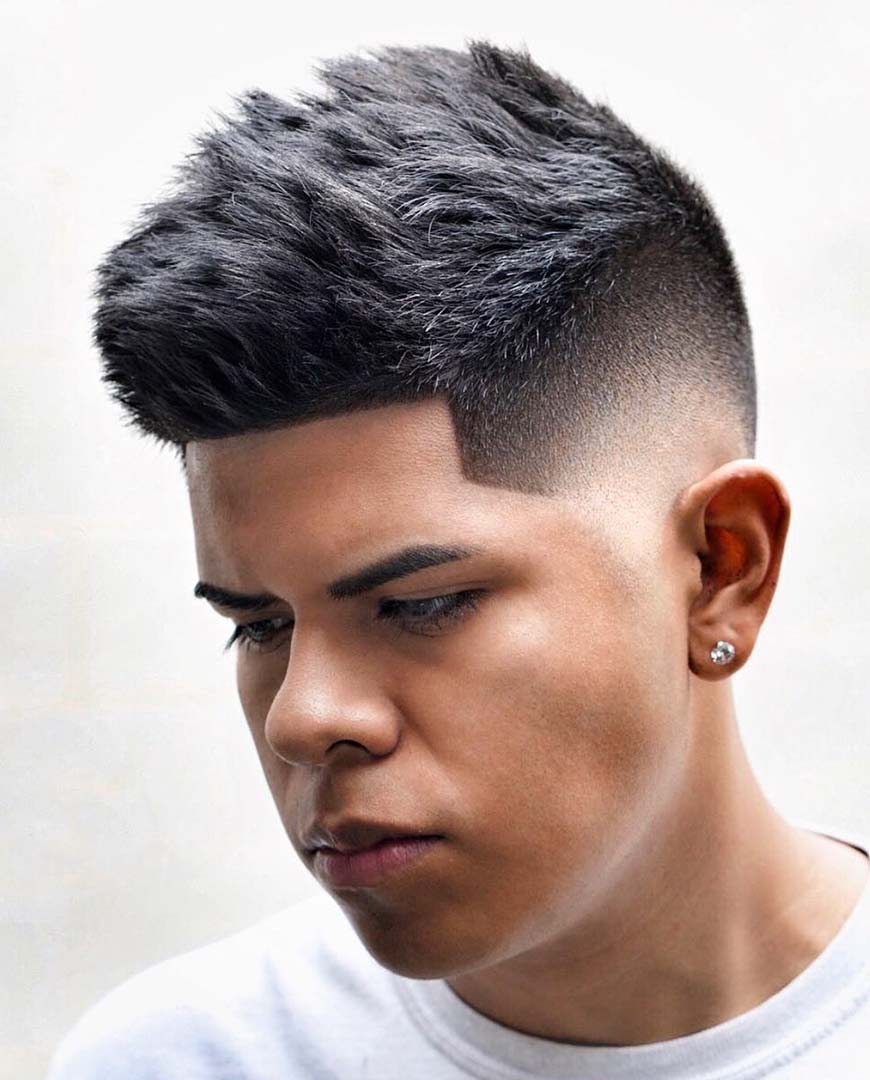 Parted Hair with Drop Fade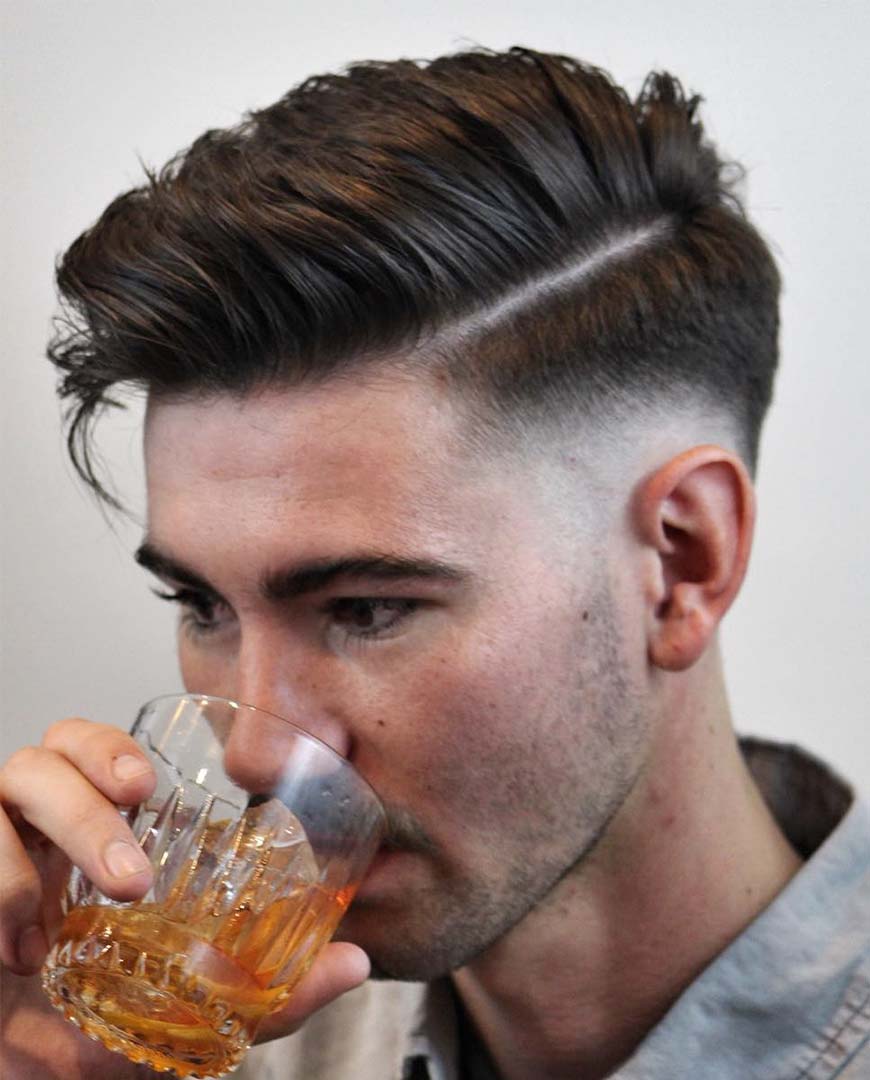 Short Sides and Long Top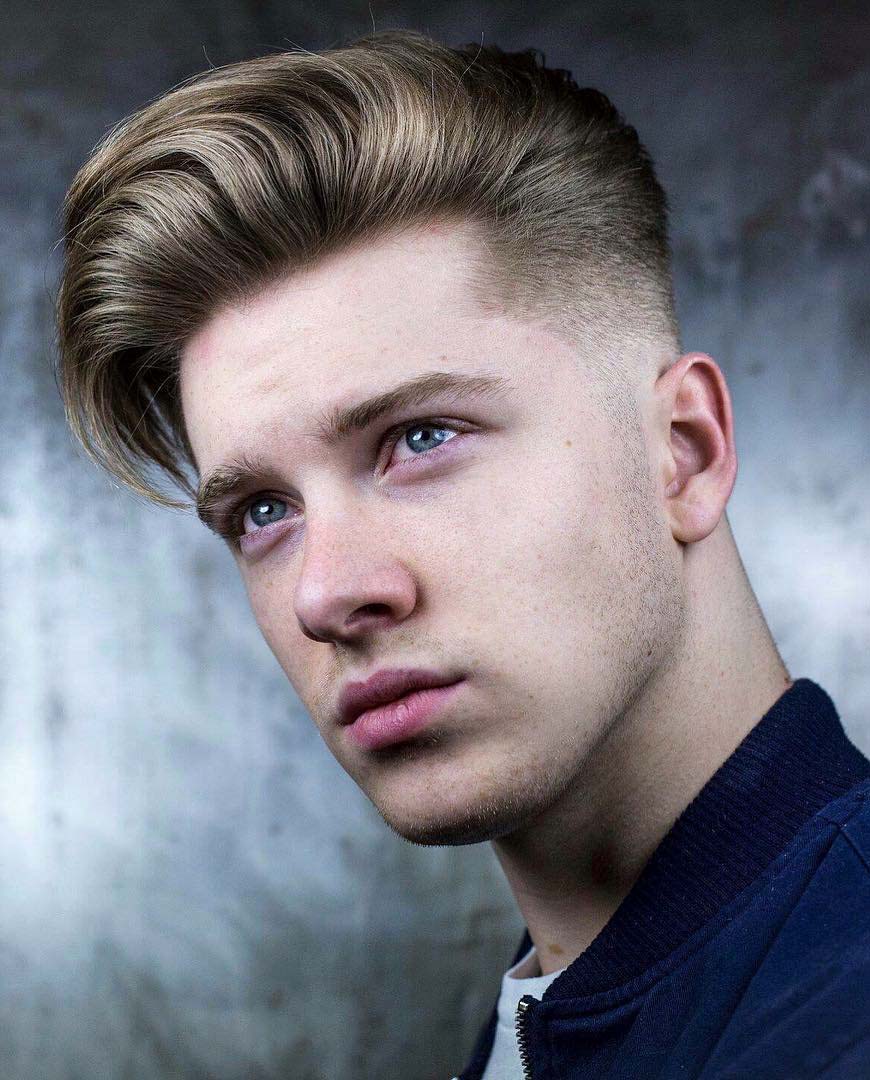 Textured Quiff with Mid Fade