There are a variety of haircuts for black boys. Selecting the right cuts for you and your face shape can help boost your confidence and make you look great. You can find all kinds of cool styles that may best fit your personality and personal taste. We've found some pictures of the best black boys haircuts, so you can pick the one that is exactly according to your preferences.
Check Out The Best Black Boys Haircuts
360 waves with Taper Fade
One of the best haircuts for black boys is 360 waves with taper fade. To get the look, you will need the following: a pomade, a comb, a durag, and a shampoo or conditioner. Using a boar bristle brush is essential to achieve this style. In addition, your hair should be clean and dry. Finally, a 360 wave hairstyle requires at least two months of growth before the cut.
A 360 wave is a classic, modern haircut that looks great on any boy. Of course, it requires some commitment and patience to achieve, but it can be advantageous.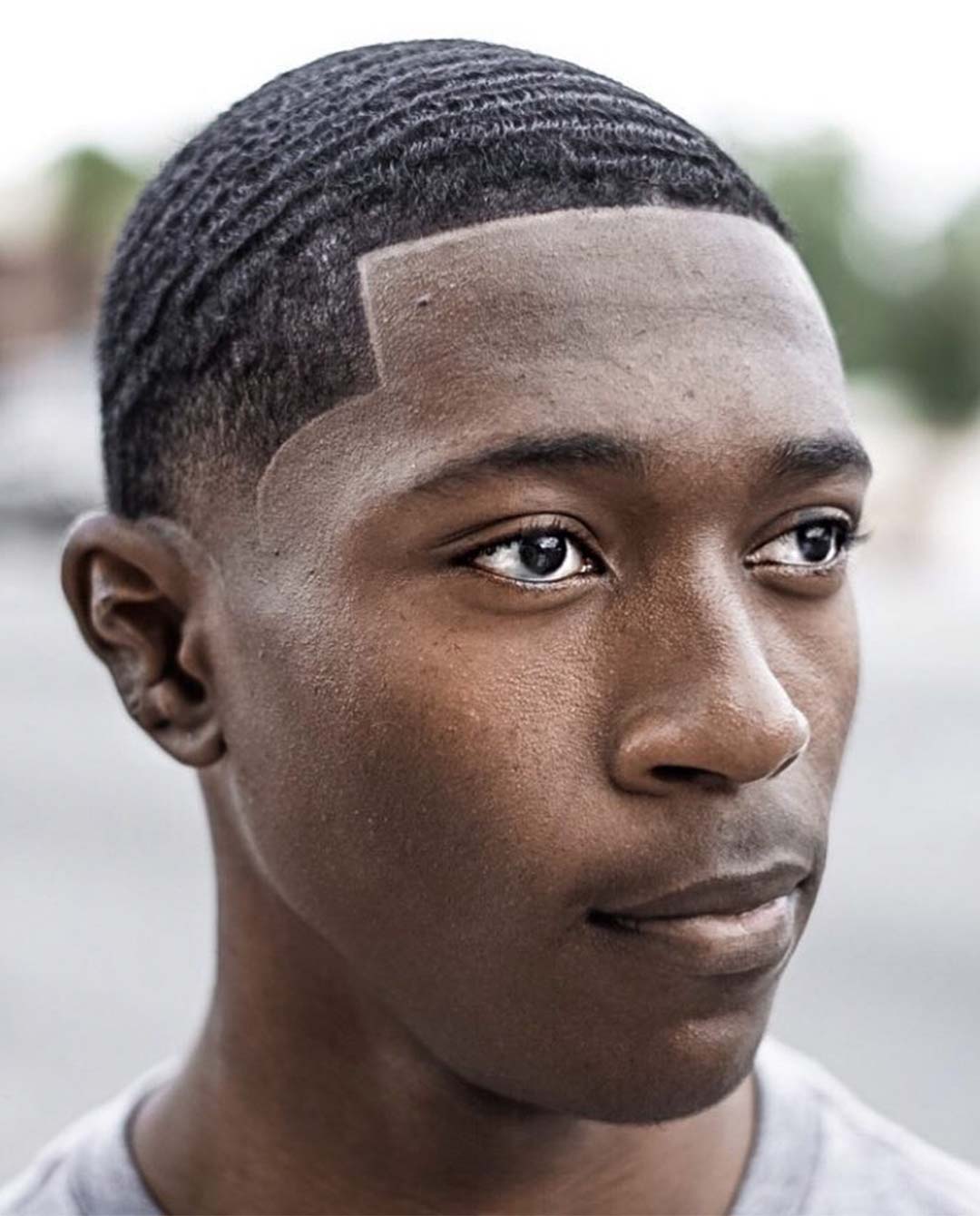 Afro Hair with Taper
These strands create height and width on the head. This type of cut is considered a boyish style. This hairstyle is perfect for black boys of any age. It's also great for adding a little accent color and tight curls to your hair. 
One of the greatest advantages of afro hair is that it allows for lots of experimentation and creativity. For example, you can use creative tapering at the sideburn and temple with longer locks. Adding little ringlets to the top and sideburn can also create a fun, eye-catching effect. Another great benefit to an afro is that there are no rules! 
The modern afro shape is created by adding tapered sides and fades. This style has lines etched into the sides. This looks very sleek and goes well with a boy's face shape. It's the perfect style for a boy who has a tight curly texture.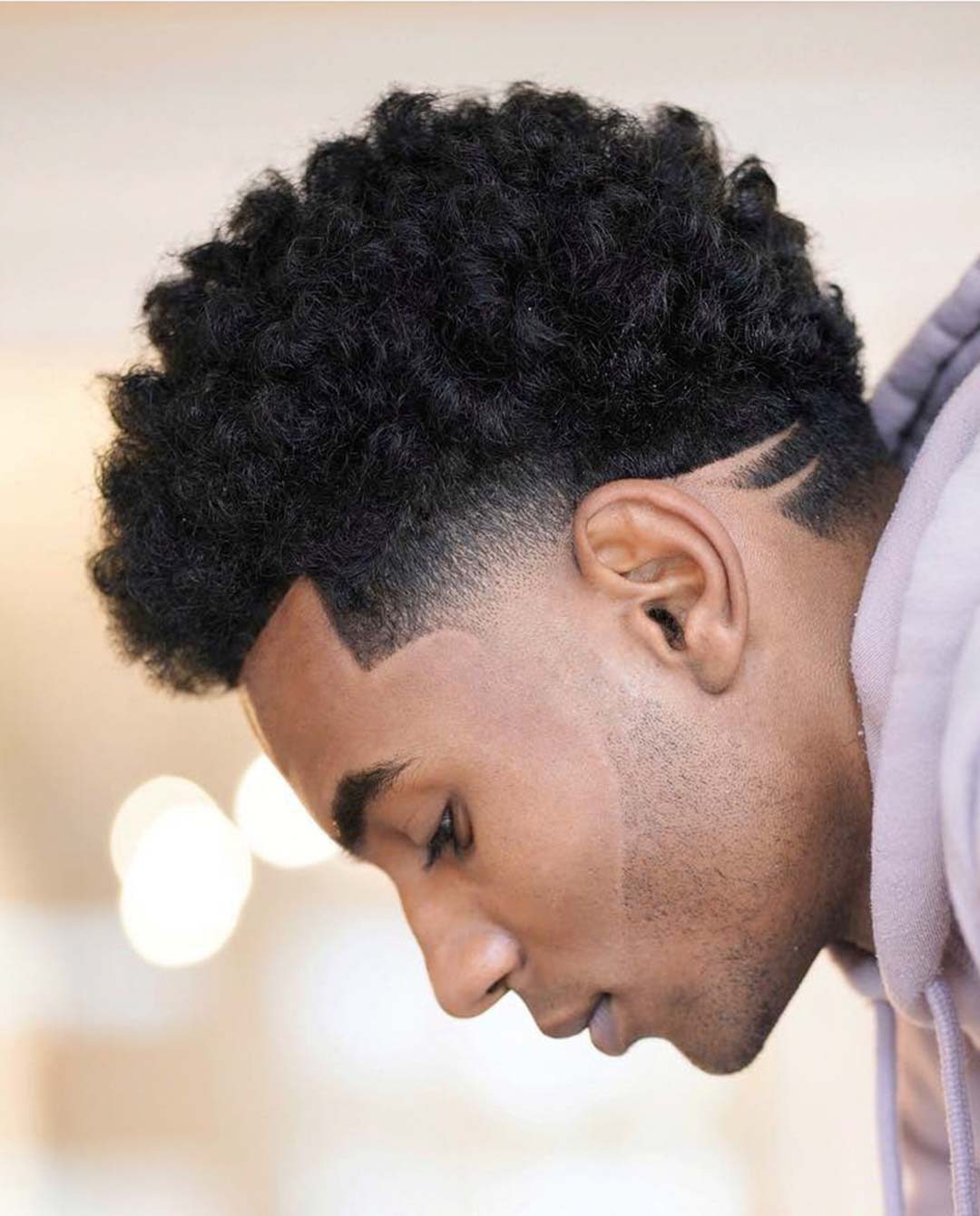 Box Braids for Black Boy
You can create this look with your natural hair or add-in extensions. These techniques are effective in adding length to your natural tresses. If you don't have much time to devote to creating the perfect look, try using one of these three tips to create a flawless box braid. These are simple yet effective tips to achieve a perfectly braided look. You can also use a combination of these two methods to create a look that suits your preferences and your lifestyle.
To create the perfect box braid, you should part your hair across the middle and down the middle. Next, fold the extension hair in half and place it in the folded section. Repeat the process with each section of hair. Once you have braided your entire head, you should separate it into three equal sections. Continue this process with each section of your hair and continue the process. You should repeat this step with each section of your hair.
To keep your box braid in place, you need to seal it. Dip the braid ends into boiling water. To protect your skin from the water, wrap a towel around the hair. Once sealed, your box braid should stay in your hair for about six to eight weeks. However, failure to take proper care of the box braids can cause matting, extreme dirt buildup, and even hair loss. Once you've created the perfect box braid, you'll have to care for it properly.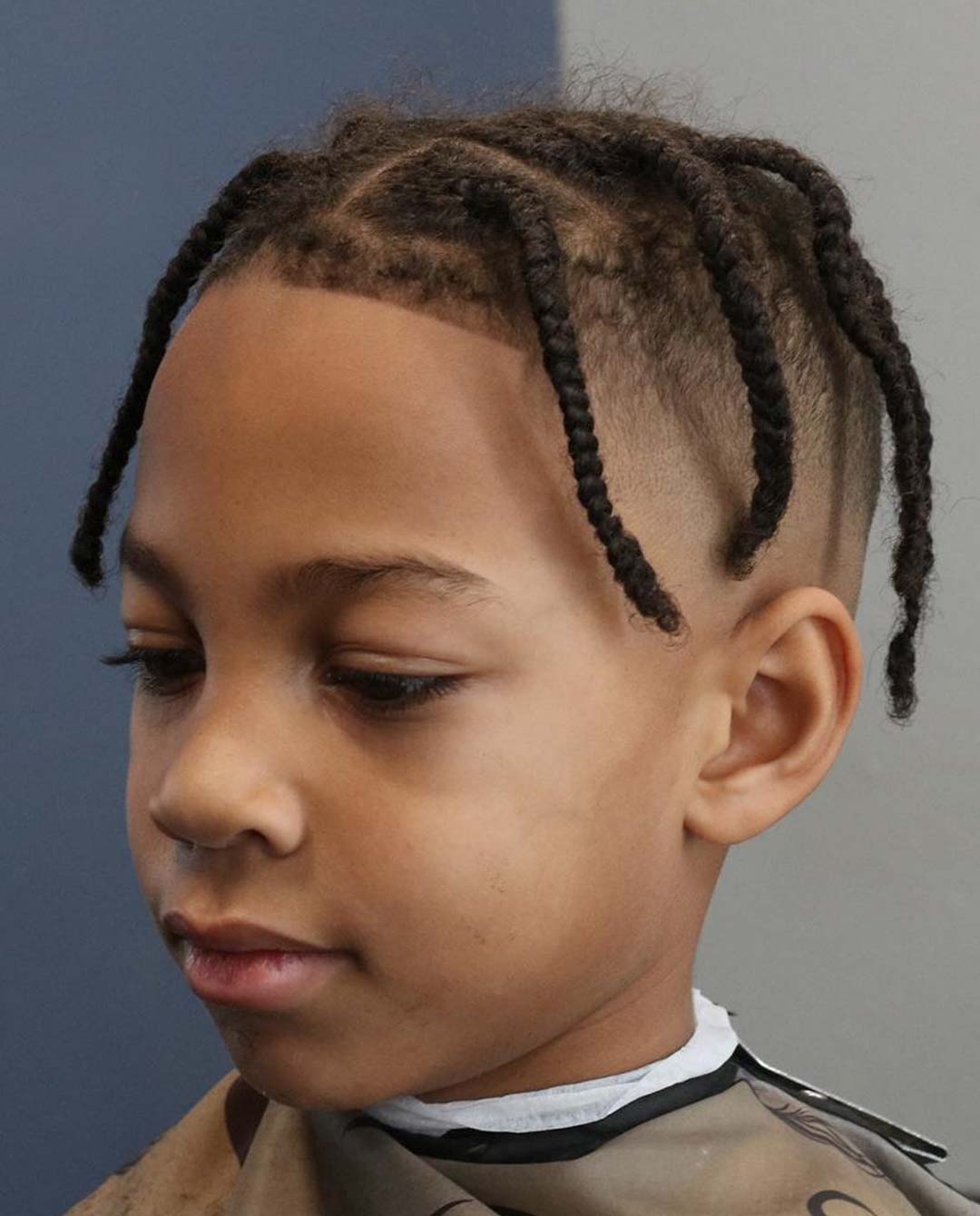 Dyed Top and Temple Fade
The high top creates the illusion of a longer face, and you can wear it in many different ways. It is versatile but requires weekly trimming and looks very stylish with a temple fade.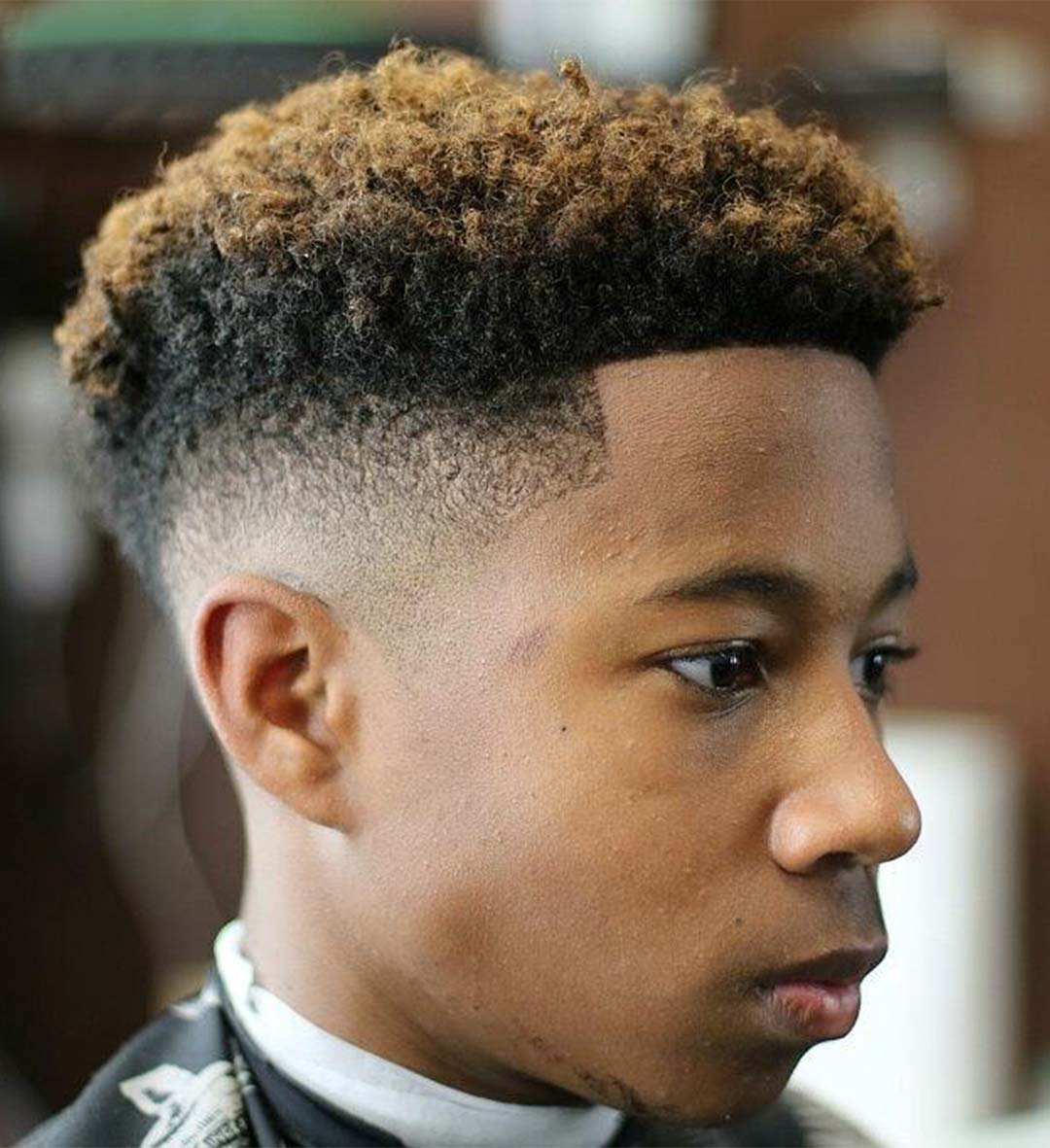 Buzz Cut with High Fade
This hairstyle will create a striking, yet subtle contrast between the top and sides. If you have a square or round face, a high fade will help narrow the appearance. 
The length of a high fade will vary from one person to another. A high fade can be either low or mid, or even high, depending on the height of the shaved area. For example, a 4 on top buzz cut is a #4 length. It is between half an inch and 3/4 of an inch. It should be cut short enough to keep the shape of your face in check.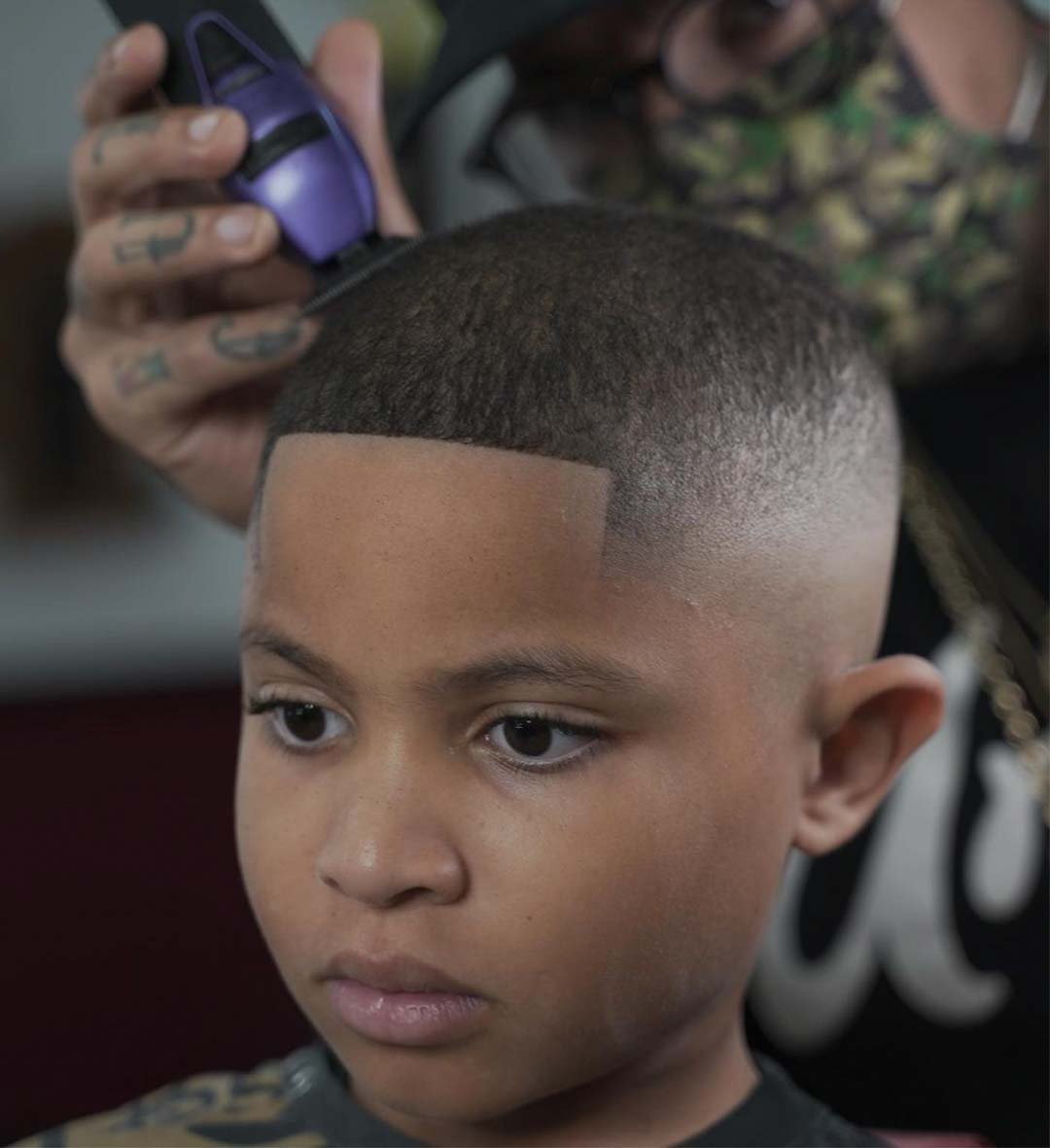 Cornrow + Top Knot
This combination of a bald fade and braided top knot makes the perfect summer look. Leave the cornrows long, or tie them into a braid. Cut the remaining hair and add beading details for a unique look. After your braid is complete, tie your hair into a bun. Try snake braids or zigzag braids to give your hair a unique, attention-grabbing look. This style features a graduated cut of hair from longer hair at the top to a clean shave on the sides. It also adds a touch of personality to your appearance, and you can easily achieve it at home.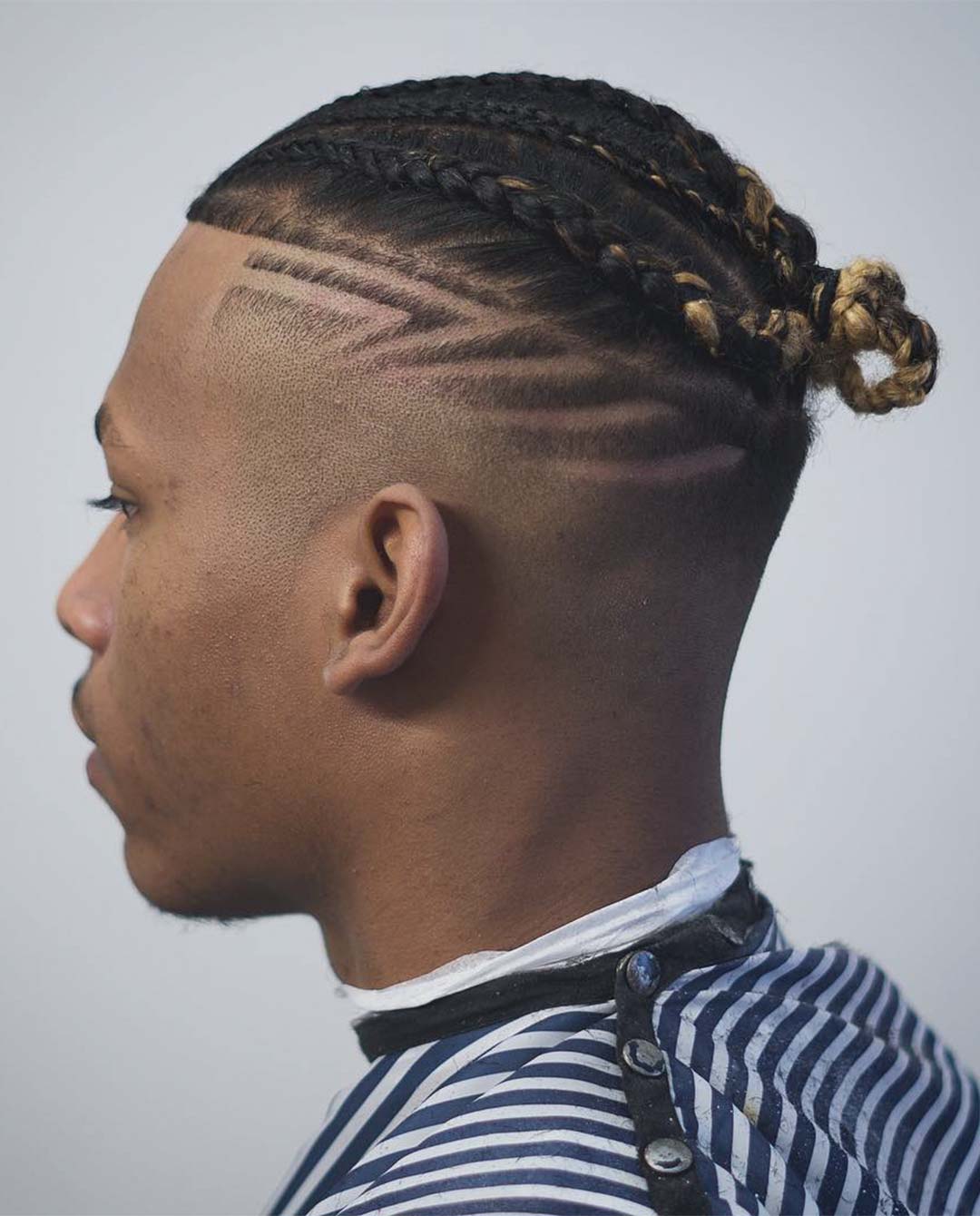 Short Waves + Taper
A taper fade with waves is another cool black boy's hairstyle. It offers the most versatility for styling and can accommodate both 180 and 360 waves. The sideburns can be left uncut for a softer look. The taper creates a definite hairline.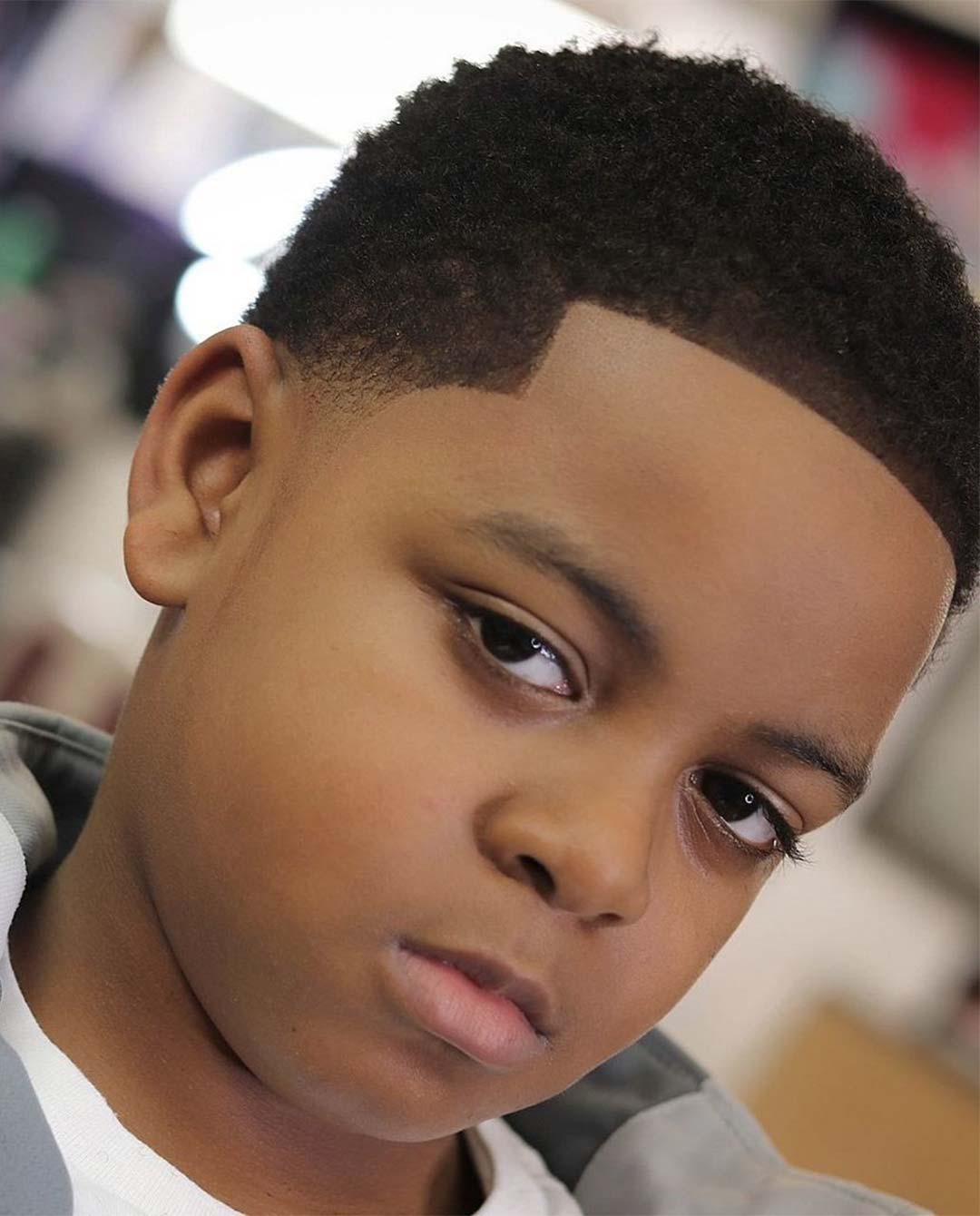 Black Boys Mohawk
This short haircut is relatively easy to maintain, and it's a solid look for any boy. If you have natural curly locks, you can style your hair in a high fade to keep the length up. Lines and undercuts are more appealing than the traditional version because the undercut is often more pronounced. In this example, the black boy's faded mohawk features a cute lightning bolt detail that restricts the natural part from the trimmed section. The shortest buzz is above the ear, and the rest is undercut.
However, modern mohawks are less edgy than their punk rock origins, and many schools or colleges won't have an issue with it. Once you've decided what style you want, you can start thinking of a design of the sides.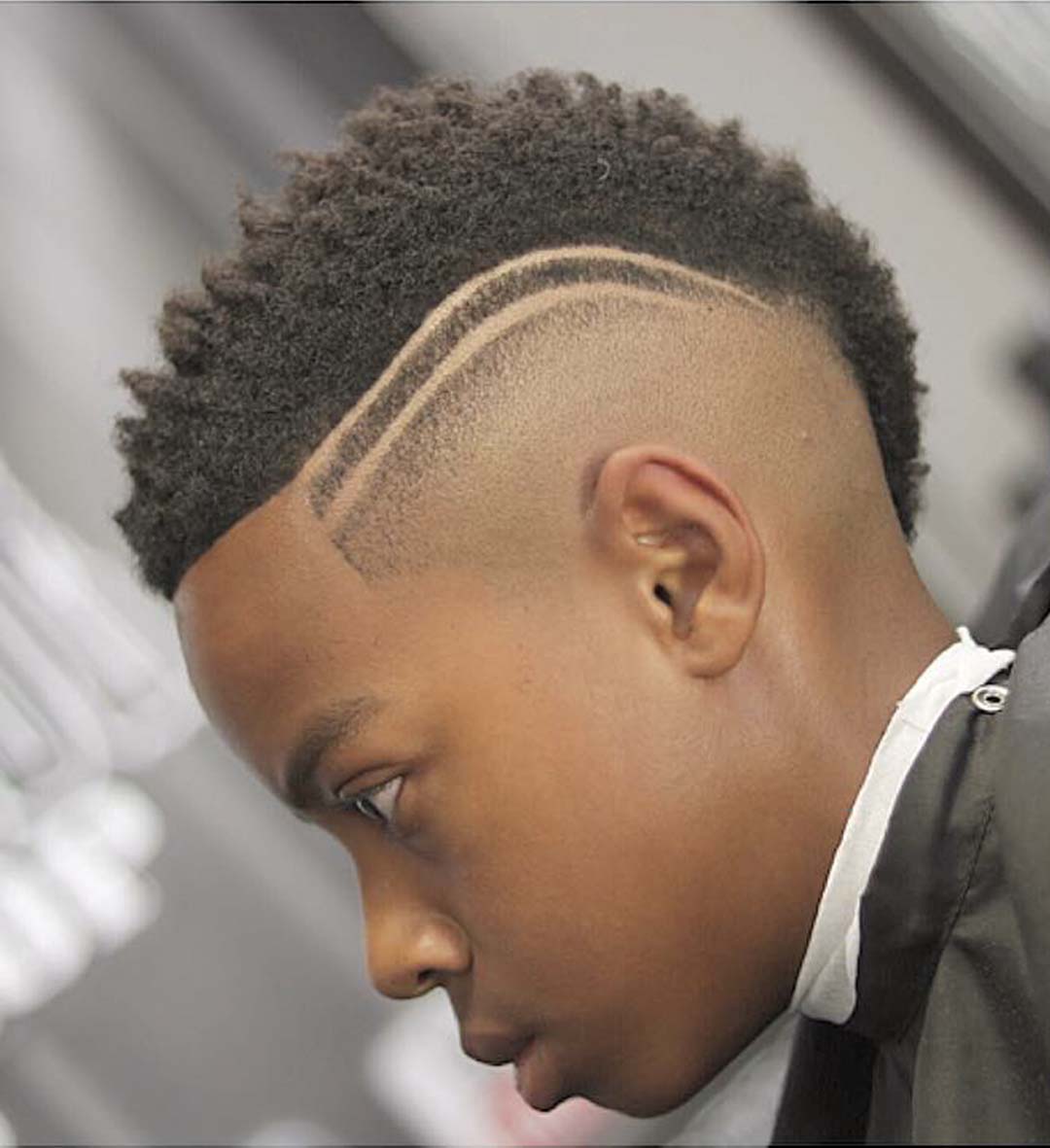 Black Boy with Line Up
The high top style is very cool, and is popular among sports stars. It starts at the crown and wraps around the head at the same level. This asymmetrical part gives the look oomph and is perfect for any occasion.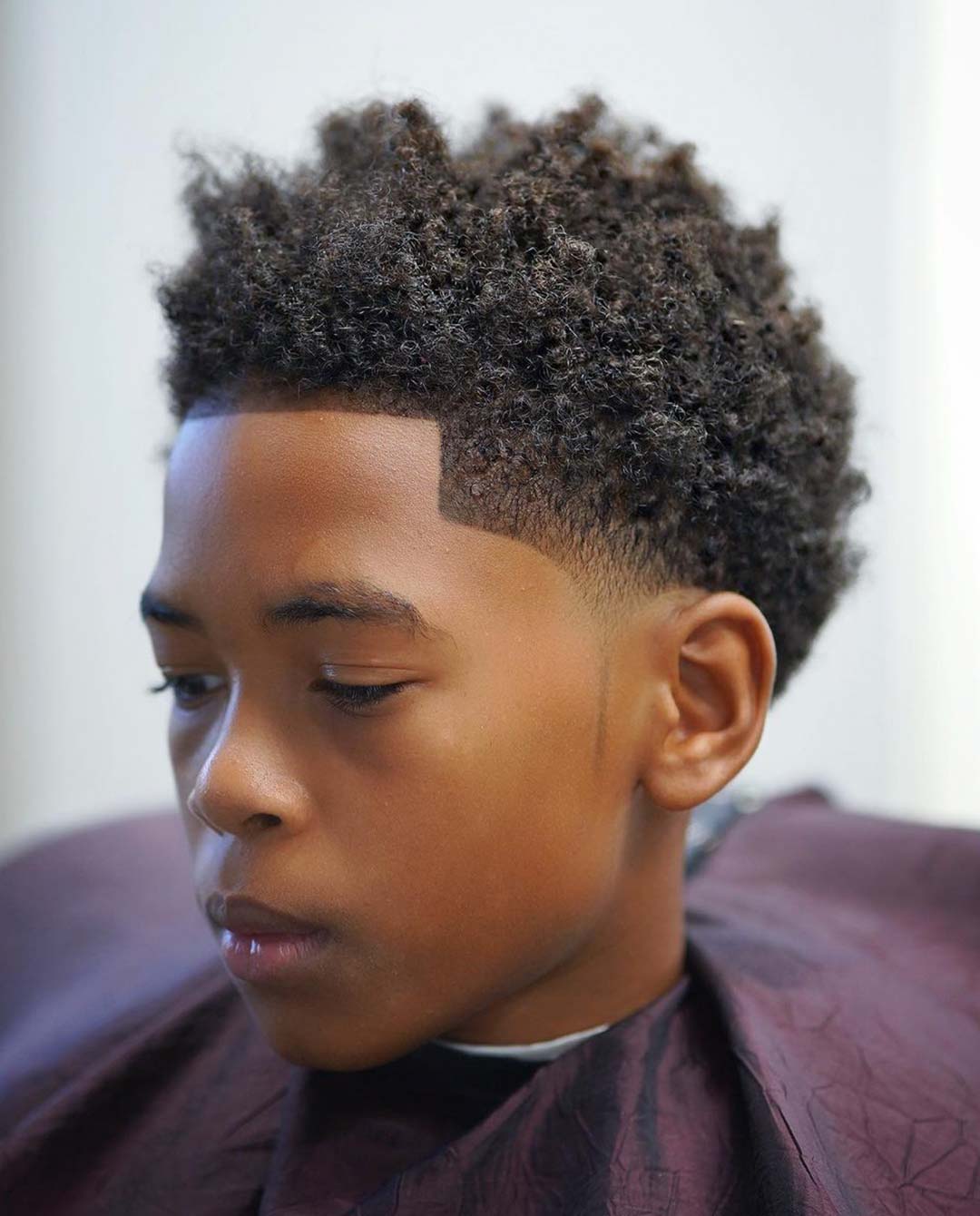 Kinky Top + Line Up
The top portion of the hair is trimmed high and soft, while the sides are faded to give a perfect line up. The contrast between the sides and the top length looks awesome. In addition, the kinky top is very easy to maintain and requires minimal styling time.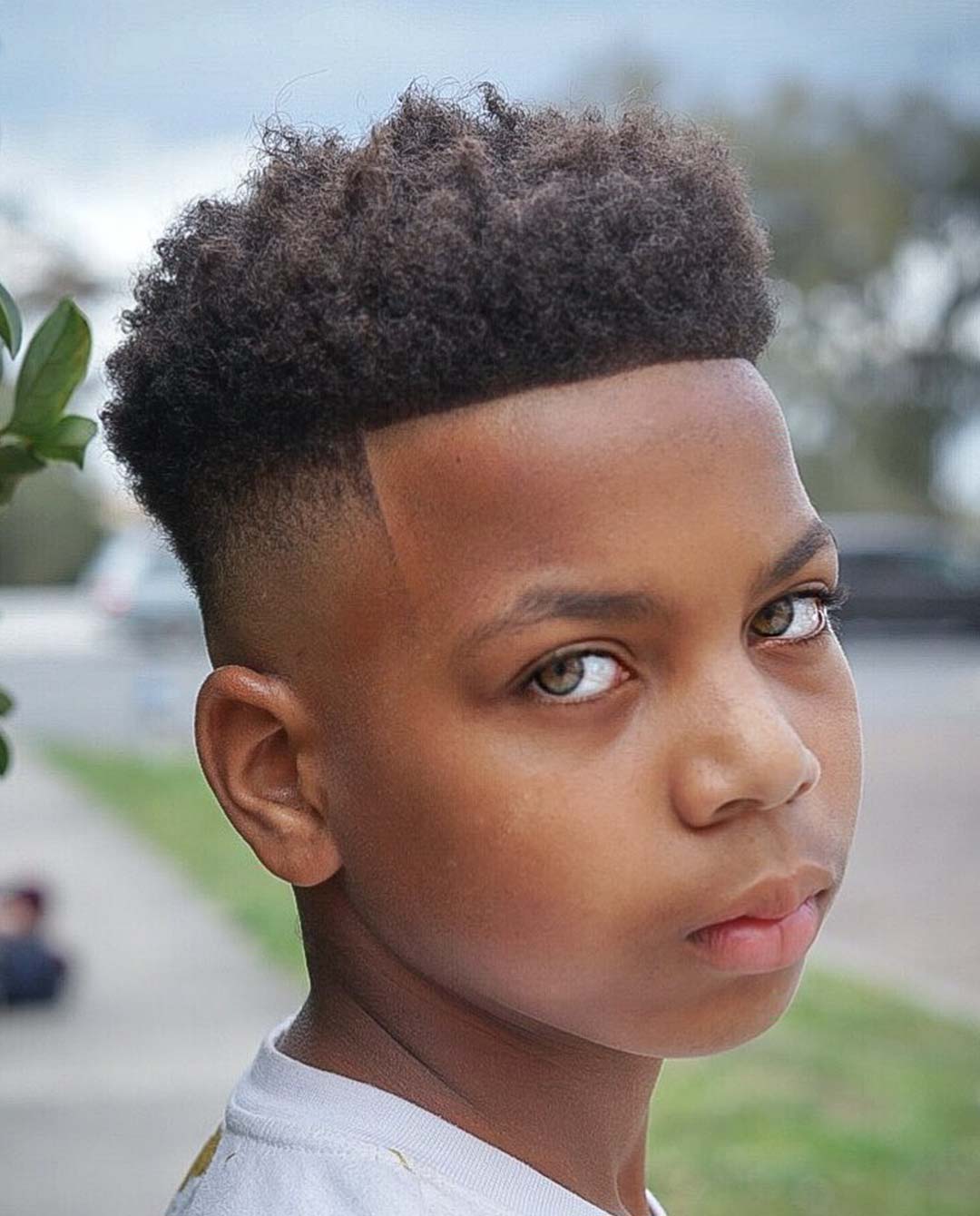 Induction Cut
An induction cut is the shortest hairstyle you can have without shaving your head. If you want to add a wow factor, you can add temple fade at the sides to give your hair a more prominent look.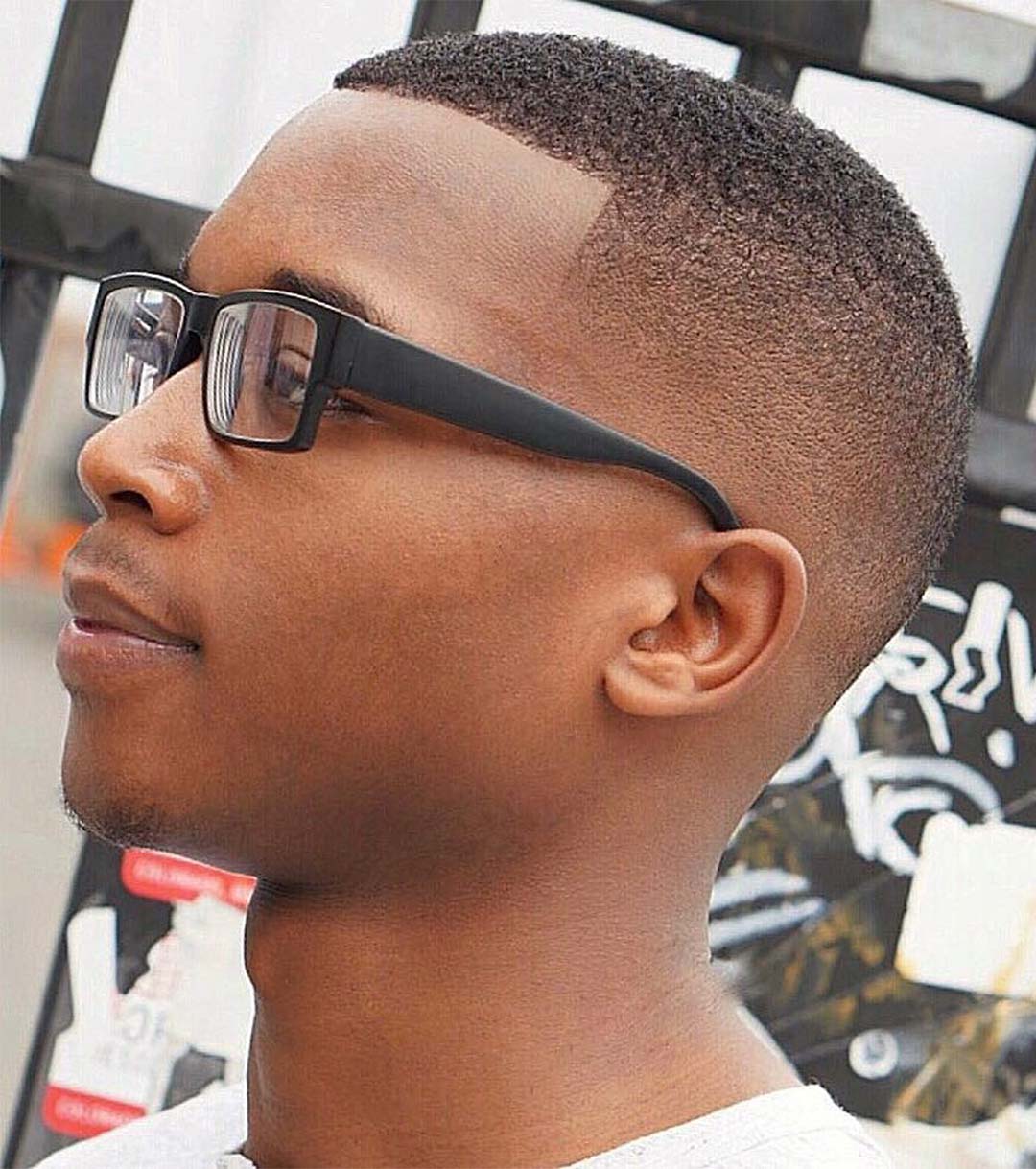 High Flat Top with Temple Fade
A high flat top with a temple fade is an incredibly stylish style, especially for a black boy with medium-length hair. Its taper fade creates a cone-like shape that mimics a crown. The style is simple and yet unique. The key to this style is to grow your hair long enough and than get a good fade at the temple.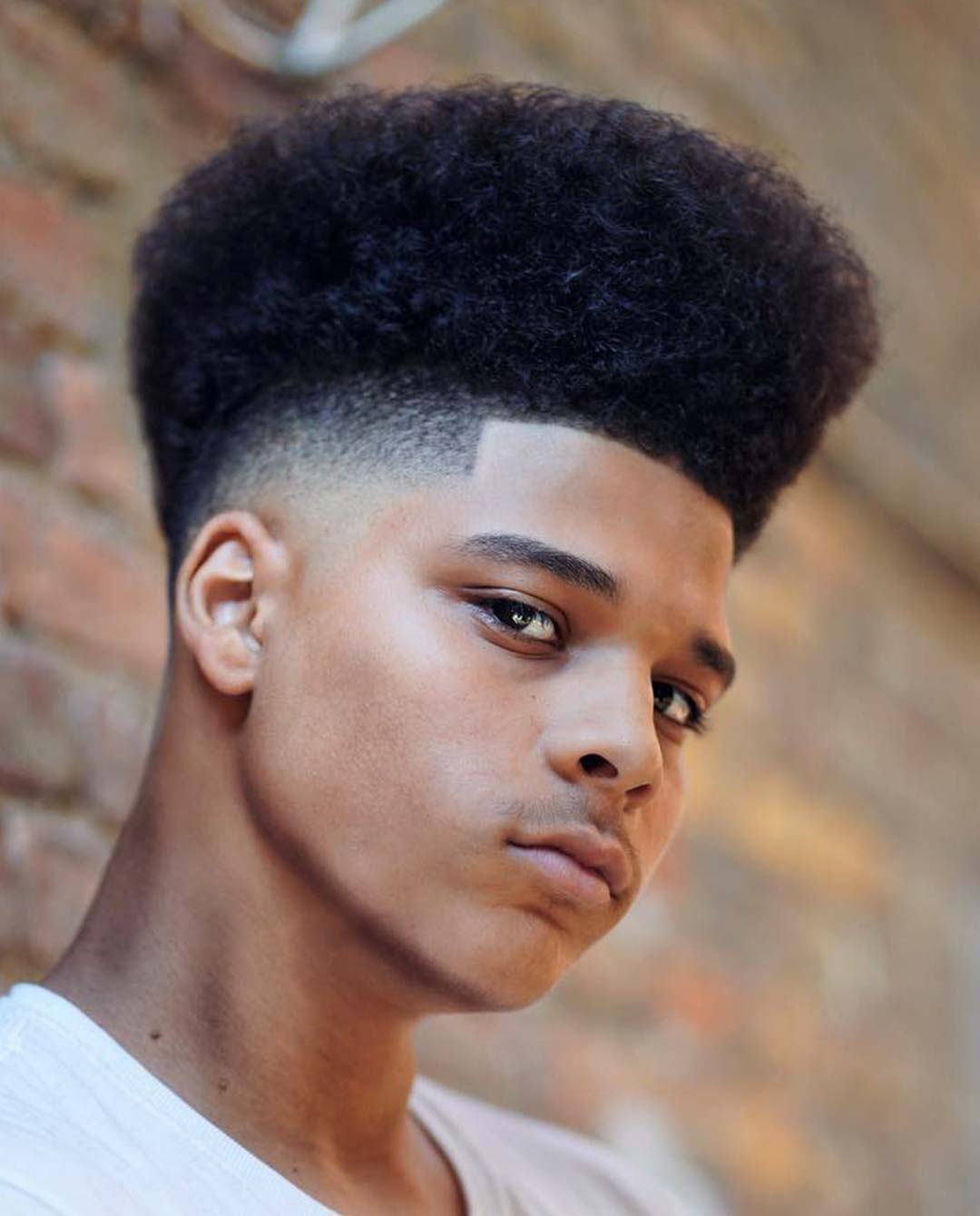 Black Boy with Mohawk + Design
The side of this cut is unique because it's not just a regular mohawk; A side design is a great way to make your mohawk stand out and make you feel cool about yourself. A mohawk with design is a very unique and fun haircut. The side design is one of the most challenging parts, and it took a lot of skill and patience.
If you have already got your mohawk, there are plenty of things you can do to spice up your style. First, you can try coloring and styling your hair using different colors or patterns. A little creativity can go a long way and make your mohawk look unique. If you want to add some art to your mohawk, consider dyeing the bottom of your undercut. This is a great way to add some flair to your hairstyle.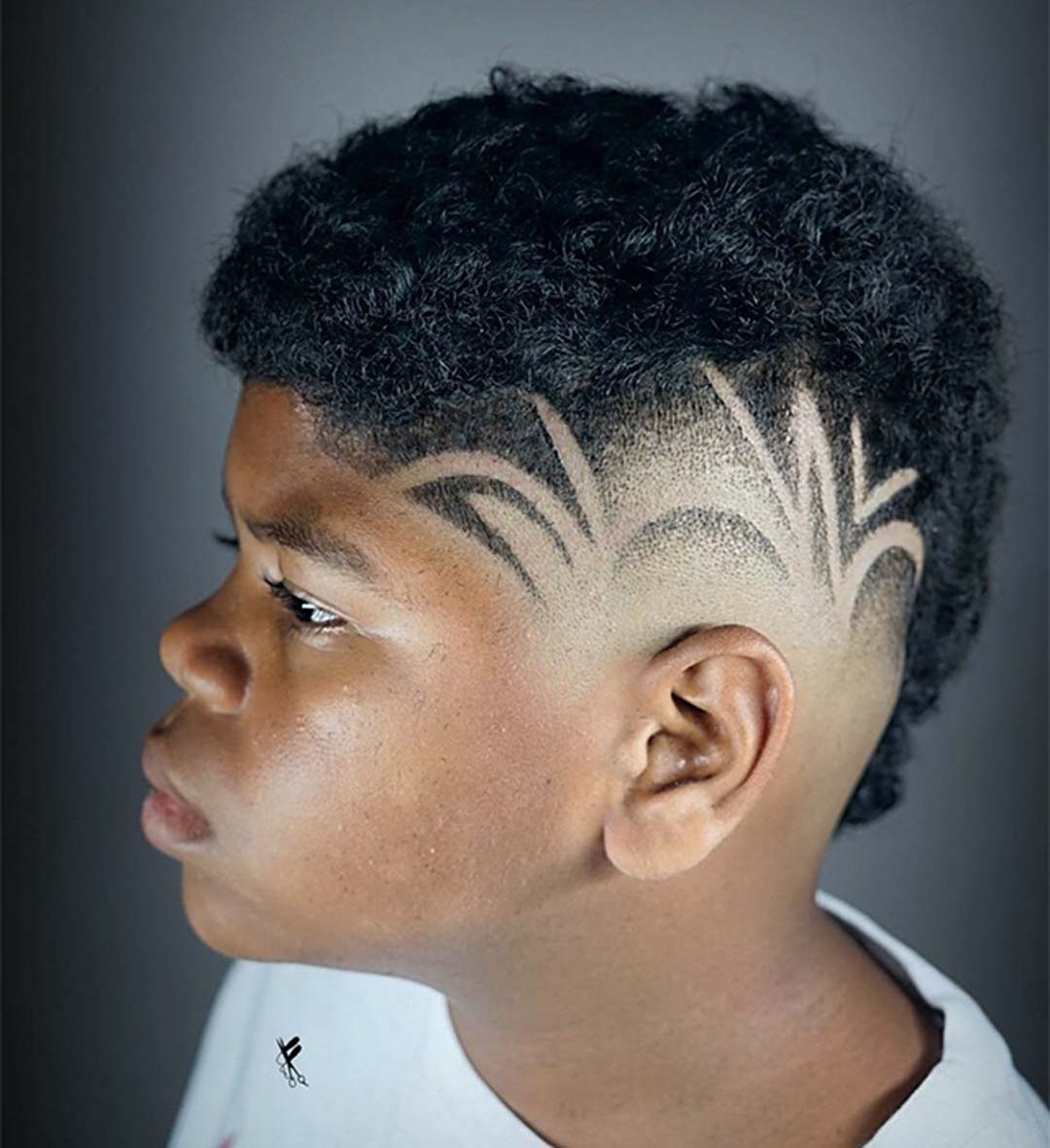 Black Boy Curly High Top
This haircut keeps the top of the hair curly while the fade goes up to the temple. This look is a great combination of retro and modern. A side part gives a great contrast between the curly and faded sides of the hair. A blow dryer is essential to maintain the shape and define curls.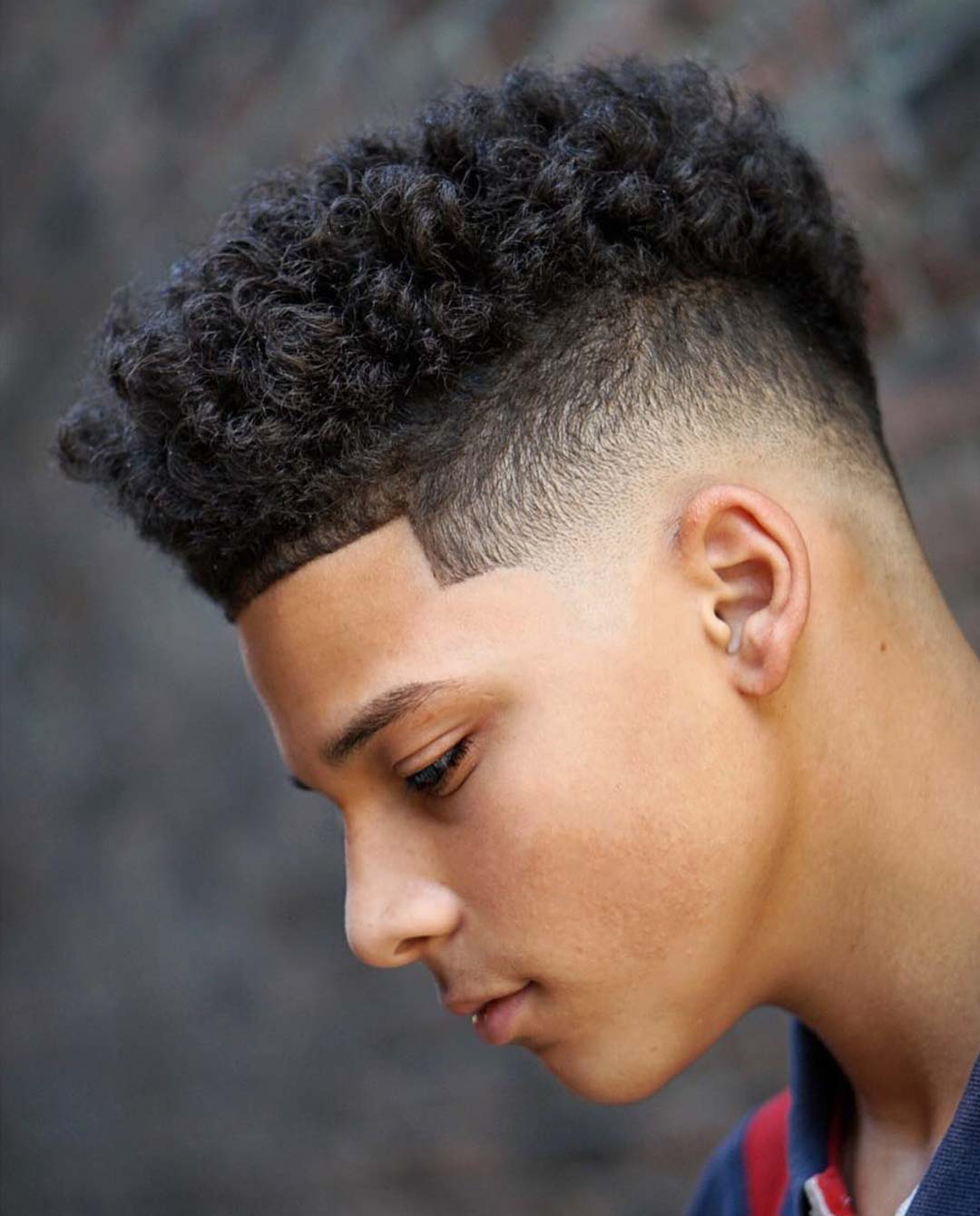 Buzz Cut for Black Boy
The name comes from the fact that all parts of the head have the same length of hair. But is it right for you? Read on to find out what it is and what you can expect from it. 
The buzz cut is best suited for people with oblong faces. This type of haircut makes a face look shorter while creating a bulkier appearance. It gives a boyish vibe and can be a great choice if you don't want to fuss with your hairstyle every day. This style doesn't require any special tools and is perfect for black boys who don't have the time or patience to style their hair.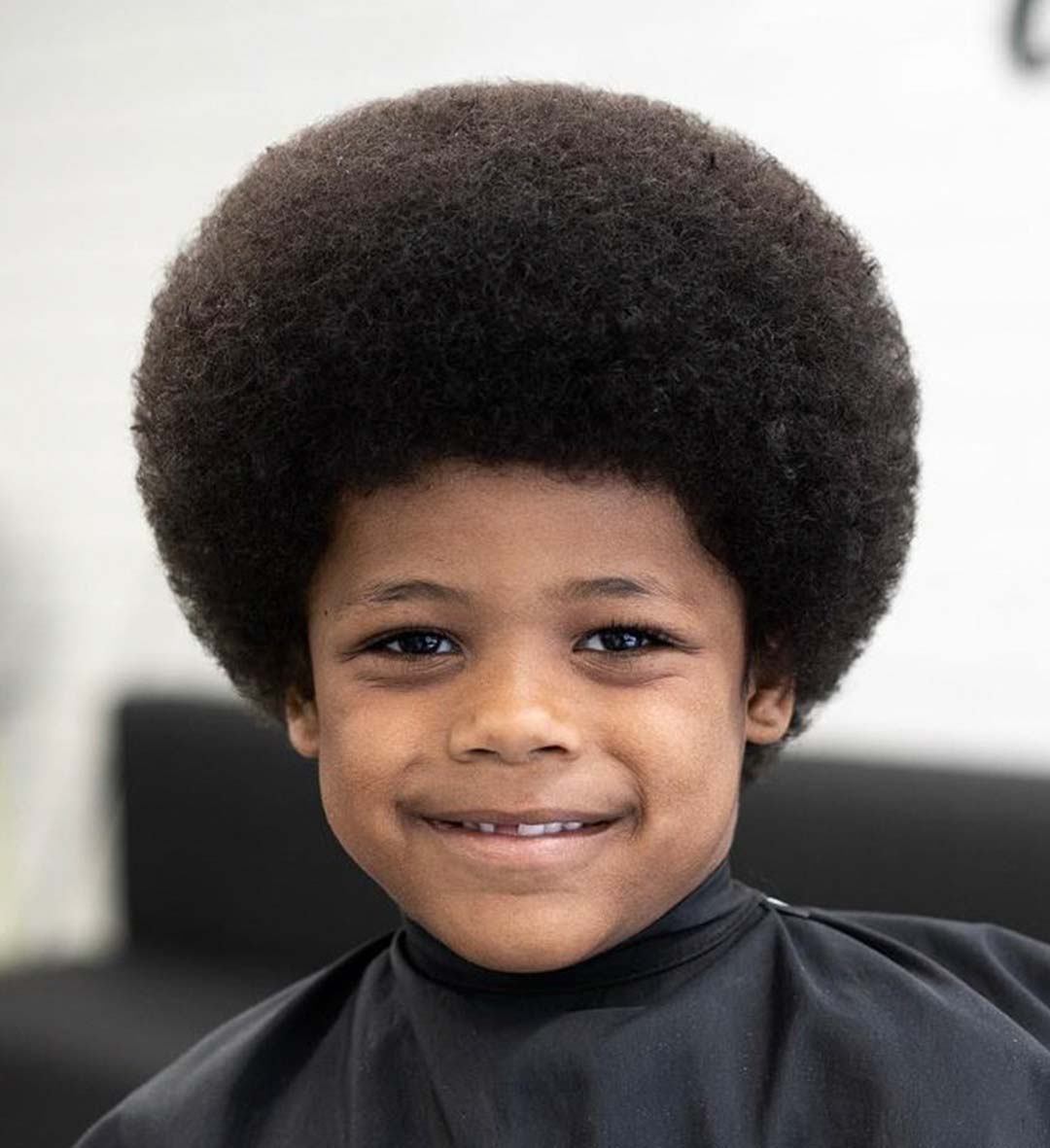 Short 360 Waves + Taper
There are many advantages of 360 waves. While it does take time and commitment, the results are worth it. It will take time to brush and style your hair, but they will last for weeks. And once you have mastered 360 waves, you will never go back. You'll be able to achieve those gorgeous tresses that have a soft, tousled look. If you're considering this style, here are some tips and tricks to help you achieve it.
Creating a great-looking 360 style starts with practice. First, you'll need a healthy scalp and clean hair. This style can irritate your scalp and cause dandruff. You can eliminate it with over-the-counter shampoos and conditioners. These tips will help you create a healthy canvas for the haircut you want.
The next step in 360 wave hairstyle creation is your daily brushing routine. Start by brushing your hair from the crown to the neck. Next, try to use a second small mirror to see your back. After you've brushed your hair, you can protect it with a du-rag before bed. A 360 wave haircut can be a fun and unique style for a night out. To keep your waves looking fresh and healthy, visit a barber every two to three weeks and ask about their recommended conditioning products. Keeping your hair moisturized is essential for the perfect 360-wave pattern.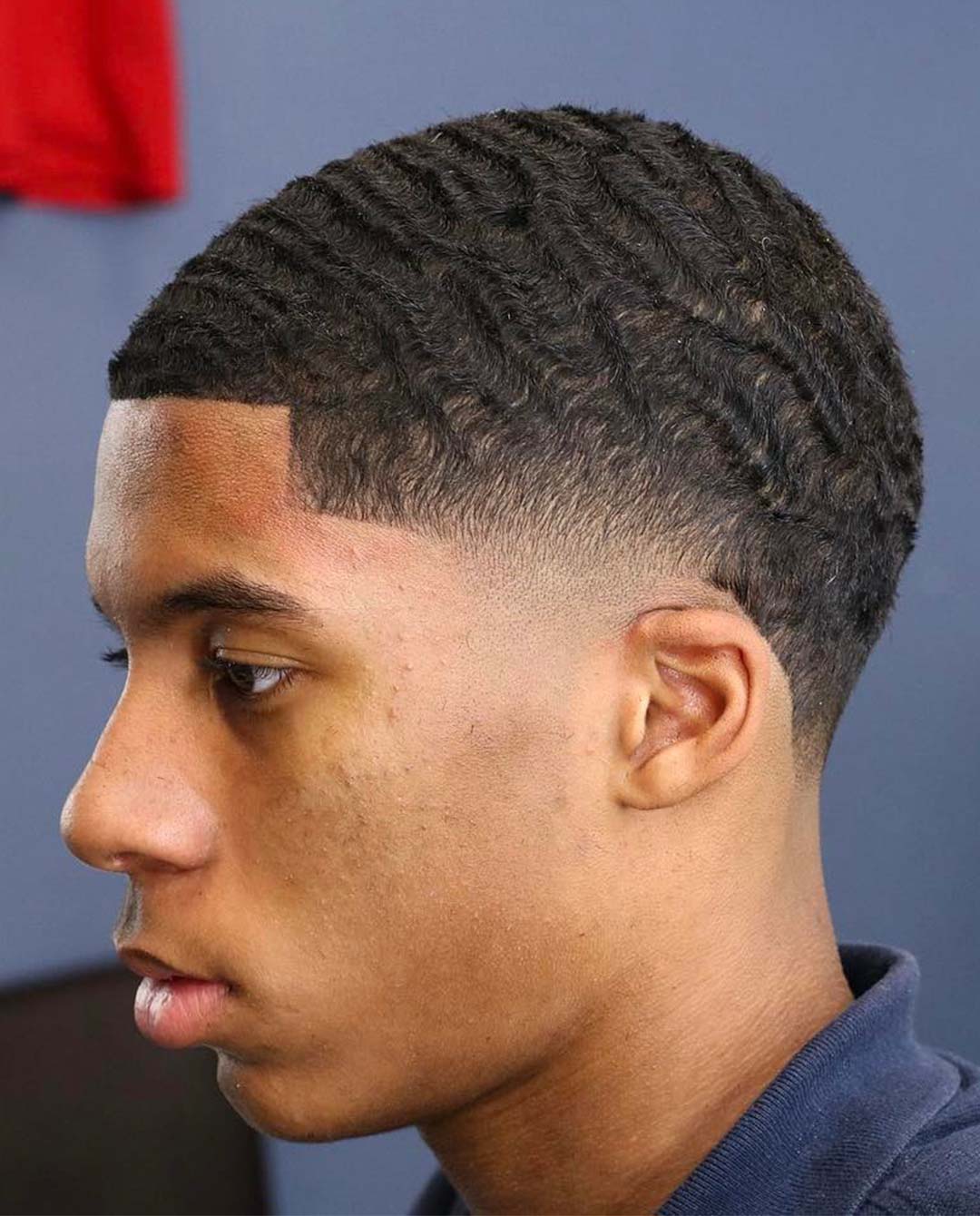 Flat Top + Side Design
The most important thing for this haircut is height. The sides and back are faded so that the bald spots are the only visible parts. This style works best with black boys and will maintain its shape for quite some time. This hairstyle will give you a sharp look for a long time.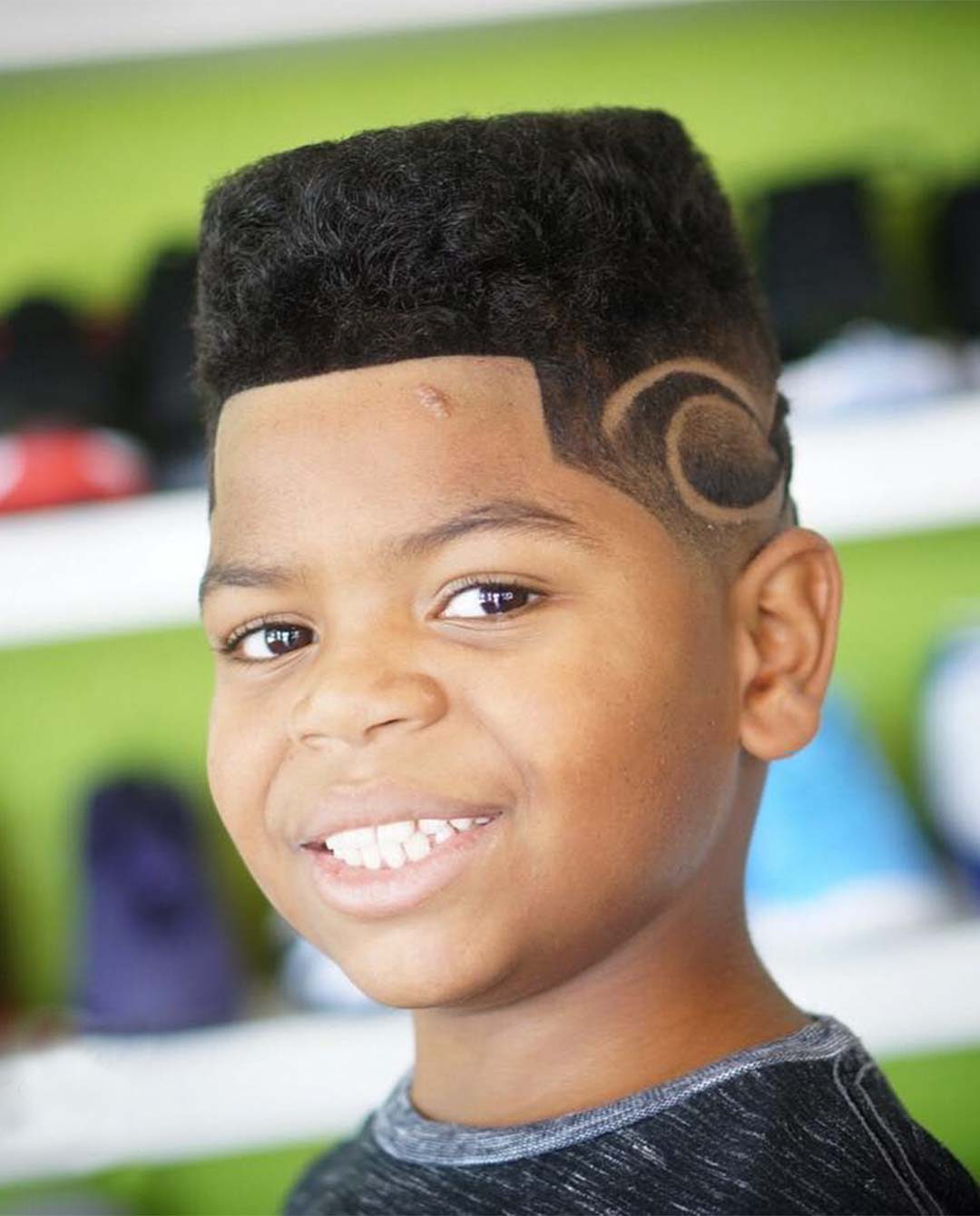 Short Curly Top for Black Boy
A simple hairstyle for short hair is a fun, playful alternative for boys. The shaved detail will contrast with the curly top. However, a few styling tricks will make the transition easier.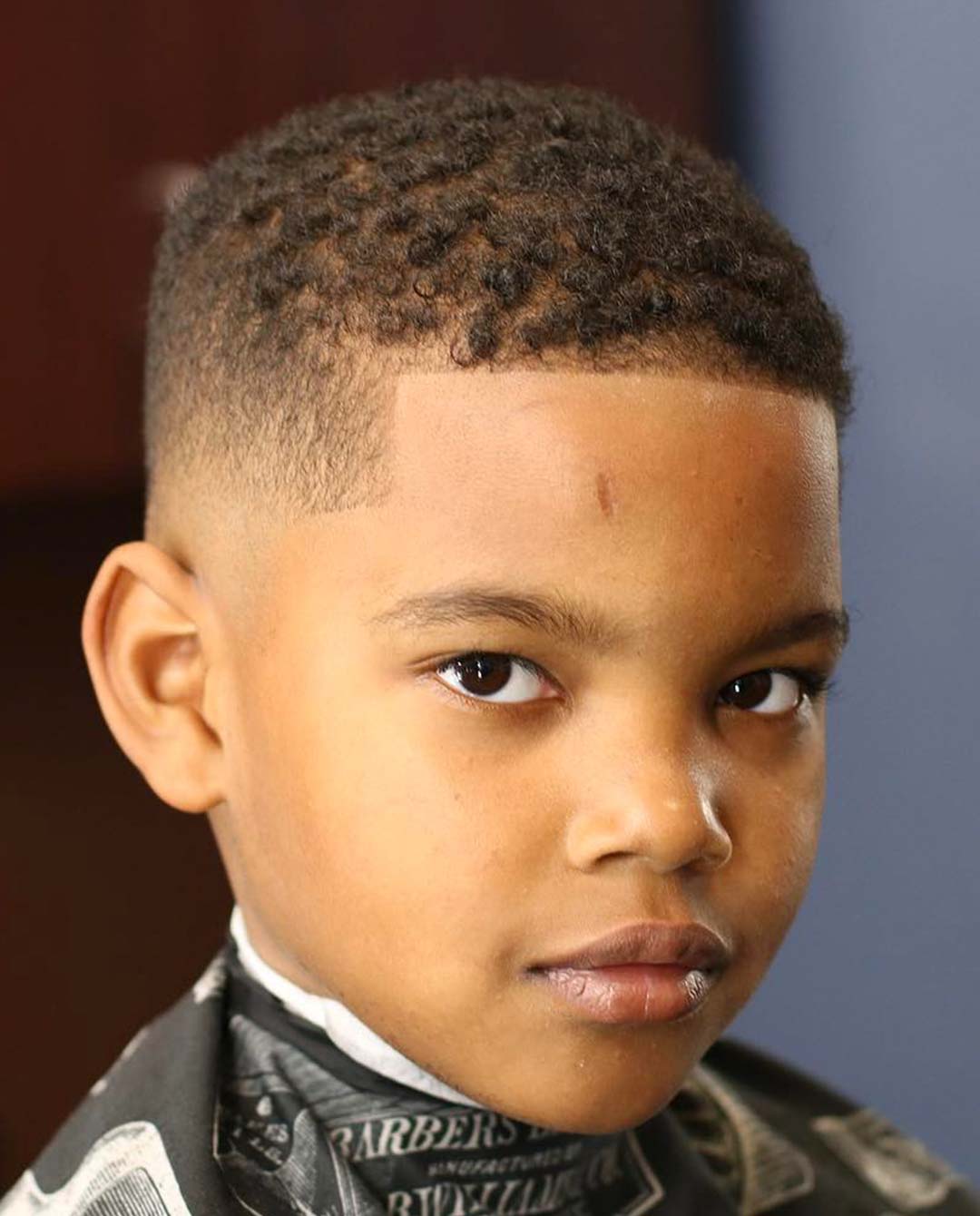 Cute Boy with High Top
A high top adds a cool look to your son's hair and is ideal for a day out or school. A fade and the deep line is easy ways to give your child a fun and boyish look with a long top.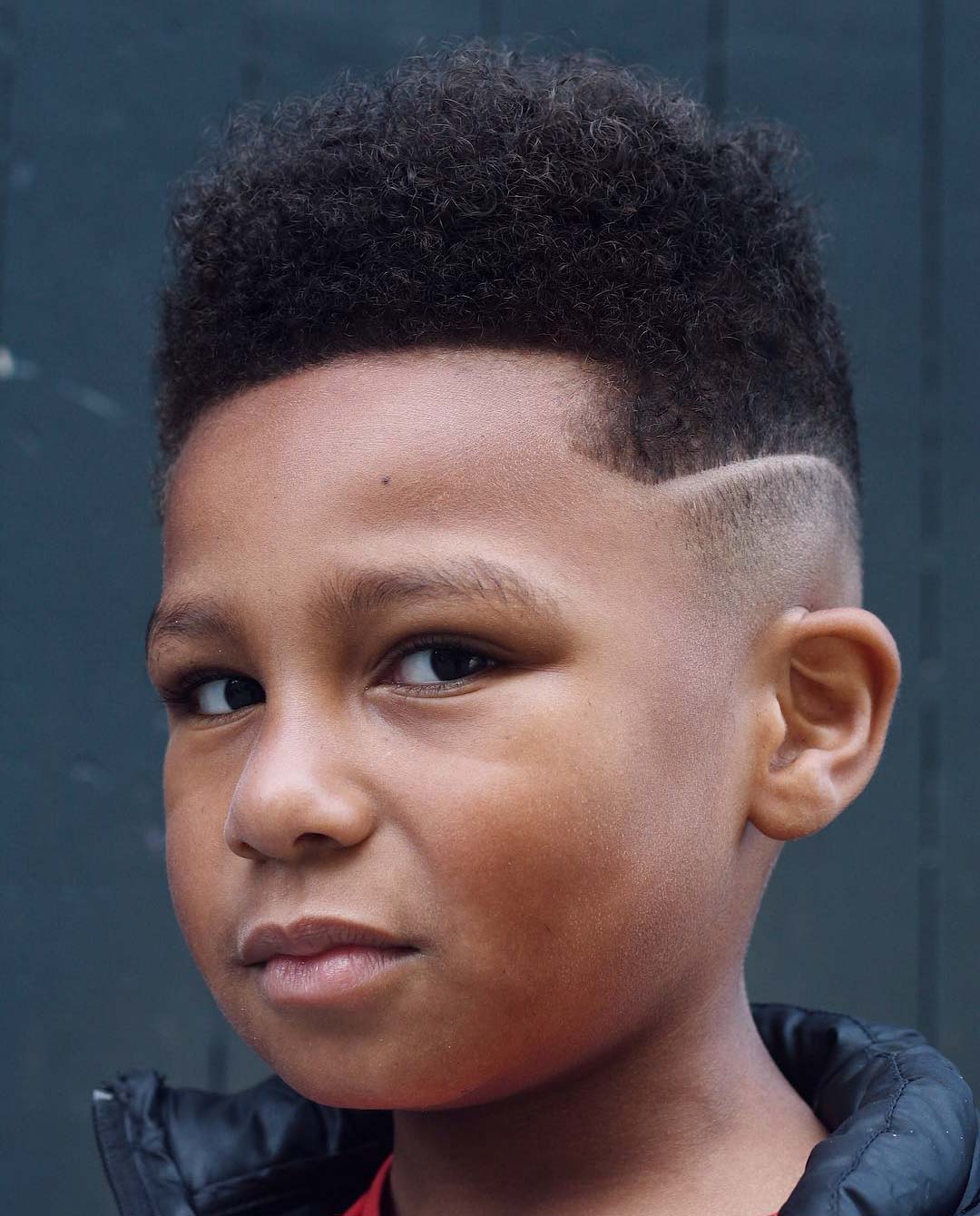 Boy with Messy Top
Most guys pair this cut with a short side and a clean-cut look, but You can pair it with longer hairstyles, including a curtains or a blowout. For a modern finish, try adding some matte pomade or gel to your hair before you style it. It's easy to create this messy look with any type of hair.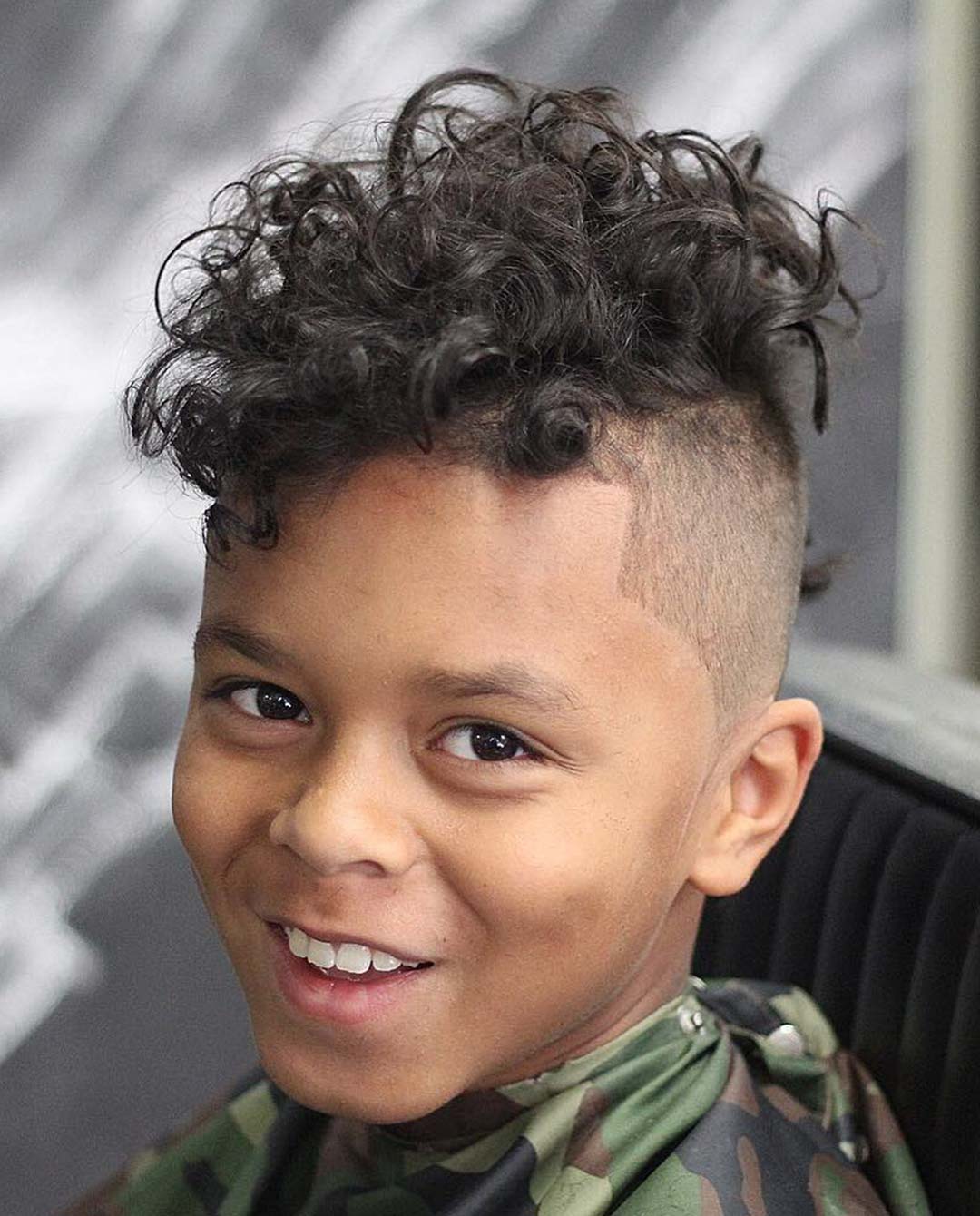 Boy's Kinky Mohawk
A kinky Mohawk is often a great choice for people with fine hair. The curls give the hair a boyish look. It is also important to remember that healthy hair behaves better than dry or greasy. Avoid over-washing your kinky mohawk, as it will strip the natural oils. Instead, add frosted tips and varied patterns to create a textured top.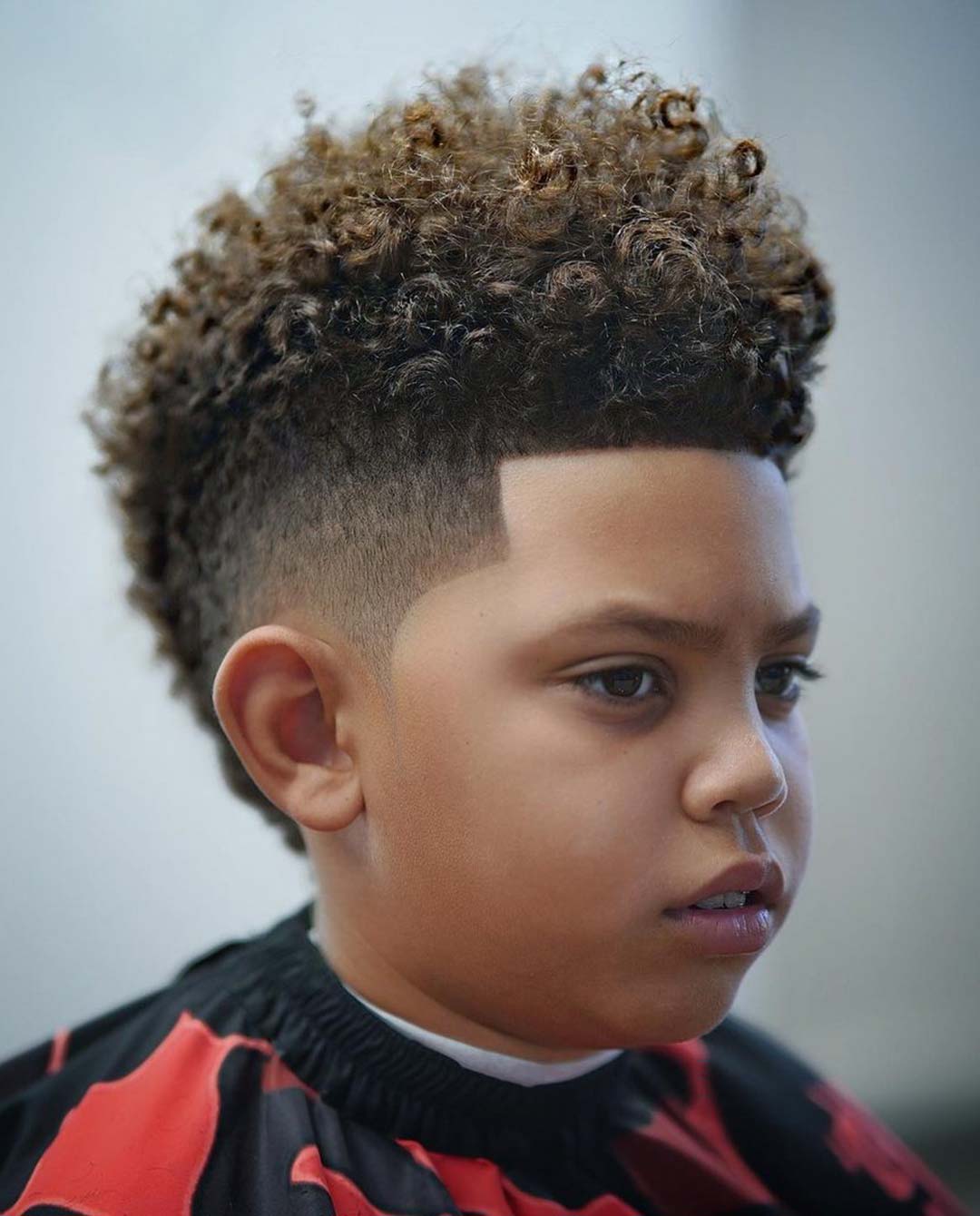 Burr Cut with Lines
The Burr Cut looks great on both young and older men and is a quick style to keep looking good. The lines in the hairstyle allow for shading and gradients, which make it the perfect style for black boys who want easy maintenance. Moreover, this cut does not require any special care, making it an excellent choice for boys with little time to spend on their hair.
This is a short haircut combining lines with a buzz cut. The haircut is best to leave the hairstyle on the '1' or '2' setting. This will produce even mowing without any noticeable lines. Moreover, it is best for boys with strong jaws and facial features. Even football player Kylian Mbappé opted for this hairstyle.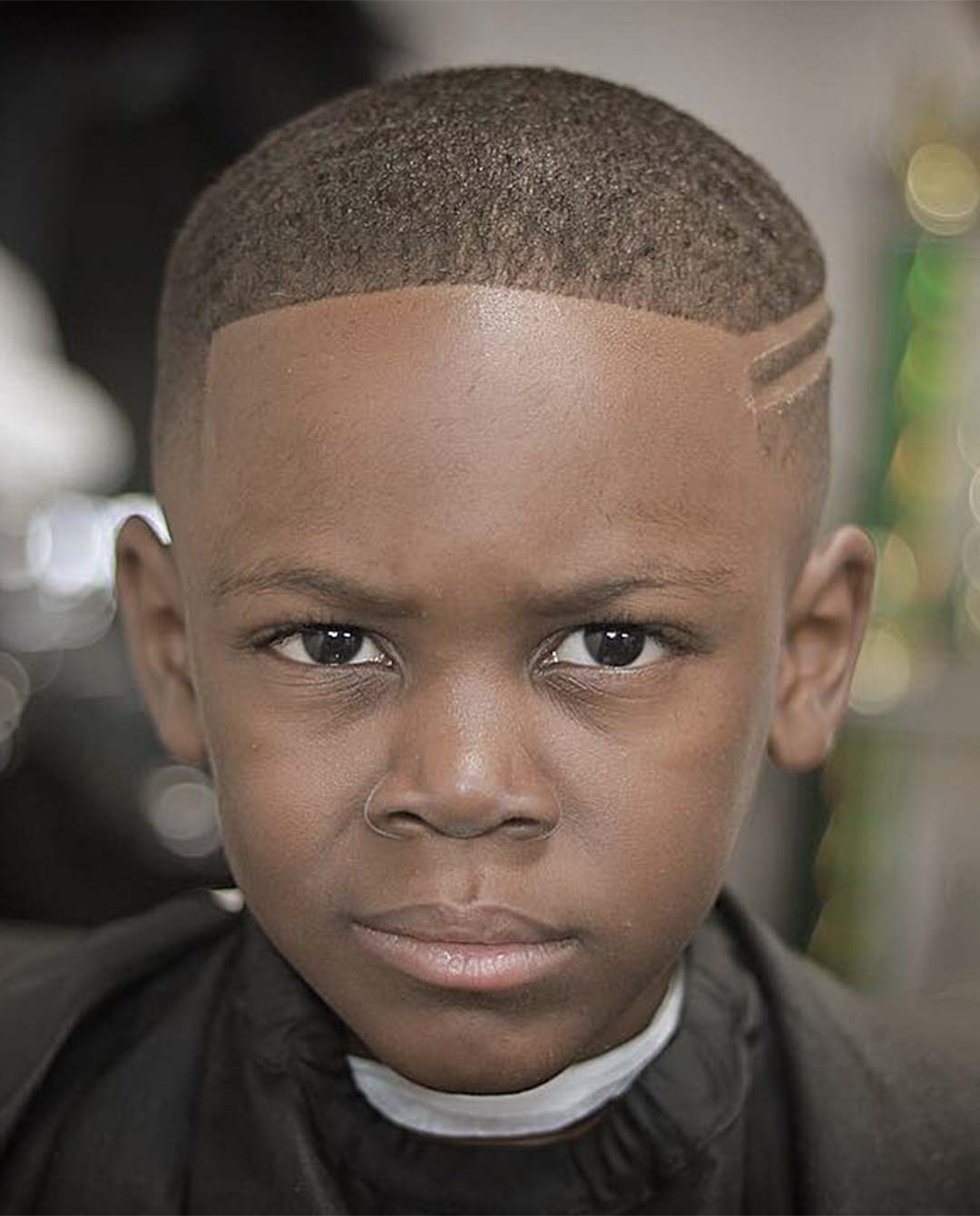 Mohawk Fade for Black Boy
The mohawk fade is great for thick, dark hair, and requires no styling products. This low-profile, bold look can bring out your sharp features and create a sexy look. If you want a super-short mohawk, you can use styling gel to create a spiky look.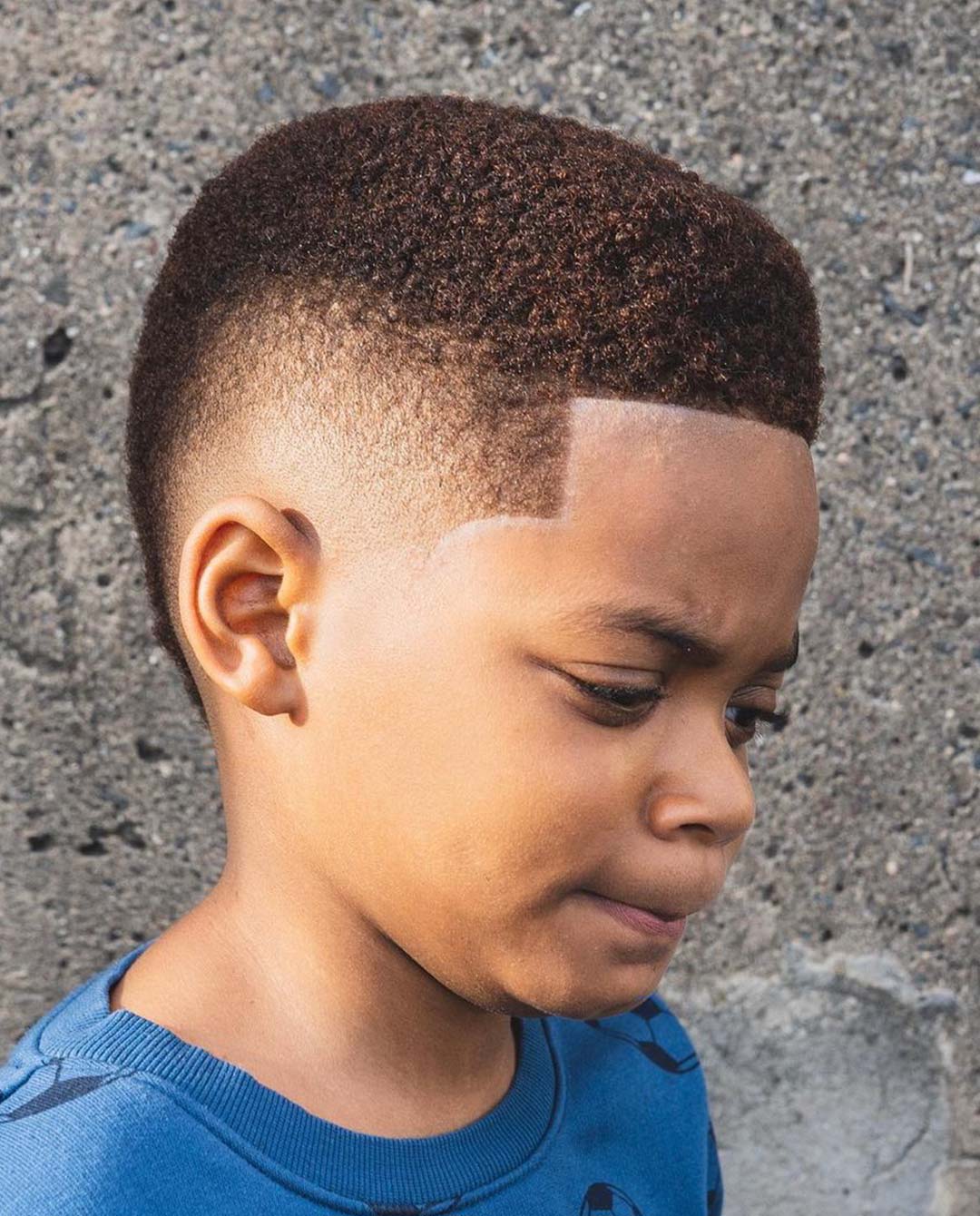 Long and High kinky haircut
A kinky cut is perfect for boys with thick curls that are hard to style. You can wear this style in a high bun or side braided to give it a playful look. It's easy to style, and you can switch up the hairstyle for different occasions.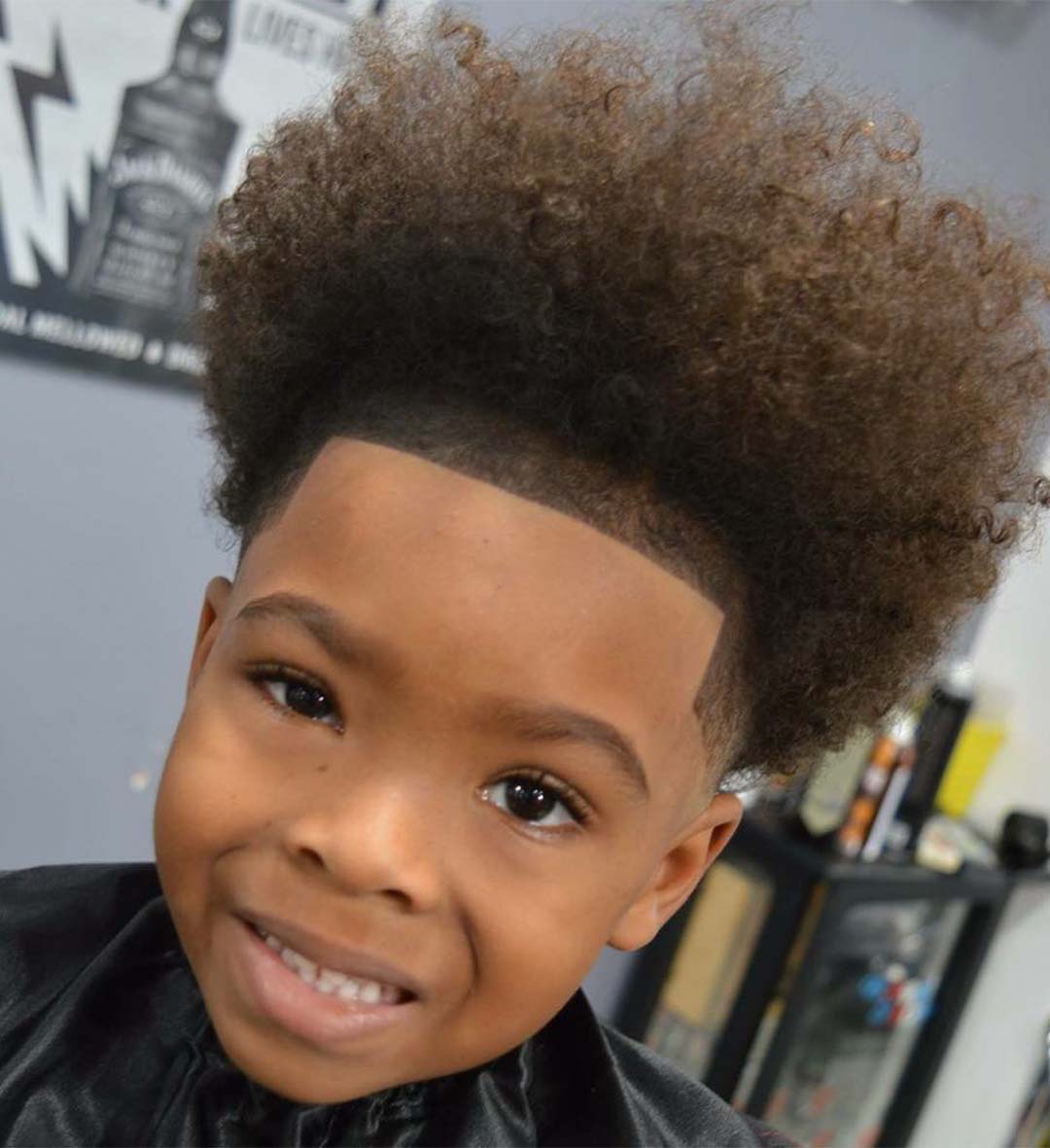 Black boy's Buzz Cut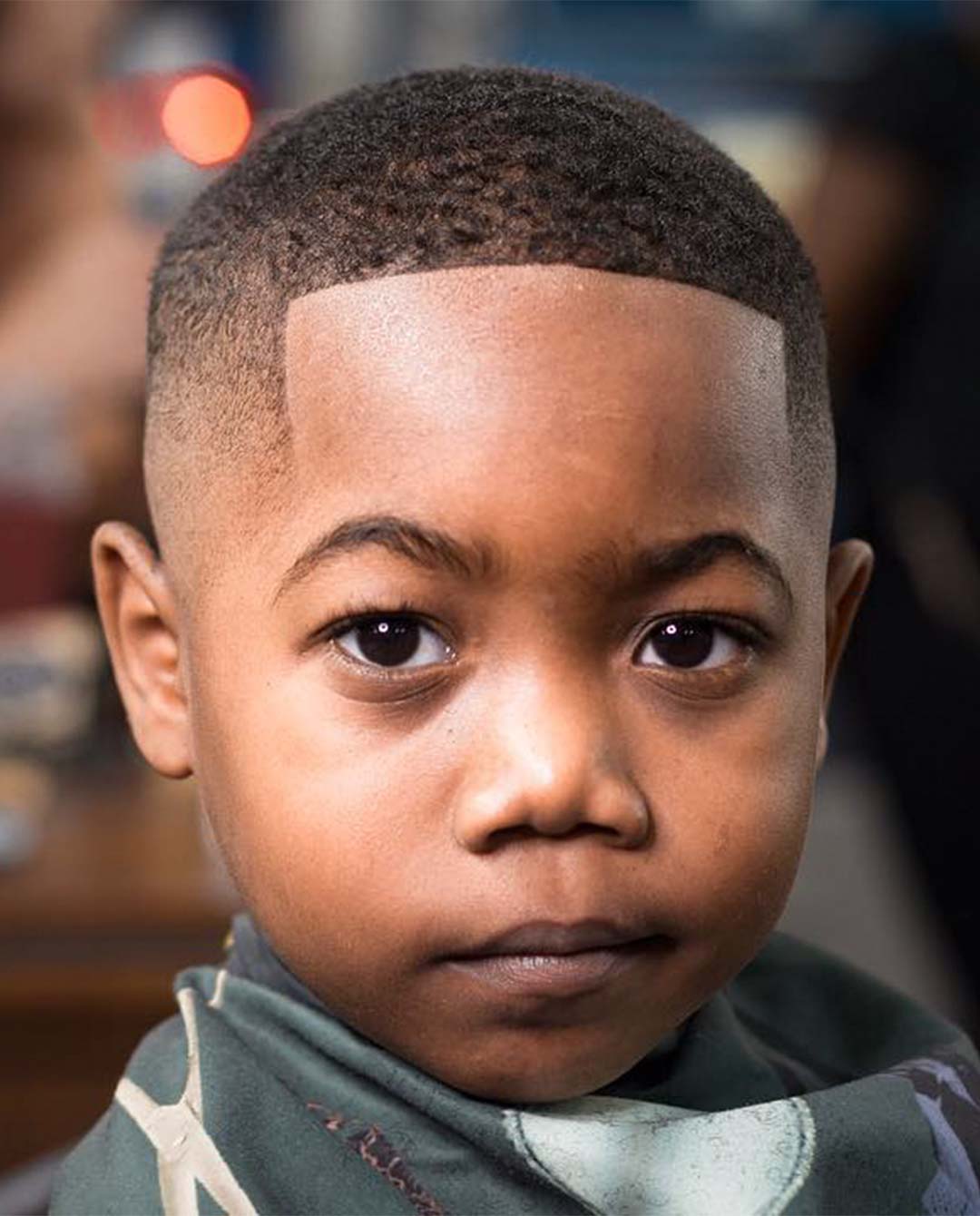 Caesar with Mid Fade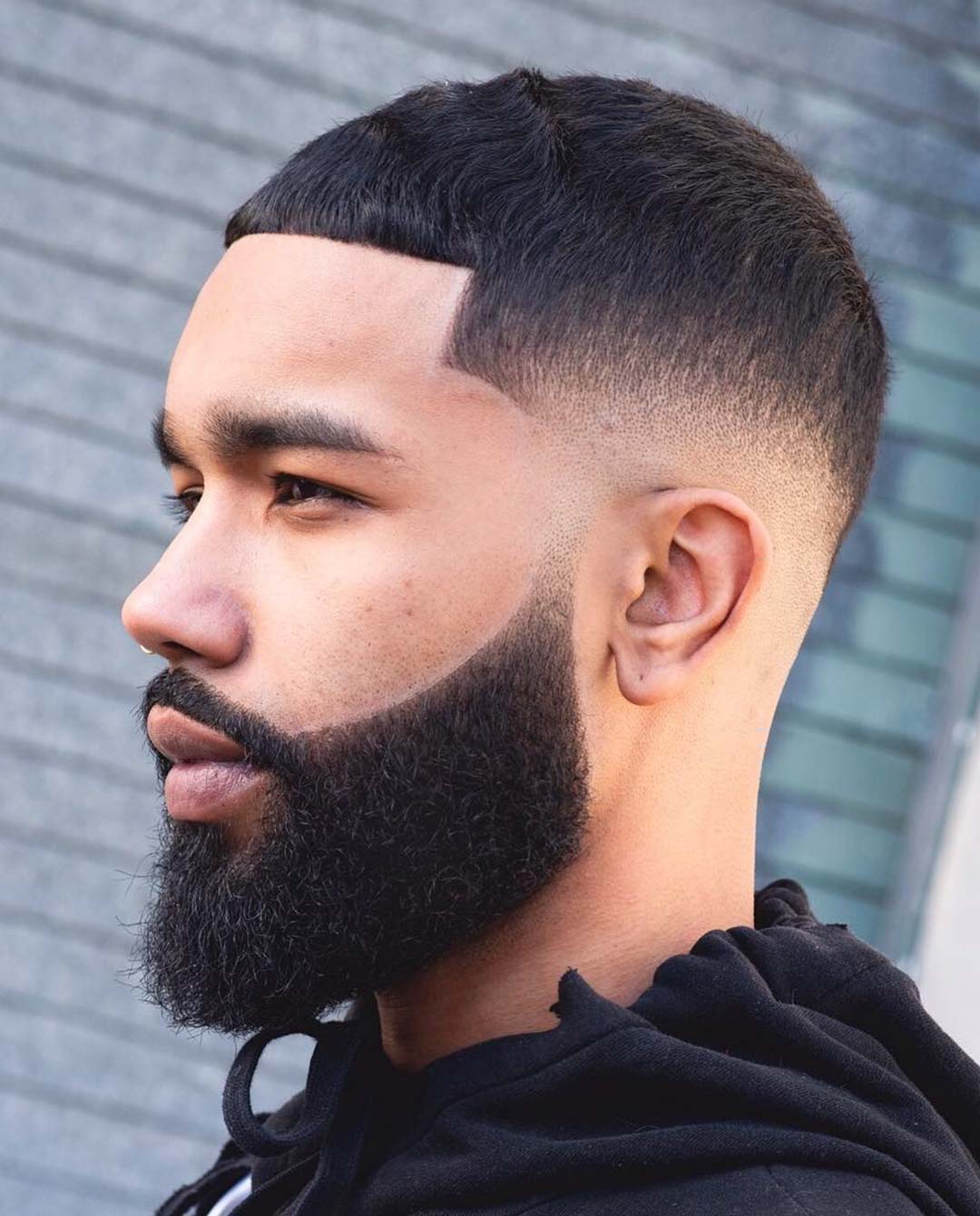 Clean High Top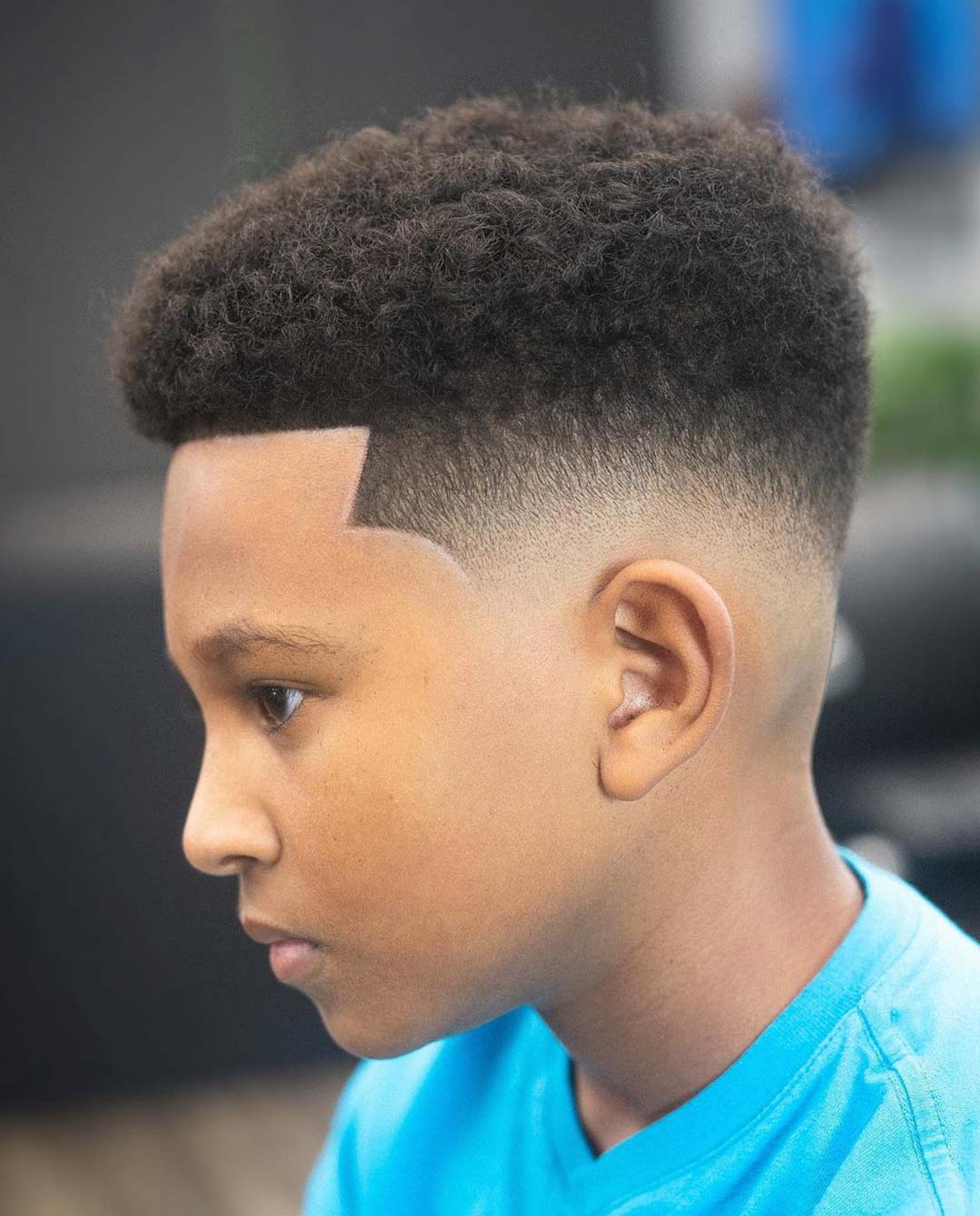 Cornrow with Temple Fade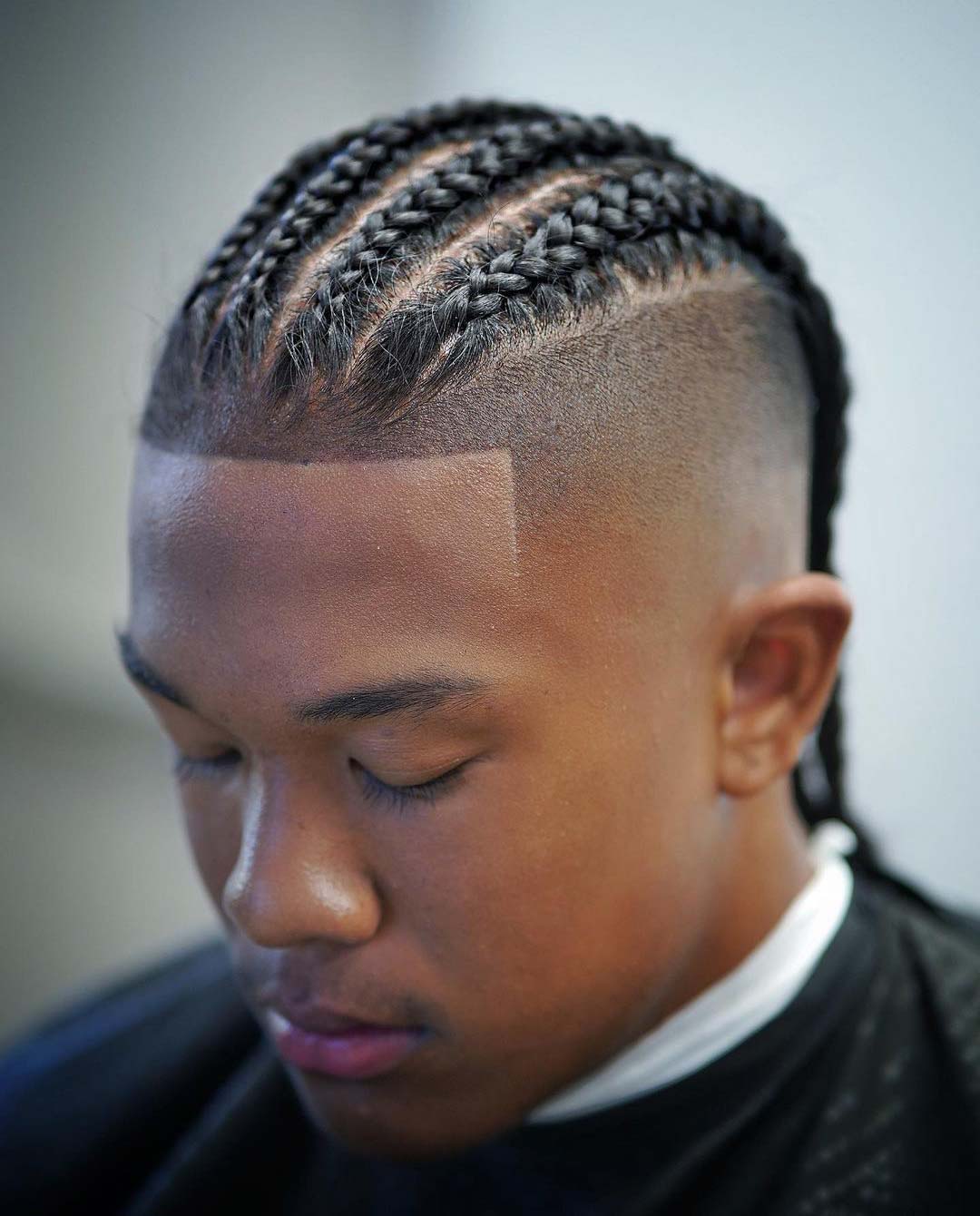 Cropped Buzz for Black Boy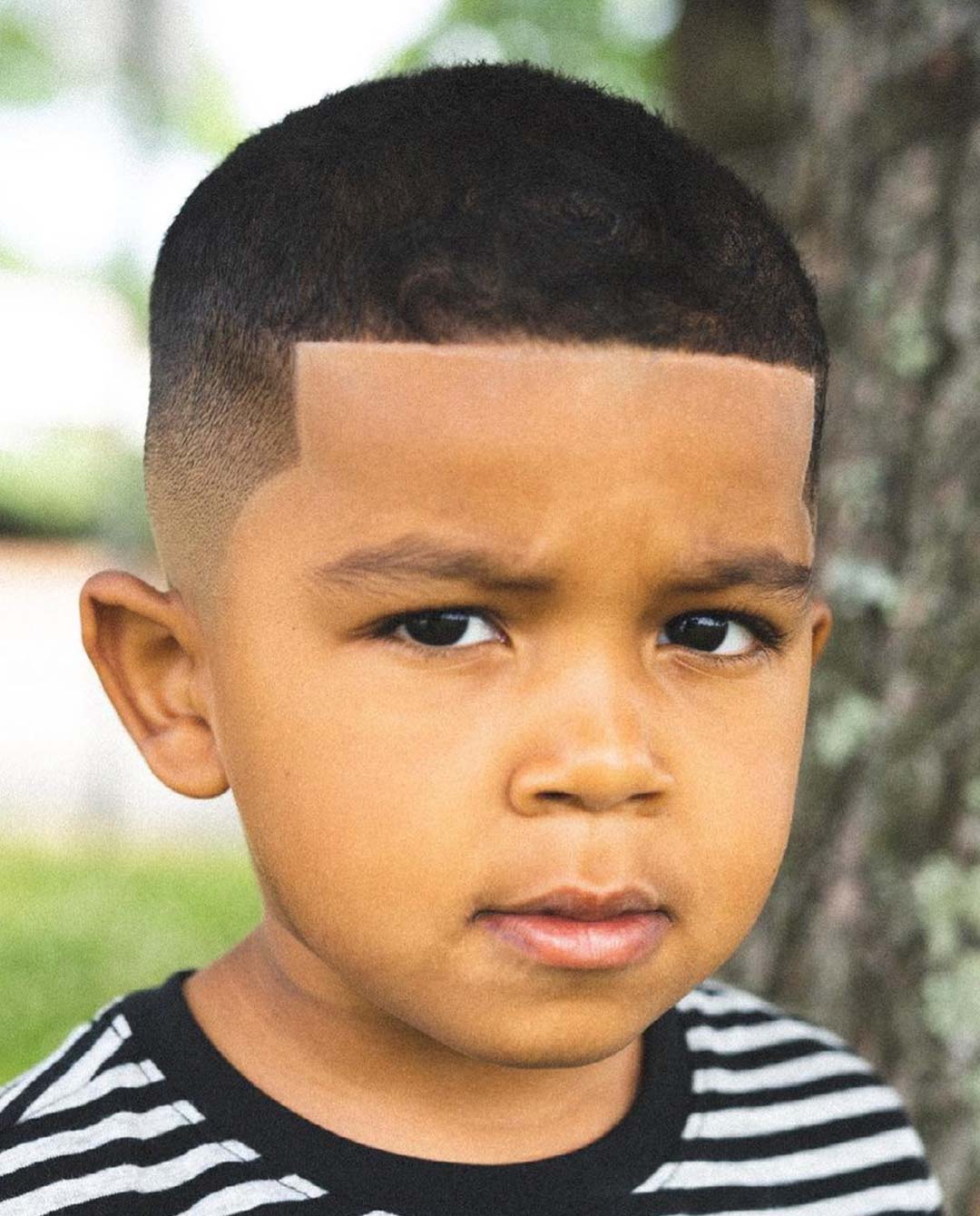 Dyed High Top with Taper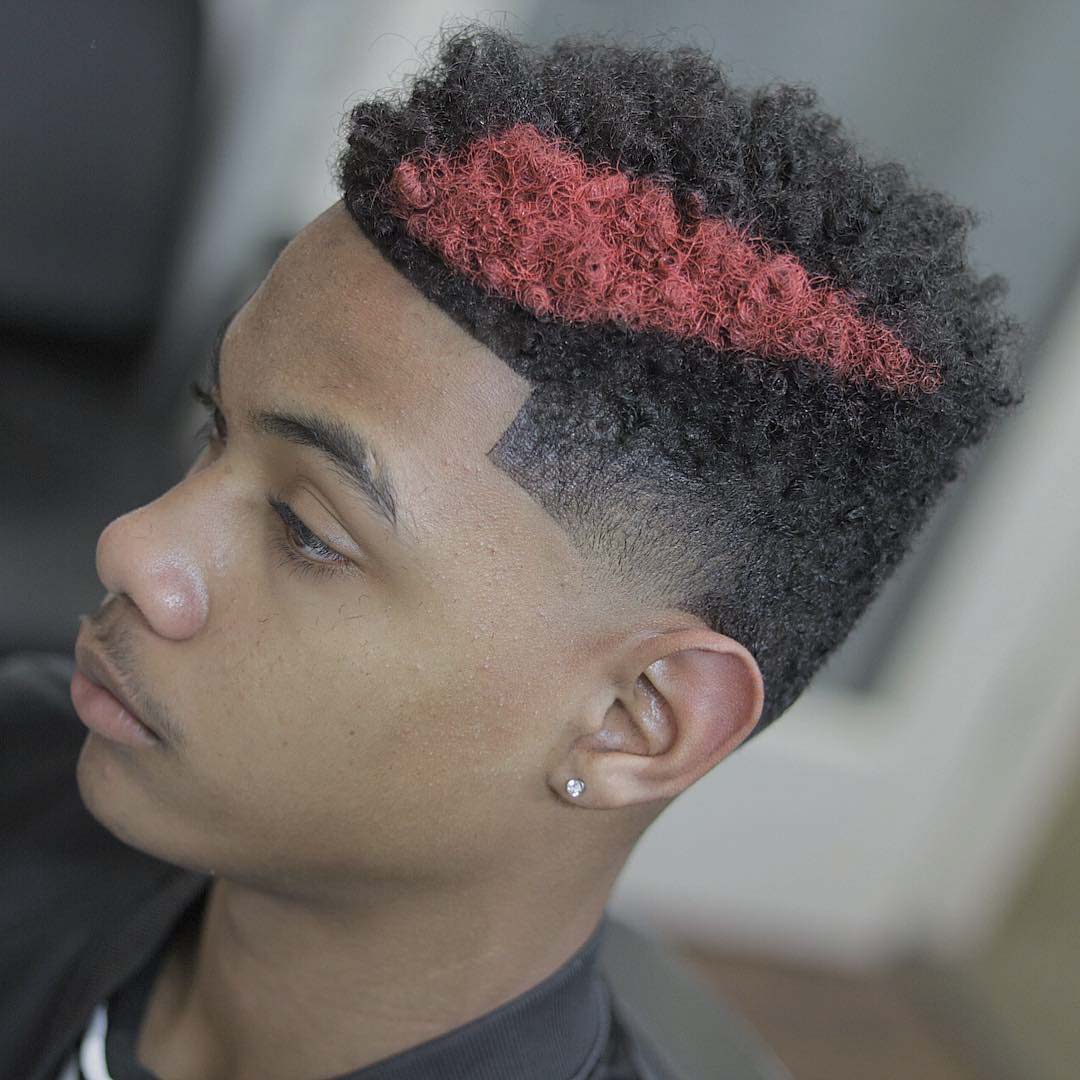 Full Waves for Black Boy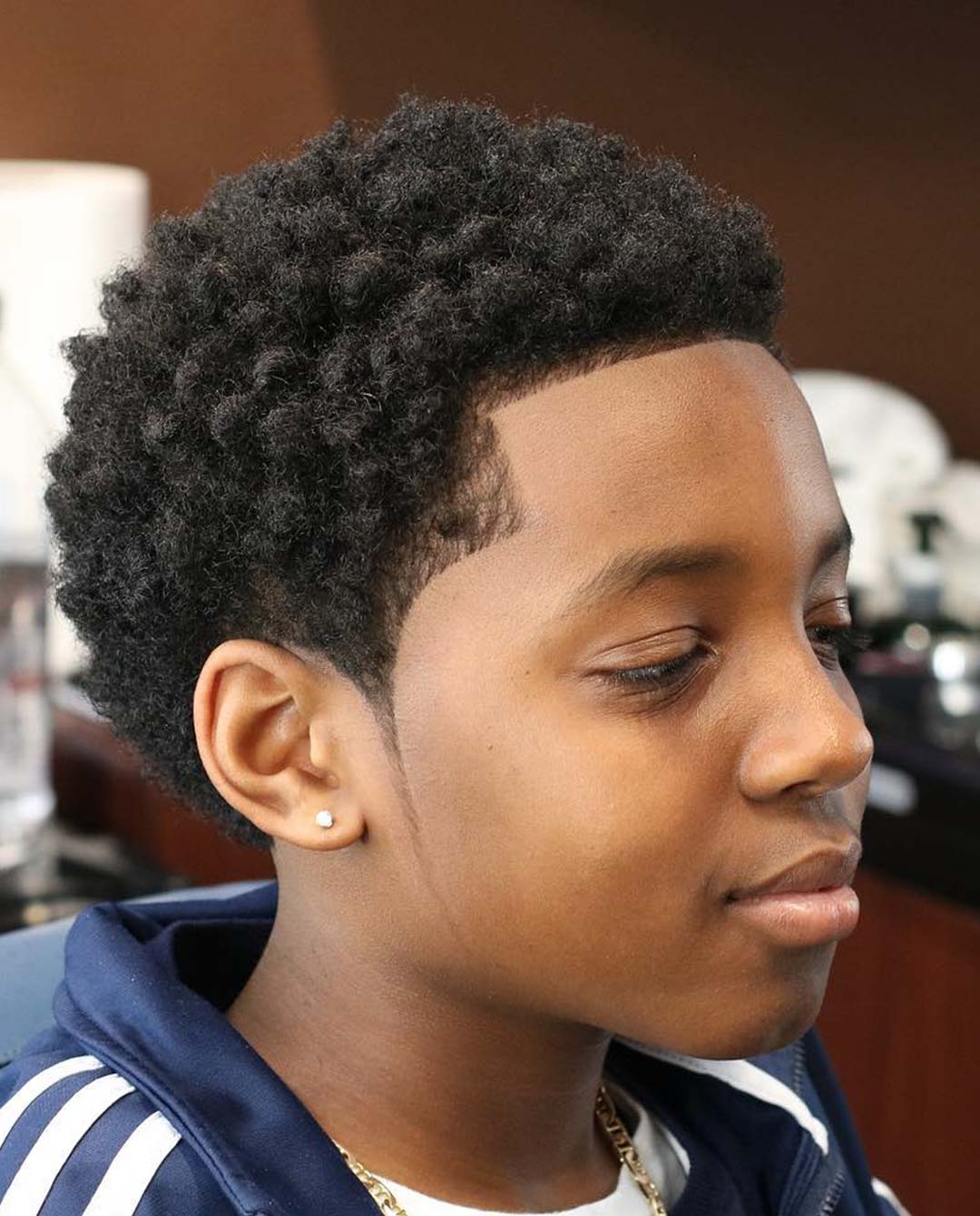 Mohawk + Cardio Line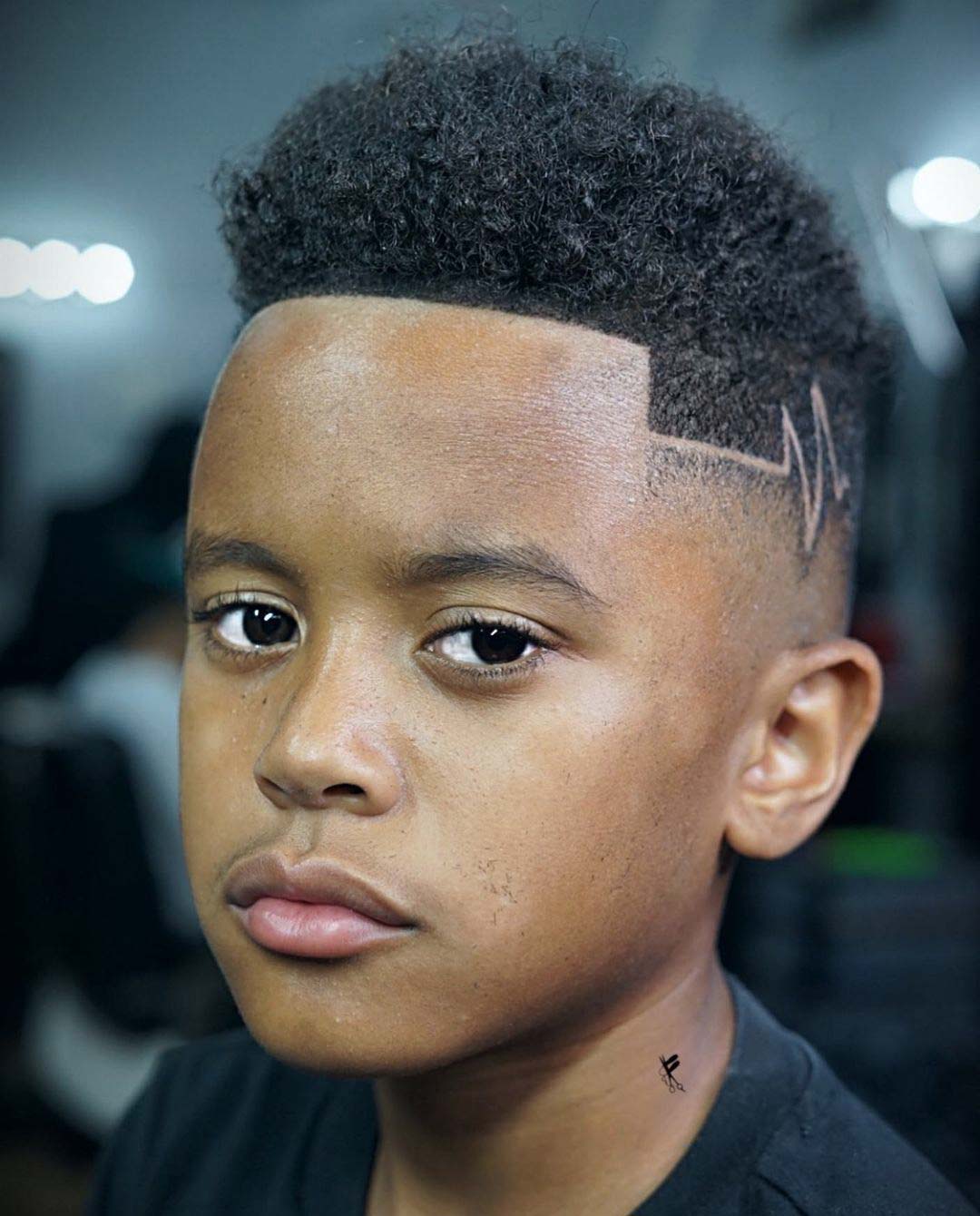 Short Waves with Claw Design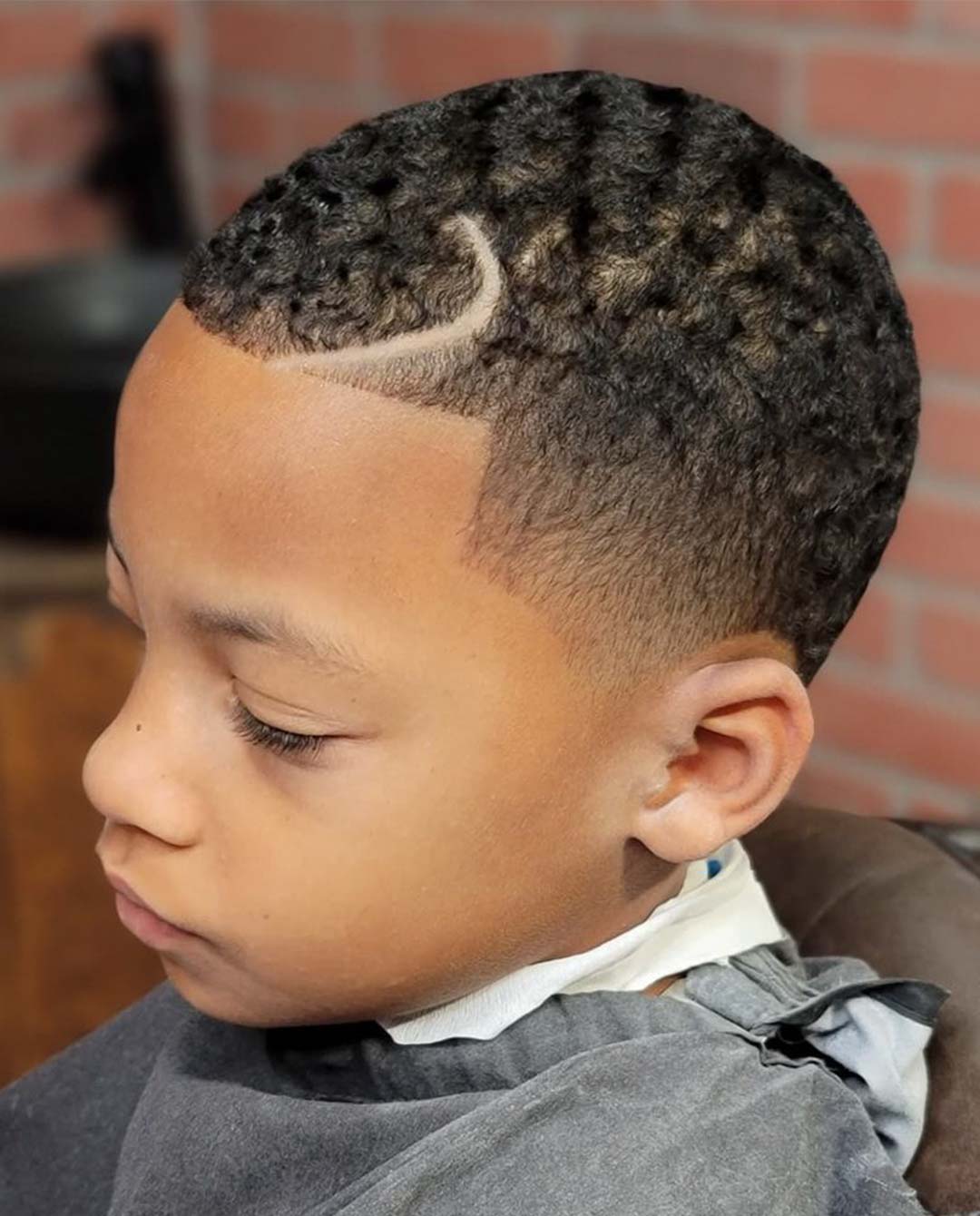 Skin Fade and High Top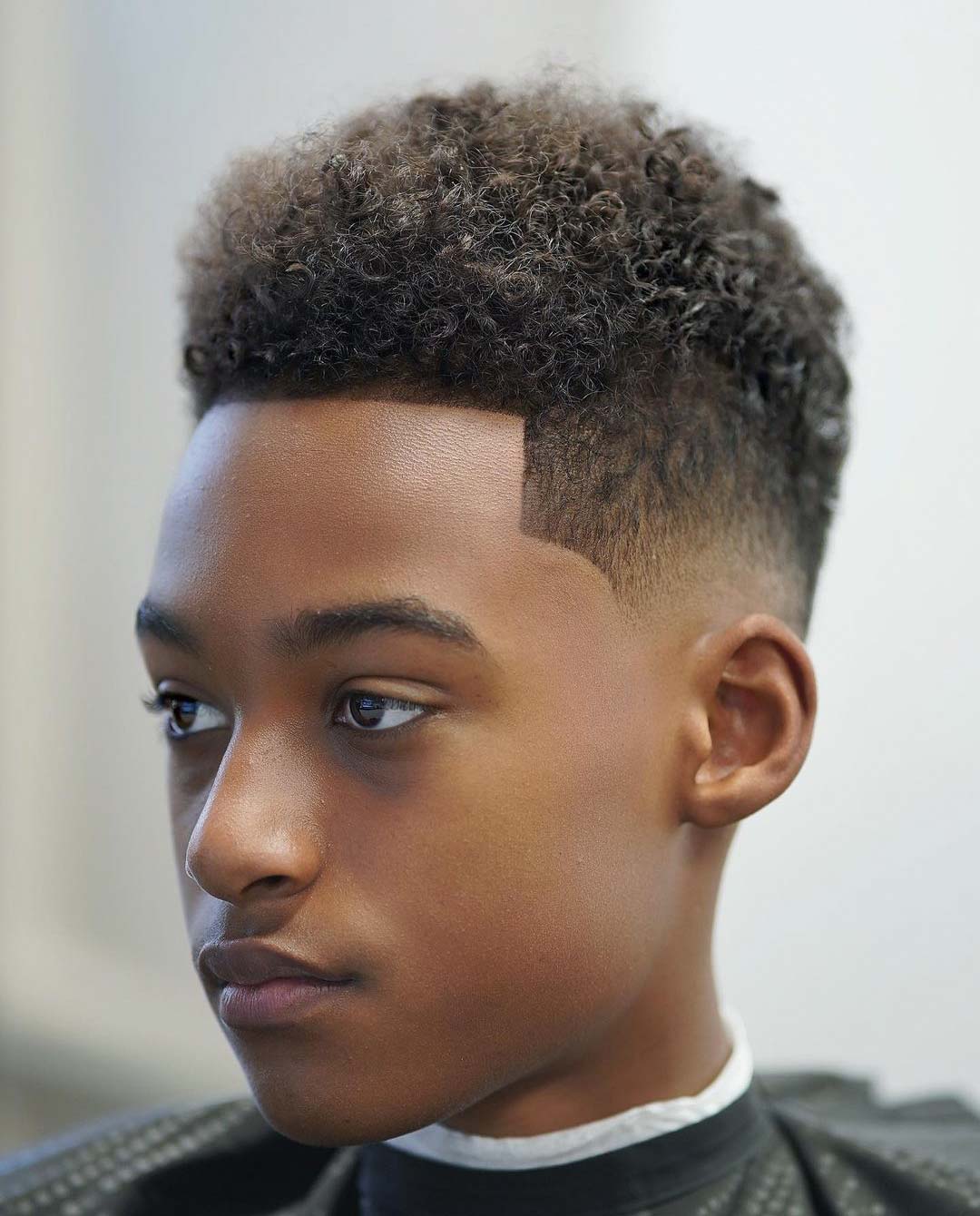 Widow's Peak with Deep Line