A flat top haircut has achieved some popularity in recent years due to its striking shape. This style is ideal for people who want to make a statement and are willing to keep their hair expertly groomed.
What Is a Flat Top and How Style It?
The most recognizable element of the flat top haircut is the structure that gives this style its name. The closely shaven hair on the sides of the head tapers up into a longer top. At the top of the head, a dense mass of hair levels out into a block or square shape that stands straight up. The actual flat top can be anywhere from one to several inches long. The potential height of this style often depends on the texture and length of the hair and its ability to keep such a structured shape.
Finally, the ideal flat top should be cut and trimmed regularly to retain sharp edges and the dramatic height. While it does require some daily styling, a flat top haircut makes a strong statement.
The Photo Gallery Of Men's Flat Top Haircut
#1 Flat Top Haircut with Razor Line
Are you are ready for a flat top haircut that is iconic and modern? Why not try one with a clean shave and lineup. This cut will give you a boyish look and is a statement-making style that can be achieved with just a few scissors moves. Perfect for men with natural afro hair, this haircut requires little maintenance. However, you will need to visit the barbers often to keep you clean-cut look clean.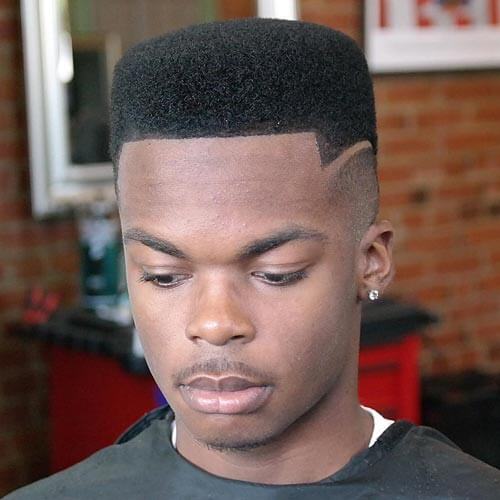 #2 Faded Flat Top
The haircut is a classic with black men because black hair has the perfect texture to hold this style's shape. This particular style features faded sides and a dense, neatly trimmed top. Additionally, all edges are kept sharp and fresh, including the hairline at the temples and across the forehead.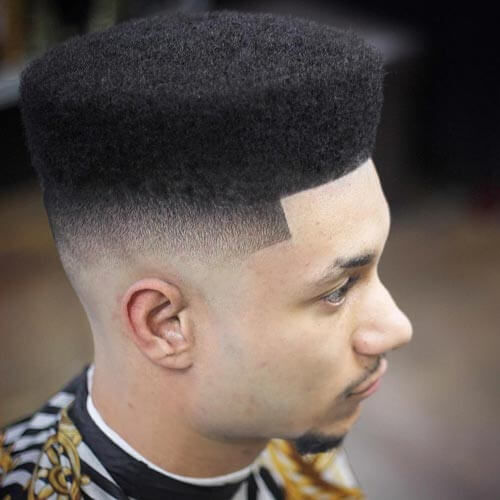 #3 High Flat Top Haircut
This haircut is a high top and flat top combined to create an amazing work of art. Using black hair to create a striking flat top haircut is much easier than with white hair, thanks to the natural texture of black hair. This carved up is not a good choice for maintenance-haters. It will require frequent touchups and you may need to have a comb handy.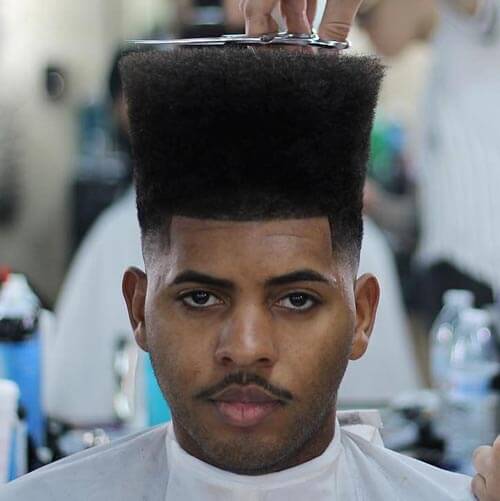 #4 Neat Flat Top with Temple Fade
This style features faded sides and longer hair on top cut straight across at one length. Maximum height is achieved by combing the longer hair straight up with styling product. Also, this style works best with thick, straight hair that will stay in place.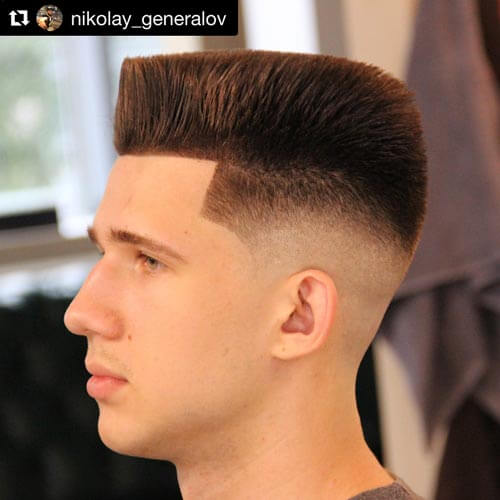 #5 Texture with Taper Fade
You can add some texture to a classic flat top and you'll get a hairstyle worth an award. This Haircut is easy to style but needs some hair product to keep it intact. The hair has some grey highlights that make it look distinguished and the sides and back have a taper fade.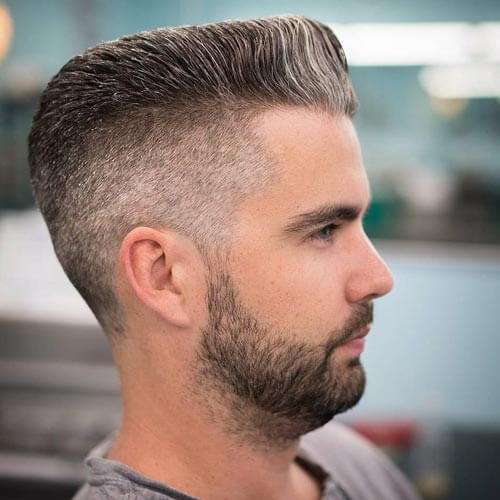 #6 Pompadour Flat Top
Combining the classic pompadour with a flat top haircut, this style features tightly tapered sides and a longer top styled away from the forehead. Combing the hair backward softens the otherwise hard lines of the haircut and adds a modern touch.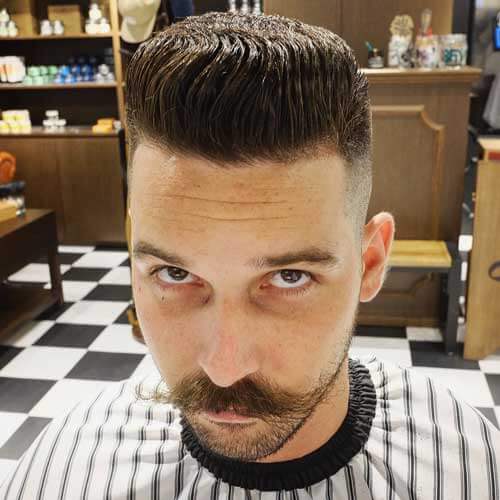 #7 Layered Mullet
This is an unusual hairstyle and yet, it will be perfect for some men. If you still want to keep your hair long at the back and flaunt the latest men's hairstyle, then this is the ideal mullet haircut for you. This layered style starts from the front and progresses in length all the way to the back. The top part is styled to be an exact square but the back hair is freestyled and can be held in a ponytail or simply let down.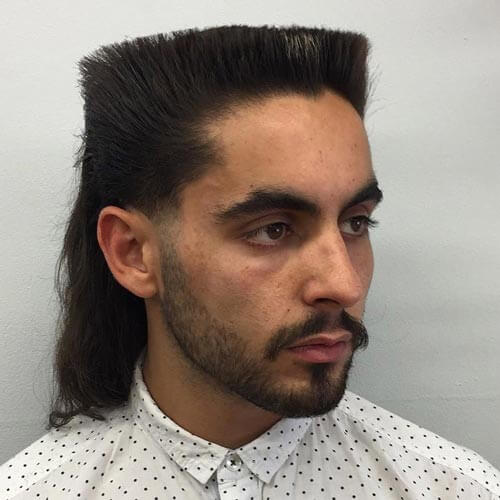 #8 Firm Flat Top
This style is great for people who want a no-nonsense look that requires less maintenance than a long flat top. Featuring short sides and short, blunt-cut hair on top, this haircut delivers on style while retaining casual appeal.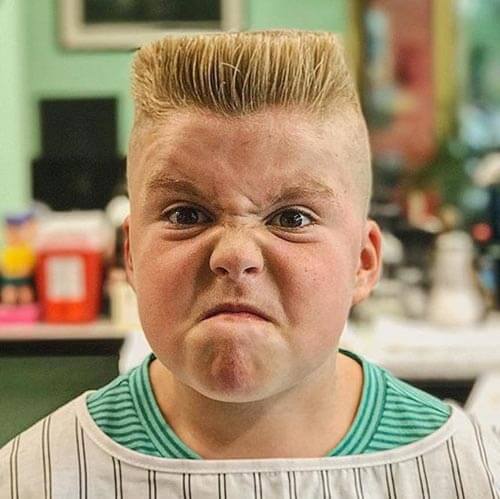 #9 Afro with Mid Bald Fade
Flat top haircuts are ideal for taming afro-curly hair. This hairstyle is cut to a medium taper fade on the sides and back, while the flat top is cut into a high top. To make this haircut look more stylish, the barber created an impressive lineup in front. Afro hair is naturally curly and to maintain this look you will need any hair product that will keep the hair tangle free. Apply the product to your hair, comb and then air dry.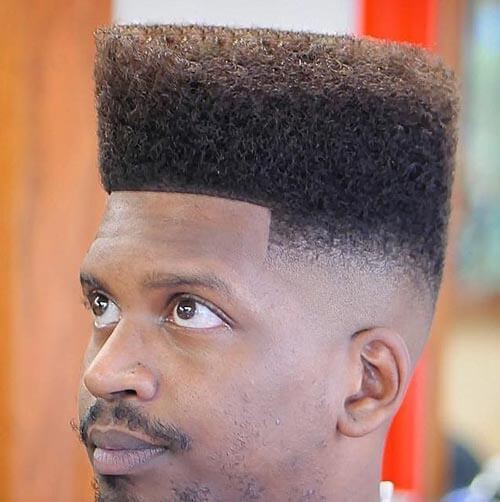 #10 Modern Flat Top Haircut
For those who want a show-stopping style, look no further than this flat top. This style features structured hair on top and a part shaved into the hairline. All edges are sharp and defined. Because of the precise geometry involved in this style, frequent maintenance is required.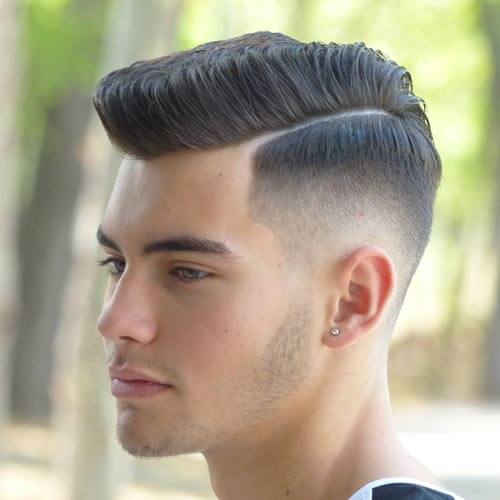 #11 Flat Top with Temple Fade
This flat top haircut is perfect for men with thick hair. It is cut to approximately 1–2 inches short so it is not too high. Perfect for any occasion— formal or informal— and requires no maintenance. All your barber needs to do is give the hair a box shape to get your existing haircut to look like this one. The style is modern and comes with a high bald fade at the sides and back.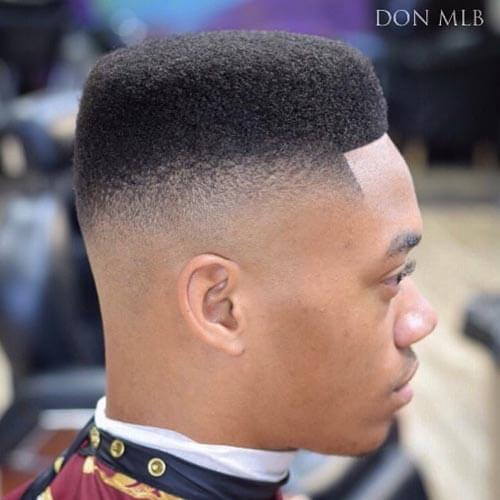 #12 Angled Top with Undercut
This style offers simplicity and contrast between long and short. Shaved sides transition abruptly into a longer top that is cut all one length. Blunt and simple, this cut is especially good for children since it is easy to maintain and cut.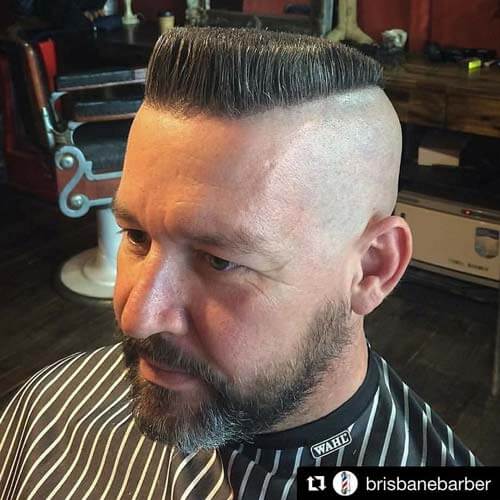 #13 Short Pomp and Fade
This hairstyle will be appreciated by men with thinning hair and receding hairlines. It is a modern version of the flat top and looks like a short mohawk, styled into a flat top without a mohawk extension at the back. If you are tired of long hair, then this hairstyle will be ideal for you! It doesn't look like the classic haircut but is easy to maintain and is a great choice for active men who want a short haircut.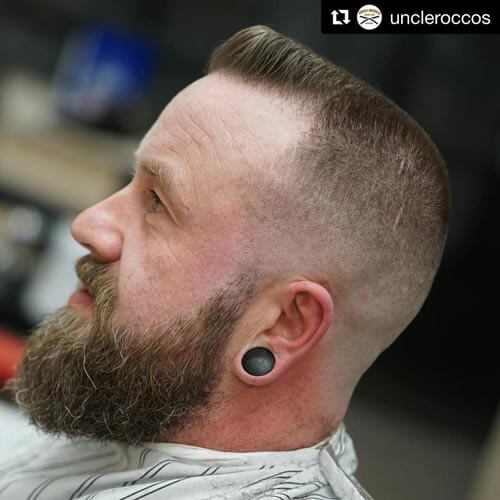 #14 Tapered Flat Top Haircut
This taper cut with afro hair makes a wonderful hairstyle for men with all types of African hair. Men with thin curls will especially love this look since the hairstyle will make their hair appear voluminous. If you have curly short hair, it can be hard to create a flat top. But, you can give it a go by keeping your curls just long enough to pull it off.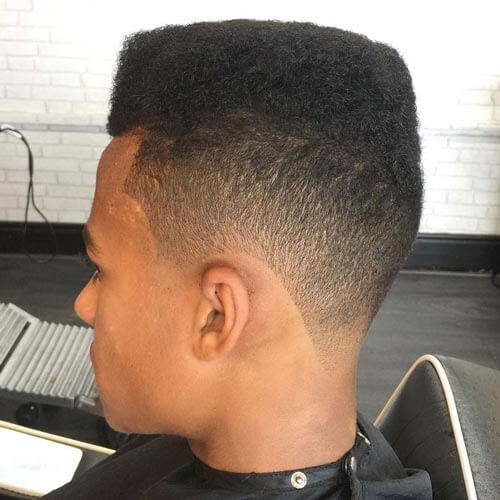 #15 Flat Top with Skin Cut
Another modern approach to the flat top haircut is one with a skin cut. In the picture, you'll see that the flat top stands alone in the middle of the head and the back and side are completely cut down to the skin. This haircut looks like a monument and is cut from low to high starting at the crown. The sides are shaved to create the appearance of an undercut; but not quite. Maintenance is simple— with a dollop of hair gel, you can keep the hair on top looking stiff. That's all you really need to do!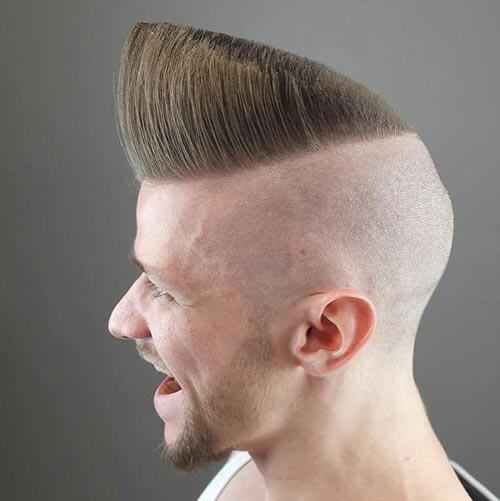 #16 Suave Comb Over
This side part flat top offers both simplicity and sophistication. The haircut keeps the style simple and structured, but the side part adds a little formal flair. Combing hair to the side and taming it with product lends elegance to this look.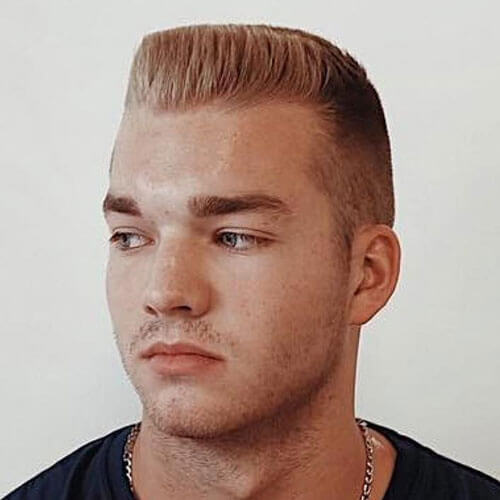 #17 Casual Flat Top
This flat top haircut features a razor cut that tapers all the way from the front to the back. You can add an extra twist by shaving the sides down to a low fade or creating a skin fade. But this hairstyle is cut exquisitely with a razor, which gives it an edgy look. This is an easy to maintain hairstyle, as no hair product is required, just simply brush and you're ready to go.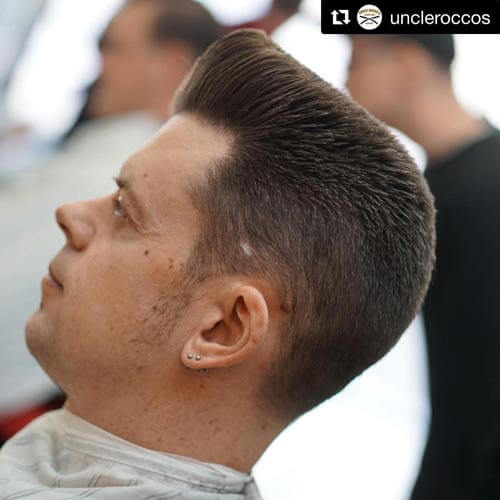 #18 Wedge Mohawk
For people who want to make a statement, this style is for you. The short, blunt wedge shape of the hair on top stands out and can keep thin or fine hair from wilting when styled. Keeping the rest of the head shaved is a must for those who wish to maintain the drama of this look.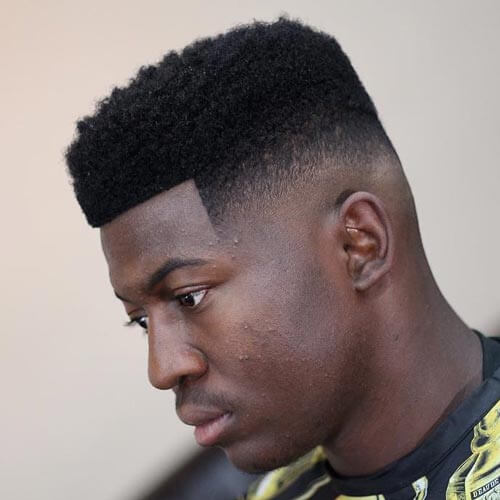 #19 Medium Solid Flat Top
A spiky haircut is great for men with thick and straight hair. This spiky flat top is about 1 – 2 inches long so it can stand up straight on its own. All you need to do is add some light hold product to keep it upright. This hairstyle is perfect for all types of men and can be styled to create a flat top without any extra effort. If you are bored of managing long hair, then give this one a try!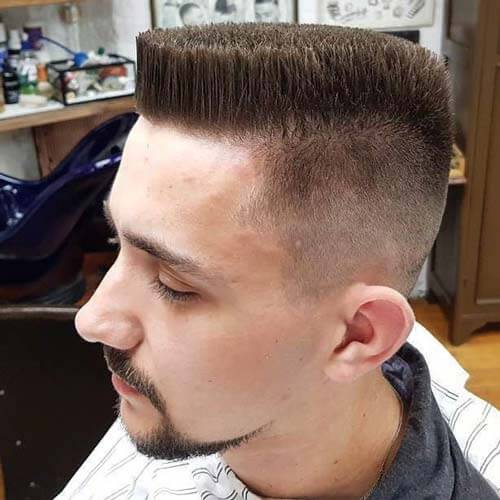 #20 Quiff and Flat Top Haircut
The classic quiff is given a new twist in this flat top hairstyle. This modernized haircut involves tapered sides and the front hair is combed into a quiff. To get this look, consider leaving the hair on the sides and back at least a half inch long. When styling the top part, comb it into a quiff, spike it up or even try a comb-over. Whatever way you comb the top hair, use some hair product to hold it in place.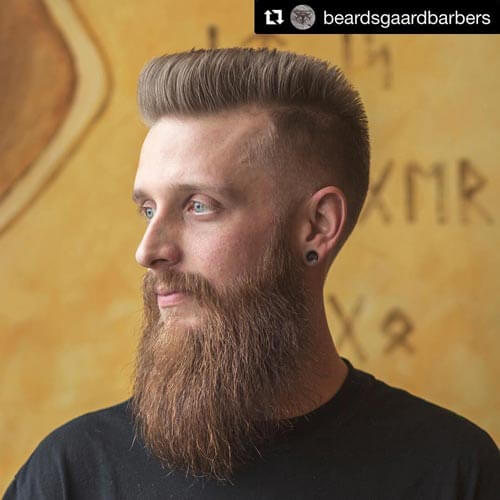 #21 Flat with Burst Fade
You can turn practically any hairstyle into a flat top haircut by creating different effects on the sides and back. All you need is some patience and the desire to create a modern haircut that will suit your needs. This particular hairstyle almost has a military look because the crown and sides are a buzz cut. The transition to a burst fade around the ears gives this haircut its unique character. Consider creating different styles with your top hair if you are not afraid of styling it every morning.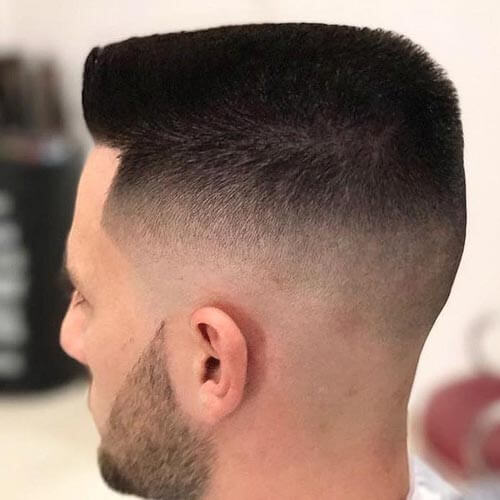 #22 Beveled Temple Fade
This style is recommended for black men only, as their hair is ideal for keeping this style's unique shape. This style features a low fade that reaches amazing heights. The flat top itself angles out into a cone shape that mimics a crown. Simple yet distinctive, this style is great for men who want to make a statement.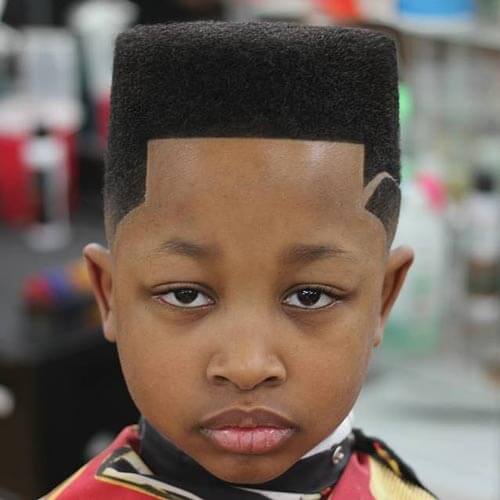 #23 Flat top and Beard
The flat top and beard are two favorites that are never going out of fashion. In the picture, the model is wearing short hair on top, which is brushed back on the sides to create a curvy look. The top hair is short enough to stand up on its own, reducing the time spent on maintenance. No need for hair products, simply brush and go!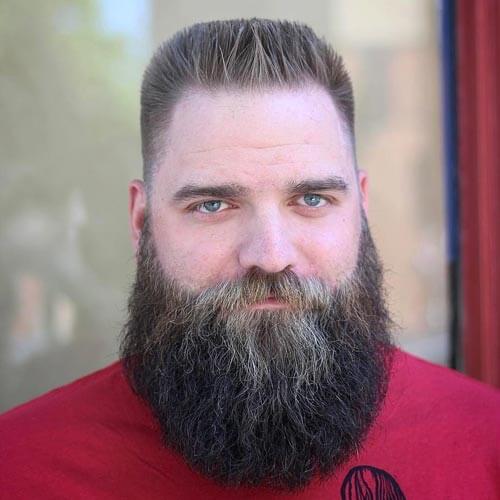 #24 Afro Flat Prime
While this style has all the hallmarks of a traditional flat top, it features a less razor-sharp edge to the top of the hair. Curls are allowed to add texture to the top of the style. Great for black men, this haircut does not require as much maintenance due to its more natural top.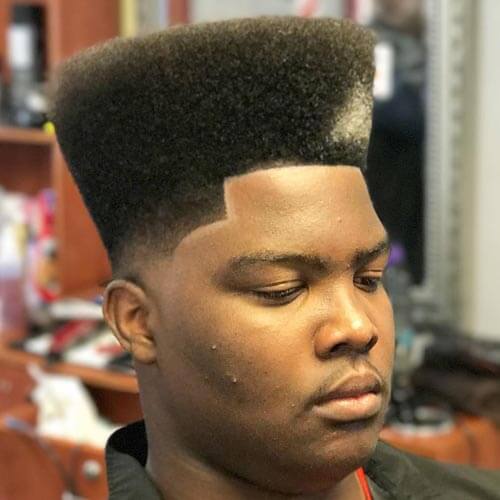 #25 Highlighted Flat Top
The buzz cut is a beloved hairstyle and an excellent choice for men who don't like high-maintenance haircuts. This style is slightly different from your regular buzz because it is a little longer in front than the rest of the hair. The top has been cut into a flat top, which gives the buzz a new twist. There is so much you can do with the front hair, so if you are looking for versatility and an easy to manage hairstyle, this is the right choice.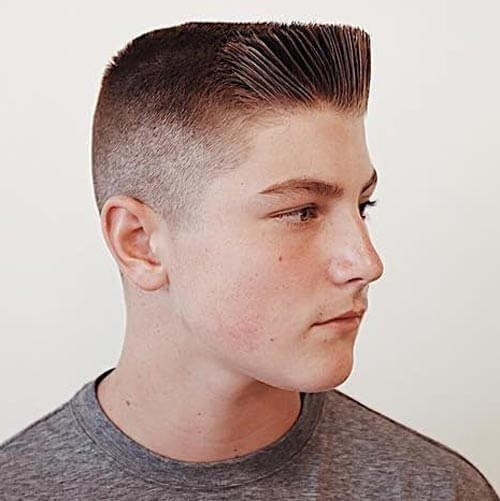 #26 Dramatic Angled
Probably the most striking and daring hairstyle on this list, this flat top haircut is not for the faint of heart. The cut features a close and high taper on the sides. The hair on top is severely angled, with longer hair appearing at the front of the head. Due to the hair length required to achieve this look, much styling product is needed for daily styling.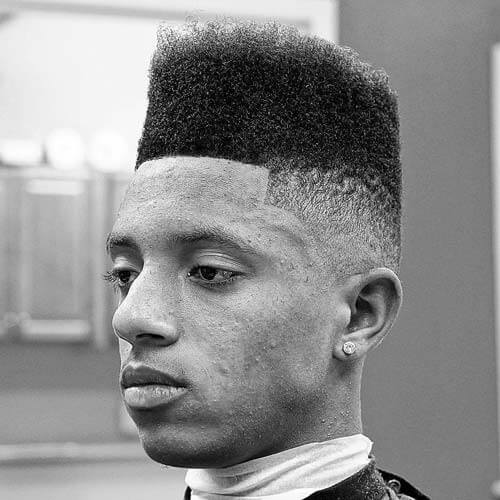 #27 Flat Top with Part
The iconic flat top haircut is given a slick look and part in this awesome version. You can create the normal square shape with medium length hair on top, or you could try a slick combover. Just apply some hair gel and create a combed over box look. With a signature leveled top, you'll get this style perfectly.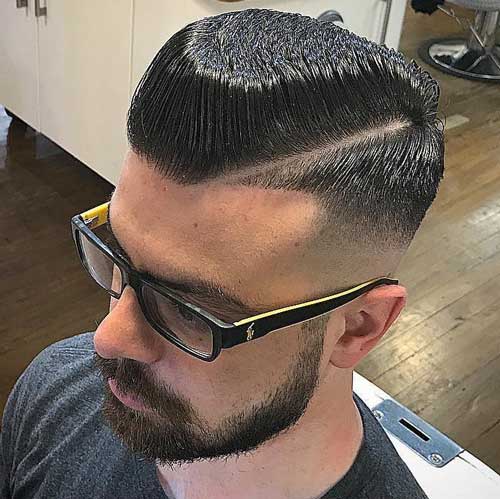 #28 Flat Top Haircut with Undercut
Cutting your back and sides into a skin fade will allow you to experiment with the top of your head. You can come up with interesting styles or create an impressive hairstyle. A trendy undercut can easily be converted into a flat top if you make the top a little shorter. This style is a great way to tame your long locks and appear modern at the same time. The only maintenance required is the top hair and this will do very well with a comb through.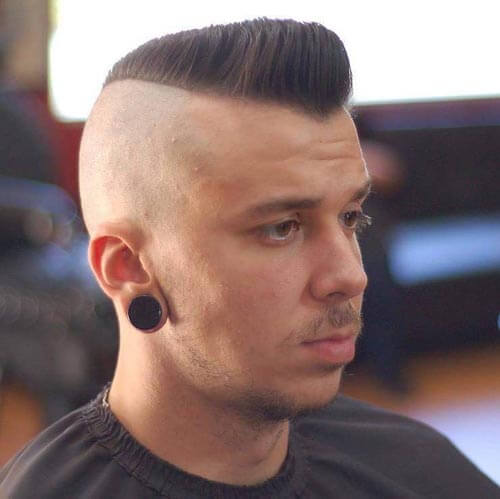 #29 Quiff with Fade
This medium fade and quiff hairstyle is a great way to show off your cut. Depending on the amount of hair product and imagination that you have, you can create a high or low flat top with just a bit of styling effort.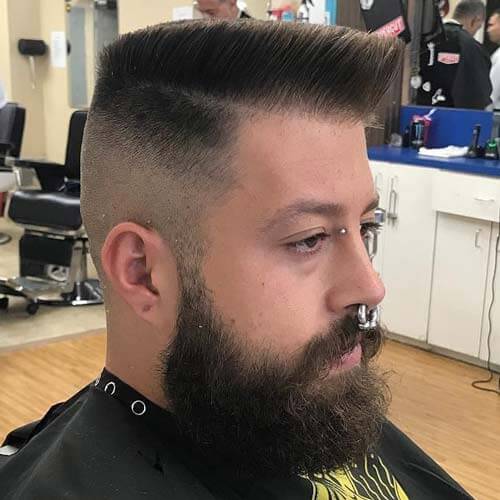 #30 High Front Punk
This flat top is all about height and style. Hair tapers on the sides to a tall column, and natural curls on top add verve and personality. Black hair is perfect for this style and will maintain the shape and cut for a while.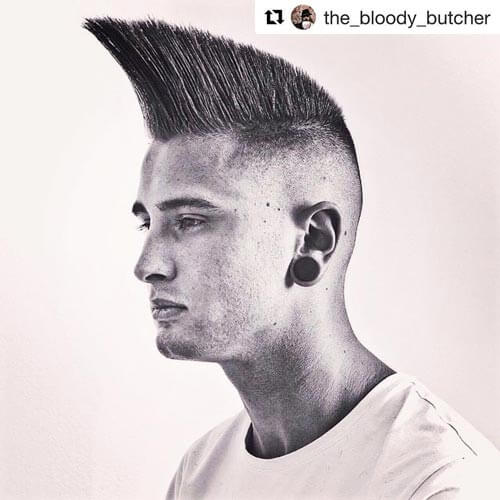 #31 Bowl Cut
This is a modern flat top variation. The sides and back are cut very low and the hair on top is very flat. If viewed from above, this haircut shows a bit of scalp in the middle "landing strip" and looks like a horseshoe. This is one of the most complex types of flat tops and requires the expertise of a skilled barber who knows what to do. This hairstyle requires more frequent trips to the barbers to keep the shape intact.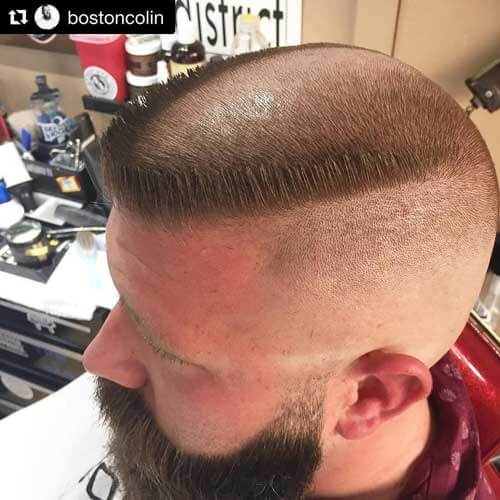 #32 Short Faux-Hawk
The high fade on the sides of the head suggests a faux hawk haircut, but the blunt trim on the top of the head makes this style a classic flat top. The sides are steeply cut and leave a strip of hair in the middle. For men who have thick, bristly hair and who like alternative styles, this cut is ideal.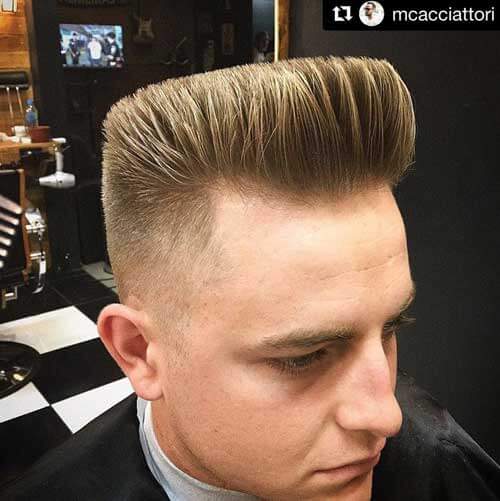 #33 Curly Flat Top
This is another good example of a classic flat top haircut for black men. The hair is high on top and makes use of the afro hair texture for structure. It is a striking hairstyle that can be created with designs. The low fade cut also pulls attention to the top of the hair.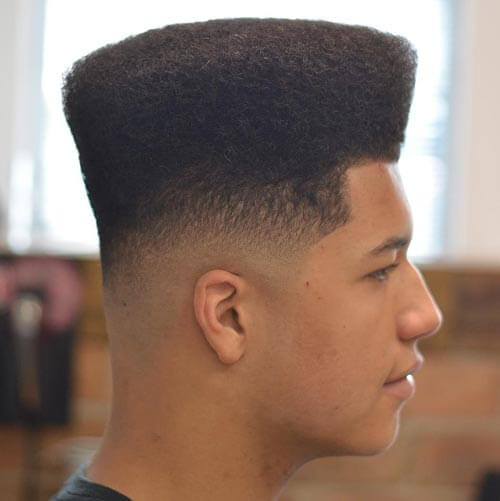 #34 Brushup Haircut with Low Fade
A contemporary short flat top looks like a military haircut. Most of the hair around the head is cut very low and only a bit is left on top. The top hair is squared to reduce any maintenance hassles and is combed up so that it resembles the bristles of a brush. The end result is a brush-up haircut that is common among Marines, Army Rangers, and athletes.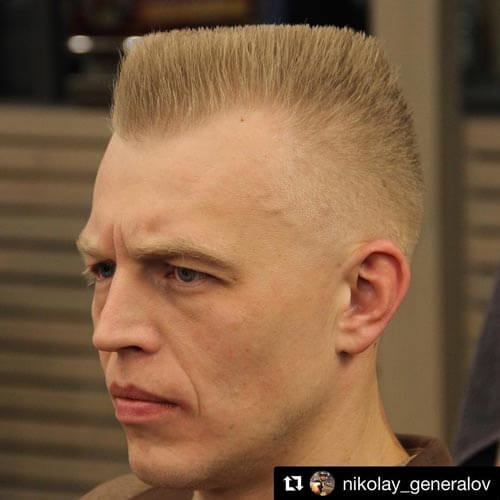 #35 Pompadour
This pompadour and taper fade haircut creates a stylish appearance and is a unique version of the regular flat top haircut. The hair on top is styled into a pomp, while the back part is cut in a high taper fade for a more modern appearance. This hairstyle has enough suave to make it an Ivy League haircut. Don't be afraid to cut the top into a box. This haircut is easy to maintain. Just add some hair product to keep the pomp intact.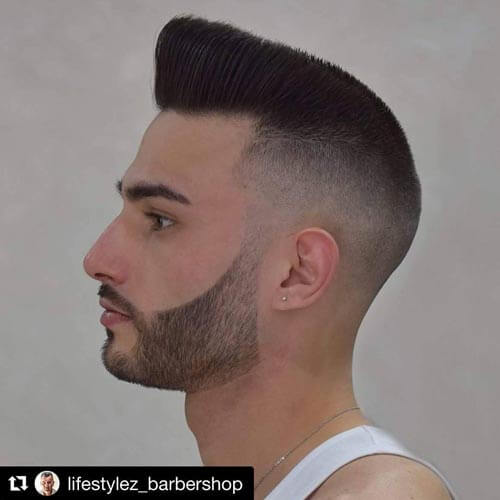 #36 Short Drop fade
The drop fade on the sides of the head suggests a Mohawk haircut, but the blunt trim on the top of the head makes this style a classic flat top. The sides are steeply cut and leave a strip of hair in the middle. For men who have thick, bristly hair and who like alternative styles, this cut is ideal.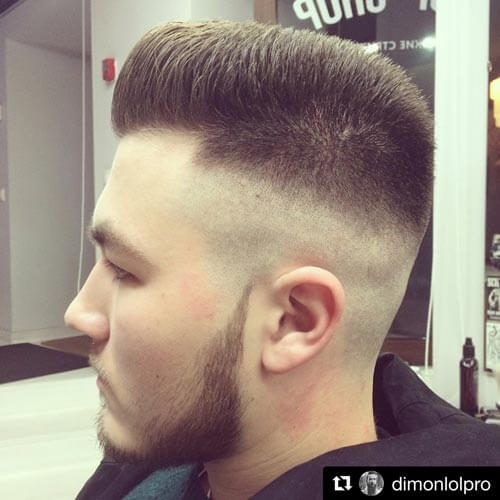 #37 High Skin Fade
One of the main contrasts between a modern flat top and a classic one is how the sides are cut. A modern style usually involves a high, medium or low fade. The Haircut features a high fade with textured mid-length hair on top. Great for any occasion, although you will need to apply some hair products to keep the hair looking dapper.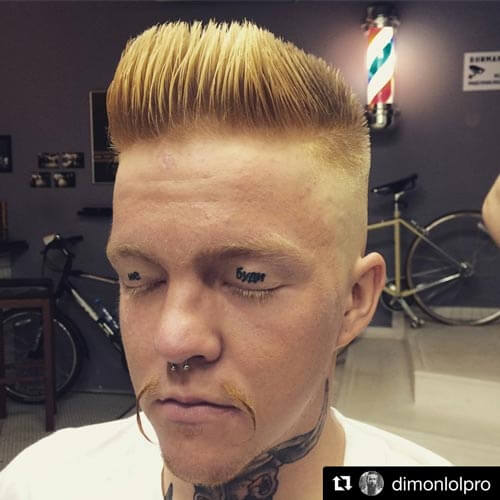 #38 Brushed Up Pompadour Haircut
The most popular variations of the hairstyle are those that venture out of the realm of flat tops, into other hairstyles… A taper fade and a pompadour are one of the daring combos that go well with a this haircut. The curviness of a pompadour is one of its unique qualities and makes it a good mix with the angles of a flat top.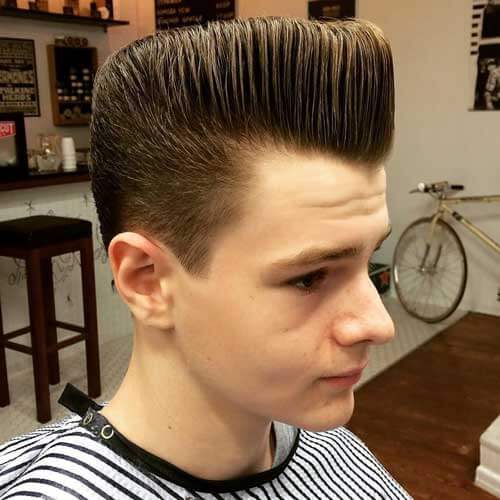 #39 High Textured
This is an extraordinary haircut that will make heads turn. It is very ostentatious and might not be best for formal events. The hair on top is long and brushed up straight and the texture gives it an appearance of volume. While the shape is not technically square, the top is flat. This flat top is a statement-maker no doubt!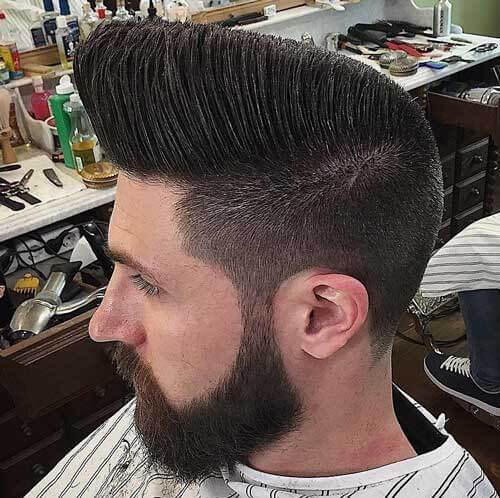 #40 Crossover Flat Top
Finally, this style combines a classic crew cut with the strong edges of a flat top. Longer hair near the front of the head can be combed back to add a professional touch to a style that can also go casual.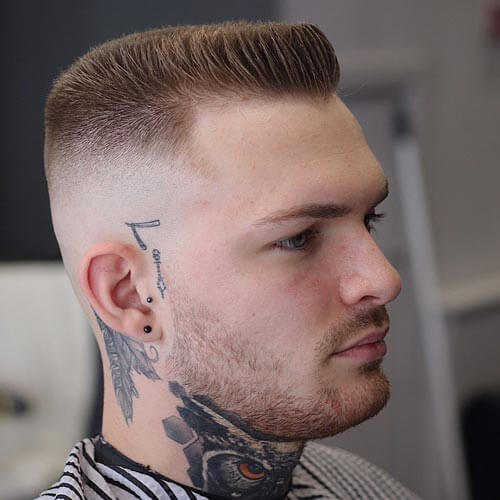 Conclusion
Now you have a good idea of the available flat top styles, you should be in a better position to decide which look is right for you. When you have decided on the best flat top haircut for you, the next step is to find the right stylist to bring it to real life. Hairstyling has become an art and you need to find the right artist to make your new look.