The Captain America haircut is one of the most popular hairstyles. The Marvel movies have dominated the box office during the past several years, and Captain America, played by Chris Evans, is one of the central characters. Chris Evans is from Boston, MA. He first garnered attention as the Human Torch in Fantastic Four, reprising its sequel role, which came out in 2007. Chris Evans is best-known for playing Captain America throughout the duration of the Marvel movie series; however, he has also appeared in various TV shows as well. He is currently playing Andy Barber in the TV show "Defending Jacob."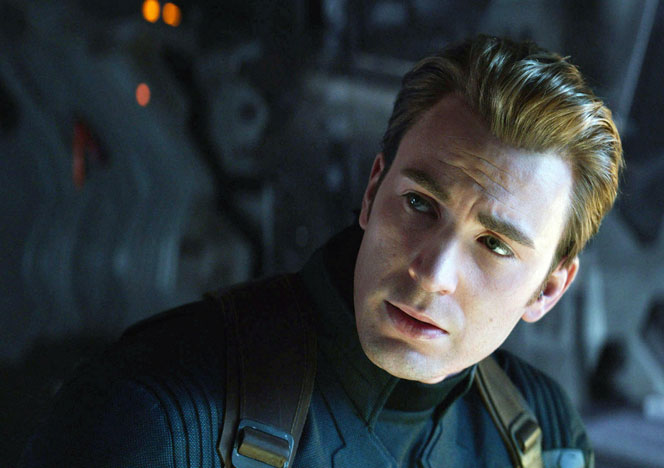 How Do You Get the Chris Evans Captain America Haircut?
If you are interested in getting the Captain America haircut, one of your best moves is to show the barber a picture of the haircut. Because guys have different types of hair, not everyone will be able to achieve uniformity with Evans's swept-back look; however, a professional barber can help. Then, you can work with the barber to make this vision a reality.
How To Style It
Most guys will have to grow their hair out a little bit longer than usual. This provides the barber with plenty of hair with which to work. 
In order to style the Captain America haircut, you will want to keep your hair at a medium length. Around five to six inches on top is a good starting place. The barber will work with the hair on top, finding a way to sweep it back. Then, the barber will scissor cut the sides to make them blend in with the top. Finally, the stylist will also discuss a few products that guys can use to keep the style intact.
How To Maintain It
There are a few tips to follow when it comes to maintaining a Captain America haircut. First, use a regular hair spray as a pre-styling addition. This adds moisture to the hair and helps it grip the styling material. Then, you complete the look by using a matte paste with a strong hold. This keeps the hairstyle in place throughout the day.
You might want your Chris Evans haircut to have a shinier look. If this is the case, then you can also use a medium-shine pomade instead of the matte paste. This is a great way for guys to make Chris Evans haircut their own.
The Photo Gallery Of Chris Evans Haircuts
Short Spikes
This look is perfect for someone who doesn't prefer excessive grooming. Chris's haircut is short in length with 1-2 inch spikes extending from the middle and a trimmed beard to match.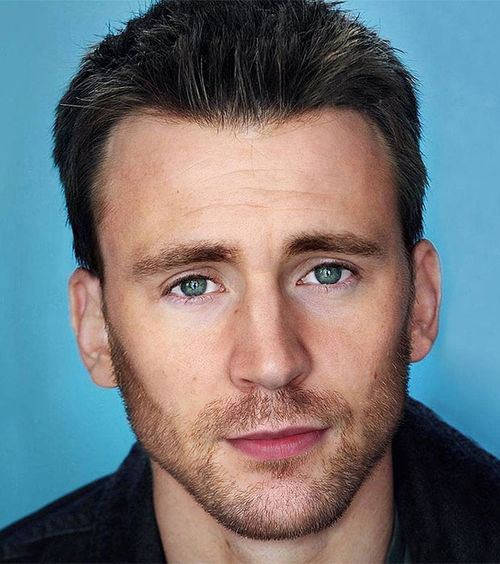 Medium Length Quiff
While promoting "Captain America: Civil War," Chris Evans's haircut is a medium length style that's lightly inspired by a quiff. The combination of this hair and beard provokes casual confidence that defines the jawline and face.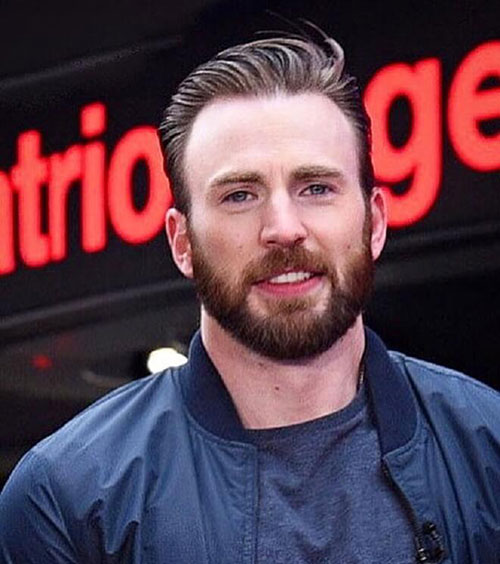 Side Part Haircut
When Chris Evans's haircut grows out, it's often slicked back and parted. This sophisticated style was achieved by brushing a majority of his hair to the right side and using a pre-styling spray for volume. His facial hair remains short and maintains an even proportion to the haircut.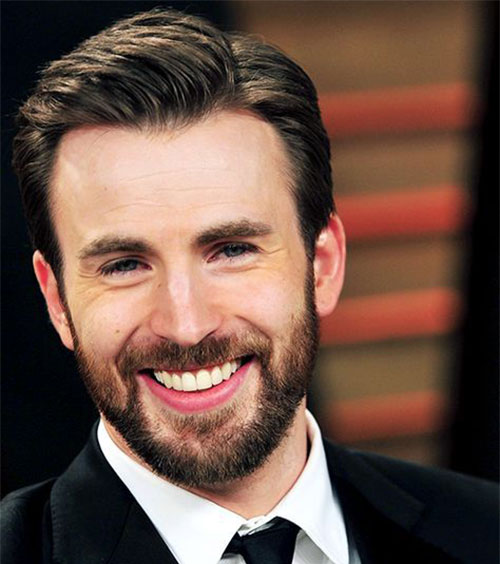 Buzz Cut with Beard
Chris Evans's haircut is down to its most laid-back style with a buzz cut and scruffy beard. Without going completely bald, it's buzzed down as close as possible to the scalp.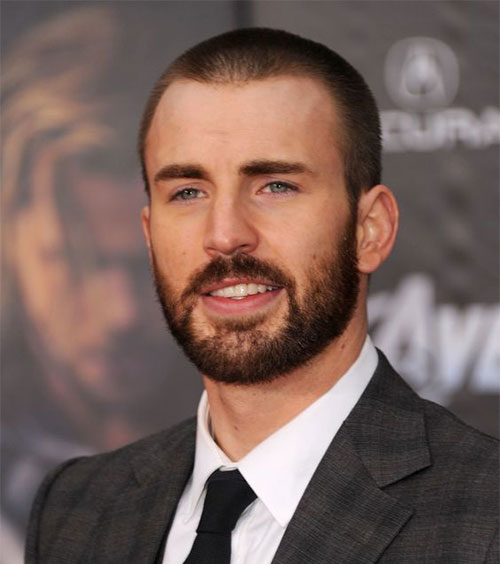 Textured Comb Over
For formal and business affairs, Chris Evans dresses up for public appearances with a haircut long enough to comb it to the back and side. The pompadour technique works best with hair at a longer length, so it can be shaped as needed.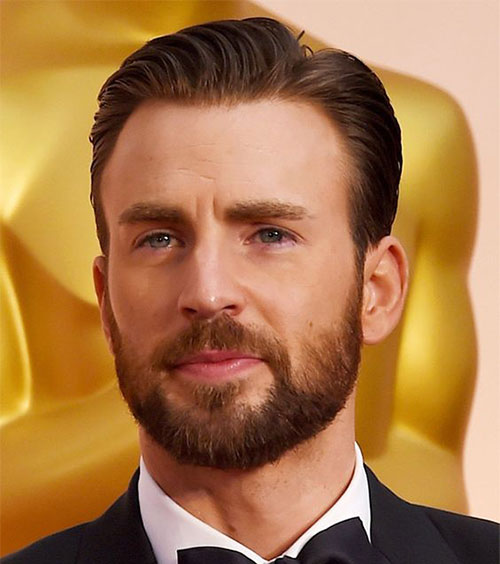 Thick Haircut with Stylish Side Swept
Chris Evans's style merges with Captain America haircut for a photoshoot. His blond streaks and brown locks morph into a funky frontal twist. This look was achieved by washing, blow-drying the hair outwards to create volume, brushing it to the side, and adding a hair serum.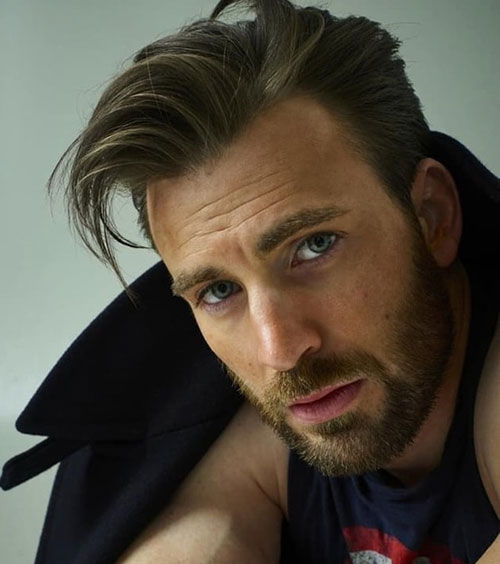 Crew Cut and Beard
Before debuting on Broadway, Chris Evans promoted his work with a fresh crew cut similar to the Captain America haircut. The short length has a slight undercut on the sides and appears fuller from pushing the top spikes outwards.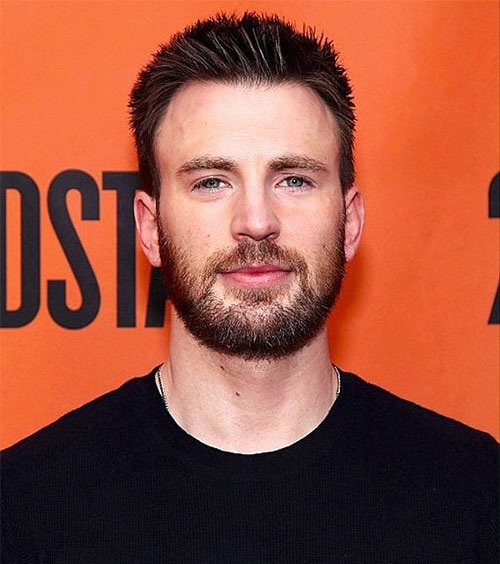 Side Swept with Shiny Finish
Going back to the classic pompadour style, Chris loves his long hair in the front and tapered shorts in the back. The illusion of a medium length is made possible by combing his hair from the middle to the back. The dash of shine is topped off with an application of gel or wax.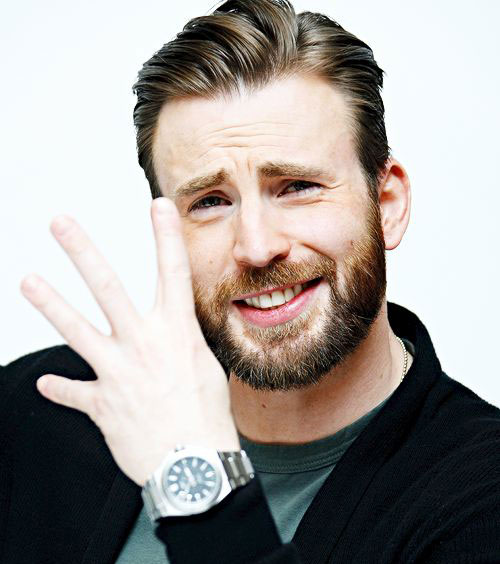 Buzz Cut and Clean Shave
To promote "Fantastic Four" as his character Johnny Storm, Chris Evans makes a rare departure from his go-to look. Here he is with an edgy buzz cut but a smooth hairless face that shows off his youth.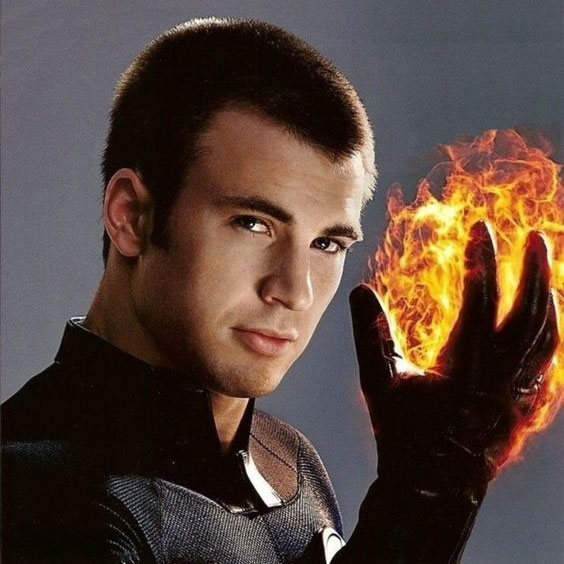 Medium Length Combed Back Haircut
Chris Evans's mature haircut returns to its medium length brushed straight down the middle. Unlike his other styles, this one lacks volume by limiting blow-drying. His complementary beard is mostly combed downwards along his jawline and is shaped into a noticeable goatee around his mouth.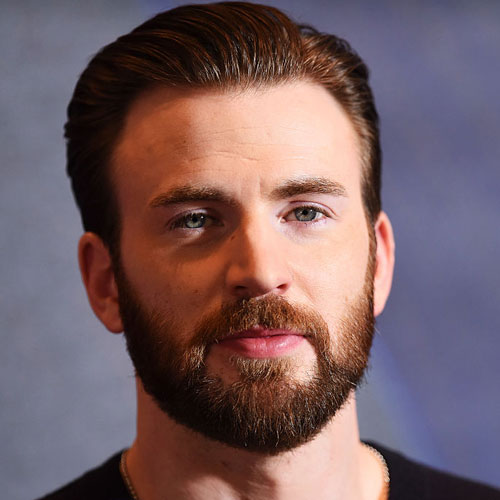 Conclusion: The Captain America Haircut 
The good news is that Chris Evans's haircut is suitable for all textures and styles. The most important point to remember is that there must be enough length at the front to brush back the hair with ease.
This haircut can also be modified for those who have a shrinking hairline. By slicking the hair directly across, this will cover one side of the recession. This look can even be worn disheveled by pushing it forward on the face, adding more lift, movement, and texture.