The pompadour fade hairstyle has gained popularity in recent years due to its convenience and unique versatile appeal. This cut creates a timeless look for those who like classic hairstyles with modern details.
A pompadour fade features buzzed sides and longer hair on top. Sharp, clean lines, and defined parts lend this style drama. The difference in length between the sides and the top hair is often substantial and may vary in length from one to five inches. In modern pompadour fade styles, hair on top is styled to add height. In honor of this stunningly versatile haircut, here are 35 pompadour fade haircut ideas that you can try.
#1 Textured Pompadour with Deep Part
The deeply parted pompadour hairstyle is a great choice for any stylish man. The hair on top is textured and combed to the side, and on the other side, the hair is faded low giving the pomp more attention. This style is easy to maintain with some light hold hair products, especially a texturizer for the top hair.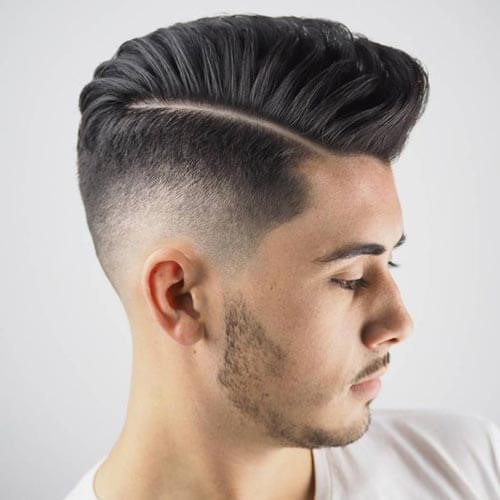 #2 Mid Fade Faux Hawk
A softer version of a spiked Mohawk, this style features sides that are not shaved to the skin. The top hair is left long and styled up and back and does not reach past the crown of the head. This style is great for those who like the drama of the Mohawk but do not want to commit to a full Mohawk extending past the crown of the head.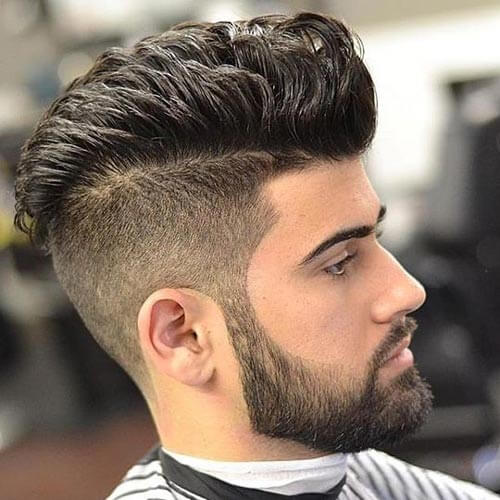 #3 High Top Sectioned Pompadour with Fade
The high top cut allows the sectioned pompadour to shine in all its glory. This may be what it's popularly called a rockabilly haircut and is for men who want to be noticed. It's stunning, classy and modern. All different style elements combined in a perfect modern pompadour fade hairstyle for the style-forward man.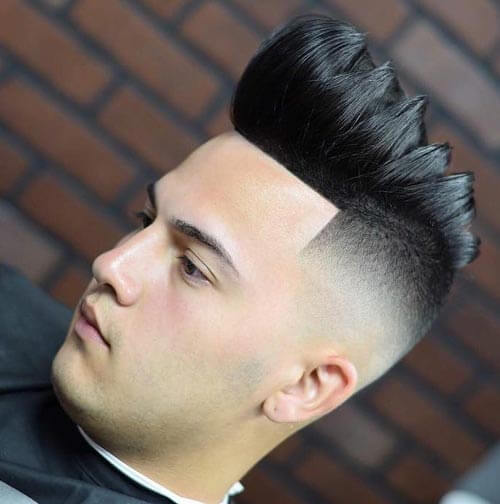 #4 Razor Faded Pompadour
The sides are razor faded and become slightly longer around the crown of the head. The pompadour is styled up and back in one smooth, neat bunch. This style works well with straight, thick hair.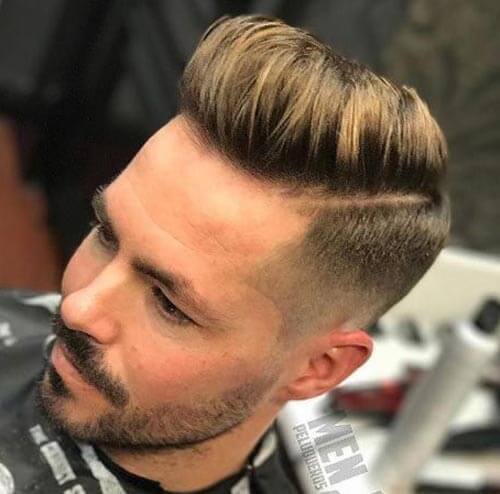 #5 Wavy Pompadour with Low Bald Fade
Dramatic sections on a faded side represent a new element of style that pompadour aficionados would not have dreamed of. The style is a daring look and will require some hair maintenance to keep it together. Curlers and hair product will help keep this hairstyle intact so it's not for men who want a low maintenance hairstyle.