The pompadour fade hairstyle has gained popularity in recent years due to its convenience and unique versatile appeal. This cut creates a timeless look for those who like classic hairstyles with modern details.
A pompadour fade features buzzed sides and longer hair on top. Sharp, clean lines, and defined parts lend this style of drama. The difference in length between the sides and the top hair is often substantial and may vary in length from one to five inches. In modern pompadour fade styles, the hair on top is styled to add height. In honor of this stunningly versatile haircut, here are pompadour fade haircut ideas that you can try.
The Photo Gallery Of Men's Pompadour Fade
#1 Textured Pompadour with Deep Part
The deeply parted pompadour hairstyle is a great choice for any stylish man. The hair on top is textured and combed to the side, and on the other side, the hair is faded low giving the pomp more attention. This style is easy to maintain with some light hold hair products, especially a texturizer for the top hair.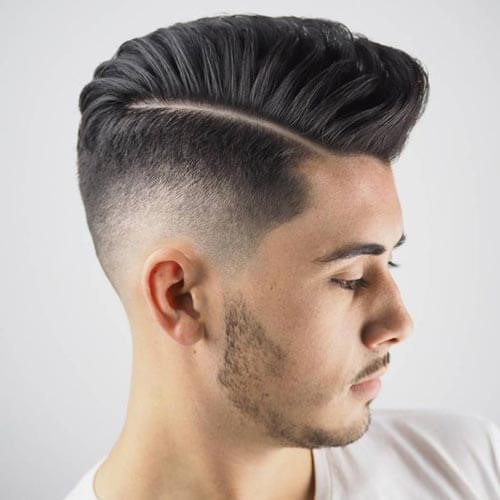 #2 Mid Fade Faux Hawk
A softer version of a spiked Mohawk, this style features sides that are not shaved to the skin. The top hair is left long and styled up and back and does not reach past the crown of the head. This style is great for those who like the drama of the Mohawk but do not want to commit to a full Mohawk extending past the crown of the head.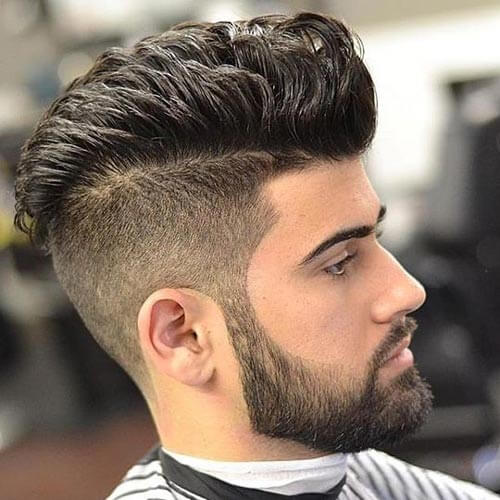 #3 High Top Sectioned Pompadour
The high top cut allows the sectioned pompadour to shine in all its glory. This may be what it's popularly called a rockabilly haircut and is for men who want to be noticed. It's stunning, classy and modern. All different style elements combined in a perfect modern pompadour fade hairstyle for the style-forward man.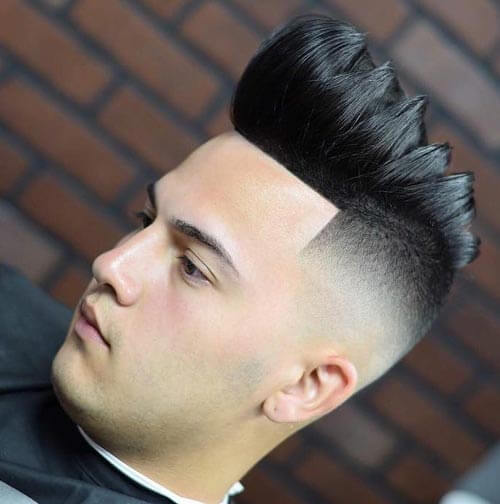 #4 Razor Faded Pompadour
The sides are razor faded and become slightly longer around the crown of the head. The pompadour is styled up and back in one smooth, neat bunch. This style works well with straight, thick hair.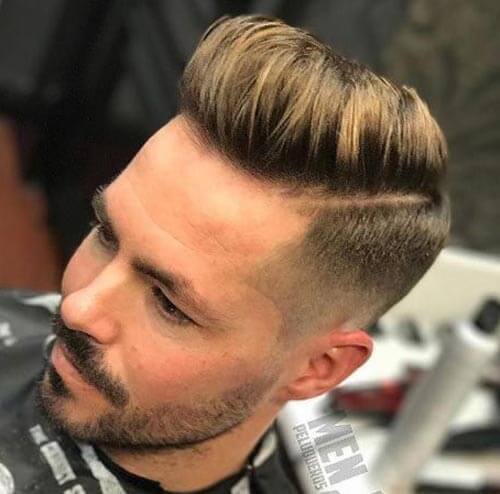 #5 Wavy Pompadour with Low Bald Fade
Dramatic sections on a faded side represent a new element of style that pompadour aficionados would not have dreamed of. The style is a daring look and will require some hair maintenance to keep it together. Curlers and hair product will help keep this hairstyle intact so it's not for men who want a low maintenance hairstyle.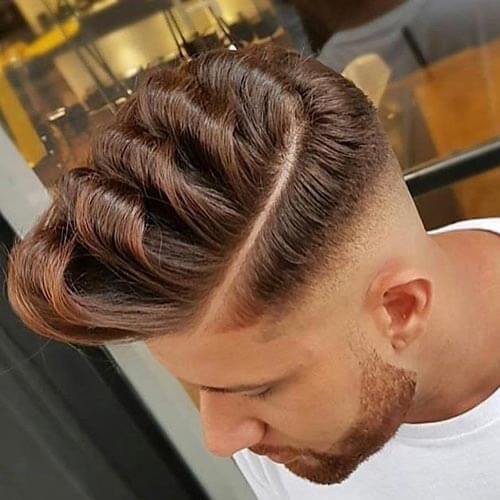 #6 Quiff with Geometric Drop Fade
A bold pompadour fade haircut, this style is all about sharp lines and shapes. The drop fade angles around the ear and the side part is emphasized. The front of the hairline is slightly edged to create a unique border. The beard echoes the curves and lines in the haircut.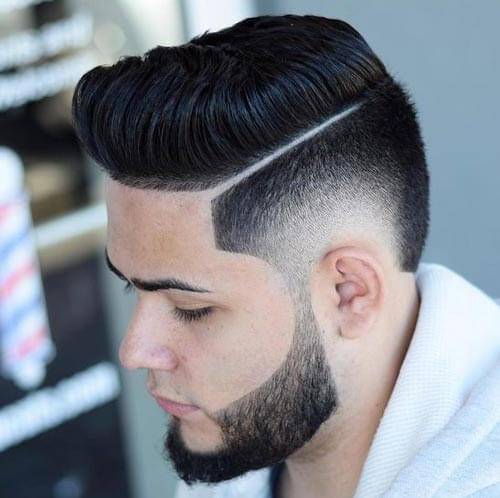 #7 Quiff with Low Fade
Soft and textured at the same time, this haircut is meant for the fearless gentleman who is looking for a stand-out haircut. Textured top and medium top pompadour are flattering for every man, regardless of the face form or hair type.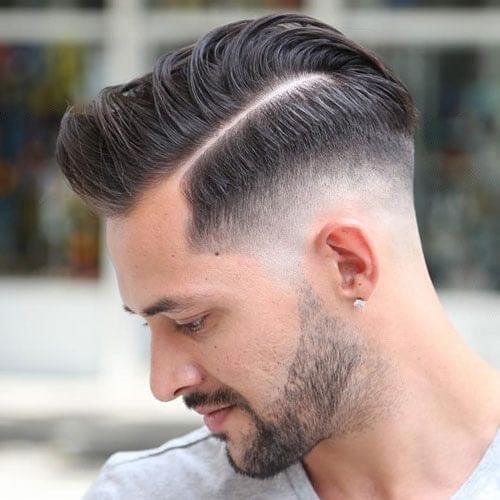 #8 Pompadour with Taper Fade
This pompadour fade tapers tightly to the back of the crown, where it meets a longer layer. This longer layer lays flat at the crown and creates an illusion of a longer faux hawk. The top hair is styled loosely and brushed upward for maximum height.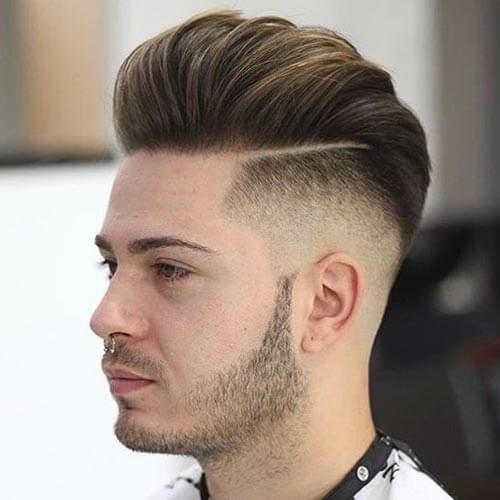 #9 Pompadour Fade with Side Part
With a great texture enhanced by highlights, this side-combed pompadour is exactly what you need to stay sharp and trendy. Your natural hair color will do just fine too, but you will need some light-hold hair product to maintain the look. A dollop of pomade and air drying will help you achieve this look.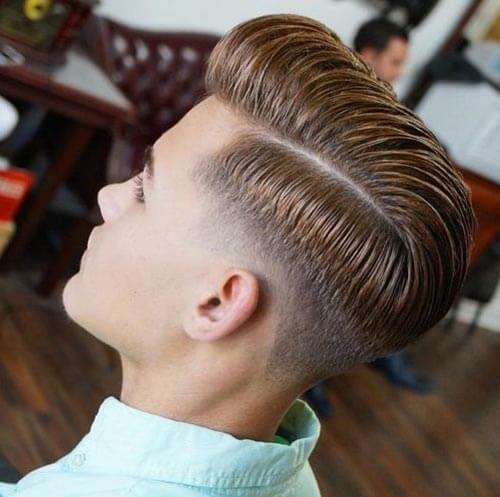 #10 Layered Pompadour with Undercut
This striking style relies on hard parts. Longer, blunt cut layers are combed down on the sides while the middle section is styled up and over. A buzzed undercut can be seen above the ears. The overall look has a blunt, fashion-forward appearance.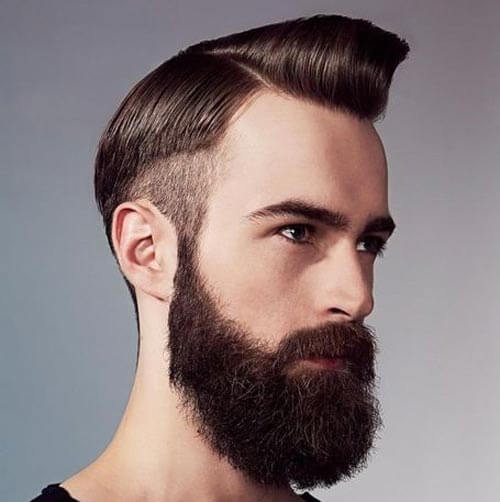 #11 Disconnected Undercut Fade
Feel like wearing a look that's not too high maintenance? Go for a disconnected undercut and a side swept pompadour fade. You'll find that this style is simple and will suit a chill mood and personality. Not appropriate for formal occasions, but it's truly easy to manage. Just comb the long hair on top in any direction you choose.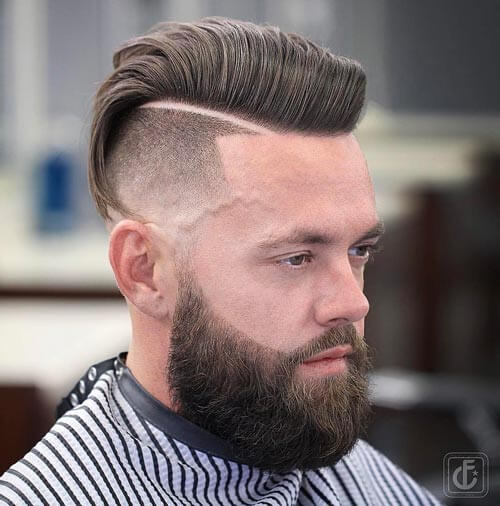 #12 Pompadour with Deep Part
A side part with a blunt side fringe sets off the longer middle section. The longer hair on top is combed up for height and finger-style into textured sections for added interest. This works with thick hair that can be easily styled. Waves or cowlicks will not be kind to the side fringe, which is meant to lay completely flat.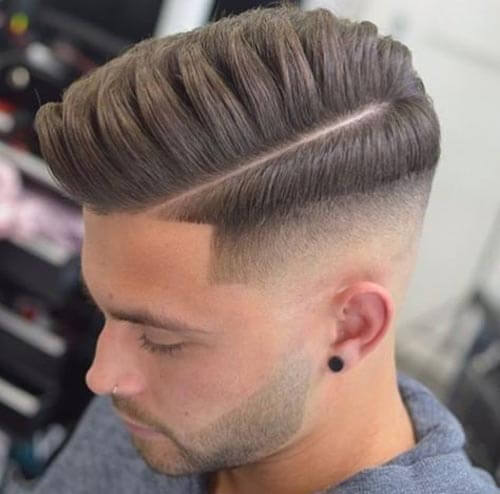 #13 Pompadour Comb Over
There are some days when you just don't feel like using any hair products, well not when you have this side slicked pompadour. To prevent a messy hair day, make sure that your hair has ample amounts of hair product before giving it a smooth comb.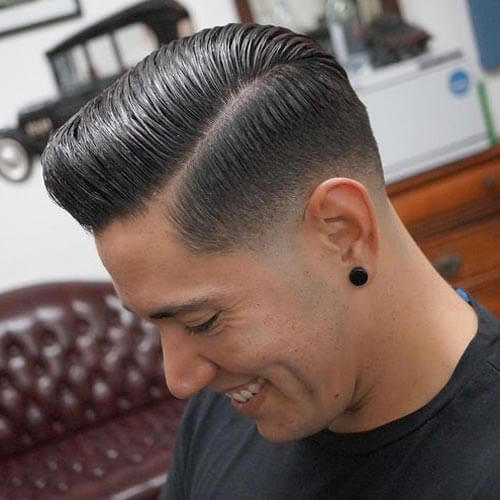 #14 Disconnected Undercut
For a dramatic yet simple look, try this style. The contrast between the disconnected undercut and longer hair on top offers a clean appearance. Longer hair on top may be combed back from the forehead to add height.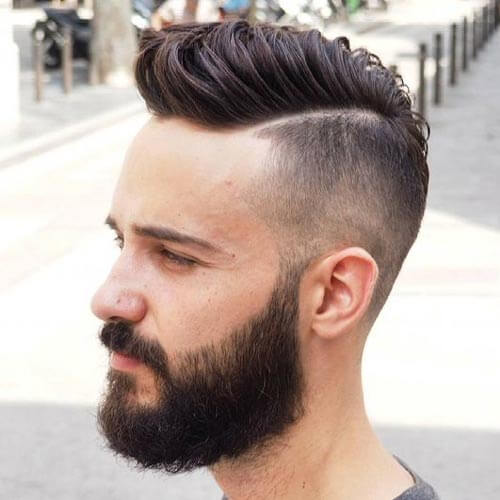 #15 Razor Faded Pompadour
A razor faded pompadour haircut is a type of skin or bald taper fade that requires a razor style of cutting. Some level of expertise is necessary for a razor fade and a pompadour blend. You can style the top in any direction for versatility. Play with your natural hair texture or add some hair product to get the look in this picture.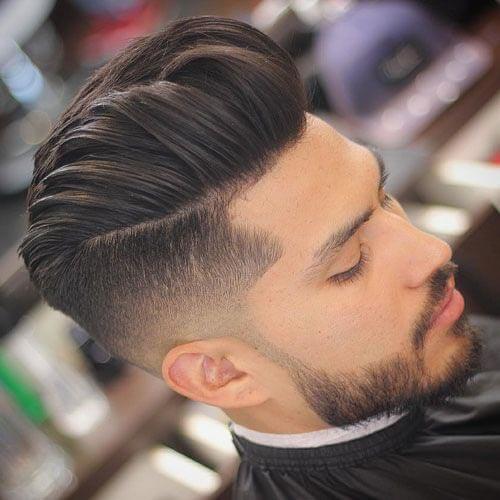 #16 Thick Quiff with Drop Fade
This style adds maximum body and height to hair. An excellent style for anyone who wants a retro look, this style leaves more hair on the top of the head to style. The top section can be blown out and arranged in a loose but voluminous style. Great for thick, wavy hair.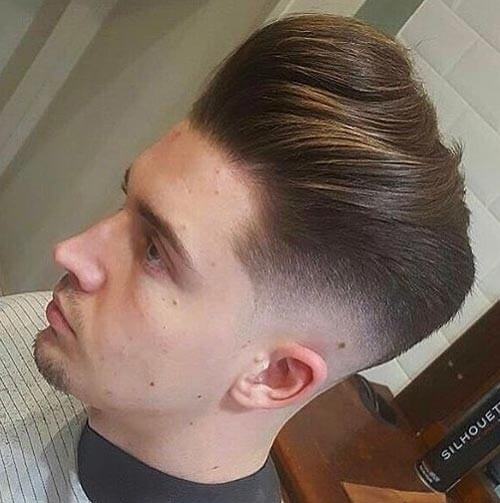 #17 Deep Parted Pompadour
Sometimes, less is more. If you feel more comfortable with a taper than a bald fade, then choose a medium length pompadour with a taper fade that's easy to style and will fit any occasion. Long top hair, tapered sides, and back— is the secret ingredients needed to successfully pull off this pompadour fade haircut in a modern setting.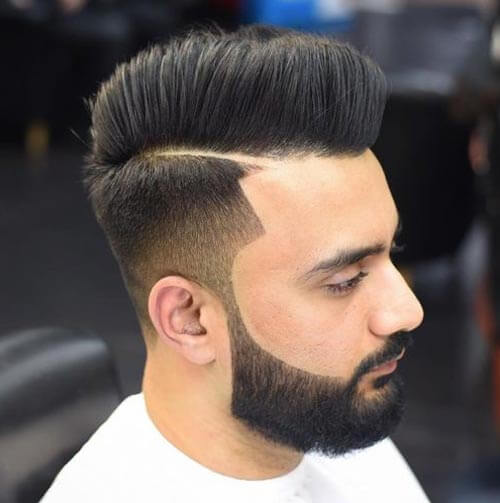 #18 Razor Faded Pompadour
This particular pompadour fade features a deep side part. A hair on top is left long and slightly layered, with the front section remaining longer. The sides are kept shortest around the ears and nape of the neck. This cut will offer a more dramatic look if you have thick hair.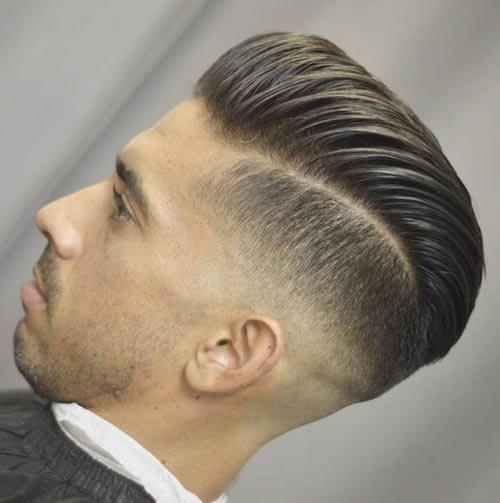 #19 Spiky Quiff with Low Fade
Although it looks messy, this haircut is easy to pull off. A spiky look enhanced with some edgy razor cuts and a quiff in front is a great combination for stylish men. Cut into spikes and messy strands, you'd never suspect this hairstyle is a quiff haircut. Yet, the structure gives it away. The style is super easy to maintain and just needs a good finger comb to get the look perfect.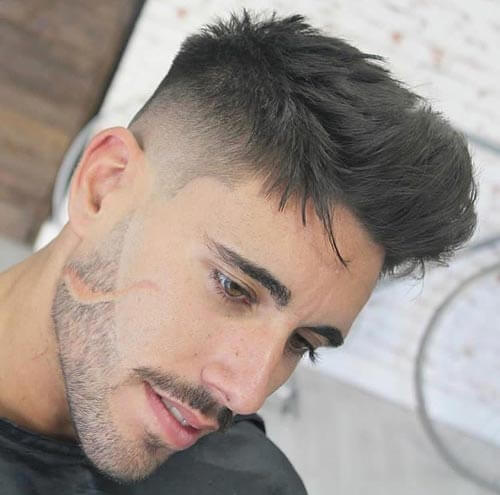 #20 Highlighted Pompadour with Undercut
Color lovers should enjoy this style, which sets off the long hair with unique color highlights. A razor skin fade undercut sets off the contrasting colors on top. The lightest highlights are positioned where the longer section would curl, adding depth to the style.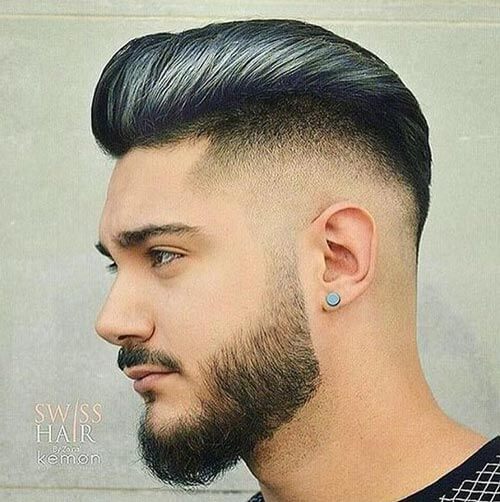 #21 Pompadour with Drop Fade
This astonishingly well-trimmed pompadour fade draws more attention to the flawless texture on top. The hair does require some attention to keep it looking sharp. To style, simply add some hair products to damp hair and dry.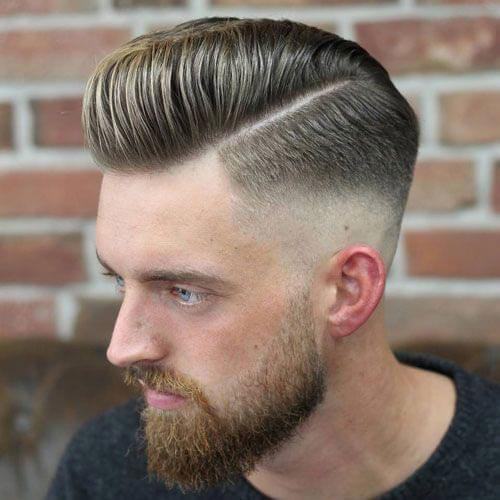 #22 Temple Fade with High Comb Over
People who like clean lines might like this style that features a buzzed temple fade and a long comb over on top. The sides are kept high and tight, and extra sharp lines emphasize the temple.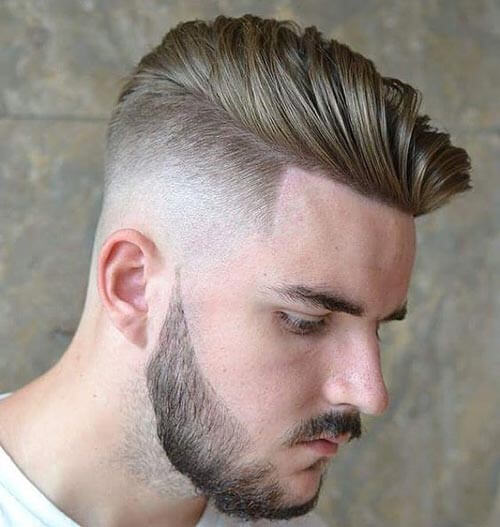 #23 Sleek Pompadour with Taper Fade
While the top adheres to the rules of a classic pompadour haircut, the fade and the well-defined side part is a modern style element that is bound to make a difference. The hair is sleek and shiny because of ample amounts of pomade and gel. You cannot get this look without hair products, so if you're not a fan, then choose an easy to manage hairstyle instead.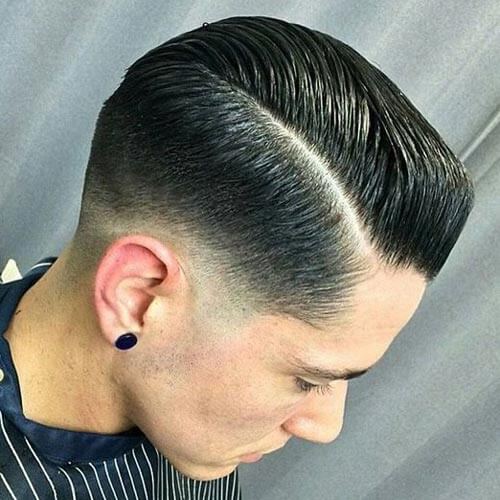 #24 Spiky Pompadour Fade
A slight variation of the pompadour fade, this style features a shorter midsection of hair. Instead of curling, the longer hair is spiked straight up. A sharp temple fade completes the look.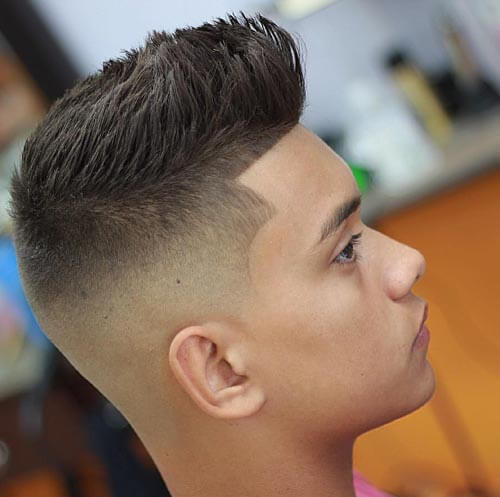 #25 Modern Pompadour Fade
The modern version of a pompadour haircut produces and effective style twist that creates a look that's more in tune with modern men's personalities. Don't comb the hair backward instead, try an upward or feathered look that transforms the traditional pompadour. You will need some extra time to style this haircut properly. Once you've got the technique down to a science, styling will become a breeze.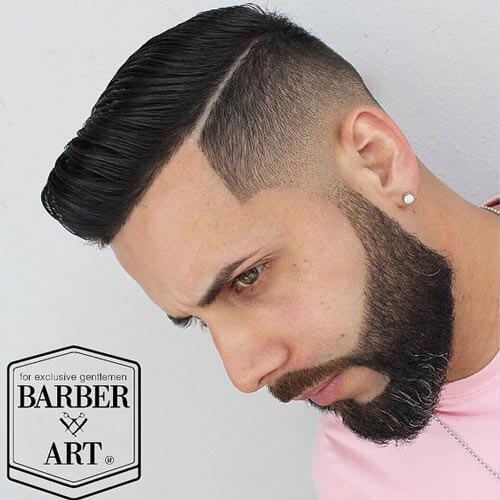 #26 Temple Fade with Asymmetrical Part
This style offers extra flair due to its hard part that starts at the middle in the front and angles backward. Thick, coarse hair suits this style best since it can pull off the highly styled look.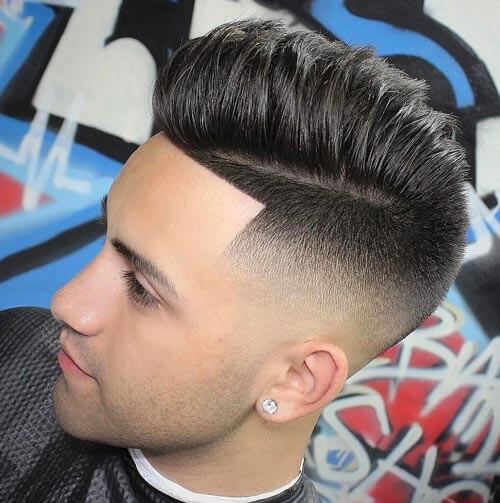 #27 Pompadour with High Bald Fade
Classic and trendy! This pompadour fade haircut will earn you some style credits no matter where you flaunt it. It features the regular pomp with a low fade and layered length from front to crown. Not much effort is required to style this; a soft-hold pomade will do just fine.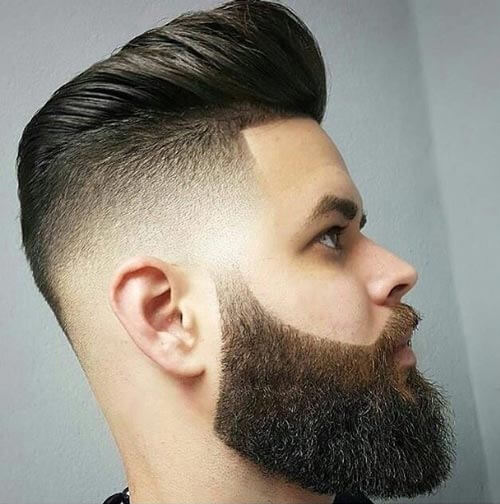 #28 Skin Fade with Quiff
The sides of this style are an all-around skin fade, which becomes a buzz cut toward the crown of the head. The longer top part is curled backward away from the face. Blonde highlights add verve to the look.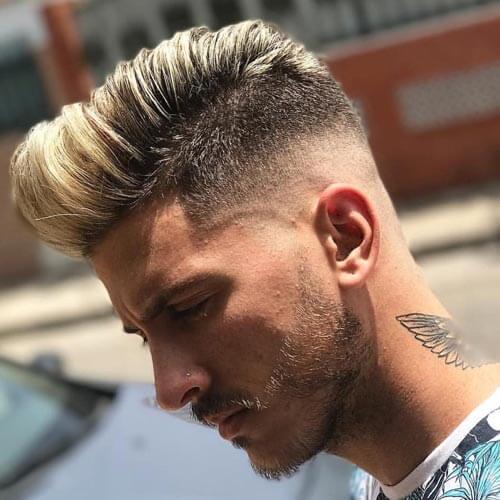 #29 Textured Pompadour with Low Fade
A pompadour can be spotted a mile away and is never less impressive than the first time you see it. This classically textured pompadour haircut is one of the most versatile hairstyles for men. It's easy to style for a manageable look and fitting for business meetings or a clubbing night out with the guys.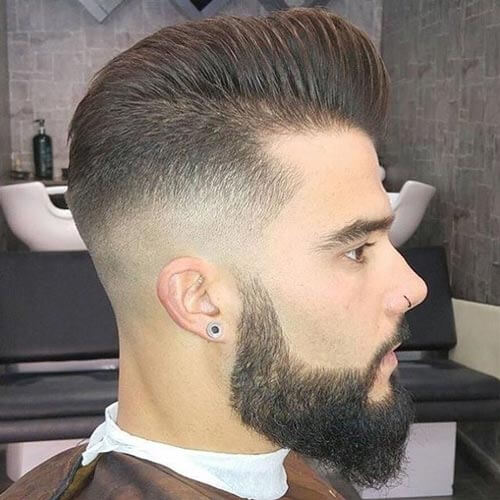 #30 Pompadour Fade with Double Hard Part
A striking look, this double part offers extra interest. A side part is first made, and second "faux" part is cut into the hair below it. The pompadour on top is combed over to the side to call attention to the double part.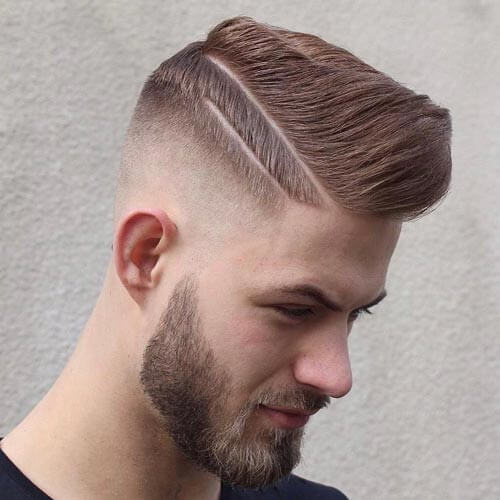 #31 Taper Fade Pompadour with Side Part
A taper fade can sometimes be cut to resemble an undercut. The style in the picture drops sharply after the side part, from a one-inch hair length to a fade. This is great for men who are conservative and yet want to make a style statement.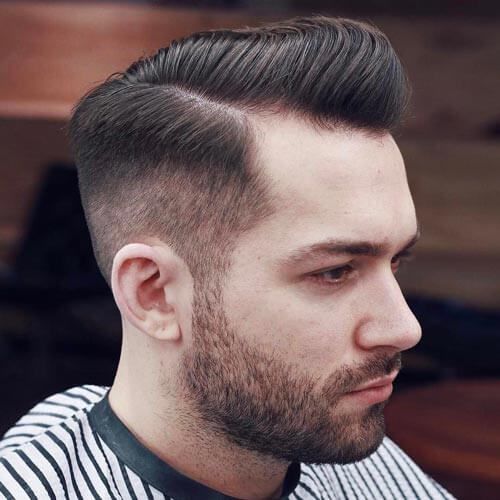 #32 Classic Pompadour with Mid Fade
This highly stylized hair cut relies on a mid fade on the sides. The longer hair on top is combed directly upward and should be styled together in one dense mass. This style can give a clean cut appearance due to its tight combing.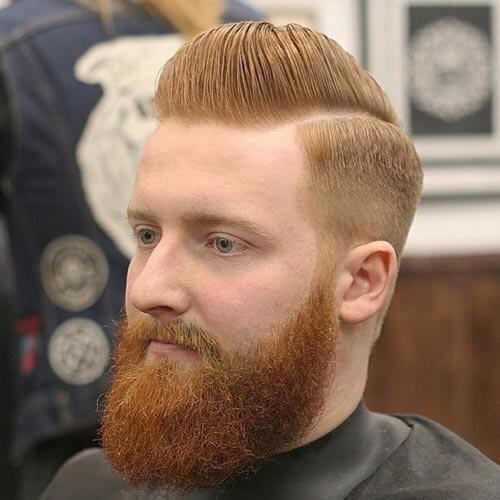 #33 Modern Pompadour Fade with Part
Slip into the world of bold choices with this striking pompadour with a deep curl and faded sides. A well-styled curl is suggestive of the rockabilly era but brings a fresh twist to play. Maybe over-the-top for some people, but is the perfect runway look for fashionable men.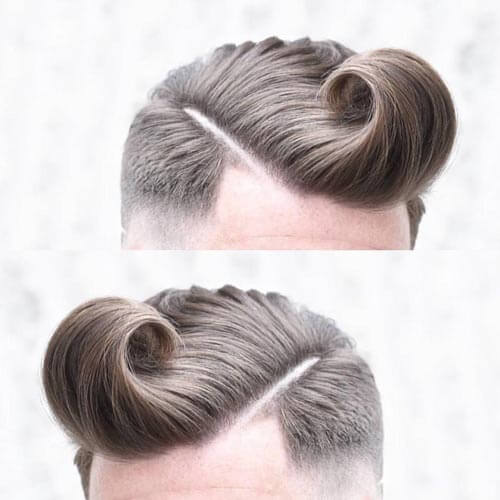 #34 Layered Pompadour with Side Part
This view offers a look at the layers that are common in the longer hair see in the pompadour style. The longer section on top is cut longer at the forehead and shortens as it reaches the crown of the head. Sides are buzzed and graduate into a temple fade.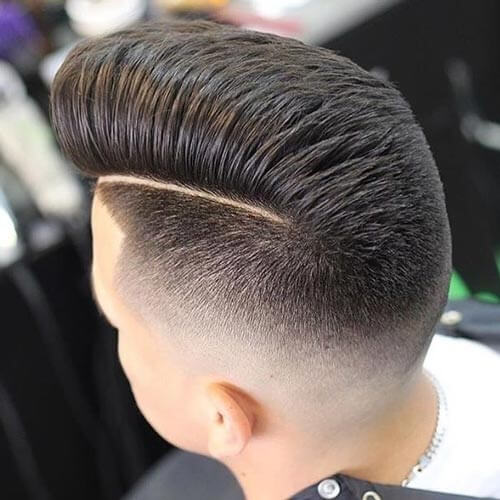 #35 Low Pompadour with Drop Fade
This is an interesting alternative for men with short hair. A short pompadour haircut is a right choice to make if you're not sure the haircut will suit you. It is also great for work and other formal occasions. Easy to maintain, the haircut keeps the charm of the classic pompadour intact.