A side swept undercut refers to men's hairstyles that feature contrasting longer side swept upper layers with short/shaved undercut details. These cuts are ideal to show off those chiseled manly facial features girls of all ages are drawn to like moths to a flame.
How to Style a Side Swept Undercut
Keep hair clean, and cut side sweep in the natural direction of how hair lies. These manly cuts are perfect for showing off racy facial or neck tattoos and/or piercings. Add drama with a neatly trimmed beard or five o'clock shadow. Depending on the length, hair may be brushed or dried in one direction. Use hair-gel to finger comb or use a wide-tooth comb for a neater look.
Check The Side Swept Hairstyle Gallery Below
Sectioned Drop Fade
Men who desire to exhibit just a dash of an adventurous spirit without breaking work dress rules should consider this sexy yet neat enough for the work side swept men's undercut. The trick is keeping the top swept over layers short enough while showing off rows of trimmed razor cuts on the opposite side of the head.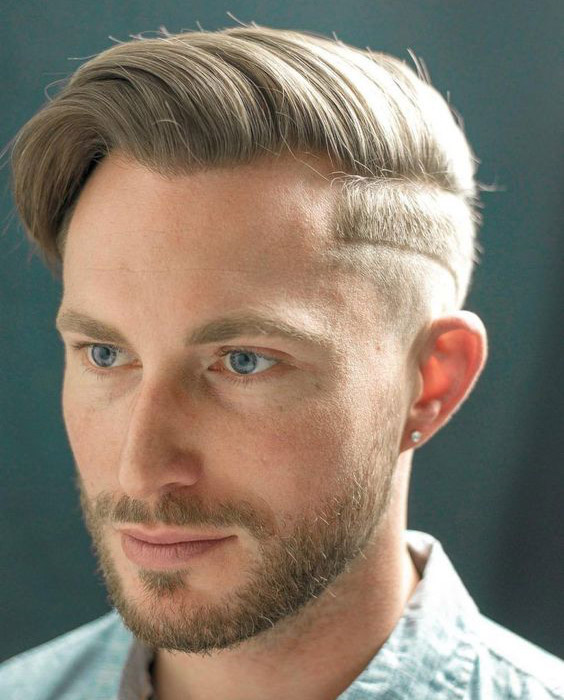 Medium Length Side Swept
If you fancy yourself a bit of a maverick or modern-day pirate, this haircut is for you. Keep the thick swatch of hair at the top longer and pushed slightly to one side. The under layer should be shorter but not buzzed cut for a dramatic effect that gets you noticed. Use hair gel and finger-comb the gel making piecier-like tendrils.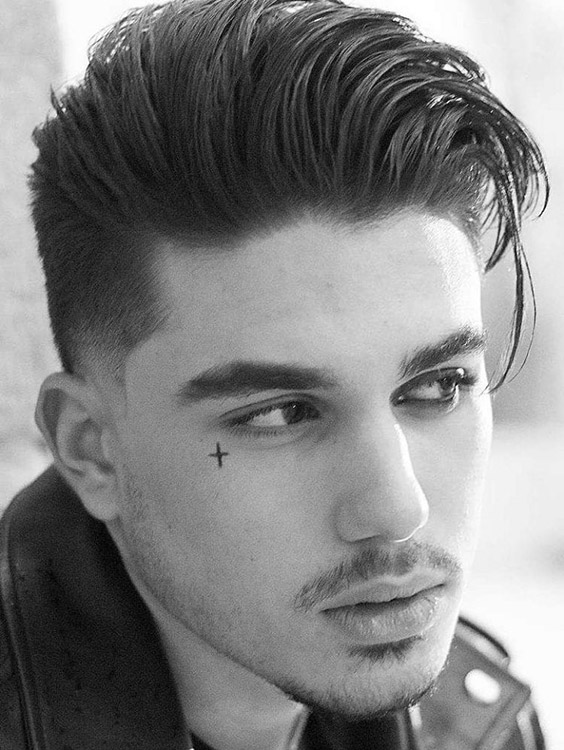 Justin Bieber Side Swept Fringe
If you are all about summertime fun in the waves and sun, update that age-old blond-tipped surfer hairstyle so prominent in coastal regions. This is ideal for naturally blond young men, or heavily highlight the ends of this sassy side swept undercut for an even greater contrast that ladies find hot.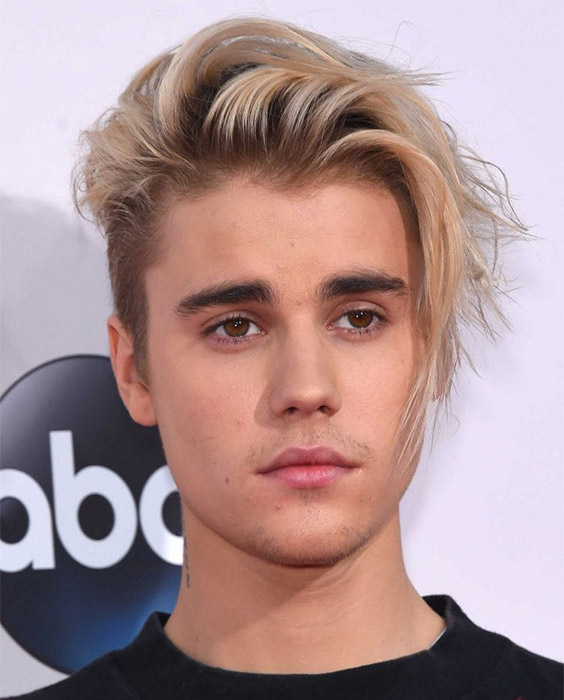 Layered Side Sweft
Perhaps you are secretly a poet of the modern age, or maybe you're just a dreamer hoping to make it in the music arena or showbiz. Try this up-do for men that rely on that timeless melancholy male vibe most women secretly swoon over. Thicker hair works best, and keep the ears notched out with shaved lines higher up to create the dreamy effect.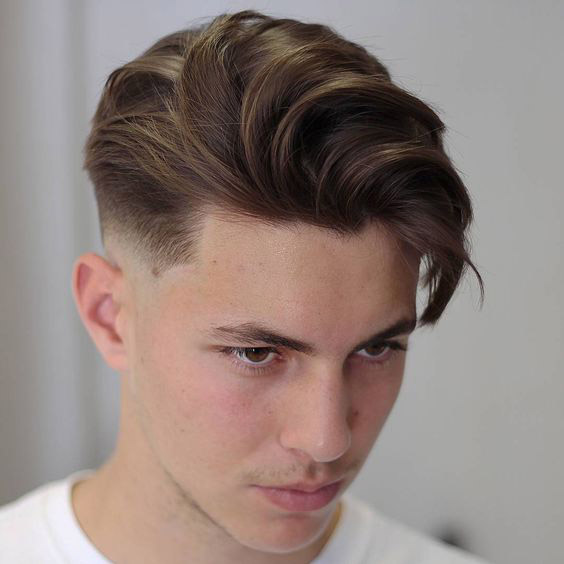 Long Hair with Undercut
This hairstyle is not for the faint of heart. Release your inner rebel spirit by sweeping long hair sideways contrasted with closely short buzz Undercut. This look works great for blond highlighted hair contrasted nicely with darker blond or light brown undercut that closely shaves the entire one side of the head minus the crown.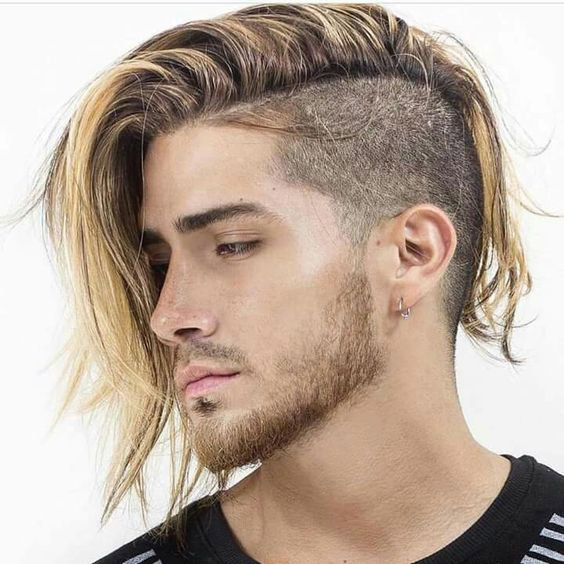 Dramatic Curl with Undercut
Have you been blessed with thick curly hair that, left alone, is just too much? Never fear, there is a perfect hairstyle right for you. Stop fighting those natural wavy curls by trying a slick side swept undercut that shows off your healthy hair waves to perfection. Keep top waves longer and shave down the underneath layers in a rugged manner.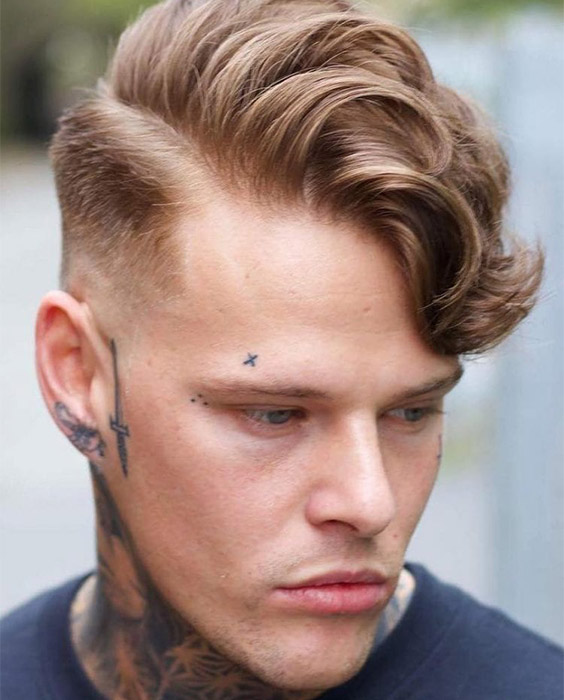 Side Swept with Wings
Like the look of long hair without the styling bother? This top layer side swept undercut shaves hair close to the scalp while leaving a wide thatch on top that is longer. This style for men is a good choice for guys always on the go, office geeks with a bad boy image, or anyone else trying to keep cool during hot summer weather.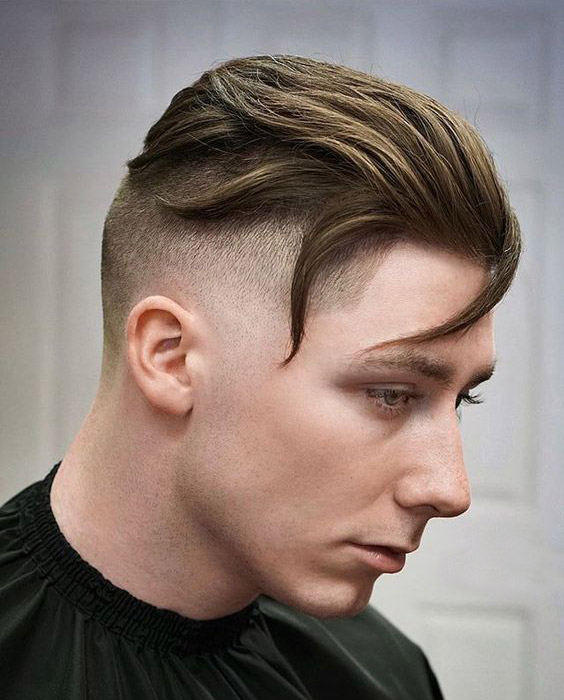 Undercut with Wedge Angles
This style is basically maintenance free other than the edgy wedge layered angles that set this style apart from the rest. Features curved under layers that offset top crown and opposite side undercut kept shorter.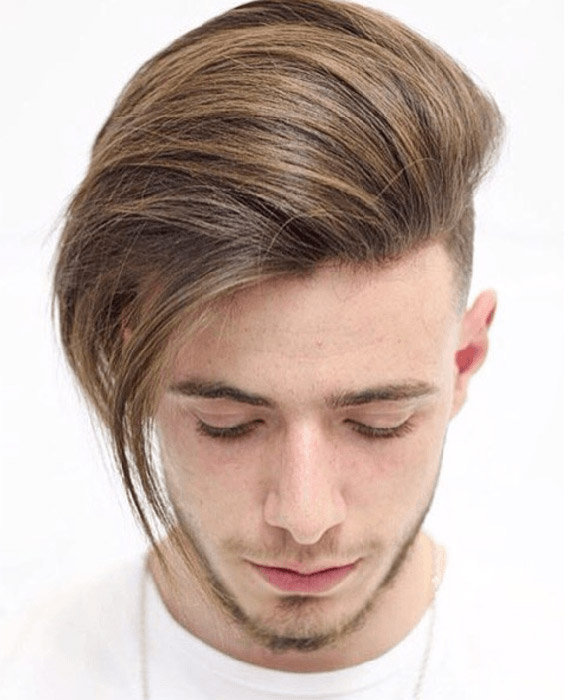 Boundaries with Choppy Side Swept
If your personality tends to push the boundaries of societal norms, this unique haircut may suit you. The secret lies in the choppy long layers that though they appear random, aren't. Keep just one portion of the head shaved close with defining borders.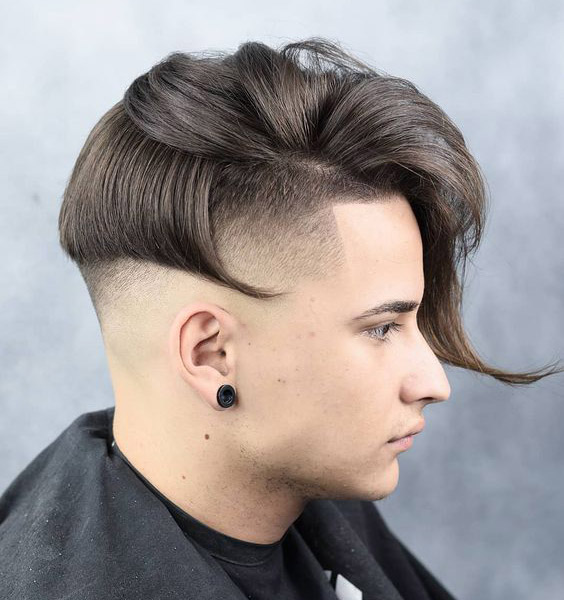 Parted Comb Over
Looking to hide a slight side recession line? Try this fab style. Mature men often begin to note that their side hairline begins to recede. Hide this by allowing longer locks from the crown to sweep sideways while keeping bare forehead side shaved somewhat.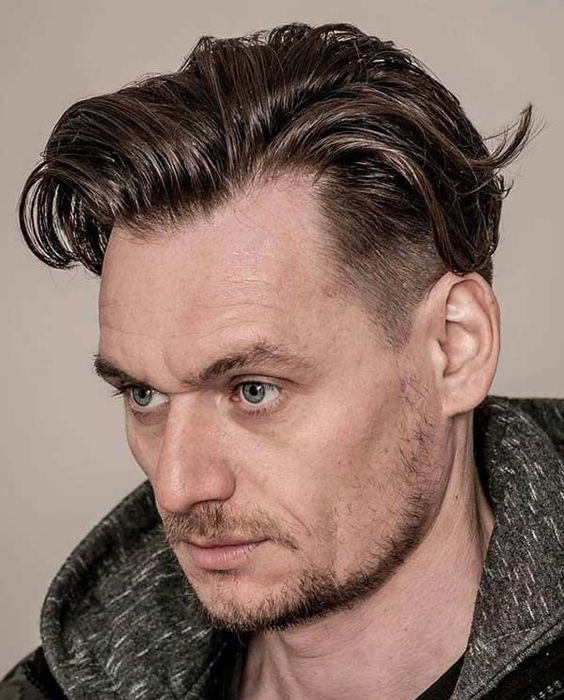 Side Part Undercut
Take a hint from Asian style with this artsy hair option. Asian men often wear their hair shorter. Add some risky appeal by leaving top side swept parted locks somewhat longer. Keep undercut short and highlight for a dramatic flair.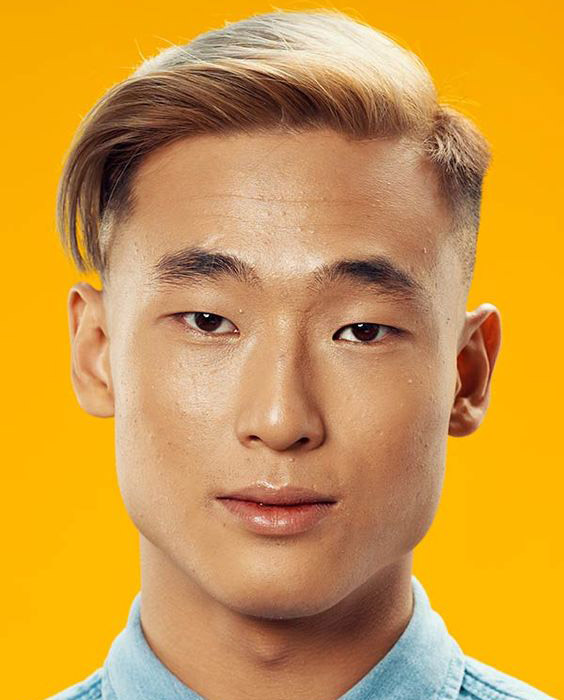 Engaging Side Swept
Men's cut for higher foreheads with an engaging side swept. Liven up your appearance just by keeping the hair on top of your crown longer. Sweep longer locks towards one side, and leave curled tendril peak showing off a high forehead while keeping side swept undercut hair shorter for easy control.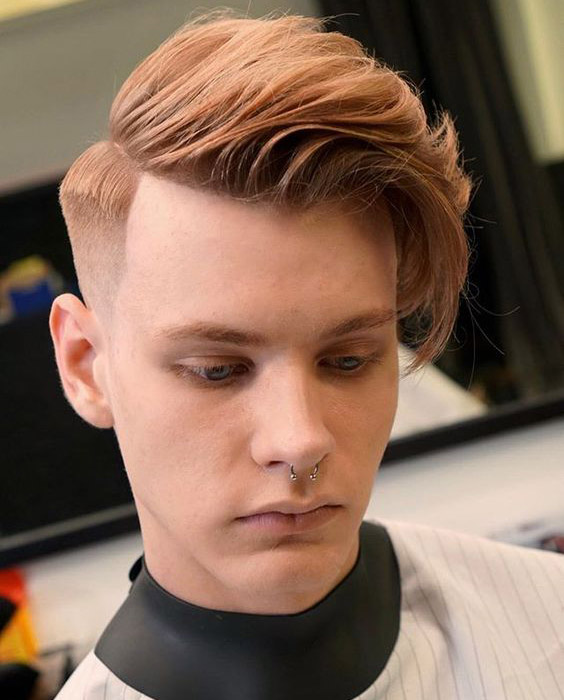 Low Skin Fade
This cut gets a bad-boy image due to its rather rooster-ish spiky top layers pushed gracefully sideways. Gradual shave lines should frame side-part dramatically. Keep hair brushed upwards sprayed lightly to stay.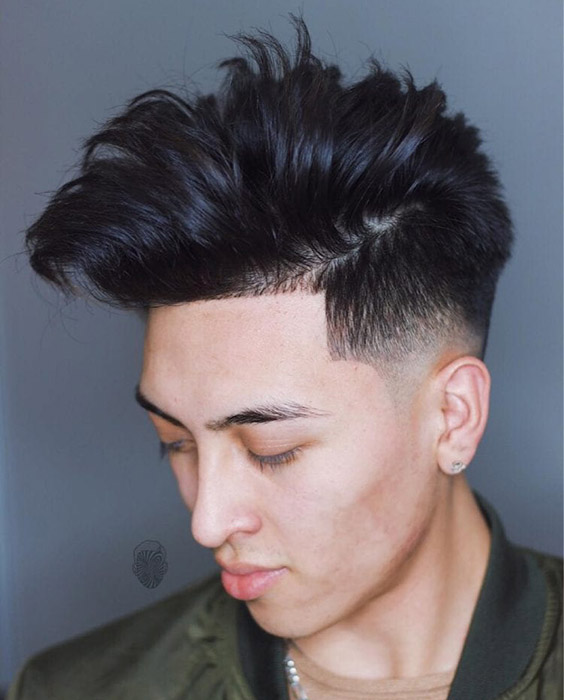 Comb Over with Mustache
Looking for a timeless men's hairstyle that resembles slick curling mustache handlebars, shorter shave undercut, and moderate length side sweep? This style conjures up the past without being old-fashioned.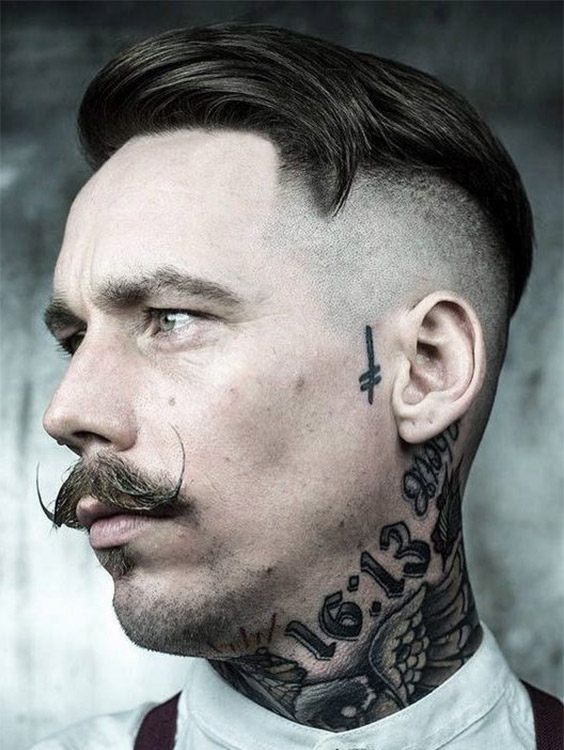 Side Swept Fringe
Set your boundaries with an edgy, wild hairstyle easy to maintain. There is just something sexy about a guy who has luscious locks pushed forward and slightly askew. Mix with bold gradient opposite layering for a tough-guy look that's still modern and cool.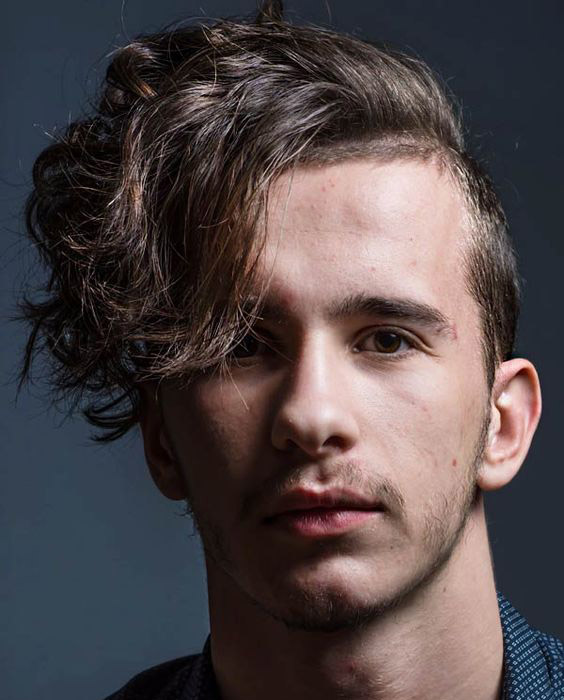 Modern Side Swept
Increase your cool factor ten-fold with a modern side swept. A jagged line from the undercut distinguishes which side you to part your hair. Here, his side swept undercut parts to the left just beyond the widow's peak. For a youthful look like this, it's best if your hair is long and exceptionally thick to create exceptional volume with the side flip.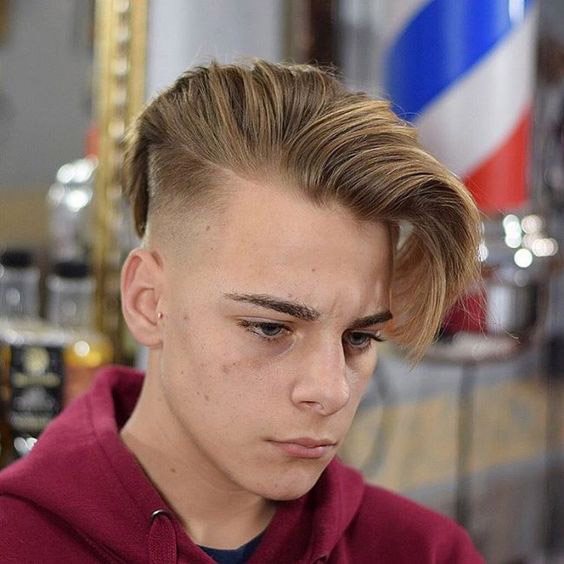 Finger Wave Undercut
A staple like 1920s finger waves will never go out of style. Smooth your hair out with a comb and apply gel thoroughly. Straighten your hair again to the front and side, using your fingers to mold waves. Even though you want a unique shape, aim for a level top for smoothness.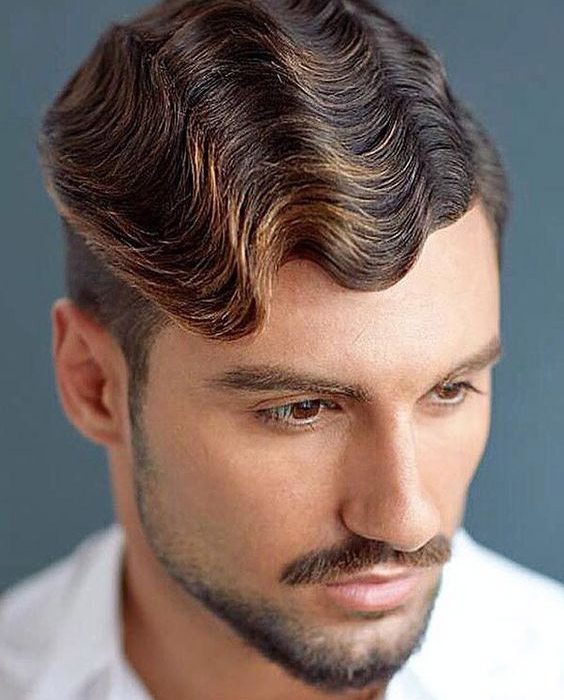 Open Puff Side Swept
The volume makes a statement with this open puff side swept. Curl the hair upwards and outwards with a blow drier and brush after a good shower. Top it off with a molding wax to cement the definition. Blend your beard with the undercut by keeping the trim short to highlight your face.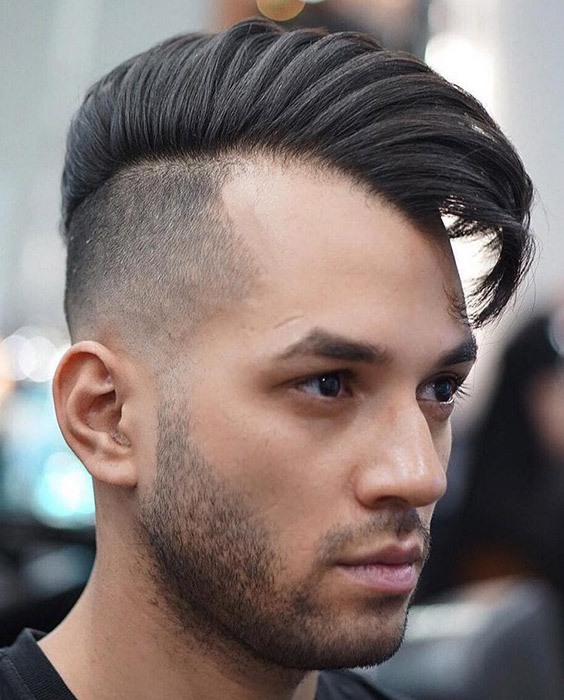 Edgy Downwards Swept
Fortune favors the bold that opt for a downwards sweep. Run hair gel through your hair and brush it into a curl in the opposite direction of your natural part. If your hair is long enough, you can build up asymmetrical layers for extra oomph. The style adapts easily into an edgy look for a tattoo artist or surfer.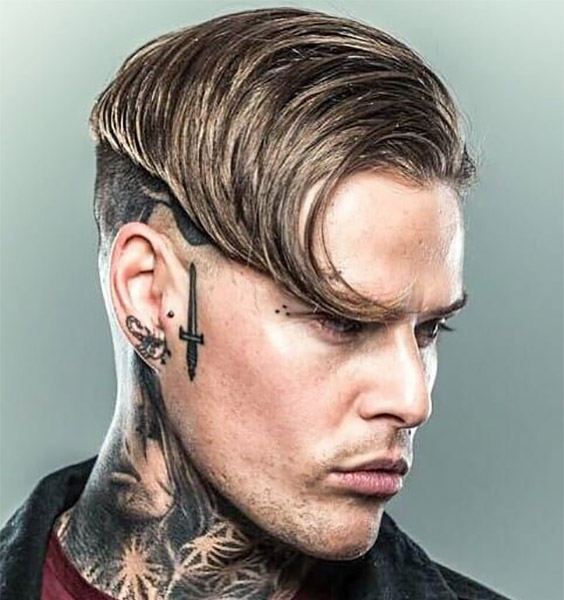 Contemporary Elephant Trunk Style
The airy quaff replicates a style similar to an elephant trunk. This version is a looser template than its 1950s origins, with the hair brushed loosely with a finger-comb. Refrain from using excessive wax or gel to make the hair look effortless.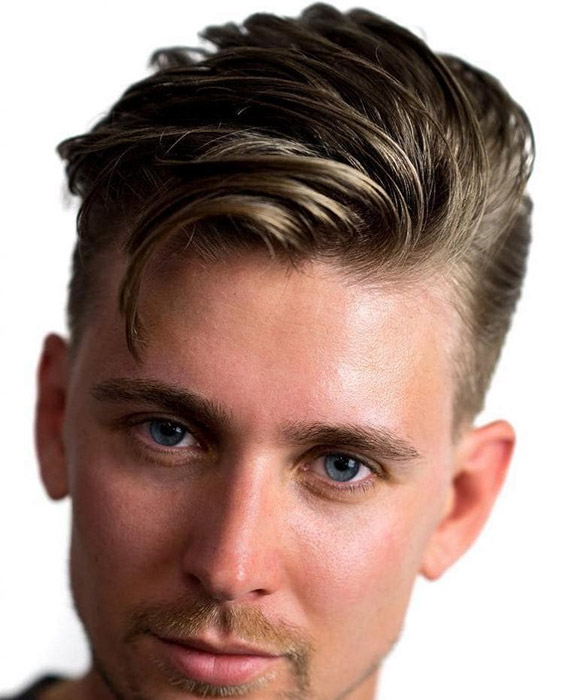 Voluminous Side Quiff
A sharp undercut and high fade offer a drastic visual difference from a voluminous quiff. Use a brush and blow dryer to mold the hair to the side, and wax or pomade for a chic shine. If you want to elevate your hairstyle more, highlighted streaks will break up your natural color.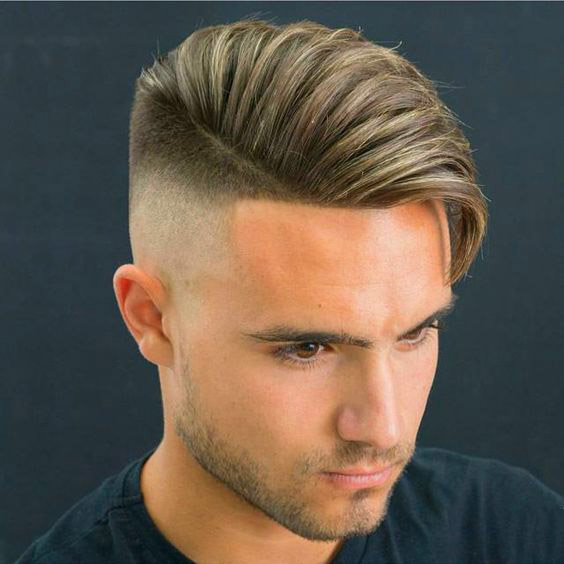 Long and Curly Fringe
While most men opt for a high undercut, go with a short one like this where your hair can grow naturally around it. Once it's a significant length, brush it to one side and rock a disheveled look. Don't worry about precisely locking in a specific texture because the layers will speak for themselves.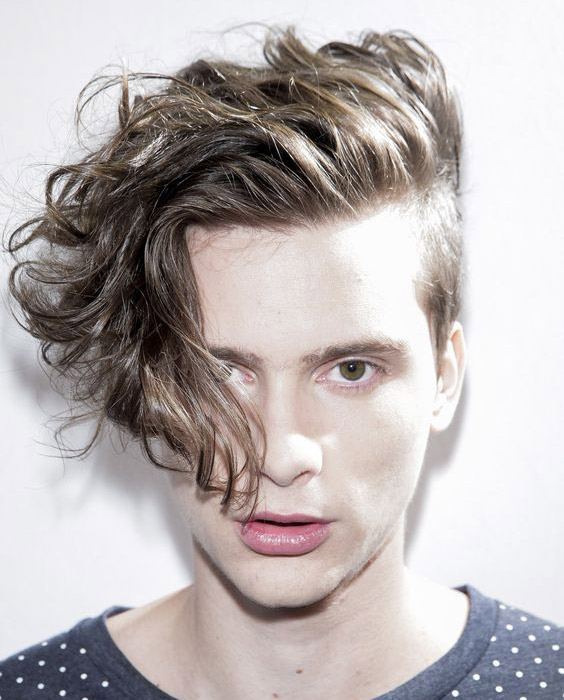 Blue Short Side Swept
Wear your silver streaks proudly with a high fade undercut, and enhance the rest of your hair with a light blue dye. Instill a mature allure by neatly combing the hair in short sideways spikes. Be sure to add a dash of grooming clay to seal the shape. If you don't want to go with a blue dye, consider another shade that will steal the show and show your personality.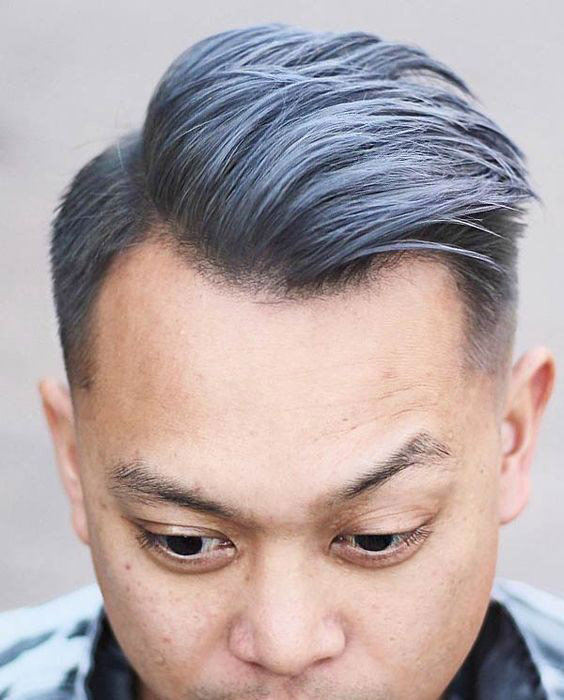 Long Side Swept Undercut
It doesn't get more professional with a long undercut than when it's scrupulously groomed. With a blow dryer and brush, take your time teasing the hair into a sleek side sweep. Making sure both hairstyle tools work together in tandem; you can slick the hair into a well-executed and stylish curl.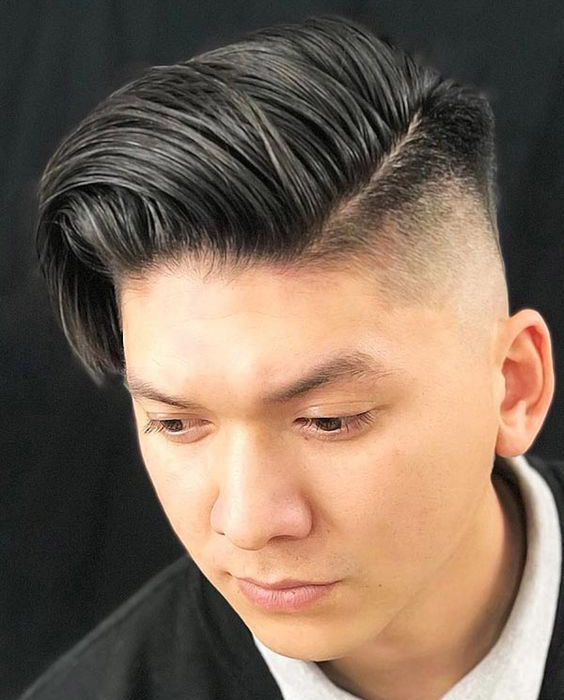 Slicked Back Undercut
A thinner slicked back undercut can be just as fashionable as a Conan O'Brien inspired quiff. Instead of scooping the hair outwards, brush it to the side and back around the crown of the head. Because there's no fade undercut, the hair on top blends seamlessly with the short trim to create a debonair elegance.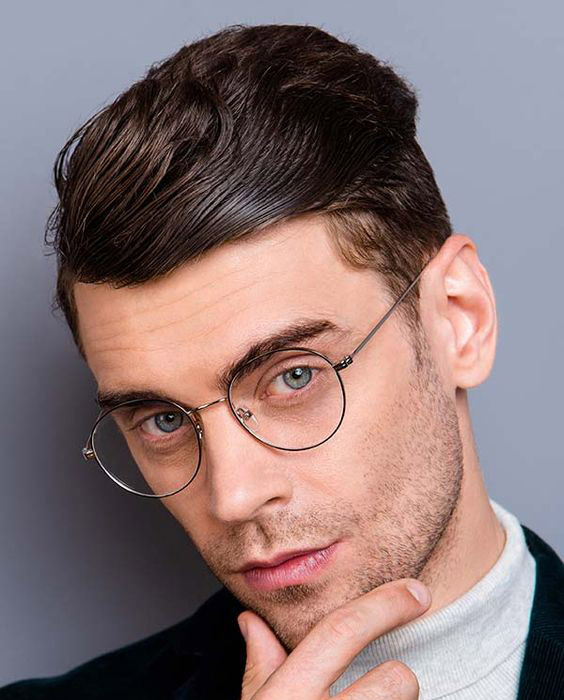 Platinum Faux Hawk
There's no reason to play cool when your hair is long on top and short on the sides. Step out of your comfort zone by dying the hair on the crown of your head platinum or dirty blond, but keep the root's natural color for eye-popping contrast. Sweep your hair to the side with a brush either by producing subtle layers or tousling into a purposeful mess.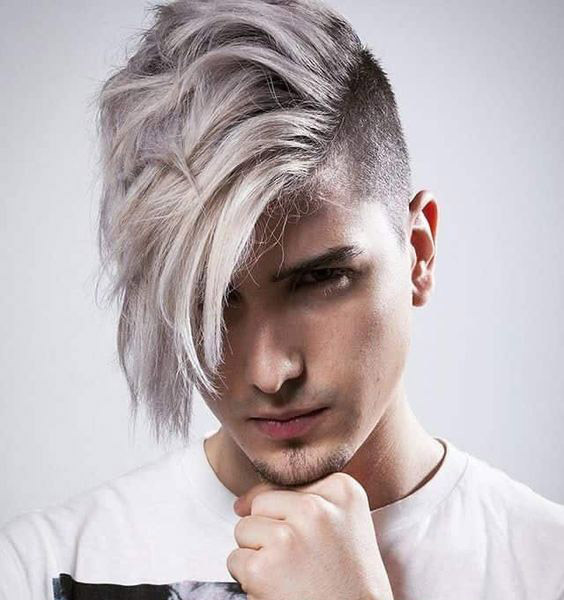 Long Asymmetric Bangs
Bangs aren't for everybody, but they can be an enjoyable element to experiment with. Rub clay or gel into your hands as you sweep the hair towards your face and play around with the texture. With a simple side swept undercut like this, don't pressure yourself with high-maintenance grooming.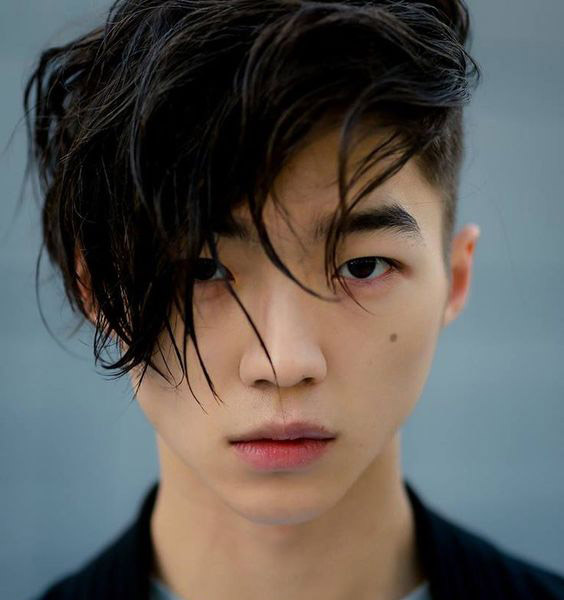 Viking Inspired Side Swept
When you're sporting a Viking-inspired beard, soften its edginess with a hairstyle to match. Shave around the temples, and allow the rest of the hair to grow long from the widow's peak and easily overhang. The mix of a well-groomed beard but natural hair part creates an irresistible swagger.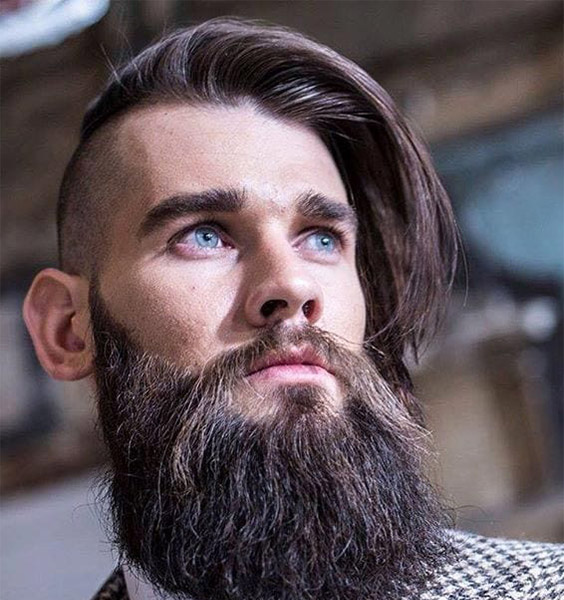 Sleek Side Swept Undercut
A subtle Ivy League will impress your work, colleagues, and friends. In contrast to overworking the hair into dominating curls, grease the hair and brush it out to the side but not into a definitive curl. The medium-length spikes will accentuate your jawline and cheekbones.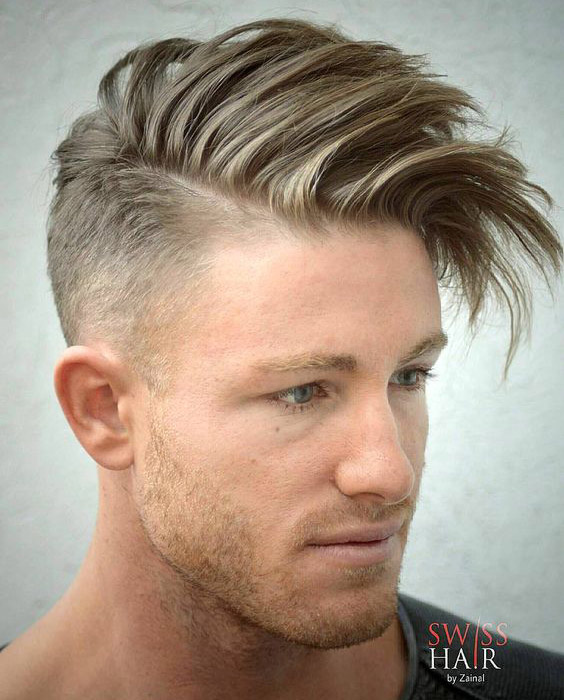 Silver Side Swept Undercut
If your hair is thinning, foster an illusion of fullness by growing it out long. By brushing your hair to the side, you can transform your style by dying it silver. Take it up a notch more by dying the beard and undercut black or leaving it with the natural color. The bold combination of a two-tone hairstyle will ultimately become the focal point.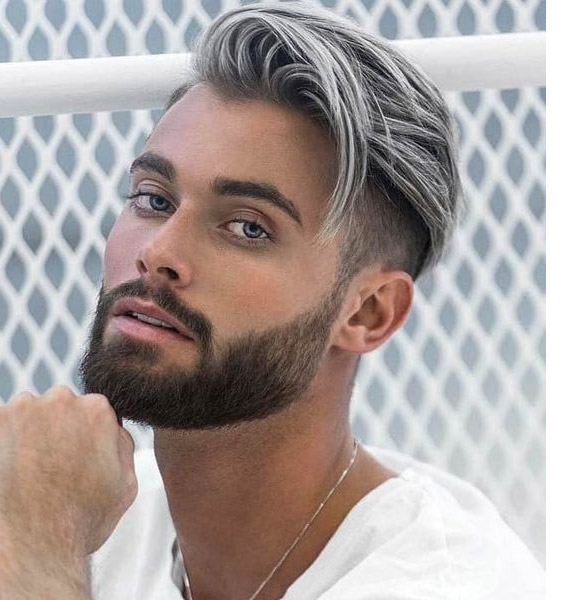 Edgy Full Undercut
By shaving the sides but leaving the crown untouched, an undercut is stylish on its own. With the top of the hair neatly trimmed, brush it towards the opposing side of your natural part. There's no need to go overboard with styling as the spikes will produce significant volume.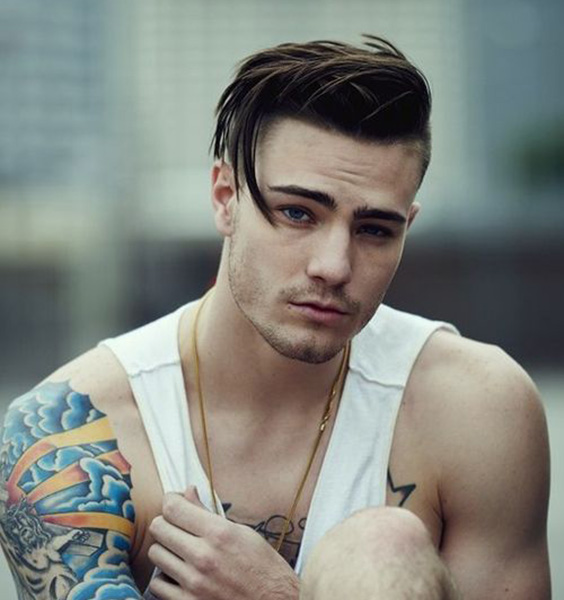 Criss-Cross Brush Up
A geometric pattern can add a fun twist to a traditional brush-up. Slick your hair first with hair mousse, and then tease different strands from the middle part with pomade. For the rest of the brush-up, use a blow dryer and comb to provide a sizable lift.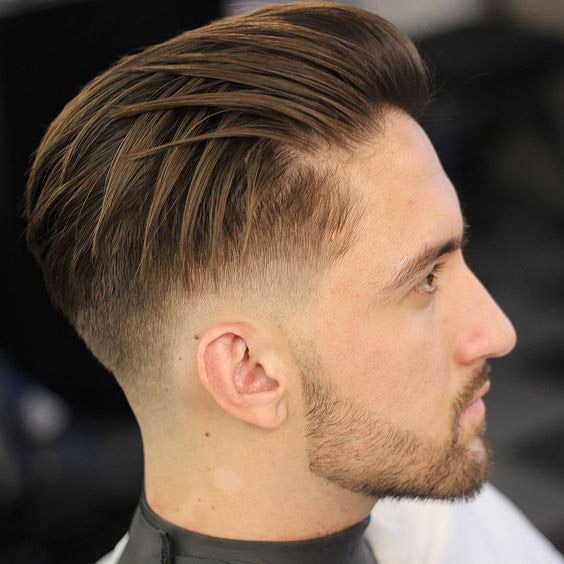 Polished Undercut
The best element about a side swept undercut is that you can bind the hair any way you prefer. This polished look combines well with a frizzy beard and mustache handles. Brush the hair or with your fingers and hair mousse to achieve the exact shape you want. Blow-dry to keep it in place.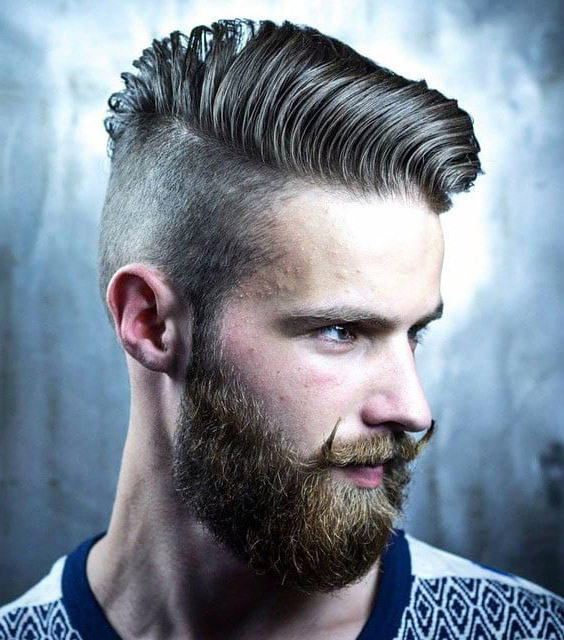 Long Comb Over
Though an undercut is typically shaved for a high hairline, ask a barber to go low around the ears and trim one side shorter than the other. With most of your hair intact, brush the longer half towards your face. This can help disguise a prominent forehead and keep your look polished with a tidy beard.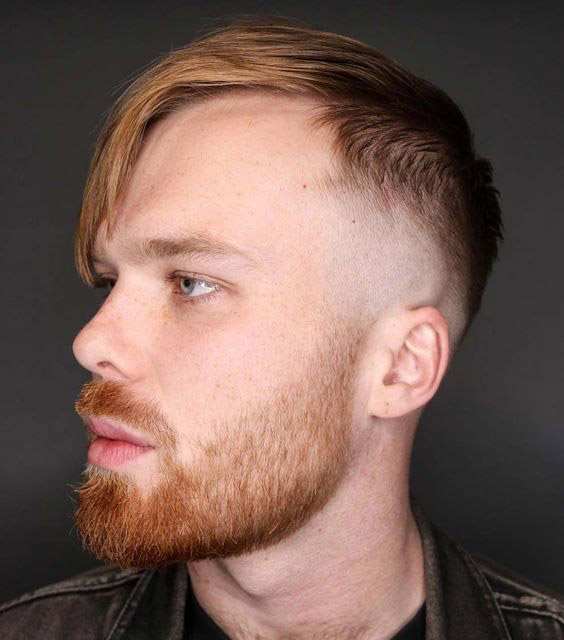 Edgy Angular Fringe
The longer ends of the hair graze the middle of the face, while the shorter ends are close to the scalp. To achieve long bangs, brush your hair to the opposite side of the widow's peak. Though the sharp cut of the hair creates a harsh angle towards the jawline, the curling motion sweep softens the angular fringe.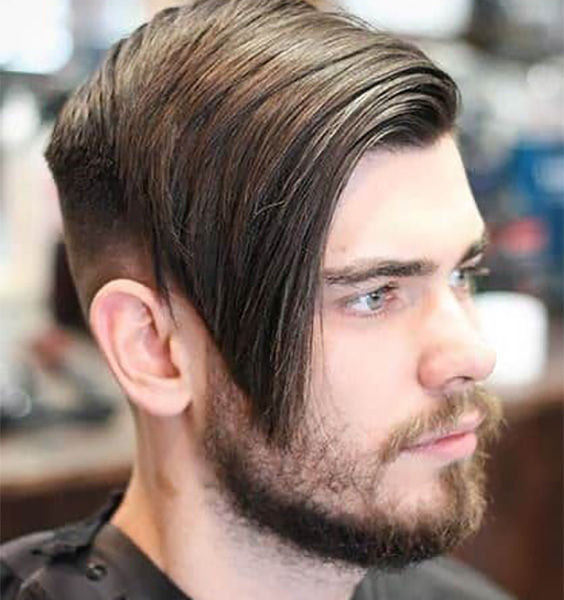 Natural Side Swept Undercut
When one half of your hair is long and the other side trimmed, don't exaggerate it with more styling. Make your hair look sleek with a simple blow dry after washing it and brush it once or twice. Let your hair flow naturally, and keep your face fresh with a clean shave.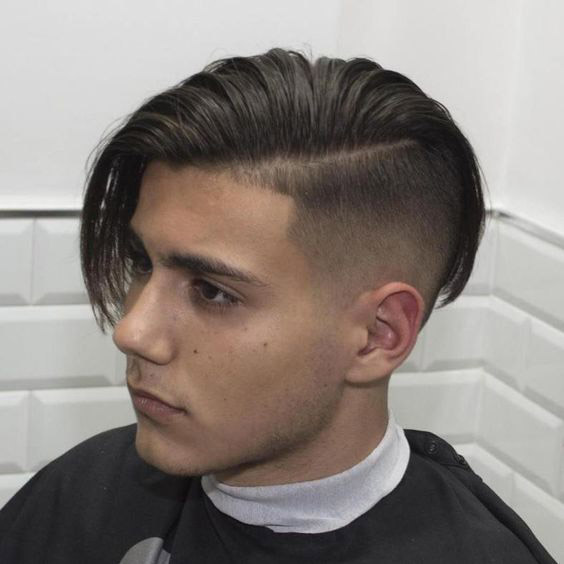 Wind-Swept Undercut
A classic side sweep and beard will leave a lasting impression on everyone you meet. After applying moose to your short hair, shift it to the side with a brush just enough to cultivate a wind-swept effect.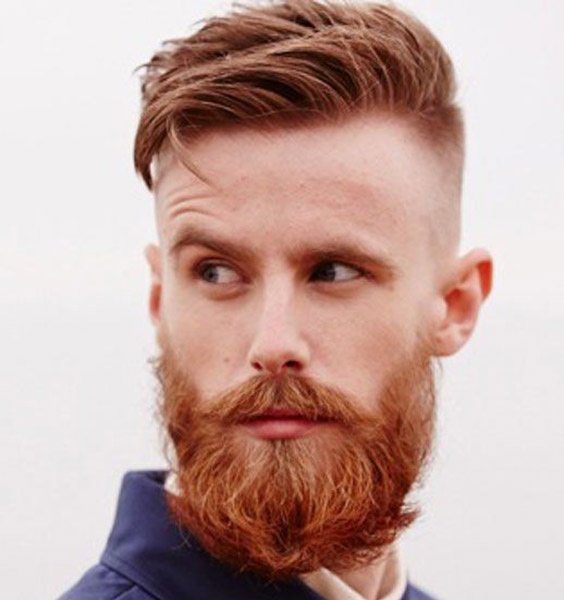 Disconnected High Quiff
An undercut can be subtle or exude an extra contour that will be a show-stopping addition to your appearance. Top off that tiny yet bold detail with a high quiff sectioned into thick strands. The combo will sharpen the disconnected undercut even more.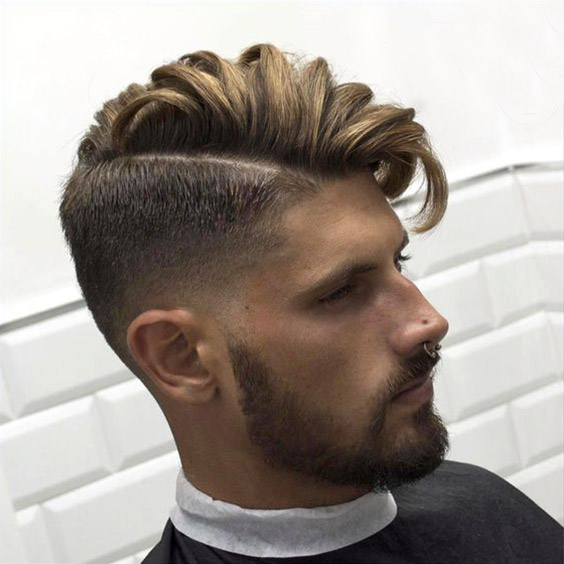 Curl and Waves Combo
With most of the hair left on the crown of the head and the sides only slightly trimmed, take advantage of this unique length with finger waves. From the middle part onwards, style it with curls. The combination of both creates a romantic look for a fun date or formal affair.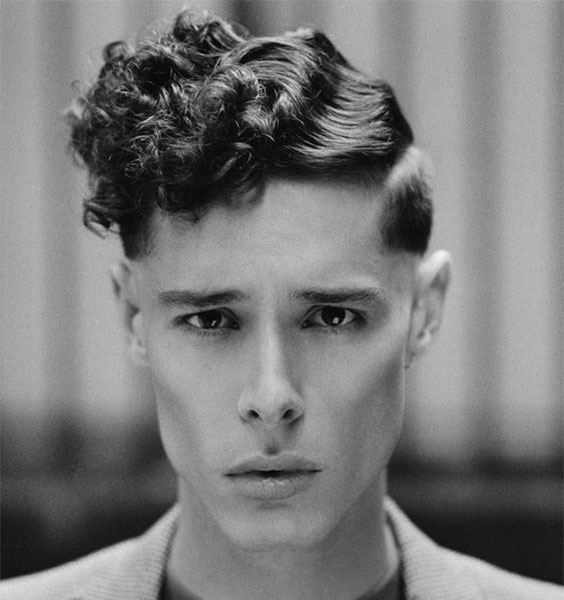 All-Natural Loose Curls
When your hair grows out long, let it take the reins for your everyday style. Keep your hair well-brushed to reduce tangles or waft any direction the breeze takes it. This style is all about feeling and looking natural and not emphasizing a meticulous grooming routine.