Dread fade haircuts are versatile, with a ton of looks to create a unique style. Dreadlock is a beautiful style that requires low maintenance. Wearing and growing them is fairly easy, as well as developing a healthy hair care routine. Below are 20 dread fade haircut ideas to try out.
#1 Long Dread with Faded Sides
Long dreadlock on a man can be classy and, when combined with faded sides is exquisite. These locks are like twisted ropes and are swept back to create an edgy yet elegant look. Dread fade haircuts, goatees, and twists highlight a man's style. This cut is special because it is easy to maintain. Just follow your regular dread care routine to keep this look perfect.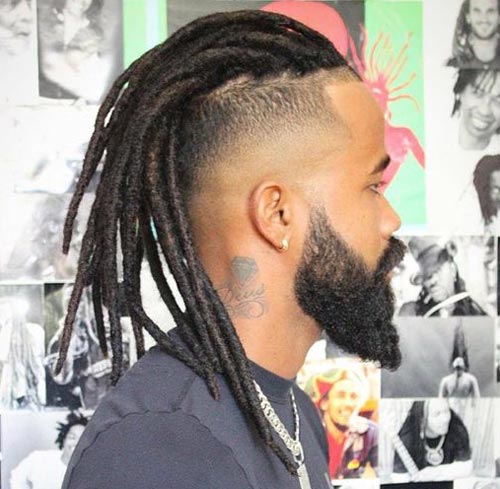 #2 Curly Mohawk with Highlights
Dreadlocks are bold and edgy all on their own but are more badass when combined with a mohawk cut. This particular hairstyle is short, with blond highlights and faded on the sides. Natural curls work best for this style as you will not need to apply wax or tightening gel frequently. Wearing this look and be rest assured that no one will doubt your kickass style.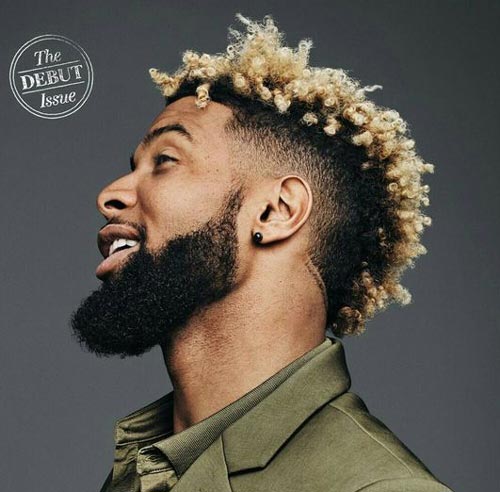 #3 Twisted Man Bun with Skin Fade
A good way to keep your dreads off your face is to tie them up in a bun. Use some twine or ribbon to pull it all up into a cute ponytail or updo. This style is particularly ideal for hot summer days or working out. The unusual updo might seem a little too much for formal wear, but it is the novelty of this style that makes it so exquisite.
Twisted dreads are much easier to maintain than standard dreadlocks. They don't require palm rolling except when they are old and worn, at which point you'll need a professional hairdresser.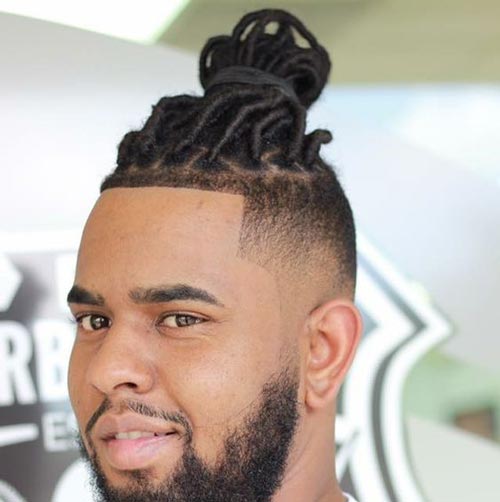 #4 Short Mohawk Dread Fade
The natural texture of your hair can help you get you this look. If your hair is short, a mohawk with progressive length from back-to-front will show off the thickness of the hair. Faded sides also help to pull focus to the top of the hair. This style requires some specialty wax or gel products to keep it looking fresh all the time.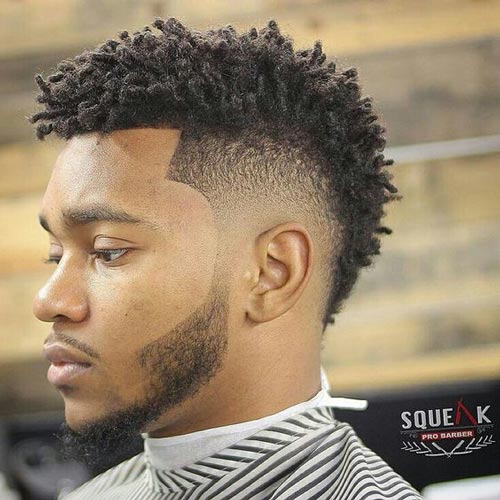 #5 Dread Top Knot with Undercut
Dreadlocks are best for African hair, but other hair types can also pull off the style. With textured hair and a side that is sharply faded, almost resembling an undercut. To maintain these locks, palm rolls your locks daily to keep them dreaded and clean.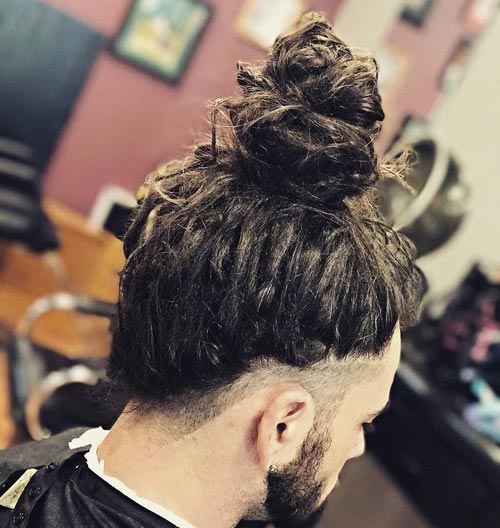 #6 Mohawk with Mid Fade Sides
Ombre hair color on dreadlocks looks adorable on men or women. You could choose a brighter shade or stick to a less vibrant color, just like the model. The dread fade adds a pop of attitude to the look. Maintaining the hairstyle is easy. Just add in some hair gel and roll your palm in a circular motion until you've worked all the gel in. Gently pull the locks backward and air dry.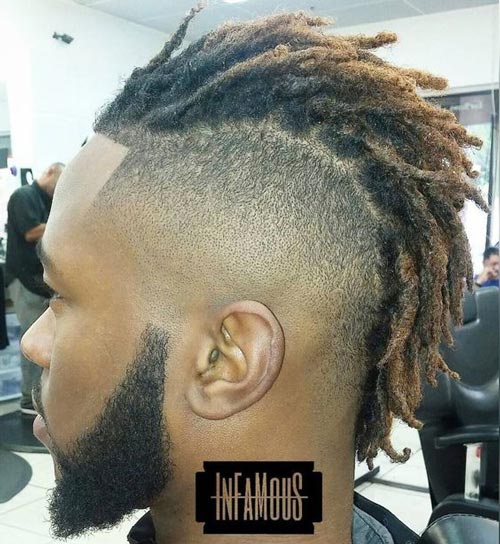 #7 Man Bun with Tapered Sides
If your hair grows out flat, not like the regular afro-kinky hair type, tapered sides will look great on you. More and more hairstylists are combining the taper cut with dreads, and this hip look requires some maintenance. To keep these twists looking stunning, try the clockwise rubbing technique with a good twisting gel. If the texture of your hair is kinky, then you don't need to do much here.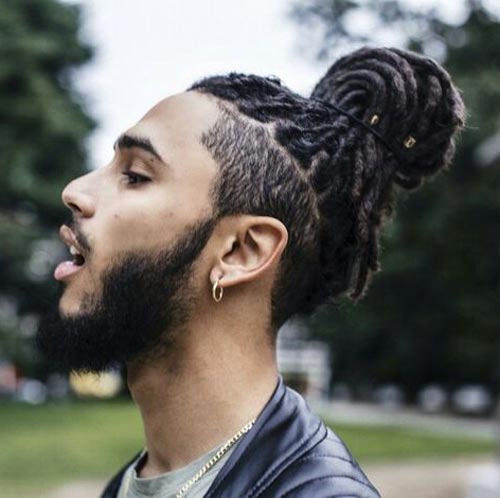 #8 Spring Dread with High Fade
You can also have killer dreads with spring curls. Natural, springy ringlets are the best for a wash-and-go look. Maintenance is easy because the hair will take back its form without much effort. This style features a high fade that pushes focus to the curly highlights on the top.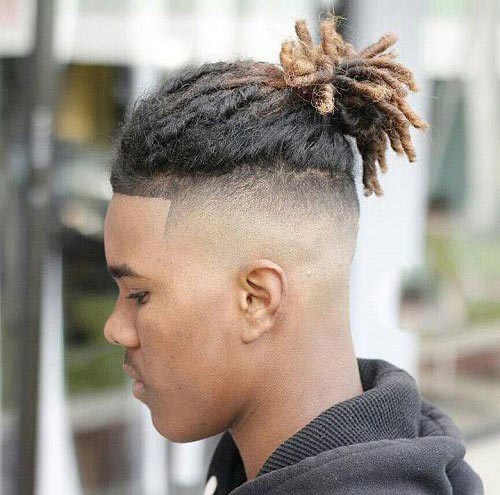 #9 High Top Dread Fade
A high top dread with a low fade is the epitome of rugged looks. The model has kinky African hair and pairs this with tousled dreads. This haircut is an extravagant version of the classical dread hairstyle and is more appropriate for special occasions, themed photoshoots or fashion shows.
If you have medium length hair, you can get this look and switch from a clean to an edgy look whenever you want. Maintenance is also easy especially if you decide to go with the tousled look.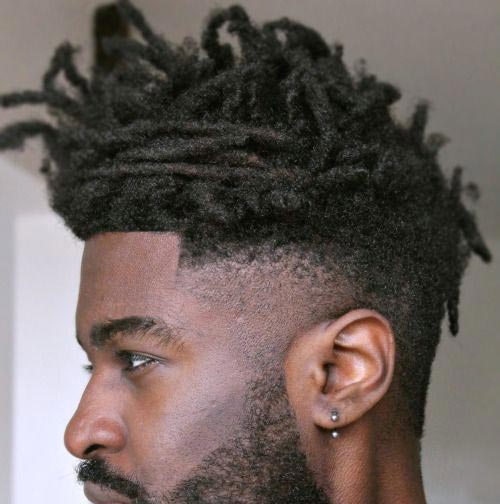 #10 Cornrows with High Fade
Men that wear cornrows always stand out in a crowd. This style is not dread but is a great example of a contemporary hairdo for men. It features a high fade on the sides and can pass for a mohawk as well. You can let the braided hair down or hold it up in a bun for a different look.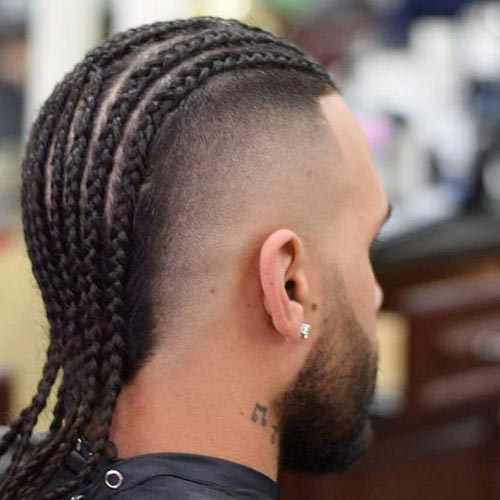 #11 Kinky Dread with Mohawk and Fade
This style is an insanely simple way to shake up your dreadlocks. Play with the length and mix up short, medium, and long locks to create a shaggy, Avante Garde look. Accessorize with hair clips to add a boho vibe to your disheveled look.
A look like this will not need much by way of maintenance. Simply add some dreadlocks hair products and use your fingers to pull the hair upright.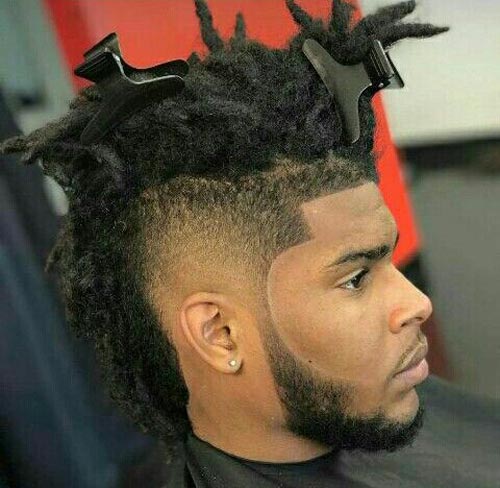 #12 Curly Top with Dread Fade
Embrace your inner boy by wearing these charming dreadlocks. A curly top dread fade on the sides will spice up your style. The model is sporting a few braids in his hair and also has a short side part for effect. Maintaining this style is easy just add some gel and palm roll for a dreaded look.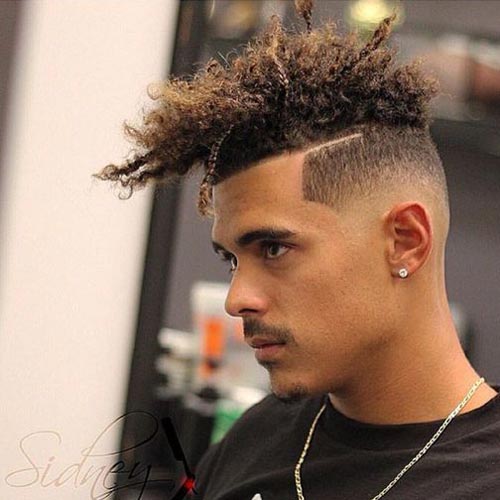 #13 Braided Dread Bun with Side Design
These twisted dreads are long, simple, and clean, but the side design from front to back says the model is not afraid to explore new styles. Maintenance is only required for the top part of the hair.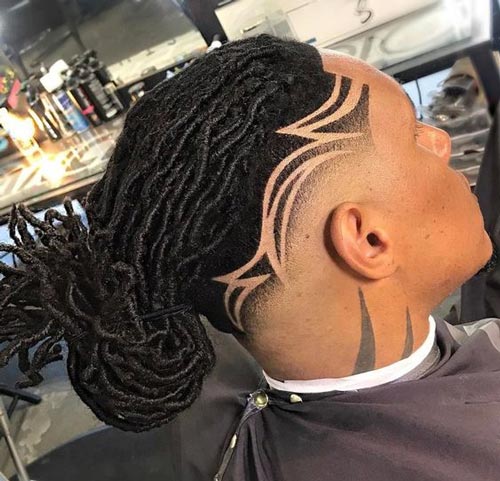 #14 High Top Dread with Low Fade
Dreads can look clean and close to perfection, or they can look messy, laid-back, and cool. You can choose any style that suits you best. The style in this picture is messy and yet reflects the true nature of dreadlocks. Cut into a high top; the hair will need some frequent dread balling to maintain the look.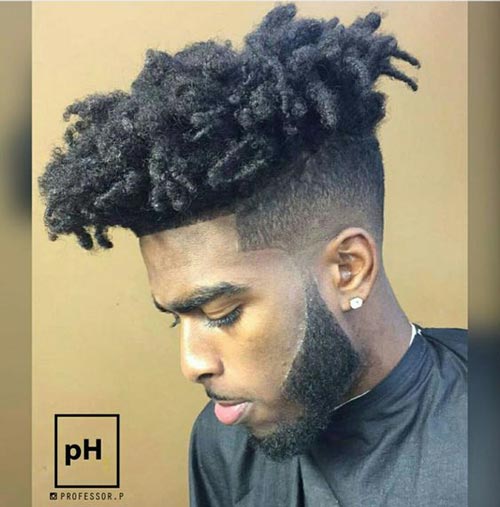 #15 Small Twisted Dreads in a Bun
This is a complex style that looks well-groomed. The twists were done neatly that there's none out of place. The style shows that you can wear dreads to formal occasions and still let your hair down afterward. All you need to do is style them appropriately and pull them up into a manly bun. This is a truly creative hairstyle that won't be forgotten in a hurry.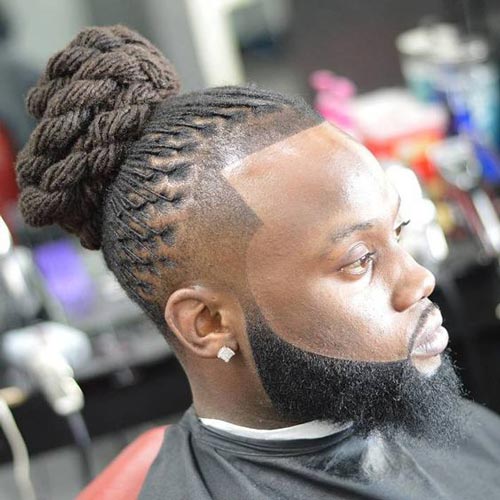 #16 Temple Fade Dreadlock with Undercut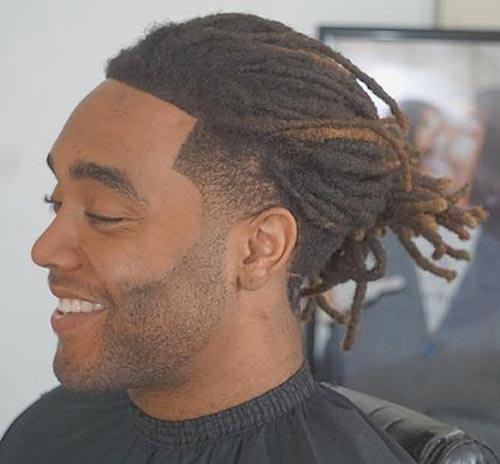 #17 High Top Temple Fade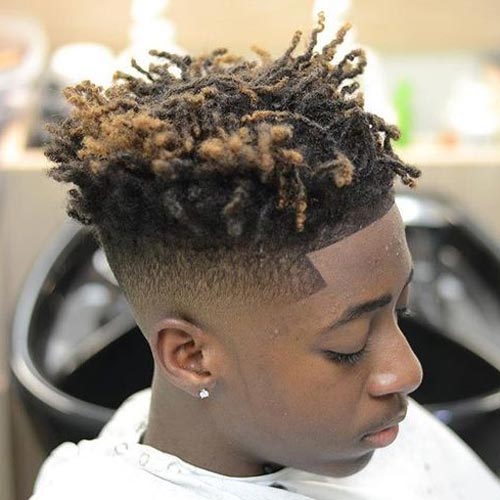 #18 Top Knot Undercut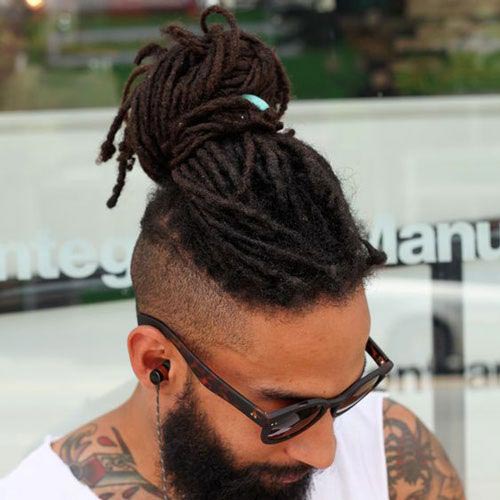 #19 Braided Haircut with High Fade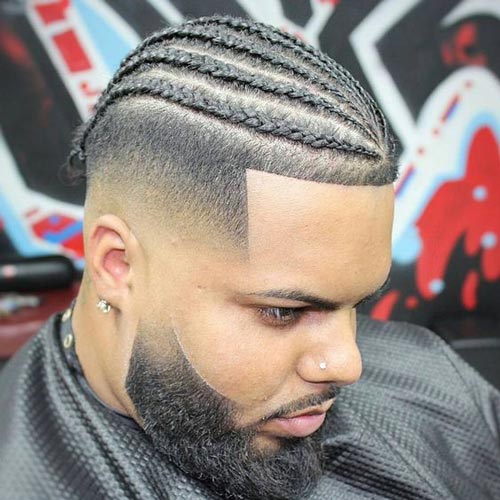 #20 Mohawk Dread Fade with Razor Line