This stylish haircut is perfect for those who want a clean and sharp look. The high fade can start very high on the head, just above the temples. The high fade can be combined with different hairstyles, such as a slick back, pompadour, quiff, or even a buzz cut on the top.
Getting a high fade can be daunting if you are not familiar with the process. In this article, we will provide you with a step-by-step guide on how to get the high fade haircut, different types of high fade haircuts, how to maintain them, and more. So, whether you're a first-timer or someone who's been sporting the high fade for a while, keep reading to discover all the tips and tricks to get the best high fade haircut possible.
How to Maintain a High Fade
Maintaining a high fade haircut requires a combination of regular trims and the right hair products. Here are some tips to help you keep your high fade looking sharp:
Schedule regular trims: A high fade requires frequent trims to keep it looking neat and tidy. Plan on getting a trim every two to three weeks to maintain the length of your hair.
Use the right hair products: Use hair products that are designed for your hair type and style. For a high fade, use a strong-hold pomade or hair wax to keep the hair in place and prevent it from sticking up.
Wash and condition your hair regularly: Keeping your hair clean and conditioned is essential to maintaining a high fade. Use a gentle shampoo and conditioner that won't dry out your hair or scalp.
The Photo Gallery Of High Fade Haircuts
Short Wavy Haircut with High Fade
Choosing a classic piece of hair can be advantageous in many ways. For example, this scissor crop ensures that every strand is neatly arranged, making you look polished and put together.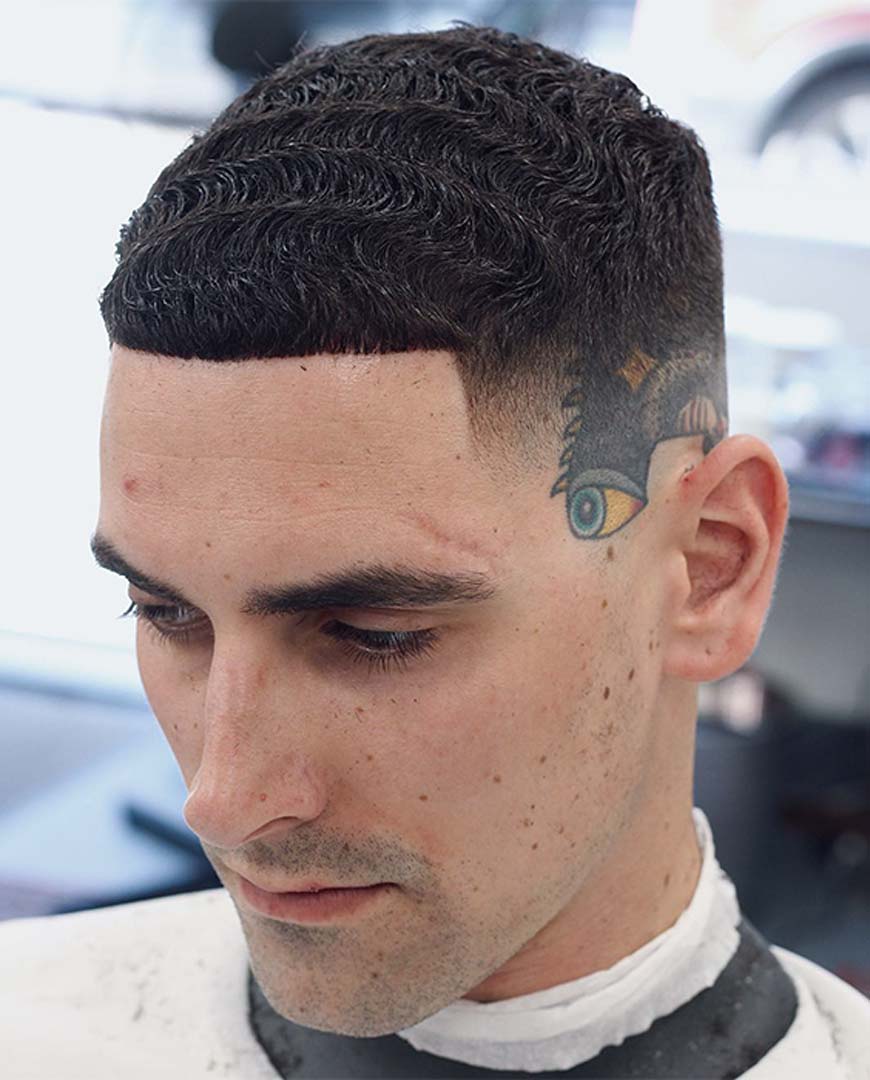 Pompadour with High Fade
Are you following the latest hairstyle trends? If so, then you're likely to try out this bold take on pompadour haircuts. The hairstyle is characterized by a large, waves-like formation on the top. This shape results from finger combing and occurs as a result of waves radiating outward from the focal point.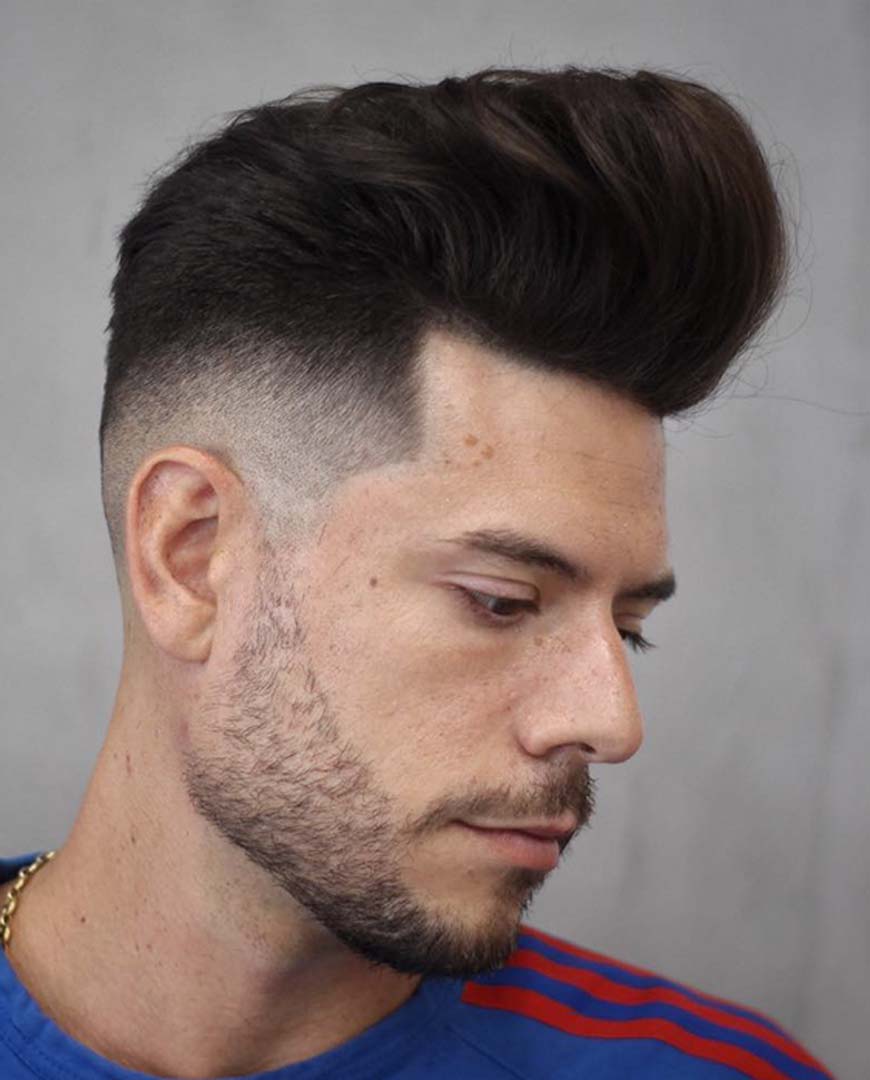 Dyed Top with Beard
A popular style these days is a blunt crop with blonde highlights, and it can be styled easily using a good styling powder. Always mention that you want a blunt fringe when requesting the style, and picture how you would like it to look so that the stylist can better understand your needs. There is no need to overcomplicate things; just let them know what type of texture and finish you are looking for.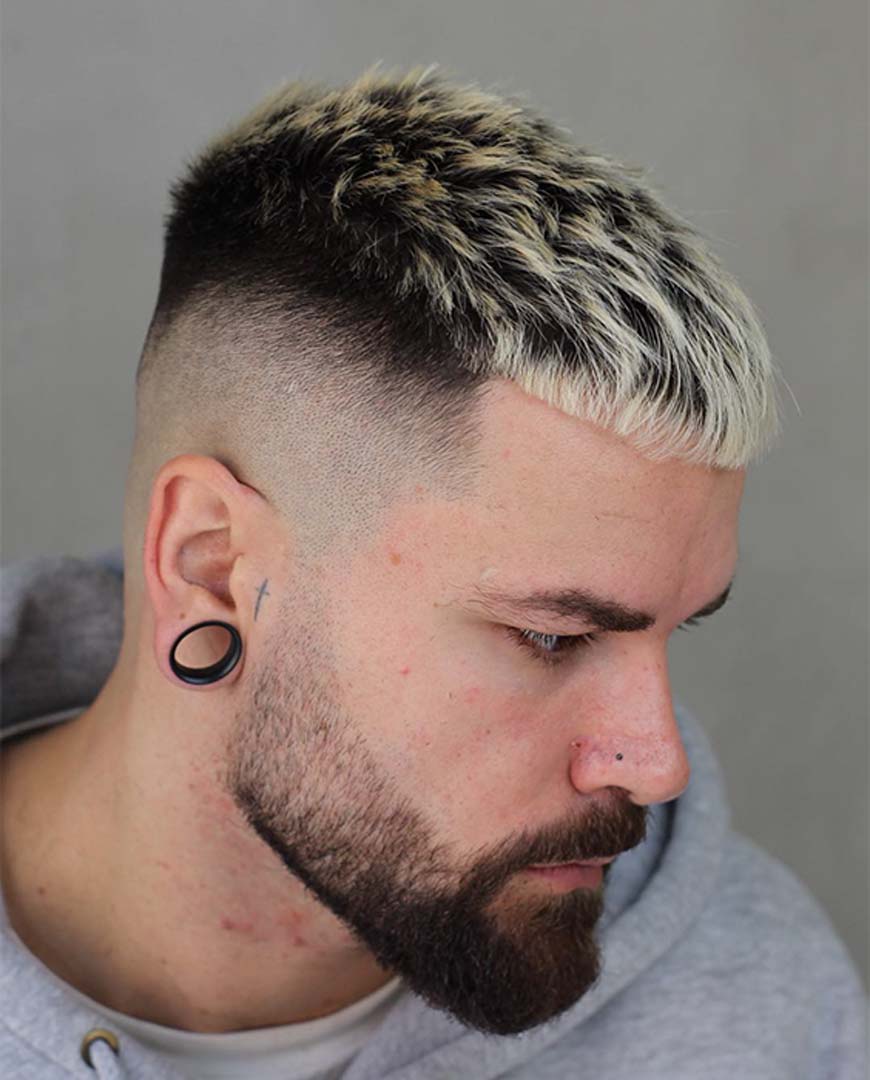 Curly Hair with Hard Line
This style is a mix of casual and formal, with the top being brushed up but still curled. The top is styled simply but nicely with curls, making it look polished and fashionable. Add hard parts on either side to give a curly haircut party vibe and a more defined appearance.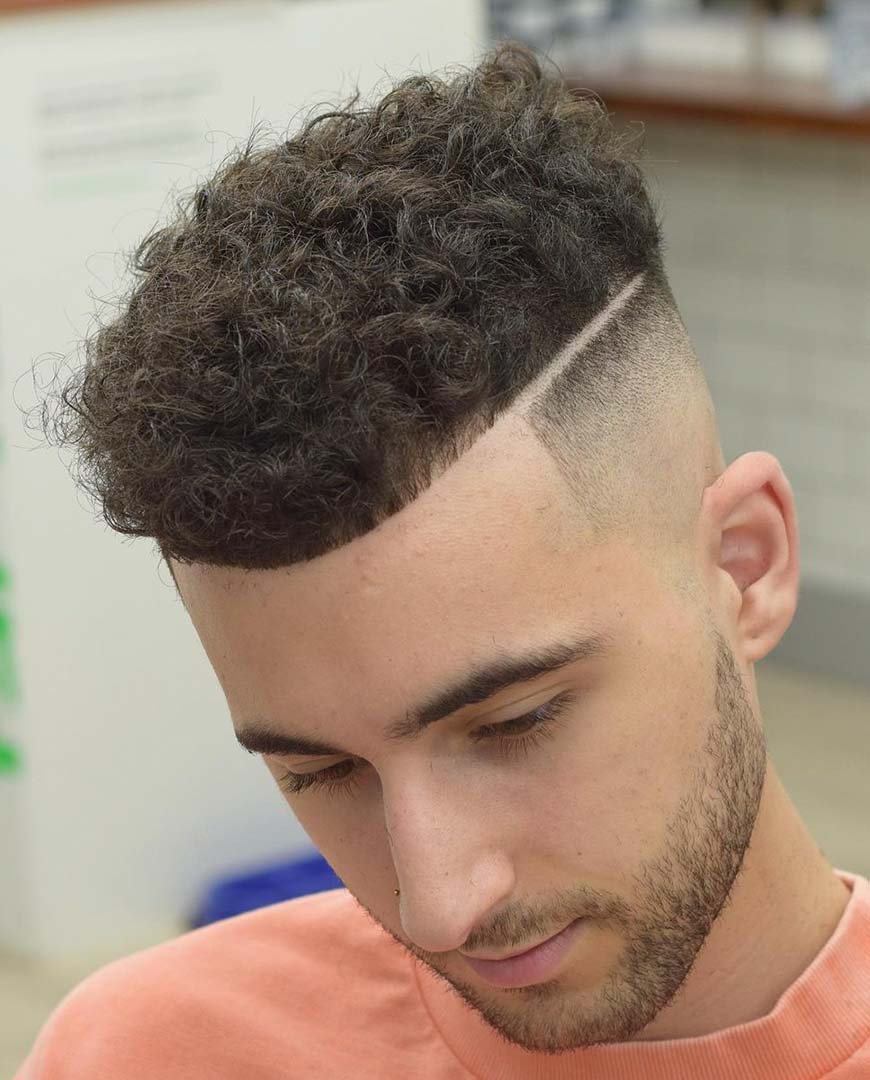 Side Swept with High Fade
There are a variety of side-swept haircuts that can be created by varying the degree of fade, but they mostly match with high fade. All three types should be common and easy for skilled barbers, depending on the desired style.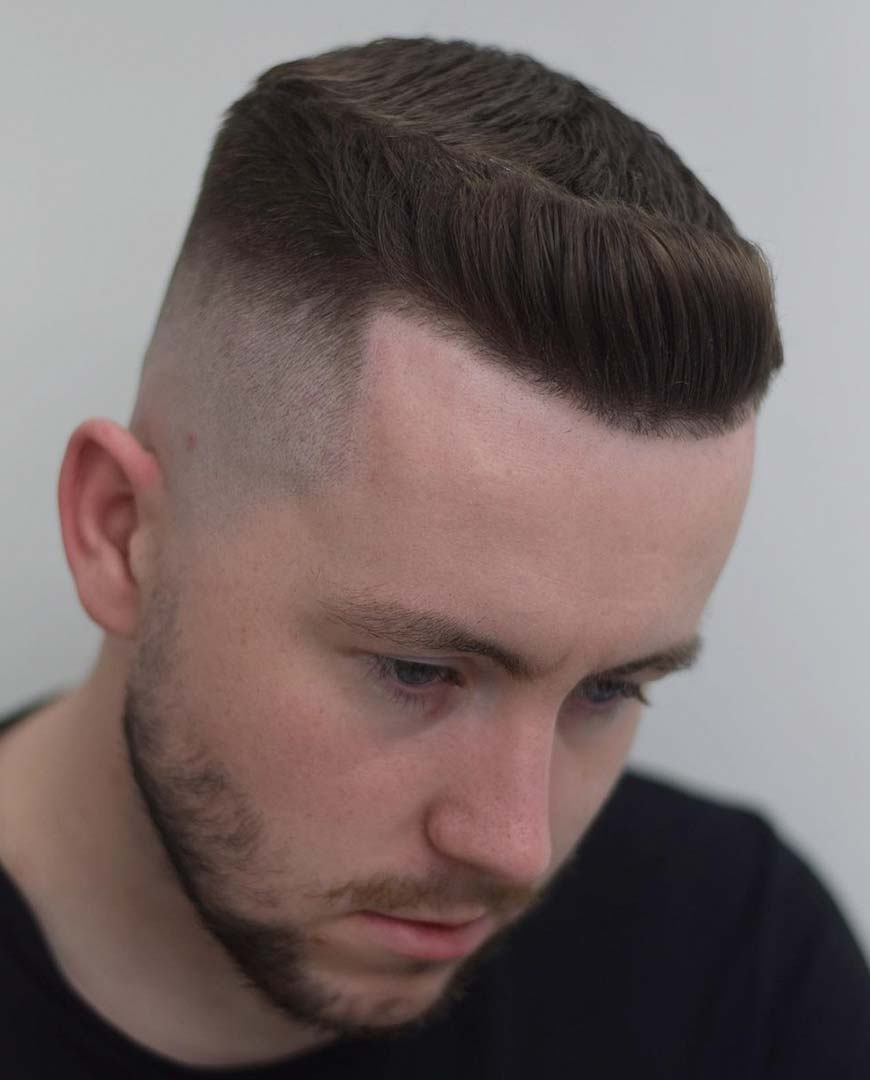 Side Swept with Beard
Styling your hair can be achieved with a side part and high fade, which will give you an intentional look. This is a simple way to stand out in your hairstyle without doing too much work. The sides of the hair are taper faded to a very fine edge, and the temple blends seamlessly into the beard to create an even more distinguished look.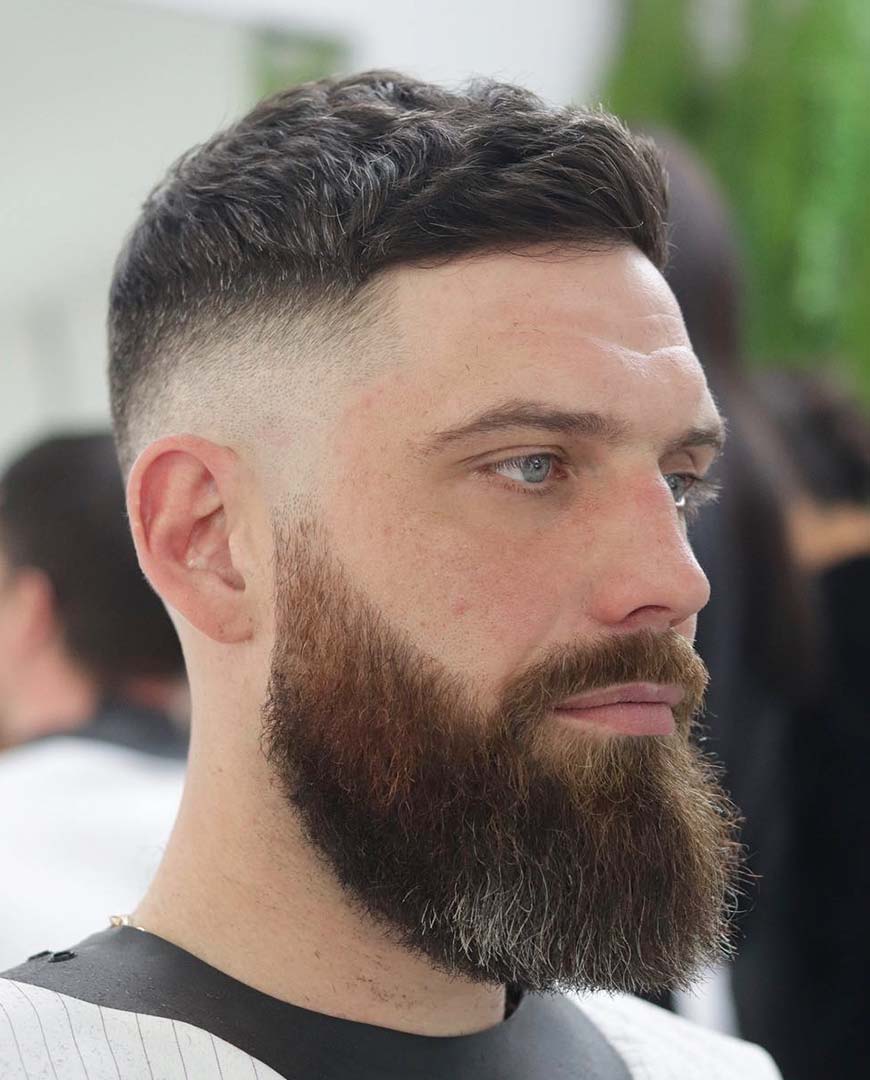 Comb Over with Hard Part
The combed-over hair has a hard part to one side, which gives it both style and shape. This neatly styled haircut is perfect for those who want to look polished and clean without going too extreme with their hairstyle choices.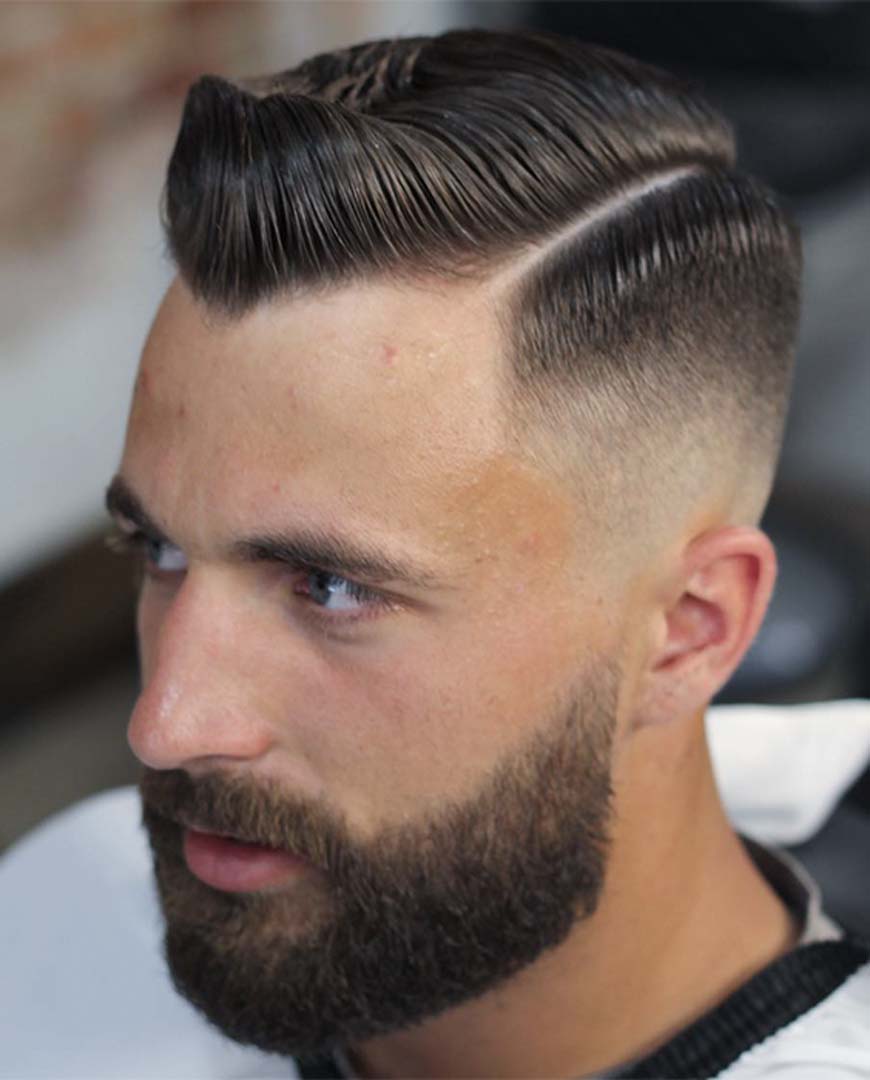 High and Tight with Fade
This hairstyle is popular in the military community, as it is easy to maintain with shorter sides and a longer top. A brushed-up style gives it an allure that cannot be duplicated by any other style. This example features a high fade with a slight undercut- perfect for anyone looking for something unique.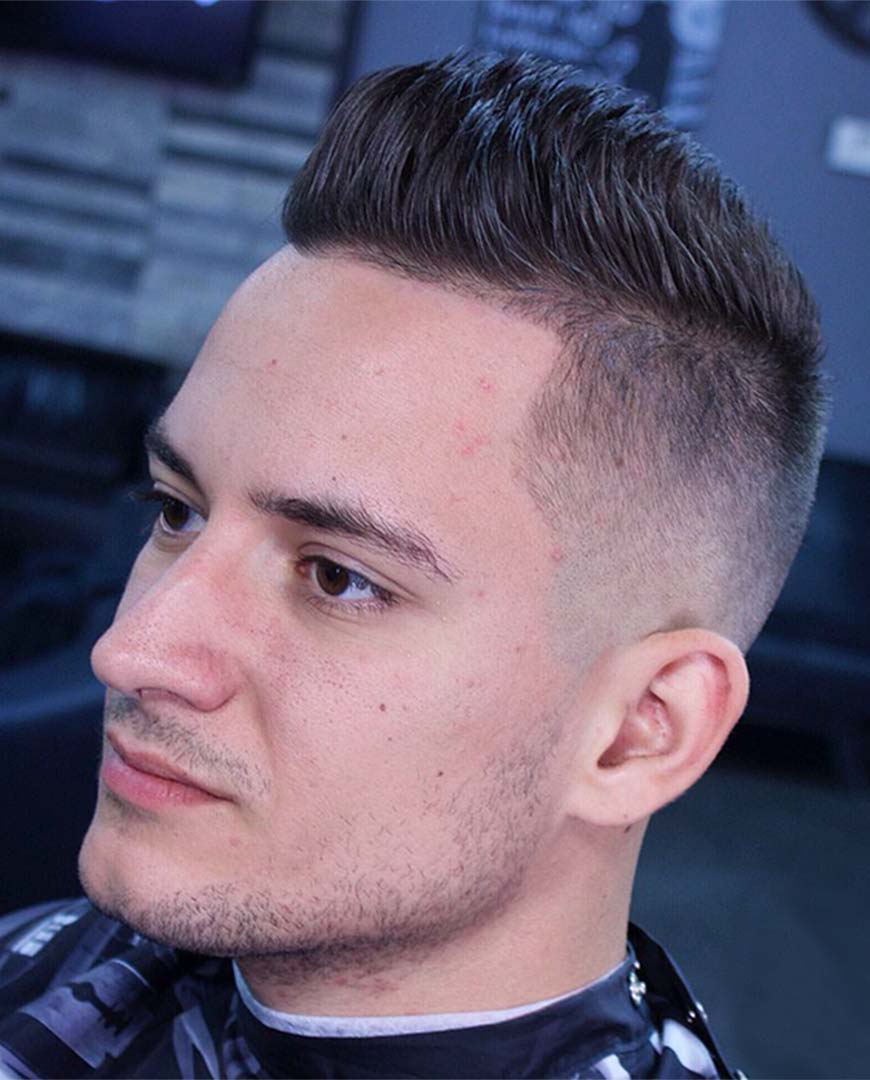 Crew Cut with Fade
Many people enjoy looking like Drake, especially if this style of haircut makes them look clean and well-groomed. This gradual high fade provides enough space for the temples to disappear completely.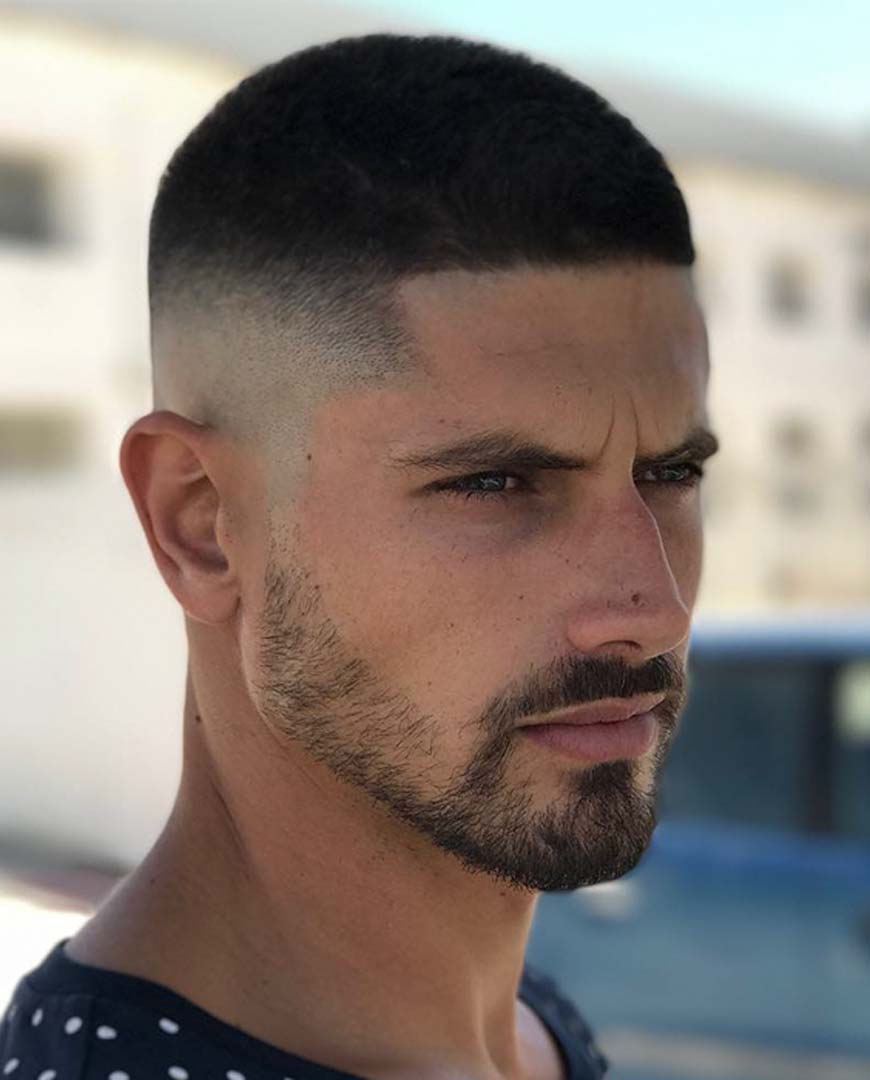 180 Waves Haircut with Burst Fade
A line up is a typical way to make an Afro hairstyle more prominent. The outline it creates easily draws attention to the style, making it the focal point of your look.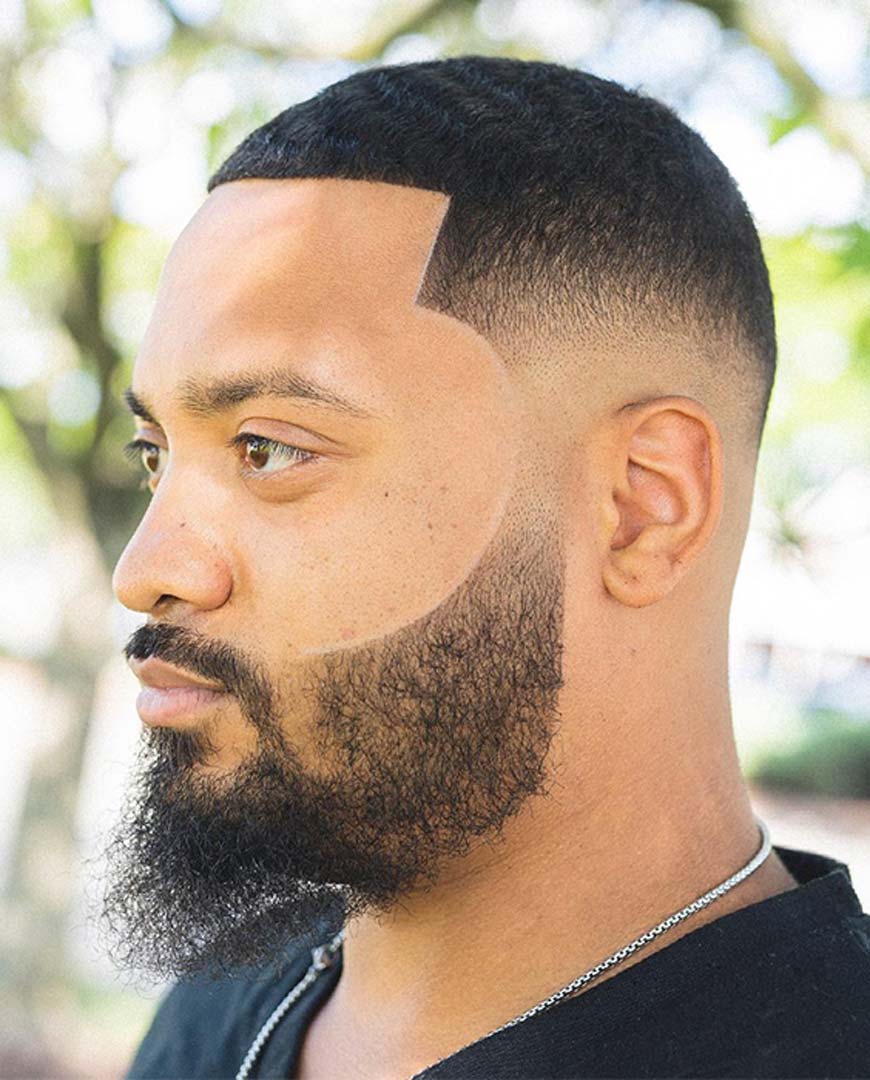 Textured Hair with Scissor Fade
Short crop hairstyles typically take less time and effort to style, however, if you'd like a more pronounced appearance, give the cut texture by fading it on all sides.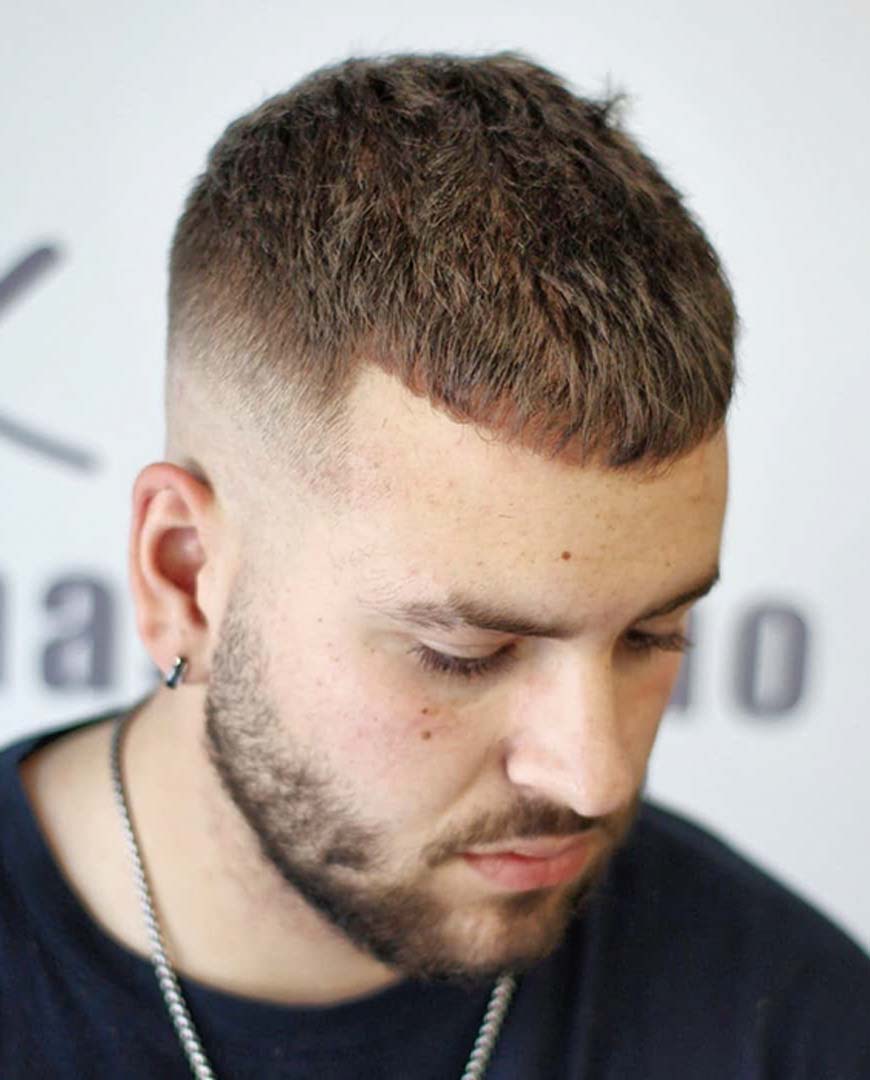 Brushed Up Hair
A pompadour styled in the ultra-modern "gelled look", with a choppy texture and high fade, imparts a strong indication of masculinity.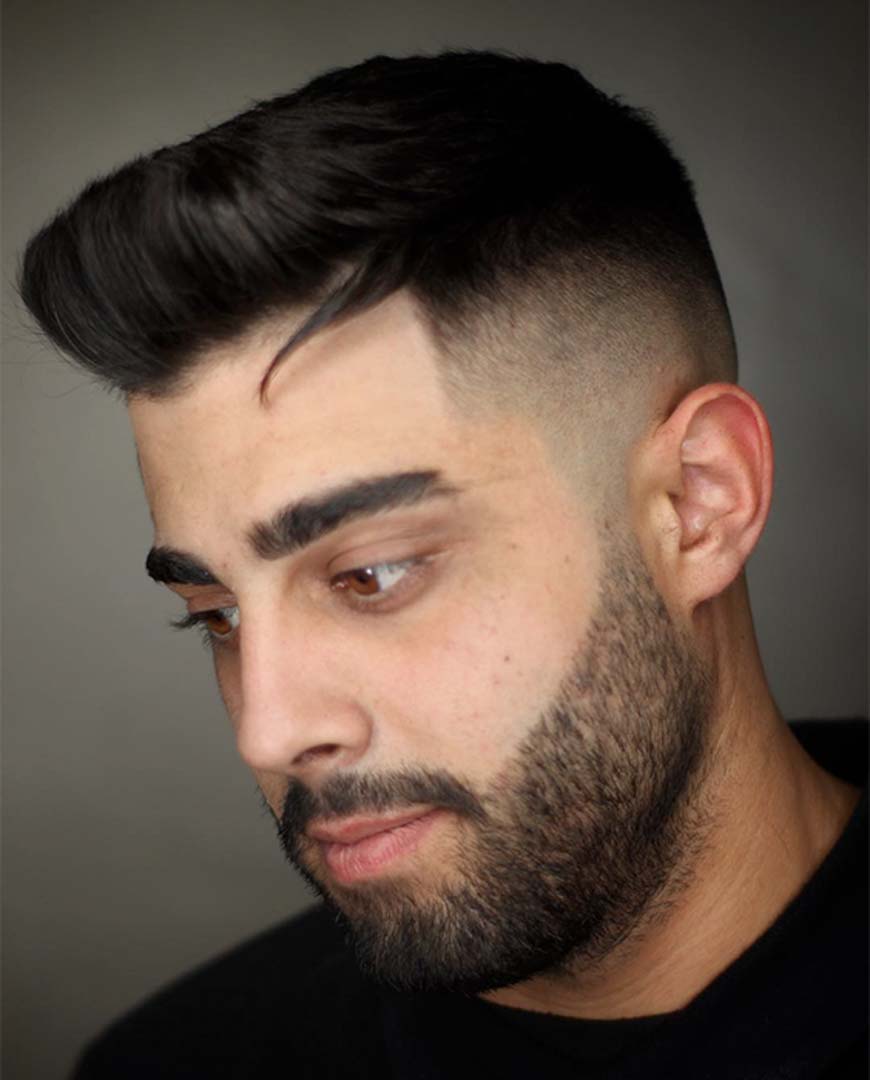 Faux Hawk with High Fade
If you're Looking for a hairstyle that will give you more height, try This faux hawk variation. The front of the hair is brushed up in a quiff-like style to create extra volume. Combined with the high fade, this provides an incredible amount of texture and makes it ten times more appealing than any other option.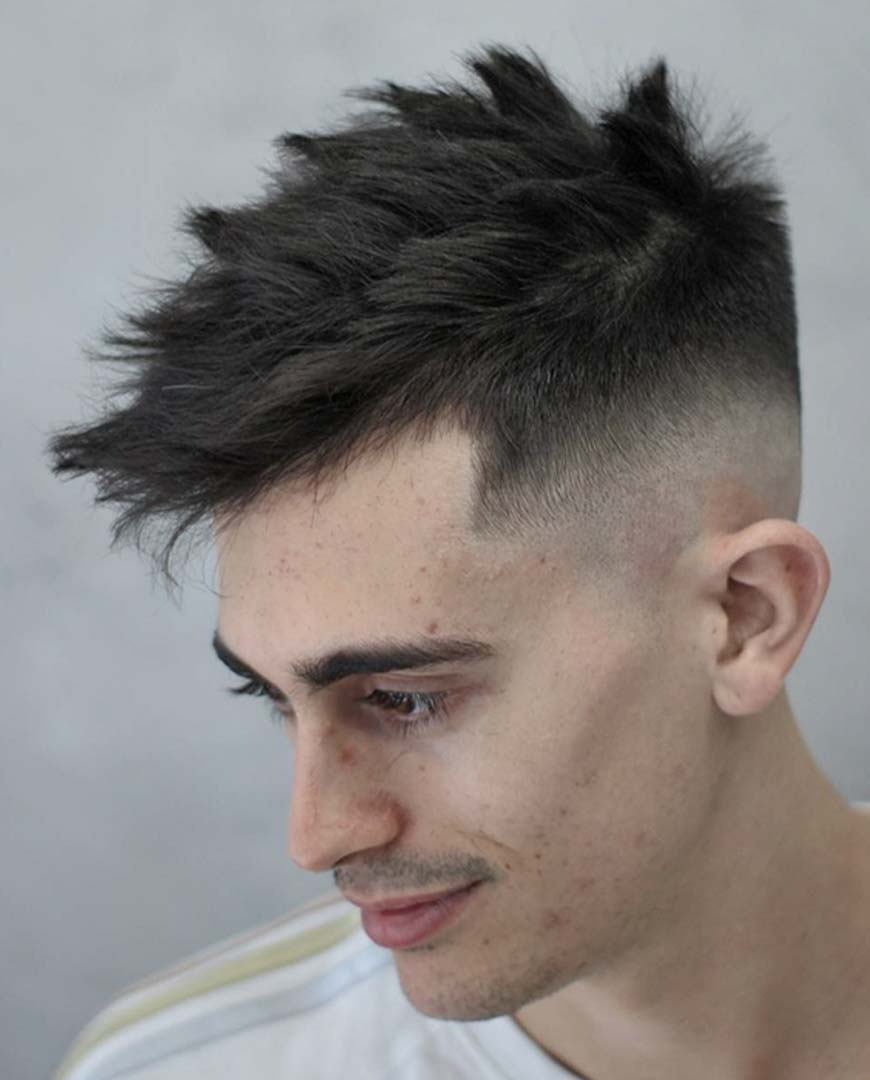 Ivy League with High Fade
To keep your ivy league haircut looking trendy and in style, ask your barber to give you a high fade. The sides and temple of the haircut are tapered, contributing to its graceful appearance. Combined with neatly trimmed sideburns, this look is completed by an unkempt stubble beard – providing balance for the face's more refined details. Attention will need to be paid to quality products to maintain and improve upon this sophisticated ensemble.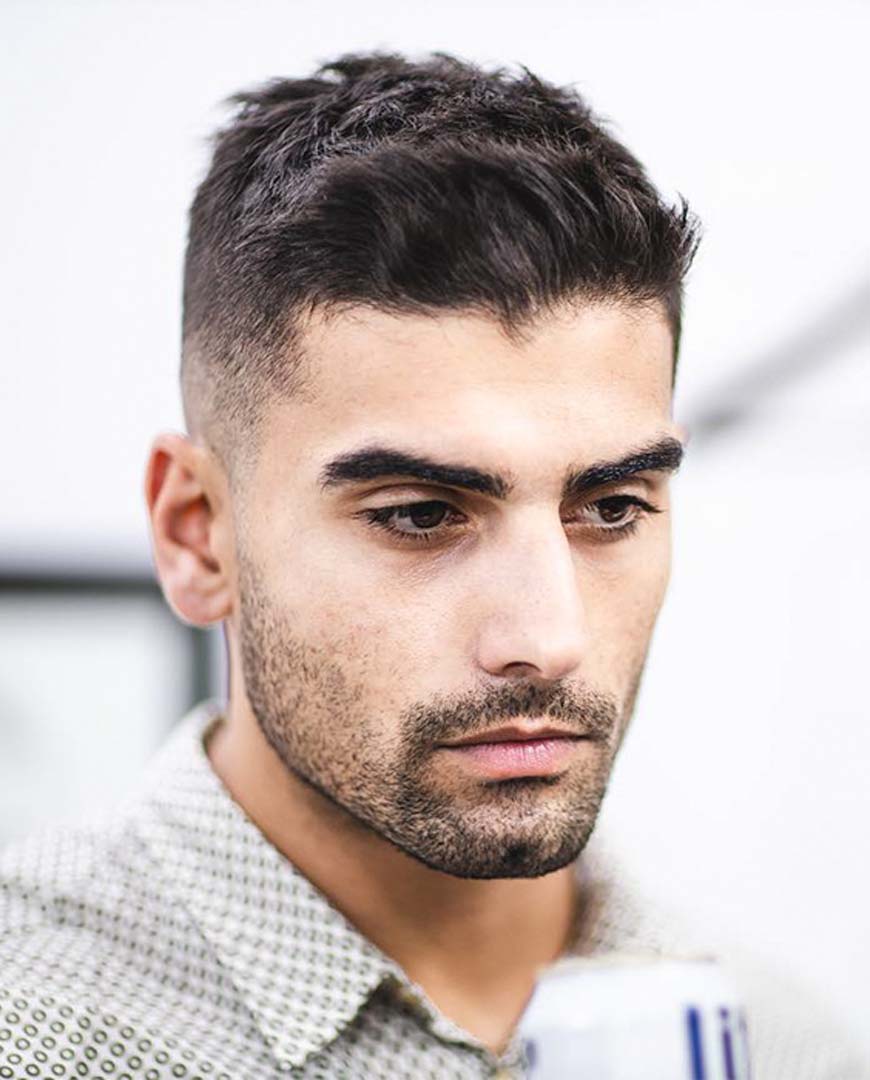 Buzz Cut with High Fade
When creating a masculine hairstyle, the key is to have a buzz cut with high fade. Another feature that should be included is line up, which makes your beard pop out. The line between beard and hair is well-defined, with just the right amount of fade. His Temple haircut is vivid and balanced, making for an excellent look overall.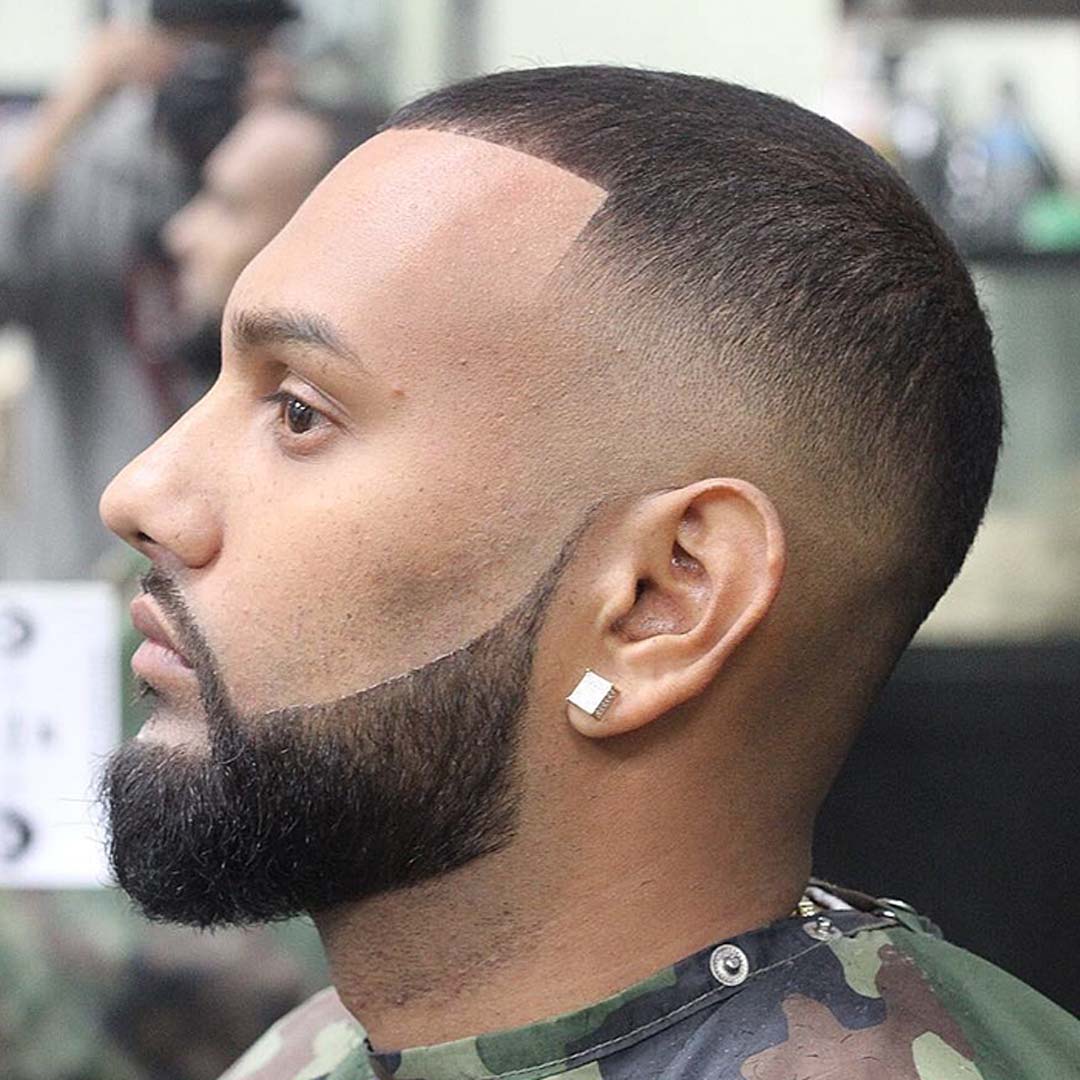 Long Curly Fringe with High Fade
Your curly hair texture makes fringe-styled looks easily adaptable and stylish. The front section of your hair can be the focal point of a look, so take advantage by styling it in a way that accentuates its natural curl pattern. For an added touch of sophistication, push the strands to one side so they appear angular and fresh.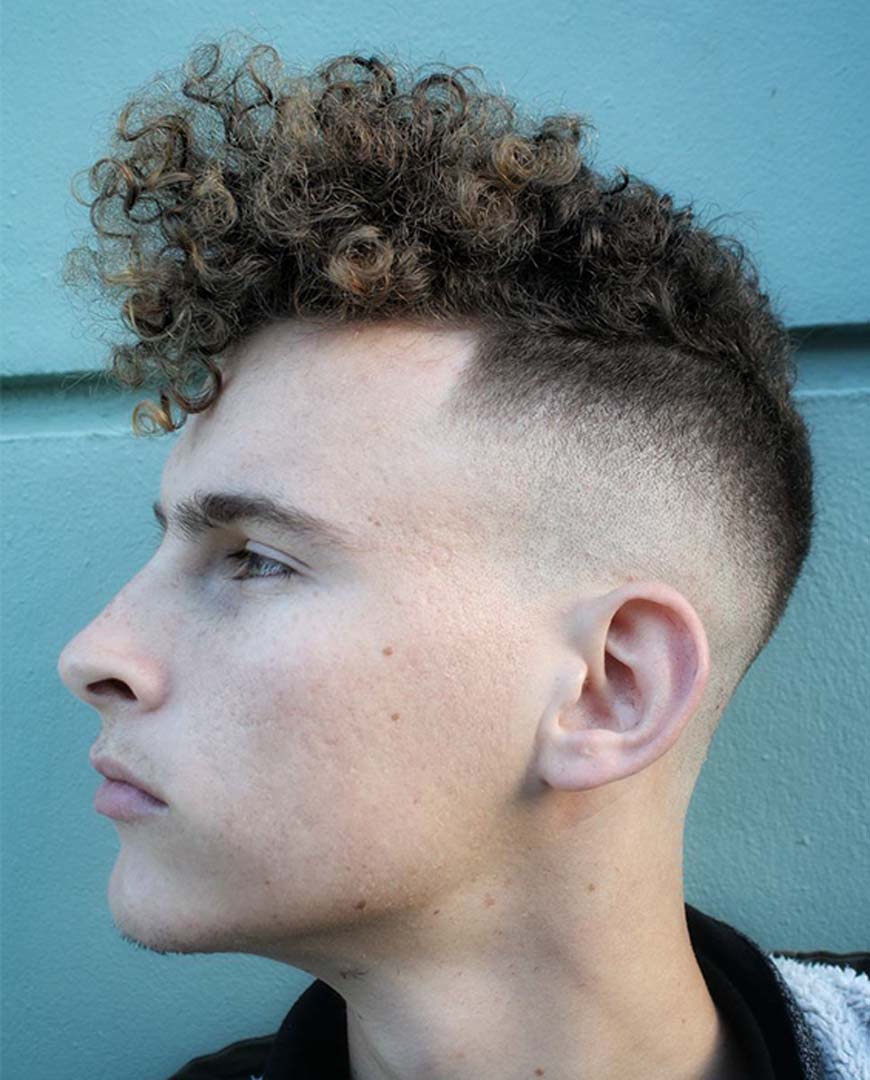 Caesar Haircut with High Fade
This neatly styled hair does not disappoint. The sides of their head are cut close to the scalp, giving a formal and effortlessly cool appearance. Their beard is well-groomed and stubbly – perfect for adding character and depth to their image.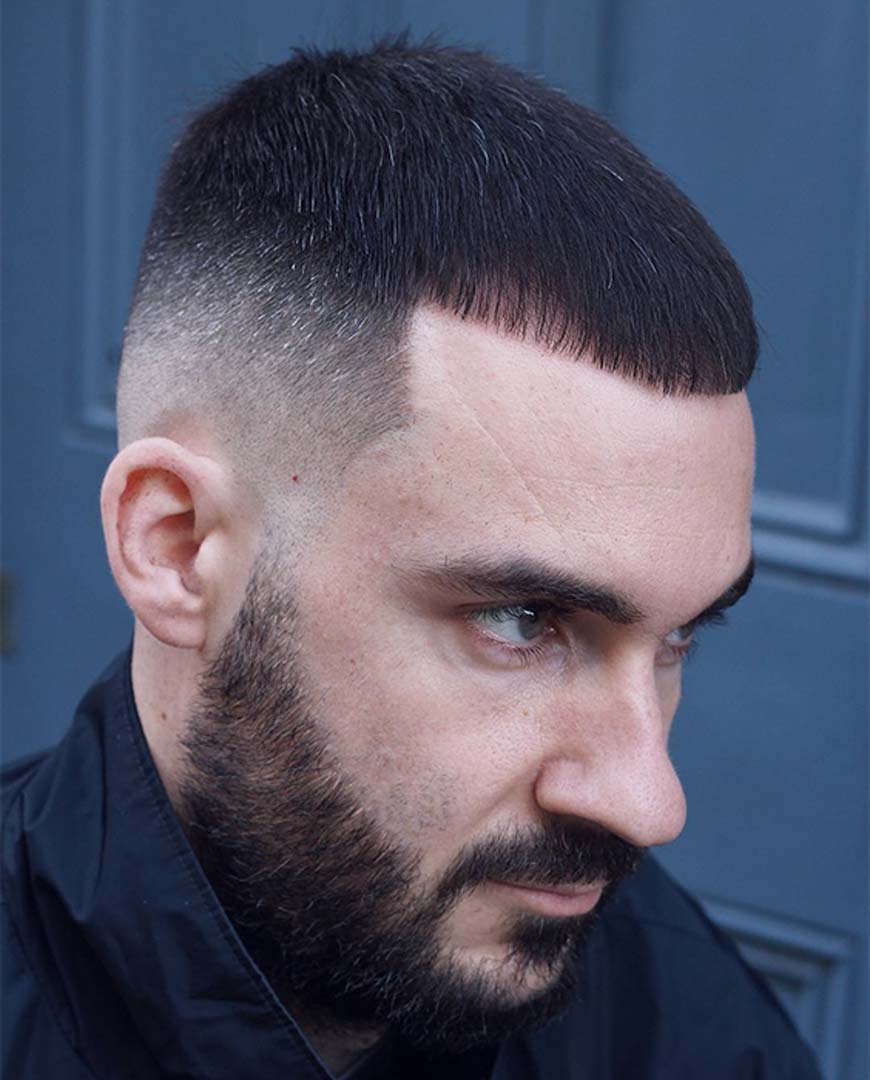 High Fade and Top Knot
Keep the hair on top of the head significantly longer. For the most polished look, take your hair length and snip it completely off into a top knot, while fading them close to the scalp, ensuring that everything comes together neatly.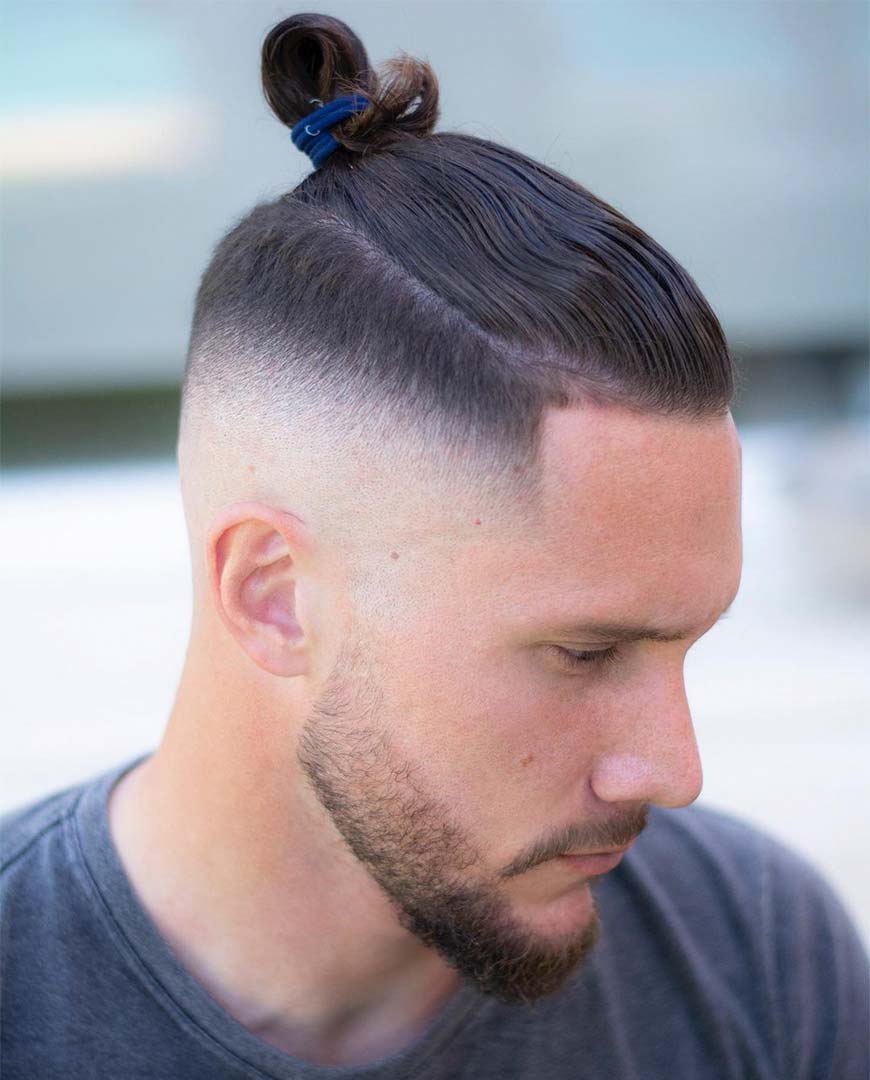 High Top Haircut
If you're looking for a more pronounced curl pattern, your stylist can help get the desired effect by adding curls to your hair. You can also add a carved parting at the top of your head in order to create an extra focal point. Be mindful not to go too high with the blending; you want high tops, not disconnected styles.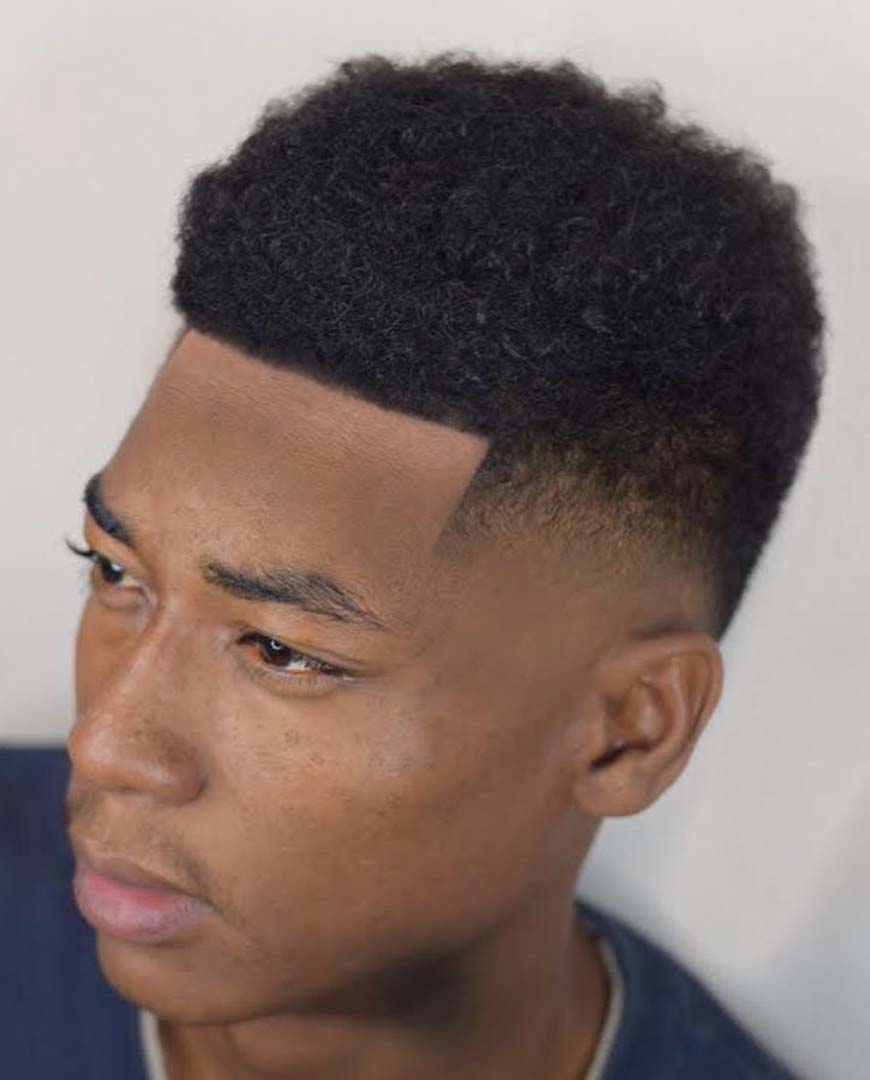 Flipped Up Style with Drop Fade
Remember that your hair on the forehead should be the longest, and you can style it using matte products as this will show how old your haircut is. As for hairstyles, go with a modern look that highlights how well-groomed your cut looks.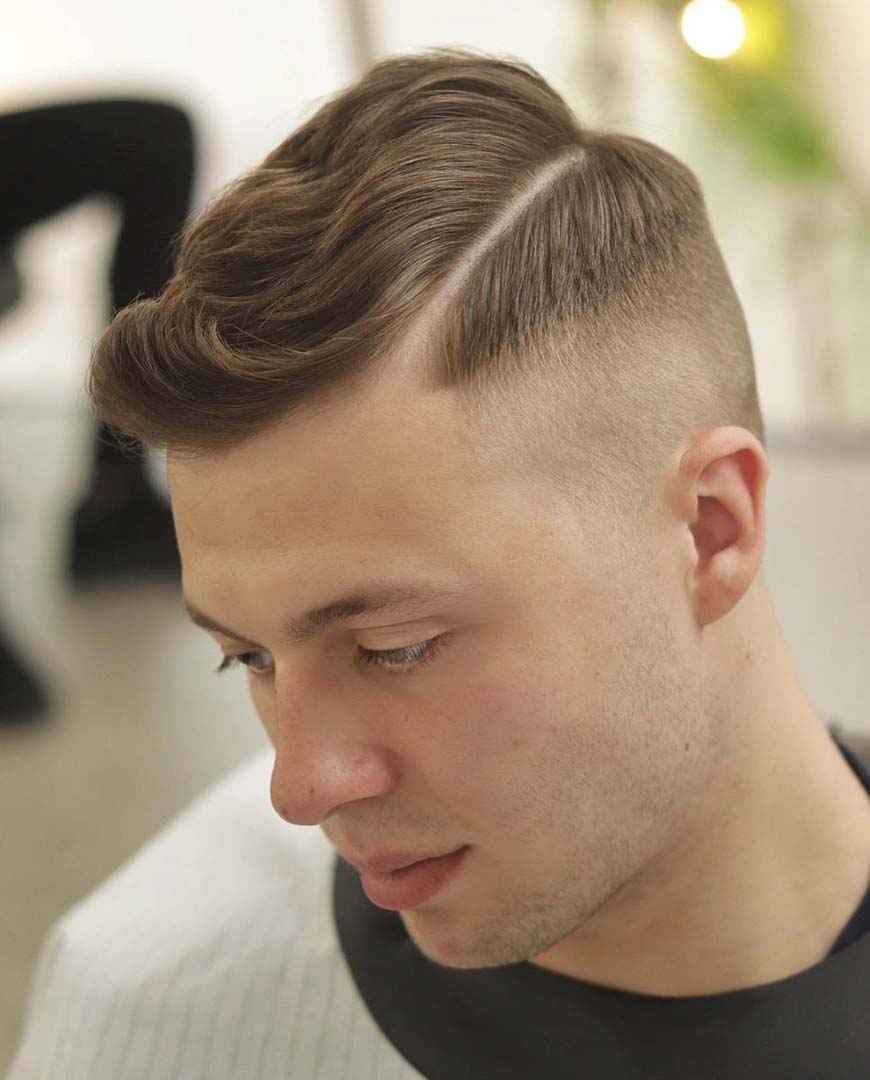 Flat Top
Men with natural hair will need to get a flat top fade haircut in order to tame the texture and achieve a well-defined body. This particular hairstyle features an authentic black men's haircut with a clean fade and precise shaved line.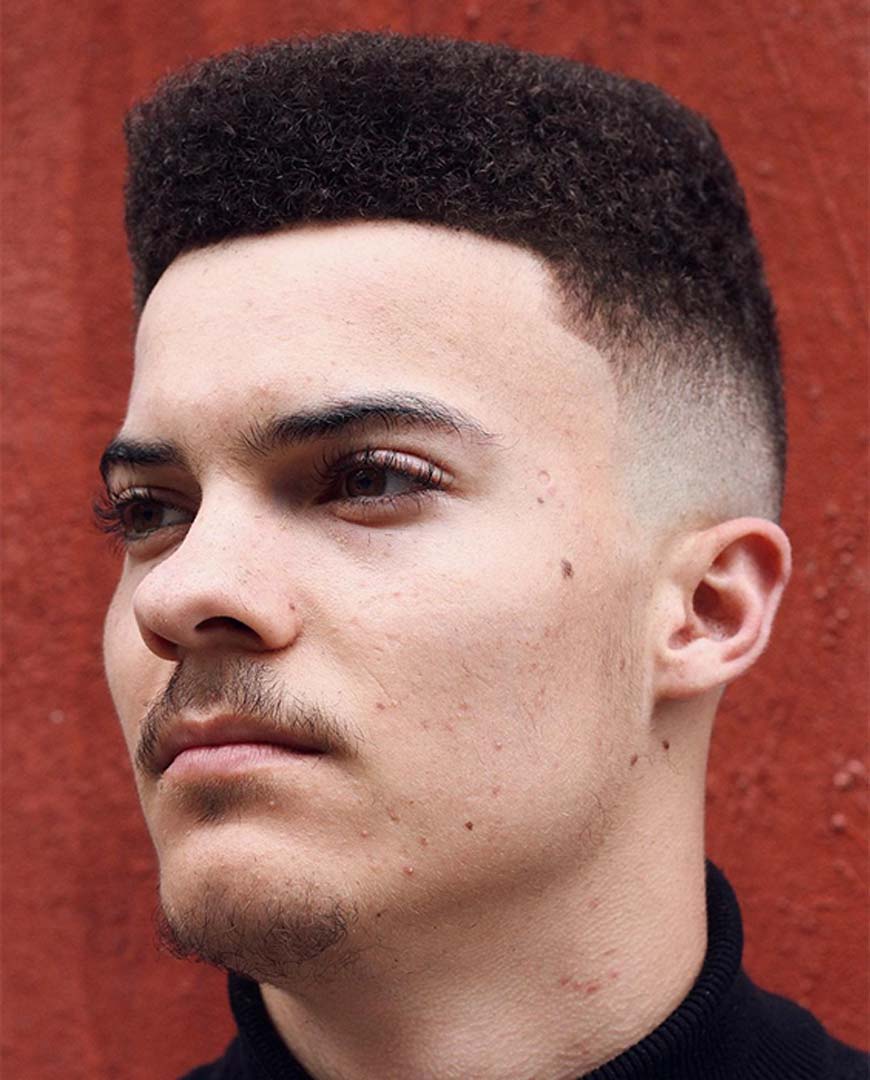 French Crop with Fade
If you're Looking for a different style that still maintains a moderate level of texture, then try adding a high fade and sharp line to your French crop.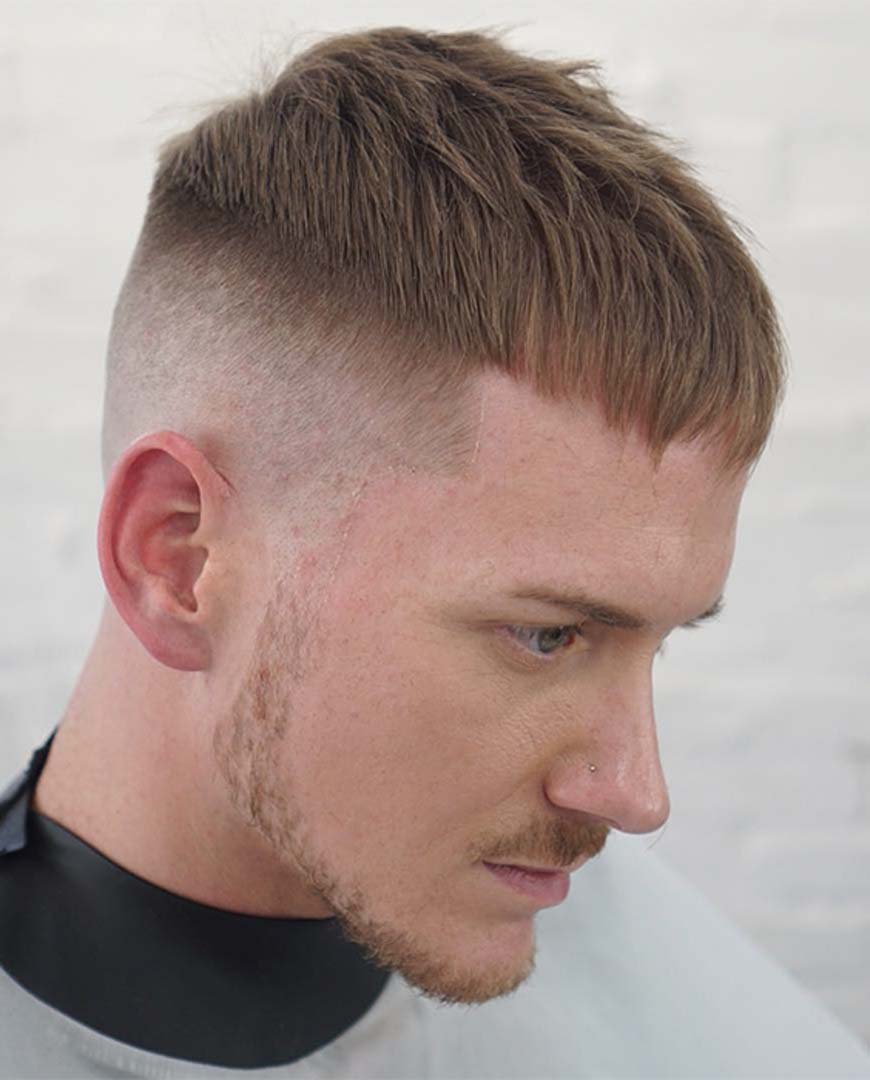 Parted Comb Over
The shaven sides and back hairstyle is characterized by a high level of hair removal, with the majority of hair being removed from Just below the scalp. This style can be acquired through traditional salon styling methods, which may require more time and effort than other styles. The modern look is achieved by styling long hair high on the head, resulting in an appearance that takes more work to achieve.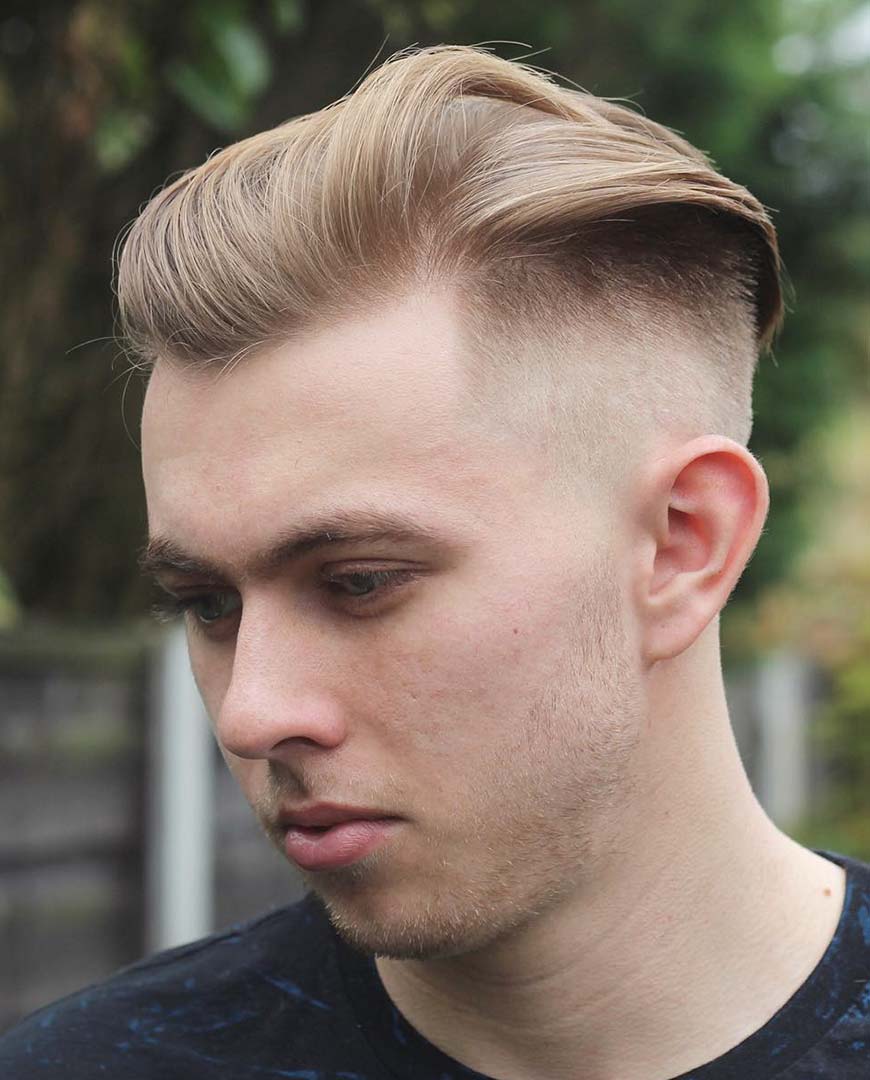 Afro Haircut with High Fade
To achieve this look, use an afro pick and select your locks until you have reached the desired shape. While this style will be timeless for many people with black hair textures, it may not be ideal for everyone.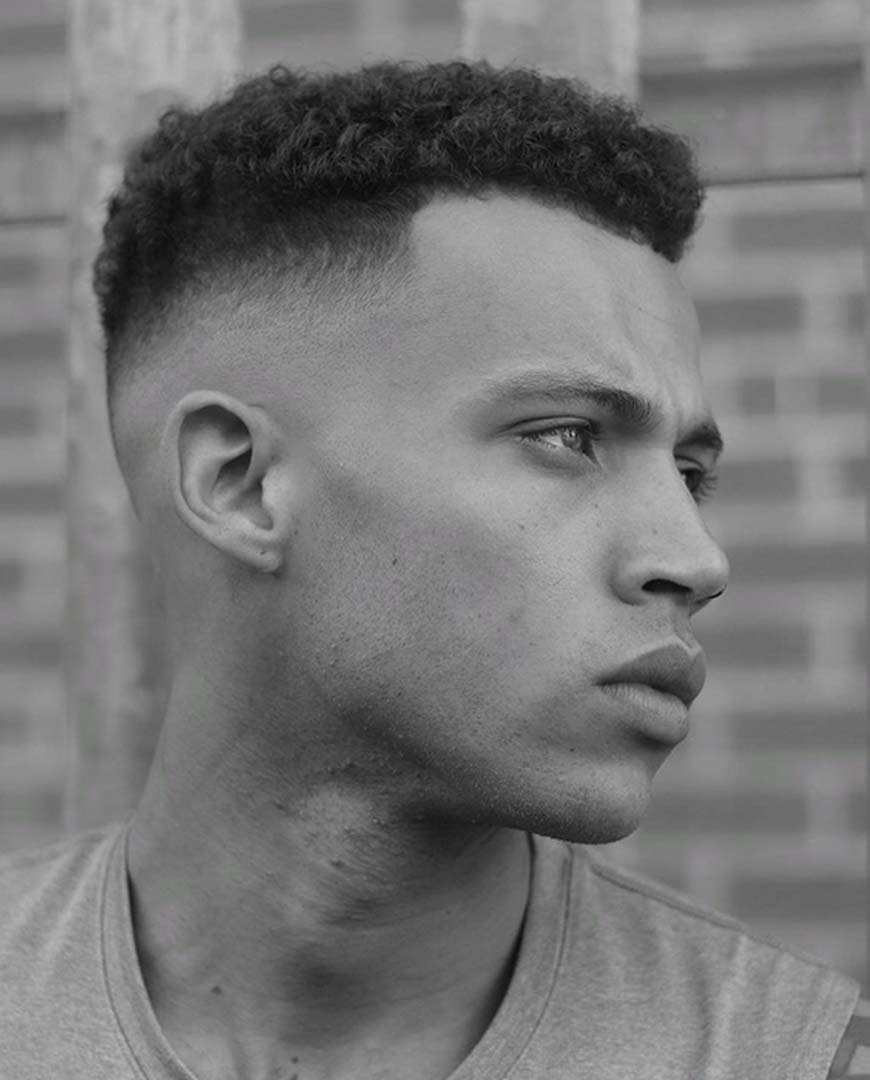 Wavy Top with Sharp Fade
Wavy hair naturally has a lot of texture and volume, which can be showcased well by the clean, sharp lines created by neatly shaving the top two inches off while leaving the sides gradually shaved. 
To get your hair wet and messy looking, pat it dry with a towel. Most pomades will have some gloss to them which gives the appearance of wet waves. To achieve a more natural look, use curl-defining gel. For something that is less shiny, try matte pomade.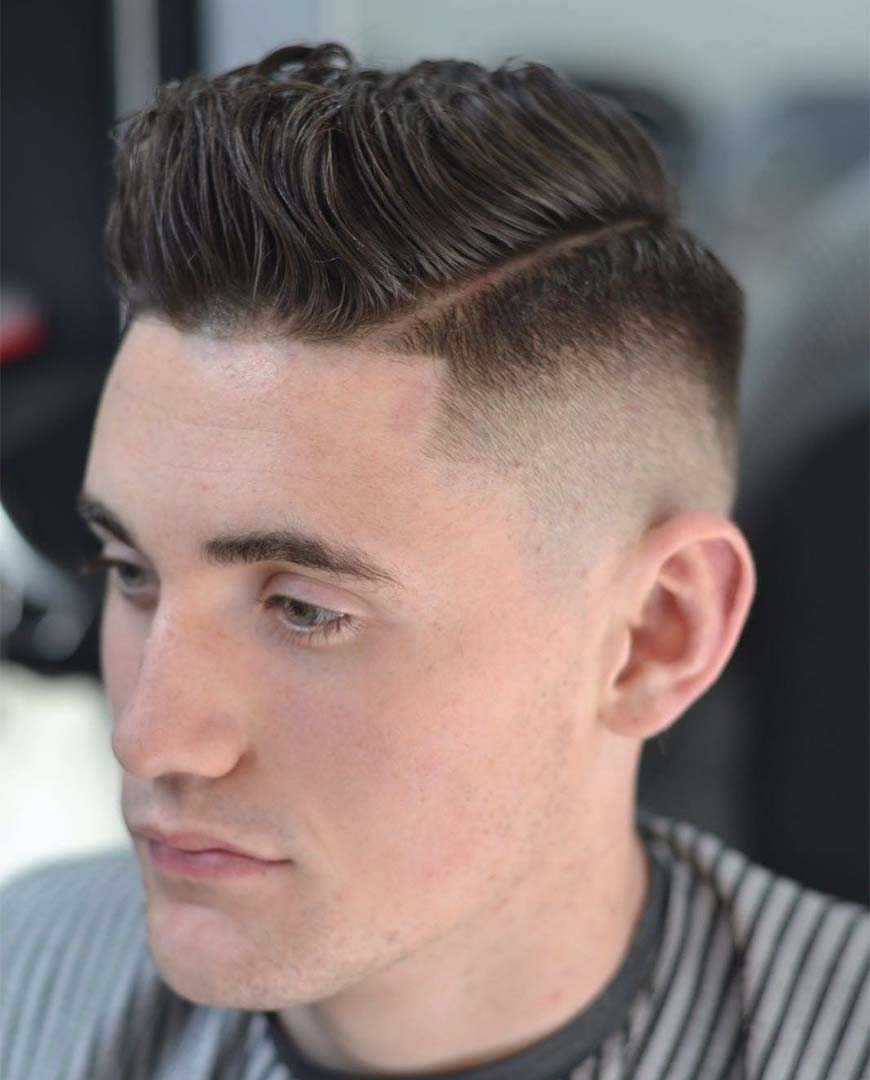 Angular Fringe And Drop Fade
Men with curly, flowing locks can fashion different stylish looks by combining the fringe with shorter sides.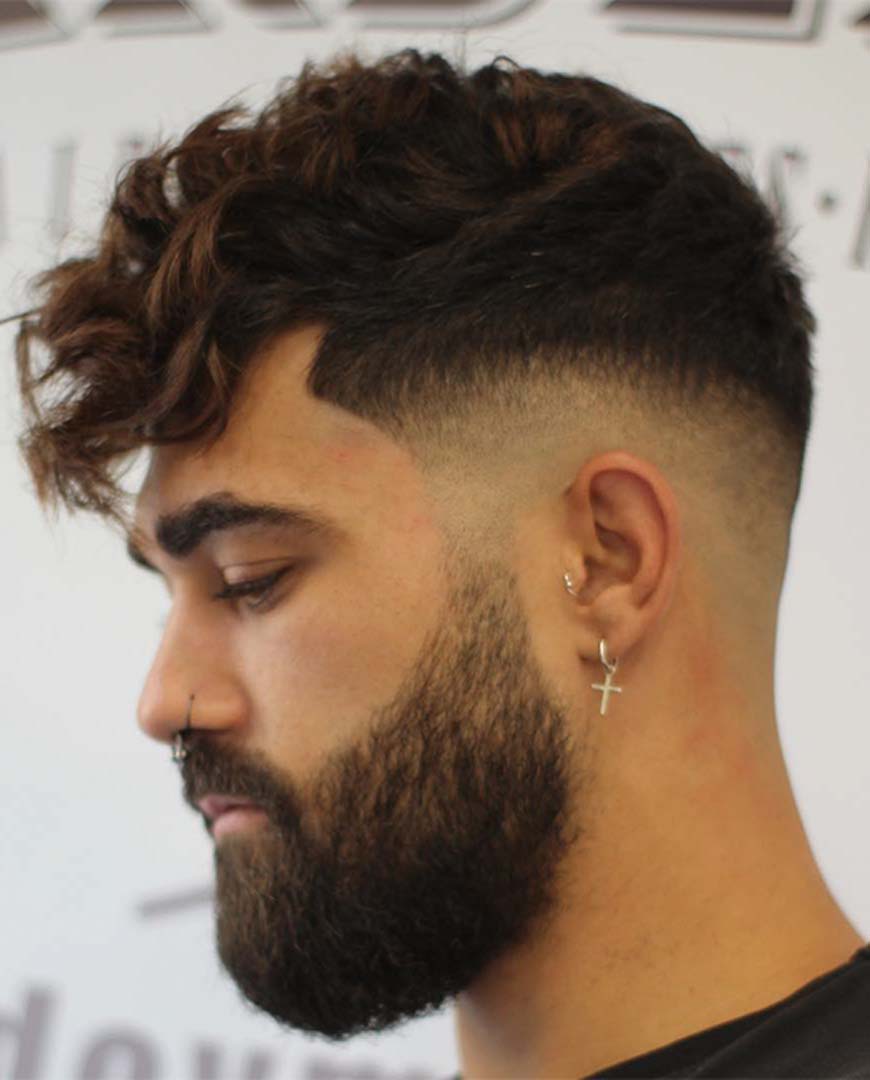 Curly High Top
A curly high top fade is a variation of the classic style that highlights your natural hair texture. The sides are faded, and the curls are added to give more exposure to this layer of skin.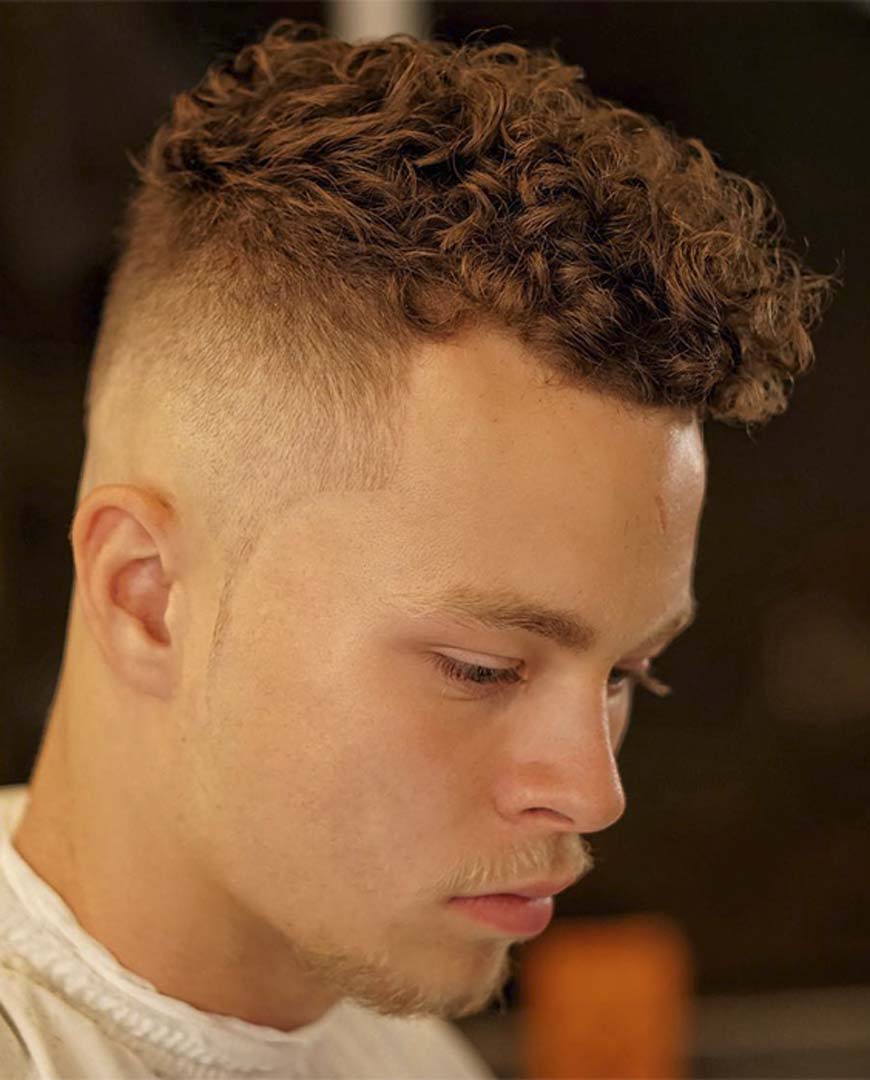 Layered Haircut
You can achieve this haircut by brushing the hair backward and securing it with a pomade or wax. The fade will gradually reduce the length in areas surrounding the sides and neck while leaving the length at the top unchanged.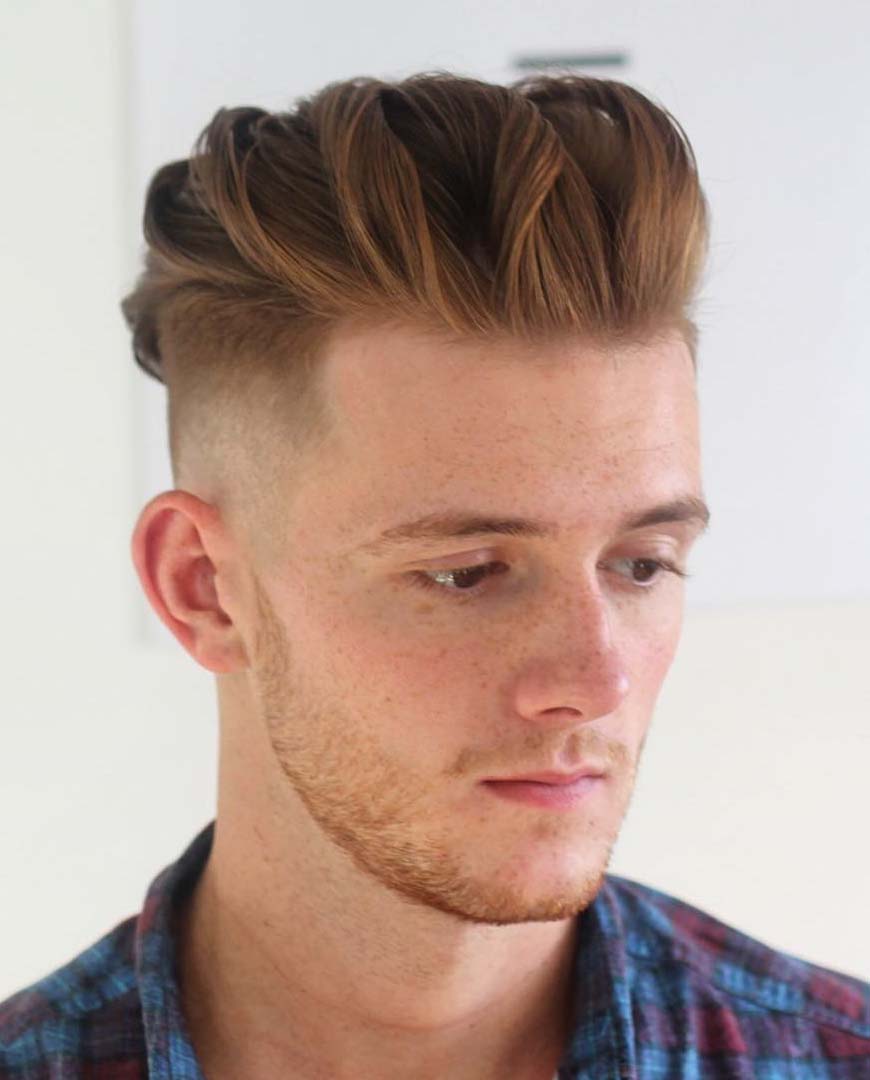 Simple Slicked Back
This hairstyle shows how a specified volume of hair is swept to the back with the light product and the hair length.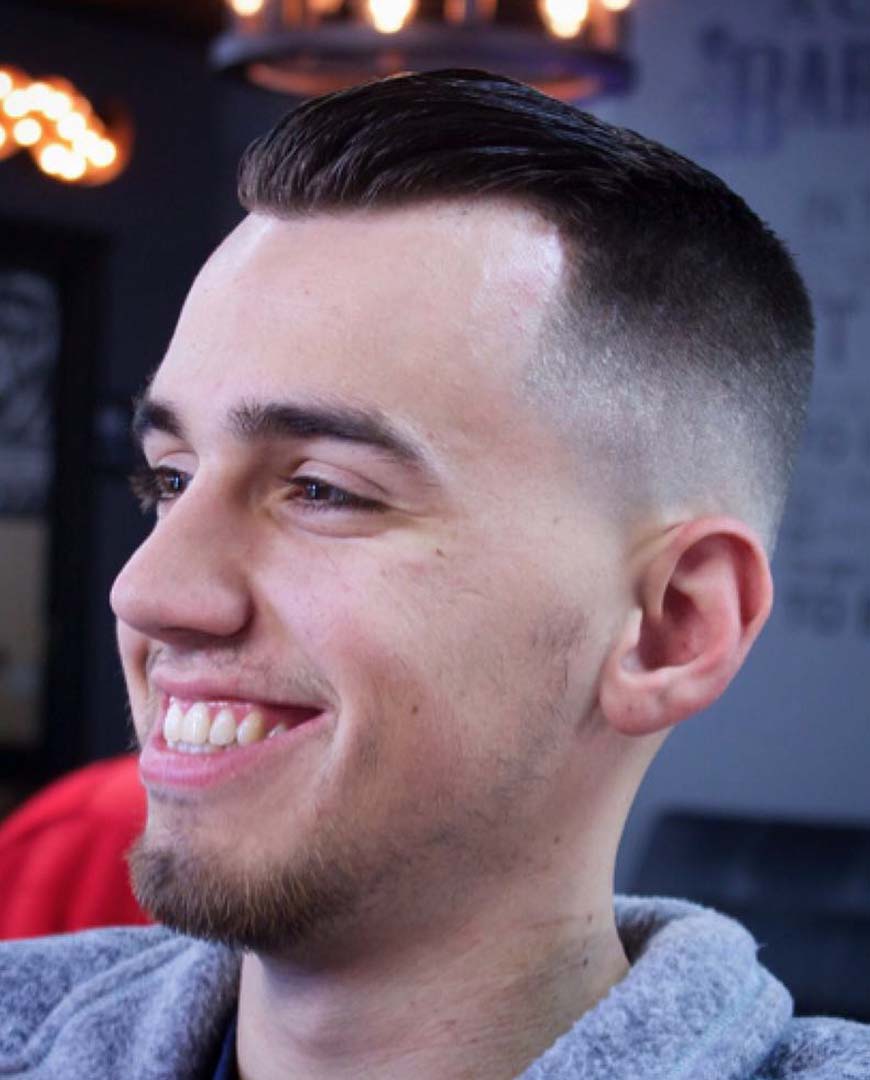 Modern Layered Haircut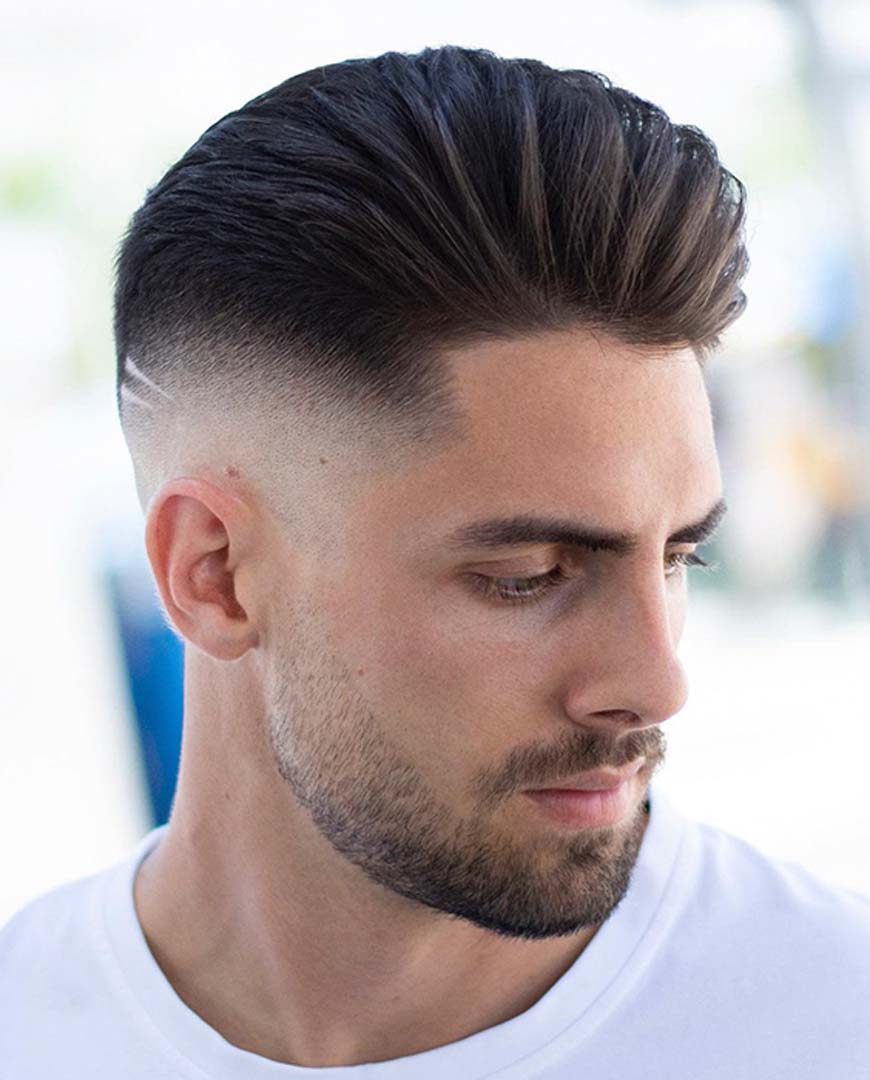 Short Wavy Hair with Taper Fade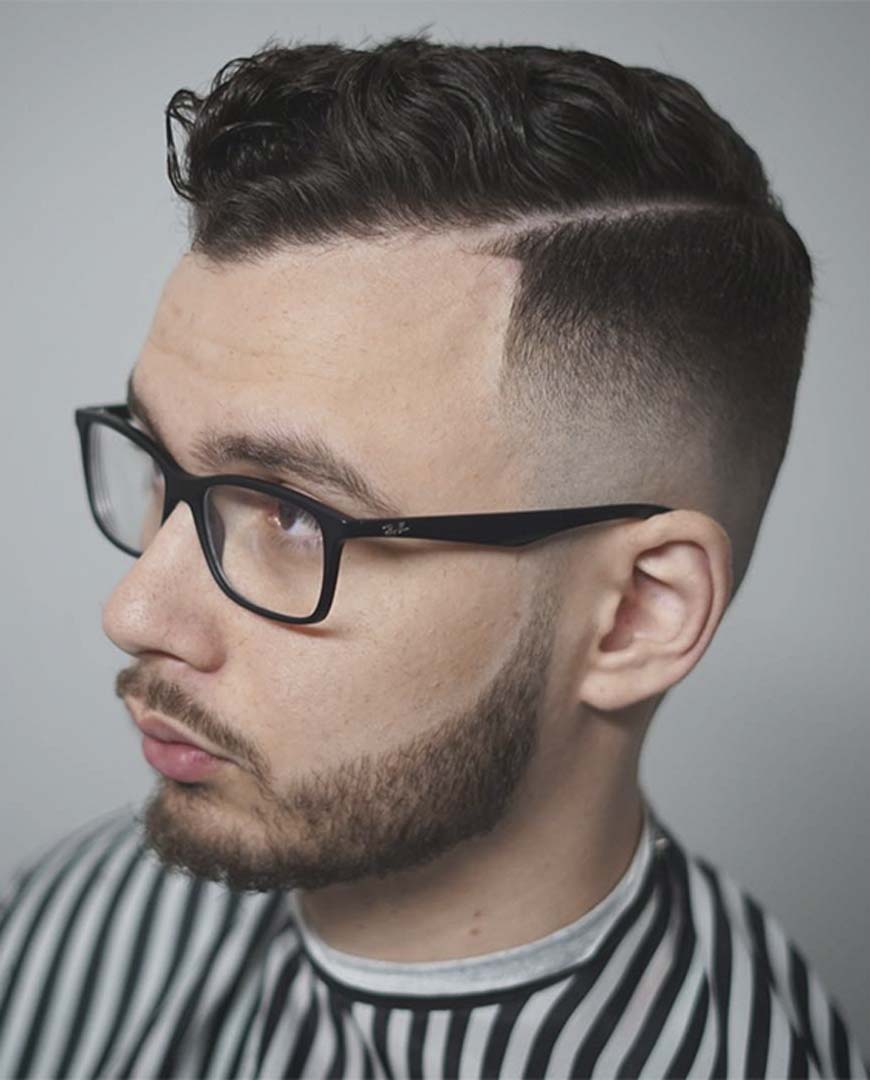 Textured French Crop with High Fade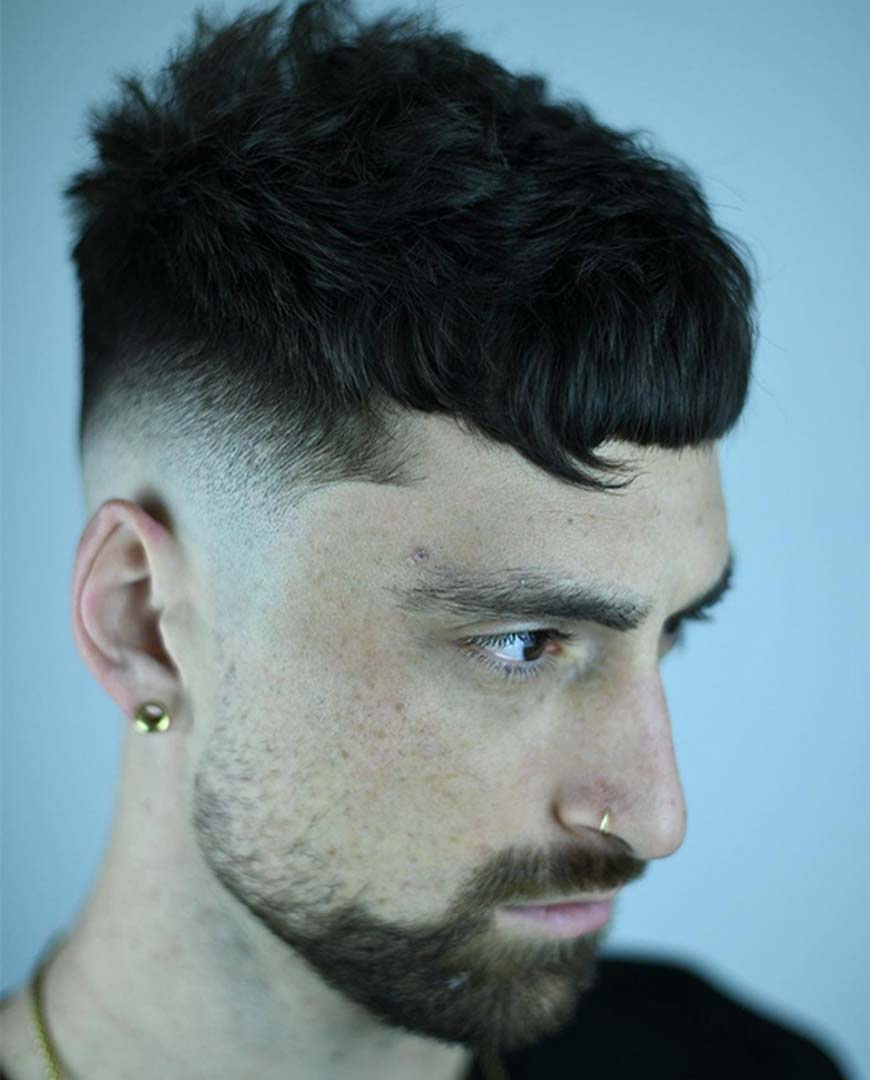 Short Hair with Line Up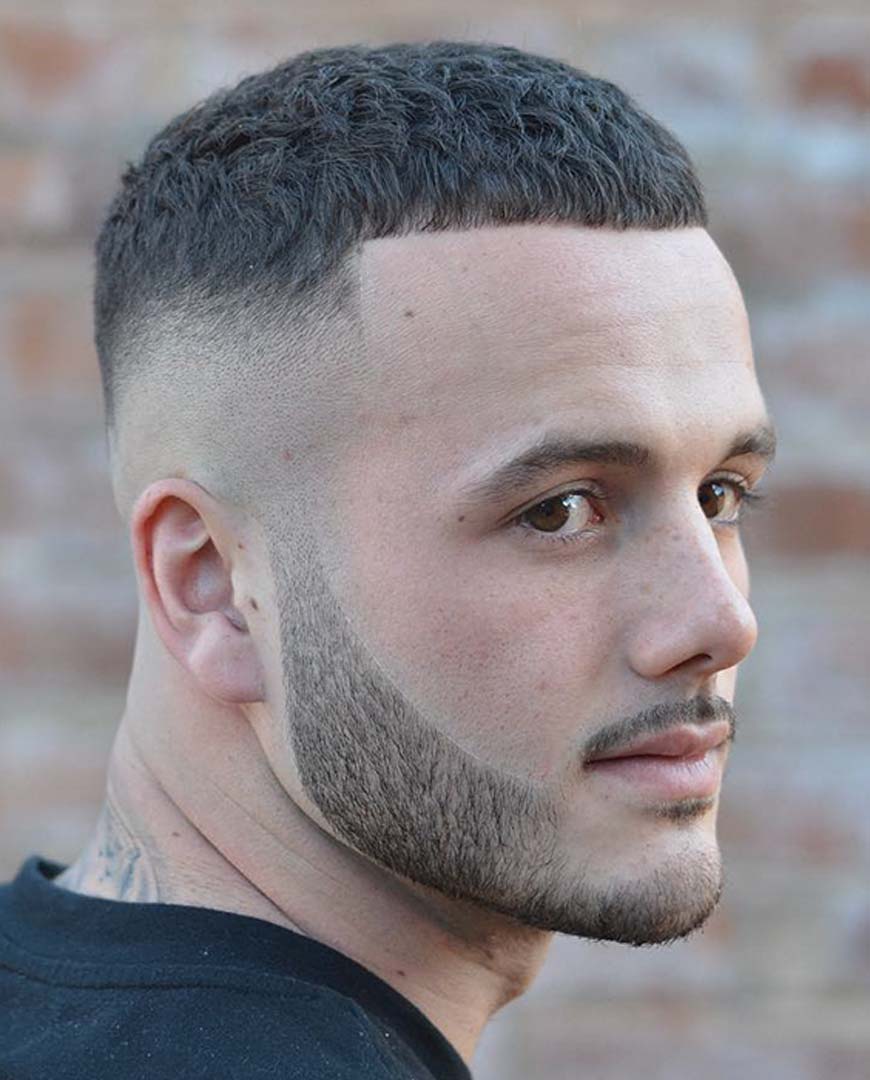 Sharp Comb Over with High Fade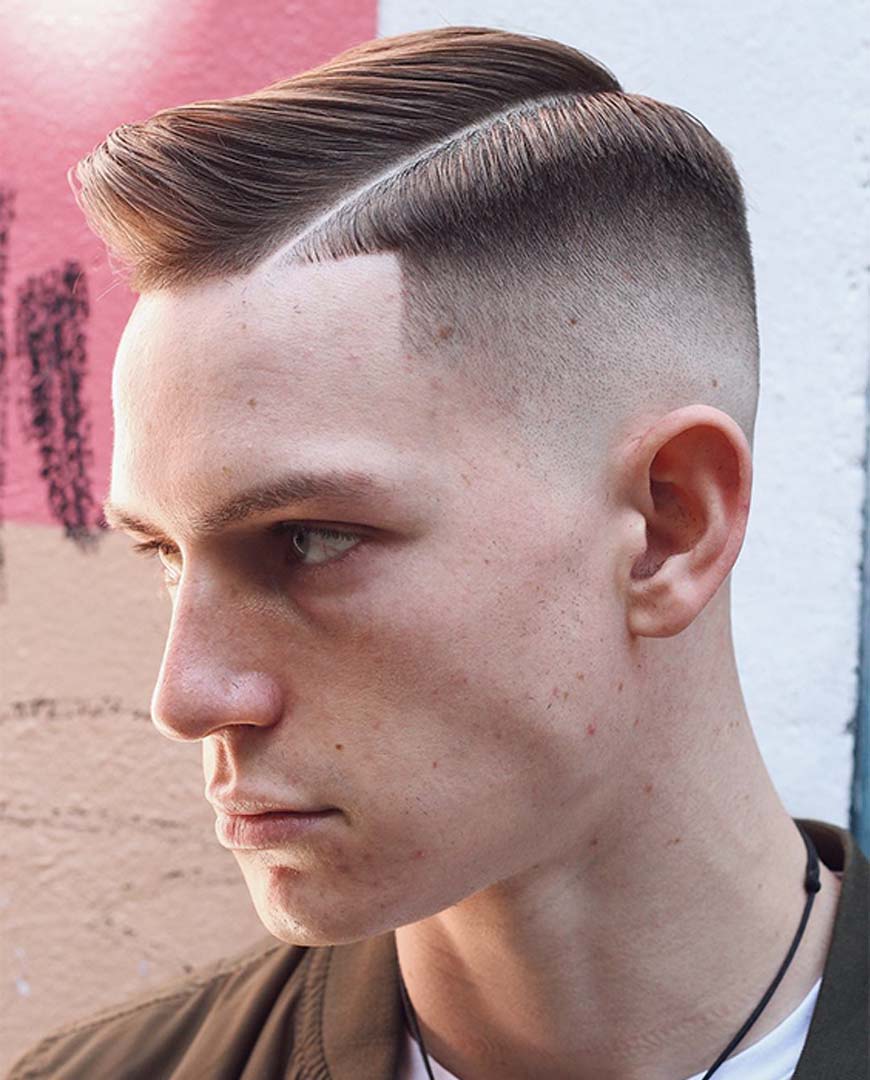 Short Hair with Fringe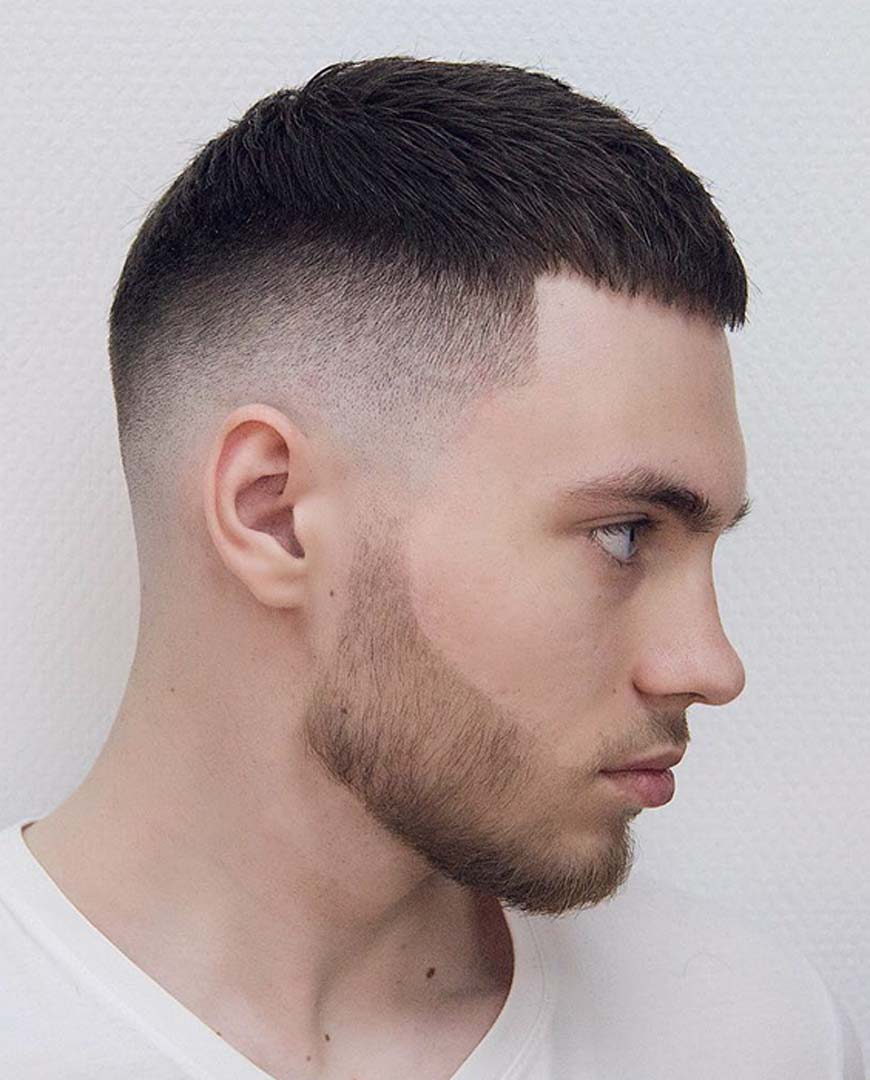 Layered Top and High Fade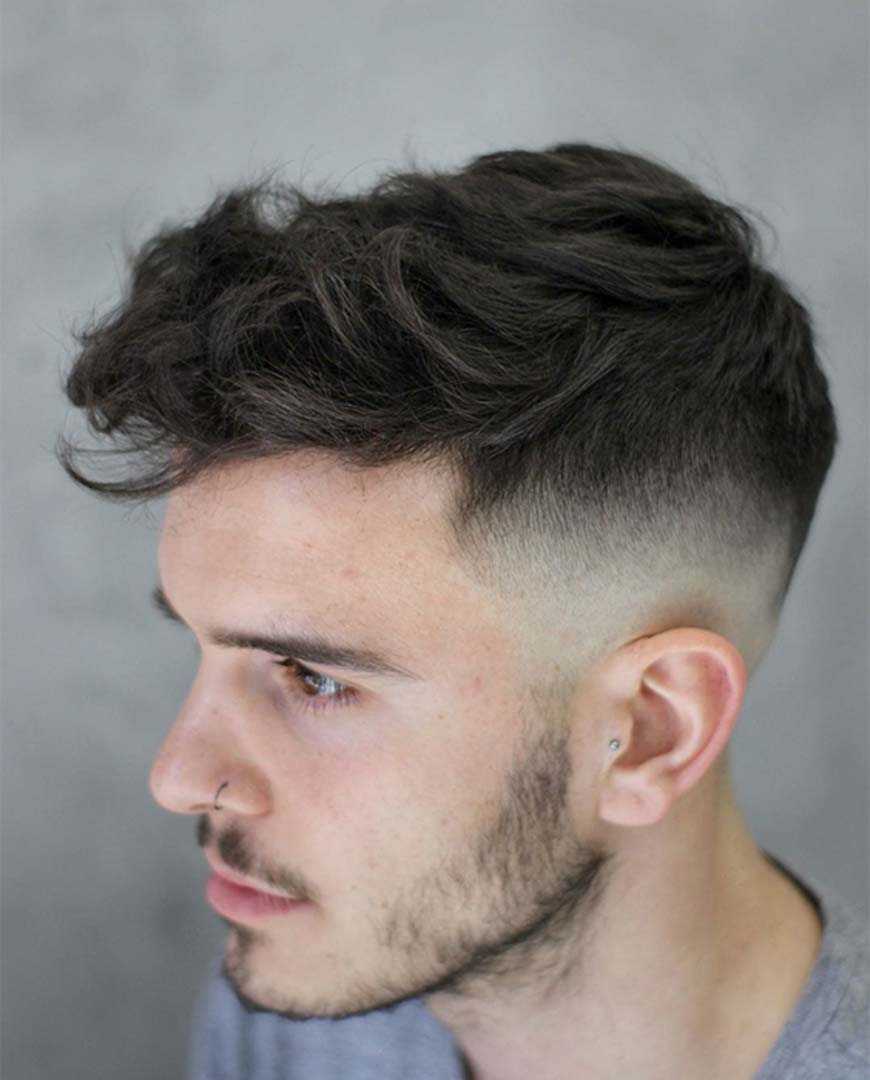 High Top Fade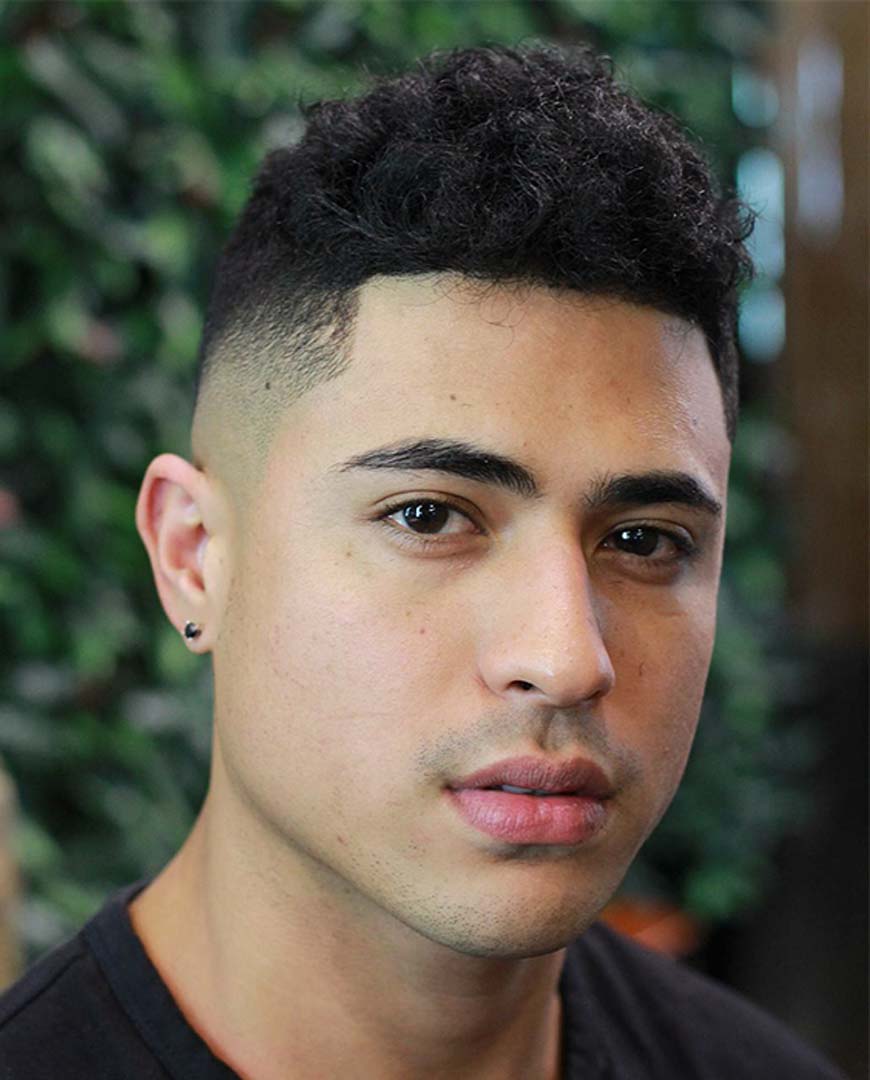 Small Pomp with Drop Fade