Cool kids haircuts are the first step in your child's journey to self-discovery! While it's never easy to watch your young tyke maturing, a new "do" lets him express his individuality and highlight the person he is becoming.
When he's ready to bid adieu to his old generic style, there's no shortage of creative cuts to try out. Whether he's looking to stay on-trend or wants something a bit more Avante-Garde, the possibilities are endless!
#1 Comb Over with Hard Line
This isn't like your dad's comb over! Instead of the perfect coif, you're used to, this one has some edgier appeal. Push the length on top to the side and keep the rest buzzed close. Shave a hard line at the temples to give the look its finishing touch!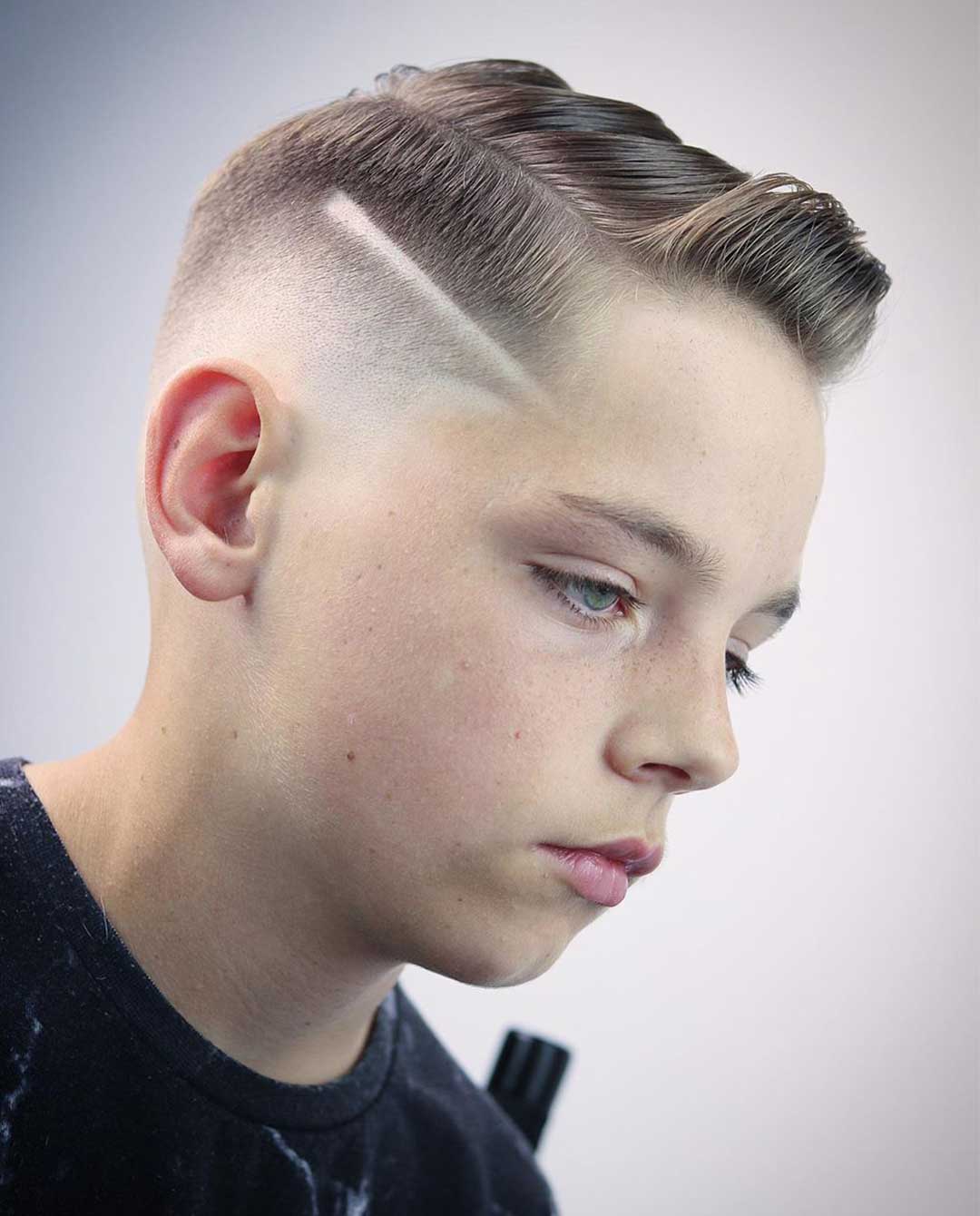 #2 Daring Fringe
Here's a style for boys who aren't afraid to live on the wild side. It's cut similarly to a mohawk. But rather than spiking the length up top to the sky, let it fall down to create some dramatic fringe. A couple of geometric lines on the shaved sides add plenty of character.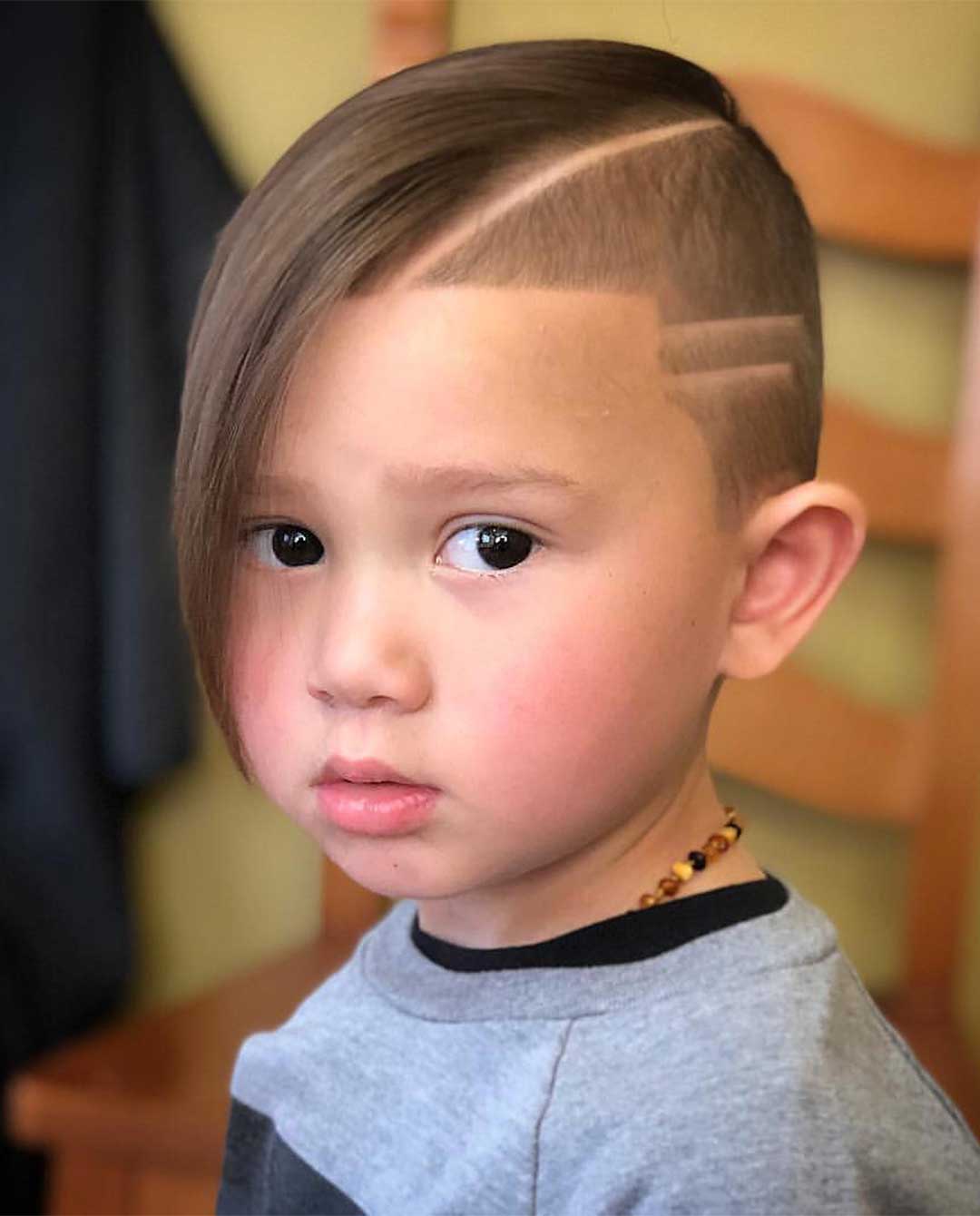 #3 Textured Fade
Simple but filled with attitude, this "do" is great for any kid with thick hair. The top features a textured cut that you can style to oblivion with wax, gel, or pomade. Meanwhile, the sides and back are clean with a simple fade.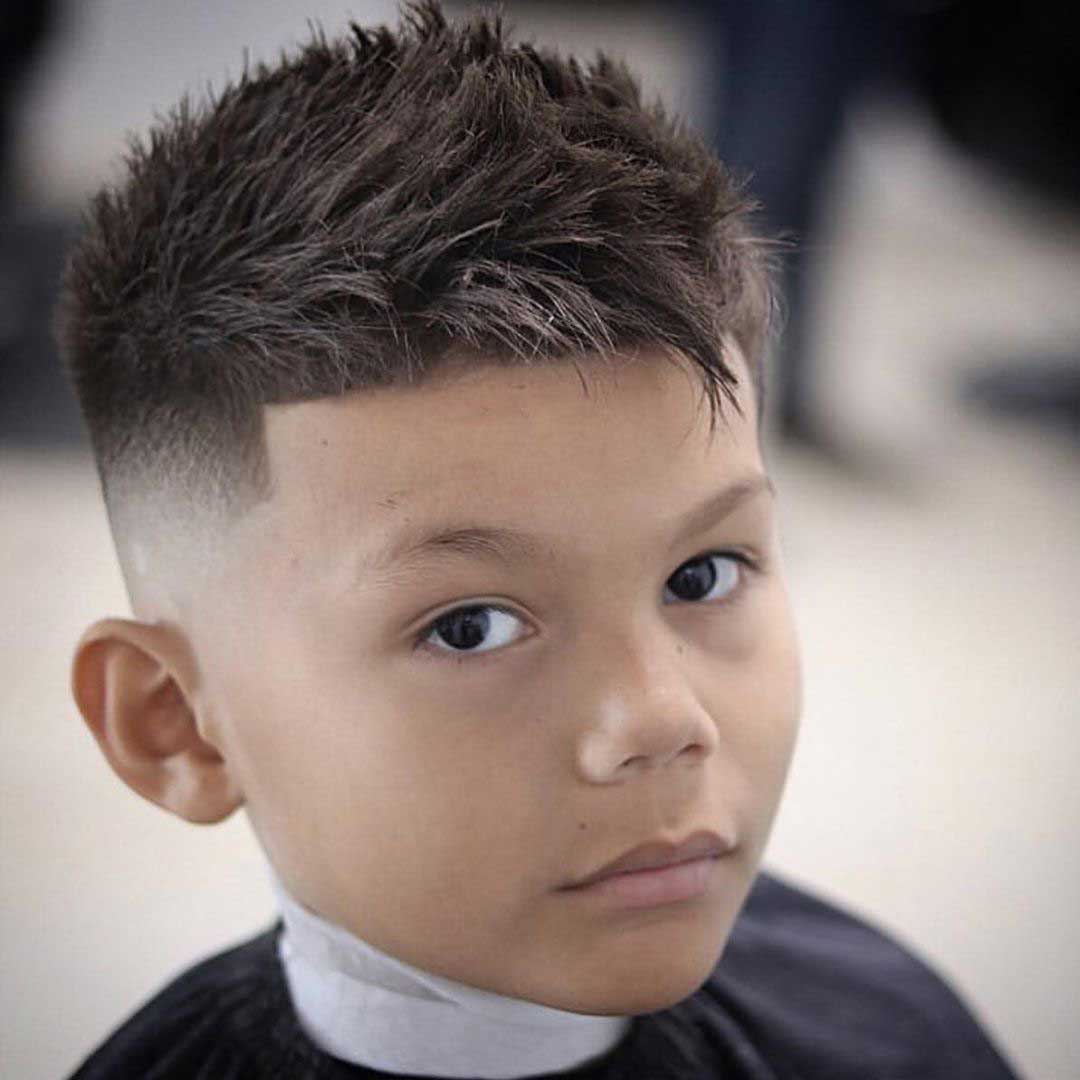 #4 The Dapper Comb Over
Need to have some semblance of formality? The dapper disconnected comb over may be right up your alley. It's like a traditional comb over with volume and height on top. But, the sides have a dramatic separation to give your boy a trendier look.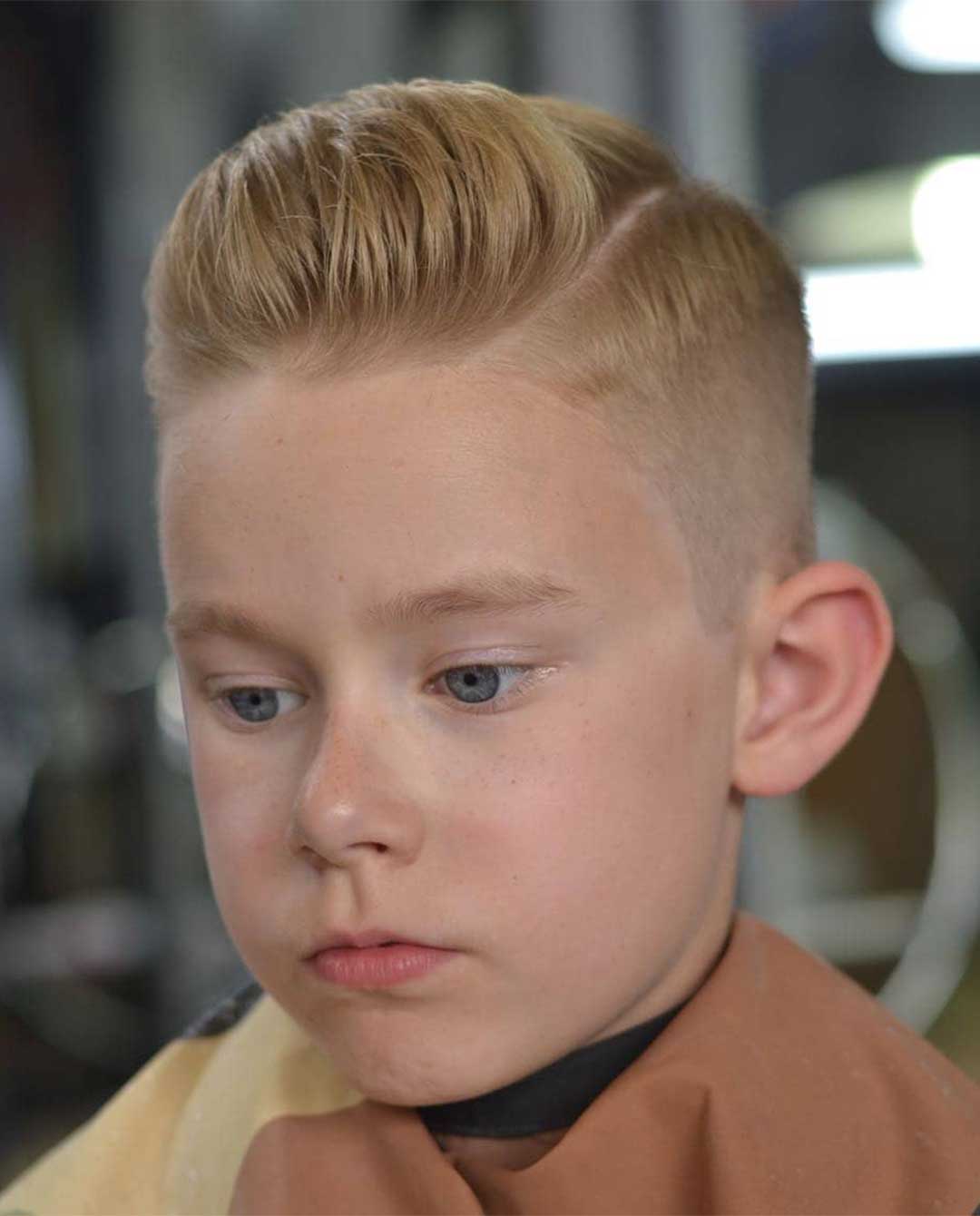 #5 Messy Fringe with High Fade
With kids haircuts like this, getting ready in the morning is a breeze! Your barber will handle most of the work. Clean-cut sides and a subtle fade to the length on top is all you need. From there, it's as easy and working in a bit of pomade to achieve some messy texture.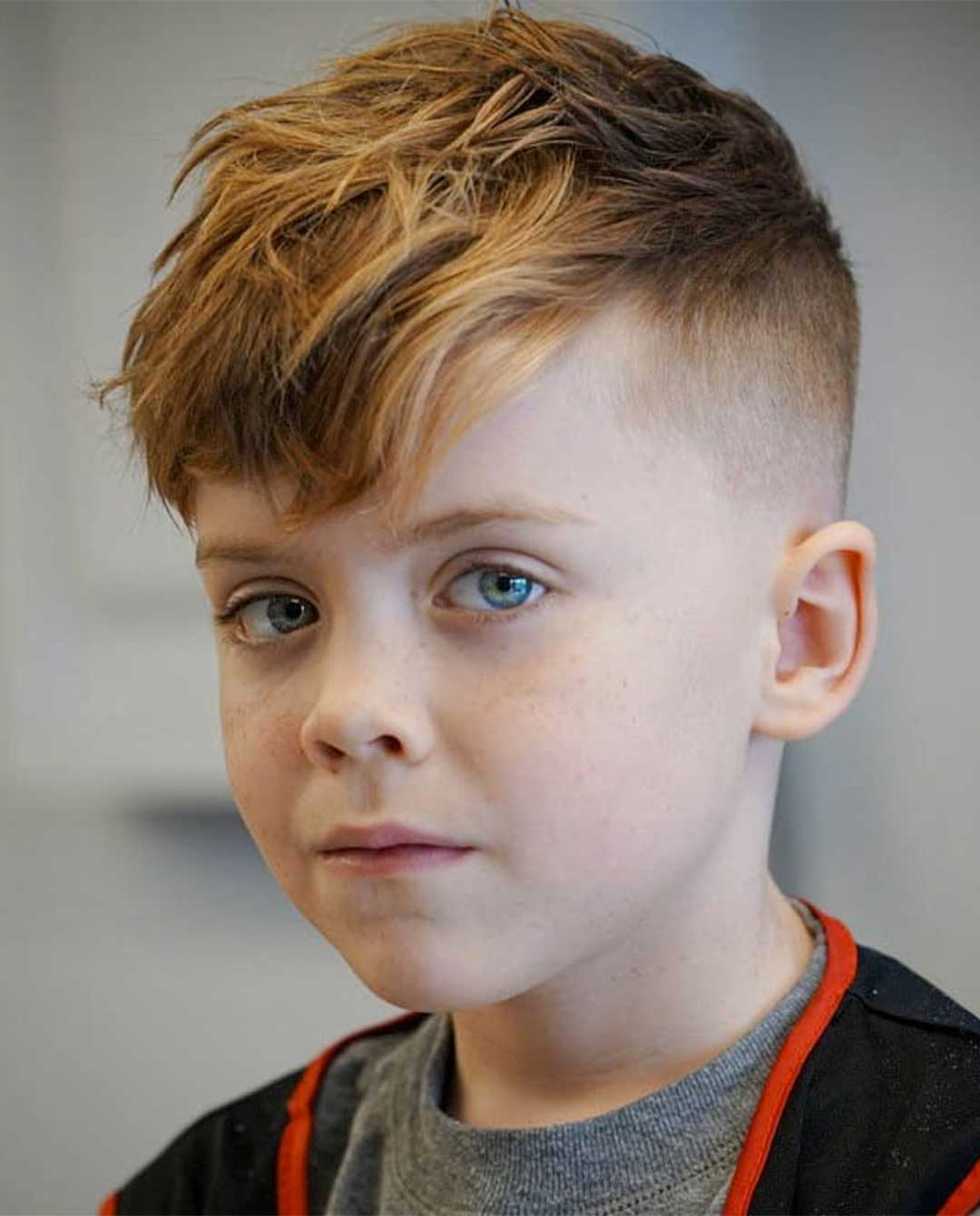 #6 Wavy French Crop
The classic french crop style gets some new life with toddler boys haircuts like this one. Like the old-school version, it's sporting short bangs and an overall boxy look. But the key difference is the texture up top!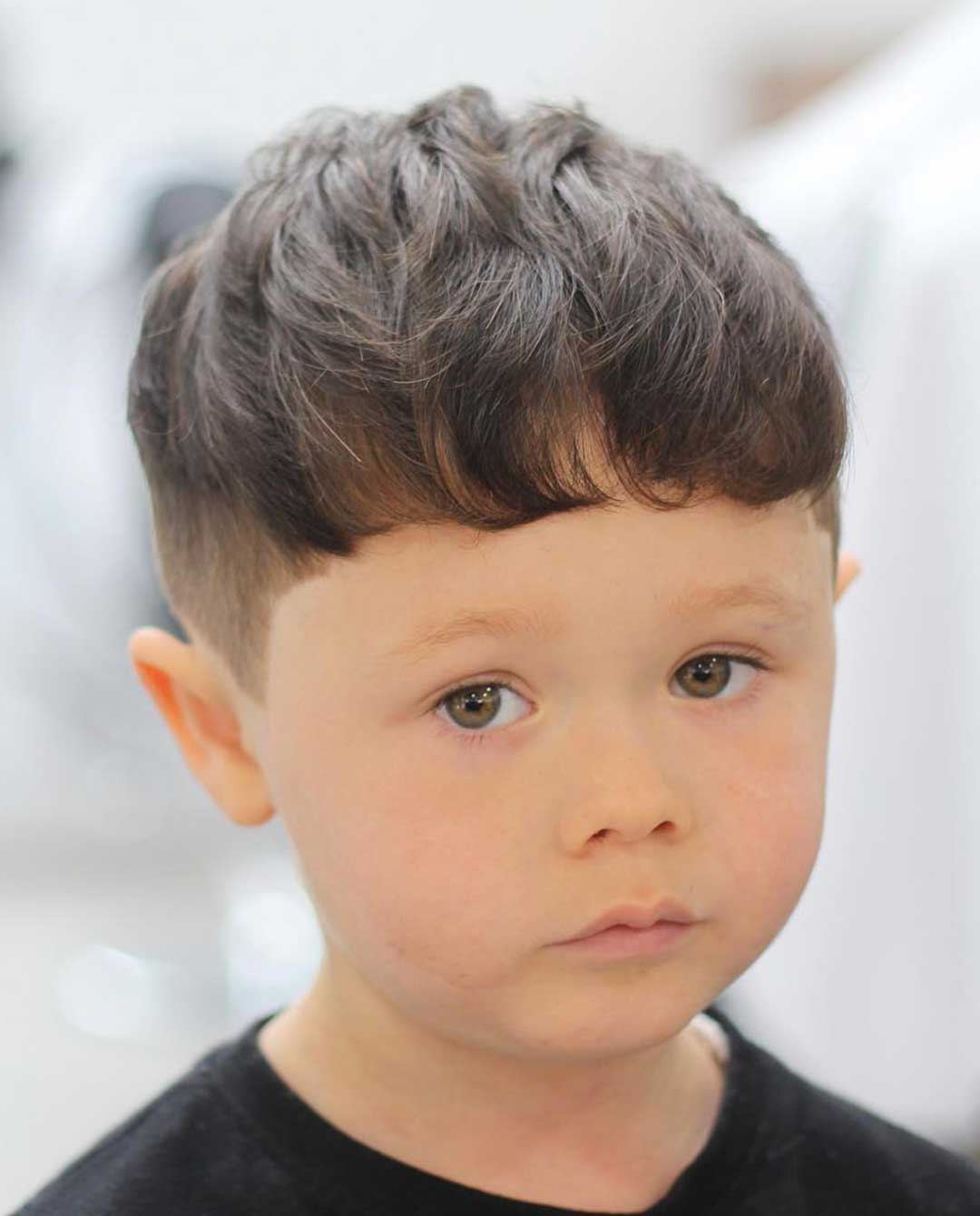 #7 Side Part Stunner
Get a classic look that's easy to maintain. This cut has short sides and moderate length on the dome. With an established side part, you can slick the hair down and give your boy some stellar style with a modern twist.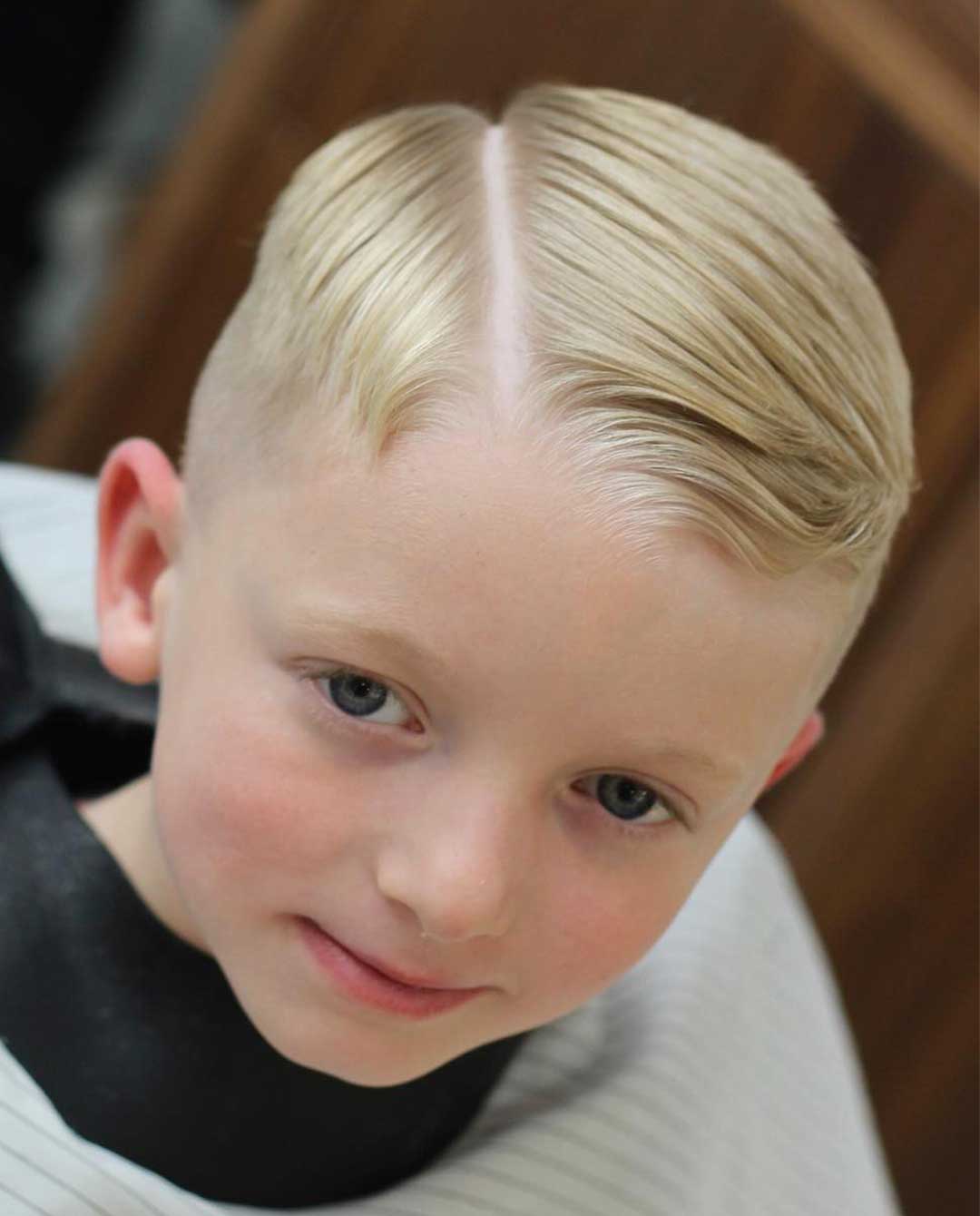 #8 The Punk Rock Monster
The devil is in the details! Not for reserved boys, this cut is best for rambunctious tykes with energy for days! It has all the hallmarks of a traditional faux hawk. But some intricate line work and subtle fading produce a finished product that's sure to turn heads!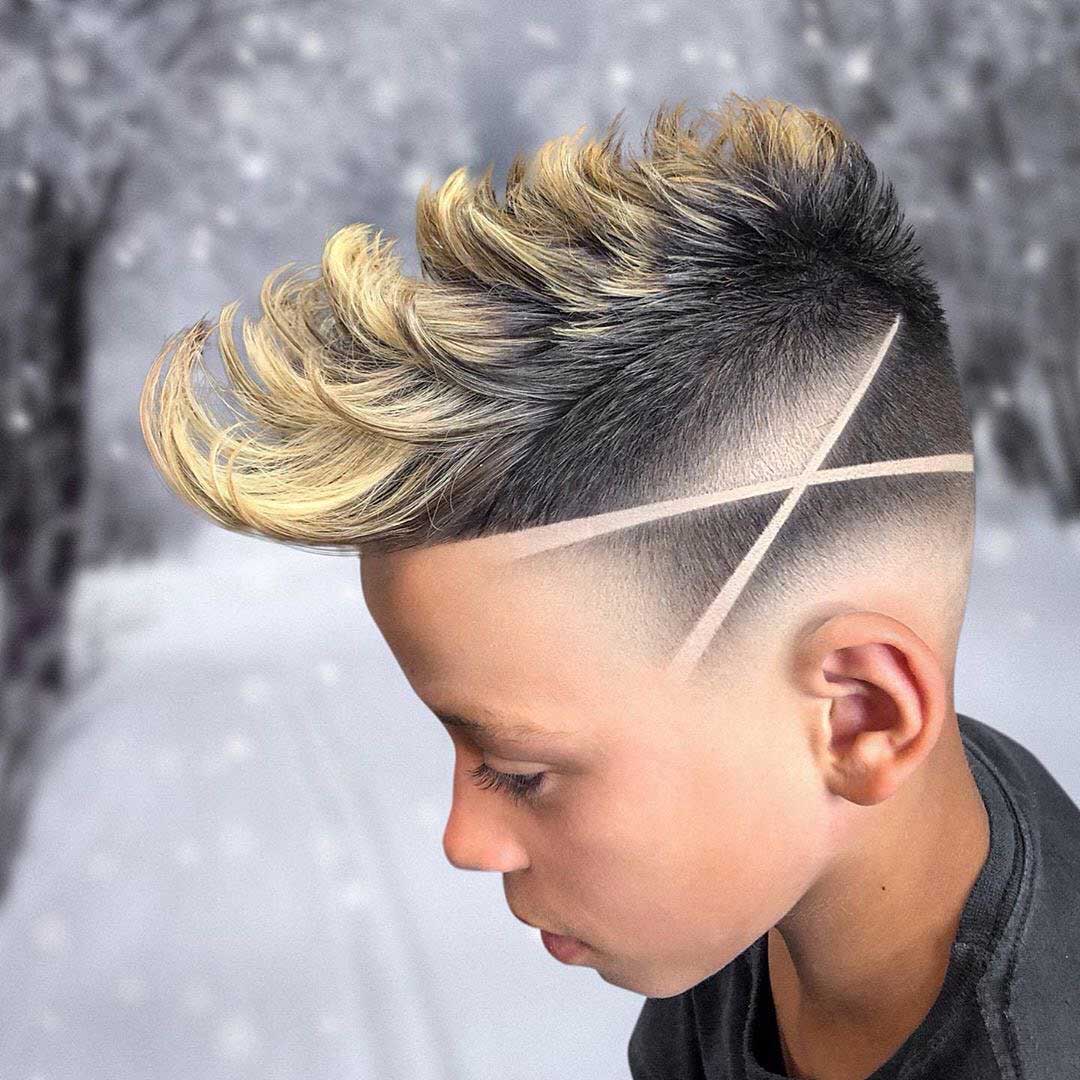 #9 Curly Mohawk
Another bold look for kids who want to make a statement, this cut looks good no matter how much work you put into it! Keep the sides buzzed close. For the top and back, let those curls breathe! Add some wax or gel to get definition and your boy is all set.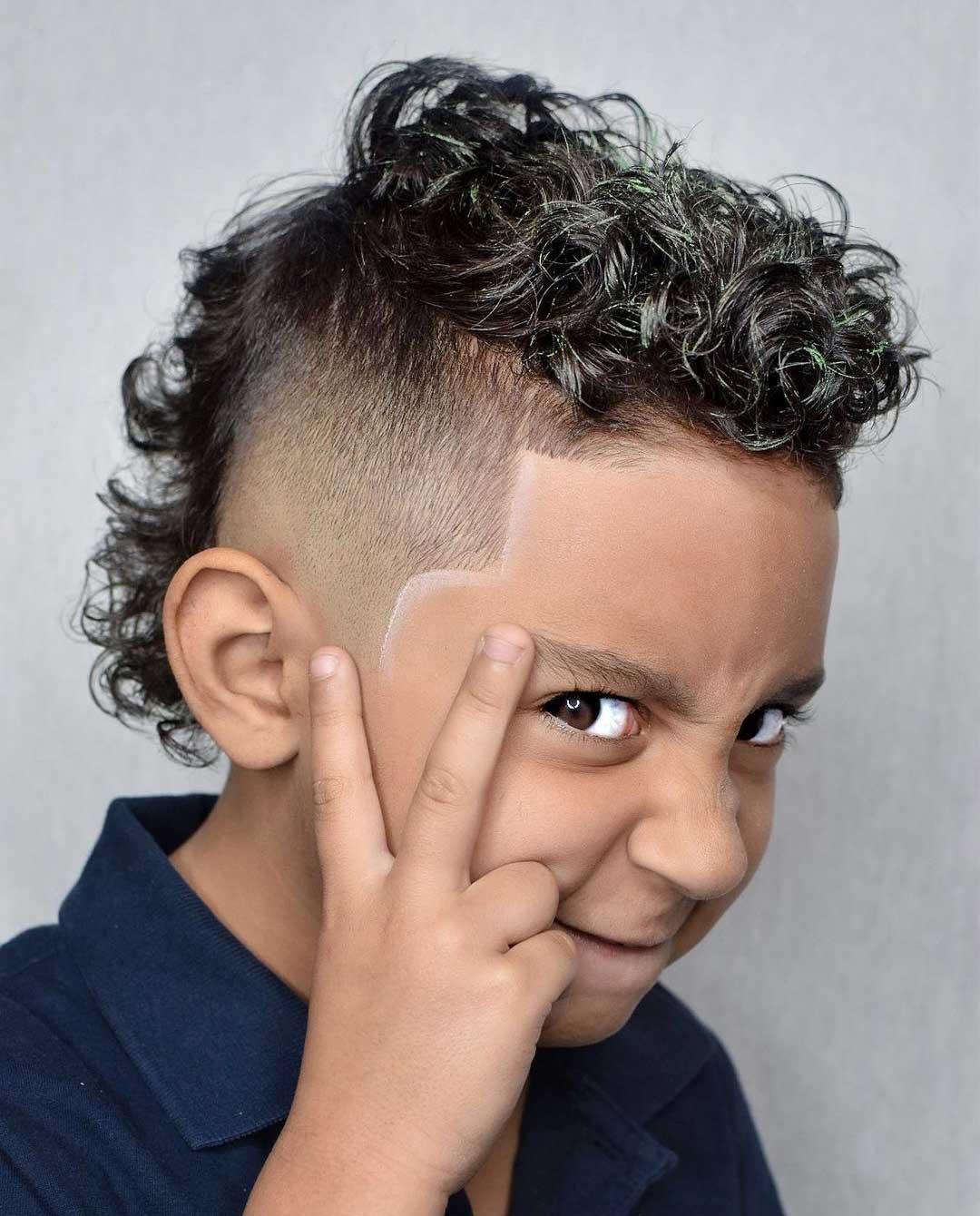 #10 Cool Kid Quiff
Check out this textured cut. It combines trends from many kids haircuts into one. You have texture, volume, and plenty of height. Plus, the short sides and disconnecting lines around the crown give this look tons of character. It checks off all the trend boxes!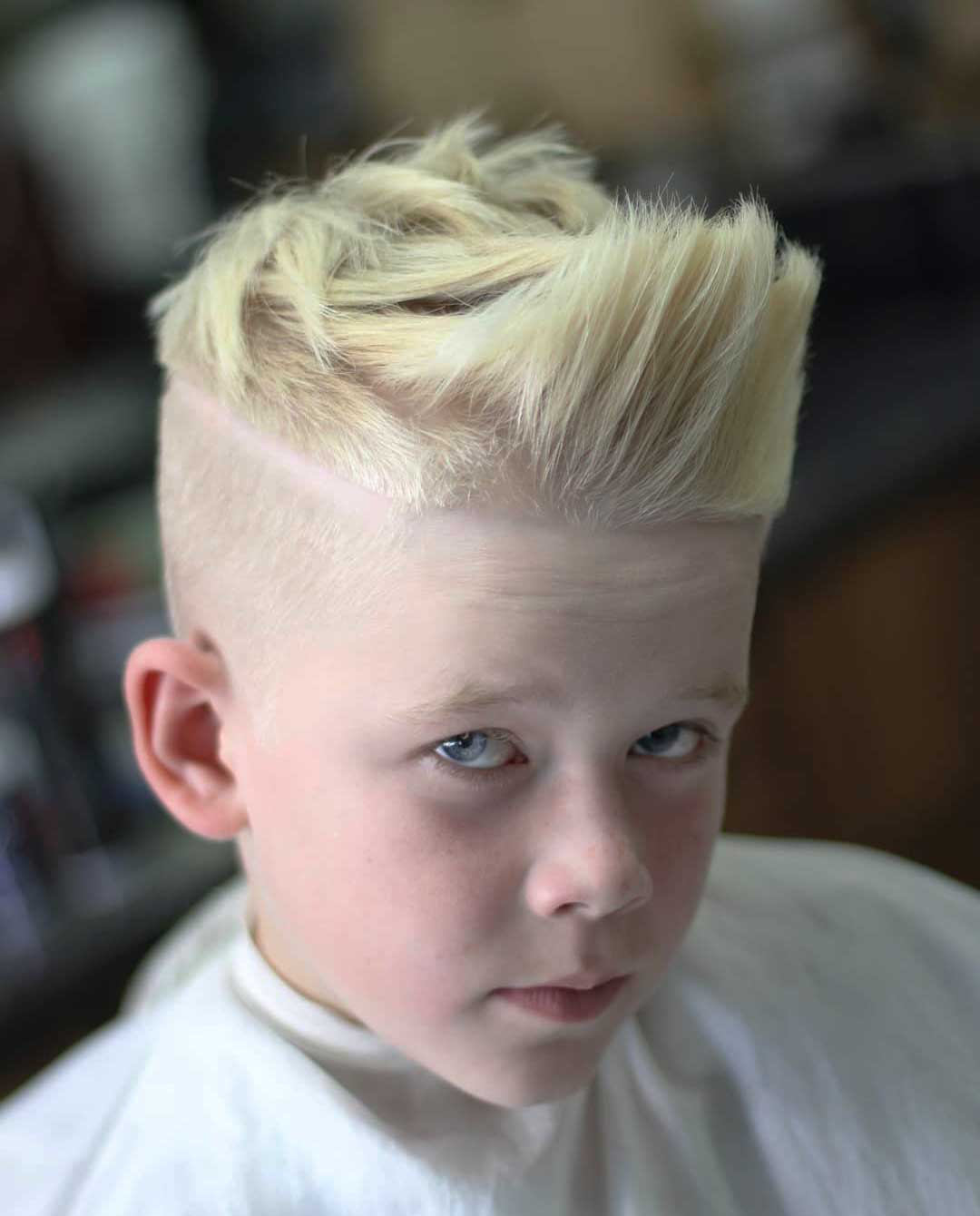 #11 Curly Crop Top
If your son curly hair, you can keep things simple with this cut. It's a textbook crop cut: short sides and length up top! Let the curls fall down as fringe and you have a trendy hairstyle your boy can grow up with.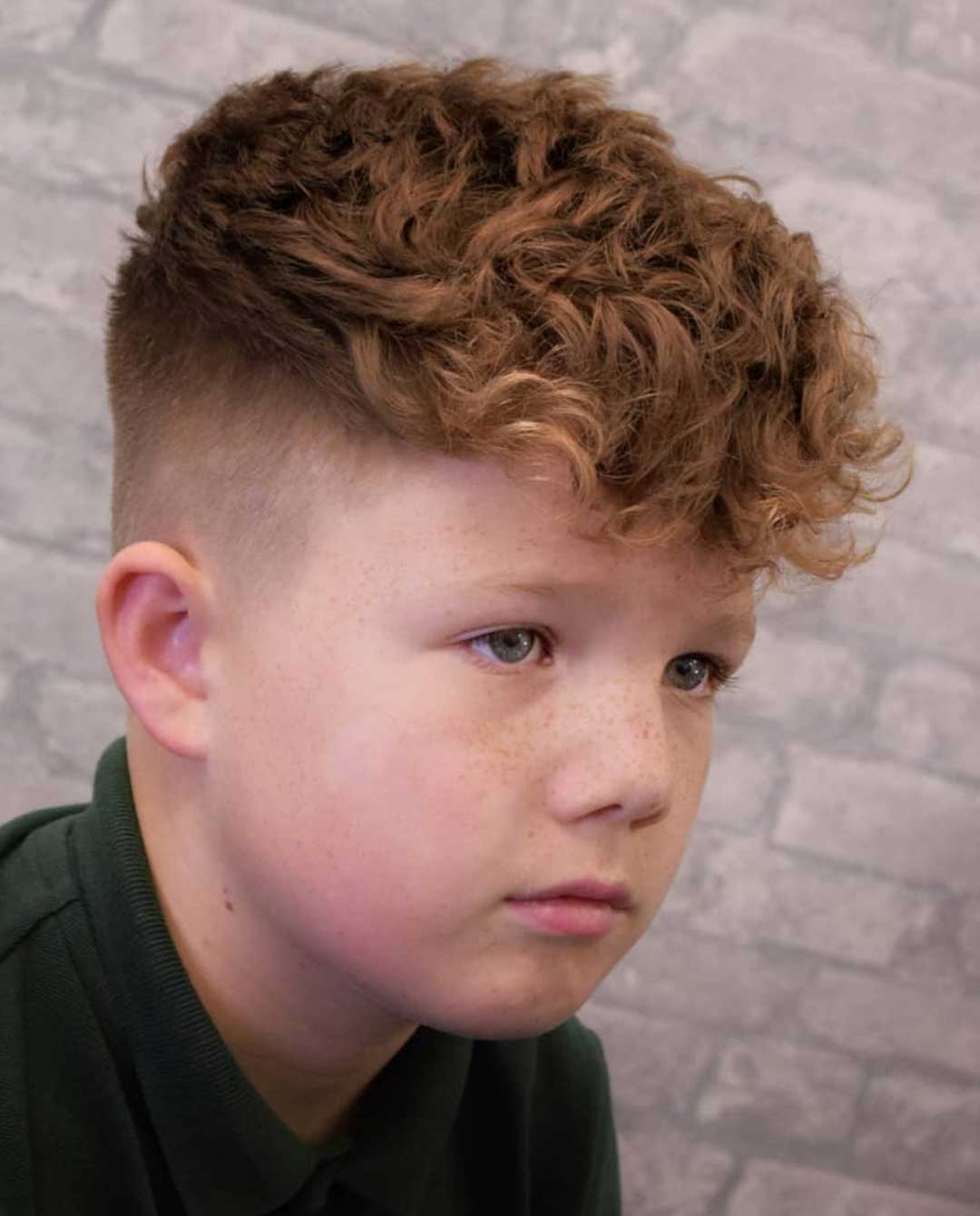 #12 Blunt Caesar Haircut
Here's another style inspired by the classic Caesar. But, this one is a bit bolder than the other! Blunt bangs and a sharp line around the scalp creates some definition. A smooth fade below that keeps the style on-par with today's trends.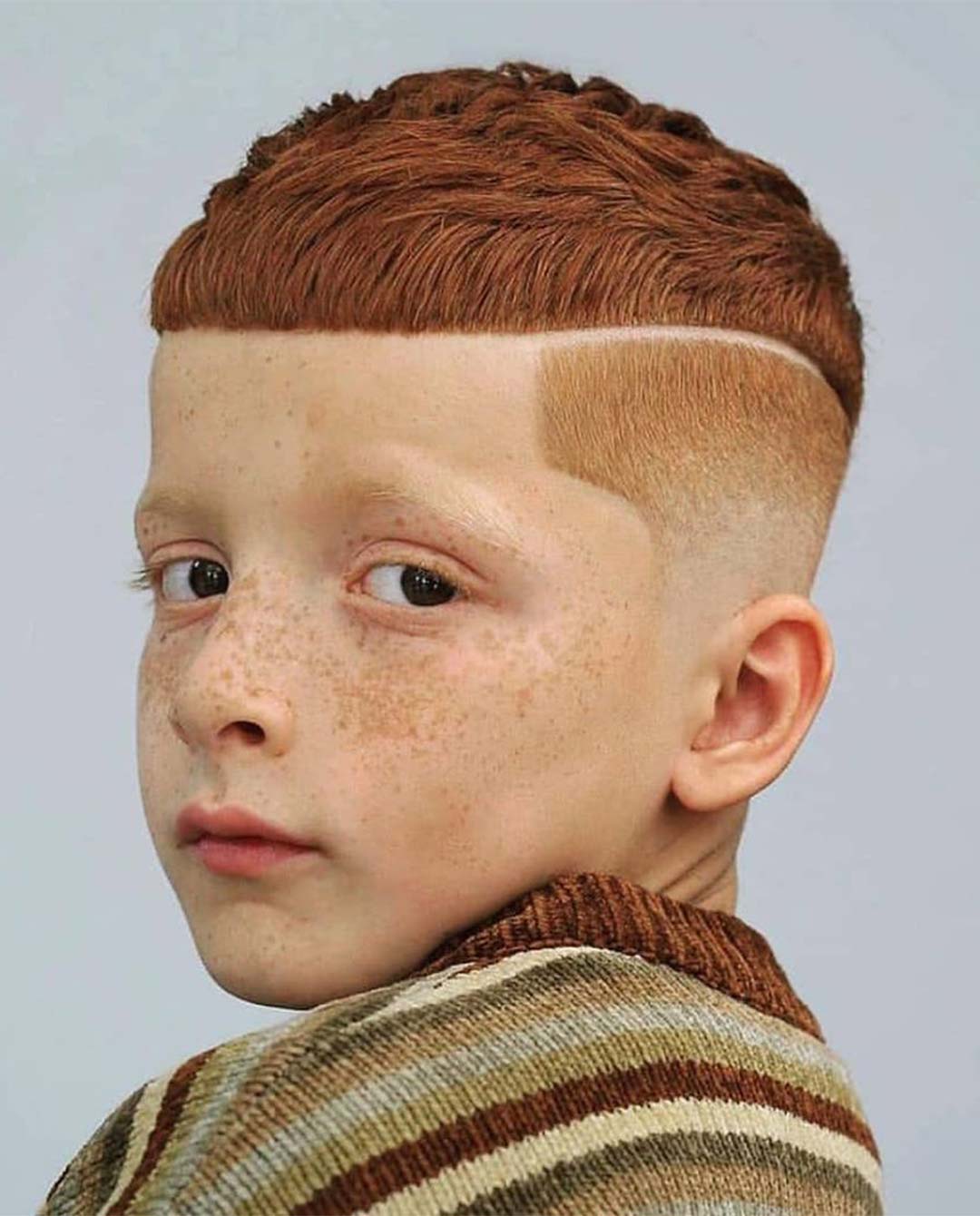 #13 Spiky Quiff
Inspired by iconic styles worn by pro ballers, this cut is perfect for any athletic kid. The textured spikes on the top create an eye-catching definition. The same goes for the cut line that travels from temple to temple!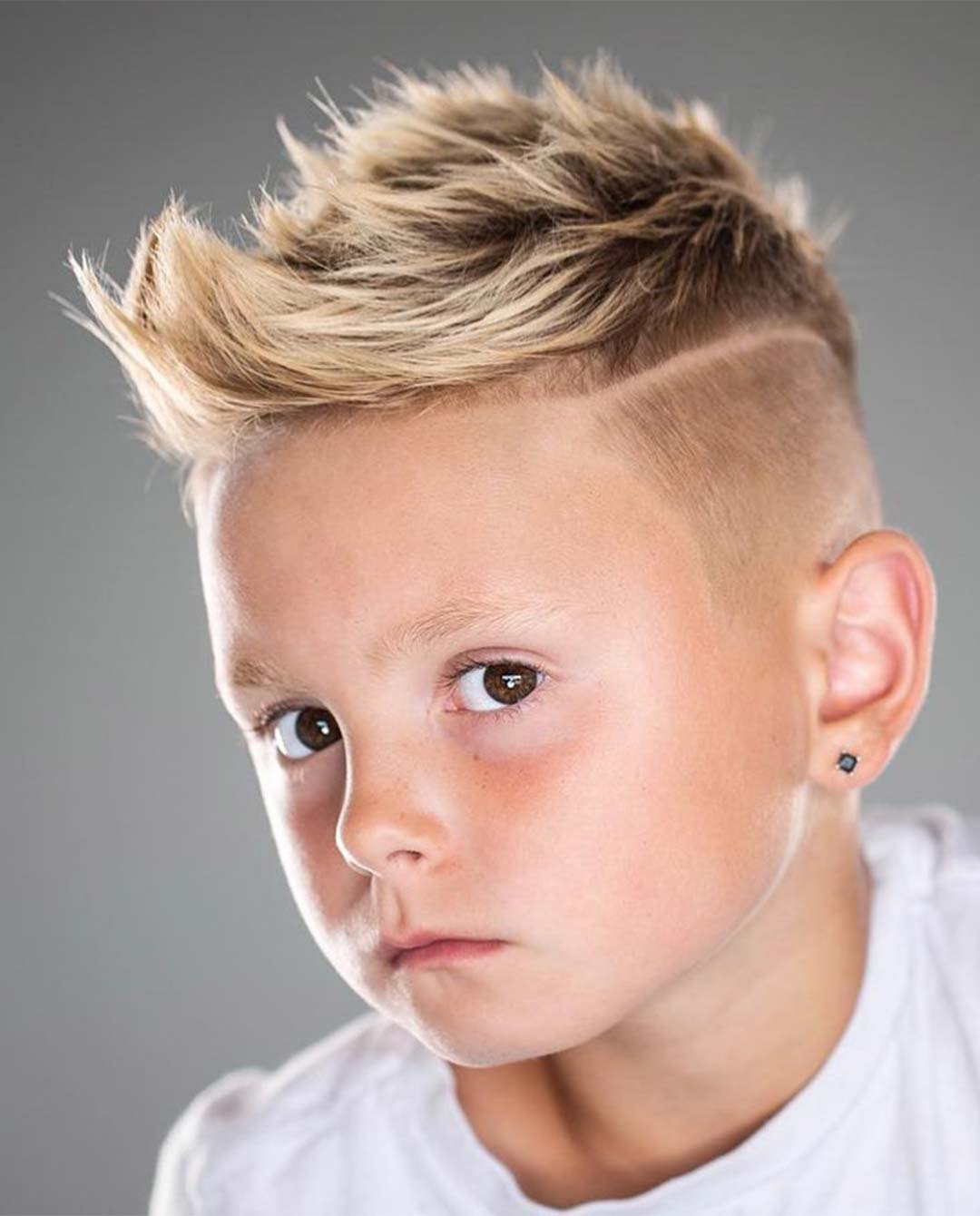 #14 Zero-Fade Quiff
Great for making your boy feel like a Hollywood star, the Zero-Fade Quiff is a trendy style that looks good on just about anyone. As the name would suggest, there's no fade between the top and sides. Thanks to the volume and height on top, the cut looks effortless no matter what.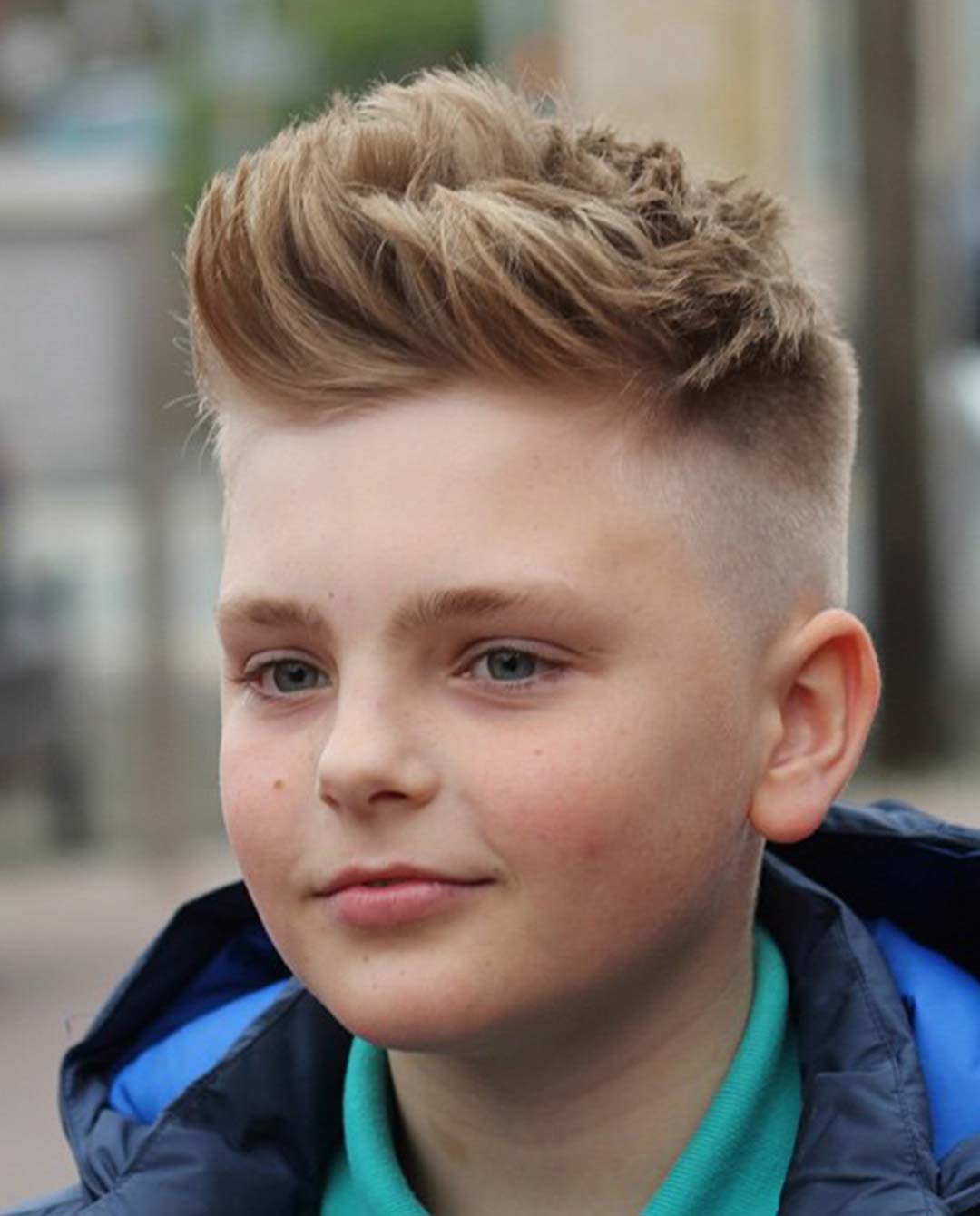 #15 Trendy Mullet
Who says that mullets are a thing of the past? These polarizing kids' haircuts are here to stay! Let your boy's hair grow long in the back. Push the top to the side and keep the sides trimmed short. Just like that, you have a bold cut that's super-easy to maintain.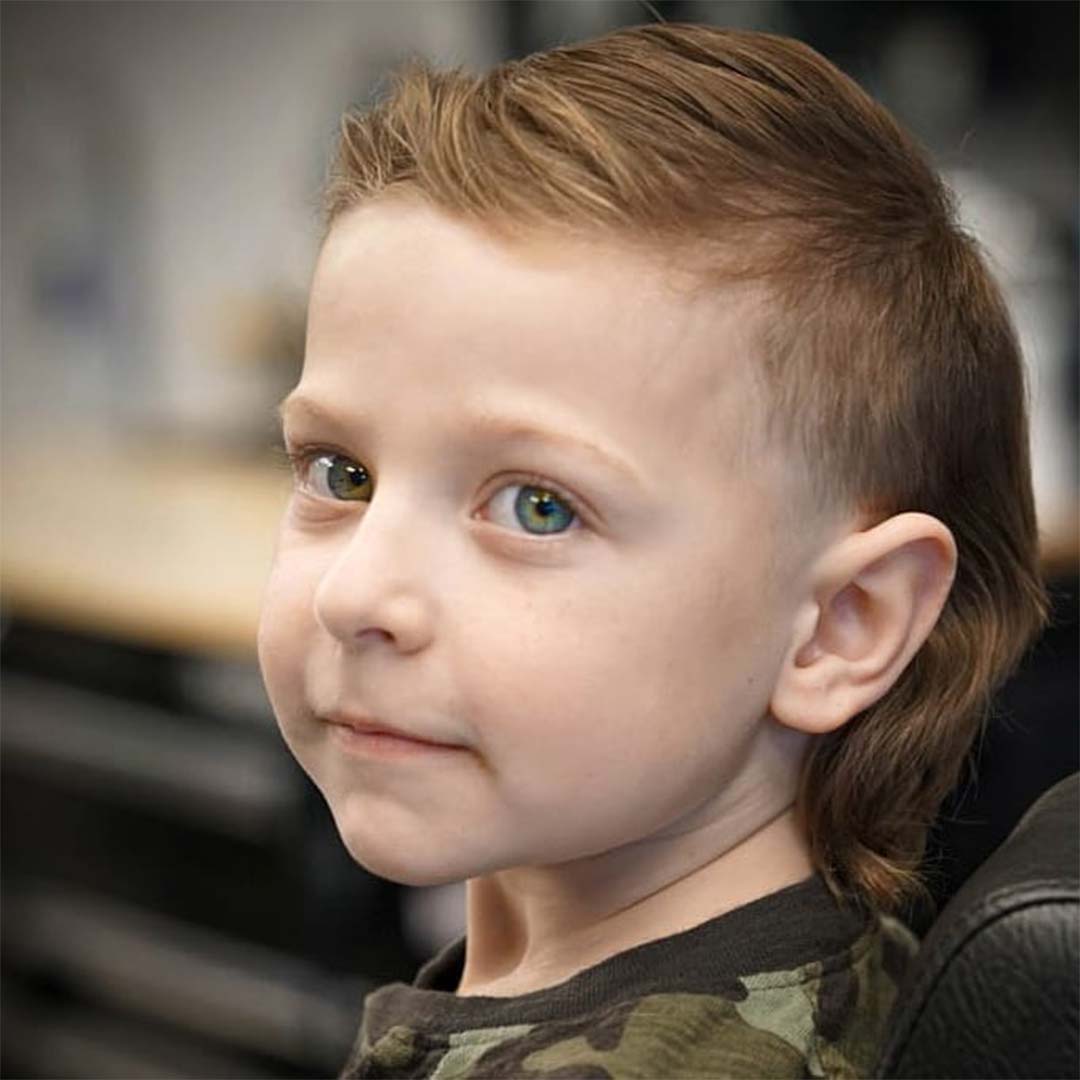 #16 Texture Quiff with Reversed Fade
Combining sharp details and organic texture, this style has it all! On top, your kid will sport some textured length, which you can define further with pomade. On the sides, radial buzzed cuts achieve a distinct fade that follows the contours of the scalp.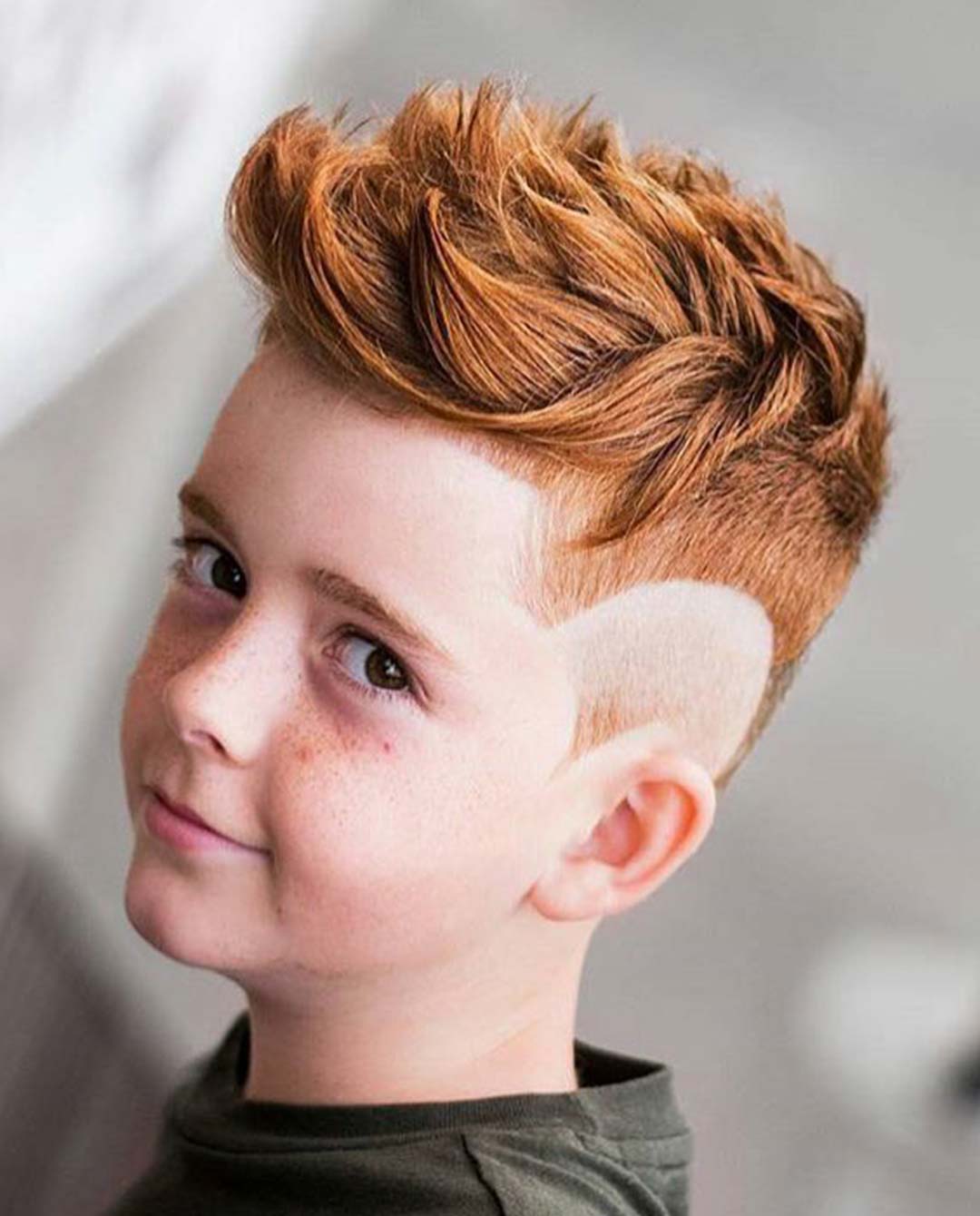 #17 The Messy Mop
Prefer to keep your kid's hair long? You can still get a stylish look with this cut. It's texturized and incorporates different lengths to achieve an effortlessly messy look. But, the sides are still trimmed for comfort and polish. This style is fantastic if you need something low-maintenance and easy to style.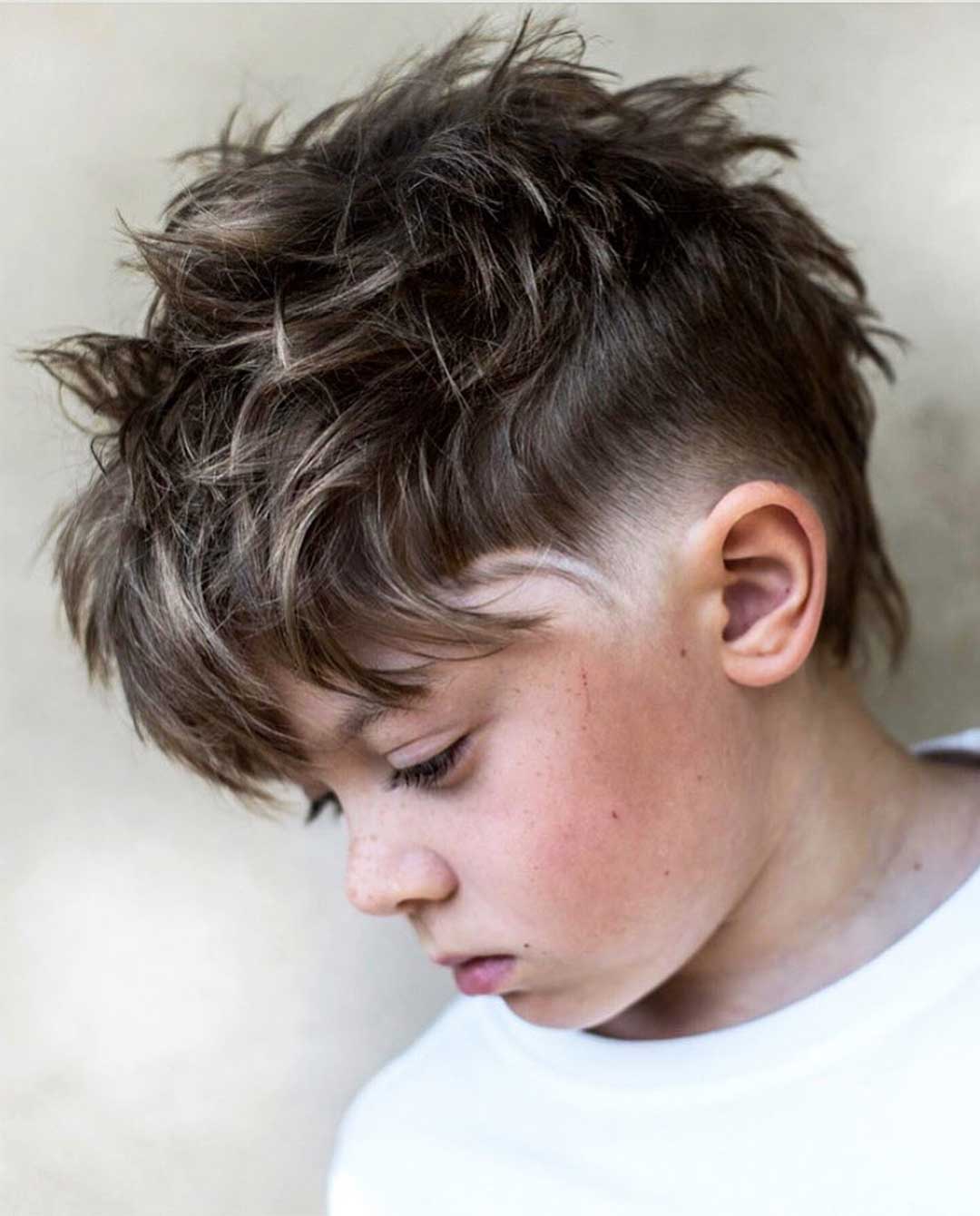 #19 Mohawk
You can't go wrong with a mohawk! This one does away with the dated elements of mohawk from yesteryear. Instead, you're getting the classic look with some modern updates. Keep the sides short and lift the top. It's as easy as that!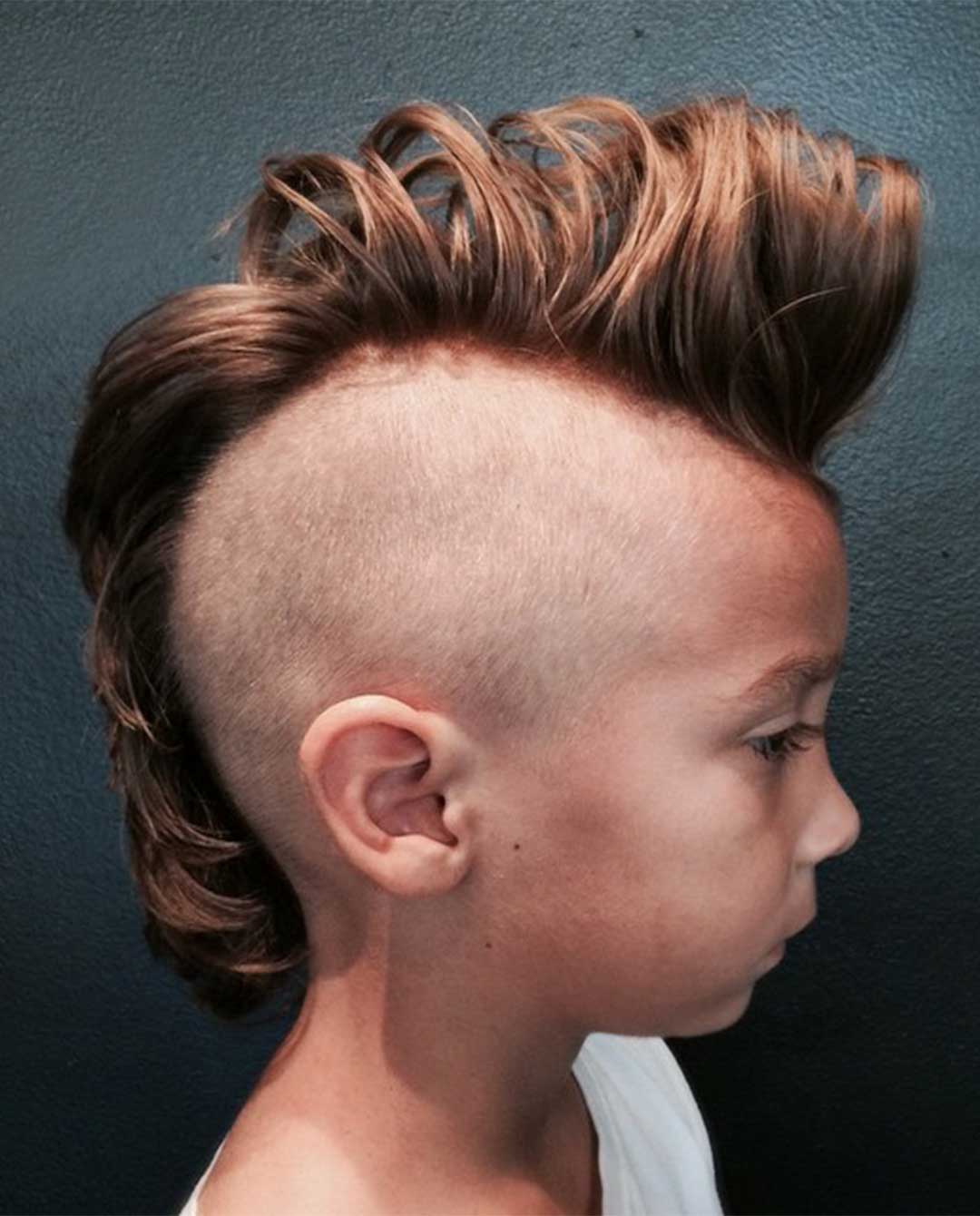 #20 Messy Crop Top with Line Design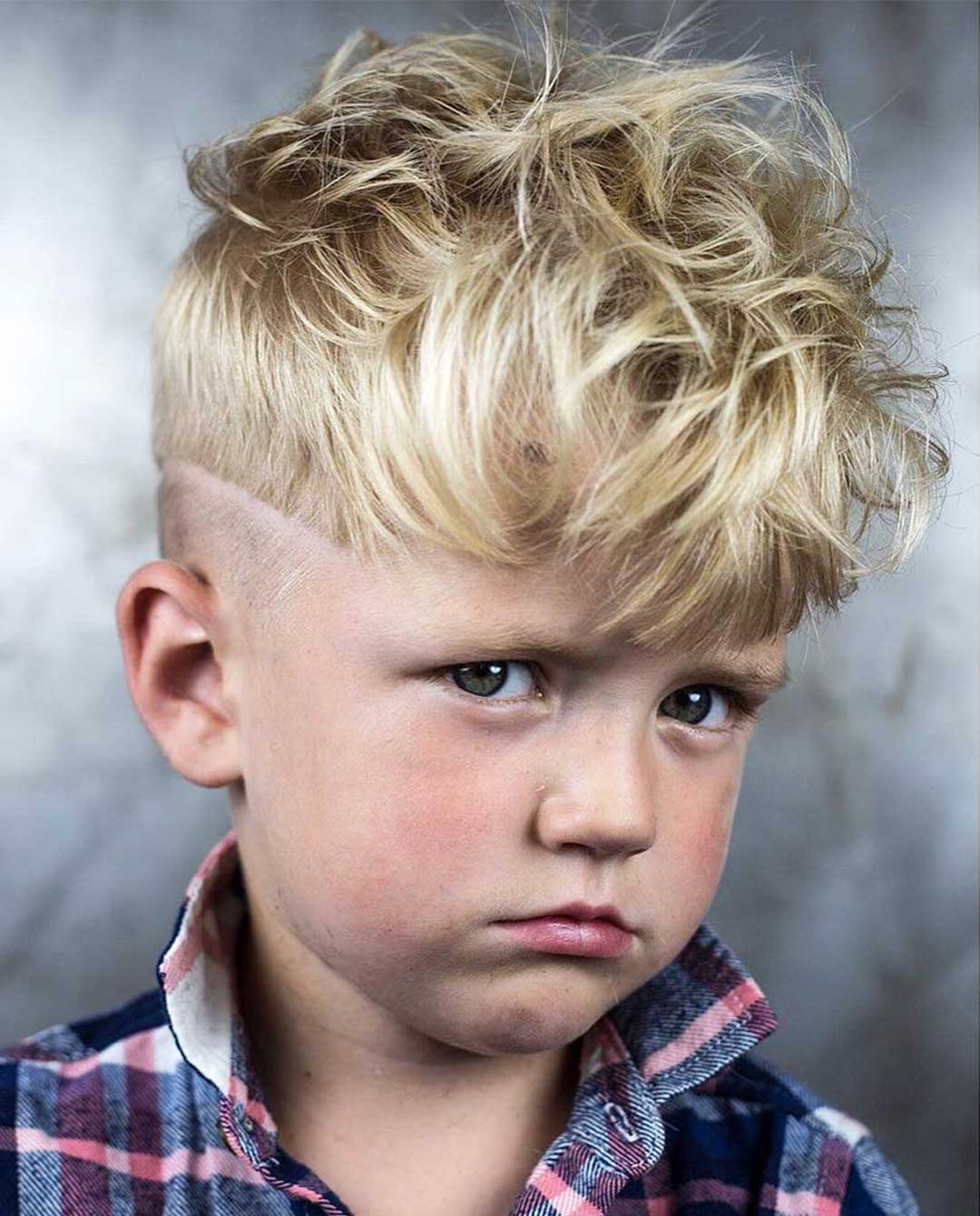 #21 Simple Baby Cut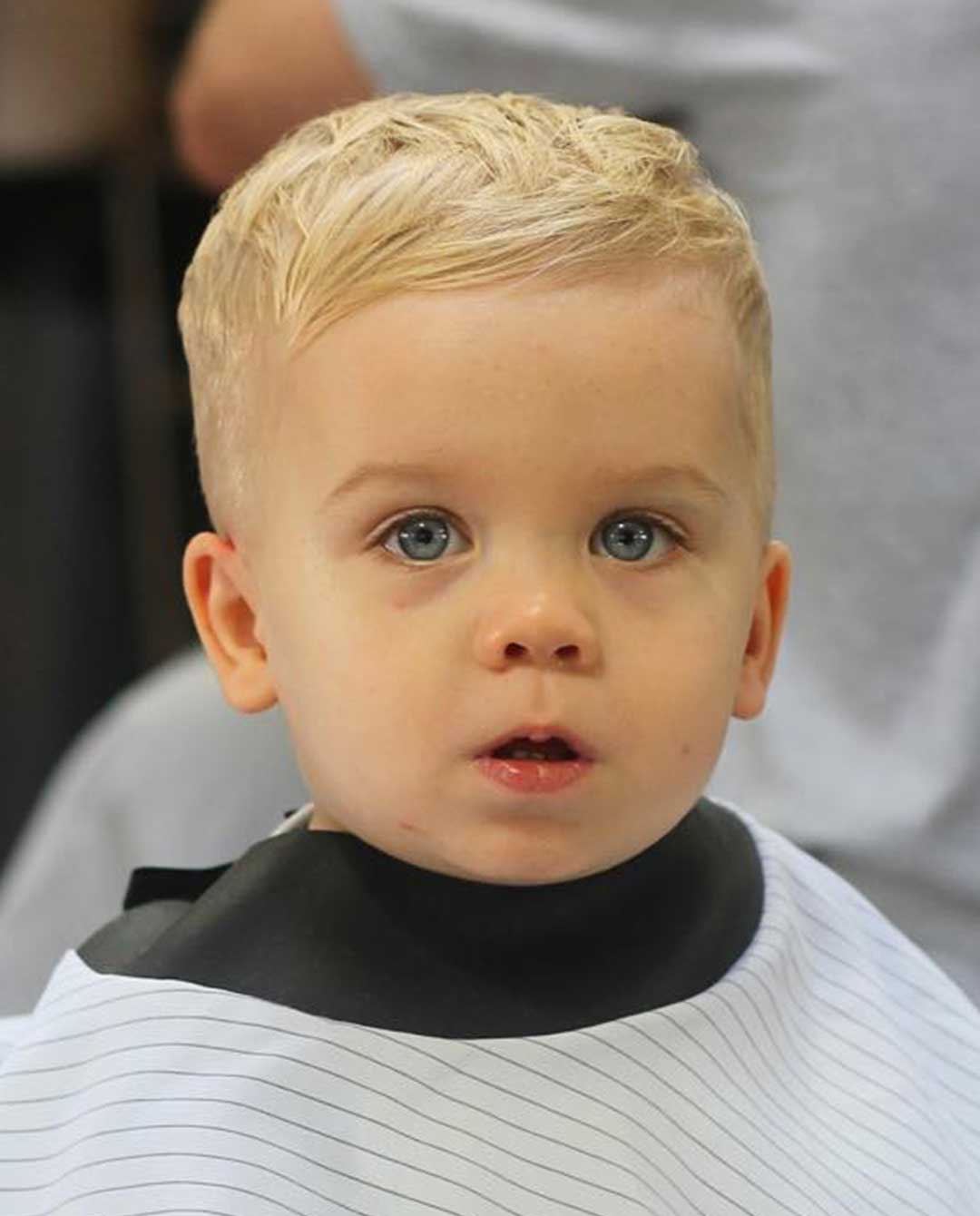 #22 Messy High Top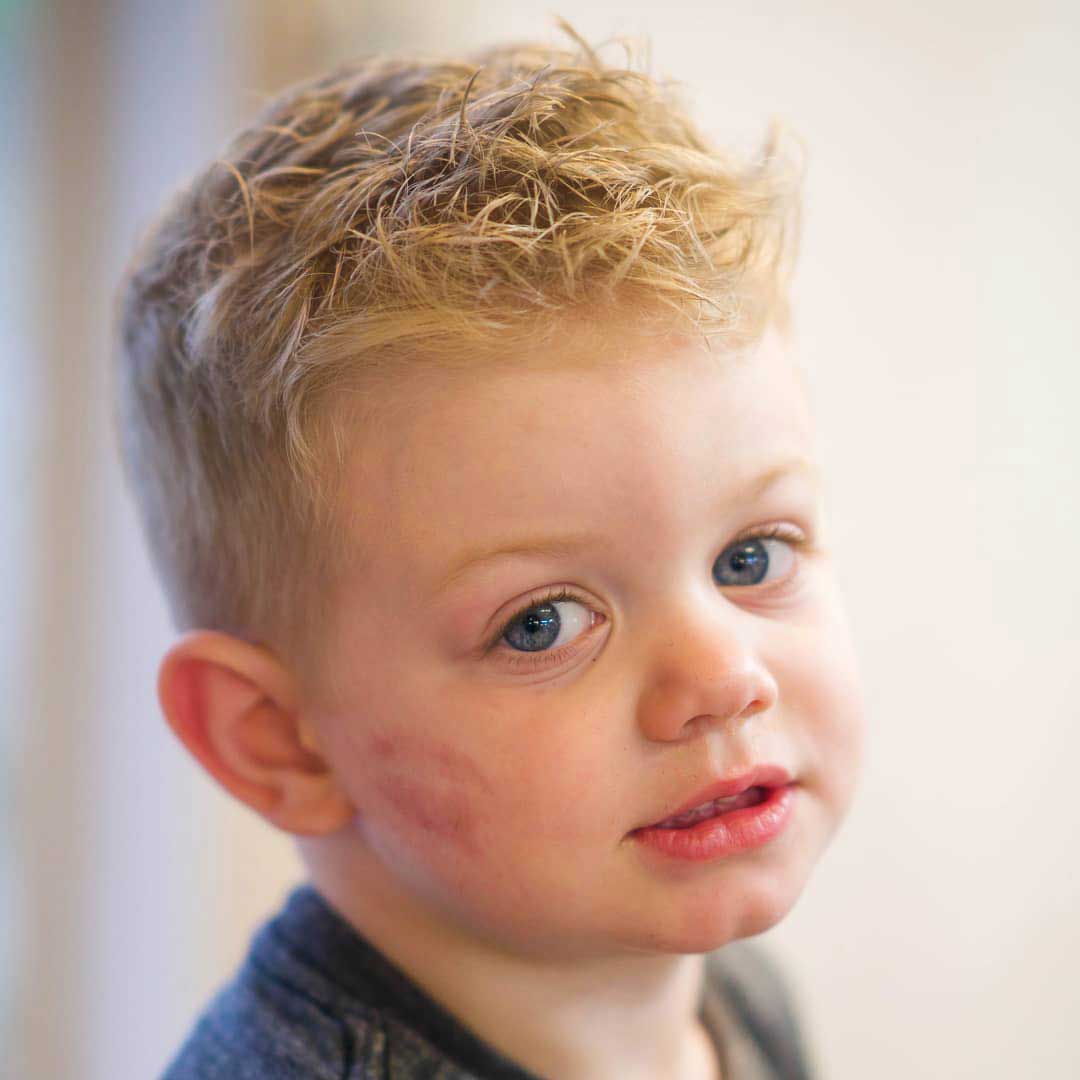 #23 Kid's Bowl Cut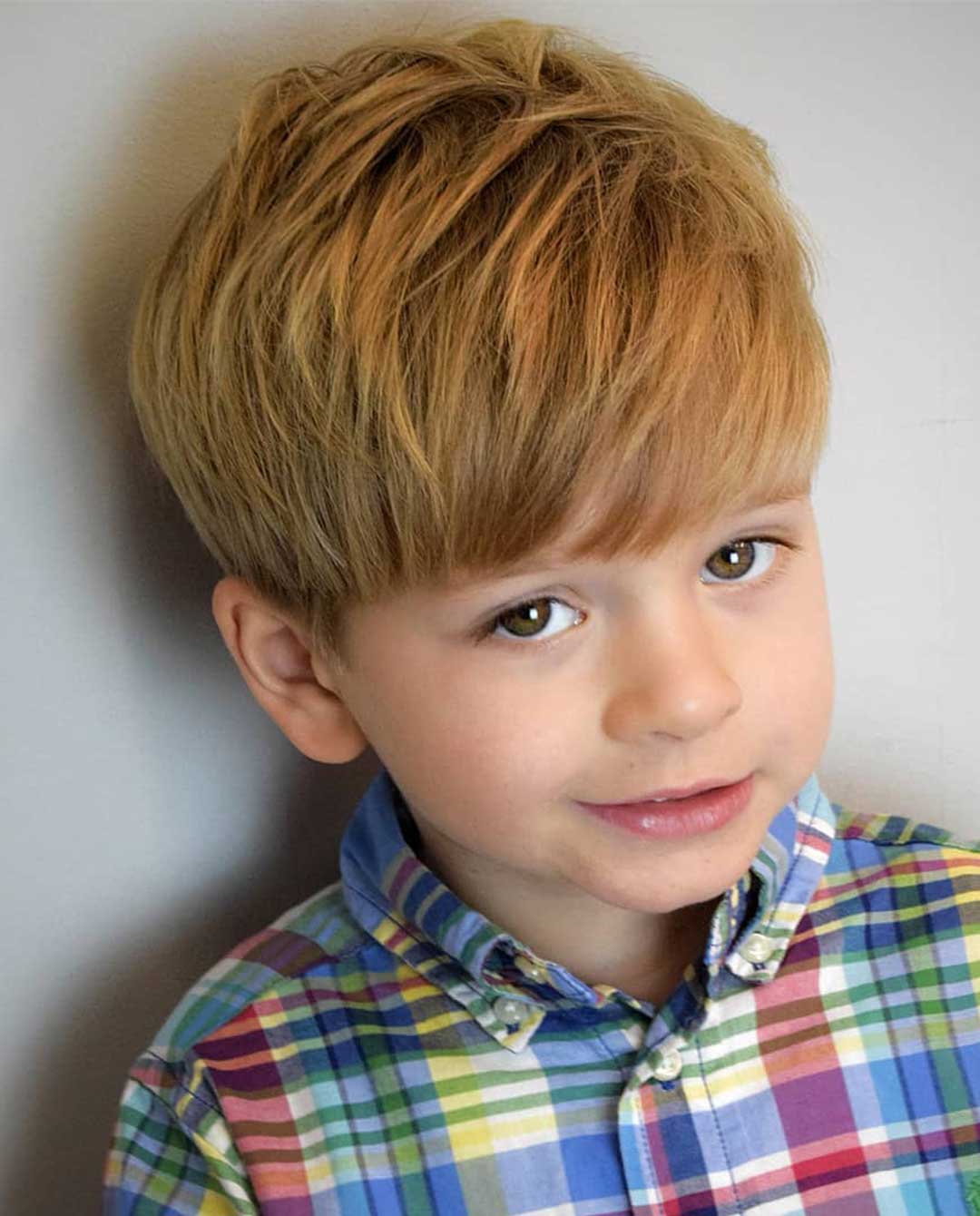 #24 Quiff with Part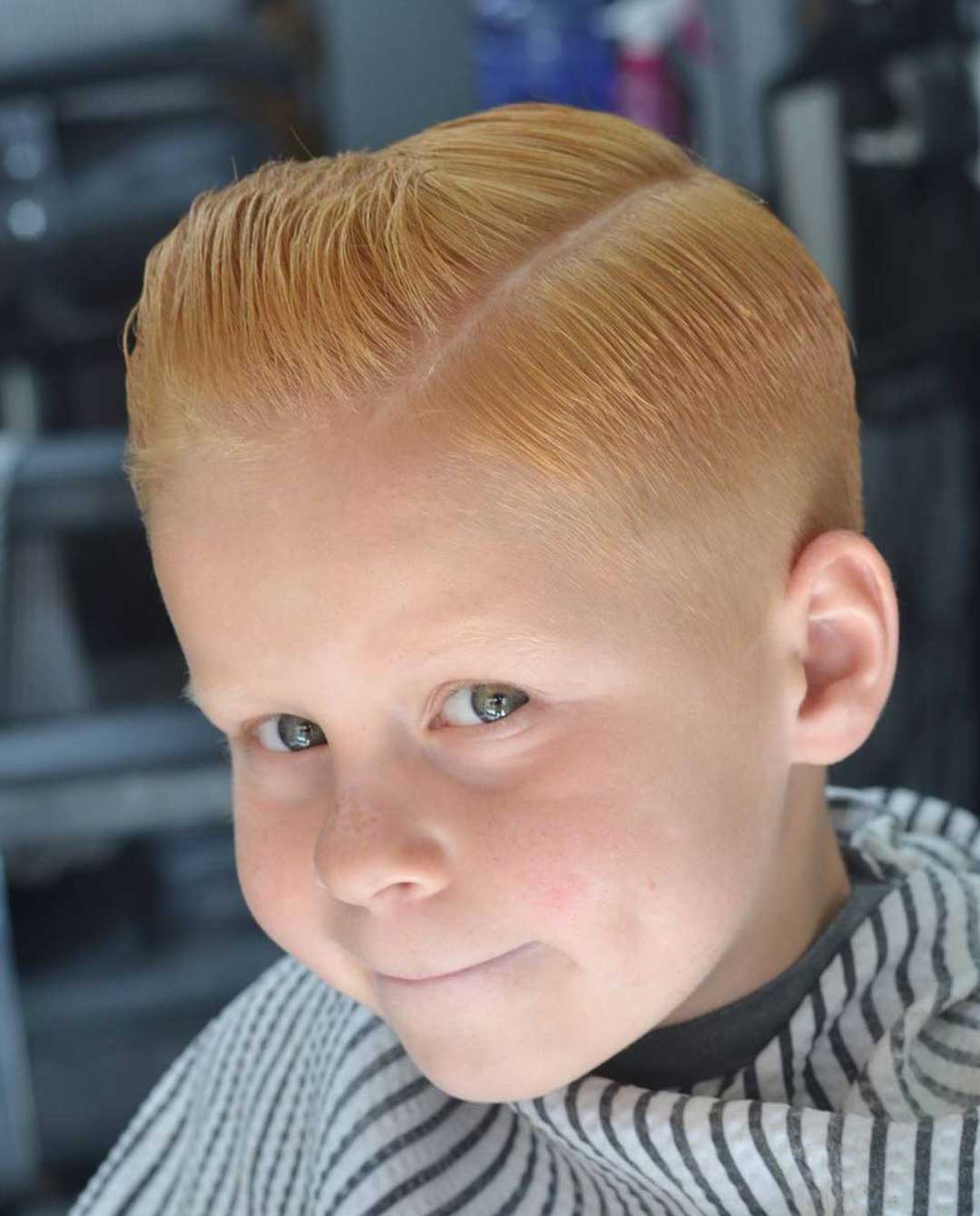 #25 Quiff Haircut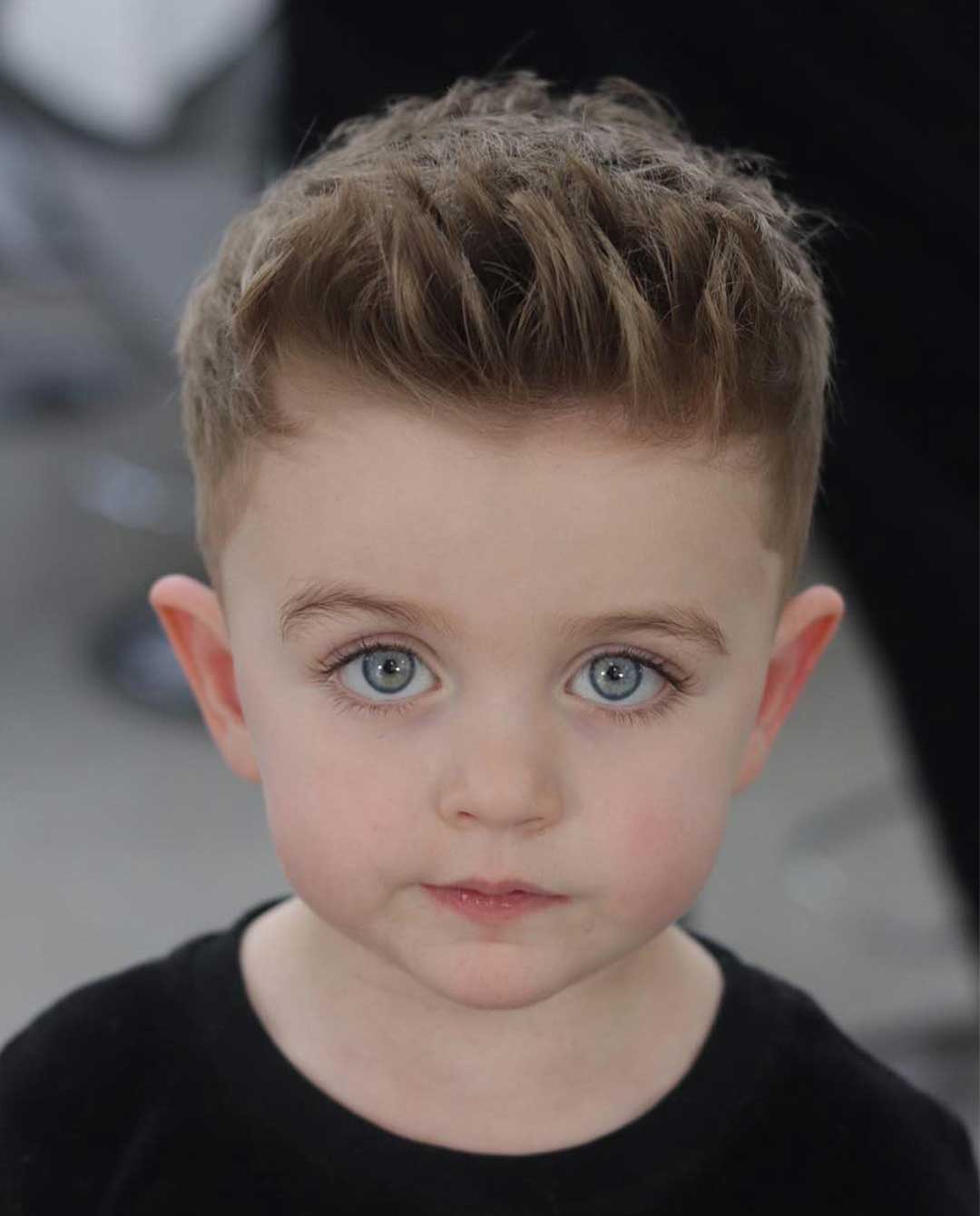 #26 French Crop with Line Design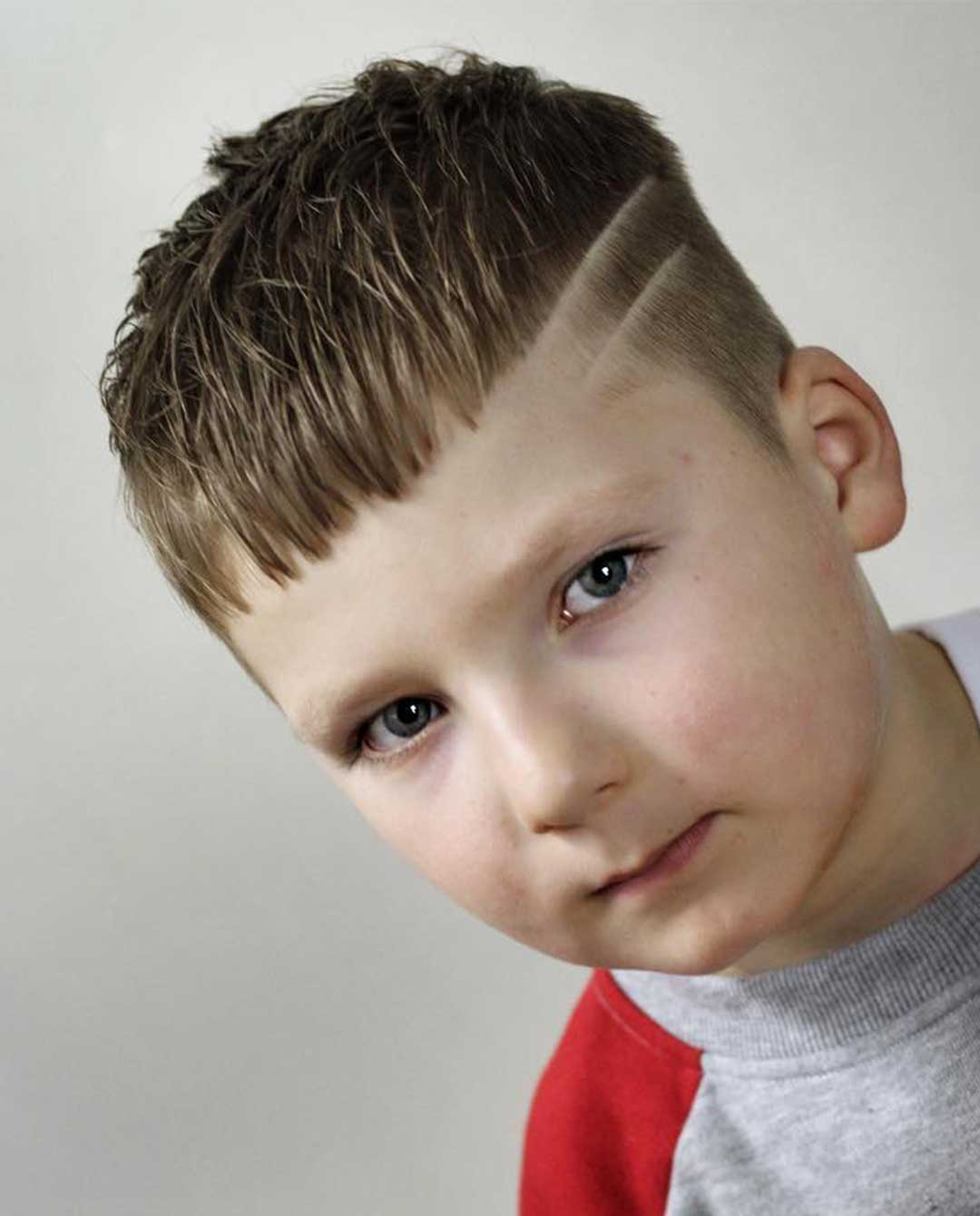 #27 Comb Over with Part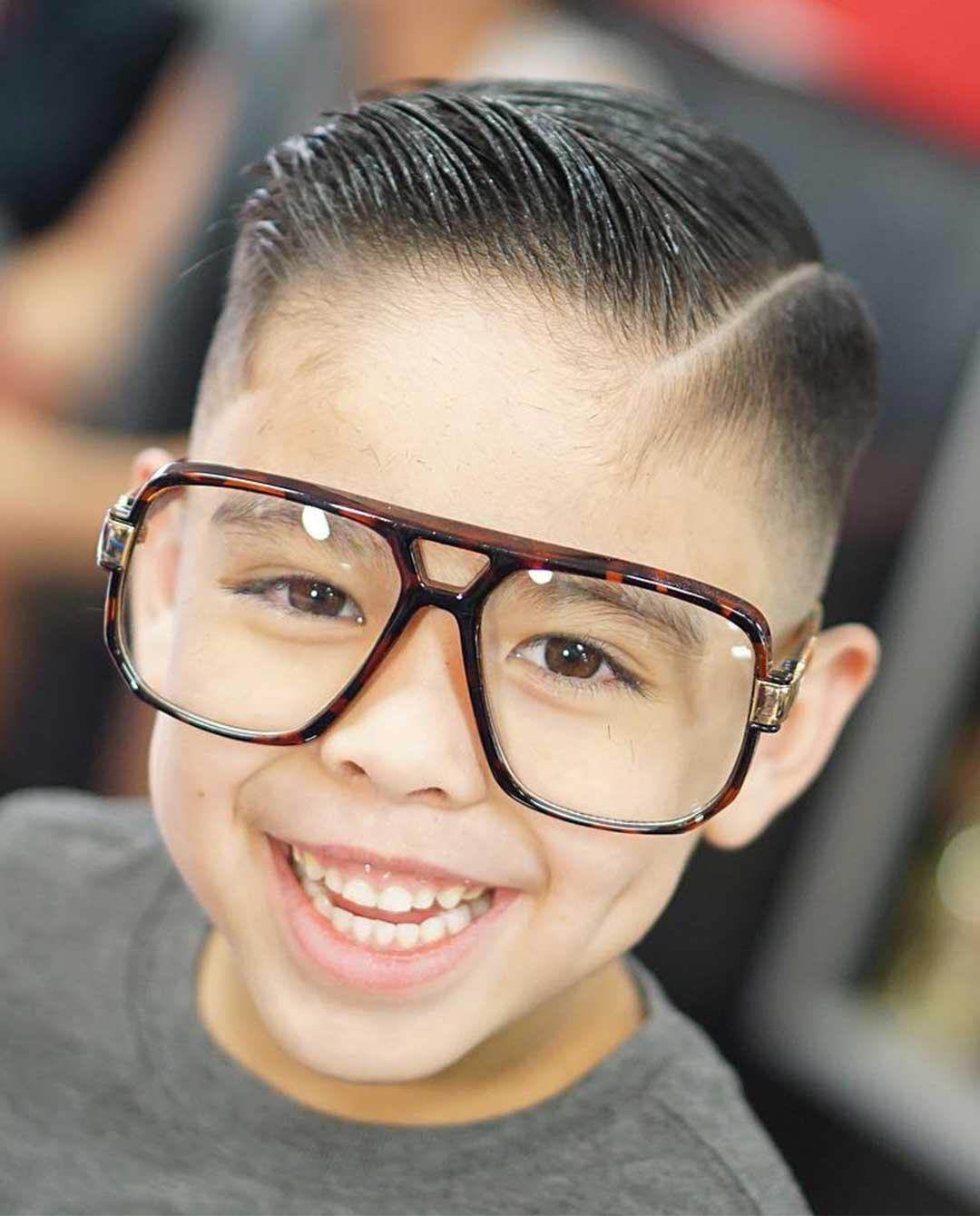 #28 Faux Hawk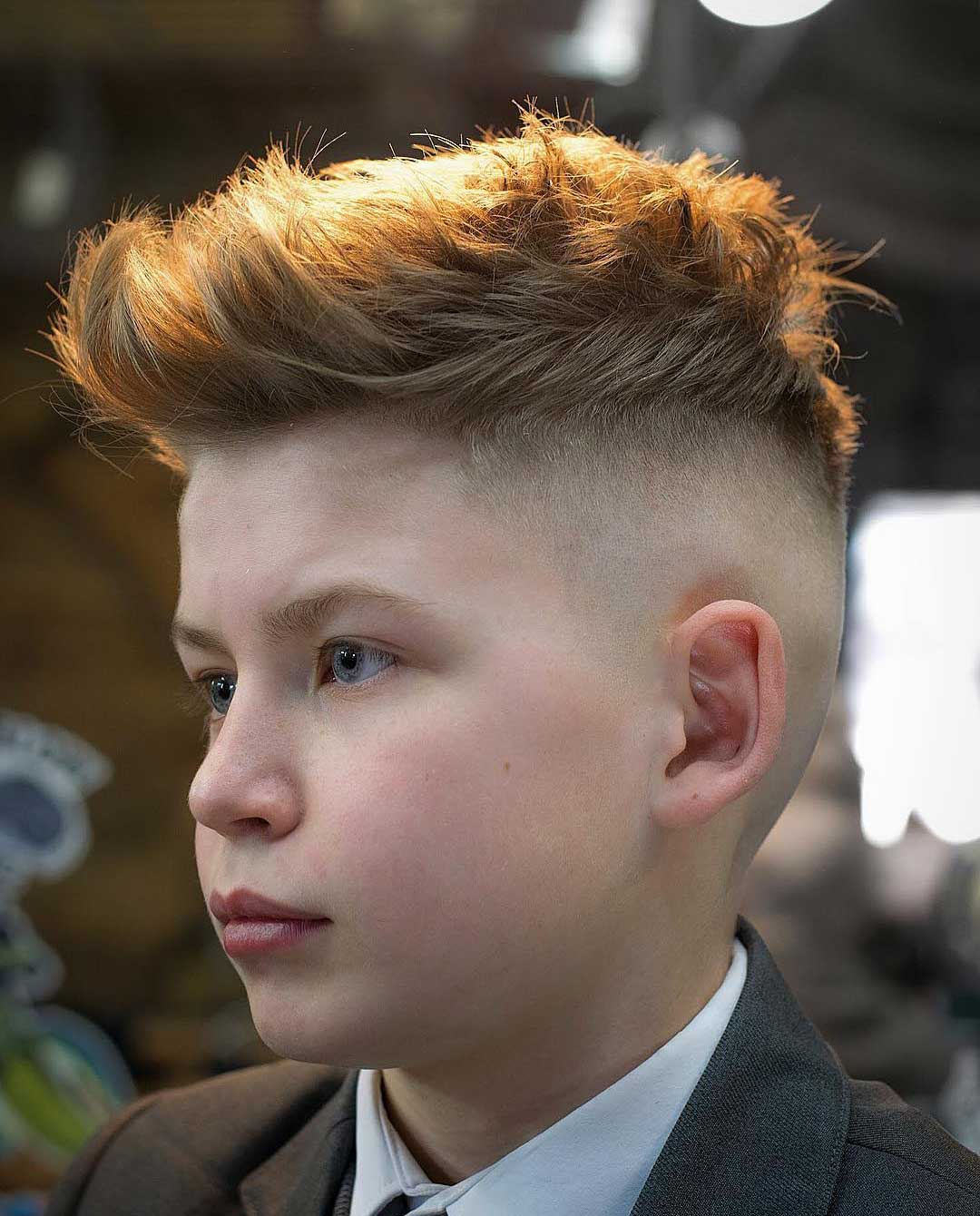 #29 Natural Curly Top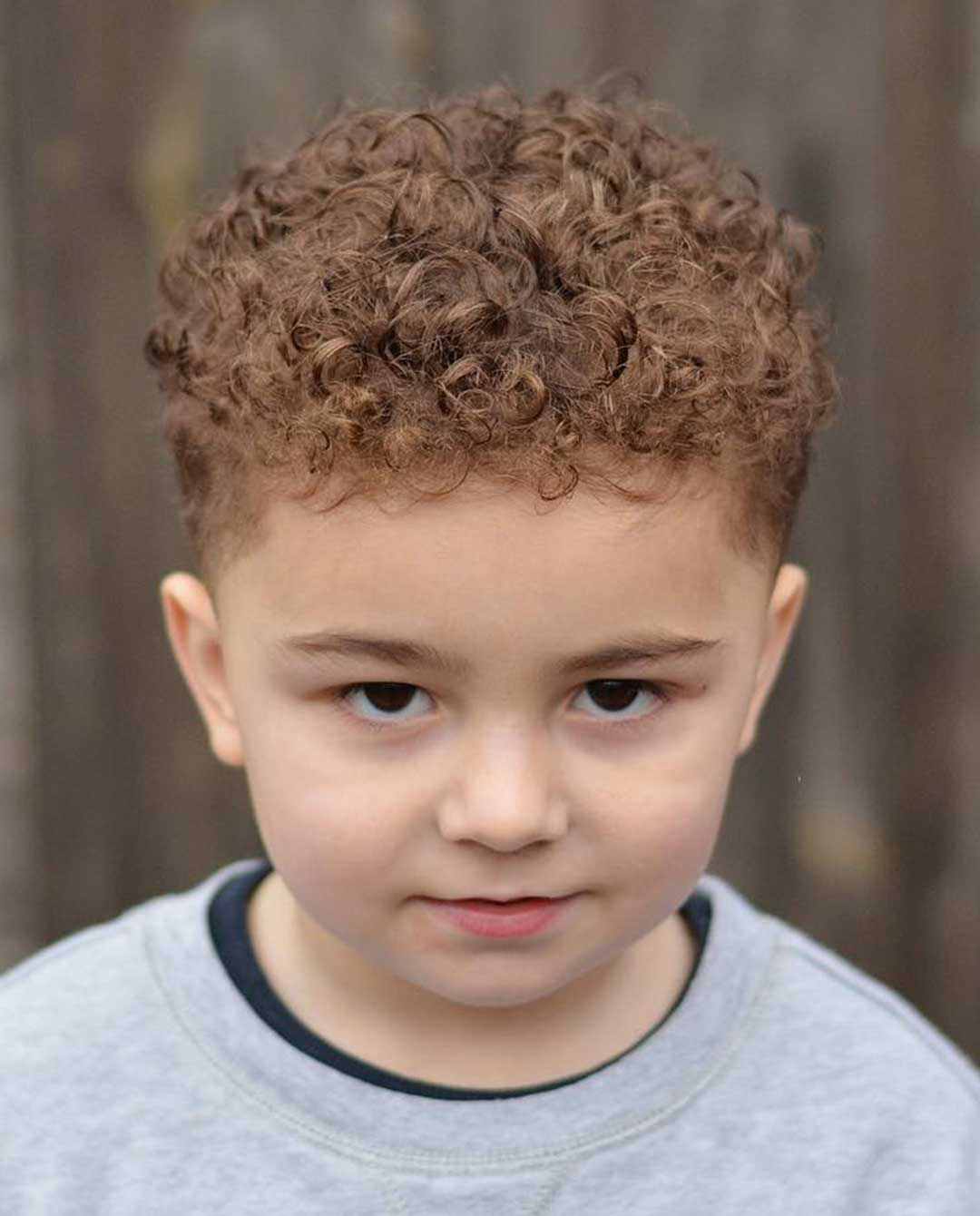 #30 Messy Side Swept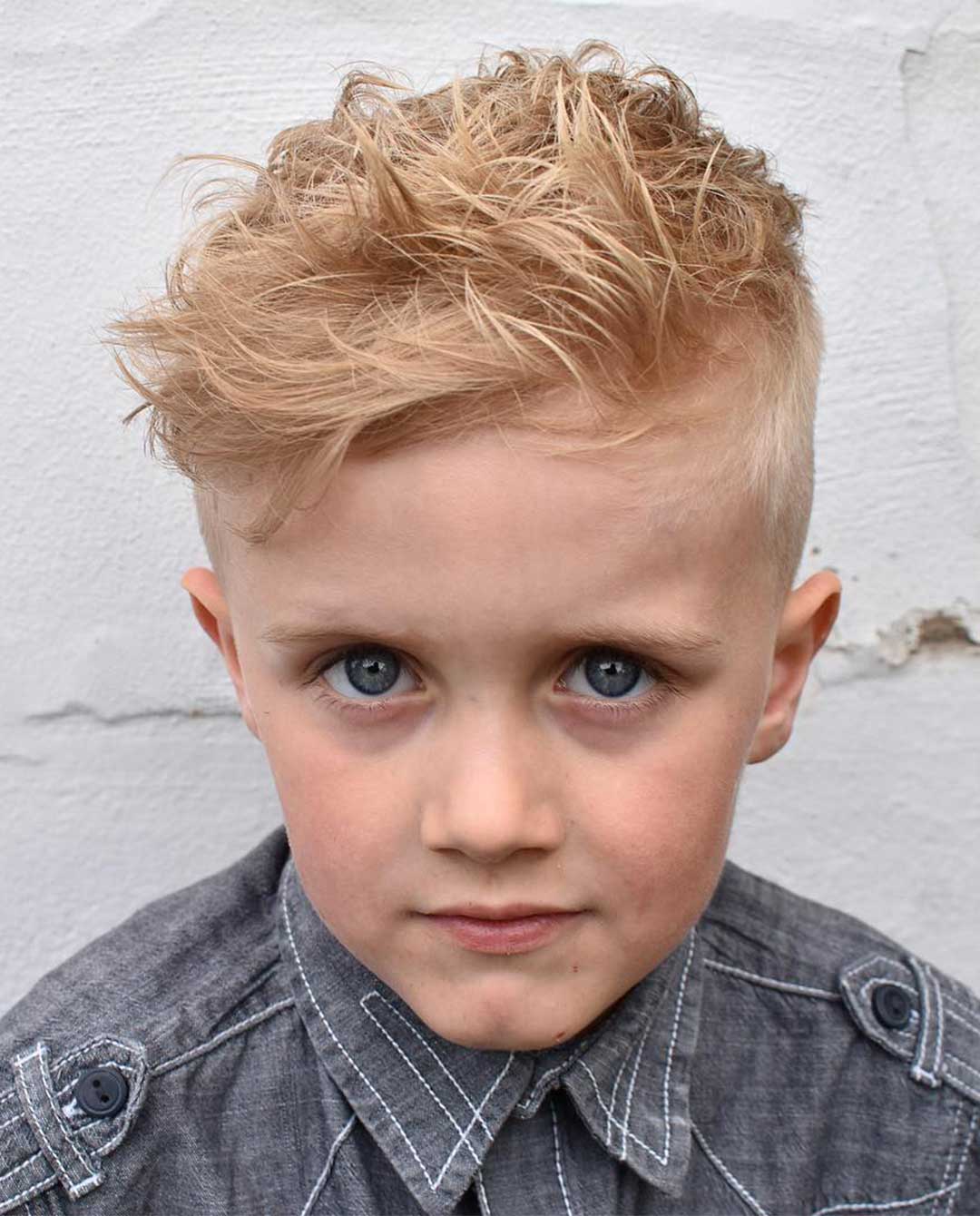 #31 Casual Style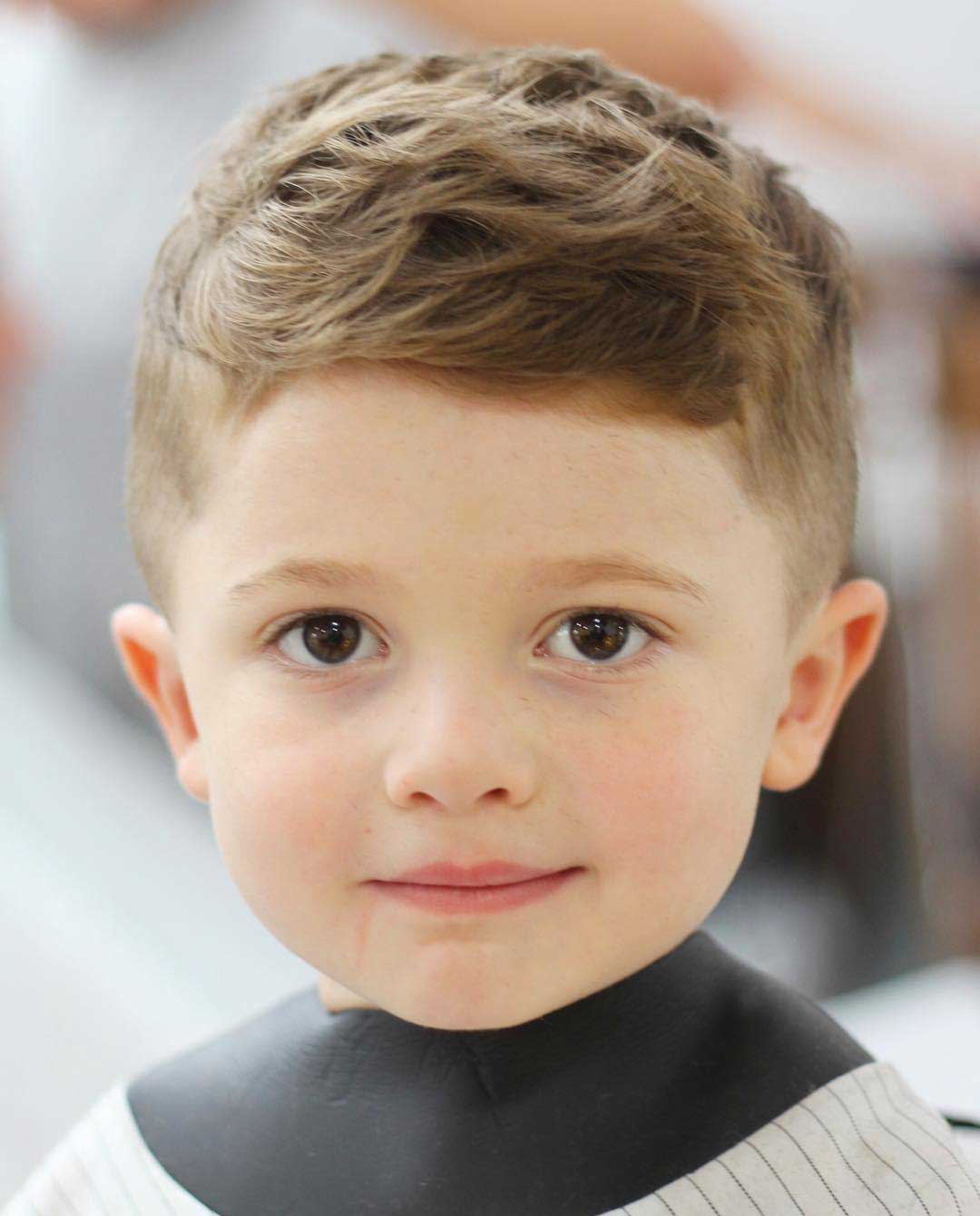 #32 High Top Fade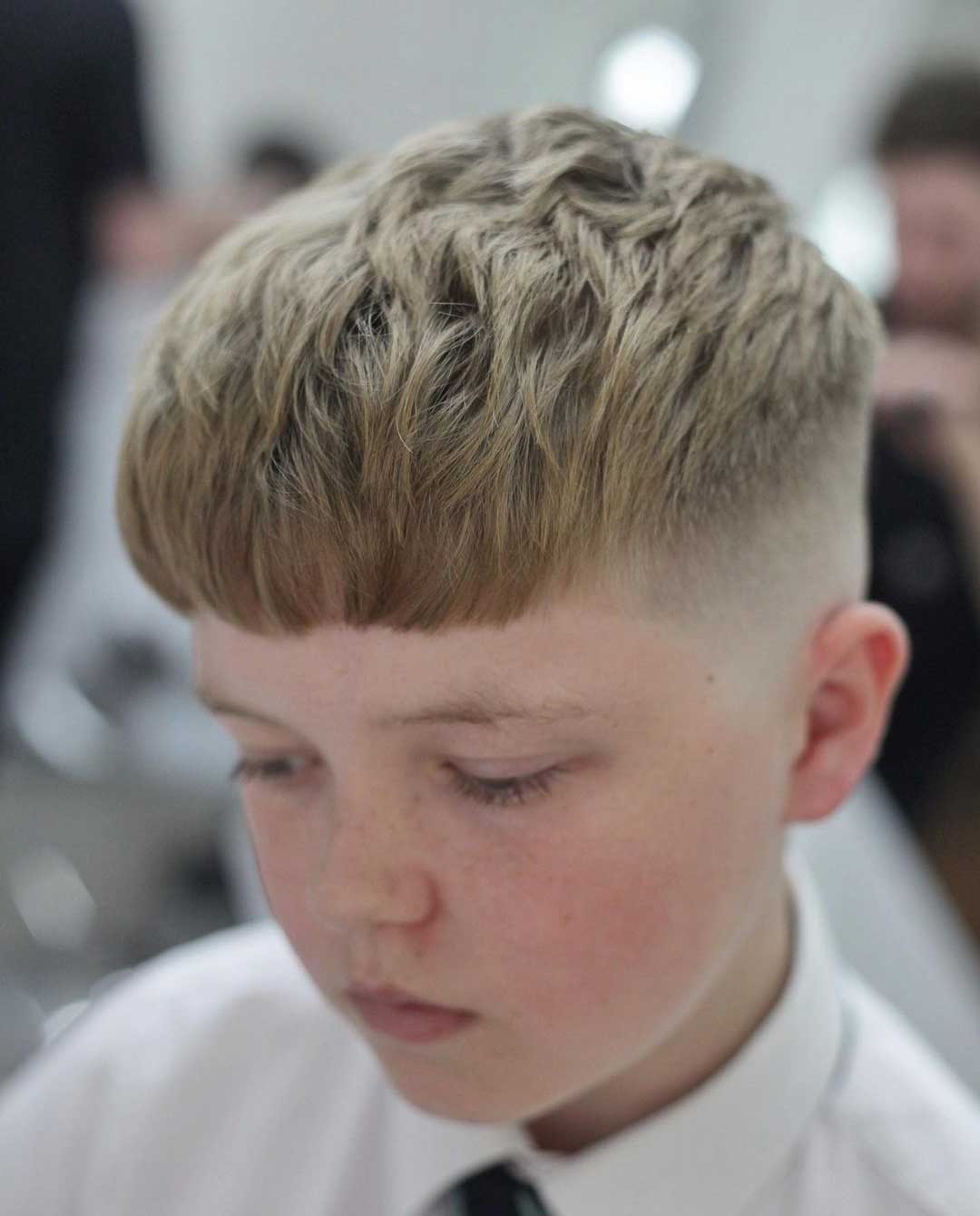 #33 Spiky Top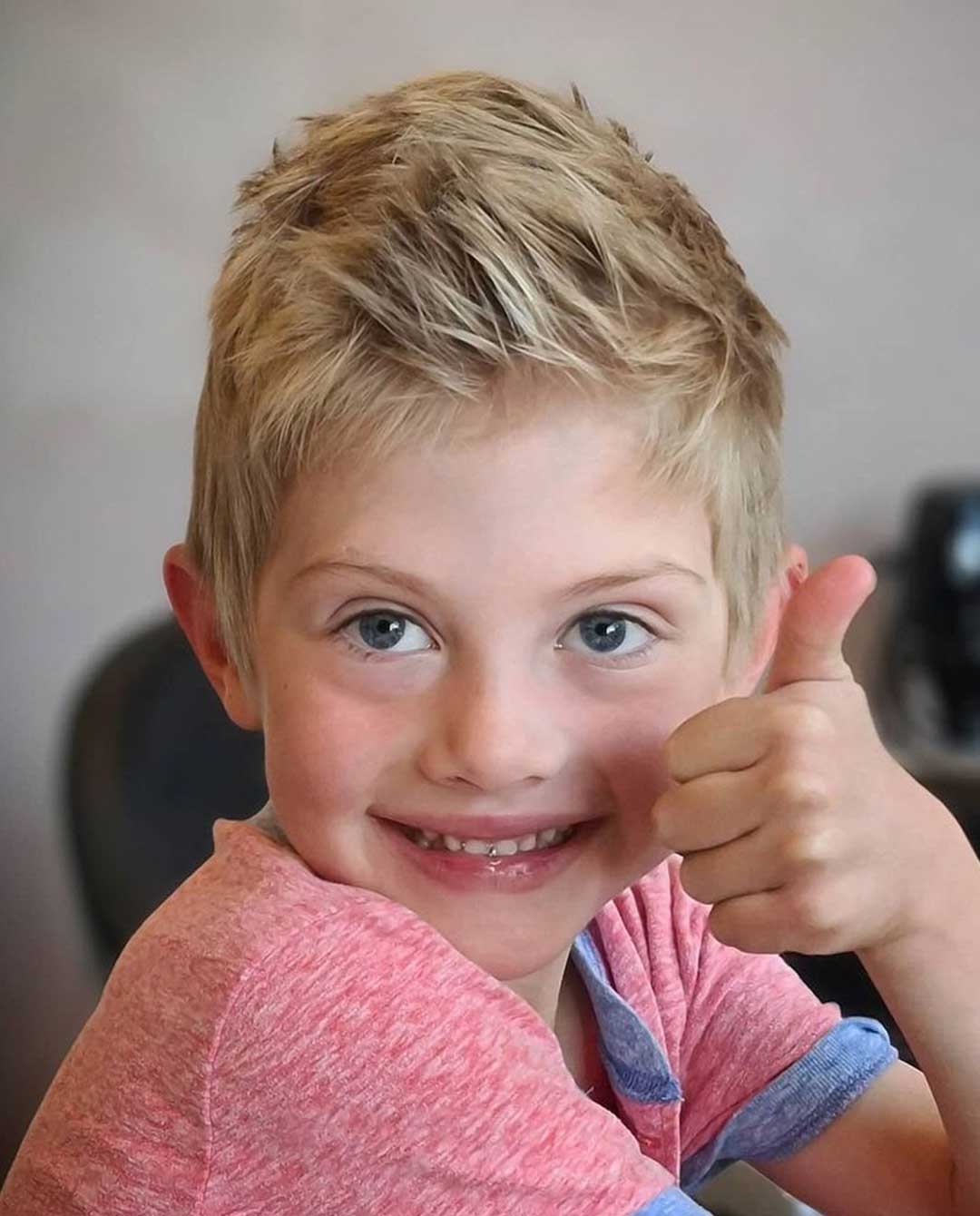 #34 Textured Bowl Cut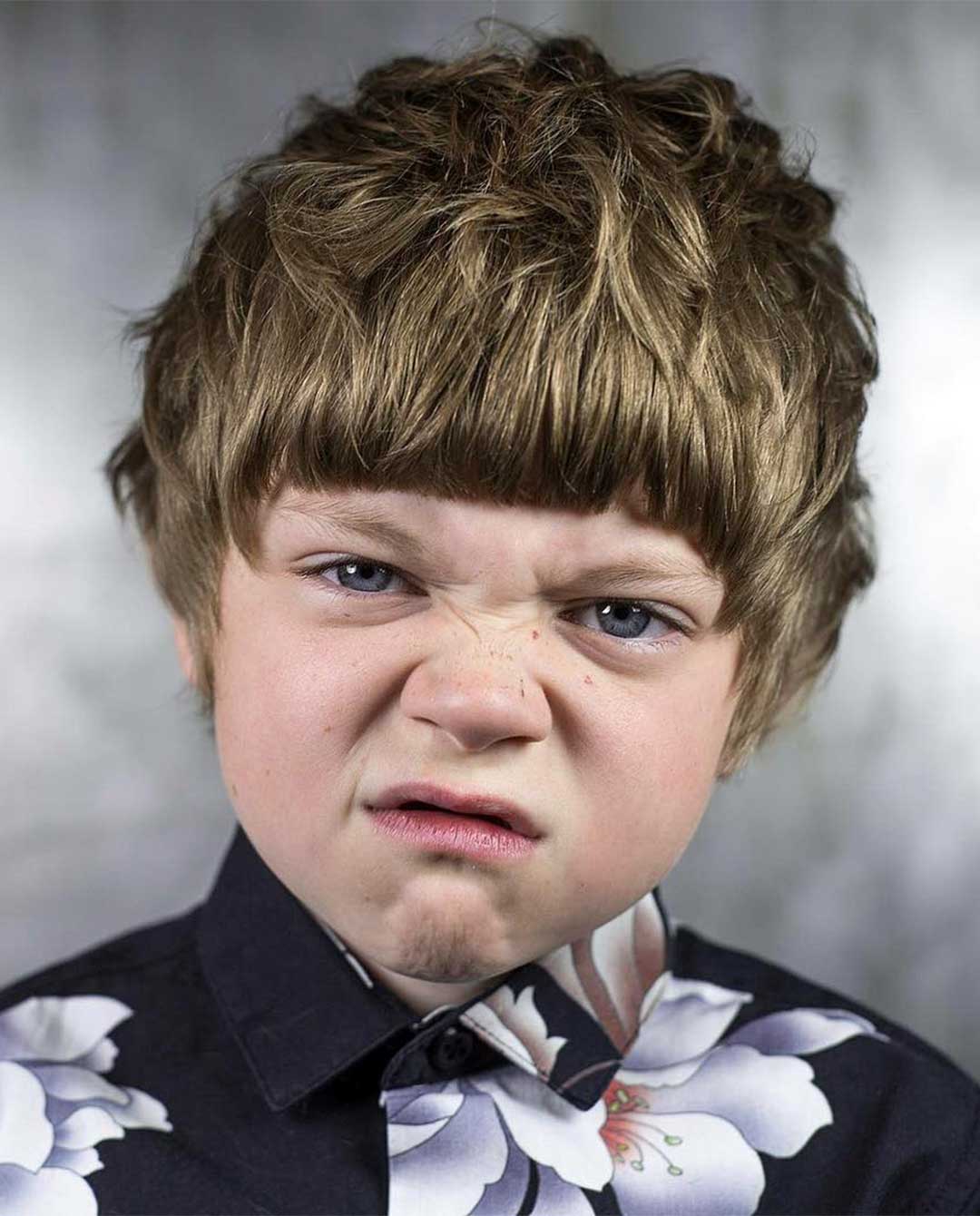 #35 Cropped Top with Hard Line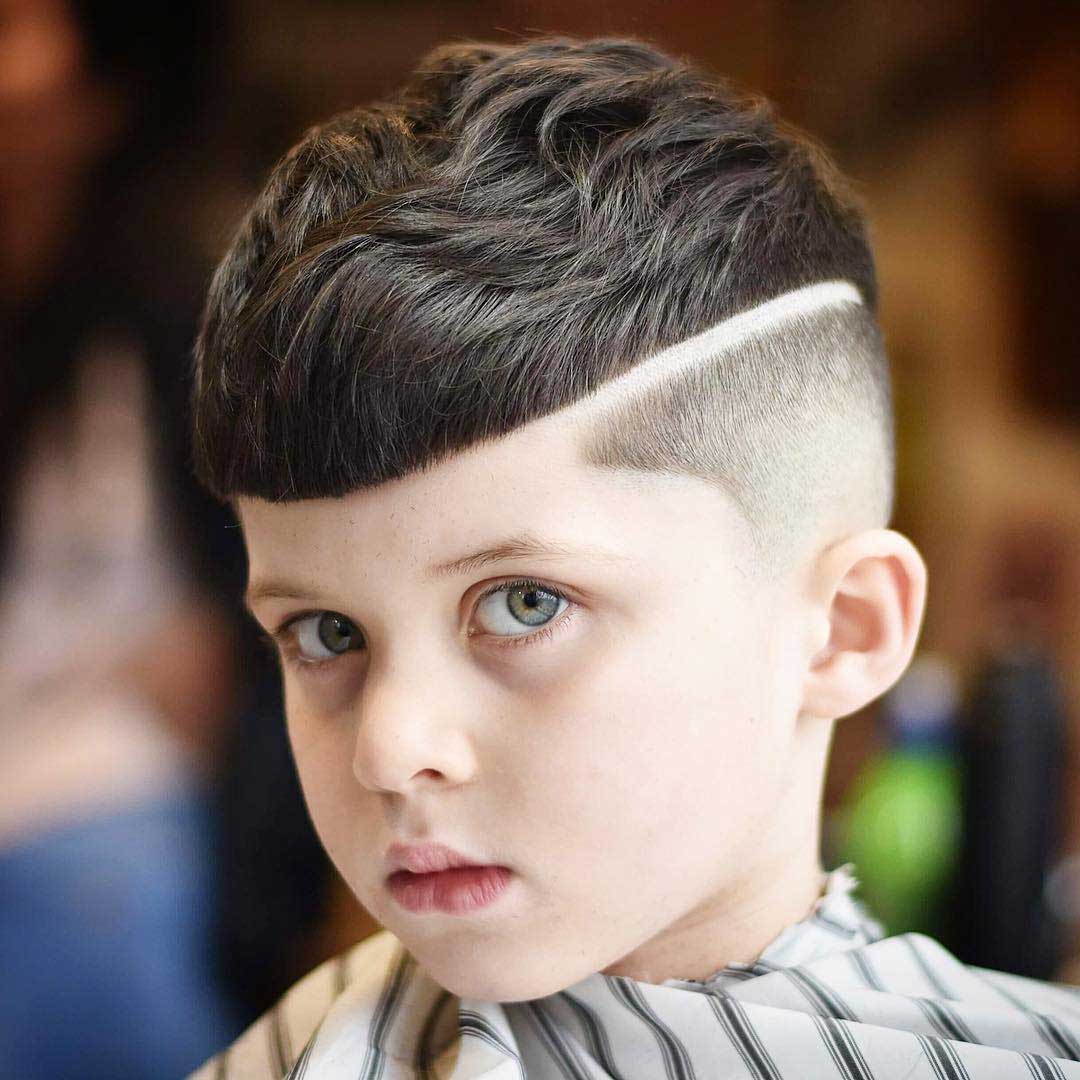 #36 Swept back haircut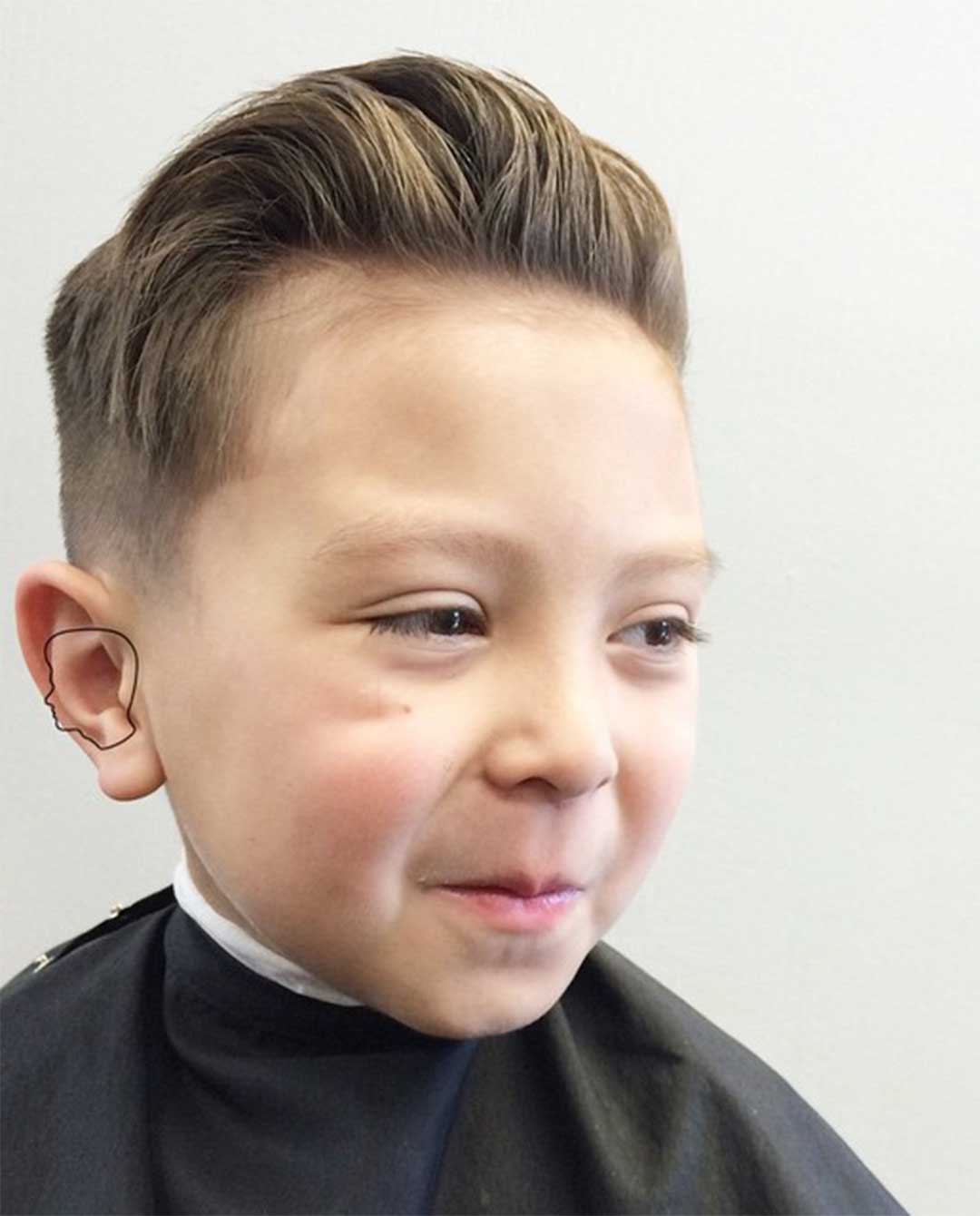 #37 Casual Style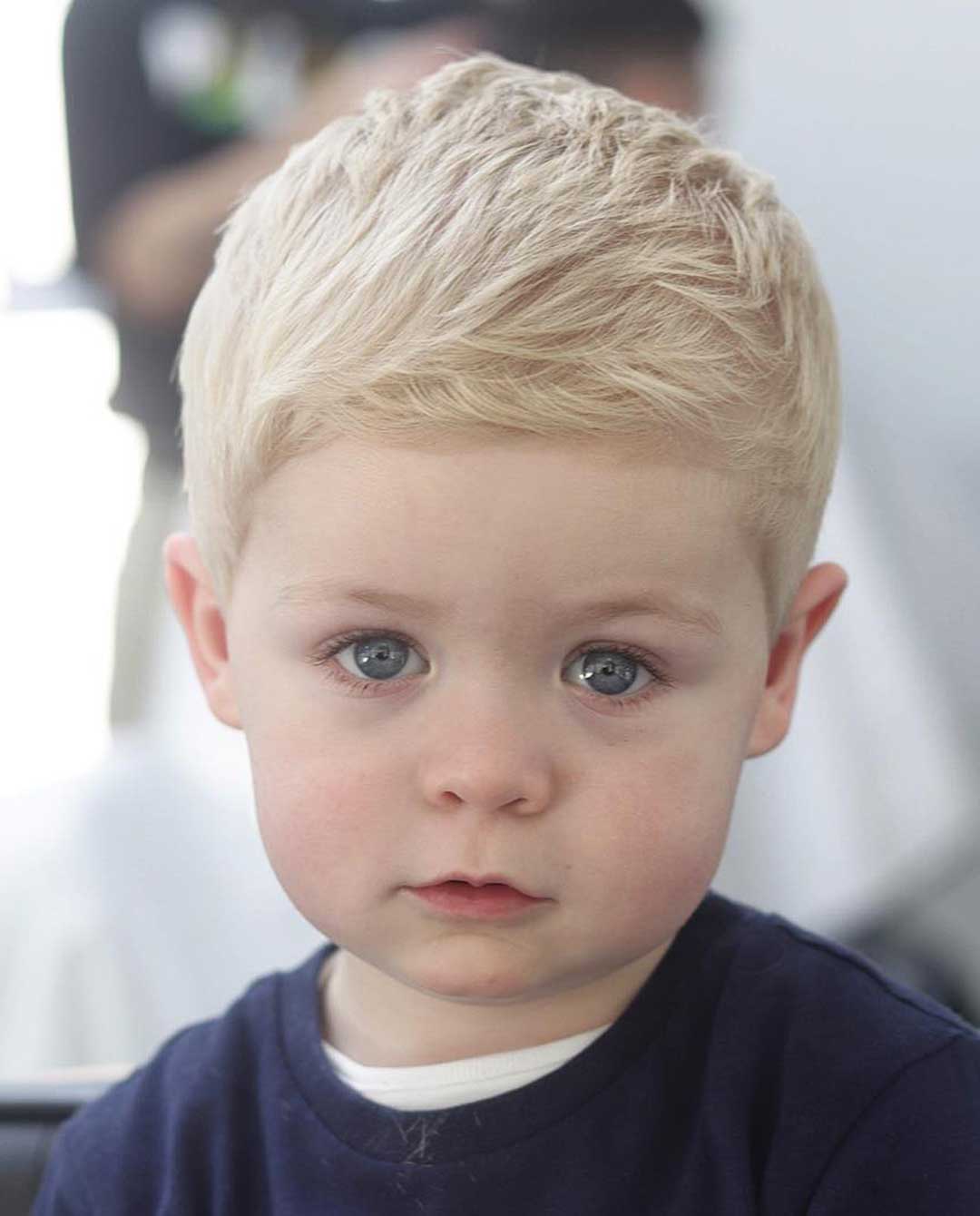 #38 Side Swept Fringe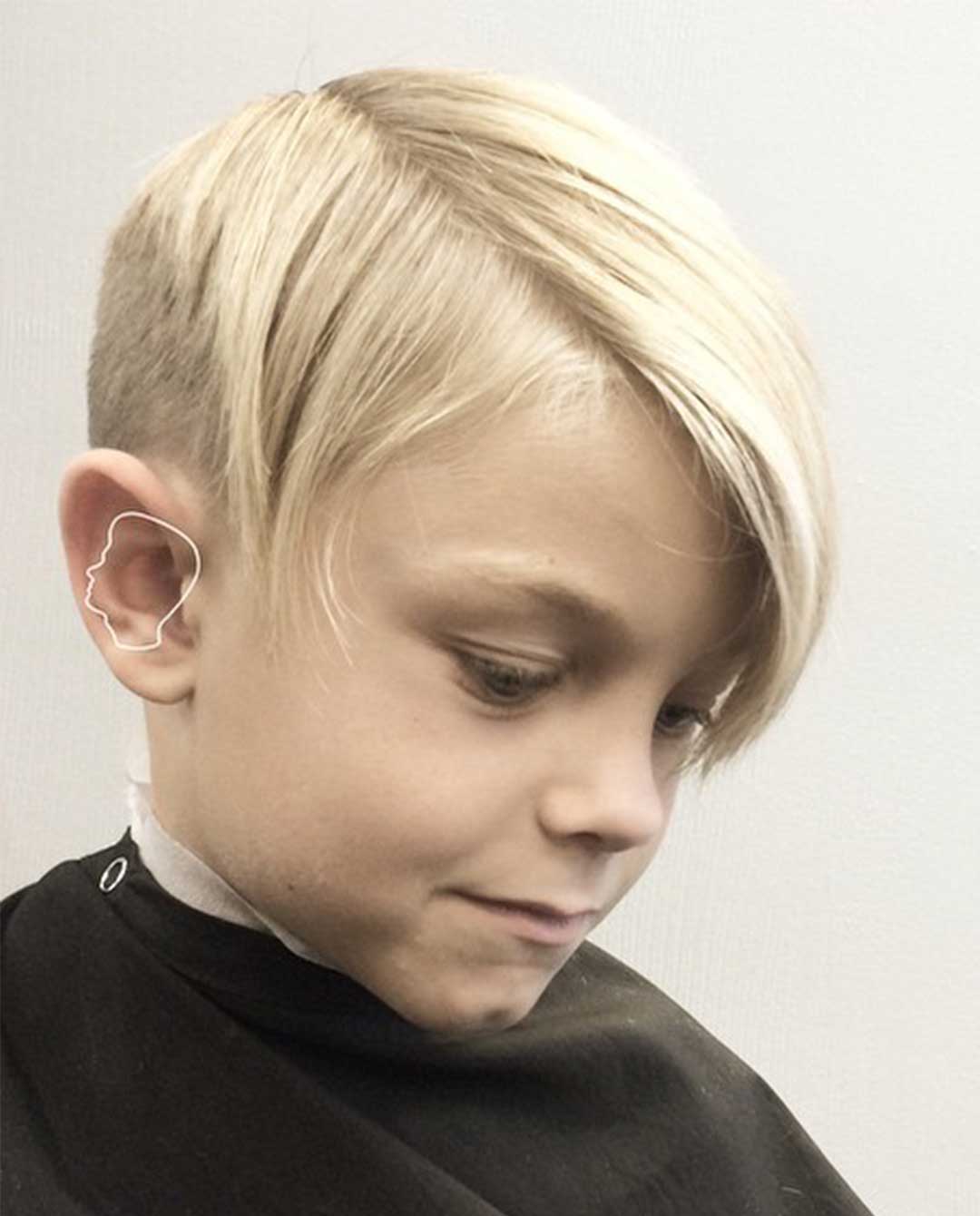 #39 Kid's Spiky Top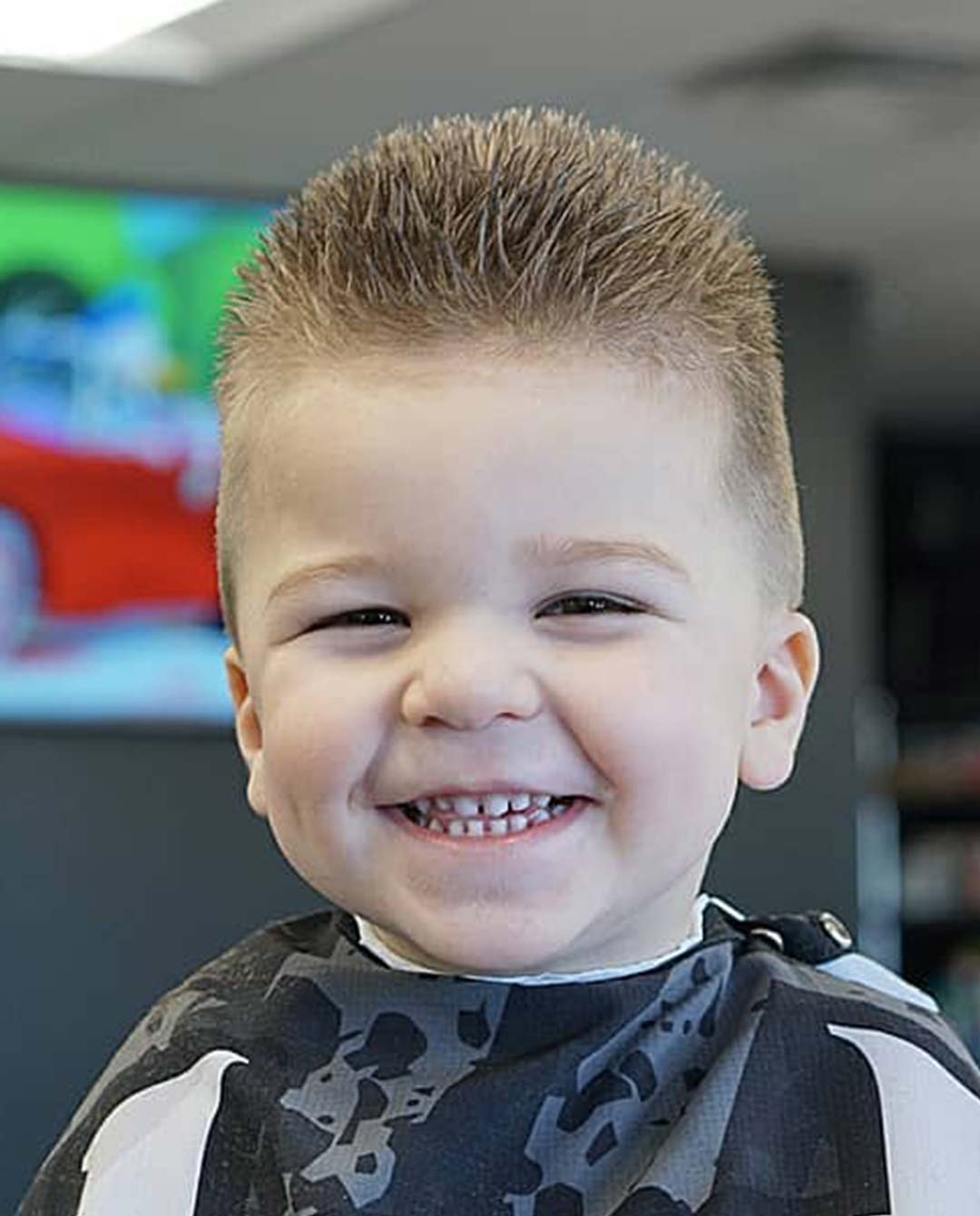 #40 Wolverine Style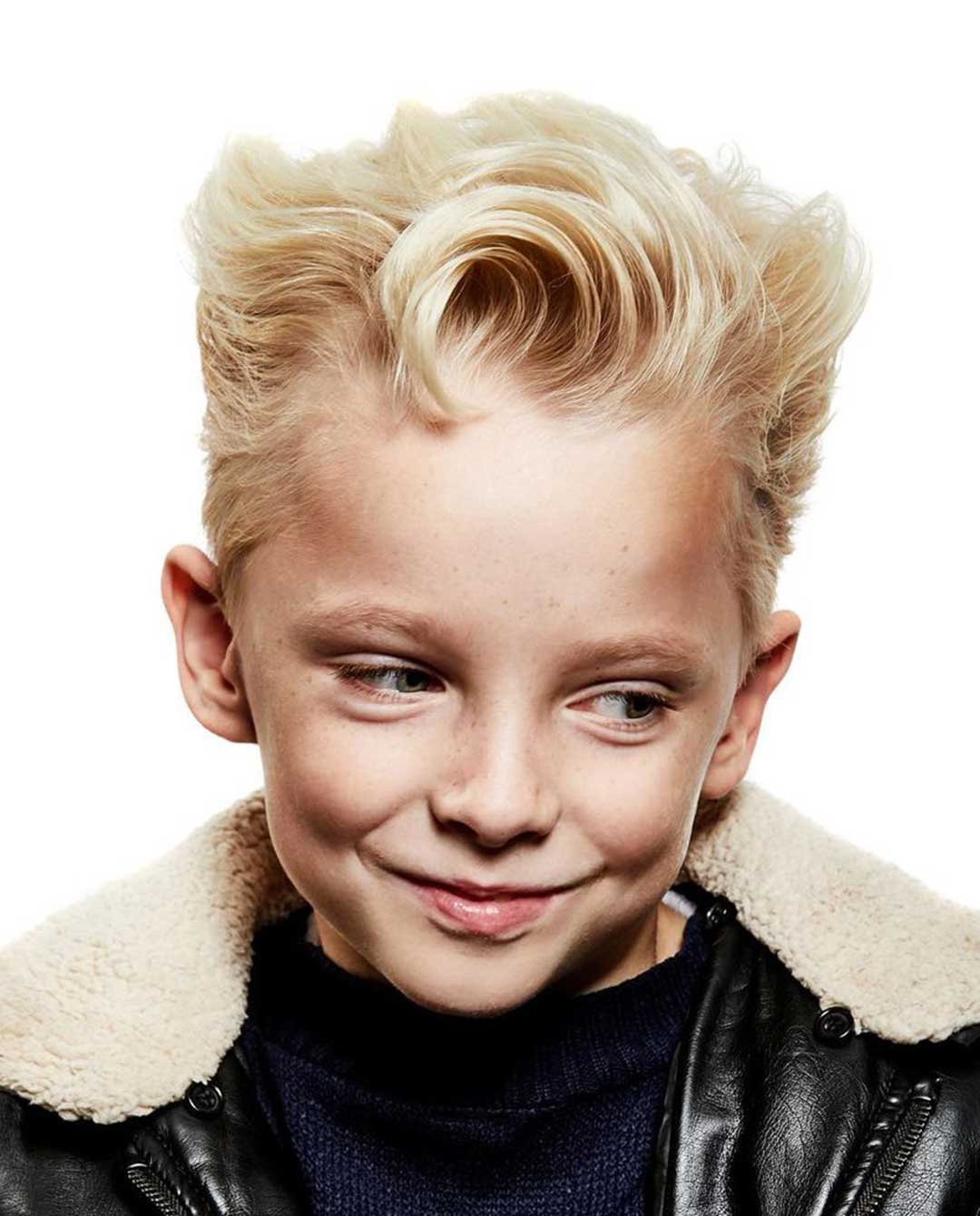 #41 Bangs with Long Fringe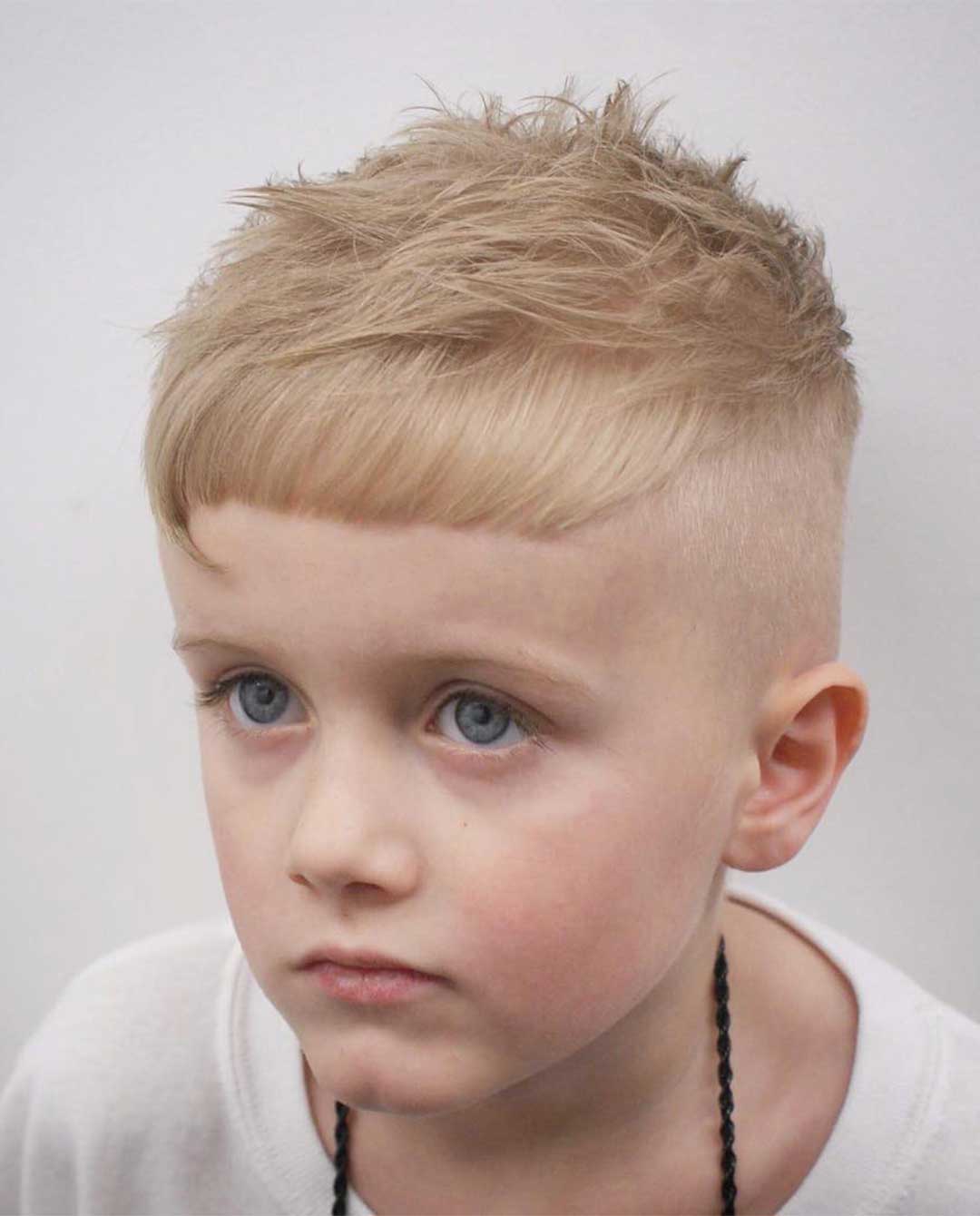 #42 Textured Top + Fringe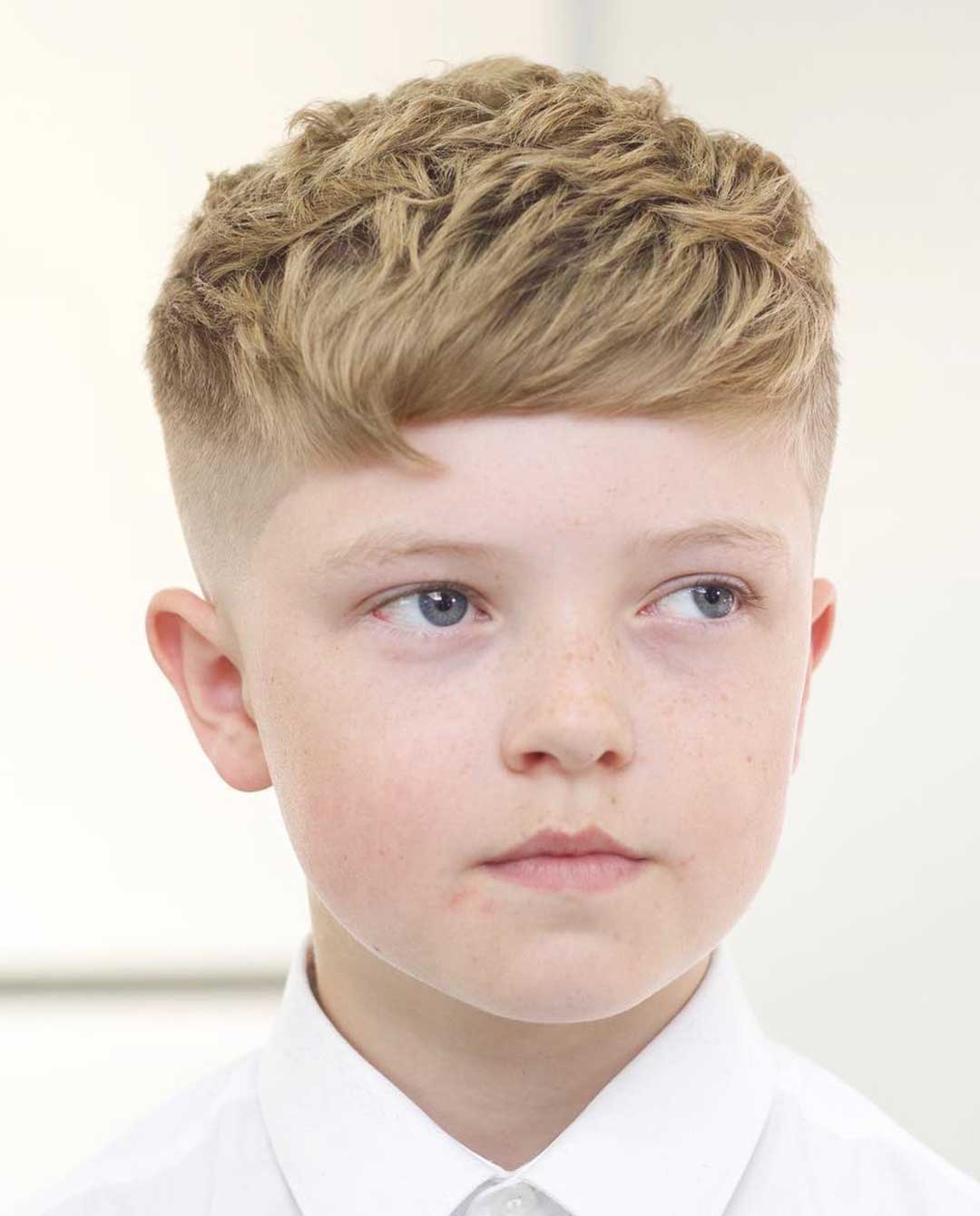 #43 Comb Over + Lines Design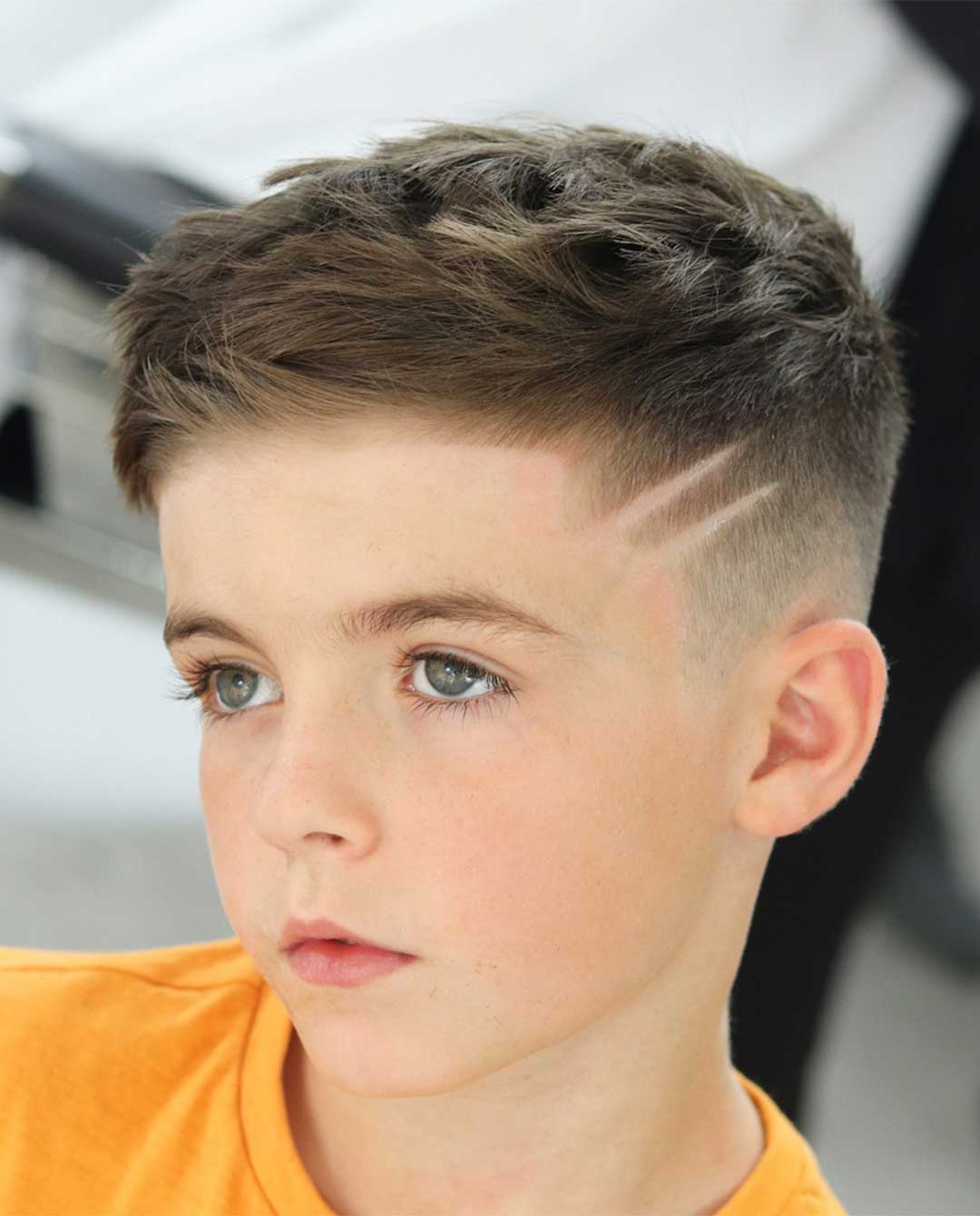 #44 Faux Hawk with Long Fringe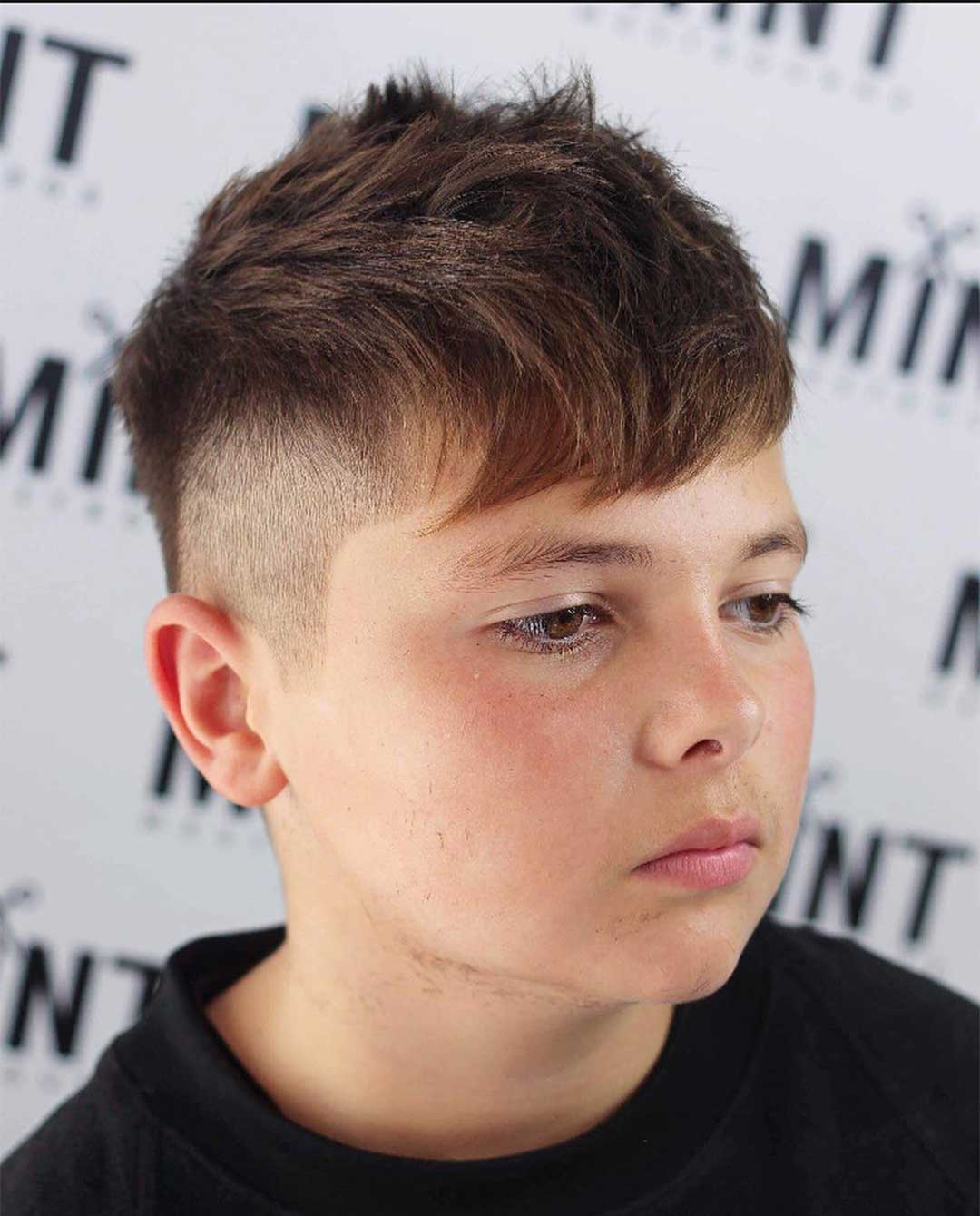 #45 Modern French Crop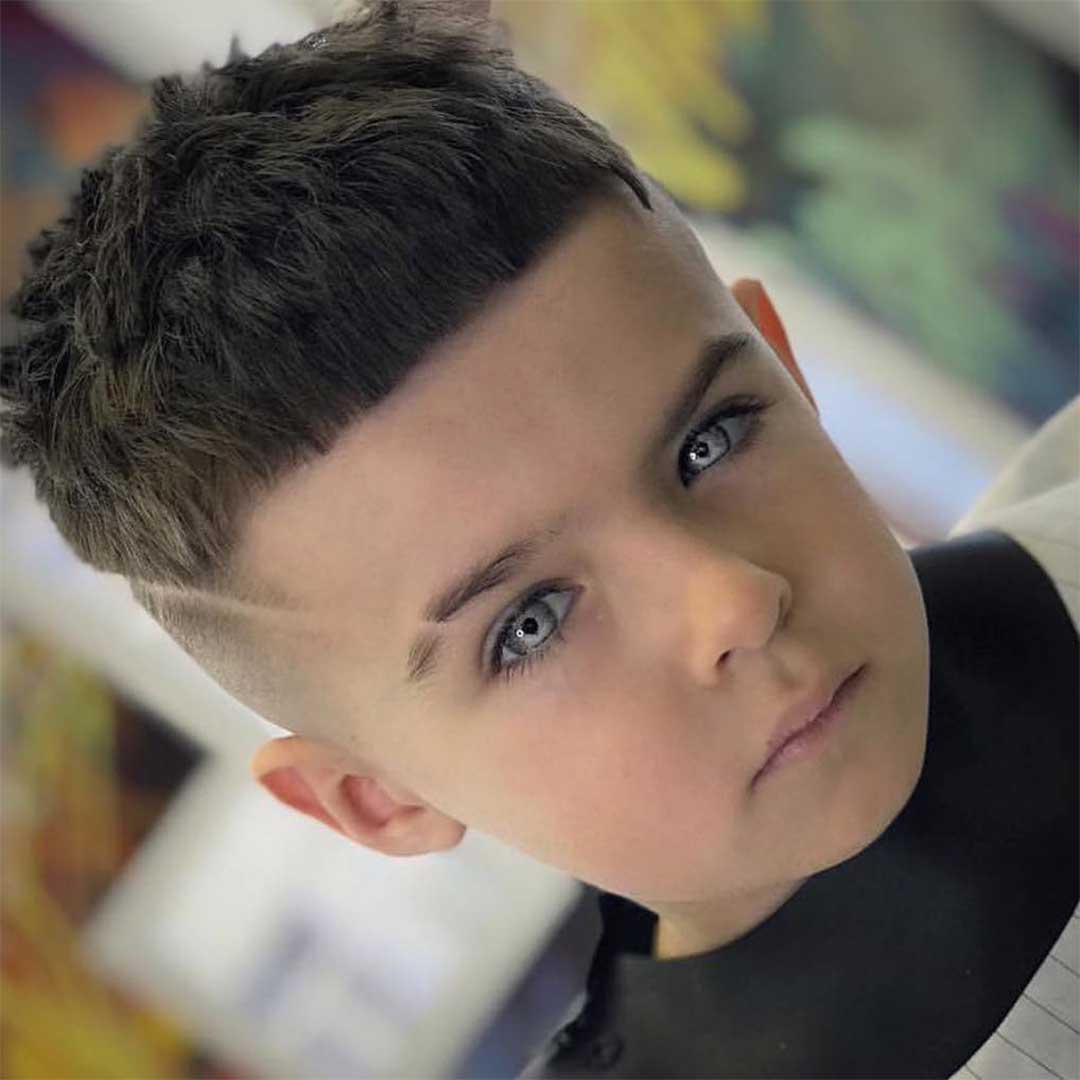 #46 Messy Cropped Top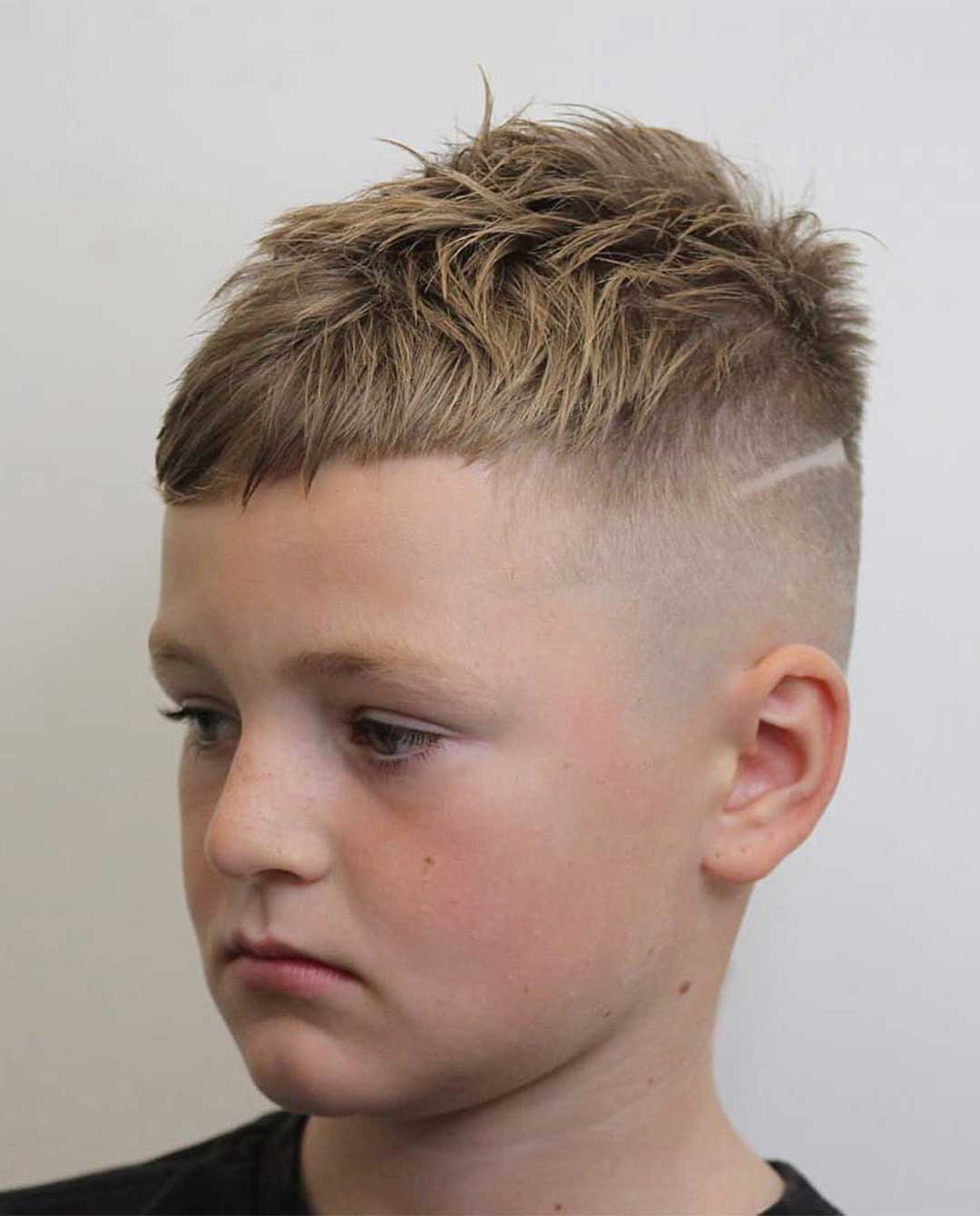 #47 Layered Angular Fringe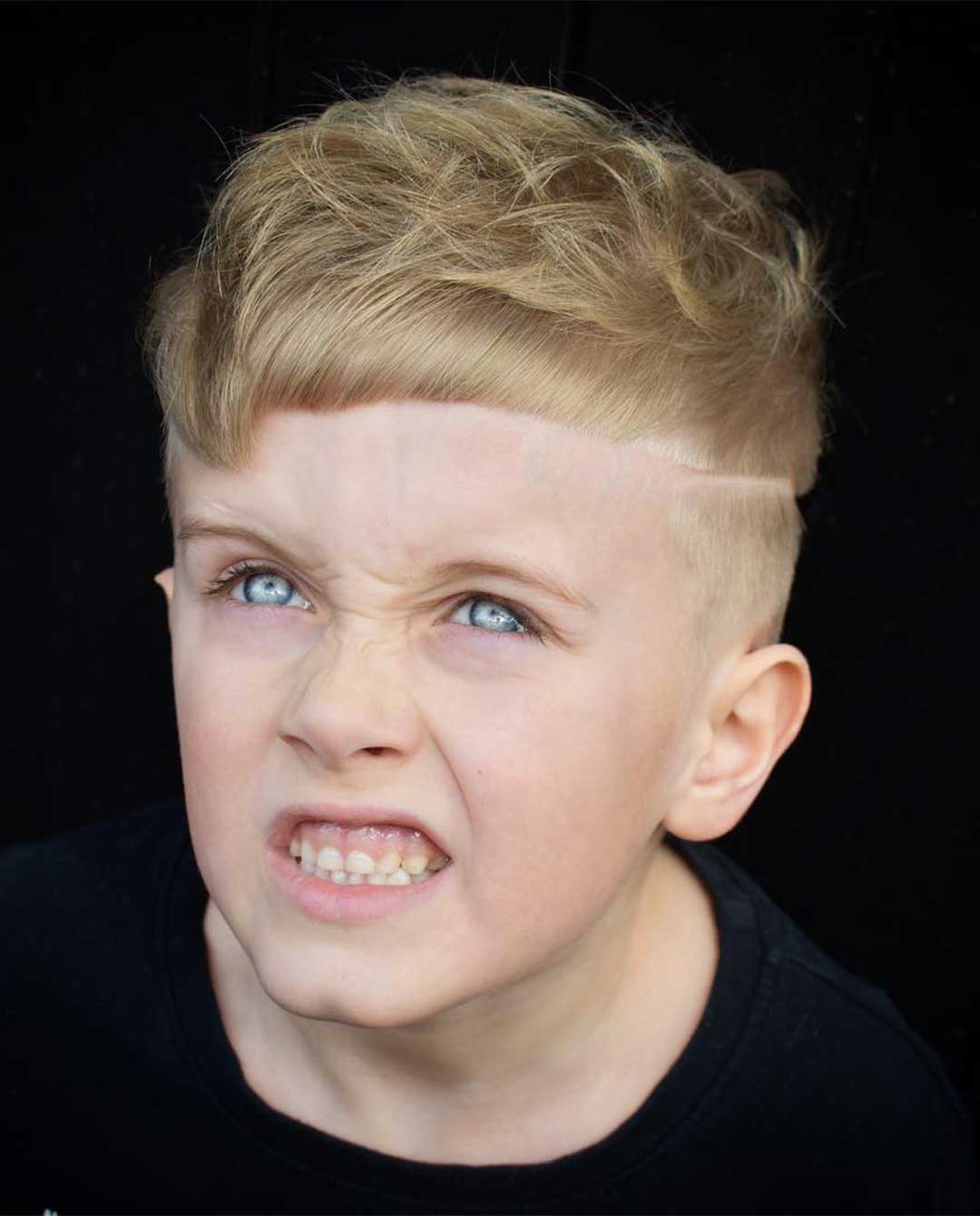 #48 Wavy Haircut with Long Fringe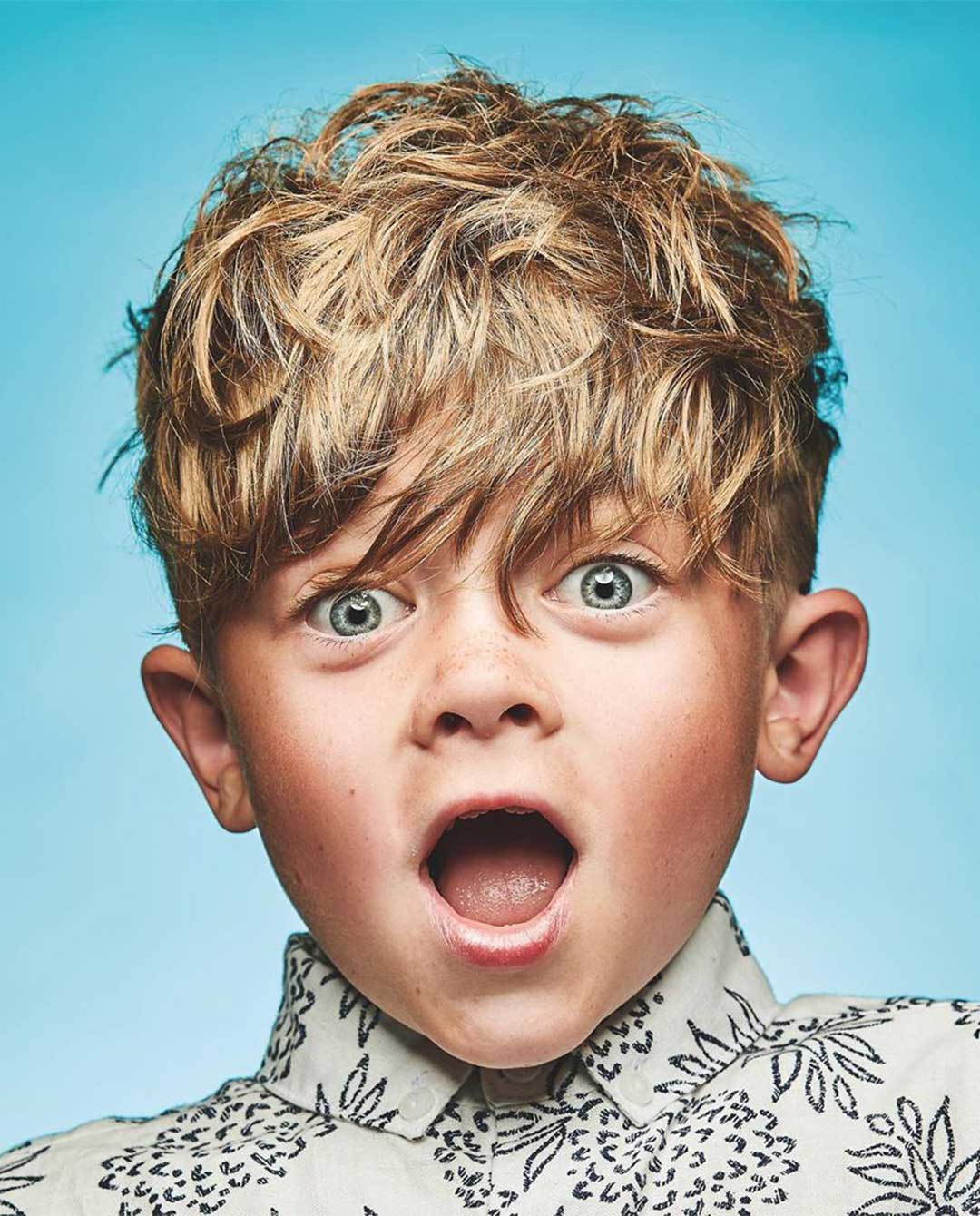 #49 Natural and Long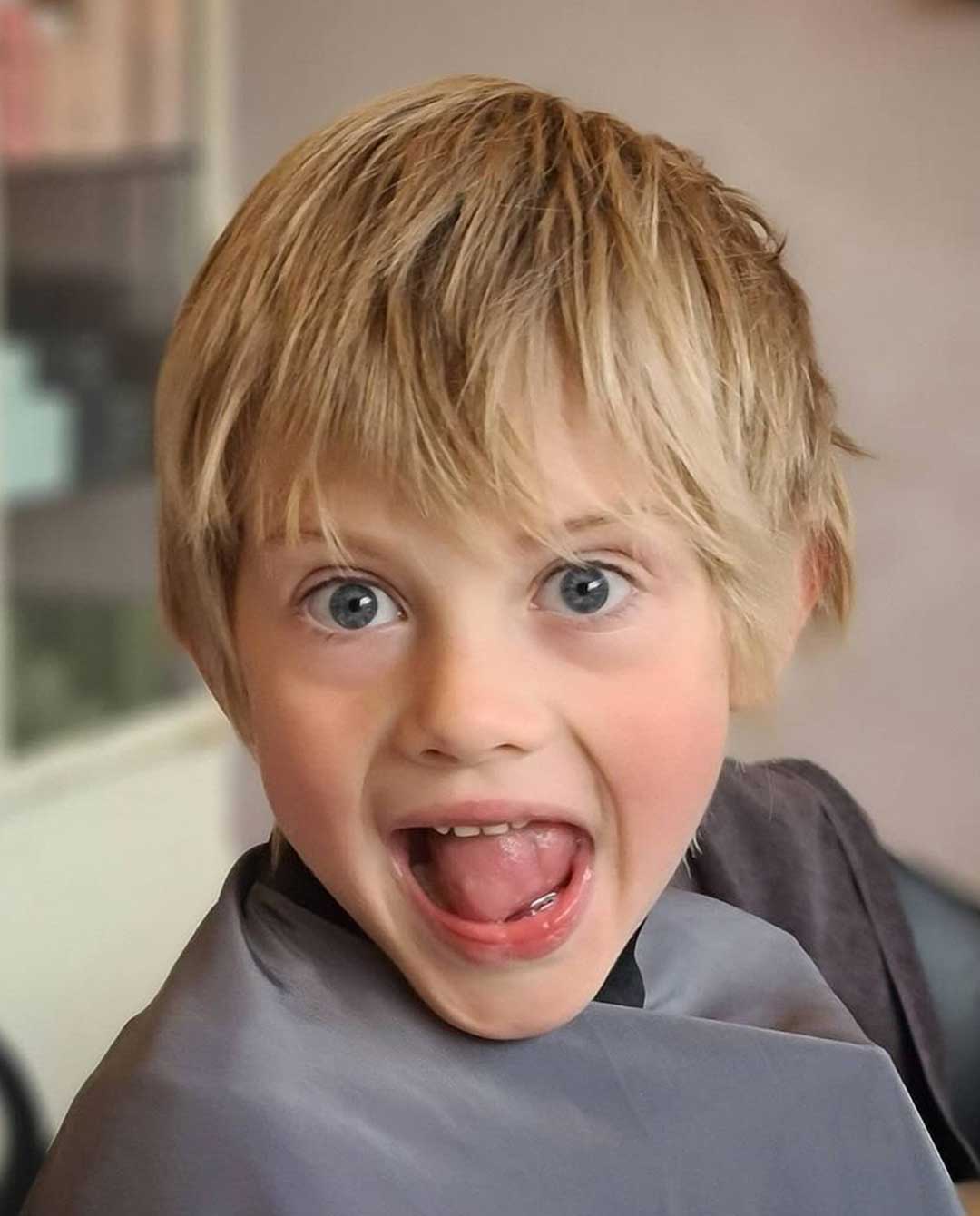 #50 High Top with Undercut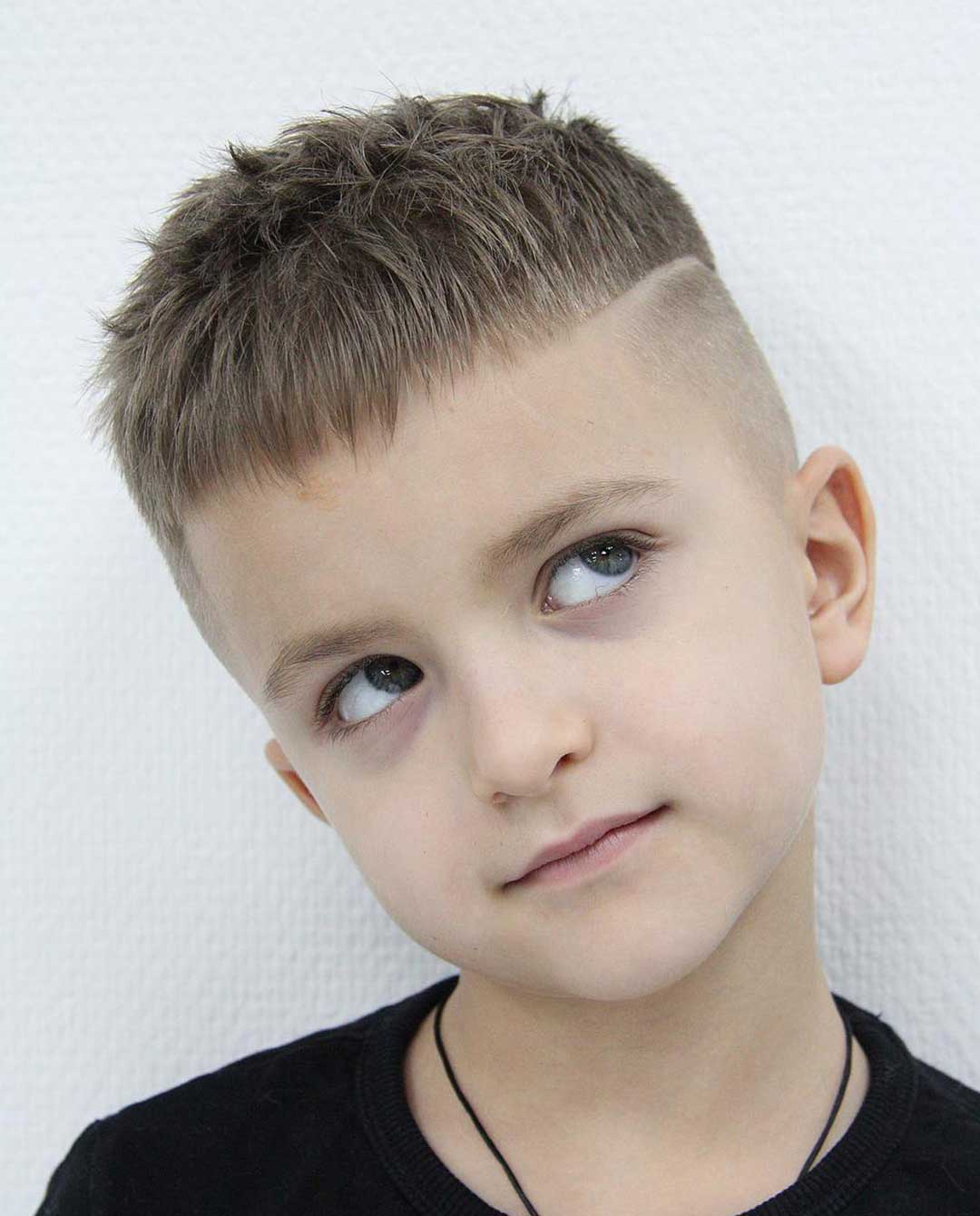 #51 School Boy Cut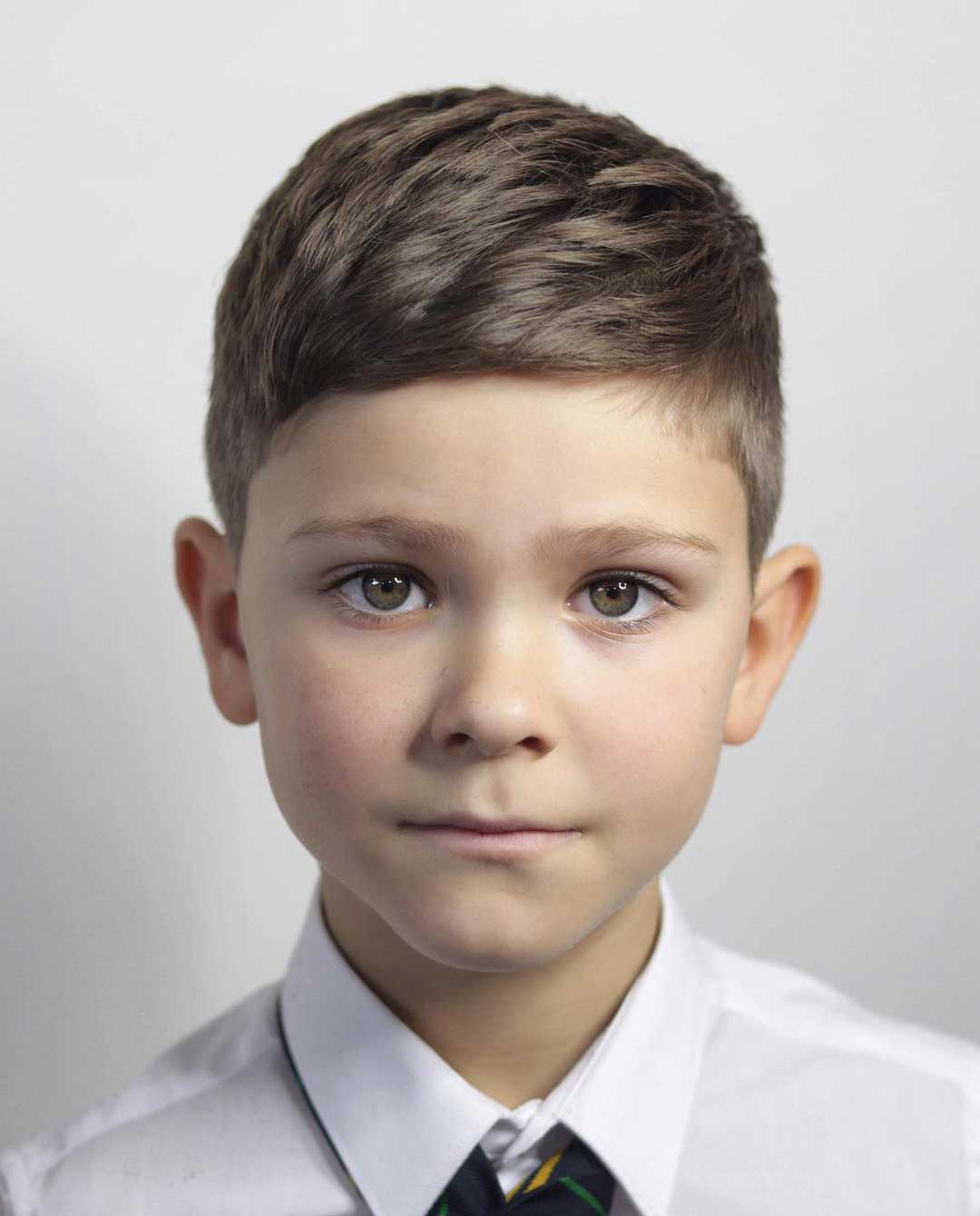 #52 Short and Spiky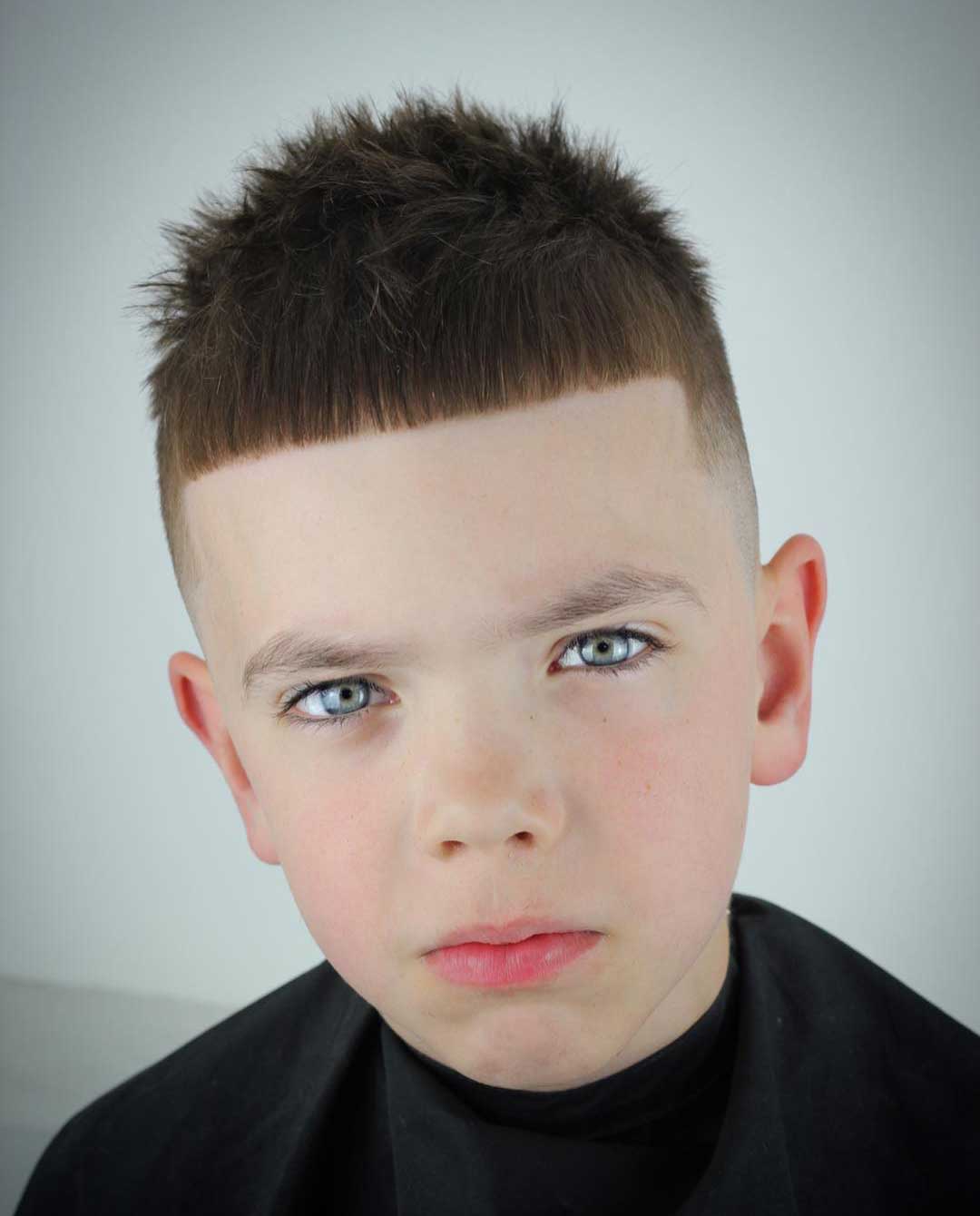 #53 French Crop + Medium Fringe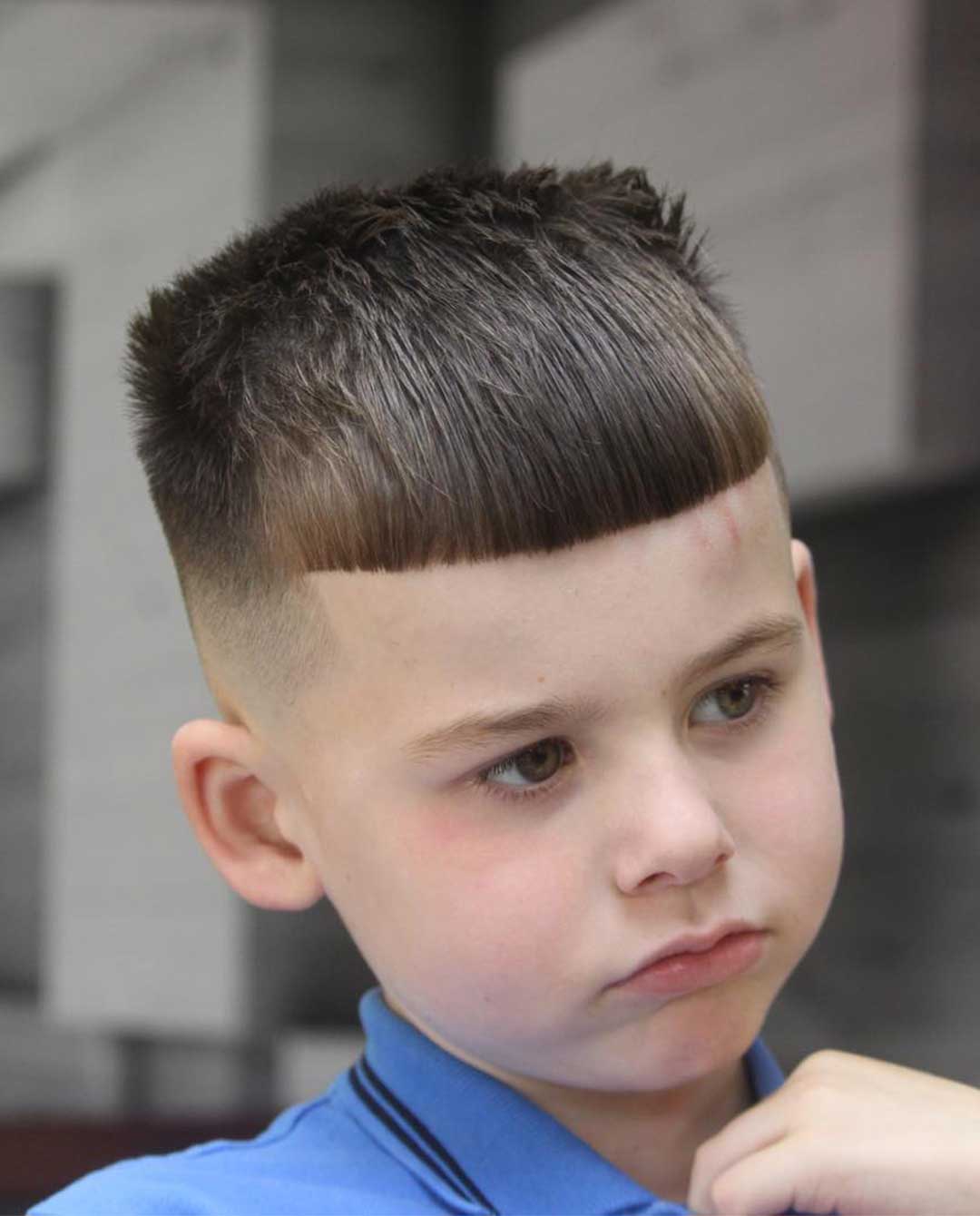 #54 High Kinky Top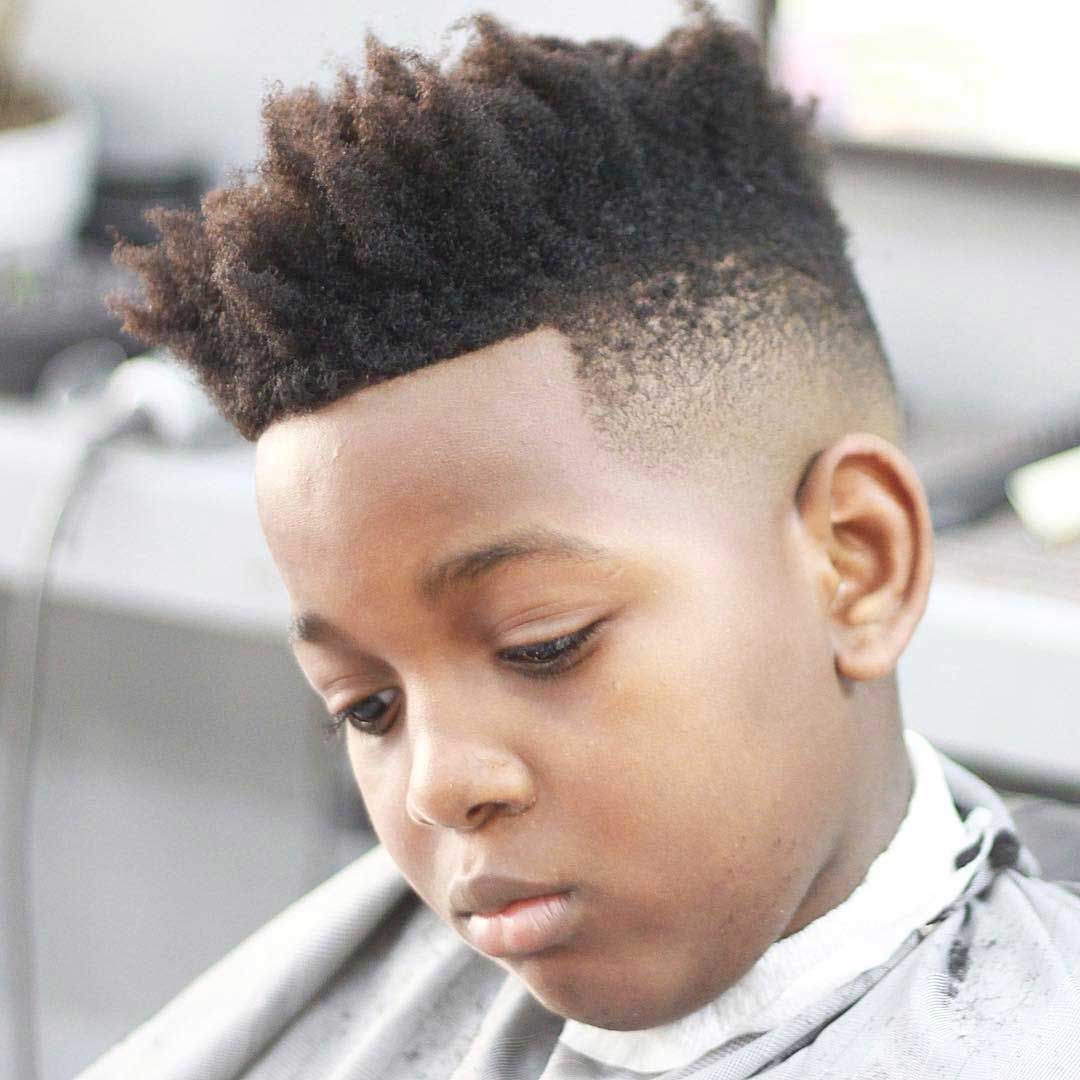 FAQ
How can I thicken my toddler's hair?
If you're working with thin hair, don't fret! Most youngins start with fine hair that will thicken up as they approach puberty. But if you want to make his hair thicker now, consider texturizing it! Cutting layers and using a straight razor will provide enough density for most toddler boy haircuts.
What are the four basic haircuts?
All hairstyles are unique! However, there are some barber staples that most cuts build on. Some of the most common are the crew cut, the quiff, the undercut, and the buzz cut. Barbers can combine styles and add some accents to make your son's mop stand out.
Does cutting toddler hair help it grow?
Contrary to popular belief, cutting doesn't impact growth. A toddler's hair already grows pretty fast. Most will experience about five to six inches of growth a year! While they don't help with growth, regular cuts can make their hair tidier and a lot more manageable.
When should my toddler get her first haircut?
This all comes down to personal preference. You can start as early as six months or wait until they are two years old! Starting early is always best. Getting them started at a young age will ensure that you don't have problems getting kids haircuts in the future.
How can I increase my toddler's hair growth?
The key to healthy hair growth is a good diet. Your kid's body needs fuel to create those luscious locks. There are three key areas you need to focus on: protein, vitamins, and zinc.
Protein is responsible for keratin production. Meanwhile, vitamins from fruits and vegetables will improve scalp health. Zinc from whole grains can prevent deficiencies, which often lead to hair loss in kids.
Conclusion
Let your youngster get a taste of freedom with a new hairdo! Nothing instills a bit of confidence in a young boy than a haircut that they love. Give one of these trendy kids haircuts a try and watch their personality soar!