Little boy haircuts come in many styles. Find the right one by following this guide to the many looks that are out there. Cute haircuts for a toddler boy can make all the difference in making a child feel confident and cool. Many styles are available, from a faux hawk to a pompadour and beyond. Keeping a cut trimmed and maintained makes for a neat and clean look no matter the length.
Personality often dictates what hairstyle is chosen by a youngster. For example, a more adventurous boy might prefer a faux hawk or Mohawk. A child with more conservative tendencies might prefer a traditional crew cut style. The right cut makes all the difference.
Braided Top Knot with Temple Fade
Combining convenience with style, this cut features short sides and a long top. Braid the longer hair on top in a fancy pattern for extra personality. To finish, pull hair on top into a small man bun to top off the style.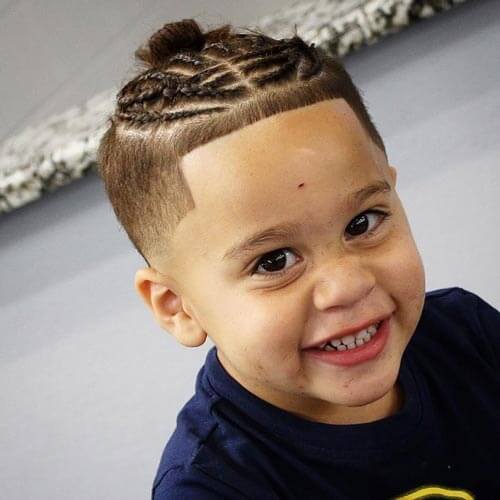 Slick Combover With Side Part
Ryan Gosling, Jon Hamm, and George Clooney all wear variations of this slick comb-over with a side part. The haircut is made up of a low, mid, or high fade cut on the sides and back. Longer hair is left on top, which can be combed over to create a side part and slicked back with some hair product.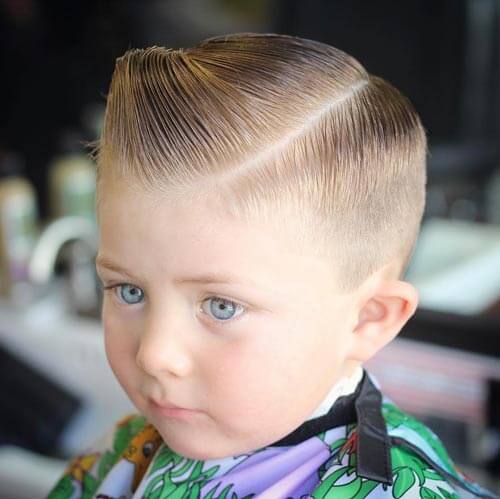 Pompadour with Side Part
A great look for the kid who likes retro looks, this adorable haircut for a toddler boy is all about structure. Comb the longer hair at the crown of the head upward and away from the face. A hard side part makes this style look fresh.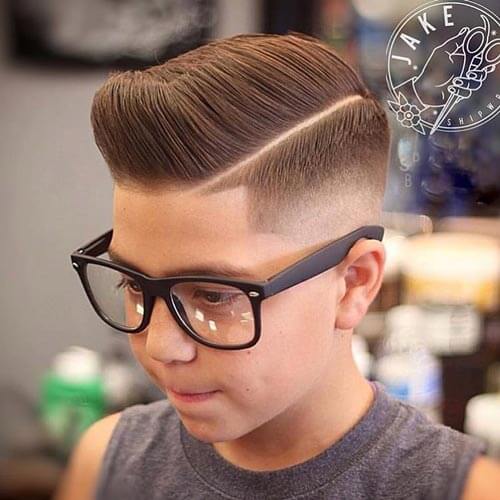 Braided Ponytail
Two French braids and a ponytail is a really cute haircut for toddler boys. The hairstyle is simple to throw together. Just create two braids, and hold the ends in a ponytail. Little boy haircuts don't have to be complicated. Cut the sides down to a fade to enhance the effect of the French braids.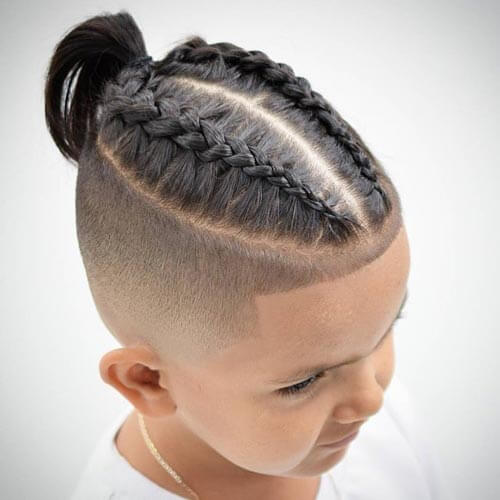 Brush Forward Haircut For Toddler Boys
If you're looking for little boy haircuts that are unique, then this is one of them. The hairstyle has attitude and faux volume, with a trendy brush forward style. Cut the top in layers and the sides down to a fade to ensure you get his playful side.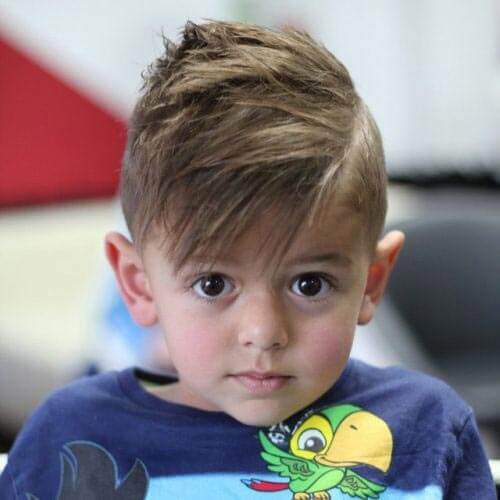 Hipster Kid Haircut
Some little boy haircuts can reveal the inner-adult in a toddler. A short razor cut looks mature with a taper fade on the sides. He will not get any hair on his face when he runs amok and will look the part if you have to entertain.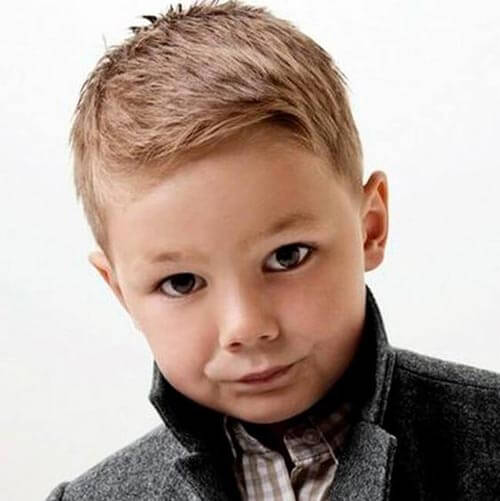 Faux Hawk with Two Deep Part
Not for the faint of heart, this cut offers style and pizazz. Style the faux hawk into a point for maximum impact. The sides bear a shaved design that calls attention to the trimmed edges. Little boy haircuts get a boost from this edgy style.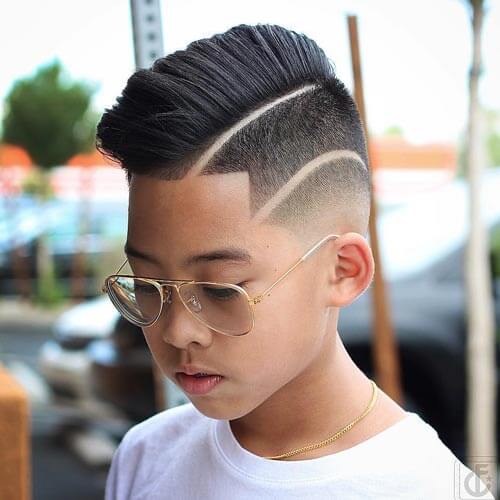 Curly High Top with Temple Fade
There is nothing cuter than a dapper little dude! The tidy and clean look of this tinted afro curls will stay this way for long. All you need are quality products to keep his natural hair looking neat all the time.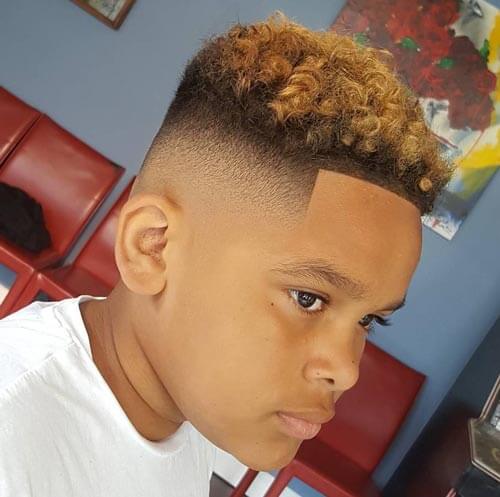 Spiky Haircut For Toddler Boys
If only he is old enough to check out this amazing haircut! Spiky little boy haircuts look natural and perfectly in place. The edgy look is no accident and was styled to give him that cool, rascally look that many grownups strive for.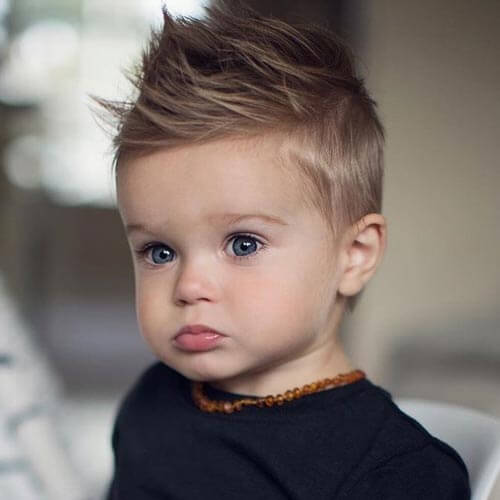 Classic Flat Top
Though nothing to frown about, this cut is convenient and keeps boys looking tidy. Shave the sides very short and cut longer hair on top all to one length. The boxy edges keep everything neat. Best of all, this cut requires little styling and maintenance.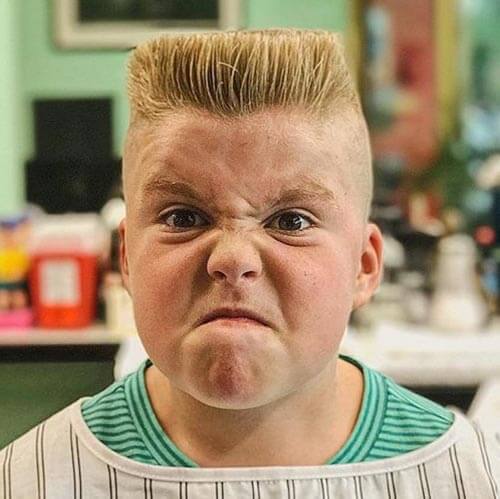 Spiky Quiff and Drop Fade
As far as little boy haircuts go, this is a new take on combining hair texture and a quiff. The drop fade on the side is adorable and accentuates the quality of the top hair. Mum or dad will need to spend a little time on this look using some hair gel and a hand dryer.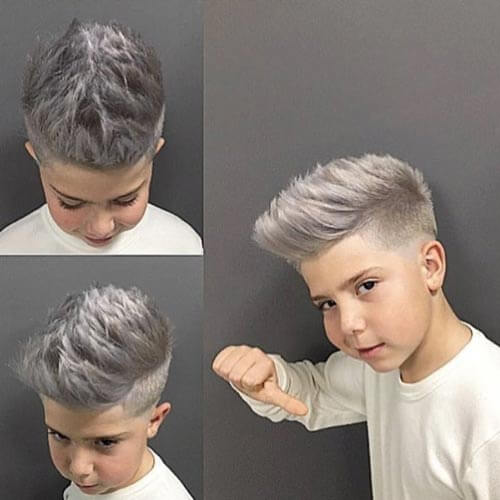 Full Long Fringe
Always a classic, front fringe makes daily styling a cinch. Because it does not require any special styling products, this haircut is one of the most popular in little boys. In addition, it works great with straight or fine hair. Simply comb and go!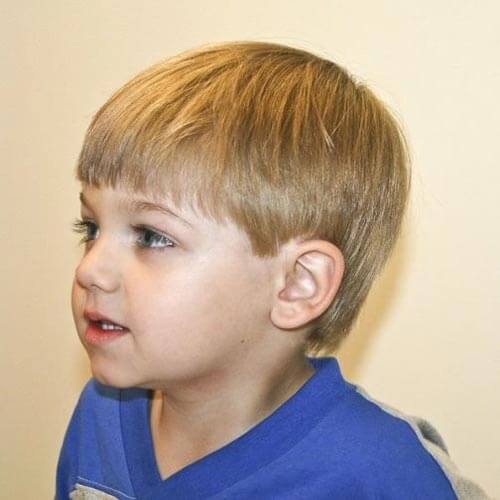 Side Combed Hair With Part and Fade
When styling little boy haircuts, a side comb is more realistic and creates fewer hassles for the little man; especially during playtime. The hair looks perfect with a deep part and lineup. It will require a bit of maintenance but can be held in place with some hair gel.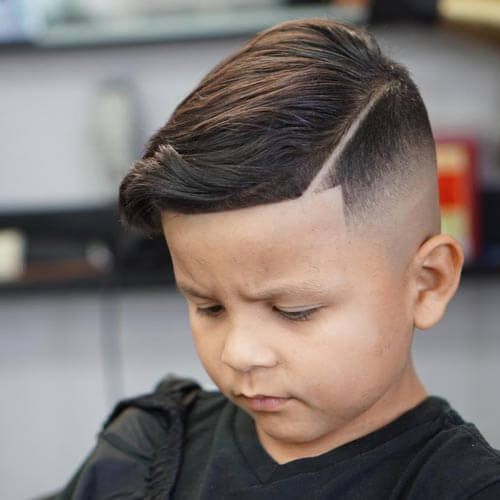 Faux Hawk with Part
Style hair straight up for emphasis. However, regular trims are advised for this look.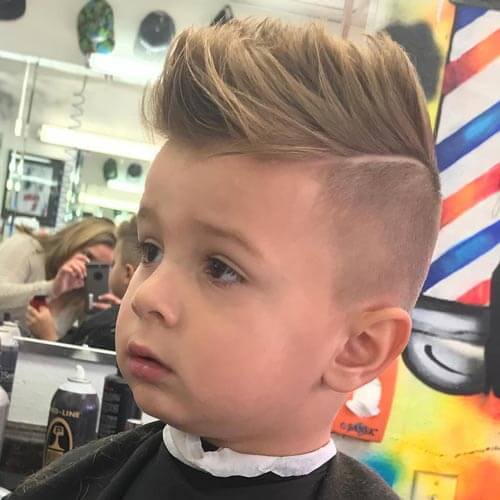 Fringe and Taper Fade
Cute as a button is what comes to mind! The fringe on this haircut is unobtrusively placed above the eyes. From the crown to the front of the hair you can see the layered cut, while the sides are cut down to a low fade. You will need some hair product to keep the hair in place.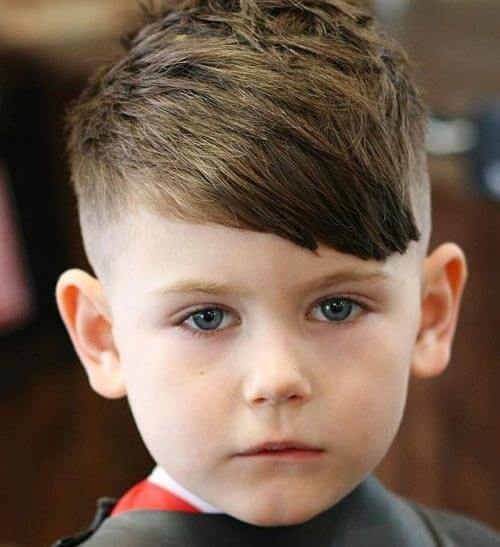 Curly Mohawk With Design and Fade
One way to tame those curls is by cutting a mohawk. Spice up this popular hairstyle with braids, designs and a taper fade. The model will definitely stand out wherever he goes with this haircut.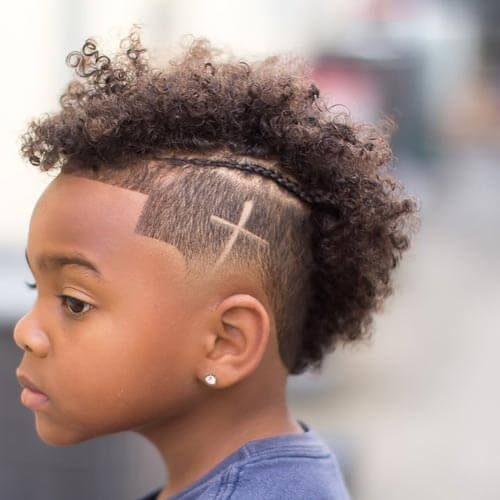 High Top Buzzed Cut
For little boys who want a clean looking cut with a hint of edge, this style fits the bill. Shaved sides transition to a slightly longer top that reaches just past the crown of the head. The hair is dense and thick and creates a subtle faux hawk look.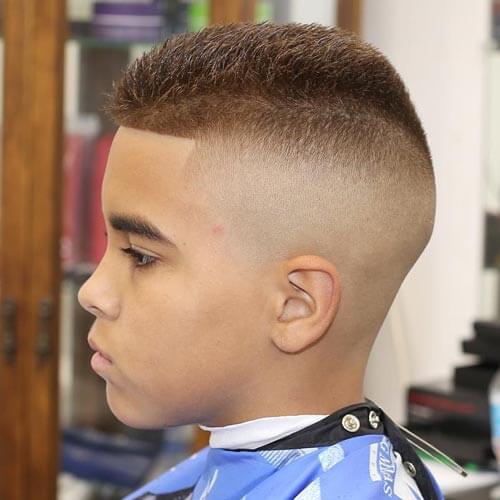 Mohawk Fade haircut
An Afro mohawk is trendy and great looking. Because he is young it doesn't mean he can't be stylish! This kinky afro is cut into a mohawk with a high fade on the sides. Maintenance is easy and on most days a comb through will be sufficient.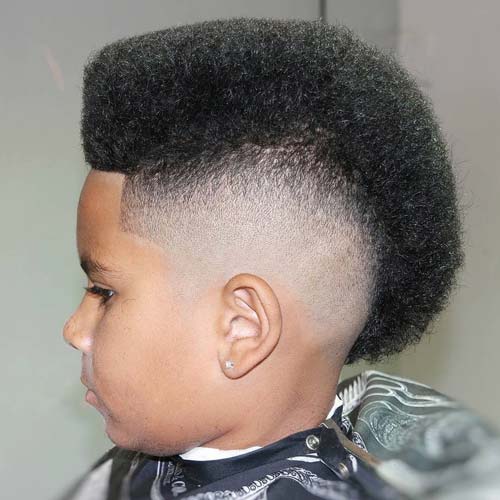 Razor Cut With Deep Part and Fade
You can also have lots of fun with straight short hair. A razor haircut is straight to the point and looks neat and tidy all the time. You will need to make regular visits to the barber shop as the hair grows and will need some hair product to get a sleek look.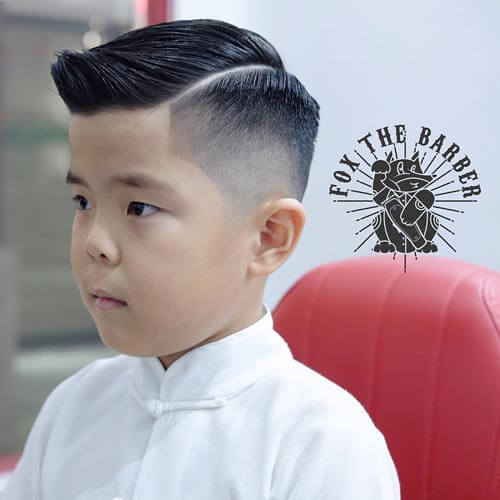 Curly Hair With Lineup and Design
Side designs are all the rage nowadays and this is to be expected. There are so many ways to express yourself, and using your haircut is a surefire way of getting attention. Little boy haircuts are no exemption, after all, we all have something to say! The lineup on this haircut blends nicely with the design making it a great choice for artsy dudes big or small.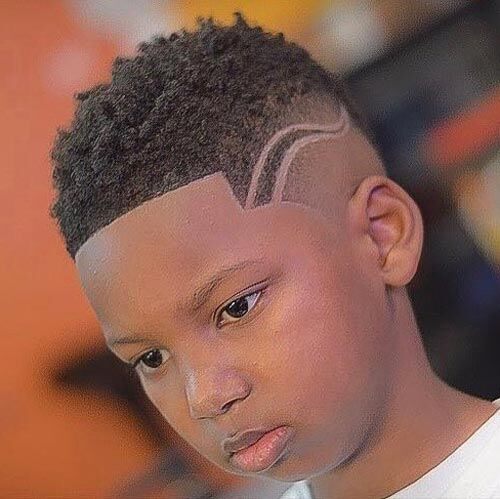 High Fade Faux Hawk
A fun look for young boys, this dramatic style features tousled longer layers on top and shaved sides. Though it does require regular visits to the barber, this style will make any toddler boy the edgy character everyone wants to know. The messy layers on top make for easy styling, too.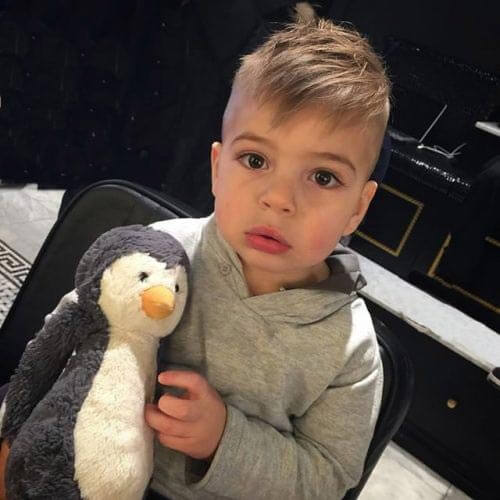 Top Knot with Bald Fade
Bet you thought a bald undercut was only for the faint-hearted? Well, you're wrong! The model is rocking an undercut with bald sides and back. You can leave the hair on top long enough to pull a ponytail look, or just short enough to fly free. No matter your choice, this is a hassle-free hairstyle as no maintenance is required.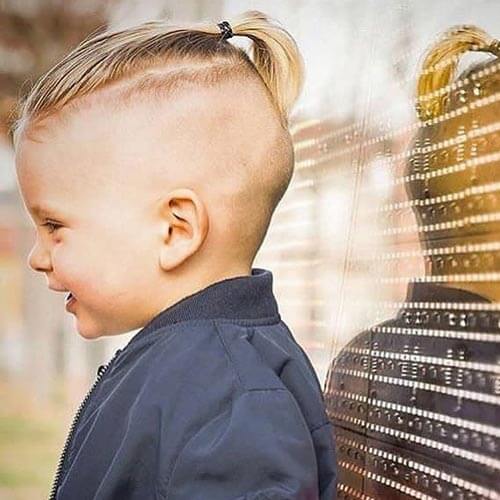 Flat Top with Temp Fade
This is a work of art and what makes is so great is that you only need a comb to maintain the look. Just comb upwards, lightly press down into shape and you are done styling.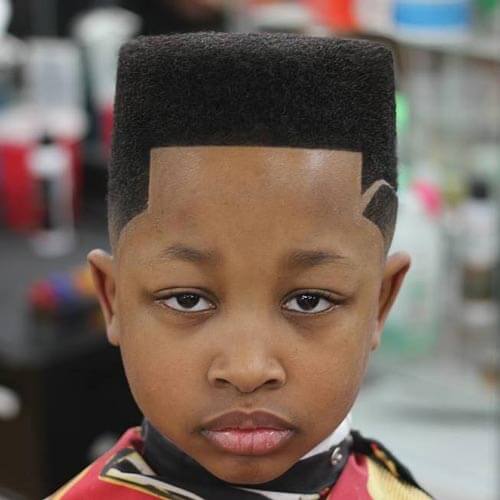 Spiky Mohawk and Taper Fade
A spiky mohawk might not be the best idea for folks who do not want to spend any time doing blowouts before heading out. However, if this look is what you want, then keep the hair short enough so it has a natural spike: 1-2 inches long. You will need some hair products and TLC to keep the spikes upright.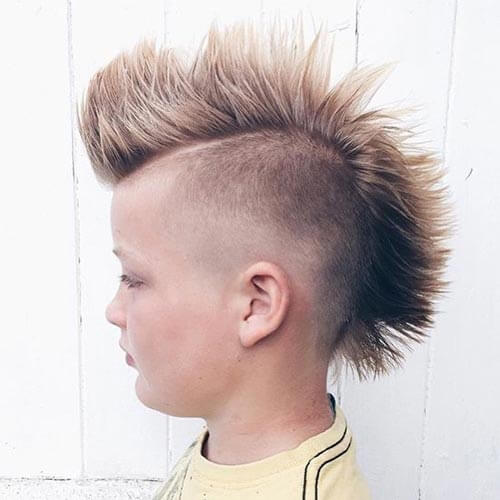 Spiky Cut
Get the best of both world length-wise with this style. While sides remain short, they are not shaved too close to the head. Hair at the top is kept longer and can be tousled for a casual look. Finally, less maintenance is required.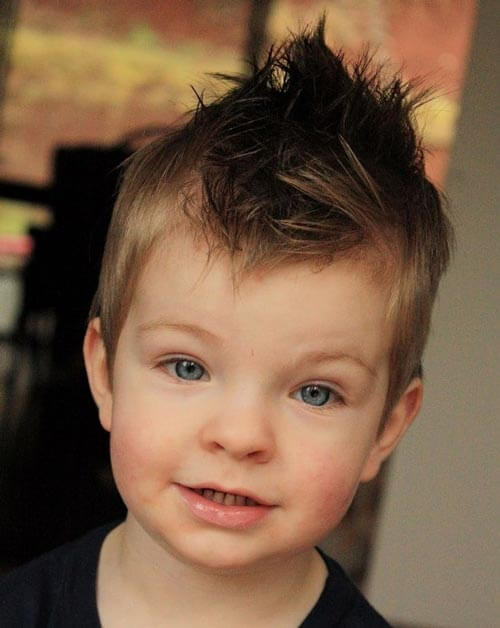 Textured Hair With Temple Fade
A natural ethnic appearance, this little boy has got the perfect look. The hair is textured and the lineup is excellent. With this fresh haircut, most people would not mind the extra work required to keep the hairstyle looking this smart. If you are not a fan of hair products, then this look will not suit your little boy.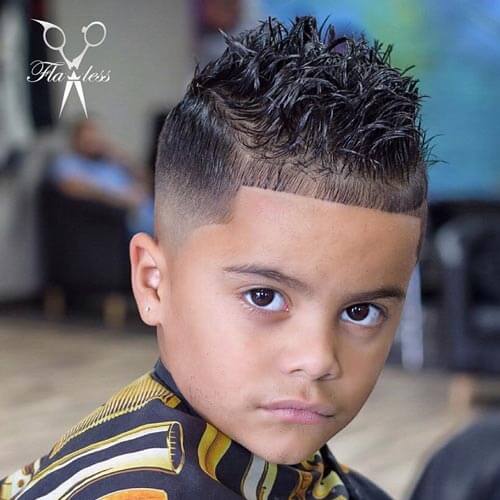 Layered Comb Over
Parting the hair to one side highlights a man or boy's best features — especially when its a deep part. Before drying, add texturizer and style as desired. Use a blow dryer for a quick dry while keeping the hair in place.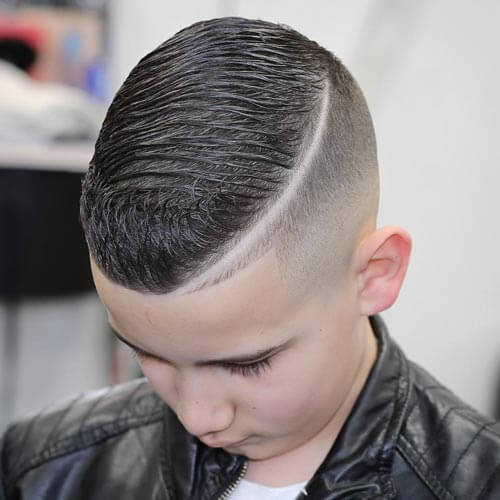 Drop Fade Spiky Top
Big on style, this spiky top can go fancy or casual. Short sides transition into the thicker hair on top. For a unique look, separate peaks and gel into place with styling product. Otherwise, comb or spike the hair backward.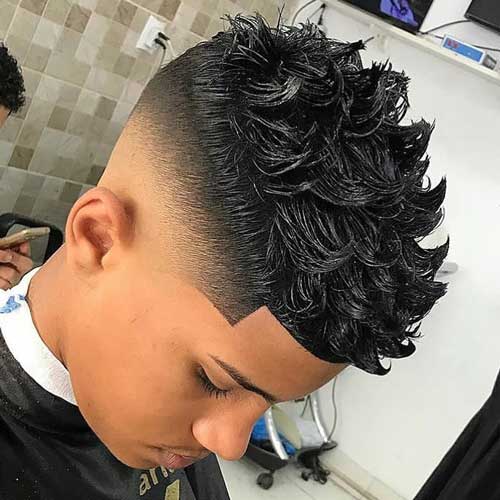 Bob With Layered Cut
Remember "That 70s Show"? If you are a fan of the oldies and want your little boy to look like one of your favorite stars, then a bob will do the job. Spruce things up and add a modern feel with layers. The haircut will need regular trims and is great for any occasion.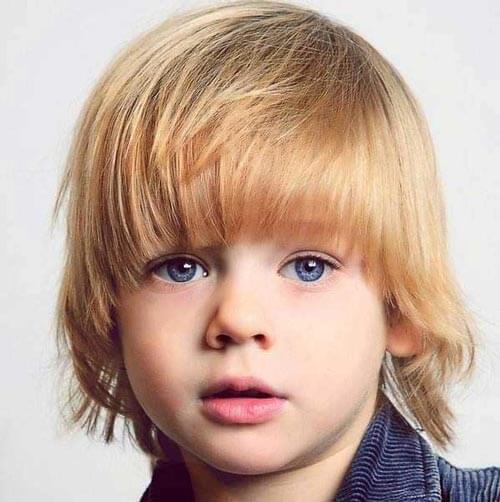 Brushed Up Mohawk
Generally, a Mohawk is seen as an outlandish and radical hairstyle. But when combined with a quiff and taper fade, the hairstyle is revolutionized and looks perfect for any occasion. You will need some serious styling skills to keep the quiff in place from day to day, but if this is a problem, style freely!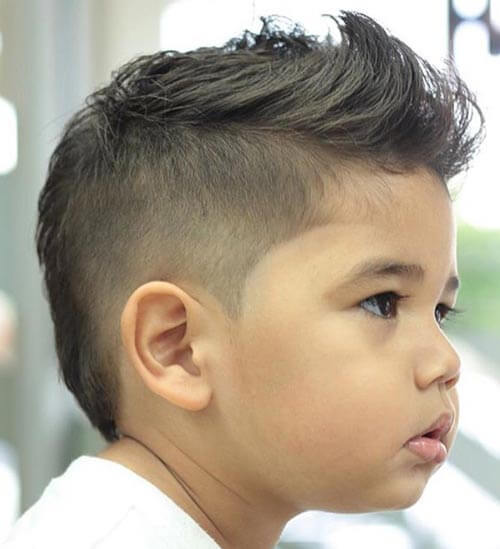 Wavy Cut
If you're looking for a haircut with volume and style, the brush up is a perfect choice. On the sides and back, you can create a fade and with a unique design. To avoid a messy look, use hair mousse to give your wavy hair some volume.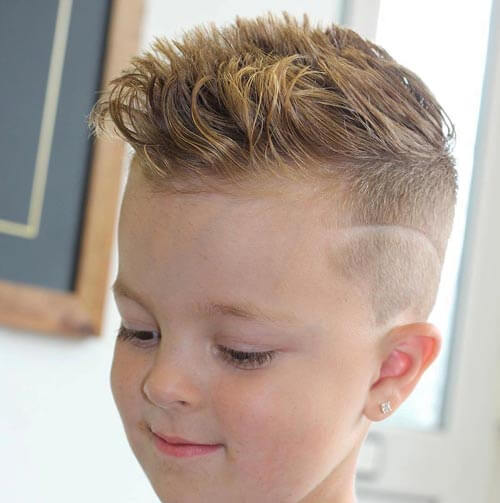 Crew Cut Comb Over
Always a classic look, a crew cut with a quiff is often what people think about when considering little boy haircuts. Short, trimmed sides and a brief comb over, this style can go formal or casual. It remains a favorite of children and parents alike.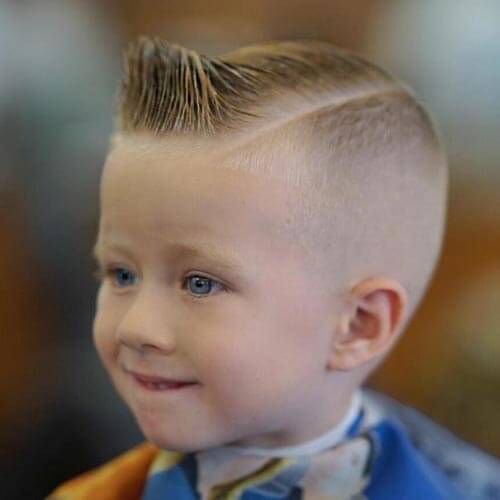 Kinky Hair with Design
When you have afro kinky hair keeping your hair tangle-free can be a bit of a problem. But once you can understand black hair and how to keep it snag-free, getting this look will be a piece of cake. The side designs can be anything you want…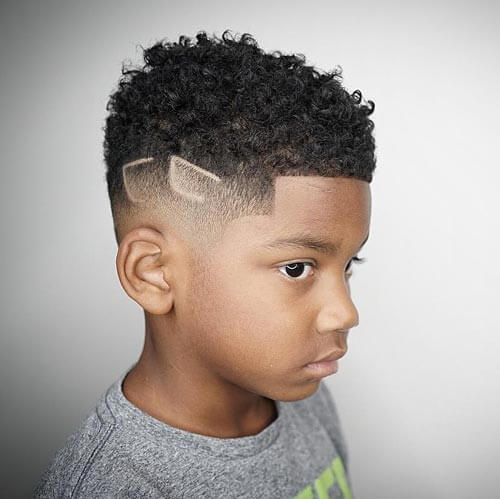 Side Part Fringe
Parents don't need the hassle of managing little boy haircuts with plenty of hair on the sides. You can see how this smart hairstyle focuses only on the top, with little hair on the sides. Great for any occasion whether is school or a playgroup.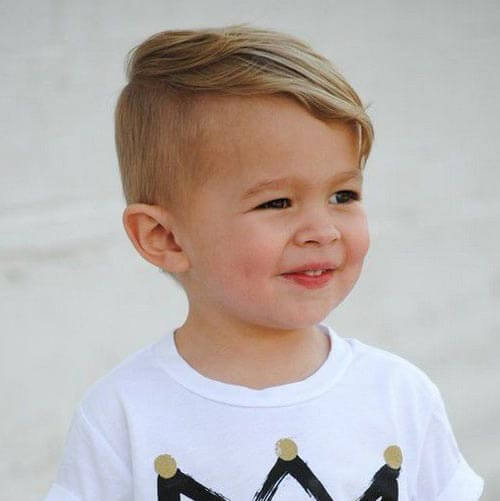 Comb Over Haircut with Part
Sometimes less is more! The side combed hair is easy on the eyes. It has a side part and fade to pull focus to the top of the hair. Maintaining this hairstyle will not require much as the natural texture of your child's hair should do just fine.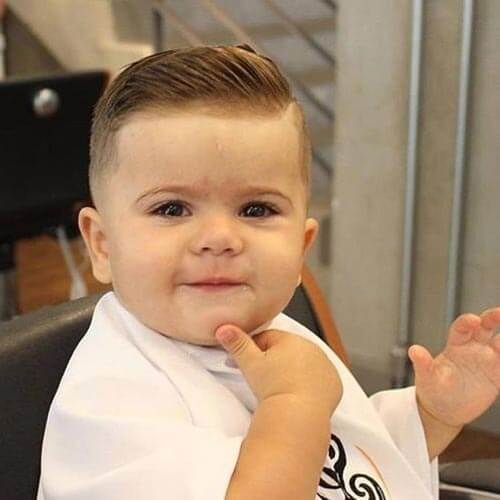 Faux Hawk with Quiff
A real show-stopper, this faux hawk with a quiff is a style best suited to big personalities. Shaved sides offset the much longer top. The hair is gelled into place and swept up and forward. Truly, this is one dynamic style for any daredevil child.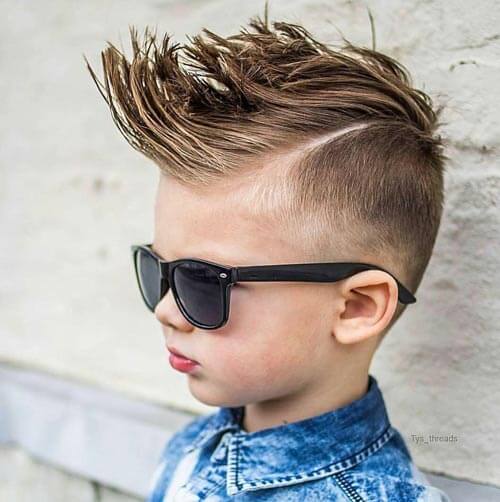 Comb Over with Deep Part
Comb over is great with any hair texture— straight, wavy, or curly. But when combined with a statement deep part, the haircut becomes a game-changer. No need to fuss over styling, just add some pomade and blow-dry after combing.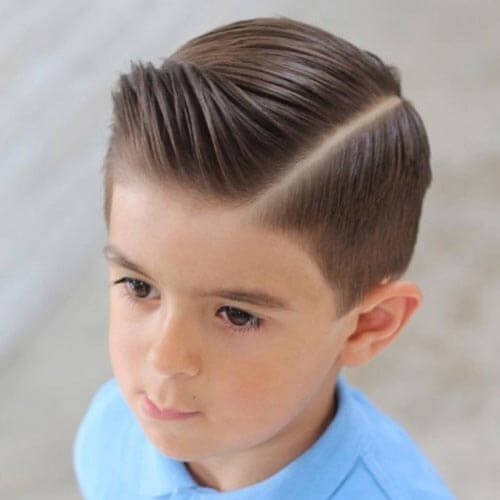 Layered High Top
Bold and edgy, get your kicks from this textured high-top haircut. No doubt about it, this hairstyle is a statement maker and will grab the attention of onlookers. If attention isn't what you're looking for, then maybe this hairstyle is not for your boy.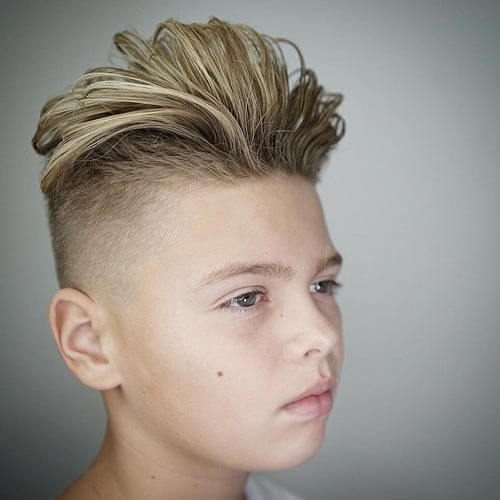 Simple Bob Hairstyle
Preppy and ivy league hairstyles never go out of fashion. You might see a messy bob, but this hairstyle was planned down to the last detail. Once you get it right, all you need is a comb through and some hairspray to keep the cute look.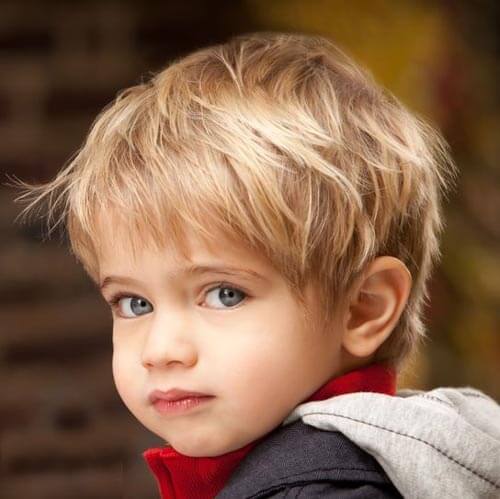 Sculpted Faux Hawk
The shave sides neatly, and emphasize the hairline at the forehead. This look is highly structured and requires daily styling to maintain its flair.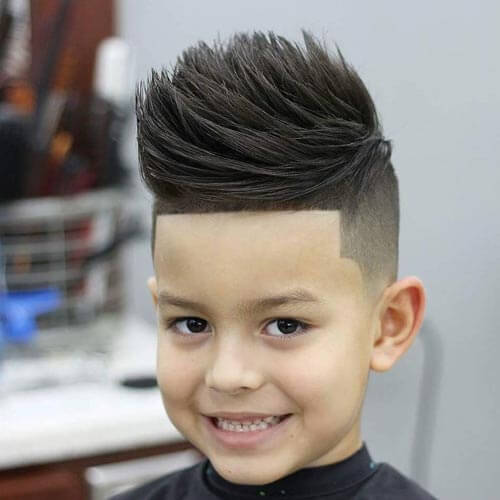 Curly Flat Top With Low Fade
Most black men love this look because it is timeless and easy to manage. Little boy haircuts are usually adapted to suit hair texture and playtime. This one is no exception. The sides are a low fade and the top of the hair is a flat top, making it an easy to maintain hairstyle for little dudes.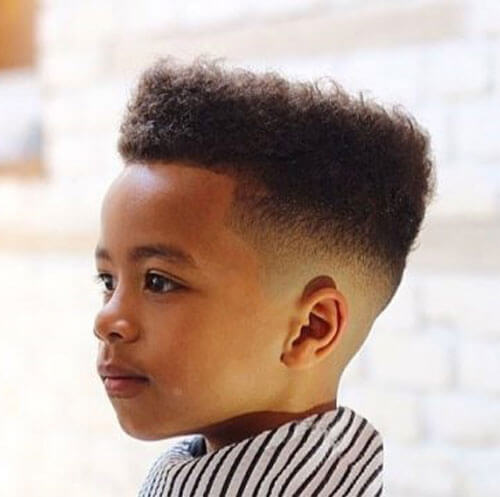 Boy Razor Cut Lineup Haircut
Blending a fade is an artwork! The barber takes this haircut to another level by blending and carving a design on the sides. The razor lineup is exquisite and complemented by the top haircut. The layers on top don't look defined, and that's because you can style the top into any of the popular little boy haircuts: a quiff, pompadour or a comb over. Whatever you choose will be great!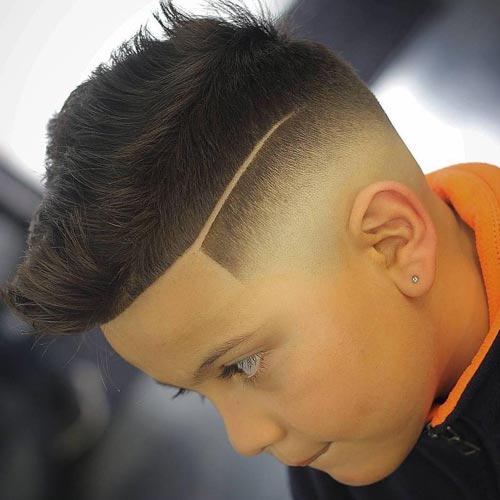 Comb Over For Little Guy
What use is a comb-over if the wearer does not have thinning hair? This little boy's youthful hair is slightly pomped in front and combed over to the side. The taper on the sides are quite distinguished and gives the hair a high and tight look.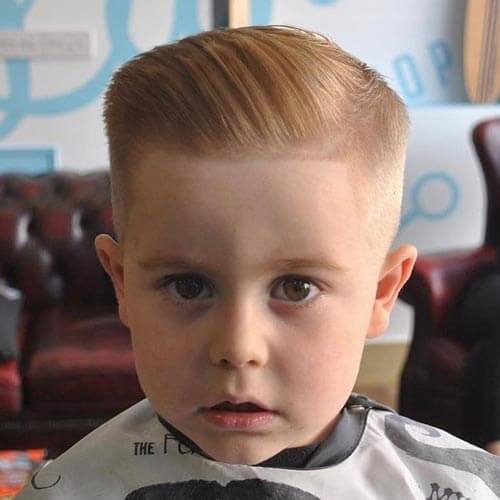 Curly High Top with Highlights
One way for little boy haircuts to make a statement is to bleach the tips and keep it curly. This style delivers on both fronts. Shave sides and keep the hair curly and natural, and dyed ends make the look all the more dramatic. This style works great with the texture of black hair.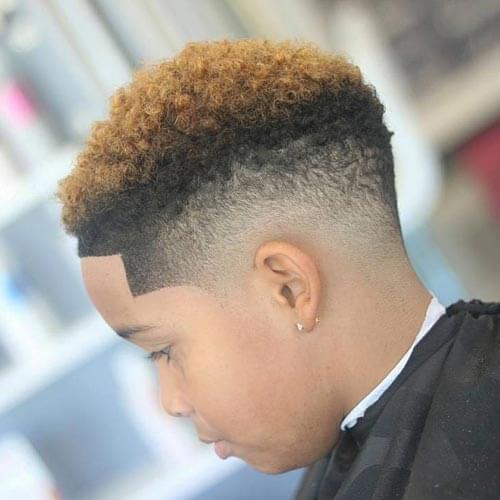 Cute Little Boy with Layered Cut
Short, spiky, and professionally cut, this quiff is a combination of messy and sleek all at once. If you want to keep it looking like this all day, be prepared for the unexpected with hairspray and brush. Little boy haircuts are meant to be easy to manage, so if you decide to leave out the hairspray, then opt for a simple comb over.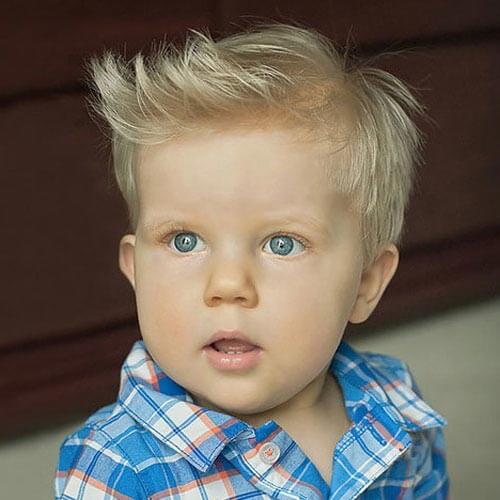 Curly Mohawk With Drop Fade and Design
Whether your hair is bone straight, naturally curly or wavy, this haircut should be at the top of your list of outlandish hairstyles. A mohawk with a drop fade is the go-to haircut for those with curlier tresses. The model's got the right idea!
Quiff With Taper Fade and Back Design
A short and simple quiff might go unnoticed, so you can make it longer and bolder if you want. But, remember, little boys rarely sit still for hair maintenance so choose a hairstyle that will not be too much hassle to maintain.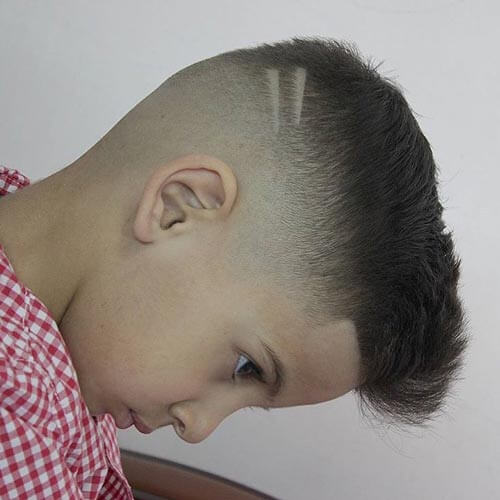 Mohawk with Curls
A true Mohawk, the hair wraps from the forehead back to the nape of the neck. Shave sides to keep things looking neat, and allow the natural texture of the haircut to shine through. Black or curly hair is best for this look, as it shows off natural textures in a big way.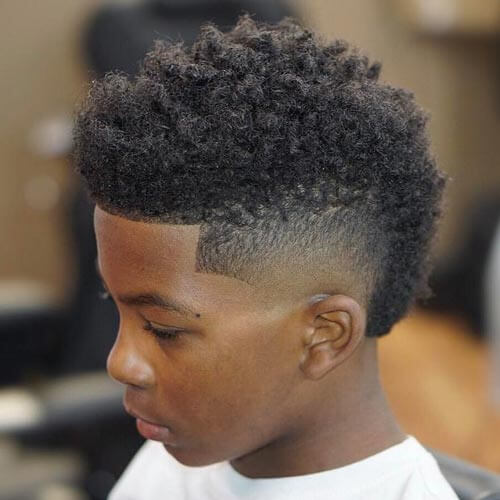 Sectioned Haircut With Deep Part
It is not easy to master this awesome layering technique! With this type of sectioning, you can brush the hair away from the face and create a tight and flat look. Also, you can soften the sides with a fade cut.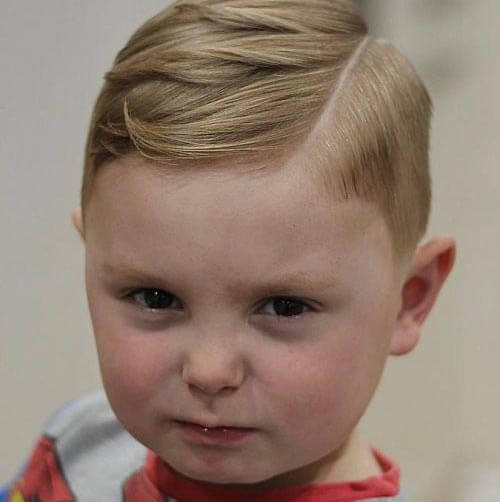 Buzz Haircut With Razor Line
An epitome of little boy haircuts that are not boring or the norm. Check out this hairstyle which is a badass version of a buzz cut with attitude. A simple deep side cut made all the difference to this haircut. What's more, you don't need to do anything to keep this look fresh.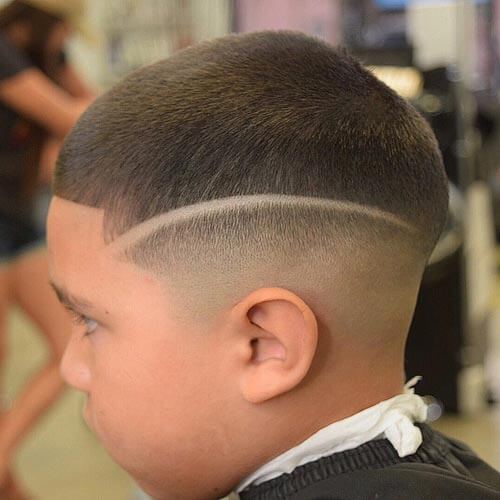 Long Curly Hair for Toddler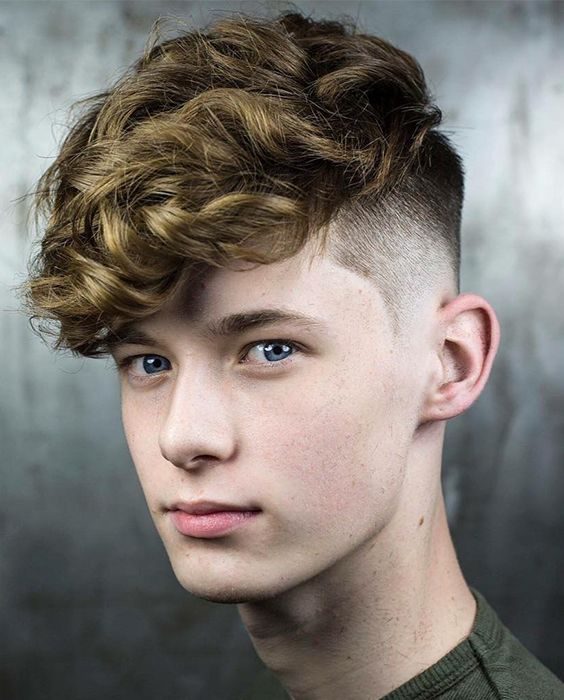 Mohawk Fade with Design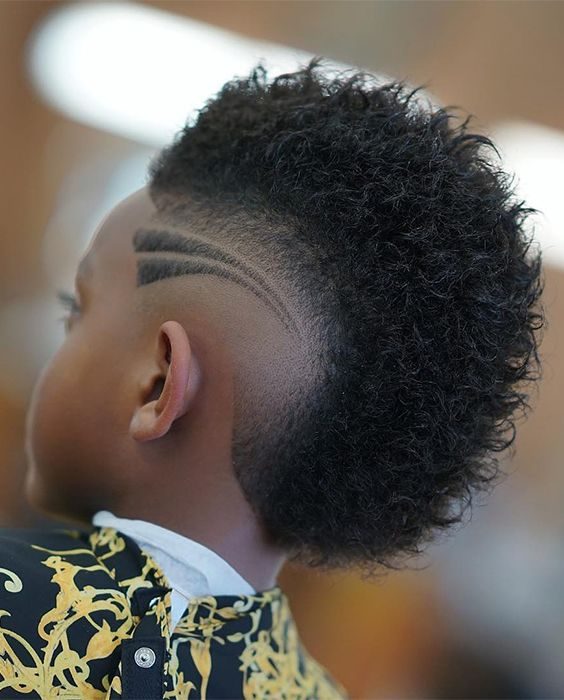 Textured Faux Hawk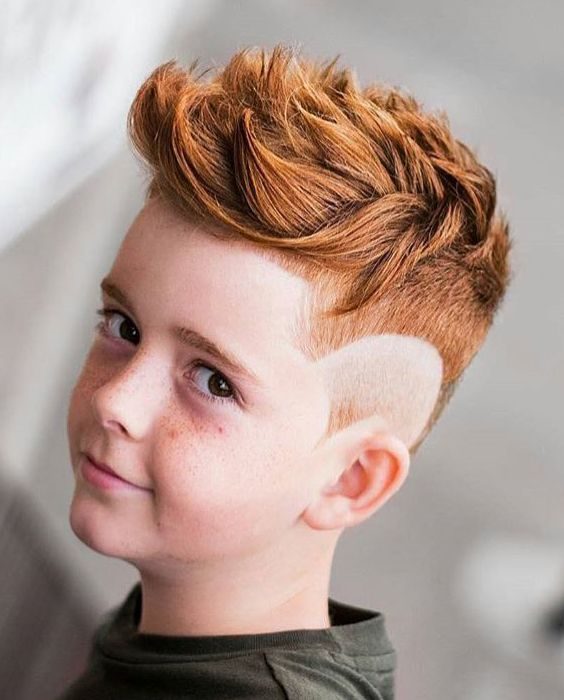 Cute Boy with Mohawk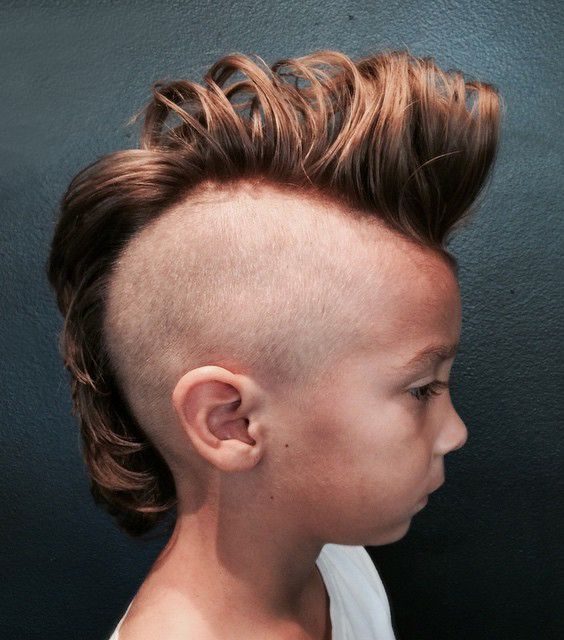 Curly Top Haircut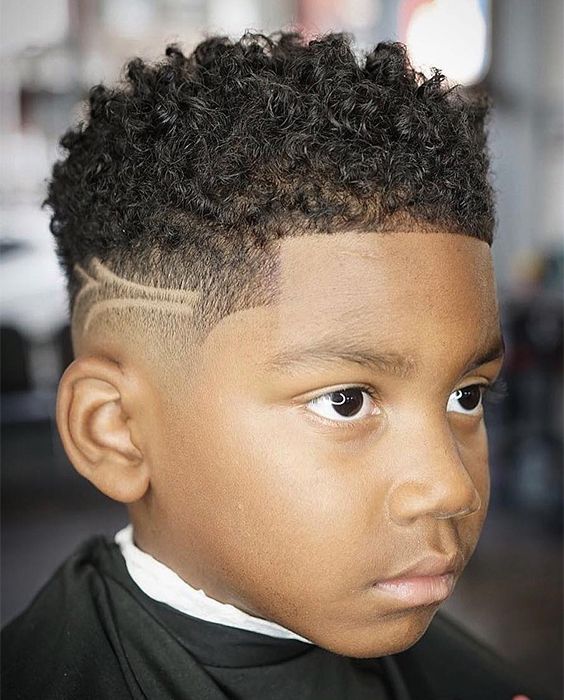 Faux Hawk with Low Fade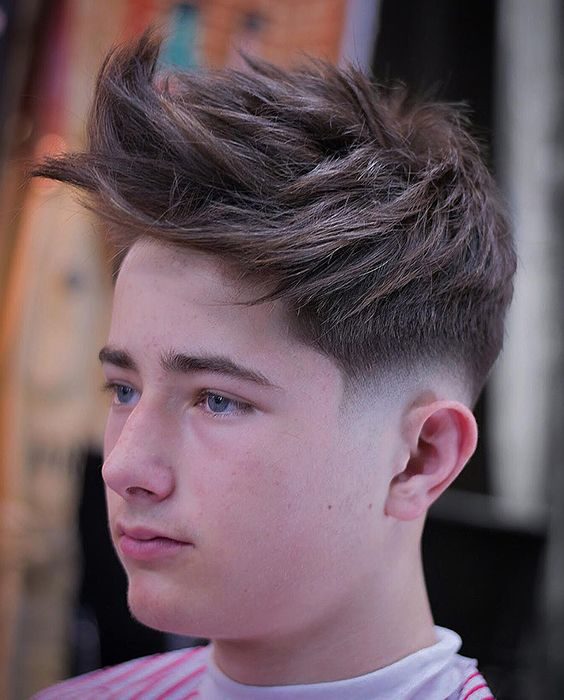 Cropped Wavy Cut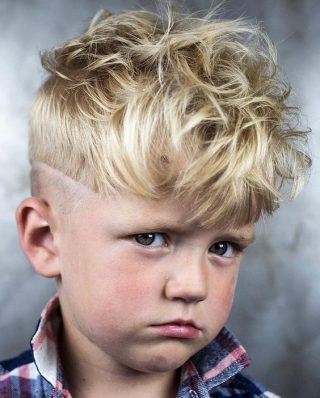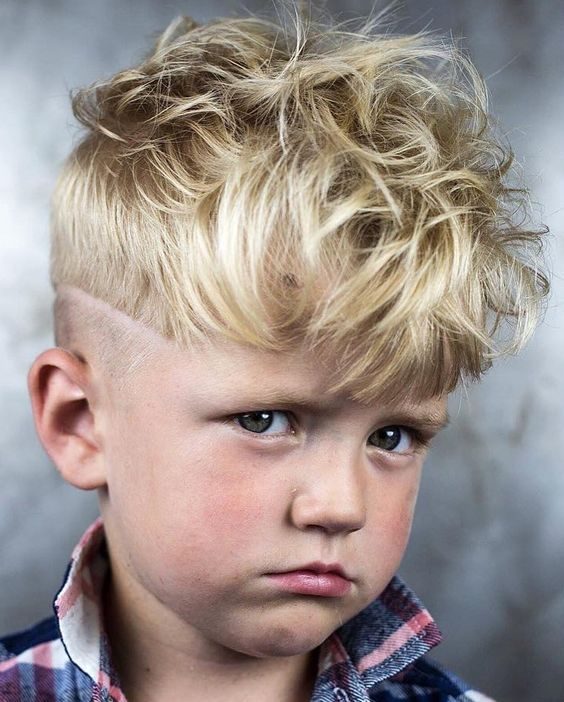 Boy's Comb Over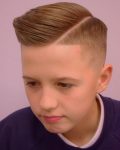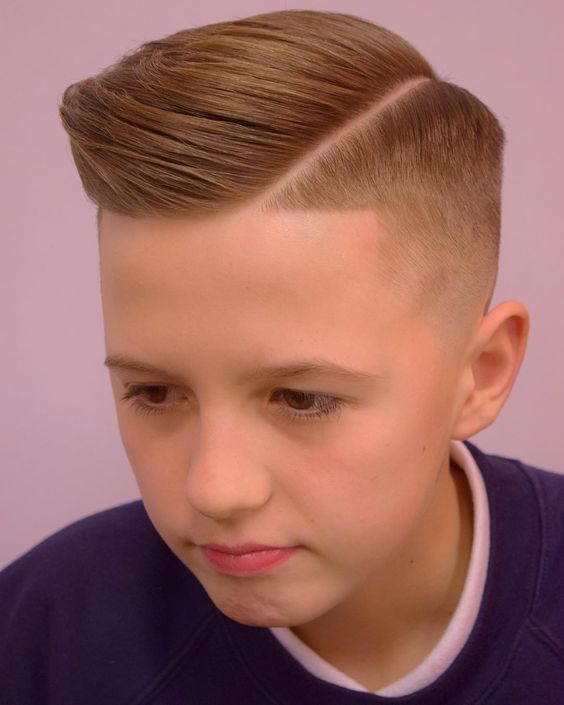 Kinky Mohawk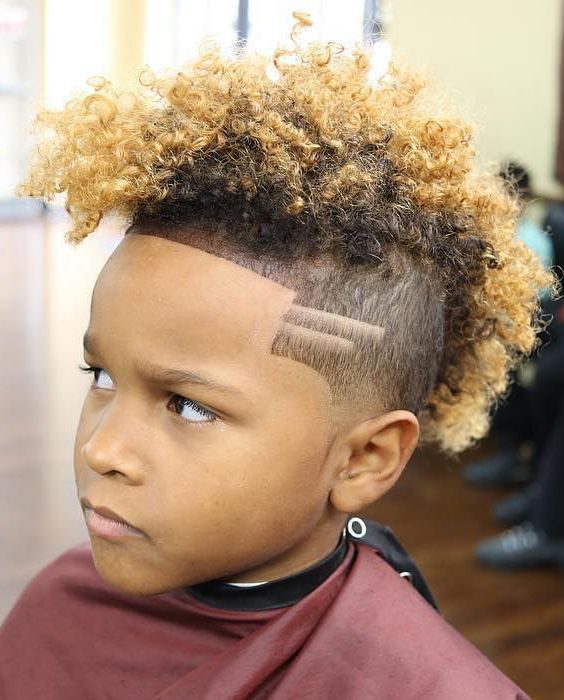 Cropped Perm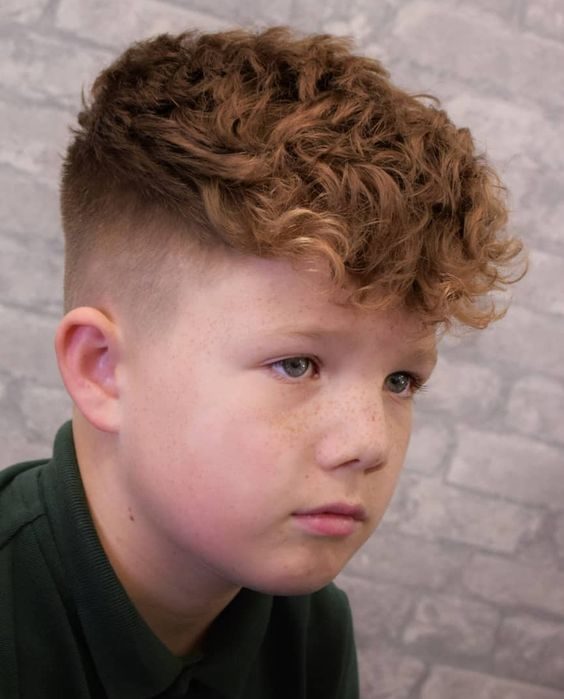 Infographics About Little Boy Haircuts: