Modern hairstyles for men have become more creative and fashion-forward. These days, men's hairstyles are not limited to, particular trends, styles, or hair length. In fact, there is now a mix of ivy league styles with stylish haircuts for the best looks. Check out these hot modern hairstyles that will enhance your features and fashion sense.
#1 Medium Length Faux Hawk
The trendiest men's hairstyles are all about tapers and length. This edgy style is a Faux Hawk with High Fade. Great for hair that isn't longer than a few inches. When styling, use a styling gel to pull the hair up and air dry for the perfect hold.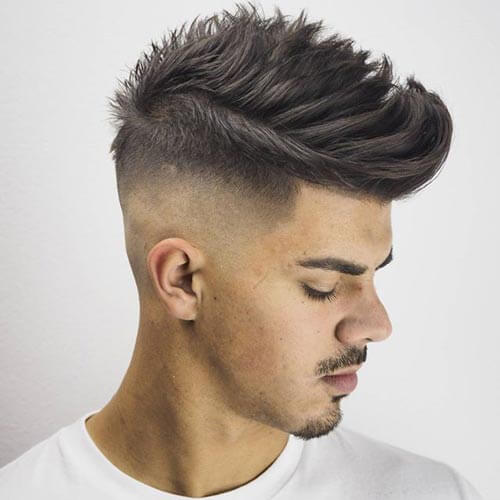 #2 High Fade Pompadour
Pompadour never really goes out of fashion and makes a come back every season. This variation is a mid-length pompadour that will enhance your volumes. This retro look requires a firm hold hair product and will give you a mix of old school and a modern super cool look.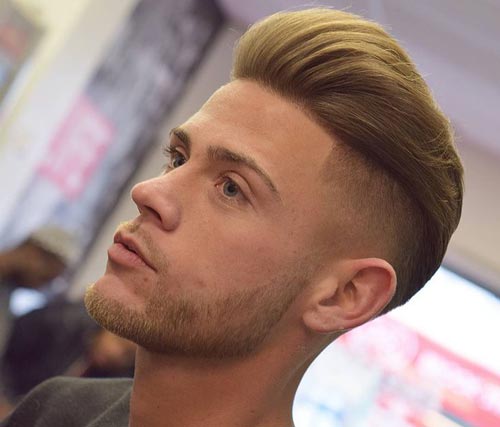 #3 Short Comb Over with Tapered Sides
This hairstyle looks best if you have natural waves in your hair. The length is between short and medium, and the sides taper off nicely. With some styling mousse, you can get the perfect hold; add in some texturized, and your hair will be just as perfect as it is in this picture.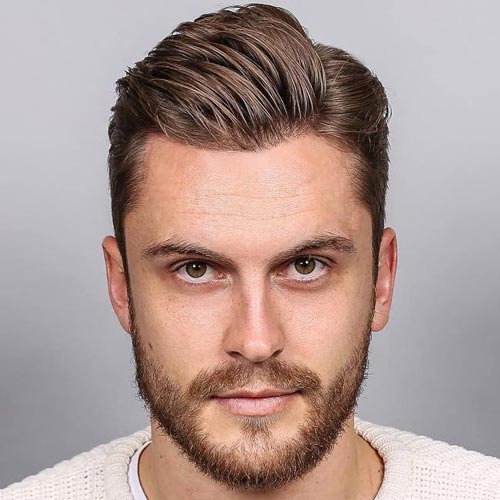 #4 Sectioned Pompadour with Undercut
This is one of the simplest modern hairstyles for men and requires thick, medium length hair. The hair on top is longer, while the back and sides have a high fade. A firm hold gel is required to keep this hair intact. One styling trick is to use the gel in creating sections and air dry for perfection.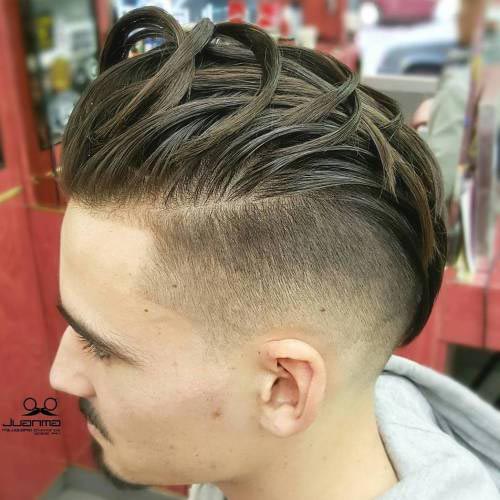 #5 Side Swept Quiff
This modern look features a quiff that is side swept to give you a casual look. If your hair is straight, then it will be easy to pull this look. The side part and faded cut will pull focus to your masculine features.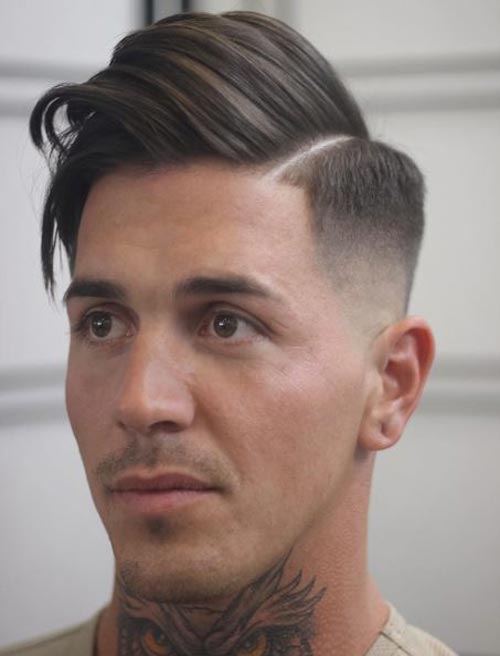 #6 Double Dashed Faux Hawk
As far as modern haircuts go, this one stands out every time. The double dashed cut is stylish, and the angle of the second dash is what gives this style character. The top of the hair is styled into a quiff, and the sideburns fade nicely.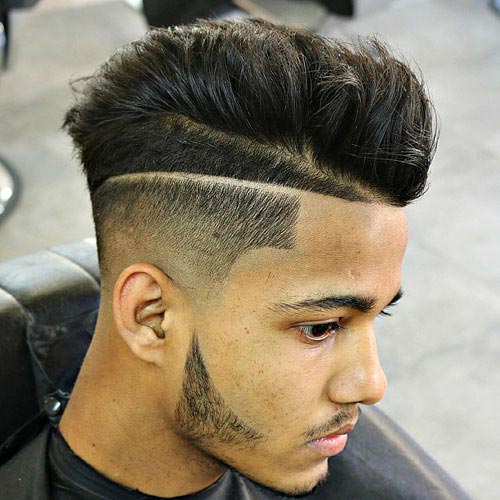 #7 Mid Length Pompadour
For a formal look that is modern and cool, try a taper on the sides and mid-length hair on top. This look works well with a light hold pomade and air drying.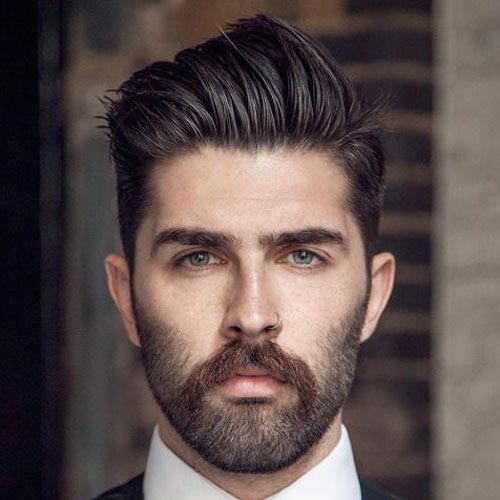 #8 Tousled Side Swept
Cut in layers; this style will give you a boyish and laid-back look. This suave and debonair style can only be achieved by a tousled look that is effortless and trendy. For better results, blow dry your hair after washing instead of air drying it. It works best if you have a full head of hair.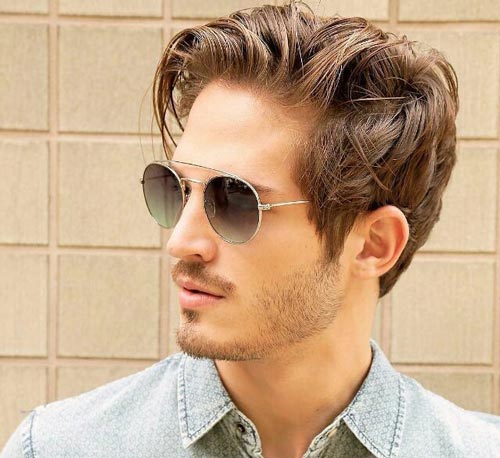 #9 Swept Back Hair with Taper
Mid-length hair with an undercut is a great modern look for guys because nothing says trendy like an undercut. Pair his look with a clean short beard to make it casual or formal.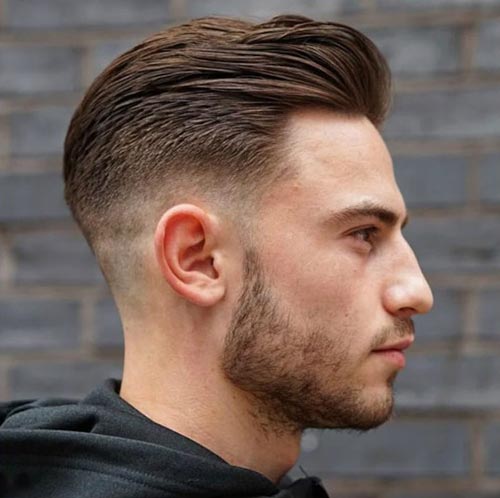 #10 Brushed Up Hair with Waves
Combine a classic and contemporary style with a Low Fade. You don't have to cut the sides this low. Choose a length for the back and sides that bring out your best features and style with a medium hold gel to keep the hair in place.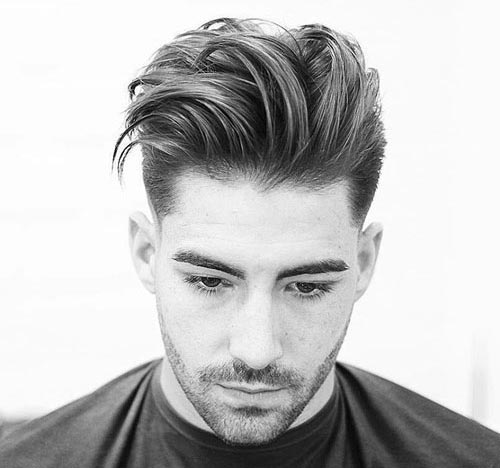 #11 Sleek Side Part
The haircut that features contrasting lengths will make any man look sharp. This side swept hairstyle features a side parting and undercut. To achieve this sleek look, you will need some hair gel or strong hold pomade. Air-dry the hair after applying the hair product to damp or almost dry hair. Finish off with a bit of hairspray for a glossy effect.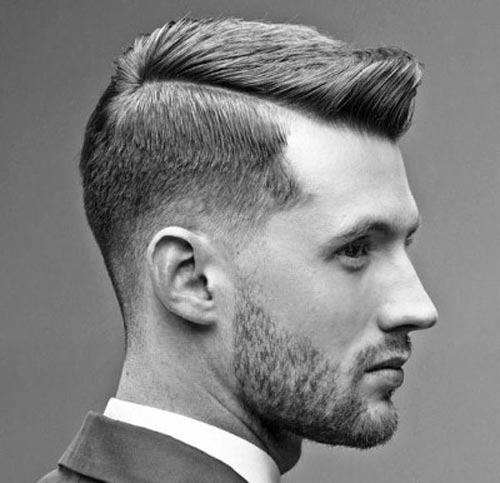 #12 Quiff with Side Part
The spiky Quiff hairstyle is catching on and has a fresh, urban appeal. The length on top is about 2 inches and fades down to a bald fade at the temple.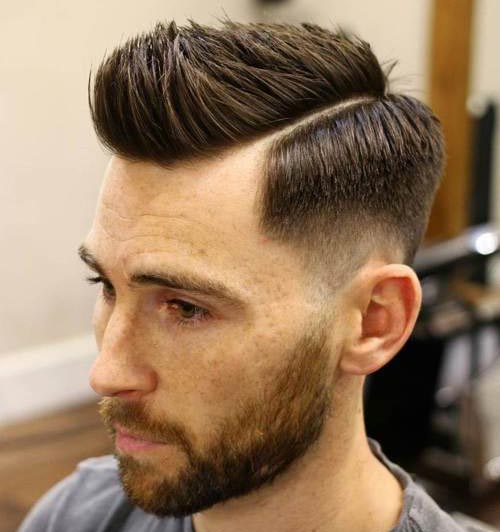 #13 Wavy Pompadour and Mid Fade
Here is a fuss-free look that does not require much attention. If you have natural waves, you can make this style work for you by keeping your hair at medium length and working with your hair texture. Simply rub in some light hold gel and air dry your hair. After brushing, it will take its own style naturally.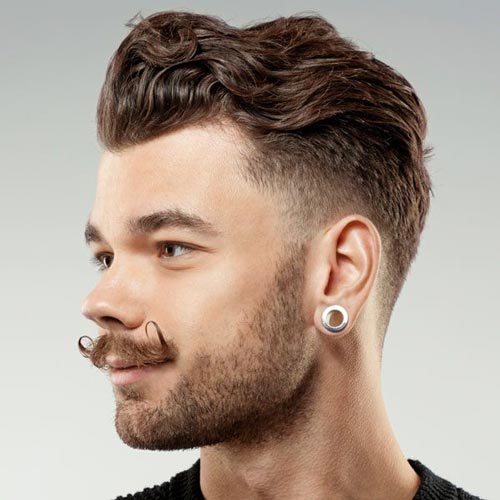 #14 Classic Side Swept
If spikes and undercuts aren't your things, try a classic look with long layers. If you are conservative in your hairstyle of choice, this will suit you perfectly. You can part it, sweep it to the side or pull this up— no matter your choice; you will still look modern and maintain your style.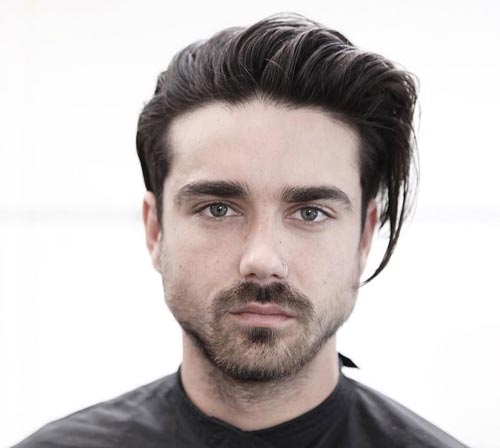 #15 Faux Hawk with Low Fade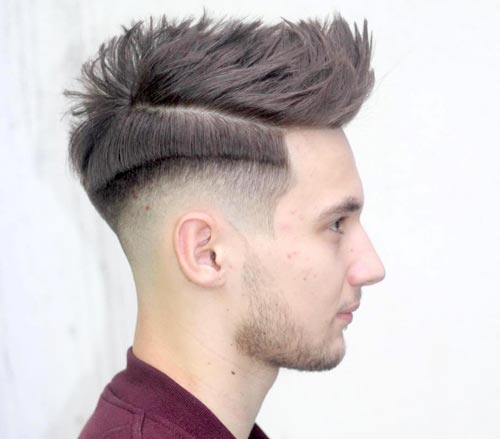 #16 Comb Over with Low Fade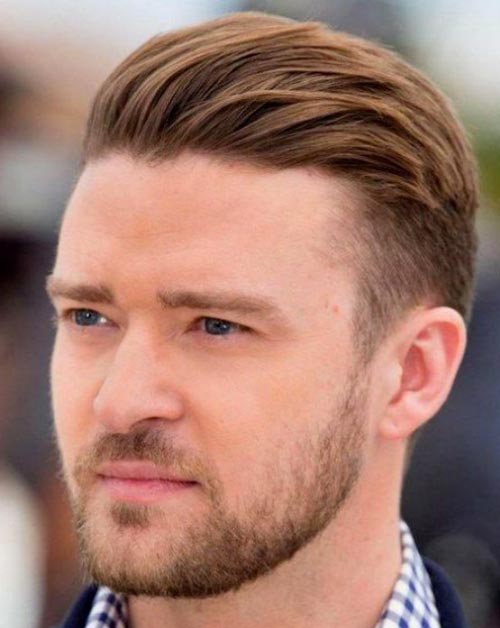 #17 Deep Parted Mohawk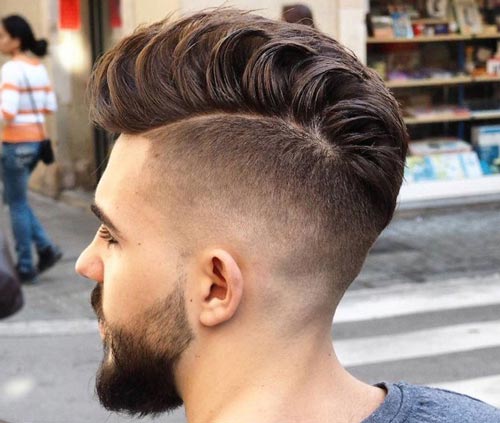 #18 Layered Comb Over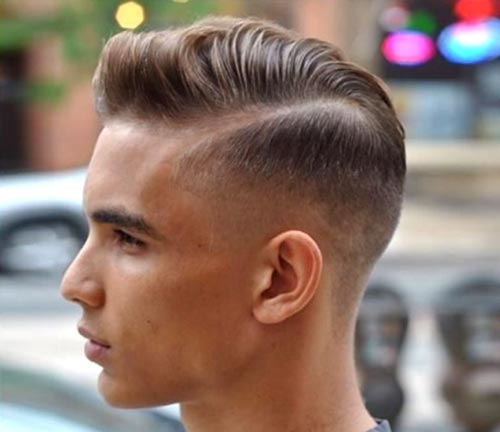 #19 Disheveled Haircut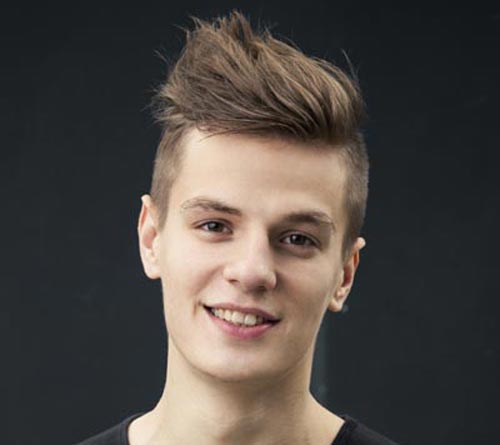 #20 Mohawk Haircut with Taper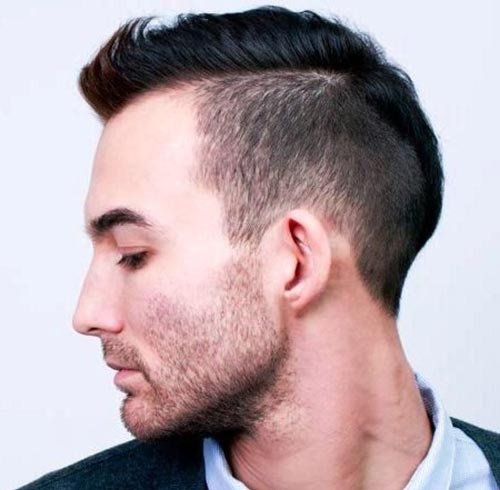 #21 Man Bun with Highlights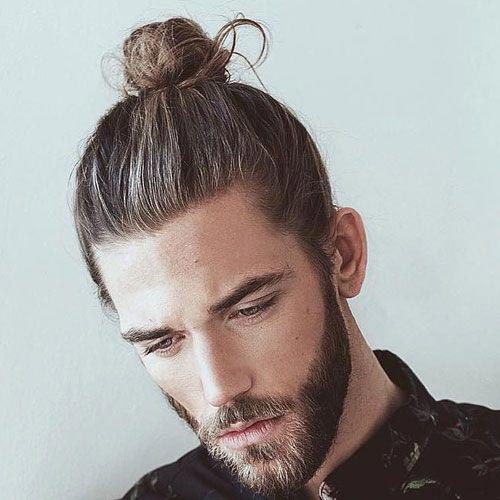 #22 Brushed Over Pompadour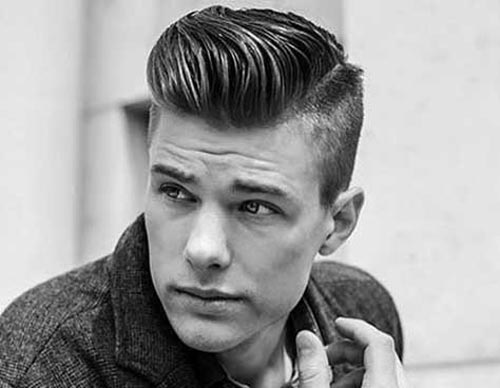 #23 Grown Out Layers with Highlights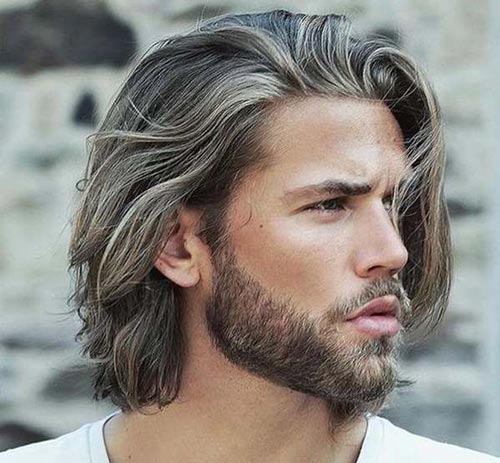 #24 Short Haircut with Mid Fade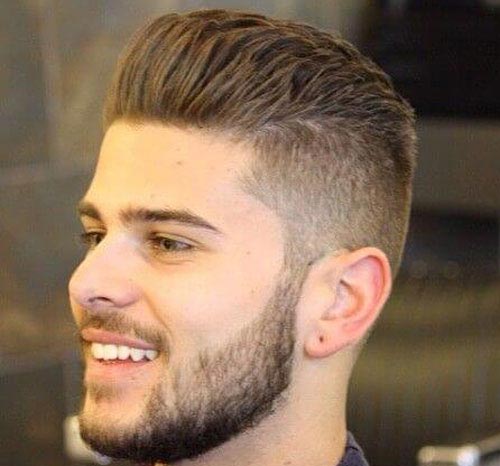 #25 Classic Smooth Pompadour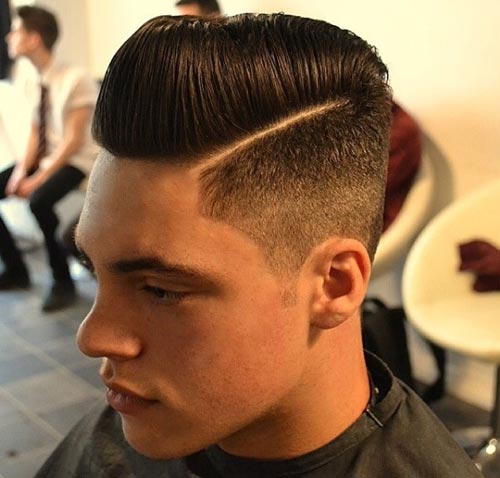 #26 Combed Back Layers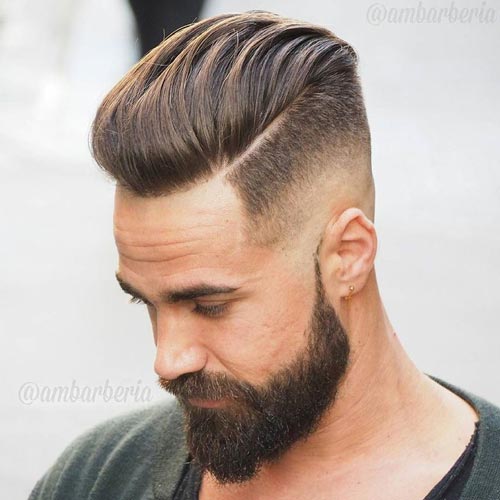 #27 Faux Hawk with High Skin Fade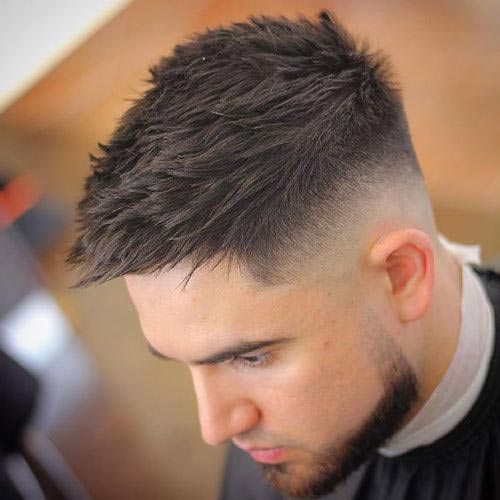 #28 Blond Pompadour with Mid Fade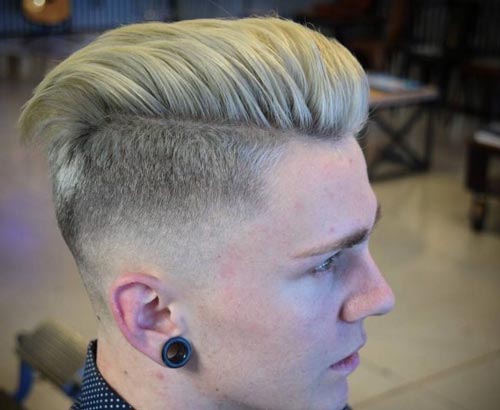 #29 Classic Side Part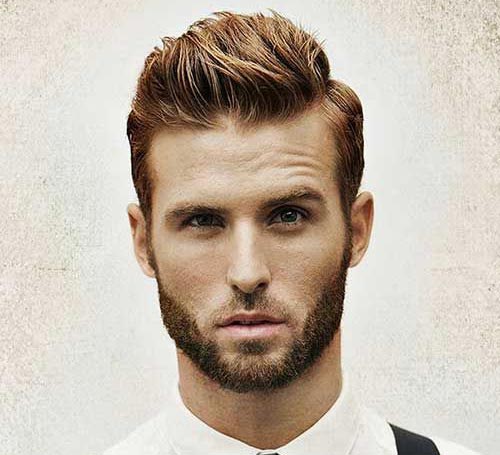 #30 Faux Hawk with Beard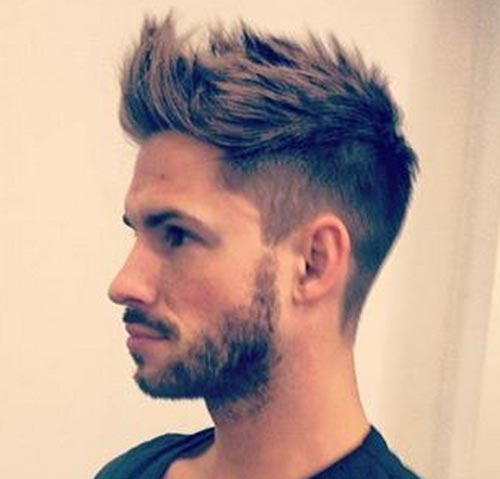 #31 Spiky Crew Cut
#32 Medium Length Haircut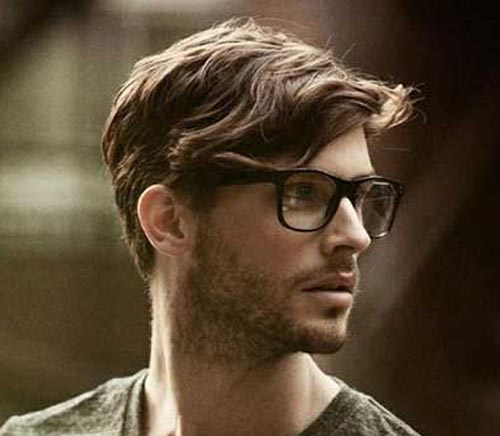 #33 Short Comb Back Undercut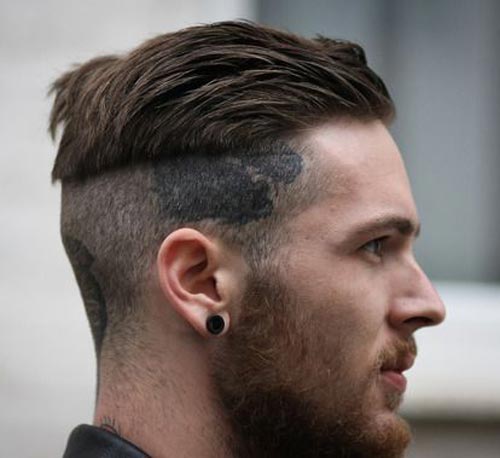 #34 Pompadour with High Fade