Emo hairstyles are the epitome of self-expression and subculture! It was born from the remnants of the post-punk era. Like the punk movement before it, the emo lifestyle has a strong association with music and anti-establishment thinking. 
With a focus on non-conformity and individualism, it's one of the most creative styles out there! While most associate emo hair with the late 1990s and early 2000s, it's still going strong today!
What Is An Emo Hairstyle?
Emo hair represents the lifestyle as a whole. It's somber, thought-provoking, and a bit unpredictable. The emo trend is a byproduct of the punk subculture. As a result, hairstyles feature the same sporadic and crazy elements as punk fashion!
Emo hairstyle mainstays are vast and versatile. There's no right or wrong way to style emo locks. As long as it displays the movement's signature themes and puts your personality on full blast, it checks off all the boxes!
For men, emo hairstyles are all about creating mystery. Instead of the perfectly coifed updos you see in the magazines, the emo style is dark and edgy. Long, jagged fringe is a signature element you can't go without. Typically, the bangs sport pristine layers and a cut covering part of the face to create an enigmatic aura.
Texture and color are essential, too. When most people think of the emo movement, they imagine dark and dreary hair. While black is undoubtedly a vital color in emo culture, it's unnecessary to get the hair. In fact, many emo hairstyles incorporate pops of neon dye or blonde for eye-catching contrast! Beyond the basics, emo style can be as elaborate or simple as you want it to be. It's all about individuality! Get creative and achieve a style that speaks to you!
How To Get An Emo Hairstyle?
The first thing you need to do is grow out your hair! There are a few emo hairstyles out there for guys with shorter tresses. But, a majority of the signature styles require ample length to pull off. Once your hair has adequate length, take a trip to the barber and ask for all of the staples! Emo hair is iconic enough for most stylists to know what you're talking about instantly.
Ask for those signature side-swept bangs and messy texture. Unlike other styles, emo hair rejects trends and throws standard cosmetology conventions out the window. Don't be afraid to get crazy!  Asymmetry, extreme styling, and tons of edge are welcome.
Emo hairstyles can be a bit tricky to style. But, the beauty of these trends is that you don't have to get things perfect. Experiment with products until you get things just right!
Goth vs. Emo: What's The Difference?
The terms "Goth" and "Emo" are often used interchangeably to describe any dark counterculture. While they are similar, these two movements are vastly different!
Goth culture has been around much longer. It started with Gothic rock and eventually adopted stylistic cues from the victorian era. Today's goths are all about horror imagery with a somewhat elegant appeal. 
Goth hair can get pretty crazy, too. However, most styles tend to be simpler than their emo counterparts. Rather than the crazy colors and extreme texture, goth hair is sleek, black, and mysterious.
Emo started to appear sometime in the 1990s. Hot off the heels of popular musical acts, the movement focuses on emotions, inner turmoil, and individuality. Standing out is key with emo hairstyles. As a result, it's more "out-there" than goth. You're more likely to see extreme styling and pops of color. Asymmetry and odd shapes are the norms, too.
Need examples? Check the gallery below:
Angular Fringe Emo Hairstyle
Here's a textbook example of emo hair done right! It has all the hallmarks of the movement. You have an angular fringe to cover one eye, tons of layering for texture, and a signature pop of color. This style is pretty easy to style. All you need is some gel or pomade in the back for definition. Keep the bangs clean and straight, and you have a signature cut ready for the scene.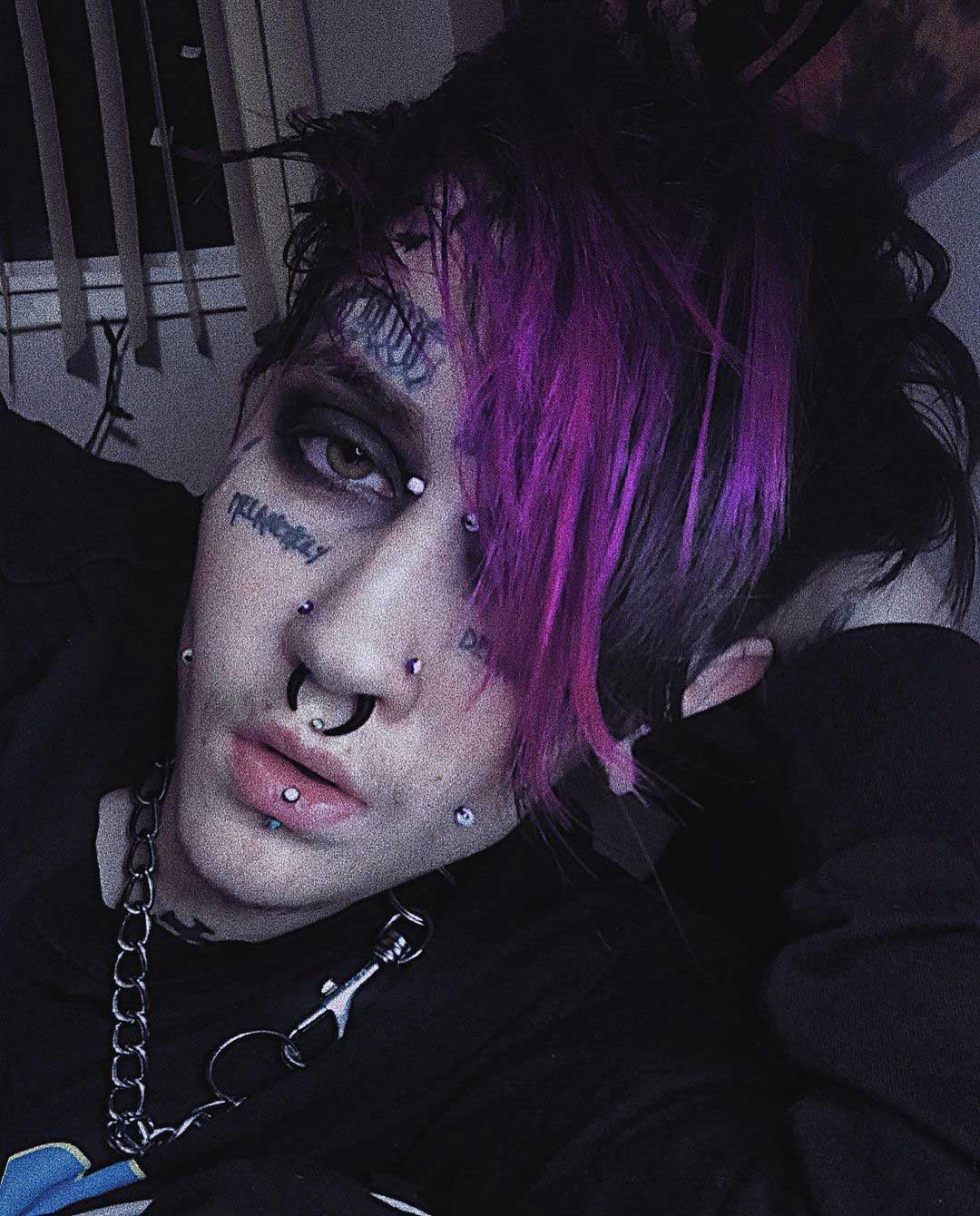 Bob Emo Hairstyle
This cut harkens back to the old-school bob. But instead of the shoulder-length poof some are familiar with; this style offers an edgier twist. You'll need some significant length up top to pull this off. Once you get there, achieving the look is all about the cut of the fringe. Sweep the hair to one side and have your stylist cut a "window" for your face.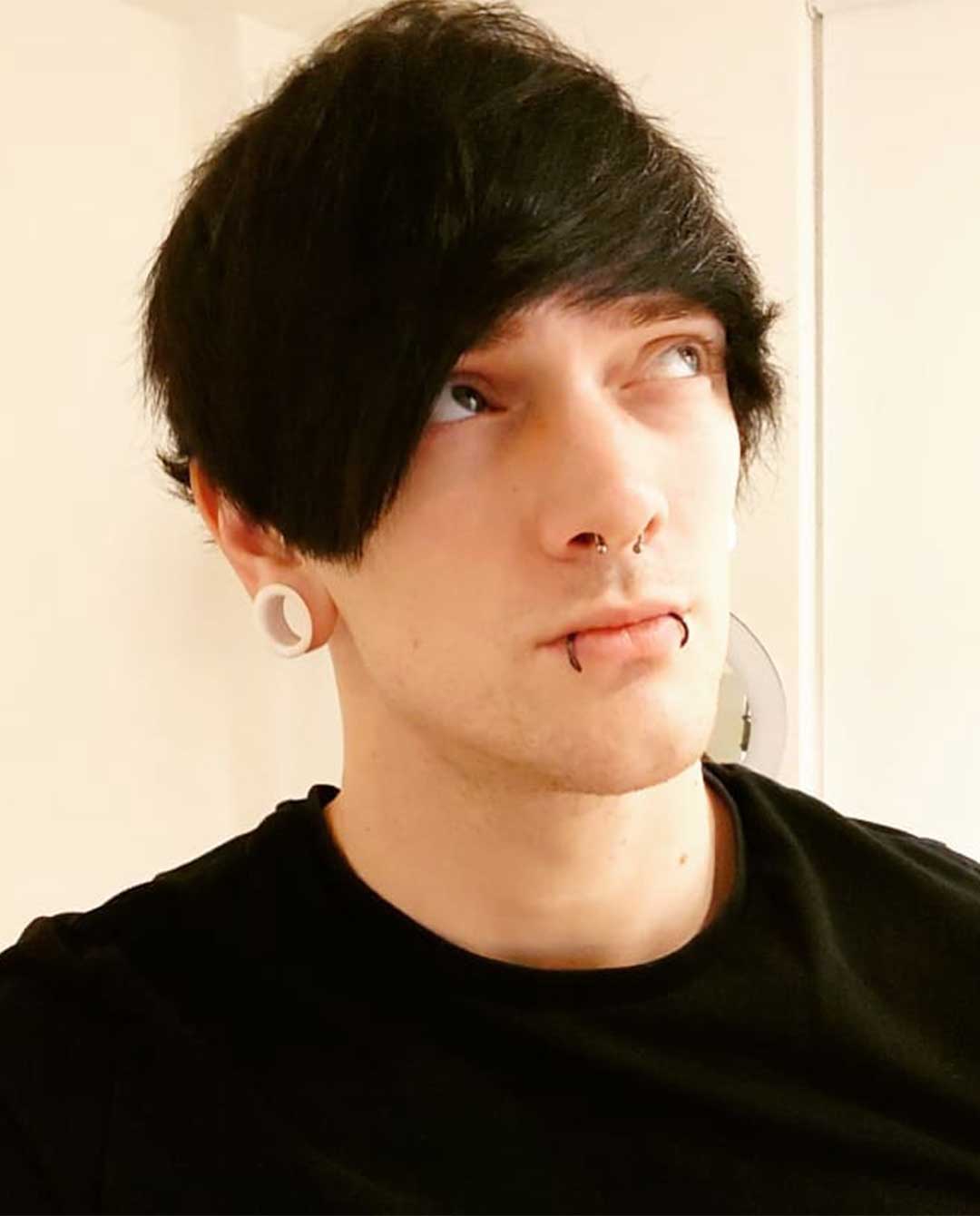 Choppy and Full Fringe
Messy and effortless is the name of the game here! If you want to sport the "just got out of bed" look, this one is for you. There's not a ton of detail here, but that's what makes it work. The cut is choppy, allowing the bangs to fall in the eyes and create some much-needed mystery.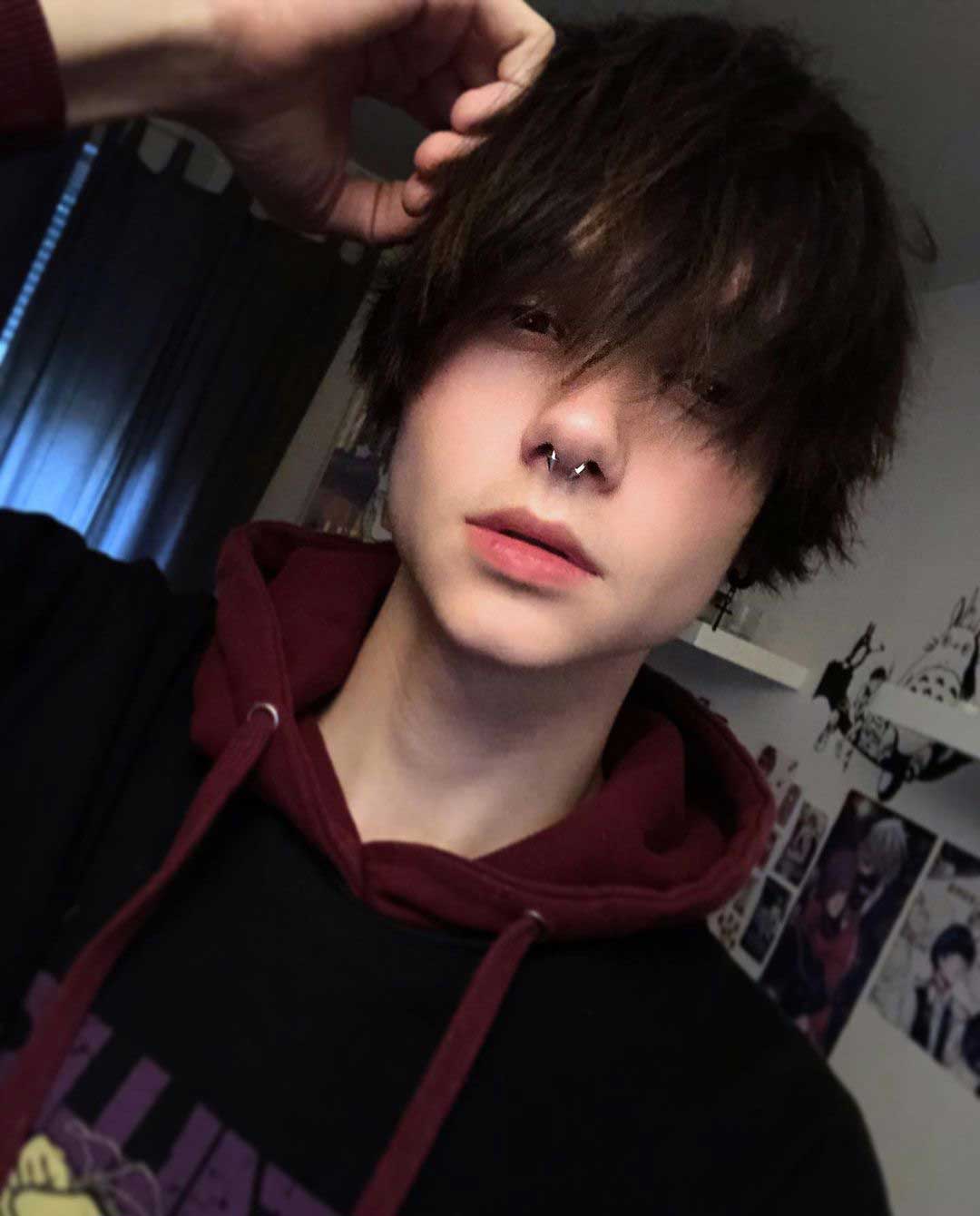 Curtains Emo Haircut
A blend of signature goth styling and emo, you can't go wrong with this cut. It has all the texture and layering you would expect from an emo hairstyle. But instead of letting your hair fall over the eyes, push your bangs to both sides. This creates the 90's "curtain" look, albeit with a darker twist.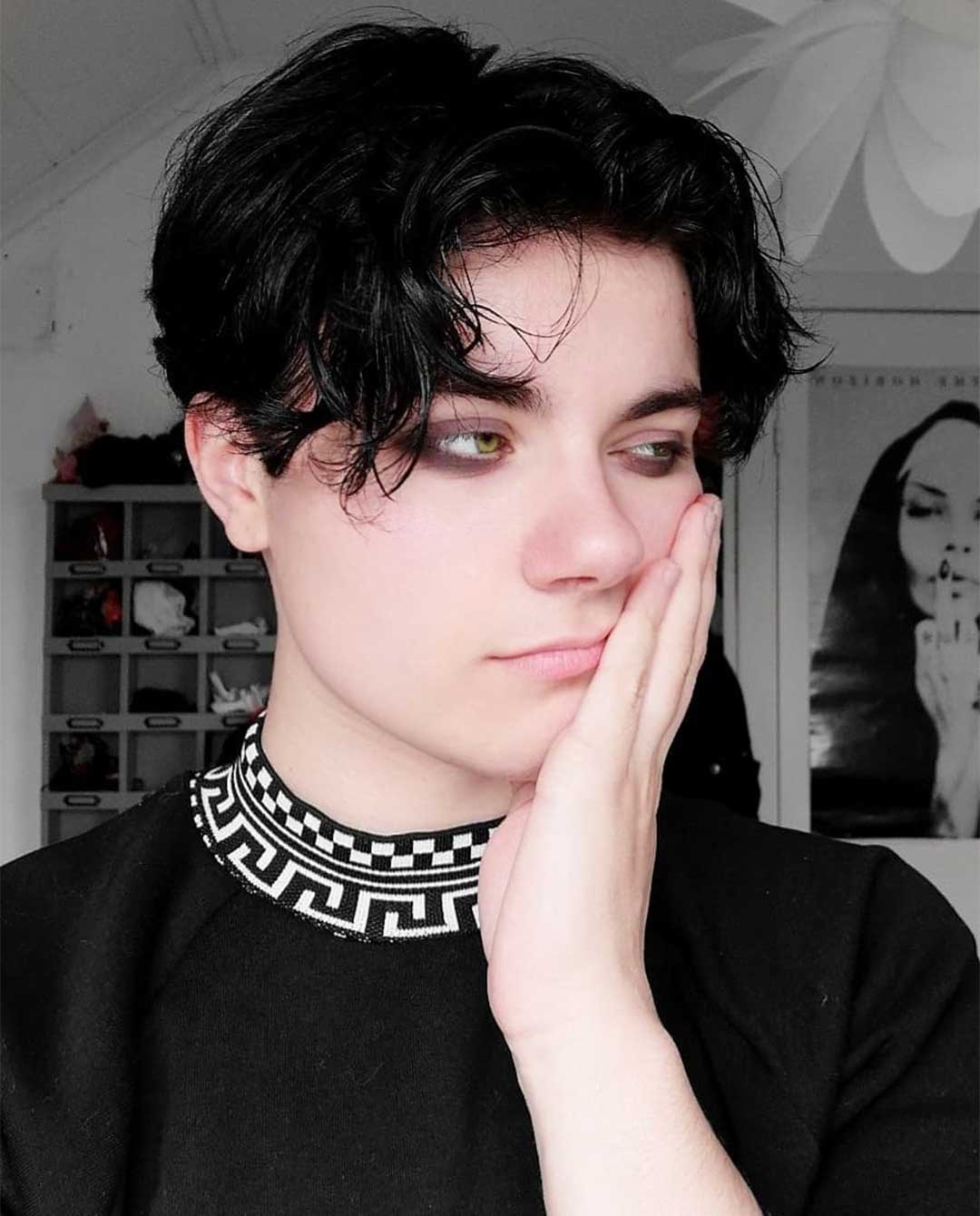 Dyed and Parted
Not for the faint of heart, this hairstyle is best for guys who aren't afraid to stand out! Most of the hair here is heavily textured and infused with gravity-defying hairspray. Beyond that, the most defining feature is the color. Dye one-half black and the other red for a look that comes straight out of an emo music video!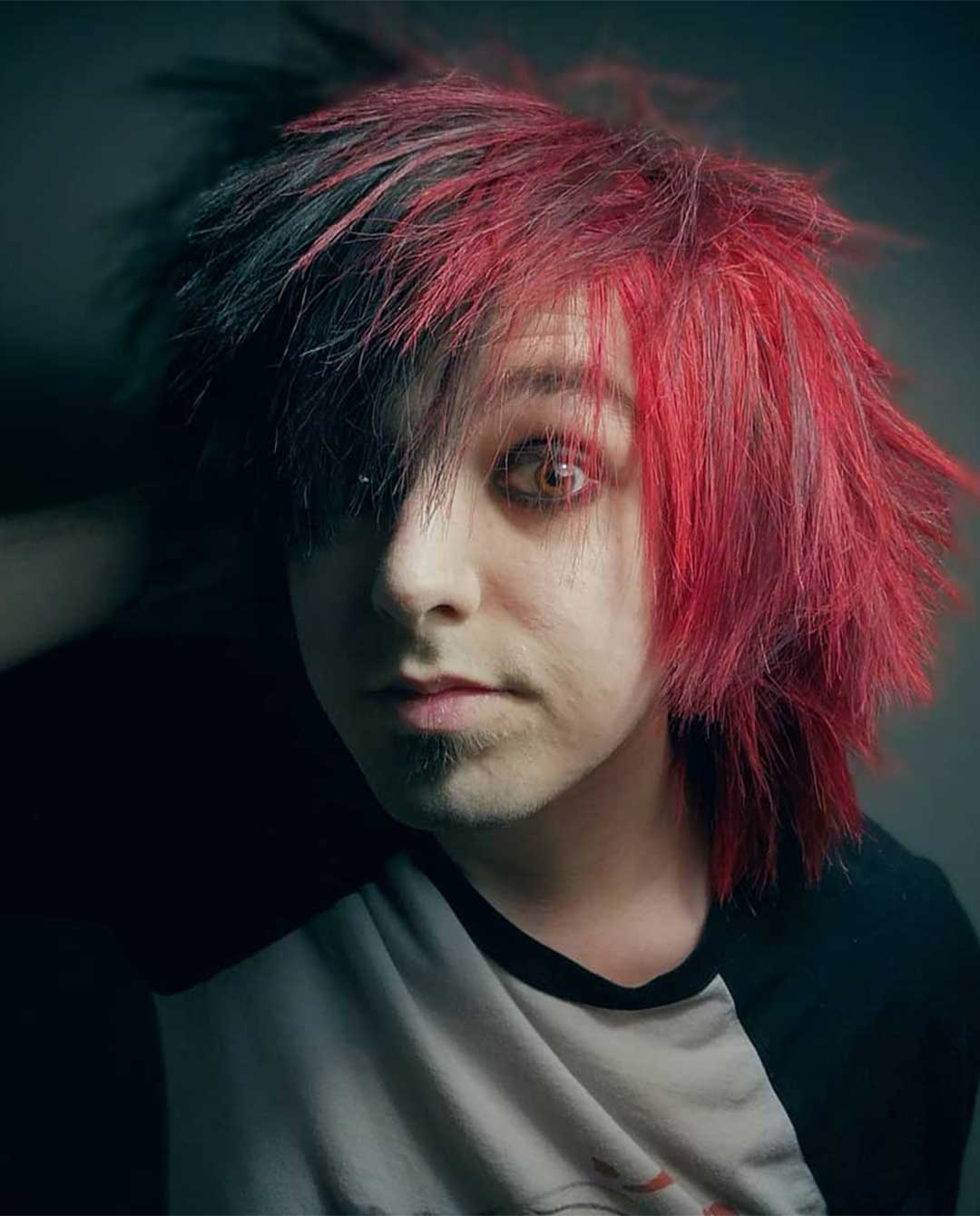 Ear Tuck Haircut
Some emo styles have a reputation for looking a bit dome-like. This one challenges that assumption. It's on the simpler side but offers tons a bit more functionality than you would expect. You still have the eye-covering mystery. But, the hair features thinned bangs that you can easily tuck behind your ear for some definition.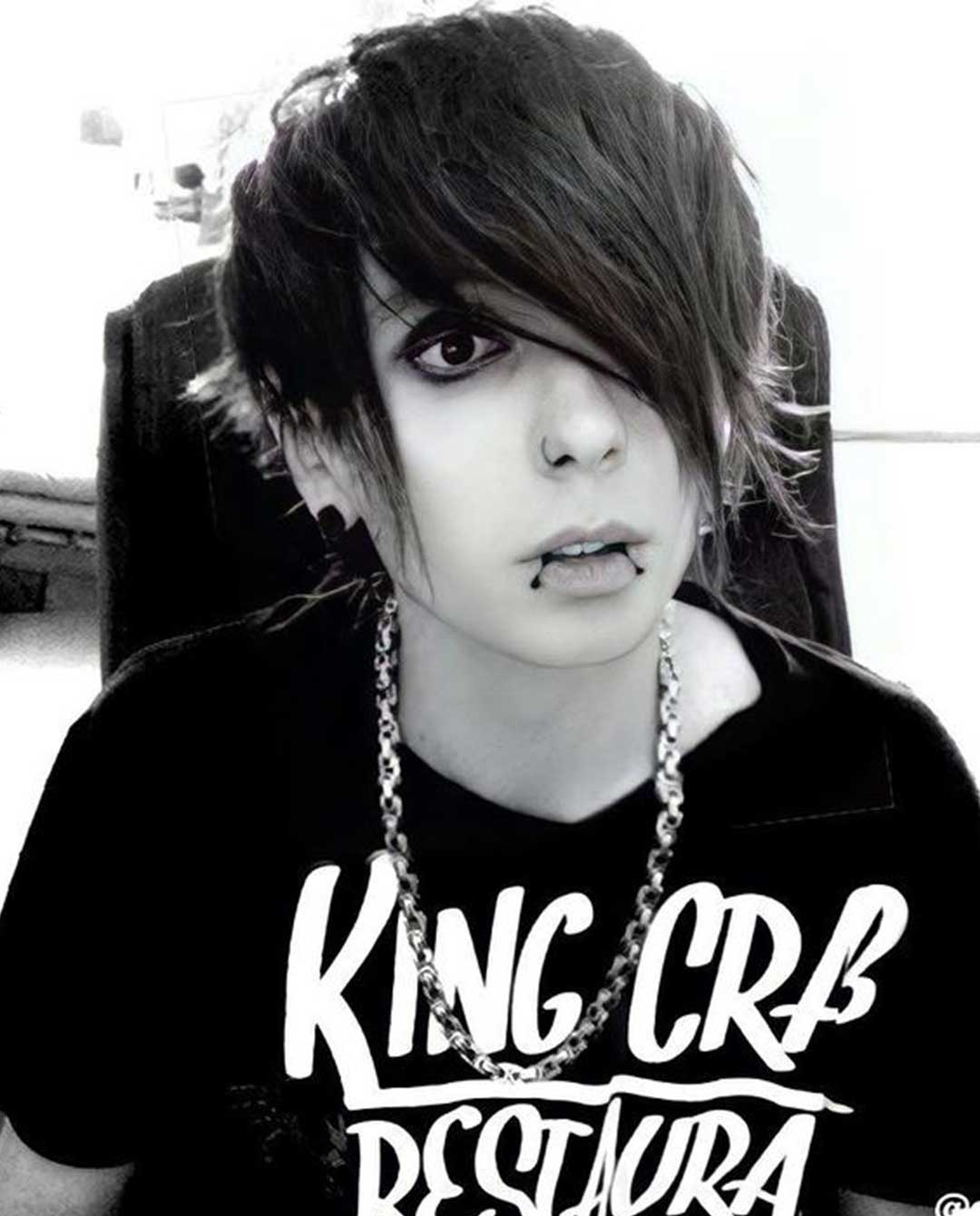 Flow Emo Hairstyle
Want to take advantage of your natural hair texture? With this style, you don't have to flock to the straightener to get things right. It welcomes organic waviness, resulting in a free-flowing look that complements your facial features.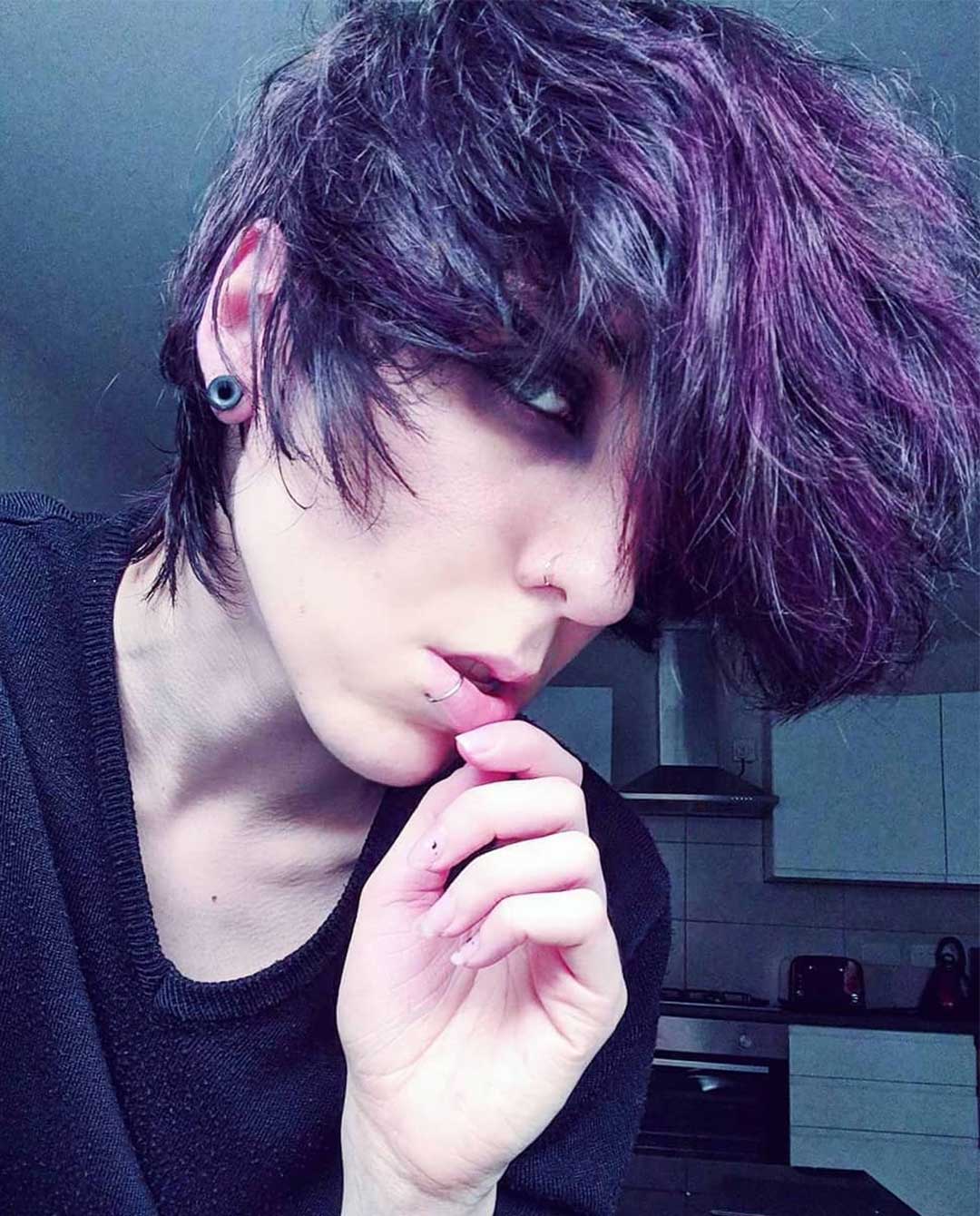 Half Covered Face
Another emo standard; there's nothing too tricky about this cut. Sure, it requires regular straightening to maintain. But other than that, you don't need any complex styling products or even regular trims! It's highly adaptable and continues to have some killer appeal even after your hair grows out.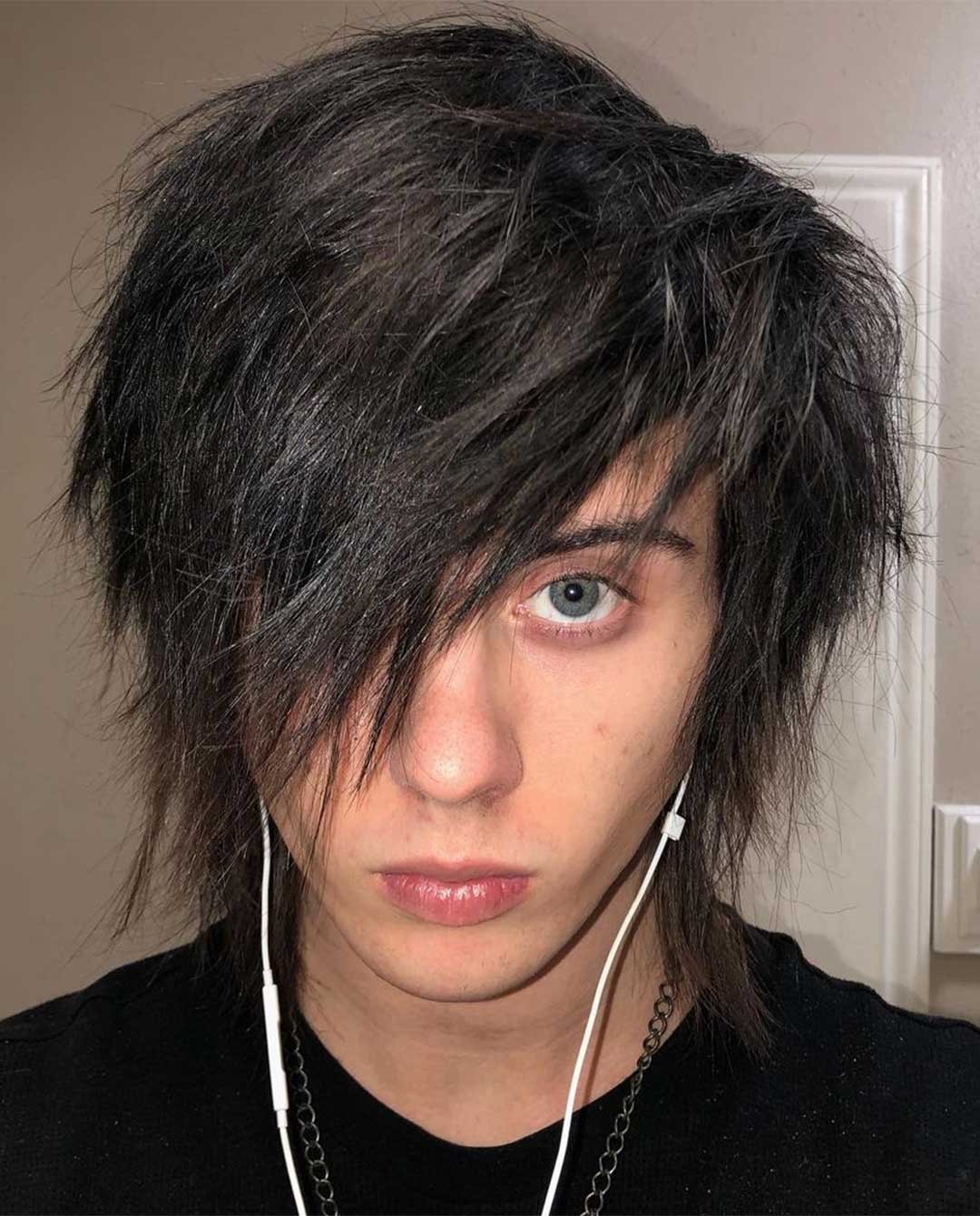 Layered Crop Emo Hairstyle
Are you rocking blonde locks? You don't have to dye everything black to partake in the emo lifestyle! This layered crop cut is perfect for any hair color. High-contrast layers provide tons of texture. Meanwhile, the short length of the crown and dome make it easy to manage.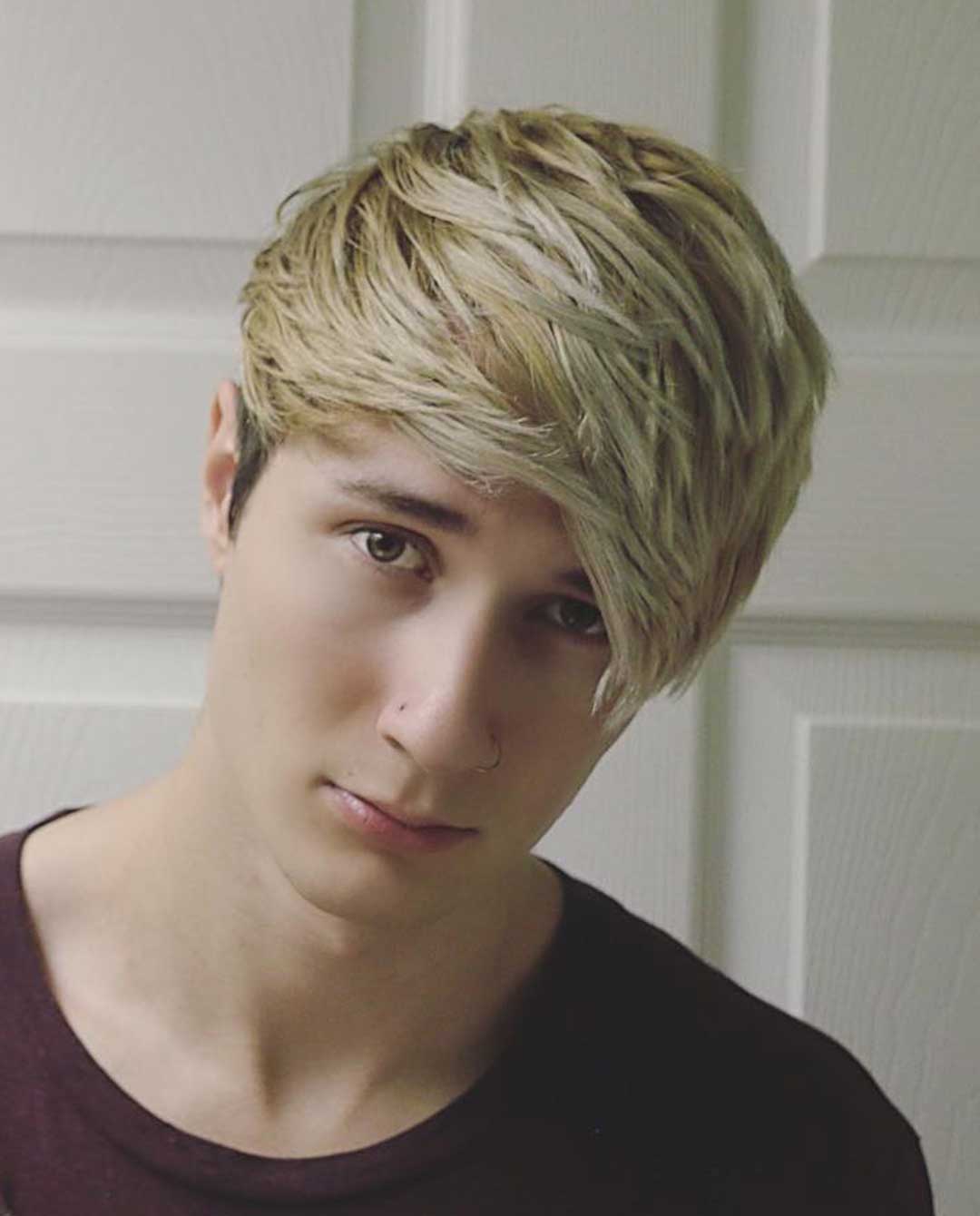 Straight and Controlled
Perfect for guys with thin and delicate hair, this style pushes the emo narrative without going to any significant extremes. Let your hair grow out long. Keep one side of the fringe in the front longer. Then, cut an angular window over one eye on the opposing side. Add some color of your choice, and the look is complete!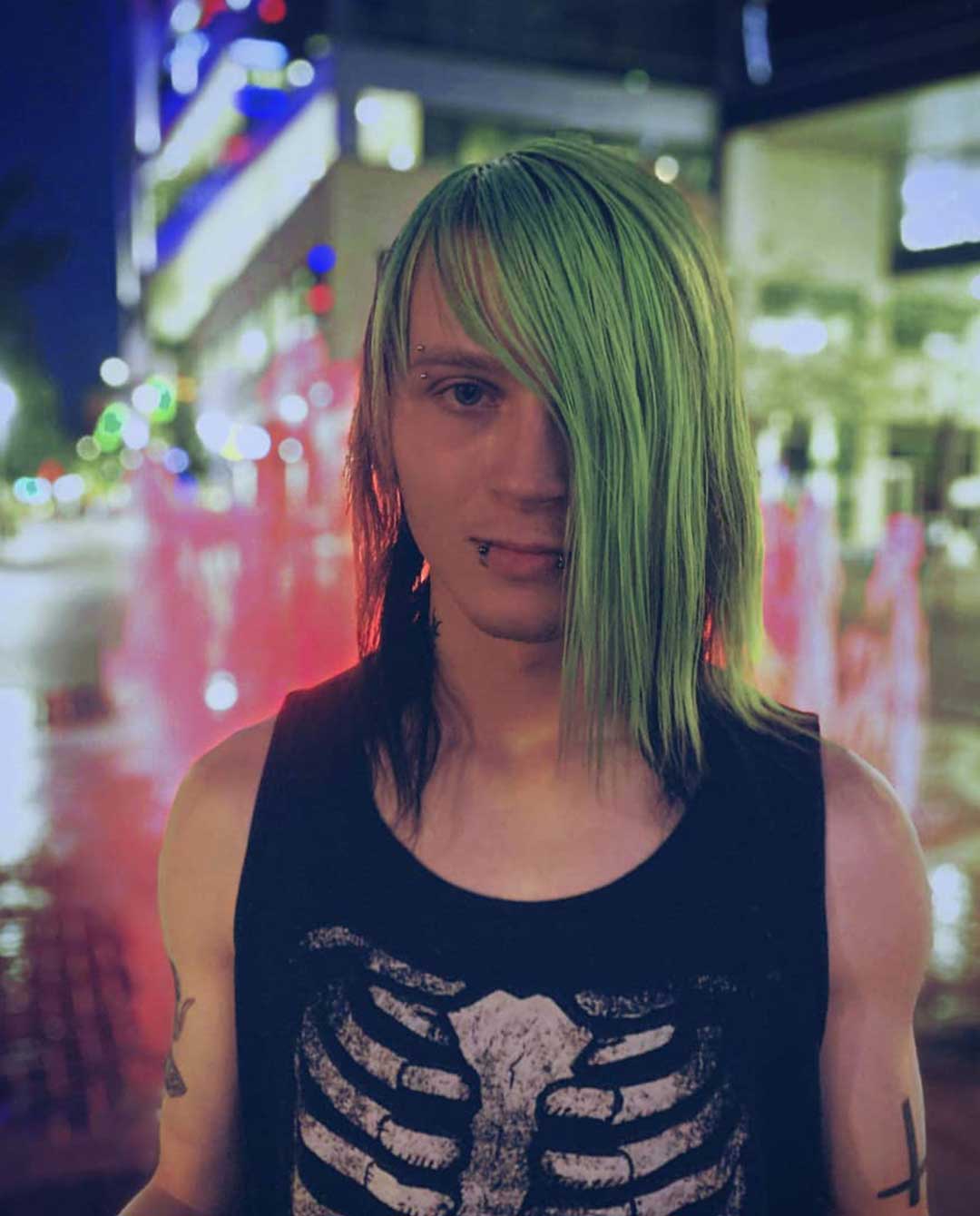 Middle Part Emo Hairstyle
Not a fan of letting your hair cover your eyes? No worries! Here's a style that pushes the emo aesthetics without falling back on obvious elements. It features a distinct middle part. With straightened and clean hair, everything frames your face nicely.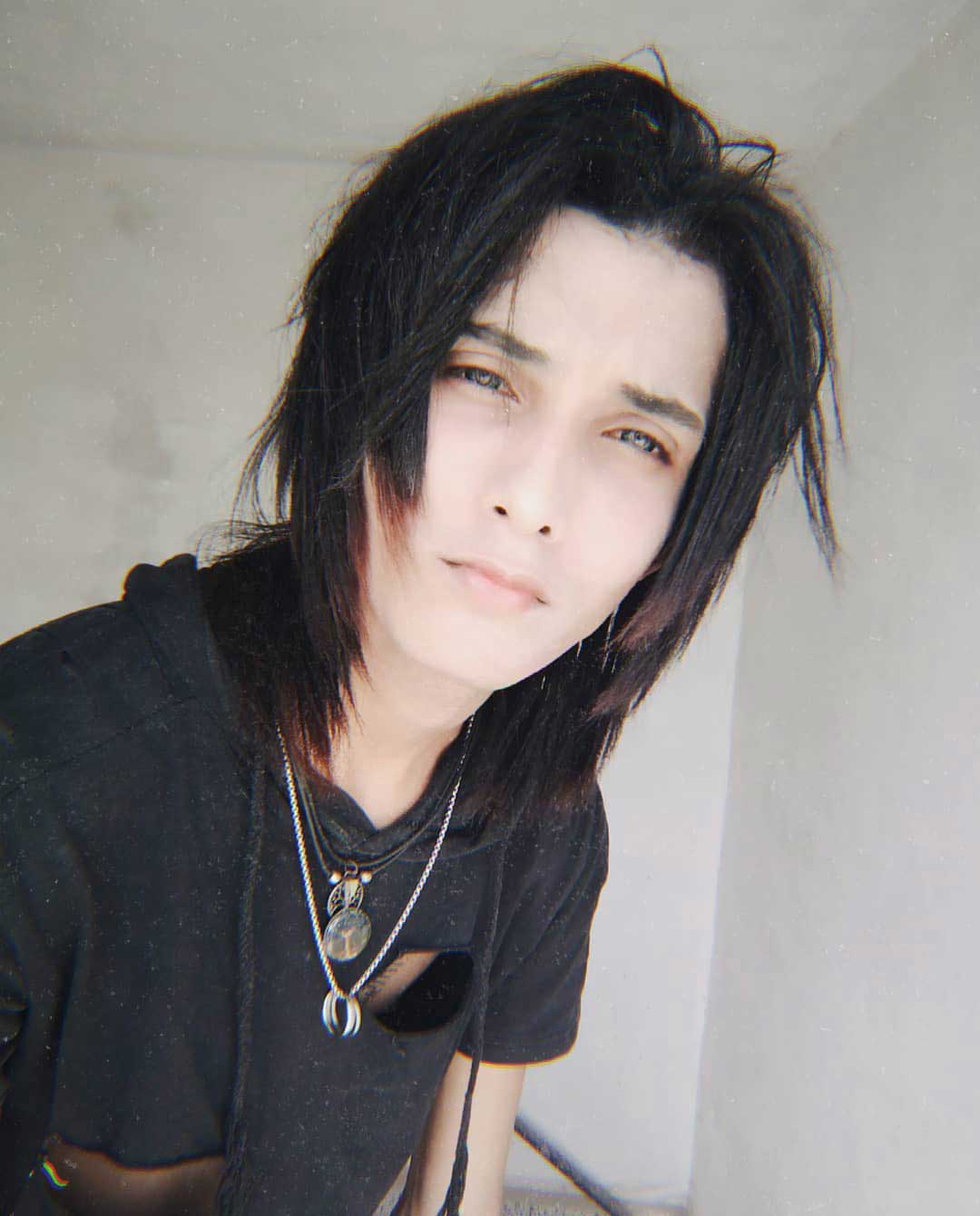 Long Hair with Bangs
Another super-messy look, this emo hairstyle manages to look effortless despite all the work it takes to achieve! Length is key here. It would help if you had long bangs to get the asymmetrical bangs. Throw in some hair dye and use a texturizing product to get a haphazard look that will turn heads!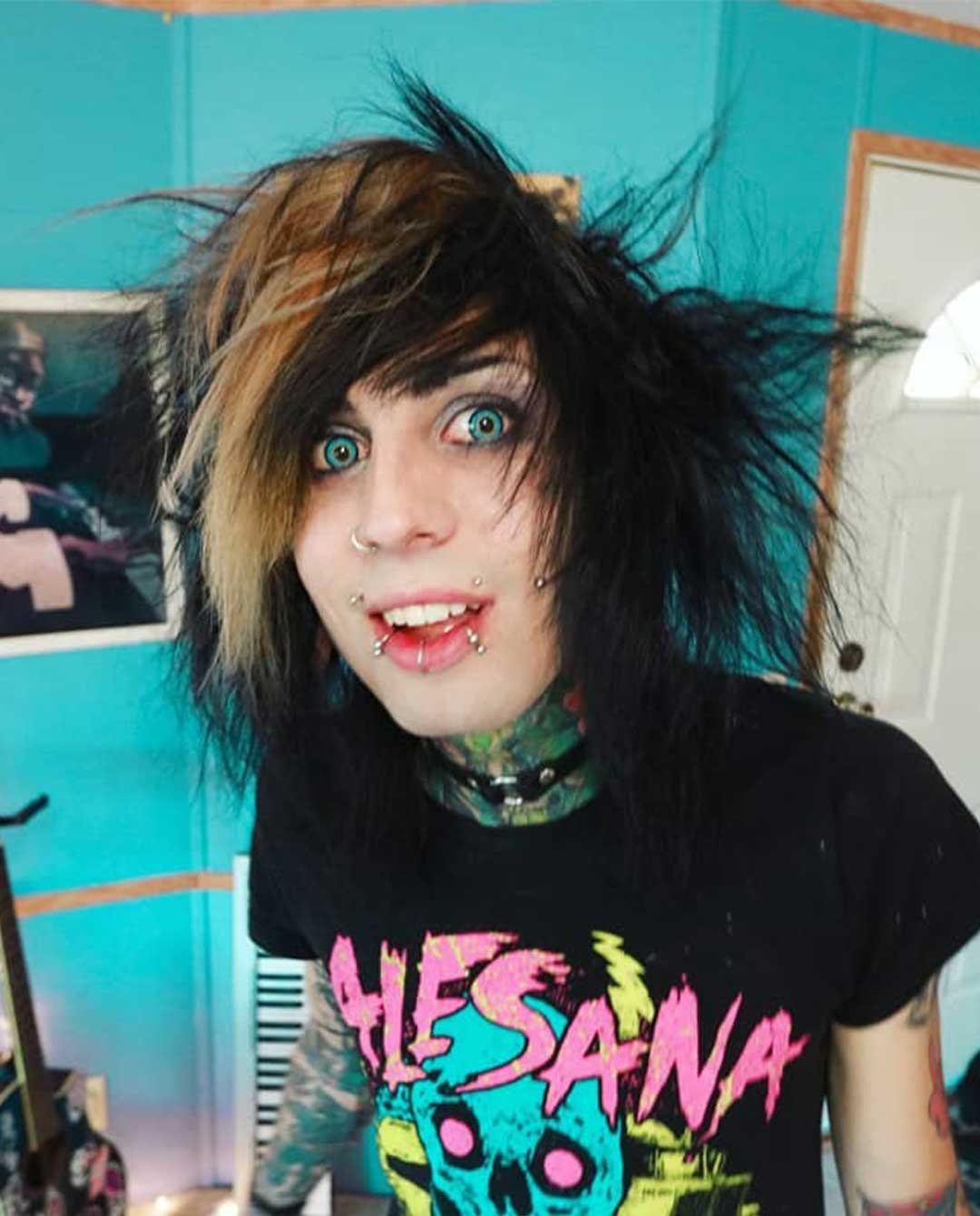 Side-Sweeping Bangs
Side-sweeping bangs are one of the most popular choices for an emo hairstyle. Swipe medium-length hair towards the front with a brush, or ask a barber to split your bangs near the temple. The longer the bangs, the more they will cascade over your face.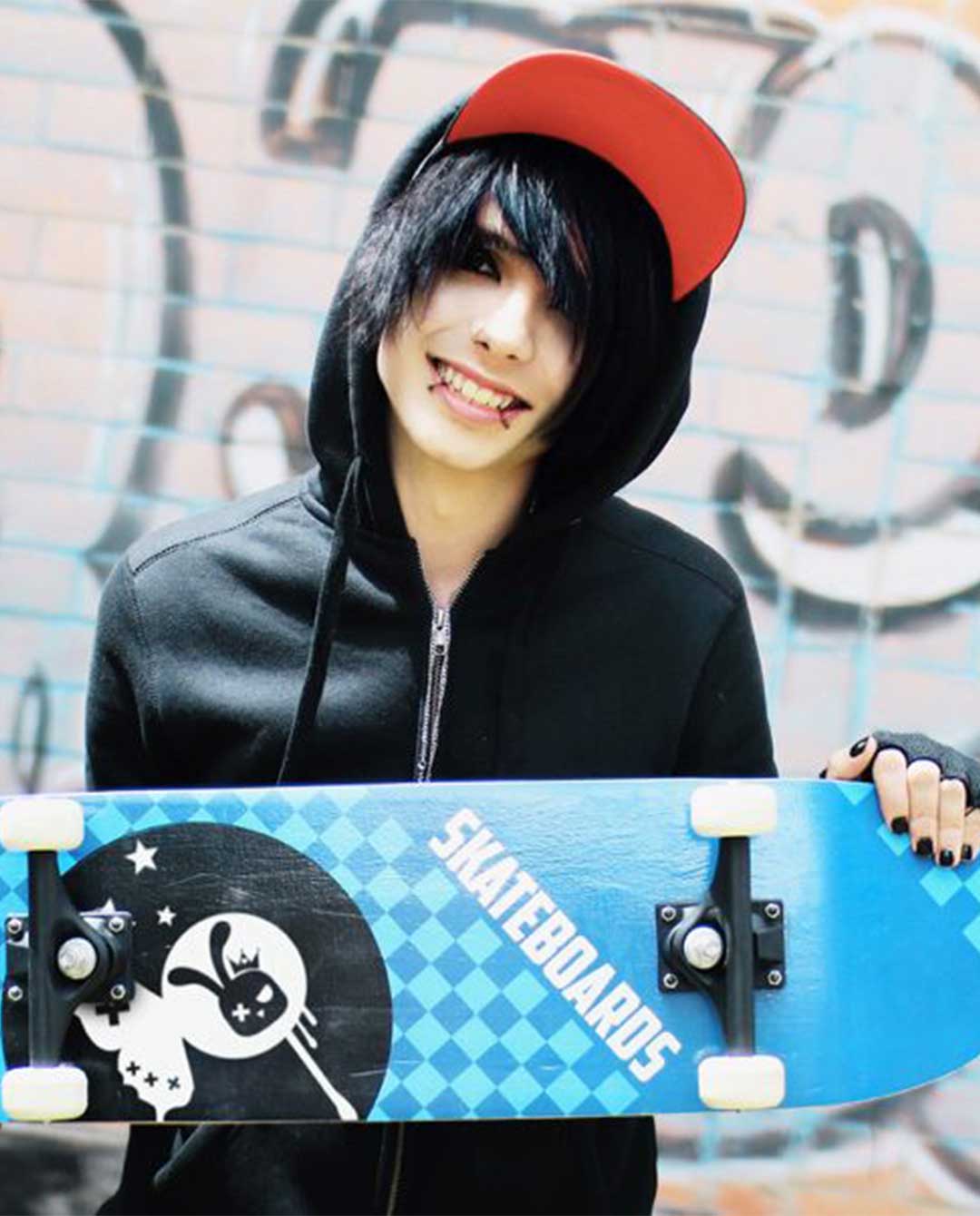 Long Messy Emo Hairstyle
Here's a more modern take on the emo style. Like other cuts, it requires longer tresses to get right. But instead of putting all that hair through a straightener, let your natural texture shine through! Infuse your hair with volume, and you have an easy emo look.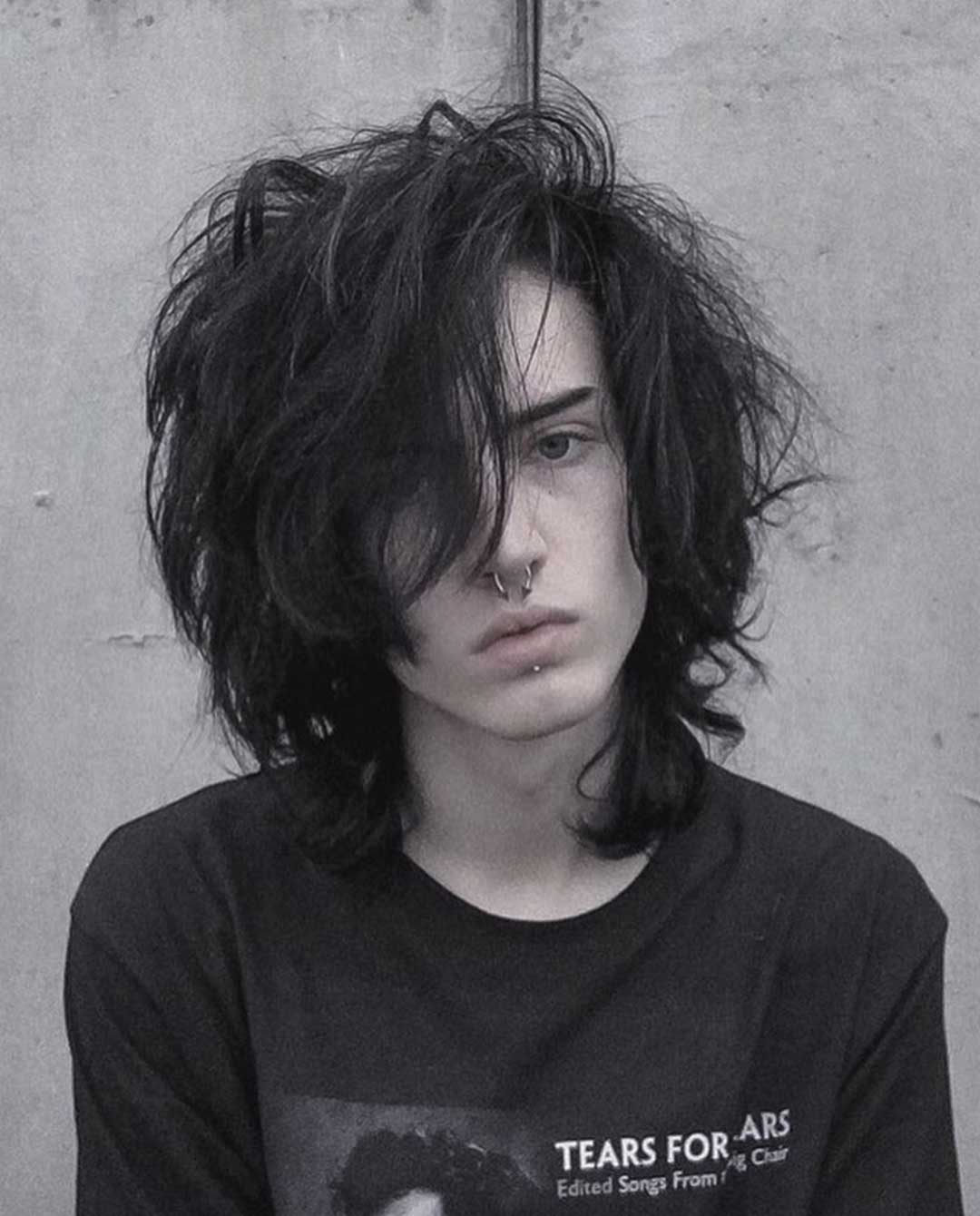 Fine Wispy Emo Hairstyle
Tap into some beach vibes, especially with fine wispy hair. Its medium-length settles around the ears but remains unkempt and frizzy with texturizing spray. Your friends won't be able to tell whether you grabbed inspiration from an everyday surfer or My Chemical Romance singer Gerard Way.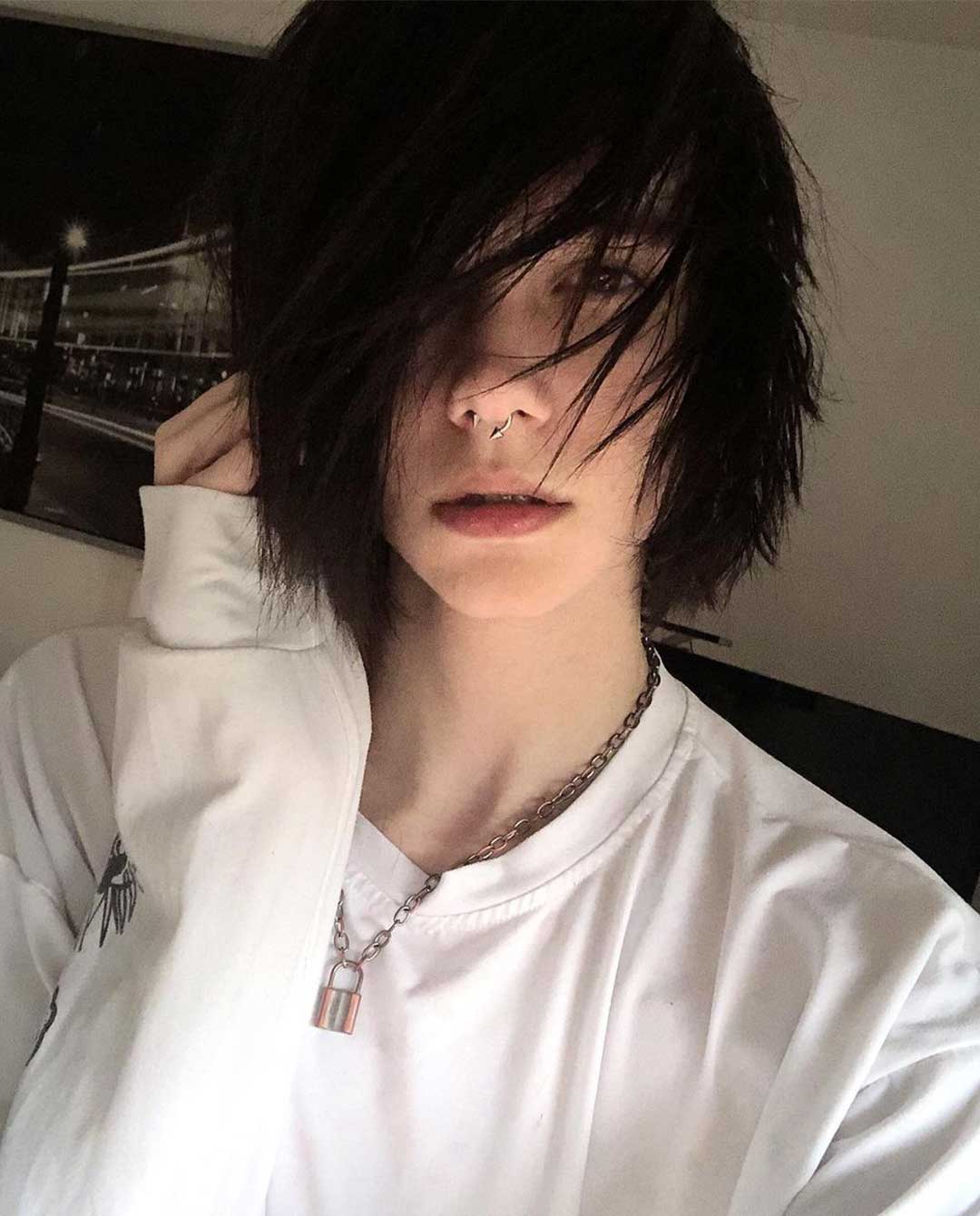 Long Straight Emo Hairstyle
A favorite for rock groups, this one keeps things simple. While it doesn't have all the uneven shapes and rough texture as other styles, it's unmistakably emo! Part your hair in the middle and run everything through a straightener. With a headband in tow, you can keep your locks out of your face.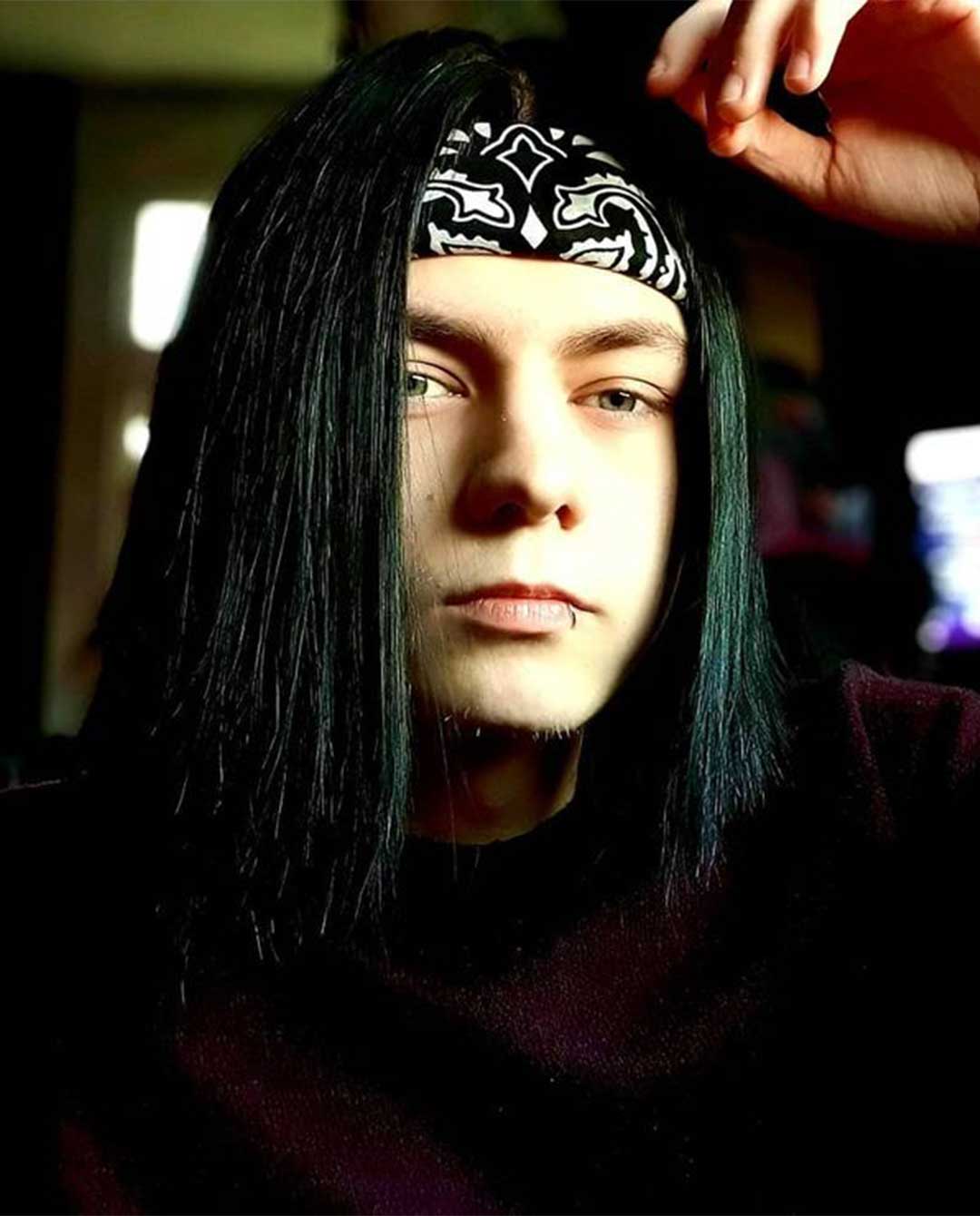 Rainbow Emo Hairstyle
You don't have to rely on the color black to look emo. Emo hairstyles like this embrace fun and vibrant colors! It takes ordinary cuts to the next level! The cut itself is simple, featuring long angular cuts and texture. But, large swathes of pink and blue create some cool contrast that stands out.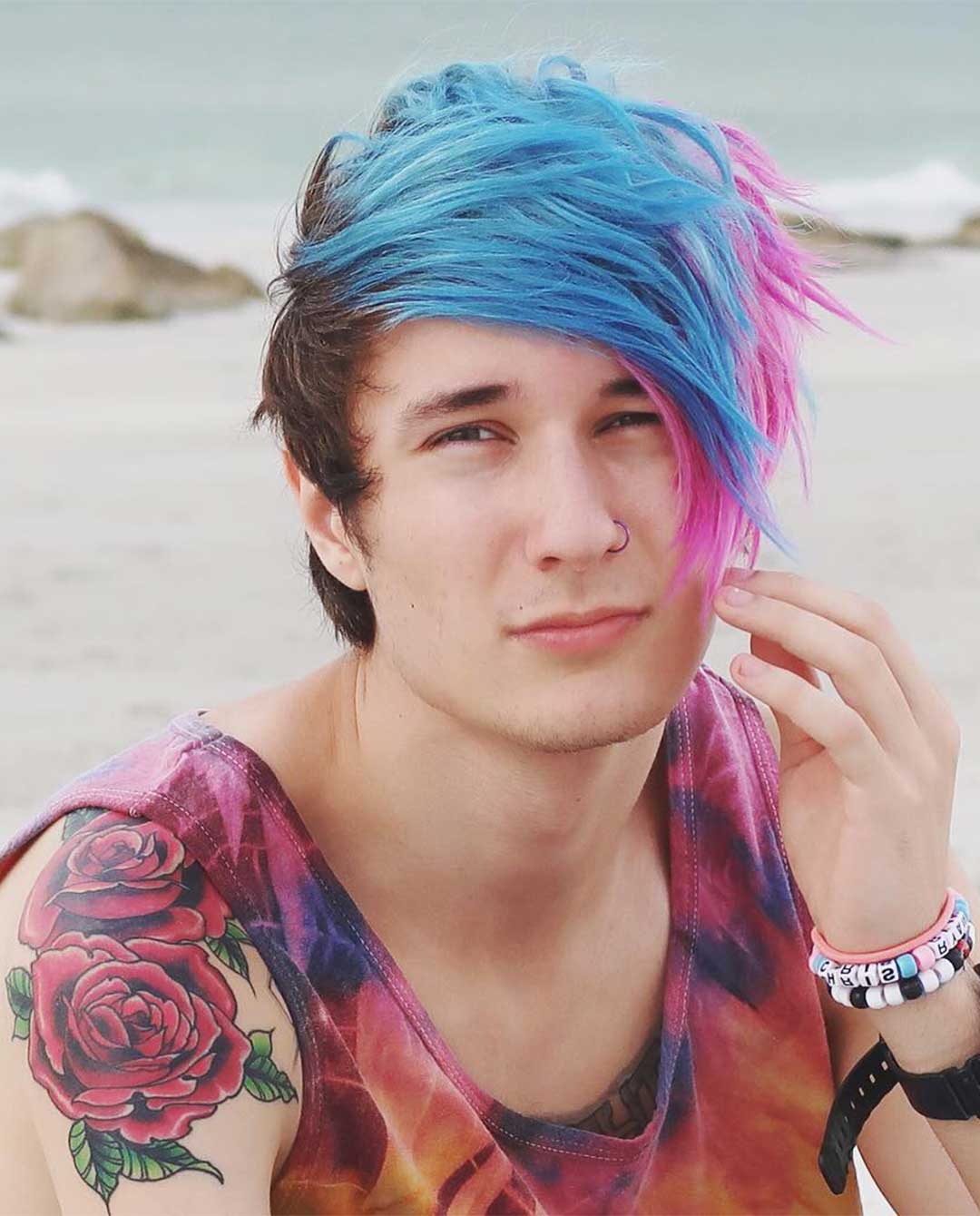 Short Faux Hawk
Here's one of the few short emo hairstyles available. Perfect for guys who have a hard time growing hair long; you don't need a ton of hair to pull it off! Keep the sides and back buzzed short. Spike the remaining hair on top to the heavens, and you have a fauxhawk worthy of any emo rock show!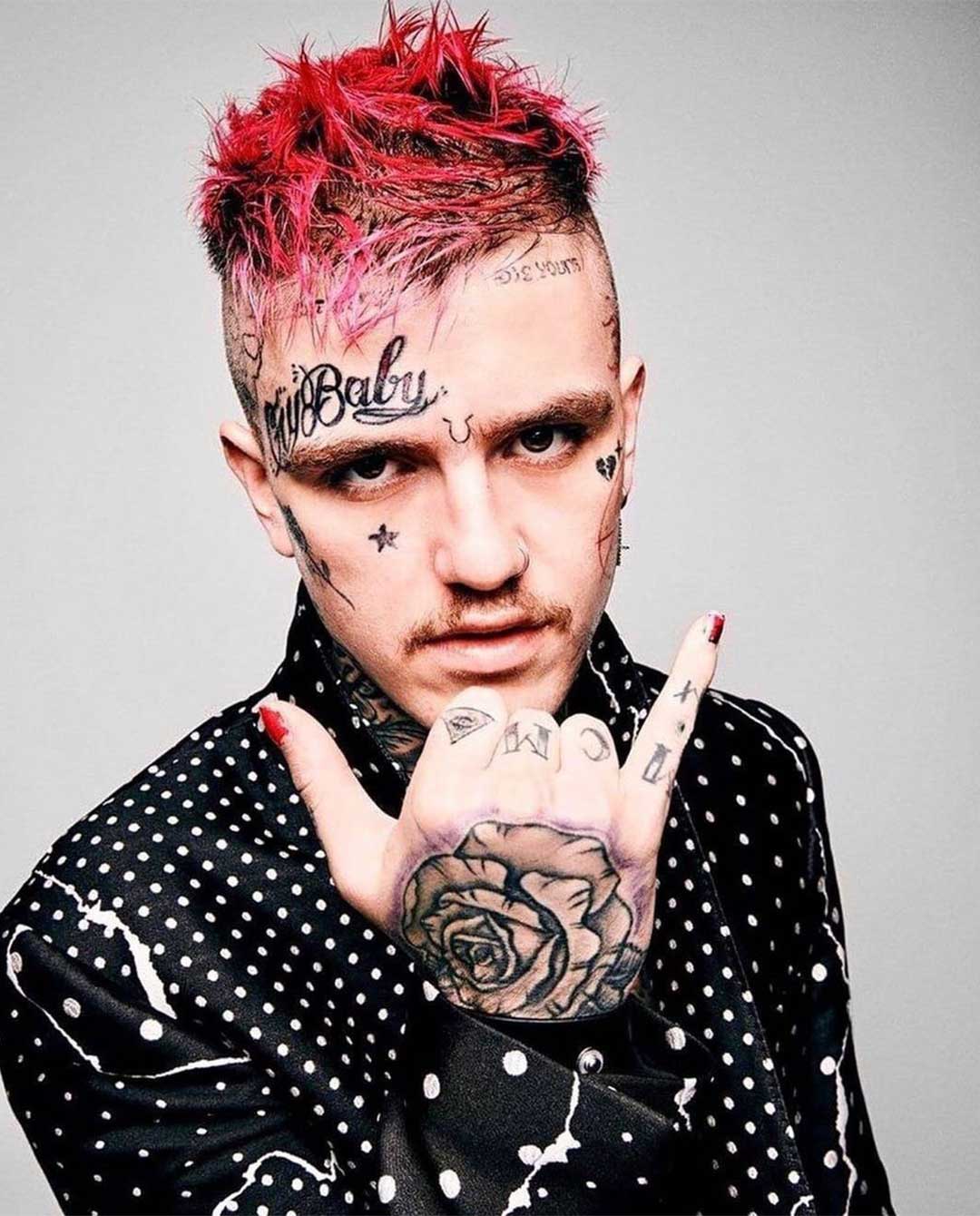 Shoulder Length Emo Hairstyle
Patience is crucial for getting this style. It requires shoulder-length hair. Luckily, it's pretty easy-going once you get to that point. The cut details are subtle. Angular fringe and some light texture are all you need. Once those elements are done, it's all about keeping the hair straight and well-maintained.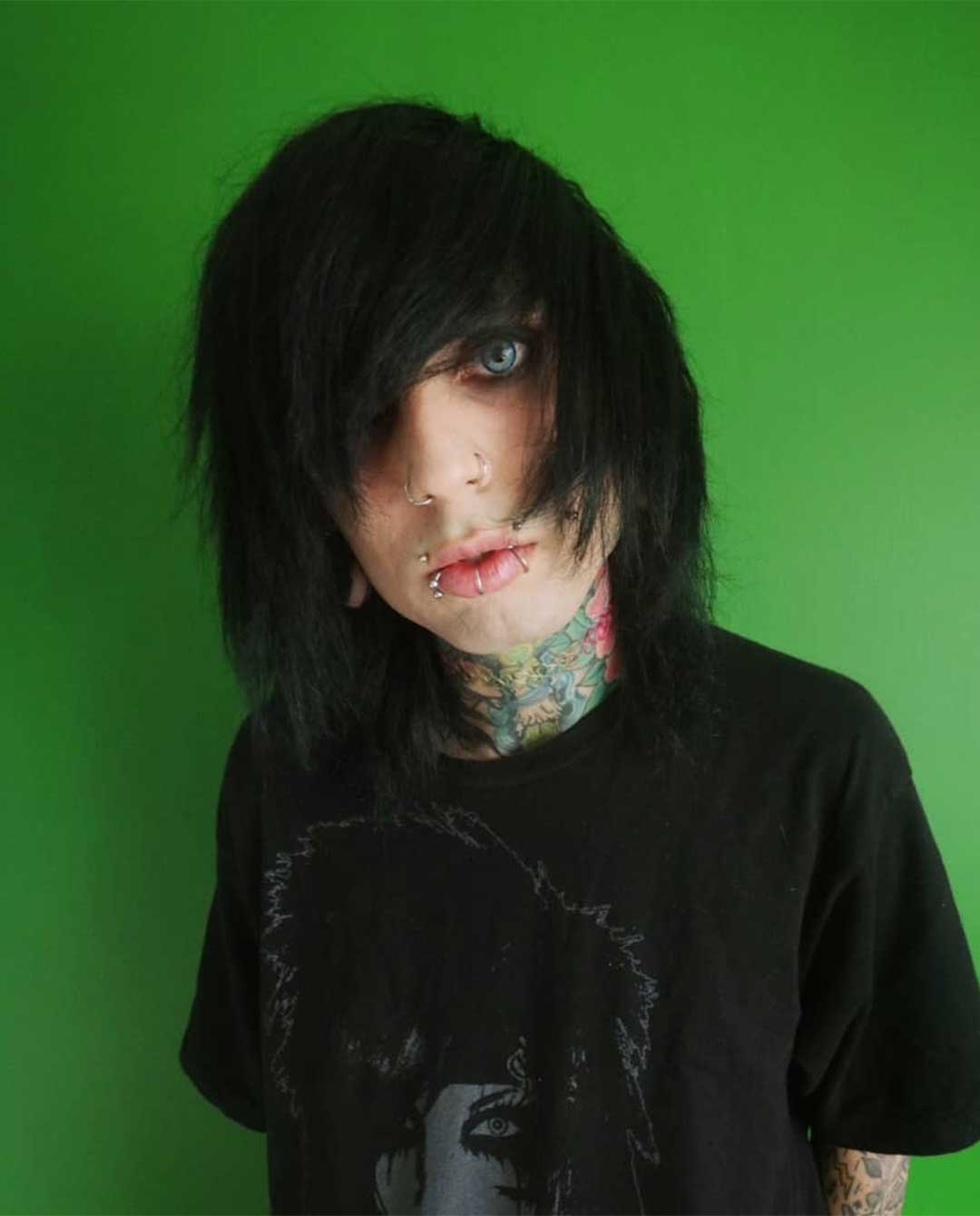 Spiky Shag Haircut
Fun and on-trend, here's a cut that can suit just about any guy. It manages to marry the edgy texture of punk spikes with the free-flowing locks of traditional emo. That juxtaposition creates a cool cut that's worth the work! Keep things straight and swoop everything to one side. Then, style larger pieces on the top layer to get those spikes.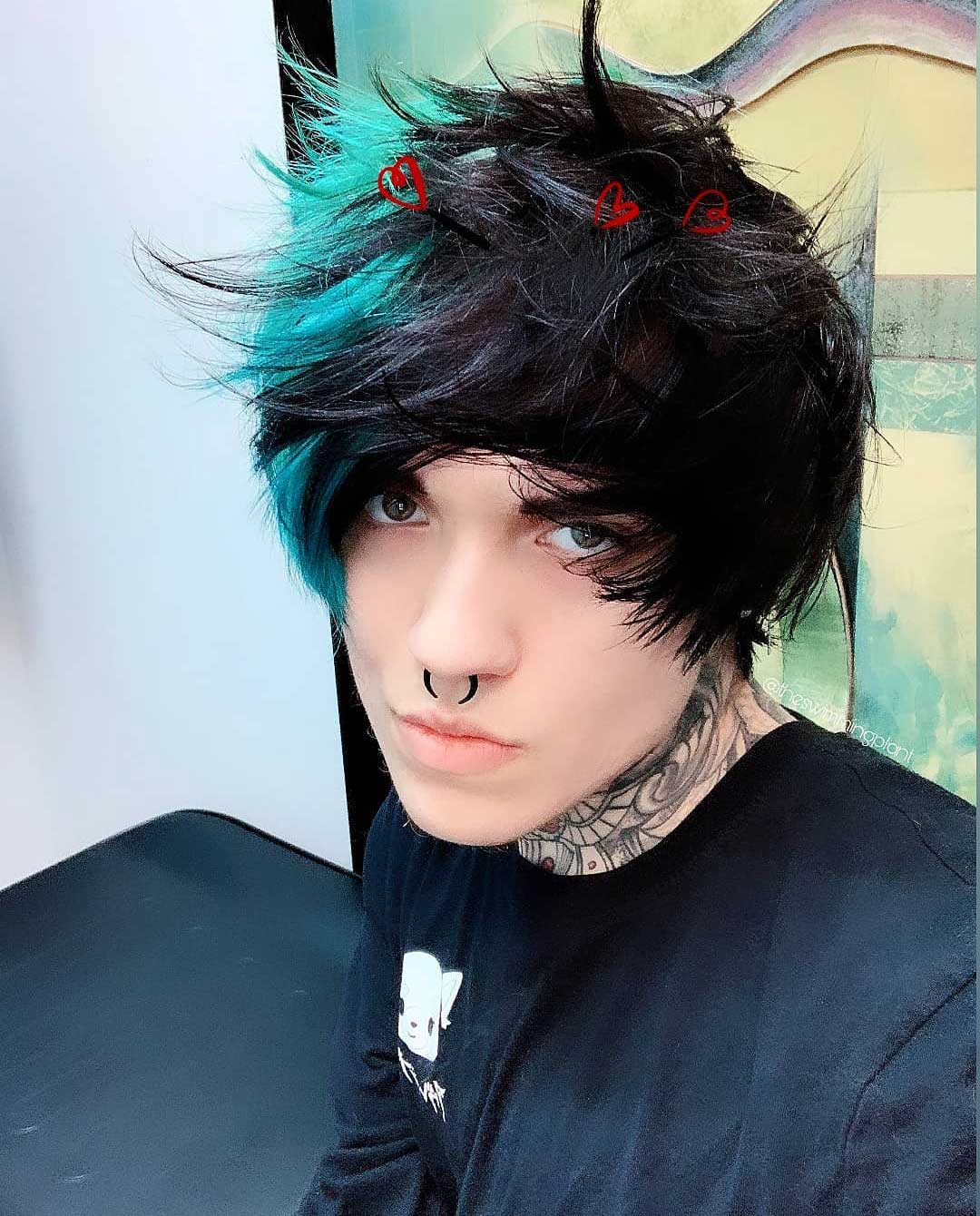 Full Covered Face
Become an enigma! Coifed and styled to perfection, here's a hairstyle that requires some major dedication. Not only is it long, but it needs regular straightening and maintenance to look clean. For a finishing touch, get a complex dye job to infuse some subtle color. It makes all the difference!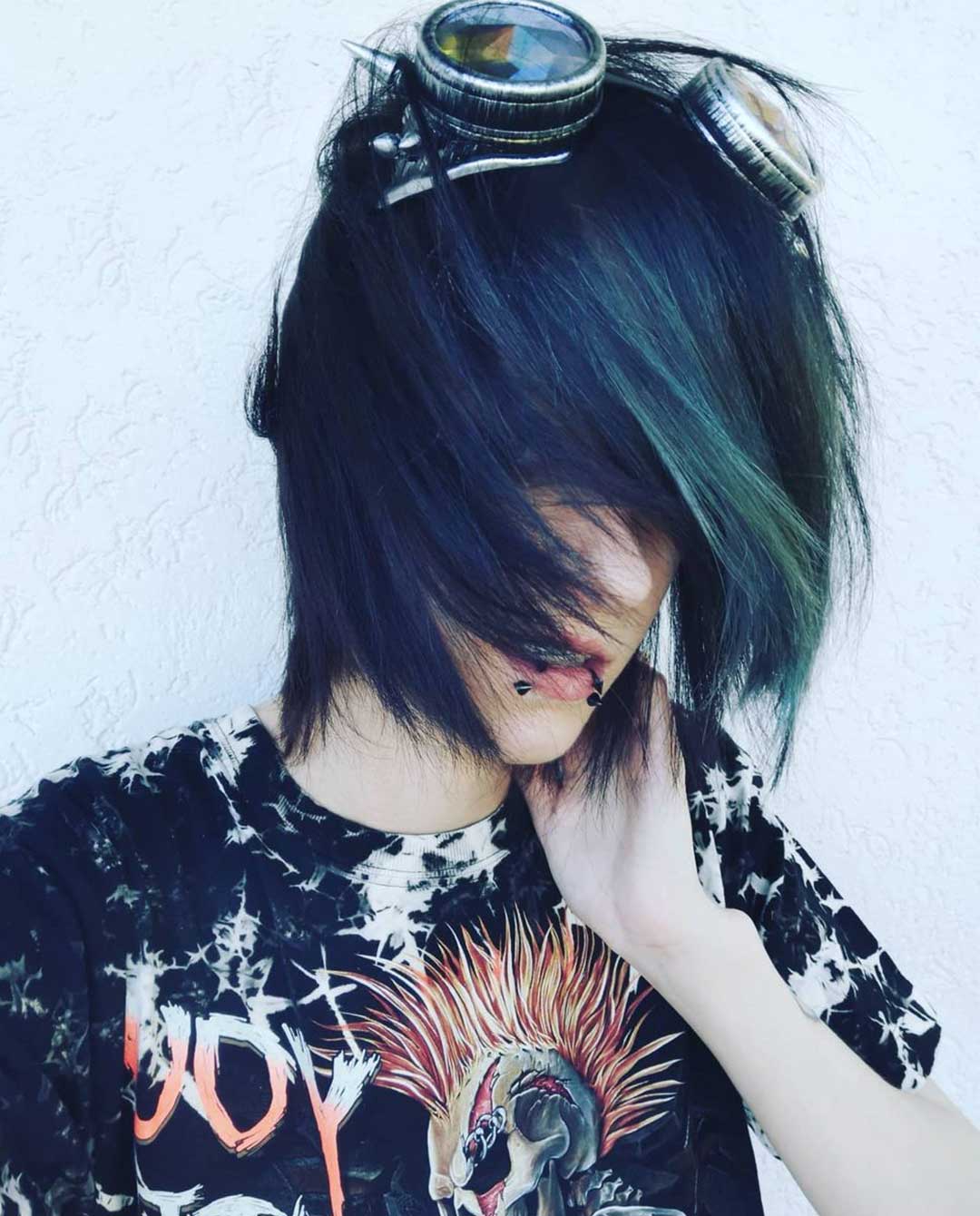 Long Side Swept Hair
There's no ounce of subtlety here! With this emo hairstyle, exaggerated bangs are the name of the game. Swish as much hair as possible towards the side to create a long curtain-style fringe. Cut the rest of your dome a bit shorter to sculpt the shape you're after.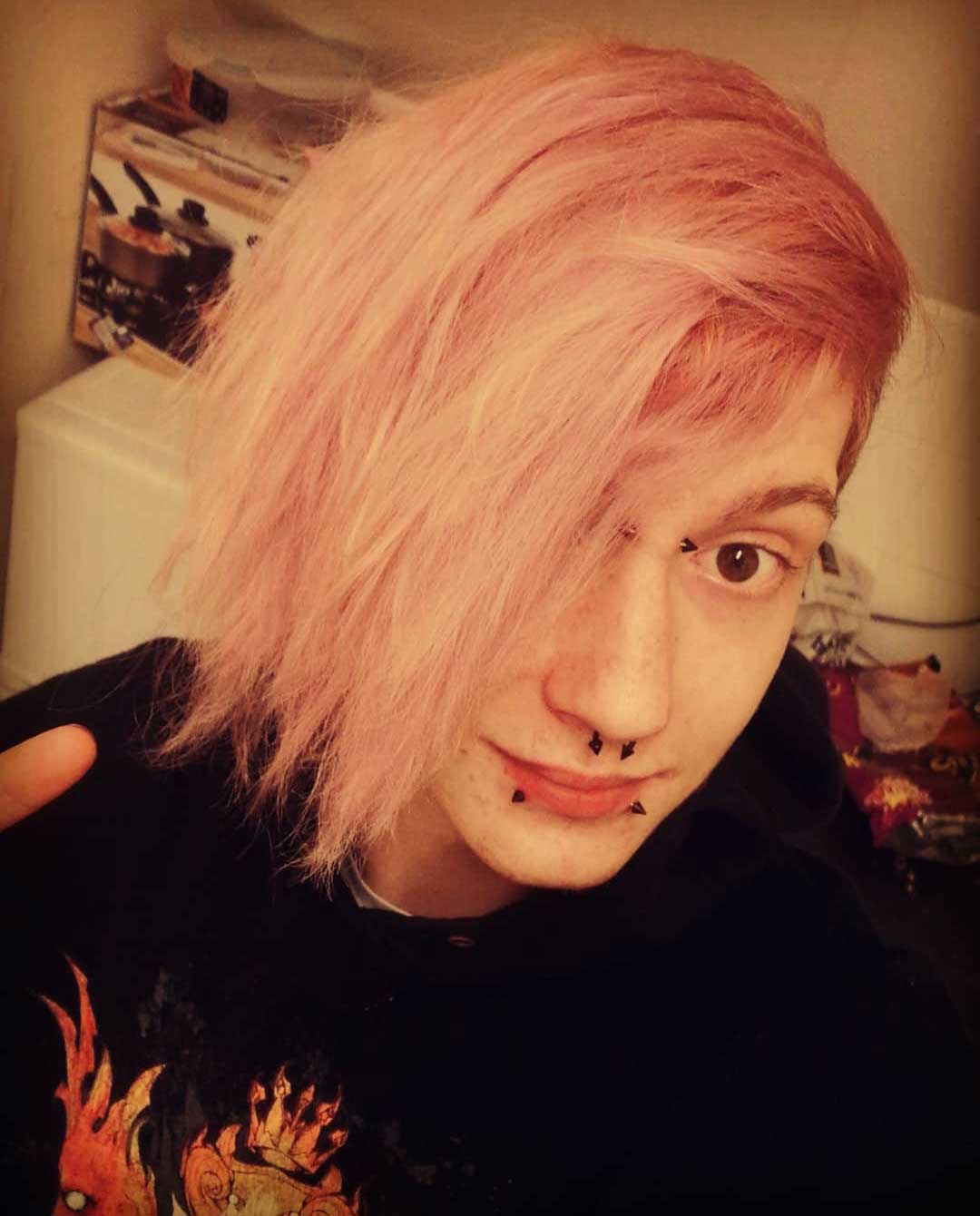 Wings Haircut
The best part of this hairstyle is the texture and natural movement you get. Have your stylist infuse layers into your locks. With the right shape, you can push everything forward to get a traditional emo look. The hair on the side creates distinct "wings," which provide an air of mystery.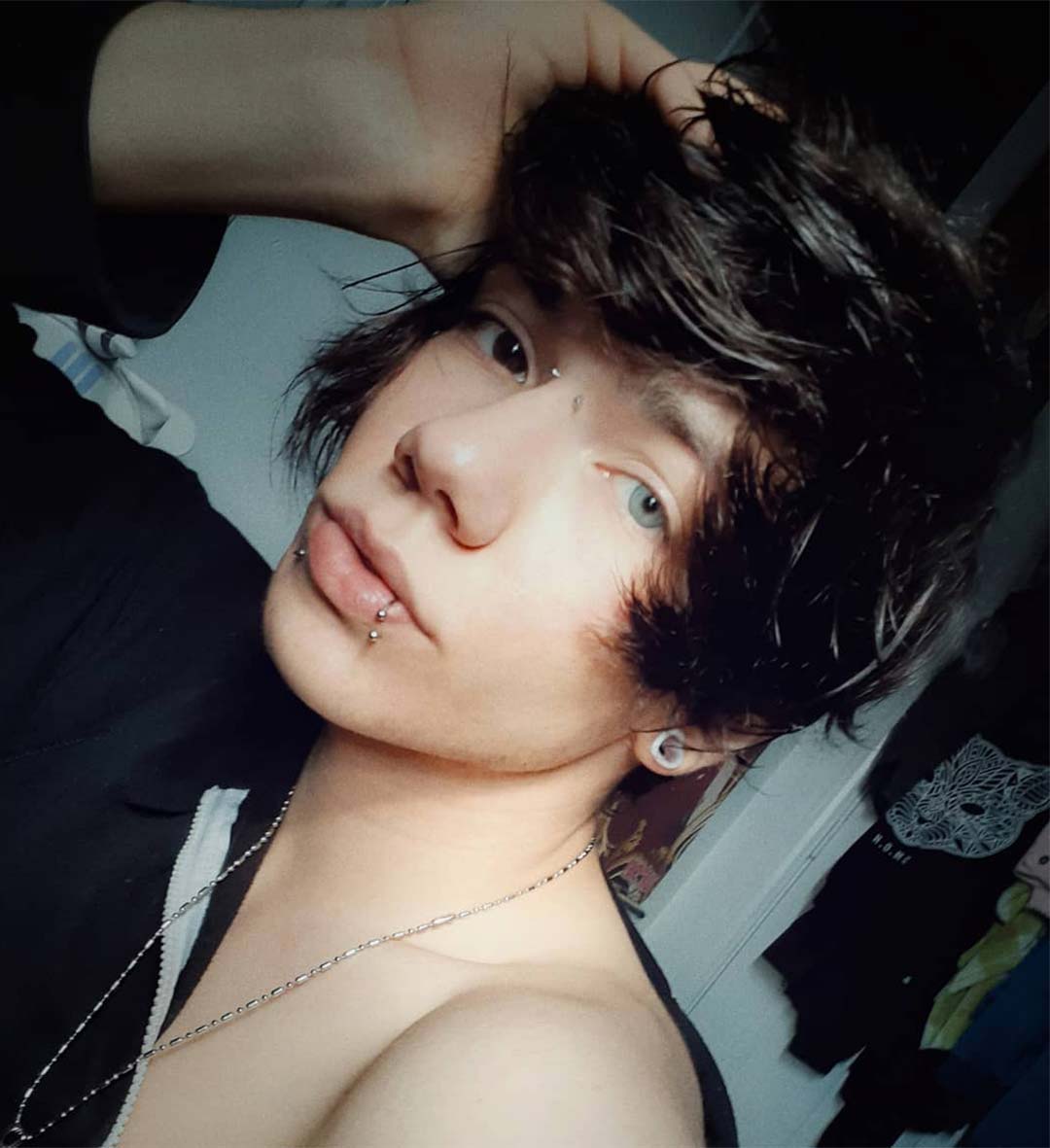 Two-Block Curtains
Another curtain-style cut, you can keep your hair out of your eyes with this cut! The key difference here, however, is the two-tone color. Part your hair in the middle and dye both sides separately. Keep one muted black and choose a more vibrant red for the other.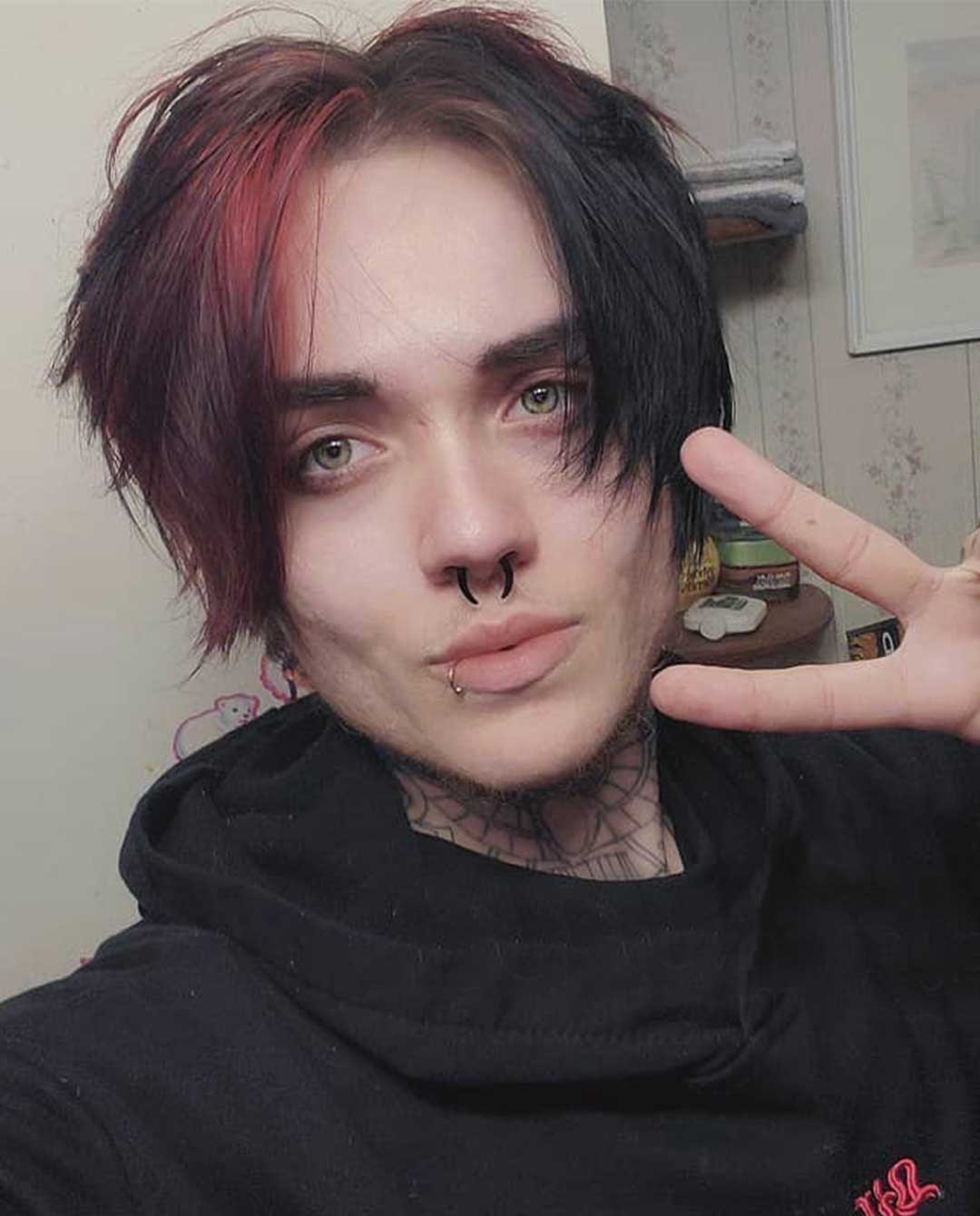 Undercut with Long Fringe
Take modern style to an emo extreme! This emo hairstyle uses an undercut. Your barber should keep the sides and back buzzed close to the skin while leaving the top free to grow. But instead of the modest faux hawk that most guys carry, let the hair on the dome grow super long! With some proper styling, you'll have sleek fringe and clean-cut sides that let your facial features stand out.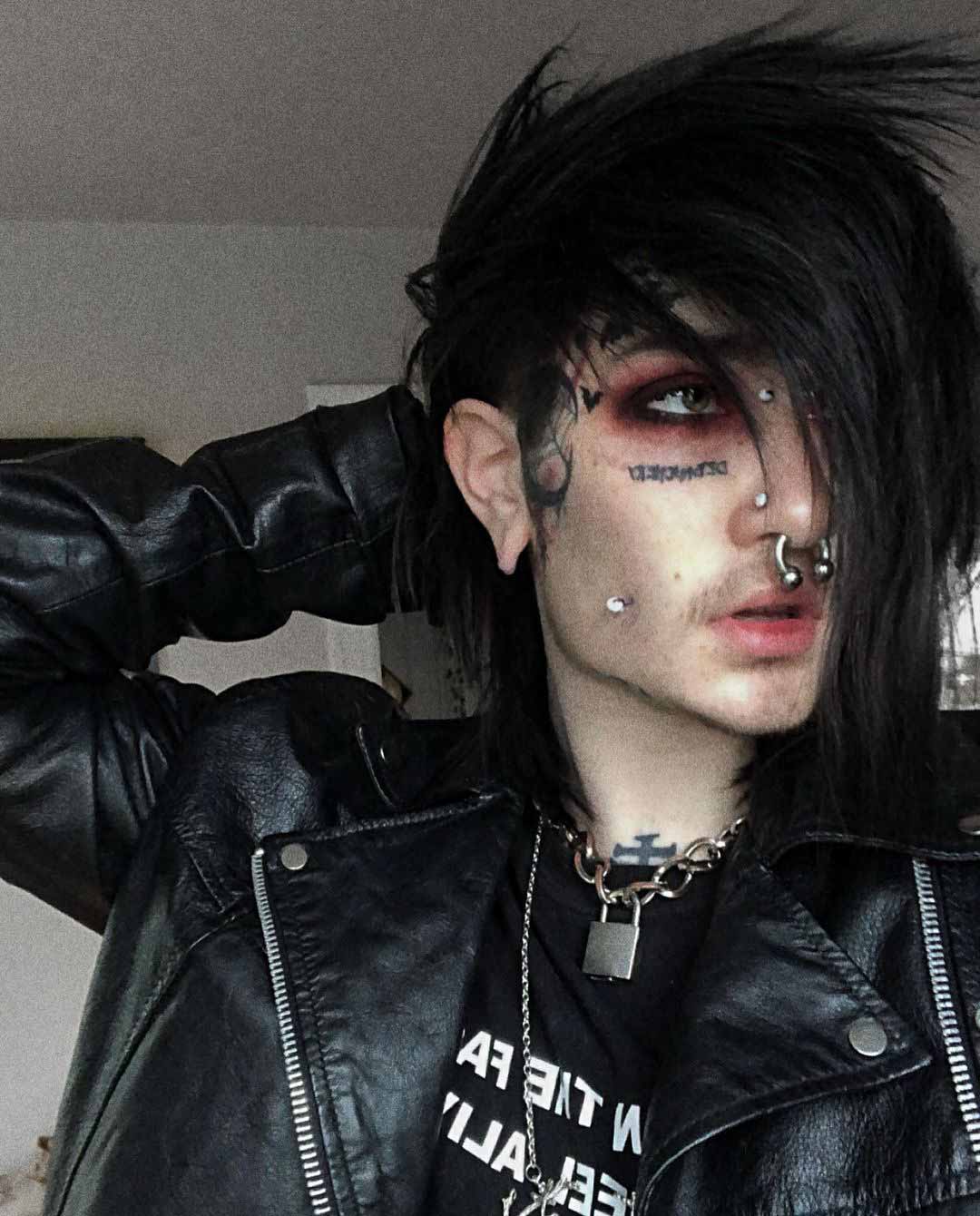 Wavy Shag Emo Hairstyle
A shag-style cut with tons of texture, this cut doesn't require constant straightening. It works for guys with any kind of hair. From curly to wavy, it's all in the cut! Allow the bangs to get a bit long and push them to the side for classic emo appeal.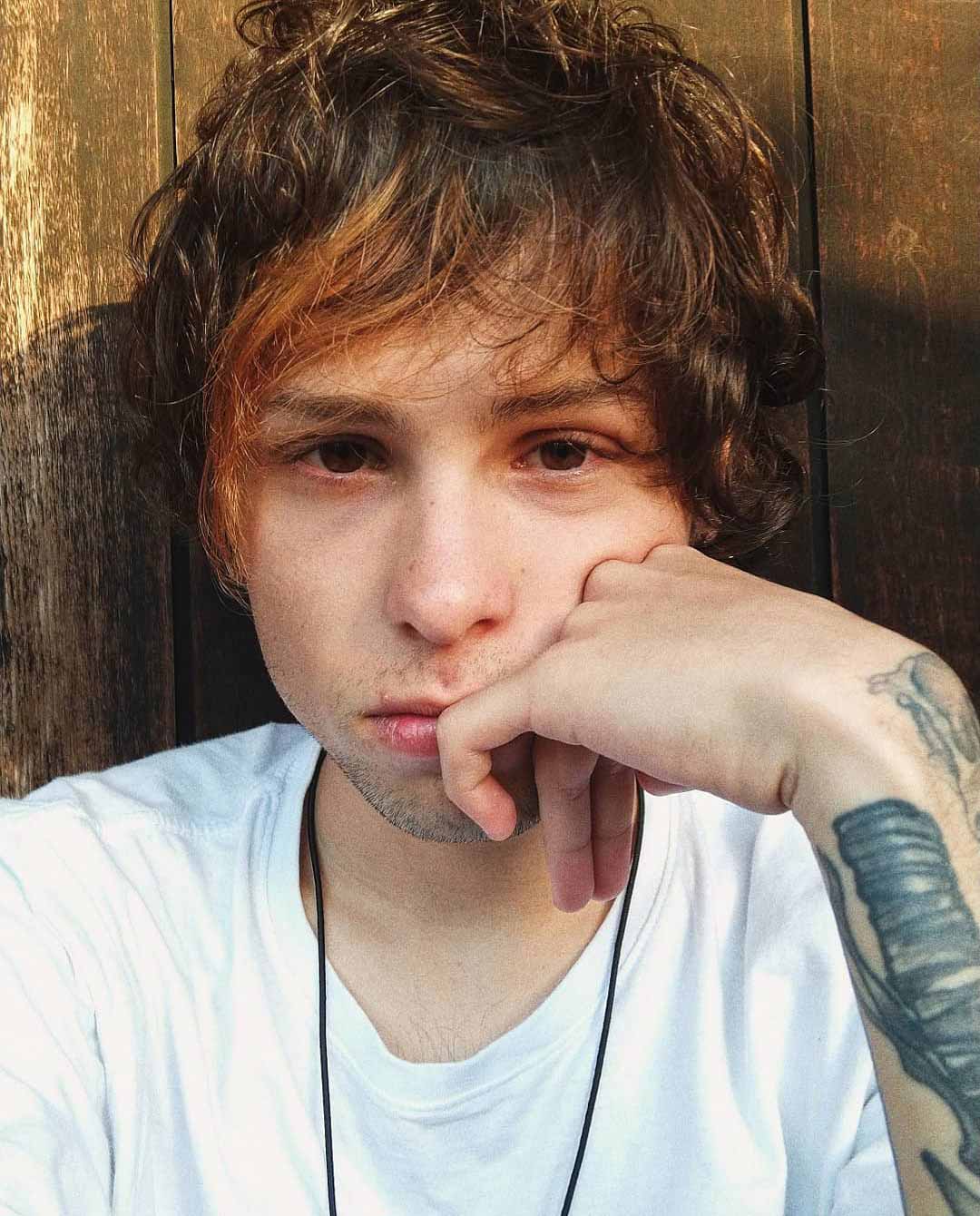 Emo Swoop
For traditional hairdressing, this style is an old-fashioned side swept. But for those wanting to stand up against conventional appearances, this same style upgrades into an emo swoop. Mid-length hair brushes to the front for an intriguing peek-a-boo effect.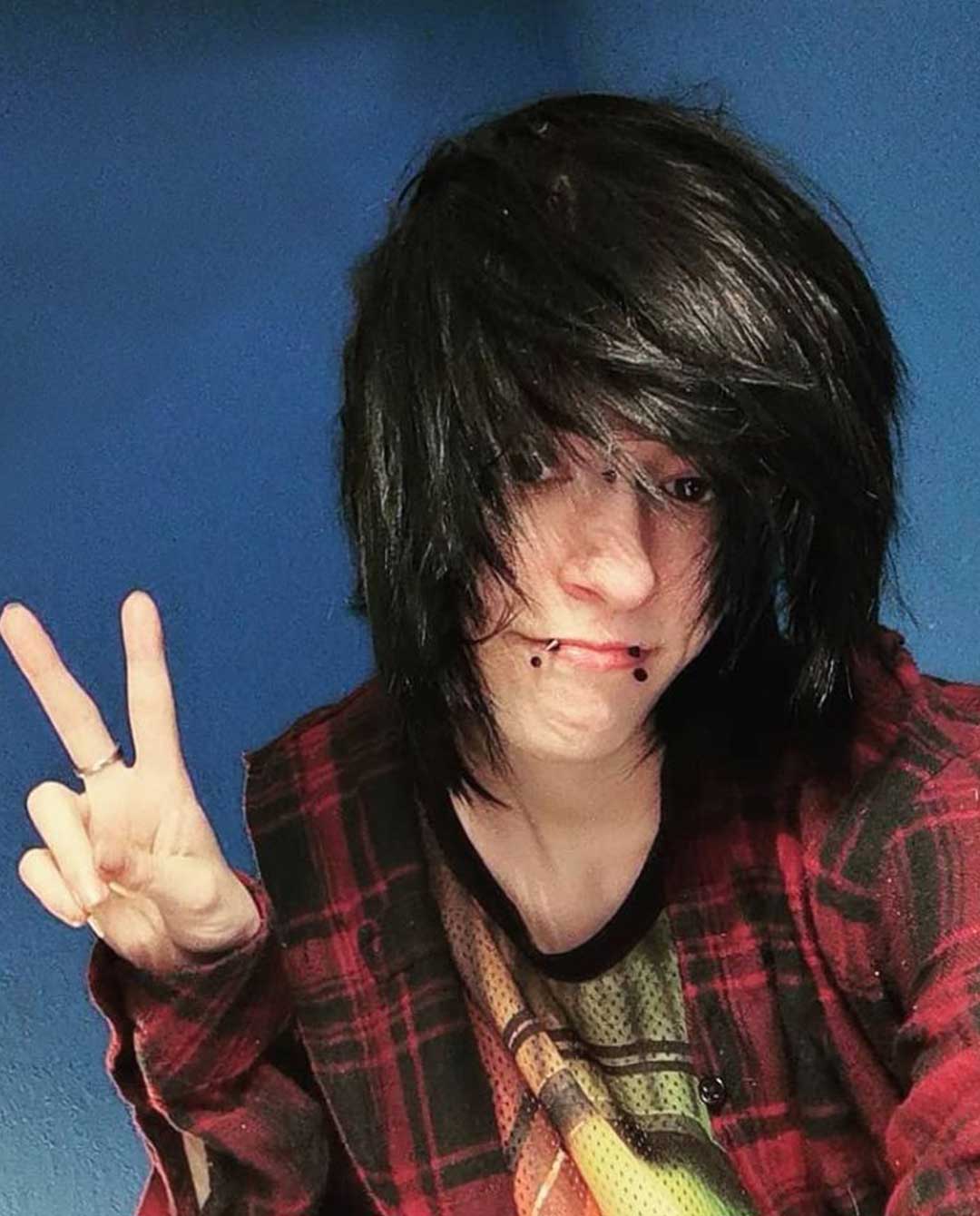 Long Black Emo Hairstyle
Long black emo hairstyles are a shoo-in for expressing yourself in gothic or punk subculture. It's also a viable solution if you have thinner hair. Grow it out until it reaches your shoulders. If you want more volume, ask your stylist for a slight trim with layers. Then, sweep it to the front.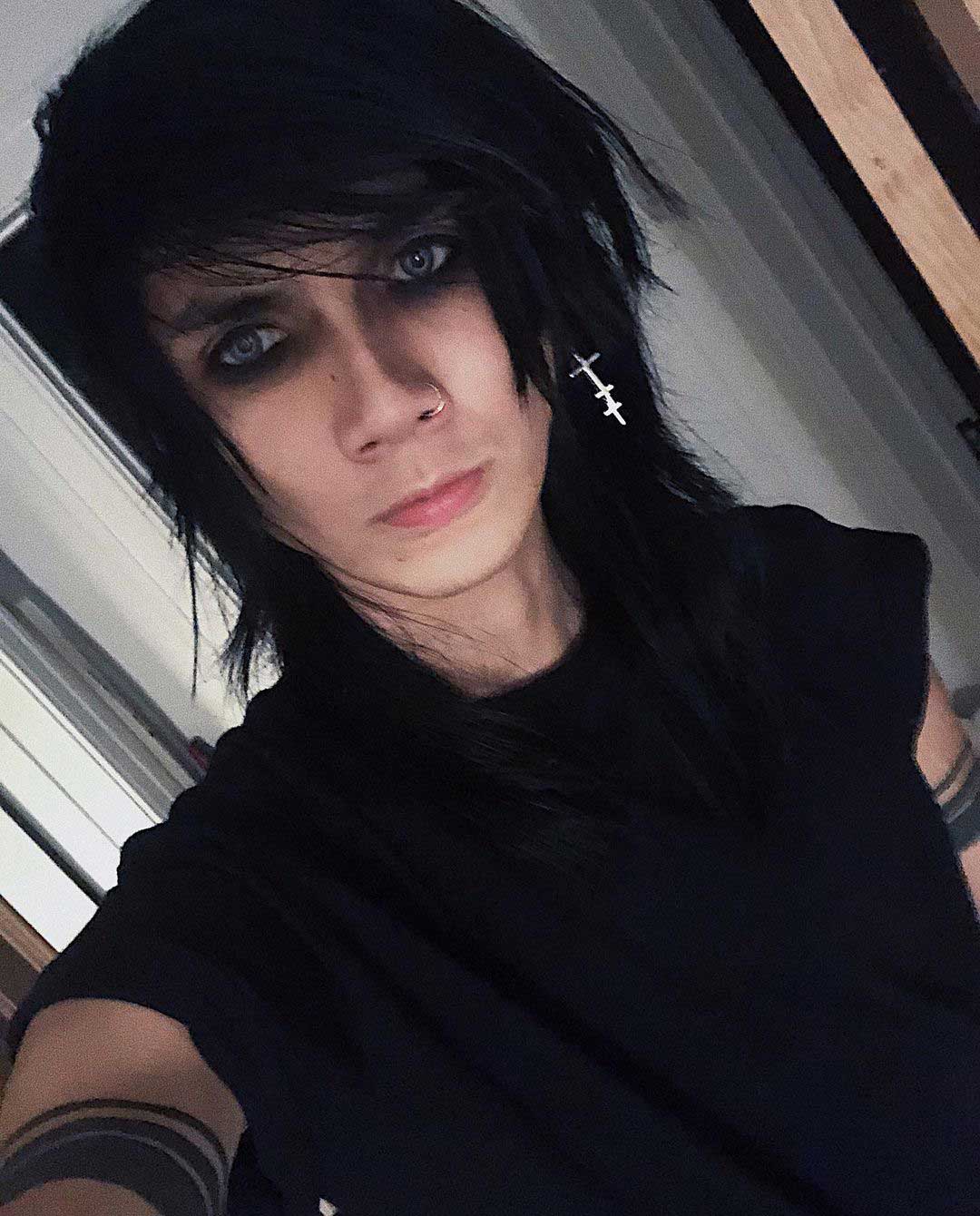 Pink Punk Hair
Shaggy hair will automatically help you blend in with the emo scene. But if you want to create an unforgettable impression, dye your shoulder-length mop top with a color nobody will see coming. Nothing says you don't care about what other people think, like pink punk hair.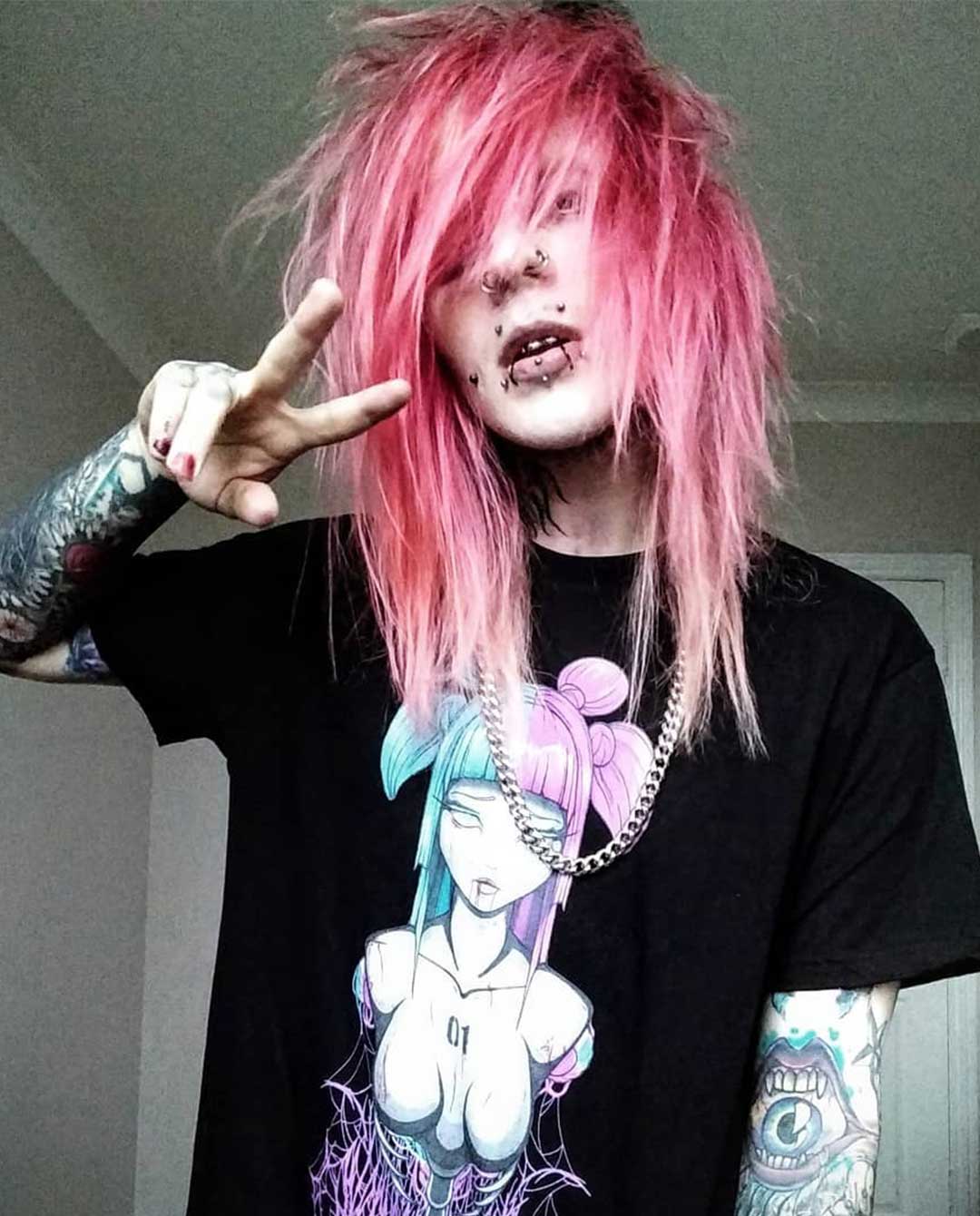 Short-To-Long Emo Hairstyle
The unique short-to-long emo hairstyles transform elements of other shaggy hairdos to invent something new. The curtains hairstyle subtly falls into bangs around the face. As the hair lengthens, similar to a mullet, it gradates into multiple colors from brown to red and light pink.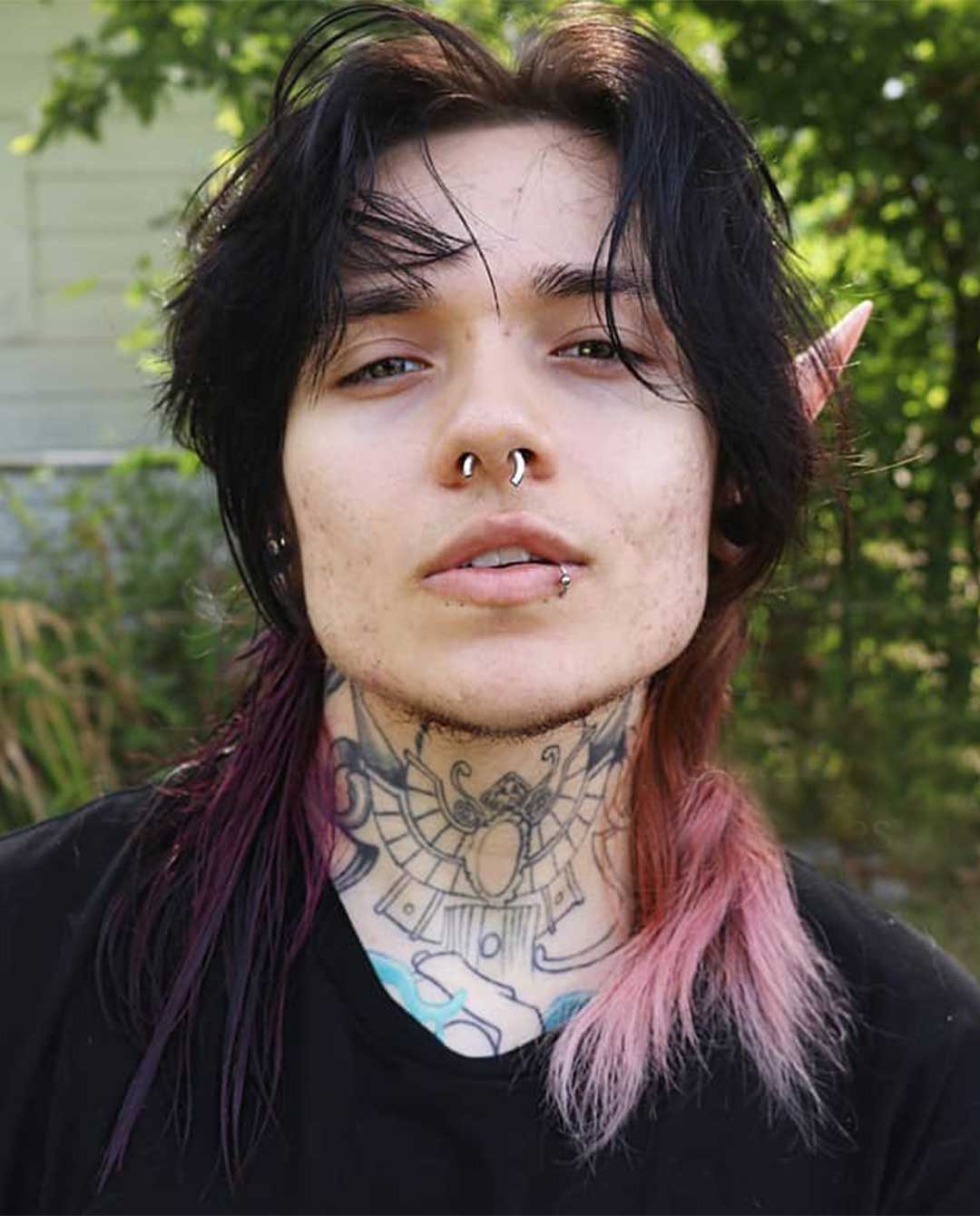 Dramatic Bob
A dramatic bob can be just as daring as any other emo hairstyle. Your barber cuts both sides of the hair at an angle from the front to the back. To make the style truly pop, dye it ginger and create a side part by swooshing your hair from one side to the other.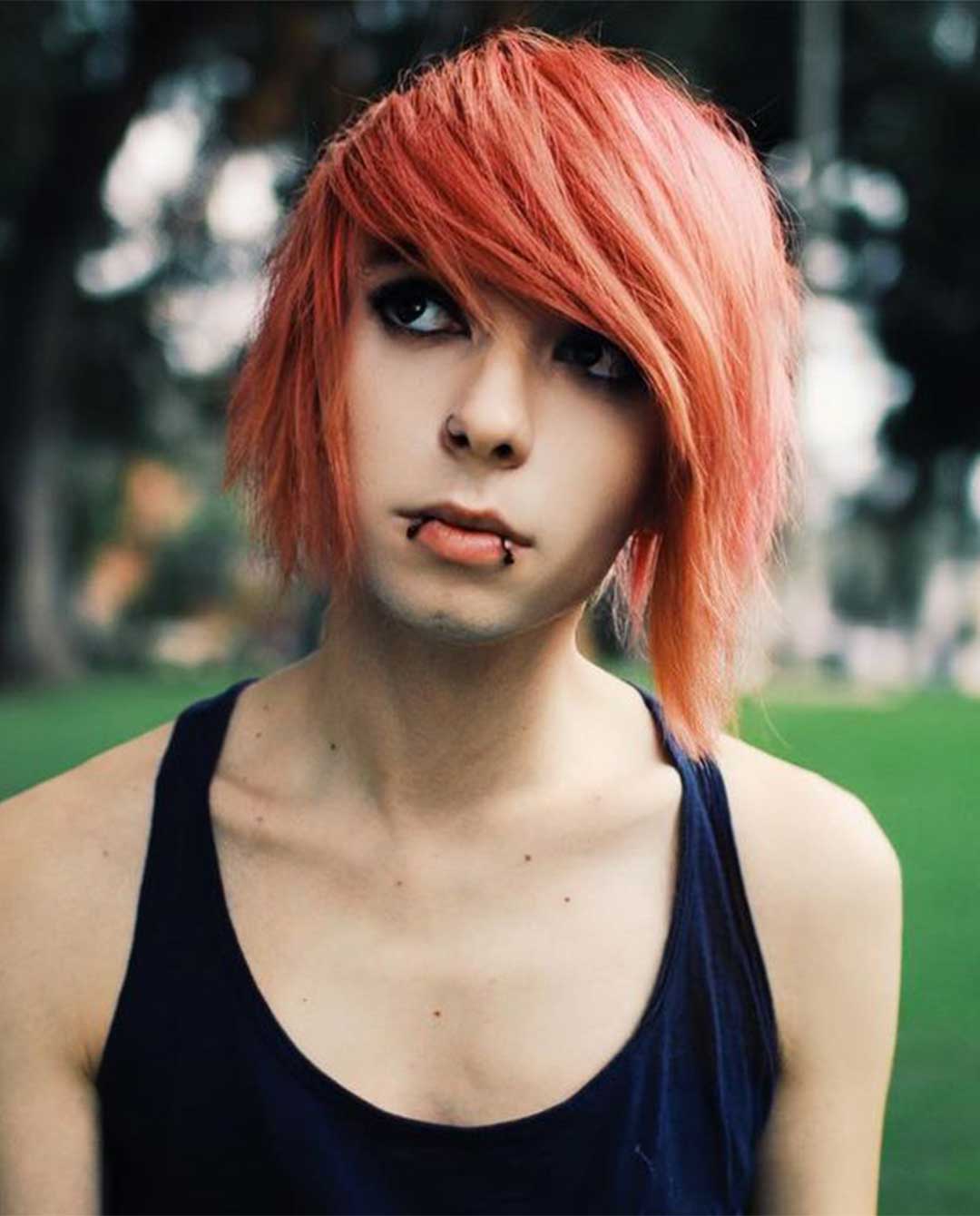 Asymmetrical Bangs
Look carefully, or you could miss how this compelling sister look includes three types of asymmetrical bangs. The most obvious is brushing from left to right for a rounded texture. But, then the hair also straightens along the sides near the ears and features a single spiked bang above the eyes. Women love this emo hairstyle for the versatility. With enough confidence, men can easily don this hairstyle too.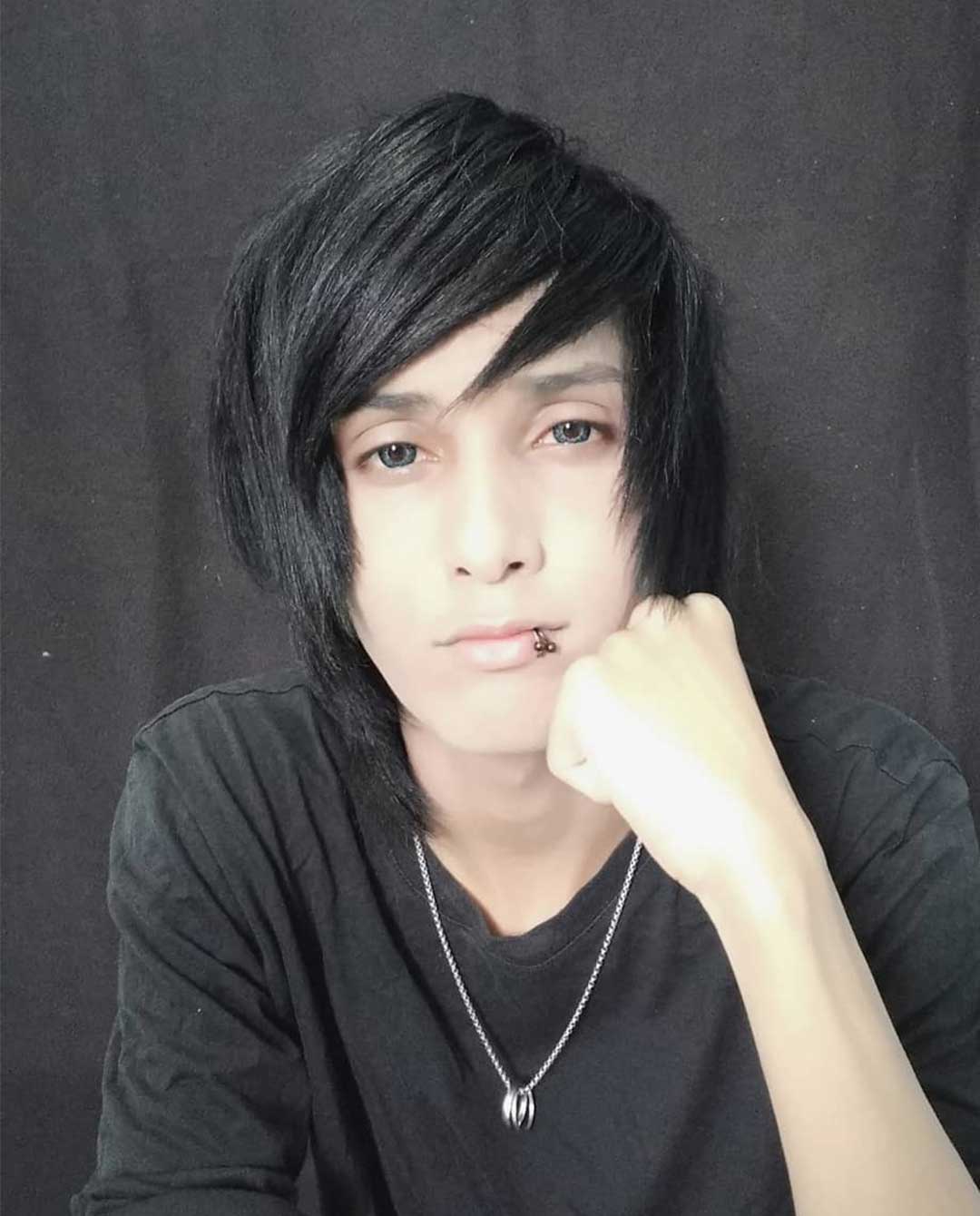 Two-Tone Emo Hairstyle
Check out this dual-dyed look. It's on the messier side and requires very little maintenance to style. Like the previous cut, it's sporting a middle part with two-tone dying. But rather than the smooth texture of the style before, this one has a natural texture and tons of body.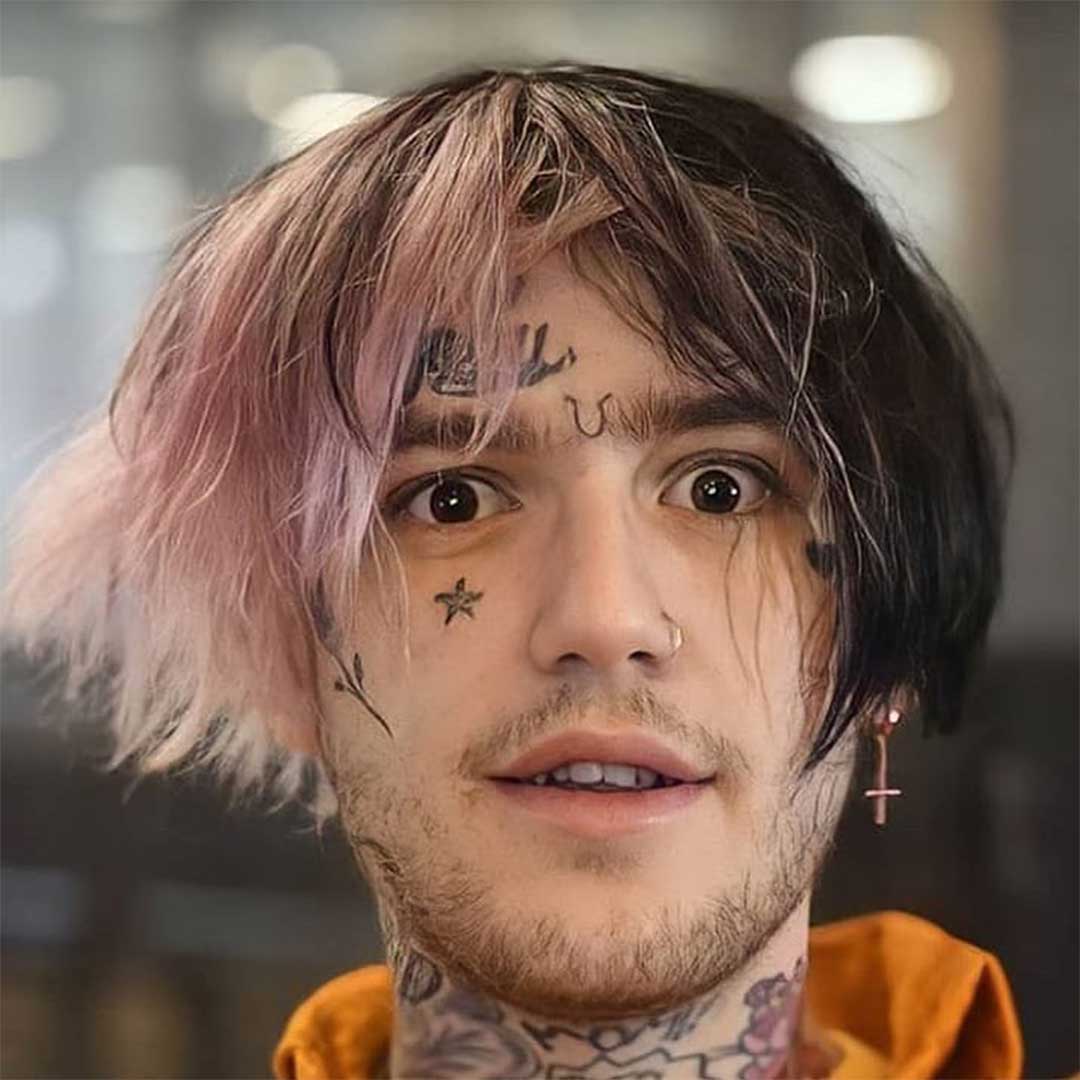 Platinum Blond Dye
Where most men want a polished hairstyle, swashbuckling lets you tousle your hair on purpose. Free-flowing spikes and jagged edges cascade over the crown and down towards the shoulders. Platinum blond dye displays all of the individual strands proudly.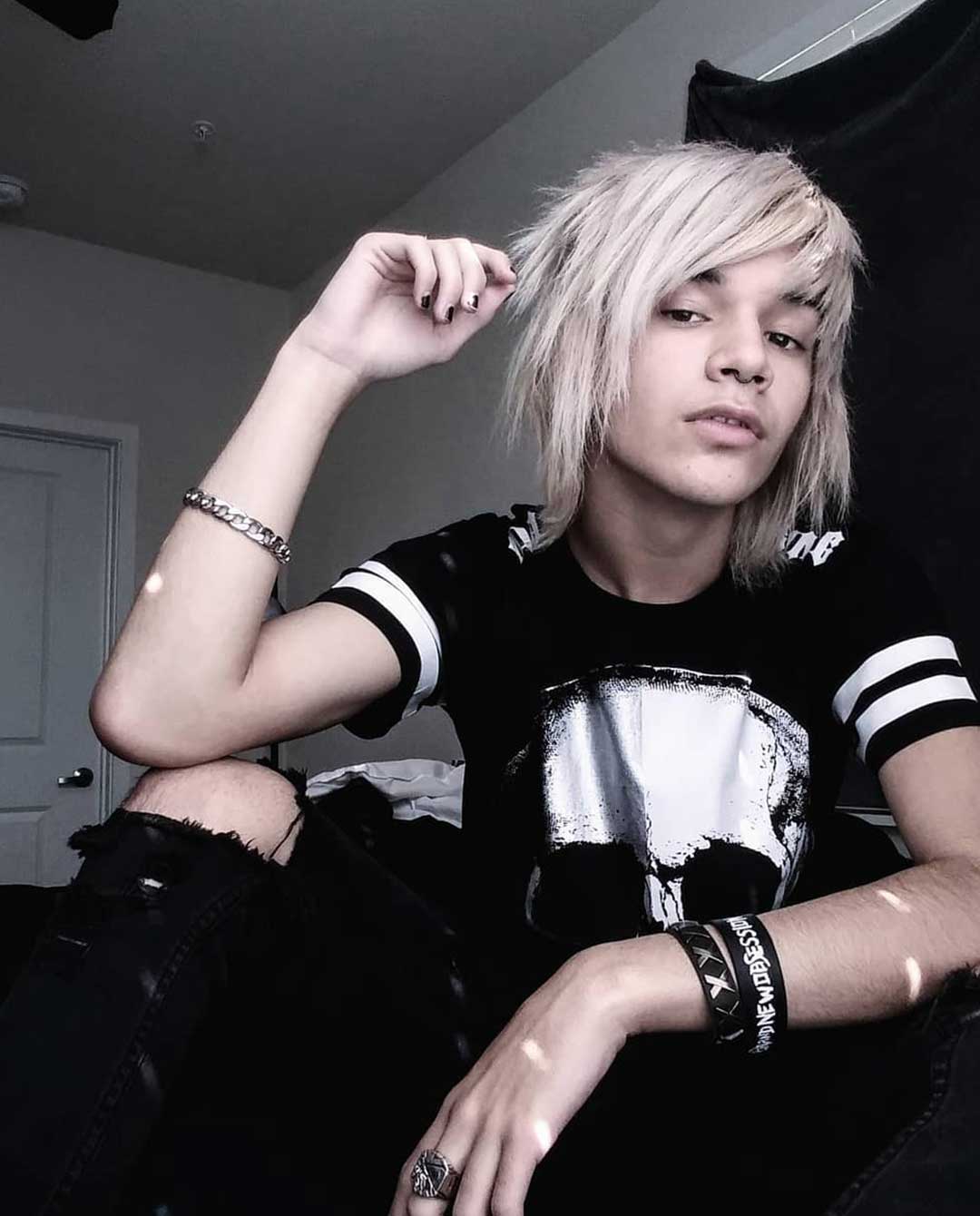 Top Sided Crop
Even if you're emo, sometimes you need a hairstyle that's adaptable for formal and casual occasions. Top sided crop gives you enough length below the ears and to swipe the hair over the face. Pomade adds an extra dose of sophistication to your outfit.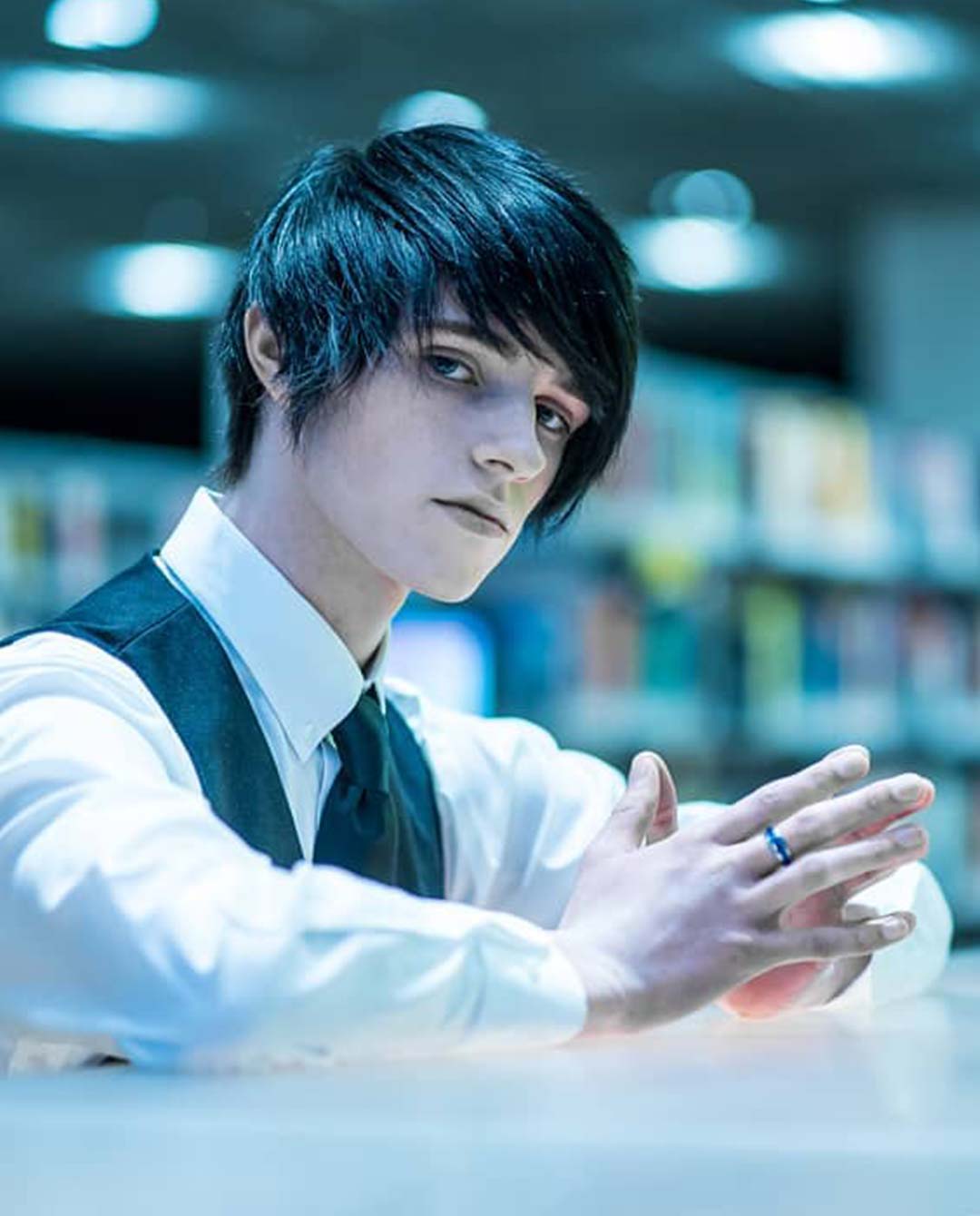 Choppy Blue Locks
Step out of your favorite anime series with choppy blue locks. The spunky emo hairstyle extends from the crown of the head to the chin. Use a rat comb and holding gel to section the hair around your face and subtle spikes in the back. Blue dye is bold, but it won't earn you many side glances from onlookers.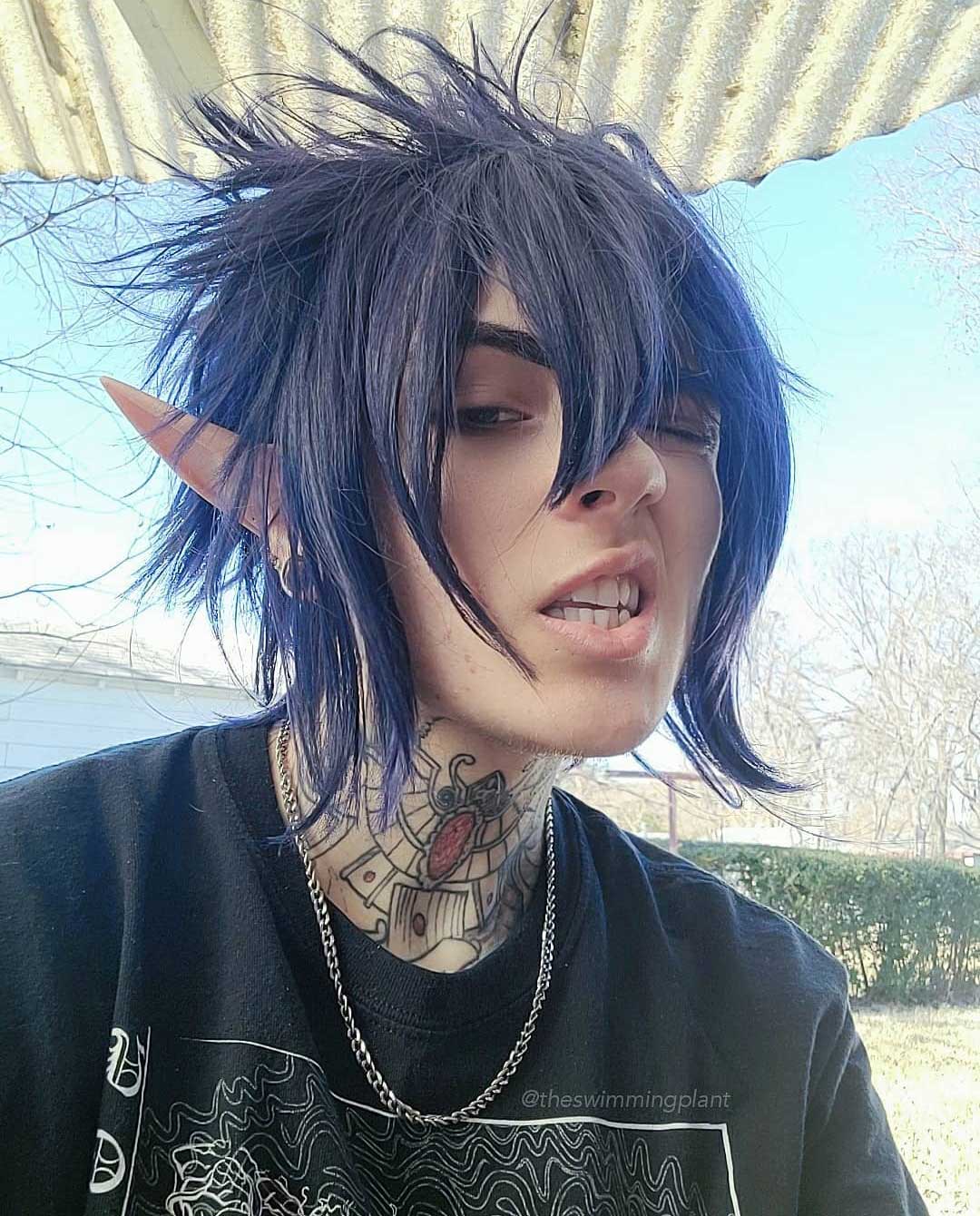 Hoody Top Emo Hairstyle
All you need for your hoody top emo hairstyle is a hair straightener. The feathered fringe shears smoothly from the forehead to the shoulder. The heat from the curling iron or straightener locks the hair into place and makes it almost like you're wearing a hoodie for hair.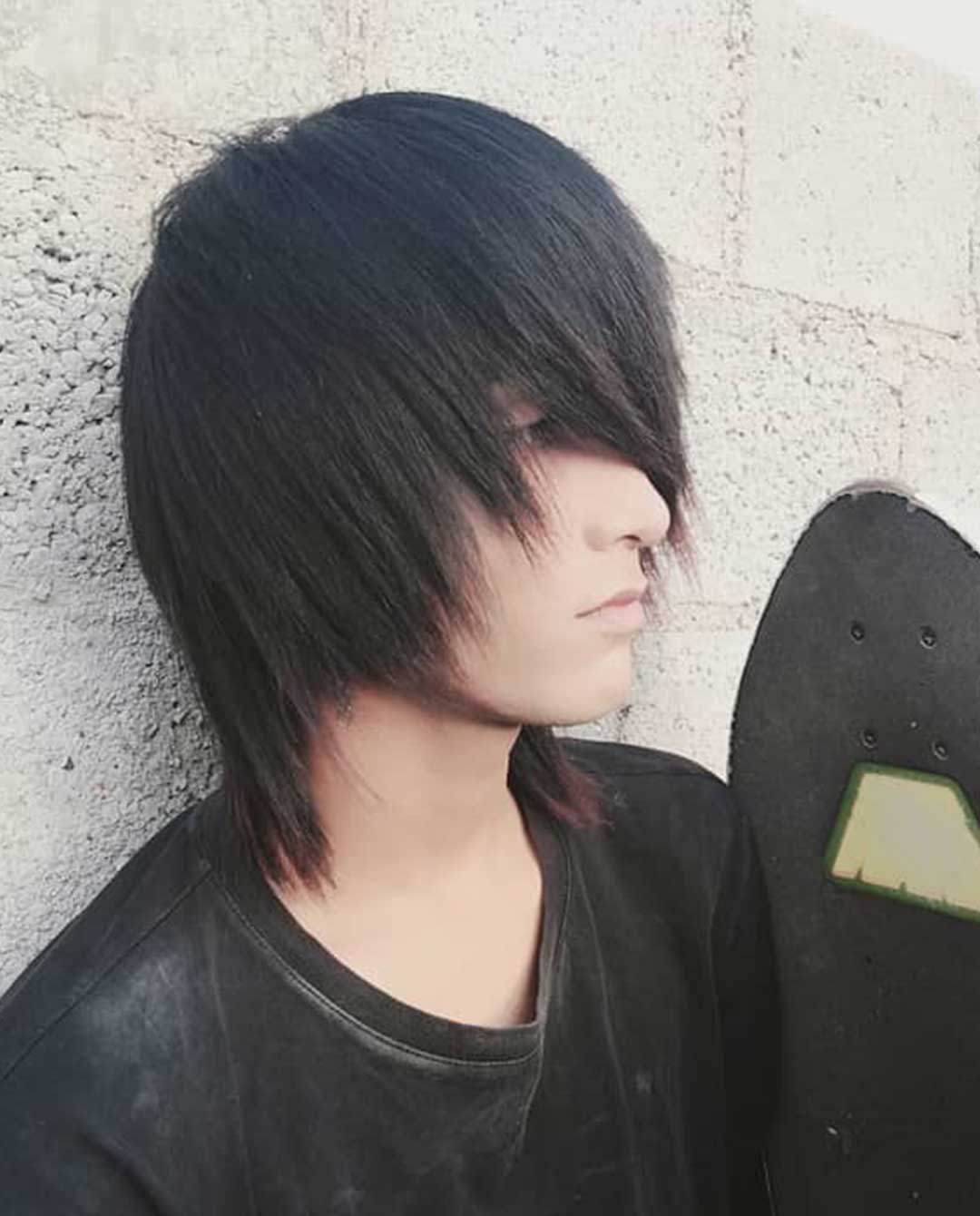 Medium-Length Oversized Bangs
Rip a page out of Marilyn Manson's iconic style with medium-length oversized bangs. Thick locks round forward to hide the forehead and eye line. Underneath the emo hairstyle, your face mimics Marilyn's with a tidy application of eye-shadow and lip gloss.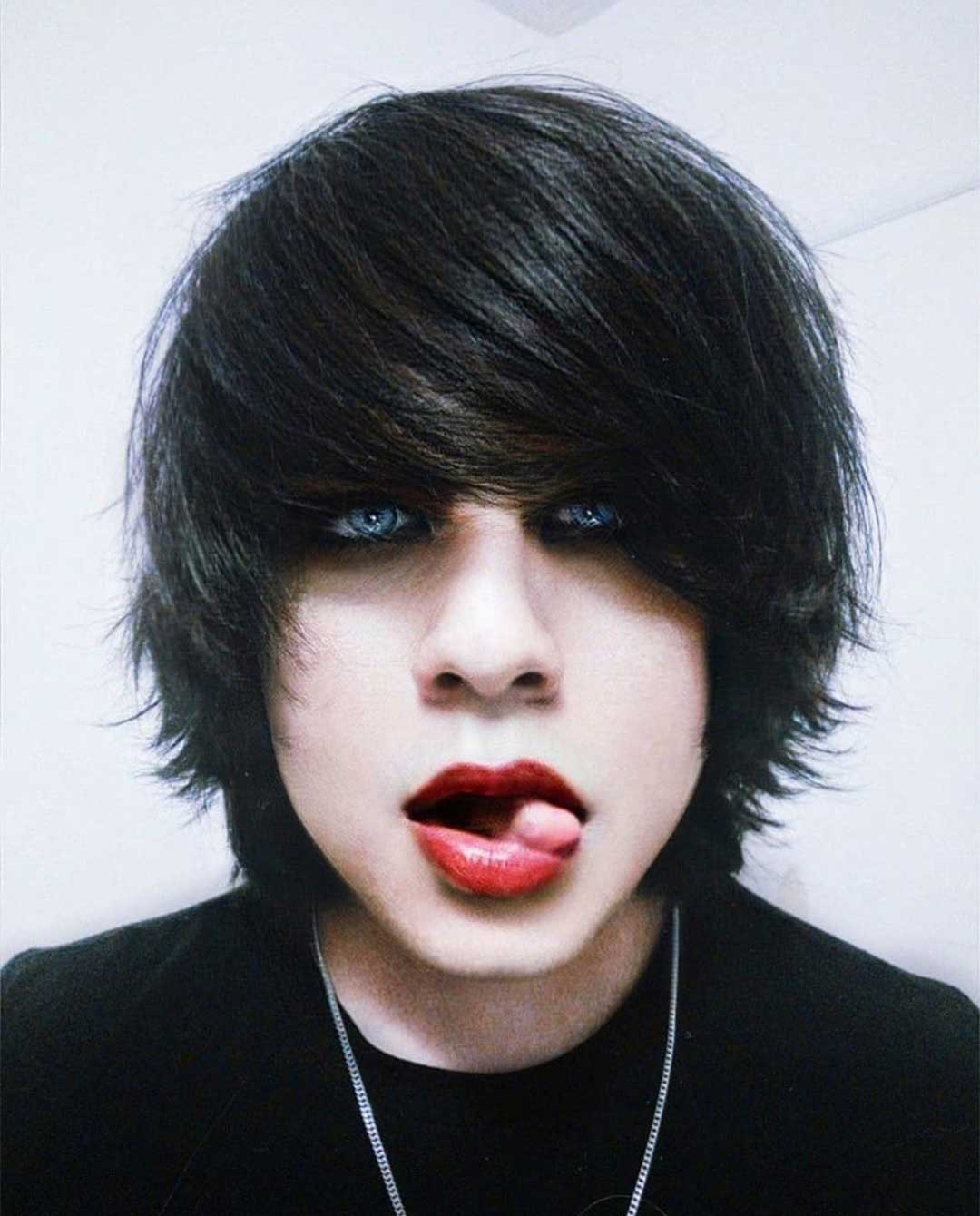 Long and Pinky Emo Hairstyle
Turn societal norms on their head! Pink isn't a color most people associate with the black-clad emos. But in this style, it just works! Let your hair grow long, and enjoy those signature side bangs. With some heavy bleaching and light pink dye, the look is complete!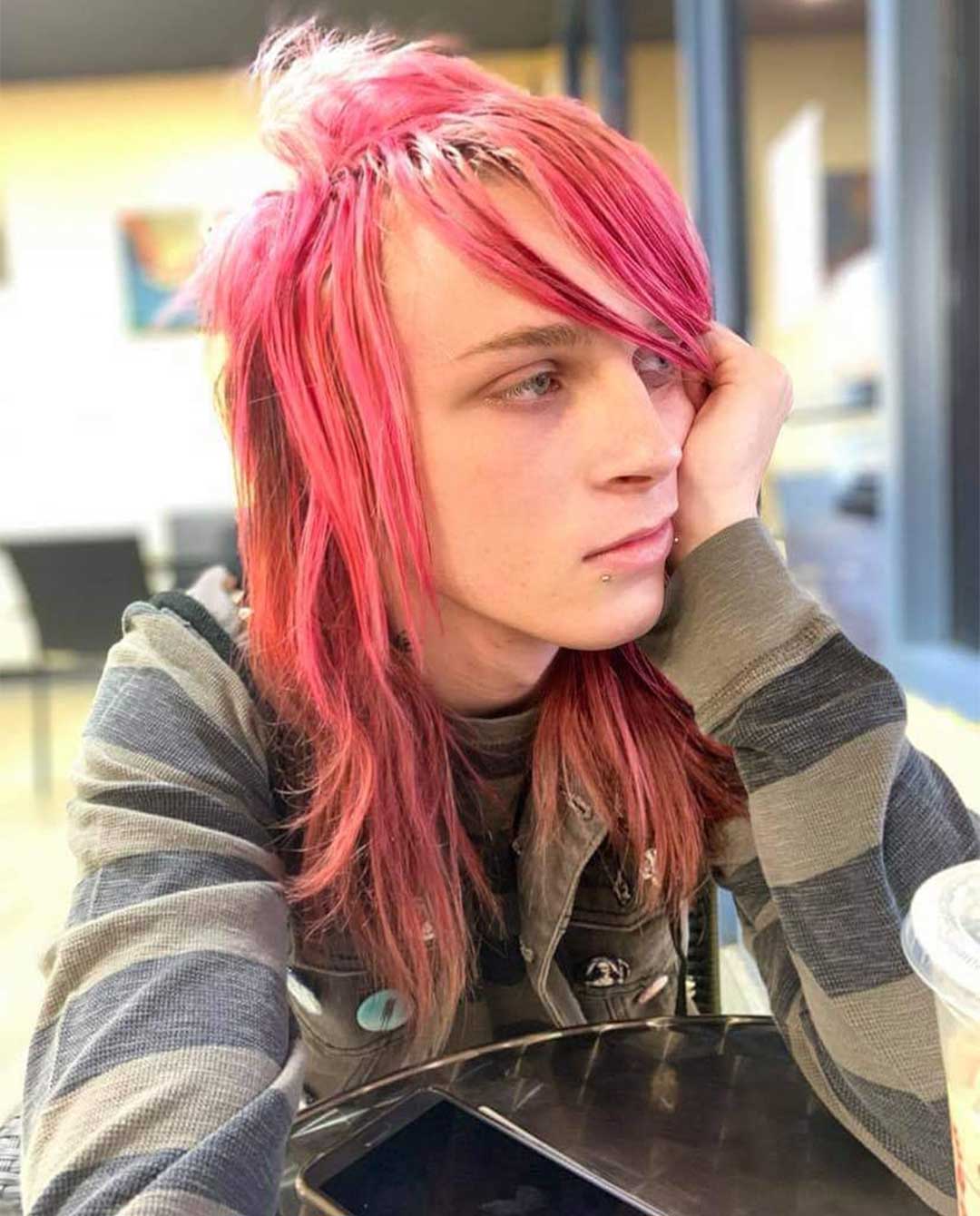 Swept Forward
Make your hair look like it's always in motion! Usually, side-swept hair is the go-to. For this hairstyle, pushing everything forward is how you get the look. It combines elements from traditional emo with scene style. Thus, there's a lot of wiggle room to get the finished appearance you're looking for.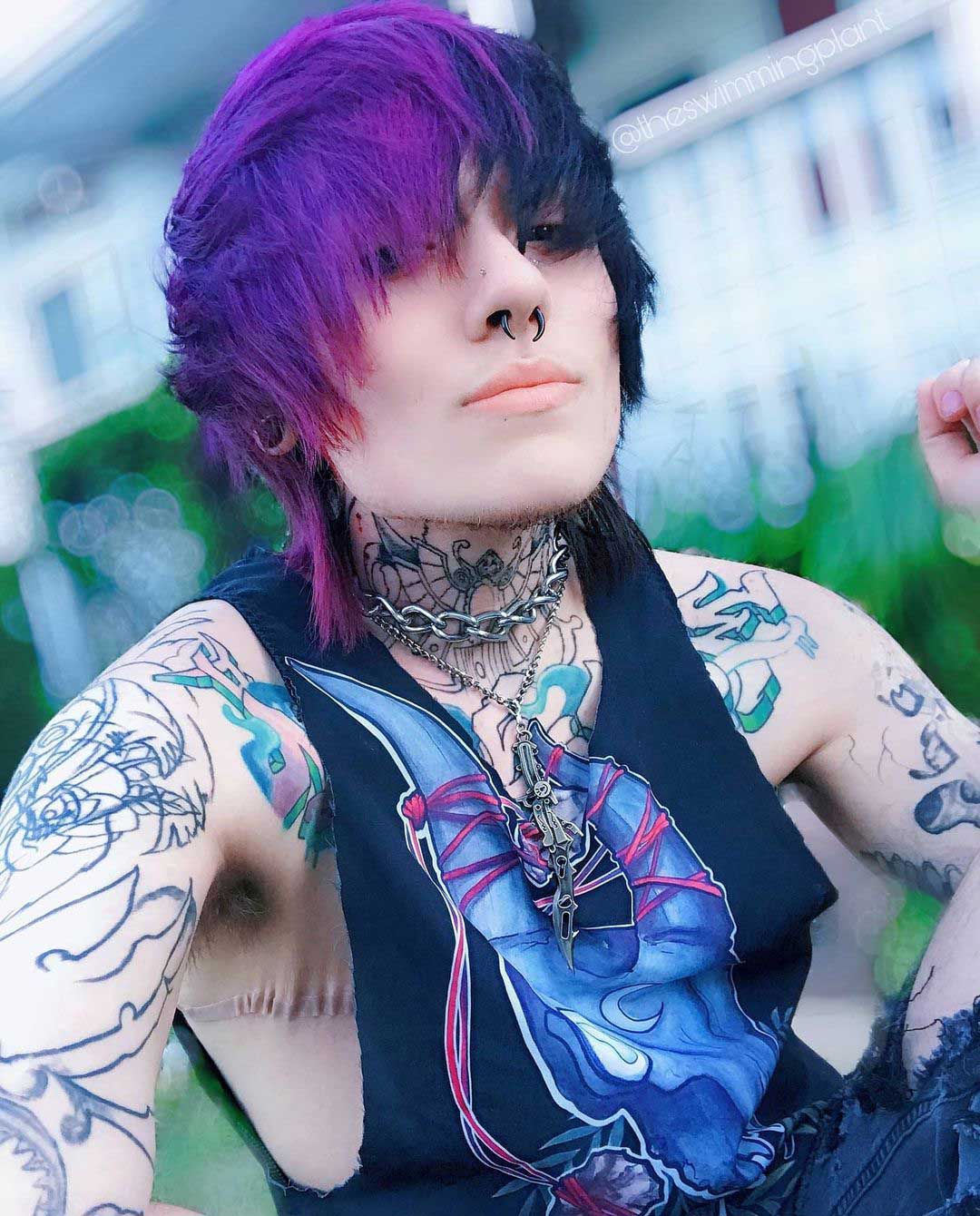 Short Cropped Emo Hairstyle
This short cropped hairstyle replicates the style above but experiments with blue dye. Section the toothed strands into edgy bangs around your face. Contrast the emo hairstyle even more by dying your hair into a gradient from neon to pastel.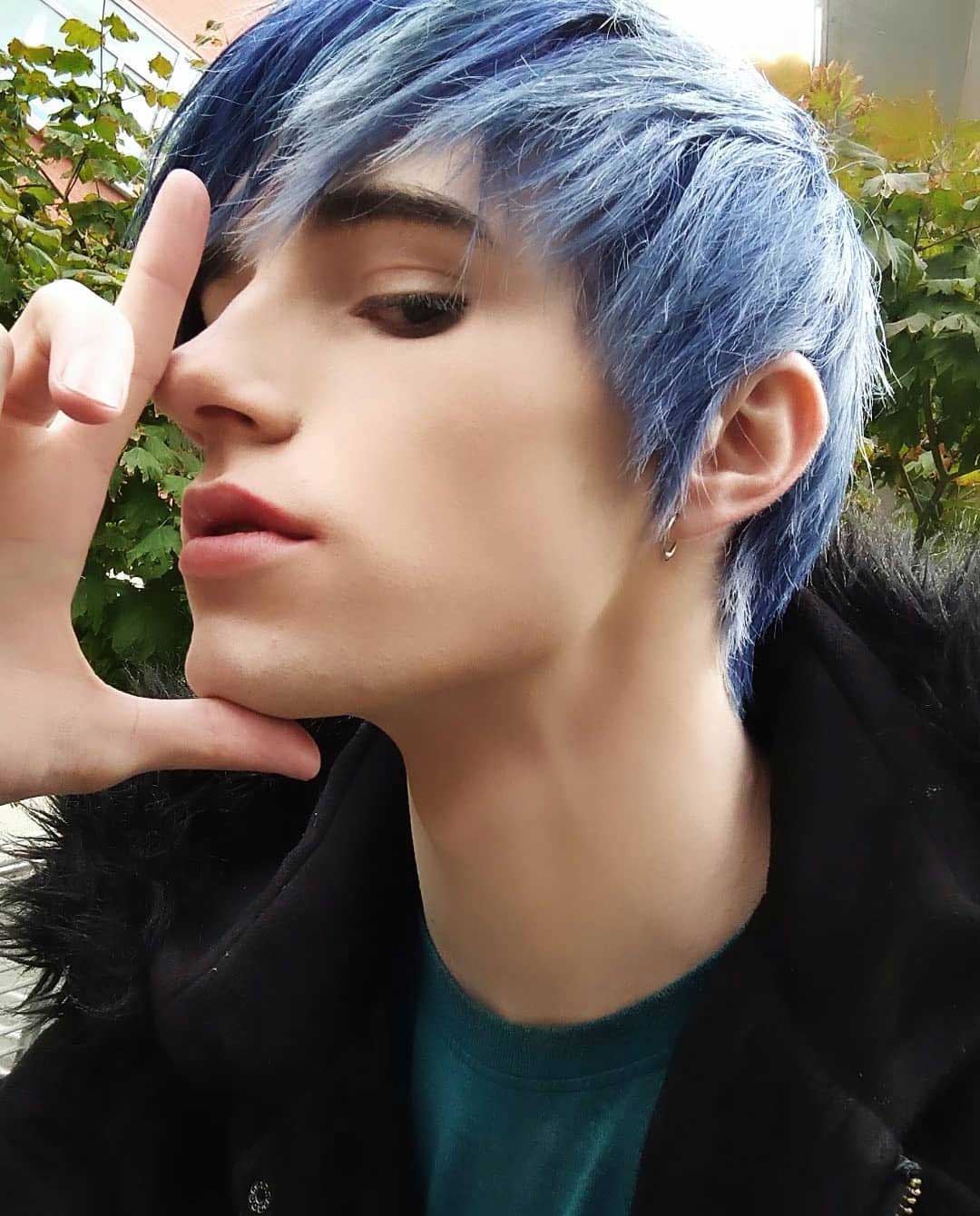 FAQ
Conclusion
Is there anything more distinct than an emo hairstyle? Emo cuts are extreme and dripping with character. While not classic or timeless by any means, these cuts give you the chance to put your personality front and center!