From classic leather jackets to acid-wash jeans, the 90s era continues to shape the way we look. The eboy haircut joins the ranks of beloved trends making a monumental comeback.
Of all the hairstyles for young men to adapt, the eboy might be one of the easiest. To produce the eboy hairstyle, grow your hair out further than an undercut or buzzcut. The general length for these 'bangs' is from the temples to the ears. Once your hair is long enough, part it down the middle with a comb or brush. The final look results in natural bangs framing both sides of your face.
As simple as the eboy haircut might look from the outside, growing out and parting your hair isn't the only requirement it takes to achieve the best version. This low-maintenance style is perfect for high schoolers and hipsters, but there are special tricks to avoid split-ends, generate a 'wet' facade, and more. Follow this guide to help you create the ultimate eboy look.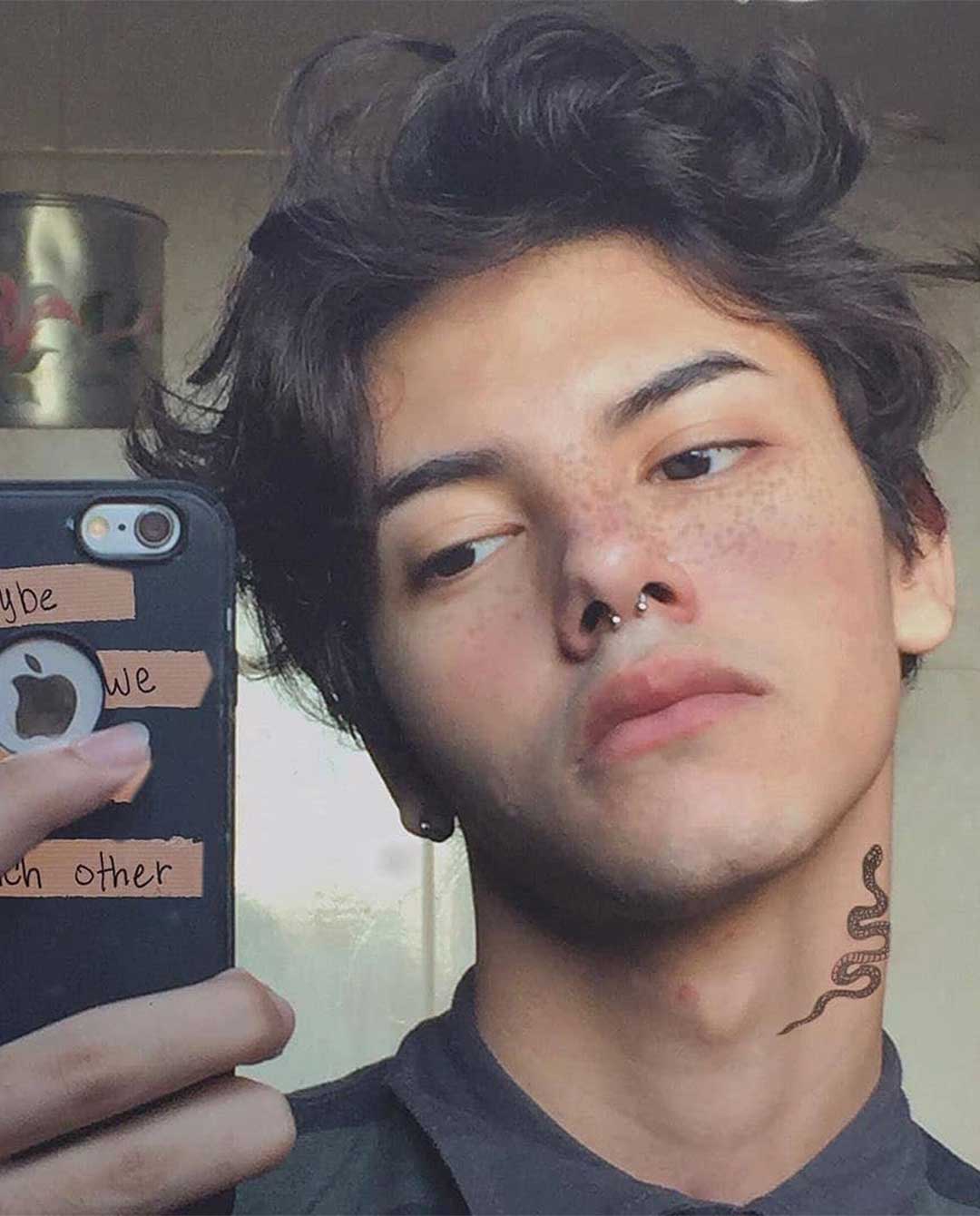 3 Tips For Maintain Eboy Haircut
#1 Add A Fade or Undercut
The eboy haircut works on a variety of levels mostly depending on the length. The most common version is for the hair to be all one layer with bangs at the temple, eye level, or around the ears. A barber or stylist can help you decide which length of bangs matches your face shape. Instead of opting for one layer of hair, you can ask about adding layers, an undercut, or a fade. All of these options can turn a traditional eboy hairstyle into an edgier or sophisticated version. A barber will also work their magic to ensure your bangs are even on both sides and easy for you to maintain.
#2 Wear It Dry or Wet
The most common approach is to wear the style as naturally as possible – dry and loose. After you commit to a routine of brushing out your middle part, it will hang naturally. There's no real need to add any product to your hair unless you want to.
If you want a 'wet' look, where your hair is slick from the root to the ends, use a wax or pomade to comb your hair from the center. However, the wetter your hair looks, the less it will appear like a natural eboy hairstyle. How wet it looks is ultimately up to you, but you should refrain from overloading on any particular product.
#3 Avoid Split-Ends
If you're aiming for a medium to longer length like Chris Hemsworth or Johnny Depp, the thickness of your hair might result in split ends. Use a shampoo and conditioner to nourish and strengthen the strands. Avoid excessive heat from a blow dryer or flat iron. It's okay to use a blow dryer intermittently, but using it too much generates damage. Physical health can also create split-ends. Signs of dehydration and vitamin deficiency will show up in your hair. Consult a professional about extreme split-ends and ask about a change in diet, adding a multivitamin, etc.
Disheveled Eboy Hairstyle
TikTok star Josh Hewitt nails down his easygoing version of the Eboy look. Instead of splitting his hair from the middle part, his coarse hair frames his face. To create the same look, brush your hair forward over your forehead with a subtle space in the center for Curtains.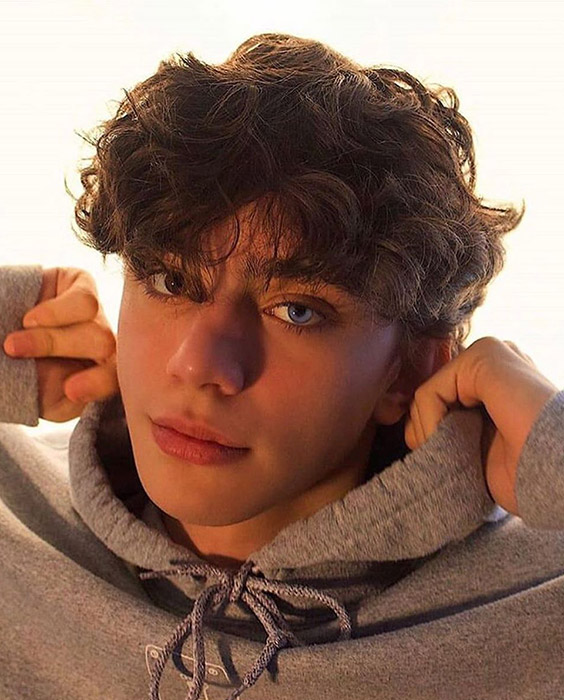 Swept-Back Curtain Bangs
In contrast to the M-style Curtain bangs, establish volume from side to side instead of top to bottom. Use a brush and a blowdryer to round your hair outwards and back. A light layer of hairspray will help keep the swept-back look in place.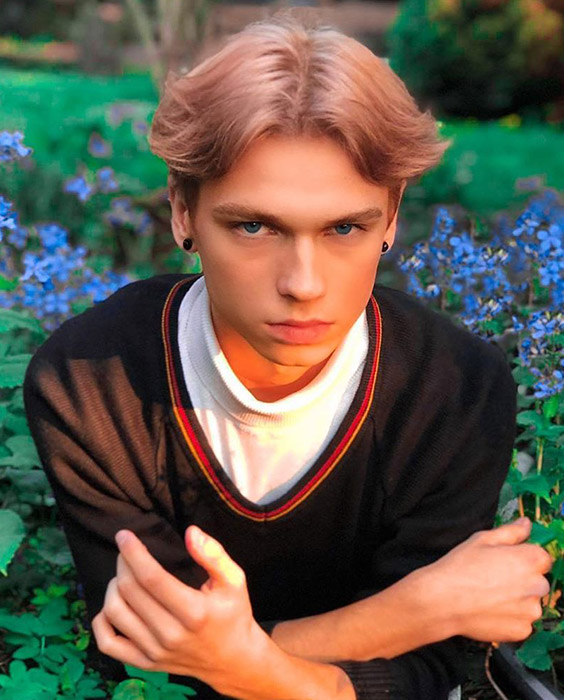 Surfer Boy Haircut
Similar to the 90s look that put Hollywood's youngest stars on the map, a Curtains hairstyle is also synonymous with hip surfer boys. Most of the hair parts to the sides with a few strands whisked down the middle. The beach blond locks with medium-to-long hair evoke a laidback attitude.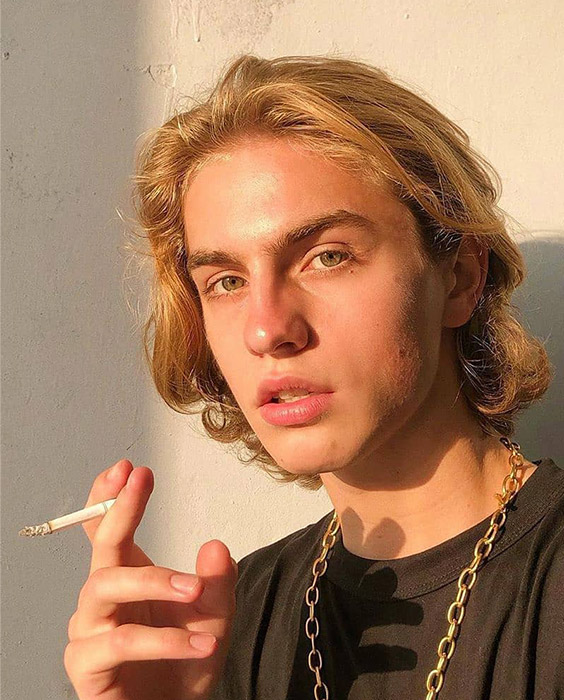 Heir.Of.Atticus Hairstyle
Heir.of.Atticus earned millions of followers by sharing his rebellious attitude on TikTok. But his hair took a page out of actor Timothée Chalamet's book. On his social media stream, he shares how he starts with wet hair before piling it into thick curls with a curling iron. He also dyes the front of his hair dark brunette and contrasts it with platinum blond streaks in the back.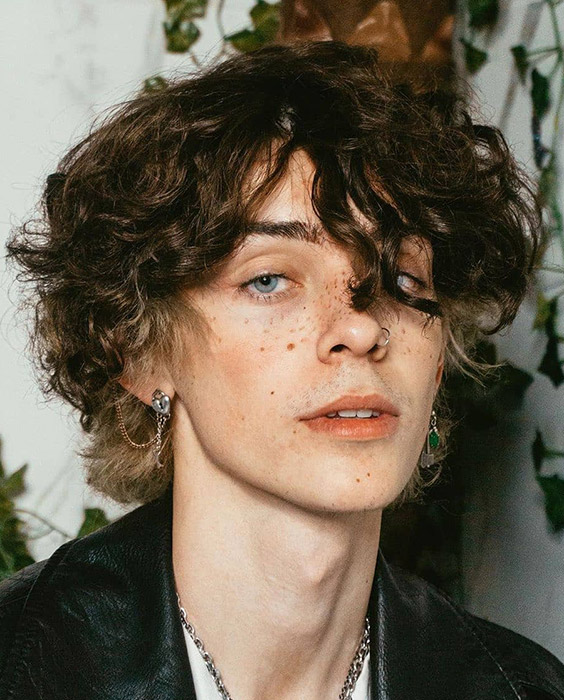 Curly Eboy Haircut
Even though Eboys avoid excessive heat to shape their hair, you'll need to use a curling iron to create a massive wave of curls. If your hair is too straight, a dramatic hairstyle like this might require a perm with a barber. If your hair is already curly, try to brush your hair from the center to create the middle part.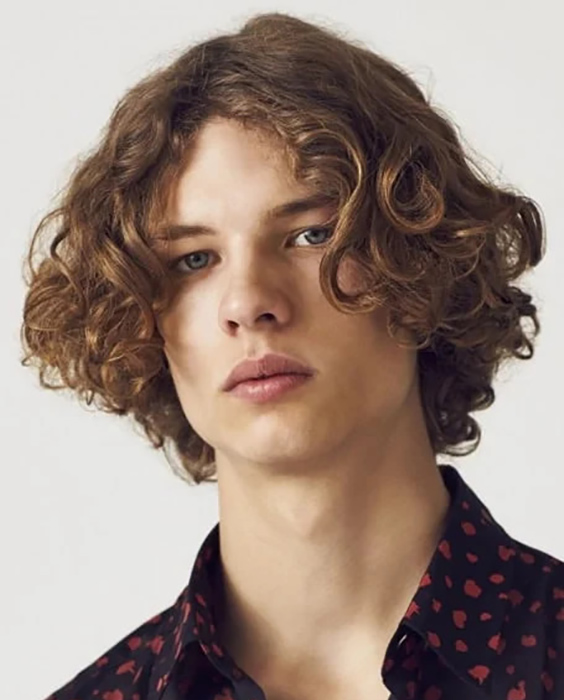 Slick Middle Part Hair
Wet hair gives you a blank canvas to work with. Once your hair is dry, it's challenging to incorporate the right hair products. Maintain a slick aesthetic with wax or pomade. Rub it through the strands from the roots downwards after parting it down the middle.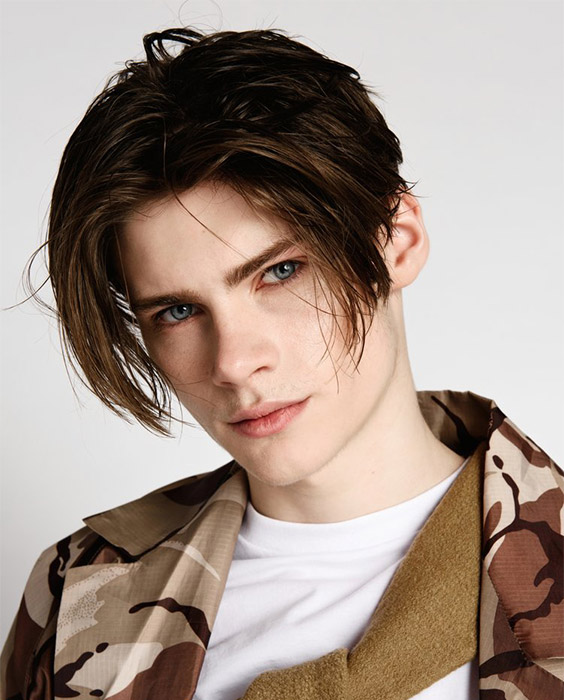 Thick Eboy Fringe
Persistence can be the key with an effortless Eboy look like this. Thick hair often makes it difficult to situate the bangs and hold them in place. After you brush your hair, lightly run pomade or wax through your strands, and let the strands settle where they want to go. With the right amount of effort and attention to detail, you can control how laidback your appearance is.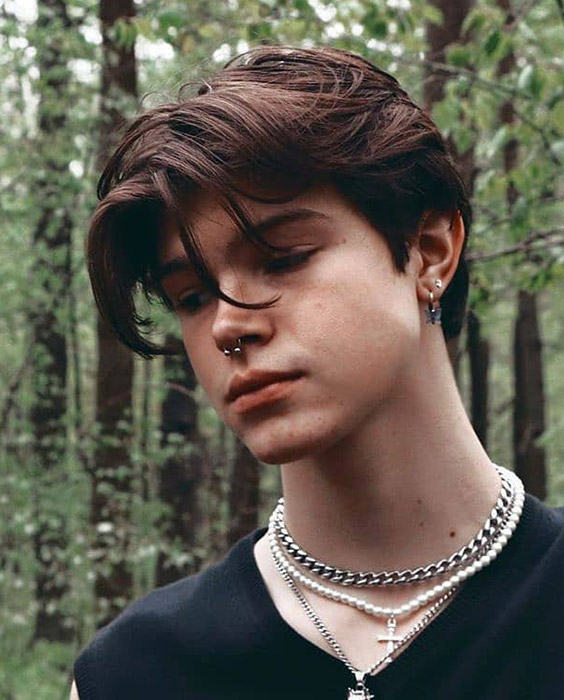 Wavy Bangs with Undercut
When your hair consists of endless curls, one of the easiest options is to let them pile on the crown of the head. A sharp fade along the side makes it look disconnected. The curls can be difficult to shape into a traditional Curtains hairstyle, so it's best to work with what you've got. Let them fray into the direction they want to go.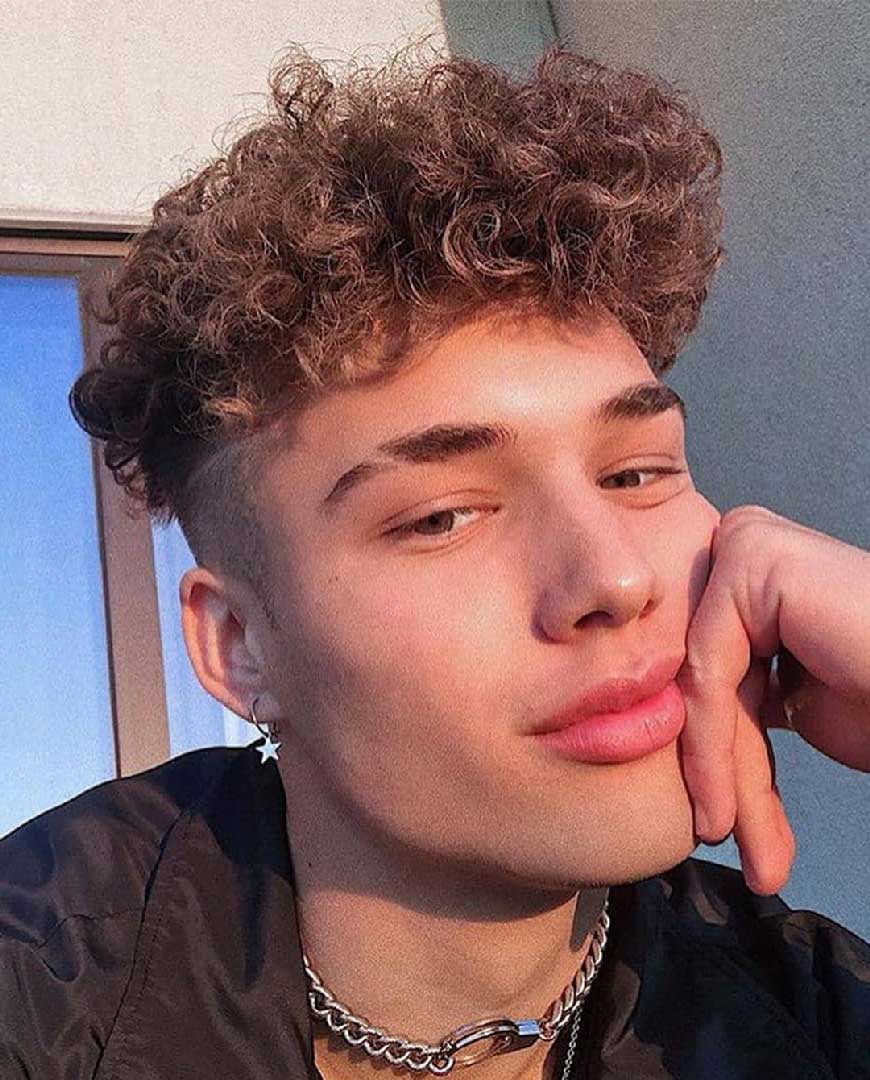 Short Eboy Bangs
Cowlicks are strands of hair that stick out on their own and change how the rest of the hair forms. However, most of this Eboy's hair is a solid shape, a few stray hairs spiral from his hair pattern. If you don't typically wear your hair short, you'll learn to embrace which hairs break out of the pack or are willing to lie flat.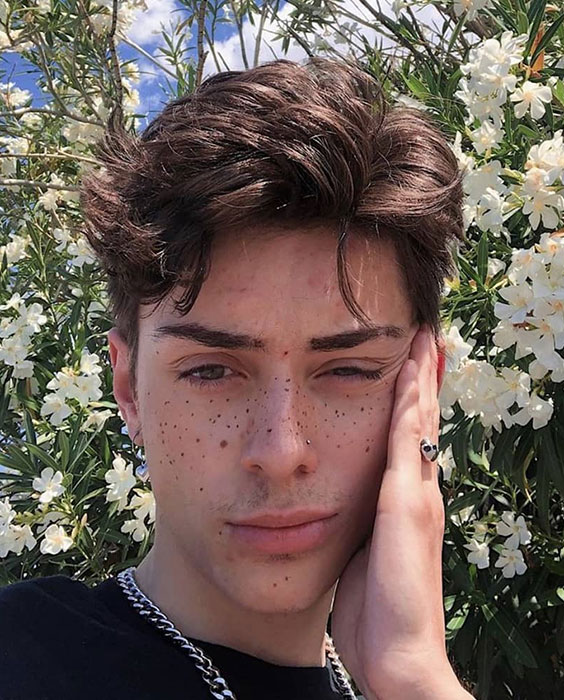 M-Style Curtains
Too often, Eboys want Curtain bangs but give up when the hair lacks volume. To create the M-style bangs, use a comb and a blow dryer to round the hair upwards in the middle part. As you gently brush and dry your hair along the back and sides, gravity will take over to produce the M-shape.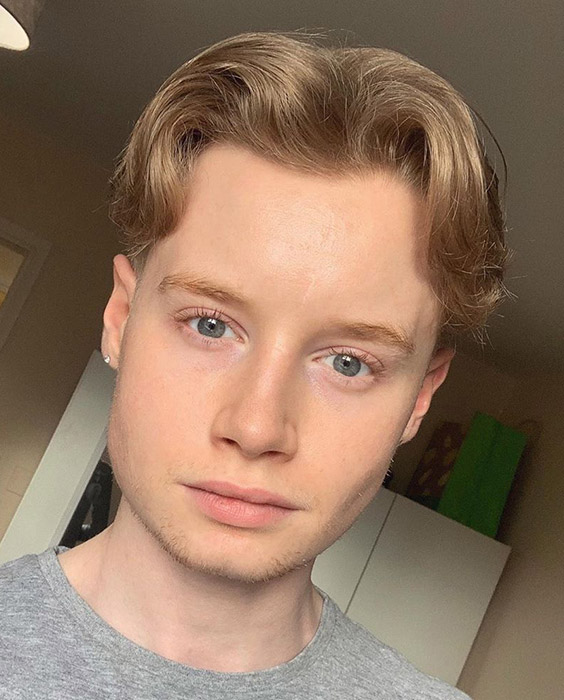 Two-Tone Punk Style
TikTok star Noen Eubanks sports an Eboy cut that aligns with his off-beat comedy and music. When his hair isn't entirely platinum blonde, he dons a mix of black and platinum blonde. There's little effort here to polish his bangs as he lets the frizz and fringes run free.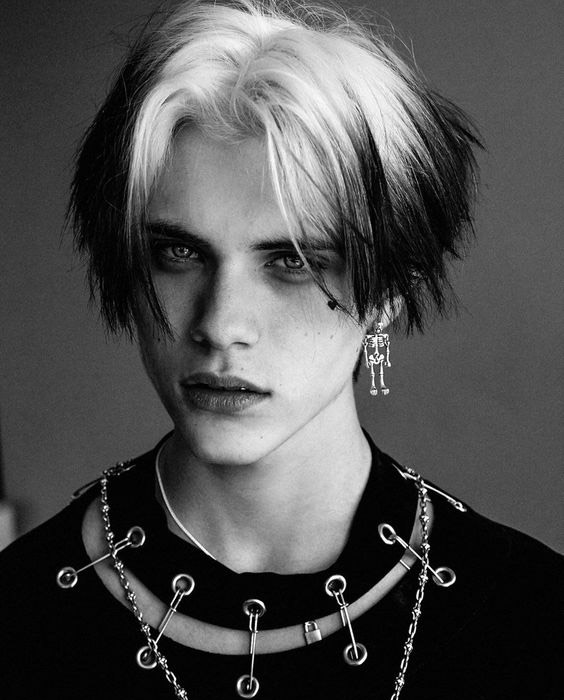 Highlight Curtains
Highlights break up a pure brunette or black hair tone. This style mostly consists of brushing the layers to make them even. Some strands criss-cross from one side to the other, which is also a fun way to style the middle part.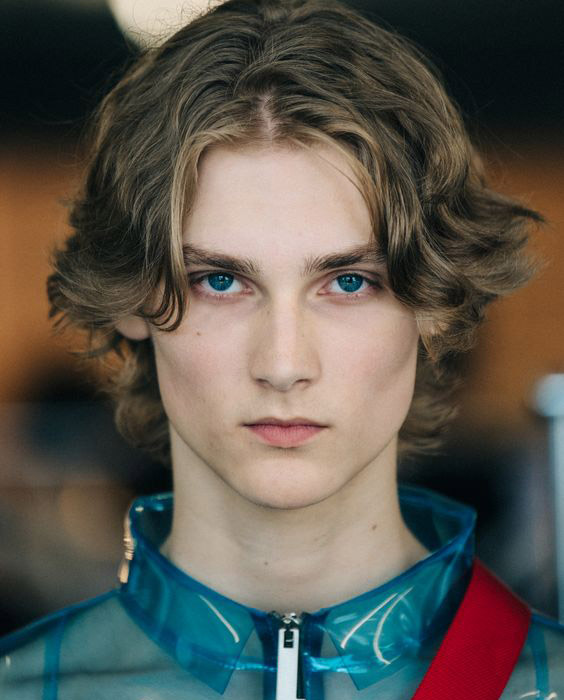 Hot Pink Eboy Haircut
A dramatic dye change can also elevate your Eboy haircut. Hot pink is right up your alley if you love stepping out of your comfort zone. Depending on your hair color, a hairstylist or barber might bleach your hair before dying it hot pink and leaving the roots visible.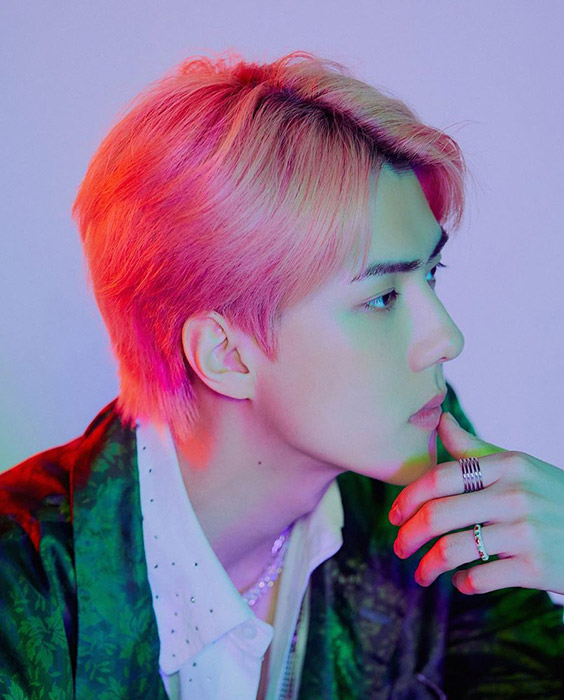 Multi-color Front Curtains
When your hair is long around your ears, brush your hair to go against the grain of its natural direction. The inclusion of different dyes in the back will organically take the spotlight. The combination of dye and brushing the bangs forward provides an edgy twist to the traditional Curtain hairstyle.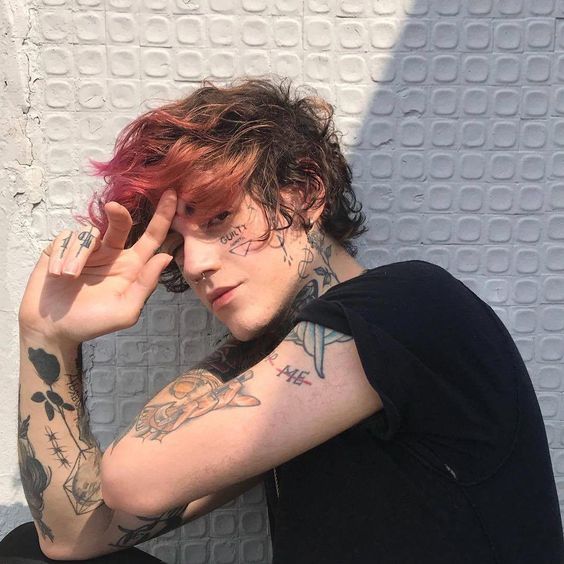 Side Parted Fringe
The most common way to style Eboy bangs is for both sides of the hair to frame the face. However, you can break the mold by only parting one side of your hair. For the other part of your hair, tuck it behind your ears or slick it back with hair clay.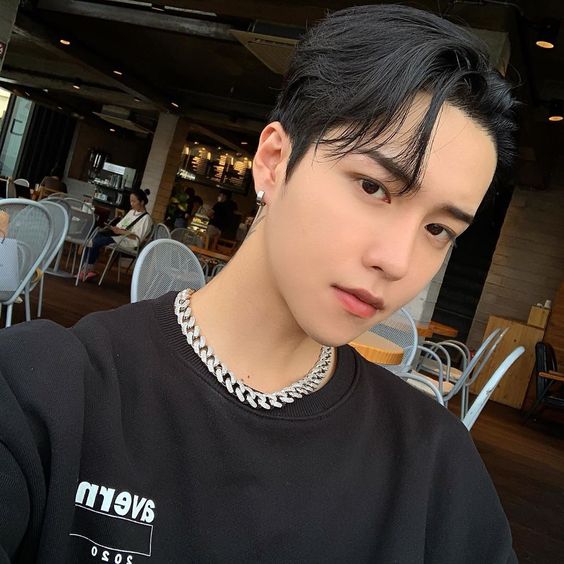 Cole Sprouse Middle-Part Hairstyle
Actor Cole Sprouse's effortless style replicates the icons from the 90s who made his style cool. Sprouse's hair centers evenly and requires nothing more than a simple brush through in the morning.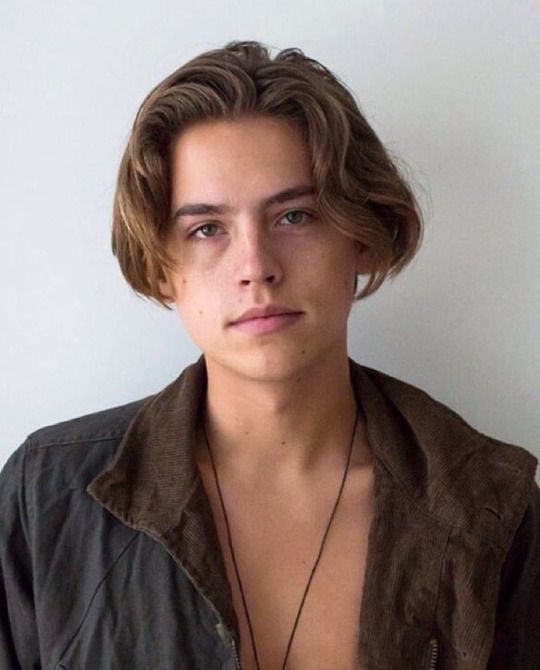 Thick Curly Hair
Josh Hewitt also tried using his thick curls to split his hair. He brushes his thick brunette locks over his forehead and uses the curls to split off into both directions. Though an Eboy haircut work for all textures of hair, this is ideal for someone who is already rocking curly hair.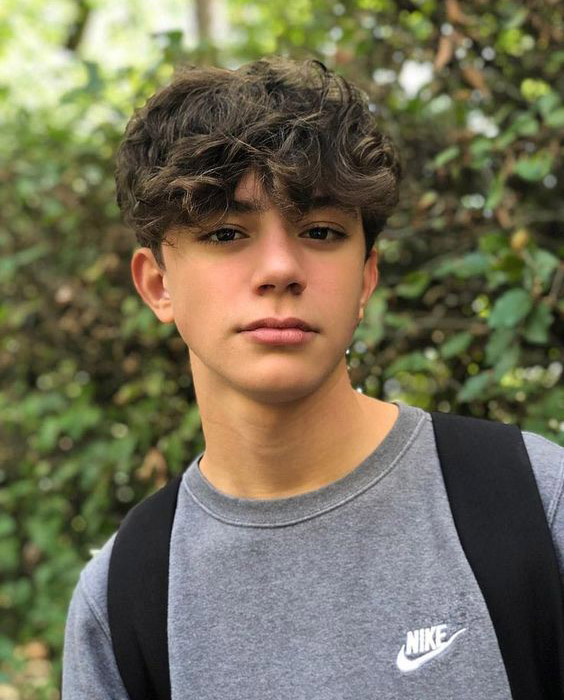 Green to Black Brush-Over
The preppy aesthetic doesn't always adhere to the clean-cut reputation that precedes it. With the right striking facial features, a simple brush-over with your hair parted to one side creates a sophisticated look. Add a rebellious edge by dying the edges with a dark green and fading it in with your roots.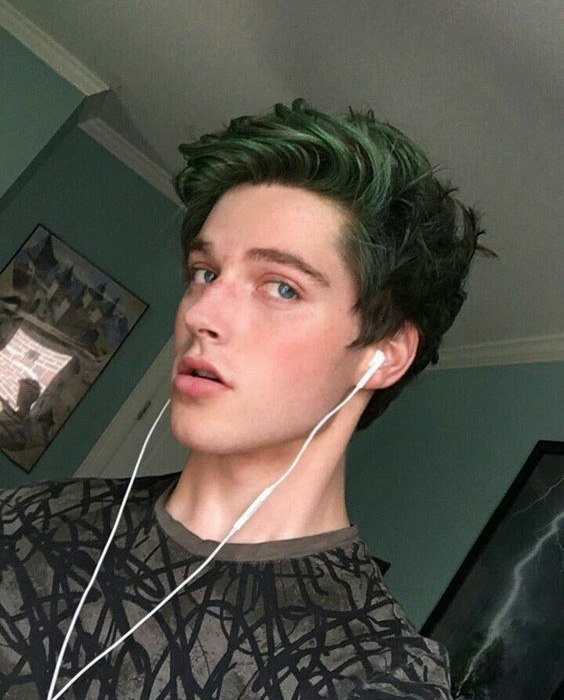 Kaden Sowers Eboy Haircut
Here's another example of the Curtains style proving their popularity for TikTok stars. Kaden Stowers wows his followers with medium length curtains that fall around his face. It's a relaxed hairstyle that matches his dreamboat appearance.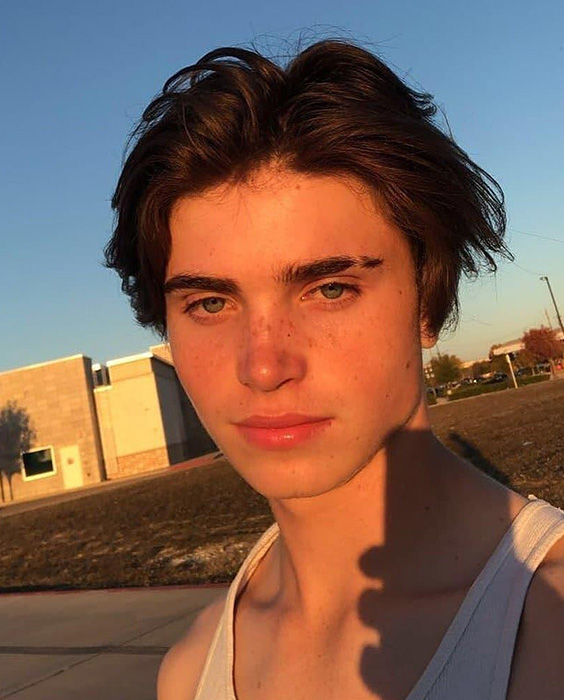 Layered Curtains
A subtle amount of curls is a perfect way to add texture. Lightly run texturizing oil through your hair after a shower, and then top it off with a complimentary spray. Eboys don't generally keep their bangs in sync. Play around with different strands until you create the right amount of waves.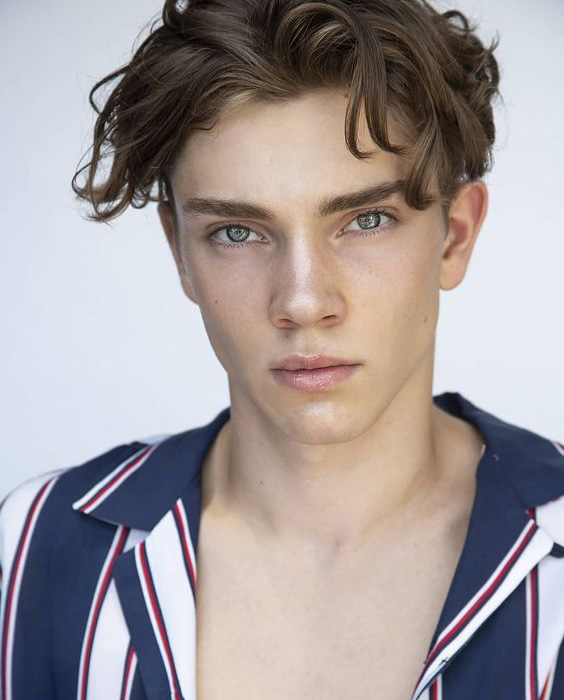 Even Curtain Bangs
Taking the traditional Eboy route offers elegance to wearers from young boys to mature men. The hair is one length all around his head, almost like a mushroom or bowl-cut shape. It falls evenly beyond the eyes without the use of products to shape. This look is best for those who don't mind bangs constantly grazing or obstructing their vision.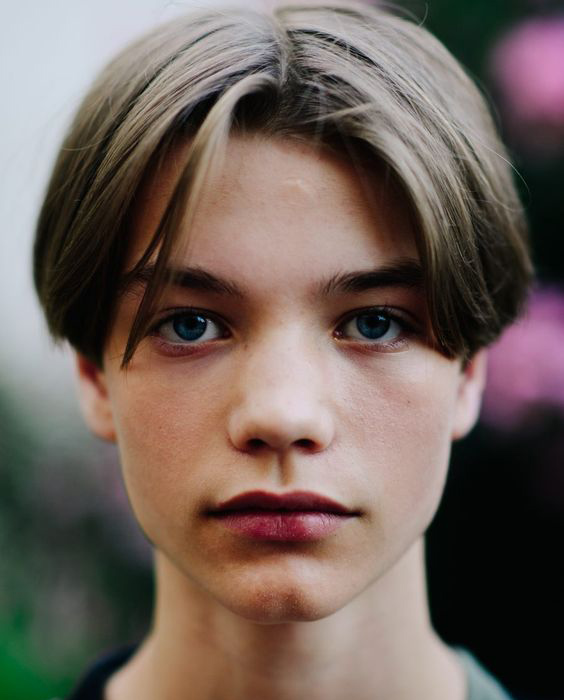 Noen Eubanks Curtains
To contrast his two-tone hairstyle above, Noen Eubanks shows off his platinum locks here. His hair still promotes the casual frizz of his previous look on this list. This style is longer around the ears, making it easy for him to tuck his hair back when he wants to.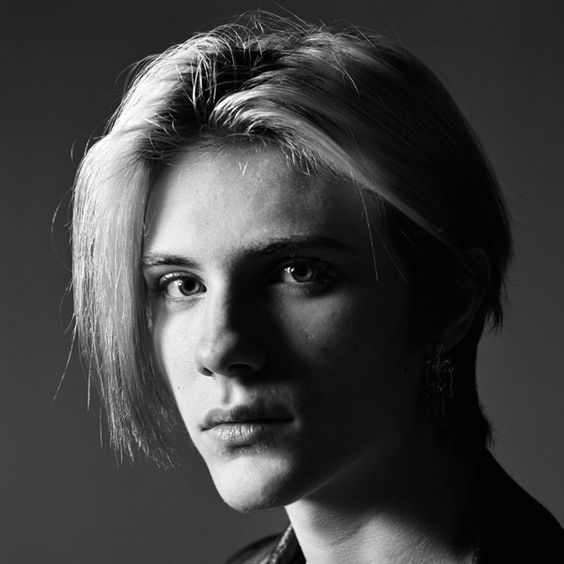 Split Color Eboy Cut
Instead of mixing several dye colors around the crown of the head, or fading shades together, use a split color tone. Use two contrasting dyes like black and red on both sides of the head to create the middle part that the Eboy haircut utilizes.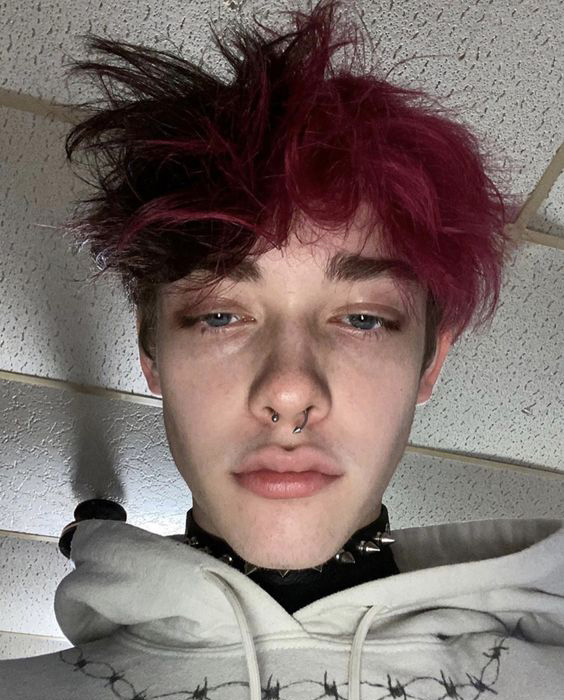 Edgy Blonde Curtains
Edgy fringes are another effective way to throw the Eboy rulebook out the window. Similar to Backstreet Boys singer Nick Carter, this Curtains haircut is thin and messy. The part splits down the middle and helps the model's rebellious attitude match his unruly hairstyle.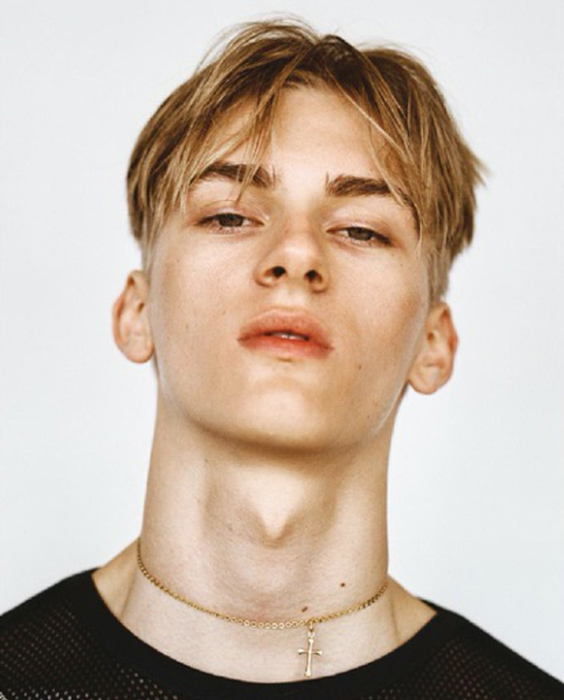 Celebrities with Iconic Curtains Hairstyle
Even though hairstylists and fashion experts interchange the Curtains haircut name with Eboy, the overall haircut works for everyone no matter their age or what their personality evokes. The best examples range from young stars like Timothée Chalamet to veteran actors Johnny Depp. All of the examples below show just how versatile this simple yet influential hairstyle can be.
How to Achieve the Curtains Haircut
The most popular stars who sport the eboy haircut often exude a vulnerable charm. They're not afraid to wear their hearts on their sleeves on-screen and in real life. Don't let the boyish nature of the hairstyle dissuade you from trying it out. Even mature actors like Brendan Fraser and Jared Leto continue to rock this hairstyle today. A Curtains haircut is adaptable to every young man whether they're edgy, preppy, or somewhere down the middle. Here are a few tips to create the Curtains haircut that's as easy as 1-2-3.
As part of your normal grooming routine, wash your hair regularly. If you're avoiding heat, use a towel to dry. Don't go against the grain of your hair by excessively rubbing the towel in different directions. Gently soothe the towel against your hair in the direction that it grows.
To create the eboy bangs, use a wide-tooth comb to section your hair down the middle. Depending on how thin or coarse your hair is, a round brush can create more volume for the bangs. Take time to structure your hair exactly as you want without any strands sticking out or creating a cowlick.
Though eboy styles are typically straight, you can add more curls or waves. Use a texturizing spray as your hair begins to dry and you brush it out. Otherwise, let your hair flow and you're good to go.
Timothée Chalamet
Actor Timothée Chalamet won the hearts of the millennial generation with compelling roles in "Call Me By Your Name," "Lady Bird," and "Little Women." Outside of his effortless charm, his dreamy eyes and thick black curls are a staple in his red carpet repertoire. He commonly grows his hair out near his ears and uses a curling iron to accentuate the twirls his hair is organically capable of.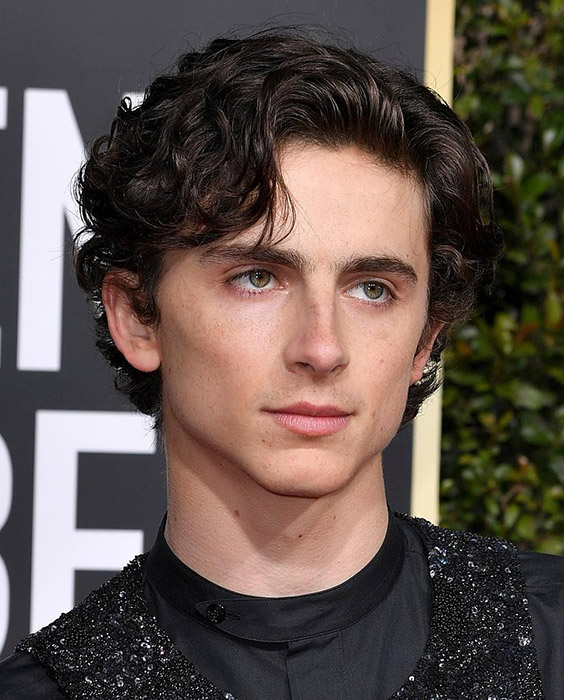 Charles Melton
The popular CW television show "Riverdale" cemented its ensemble of stars on the map, garnering millions of fans who admire the cast. Actor Charles Melton immediately drew attention for his good looks and charm as varsity captain Reggie Mantle. Similar to Chalamet's jet black locks, Melton sports his curls slicked back with wax or pomade for a sophisticated appearance for public events.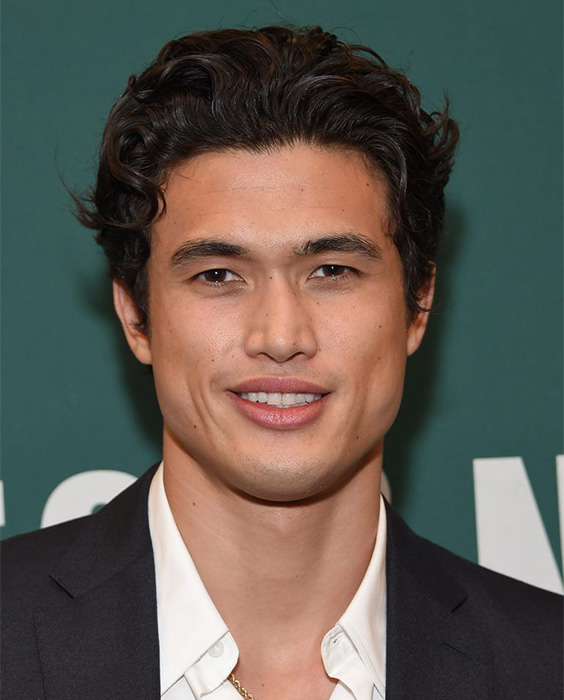 Ben Barnes
Dry is the most common way to wear Curtain bangs. From the classic pompadour to an eboy haircut, Barnes rotates hairstyles according to his upcoming film and television roles. Unlike shorter Curtains that significantly frame the face, Barnes's hair camouflages the bangs with the rest of the long hair. Small layers towards the end make this hairstyle almost reach his shoulders.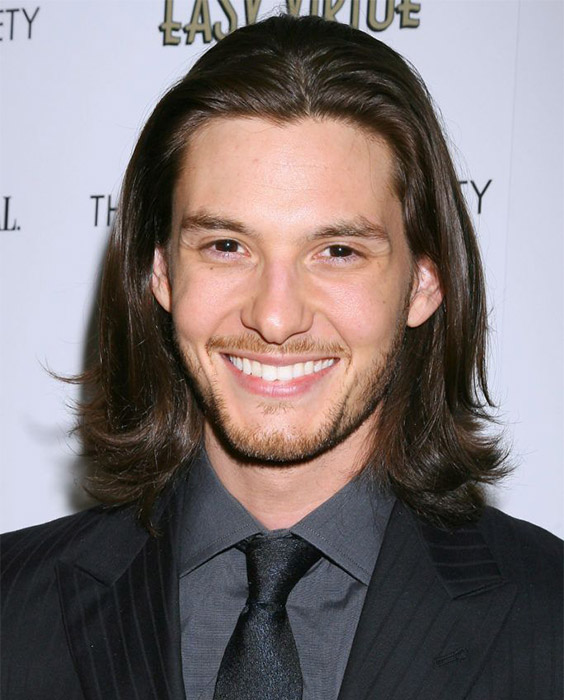 Keanu Reeves
Keanu Reeves is always in style as an actor. Whether he stars in action blockbusters or romantic comedies, his enigmatic presence on-screen keeps audiences lining up to see his films. His jet black hair is an iconic asset to his good looks. From the 90s to even now, the star typically dons an Eboy haircut with medium-to-long layers near his shoulders.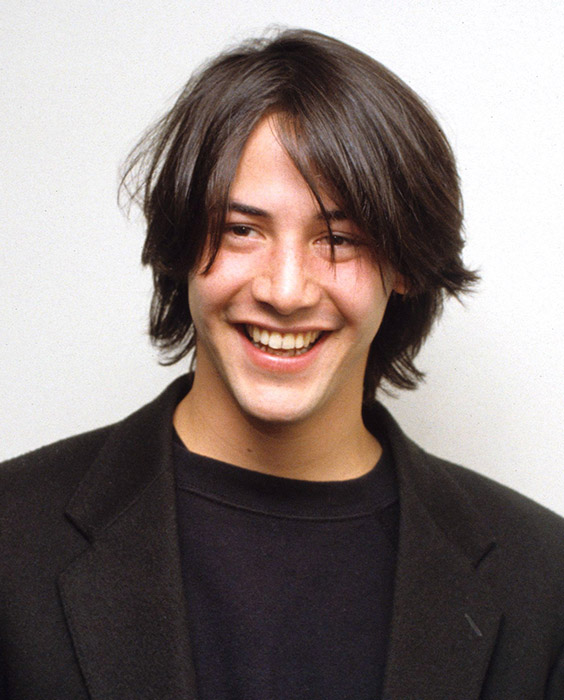 Johnny Depp
No one can argue that Johnny Depp follows the beat of his drum both in film and his everyday wardrobe. He became one of the first upcoming stars in the 90s to revitalize this look. Similar to Keanu Reeves, he often opts with medium length hair around his ears and keeps his use of hair products to a minimum.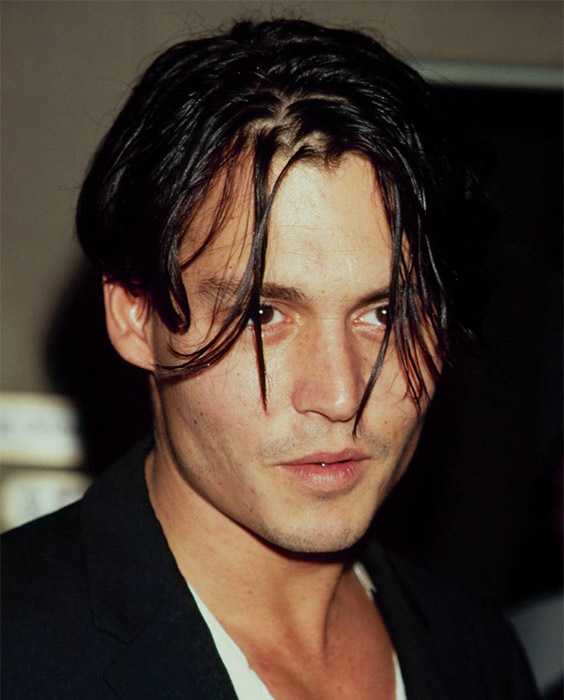 Leonardo DiCaprio
Starring in megahits like "Romeo and Juliet" and "Titanic" cemented Leonardo as someone to watch out for. During his youth, he sported the Eboy haircut, parting his hair to the side when it didn't settle into the M-shaped bangs. He eventually grew out of his teenage phase and into a mature actor, but his hairstyle is a staple in 1990s fashion.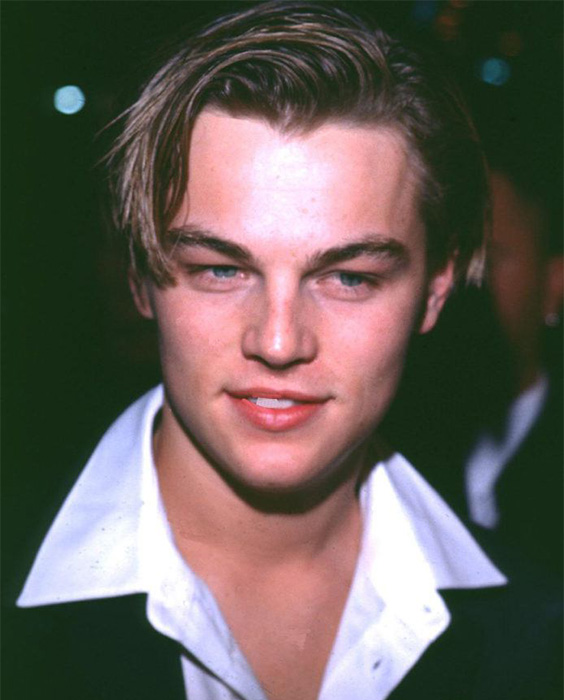 River Phoenix
No one can talk about the Curtains haircut without shining a light on actor River Phoenix. He captivated audiences with his brief yet unforgettable film career. Beyond his notable roles, his brooding appearance continues to be a major influence. His long rough and tumble hair is as loose as it can get if you let your Curtains hairstyle run just as free.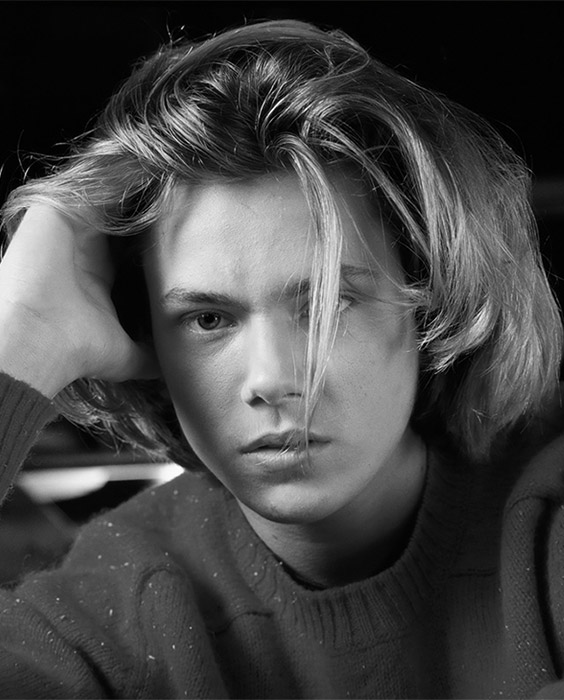 Cole Chase Hudson
Cole Chase Hudson is one of the prominent TikTok stars who kickstarted the current Curtains trend. He generally wears his medium length hair with blond highlights to get a subtle M-shape. Depending on his modeling gigs or social media, he adds hair product to make it look refined yet casual.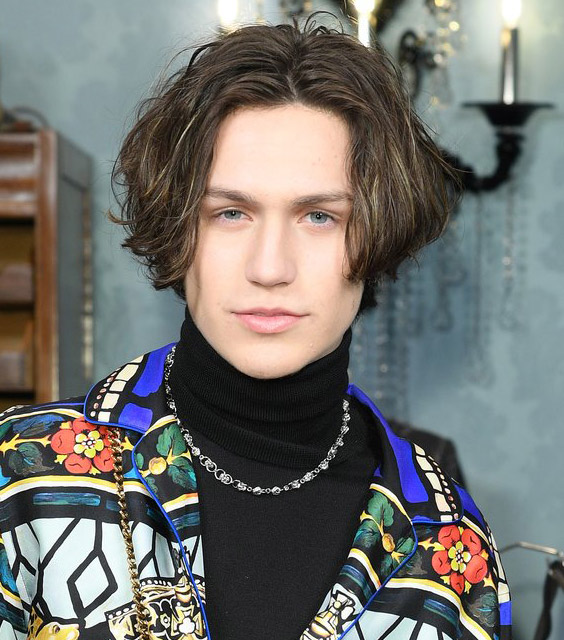 Frequently Asked Questions
What is an eboy mean?
Like most trendy phrases that cut to the chase, eboy is a shortcut term of "emo boy." Emo boys are commonly associated with brooding teenagers who shamelessly enjoy hobbies and aesthetics that emote the likes of a hipster.
How long does your hair need to be to style eboy haircut?
Your eboy haircut ultimately depends on the length of your bangs. Shorter curtains will be 2-3 inches long and barely reach your forehead; medium length estimates to 5-6 inches around the eyes; the longest curtains are about 8 to 10 inches and end around the ears.
What is the eboy haircut called?
The Curtains haircut is another name to identify the eboy style. The former reflects how your bangs frame your head like curtains. It's like your hair acts as a sneak preview as you show off your handsome features to the world.
What's the history of the Curtains?
The eboy haircut popularized in the early 1990s with young Hollywood heartthrobs making audiences swoon. Early examples include Leonardo DiCaprio, River Phoenix, and Brad Pitt. Today, famous figures such as actor Timothée Chalamet and Korean pop sensation BTS keep the hairstyle trending.