Regular Haircuts are timeless and universally appealing. No matter your age or personal style, these classic cuts look great and provide a touch of polish. Plus, they're easy to maintain!
The term "regular" has a flexible meaning in the world of hairstyling. Generally, it refers to any traditional-looking cut with short sides and slightly longer hair up top. It's the "old standard!" But of course, regular cuts are versatile enough to adapt to any man's aesthetic needs.
How To Choose The Right Regular Haircut?
Regular haircuts are super adaptable. You can't define them by a single feature like the mullet or quiff. As a result, you're going to see a lot of variation out there!
Choosing the right cut is an art form that often requires some experimentation. Ultimately, what your hair looks like is up to your personal preference. But, not every cut is going to flatter your face or lifestyle. Every man has experienced a bad haircut at some point. Some guys will spend years finding a style that suits them!
 So, how do you choose a cut for you?
 It all starts with your face shape. A regular haircut can have a noticeable impact on your profile and silhouette. Matching your haircut with your face can make all the difference. The key here is to find some balance.
 If you have a rounder face, try something with sharp angles. You want to avoid styles that pull focus to your dome's curves, such as a buzzcut or bowl. 
 Guys with oblong faces do well with textured tops and longer sides, as those features prevent the head from looking even longer. Triangular or heart-shaped faces look great with modern fades and undercuts. The shorter sides and dramatic height up top complement the angles of the face.
 Men who are lucky enough to have a square or oval-shaped face have the most flexibility. Pretty much any cut works!
 In addition to thinking about what works with your face, you should always think about your lifestyle. Do you work in an office setting, or do you have a rough-and-tumble kind of job? What about maintenance? Are you willing to spend a lot of time making your hair look great, or do you need something quick and easy?
 The answers to those questions will guide you in the right direction.
How Do I Talk To My Barber?
 Like any other sleek hairstyle, regular haircuts start as a conversation with your barber. Barbers are very skilled at their craft, and most have become masters of interpreting what men want. However, you should still know how to convey your ideas.
 Regular hairstyles are pretty simple. The best way to describe what you're after is to refer to the cuts' three elements: the sides, the top, and the edges. Know how long you want the hair on the sides and top of your head to be. Even with just those two nuggets of information, your barber will have a much better idea of what you're after. Edging, which refers to the hair on the sideburns, around the ears, and the nape of the neck, provides the finishing details.
 It also pays to understand basic hair terminology. Understand the difference between a fade and a taper. Learn more about classic styles like the crew cut, buzz cut, and undercut. If you can go so far as to understand grade numbers, that's even better!
 If all else fails, you can always bring a photo in! Nothing beats having some visual inspiration.
 Ultimately, giving as much information to your barber as possible will help make their job easier. Just communicate openly! Your barber knows that not everyone is a hair professional. Be descriptive and provide all the bits of detail you can, and you should come out with a killer haircut.
Need examples? Check the gallery below:
Wind-Swept Waves
Want a style that stands out? This cut offers the right amount of drama without going over the top! Highly adaptable, achieving this style is as easy as sleeking everything back. Leave a bit of fringe out at the top, and create some texture! The finished product is simple yet trendy.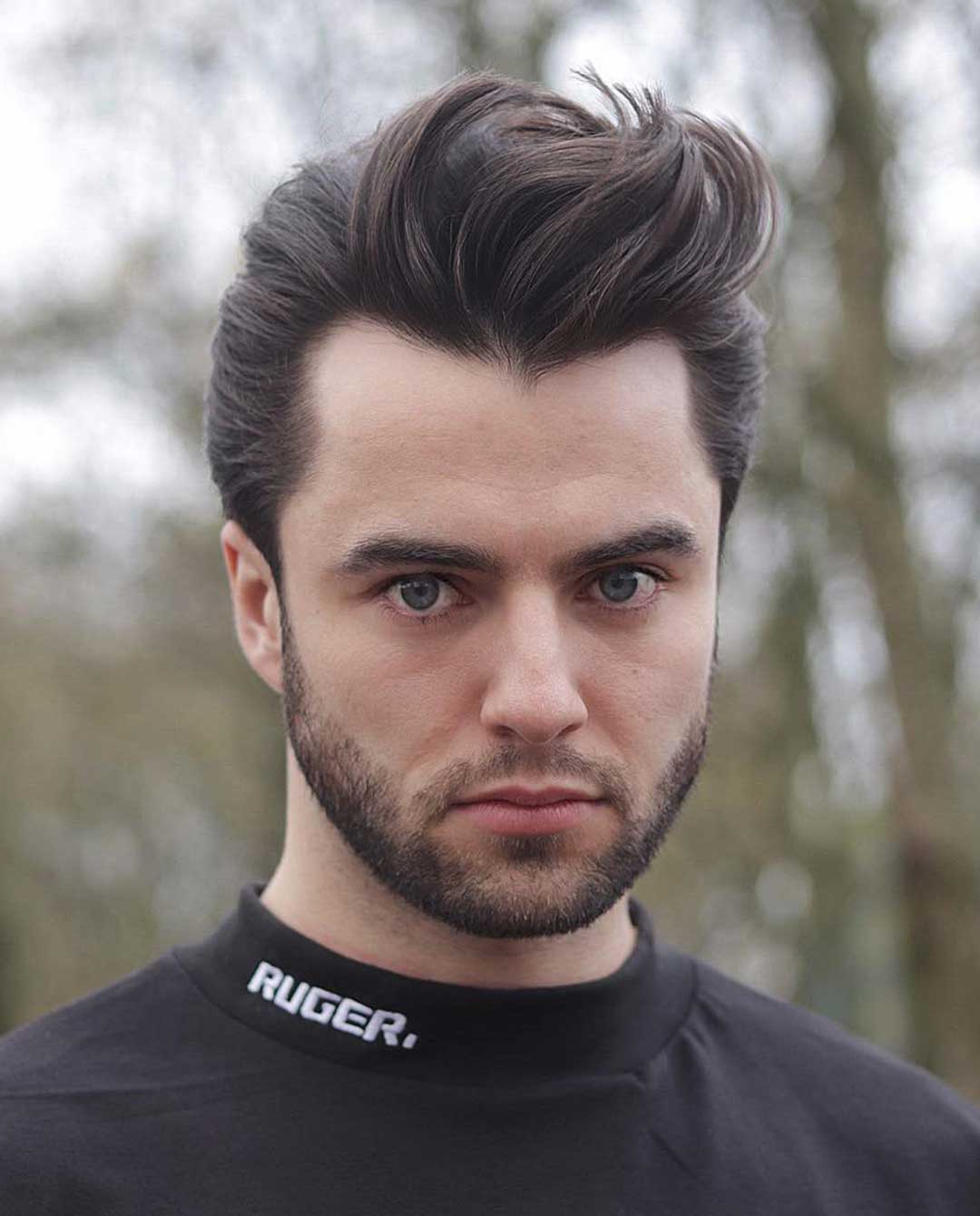 Textured Swoop
Lots of texture is the name of the game with this hairstyle! On the back and sides, it's your standard tight fade. But, the top features a rough texture. Throw some pomade in, and use your hands to create a signature swoop on the front.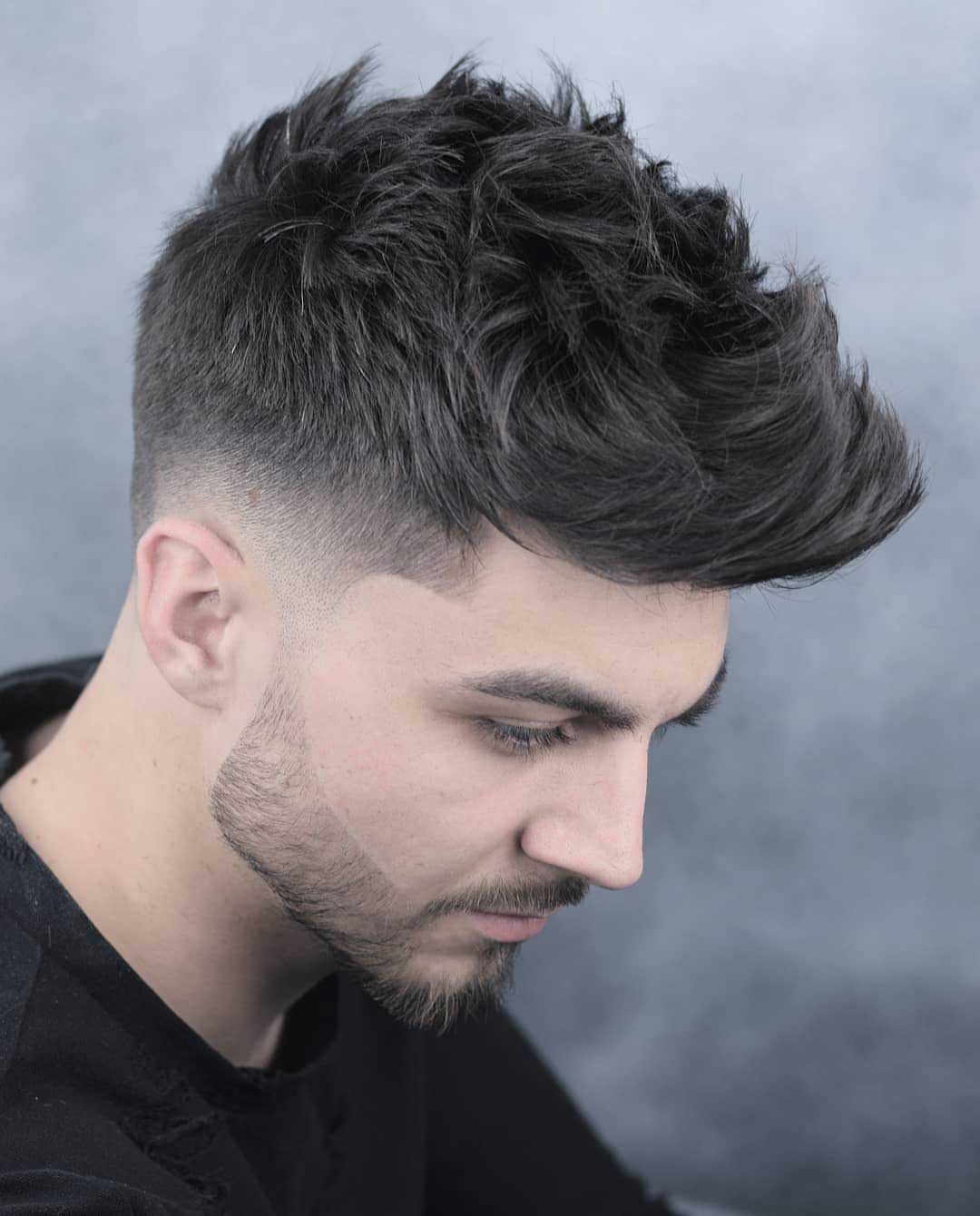 Curly Mushroom Dome
Embrace your natural texture! This haircut requires a specific face shape to pull off. For slim and angular faces, it provides an attractive look that puts the jawline front and center. The rounded shape balances out the rest of the face and gives you plenty of volume to boot.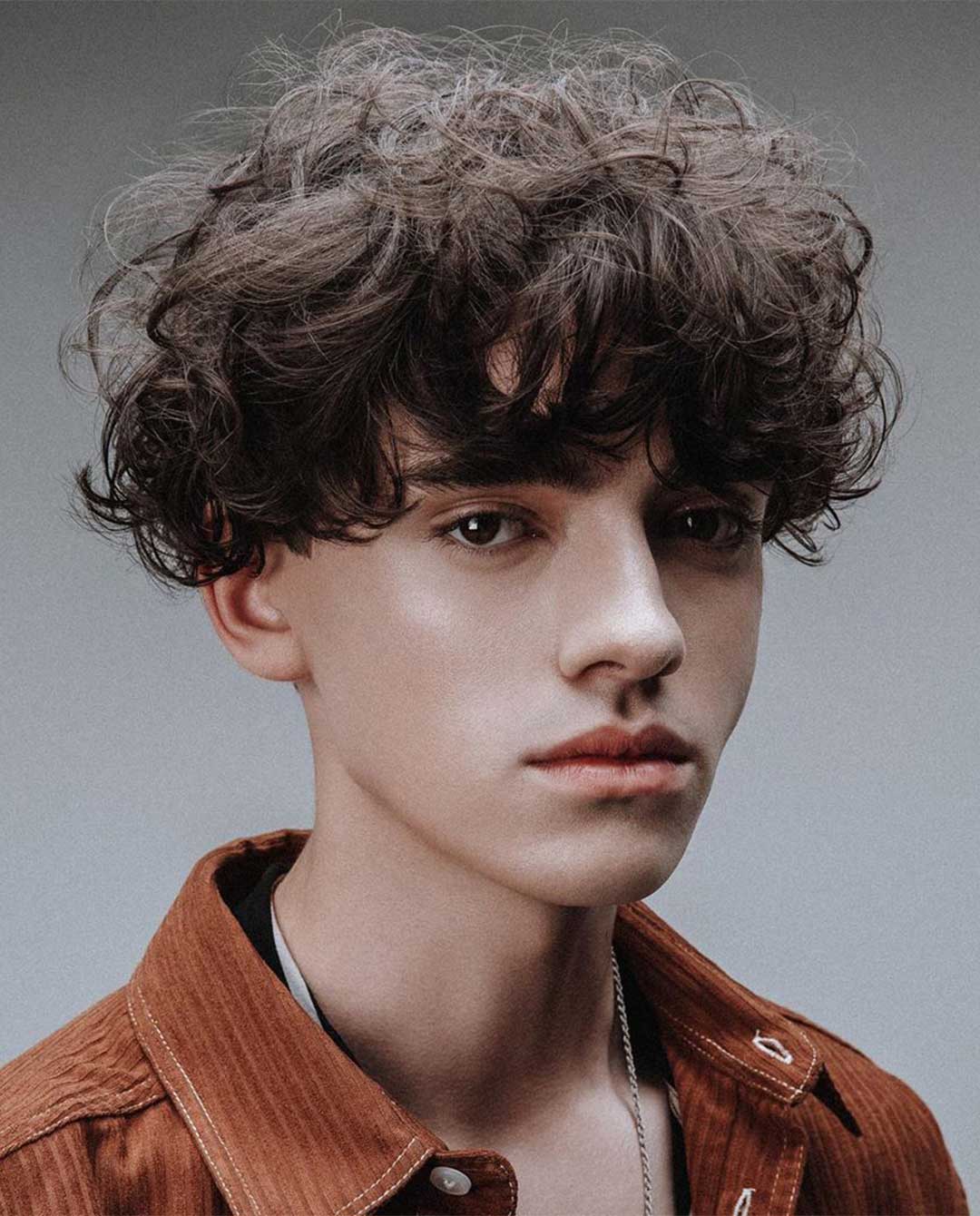 Swept Back Regular Haircut
Sport slicked-back hair without all of the rigidness and formality. With this regular haircut, all of your locks are back and out of your face. But, volume and texture keep things looking organically messy.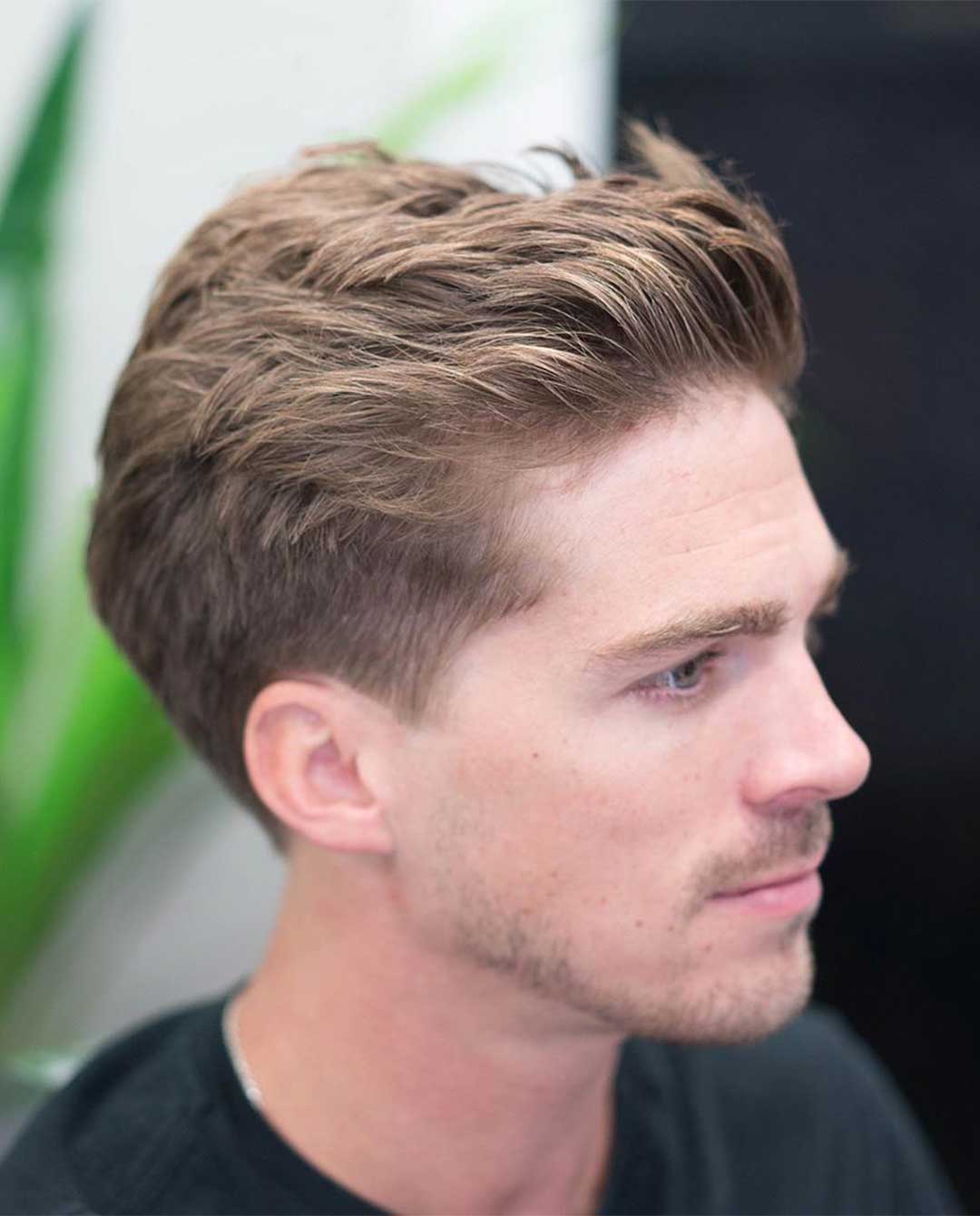 Blunt Curly Bangs
Take your aesthetics to the next level! This regular haircut marries sharp lines with organic texture. Men with naturally curly hair will rock this cut the best. It features longer fringe and messy curls cut into a manageable shape. The tight fade on the sides and back keeps the head looking slim despite the volume.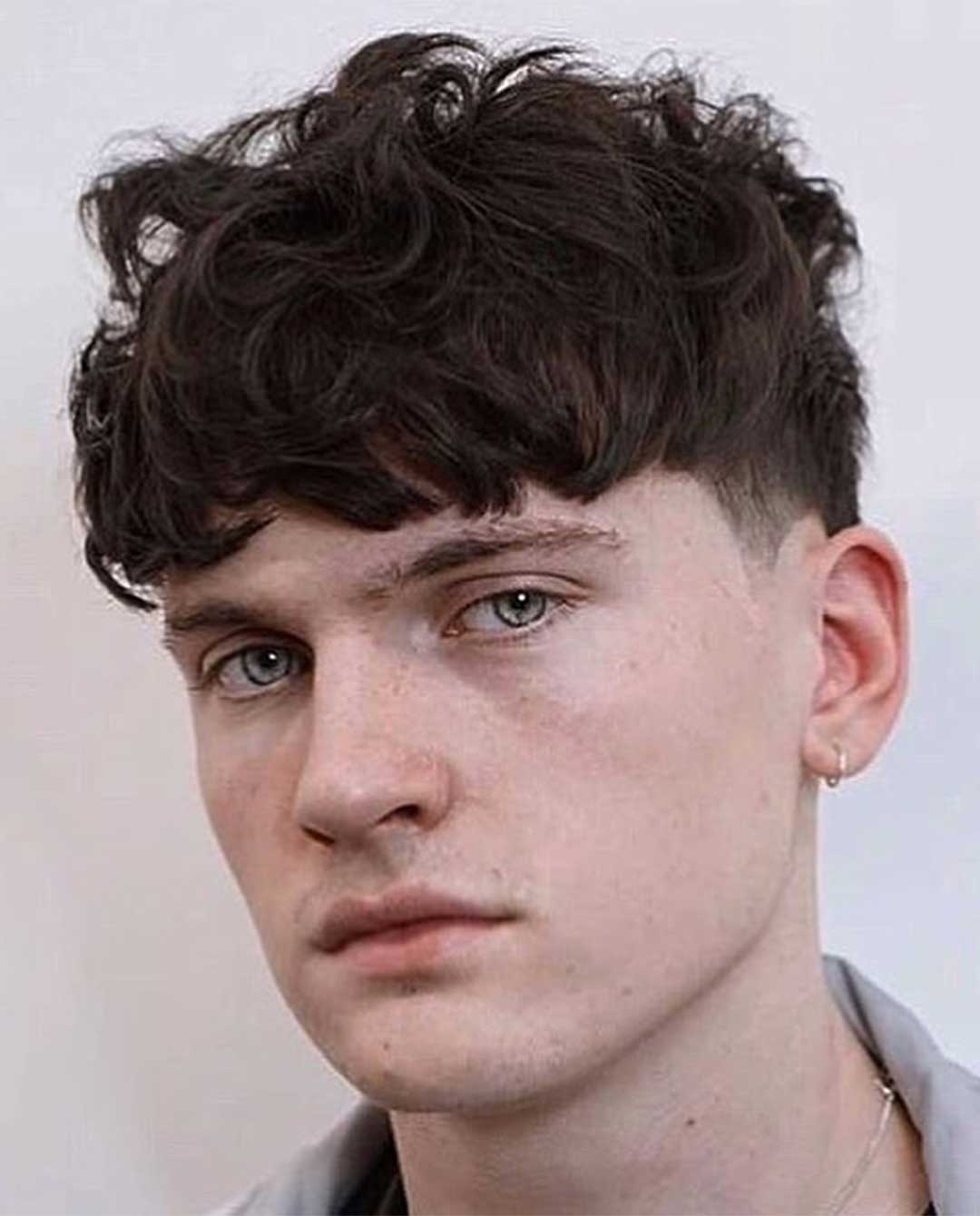 The Preppy Regular Haircut
Simple, clean, and universally attractive, this hairstyle will work on just about anyone! It has all the hallmarks of a "traditional" cut. You have a subtle taper on the sides, a comb-over on the top, and a straight-up pomp flick on the front. All of these elements work together to create a stylish look all around.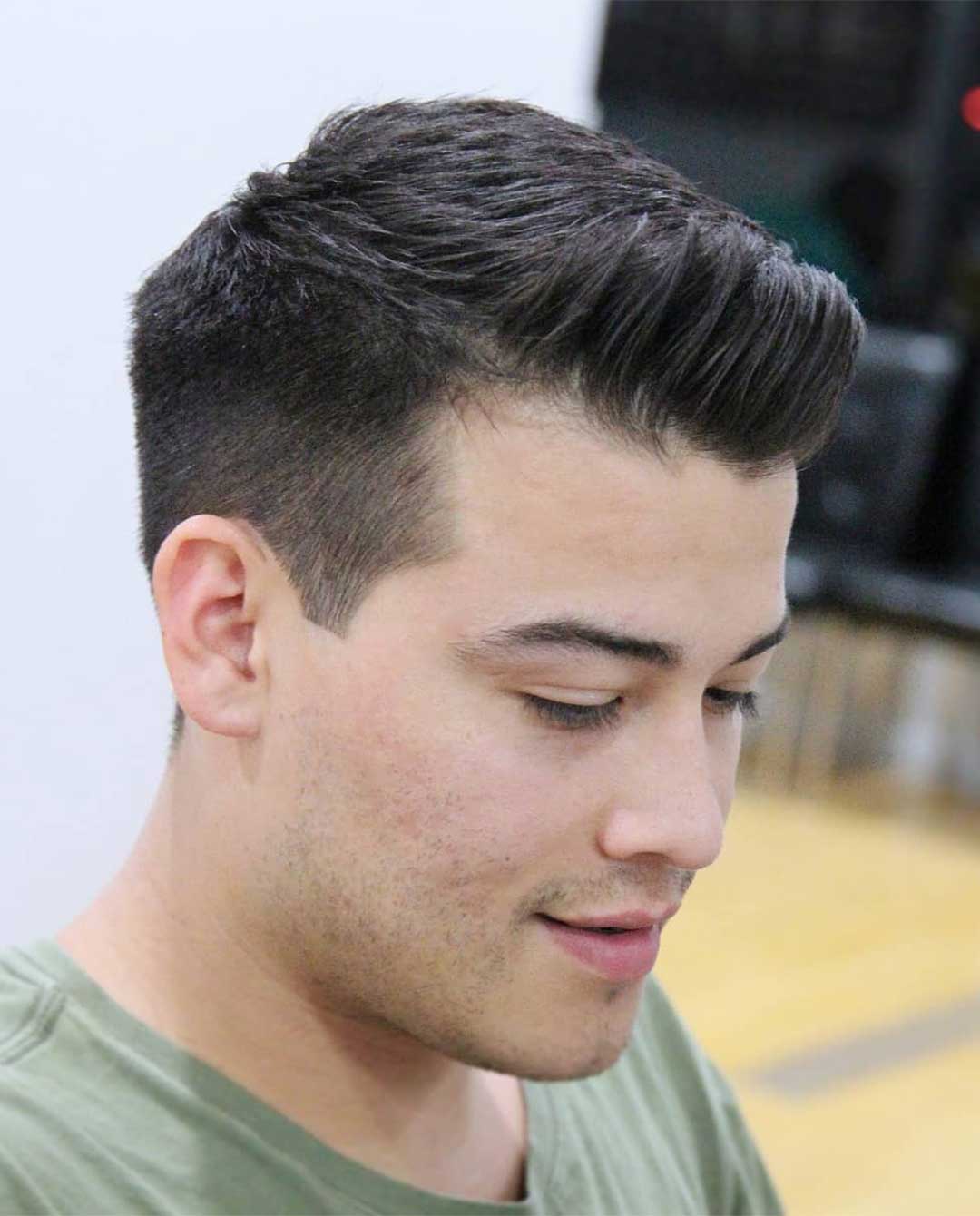 Classic Pompadour
You can't go wrong with a modern pompadour. Popularized by Hollywood stars of the 50s and 60s, this haircut perseveres today. It's best for guys with triangular faces. The height will balance out your profile and accentuate your jawline.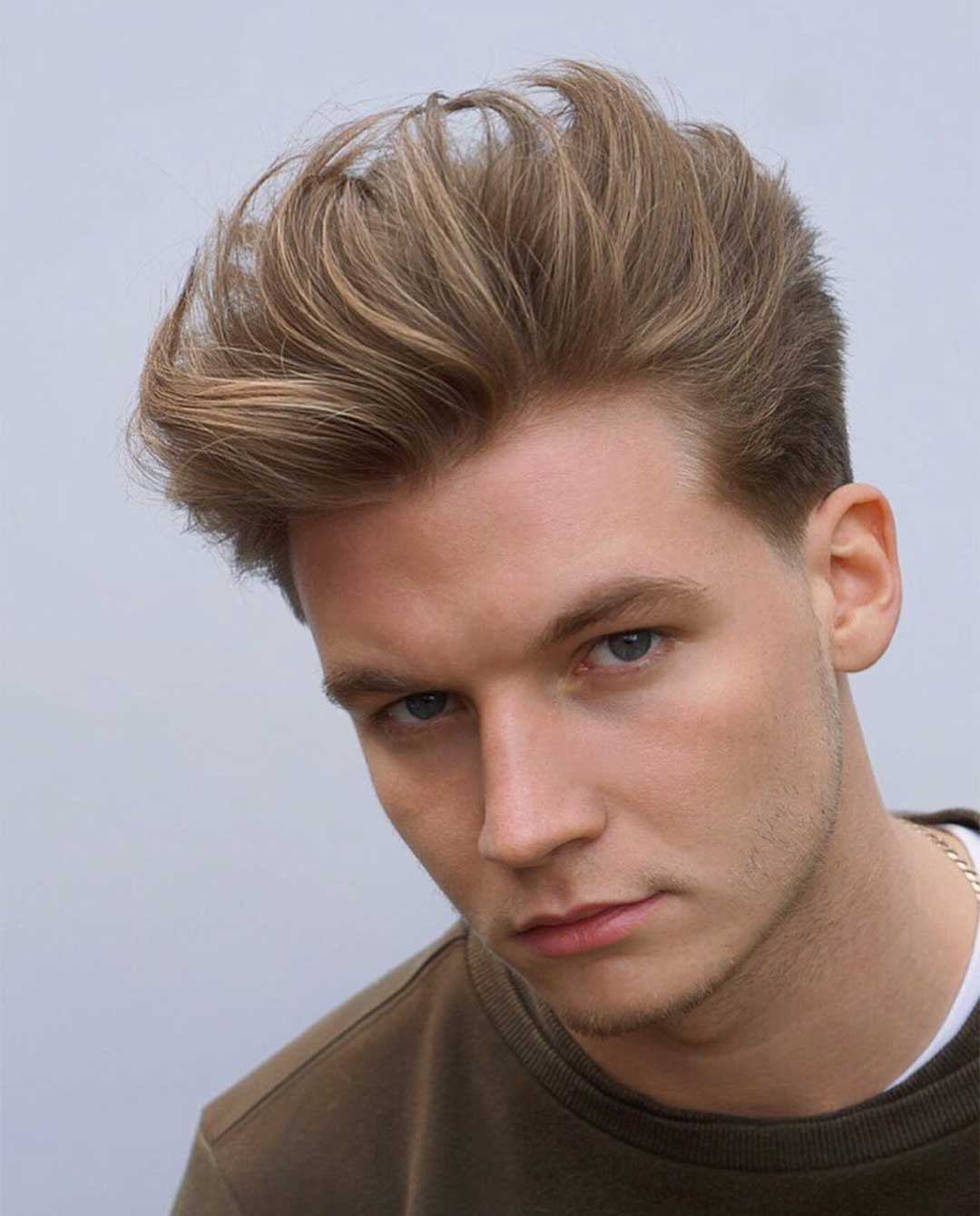 Curly Crew Cut
Here's a military-inspired look that gives off more laid-back vibes. It has elements of a traditional crew cut, sporting tight hair on the sides and longer tresses on the top. Work some product into the front hairline, and you can achieve some definition that makes this style stand out.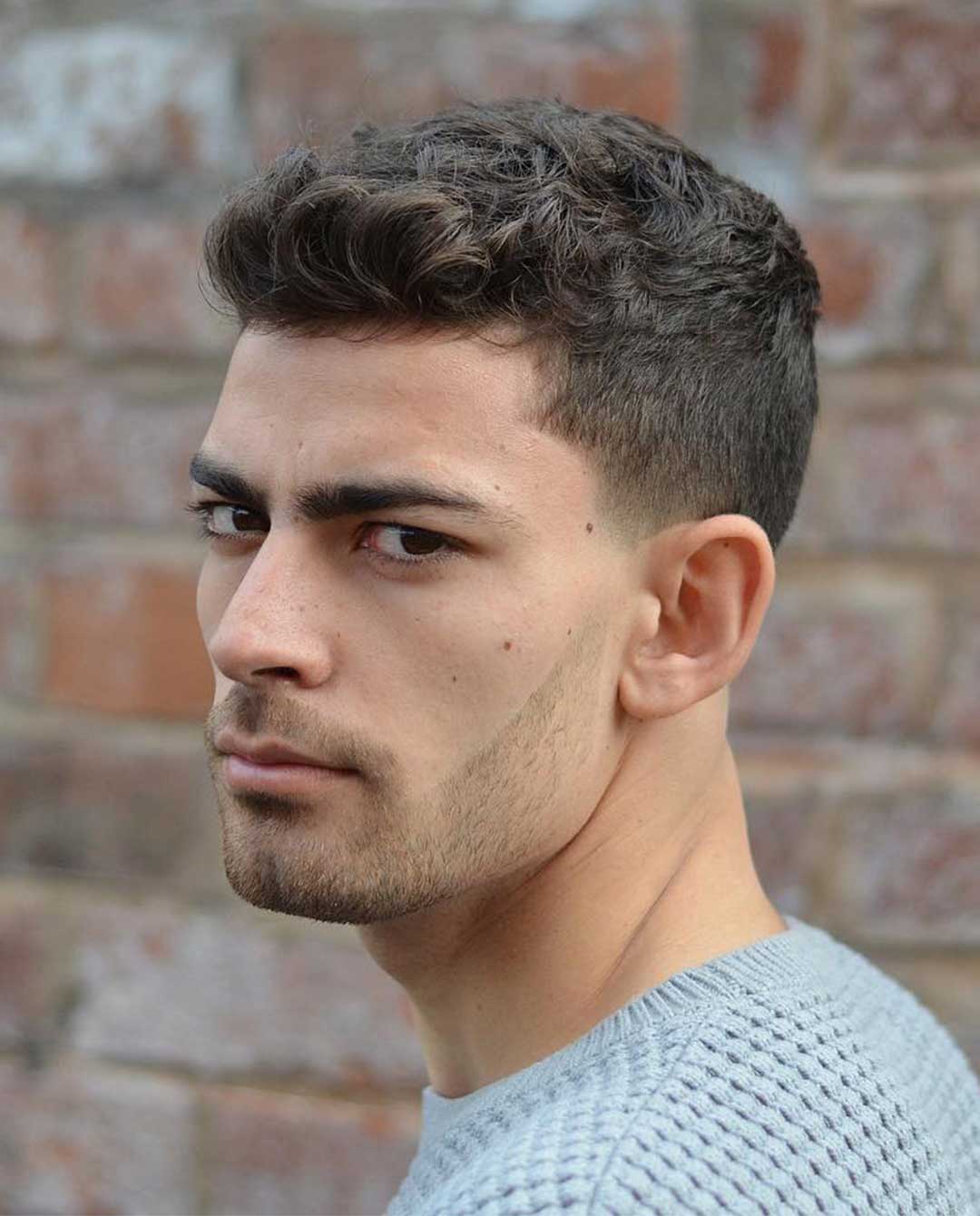 Trendy Undercut Quiff
This cut looks similar to a pompadour, but it has a lot more texture. Keep the sides buzzed short, and have your barber create a dramatic length difference around the temples. Add some volume to help your hair reach the heavens, and you're good to go!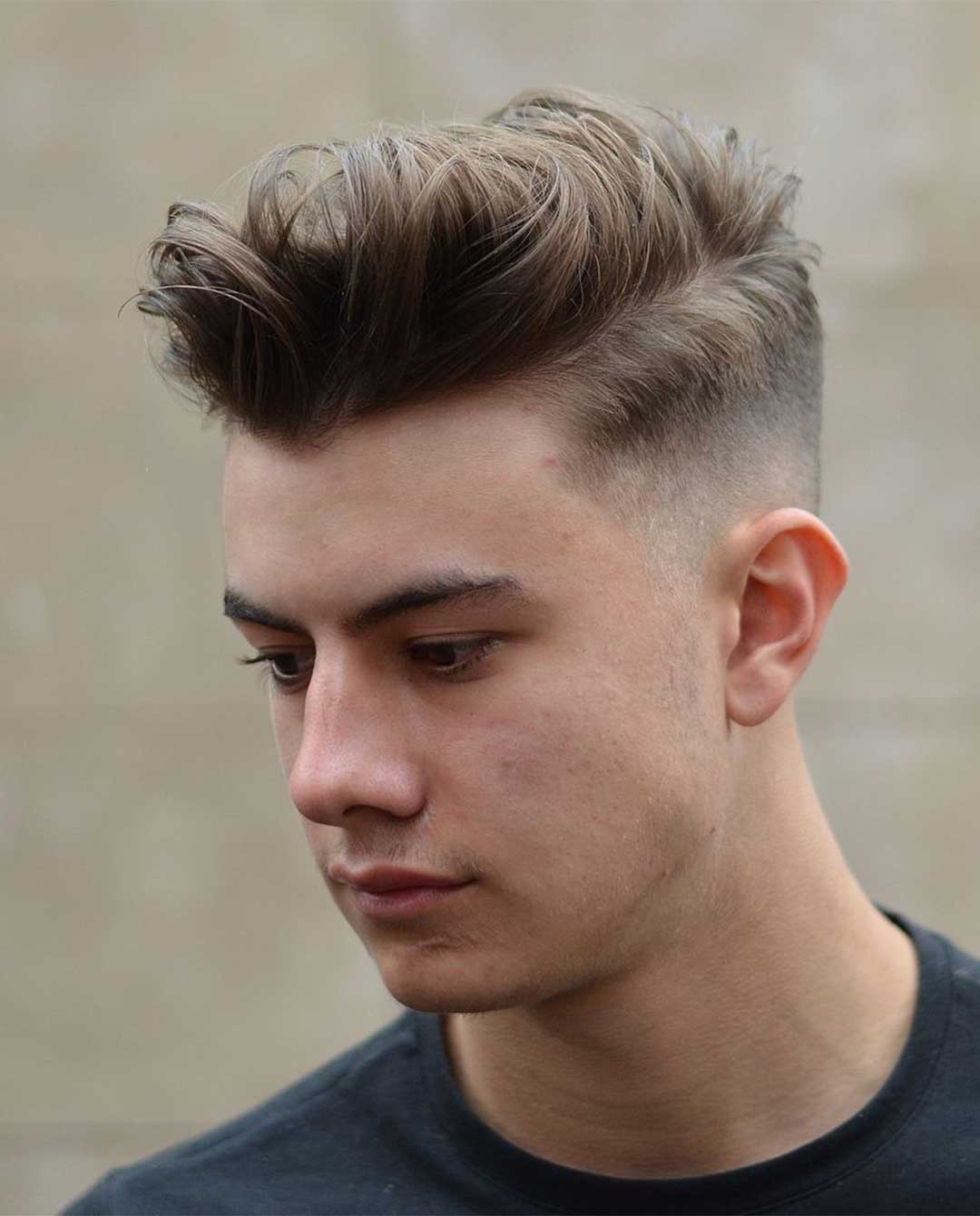 Textured Regular Haircut
Here's a simple cut with a lot of exciting details. It features a teardrop-style fade that follows the contours of your dome. Have your barber cut a dramatic line to accent your profile. Up top, let your natural texture run free for a bit of drama and height!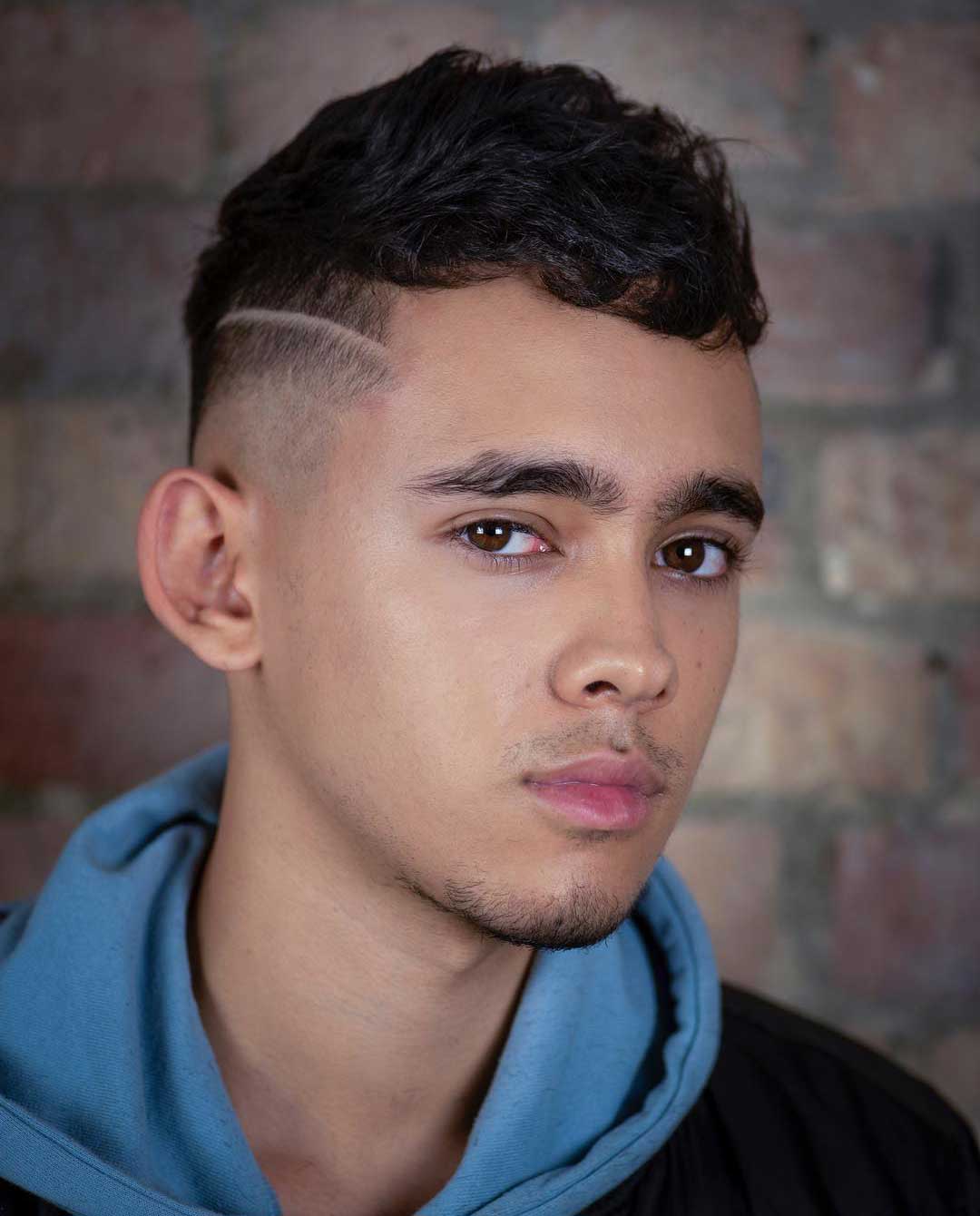 High and Tight Pomp
If you have a square or oval-shaped face, this voluminous pompadour will look fantastic! From a styling standpoint, it's pretty simple. The sides are short and have a gradual bare-skin fade. Meanwhile, the top stands on end to give your head a defined shape.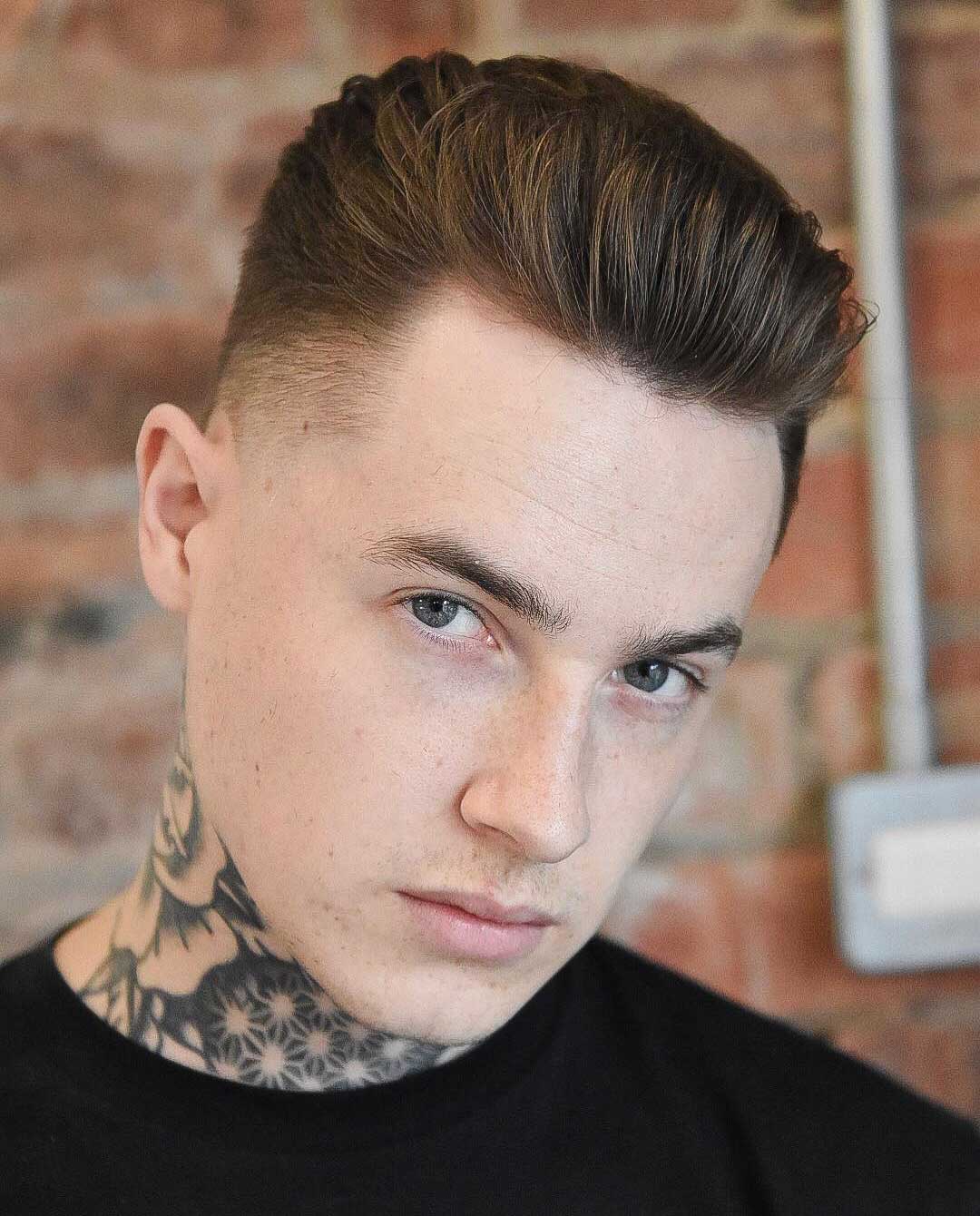 The Relaxed Caesar
Simple and easy to style, this haircut is super low-maintenance. It's a more relaxed take on a traditional Caesar. You're getting that blunt fringe line and angular shape. But, a slick fade on the sides and back gives it a more contemporary twist.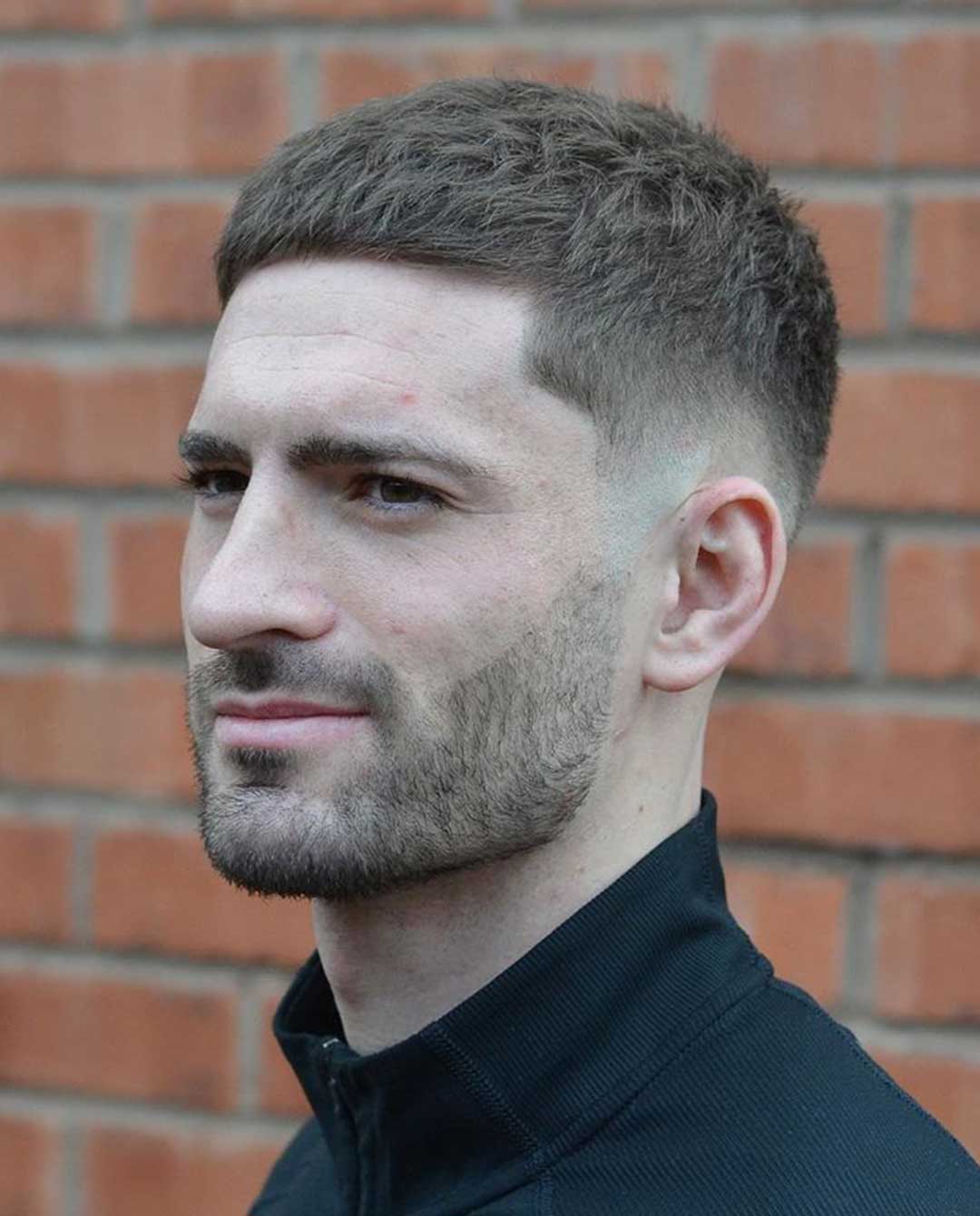 Comb Over Regular Haircut
Check out this versatile regular haircut. No matter your personal style, it just works! You can easily style the comb-over for a professional setting. But thanks to the subtle texture and short fade, it works well in more fashionable moments, too.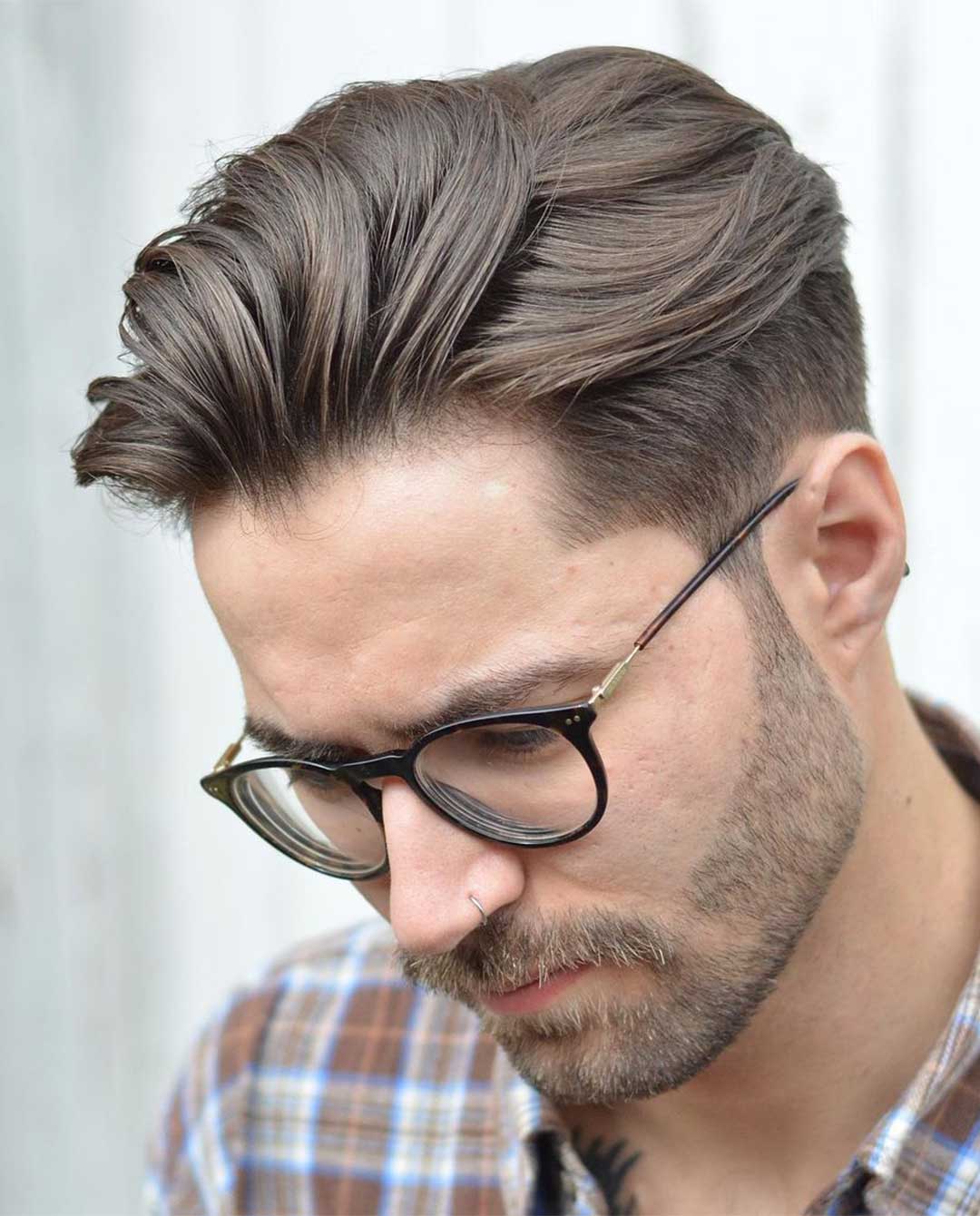 Trendy French Crop
Let your jawline and face angles be the star of the show! This clean-cut hairstyle keeps bulk away from the face. Some curls on the fringe add some visual interest. But, a low fade on the sides and back maintains a fresh and tight look.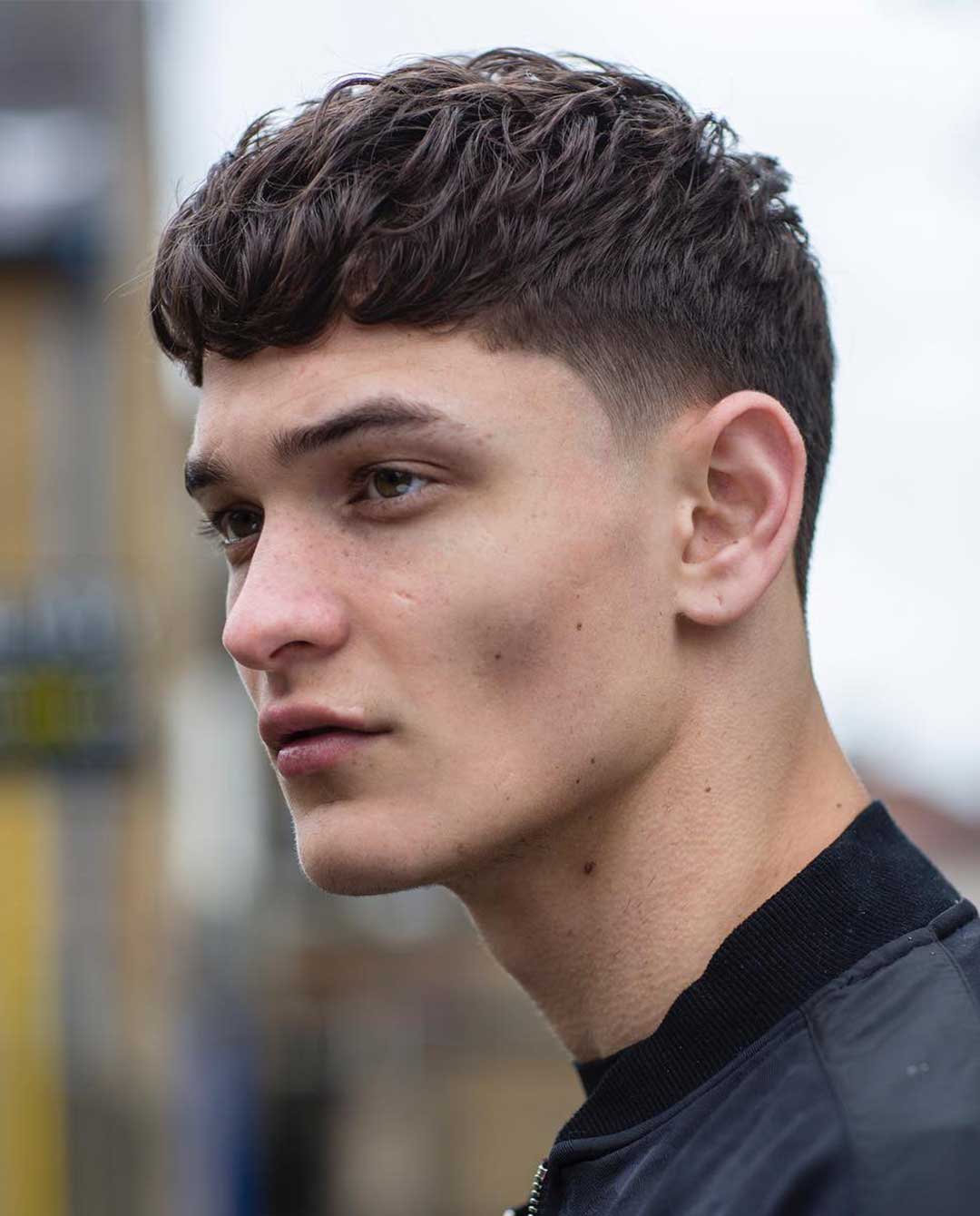 Messy Regular Haircut
Want an effortlessly stylish expression? With this haircut, you'll look like you hopped out of bed, pushed your hair back, and headed out for the day! It's ideal for guys with medium-length hair and some subtle layering. A bit of light-hold product will keep the hair in place while still providing plenty of movement.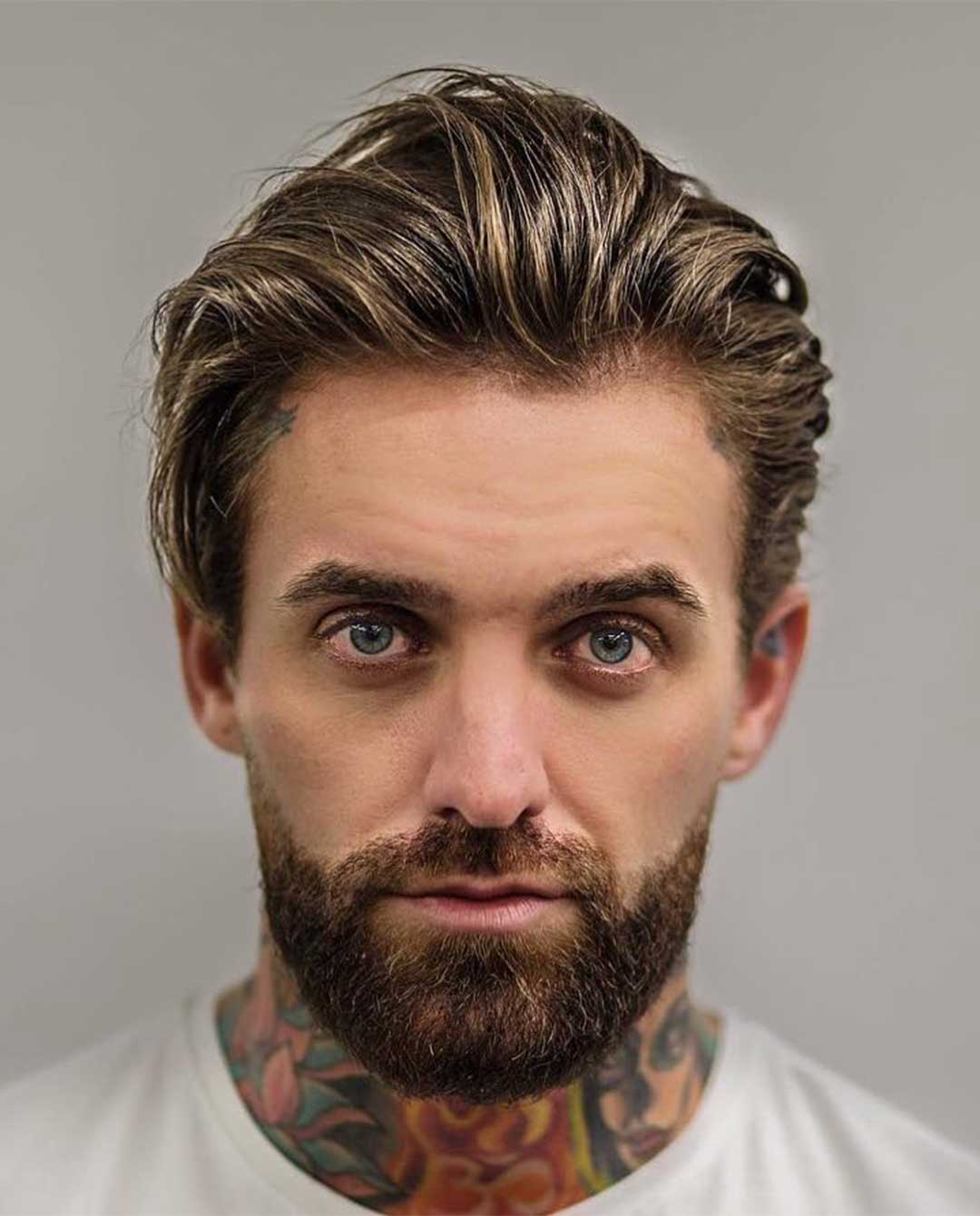 Comb Over Skin Fade
Get a somewhat rebellious look without going to extremes. This regular haircut has a comb-over style top with a modern teardrop fade on the back and sides. The fade adds tons of drama, transitioning to bare skin. Up top, your hair creates the classic comb-over profile.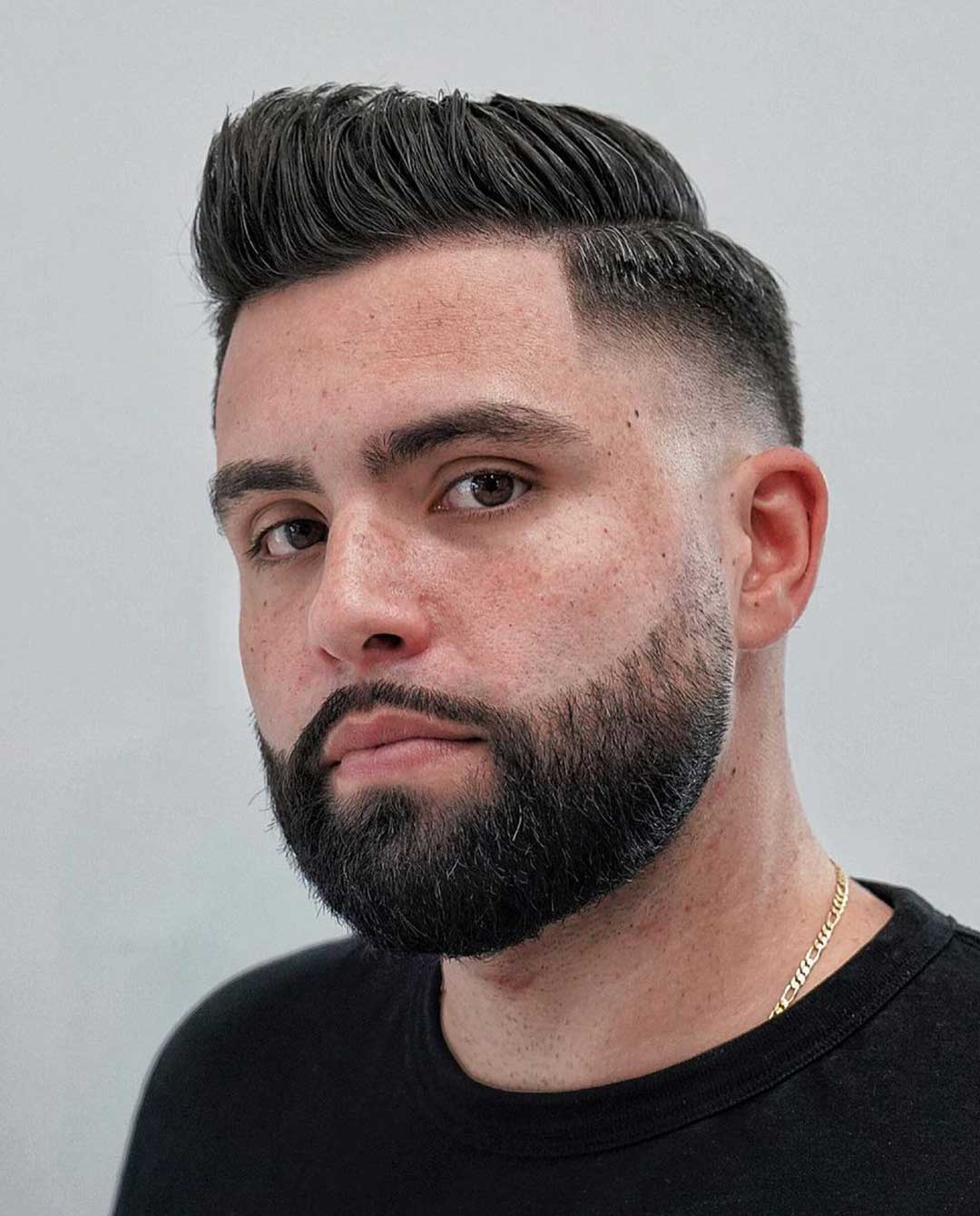 Loose Regular Haircut
The old-school style was tight against the head. Here's a modern take that's a bit more easy-going. Perfect for medium-length hair, all you have to do is sweep everything back. Use a product that creates tons of body to maintain a loose and textured look.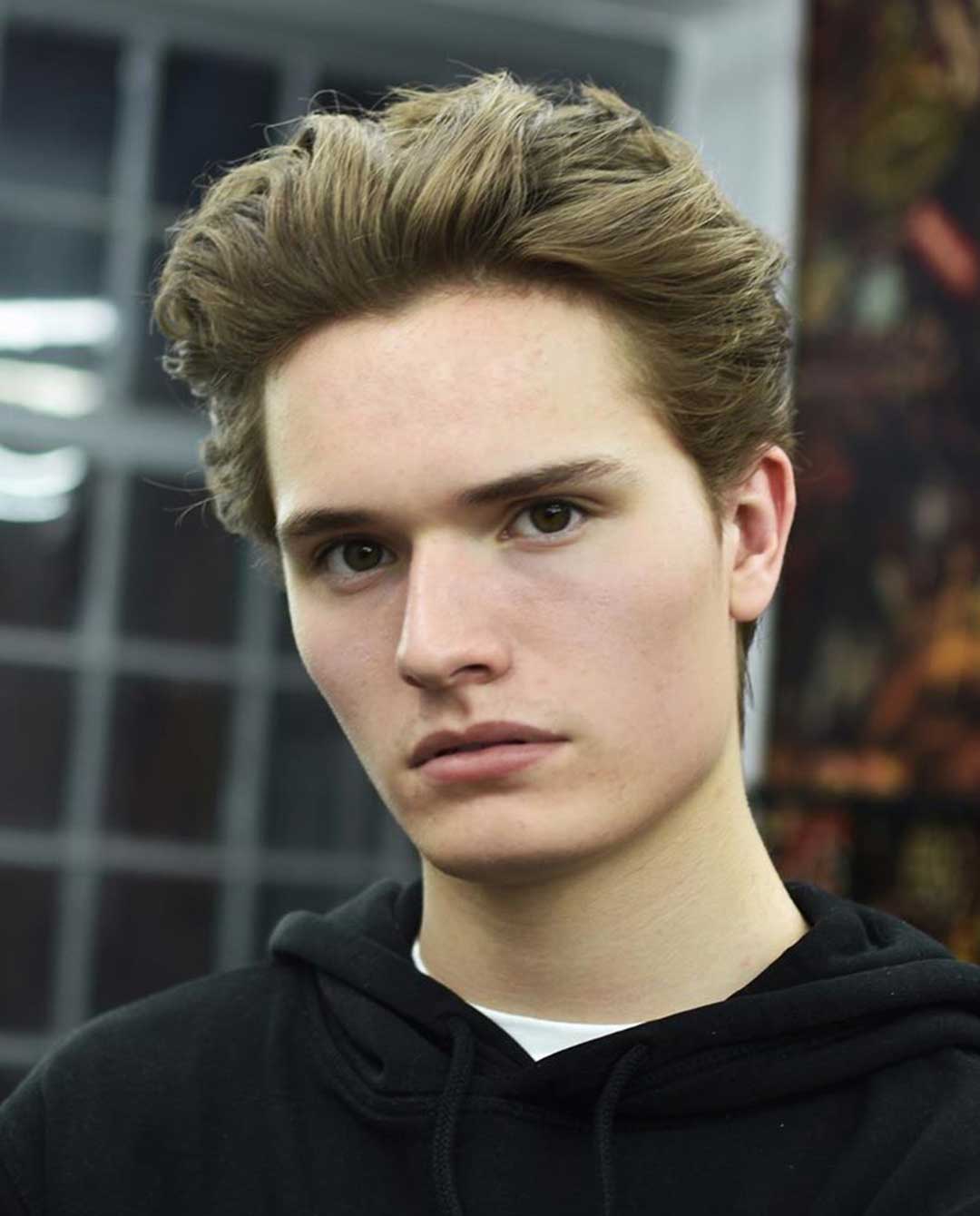 Hard Line Undercut
Attract all the right attention with a cut like this! The hard-line undercut has some unique detailing you can see from every angle. The most noticeable is the dramatic razored line that stretches from temple to temple. Dense texture and volume offer a nice contrast to the slick sides.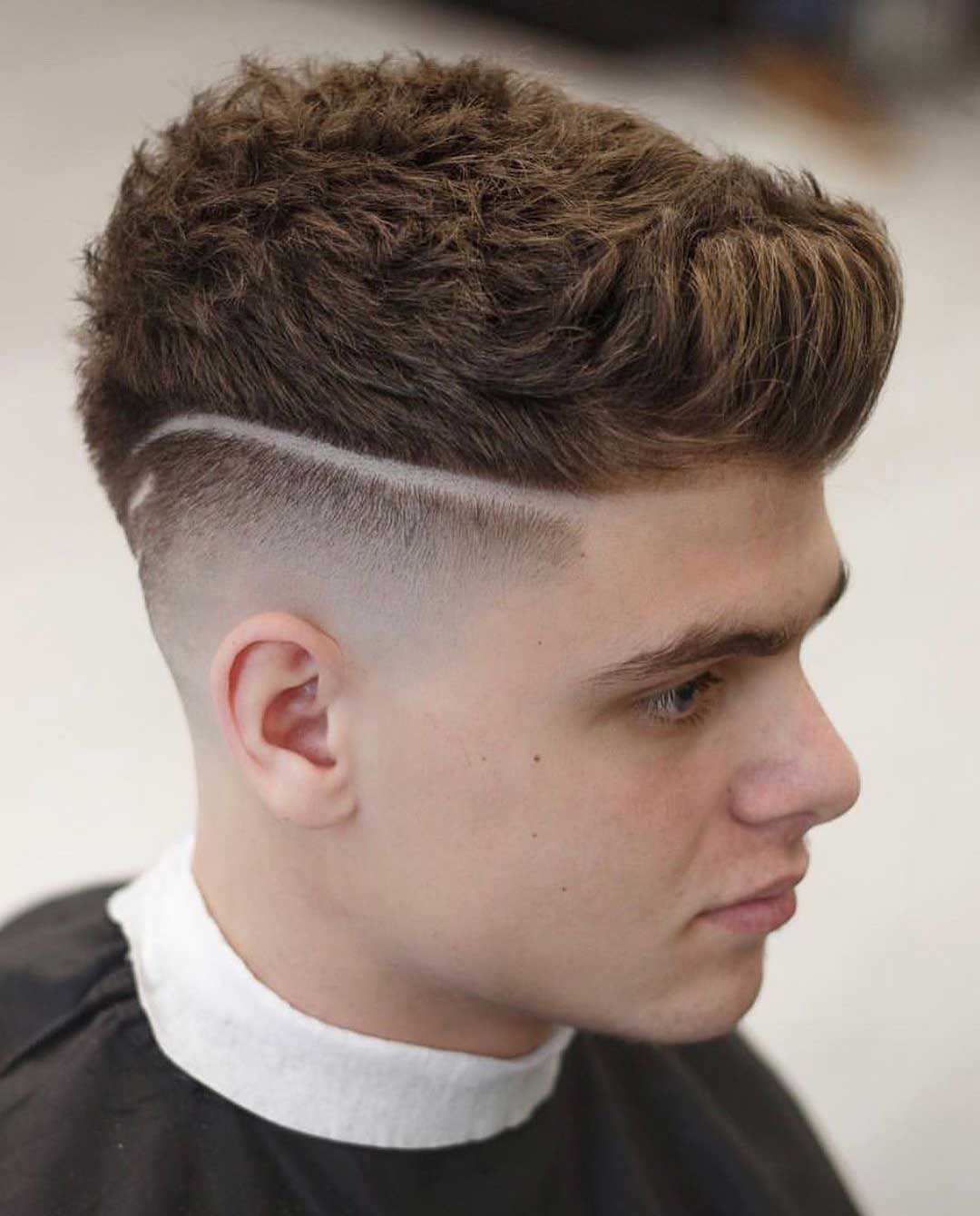 Bleached-Out Bangs
You can get a visually striking appearance with a bit of bleach while still keeping the cut simple. With this hairstyle, the sides are short and clean. However, the fringe is straight and long to give you some edge. Throw icy blond hair into the mix, and you have a recipe for something truly unique.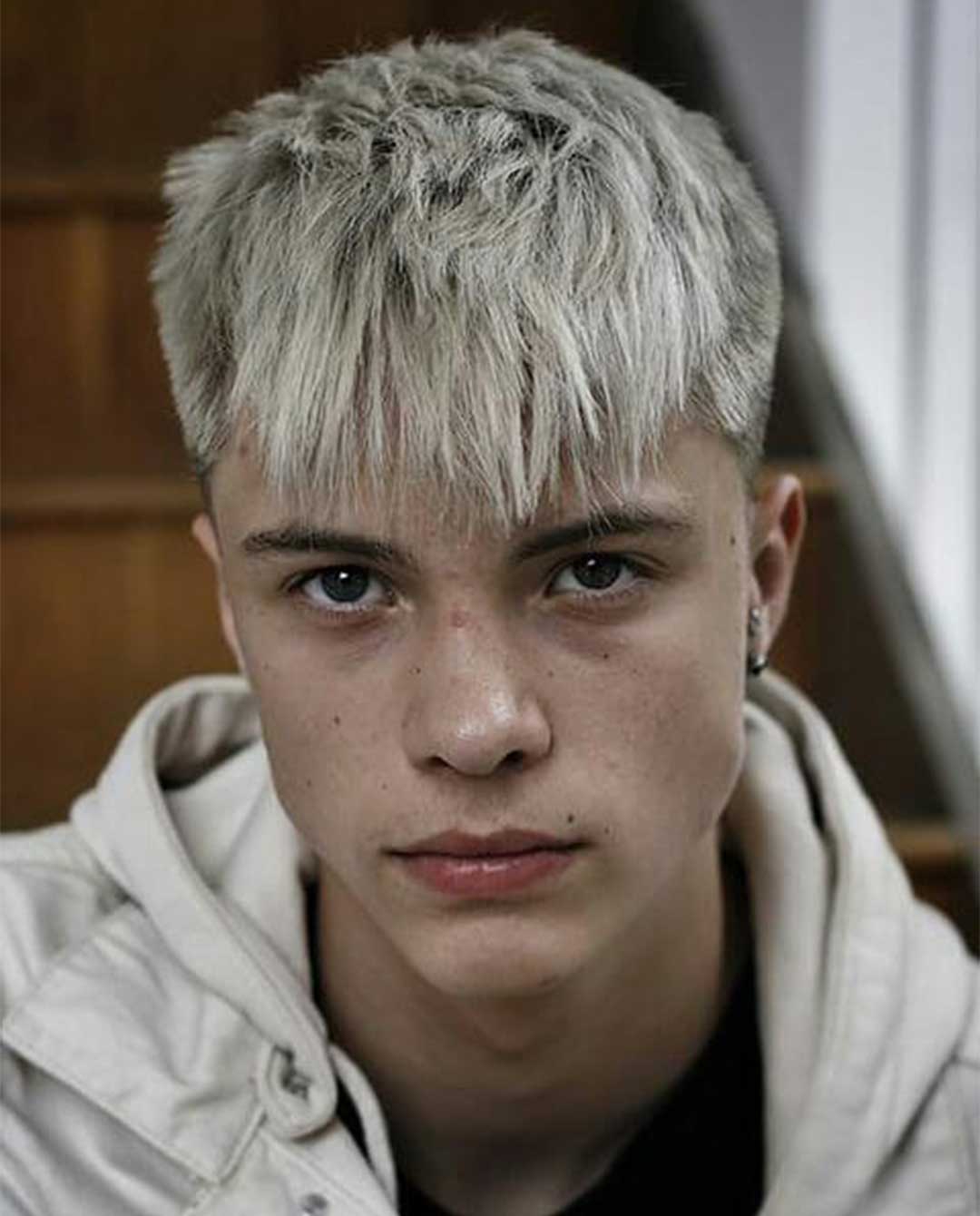 Disconnected Regular Haircut
You don't have to let your natural texture run wild. This regular haircut is perfect for guys with thick hair who want something more manageable. Work some strong-hold gel or wax into your tresses on the top. Then, push it all back with a comb to get a sleek look that turns heads.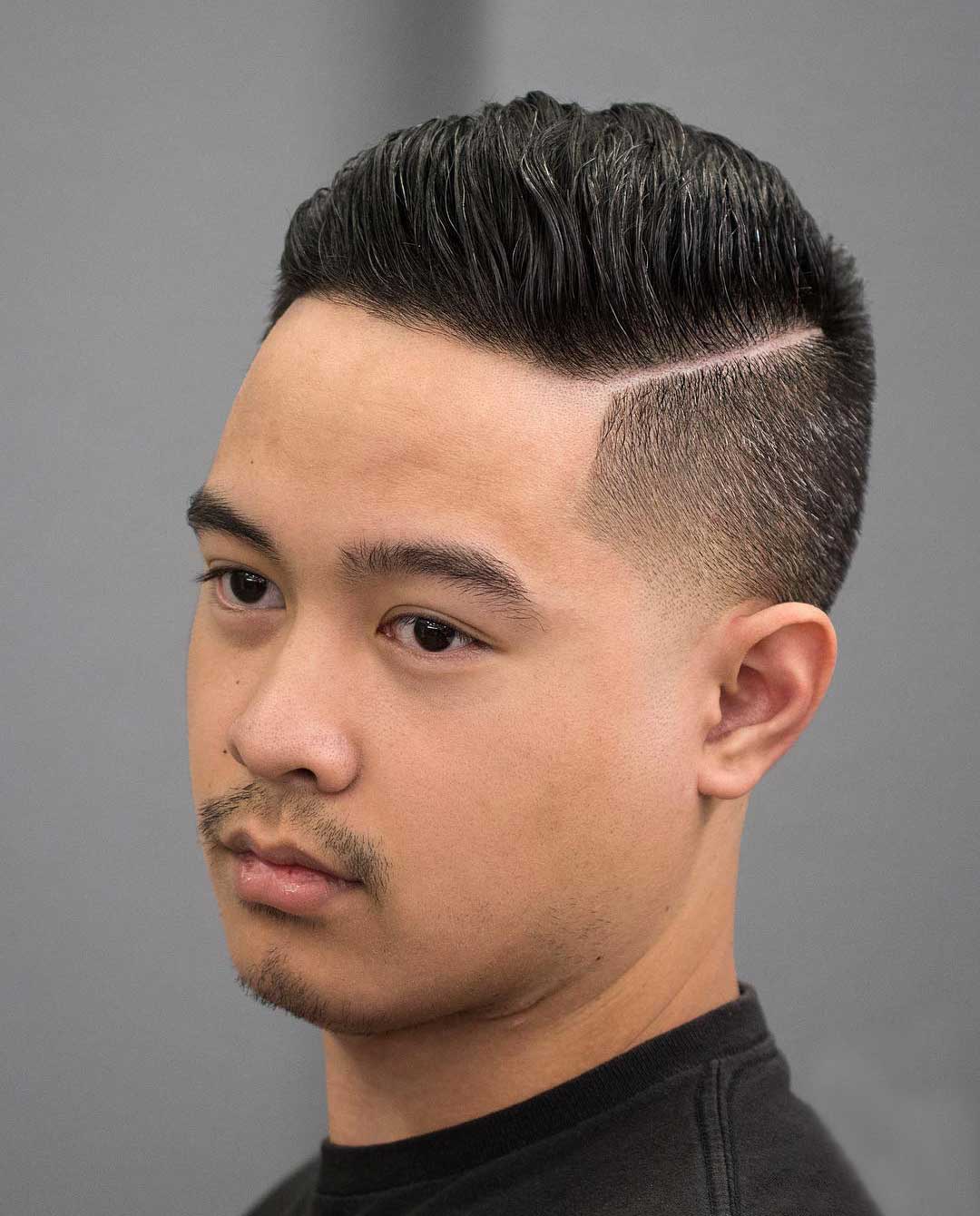 Faux Hawk with High Fade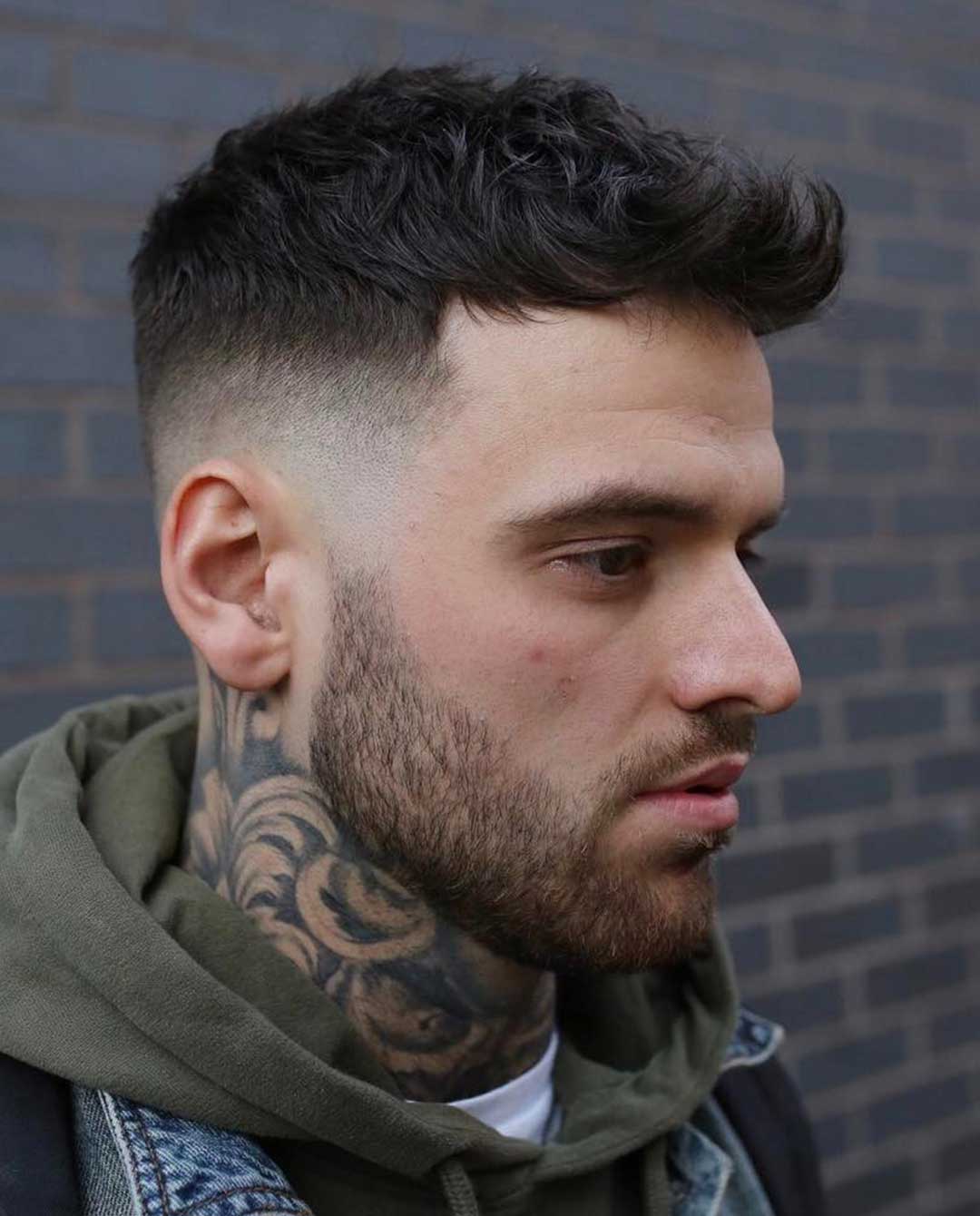 Temple Fade Caesar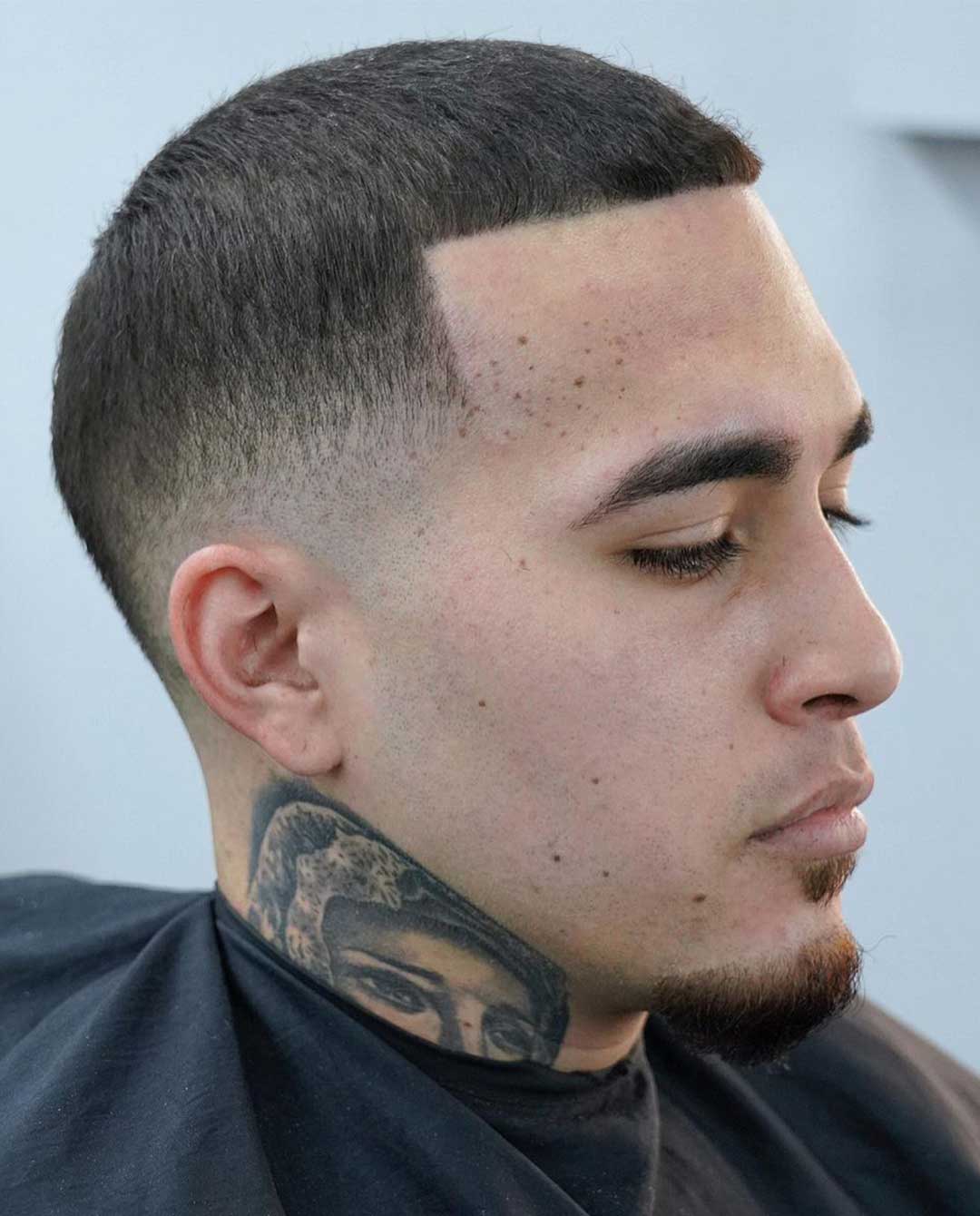 Kinky Regular Haircut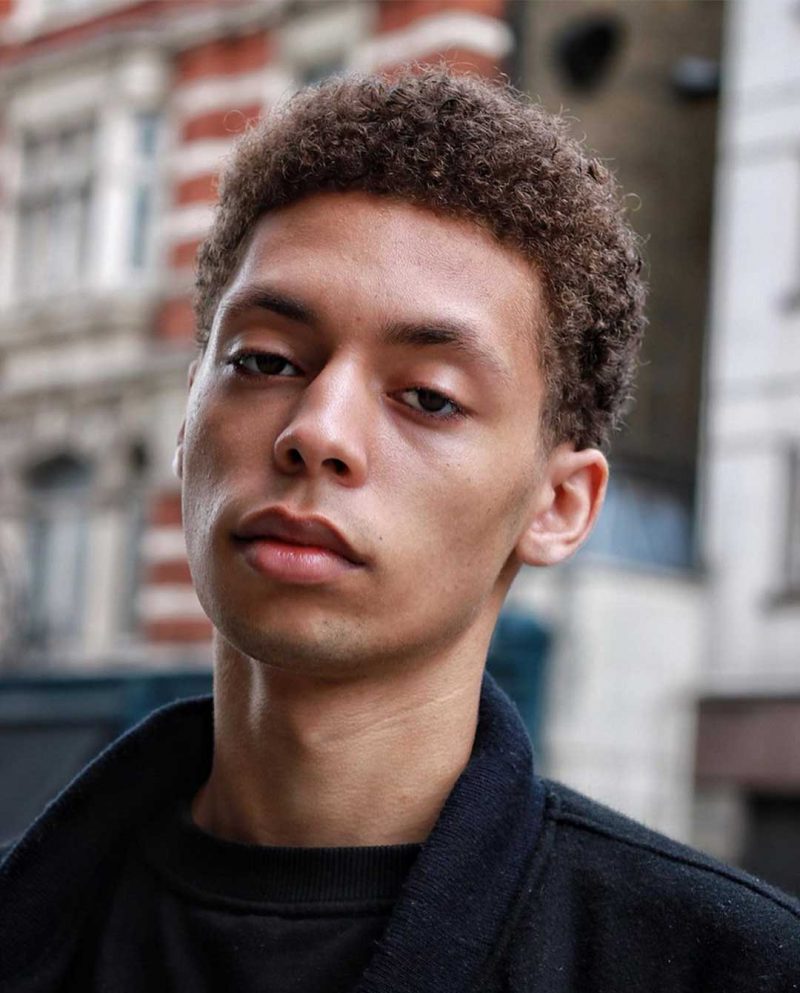 Deep Parted Regular Haircut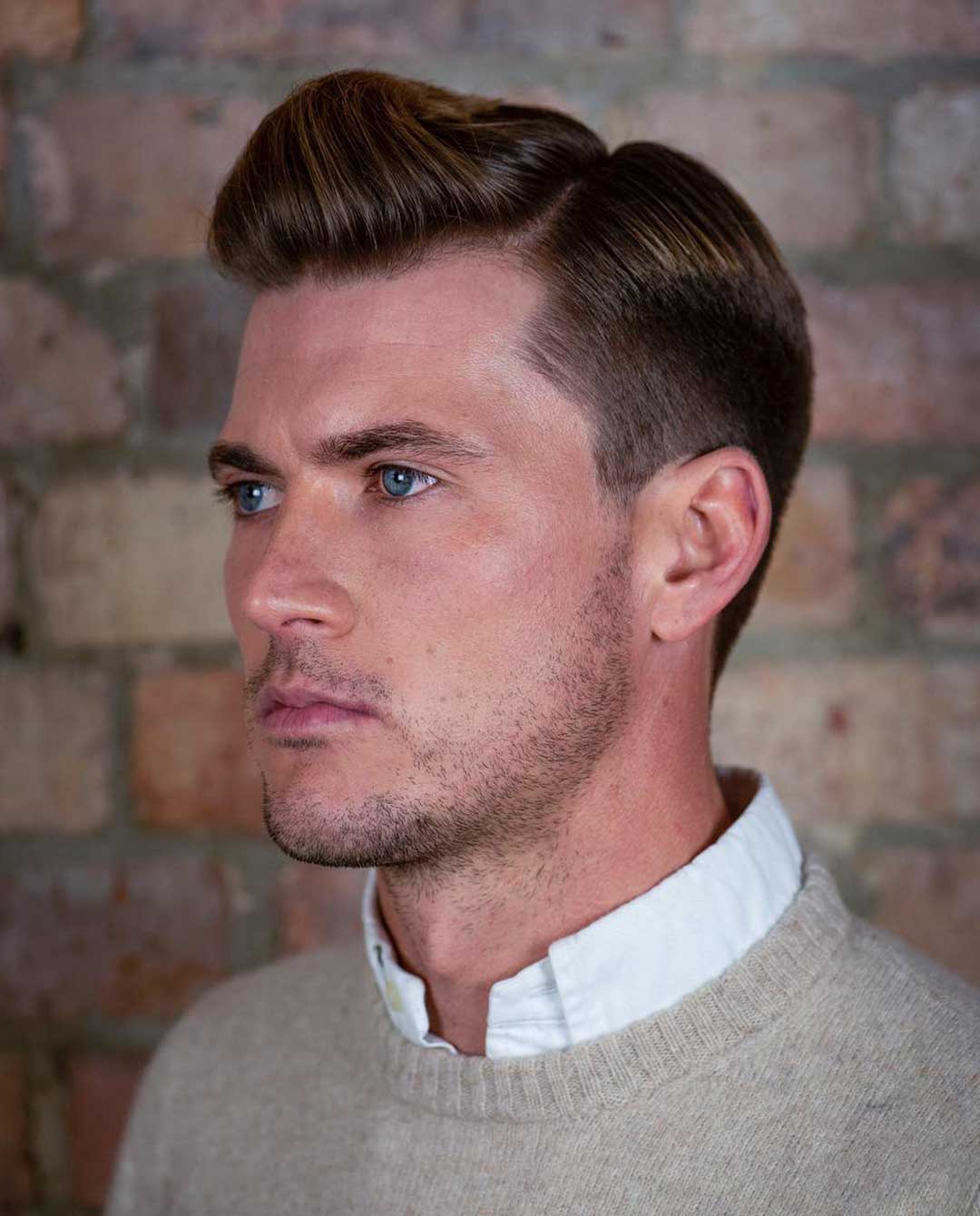 FAQs
Conclusion
 Regular haircuts are easy and adapt well to any situation. They're not so individualized that they define who you are or what you can do. However, they are still on-trend and give any man a fashion-forward look.