We've come out with the trendiest Asian men hairstyles! If you've been wondering what kind of haircut you should get the next time you visit your barber, our list of the styles will help you make your decision. This year, the styles we're seeing are heavy on volume and creativity, with an emphasis on neat, buzzed necklines.
Popular Hairstyles for Asian Men
It's been a long time coming for Asian men's hair culture, as today we see a versatile style sheet for Asian men all around the world that extends way past the Qing Dynasty days. Common Asian hairstyles derive from Japanese Samurai warriors, the "Man Bun." They come in various styles: The loose man bun, the man bun undercut, and the half up man bun. Also, two block cut is the most widespread haircut in Korea and K-Pop culture. The faux hawk, neat side part, and brow out styles are also popular, mostly by younger men.
Need examples? Check the gallery below:
Asian men's hairstyles evolved into a more free display of versatility. Now, we can see that they are exploring various hairstyles to take full advantage of their thick and dense hair texture.
Classic Slicked Back
This sleek style oozes sophistication. It pairs a glossy gelled slicked back with whitewall sides. Surprisingly, this doesn't require a ton of effort to pull off. As long as you commit to maintaining a neat, classic taper cut, all you have to do is slick it back with gel, and you're all set.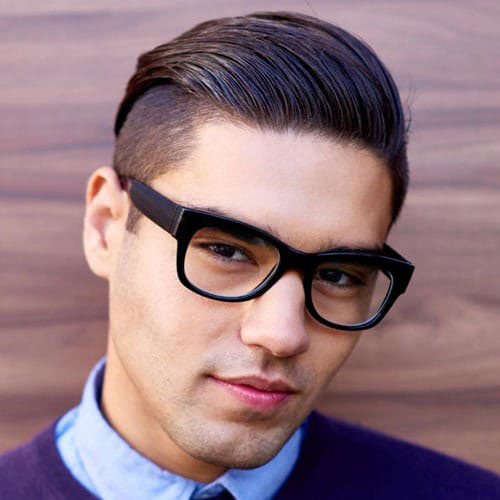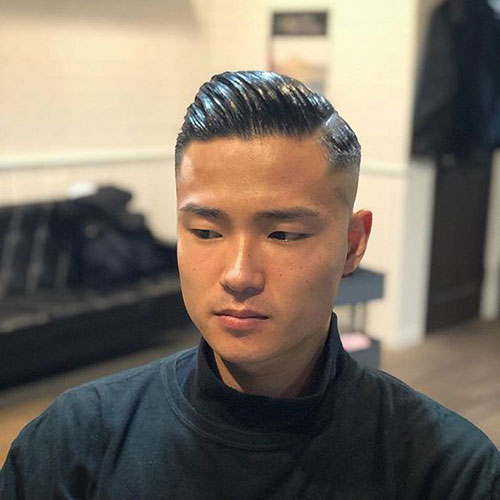 Layered Two-Block Haircut
This gently textured layer cut is a bit longer on top than on the sides. This is one of the softest and easiest Asian hairstyles. This look can be achieved with minimum effort just by taking good care of your hair's health. Be sure to invest in a moisturizing conditioner for this one!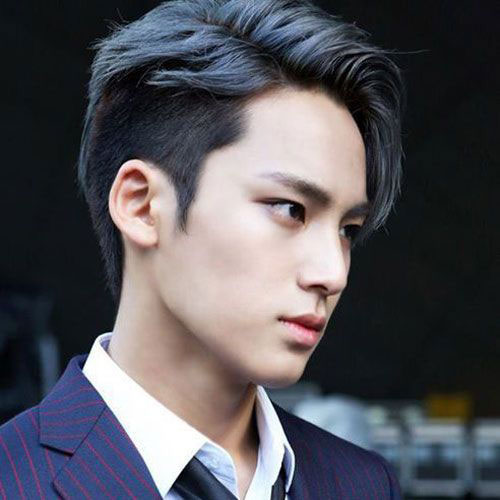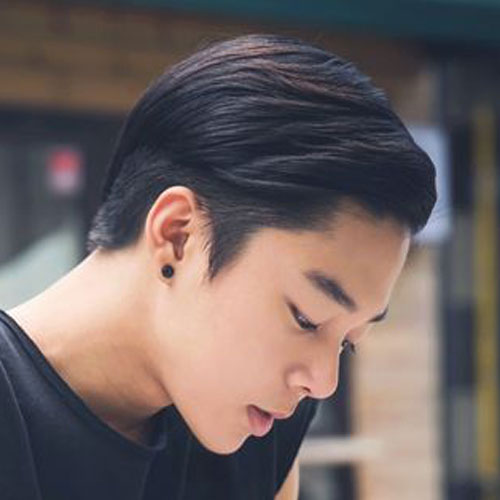 Taper with Texture
Loads of texture in this fade! This cut is buzzed almost to the skin at the neck and smoothly eases up into a unique, messy mass of longer layers at the crown of the head. While this look certainly has a rough edge to it, it's definitely one of the Asian hairstyles for the kind of man who doesn't mind hanging out in front of a mirror – all those spikes take time to style.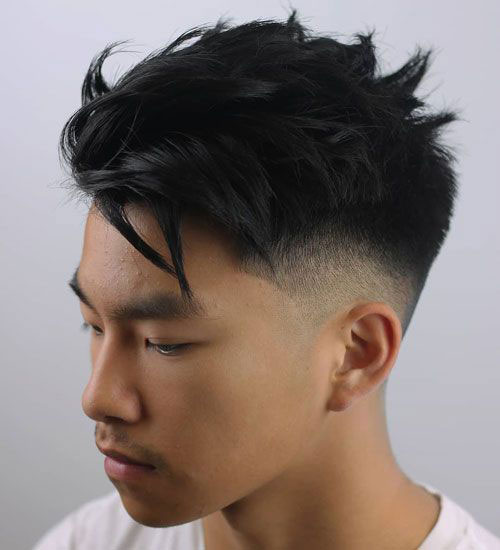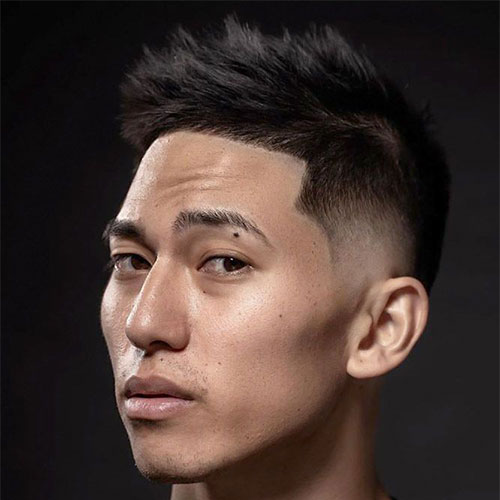 Mohawk with Edge
This mohawk haircut is a good choice for the kind of man who likes to do things himself. It's not too precise, despite the architectural lines cut into the side. Out of all the Asian hairstyles, this is the kind of look that can be achieved with a simple set of clippers and a few mirrors at home.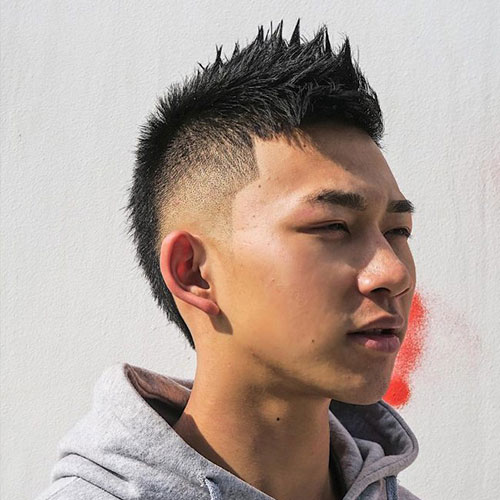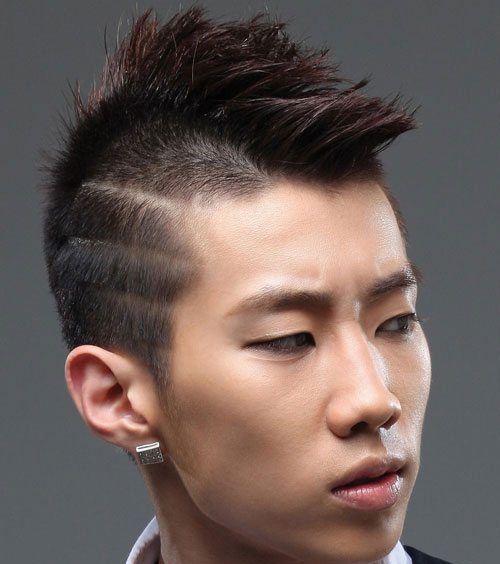 Top Knot Undercut
This is a creative urban spin on the undercut. In addition to the two lines in the fade near the temple, this style features a longer section with bleached tips pulled back into a neat updo. To pull this off, you'll need to commit to daily styling and frequent maintenance at the barbershop. This bold man bun style is definitely not for those who are faint of heart!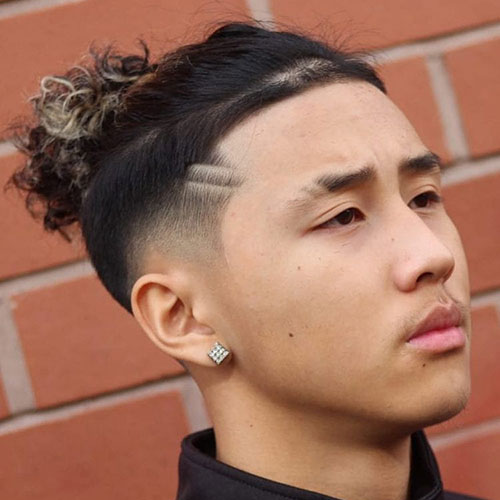 Asian Bowl Cut
Bowl cuts may have once been an embarrassing relic of the 90s. However, this look is anything but Super-fashionable and extremely current. This is a great look for a young man who loves attention.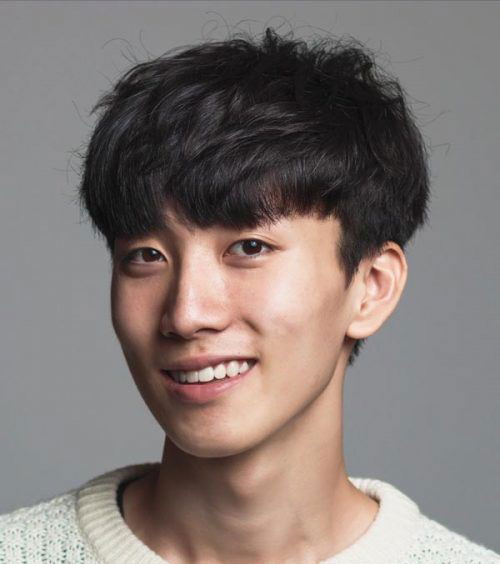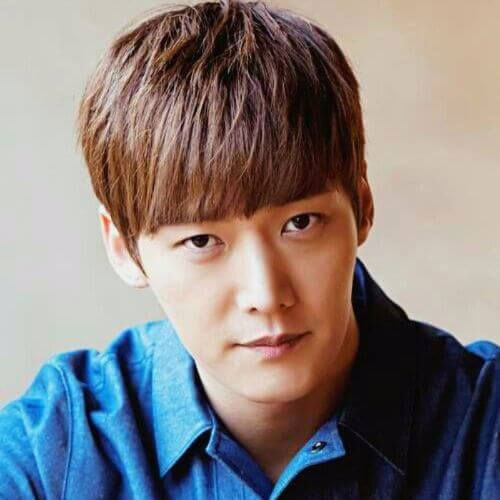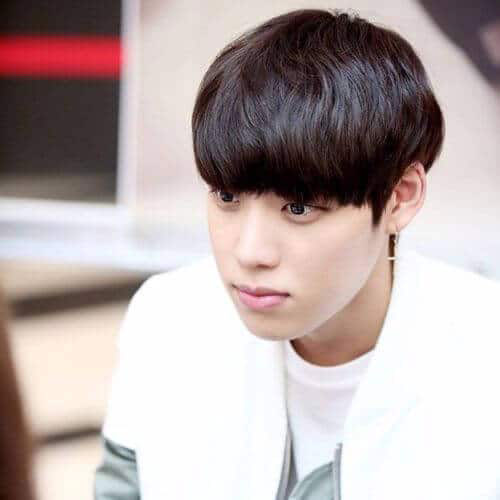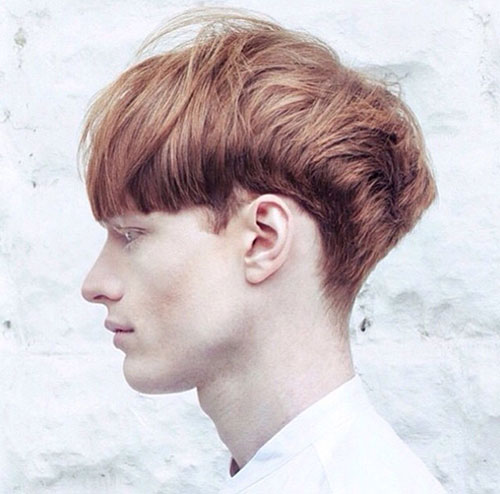 Side Swept with Classic Taper
This style features attention-getting bouncy curls on top with a soft, gentle fade towards the neck. This cut shouldn't require too much styling or maintenance as long as your hair has at least some natural texture. It's a great look for younger men.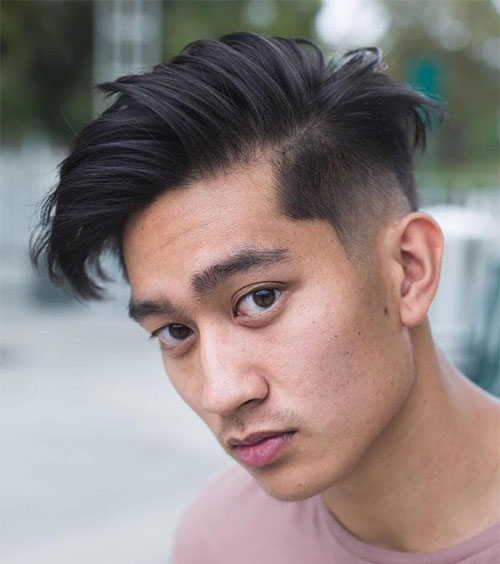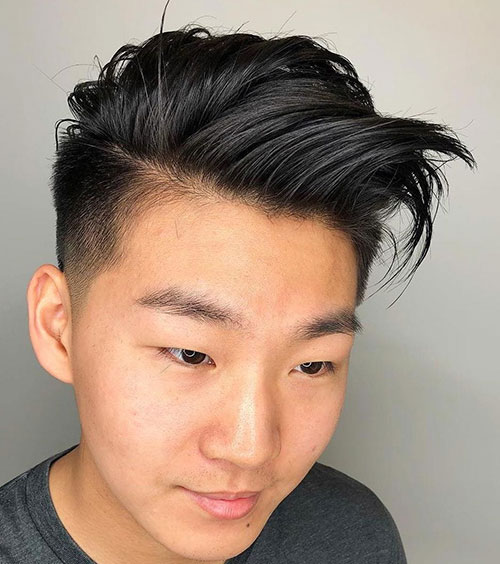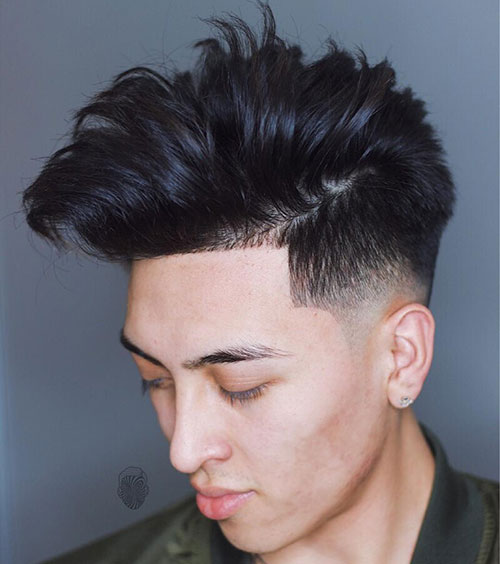 Sharp-Edged Faux Hawk
This is a cut for a man who loves hanging out in the barbershop! Not only will this haircut require tons of attention to detail from your barber, but it will also require a long look in the mirror each morning to make sure everything is still looking good.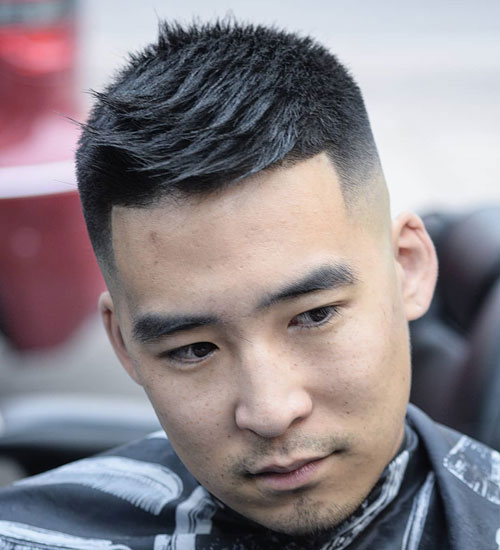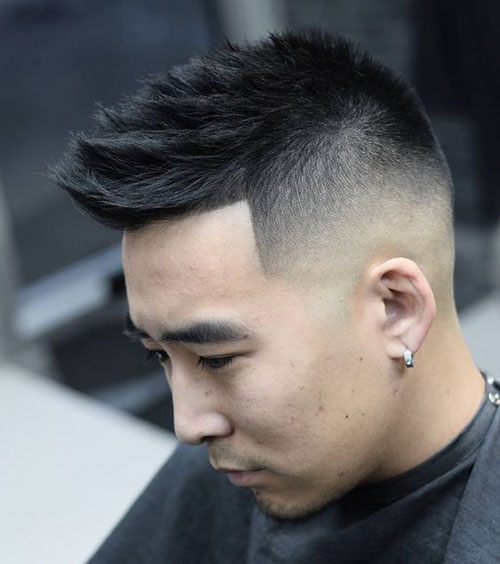 French Crop with Bangs
French crop haircut is perfect for a fashionable, creative, elegant young man. It's sleek without being predictable. This simple style will allow you to showcase your hair's texture with minimum maintenance. Run a comb through it or shape it with your hands, and be on your way!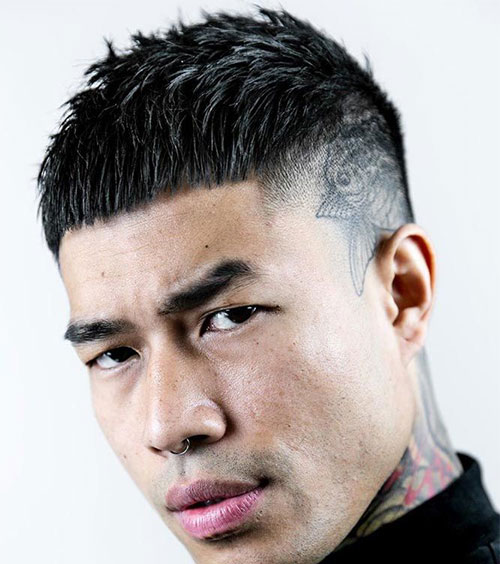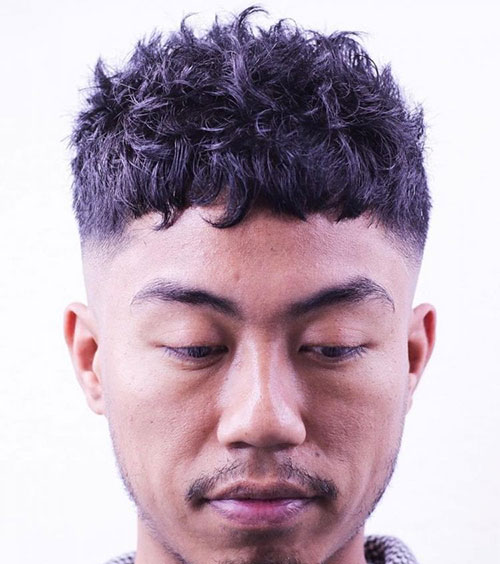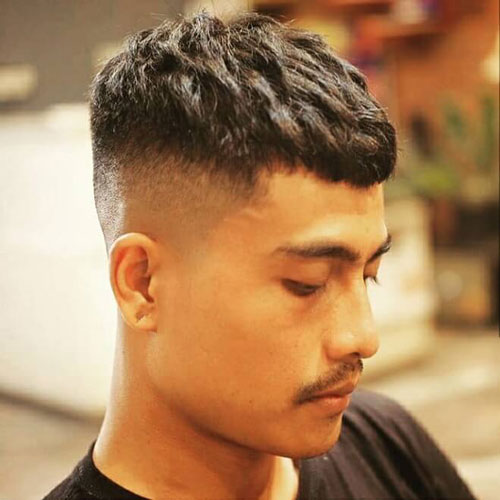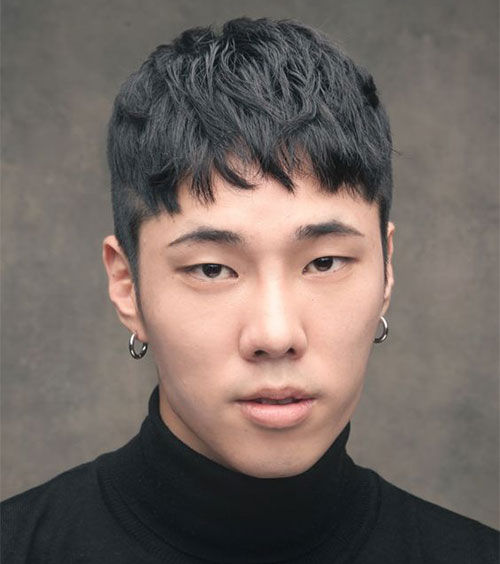 Long Dyed Shag
This shag is best reserved for a man with a lot of freedom. Let's just say you shouldn't attempt this Asian hairstyle if your boss is conservative!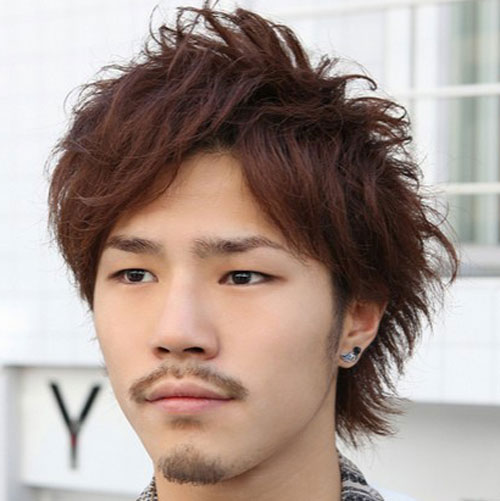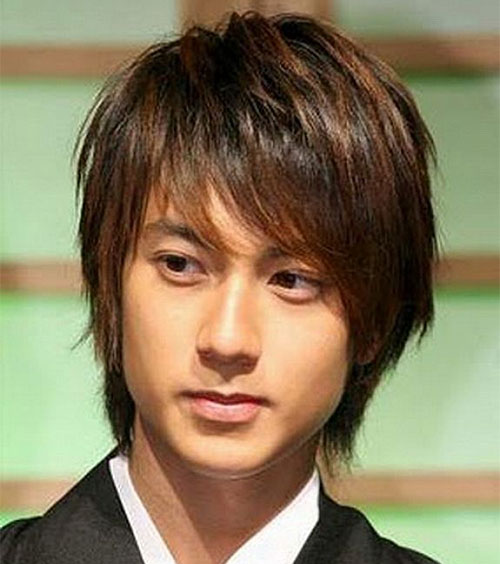 Curly Swept Quiff
This is one of the most romantic Asian hairstyles. It features softly buzzed sides with lots of volume on top. The most important feature is the extra length at the crown of the head is swept into soft, glossy curls to swoop over the forehead.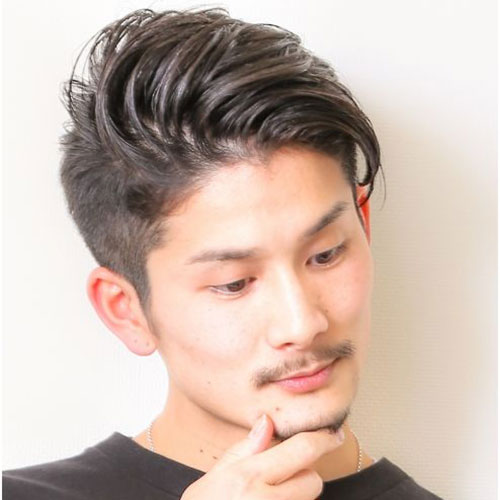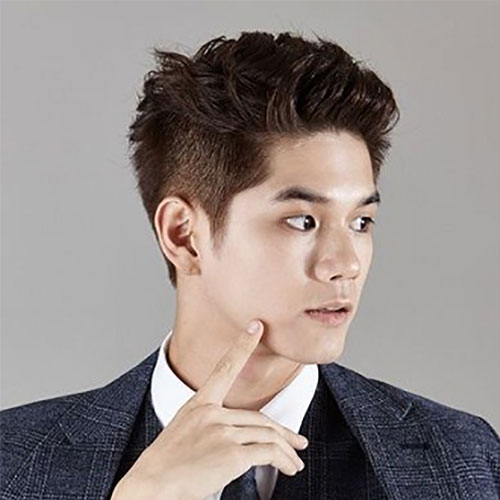 K-Pop Style
This style is the grown-up version of the dreamy bedhead look. Unlike more casual grown-out styles, this is actually appropriate for a professional setting. Clean, neat, soft, and interesting, this style is ideal for fashionable, professional young men.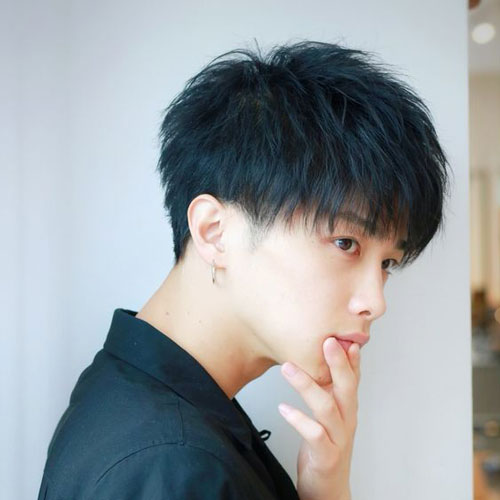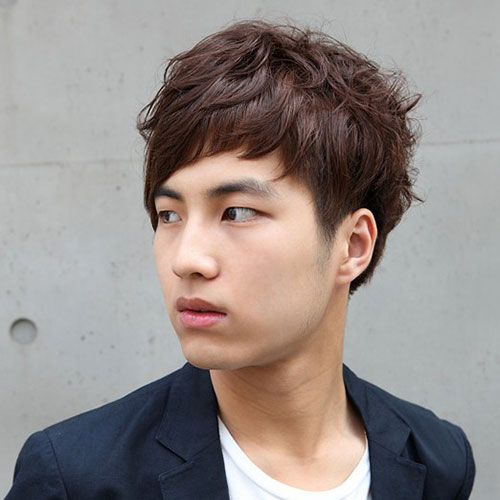 Gelled Comb Over
This is one of the best styles combining minimum effort for maximum effect. A variant of the comb over cut. This is a perfect haircut for men who want their hair to look sharp, simple, and classic, but don't want to have to spend a ton of time styling it.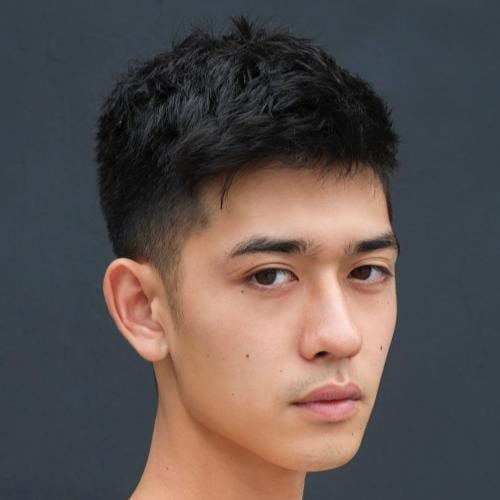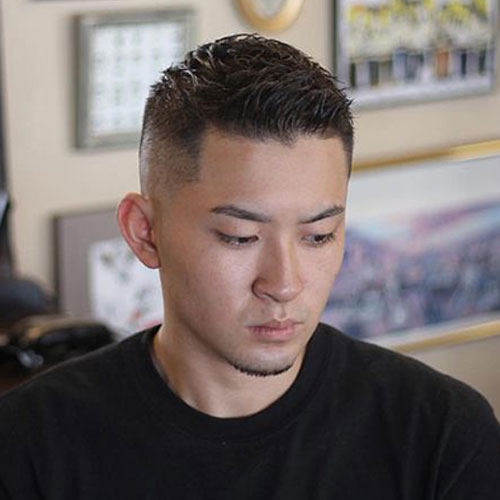 Crew Cut with Hard Part
Think crew cuts are boring? Think again! This crew cut is ultra-styled, with gelled spikes at the top and a seriously sharp fade all-around. To top it off, this look features a hard part to give it maximum sharpness. This is definitely a style for men who love to preen in front of the mirror!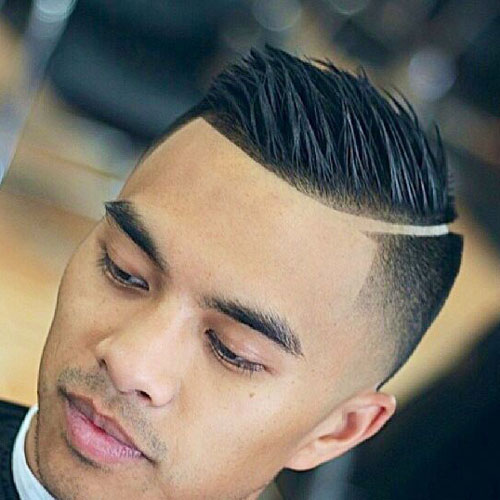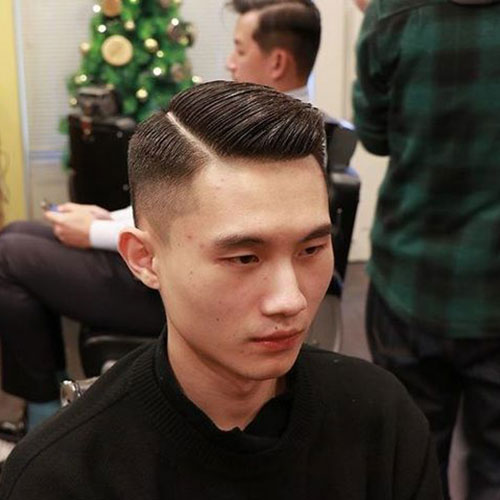 Long Layered Pompadour
Is haircare a dedicated part of your budget? If not, forget about trying this. This style is white-walled to the nape of the neck and has a major length at the top. A delicate, pixie-ish point to the edge of the sideburn really sets this look apart!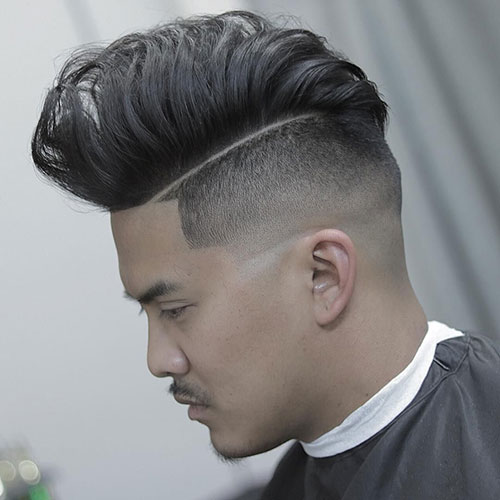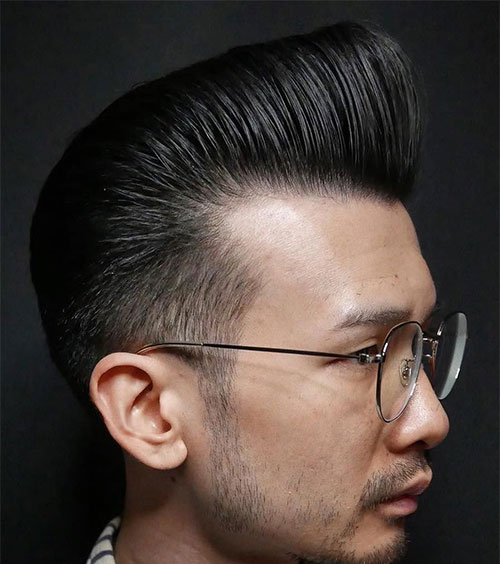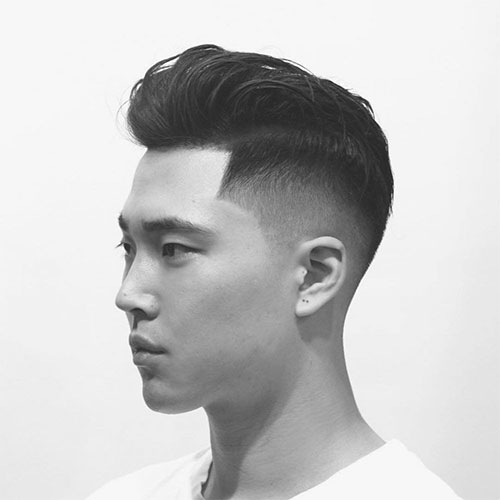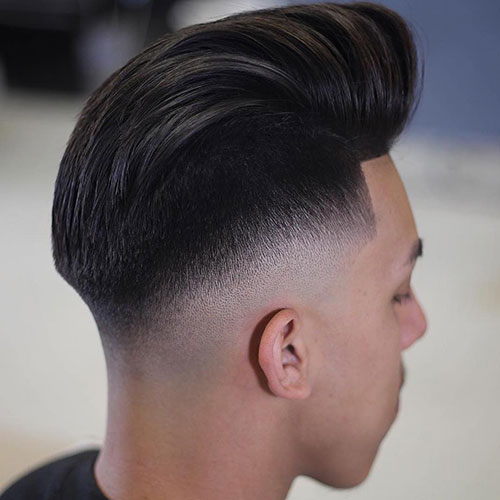 Simple Man Bun
This style is enviably soft, pulled into a loose man bun at the crown of the head. It's effortless to style – just pull it back with your hands and tie it in a knot, no products or tools necessary. Since this romantic look requires handfuls of long hair, it's definitely not recommended for those who are shy.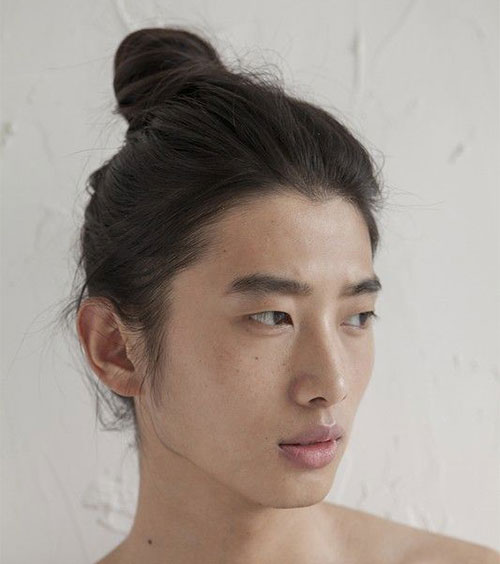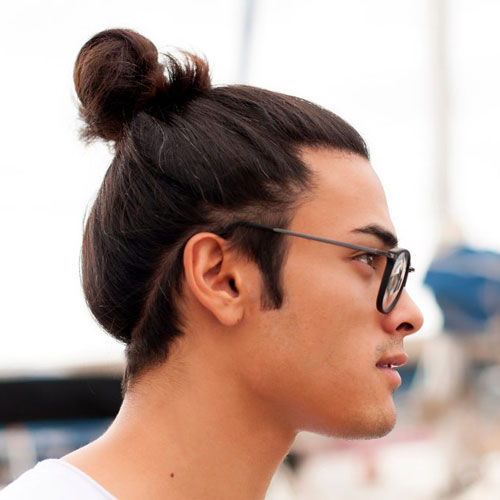 Dyed Grown-Out Cut
This shaggy bedhead look is perfect for students or men with ultra-casual jobs. It's extremely low-maintenance. Just roll out of bed and go, no styling needed!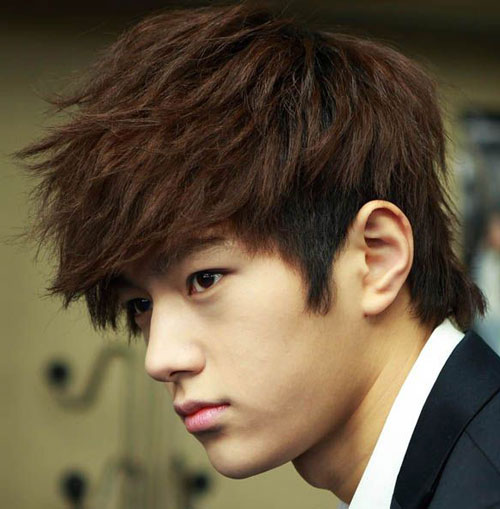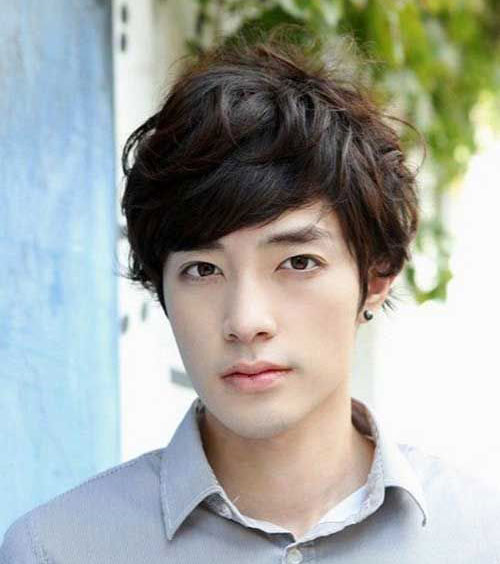 Ivy League Haircut
This gelled style is sleek and chic. Business people can channel their inner Gordon Gecko with this look!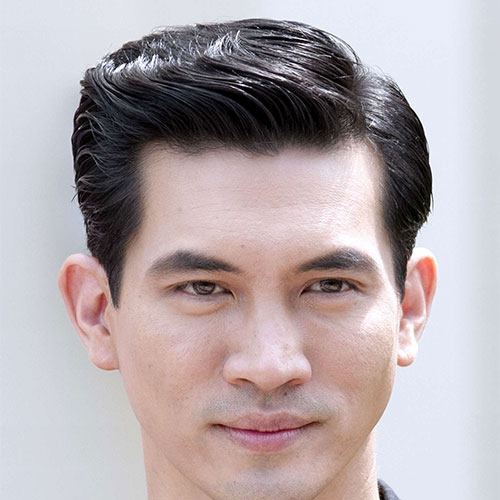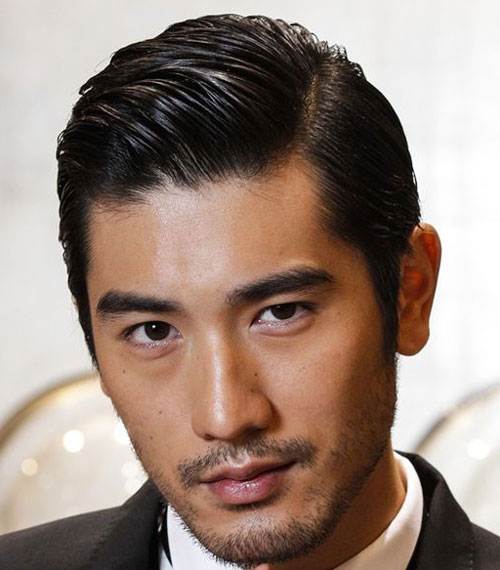 Comb Over with Wings
This is one of the edgiest Asian hairstyles! Despite being a relatively simple combination of a high fade with the medium volume on top, this cut has clearly been cleverly chopped by a stylist and smoothly styled by its wearer.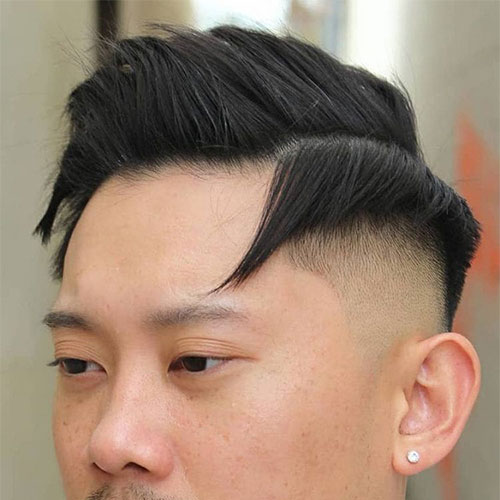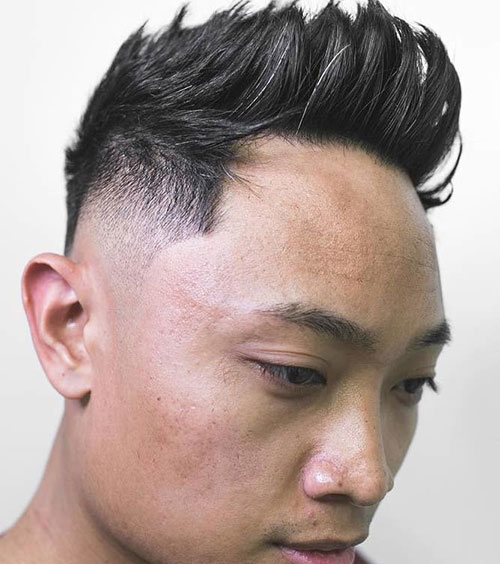 Textured Long Fringe
Be sure your barber knows what he's doing before requesting these soft layers! This cut has a carefree look, but it will require regular trims and daily maintenance to keep it looking its best. This style is ideal for a student or a man with a casual job.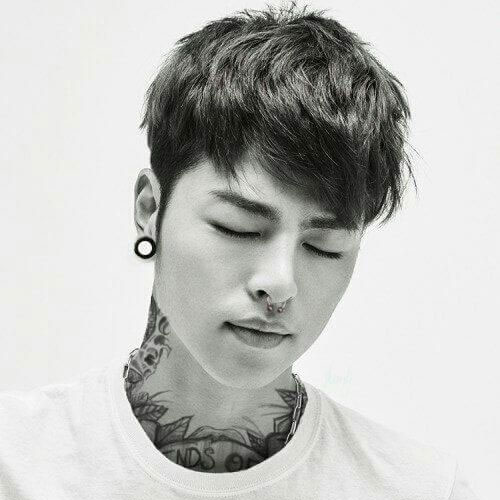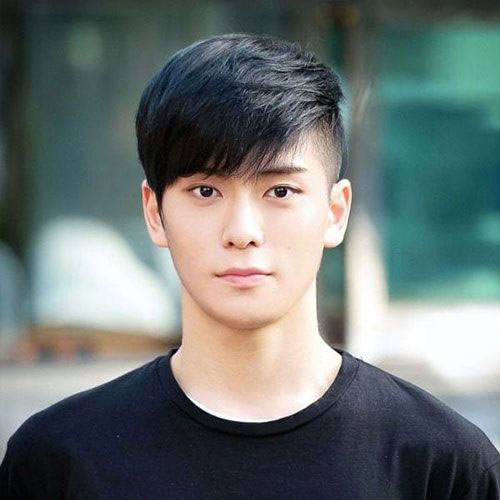 Tousled Caesar
Perfect for men with naturally curly or wavy hair, this simple style will allow you to showcase your hair's texture with minimum maintenance. While the fade will take some effort to maintain by visiting the barbershop, the rest of it can be styled very simply with a small amount of gel.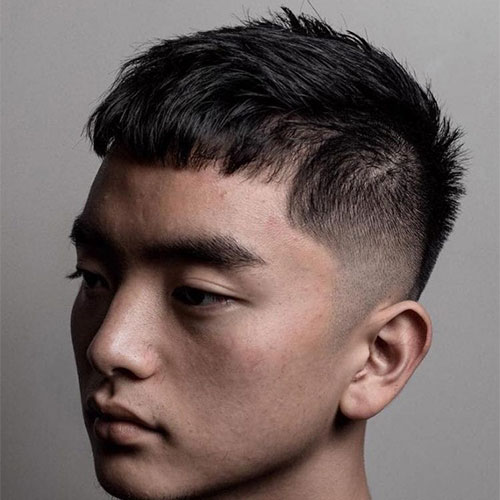 Messy Quiff with Undercut
This cut requires quite a bit of styling each morning. It's perfect for a man who's laid-back, stylish, and wants to show off his naturally curly hair.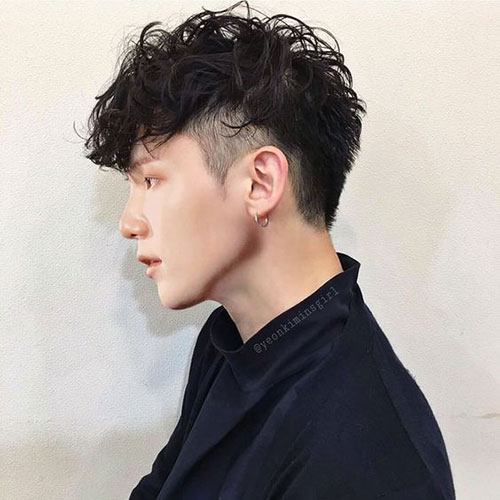 Caesar with Highlights
This caesar cut has first been dyed a stunning shade of honey blonde. That fact alone means that you'll have to commit to biweekly visits (and payments) to the barbershop if you want to pull this off. This cut is buzzed to the skin around the bottom to highlight the striking color on top.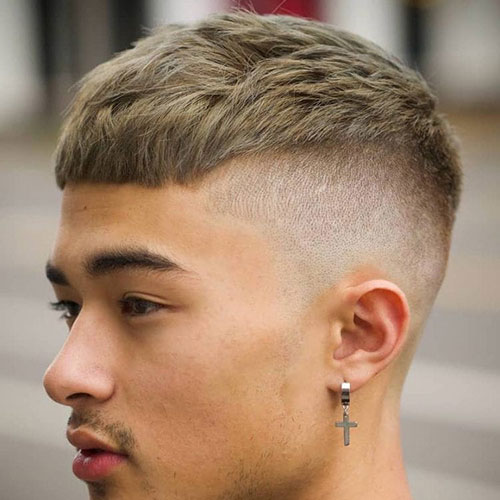 Shaggy Taper
This grown-out taper gets its appeal from the beachy texture on top. To get this look, you'll need to make sure you have a good volumizing product to keep it from falling flat. Even though this appears low-maintenance, it will require a few minutes to get it looking perfect.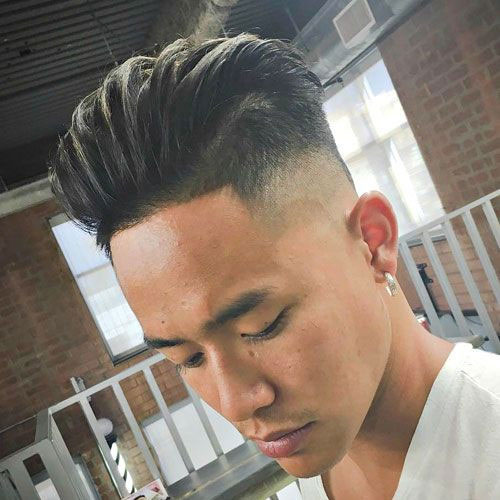 High Taper Fade
This straightforward cut has a decidedly masculine edge without being commonplace or boring. In fact, the pulled-forward volume keeps it interesting without requiring any styling. This is a perfect no-nonsense style for a man who wants to look sharp without wasting time.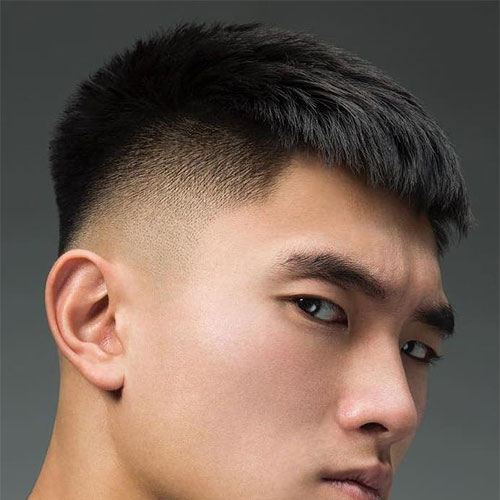 Crew cut with Volume and Highlights
This edgy look deceptively requires a fair bit of commitment. First, to keep those highlighted tips looking good, you'll need to visit your barber at least once a month. Second, the high fade on the sides will also need frequent attention. Finally, this cut will look best if you spend a few minutes running your hands through it with a light styling cream in the morning.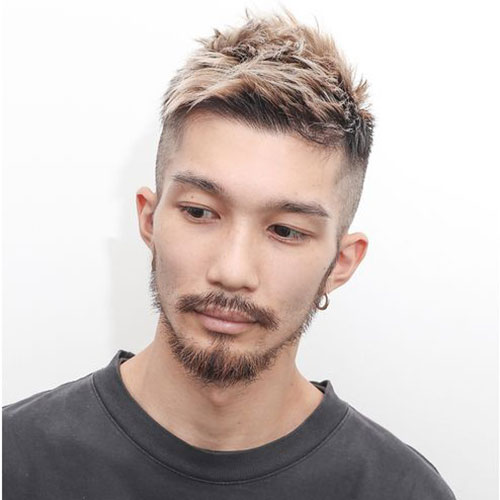 Low Drop Fade Haircut
This unique cut is best suited for men with very full, thick hair. Featuring medium volume on top and a low, quick fade, this is a unique look that's both masculine and interesting.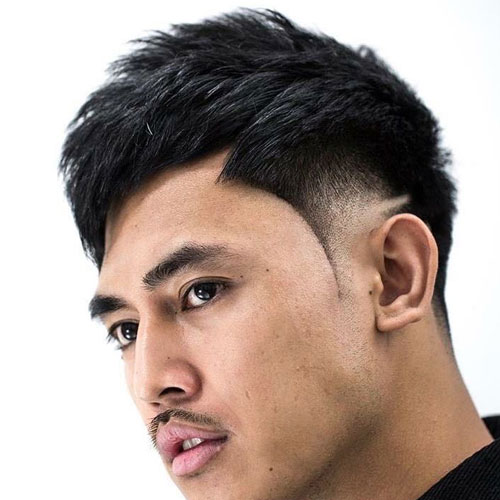 French Crop with Long Fringe
A twist on the classic french crop, which sets this apart, is how the bangs have been grown out. This is an excellent choice for men who have thick, straight hair and want to be stylish without putting in much effort.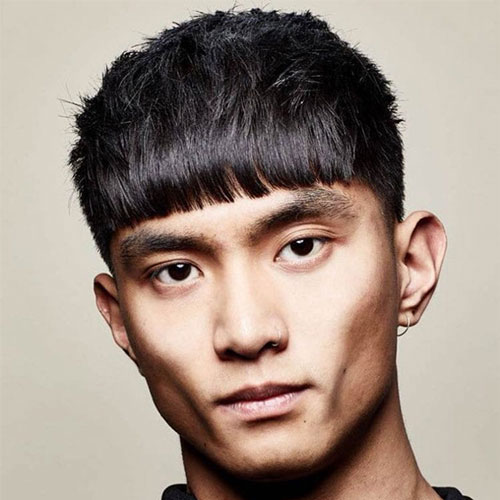 Quiff with Soft Fringe
This angelic look requires thick hair and volume to showcase the delicately curled fringe in front. This is the ultimate pretty boy look!