It's that time of year again when parents think about school haircuts for boys. There are a few things to keep in mind when making this decision:
The style should be relatively low maintenance and easy to care for.
It's important to choose a style that will grow out well and won't require frequent trips to the barbershop.
It's important to consider the boy's personality and what type of haircut will make him feel confident and comfortable at school.
Here are a few ideas for school haircuts for boys that fit these criteria.
Wavy Brushed Up
A simple wavy style is an ideal choice for schoolboys. This short cut is great for the summer months, as it can be worn both straight and wavy. 
Also, if you want to create a more modern look, you can use a comb over. Just remember to apply some hair gel if you don't want too much volume.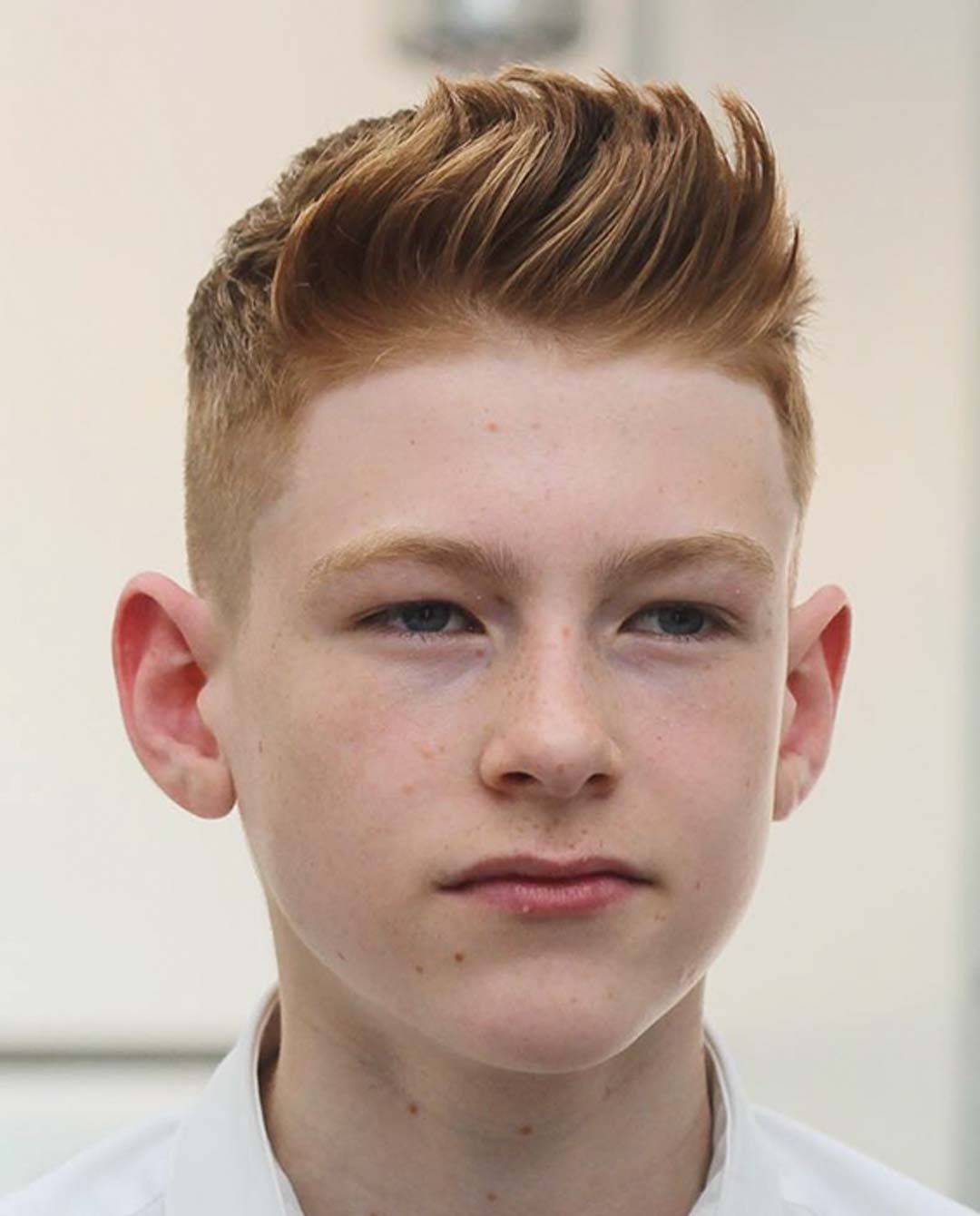 High And Tight
The High And Tight cut is also known as military-style, but it is also very convenient to wear for young guys. The look is minimal, with tapered sides and back and a longer top. The style is also appropriate for school and can be used by both men and boys.
This style looks great on guys with oval, round, and square faces, but is not a good fit with diamond or triangle faces. The bulk on top of the hair helps balance out a narrow forehead.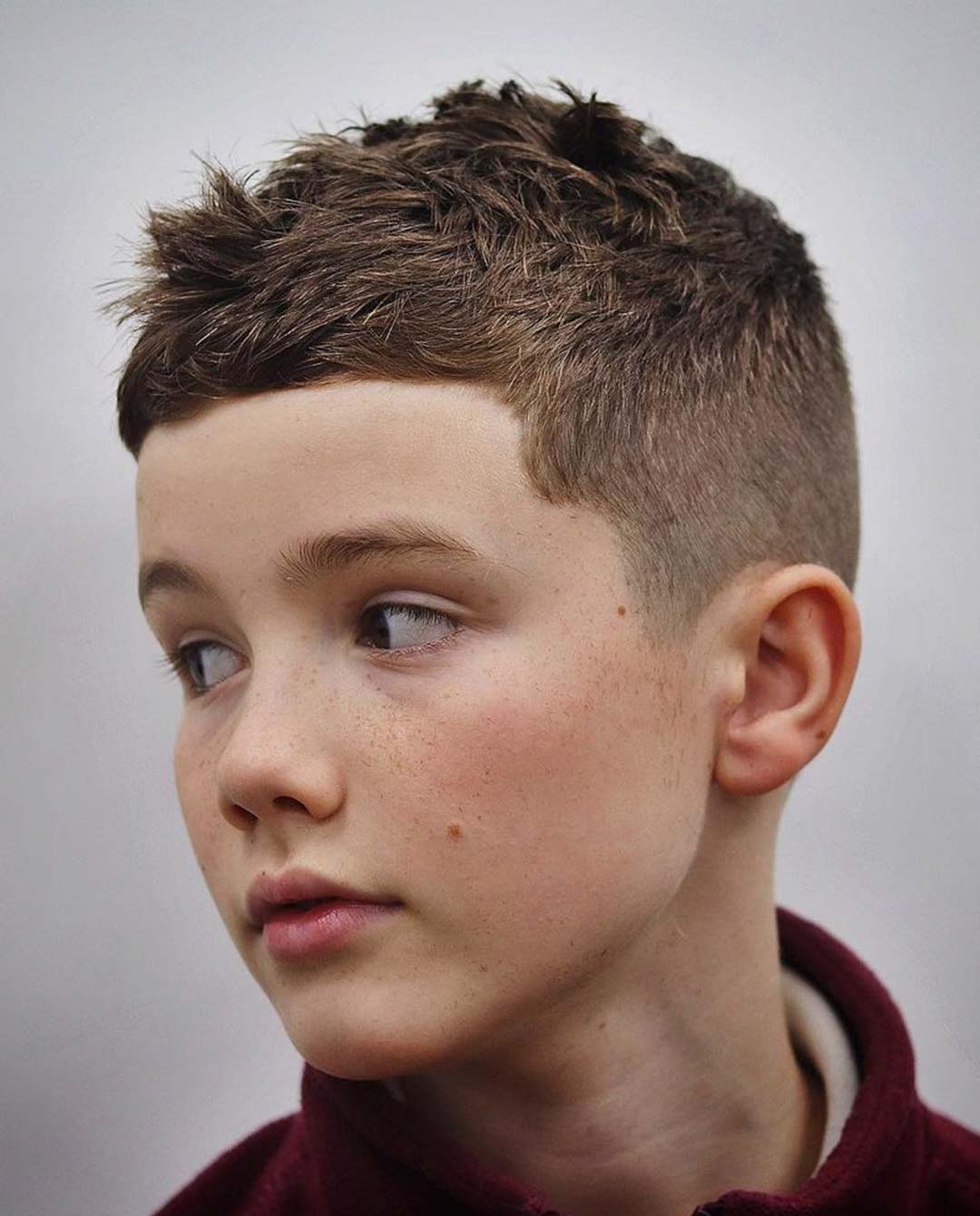 Tousled French Crop
The french crop is a cute, casual haircut for boys. This haircut is super short in the back and gradually falls from the crown to a little above the eyebrows.  
There are several variations of the french crop. The angled fringe will add a unique, windblown look. If you prefer a classic look, you can use a straight fringe. A slight crookedness will add a little character. The sides of the hair should be mid-skinned to make the hair on the top pop. This school haircut is a popular choice for boys who want to look their best.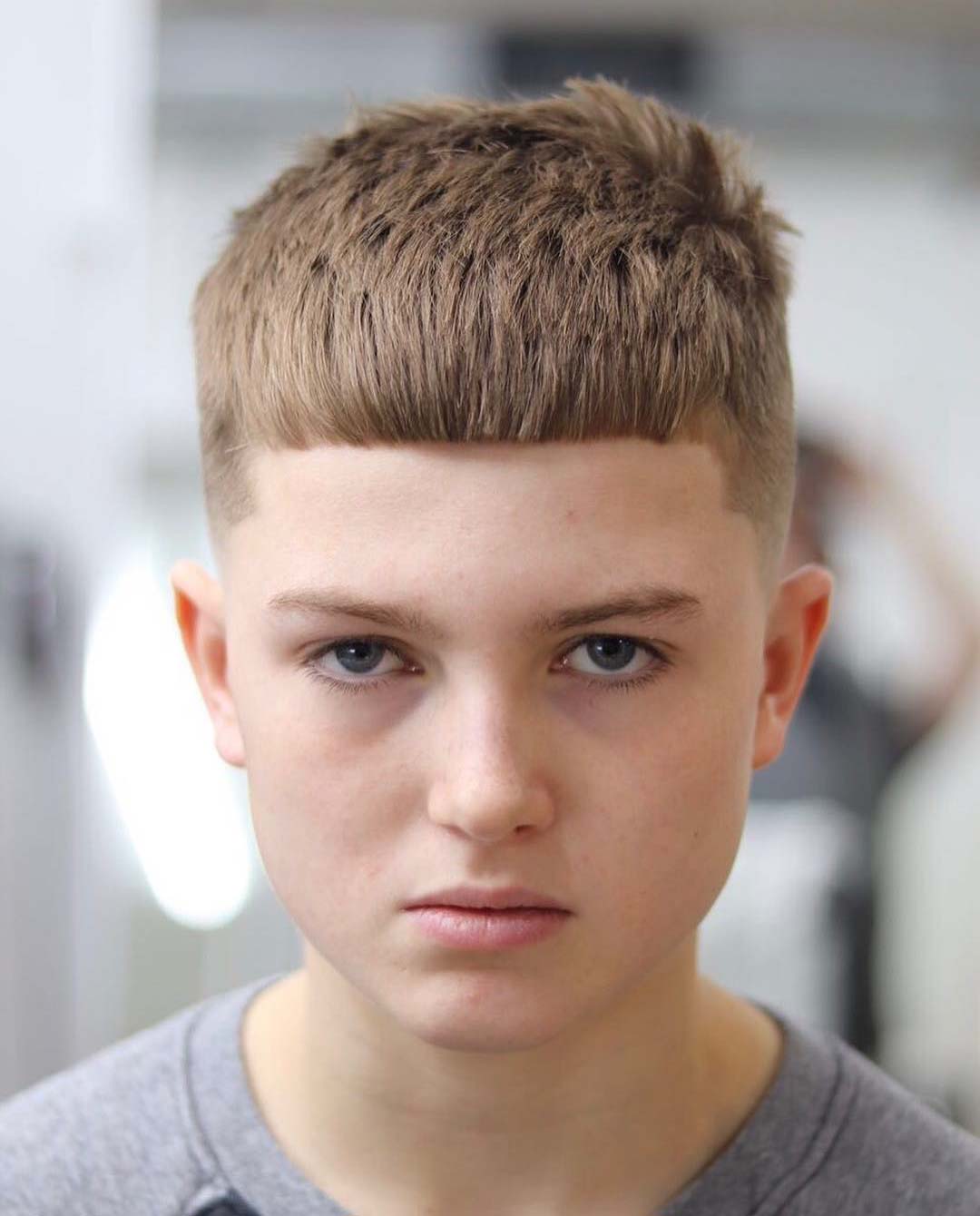 Wavy Fringe With Low Fade
The long side fringe and swept-away fringe create a daring look. You can also wear a fringe to give it a bit of character, but it is best to keep the edges neat. The low fade also gives the haircut a contemporary vibe.
This look is great for kids with thick hair. It is a layered style that accentuates the angular cut and is very easy to maintain. To make the cut more noticeable, you can add a bit of hold gel or pomade to the fringe. The low fade and high skin fade on the sides make the look even more stylish.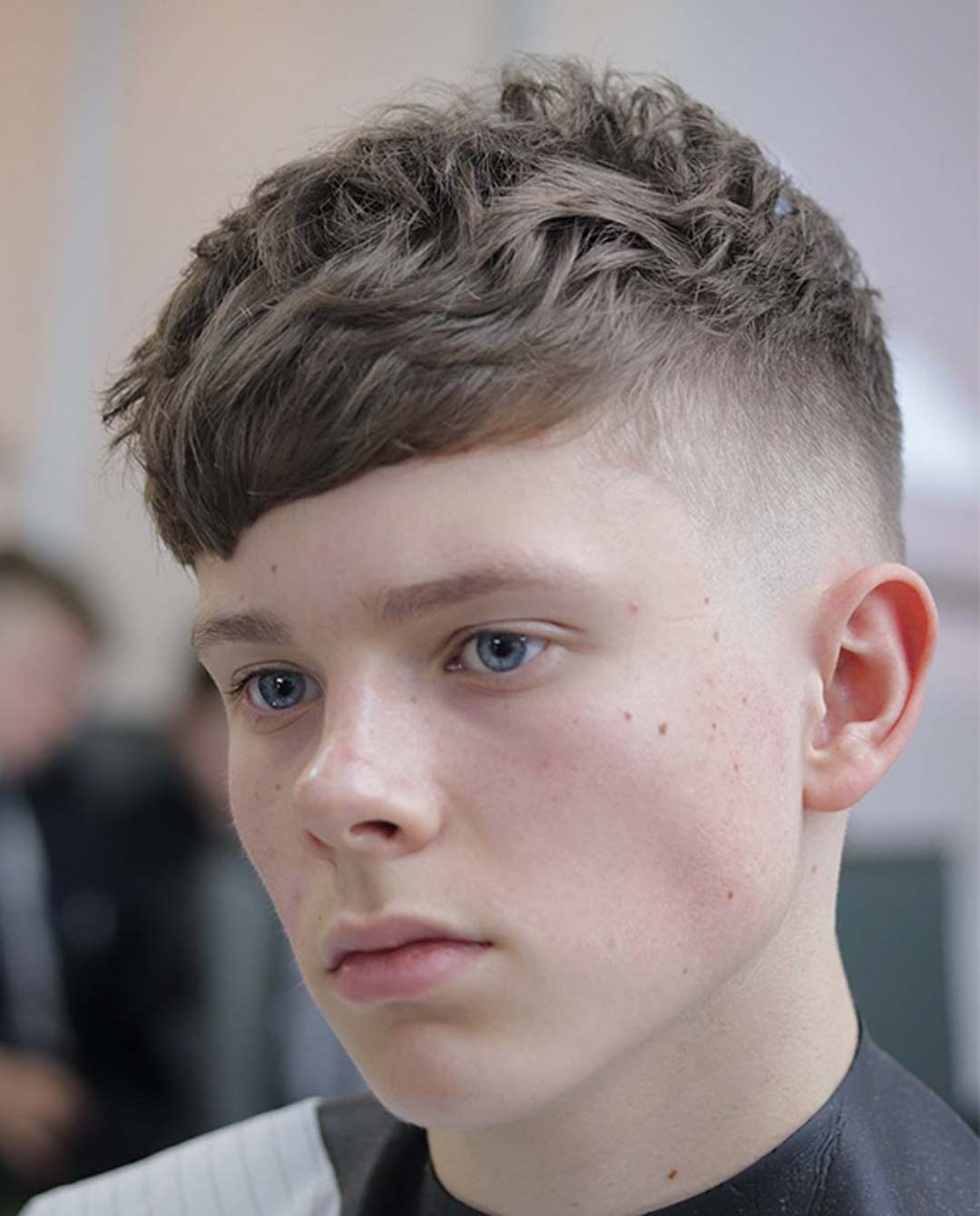 Classic Comb Over
This cut creates an attractive contrast between the hair on top and bottom. It emphasizes the crown and is a great choice for active kids. This cut is easy to maintain and is the perfect choice for a day at school or an active day.
The comb over can be tailored in several ways to suit different tastes and situations. For example, you can give it a hard part to highlight a parting from one side to the other. To keep this haircut looking sleek and stylish, you can use a pomade or gel to keep it in place.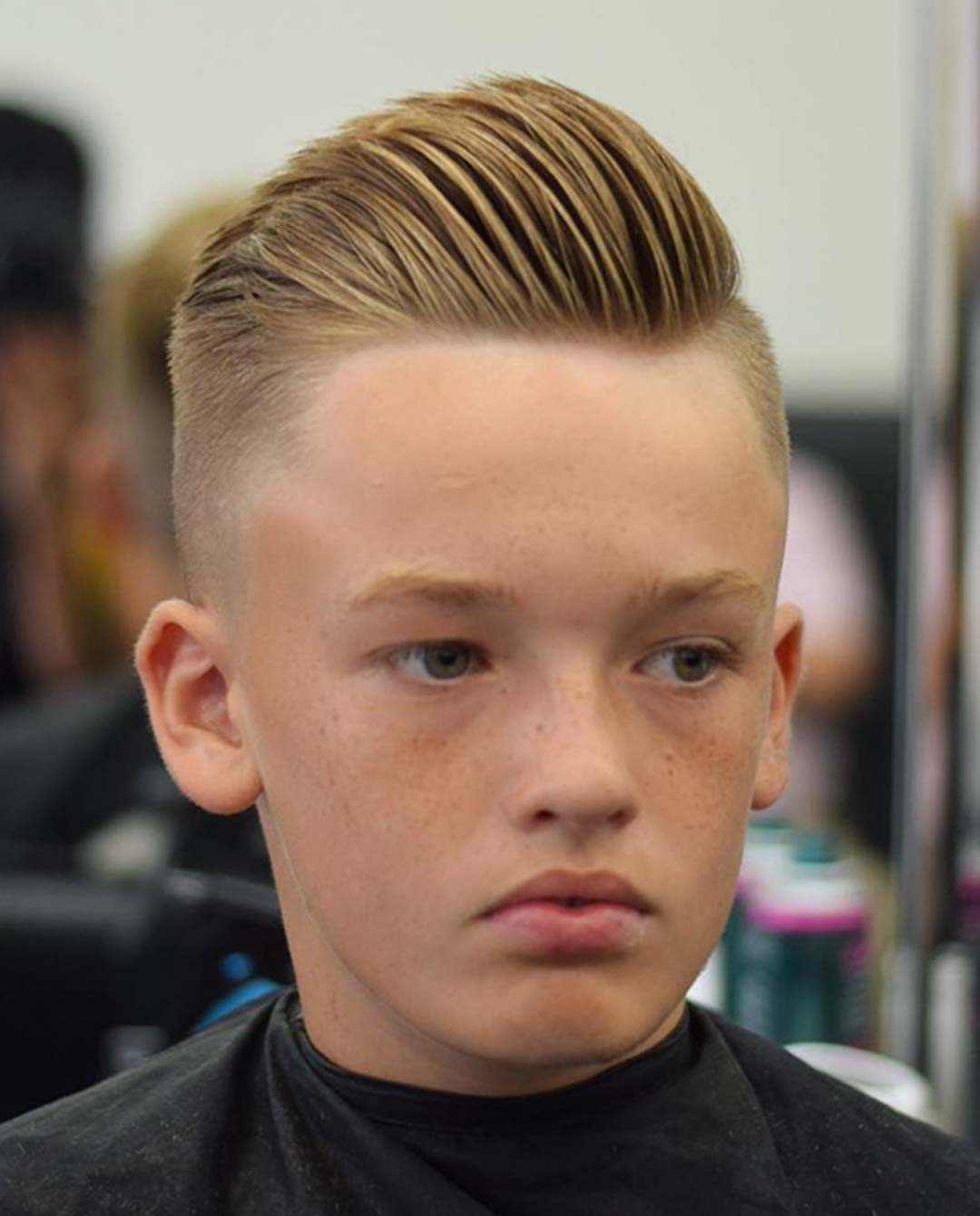 Brushed Up
If your son is going to school and wants a haircut that shows his personality, the brushed up haircut is definitely the one for him. This voluminous style features short, tapered sides and long, straight top hair. It's easy to brush and style. To achieve this look, use a strong pomade. The haircut adds a stylish touch to your boy's appearance.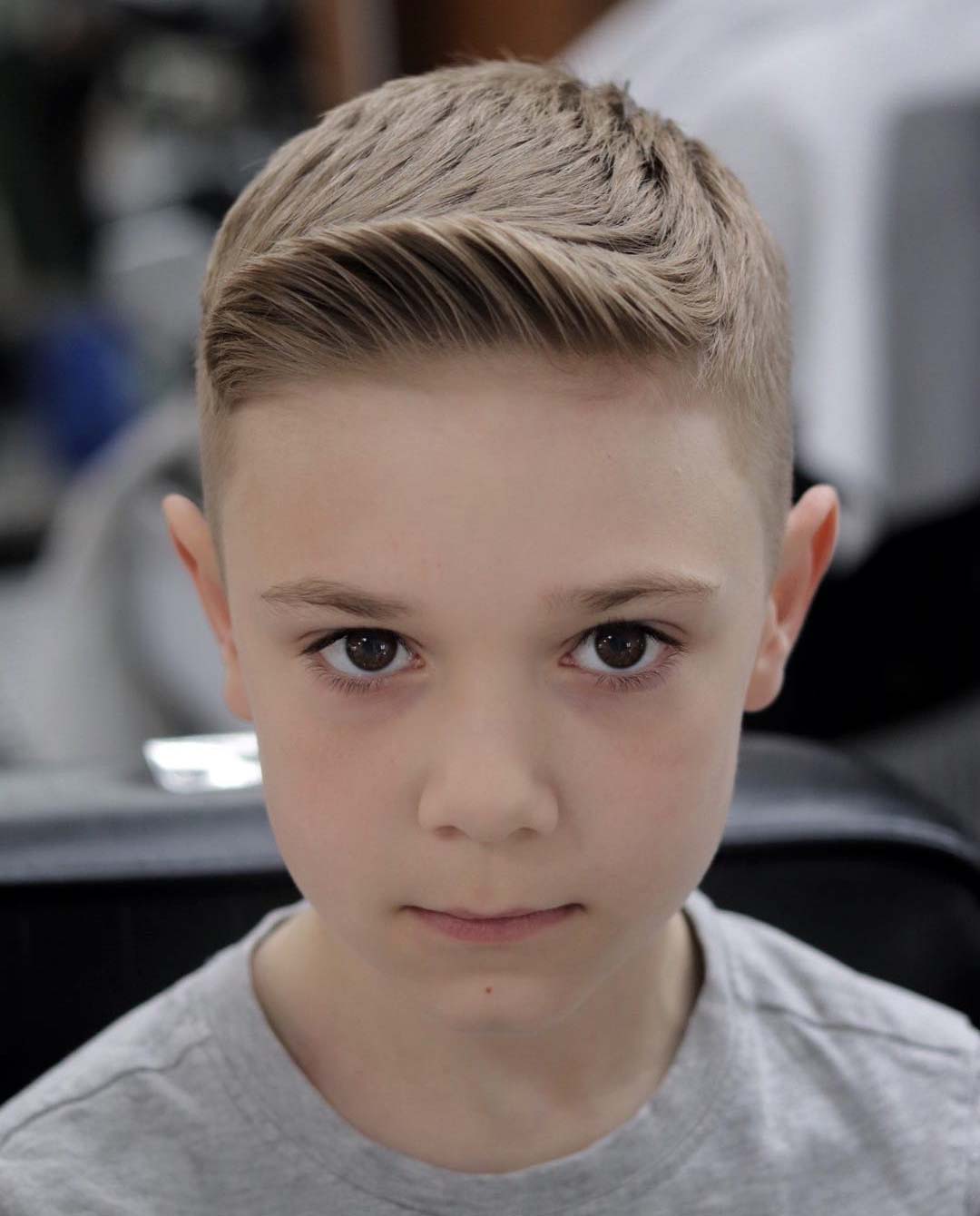 Little Boy with Curly Fringe
A curly fringe is a cute, stylish haircut for toddler boys. A short crew cut with a side part can mimic the teen style. The fringe can be slicked backward or up, depending on the length of the hair. This hairstyle is perfect for kids with fine hair. It's easy to manage and doesn't require shaping. It's a fun way to give a little boy his first haircut.
This style is great for boys with long, curly hair. It adds a stylish feel to the little mod. You can create the look for your boy as you see fit. If you're trying to match the look of your little boy, try the cut below. You'll find it works just fine on your son's head!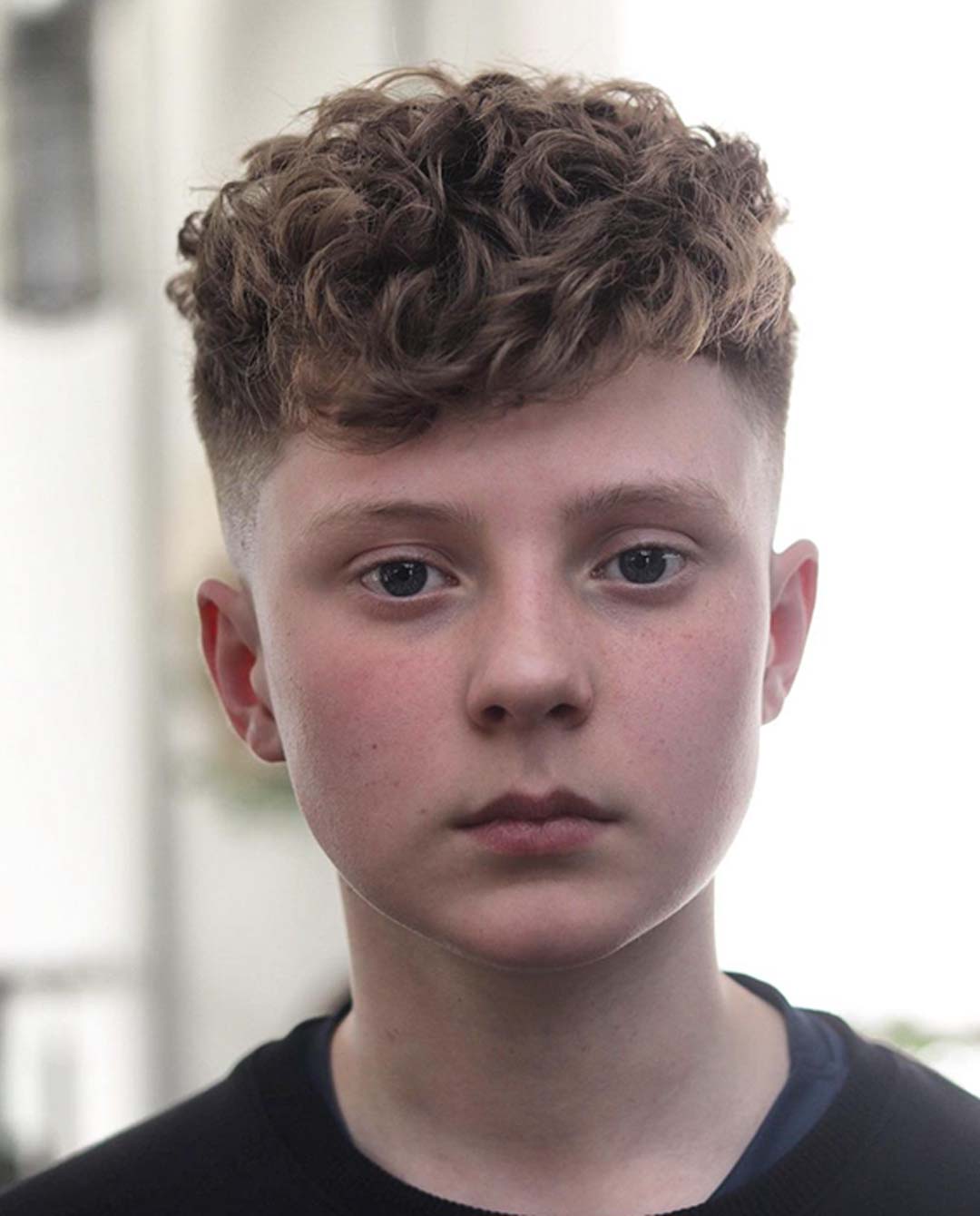 Side Swept
If your little boy doesn't like a fringe style, try a side swept. This popular cut is a modern take on preppy styles. You can create this look by creating a high fade on the sides of your hair and sweeping your long hair over one side. 
The side swept is a great style that suits boys of all ages. This simple hairstyle makes it easier to keep your hair looking neat and fresh. Whether you choose a textured or straight cut, you're sure to find the perfect look to complement his personality. Just remember to make sure that you keep your hair trimmed and styled regularly.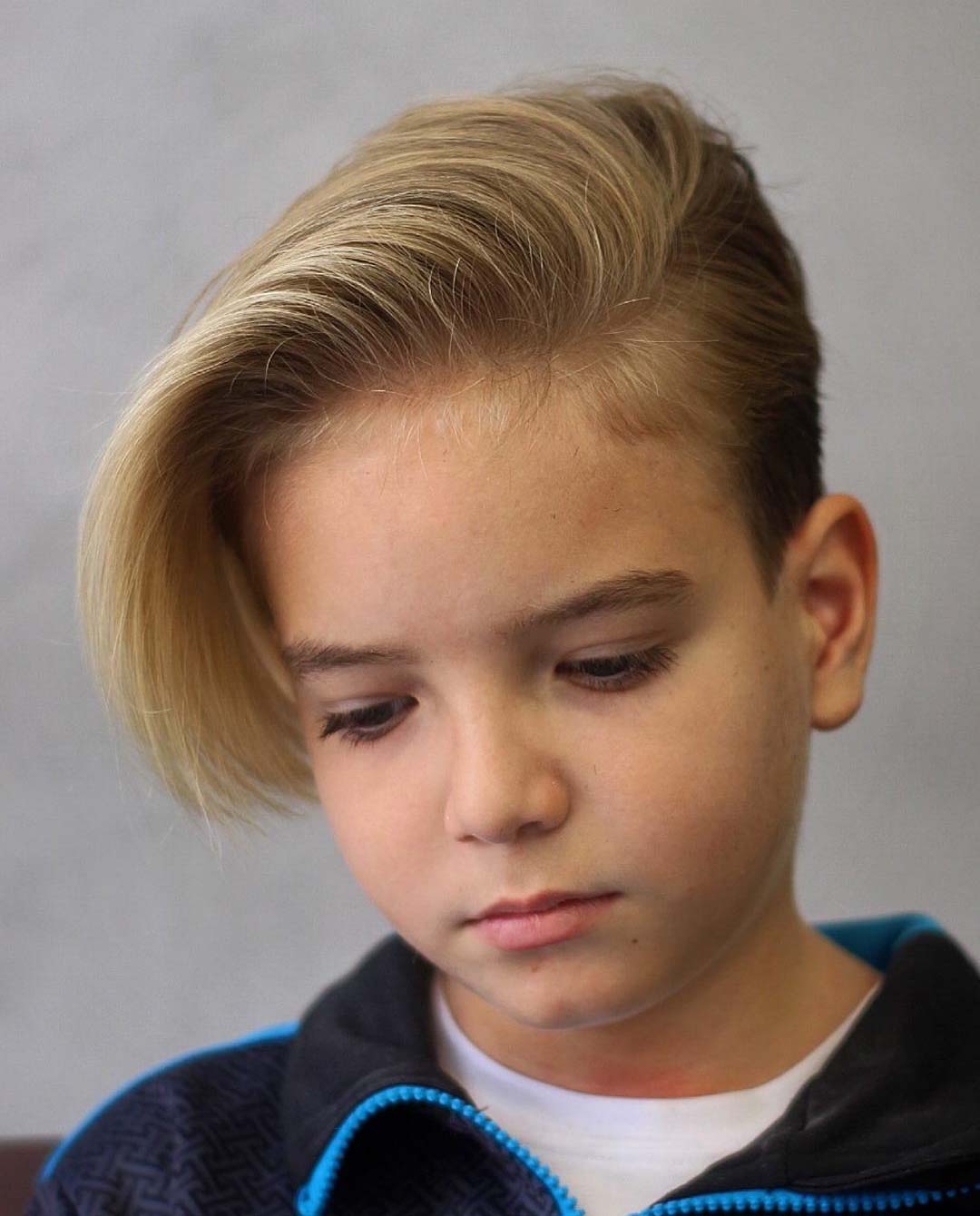 Brushed Up With Messy Top
The short sides and the layered top are perfect for little boys. In order to achieve this look, the hair must be parted naturally and the top laid properly. You can even use spikes to give your boy a different look, but make sure they are not more than two to three inches long.
If your son's hair is long, you can use a clipper to add texture to it. Then, you can apply some pomade to it for the ultimate brushed up look.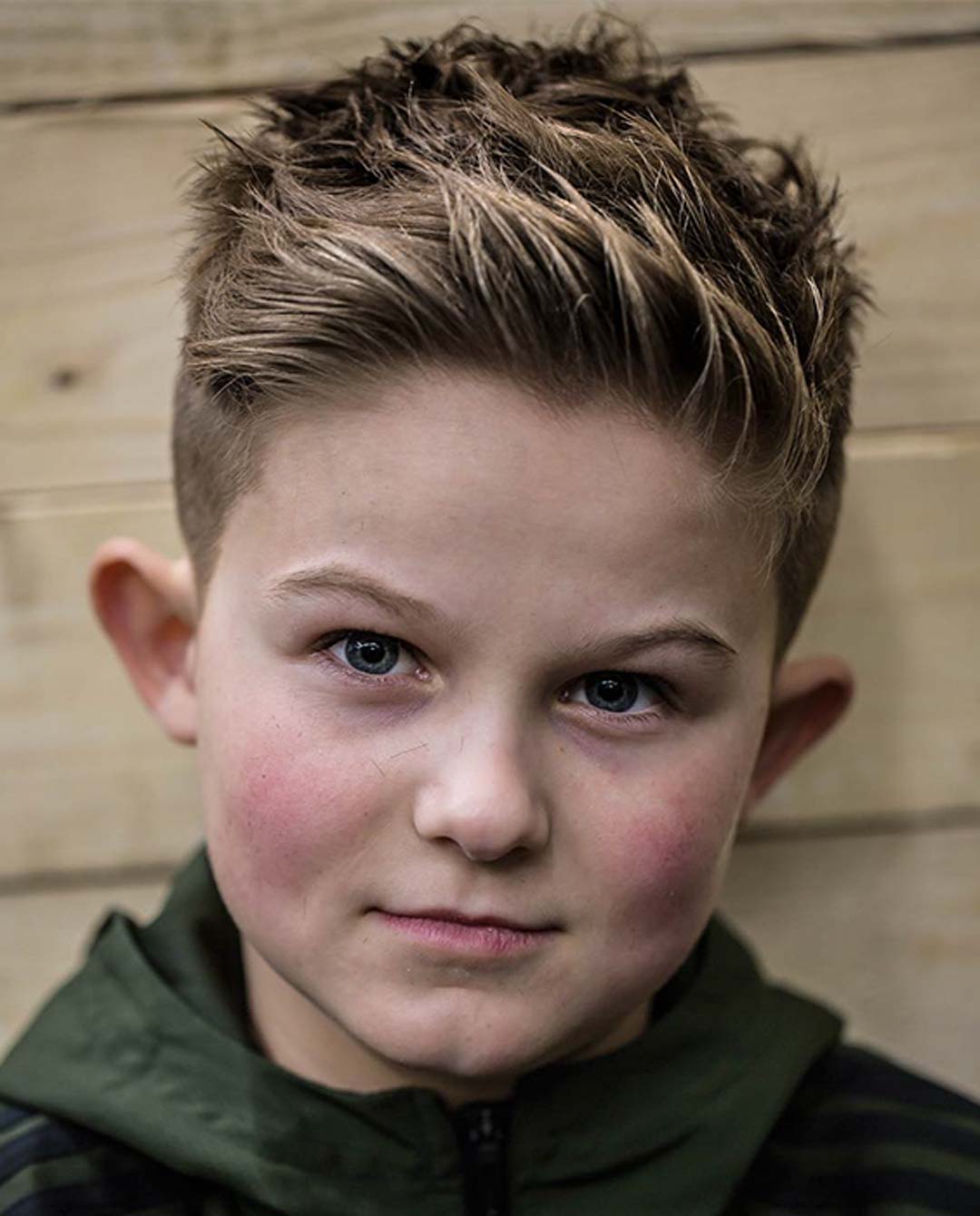 Modern French Crop
The french crop can be styled with any product, pomade with moist hair is recommended. Alternatively, boys can keep their hair short and trim it, use hair wax or hairspray.
Its tousled look is a classic and can be worn by both young and old. If you're looking for the ultimate look, the modern french crop is the way to go. While young boys can rock a loose, messy fringe, older boys can wear their hair with a more slick, modern twist.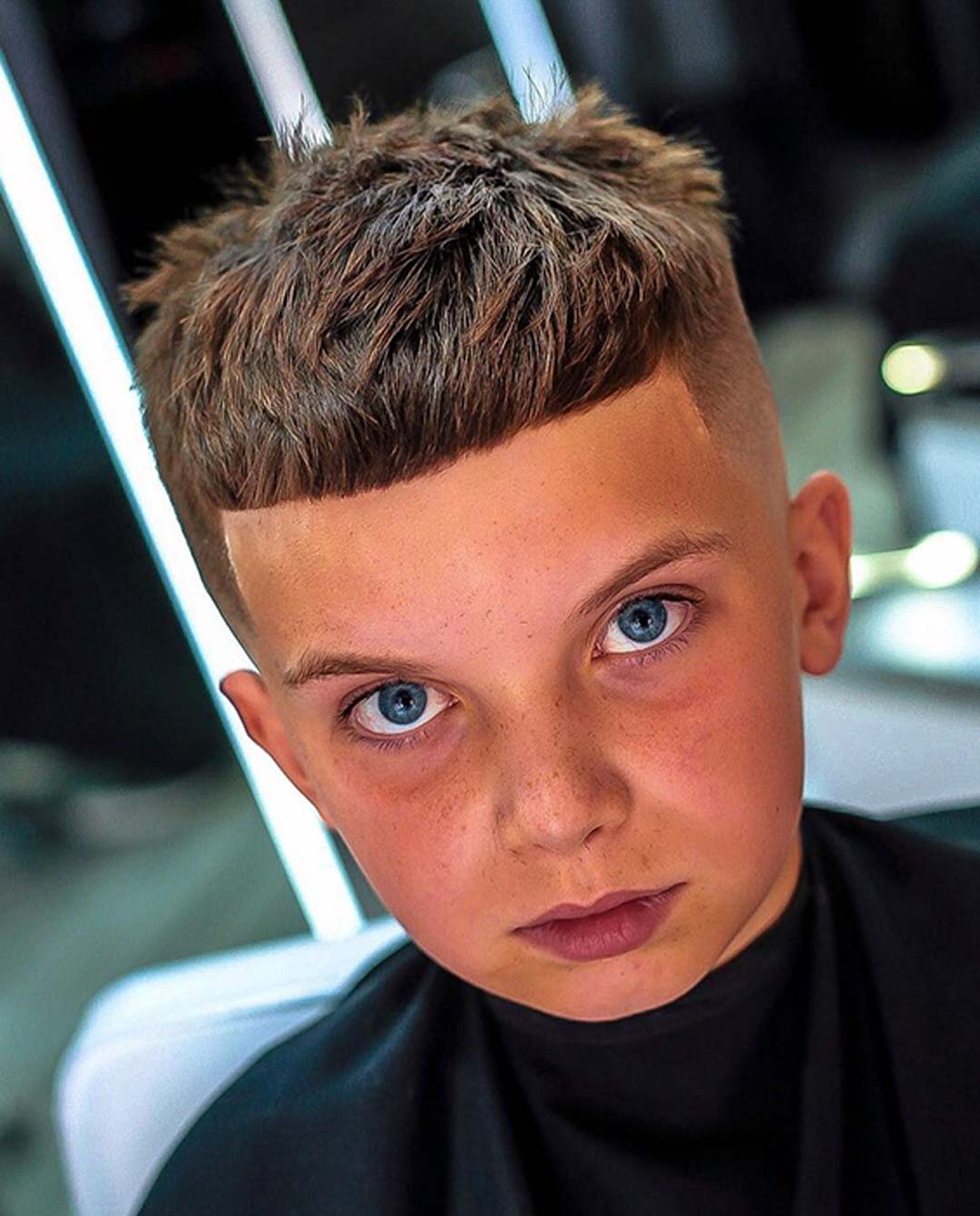 Spiky Faux Hawk
A faux hawk can add an edgy style to a boy's look. If your child has short hair, you can sculpt it into a fohawk using gel or pomade, as well as a long-lasting hairspray. To keep the hawk from falling out, you can trim the ends of the hair. Then, use a comb or brush to smooth and shape the top of the wig.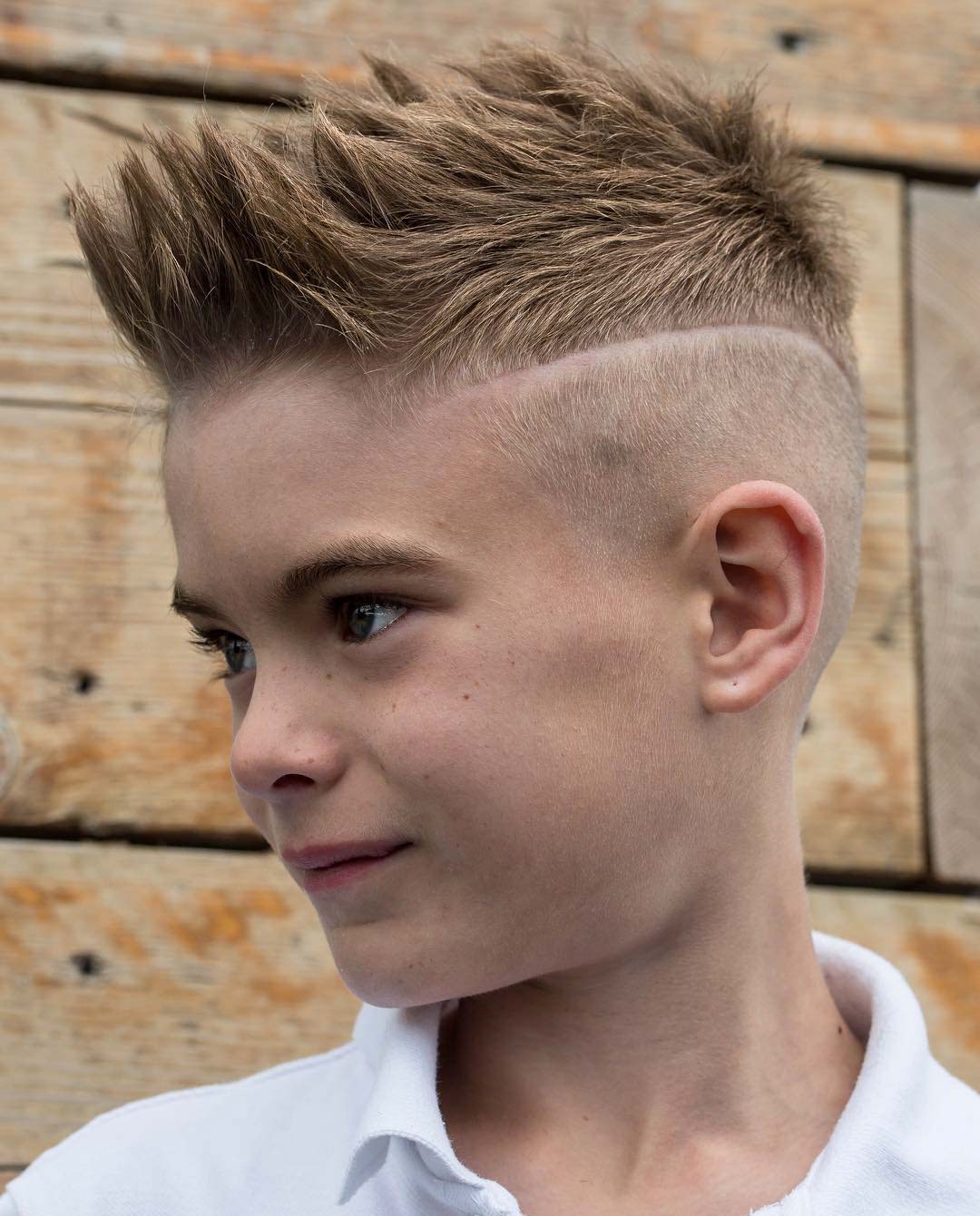 Curly Top With Low Fade
While curly hair requires more time to style and maintain, it will give your child an individual look. The cut will emphasize the high top with a subtle side part. To make the cut even more modern, you can also try a lower fade to draw attention to the hairstyle.
This haircut works well on most face shapes, but it is not recommended for long faces. This cut is more flattering to stick straight hair. You should also have short bangs to add volume to your top. Adding a high shine pomade will also enhance the final look.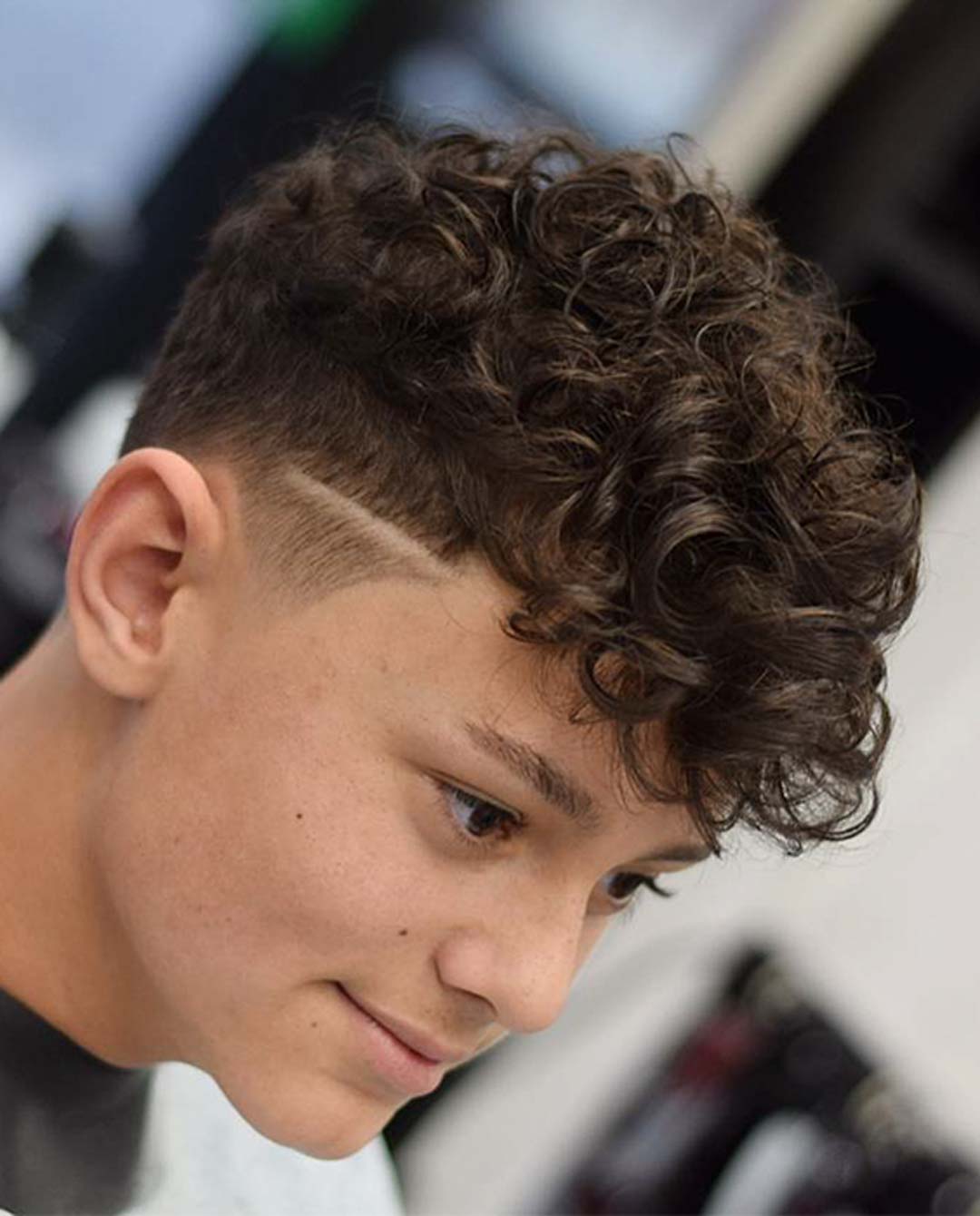 Clean Side Part
If you prefer a clean style, go with a side part. It works well with most types of hair, and you can even experiment with different hair lengths. The side part is a classic look for a school-aged boy with long, straight, shiny hair.  
For boys with medium to long hair, the quiff is a great option. This style is cut on the sides with no parting. This hairstyle is one of the most popular high school boy haircuts. It complements most face shapes, and is easy to master. It looks great with long hair on top and pairs well with undercuts and fades.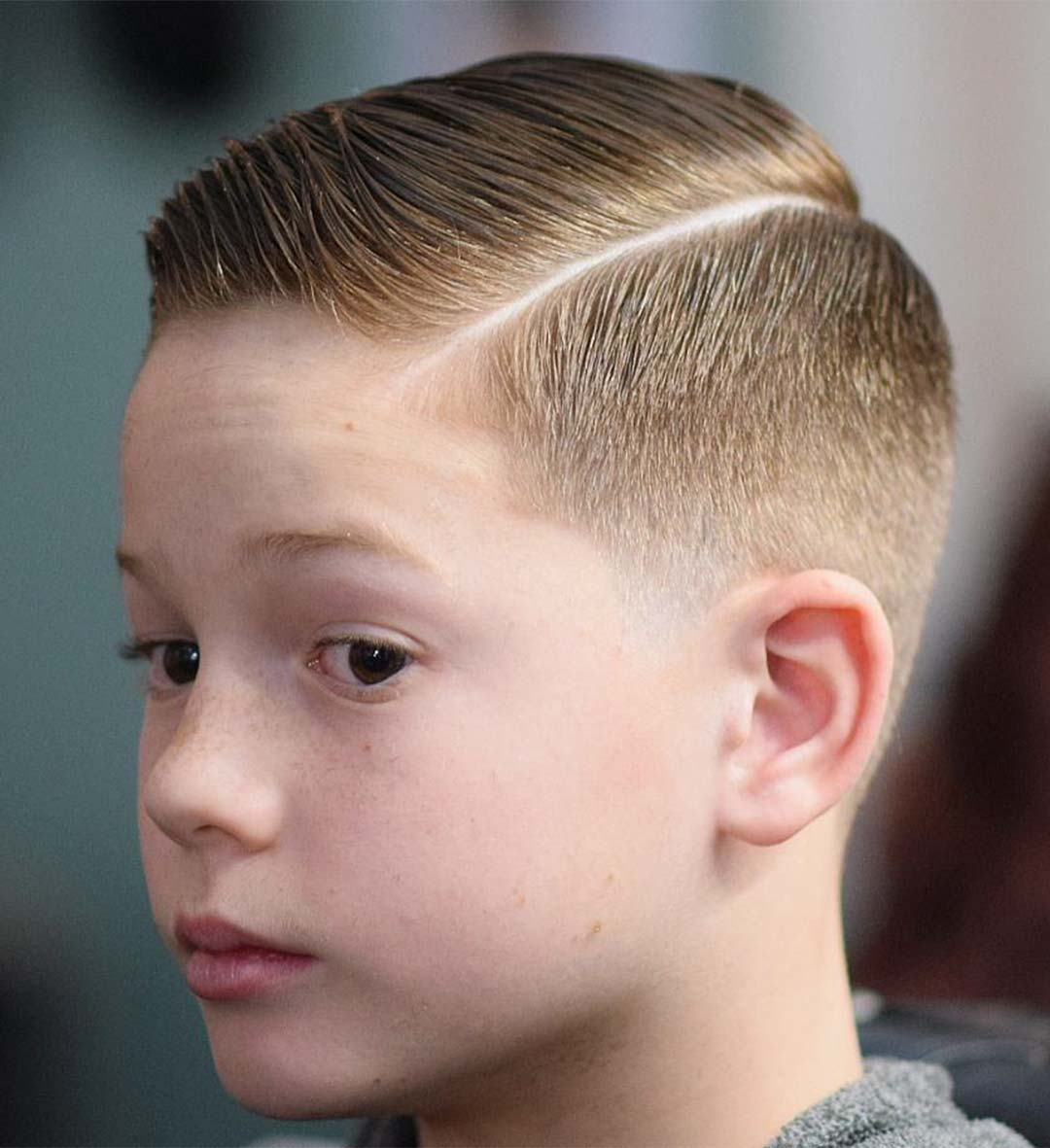 Regular Cut
A school boy's hairstyle doesn't need to be complicated. The top of the cut is left about 3 inches longer than the rest of it, which can be texturized forward to create voluminous layers. The side of the hair is usually kept short as well, while the fringe is often side-swept or left longer.
This school haircut is perfect for a boy with thick and wavy hair. If your child is into sports, consider getting him this haircut. The hairstyle will fit his active lifestyle and still look good. You can even add a pompade to his hair for extra style and volume.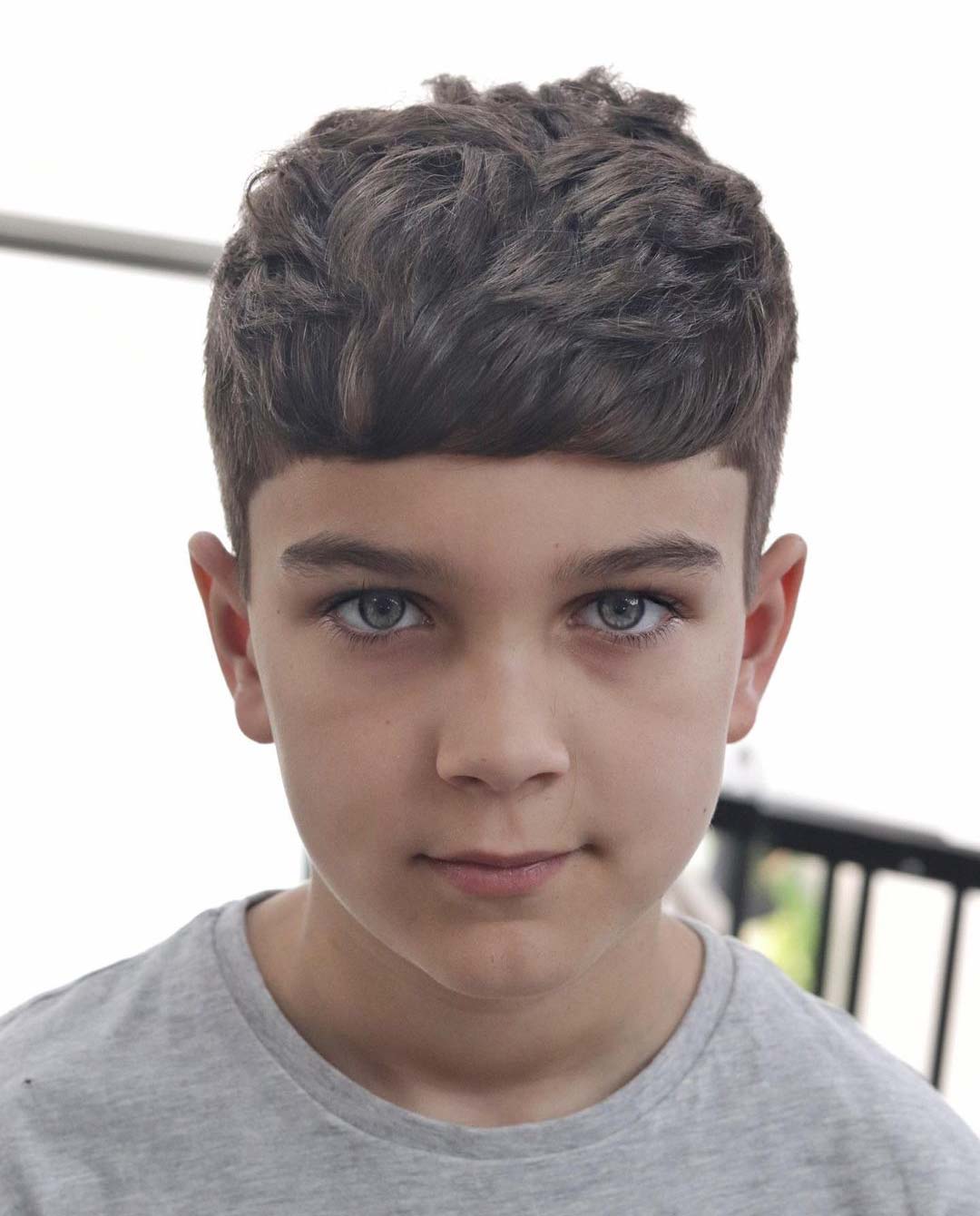 School Boy Shag
Longer bangs are a good option if you're not concerned about the appearance of the cut. It is also easy to style if you're diligent about brushing the hair every once in a while. 
A simple, straight fringe is always in style and fits boys of any age. Since it's a "surfer" style, it was made to look messy, but with a few touches of styling gel and some brushes, this style is perfect for schoolboys.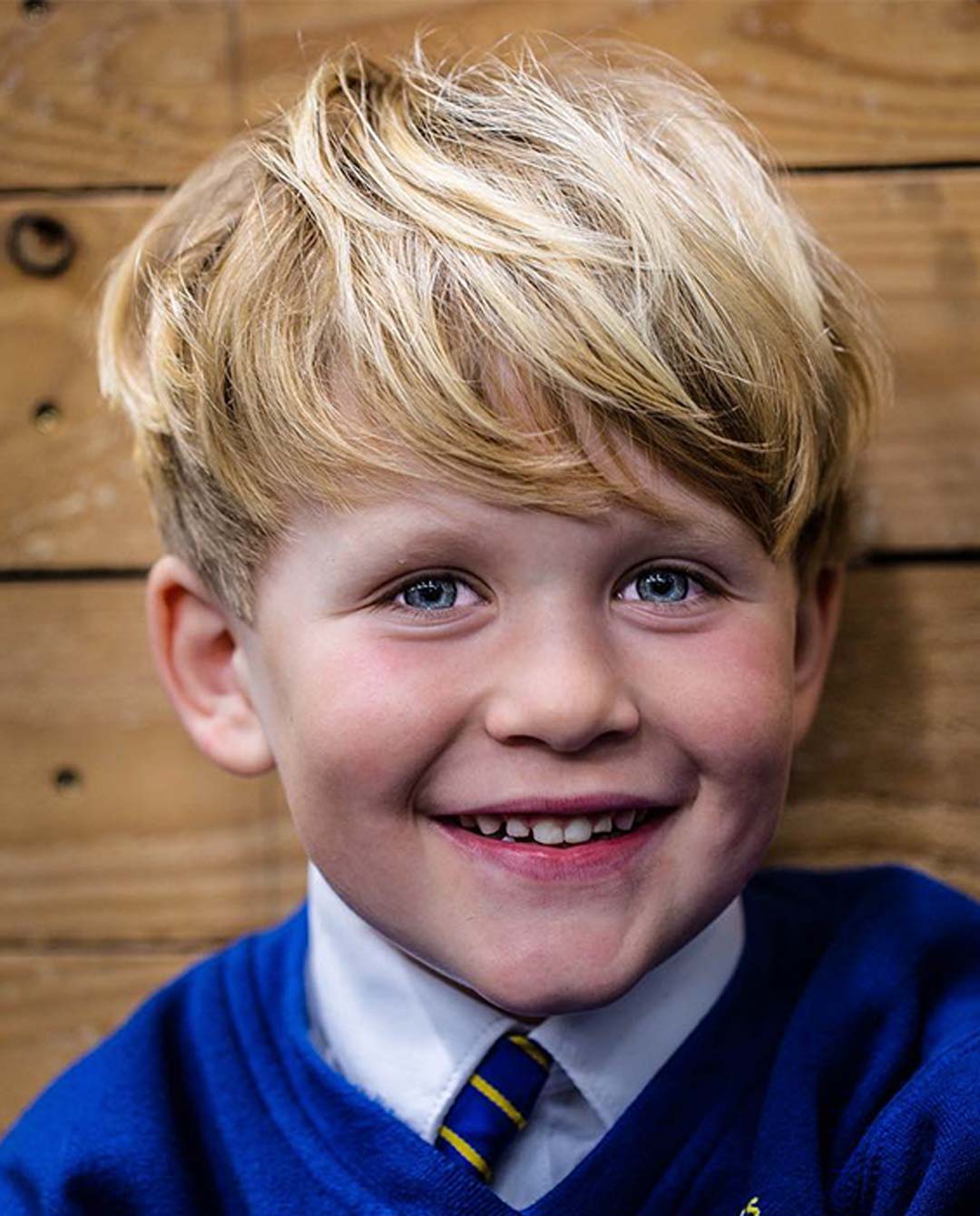 High Top + Curls
This school haircut is both cute and classic. The curls add the perfect finishing touch. If you want to add some extra character to this style, consider going for an undercut. It's easy to maintain and looks great with any type of top.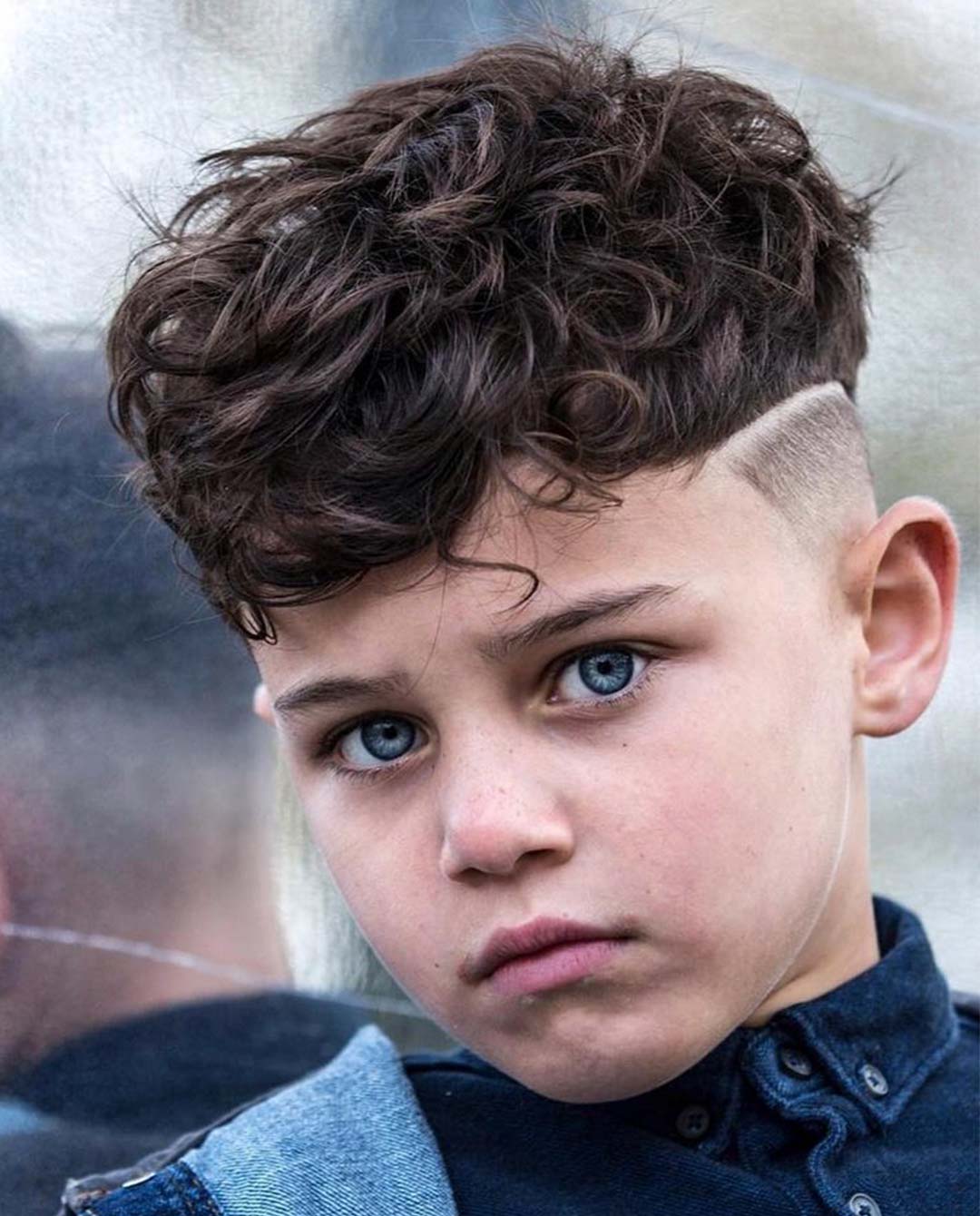 Low Skin Fade
A few celebrities have sported the low skin fade look, including Adam Levine, Zayn Malik, and Tom Hardy. You can use gel or mousse to create a bowl cut at the top of your hair. The shaved sides balance the fullness of the top and back.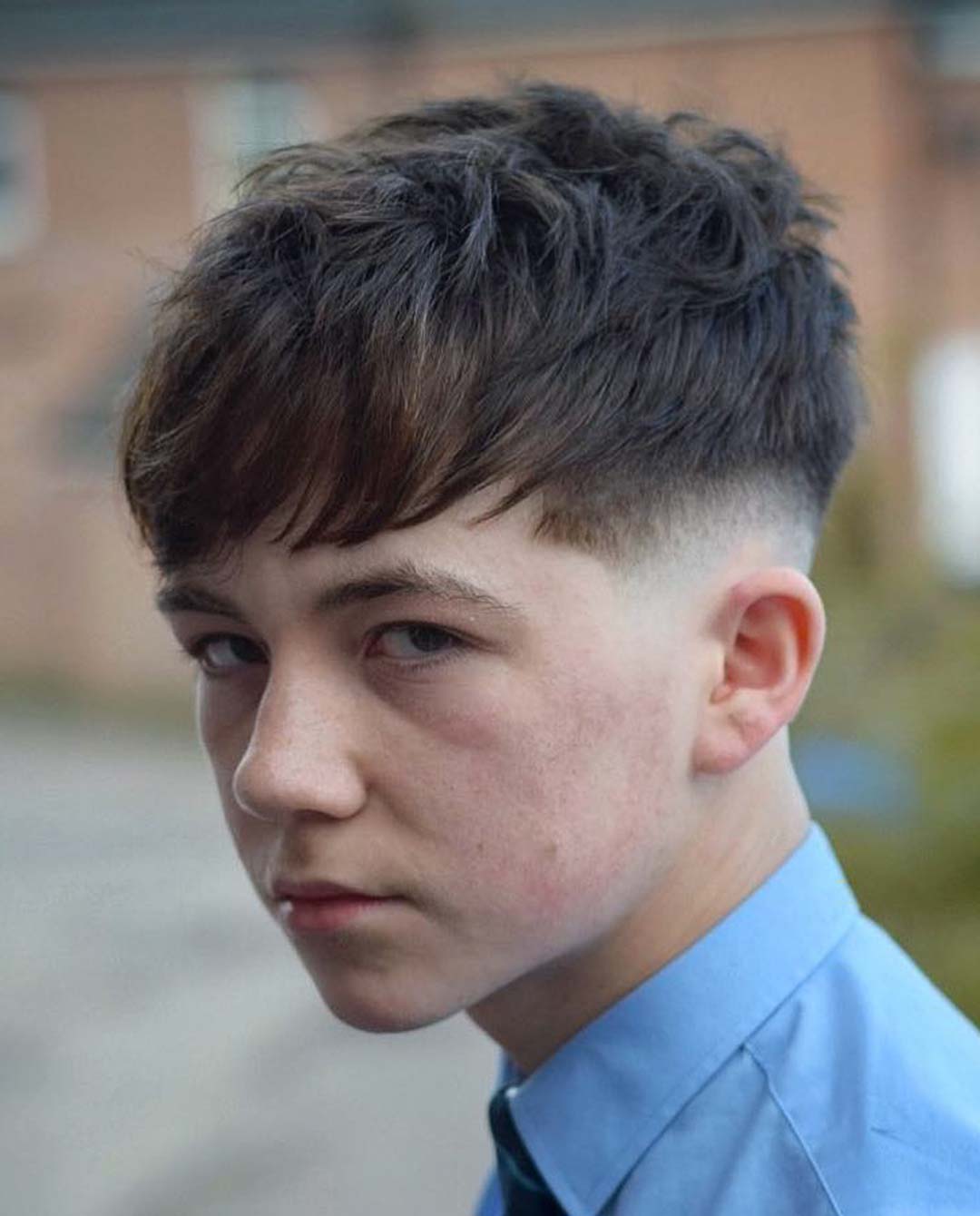 Short Faux Hawk With Deep Line
The layered cut is cut low on both sides and super short at the back. The line design at the side draws attention to the mid hair. It looks cool and attractive for little boys.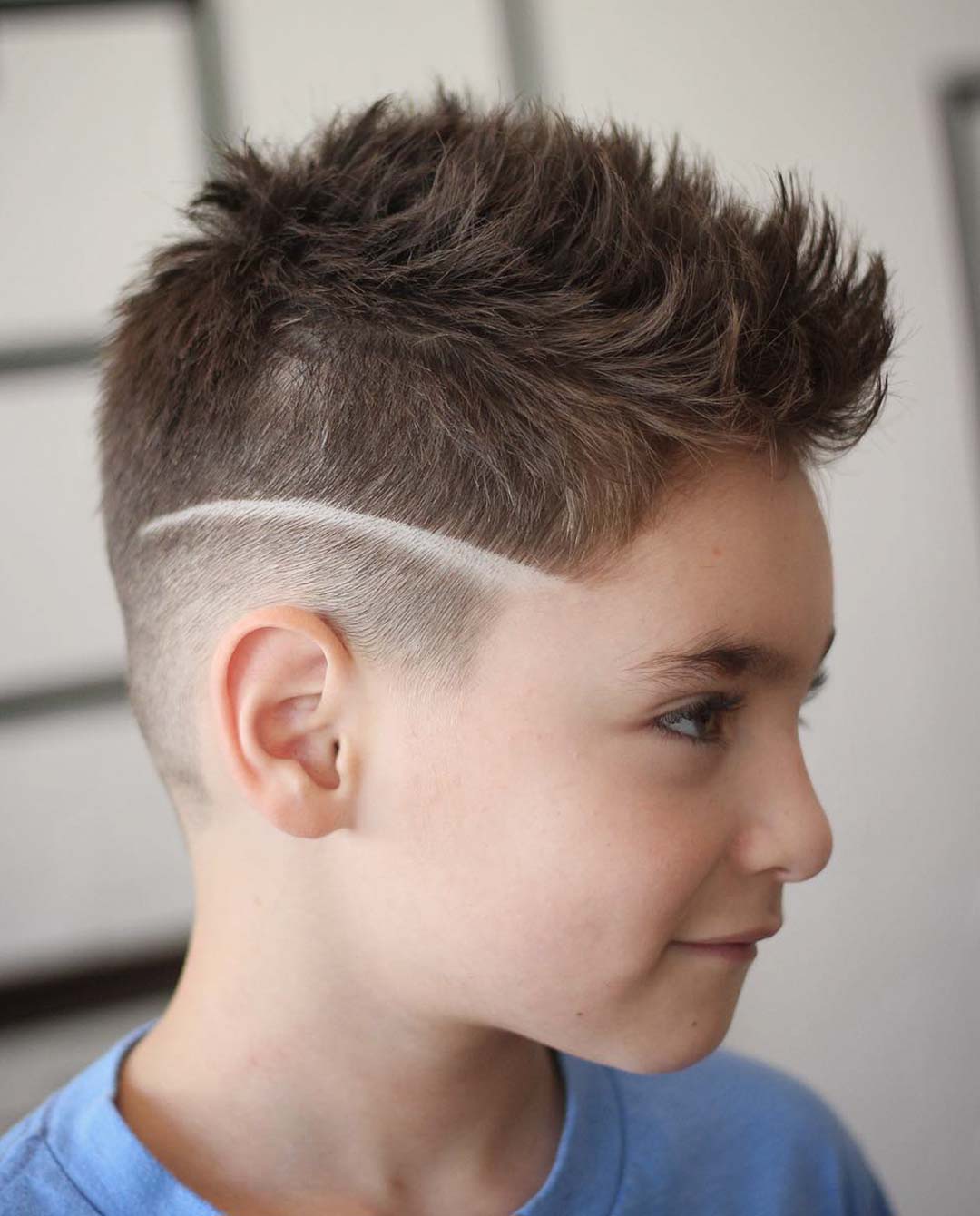 Comb Over + Drop Fade
Boys can pull off a variety of haircuts with a comb over. A comb over a high fade gives the look of thick hair over short hair. The style drops in the sides and back, leaving enough length at the crown to avoid the hair sticking up. Depending on the type of hair, you can choose to wear your comb over style, or your boy will give a classic look.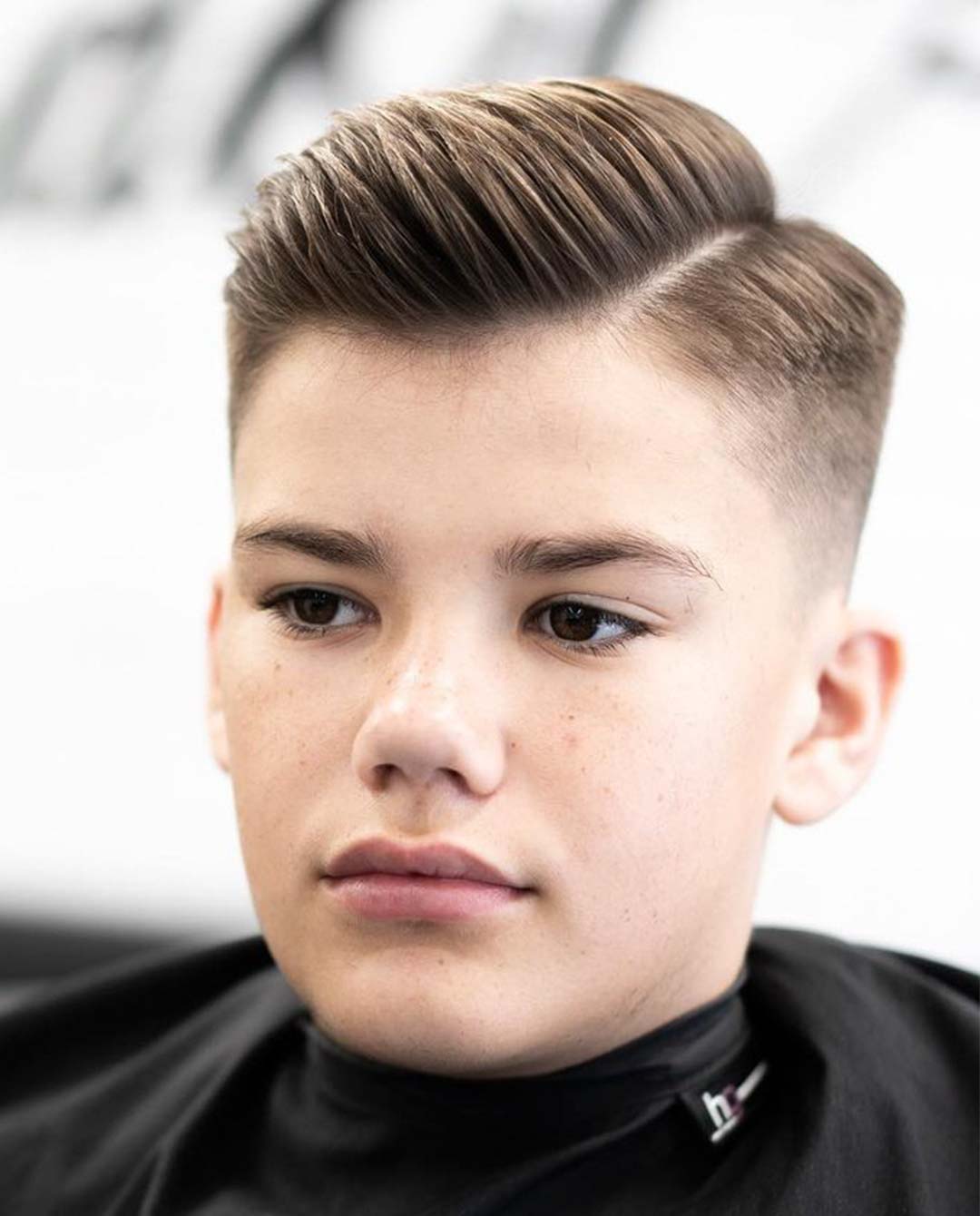 Bowl Cut
If you're looking for a short haircut for your little boy, you might want to consider getting a bowl cut. This style was originally popular in China, and it has become increasingly popular among boys of all ages. The bowl cut involves growing the hair long in one area and slicing it in the front. This style is very popular because it has never gone out of fashion.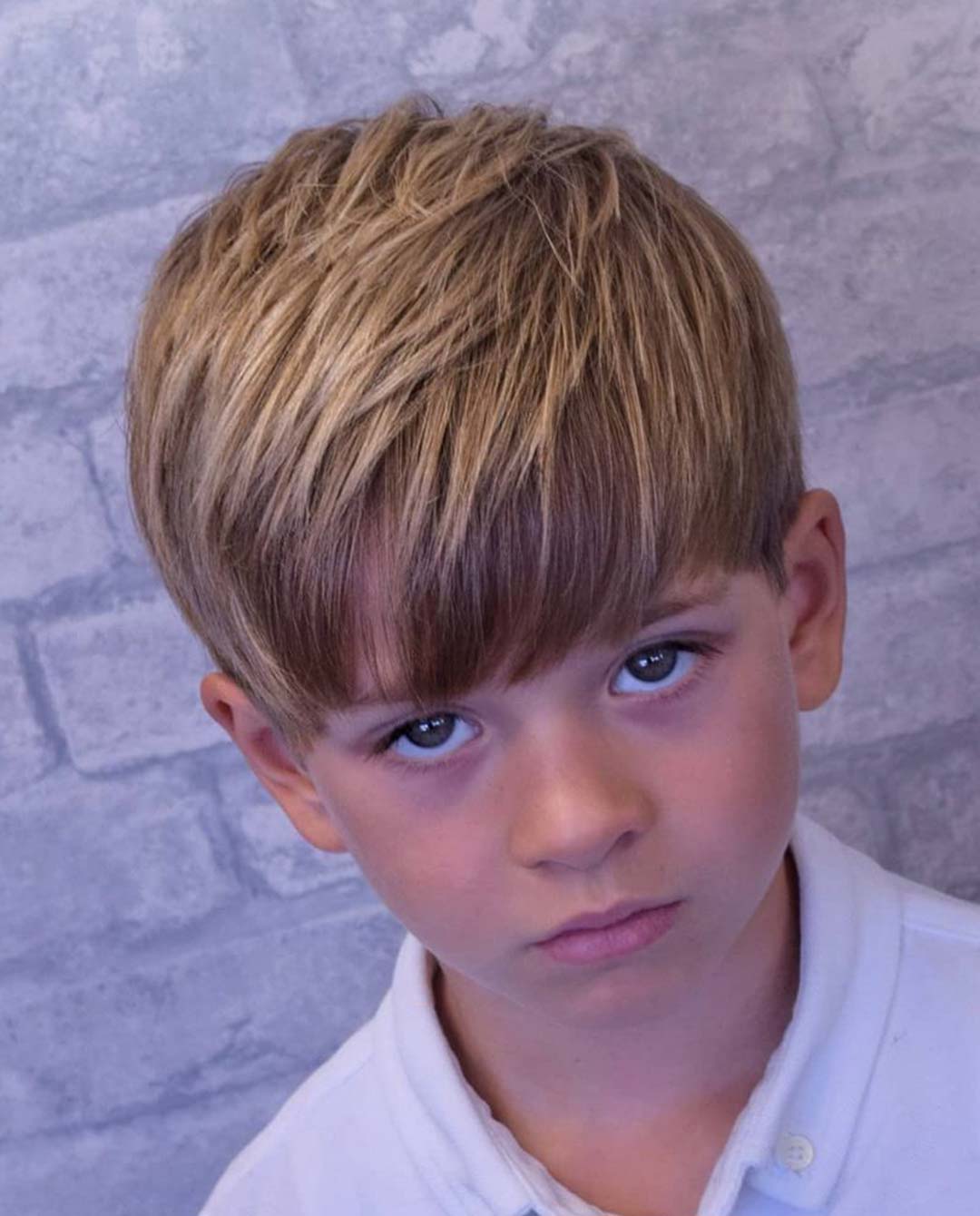 The bowl cut is perfect for boys with fine hair or those who don't have the time or the patience to maintain long hair. Because the hair is short and uniform in length, it covers the entire head and can be brushed easily. The bowl cut is perfect for everyday use. You can easily get this style at a barber's shop or home yourself. 
Side Swept with Lines
Despite its retro appearance, the side swept for boys is still highly flattering, thanks to a recent cut that makes it easy to master. In this haircut, a barber shaves a thick line that forms the side part, leaving the rest of the hair short or medium. This style was popularized by Saved by the Bell star Zach Morris. It is also a good way to balance a long bang.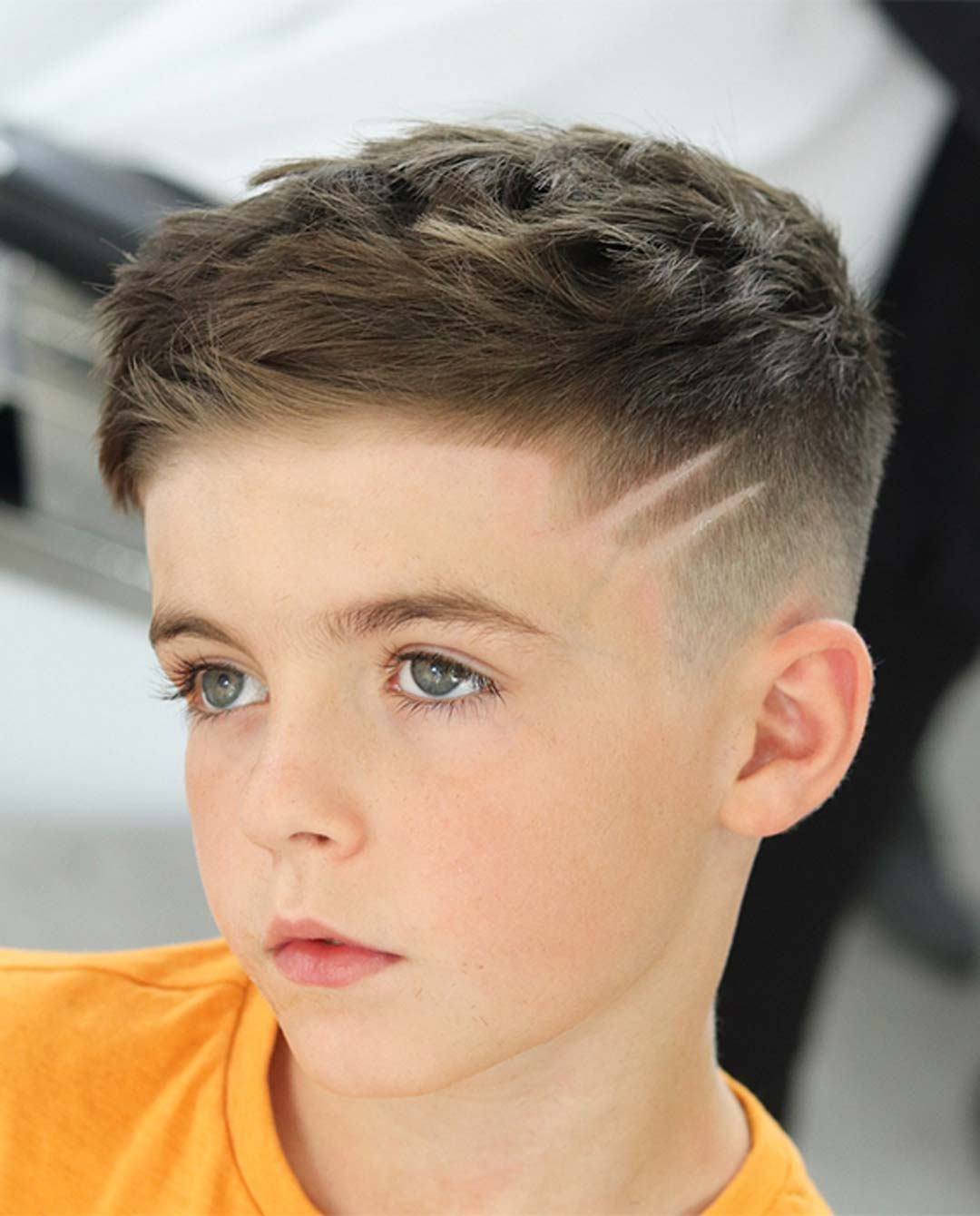 French Crop + Skin Fade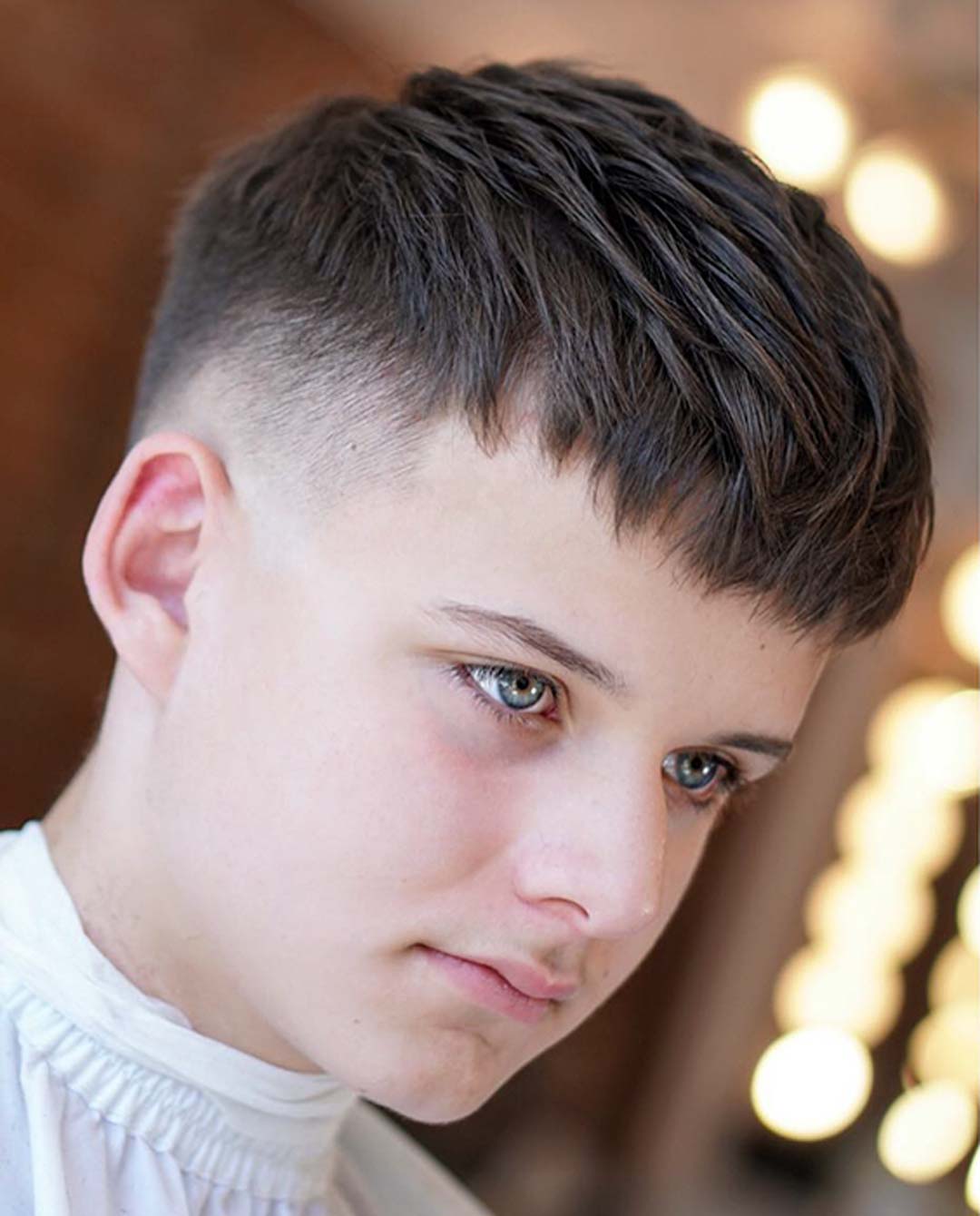 School Boy Brushed Up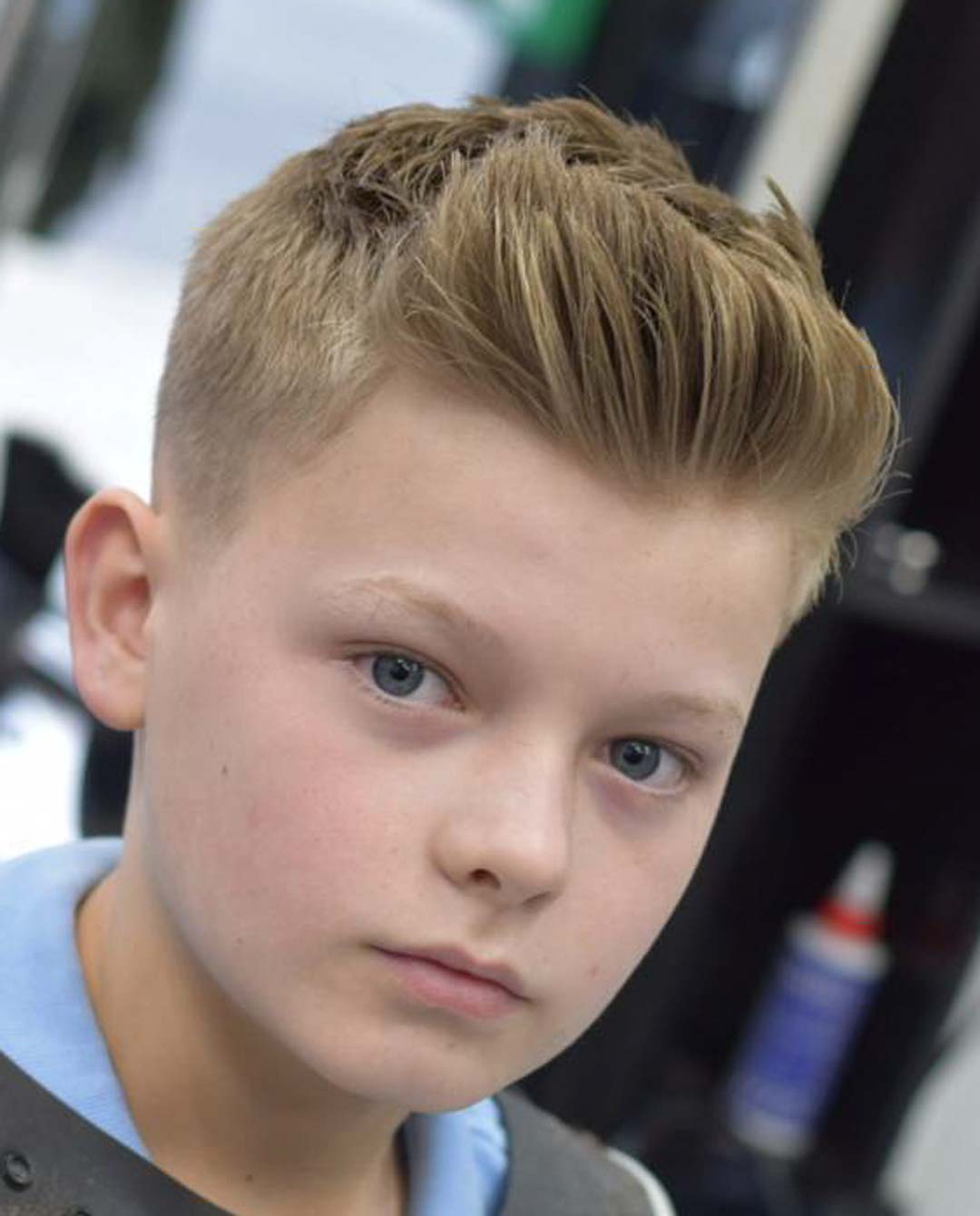 Comb Over with Deep Line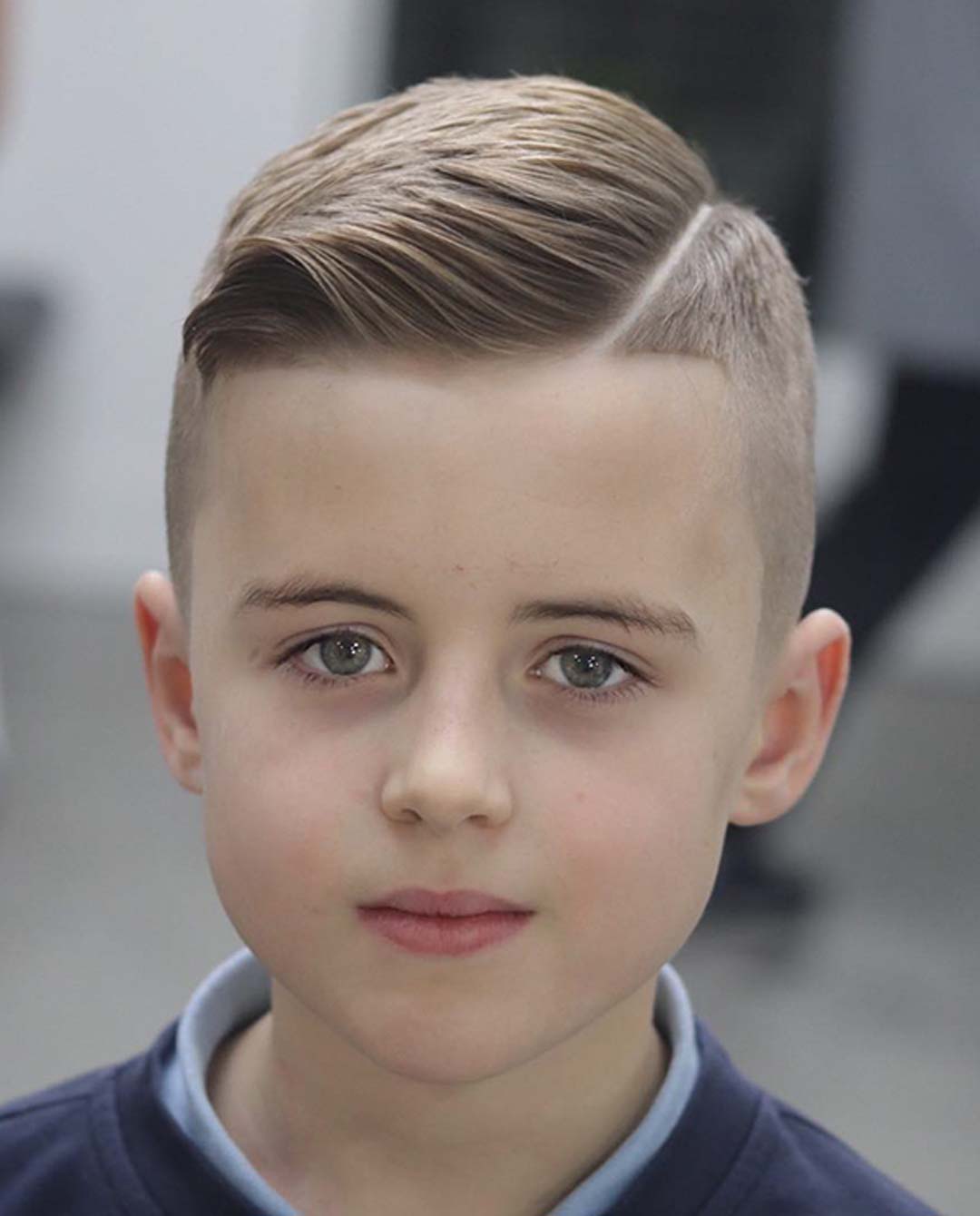 Caesar Haircut for kids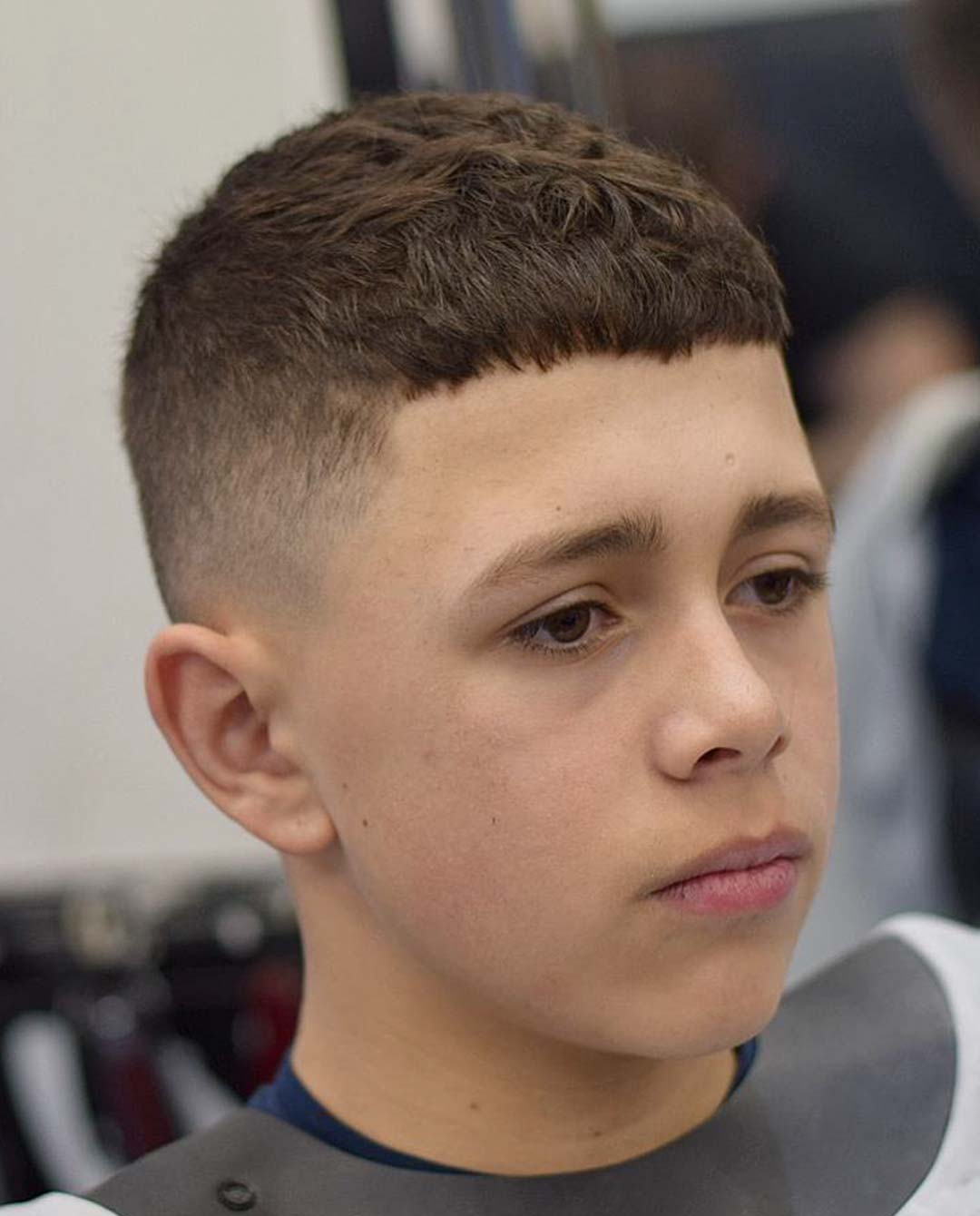 Curly Top with Shaved Sides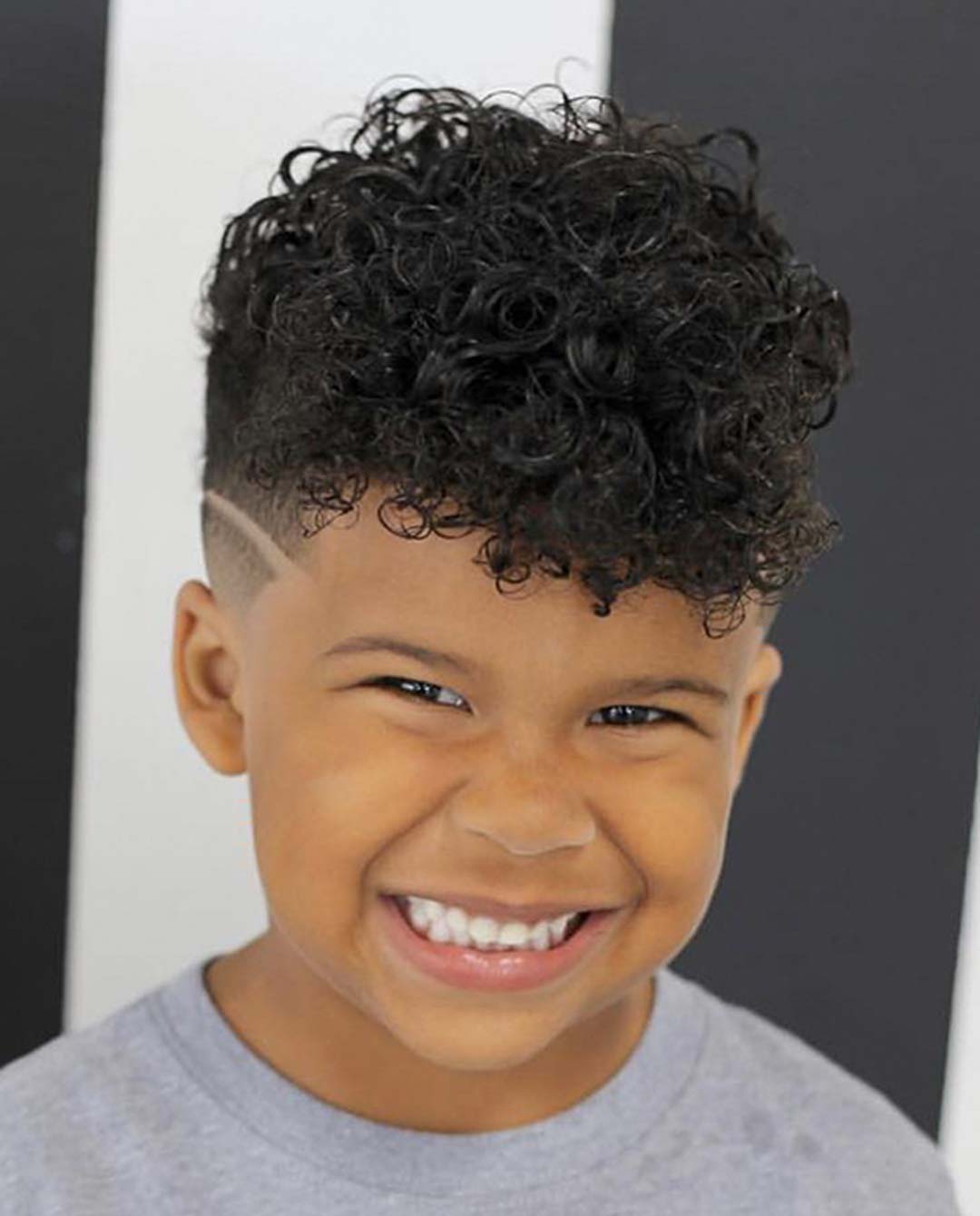 Long Hair School Boy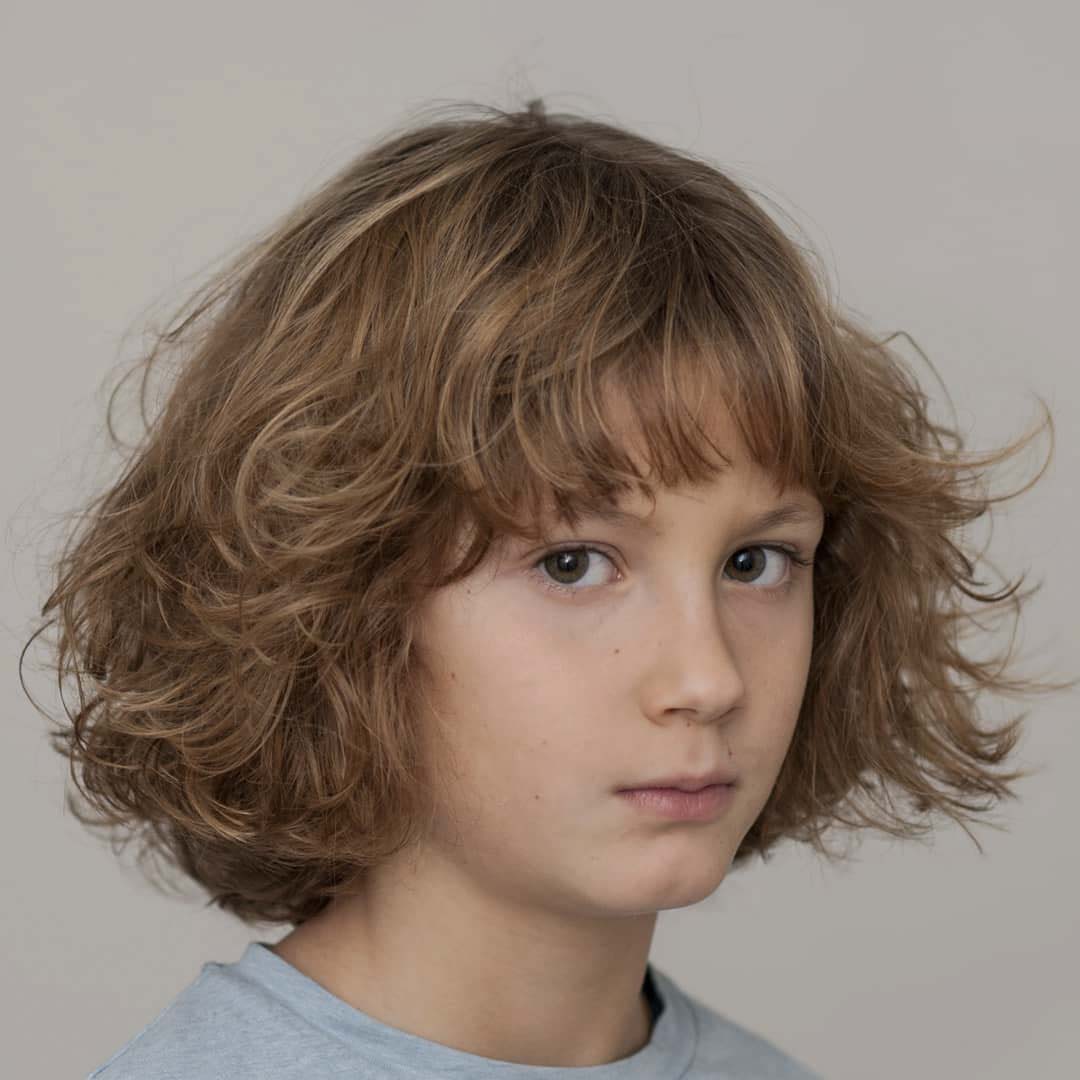 Separated French Crop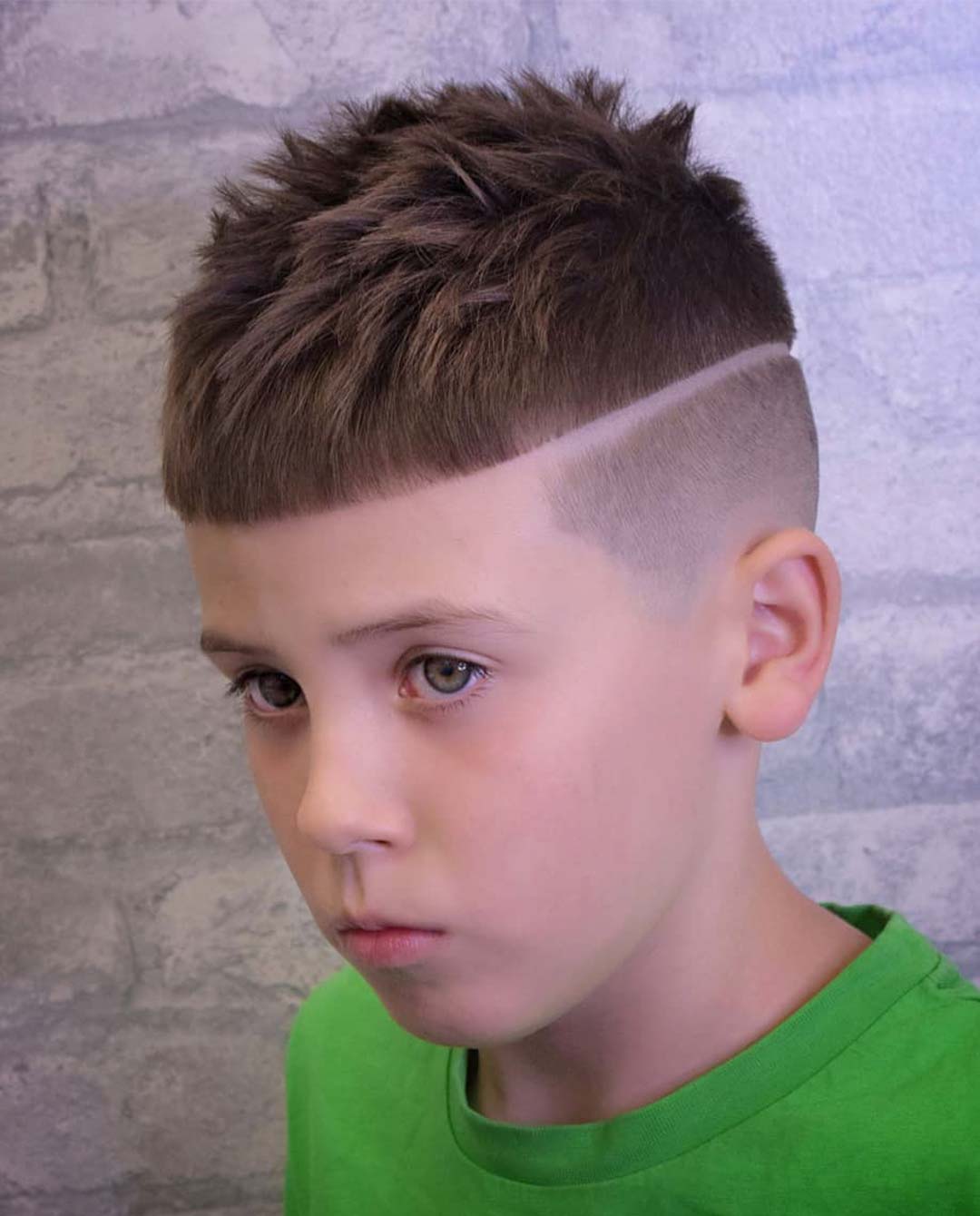 Clean Caesar Haircut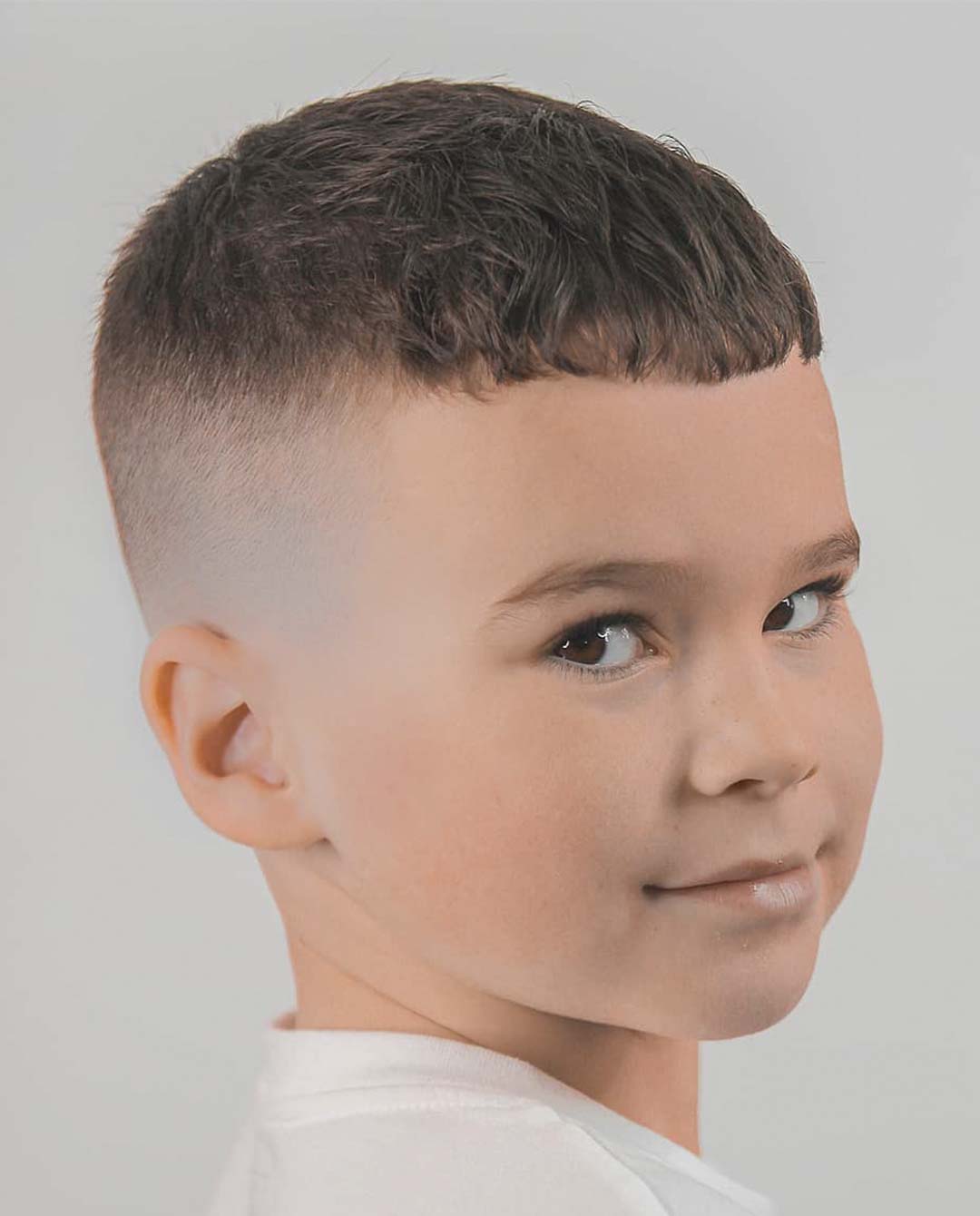 Quiff Haircut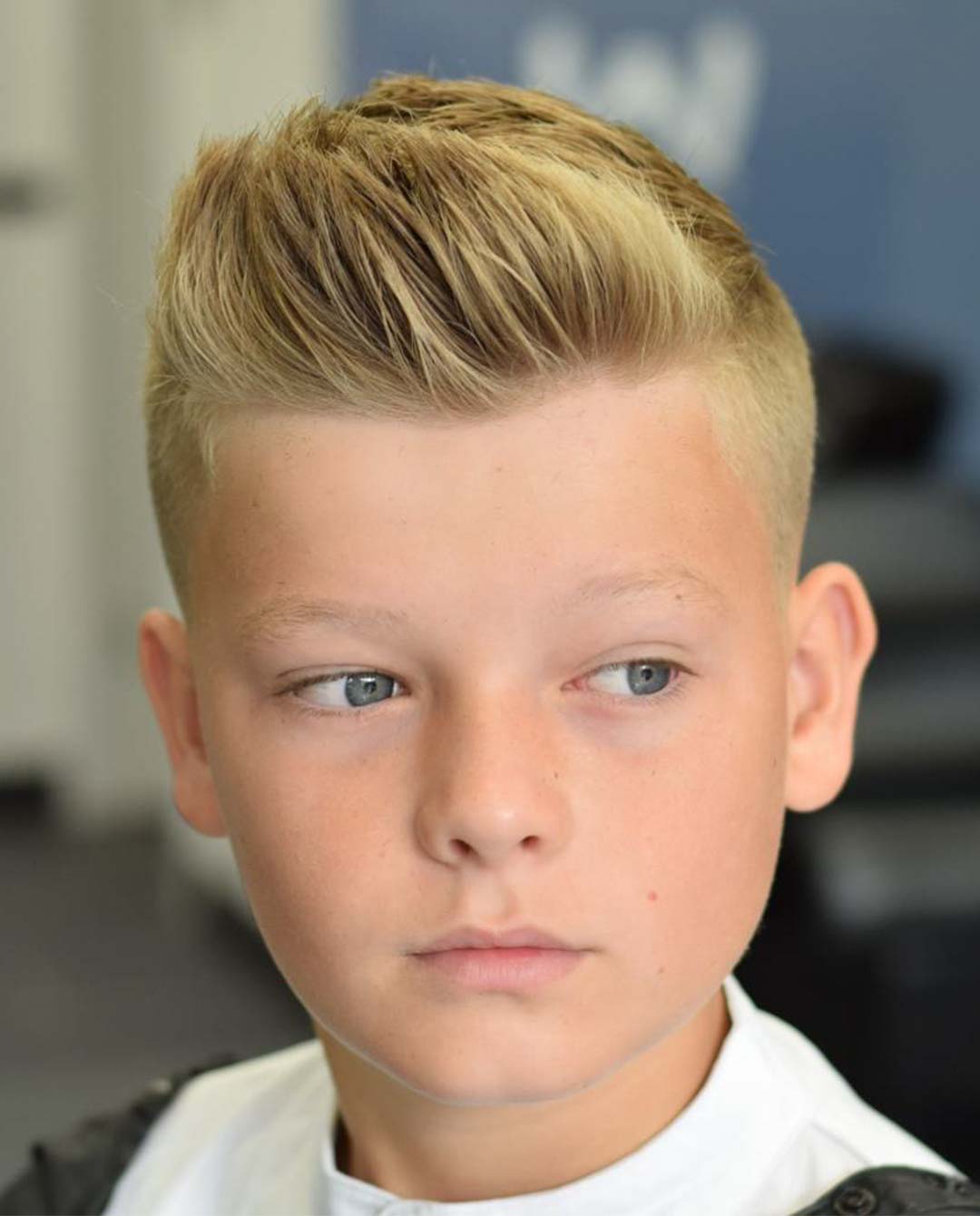 Wavy Texture + Side Design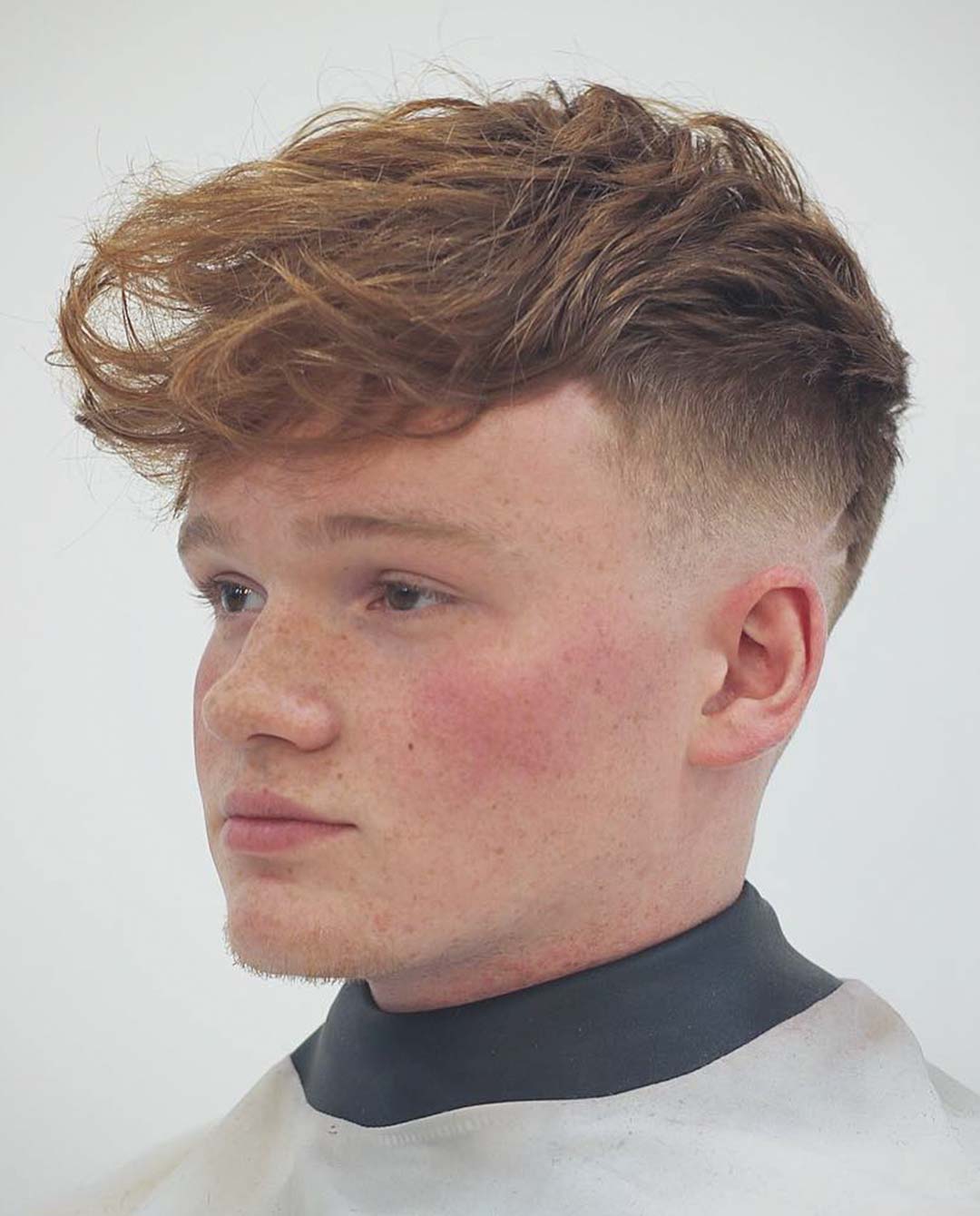 Straight Shag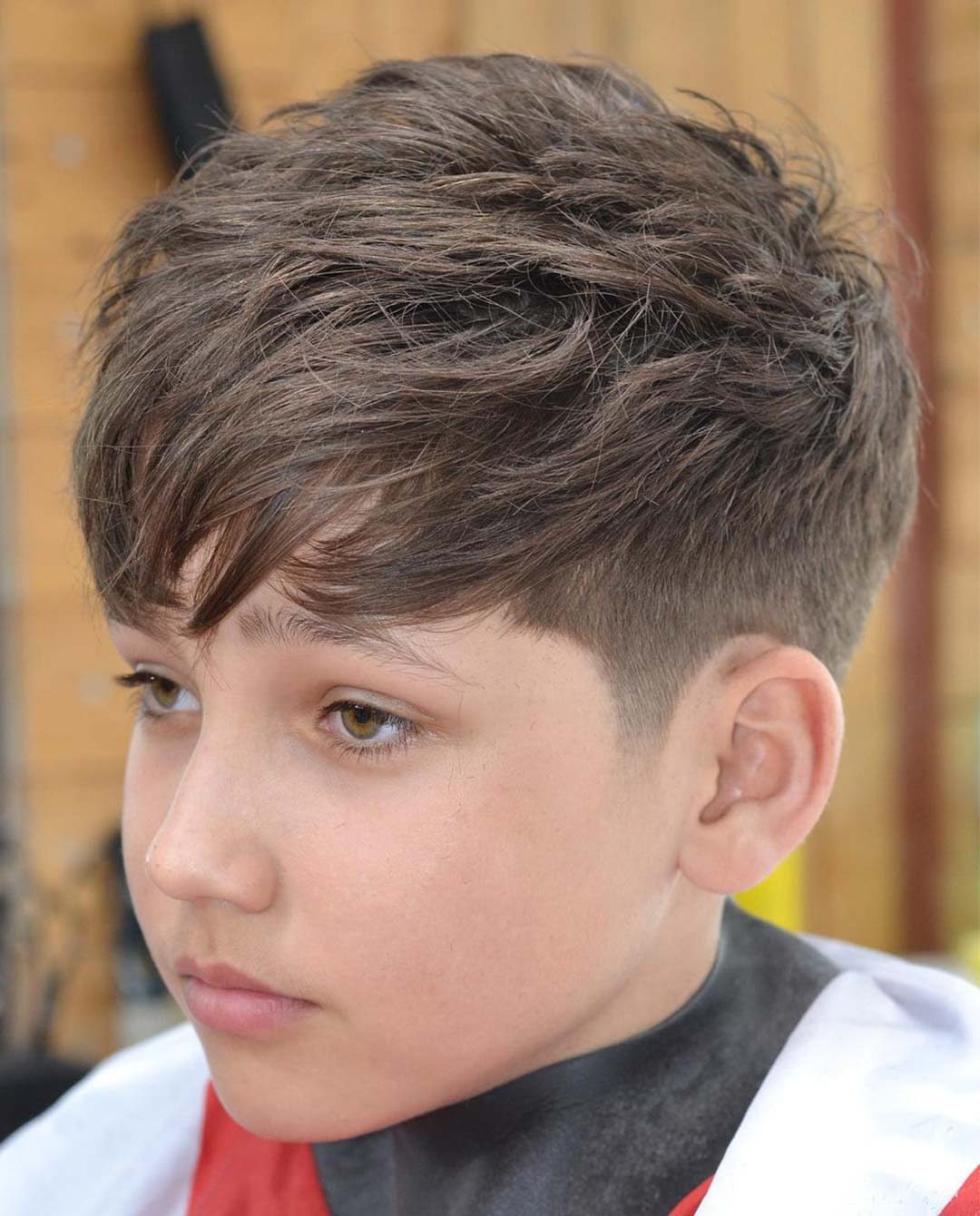 Short Comb Over + Highlights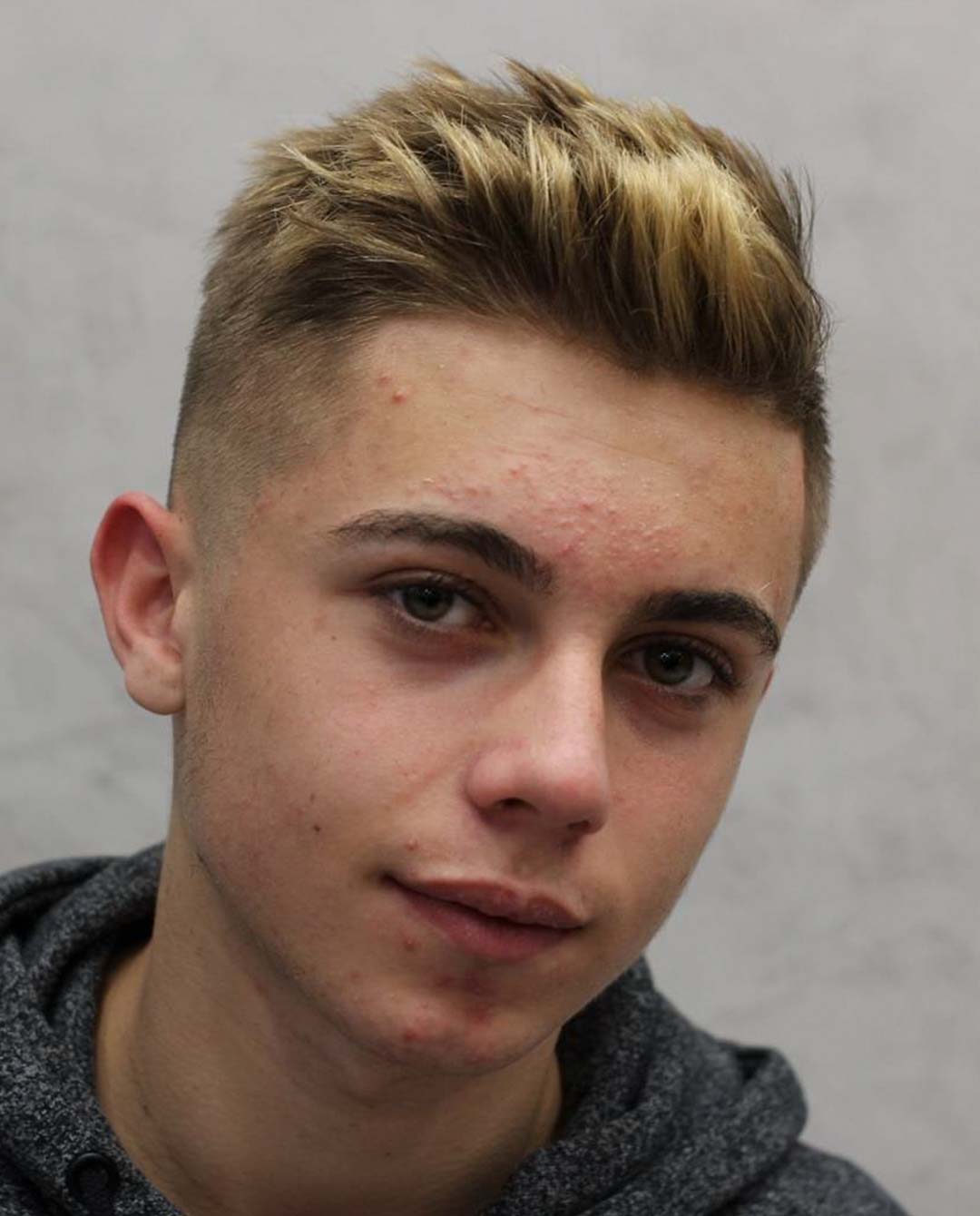 Wavy Shag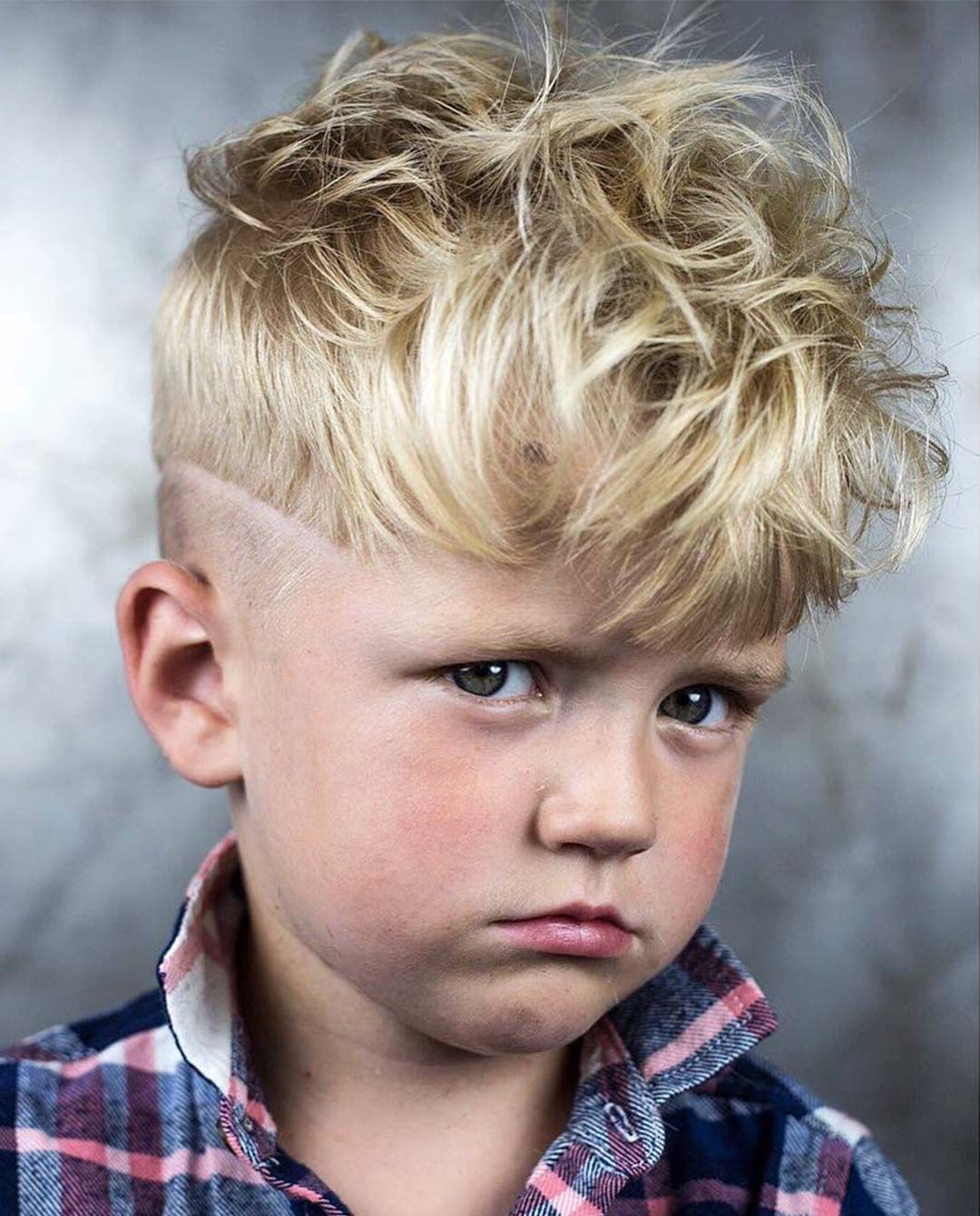 Short Caesar Cut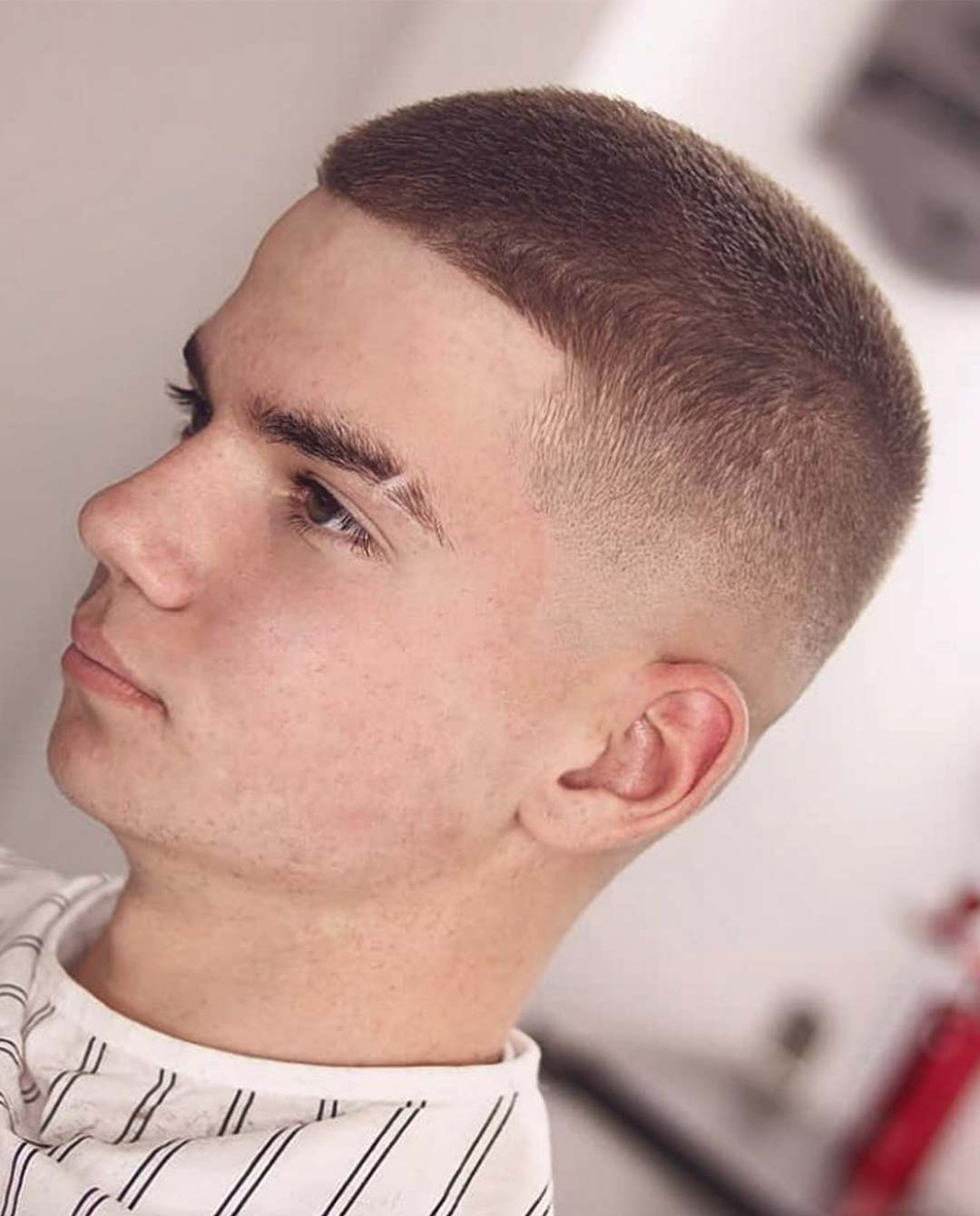 Red Hair with Comb Over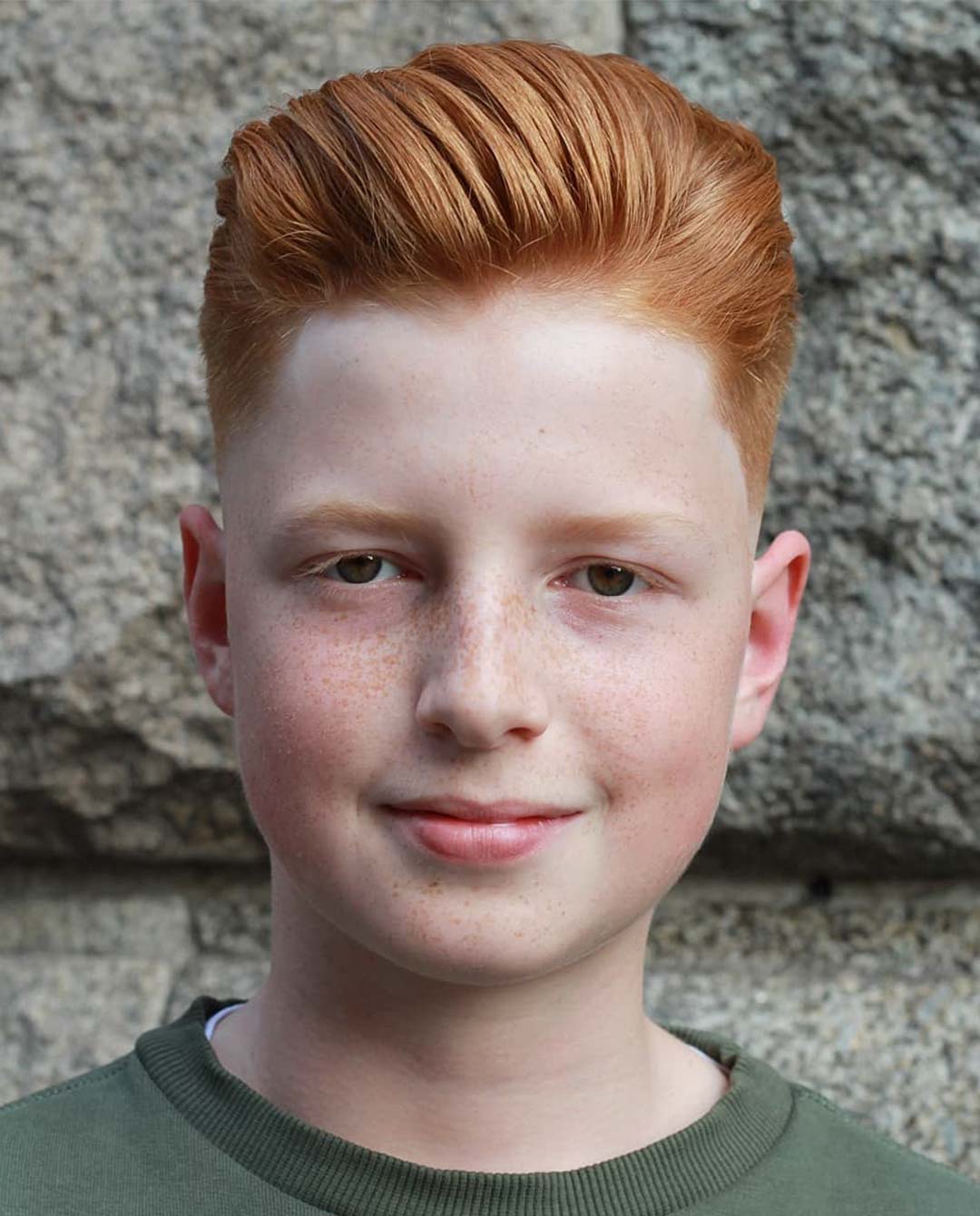 Wavy Top + Shaved Sides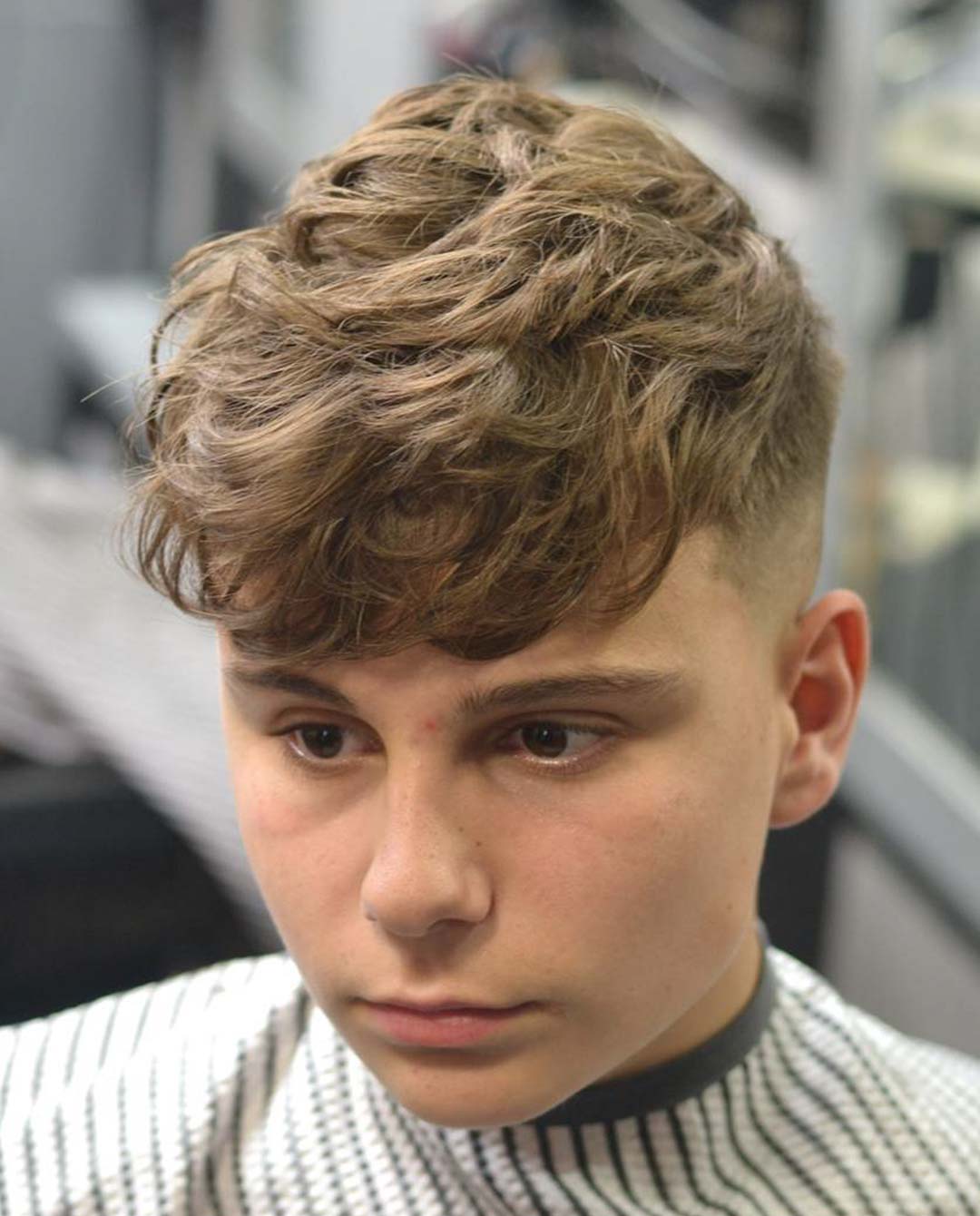 Little Boy Comb Over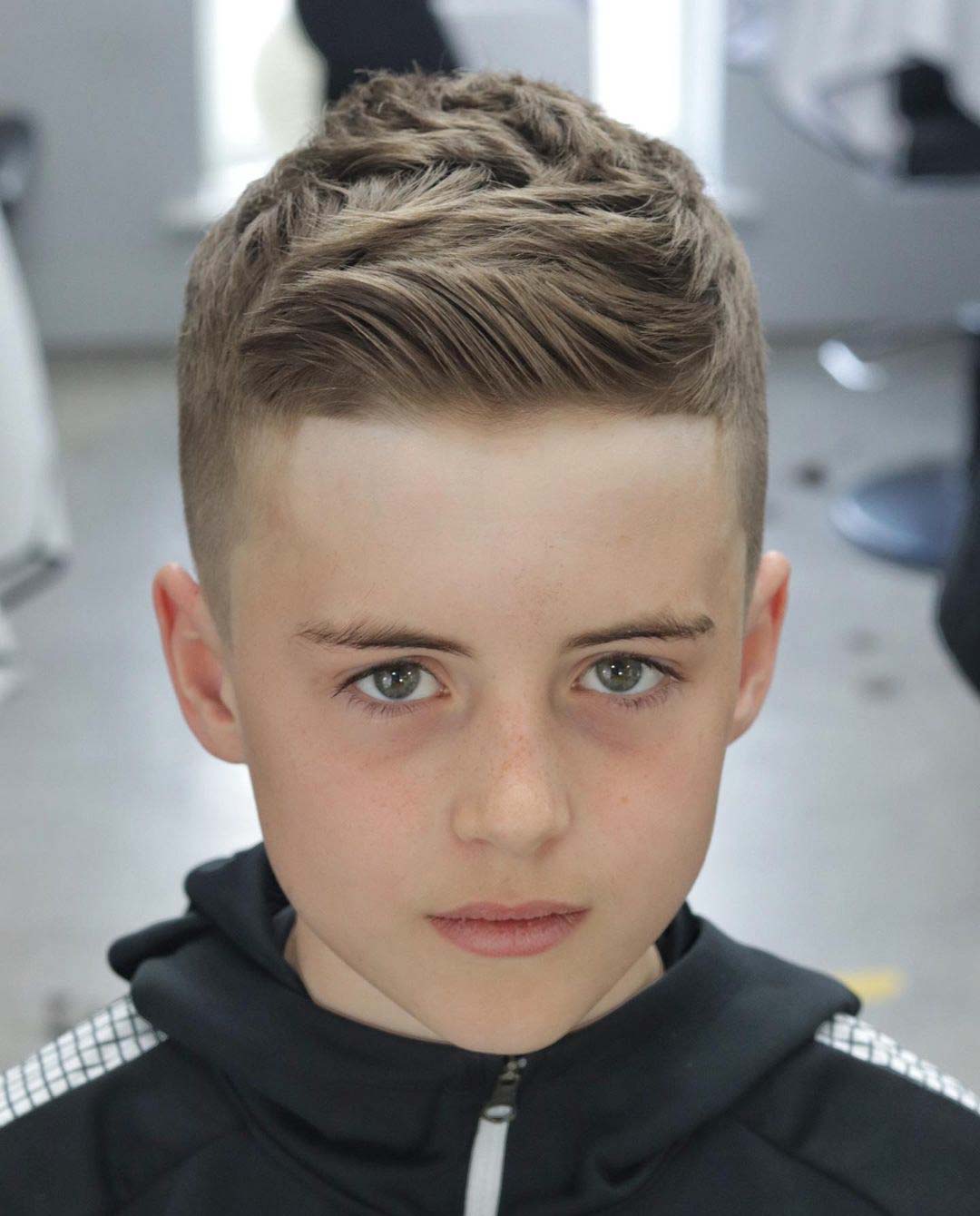 Slicked Back