There are many fashionable ways to wear a comb over fade haircut. Because a comb over is a versatile, trendy hairstyle, it is perfect for all hair types (straight, wavy, or curly) and many facial contours too. When you choose this hairstyle, you can get a high, low, or mid fade comb over depending on how short you want your sides cut. Then you can play with the hair on top and even add a side part for a more defined look.
More About Comb Over Fade Haircut
Comb overs were originally associated with balding men who wanted to cover up their thinning hair, but today, it has taken on a whole new appearance with a variety of side-swept styles and haircuts for an amazing transformation. Want to try a modern comb over? Let's take a look at your options. Below are some great ways to style a comb over fade haircut.
#1 Comb Over Fade with Line Up
The comb over may be a classic look, but when you add a fade to the haircut, it turns into a very modern style. A comb over fade changes an otherwise conservative hairstyle into an astonishing new look. Starting the lineup at or below the side part displays a subtle transition from part to fade.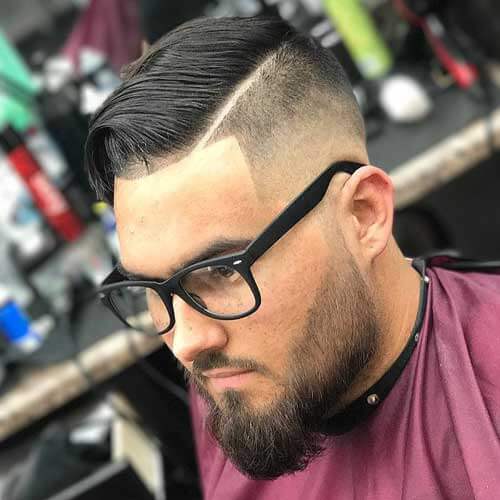 #2 Slicked Over Haircut with Deep Part
A comb over and deep part is a bold way to make a statement. Cut the sides sharply into a very low skin fade which helps you create an impression of a razor cut. You will need some hair product to keep the front hair looking clean and intact.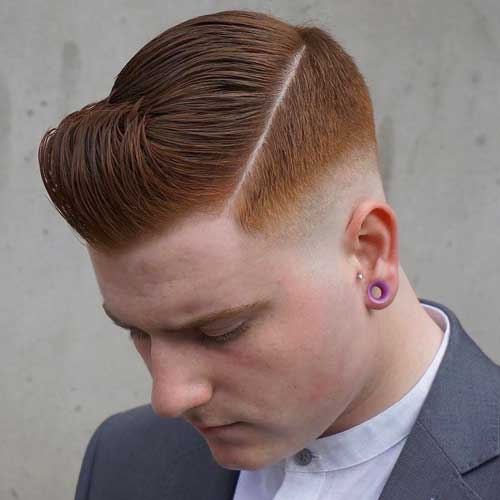 #3 Quiff with Side Part and Edgy Beard
Just like a Bandholdz beard, this razor fade haircut with a beard goes wonderfully with a comb over and will turn a lot of heads. The razor fade starts higher than a more conservative fade haircut and blends well with the beard. If you are not fond of hair products, then this will be a perfect choice for you.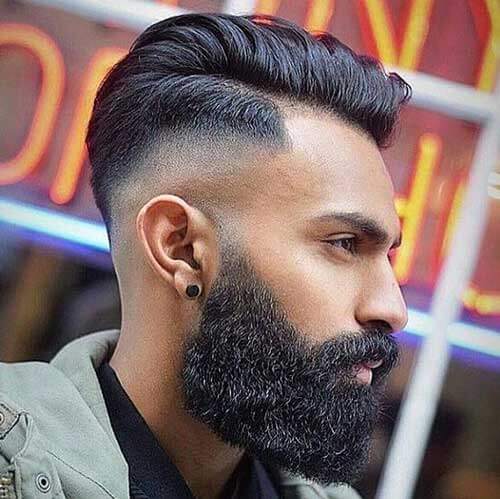 #4 Long On Top Short On Sides Haircut
A short comb over is great for those times when you want to look like a gentleman. You can cut your hair into a sophisticated long on top short on sides that are not longer than an inch. Easy to maintain as all you need is some pomade and a brush.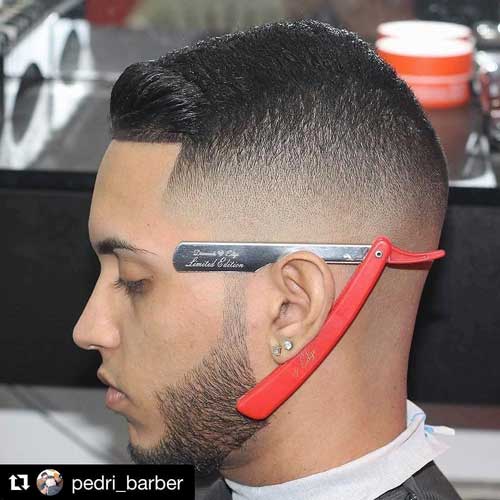 #5 Brushed Up Undercut
A short comb over and a high and tight haircut go so well together. The sides and back are cut short and the short top is textured for a good contrast. You don't need to have thick hair to pull this off—a 1-inch length will do fine. Just use hair gel and air dry for a crisp military look.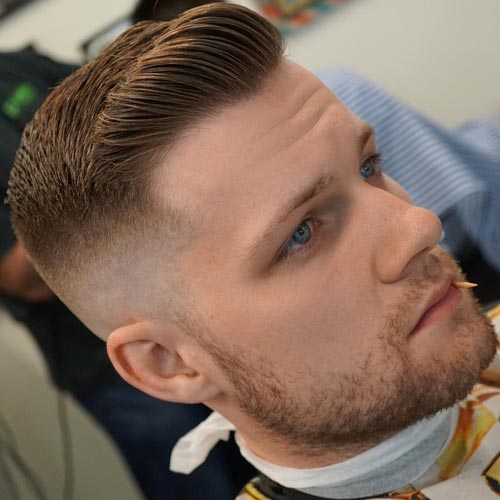 #6 Comb Over Taper Fade
Another take on a comb over hairstyle is to incorporate a coffee and a taper fade that progresses from the nape to the long hair on top. This awesome combination makes for a fresh and unique variation of an otherwise classic hairstyle.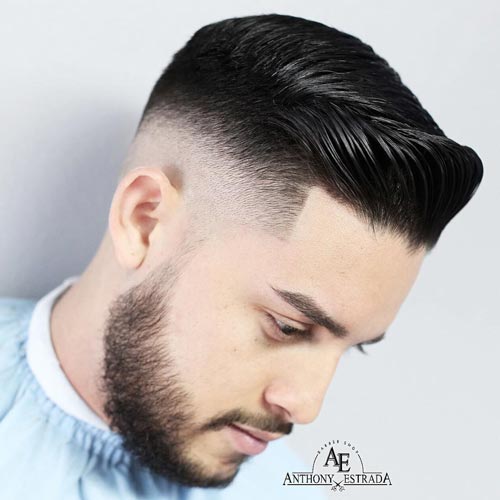 #7 Wavy Mid Fade Comb Over
Don't worry if you have naturally wavy hair, you can still pull off this mid fade comb over haircut; preferably with a great beard too. If you have straight hair, you can also wear this look but will need some hair product to maintain the look. However, with your natural waves, you don't need hair gel to make it look like it does in the picture.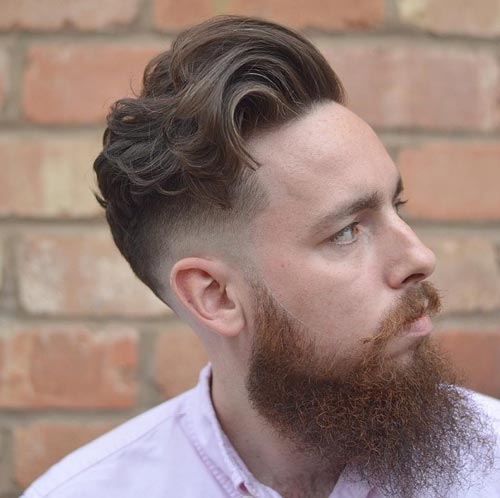 #8 Cropped Comb Over Fade
This haircut looks great on men who have class and style. Whether you have thick or thin hair, you can still achieve this look, just add in some hair gel for a dense hair look. Pomade and hair serums are necessary to make this style even more attractive.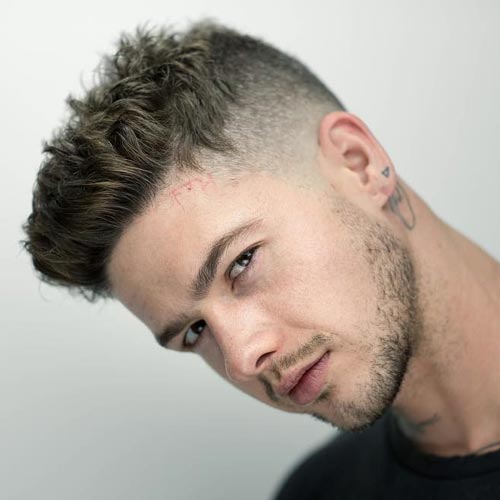 #9 Highlighted Comb Over with Side Part
A comb over low fade haircut is for the free-spirited man. The low fade tapers from the hair on top-down to a bald skin cut just above the ears, and all the way to the back. It's a super sleek and bold style that takes its inspiration from the word 'sophistication'. Include some hair length on the top and keep it tidy for the best results.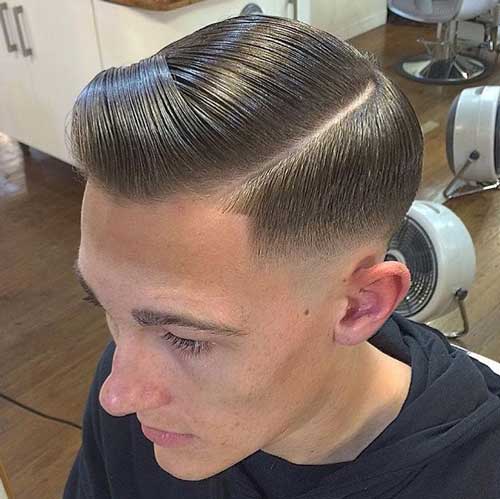 #10 Comb Over Drop Fade
Guys with a receding hairline will love the taper fade comb over because it can turn a simple haircut into a true work of art. This classic look is perfect when combined with a drop fade. Maintenance is easy, just add some hair products and blow-dry.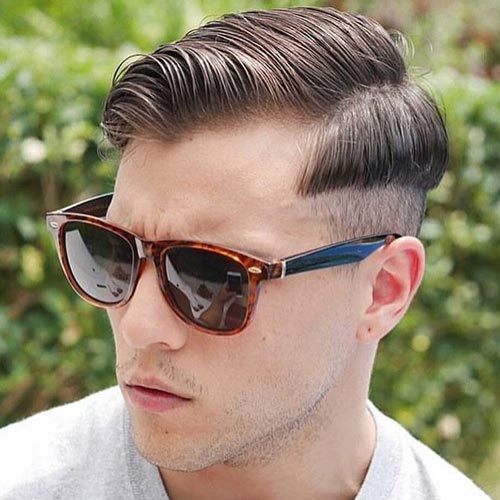 #11 Textured Comb Over with Taper Fade
For men who want to keep a longer length hair on top, a pomp comb over is a good choice. Your main concern with this haircut will be maintaining the top hair and styling it into a loose comb over. You can blow dry for more volume on top, or manage it with a firm hold gel. The long hair on top allows you to be versatile and means that you're not married to a comb over.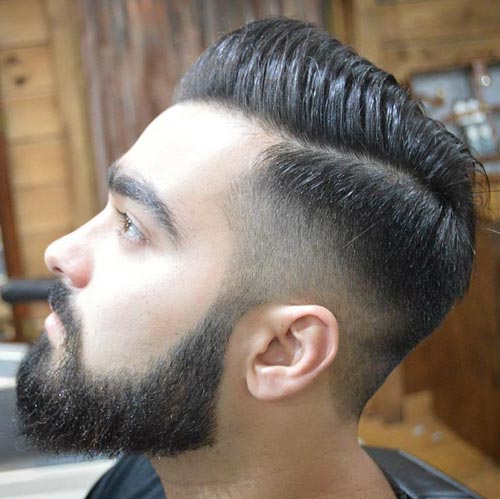 #12 Comb Over Undercut with Fringe
This hairstyle is quite easy to maintain because you don't have to give it too much attention. All you need is a razor cut hair and a taper fade on the side. For men who do not like to use hair products, this style is great because you don't need any hair product to keep it looking perfect.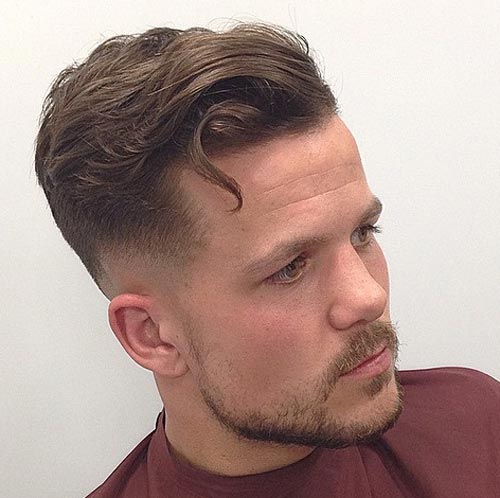 #13 Disconnected Undercut with High Fade
A comb over with a high fade will draw attention to you. With less room for a taper fade, the sharp high fade transition from short sides to the longer top is daring. The disconnected top can be cut with long or short hair, curls and waves can work too.If you don't have time for hair maintenance, but you still want to get a comb over, then this style is best because it requires zero attention.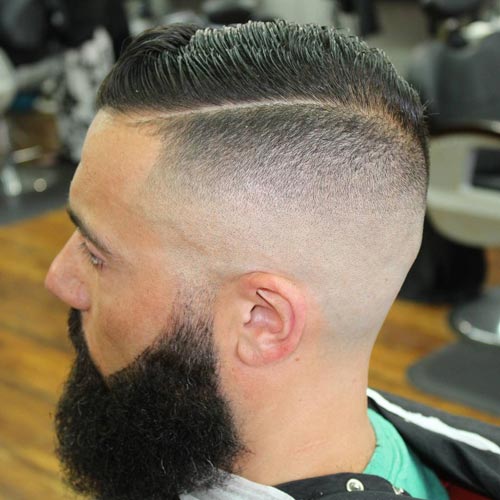 #14 Loose Wavy Comb Over
The model pulls off this comb over fade hairstyle to perfection. Relaxed comb overs are one of the most iconic hairstyles for men, especially with your natural hair. This haircut is suitable for any workplace, casual event or for a rock star look. The laid-back appearance is due to the natural hair, so whether you have curly or wavy hair, this look really rocks.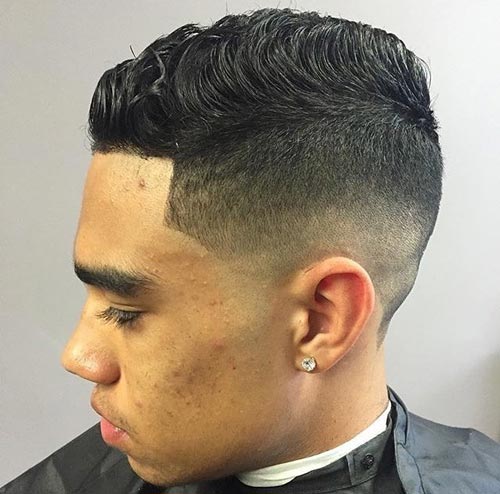 #15 Mid Fade with Quiff
You can have a traditional comb over haircut with a fade that matches your clean shaven beard perfectly. A mid fade comb over says a lot about you and will go well with any hair texture. The hair starts to fade above the ears and stops half way to the side part.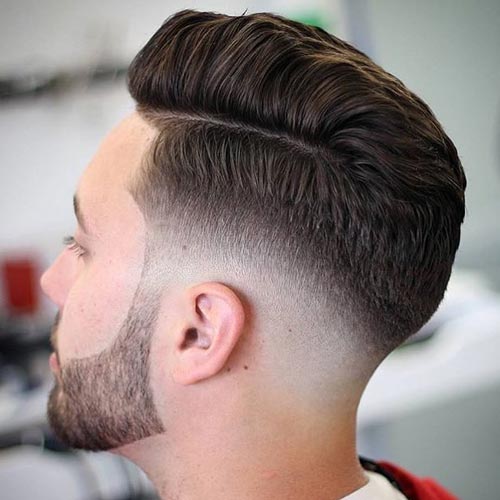 #16 Side Part Pompadour
Pompadour has never gone out of fashion. So cut your comb over fade haircut with a pompadour in front and keep your sides tapered down. For a bolder look, you can blend this with a light beard.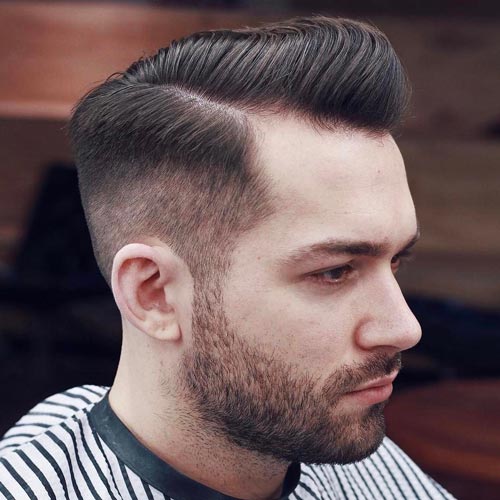 #17 Modern Comb Over
Created to be worn with a suit, this mid-length pompadour is a fantastic version of a comb over. This haircut is suitable for thick, full hair or for gents who want a more polished look. This comb over fade is a safe option for any occasion. Use a strong hold hair gel and a hairbrush to style.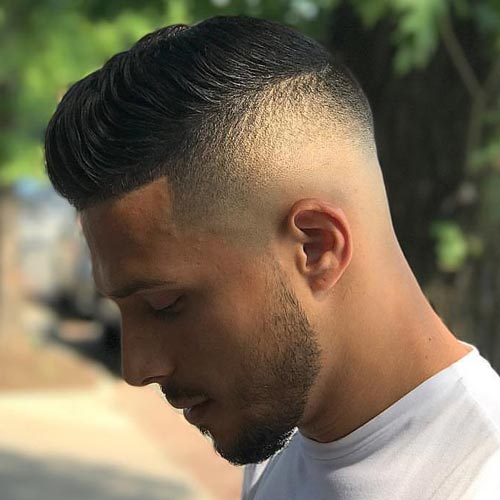 #18 Long Wavy Layers
Do you want a clean looking comb over? Even if you have wavy hair, you can look neat if you comb the hair over nicely. This wavy cut is an ideal choice for men who want a dapper look. Young and old can pull this off, just make sure to keep your hair length a little shorter than the average and add some hair products for hold and shine.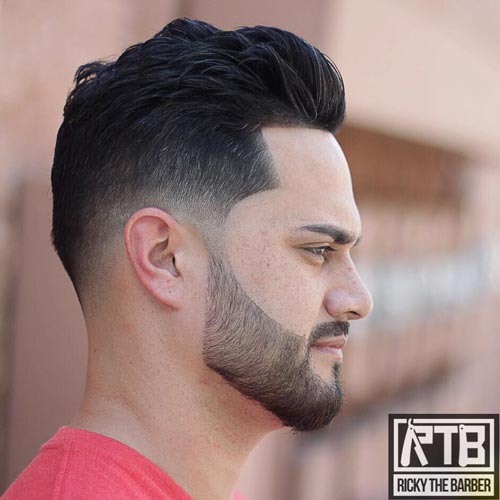 #19 Comb Over with Spikes
If your hair is short and thick, then you can easily go for a comb over with spikes. Your spiky haircut will look great with the help of some hair gel. Ask your hairstylist to leave just enough hair on top to create short bangs and then style them into spikes.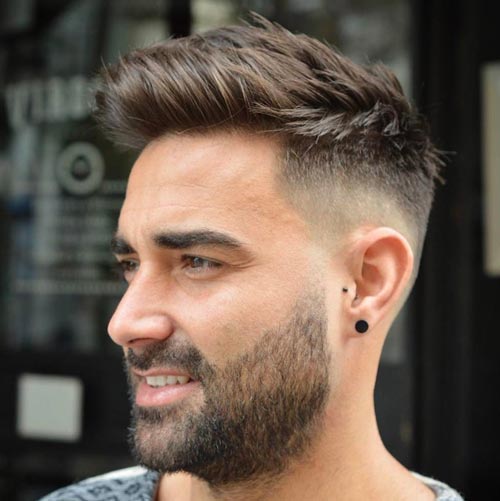 #20 Deep Parted Pompadour with Drop Fade
A lineup and fade go well with a comb over fade. The more time you are ready to dedicate on your hair, the more amazing the end result. This particular haircut requires high maintenance, hair product and loads of sophistication!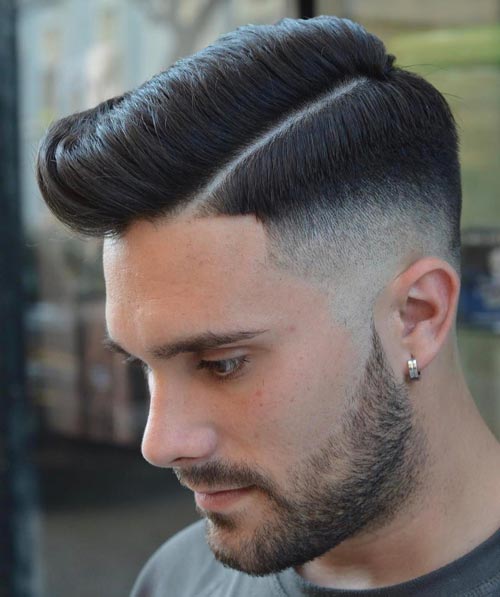 #21 Comb Over with Razor Part
This comb over hairstyle angles downwards to a bald fade just above the ears and cuts a straight line in the front of the hair. A fade can be combined with any comb over hairstyle and is an excellent choice for sophisticated men.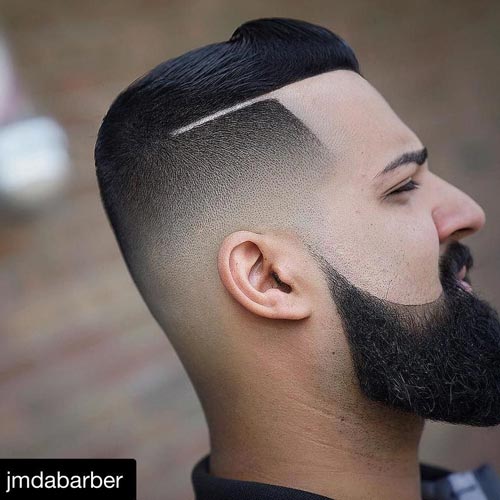 #22 Classic Quiff Haircut
If you want to minimize the time spent on your hair and still wear a stylish look, you need to make friends with the hair gel. This hairstyle is a cross between a quiff haircut and a comb over fade. Brushing the hair into both styles and securing it with some hair products is key to making this style work.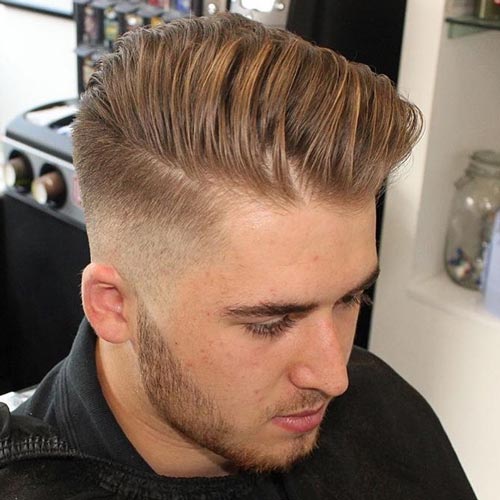 #23 Taper Fade with Deep Part
Sometimes growing out your hair can make styling easier. This haircut features medium length hair that's somewhat longer in front, making it easy to style a comb over without needing a strong hold hair product. To create a nice contrast, the back and sides are cut with into a simple taper fade.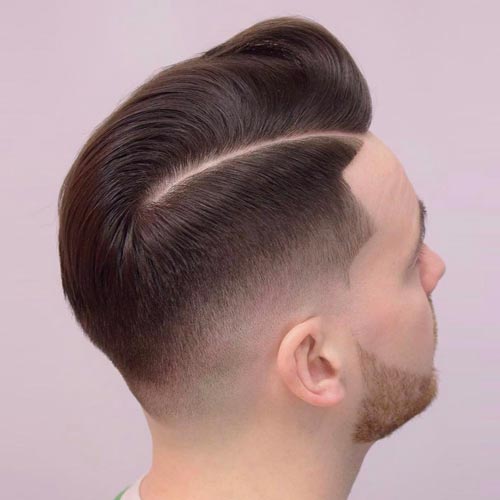 #24 Side Layered Comb Over Fade
A texture is cool, and we all know it! You can get a comb over fade haircut and add some texture to it. A skin fade is created on the sides and back while the hair on top is combed with a wide toothbrush or even your fingers for more texture.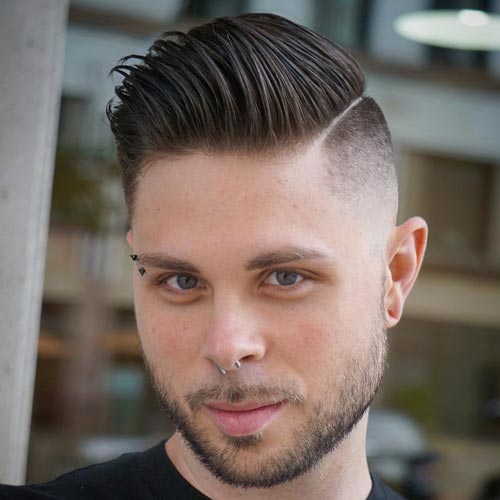 #25 Pompadour with Hard Part
Want to give your hair some volume? This comb over fade is an interesting way to add some weight to an otherwise flat hairstyle. The possibilities are endless and even if your natural hair is thin, you can get this much volume by using some hair products and combing your front hair into a pompadour. Use a mid-hold pomade and blow-dry for a fuller, more sweeping look.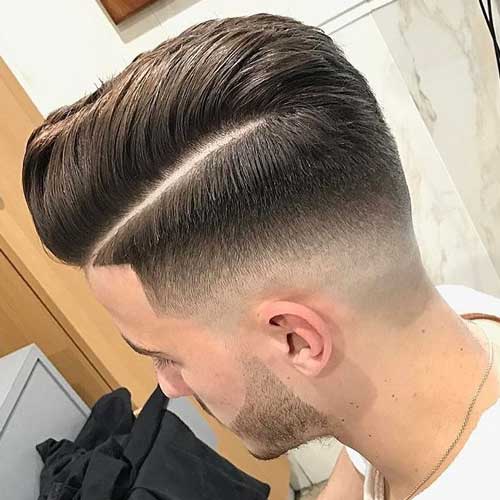 #26 Fade with Double Part
One of the most modern iterations of a comb over is an undercoat that is cut in a traditional style but with a fresher, edgier double part. Unique for its contrasting lengths—from a very voluminous top to shorter sides— and a sharp disconnected side makes, this a perfect combination of a conventional and a contemporary comb over.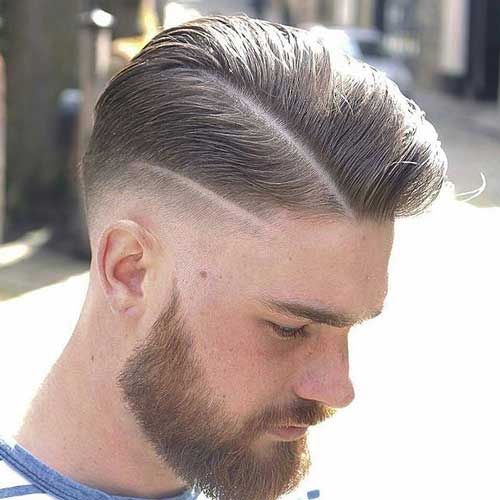 #27 Rugged Styled Style
With a deep part, close cut faded sides, and contrasting beard, this hairstyle will have you looking like a GQ model with no effort. The haircut is best complimented by a suit or other well-tailored clothes. This look is easy to manage and just requires a light hold pomade or mousse.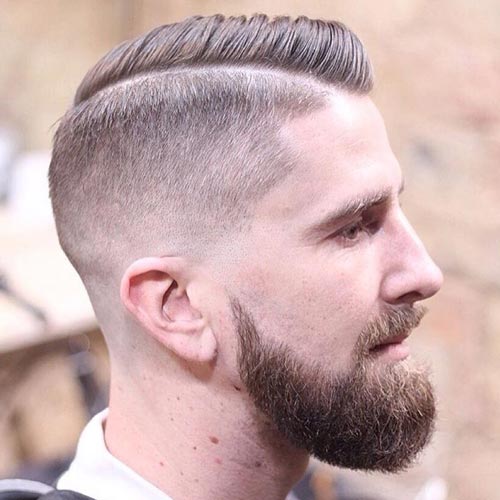 #28 Faux Hawk Comb Over
A faux hawk looks great if you take care of it regularly. This style will require several trips to the barbers to keep the side designs sharp. Cut the hair on the side from a taper down to a skin fade and comb over the top hair into a fohawk. Keep it all together with a dash of hairspray.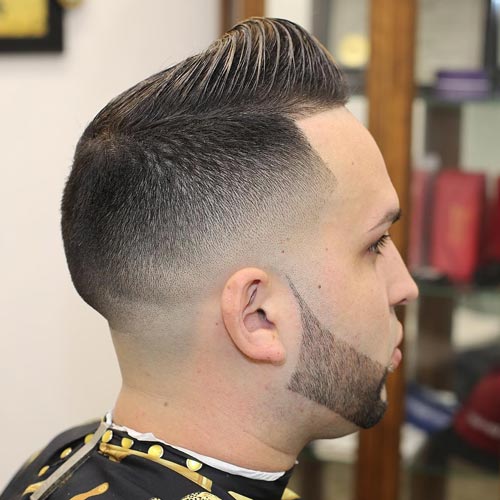 #29 Side Part with Pomp
This simple, classic style is controlled without hair being too firmly slicked into position and features a soft part that's not actually shaved into the hair, meaning you can play with its position. For a more casual look like this, we'd recommend you avoid using heavy products that will lock hair into one position and instead opt for a lighter pomade or styling cream.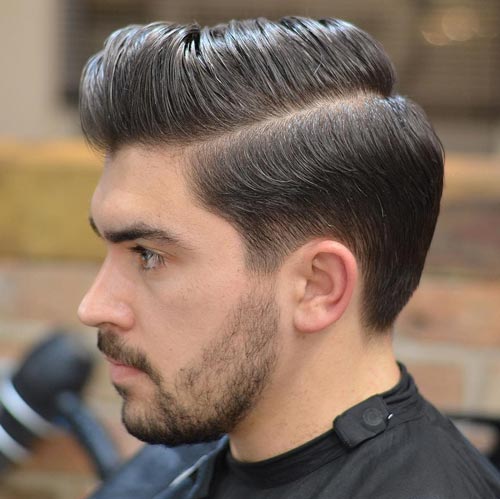 #30 Elegant Preppy Quiff
A comb over and quiff is a good combination and quite easy to manage when it is short. You can choose a high skin fade and leave the top part to about one inch in length. This haircut is versatile and can be styled in different modern day variations. You will need an ample quantity of hair gel to get your quiff looking its best.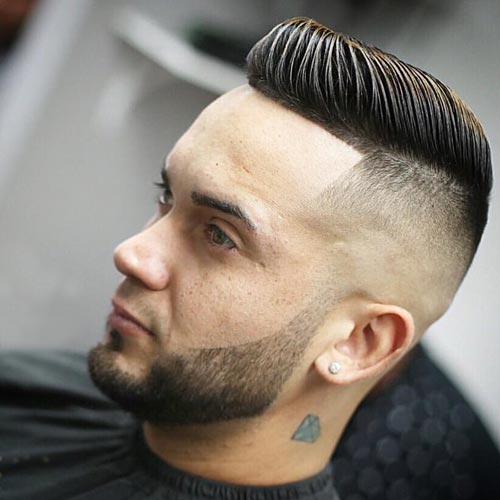 #31 Comb Over with High Bald Fade
This haircut takes a modern approach to the rolled comb over styles made popular by '50s greaser culture. Hair is combed into place in a distinctive shape but isn't as dramatic as its vintage predecessor.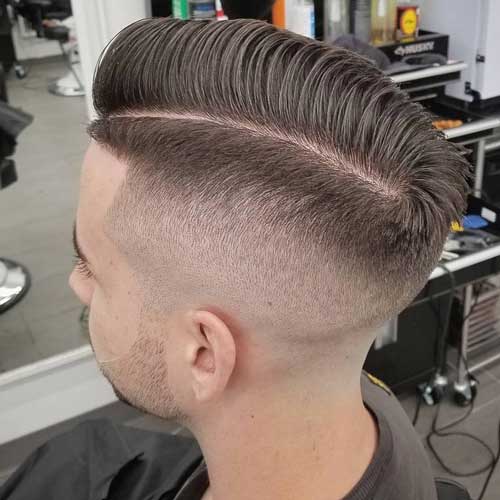 #32 Textured Brushed Up Pompadour
This style is a striking way to make a statement. Cut the back and sides into a low skin fade to help create an impression of a drama. Comb over the top of the hair to create volume; men with thinning hair can also pull off this look. You can use some hair texturizer to get this texture and you'll definitely need some hair gel to maintain this look.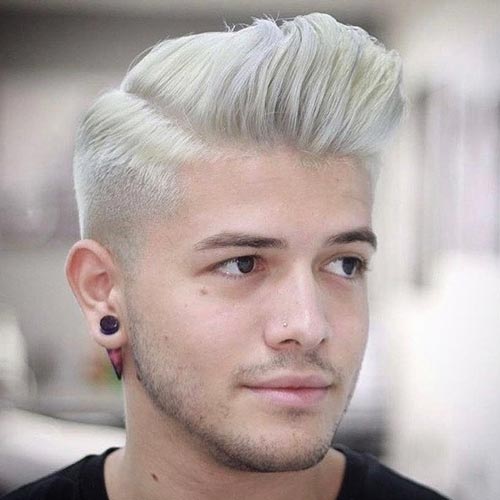 #33 Pompadour with Razor Fade and Part
Not only does this haircut feature a razor fade, but the lineup around the hairline is skillfully sculpted while also fading down to the skin. The pomp on the top is a good example of a classic pompadour that can stand up to any Elvis Presley copycat.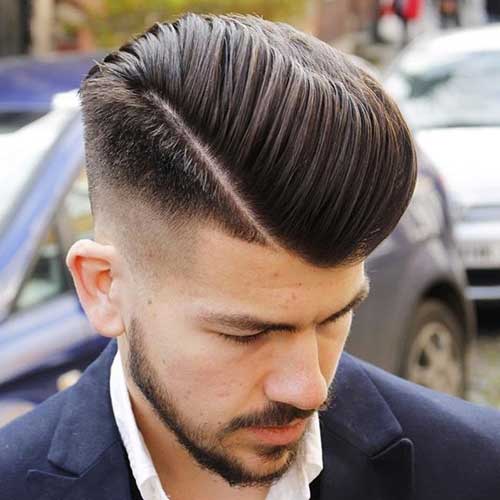 #34 Neat Comb Over with Temple Fade
A lineup is a great way to bring attention to your comb over and adding a temple fade into the mix will help accentuate the length of your haircut. The model is wearing a really cool comb over fade that is suitable for any event. It does need regular maintenance and frequent visits to the barber to keep the lineup looking fresh.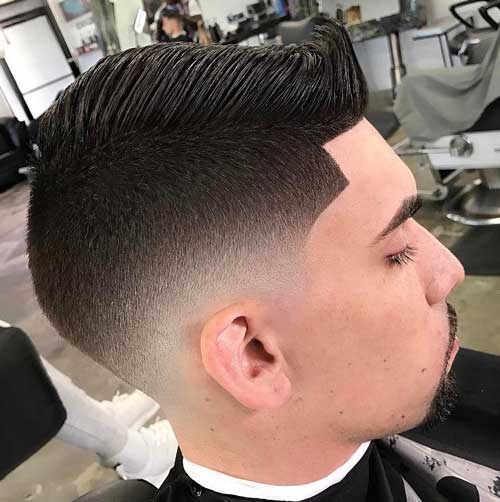 #35 Side Part with Edgy Drop Fade
Pompadour hairstyles feature hair that's precisely brushed in front to achieve pomp, but now, there are many inspiring variations. Adding a fade makes this classic haircut different and helps pull focus to the top. The hair is left long enough to create a natural pompadour, therefore, needing just a little hair product to manage the look.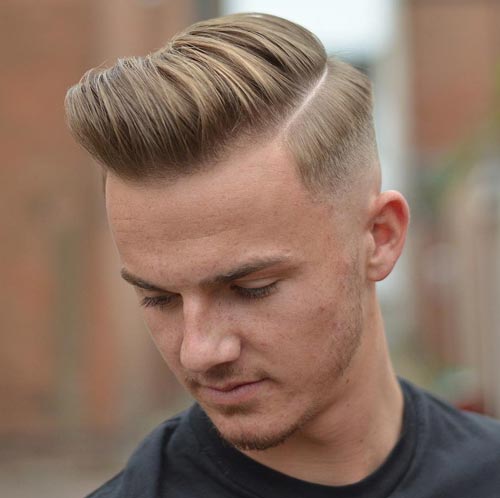 #36 Quiff with Mid Fade
This haircut is incredibly adaptable and you can tailor it to your personality by changing the intensity of the fade or the hair color. A high fade comb over will give off a more daring appearance, whereas a mid fade comb over will give you a tidier look around the neck and ears. Air dry after applying some hair gel to keep it looking natural and intact.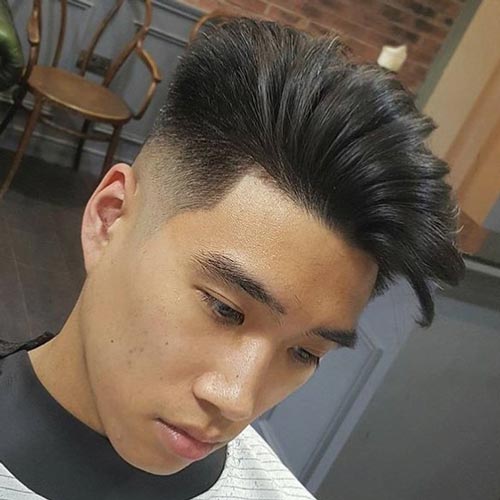 #37 Layered Swept Over
If you've got style, flaunt it! A free fall comb over is the epitome of style and is a great way to wear a comb over fade. If your hair is left too long on top, you will not be able to get this look. In the picture, the model's hair is combed to the side without being distinctly styled into place, showing off the haircut without looking much like a comb over. A light hold hair product will help keep the hair intact, and air drying will finish off this look to perfection.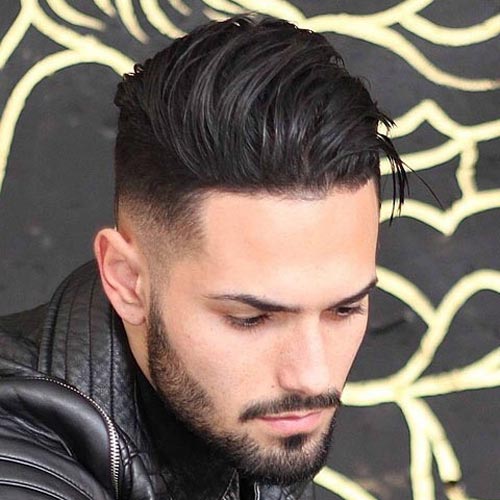 #38 Comb Over Fade with Hard Part
A high top can be cut in different styles, but this one is unique and blends well with a comb over and some texture. The sides are cut down to a skin fade to bring attention to the top of the hair. For some men, this style may be difficult to manage because of the long length on top, so if you are not a fan of spending time in front of the mirror, then choose a shorter variation of this hairstyle.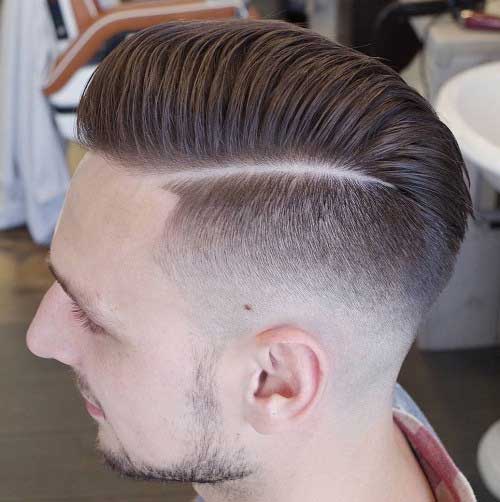 #39 Fohawk with Curve Design
Creative designs can be added to any faded cut, and usually offer a detailed contrast on the reverse side of a comb over fade hairstyle. It might be tempting to try this on your own, but you should get a skilled barber to make sure your design looks slick and not sloppy.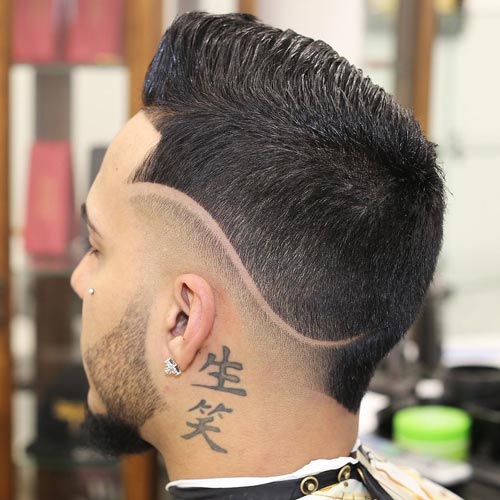 #40 Modern Comb Over Side Part
The hair on top of this comb over low fade is grown out and then combed over with a  side part for a slicked-side look. This haircut is usually chosen by men who want a svelte look and have a personal style to pull it off. Pairing a side part with a low skin fade is a modern way of wearing your comb over fade. Easy to manage on a daily basis, but if you want a sleek look, you will need some hair products to get that shine.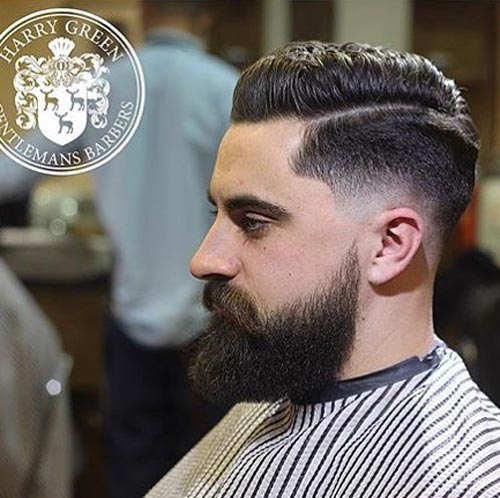 #41 Comb Over with High Skin Fade
This is one of the sharpest looks on this list. A unique comb over with a high fade that has most of the back and sides shaved right down to the scalp—starting sharply after the side part. If you are looking for a trendy style, this haircut is a bold choice that's still appropriate for many formal occasions.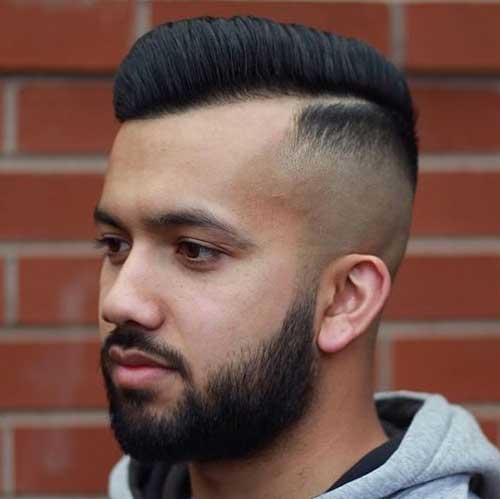 #42 Brushed Up Fade
A forward fade hairstyle is a hair that's cut in a forward-brush pattern from the crown to the front in a taper fade. This is a unique type of comb over and is great for men who want a difference. The hair on top is cut longer and combed over to the side with no part on the side. The hair can be styled with a medium hold hair gel or wax.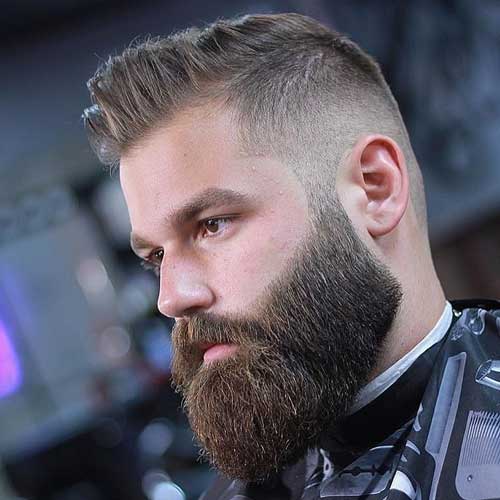 #43 Pompadour with Deep Part and Lineup
A crisp lineup can make any man stand out. With hair softly combed over, and a fade around the sides and back, this hairstyle is for gentlemen who are suave and classy. Using a mid-hold hair gel will keep the top hair looking stiff and neat.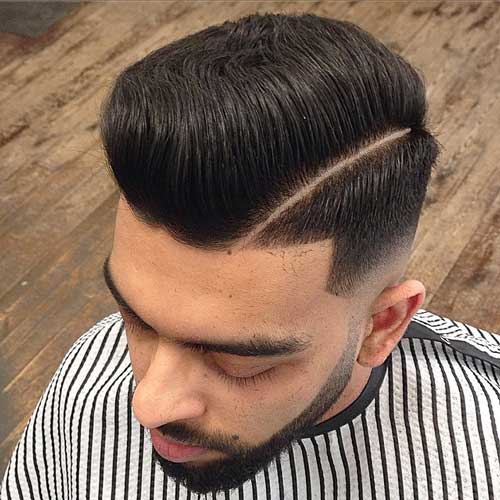 #44 Widow's Peak Haircut
You can flaunt your heavy volume with this mid fade comb over. The top of this hairstyle is long and combed over into a pomp which shows off the volume of the hair while keeping the sides and the back at a mid-fade. The hair on top needs some maintenance, so you must be ready to style and air dry frequently.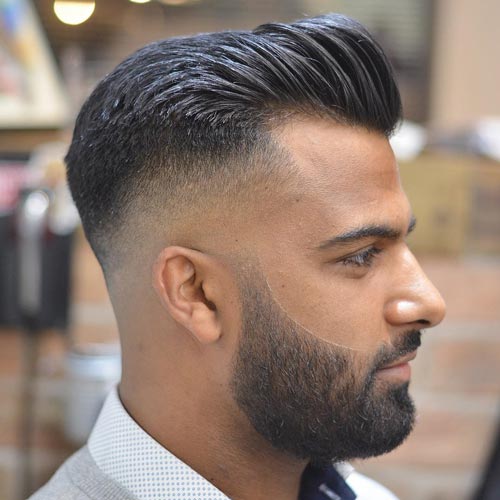 #45 Quiff with Taper Fade
Taper and comb overs equal an exquisite haircut. The hair on top tapers down to a comb over fade hairstyle which is great for highlighting a beard. To get this great taper look, use a soft hold pomade that will allow you keep the hair back in place all day.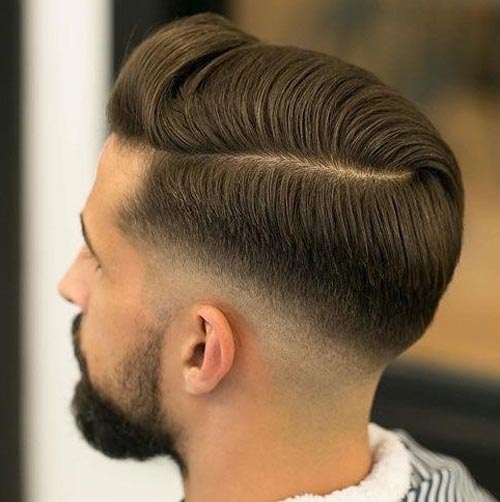 #46 Pompadour with Wave Effect
Another awesome comb over hairstyle is a fusion of a classic side-swept hairstyle and a medium skin fade on the sides. You have to keep your hair slightly longer to get this look. Forward brushed hair is a great cover for balding or thinning hair and can also be used to show off your thick hair. No maintenance is required, simply get the right haircut and comb on the go!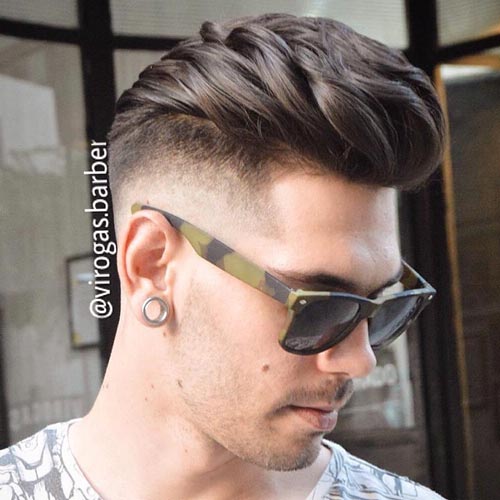 #47 Razor Cut Comb Over Fade
Expertly cut and styled, with no hair out of place. This sleek comb over is the perfect choice for men who want a clean look. On the short side of the hard part, you can see the razor cut that starts about an inch long and fades all the way down to the skin. Easy to maintain, just use some hair product and blow dry.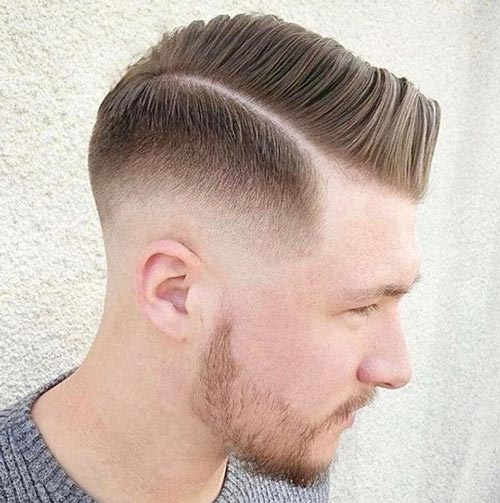 #48 Swept Over Pompadour
The razor cut is popular with men these days and can be added to a comb over for a drastic effect. The front hair in this comb over haircut is brushed into a pompadour and the hair at the sides and back is cut short. The razor cut makes this hairstyle sharp and spiky and tapers down to a low skin fade.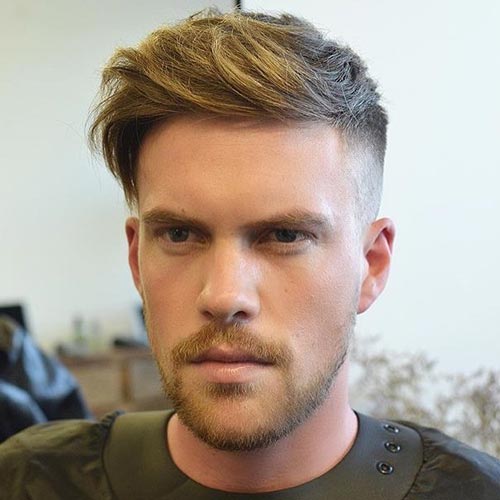 #49 Pompadour Comb Over with Soft Part
Another outstanding take on the comb over fade style, the hair is gently textured and combed over without creating a defined part. Blink and you might miss the soft part. You can also use your natural hair part for this style.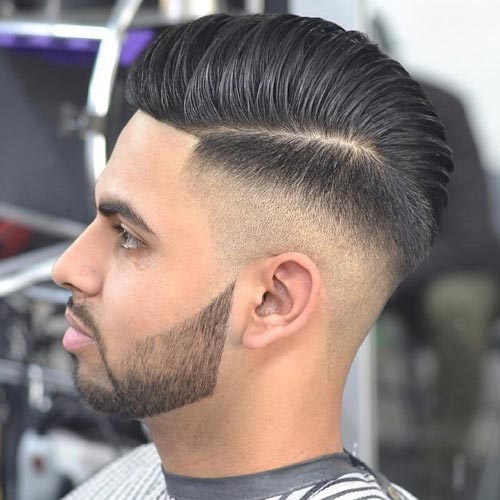 #50 High Comb Over Fade
This fashionable comb over works well with many styles on top, from Euro to modern groovy. It's simply great for men who want to try a variety of styles on their top hair. You can style it into a pomp, a quiff or even slick it back with some gel. The hair on top should be cut to about 4-6 inches long to give you enough length to play with.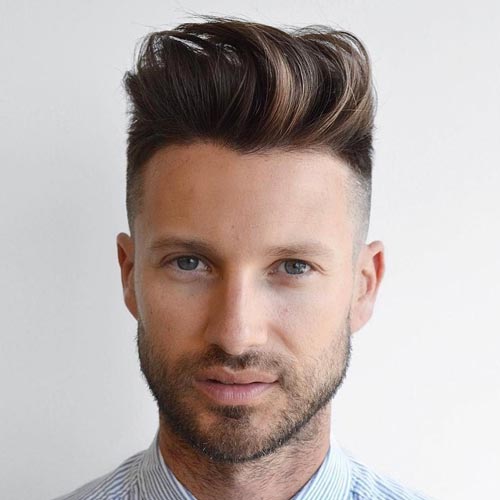 #51 Classic Crown Parted Pompadour
With every hair perfectly in place, this dapper style features a deep, defined side part and is skillfully combed up at the front and over to the side. The hairstyle features a bald fade where the hair disappears perfectly into the skin. Choose this haircut for a suave look that will not require frequent trimming.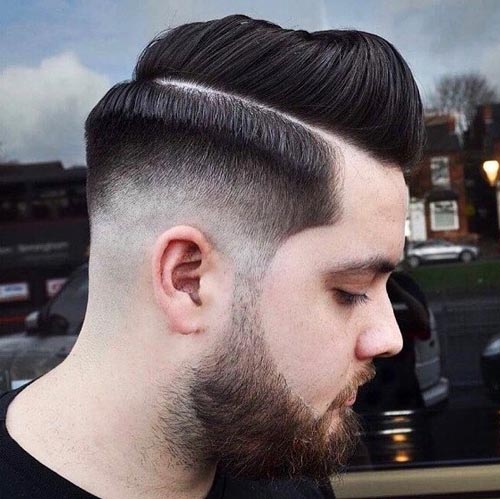 #52 Wavy Brushed Up Comb Over
Normally seen in men of all ages, the short comb over is a classic style with a taper starting at the temple and going all the way to the sides and back. By adjusting the blade length by a few sizes, your barber can modify this cut and produce many different versions of a classic comb over. It is also a low-maintenance haircut and needs only to be cut every few weeks. This is a timeless hairstyle that will look great for any occasion and any man.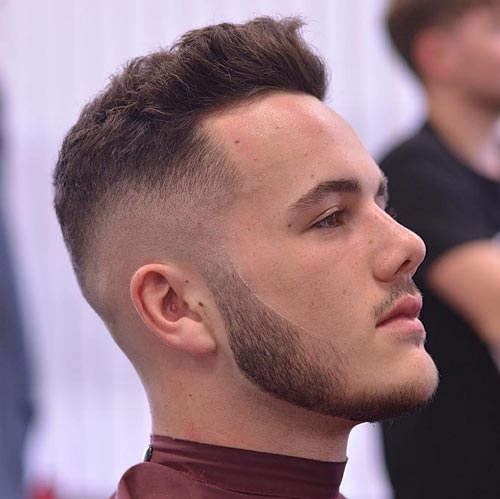 #53 Short Comb Over with Undercut
With a bit more hair than a normal military or crew cut, this is a great way to wear a comb over fade if you are not a very fashionable man. For professional men, this haircut is perfect without the tattoo and will allow you to express your individualism. Because of the length, managing this cut is easy and stress-free.
#54 Sleek Side Part with High Fade
Nicely combed over on the top and razor cut on the sides and back, this style is for the modern man. The haircut will get you a lot of attention just by looking neat and elegant. You can keep it looking great by using some medium hold hair product and hairspray.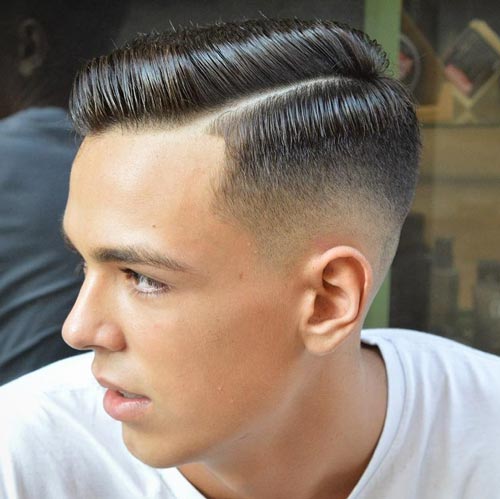 #55 Wavy Sectioned Quiff
Comb over fade hairstyles are great for any hair texture, and wavy hair is not an exception. You can keep the back and sides notably short for a super neat look that blends well with a side part.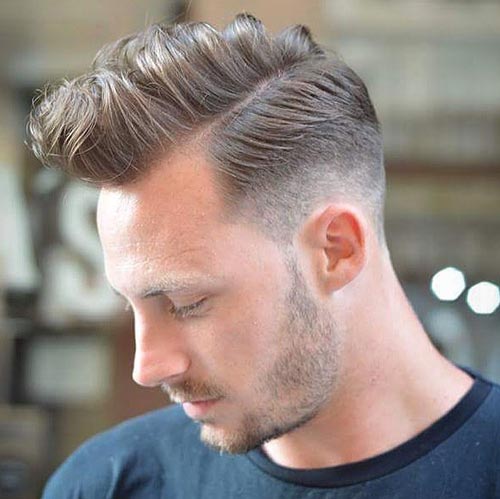 #56 Modern Comb Over Fade
This haircut is an excellent low-maintenance hairstyle that does not require that much styling or upkeep. It is also great for trying out different styles on the top hair. You can comb over, comb backward or even forward, to fit your personal style. As long as you keep the hair and beard nicely trimmed, you'll have a stress free time managing this style.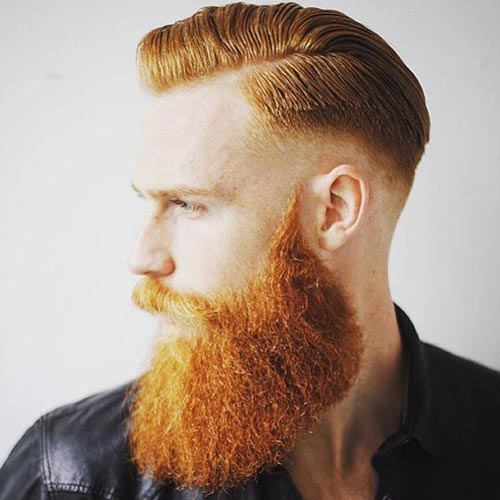 #57 Slicked Back Undercut
An undercut comb over can include a subtle fade with long hair on top. It is a statement style that is easy to manage and style. You can brush the long hair on top any way you choose.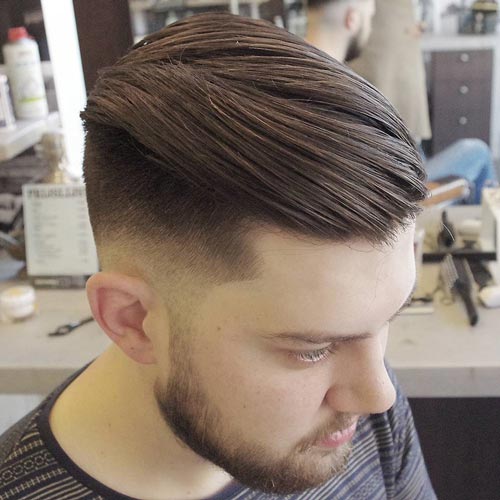 #58 Textured Comb Over with Taper Fade
On the longer end of the spectrum is this textured comb over with a taper fade. The medium length hair is combed over and defines the tapered sides exquisitely. As you can see, the combed hair veers to one side, cascading down the side of the face. It has a relaxed look and is especially classy with the highlights.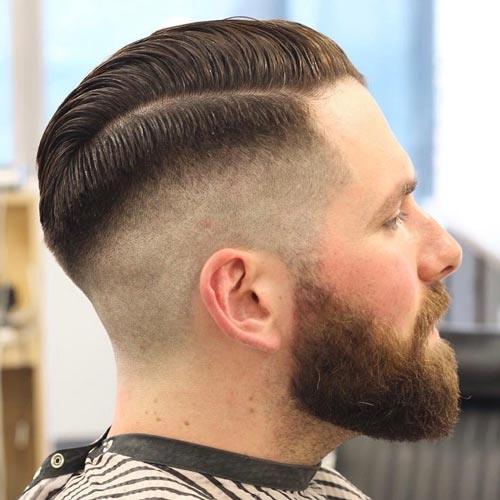 #59 Taper Fade Pompadour with Soft Part
This hairstyle is a nice combination of a pompadour and a comb over fade. The haircut creates that perfect 50s look. With a soft part and longer hair on top, this gently styled comb over is stylish, and timeless. Add some hair products like texturizer or a soft hold pomade to get your hairstyle looking this dapper.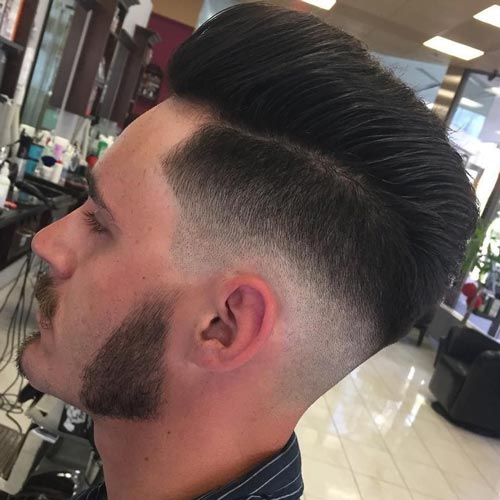 #60 Messy Textured Comb Over Fade
A high fade haircut isn't a very formal look, but with a comb over, you can soften the effect immensely. Keep the hair length between 2 to 3 inches, because styling longer may be a bit tricky. Short hair is always easy to manage and this hair is not an exemption. Just throw on some pomade and air dry for a more natural look.