#11 High and Tight with Comb Over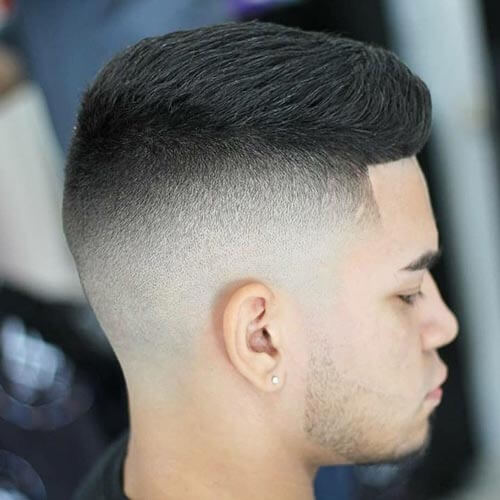 Great for dense or thick hair, a high and tight cut with a longer top can be a great compromise between long and short hair lengths. Sides feature a high fade look, with combed-over hair on top. If cut the right way, minimal styling product is necessary to achieve this look.
#12 Highlighted Comb Over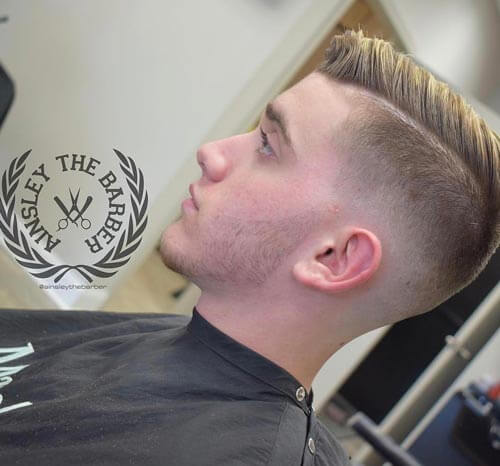 Get a boyish look with this combover and side part haircut. Ask your barber to cut it about two inches long on top and very low on the sides and back. You want to create an undercut effect that tapers off to a fade. Comb the hair forward and to the side for a fresh look.
#13 Temple Fade Mohawk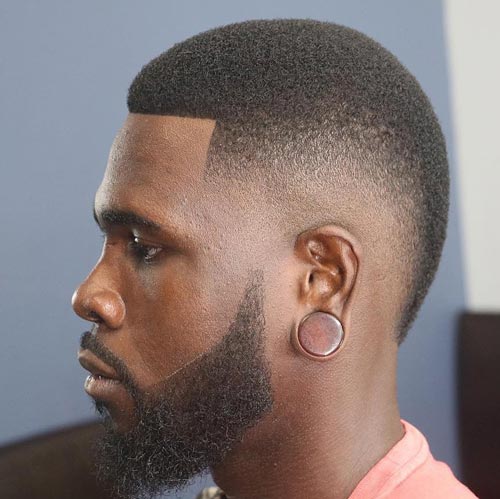 Short and strong, this look projects power due to its straightforward style. A mohawk haircut that tapers toward the back of the neck transitions to a slightly longer top. This cut especially complements the texture of black hair. It requires low maintenance but delivers high style.
#14 Textured Pompadour with Lineup and Fade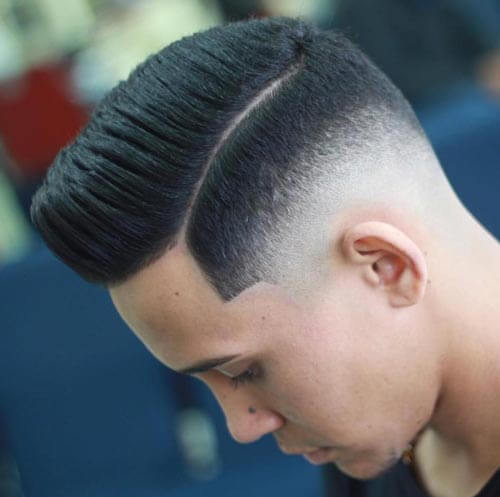 Adding a lineup to a pompadour is a great way of giving the hairstyles some definition. Any man can wear the haircut and any occasion will be suitable. If you have an ultra-formal job, then wear one like this that is not too high on the top. Daily maintenance is a must to keep it looking this fab all the time.
#15 Sliced Side Part with Low Fade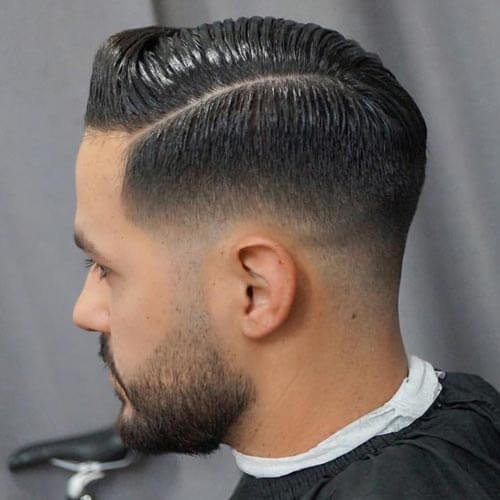 A low fade sets off the side-slicked top on this short haircut. To add interest, flick hair upward at the front of the head and set with gel or styling product. This style offers a vintage flair. Because of its highly structured appearance, regular maintenance and daily styling is a must.
#16 Edgy Side Part and Bald Fade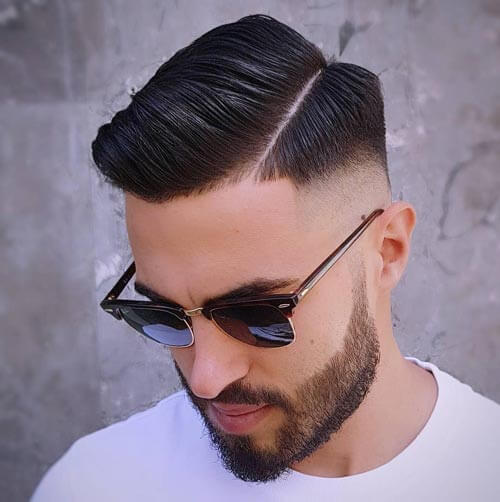 If you are in search of that trendy edgy look, but with a bit of personality, then a razor cut will suit your needs. The top of the head can be cut between 2-4 inches so that you can do a combover with ease. There's so much you can do with this hairstyle: you can comb it into a pompadour, sweep it to the side and more.
#17 High Fade Pompadour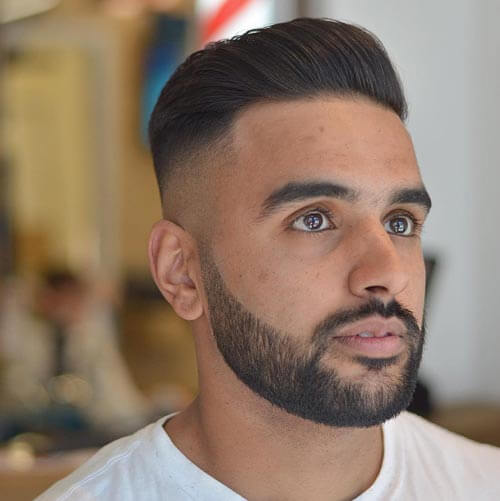 A high fade Pompadour is a go-to cut for men who enjoy vintage or retro styles. Shaved sides add to the drama of the longer hair on top. Comb the pompadour backward off the face for a casual look, or use product to give it a more formal, structured appearance. The clean line between the sides and longer hair on top add a sense of simplicity to an otherwise high-style cut.
#18 High Top Buzz Cut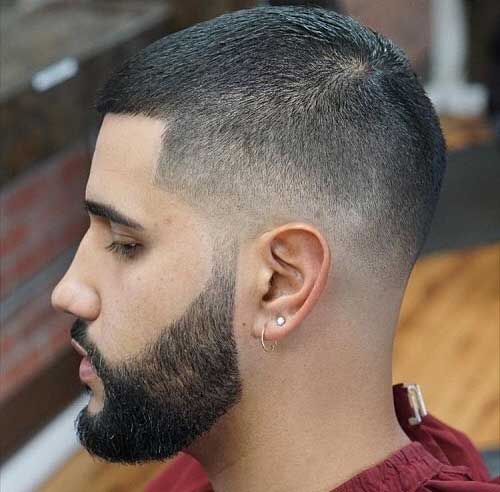 For those who want a shorter look, the buzz haircut is one of the best short hairstyles for men. No maintenance, no fuss, and no hair products to worry about. The only choice you will need to make, is how short you want your buzz cut.
#19 Taper Fade Pomp with Quiff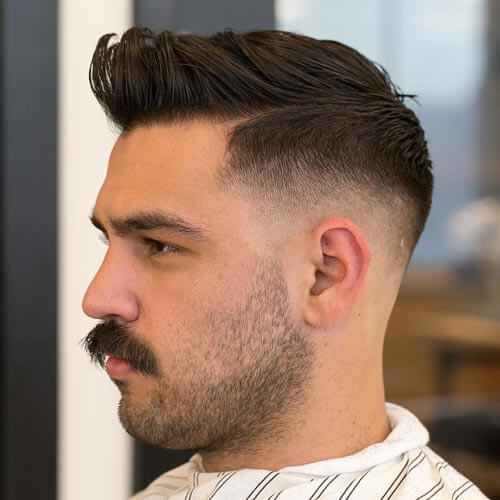 For men with flamboyant personalities, this cut could be for you. Combining several styles in one, long, spiked hair at the top of the head dramatically shortens and tapers at the nape of the neck. Comb longer hair over to the side to add some pizazz to this look. Straight hair works great with this style.
#20 Curly Hair with Temp Fade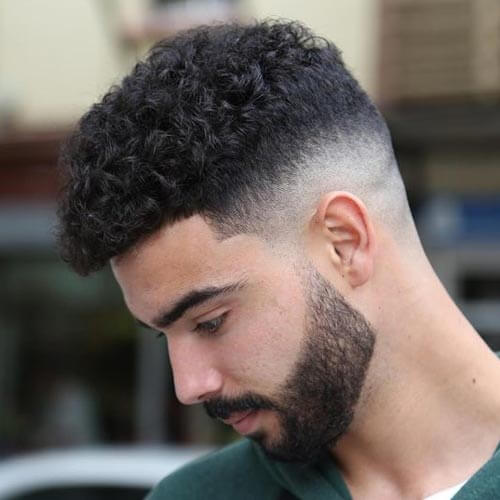 Curly hair is not so hard to maintain with the right short haircut. For men who want manageability as well as the ability to show off their style, this haircut is the answer. The hairstyle nicely defines the curls and is perfect for work or school.