At some point, most men will have to decide what to do about their hair. For those with blond hair, there are a few different options available. You can keep your natural color, dye it a darker shade, or go lighter. If you're looking for ideas on how to style your light-colored locks, then you've come to the right place. We'll show you some of the best hairstyles for blond guys. However, if you're thinking of going blonde yourself, it's important to know what styles work best for your complexion and facial features. This blog post will help you do just that! We'll be discussing some of the most popular blonde hairstyles for men and providing tips on how to style them correctly. So whether you're just starting to think about your options or you're ready to make a change, read on for inspiration!
Blonde Curtains Haircut
The curtain hairstyle has been worn by many celebrities for decades and is often associated with Johnny Depp. The hairstyle is reminiscent of the '60s Beatles mop-top, with flippy curtain bangs and a tousled look.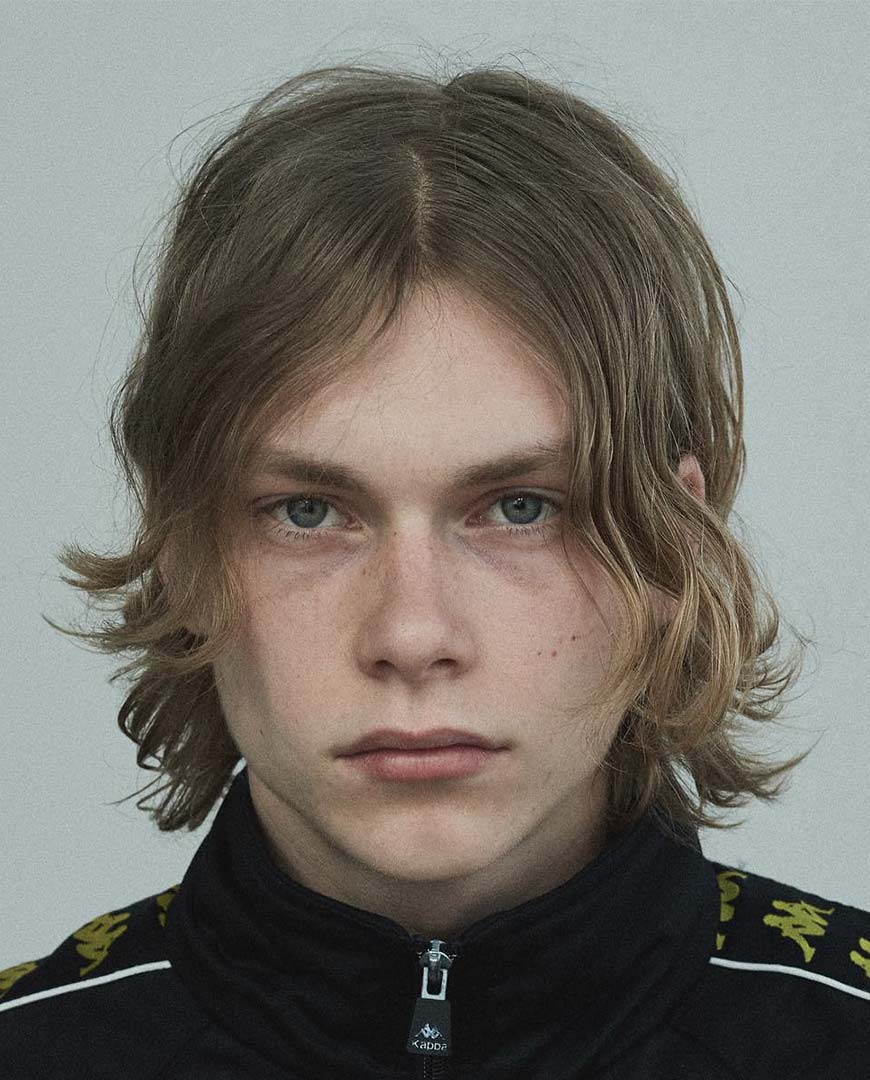 Dirty Blonde Hair with Taper Fade
Men can wear this dirty blonde hairstyle with thin hair, short hair, or a combination of the two. It will give you a bad boy look. The dirty blonde looks amazing on all hair textures, including dark hair, so you can wear it without worrying about how it will look. You can even sport it with a beard!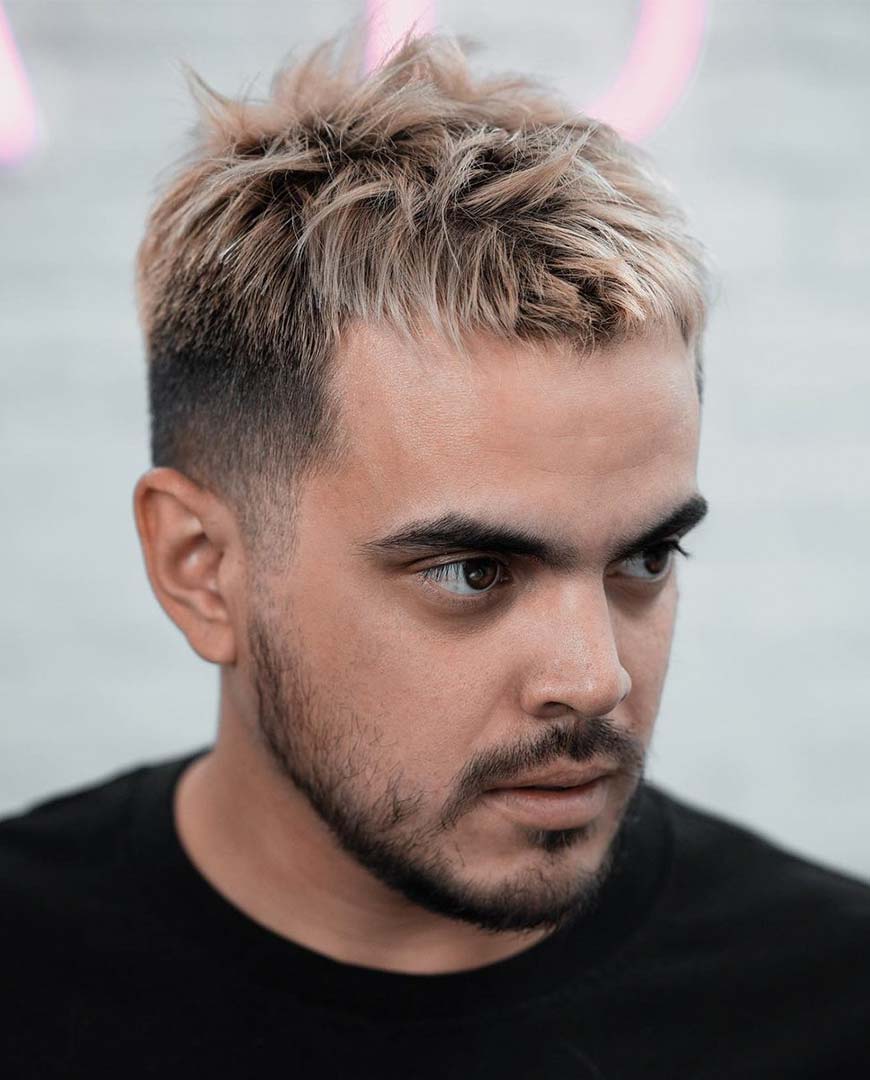 Light Blonde French Crop
Its clean-cut and longer fringe are very popular with guys who don't like maintaining their hairstyle. Don't forget to use a product that adds volume to the hair. Also, make sure to use a high-quality product to prevent any breakage.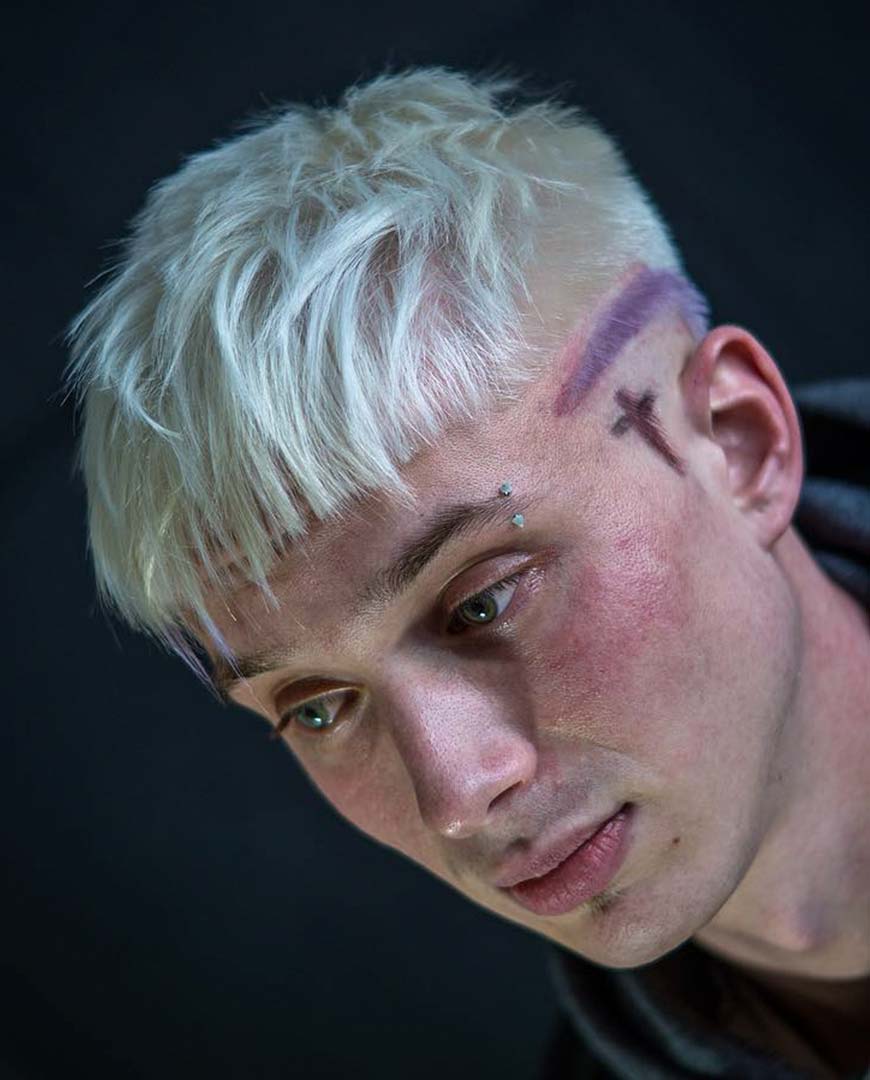 Long Blonde Hairstyle
If you love your beach waves, you'll want to try this hairstyle. This trendy style has a more sophisticated vibe, and the parting in the center will add more contrast. This layered haircut adds texture to the hairstyle and helps it appear more defined. With just a little bit of effort, you can easily change your look instantly.
Men with dry hair need to use a texturizing shampoo to add volume to the ends. This is especially important if the hair is thin or brittle.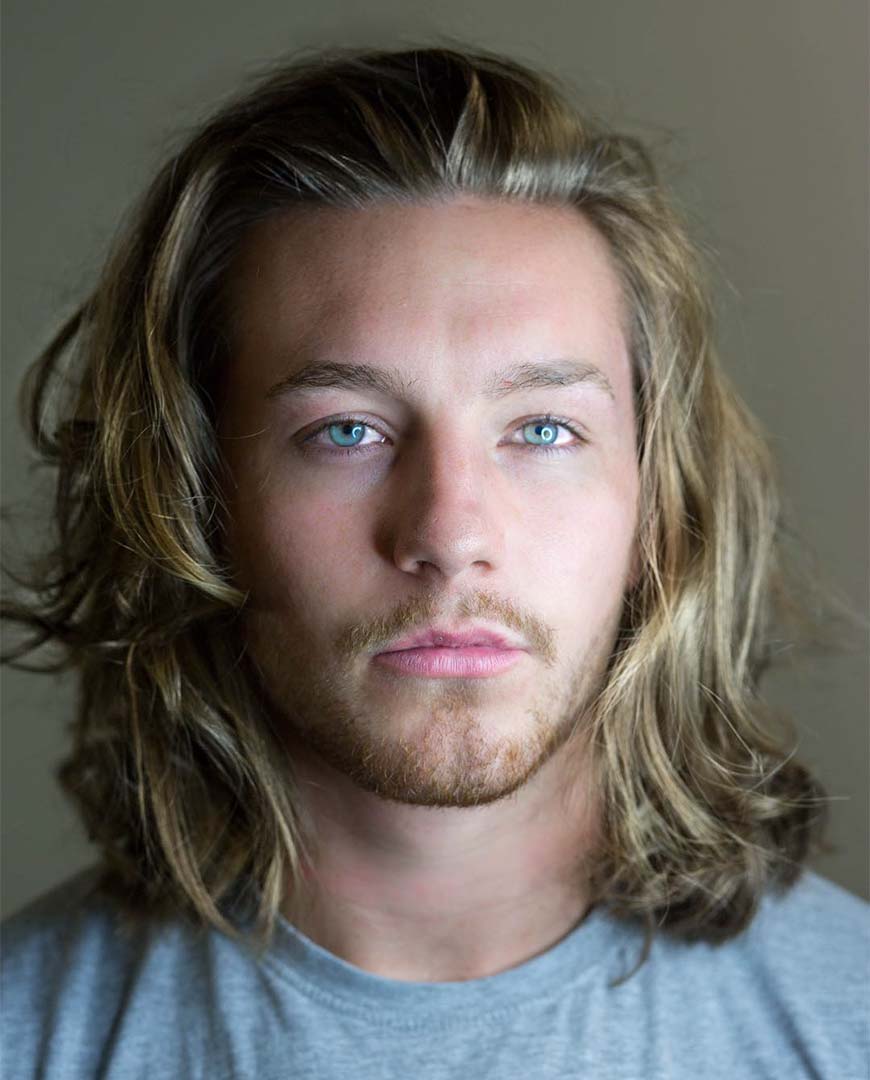 Curly Blonde Hair with Undercut
This short haircut keeps the sides and back short and gives you plenty of contrast. The curly hair retains volume on the top; the undercut and side design make it more interesting. This hairstyle is suitable for all hair types, including curly blonde hair. It gives you an edge over the rest of the crowd, so don't be afraid to experiment!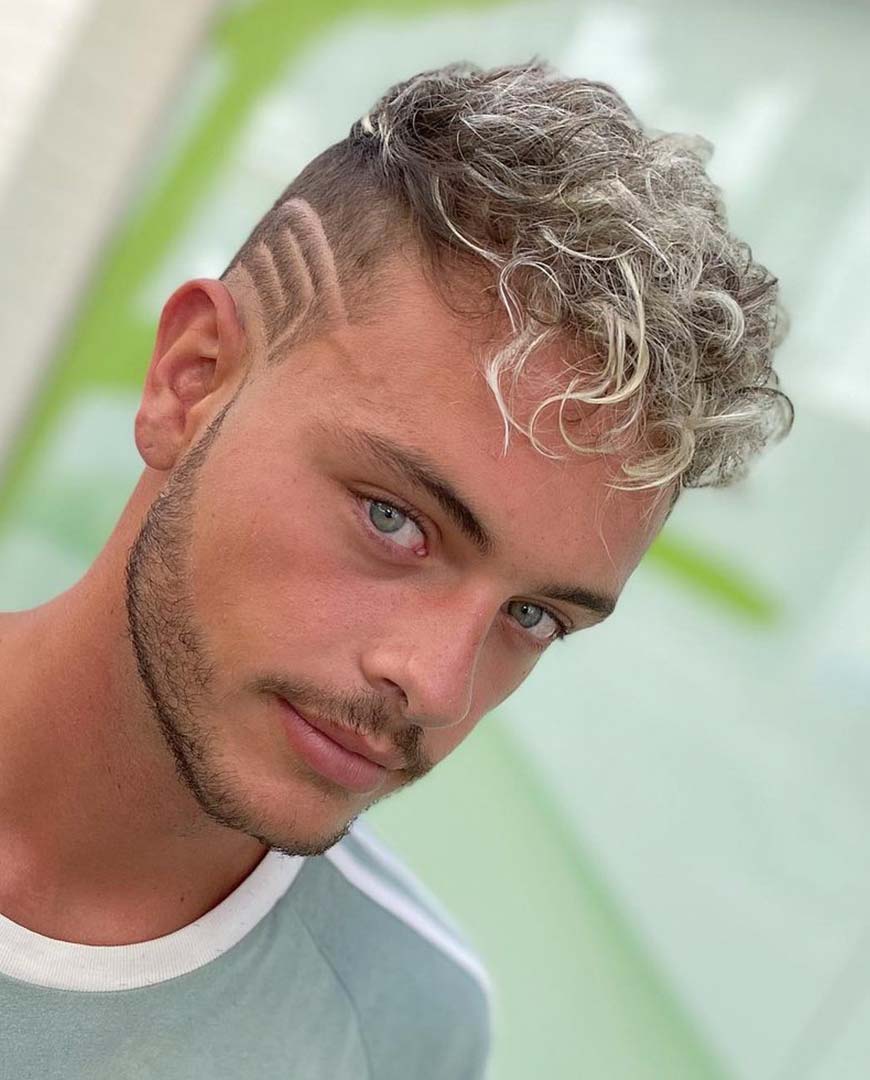 Medium Length Blonde Hairstyle
If you're looking for a stylish transitional hairstyle for men, try medium-length blonde hair. This style allows men to experiment with different styling options, ranging from curtains to a layered style. There are many more ways to rock medium-length blonde hair than you might think.
This style adds a clean and elegant vibe. A center part and a softer side give this cut an understated vibe.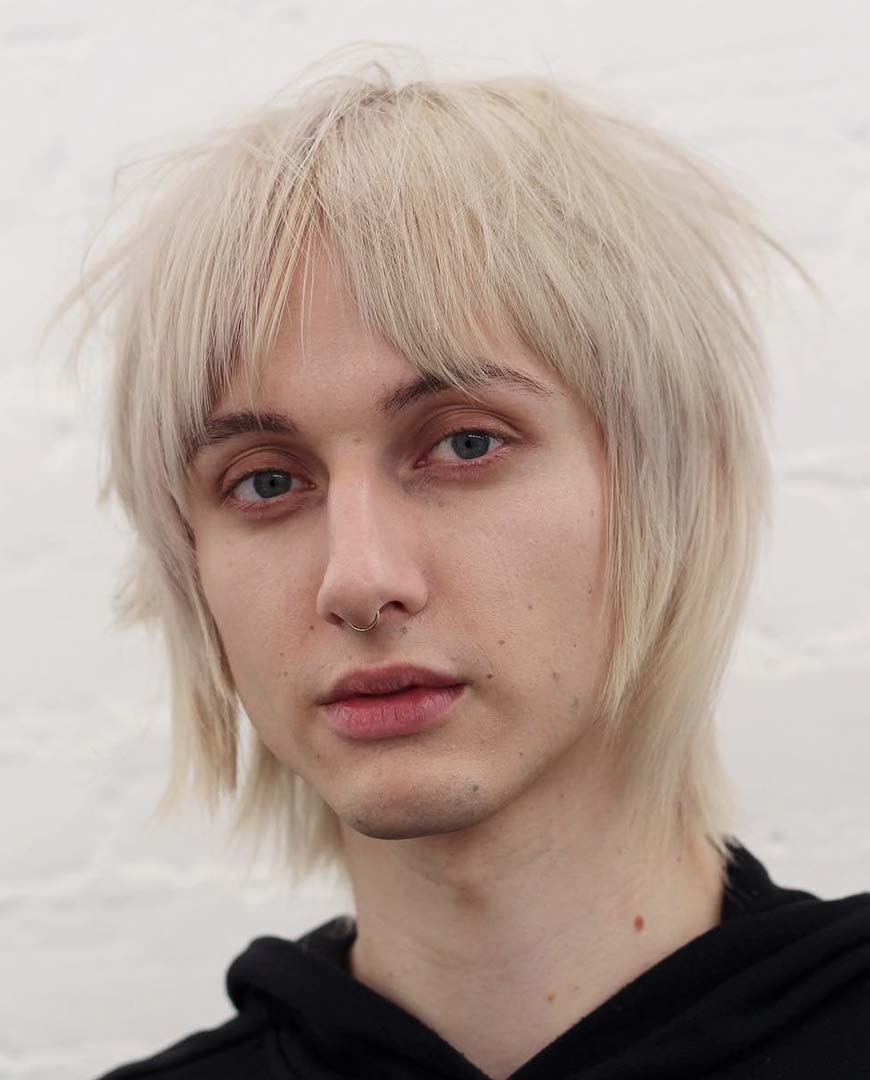 Modern Quiff with Blonde Highlights
Having an undercut is a great way to draw attention to a quiff, especially a tall one. Blonde highlights also add a dash of celebrity casualness. To add a boyish touch, try combing and tousling it. Long textured hair also looks great with a fade.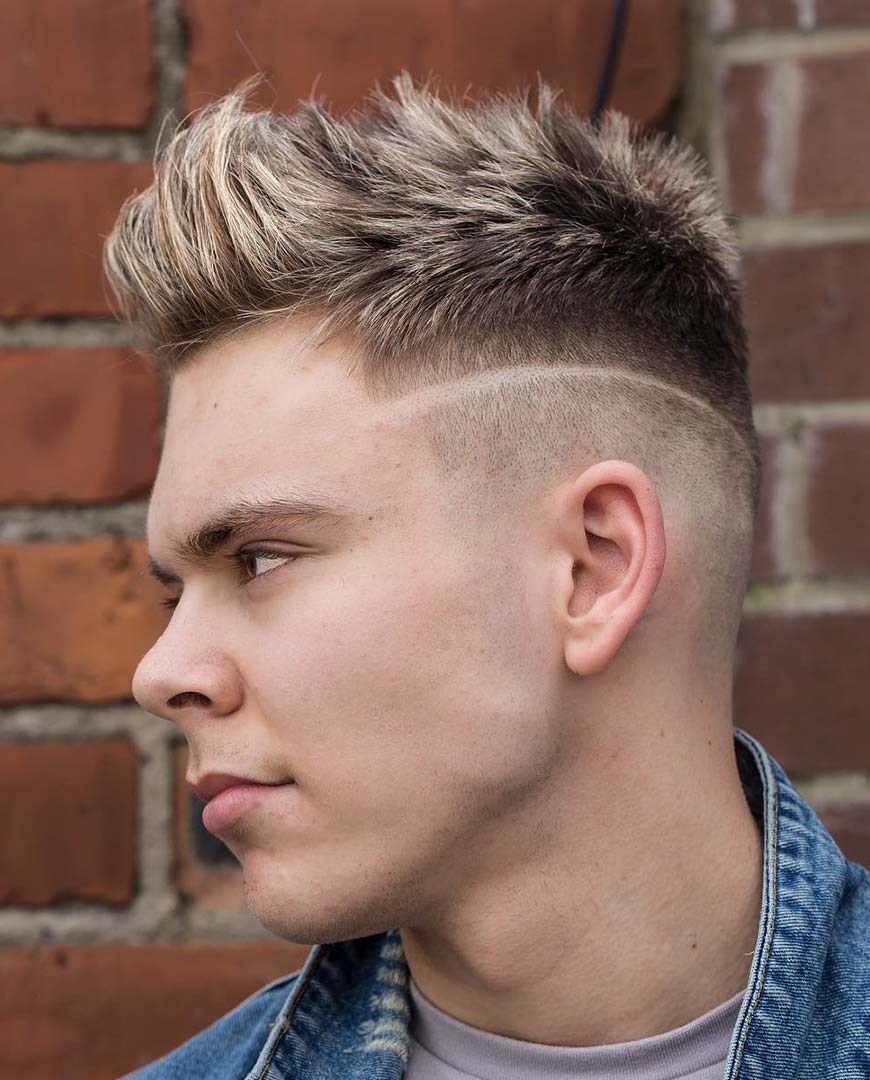 Short Blonde Style with Fringe
A great way to spice up your short blonde hairstyle is to add a little fringe. The fringe adds a bit of drama to a simple crop cut. Whether your hair is short or long, this style will suit your needs.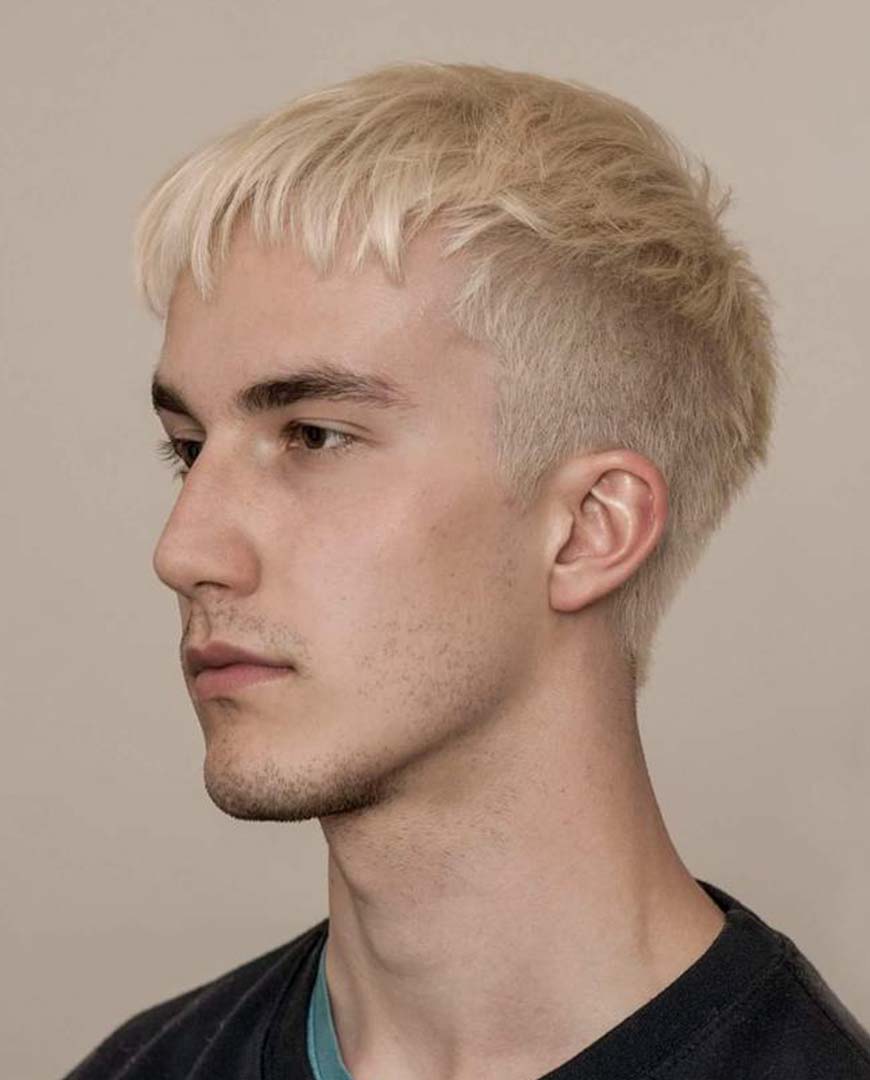 Swept Back with Mullet
A swept back with mullet is the ultimate hipster style. This style is a great way to honor the '70s while still retaining a modern touch. Depending on your face shape and hair type, you can choose to wear your hair long and straight.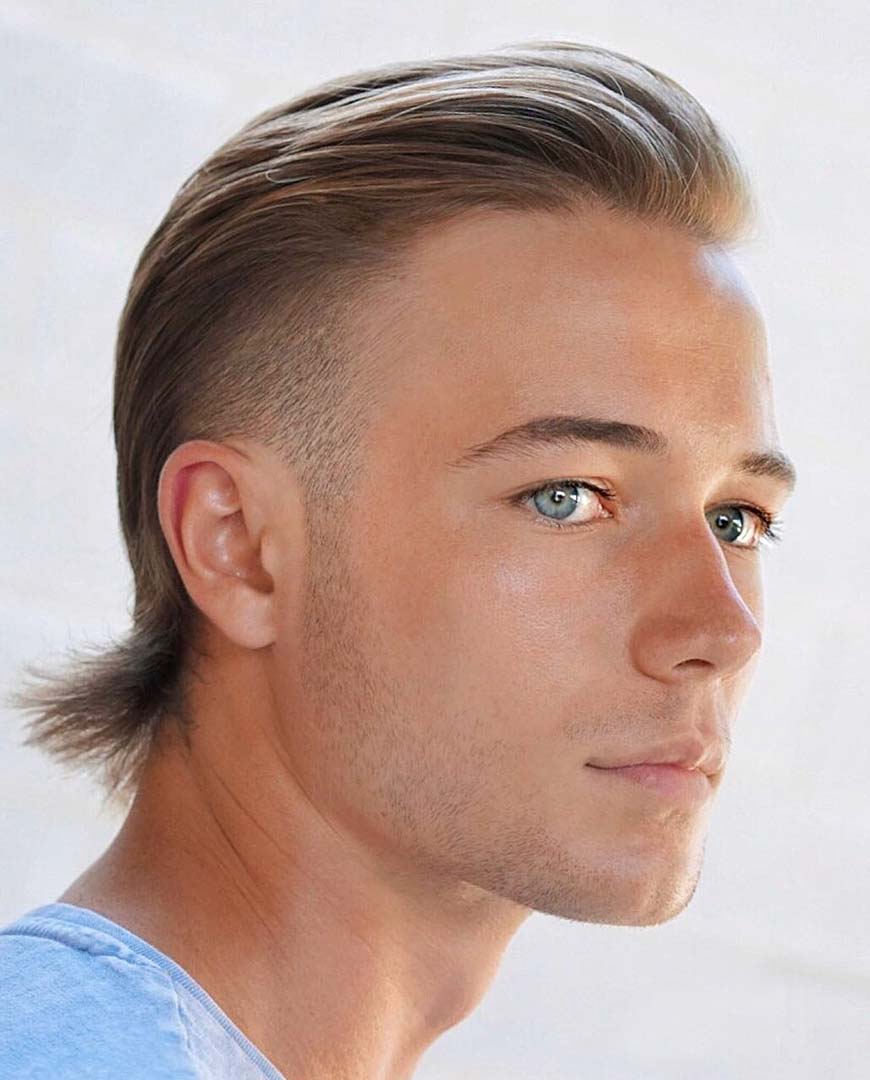 Tousled Blonde Hairstyle
A tousled blonde haircut will create an instant illusion of height and volume. This will allow the natural hair to take shape. You can even comb it up and style it to fit your face shape. This style will make you look like a romantic leading man! Just be sure to have an expert cut to make it look amazing!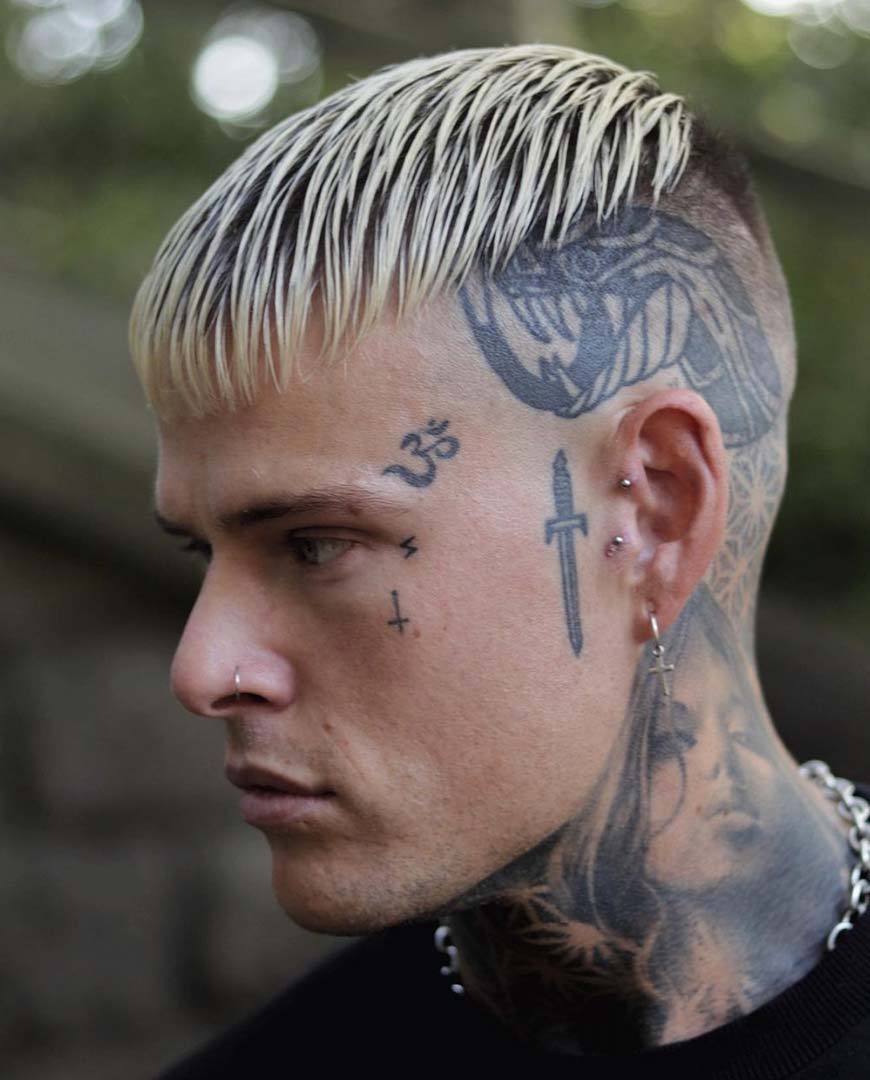 Spiky Faux Hawk with Highlights
The spiky faux hawk with highlights looks very cool. It has a distinct hairline that is more defined on the front and faded away at the sides and back. In addition, the stylist created a geometric line around the temple to create a sharp cut. The hairstyle is an elegant choice for guys who want a stylish yet hairstyle.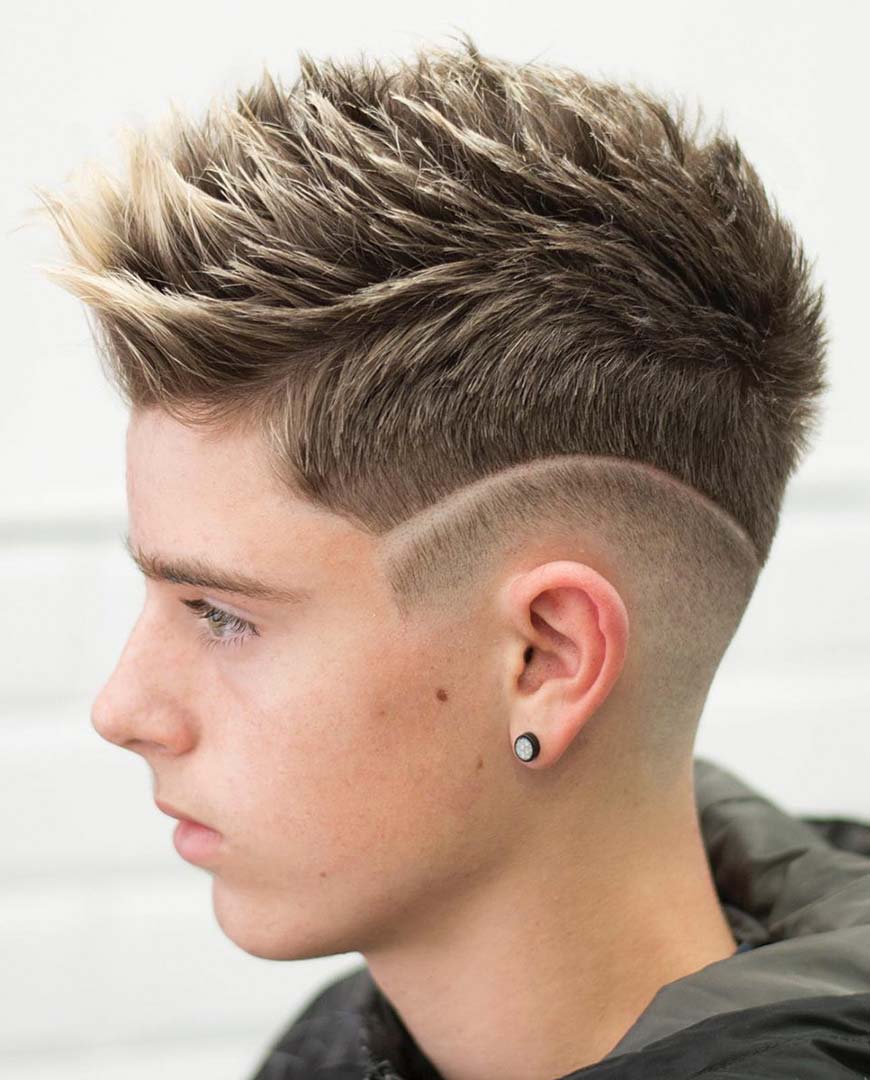 Blonde Flow Hairstyle
Men with long hair can also go for a flowing look by leaving it down or tossing it to the side. The flow hairstyle looks great on all hair types and is especially popular with hockey players, skateboarders, and surfers. It's an easy hairstyle to pull off and is ideal for people with medium to long hair.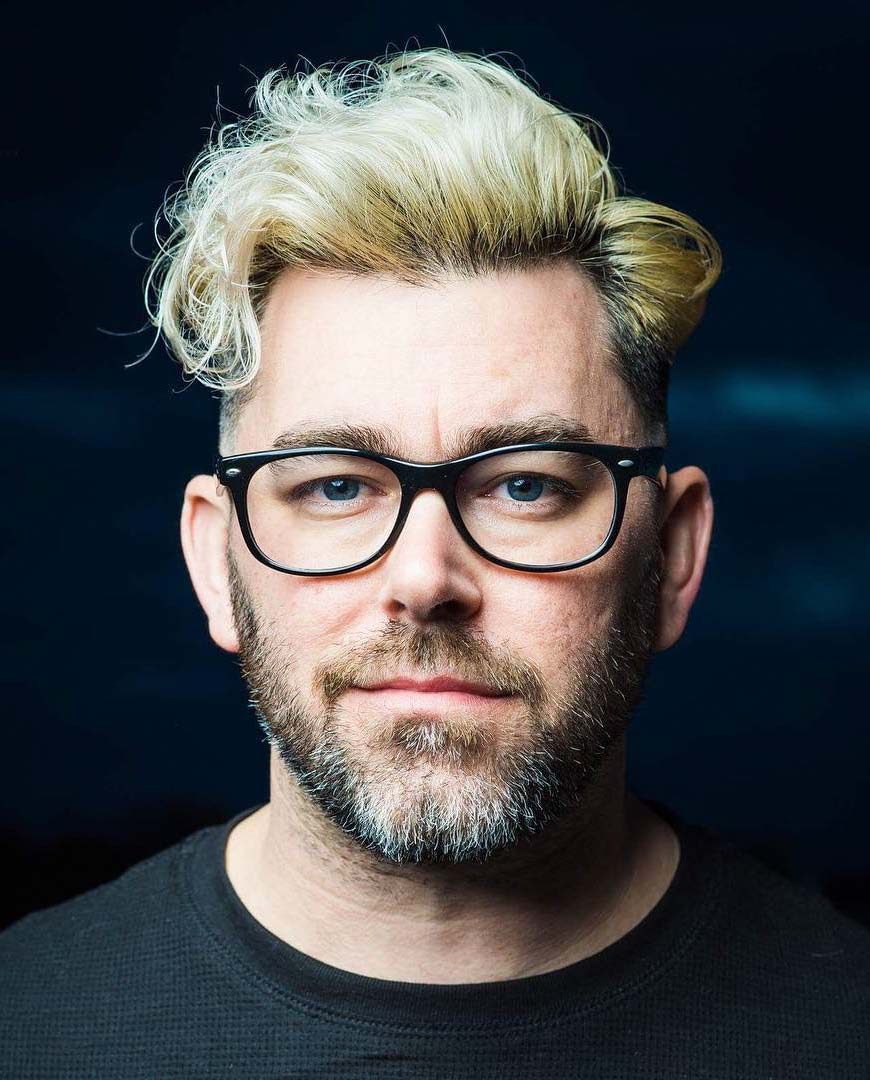 Blonde Crew Cut 
The blonde crew cut creates a sleek, clean look that is perfect for men with oval faces. The short length and blonde locks give the cut a unique look. You can use pomade to add height and texture to your hair. However, it's essential to visit the barber every three to four weeks to maintain the style.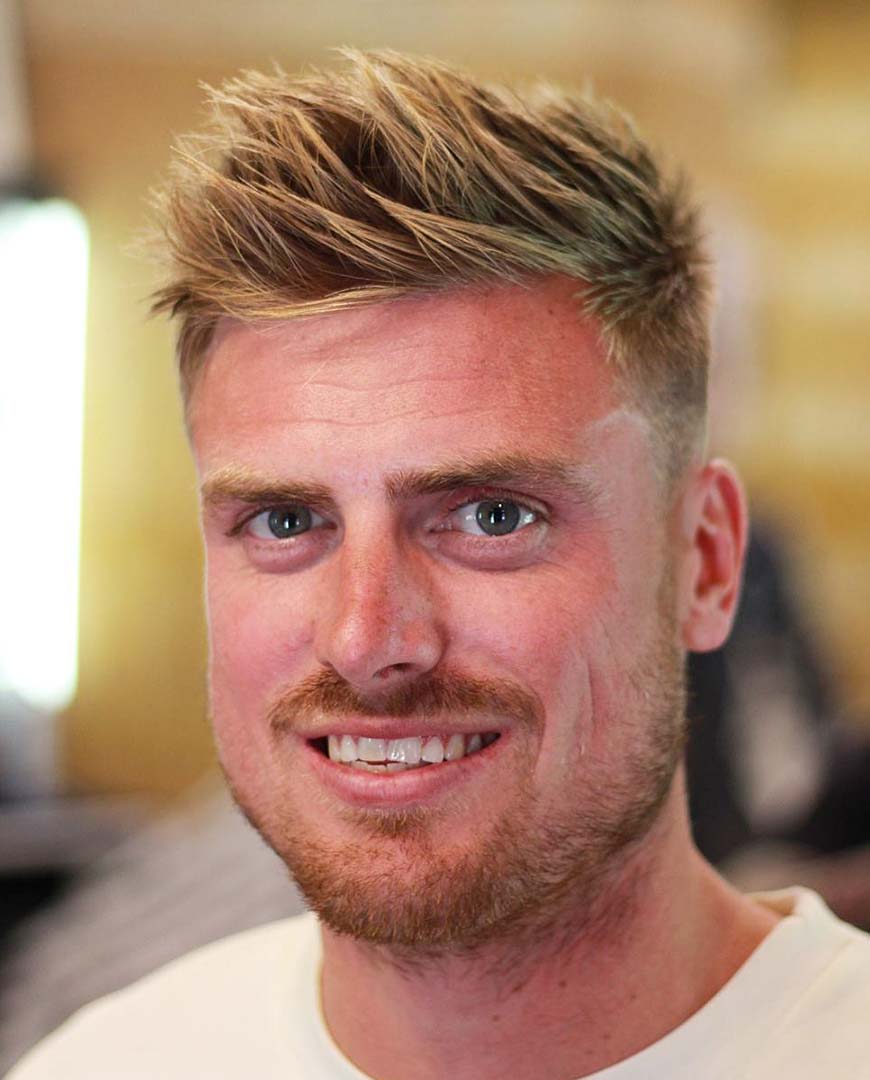 Long Straight Hair
Men with long hair can easily sport various hairstyles and still maintain an attractive look. These simple styles don't require many products and are easy to style. 
When it comes to styling, men with long hair should be careful to avoid heat tools and excessive towel drying. This can cause split ends and frizz.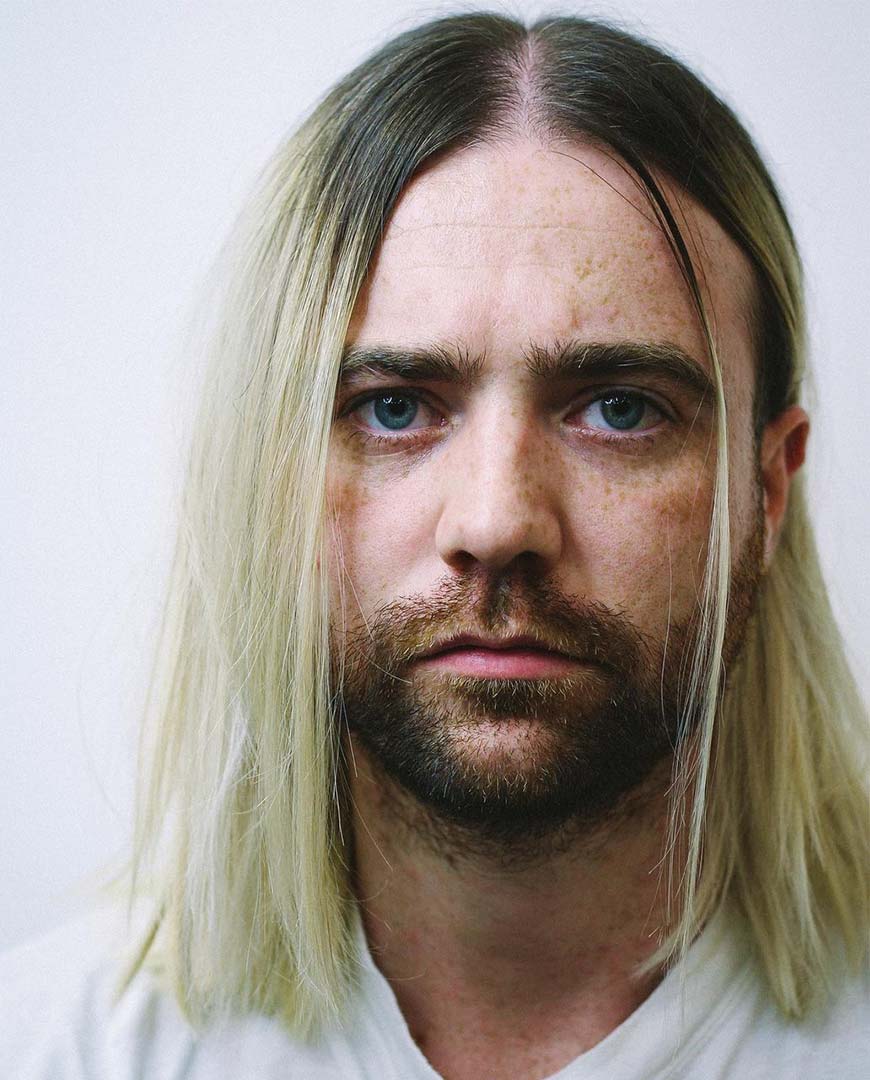 Blonde Brushed Up Hair
There are many different ways to style blonde brushed-up hair. This style is easy to create and gives your hair a refined yet casual look. Use styling products to keep the strands out of your face. 
To get this style, your hair should be cut short in the front and fade or undercut on the sides. If you're having trouble with this style, you can use wax or mousse to help lift your hair up. You can also use a comb to lift your hair. Once you've achieved the perfect style, you can put it in place. Then, add some shine spray to your locks.
After styling, use high-quality hair wax or mousse. Mousse adds volume to the hair. Mousse is best for wavy hair and will prevent the style from looking flat. To apply the hair wax or mousse, simply comb your hair and style it upward. You can also use your fingers to give your hair added volume. Ultimately, you'll love this new style. You'll never look back!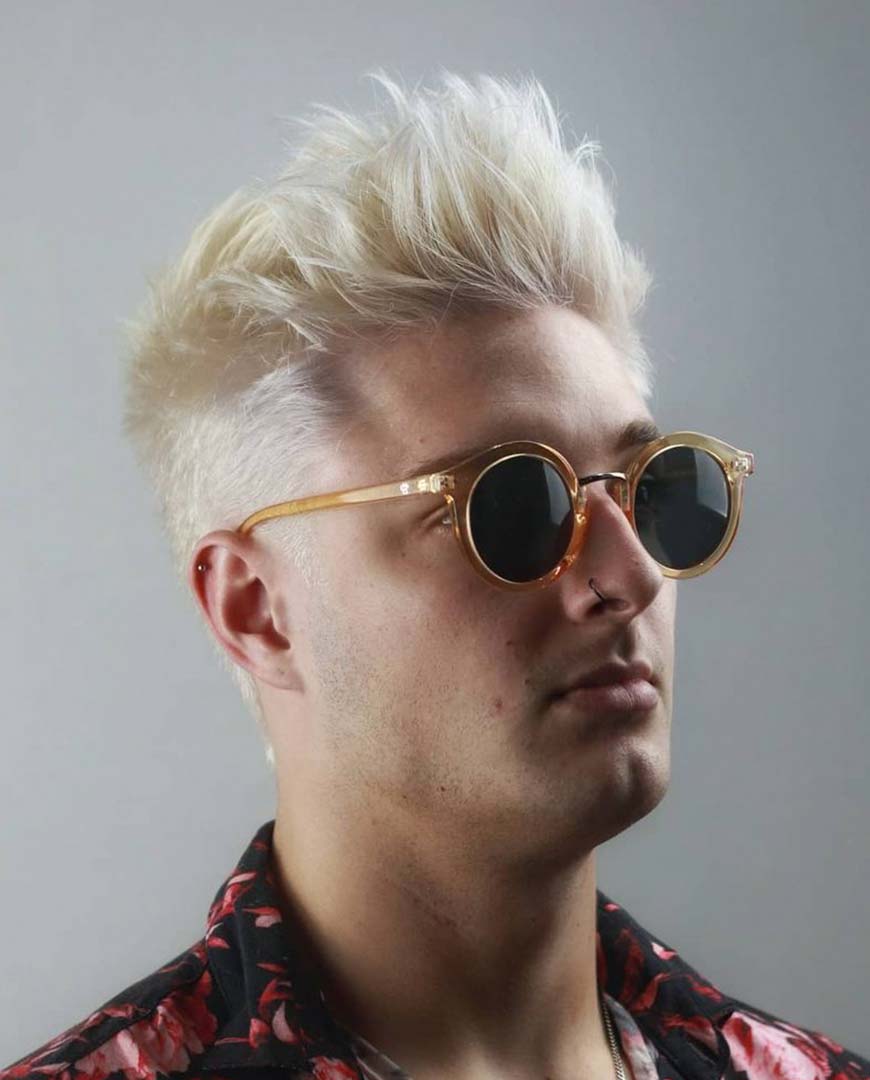 Brushed Up with Undercut
This look is a combination of a brushed-up and an undercut. Both haircuts require a short back and sides. The top of the head is highlighted by lifting up the hair in a quiff-like way. A slight taper fade gives the entire style a subtle finish. 
The voluminous, thick hair looks great on both short and medium-length hair. Adding a light beard to the look is also a great way to add some edge to the hairstyle. 
Brushed up with undercut was popular from the early 1910s to the early 1940s. This haircut was popular again thanks to the show Peaky Blinders.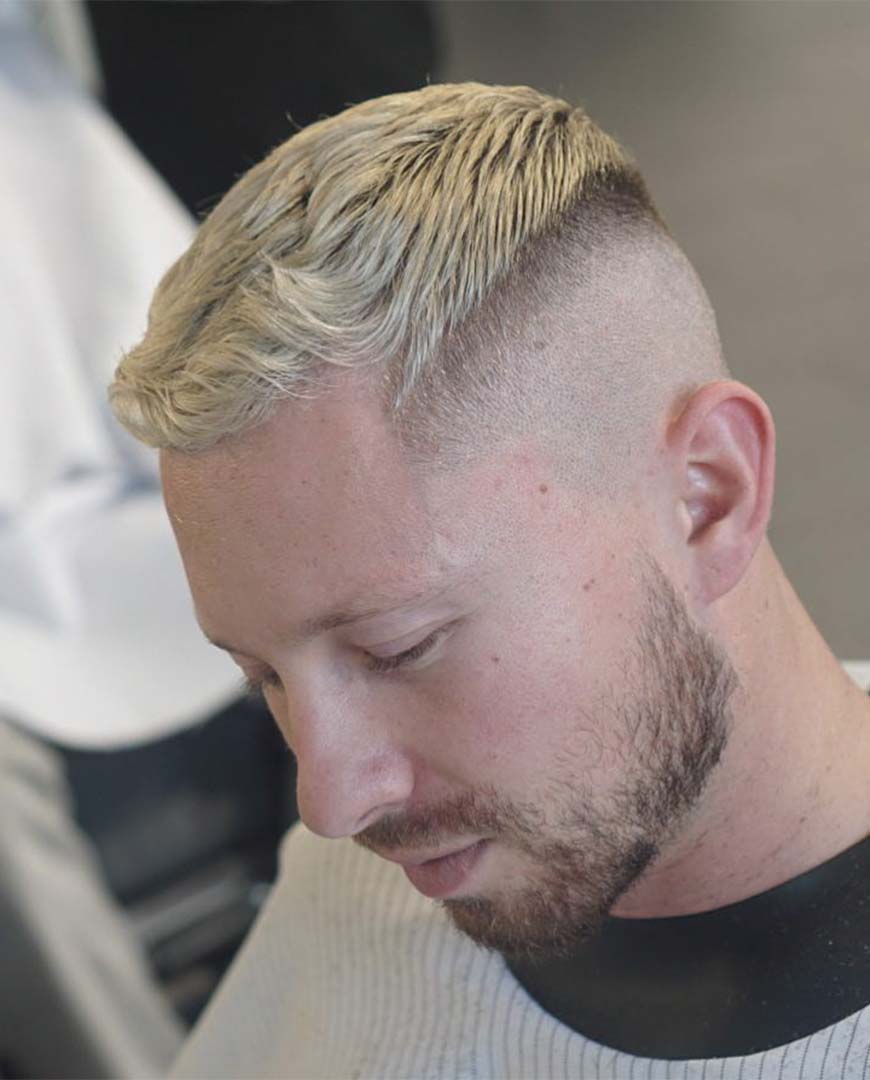 Blonde Crop Top
A blonde textured crop with an undercut can give you more edge. You can use wax or gel to keep your fringe looking fresh. An undercut is a classic combination with the crop top. A full blunt fringe also pairs well with this look. The fringe is a great way to add color and a stylish pop of texture.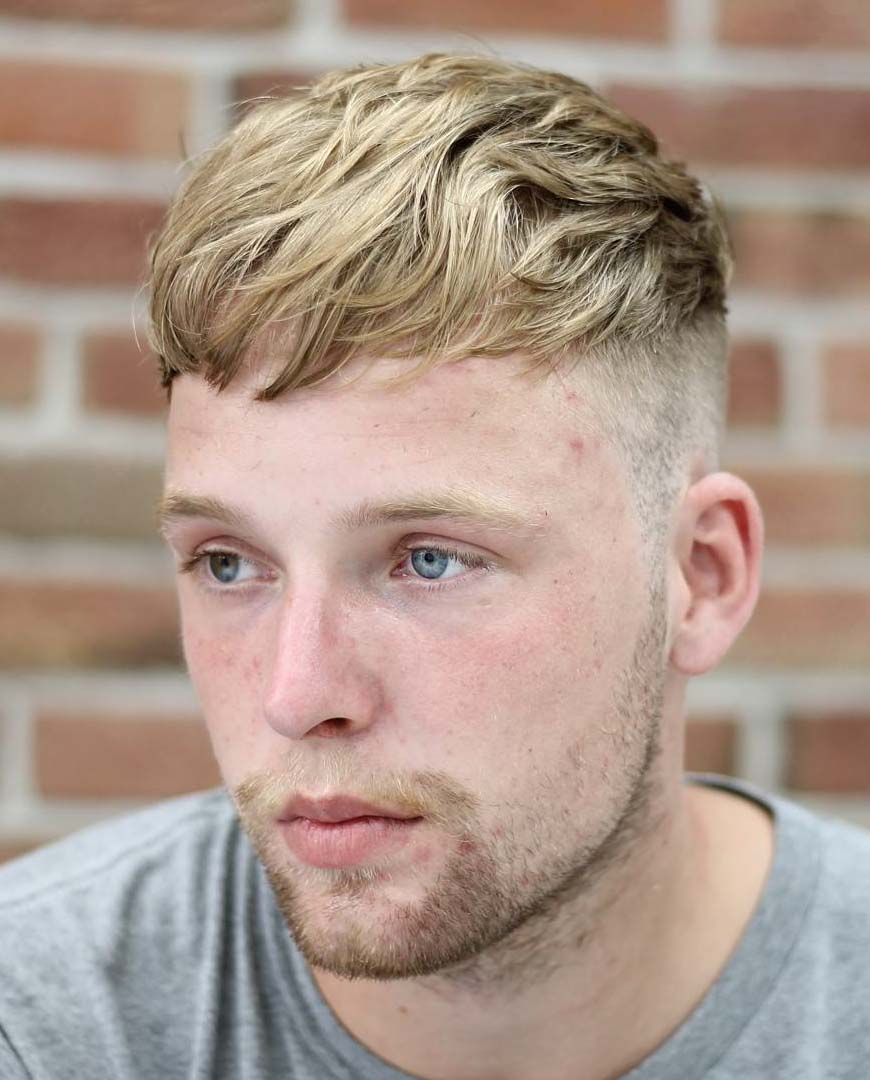 Burr Cut with Low Fade
A burr cut with a low fade is a cool style for short hair. It gradually decreases the length of your hair from your temples to your ears, drawing attention to your face. This cut is very versatile and can be paired with many different styles to suit any occasion. A low fade can be enhanced with textured top hair. This style can be used to create a more classic look and is an excellent choice for men with short hair.
To achieve this look, you need to know the starting point for the fade. There are three different levels for the fade: high, low, and in between. The fading process can enhance the look of your burr cut and give it more character and create dimension. 
This style is less drastic than induction, but it still looks sharp on younger men. This cut is also great for people who want to show off their scars and are not afraid of a bit of a shave.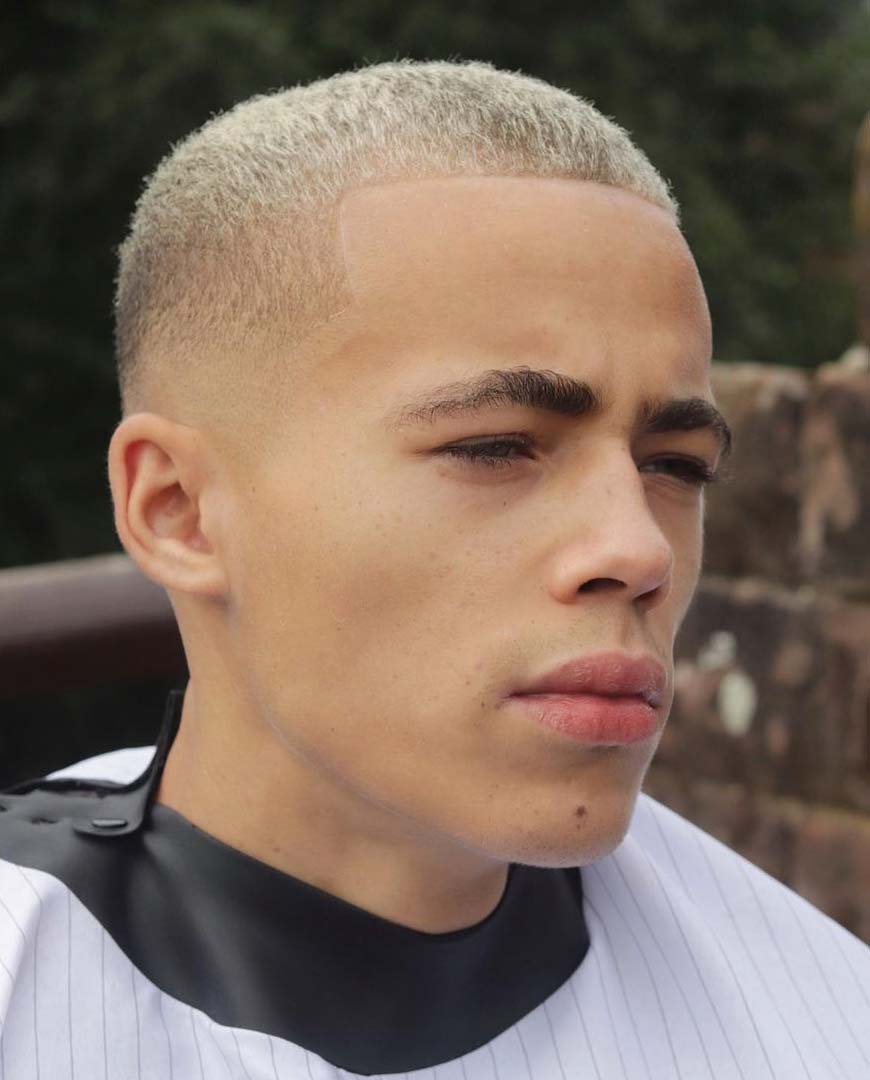 Blonde Faux Hawk
The hair on top of the head remains relatively long, which makes it ideal for duplicating a mohawk without shaving. A blonde faux hawk is a great way to emulate this slick and sharp hairstyle without going under the knife.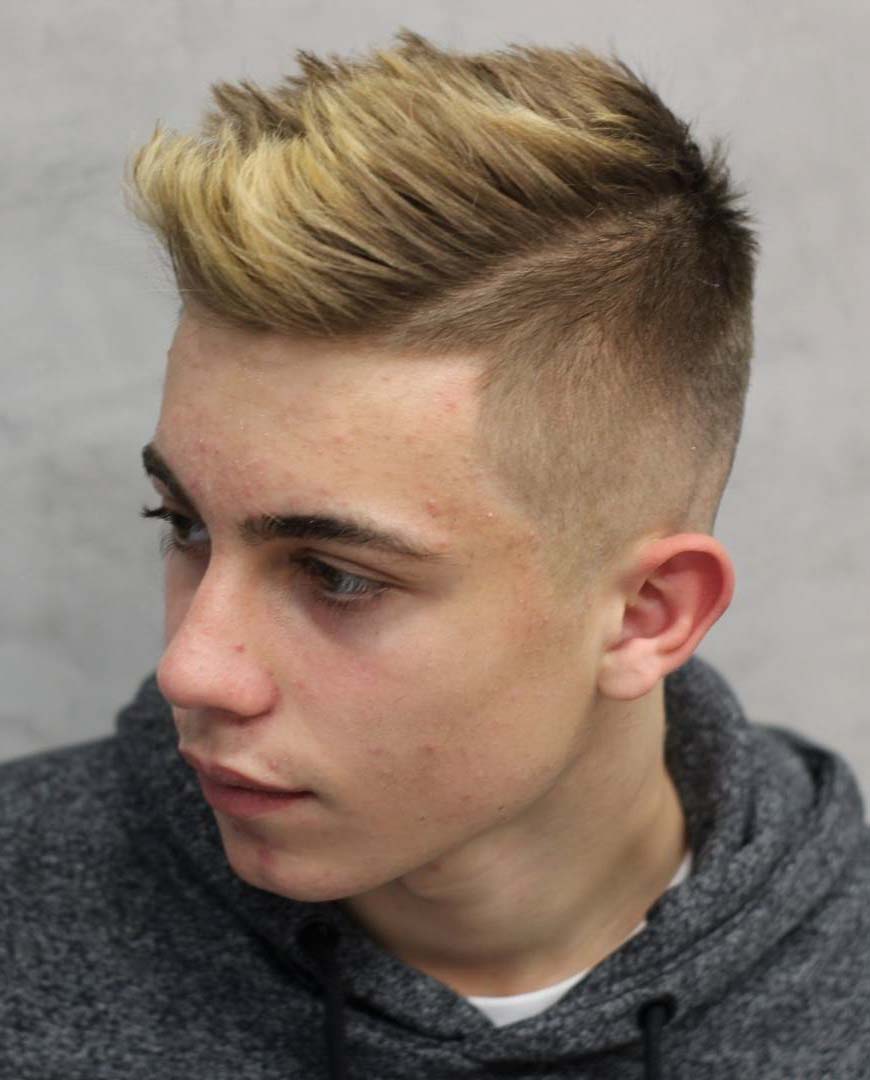 Blonde Ivy League Haircut
One popular Ivy League haircut is a variation of a crew cut. This hairstyle has been around for decades and is a classic Harvard clip style. The haircut is symmetrical and features more length on the front. You can wear it with a side part, pushed back or upward. Men with thick hair will love a well-textured Ivy League haircut.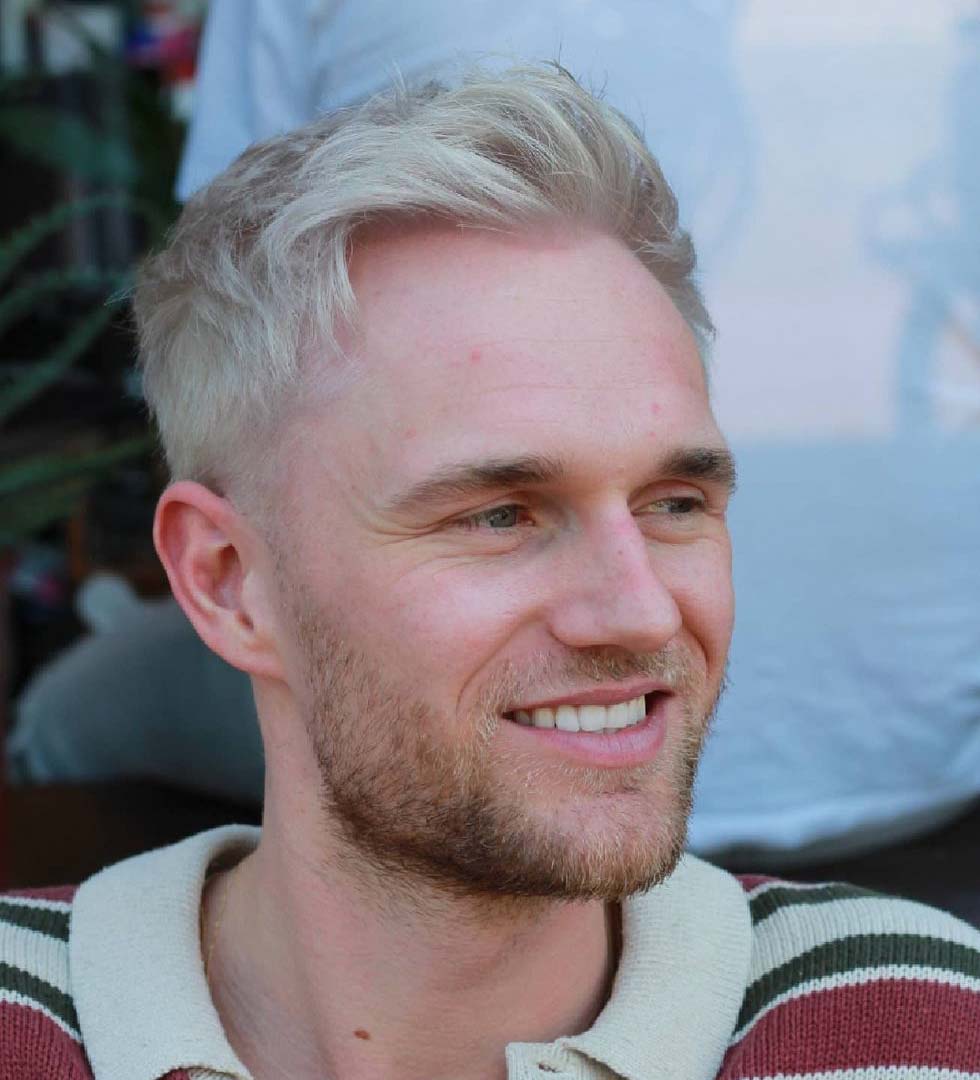 Comb Over with Hard Part
Comb over with the hard part is an excellent option for guys with a full head of hair. It's a great way to show off a visible part while still having a cool, textured look. Choosing the right hard part can be a challenge, but with the right product, you'll have no problem creating a look that will impress. A side part that's either high or tapered gives it a polished look, while a hard part that's low and disconnected adds a little bit of character.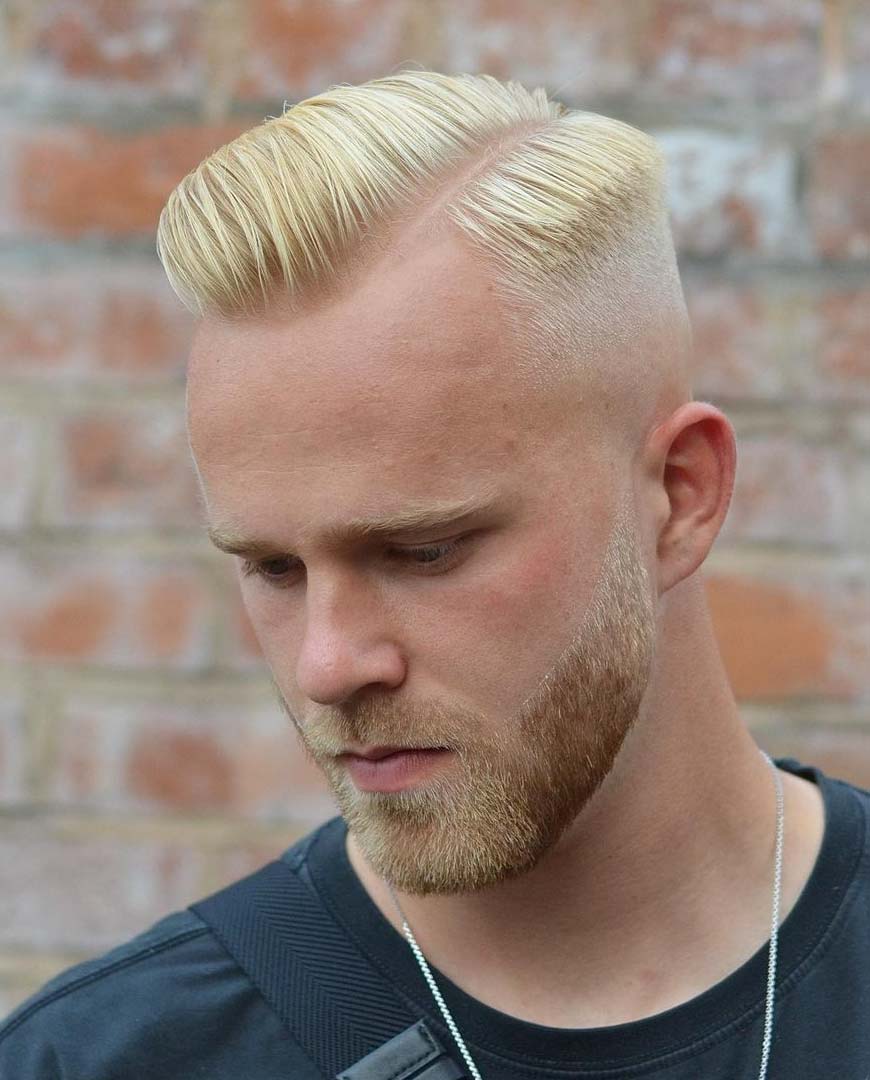 Curly Hair with Taper Fade
A taper fade gives your hair symmetry, a clean and well-groomed look on the sides and the nape of the neck, while curls keep it from looking messy. This hairstyle can be worn long or short on top.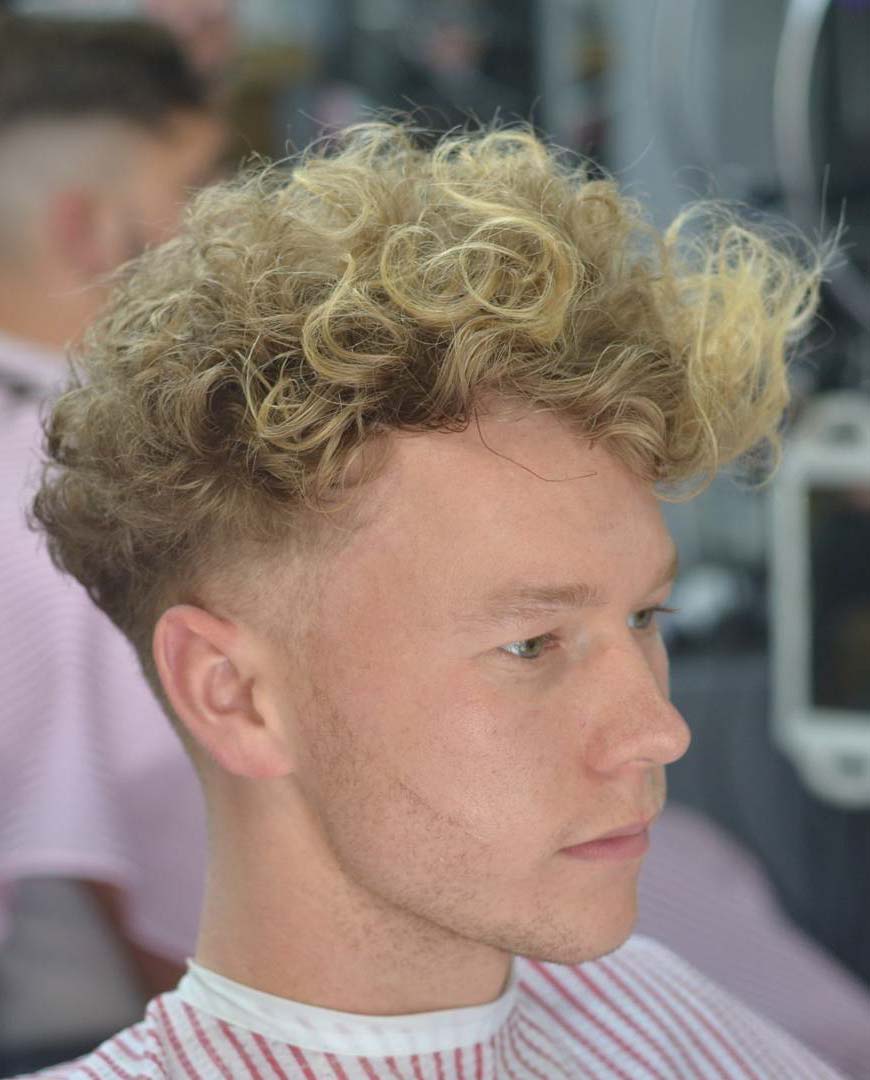 Golden Blonde Flow Hairstyle
You can choose from several golden blonde hairstyles, from natural to incredibly glossy. The golden blonde hairstyle will flatter your face and look fantastic whether you want a subtle color change or a dramatic color transformation.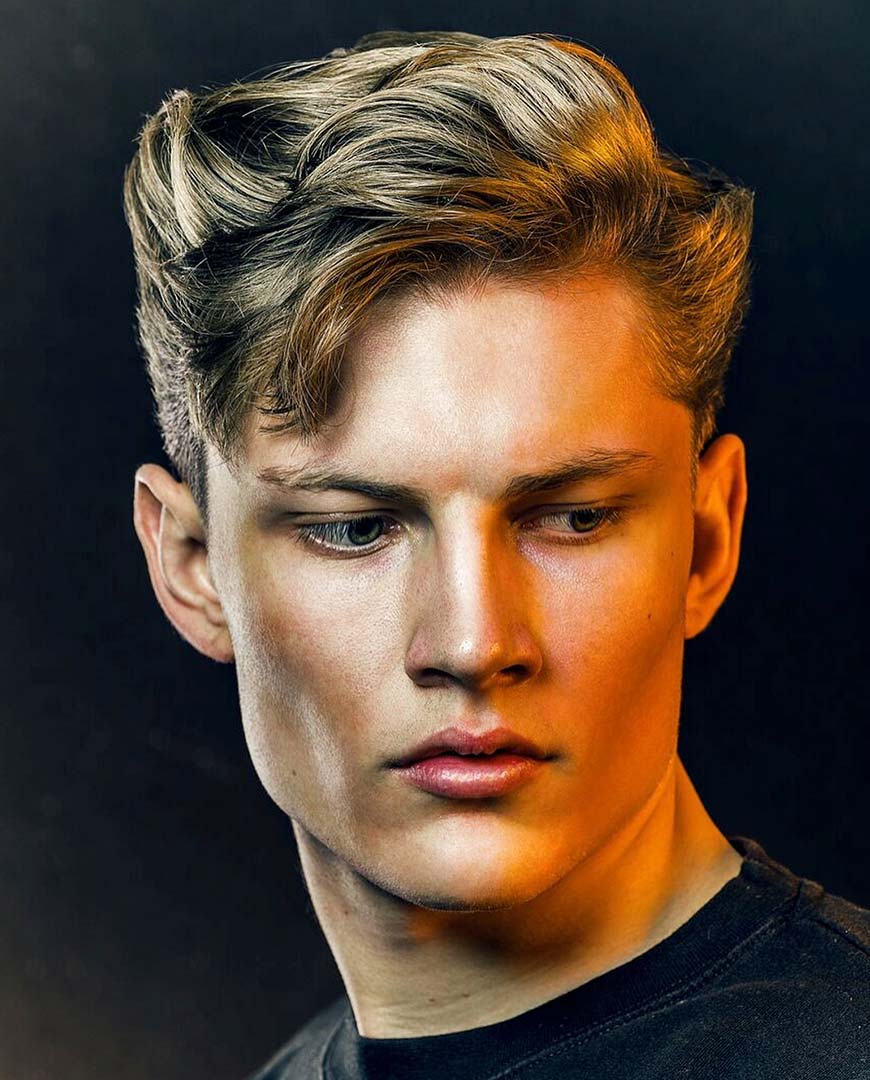 Layered Haircut with Undercut
With shows such as Peaky Blinders, this style has become increasingly popular. The separate layers of this hairstyle add length and fullness to medium-length hair. They look best on square and oval faces.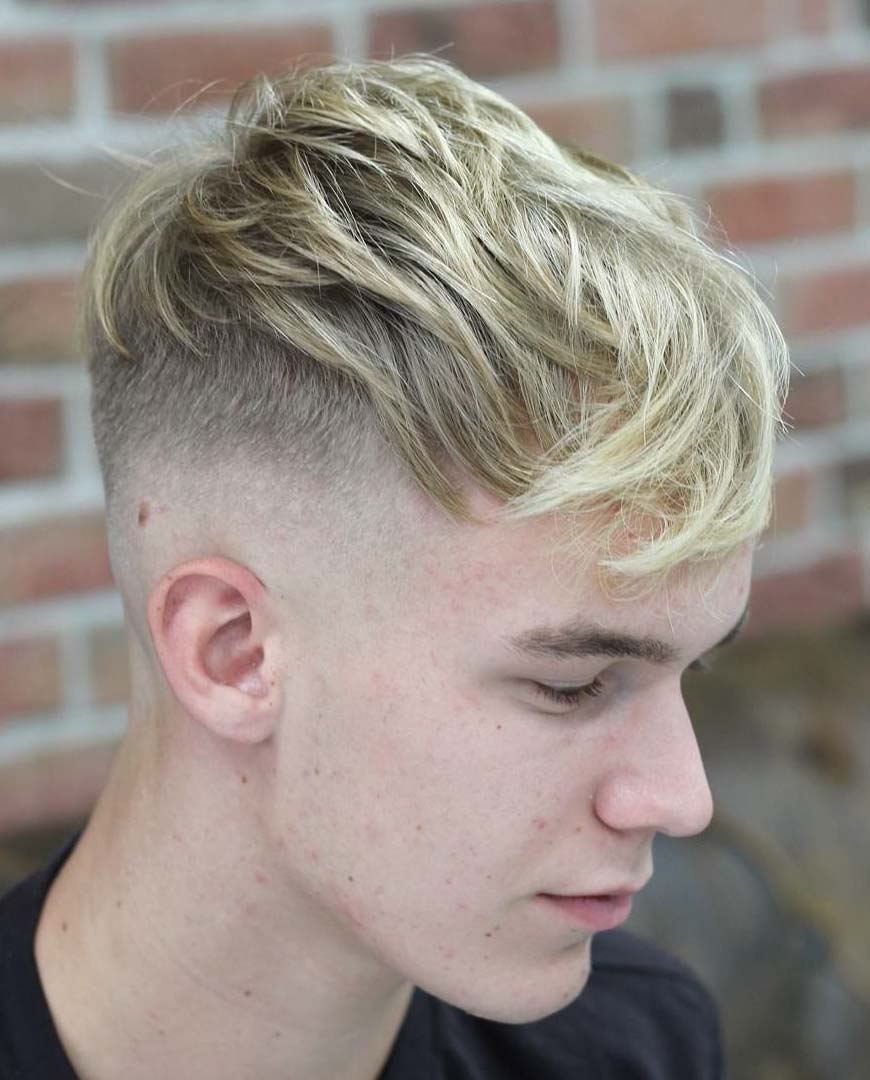 Comb Over with Side Design
This classic style combines a deep side part and high fade. As a result, it looks professional and polished enough for work while remaining edgy enough for the night out. This style requires the proper product to give it the right texture and finish.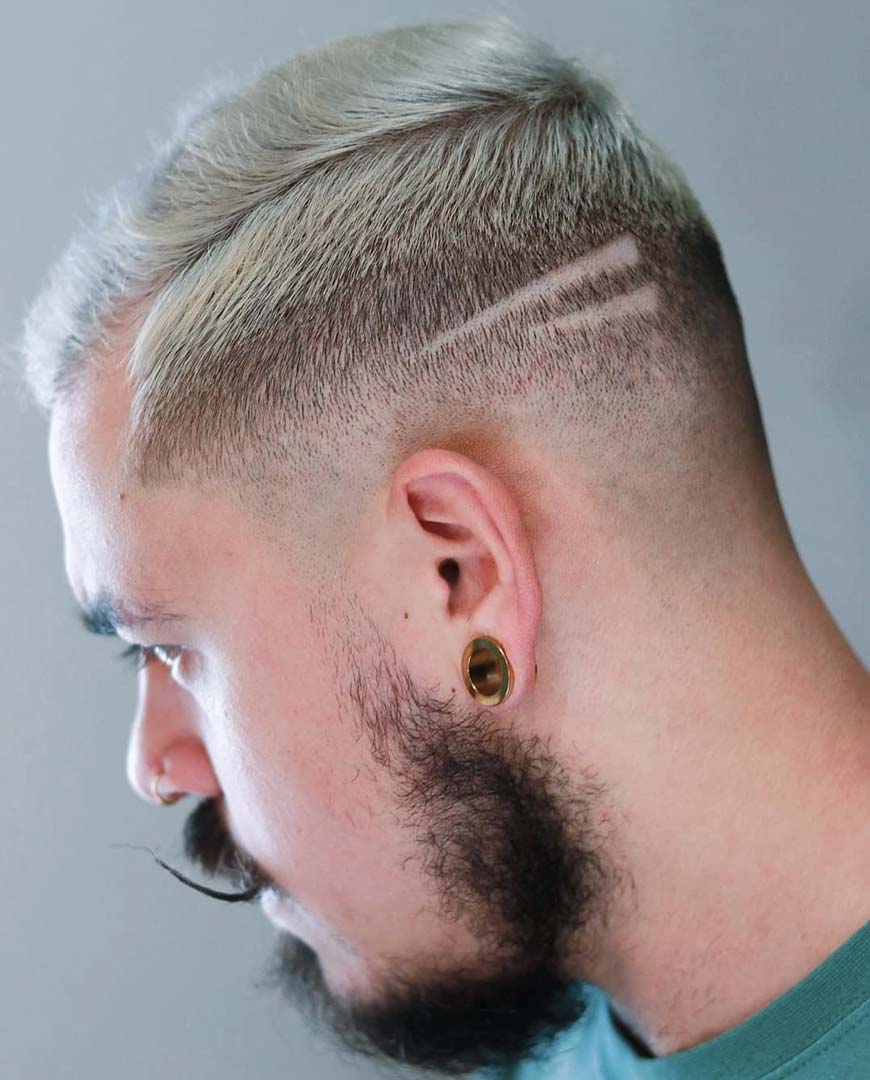 Long Blonde Side Swept
A long blonde hairstyle is the ultimate summer look for guys, and side-swept styles are the perfect way to show them off. The hairstyle is a great way to add some sexy flair to your manly appearance. For best results, choose a lighter shade of blonde on the sides. 
To avoid breakage and split ends, you should use a hydrating shampoo that helps add volume and definition to your hair.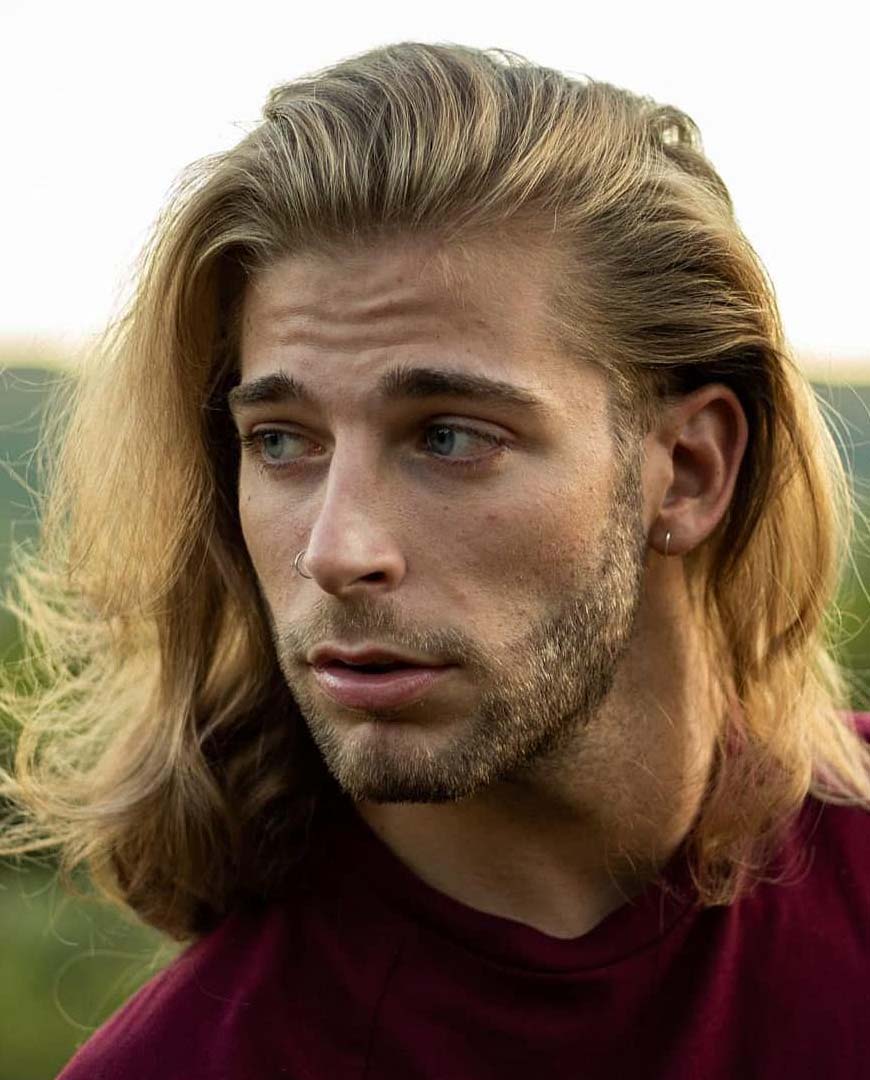 A Quiff with Skin Fade and Beard
A quiff and blonde color is an excellent option for men with thin hair. It makes the hairline look fuller. When worn with a full beard, the style balances the facial features and draws the eye upward.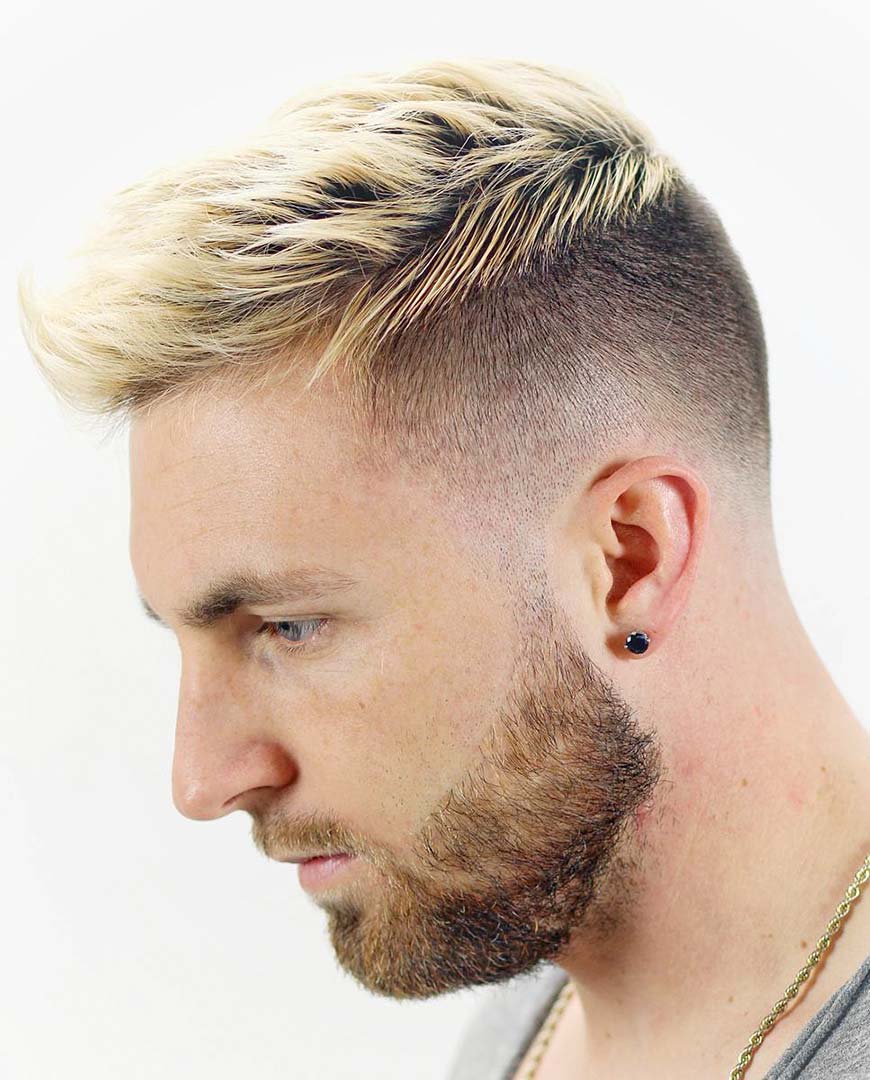 Blonde Hair with Long Fringe
This style is particularly appropriate for summer and is one of the hottest looks on men. For the most versatile look, try it with an undercut. A slightly longer length front will allow the hair to take shape. Just don't forget to take good care of your hair! You'll be happy you did.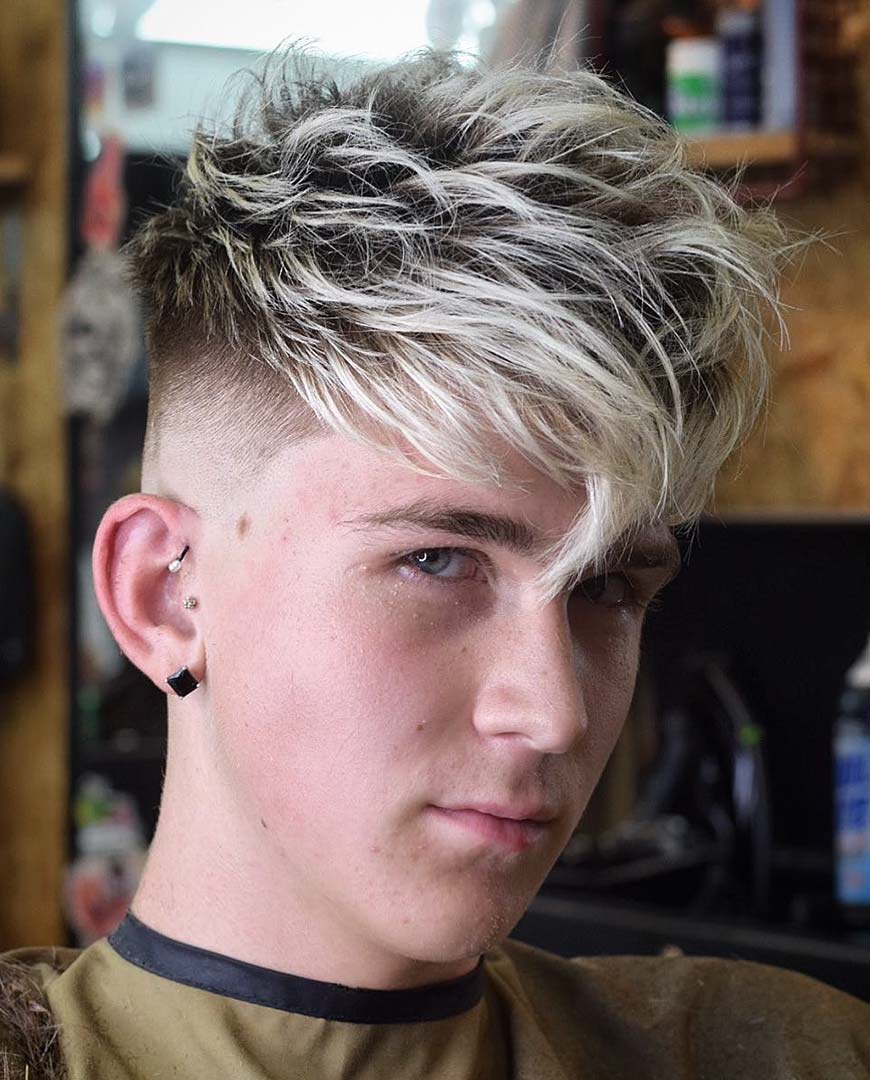 Short Dreads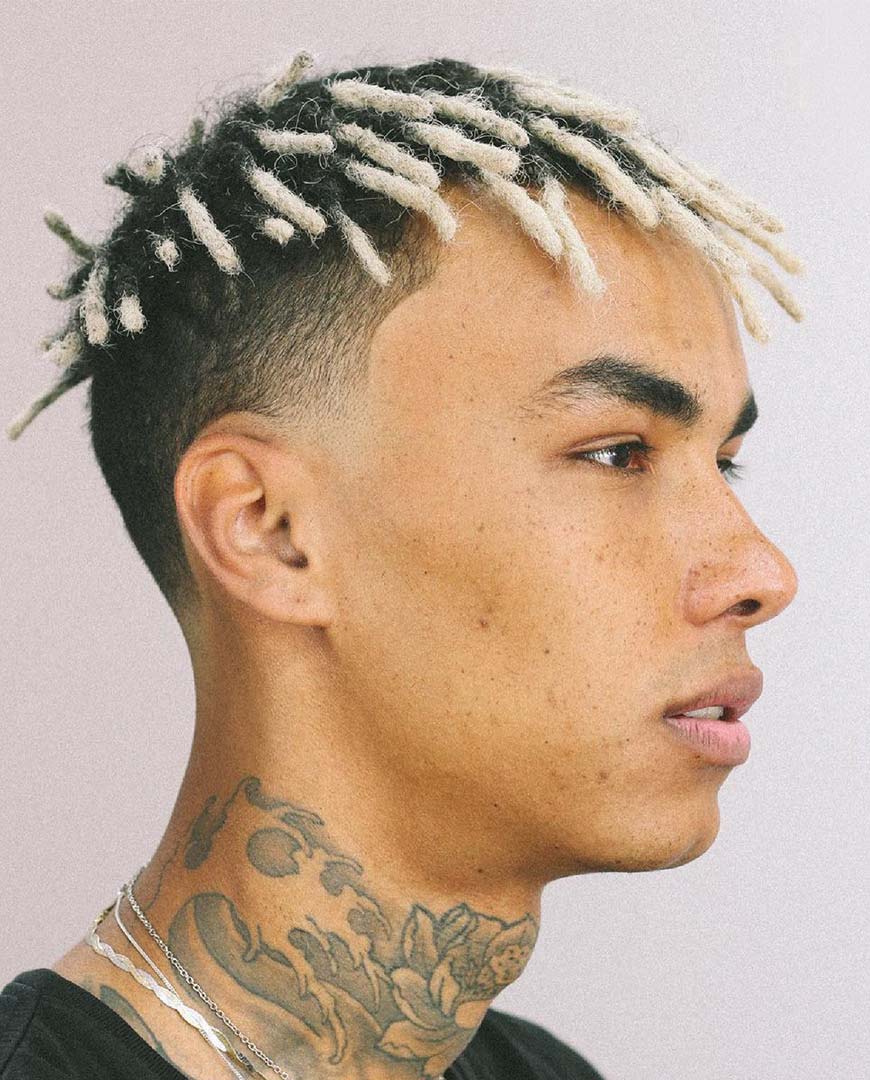 Blonde Buzz Cut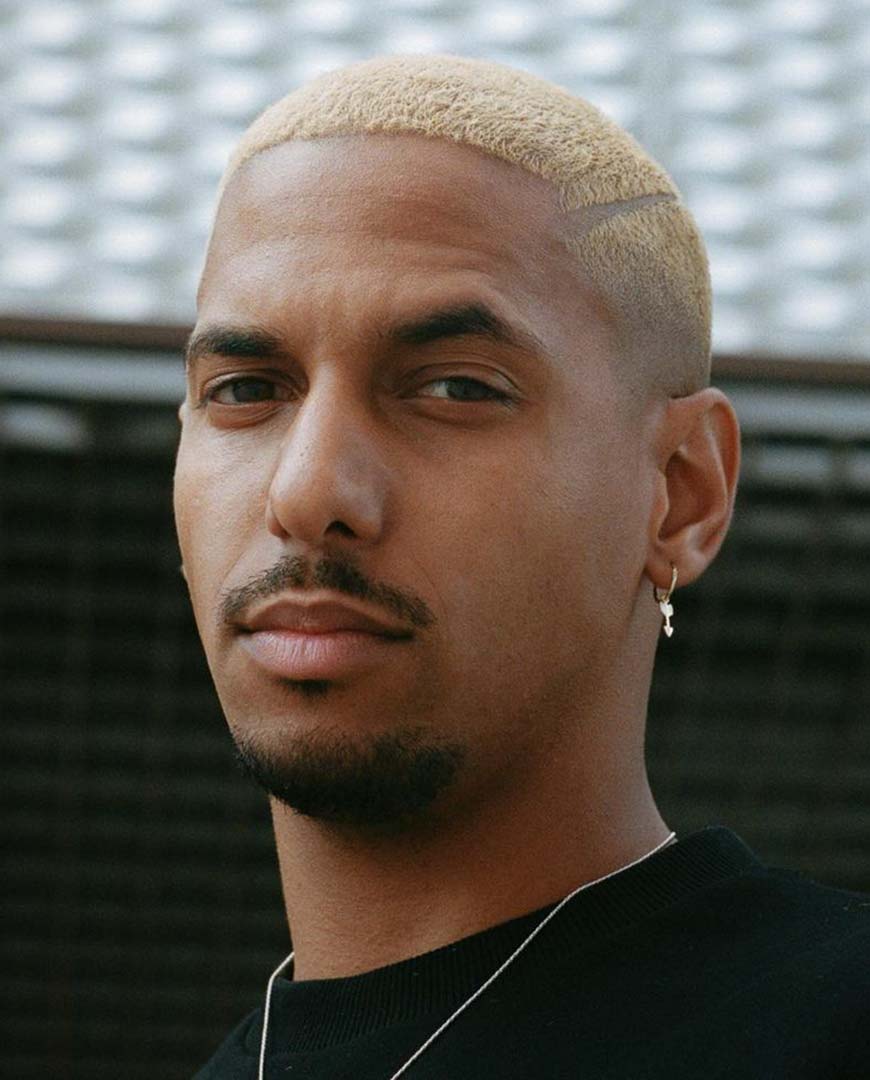 Blonde Kinky Hair with Skin Fade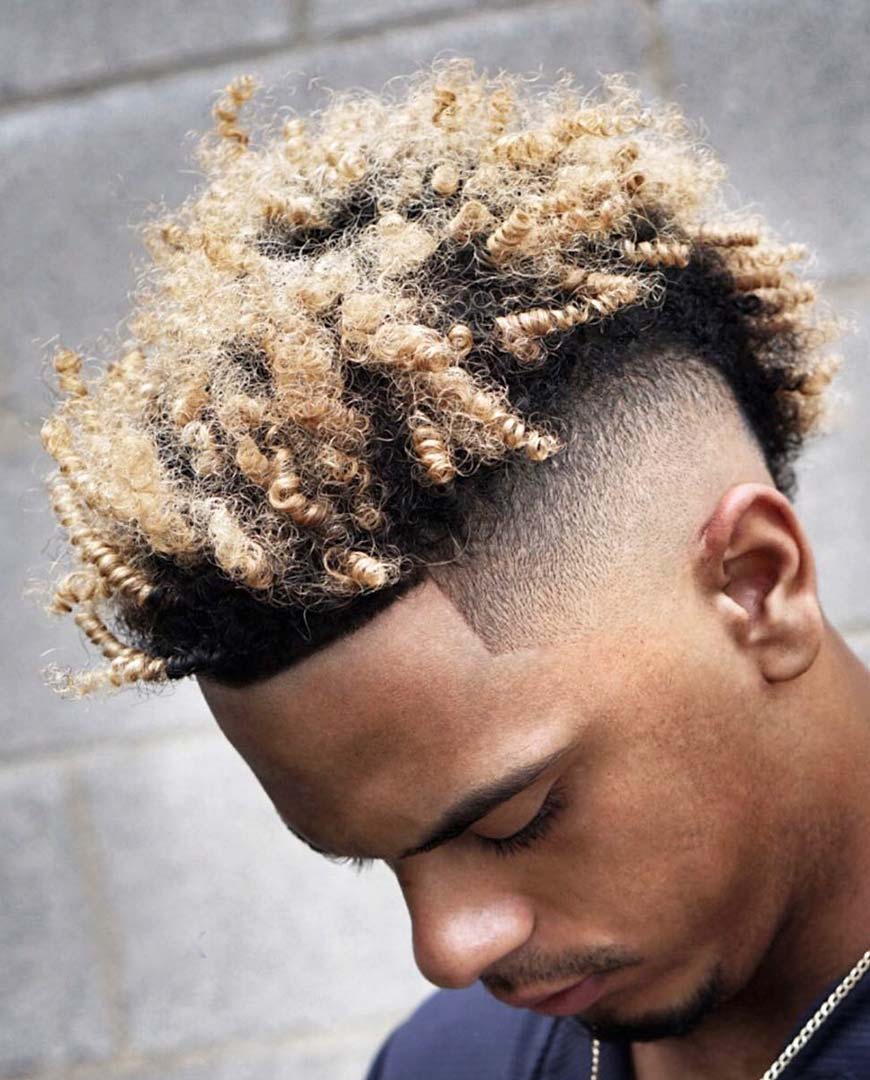 Elegant Blonde French Crop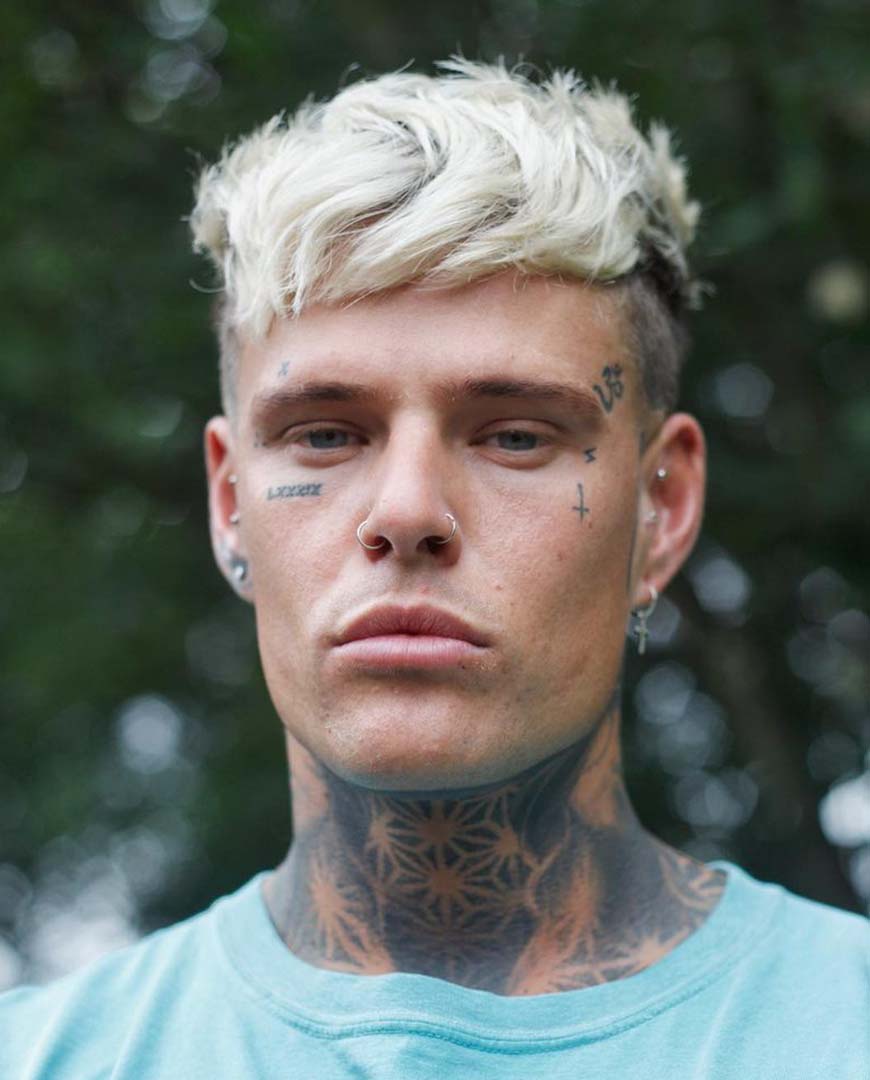 French Crop with Long Fringe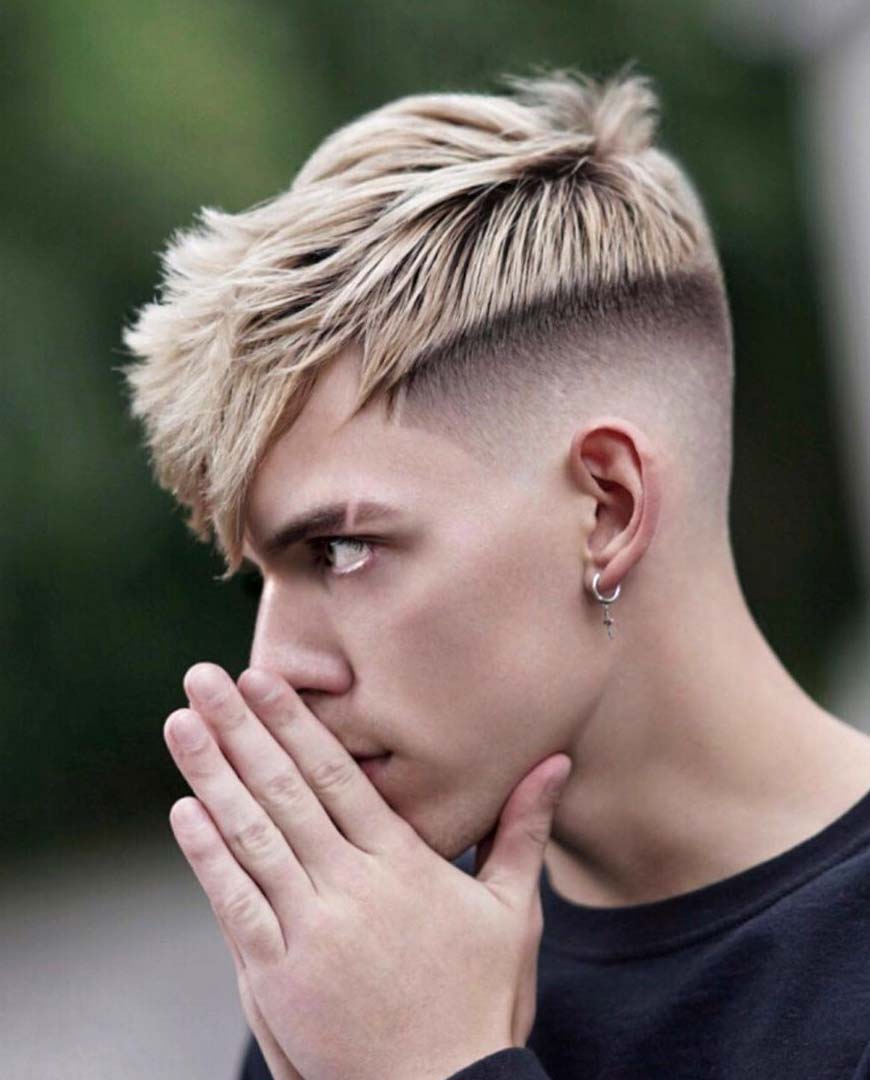 Sleek Blonde Comb Over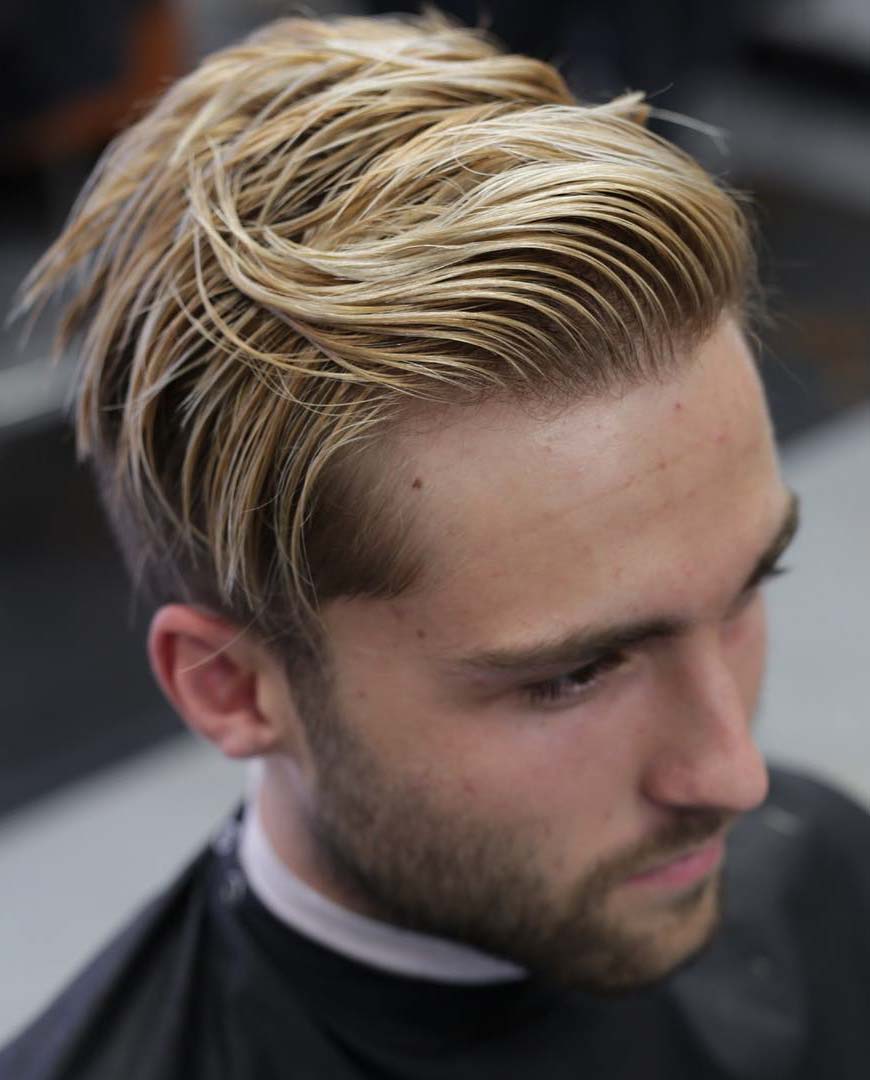 Pastel Blonde Curtains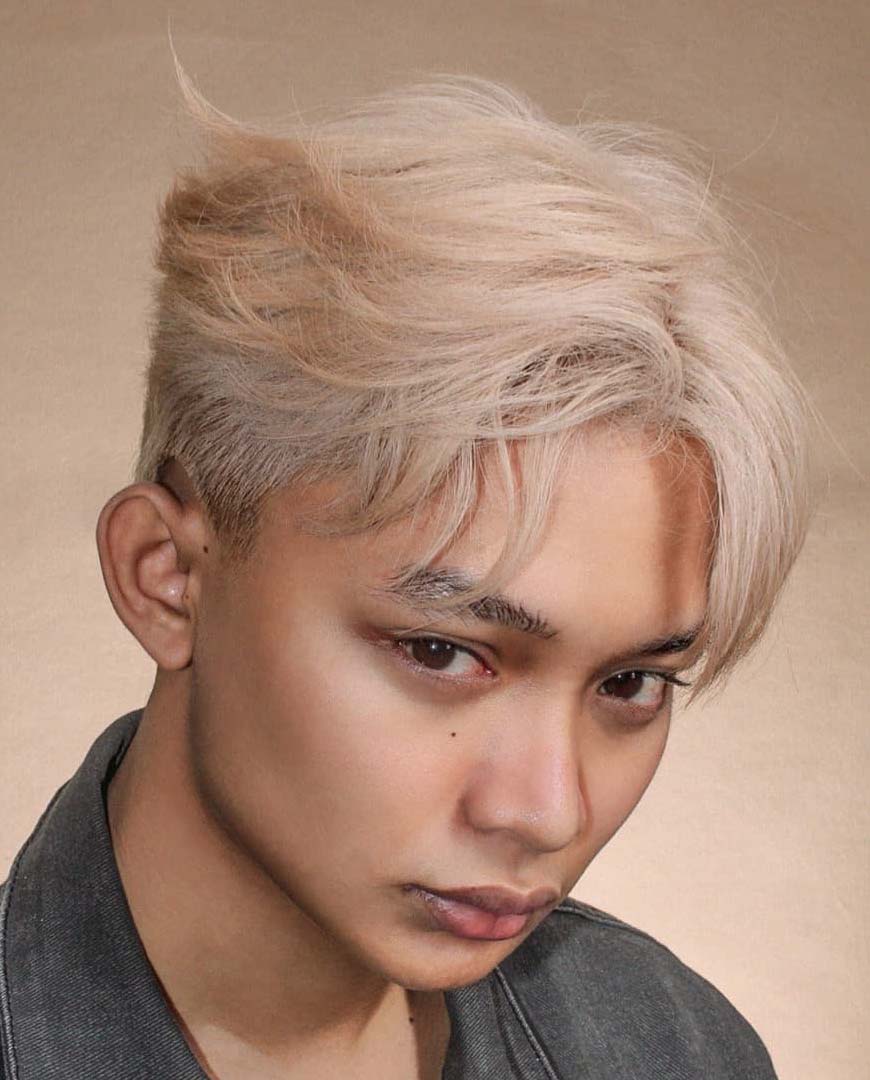 Textured Blonde Quiff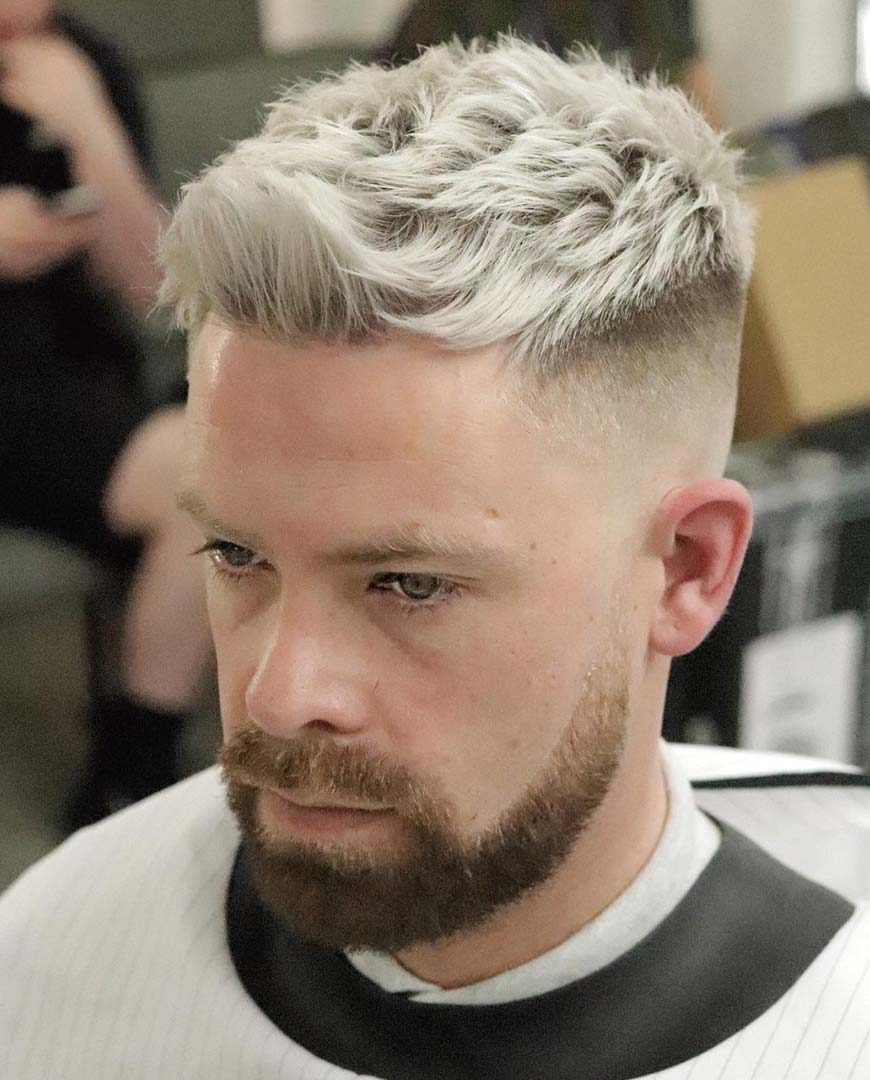 Textured French Crop with Low Fade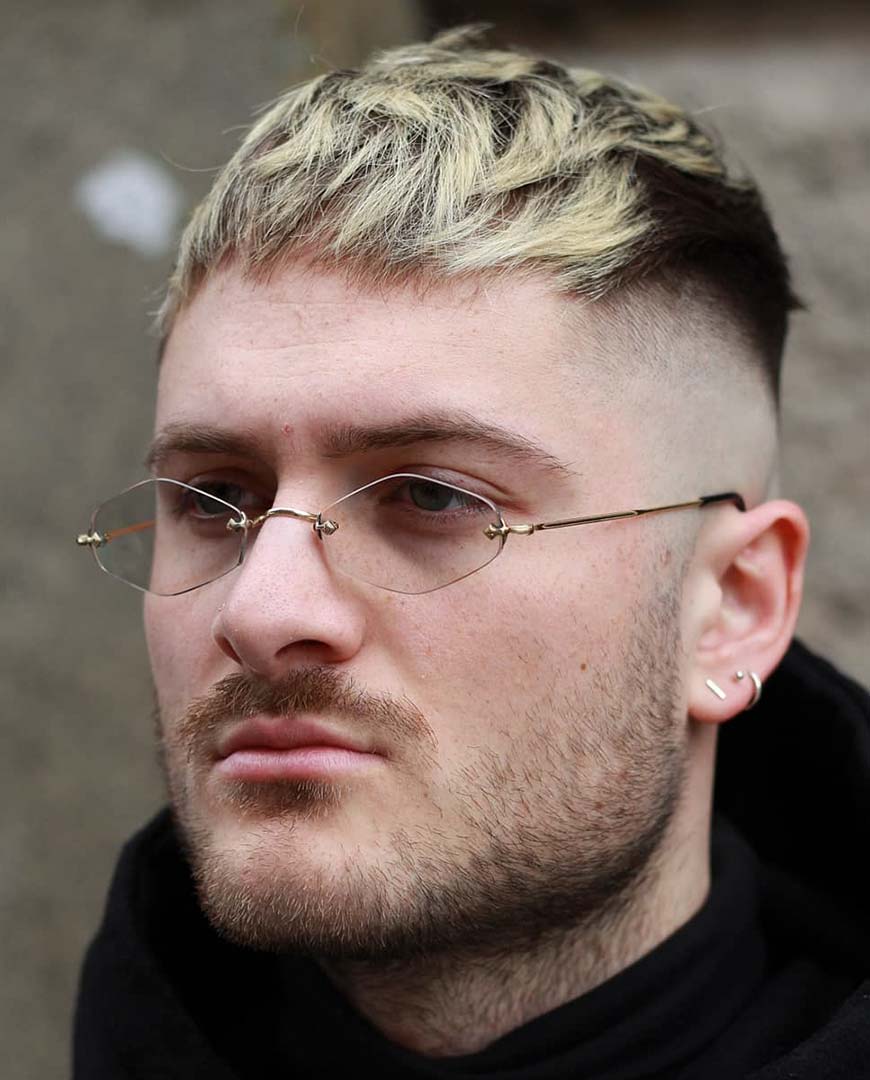 Wild and Spiky Style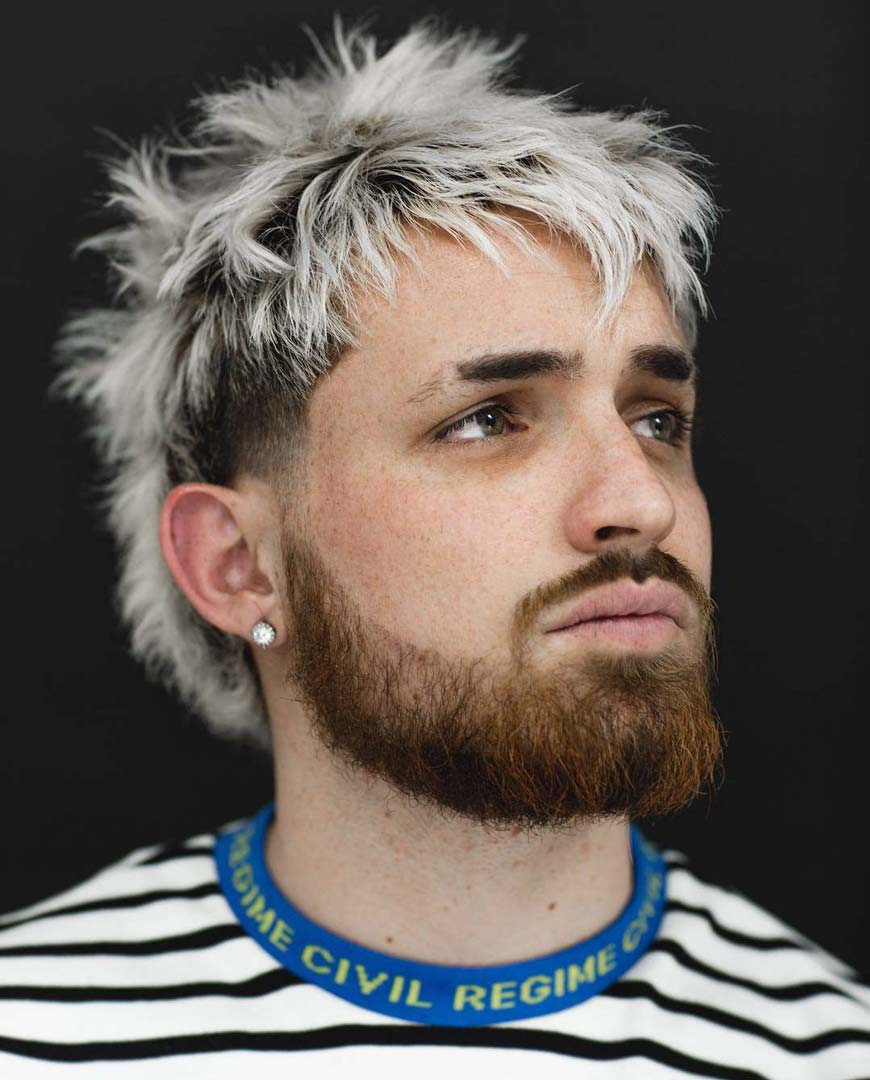 Short Dyed Hair with Undercut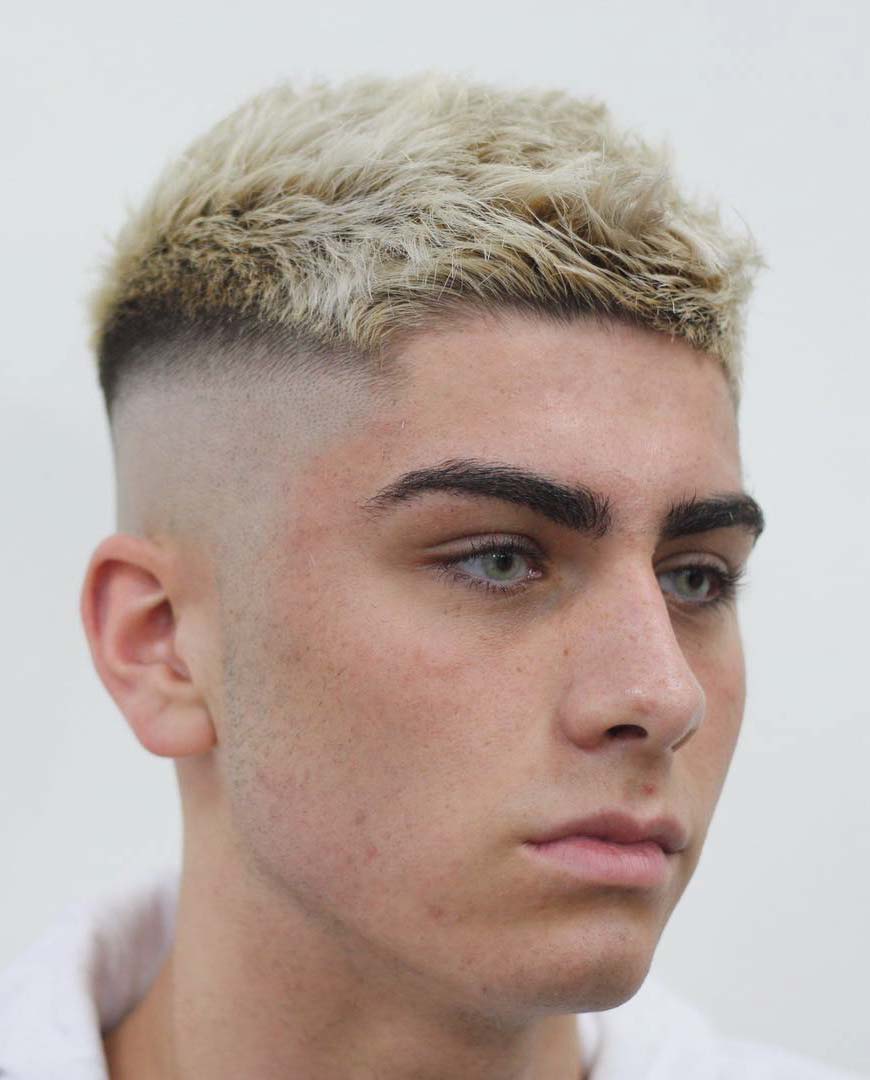 Wavy Beach Style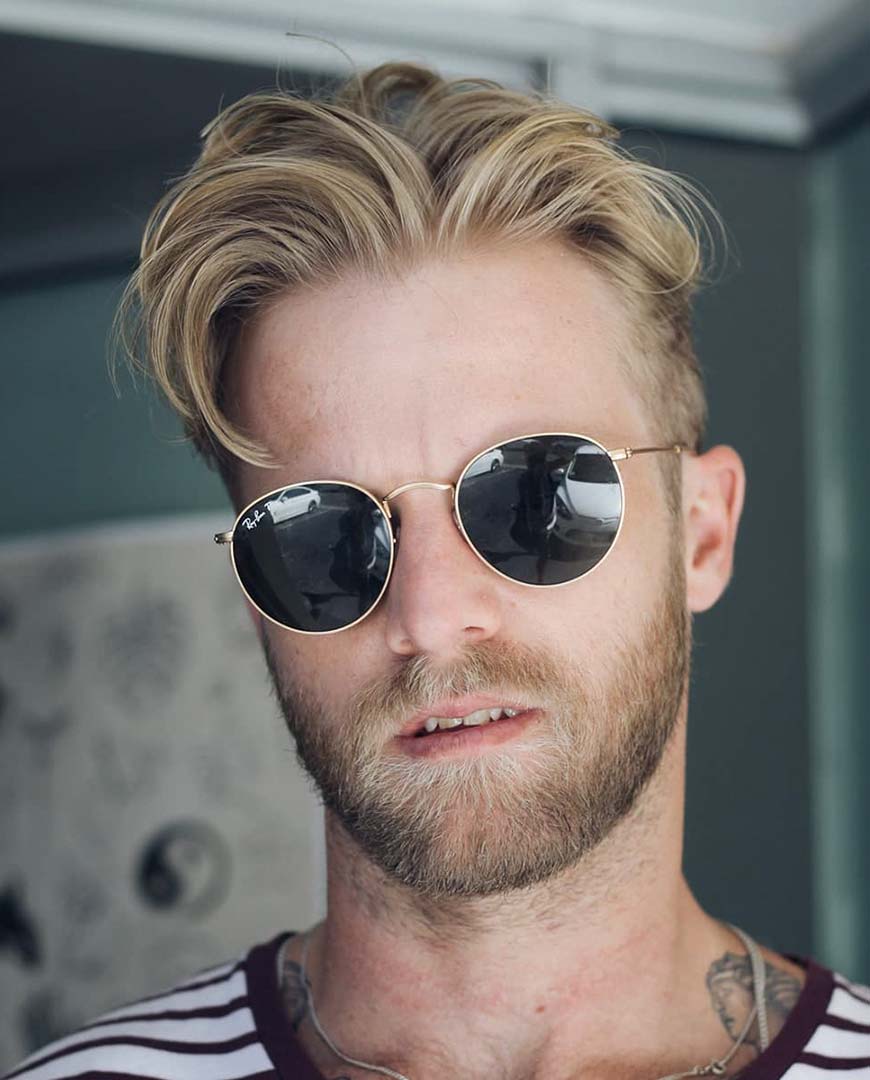 Pompadour with Blonde Highlights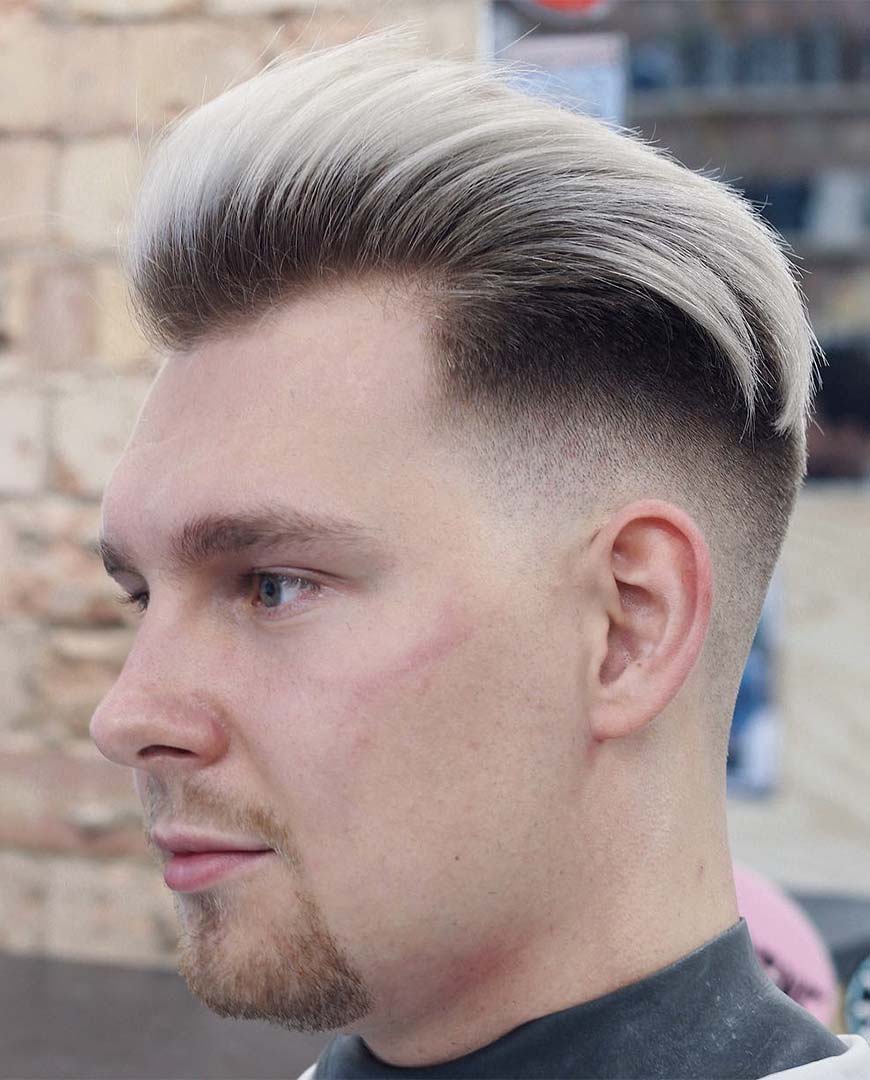 Textured Top with Drop Fade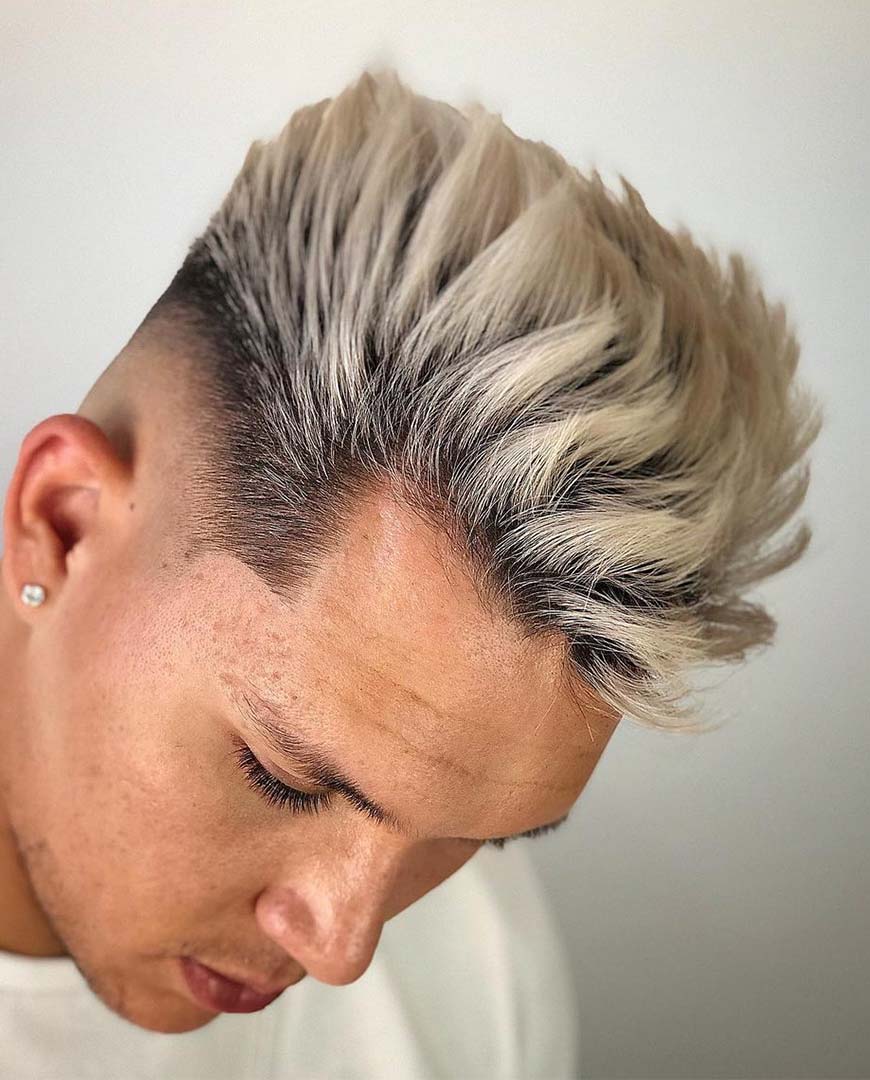 Short Golden Blonde Hair