Teenage boys are often eager to grow out their locks, but they can get frustrated when their hair isn't cooperating. That's because teenage boys have different hair types and textures than adults. So it's important to find a style that suits your hair, whether it's curly or wavy, thick or thin. With the right cut, you can achieve any look – from handsome businessman to hipster artist, all while maintaining your manly masculinity. Here are some tips for teen hairstyles for boys.
Check Out The Best Teen Boy Haircuts and Find Your New Favorite Style!
Curly Top with High Fade
This teen boy's haircut is popular among celebrities and is great for a variety of occasions. The natural look of curly hair is easy to maintain. It is versatile and makes the wearer look cool. 
The curly high top fade combines short sides and a kinky curly top. The high fade is made more pronounced, which begins on the crown and wraps around the head at the same level. The hairstyle is also very versatile, as the shortest hair is usually buzzed close to the skin for added flair.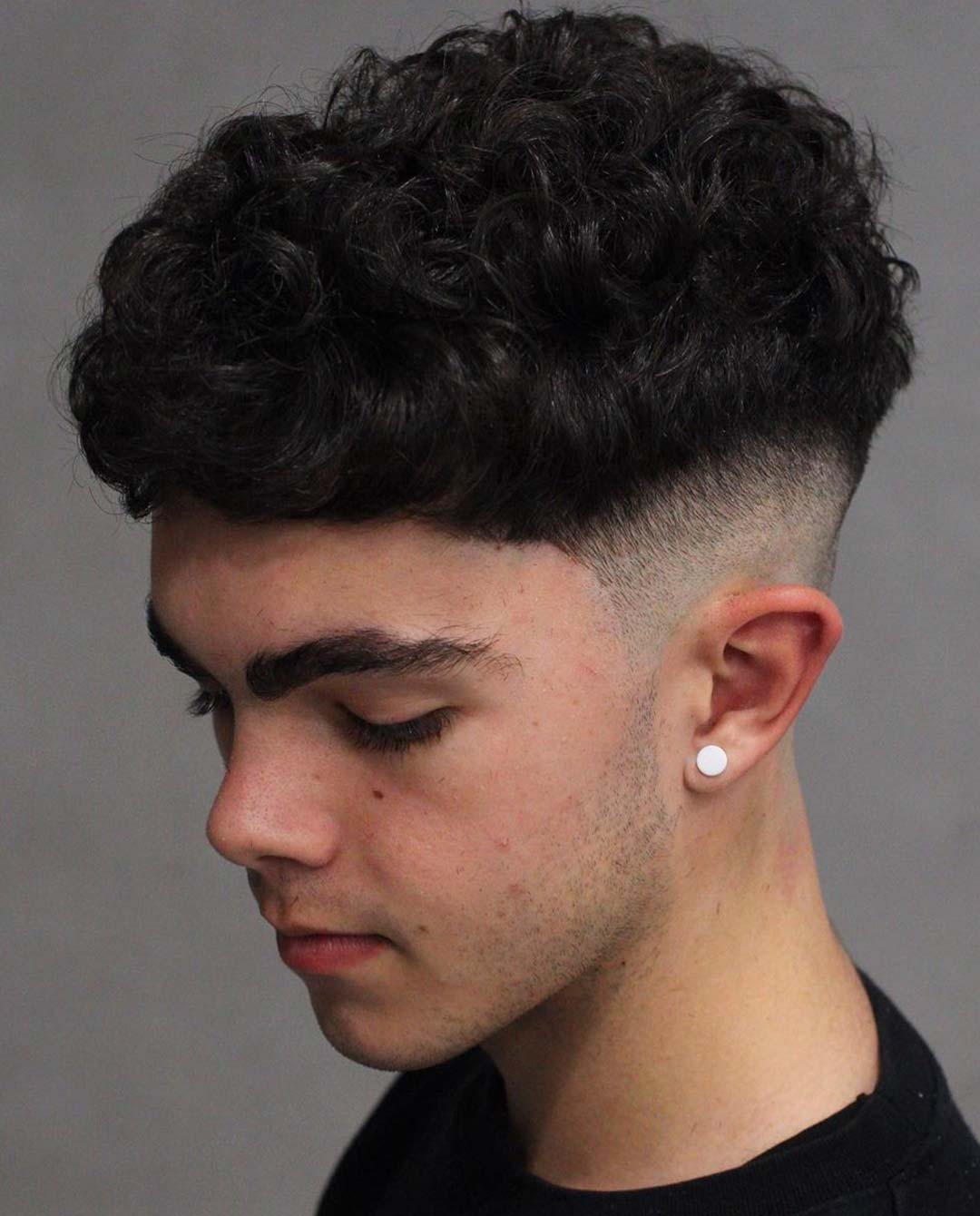 French Crop with Line and Fringe
A French Crop is best to keep the top of the hair long, without waves or tangling. Casually trim the sides, but avoid making the top of the hair too short. When styling a French Crop, the fringe should be combed backward to mimic a smooth back.
This classic style is a perfect choice for teen guys with natural straight hair. Its length at the top makes teenage guy haircut low-maintenance, and the blunt fringe gives the look uniformity. It's best to consult a barber to get the right fringe style for your face shape. The French Crop can be a great option if you have a receding hairline.
Because the teen boy hairstyle is cut short, it's ideal for everyday wear. You'll only need to trim it every three to four weeks. A good barber should be able to suggest the best style for your face shape.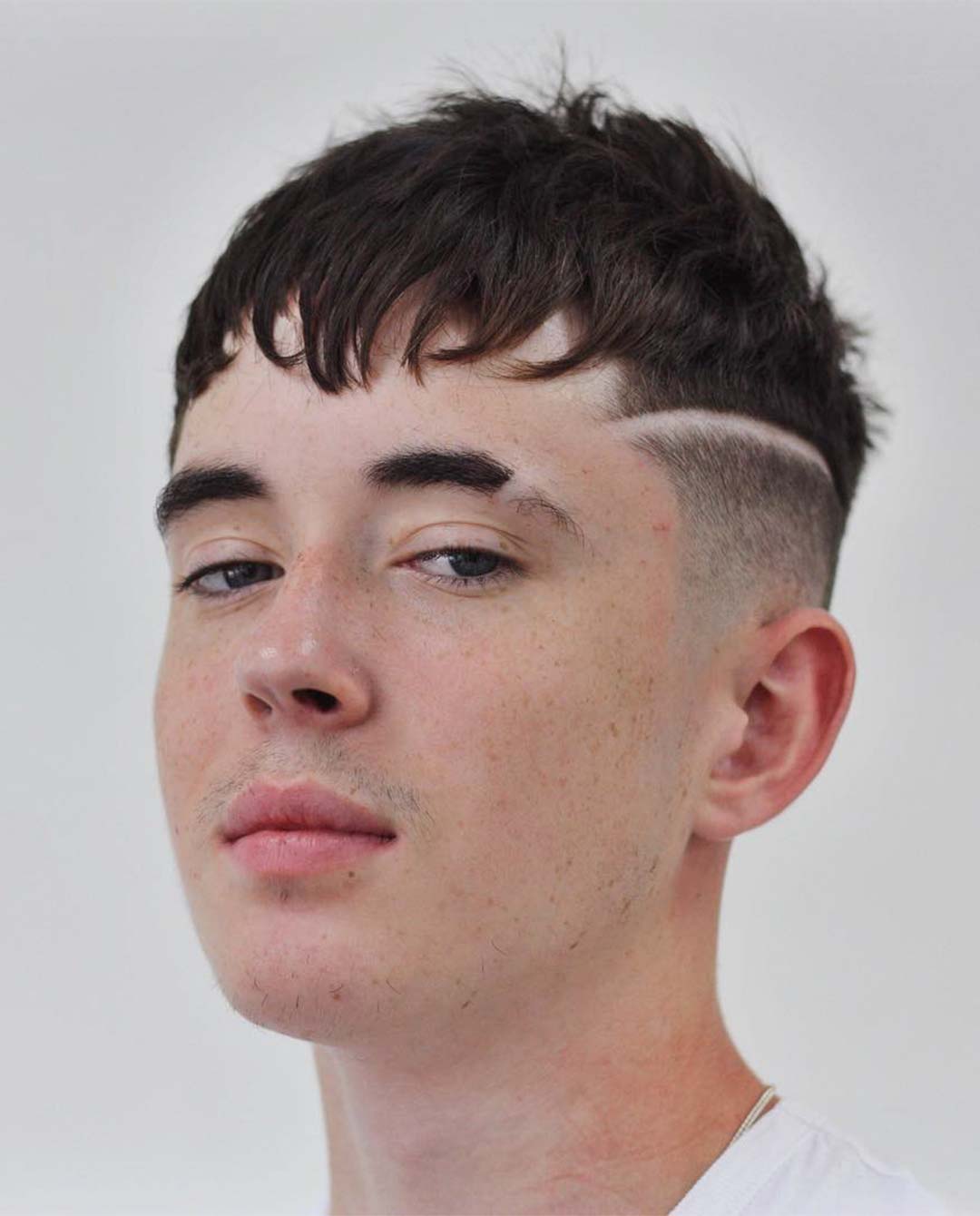 Line Up with High Fade
The Line Up is a modern and sharply defined haircut. Designed to be flaunted, the line up is often paired with an iconic mohawk to create the ultimate picture-perfect hairline. Its crisp angles contrast with the smooth fade of the sides and back, creating a sharp edge to this cut. It also complements a well-groomed beard. Here are some tips for getting the perfect look.
The line up and high fade are two of the most popular styles. Both work to clean up the hairline along the forehead and temples, elongating the hair to angular shapes. The line up is most commonly seen with textured hair, but it can be worn on teen boys with straight or wavy hair as well. The lines that are cut into the hair should be smooth and geometric. If the line up is too low, it will look too harsh.
The look is best paired with a high fade. If you've got a long face, you can pair it with a sharp line up around the hairline. If you've got a short chin, a high fade may be a great option for you. You can also go with a low fade if you're into military-style haircuts.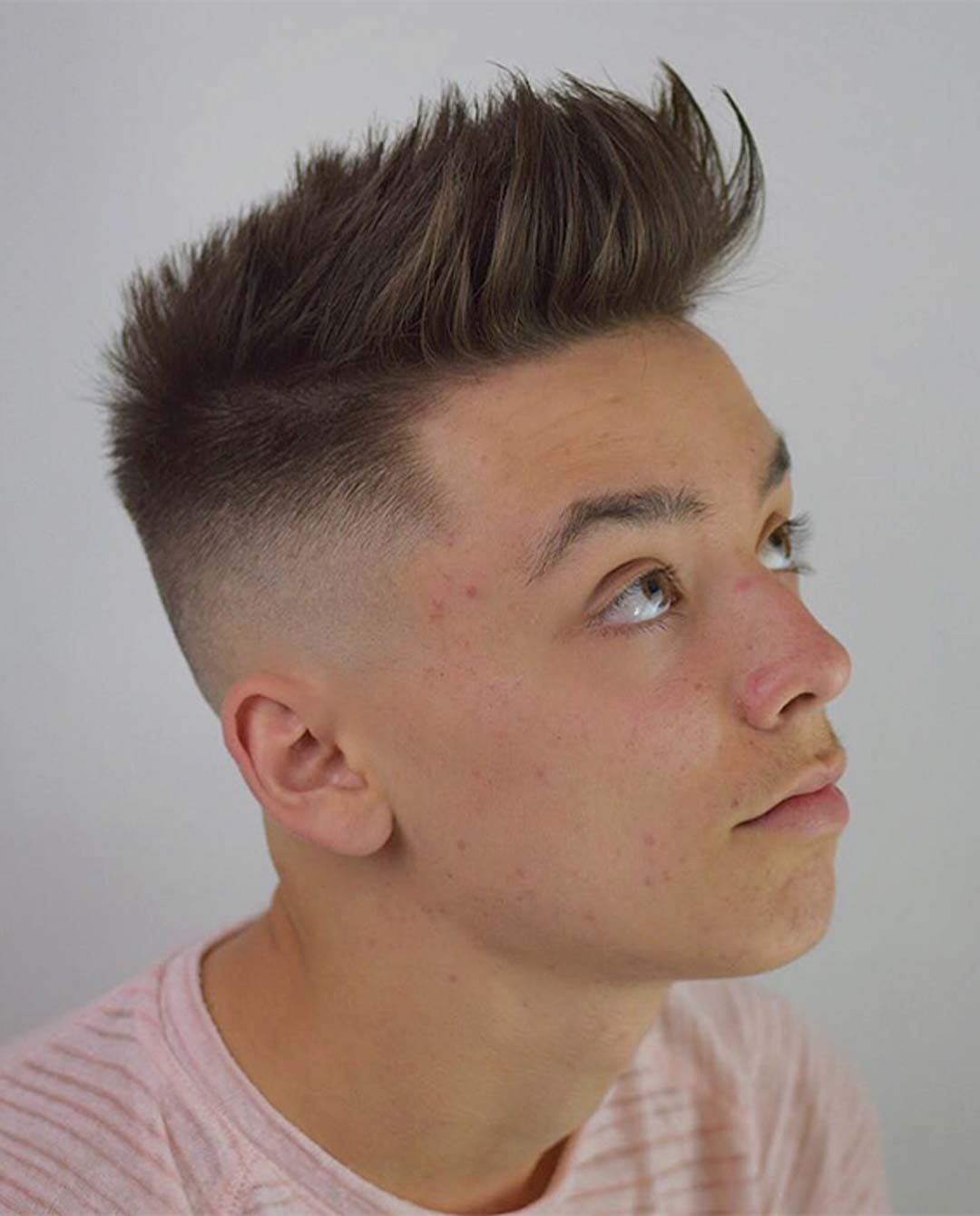 Faux Hawk with Spikes
The best faux hawks have multiple layers of spikes, allowing you to play around with the length and style to your liking. This hairstyle is perfect for teen boys and is an edgy, punk look that embraces natural texture. 
Ensure that the hairstyle is suited for the face shape of your head. To make your faux hawk look more stylish, you can use a hair volumizing mousse. For this, you must make sure that the hair is applied only to the top part of your head. You should brush the hair from the back to the front. To achieve the most spiky and edgy look, use a hair product. A comb with a coarse bristle tip will work well. Avoid using it on the sides. Finally, use a pomade or hair gel to create a wedge shape.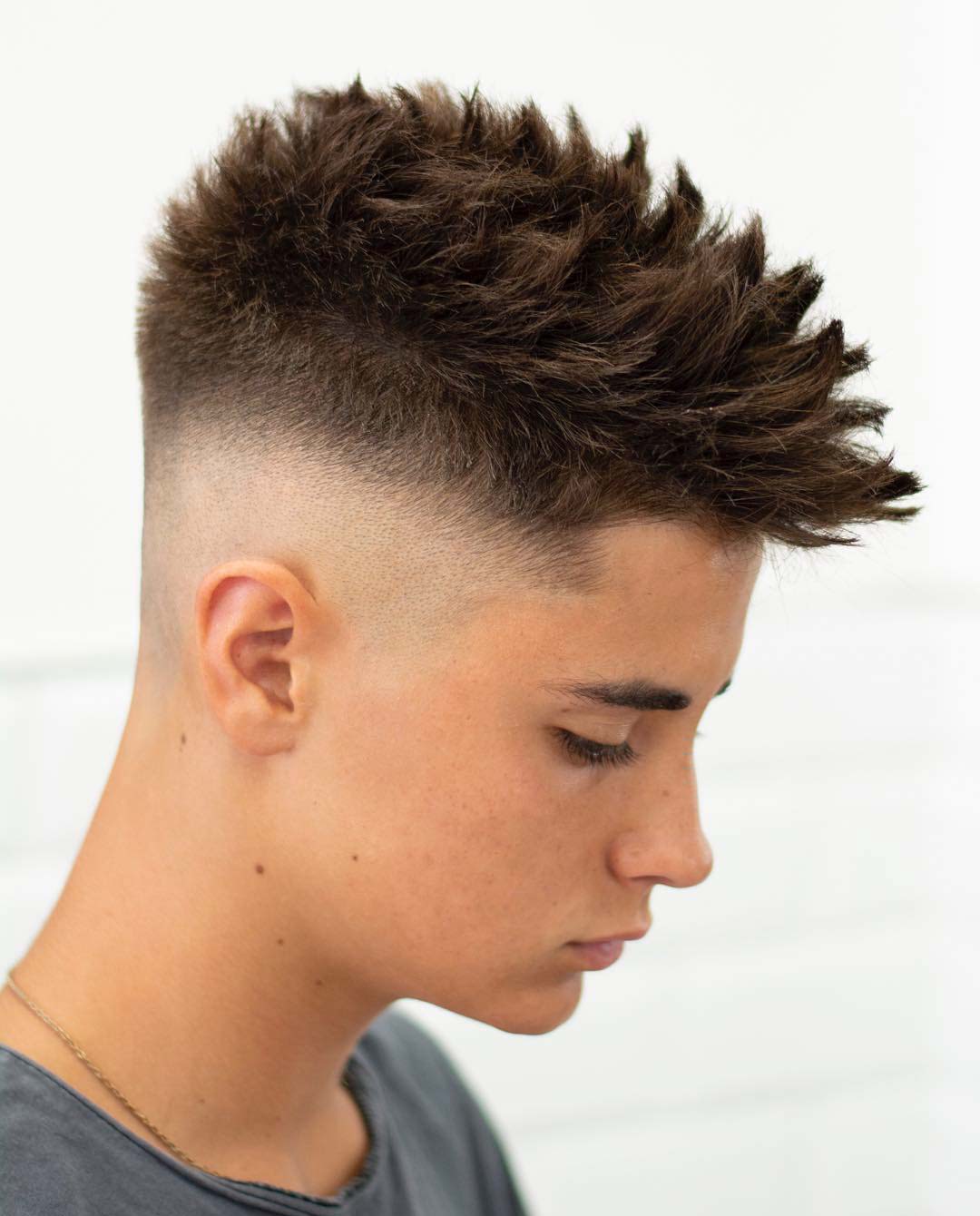 Comb Over with Skin Fade
The voluminous comb over and skin fade blend very well together. They are both ideal for wide faces, and they can be styled to fit the shape of almost any face type. A medium hold pomade or gel is all that is needed to achieve this look. These two styles are great for teen boys and men with square or round faces.
The first of the two is the bald fade. This hairstyle combines a comb over with a tapered fade to create a more natural look. A bald fade looks very sharp at first but will grow out over time. This hairstyle is usually worn by guys with round faces and can help avoid an overly disproportioned look. A bald fade comb over is a classic style that was popularized by Francesco Amoroso.
The skin fade comb over requires medium hold dirt and gel and should last for about two weeks. Using a razor and a medium hold dirt is the best choice for this type of hairstyle, as it will help you achieve the look you're aiming for.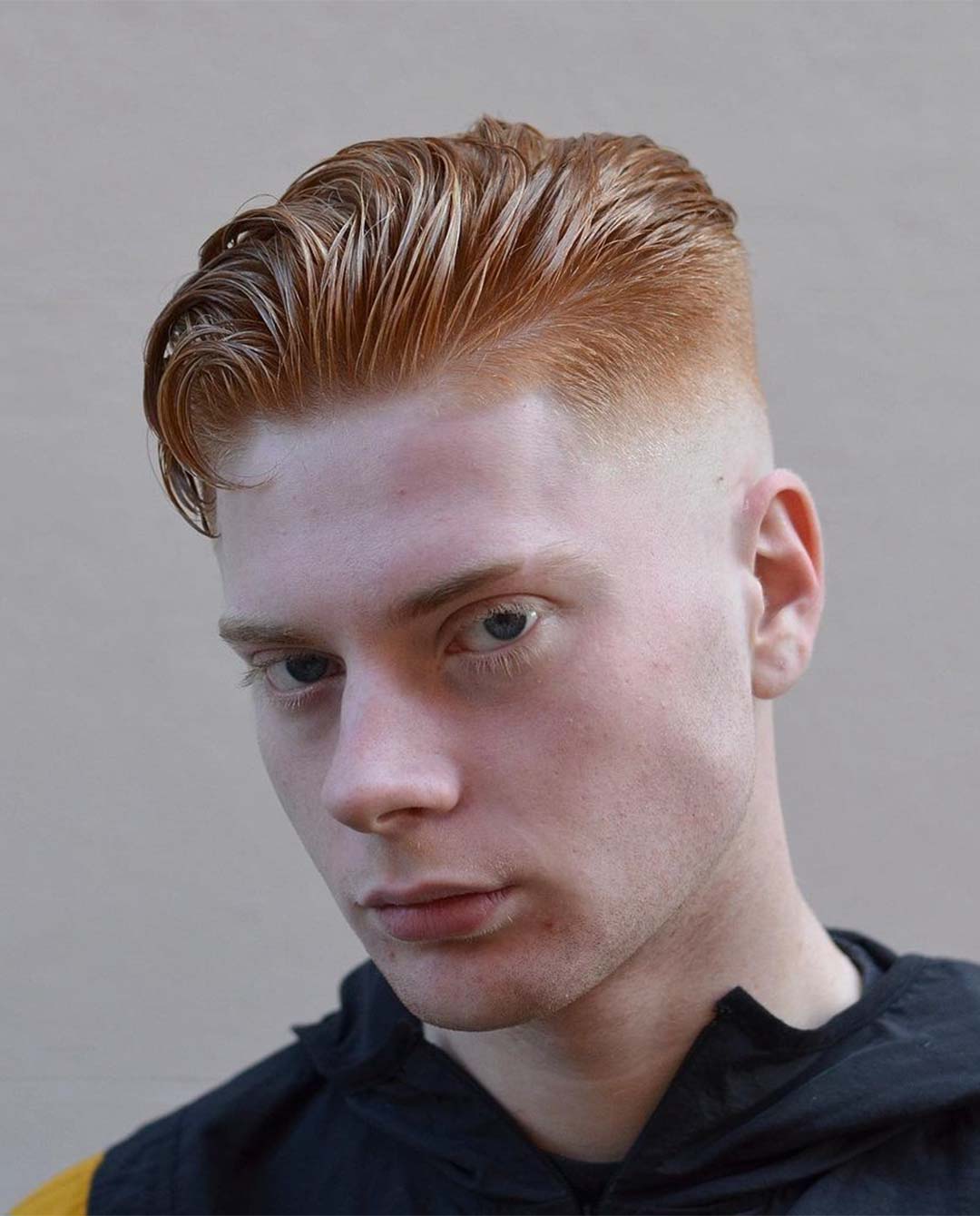 Brushed Up Undercut
The Brushed Up Undercut is a variation of the regular undercut, inspired by the greaser aesthetic of the fifties. This cut goes well with both classy and casual outfits and is perfect for any occasion. Obtaining this look requires the use of a high-quality hair product, such as pomade. The hairstyle will have that glossy shine due to the pomade. This hairstyle is a favorite among teenagers who are seeking a clean, classic, and stylish look.
This undercut has a softer look and is ideal for laid-back guys. It accentuates the hair on top and is great for those guys who like to live on the edge. A combination of the undercut and lift will look great on a man with a hard part. Moreover, it will help him create a fake hawk. Once you have your hair in place, you can try a brushed up undercut to improve your look.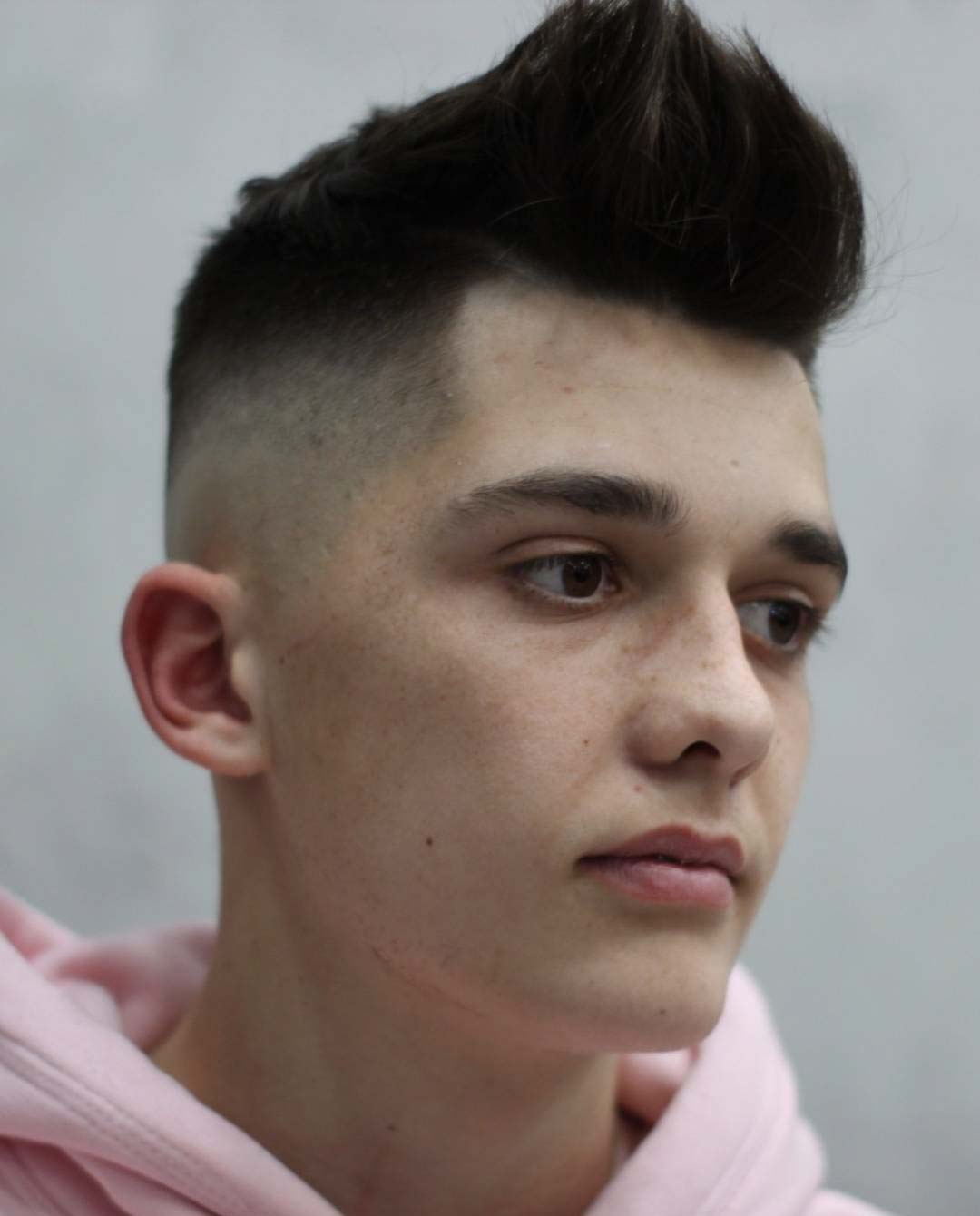 Textured Comb Over
This style can be dressed up for special events or casually worn on a daily basis. If you have thick, wavy hair, you should ask your stylist to shave one part of it. This will help hold the waves in place and give them a sleek, outlined shape. The rest of the hair can be left natural, or you can add some texturizing and layering.
This classic style features long hair on top, with a slight fade on the sides. Long textured hair on top is brushed in any way you want. The comb over side is tapered and cascades down the side of the face. The hairstyle has a relaxed, cool look, and looks best with highlights.
The textured comb over is a great way to dress up a more established style. Usually, a comb over is a clean, professional cut, but a little texture gives it an effortless beach vibe. This style works best when paired with a fade or a long length. You can also use styling clay or cream to add texture to your textured combed over.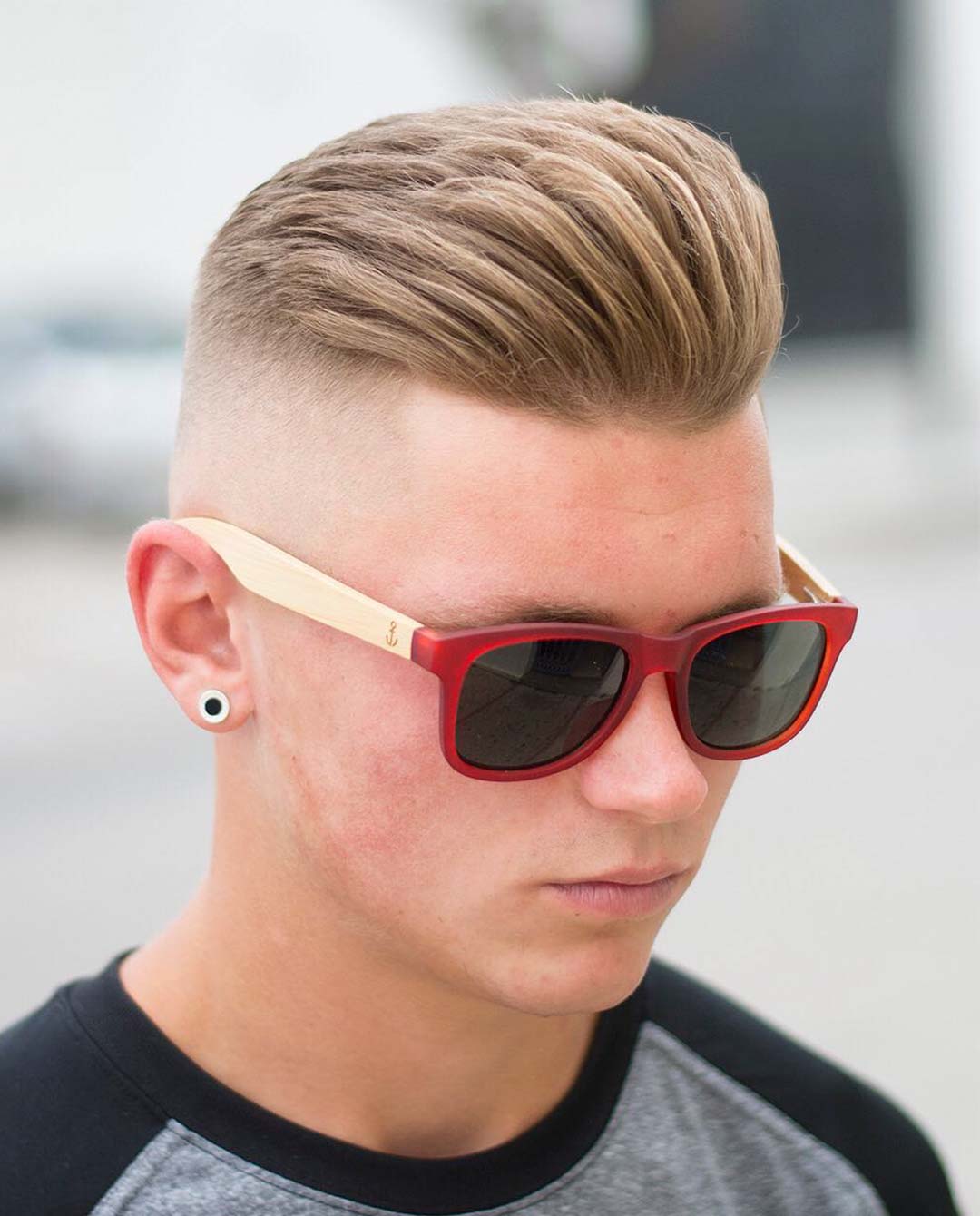 Textured Style with Middle Parted
This style is very versatile, and you can tailor it to your hair length, thickness, and type. A textured style with a middle part is a popular choice for teen boys with short and medium hair. It's easy to maintain and looks great on most types of hair. 
You can achieve this style in a variety of ways, but it is best to start with a center part and use a texture spray or gel to keep your hair in place. Leaving the side part untouched can make it look unkempt, so use a texture spray or leave-in conditioner to keep your hair hydrated. You can also wear it curled or straight. Don't forget to add some hairspray to your middle part to make it look sleek and voluminous.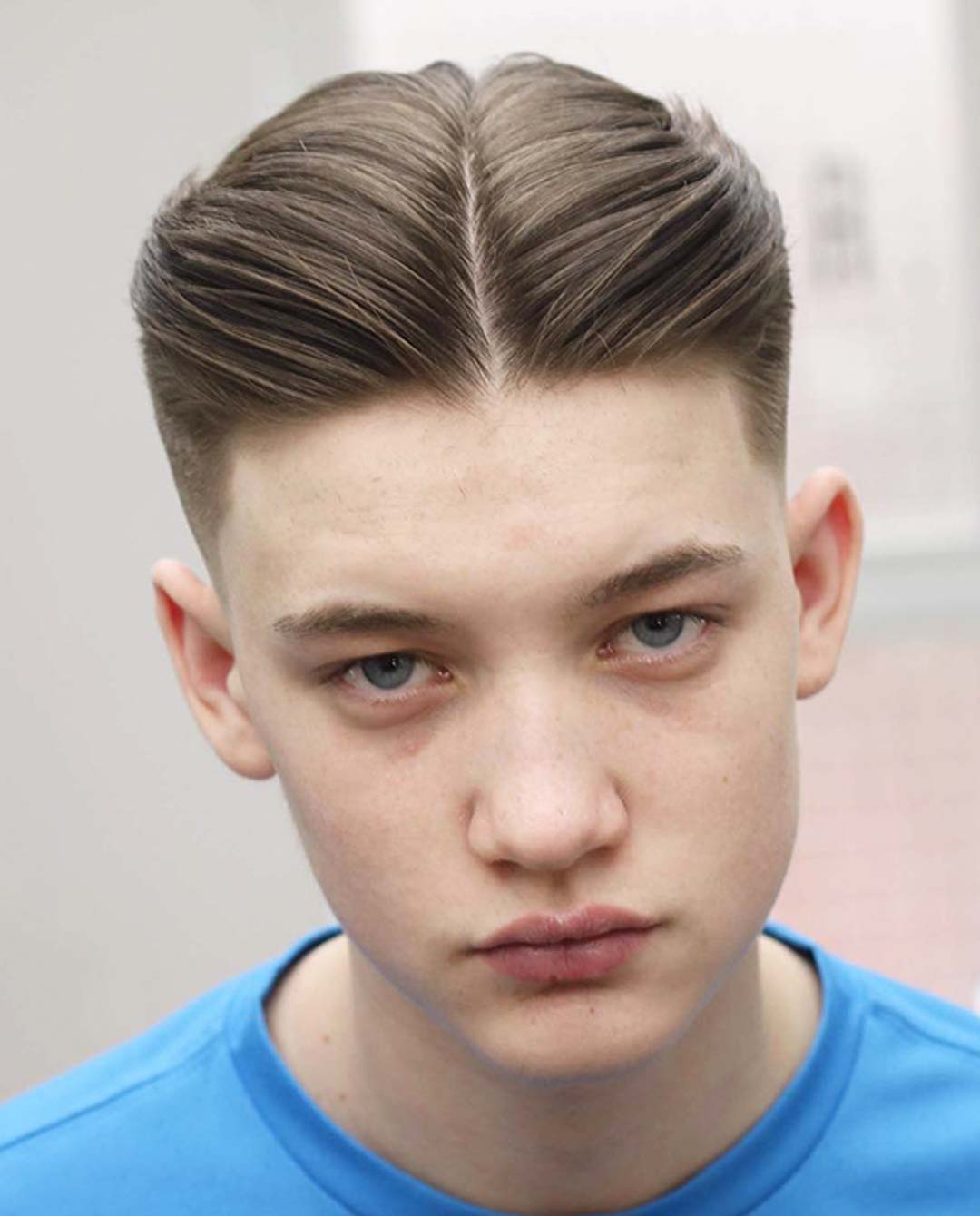 Low Skin Fade for Teen Boys
A low skin fade is a classic haircut that starts a half-inch above the ears. This teen boy style creates a dramatic contrast between the long top and short sides. It wraps the rest of the hair around the reference line to make it look longer than the hair on top. It's a good choice for a first-timer who wants to wear a skin fade but does not want to go overboard.
A low skin fade is perfect for a high-contrast look and is easy to customize to different face shapes and hair lengths. The razored-line style is great for those who want to play with their hair lengths on top and sides. The shaved sides help balance the overall look. This style is ideal for those with fine hair and has minimal maintenance. However, it is best for teenage boys with short, thin hair.
The length of the top hair must be shorter than the side hair to achieve the desired look. If you have thick hair, you should consider a higher cut with a layered hairstyle. Besides, you can also combine the low skin fade with a French crop or a line-up to give it a more aggressive look.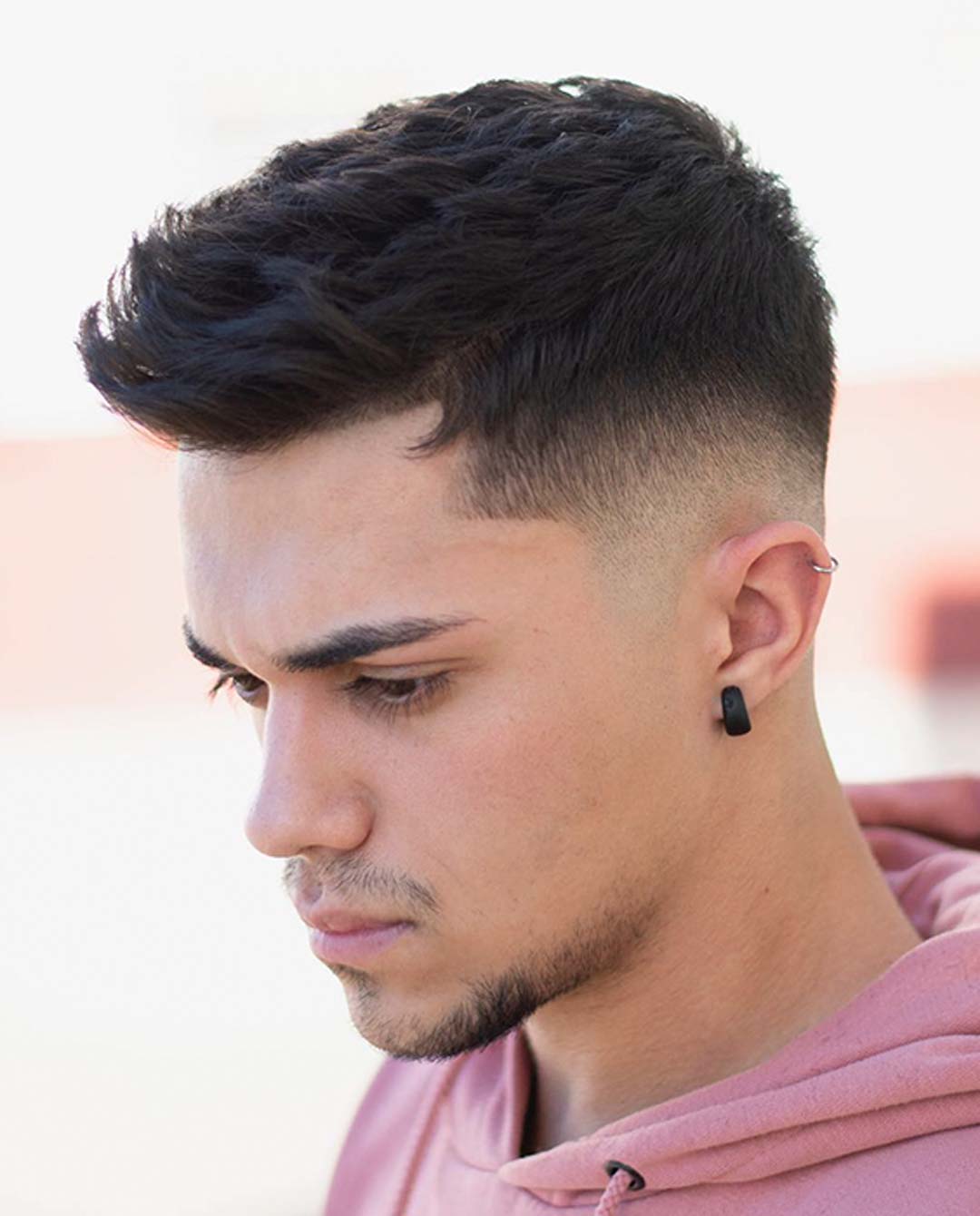 Red Hair French Crop
The French Crop is a trendy haircut for red hair teen boys. The style can be clipped or cut. It looks best when it has texture and allows light to shine through it. 
Ashy gray is a popular choice for this cut. Platinum blond is another widespread color. Either way, you'll look fantastic with this cut! Make sure you find a color that works well with your skin tone and personality! Just remember that this style is not for everyone. 
The crop's short length also makes thick hair easier to manage. Adding a little hair gel or balm to your hair before you get your cut is a great way to make your hair look amazing.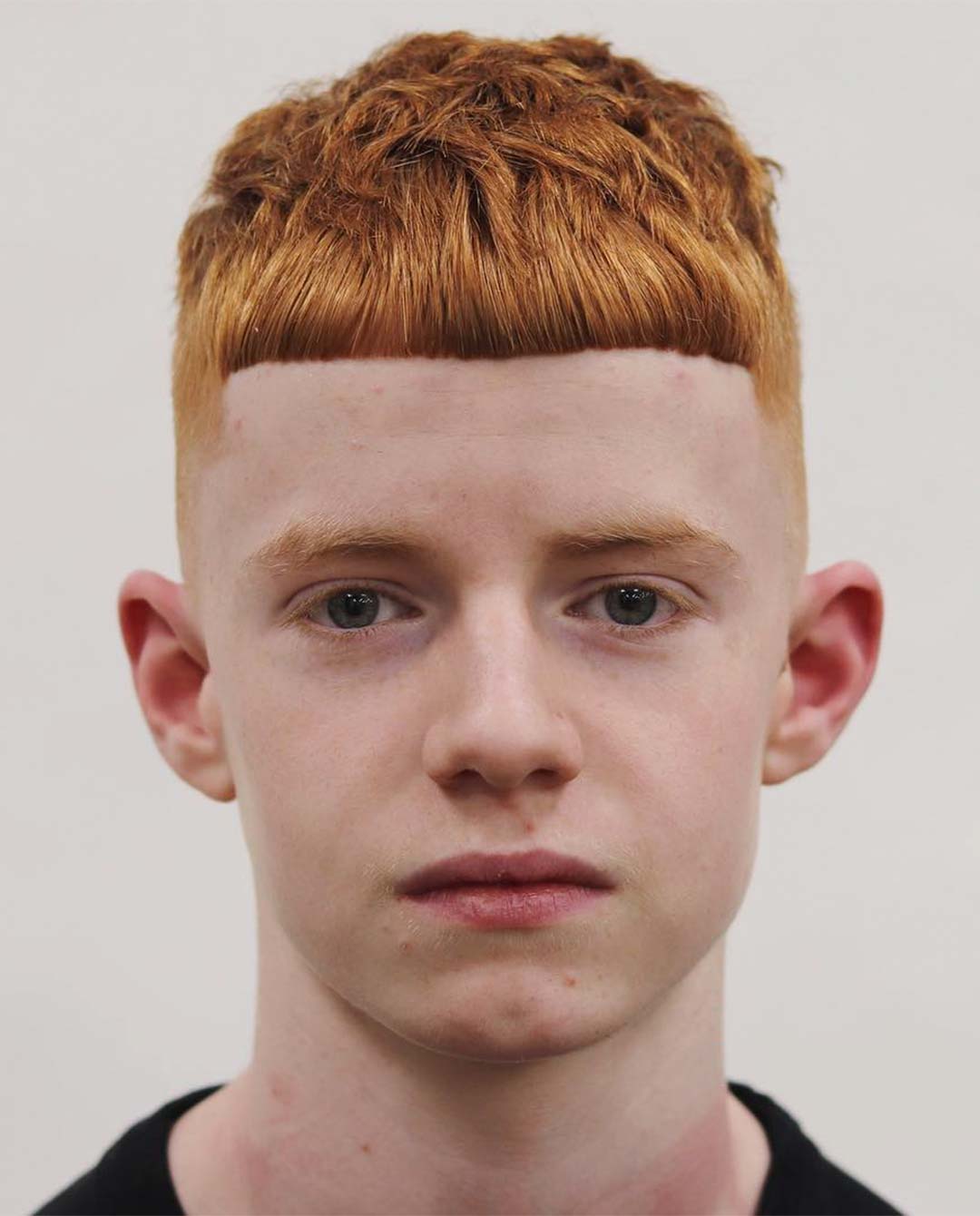 Afro with Temple Fade
If you're a black teen boy, you'll want an Afro haircut with a temple fade. This haircut is more subtle and defines the shape of your head while allowing you to see your face. 
For younger men, this style is best for medium-sized afros. The temple fade creates a softer transition from the hairline to the face. This haircut also looks great on boys and young adults. This hairstyle is perfect for kinky curls and works well with almost any facial structure.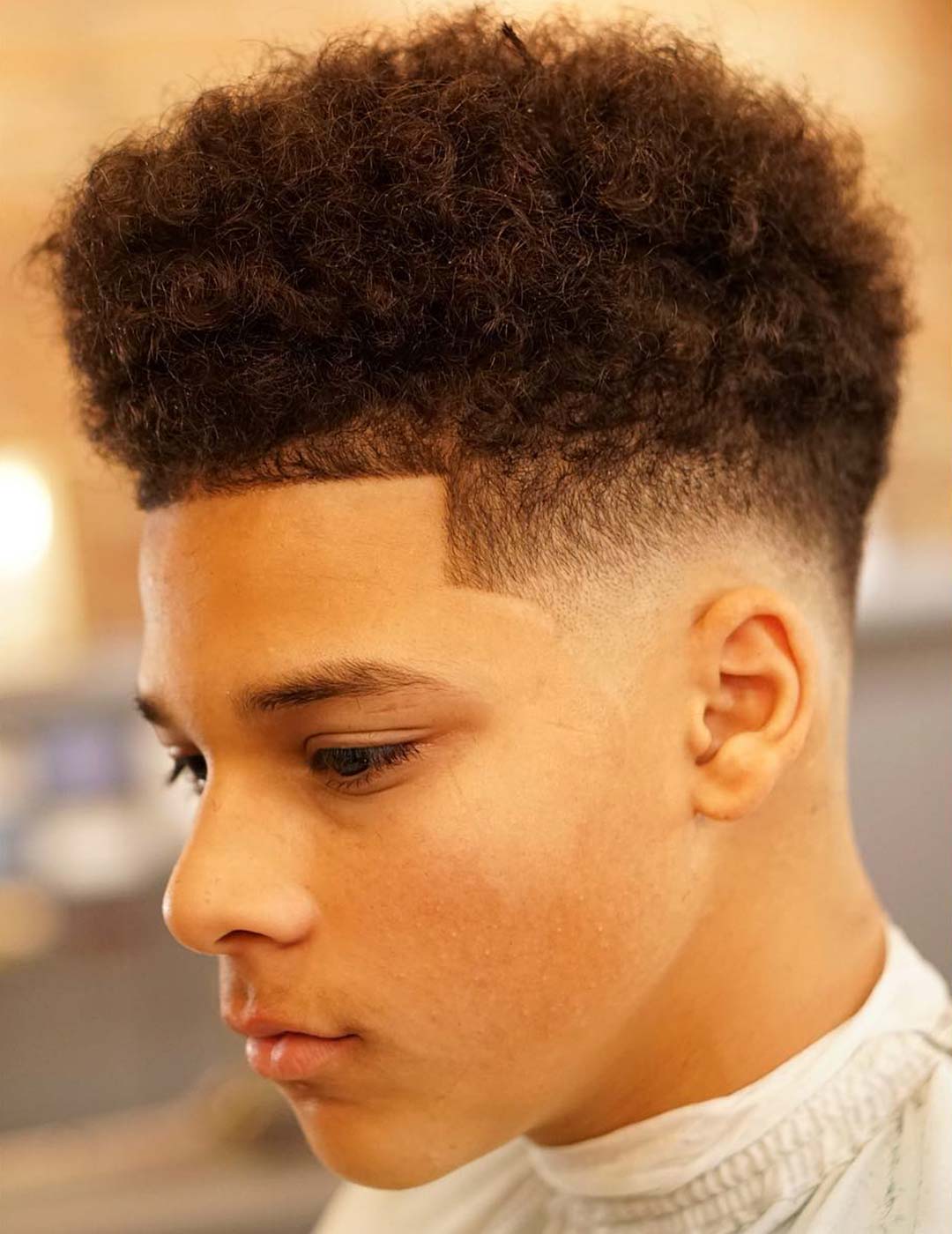 Textured and Dyed
The combination of light and dark colors creates a seamless contrast. The texture of the hair will stand out, causing people to stare at you. If you want to add color to your hair, there are several tips that you need to remember before you make an appointment.
The first tip for a textured and dyed haircut is to find a stylist who specializes in this particular style. The hairstyle is often very versatile and can be worn by men of all ages. Because of its natural texture, this style can be easy to maintain. It is ideal for guys with curly or wavy hair. The hairstyle does not require much maintenance. A good stylist will use styling products to keep the hair looking polished and shiny.
The sides and back are buzzed, and the top is left long. The angled top is left longer than the sides, which adds more contrast.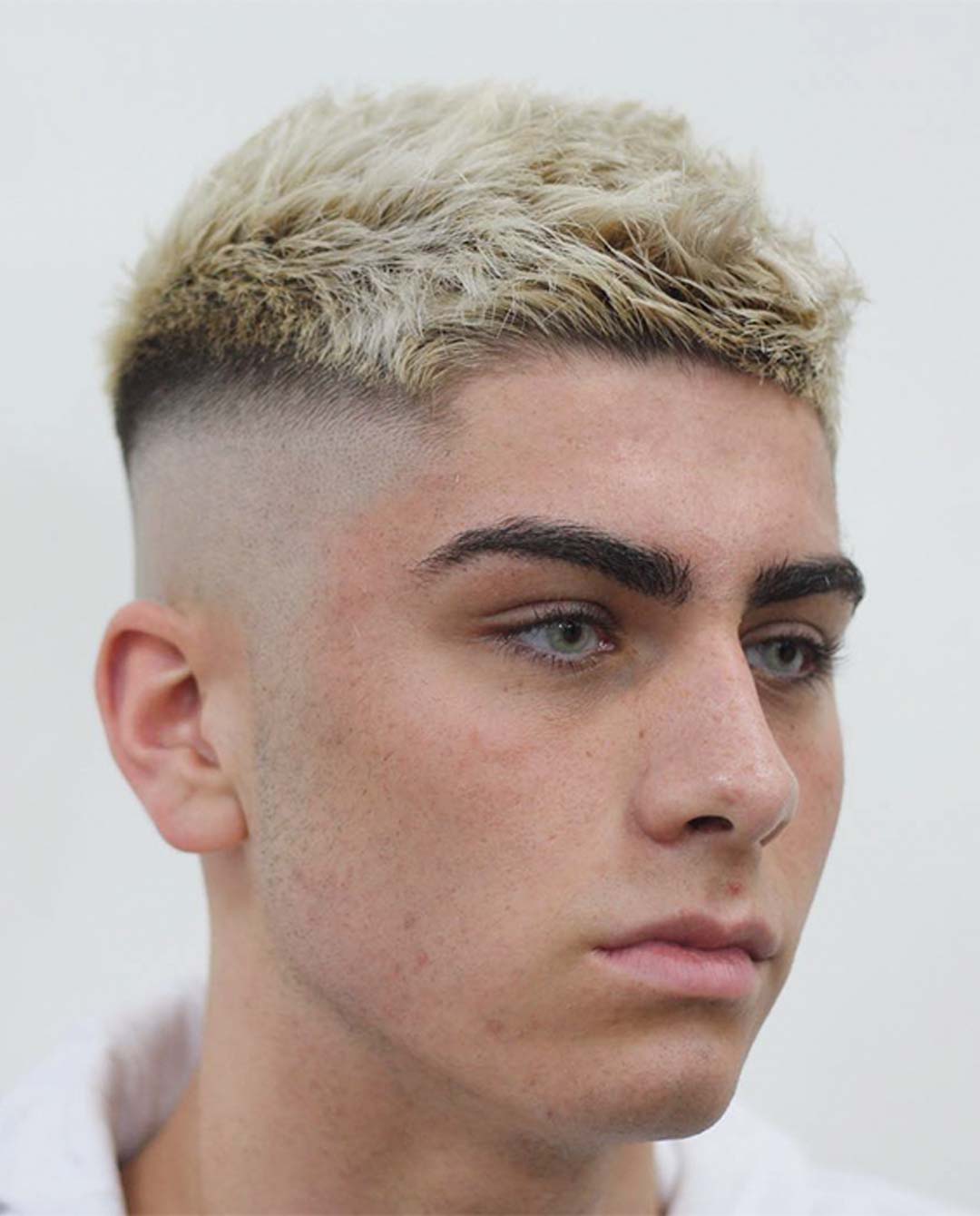 Long Angular Fringe
Depending on the length of your hair, you can push the front fringe over your ear, tuck it behind your ear, or style it straight. The fringe with an angular cut is asymmetrical in appearance, with the front section pushed to one side while the flanks are shorter.
You can ask for a shorter fringe or one that is longer. Choosing the right cut for your hair texture and facial shape can help you look your best. The most useful part is that there are several ways to style an angular fringe. You can choose a rocker-style look for a day at the beach, or wear it in a softer, more natural way for a night out on Wall Street. This teen boy haircut can suit any face shape, but it is usually best worn on teenage boys with round faces.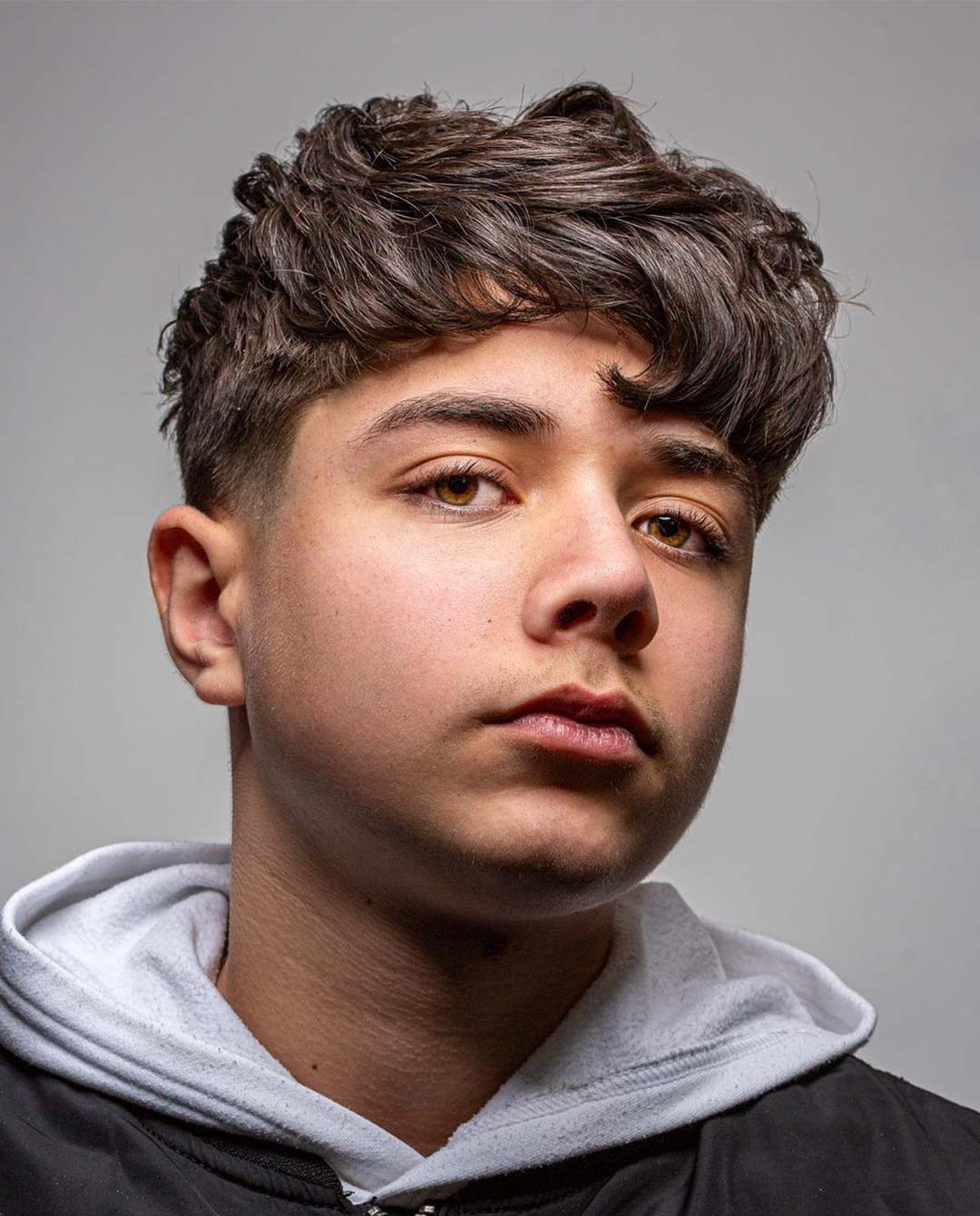 Textured Fringe haircut
The textured fringe works well with most hair types and faces. A fringe will add height and texture to the hair, and it's very versatile – it can be trimmed longer to skim the bridge of the nose, or shorter for texture or to change the part line. 
For those with thick hair, a textured fringe can help hide your forehead and make you look sexier. It's easy to maintain and doesn't require a lot of effort. The textured fringe style looks great on guys with a square or long face shape, but it's not a good fit for people with a round or oval face. To choose the right haircut, think about your face shape. 
If you want a messy look, a textured fringe can work for you. You can use wax, pomade, or a volumizing mousse to add height to your hair. Just remember to match your style to your facial features.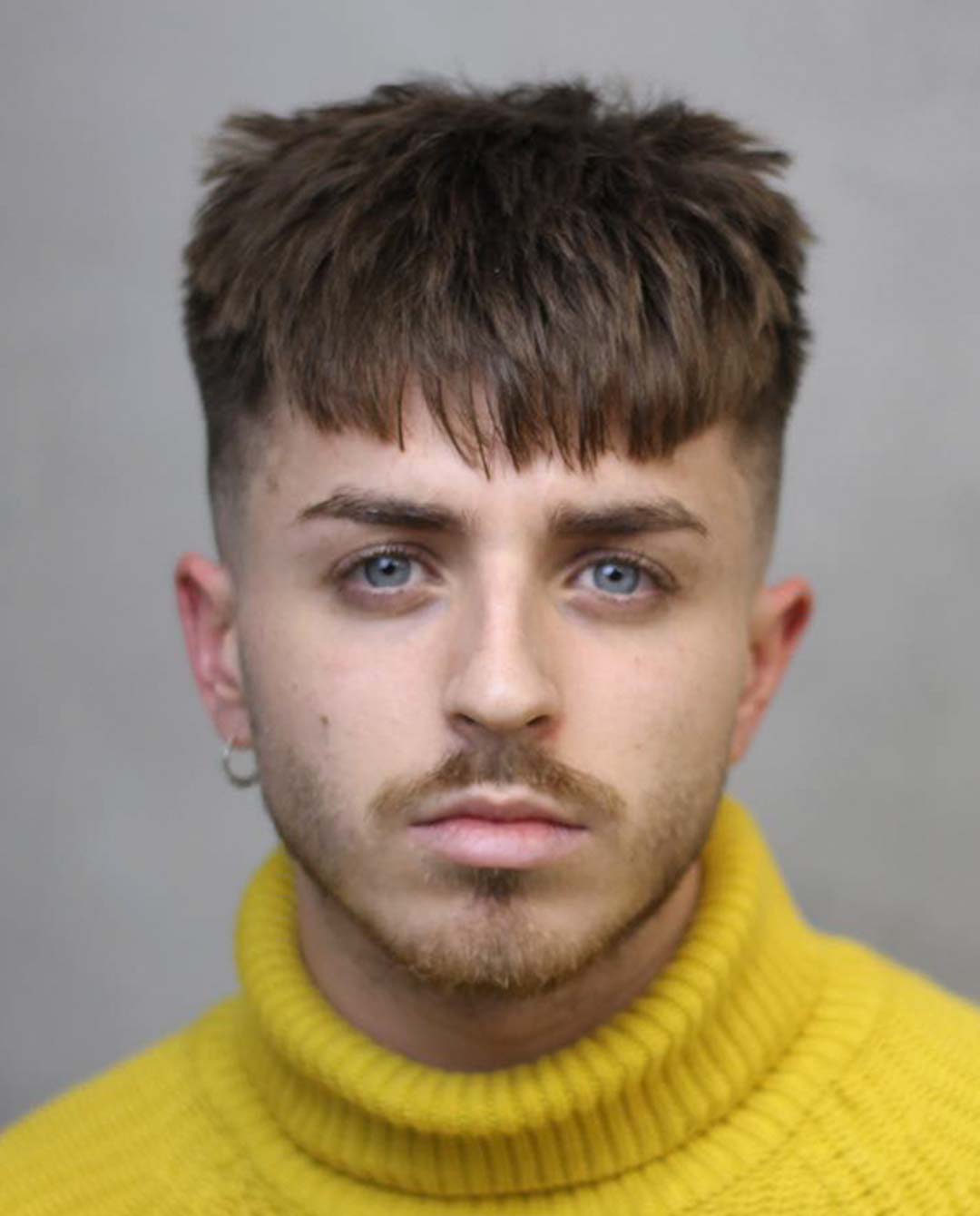 Teen Boy Perm Hairstyle
A perm can transform hair into a bouncy, wavy style. This style works well for medium-length hair, but is not suitable for extremely thin or layered tresses. Here are some tips on how to get the perfect perm for your hair type and texture. A perm should last a few months before the curls start to fall out. However, if you want a shorter perm, choose a bob style.
First, consider the length of your perm. If you have very short hair, a perm can add volume to it, giving it a more defined look. Also, a perm can last several months, depending on the chemicals used. This teen boy style requires more time than a typical blowout, and it may take up to two hours at a salon. If you have thick or coarse hair, a perm can add volume.
A perm can be paired with a bowl cut. For a manly look, a perm is a great way to add texture without the hassle of a longer cut or a perm. A bowl cut can be mixed with a perm, while a side shave can create a subtle focus towards the perm. A perm can draw attention to your handsome features, such as your beard or jawline. It also helps hide a high forehead or create bangs. If you are planning to color your hair, you should opt for a blonde hue with a red undertone.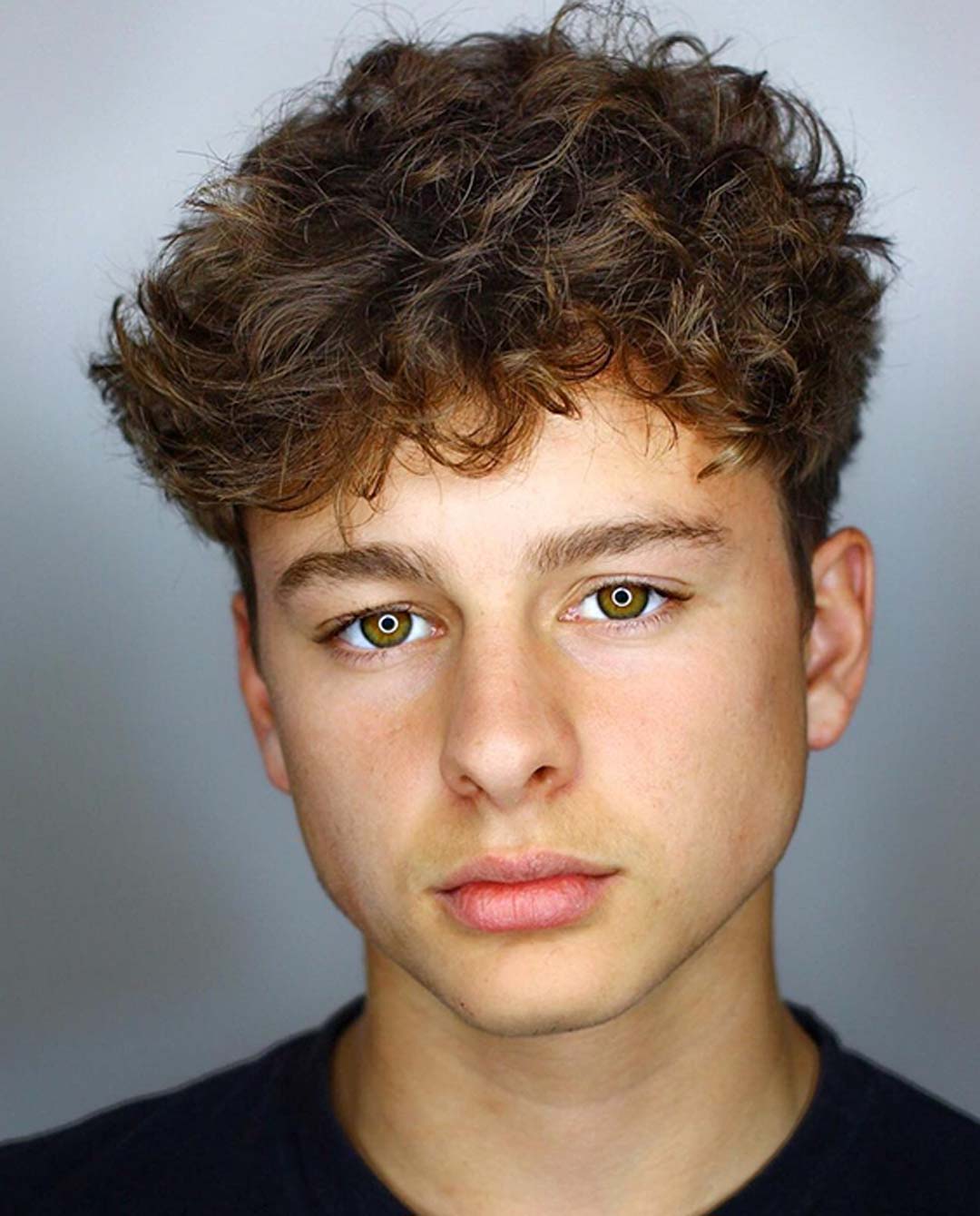 Comb Over and Textures
The comb over style is an effective way to add manageability to hair. This teen boy cut requires a well-executed cut and styling product. To get this look, Mikal Zack at Lefty's Barbershop created the Natural Pomp look. 
The comb over haircut matches various hair lengths and textures, which make it very versatile. You can experiment with the back and sides by adding a fade, hard part, or full shave. You can also add a taper, transitioning from long to short hair. This teenager haircut is best suited for those who have long or thick hair. You can use Pinterest to find the right style for you.
For side parting, the comb over is a great choice for guys with oval faces. They have the most liberty with this hairstyle. They can experiment with different comb lengths, Fades, and Undercuts to achieve their desired look. Be careful not to use a style with too much softness or too much volume. You can also try a low fade to reveal a more masculine jawline.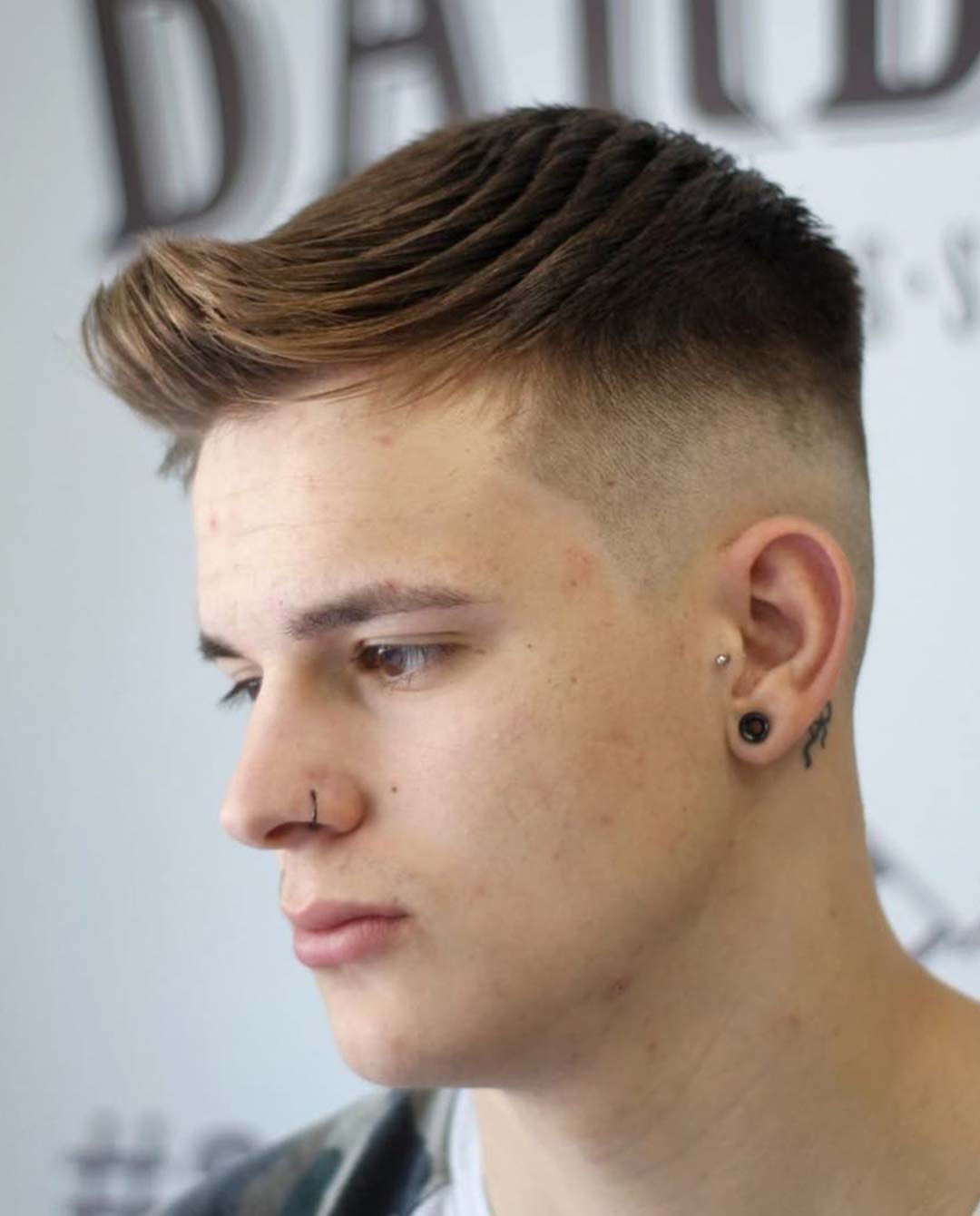 Jelly Roll with Highlights
A Jelly Roll is a hairstyle that has a long top with short sides and long sideburns. The sides are faded and combed in a fashion that resembles a Swiss roll cake. You can get it with or without highlights. Just make sure that the hairstyle fits within the line up window and you're able to comb your hair forward.
The Jelly Roll is a 1950's hairstyle for boys that combines the Pompadour and Jelly Roll. This style is typically a medium length with long sides and a high undercut. The top hair is combed out and curled, with a ruffled texture and a tight peak. The rest of the hair is cut short and tapered with highlights, leaving the front strand curled around the head.
The hair is parted into two sections and combed from the right temple to the top. The front section is brushed out over the head. The top section is styled with a tightly coiled peak and ruffled texture. The sides are tapered and the top section is styled in a jelly roll detail. The strands are long enough to cover the entire head, with the bottom part being tapered.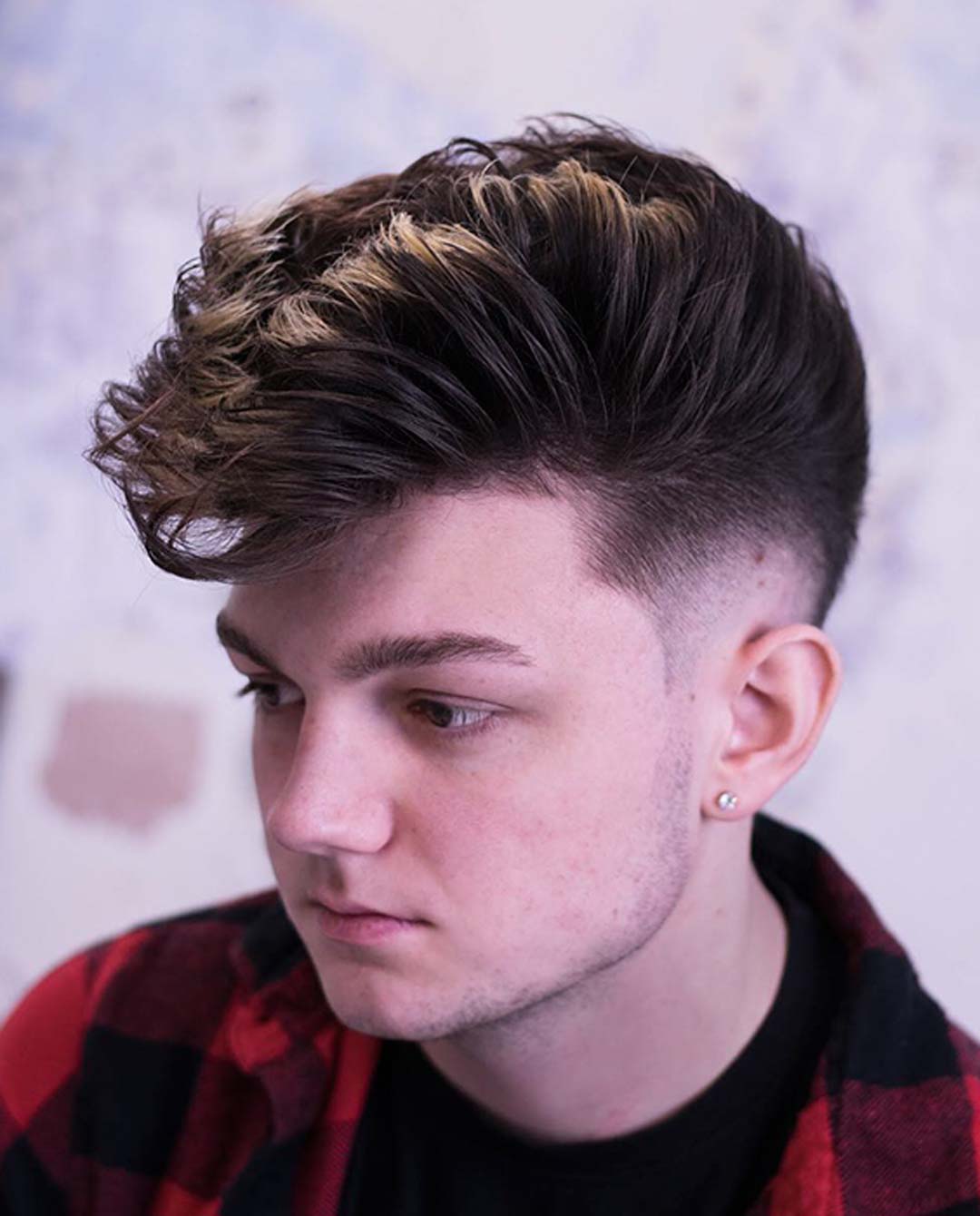 Brushed Up
This style is one of the simplest to achieve and is also very versatile. The hair at the front of the head is brushed up to a medium length, while the sides of the hair are left short. A brush up can be achieved with the use of pomade or gel. If you are unsure of how to style your tresses, you should ask your stylist for tips.
To get this look, you should have two to four inches of hair at the top of your head. If you have long hair, it will not stay up for the entire day. It's important to experiment with the length and styling product to see what works best for you. This teen boy hairstyle is a great option for any man who has a short face and wants to emphasize his features. The key to a successful Brushed Up haircut is to experiment with the length.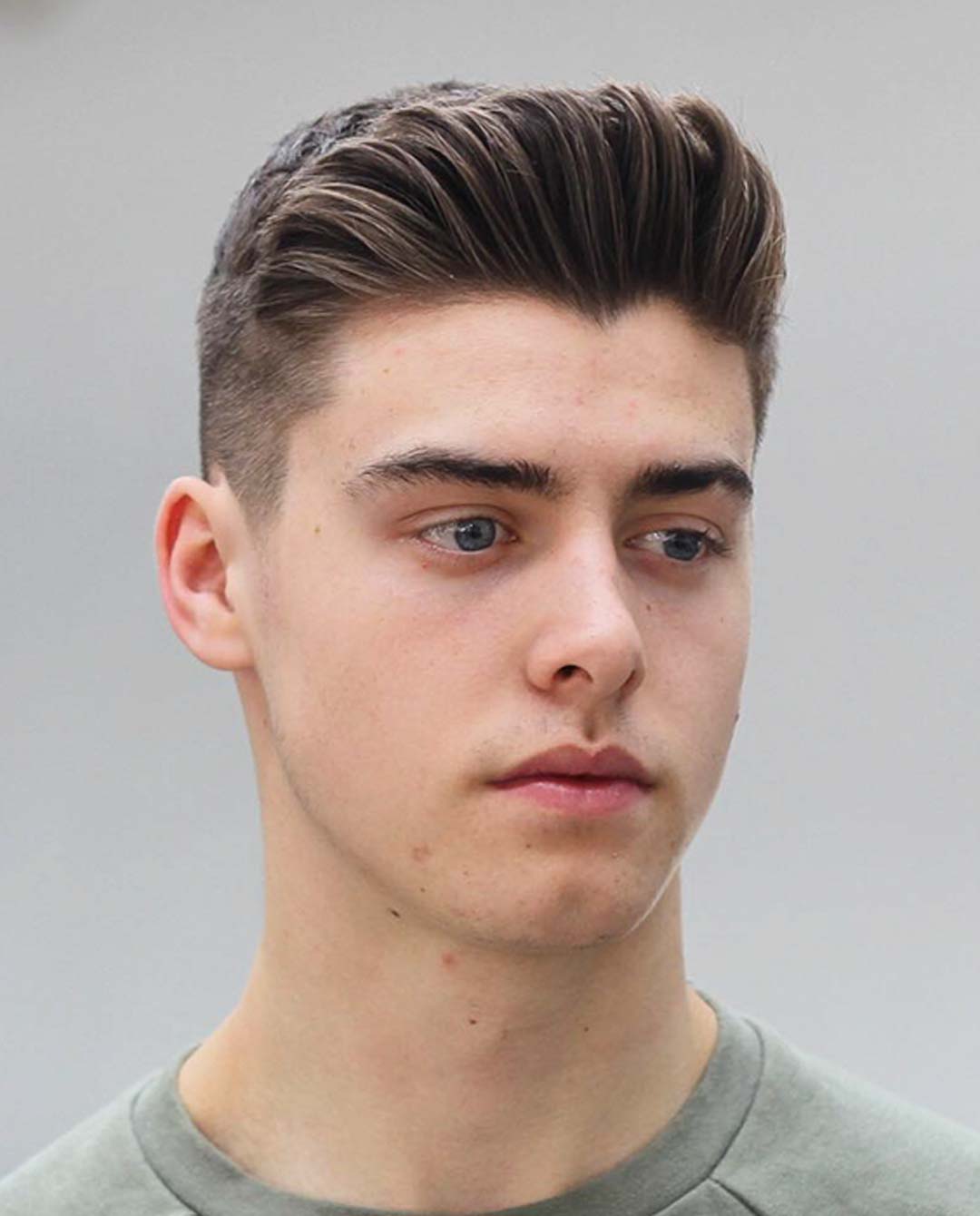 Dyed Top with Shaved Sides
If you're looking for a sophisticated and sassy look, the dyed top with shaved side is for you. This cut is good for achieving a casual look but is also very stylish and decent. If you have fine, wavy hair, this style can highlight your curls. It will require some effort to maintain, but the results will be worth it.
A Dyed Top haircut with Shaved Side is an excellent option for teen boys who want a more unique look. It emphasizes the hair on the top, making it easier to style. It is ideal for teenage guys who want to get rid of as much hair as possible.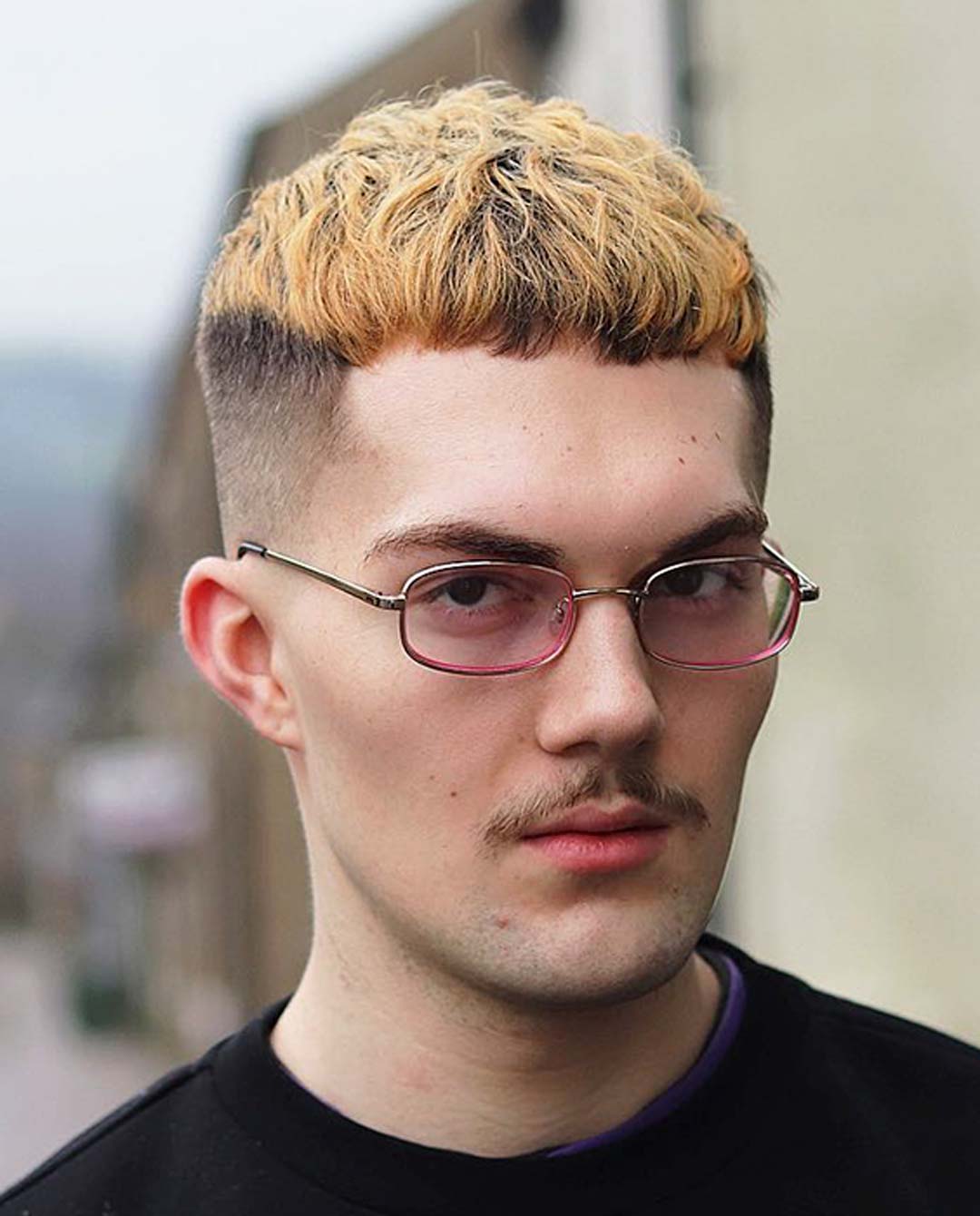 Messy with Drop Fade
The haircut is suitable for university or college students. This teenager haircut is also suitable for men who prefer unique looks. However, it requires clippers and some styling knowledge. The best way to maintain this hairstyle is by consulting a barber.  
This style can be paired with a short hairstyle or a layered cut. If you have thick hair, use clay or wax to add fullness to the top. This style also works well with a textured look.
A beard is the perfect finishing touch for this look. And remember to choose a beard for the look to balance everything out. And remember to keep the hairstyle light and wavy to avoid sagging at the sides.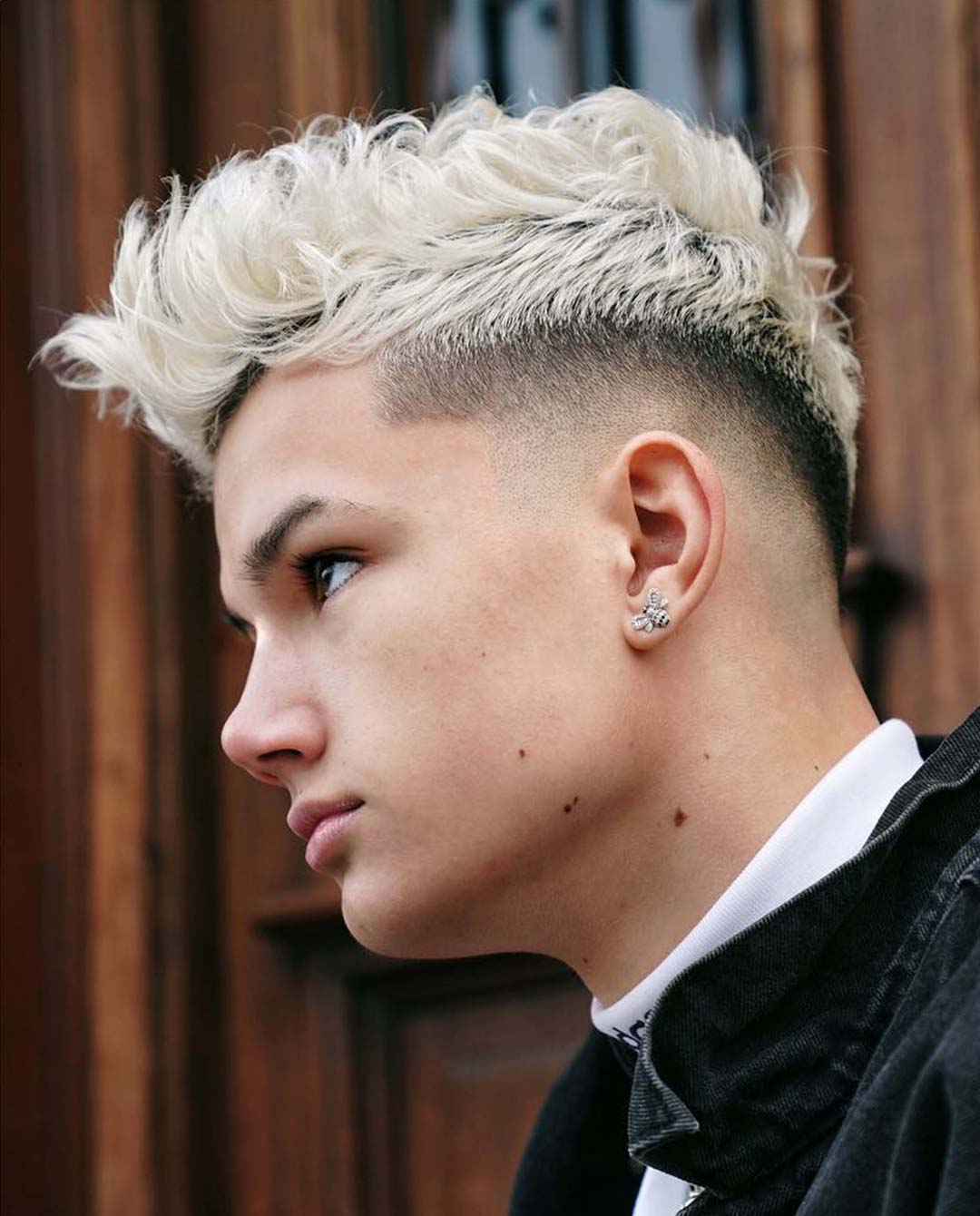 Red + Textures
The colour of red hair is usually deep burgundy, auburn, strawberry blond, and burnt orange. It may be natural or artificial, but always keep in mind that this color has a tendency to fade. You can easily achieve this look with a wide paddle brush, which is much more gentle on the hair. 
A french crop haircut can be a short, sassy look. It works well with most types of hair and suits most face shapes. It doesn't require too much length before the haircut – around one to two inches is usually sufficient. Before choosing a french crop, decide if you want a side or top cut. You can then choose the side you want or have it shaved.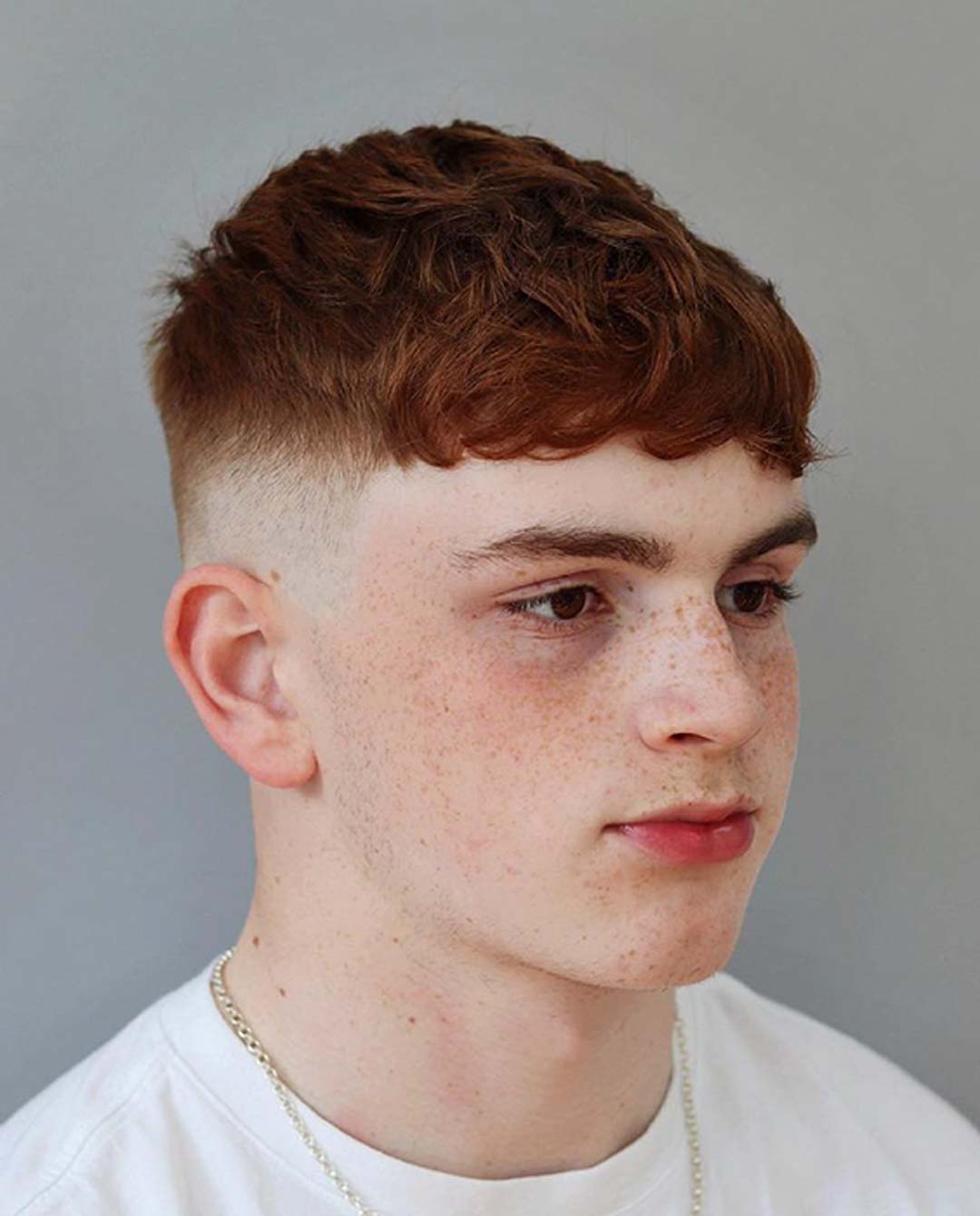 Faux Hawk with Line
A faux hawk with Line is an unusual hairstyle. If you have fine or medium hair, it will be easy to achieve a 'hawk look by using products that add volume. To make your 'hawk look even more realistic, use sea salt spray on wet hair or blow dry your hair to give it a messy look. You can also use a matte texture wax for added definition. Here are some tips to keep in mind while getting a 'hawk.
The faux hawk with line is a popular hairstyle for teenagers that takes its inspiration from the Mohawk. It has long sides and a raised triangle in the middle. The sides and back are kept short and clean. Those who have curly hair should go for a faded look. This style is perfect for formal and informal settings alike.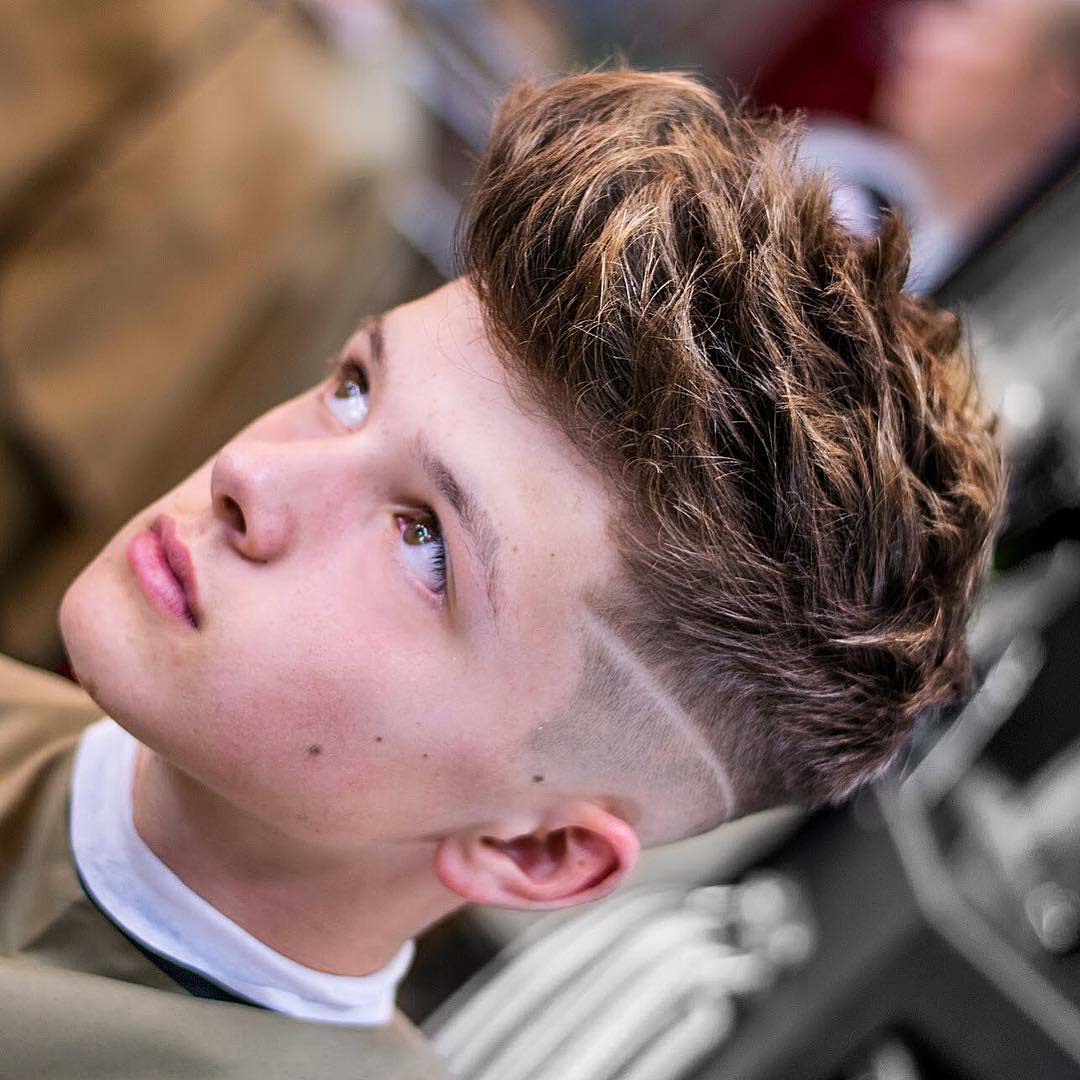 French Crop with Highlights
A French Crop with highlights is a versatile hairstyle. Casual grooming is helpful to keep the edges neat and sharp. 
The haircut emphasizes the curls and tangles on top of the head. The style is achieved by cutting the curls horizontally across the forehead. Then, you can use a styling product to set the look. Once you have your desired result, apply a good-quality pomade or gel. This will keep your hairstyle in place and looking great.
If you have thick, or long locks, a French crop with highlights will look great on you. A French crop with highlights can add volume and style to any head of tresses.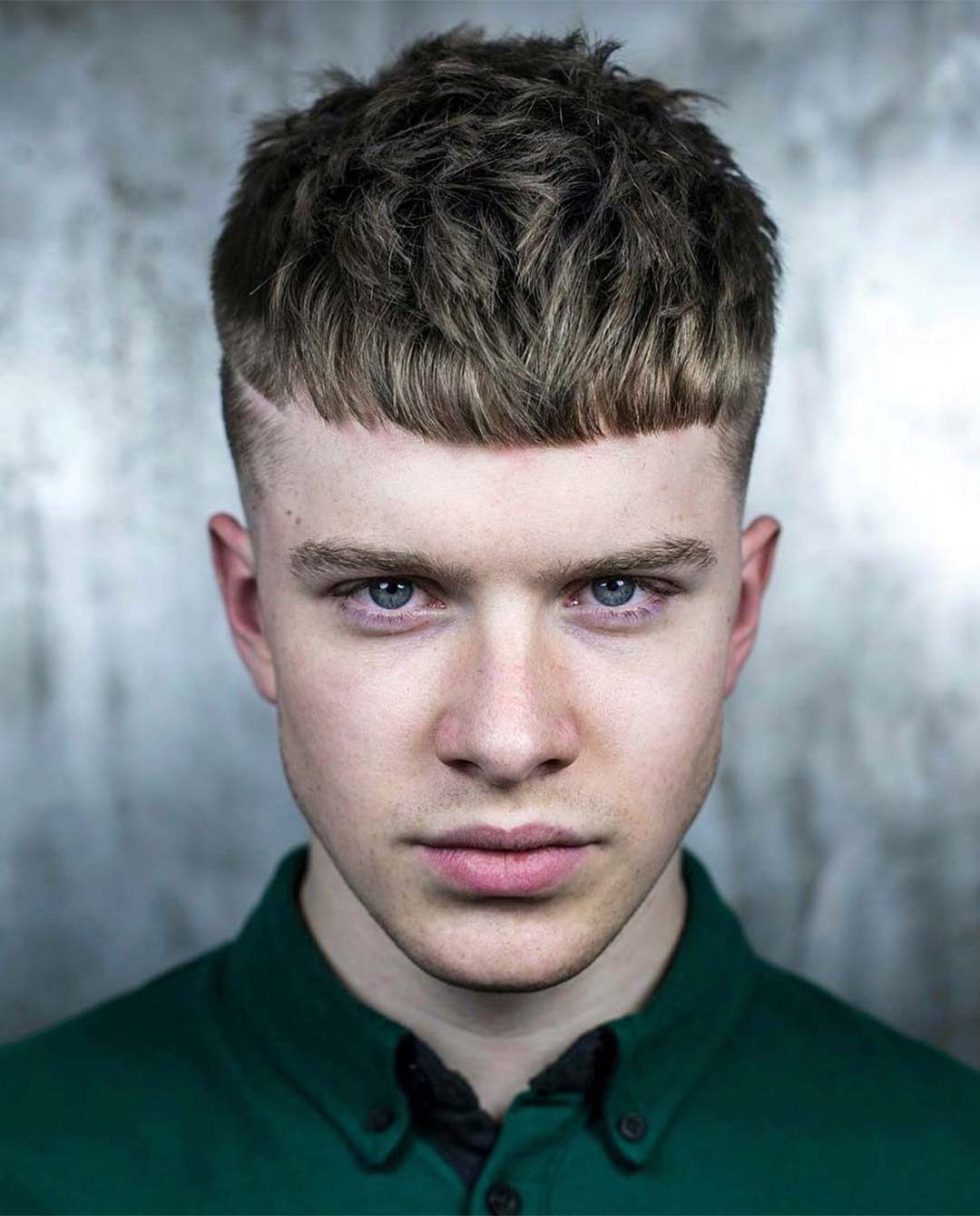 Teen Boy Cornrow Haircut
A Cornrow haircut is a classic style with intricate braiding. This style is often associated with black men but can also be a great choice for teen guys. Because cornrows are easier on the eyes, you can opt for a short or sleek version. Whether you choose a simple style or something more complex, the Cornrow haircut looks great on teen guys. Here are a few ways to wear your cornrows. They will make you look fabulous and have all the attention!
A Cornrow haircut can be made up of several different styles. These include tree braids, which are subtle yet attractive. A cornrow hairstyle is created by creating mini cornrows in a natural part, leaving the majority of the hair free. A tree braid is a popular style that was very popular in the early 2000s, and they add a stylish contrast to straight or wavy hair. Its edgy appearance is an edgy look that nods to the wearer's roots.
This teen boy haircut is the perfect style for summer vacations or an easy protective style during the heat.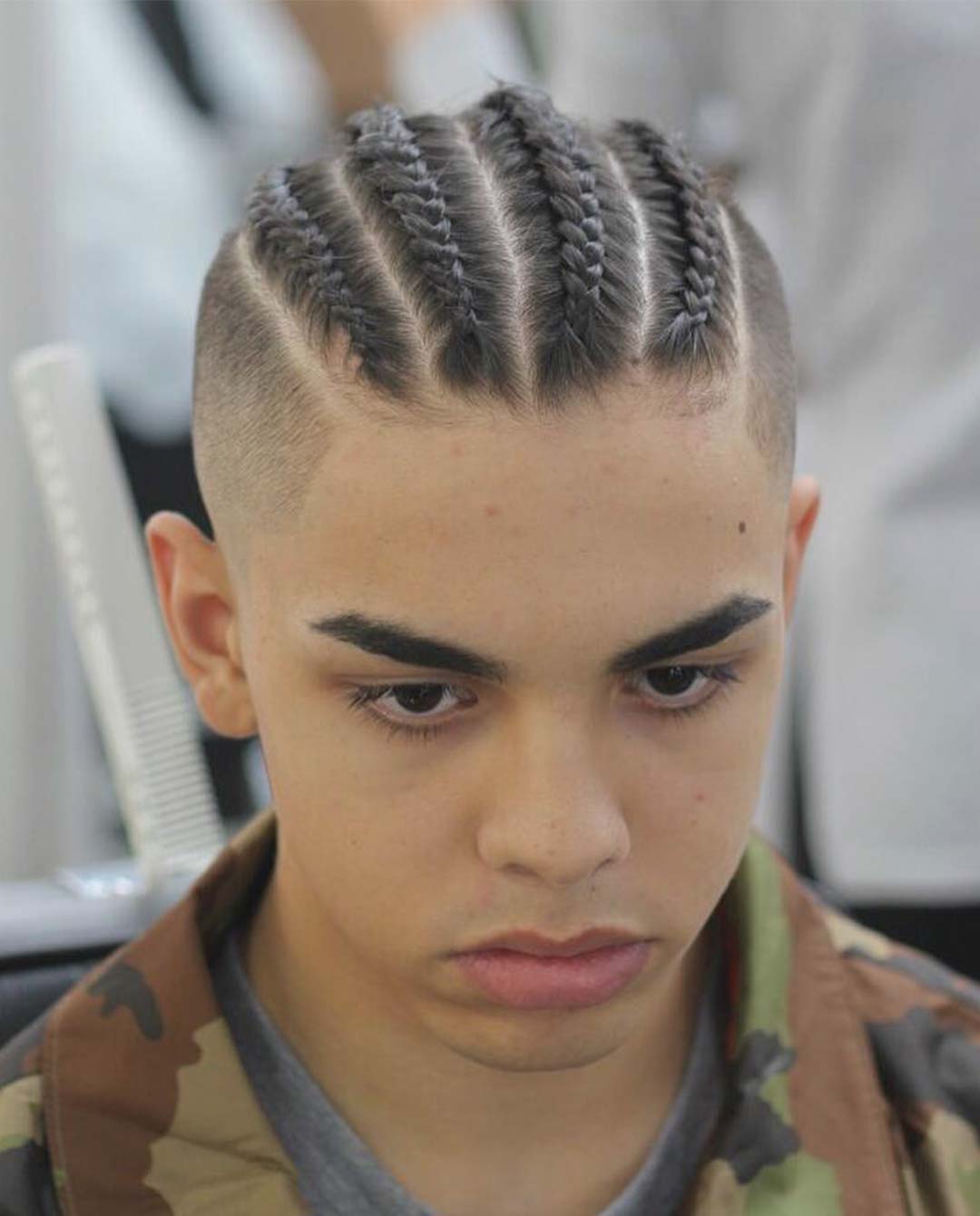 Middle Parted Hair + Wings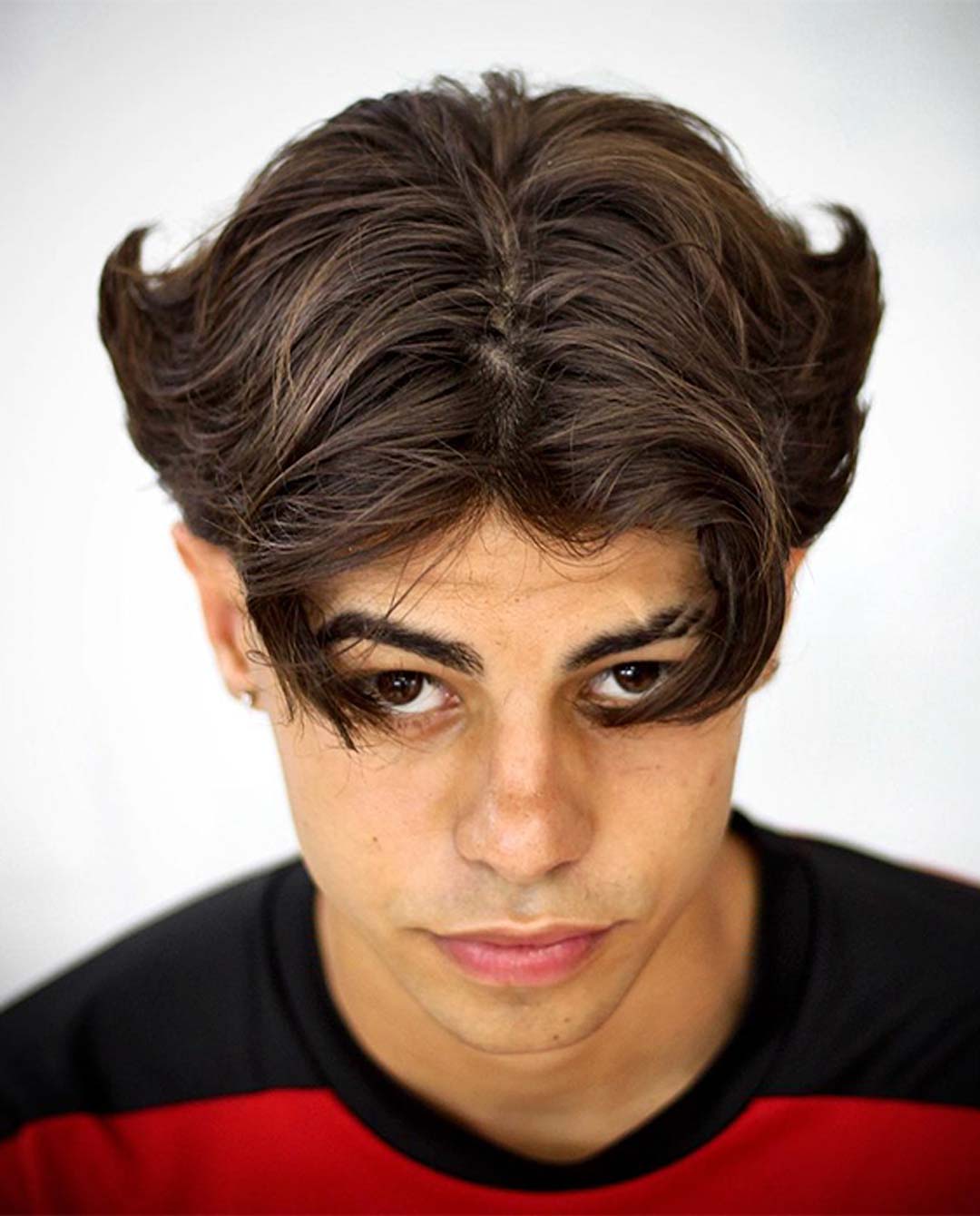 Little Boy With Long Hair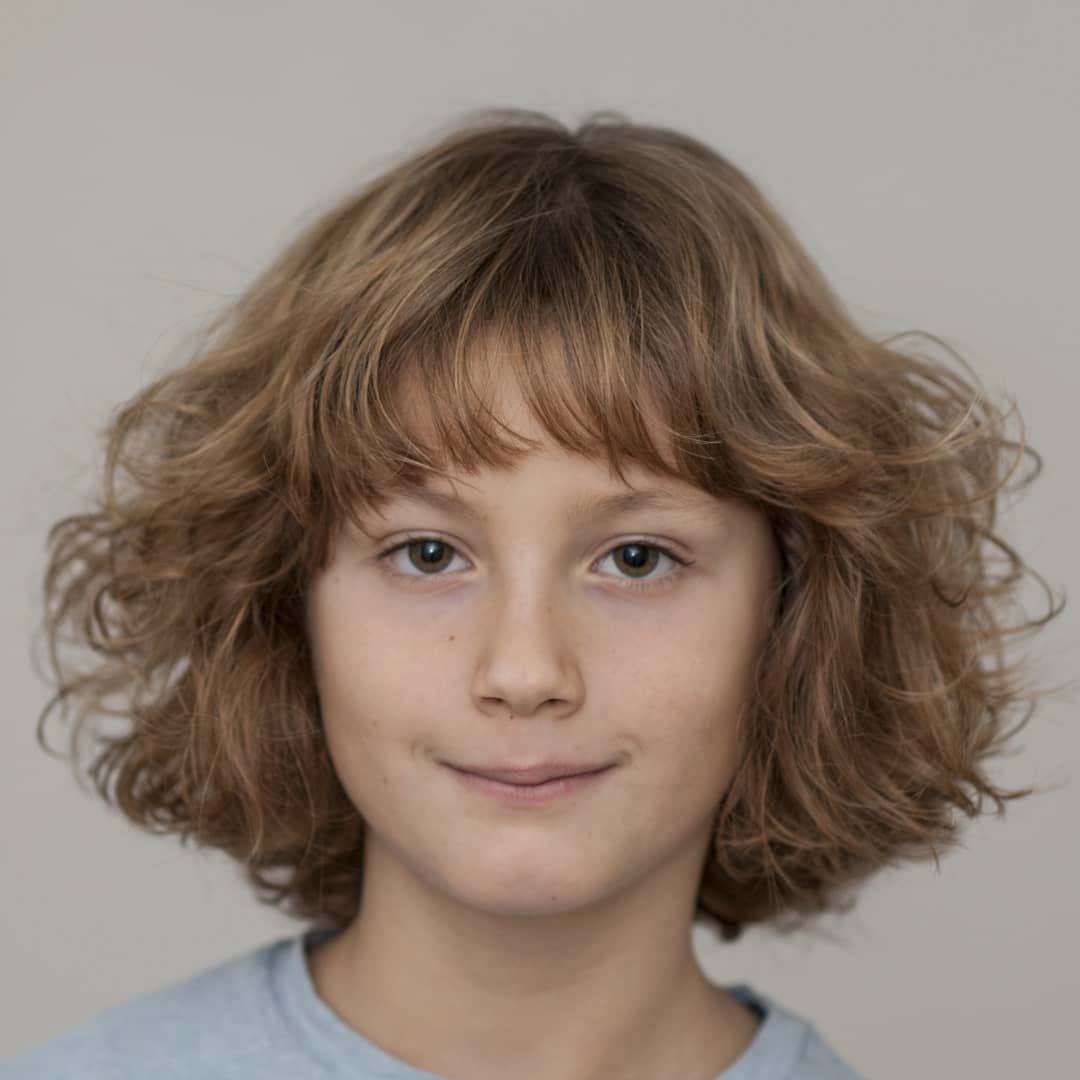 Line Up+ Sections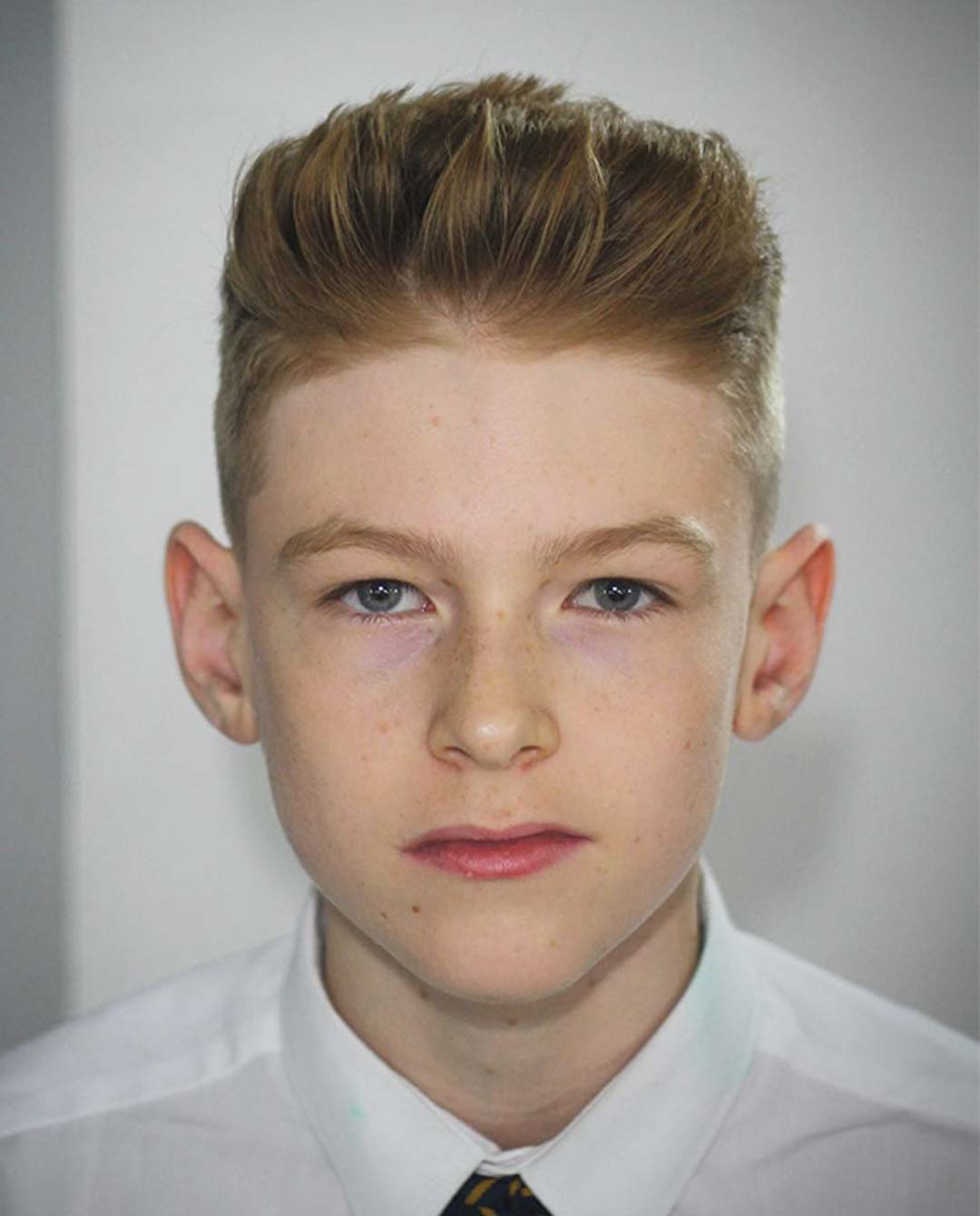 Mushroom Style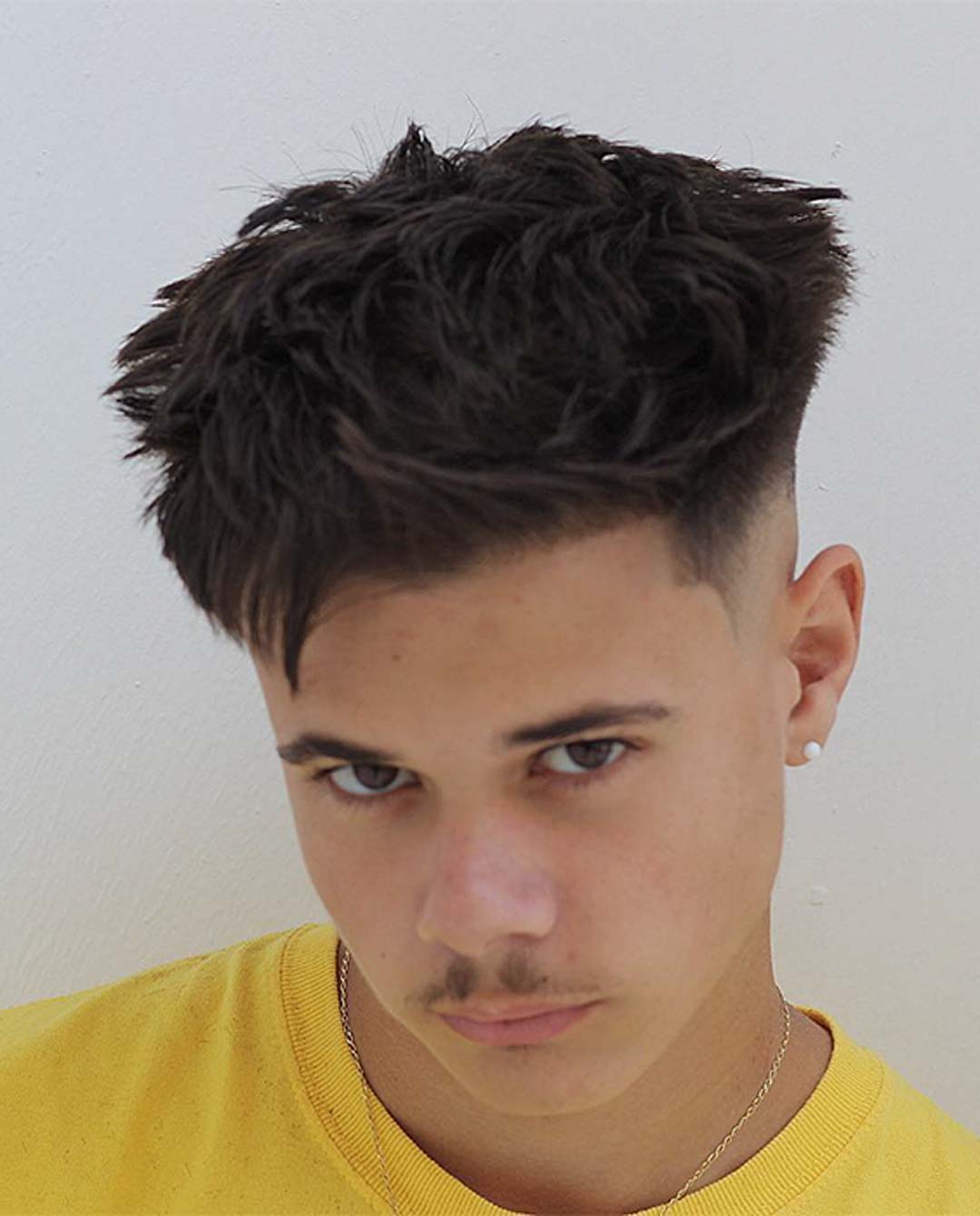 Layered Blond Hair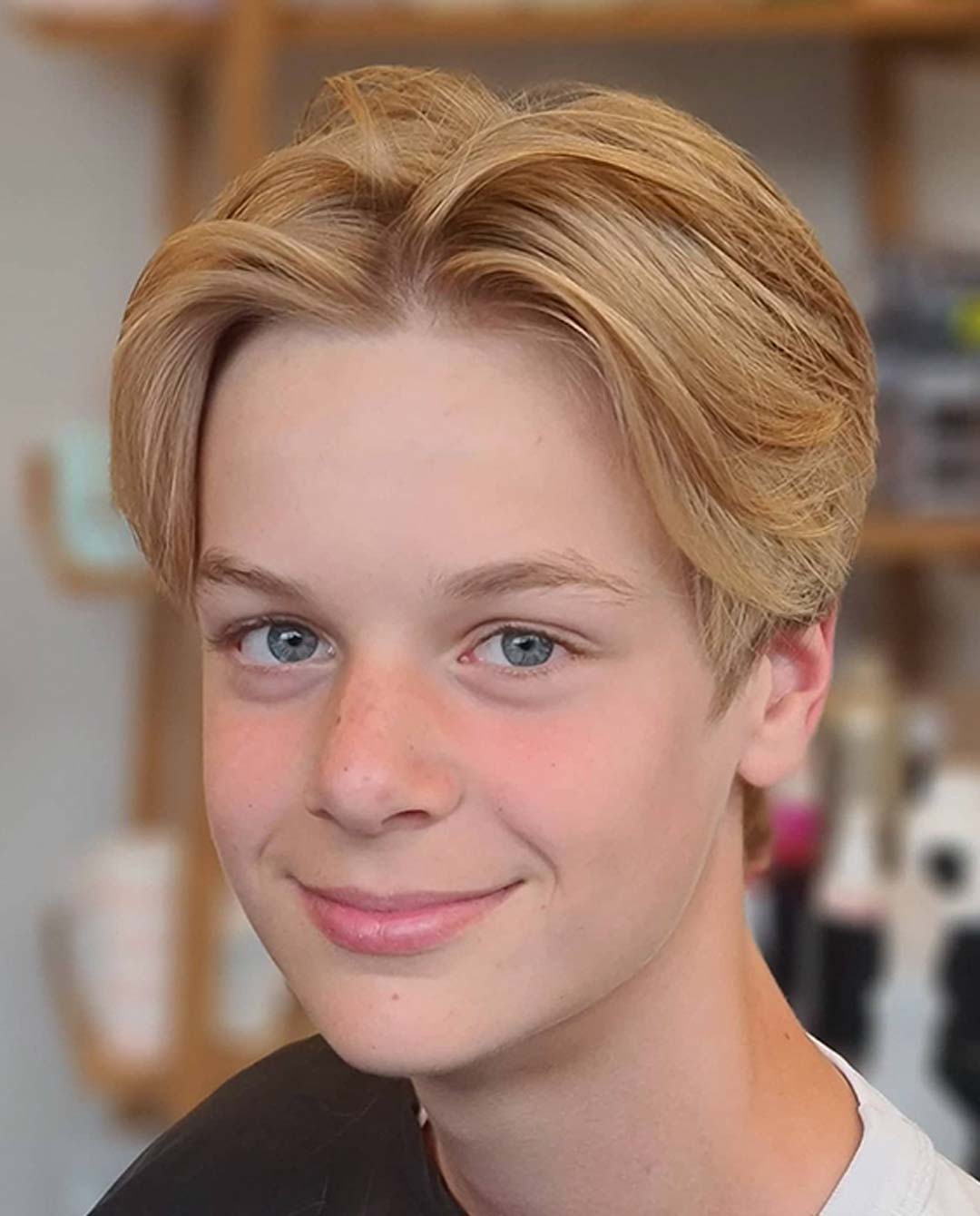 Pompadour with Sections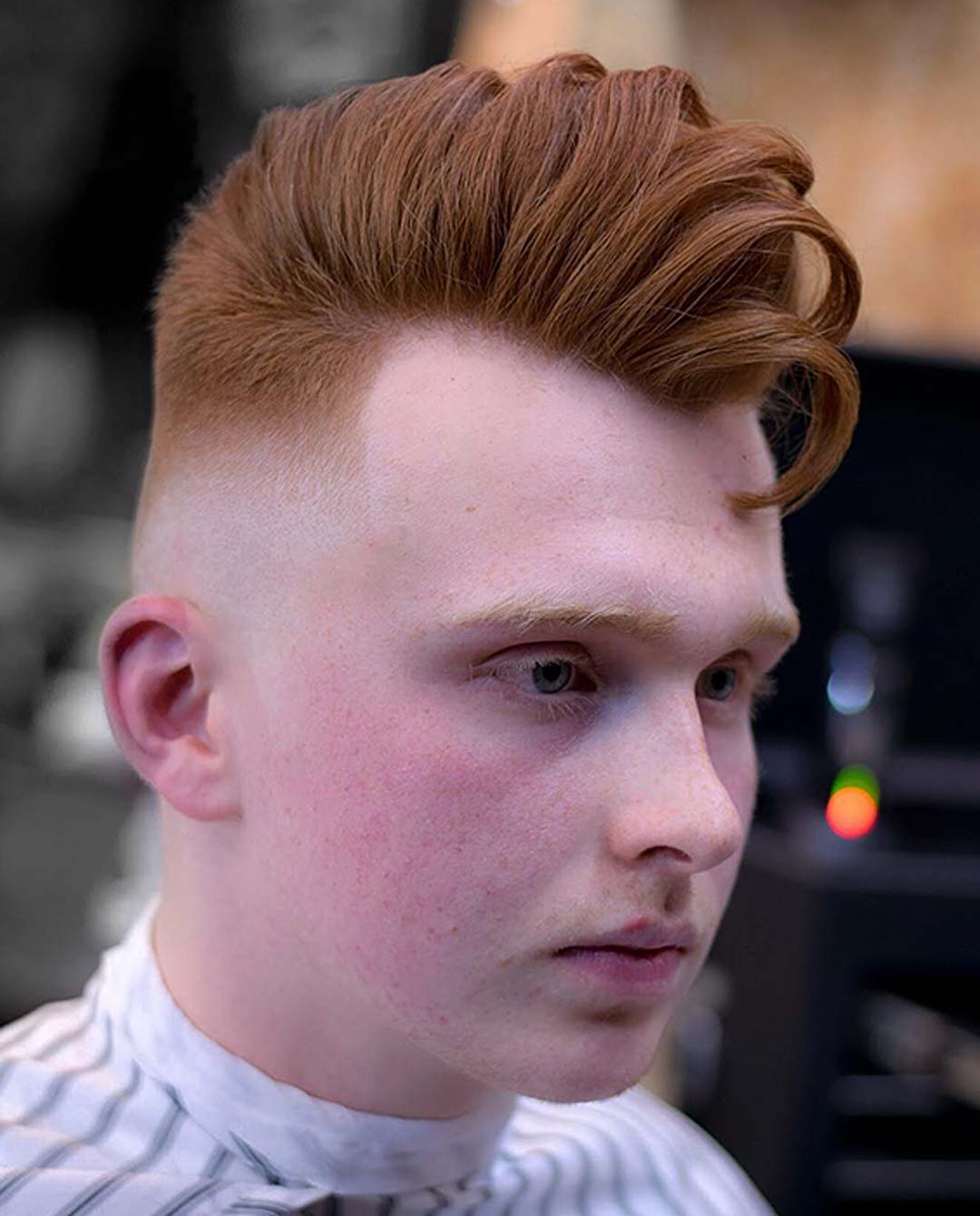 Wavy Hair with Taper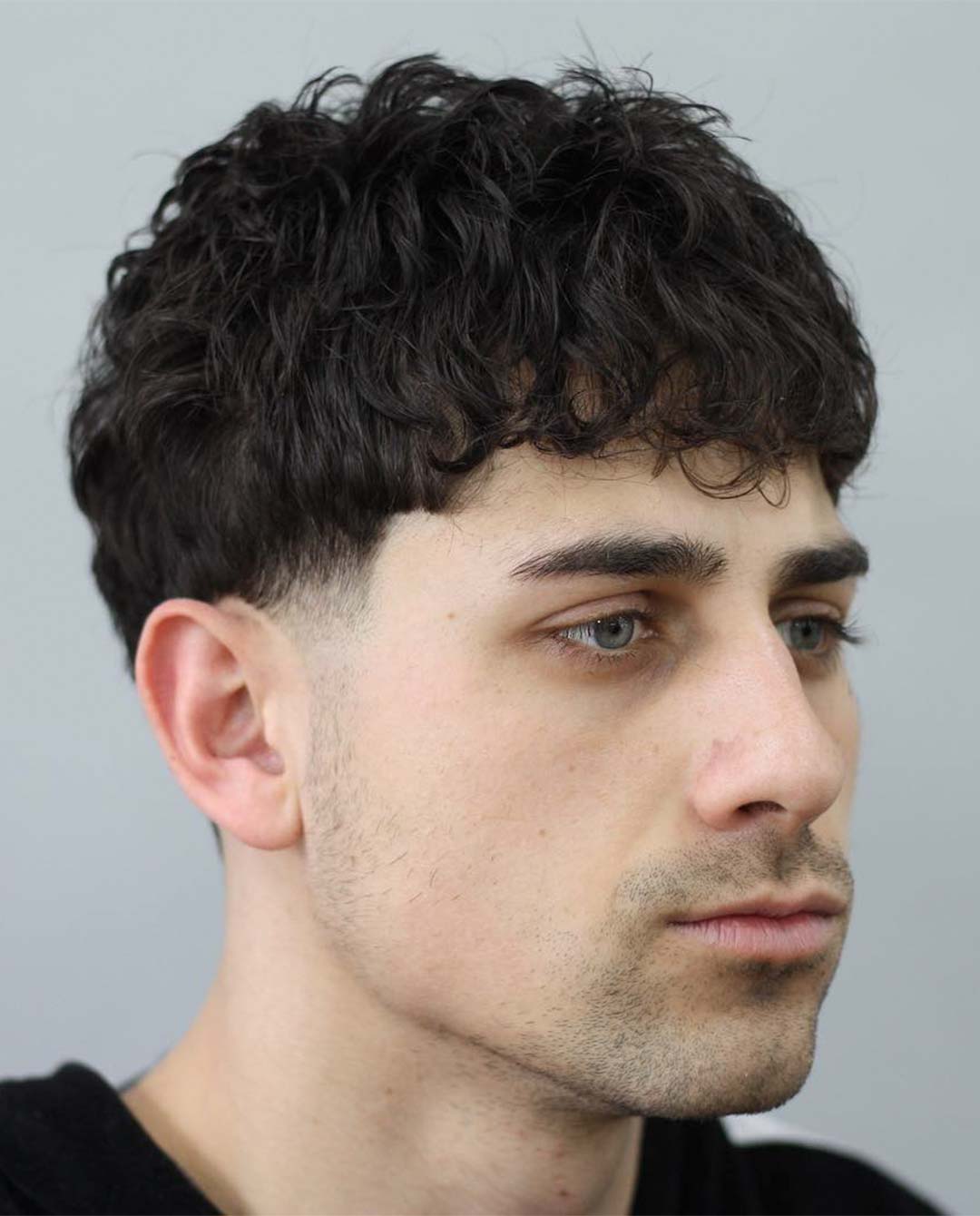 Messy Style with Fringe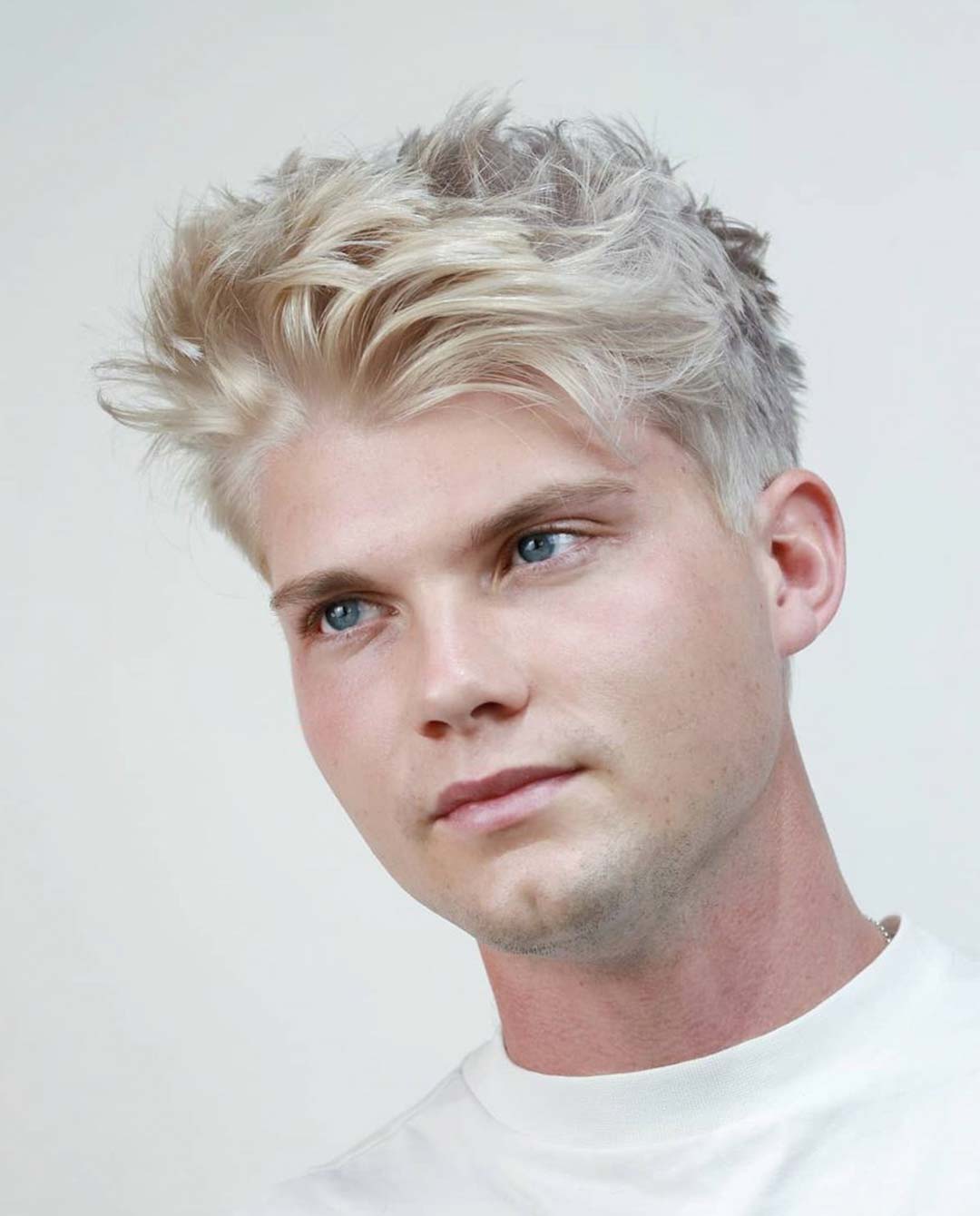 Taper with Fringe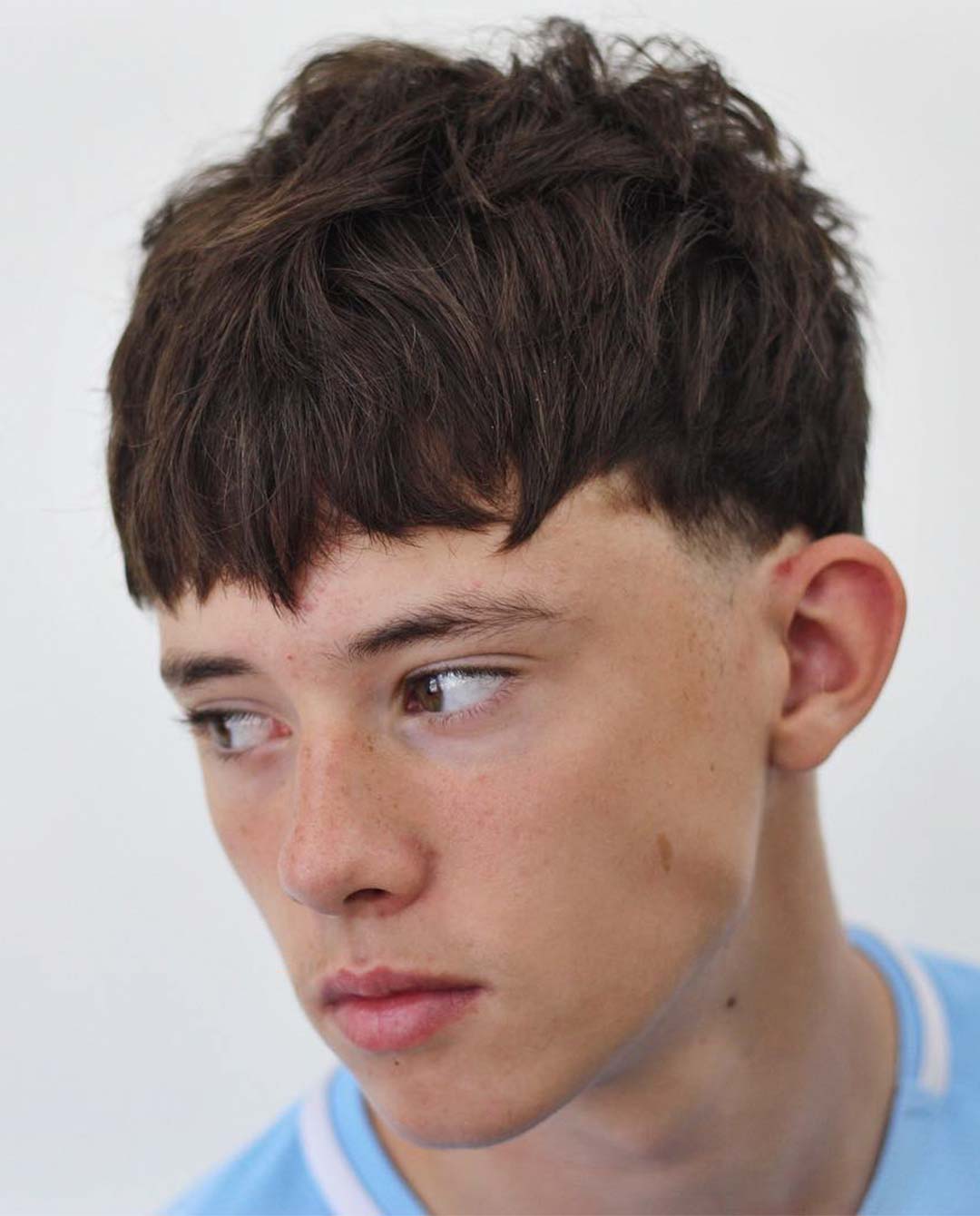 Curly Fade with Mid Fade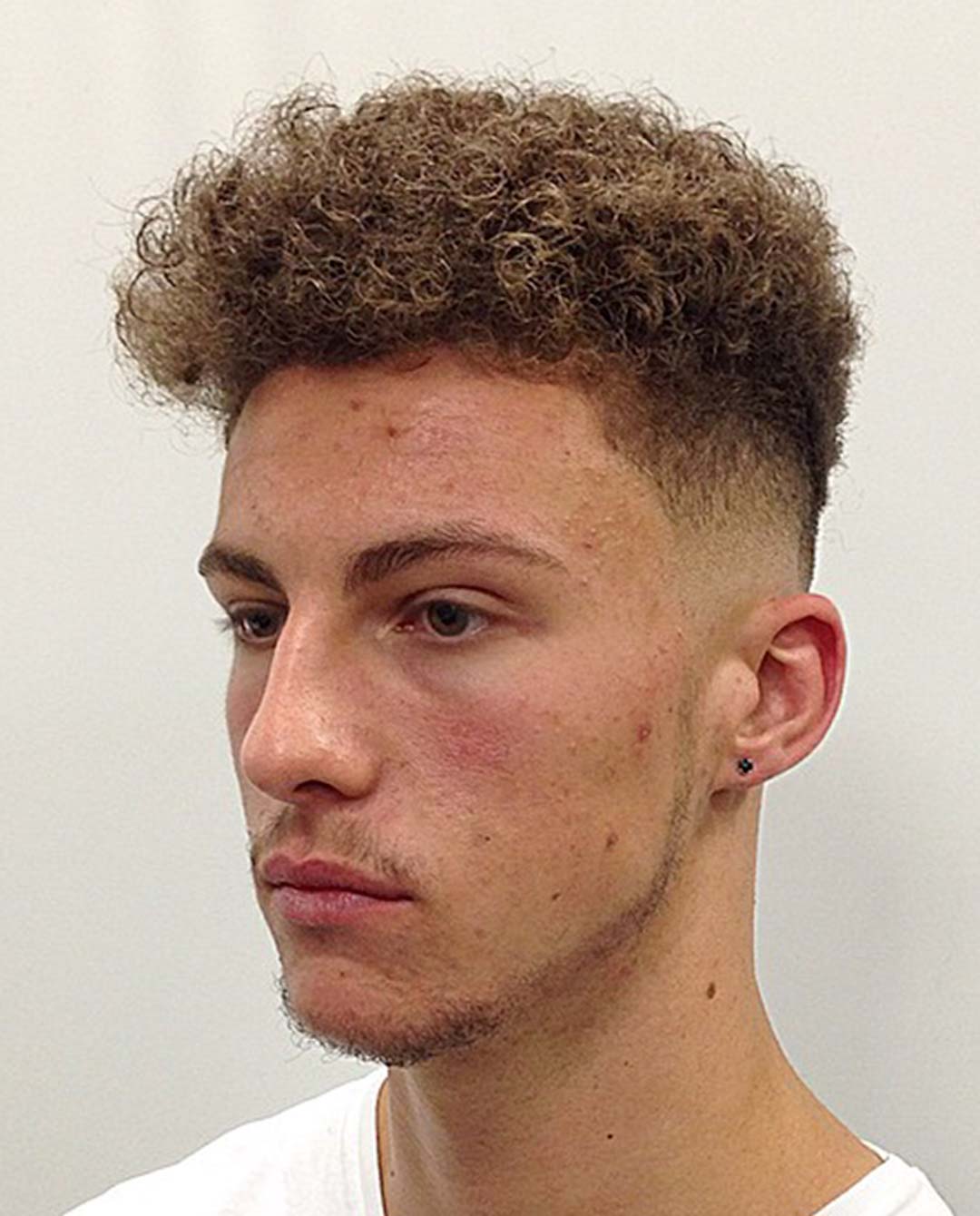 French Crop with Line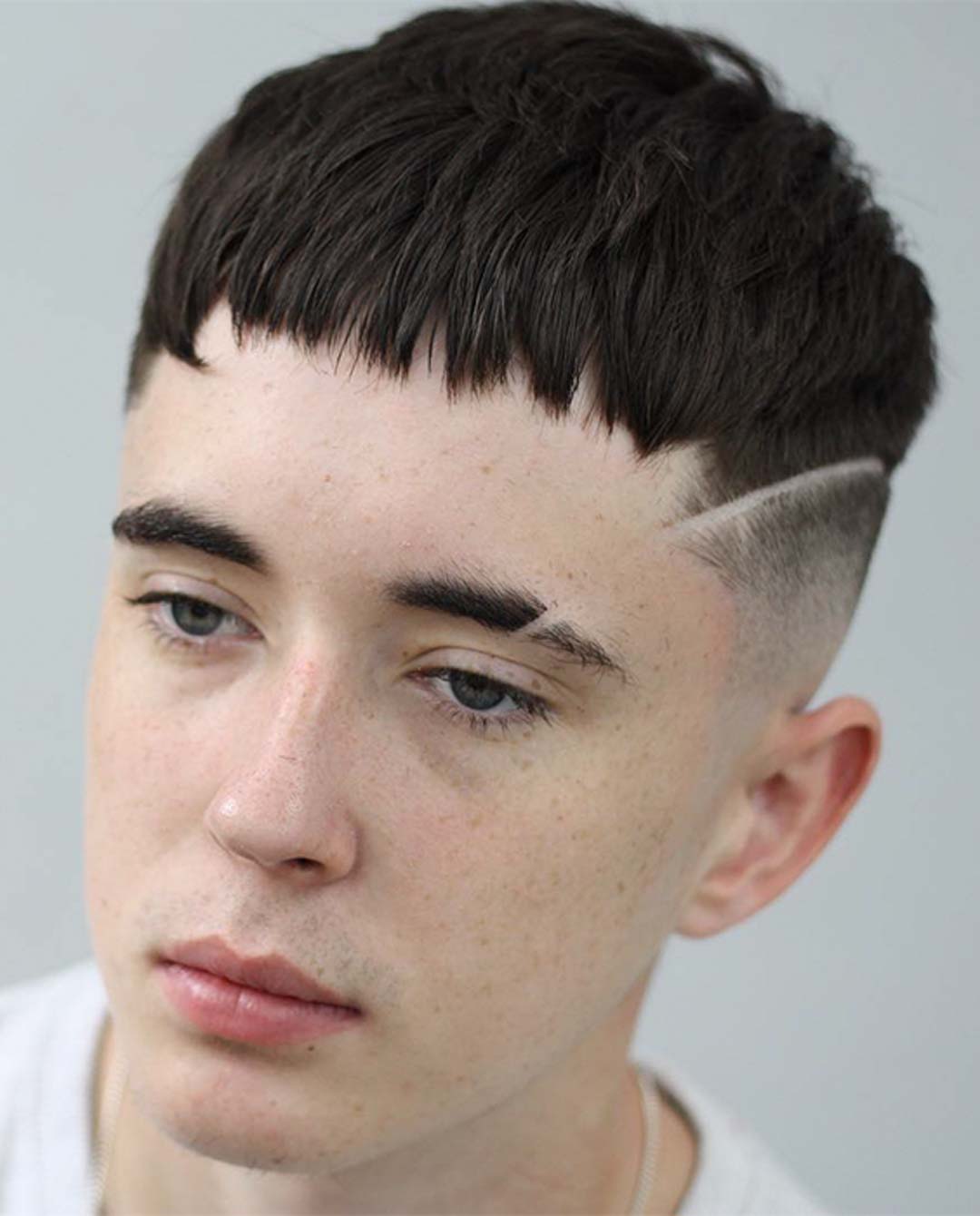 Boy with Messy Top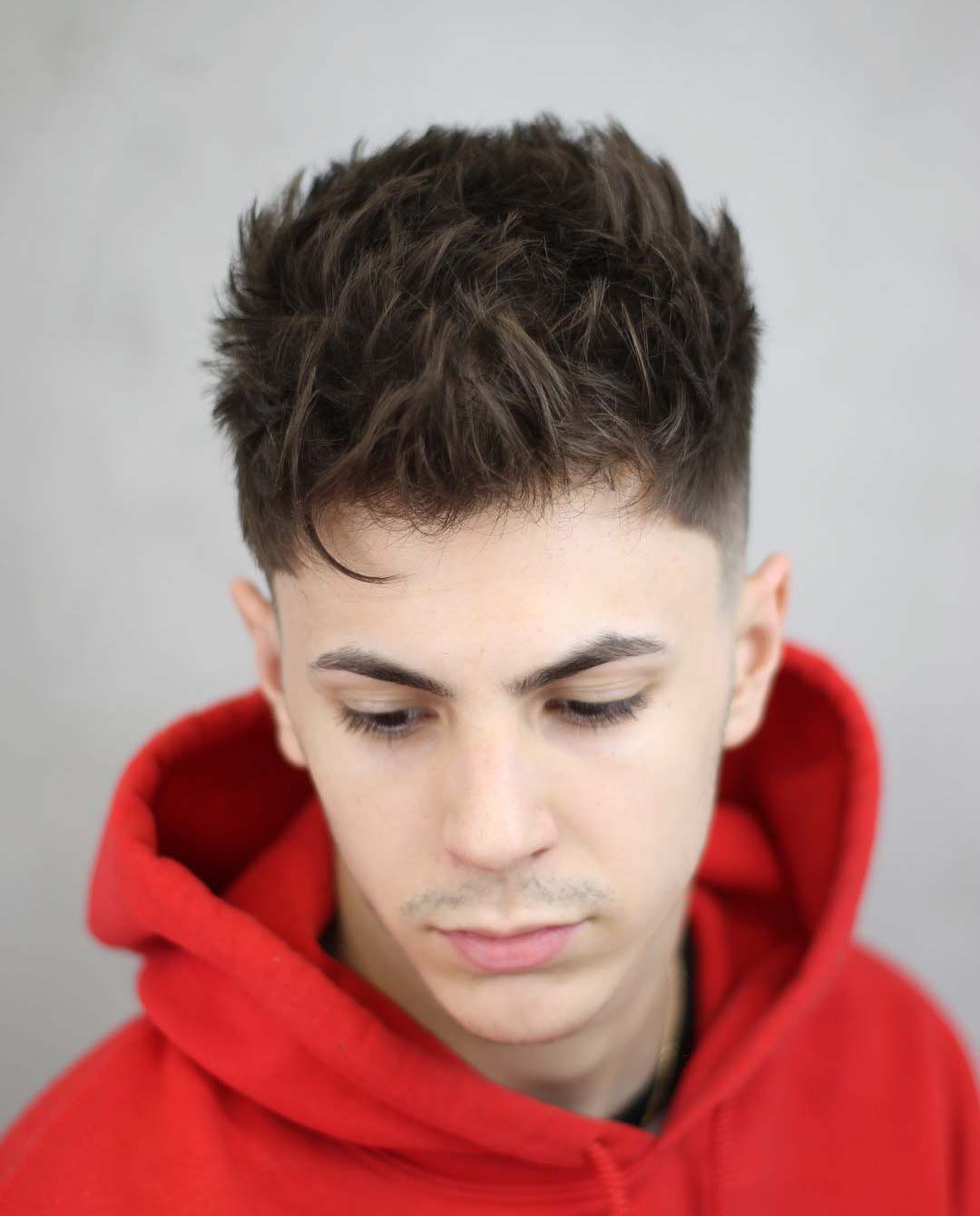 Teen Boy with Caesar Cut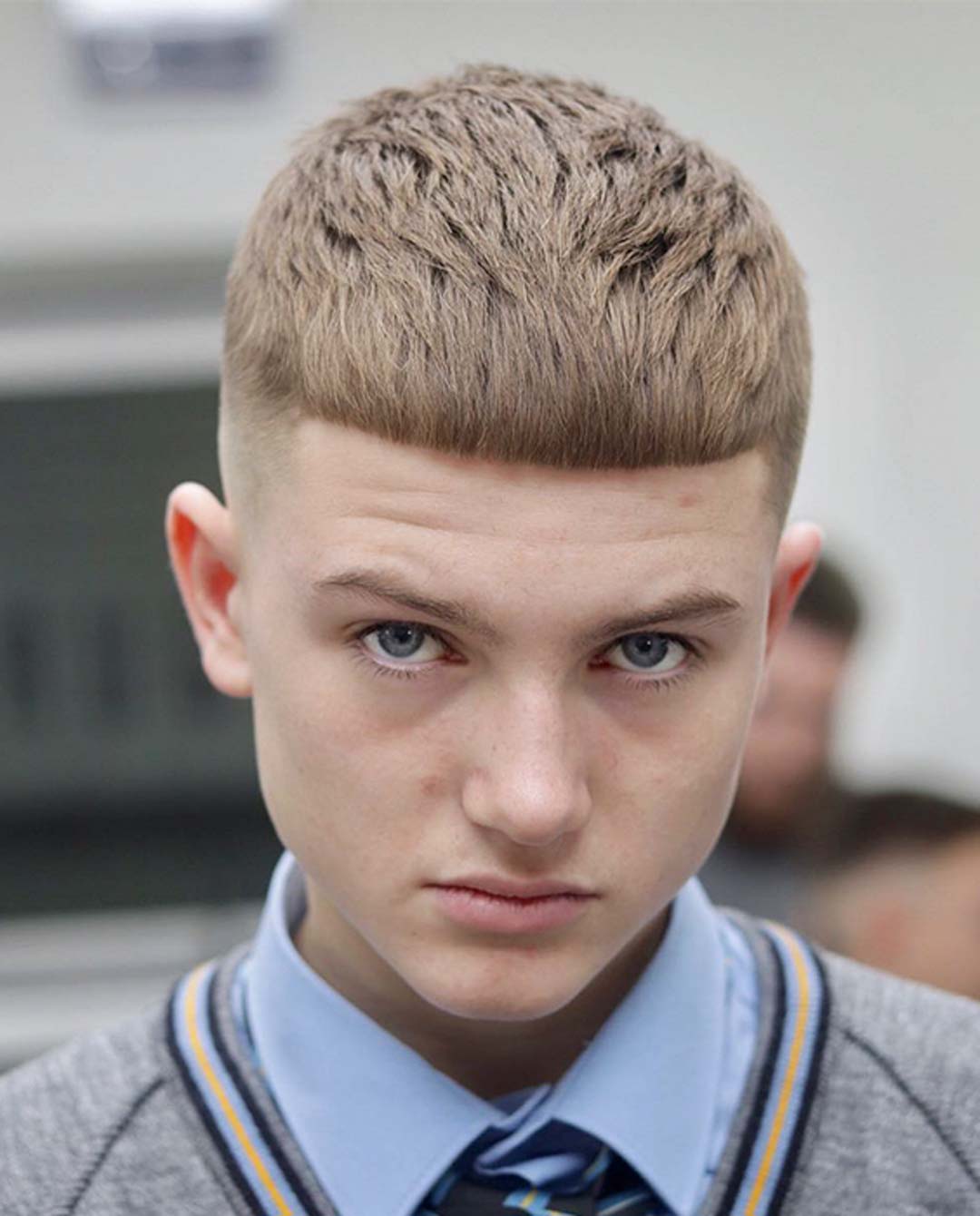 Medium Hair with Side Part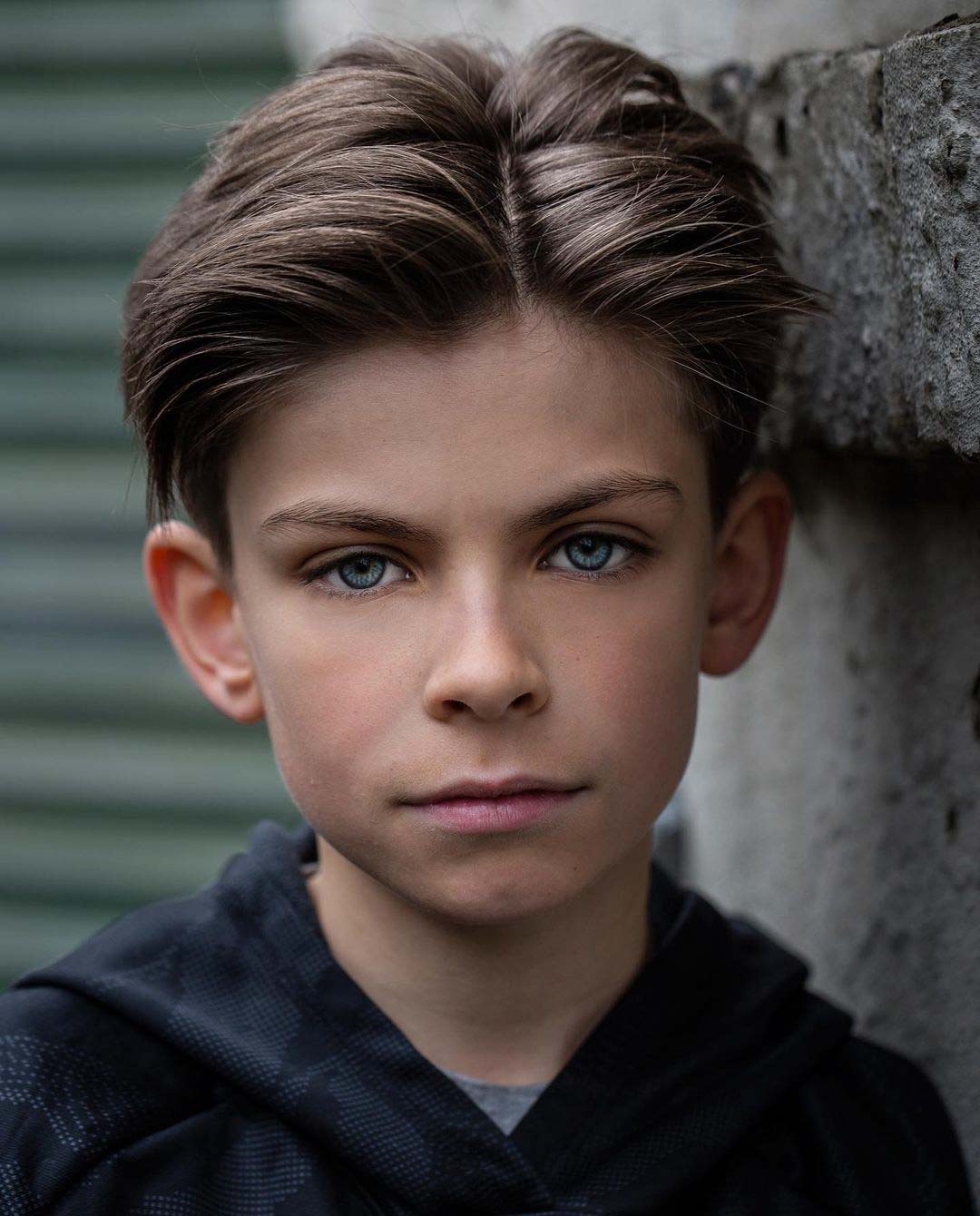 High Top with Short Sides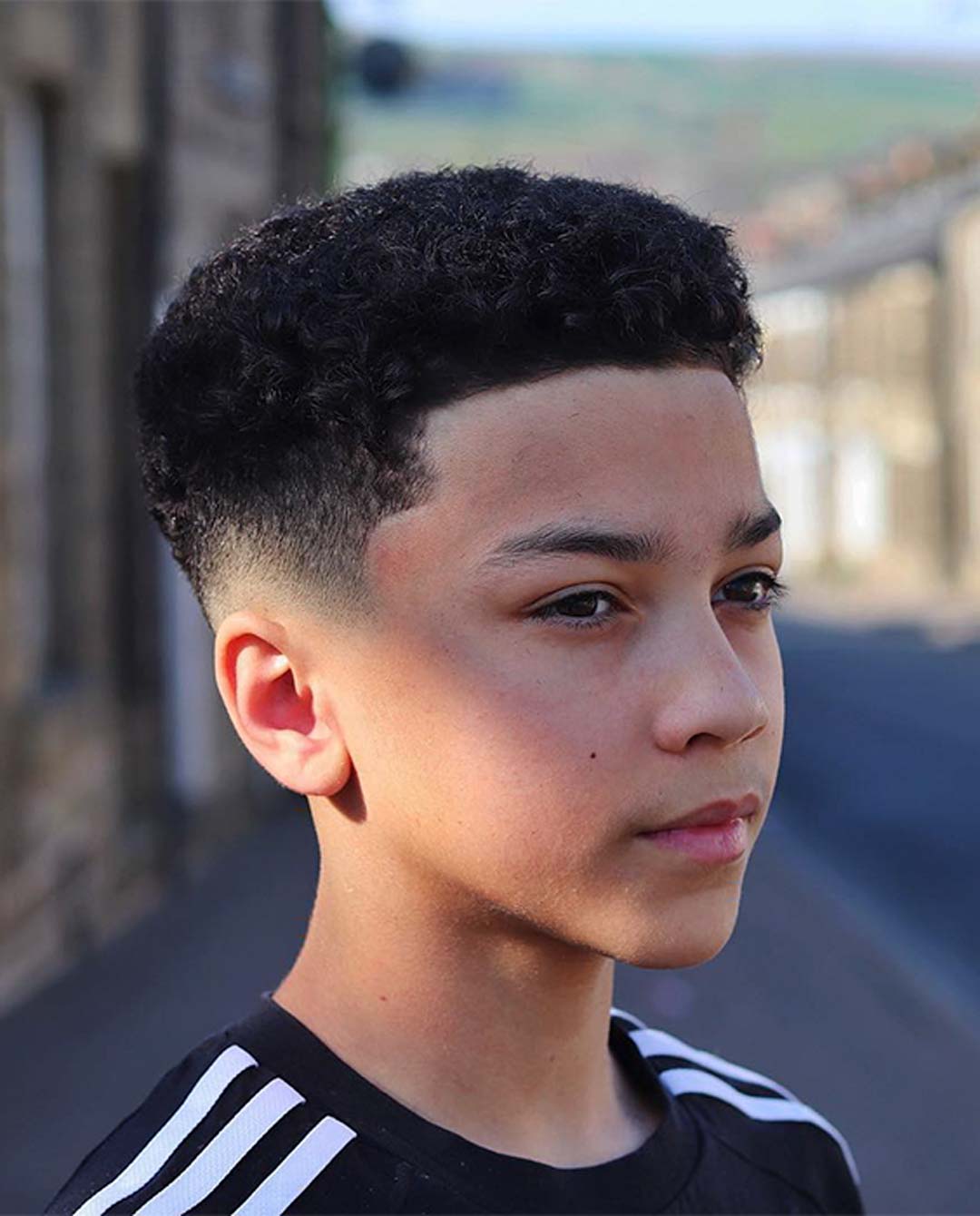 Curly Fringe